Welcome back to the Orlando Parkhopper. Each week, we take you on a journey through the parks and along the way we discover all sorts of interesting things. Here's what we've got in store for you this week.
New This Week:
Feature of the Week: Photos of the Contemporary Hotel
Dining Around the World: Review of Tony's Town Square Restaurant
Newest Mickey Ear Design Photos
Despicable Me Construction Photos
Busch Gardens Welcomes New Baby Eland Antelope!
Lowry Park Zoo Welcomes New Baby Flamingos!
Student Admission to Adventure Island Available Through Year End
Sea World: A Trip Report Part III
---


Today's update was made possible by the WONDERFUL folks at
Happy Limousine
, MiceChat's official partner for transportation to and from the Orlando Airport or anywhere you need to go in the Orlando area. Happy Limousine offers one of the newest and most diverse fleets in Orlando which include sedans,Suv's,vans,stretch limousines, minibuses and motor coaches. Happy Limousine can transport clients to any destination in the state of Florida.
Happy Limousine offers luxury transportation at a budget price. MiceChat readers get a very special rate:
$5.00 off sedans, vans, suv's from Orlando International Airport to any Disney World or local Orlando hotel.
$10.00 off stretch limousine and buses from Orlando International Airport to any local area hotel.
$10.00 off published sedan & minivan rates from Orlando International Airport to Port Canaveral.
$15.00 off published SUV and 10-14 passenger van rates from Orlando International Airport to Port Canaveral
$20.00 published stretch limousine and bus rates from Orlando International Airport to Port Canaveral
Use Discount Code
MC5899
when booking your limo to receive discounts.
Please contact
Happy Limousine toll free 1-877-642-7791
for further details. Nobody does better what they best!
Please mention the discount code at the time of booking. Coupon code only valid for round-trip transfers to and from MCO, SFB and Port Canaveral. Discount code cannot be combined with any other offers or discounts and has no cash value.
---
WALT DISNEY WORLD


MAGIC KINGDOM
The newest designs of Mickey Ears have hit the shelves in the Emporium. Let's do a little window shopping. See anything you like?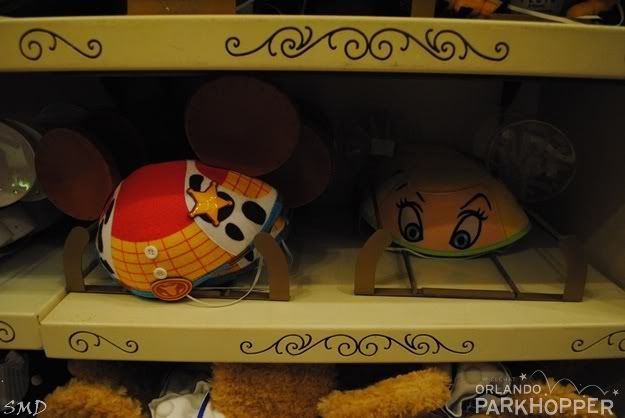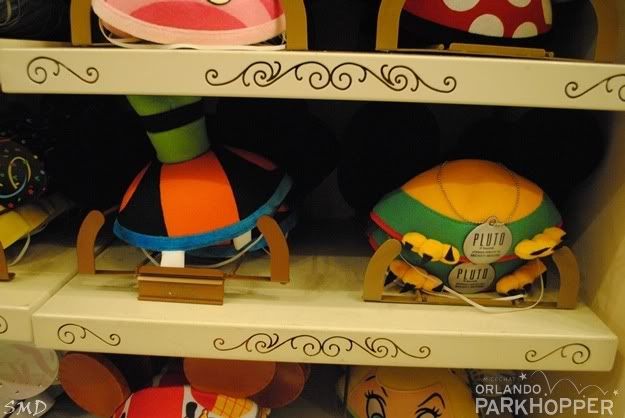 Tony's Town Square Restaurant

Article 4 - Terry Tiger
Tony's Town Square restaurant is inspired by the charming Italian trattoria where Lady and the Tramp shared spaghetti and a kiss in the Disney classic animated film. Tony's Town Square is the first restaurant you encounter when entering the Magic Kingdom. It adjoins the Town Square Theater (formally the Exposition Hall).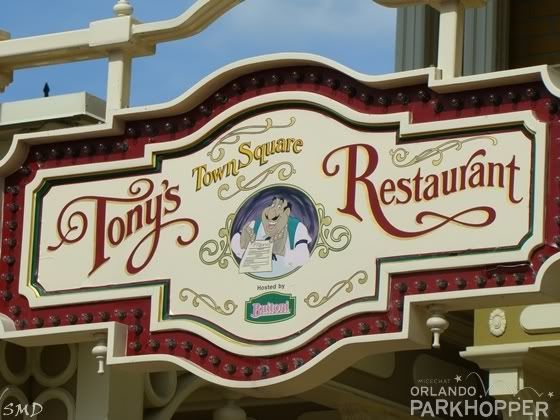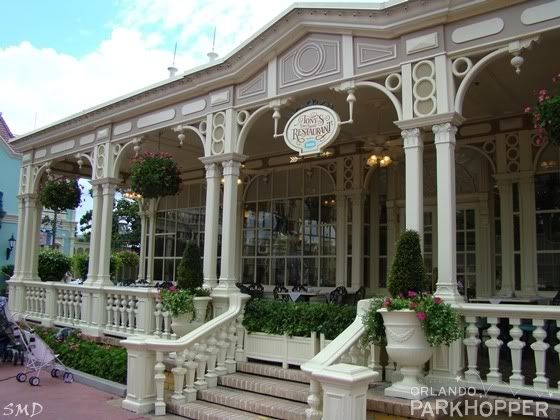 Tony's is open every day for lunch and dinner. Italian food is the theme and here you can get spaghetti and meatballs, lasagna, chicken parmigiana, shrimp scampi as well as steaks, seafood, pork tenderloin and lamb shank. Appetizers include calamari, zucchini fries, minestrone soup, salads, and an antipasto tray to share entitled, "Flavors of Italy". Bread is served with olive oil for dipping, but butter can be provided upon request.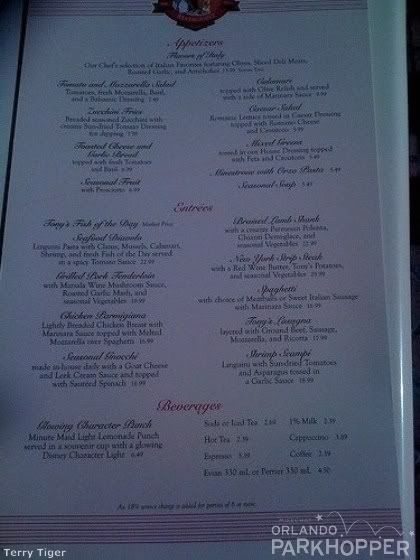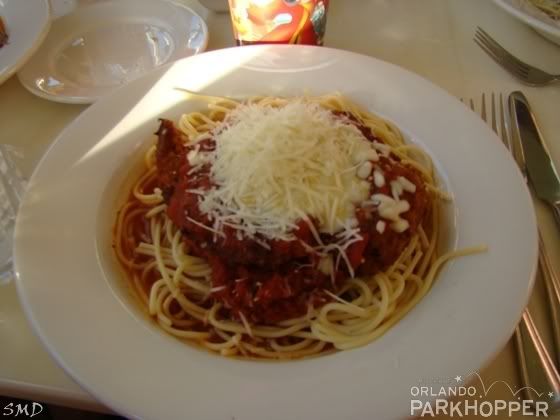 Save room for dessert because the choices here are decadent. Pistachio Creme Brulee, Lemon-Walnut Layer Cake, and Tiramisu as well as Spumoni ice cream, gelato, and cheesecake. You'll have a hard time choosing!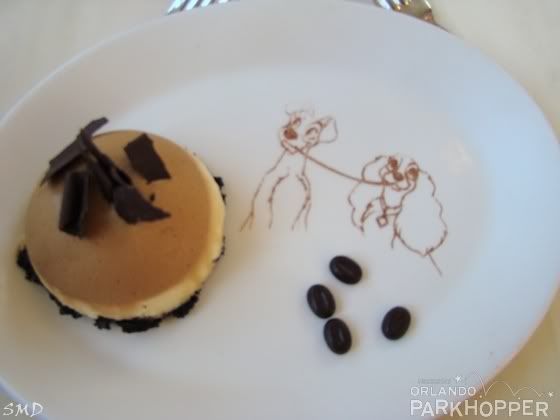 Dinner at Tony's can run from $15 to $35. Reservations recommended. Tony's accepts all credit cards as well as Tables in Wonderland and the Disney Dining Plan.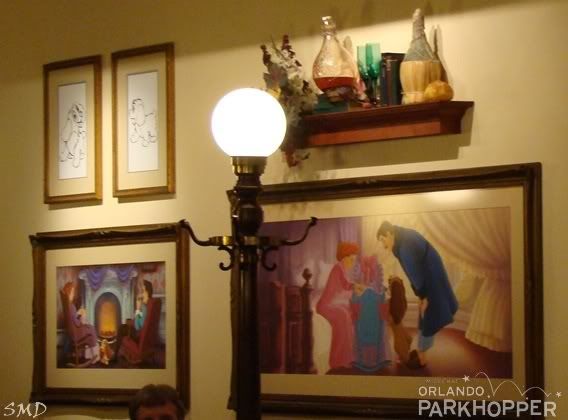 WALT DISNEY RESORTS

FEATURE OF THE WEEK:
The Contemporary Hotel
Walt Disney World is my home park, I grew up every year visiting this magical place and the one hotel we stayed at most frequently was the Contemporary. As a child, I remember my mother handing me $20 bucks and telling me to "go have fun in the arcade", walking up and down the outside stairwell as the monorail passed through and wondering how they managed to do it all. As I got older and was given a little more free reign, the rules changed to, "You can ride the monorail but don't get off at any of the other resorts!" and then finally, "Your father and I will be at the pool, try not to stay in the park too late." New buildings have been built in place of the tennis courts my mother and I had a very unsuccessful game of tennis at and River Country is no longer a boat ride away but I can still feel that sense of wonder and excitement every time I walk through those automatic doors and am greeted by some of the friendliest cast member's on property. - SummerinFL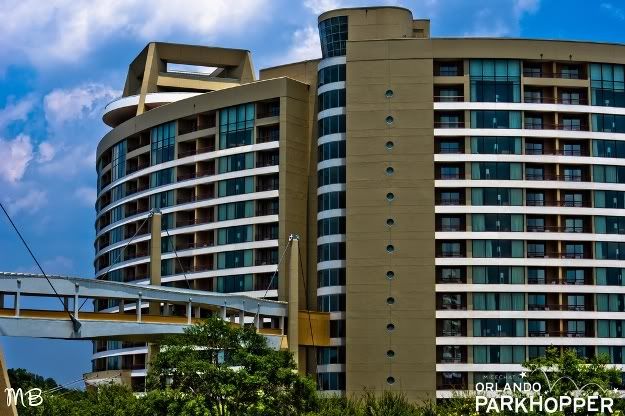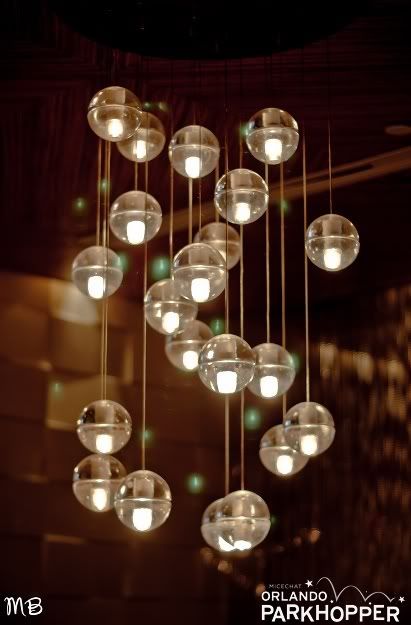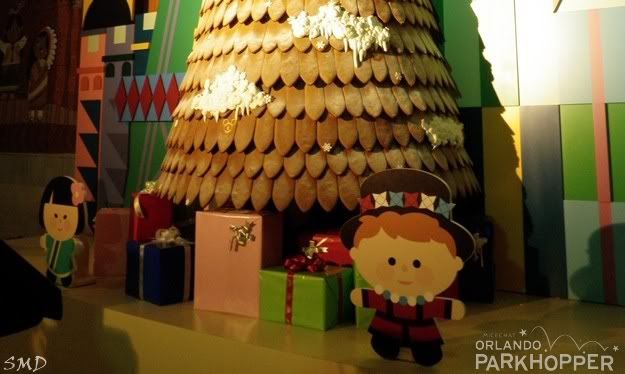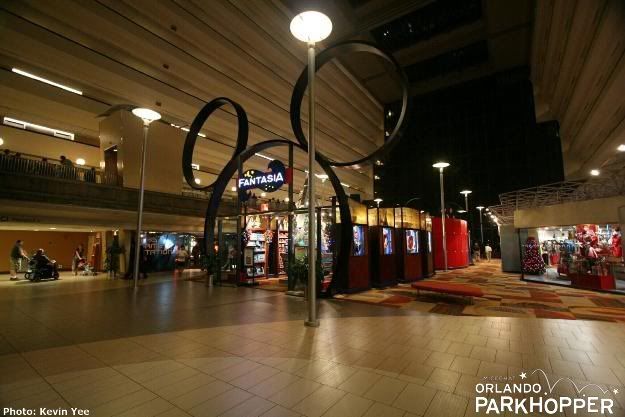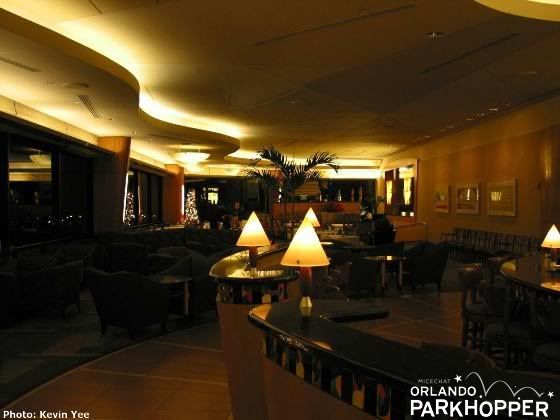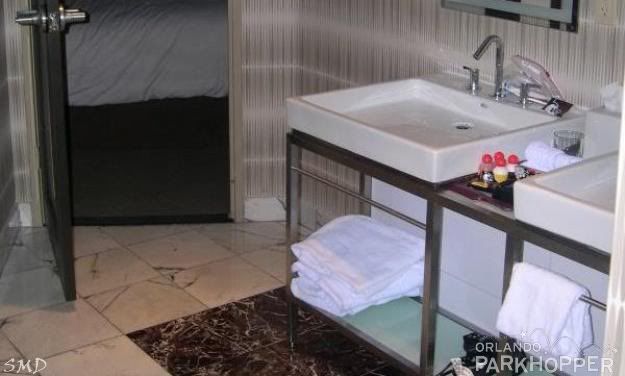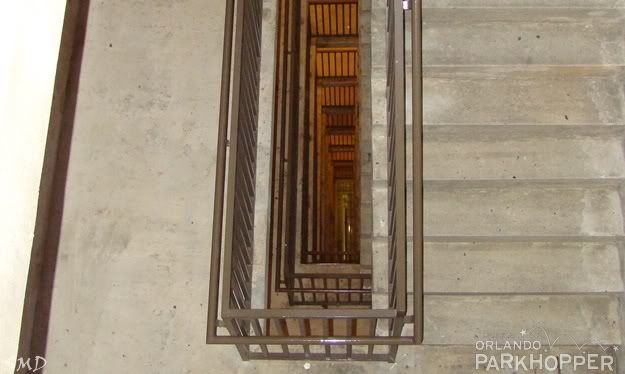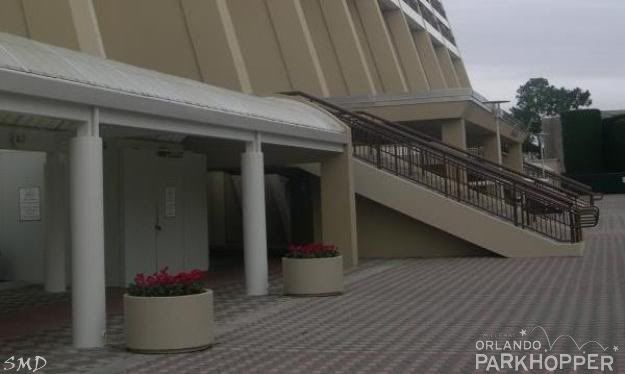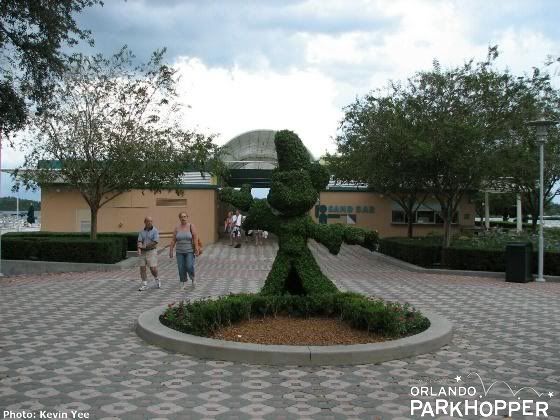 ---
HIDDEN PARKHOPPER

Where are the Parkhoppers this week? It's up to you to

decipher
the picture and see if you can find us. Every week we'll provide a partial image of a photo and it will be your job to guess where you think we're hiding! The 1st person to guess correctly will have their name featured in the following week's game listed along side the correct answer. Good luck!!
Week 3: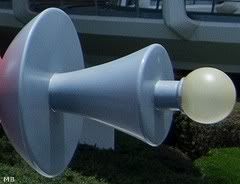 Last Weeks Answer: Tortuga Tavern
Congratulations to
JLindley2003
for being the 1st person to correctly identify the location of the hidden parkhopper!
Busch Gardens Welcomes New Baby Eland Antelope!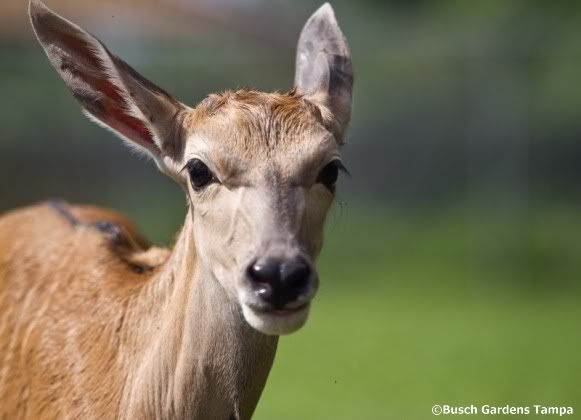 A female eland calf was born on August 22, 2011, weighing in at 50 pounds, she will not stay little for long. Eland's, being the largests of the antelope species, have female that weigh in around 1,000lbs! Even with their bulky nature, they can still jump 8-10 feet straight up in the air from a standing position. both males and females characteristically have thick, spiral horns which reach up to lengths of 3-4 feet. However, calves do not have horns at birth, to protect the mother and they typically grow in after about two years.

Guests can view the new baby eland on the 65 acre free-roaming Serengeti Plan via the park's traing or by booking a Serengti Safari experience at
www.buschgardens.com
.
Student Discounts on Park Admission Now Through the end of 2011.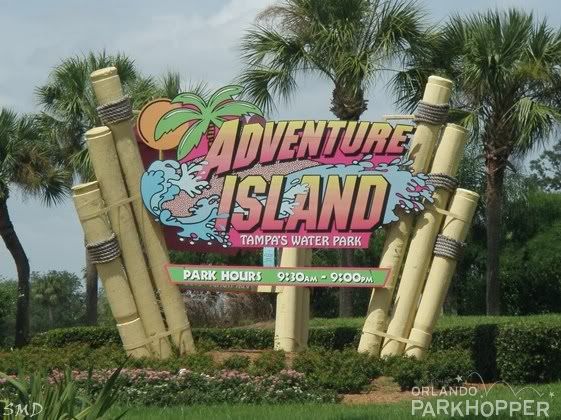 Adventure Island's water park is now offering discounted tickets to students for $24.99, beginning September 10th, through the end of the 2011 season. Just show your college ID at any Adventure Island ticket window or simply enter the promo code, COLLEGE online at
www.adventureisland.com
and present your ID at the entrance turnstiles when you redeem your ticket.

TRIP REPORT: PART III
Disnyfan89


After watching the Shamu show, One Ocean, we decided to take a spin on Wild Arctic! (Now with over 52 ride combinations. Just kidding!)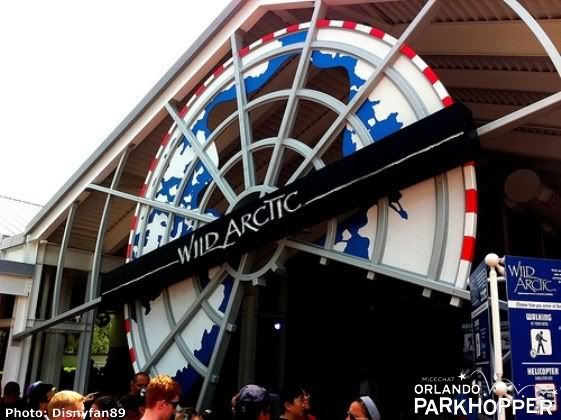 Wild Arctic is a simulator ride (exactly like Star Tours and Body Wars) where you take a virtual helicopter ride through a blizzard to a remote arctic base while getting up close to unique wild life. Despite the fact the attraction is starting to show its age I can't help but love it for its cheese factor, poor script, and attempt to replicate the original Star Tours. What follows is a poor attempt to capture on ride images of Wild Arctic!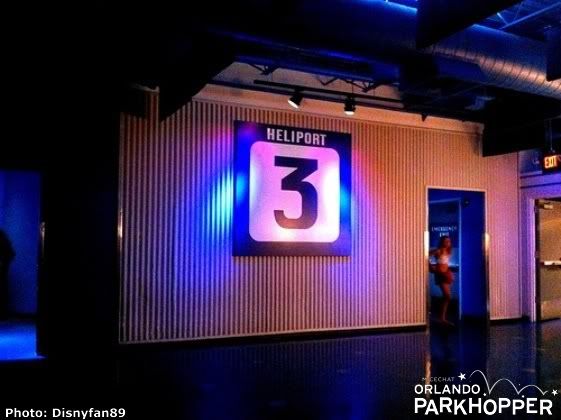 Very minimal theming as we wait to board the attraction.
Once inside we see we are in a very "high tech" box! Erm, I mean helicopter!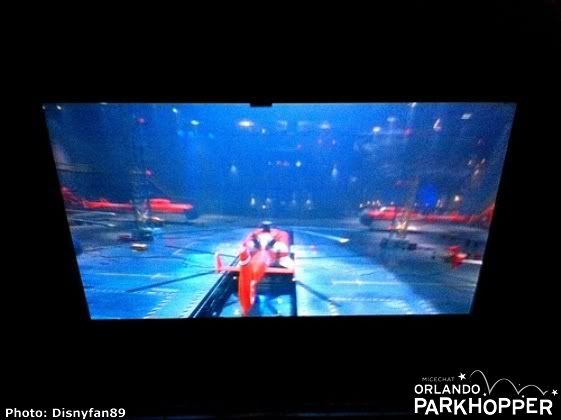 Take off!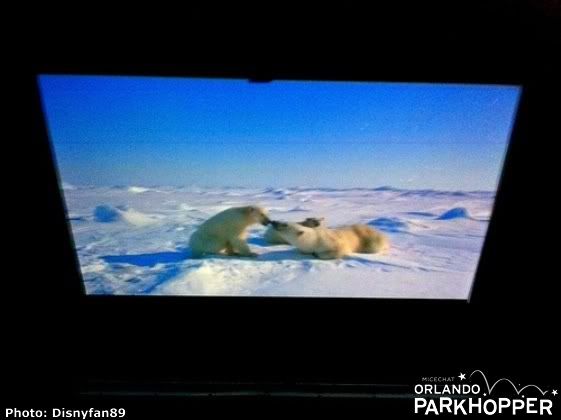 Once in "whisper mode" our helicopter can get just inches from the polar bears without them noticing a giant red helicopter in front of them!
Our helicopter can even go underwater!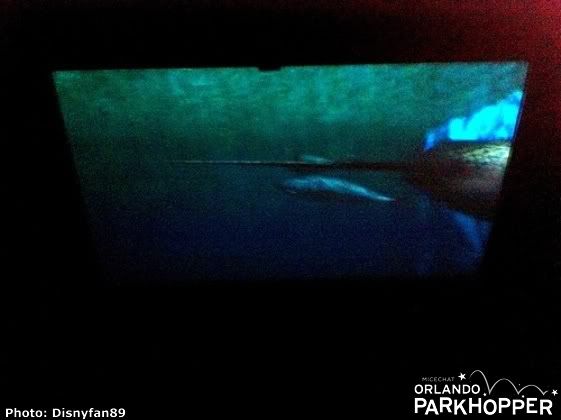 Whoa! That Narwhal almost came in for a visit! We better get out of here!
Looks like that storm is trying to cut us off at the pass. We'll take that emergency route through this canyon here.
"Yahooooooooooo I've always wanted to do this!" - Rex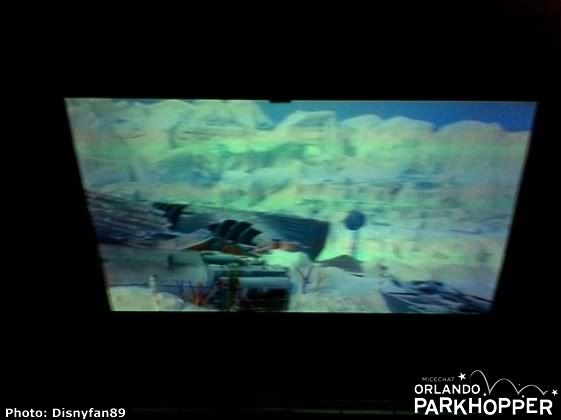 Coming in for a landing and we're all looking forward to solid ground.
The real fun of Wild Arctic is its highly detailed post show, designed to look like the Arctic base, complete with "snow", polar bears, beluga whales and a walrus!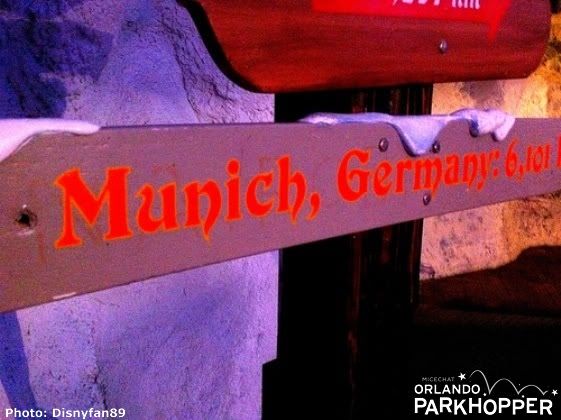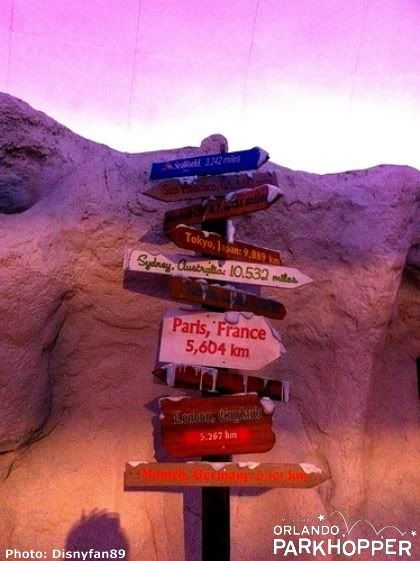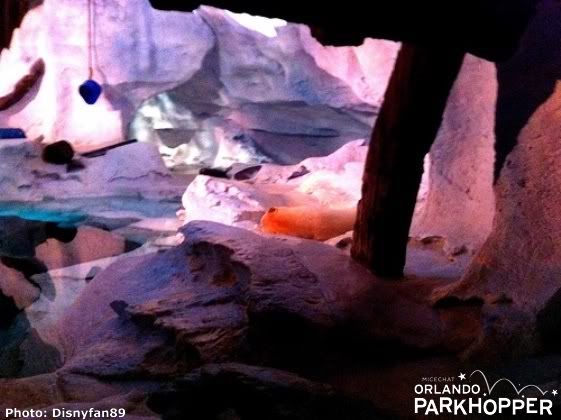 "Yeah. I'm a polar bear and I'm sleeping! Big Whoop! Wanna fight about it?"
"goob goob g'joob"
After our trip on Wild Arctic we decide to take a trip to Atlantis!
When Journey to Atlantis first opened I thought it was an amazing ride. It combined a great dark ride with boats, added in a thrilling flume section and ended with a climatic roller coaster section. Best of all it was all tied together with a great story. Sadly, the ride hasn't aged well and is starting to show her years. On my ride through I was delighted to see that most of the effects were working. However, the TV's in the queue have been removed which were originally there to explain the backstory and introduce the characters. Add to that 2/3's of the ride the audio wasn't working and it was missing a lot.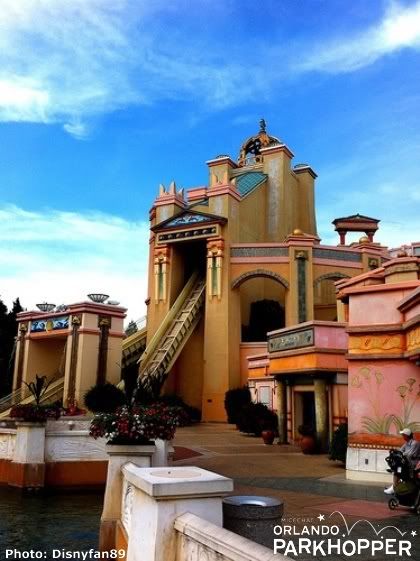 The exterior of the building could also use some major TLC and repainting!
While talking about lack luster ride experiences lets also talk about Sea World's frustrating locker situation! During our visit my friend and I rode Journey to Atlantis once, Kraken once and Manta two times. My friend also brings with her a bag to carry her wallet, keys etc... As some of you know some theme parks aren't very bag friendly (Universal comes to mind). In the past I've never had an issue bringing a bag to Sea World but usually when I go I'm not very ride focused.
With this in mind, our trip was going great! We rode Manta first thing, took the bag with us and stored it in the loose articles bin located in the load station. We then went over to "Kraken." Same thing, put the bag in the storage bins located at the ride platform. However, when we stopped to ride Journey to Atlantis we got all the way through the queue, past three team members only to be told very rudely by the ride operator checking out the lap bar that we aren't allowed to take bags on the ride. Period! The woman let us ride with the bag however and we shrugged it off as a bad interaction. Fast forward to another ride on Manta as we're trying to enter the attraction we're told the bag has to be stored in a locker. We explained we rode earlier in the day and stored the bag in the station. It was at this point the team member gets extremely rude and tells us he doesn't care, almost to the point of implying that we're liars and tells us we have to get a locker. Not wanting to ruin the day I convince my friend to just walk away from the team member. We return later in the day and are able to walk on without putting the bag in a locker and the team member (now different) never saying a word regarding it!
This policy just about ruins the trip for me. It's the first thing that comes to mind when thinking about the trip.
Let me be clear! I have no problem putting a bag in a locker. I do it all the time when I visit with friends to Univeral. My is two fold however, at Sea World. First, the policy is only enforced by select team members and those who do enforce it are extremely rude about it. Also, it appears there is a huge grey area when it comes to what bags or personal items you can take with you. If a standard policy is ALL bags MUST go into a locker than this policy needs to be in place at Kraken and Manta and all team members should enforce this rule. (preferably nicely)
My second issue with the locker policy is that the lockers aren't free! Universal makes you store your bag but it's free while you ride. I gladly support this! However, you have to pay to use each locker at Sea World and we were told it's only for a limited time because they will come through and clear out your belongings if you leave them for a few hours. While the fee for the locker is only .50 cents it still feels like a cheap move by Sea World to make money. Want to ride? Well you'll have to put your pocessions in a locker at each ride you go to. And if you're like me and you don't carry cash, it places my friend and I into the position of having ride by ourselves and have the other hold the bag and wait double the time in line, its clearly not a very efficient system.
Any way, my point being either offer free lockers for rides or allow us to store our bag in bins provided at the ride platform. Then decide what your locker policy is and make sure all attractions and team members are following it. (I also made a point of stopping by Guest Services to tell them of our troubles in person.)
With the most frustrating part of our day over we decided to end our day on a high by visiting my favorite show: Pet's Ahoy!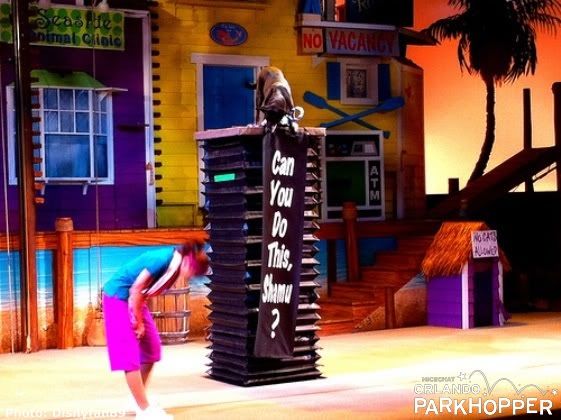 Overall we had a great day! The food was good, the rides were fun and the shows were great! While I wish I could've avoided the locker drama and rude team members we still enjoyed our trip and look forward to visitiing again.
CONSTRUCTION UPDATES

Over at the old Jimmy Neutron attraction, walls have gone up as work starts on the new Despicable Me attraction set to open in 2012.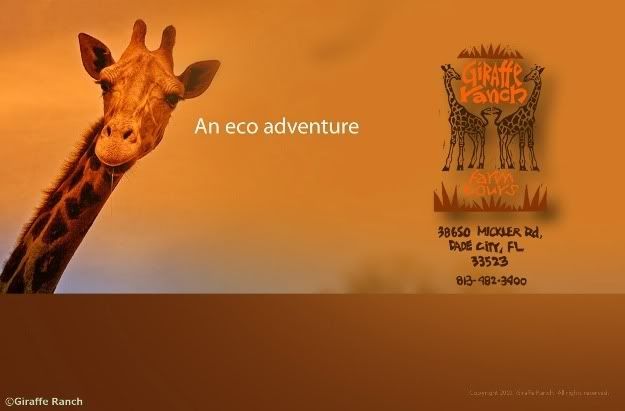 Special Deal TODAY for the Giraffe Ranch
(North of Tampa and East of Orlando).
Do you love Disney Animal Kingdom's Safari ride? Then you'll absolutely love a real life 47 acre version not far from your Orlando vacation.


Located in beautiful east Pasco County 45 minutes north of Tampa, Giraffe Ranch sits on beautiful rolling countryside of huge live oaks, native orchids and lush pastures and wetlands.
Experience Giraffe Ranch farm tours with an experienced driver/guide in customized 4-wheel drive safari tour vehicles. Get comfortable for a terrific view , as each vehicle is fitted with shade canopies and stadium seating. You will learn about native and exotic animals and their habitats from your safari guide. You will see our ongoing conservation efforts with endangered species and some that are extinct in the wild.
On safari you can feed giraffe, zebra and other animals from Asia, Africa, and the Americas. See a working herd of Austrian Haflinger horses and tiny Irish Dexter cattle. Giraffe Ranch has one of the largest herds of these diminutive cattle in Florida.
Giraffe Ranch is not a zoo or theme park. It is a hands-on real working game farm and wildlife preserve where animals have room to roam.

Tickets are normally $60 for adults but are available today on MiceChat's MiceDeals for just $29. A child ticket can be purchased as a side deal for just $24 (normally $50). Tickets must be used by January 28, 2012 but you'll have to act quick because this MiceDeal ends soon!
http://www.micedeals.com
---
Lowry Park Zoo Welcomes Six New Flamingos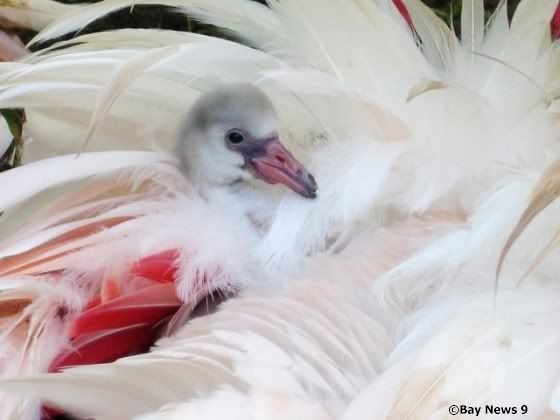 Lowry Park Zoo is in the process of welcoming more animals into their mist. So far six new baby flamingos have hatched with more on the way, weighing in at 2-3oz a piece, they represent the first hatchlings of this species at the Zoo. If you notice the baby birds with grey feathers instead of their traditional pink, that'sbecause a flamingos feathers change over time from the colored materials (or carotenoids) found within the shrimp they eat.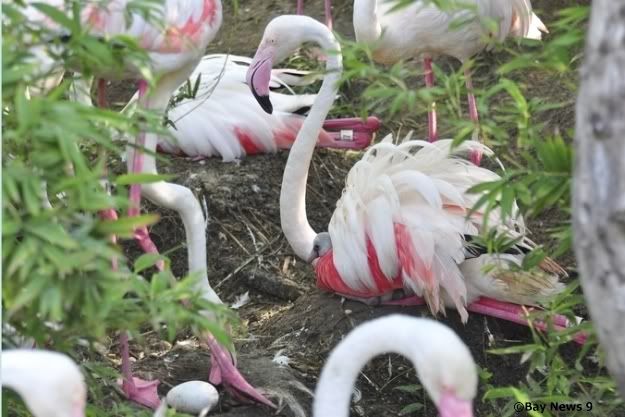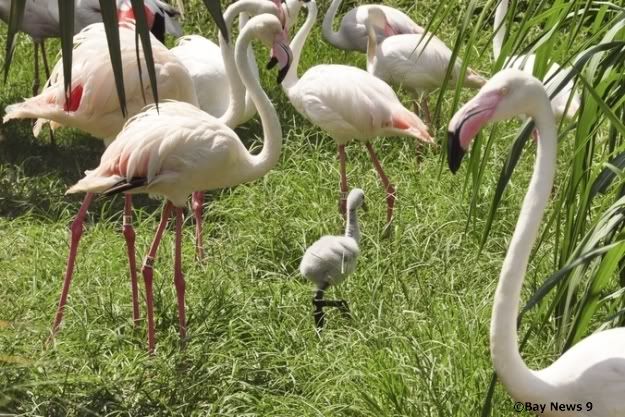 Kennedy Space Center - Star Trek Exhibit
Now through September 5th
Appearing for the first time in Florida, STAR TREK: THE EXHIBITION, presented by EMS Exhibits, Inc., is an interactive exhibit of authentic Star Trek artifacts from the past 45 years, featuring one-of-a-kind costumes, props and filming models from Star Trek television series and feature films. Together these elements offer, Star Trek fans and novices alike, an opportunity to experience first-hand the imagination, artistry, technology and meticulous craftsmanship that have made Star Trek the most enduring science fiction franchise in history.
Games People Play

Now through September 10th - Orange County Regional History Center - Orlando, FL
Starting with the pinball machine, journey through time to discover how electronic games have evolved, through the first computer games and rise and fall of the arcade, to the advanced game consoles of today.
Orlando Science Center - Guitar: The Instrument that Rocked the World
Now through September 11th
The National GUITAR Museum announced that its touring exhibition, GUITAR: The Instrument That Rocked The World will launch worldwide at the Orlando Science Center. The 5,000 square foot will explore the history and evolution of the guitar-from lutes and lyres to modern high-tech instruments-and show how the instrument became the cultural symbol it is today.
Women of Ybor: 125 Years of Influence
Now through October - Ybor City Museum - Ybor City, FL
A new exhibit honoring the amzing contributions women have made to Ybor City throughout its 125-year history is on display at the Ybor City Museum State Park. History is often told from a male perspective, while the equally-important female story often goes untold. This exhibit seeks to tell that story by exploring the role some of Ybor's earliest women had in shaping the town, as well as the positions women would hold as Ybor's history unfolded. You will learn of womens' contributions to almost every aspect of the community, including business, education, medicine, the arts, and civic life.
Don't forget to check out the other areas of MiceChat that offer news, updates and photos about the other Disney Parks around the World!
MiceTube

- Introducing MiceChat's new channel on YouTube. Kevin Yee and MiceChat Sarah have been uploading entertaining videos weekly, along with many other of your MiceAge and MiceChat favorites.

Weekend Update

Offers a world of Disney theme parks as well as other sights and landmarks!

In The Parks

offers news, updates and tips from Disneyland and other Southern California offerings.

SAMLAND

- Your weekly look at some interesting tales from Disney history.

MiceDeals

- We are just about to launch a brand new daily deals site for Disney and theme park fans. Every day a different deal. You won't want to miss out on these great deals for Orlando and Anaheim, sign up for the daily deal emails today!
Show us you appreciate this column by sharing this page with your friends!
We want your photos! Contribute to the Orlando Parkhopper by emailing orlandoparkhopper@miceage.com with your submissions. We welcome volunteers for single contributions as well as permanent "Parkhopper" staff.

Thanks to our fantastic and talented crew of writers, photographers and news contributors who work hard every week to bring you the latest information available: