Welcome to the Orlando Parkhopper! If you're looking for news and photos from Disney World and Orlando area parks and top attractions like Universal Studios, Islands of Adventure and Seaworld, you've come to the right place. This week, we find the Halloween spirit has already taken hold at the Orlando parks. In particular, we focus on the decorations going up in the Magic Kingdom. We also check out the latest progress on the Fantasyland expansion project. We then hop over to Universal Orlando for a full run-down on the scares in store for Halloween Horror nights. If you like what you see, we invite you to Join us there if you dare! as the MiceChatters take on Horror Night at the end of October. We round things out this week by checking out the Foxy happenings at Busch Gardens Tampa.


Today's update was made possible by the WONDERFUL folks at

Happy Limousine, MiceChat's official partner for transportation to and from the Orlando Airport or anywhere you need to go in the Orlando area. Happy Limousine offers one of the newest and most diverse fleets in Orlando which include sedans, Suv's, vans, stretch limousines, minibuses and motor coaches. Happy Limousine can transport clients to any destination in the state of Florida.

Happy Limousine offers luxury transportation at a budget price.

Mice

Chat

readers get a very special rate:

$5.00 off sedans, vans, suv's from Orlando International Airport to any Disney World or local Orlando hotel.


$10.00 off stretch limousine and buses from Orlando International Airport to any local area hotel.


$10.00 off published sedan & minivan rates from Orlando International Airport to Port Canaveral.

$15.00 off published SUV and 10-14 passenger van rates from Orlando International Airport to Port Canaveral

$20.00 published stretch limousine and bus rates from Orlando International Airport to Port Canaveral
Use Discount Code MC5899 when booking your limo to receive discounts.



Please mention the discount code at the time of booking. Coupon code only valid for round-trip transfers to and from MCO, SFB and Port Canaveral. Discount code cannot be combined with any other offers or discounts and has no cash value.


Now on to the update.


By Abomibot & SummerinFL At the Walt Disney World resort, Halloween decorations are popping up on Main Street U.S.A. There are even some going up outside the front gates. We'll also share photos of the significant progress being made over in Magic Kingdom's Fantasyland, as the mountain under Beast's castle continues to take shape.

HALLOWEEN DECORATIONS
Halloween has arrived at the Magic Kingdom! With Mickey's Not So Scary Halloween parties just around the corner, the park is getting a whole new season into gear.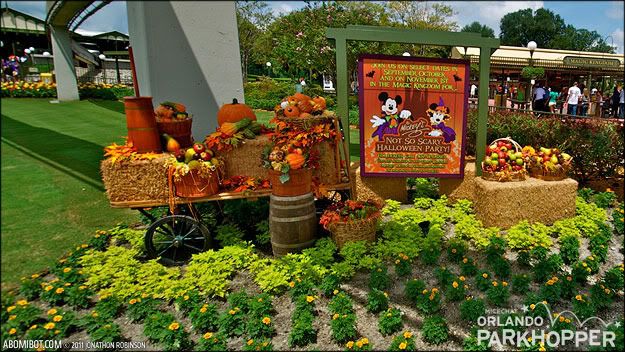 Right after exiting the express monorail, you'll see the first evidence of the season alongside an advertisement for the (extra cost) Mickey's Not-So-Scary Halloween Party.



We have declared this photo series 100% free of bad puns. let's see if we can resist temptation. . .



Halloween Time is our favorite season at the parks!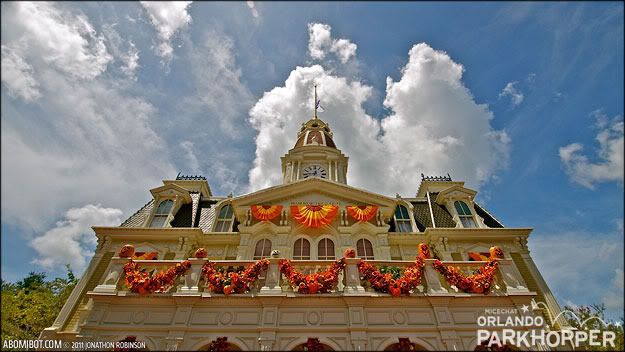 Now this is what I would call "festooned." The Victorian Gothic design elements of the architecture are a perfect fit for Halloween.



While many buildings up and down Main Street U.S.A. are decked out with jack o'lanterns that are customized to the theme of their host buildings, this one is a favorite of ours. Located on the edge of the Firehouse, it is not only decorative but clearly functional as well.




The Town Square Pumpkinizens (C) (R) TM are back.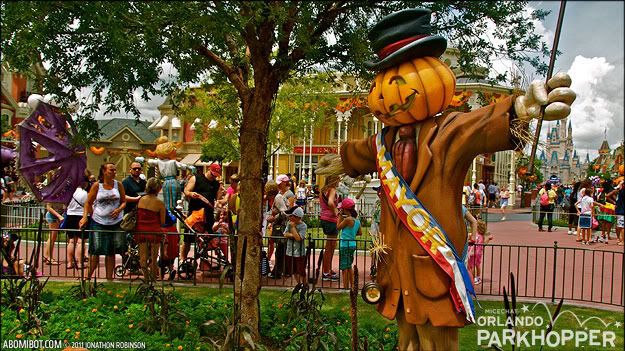 Looks like the all need a hug.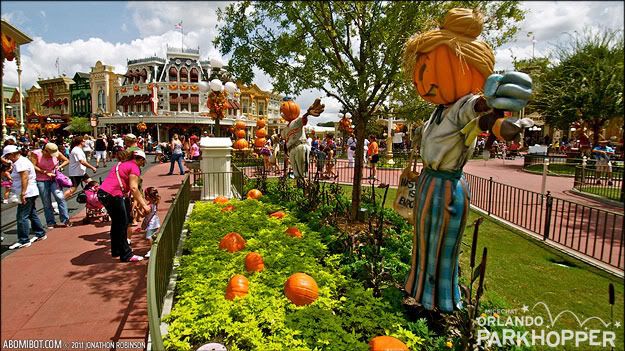 The cattails and bright green ground cover make a beautiful base for the decorations.



Those nearest the Confectionery, of course!


The tribute statue of Roy & Minnie sitting on a park bench has been temporarily moved nearer City Hall to make room for two stacks of jack o'lantern's, a portion of which is seen here in closeup. They are a thoughtful decorative enhancement which enhance castle photos.


We don't mean to squash your hopes but we refuse to be gourded into making any bad puns in the column.

While not every part of the Magic Kingdom is finished getting the HalloweenTime treatment, Main Street U.S.A. is off to a great start and we can all look forward to the spooky fun beginning later this month when Mickey's Not-So-Scary Halloween Party returns on Tuesday September 13th.

-------------------------------------------------------------

Despite the recent glut of industrialized meet and greet opportunities with characters, it is nice to know that one-on-one moments still exist in the Magic Kingdom. No huge line, no army of CM's guarding them....just Peter Pan sharing a quiet moment with a little girl adjacent to the hub. Kudos to this CM and Disney.




FANTASYLAND EXPANSION:
The Magic Kingdom's Fantasyland expansion project continues at a rapid pace. Here is a selection of photos presenting the latest progress.


A new structure has appeared beyond the new tent-in-progress for the "Dueling Dumbos" interactive queue.



What I believe to be the new Storybook Circus Train Station is taking shape.



Belle & Maurice's Cottage is on the left with the yellow cladding, Beast's Castle is atop the rocks in the distance and is that Gaston's Tavern to the right of the rock?



Some closer looks:



The roof refresh on Pinocchio's Village Haus restaurant continues. Old on the right; new on the left.



The new roof glows bright blue in the daytime.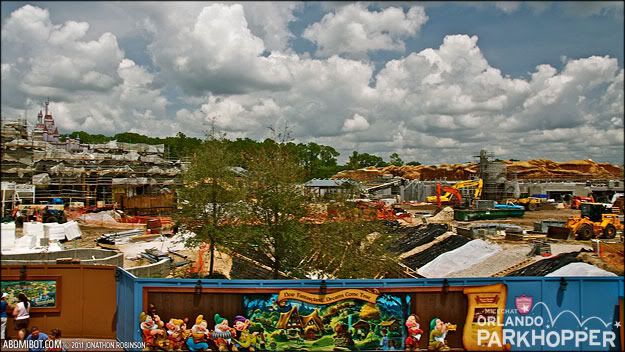 Notice the excavation in the center behind those trees. It looks like what may be the end of the castle wall that's being built to "enclose" many of the traditional Fantasyland attractions near Cinderella Castle. But they appear to be digging a very deep and very wide margin around it.


There was work being done but the crane on the right remained stationary during photography. And it was holding a large, very heavy looking metal structure stationary in the air. Notice the big swath of empty pavement near the brownish-red construction wall on the right?



CM's were stationed along the length of this area telling guests to stay clear, presumably in case the crane fell or dropped its load. It's still amazing to me that they can get away with this kind of thing during operating hours but no one seemed to care all that much and most people didn't even seem to pay it any attention.



Prince Eric's castle and surrounding rock work.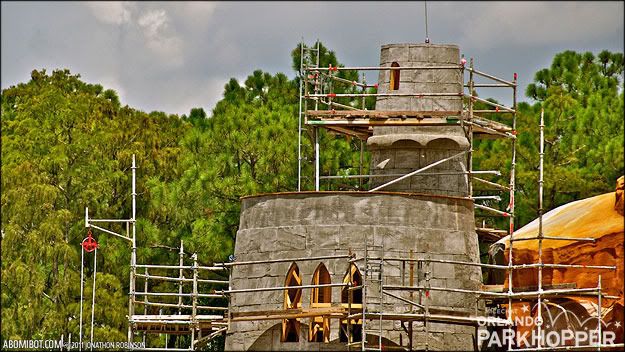 Lots of textural detail beginning to take shape.



I'm assuming - hoping - that the areas edged in green painted smudges will eventually be planted like grassy crests of Splash Mountain or at least textured in some way. Because the rock work is painted so well and this surely can't be what any Imagineer would ever call completed grass.


By DisneyFan89

HALLOWEEN MERCHANDISE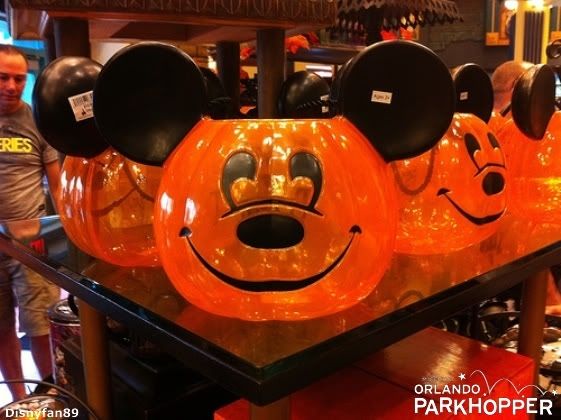 You can have your very own Halloween Tree- $29.95

Shot glasses- $24.95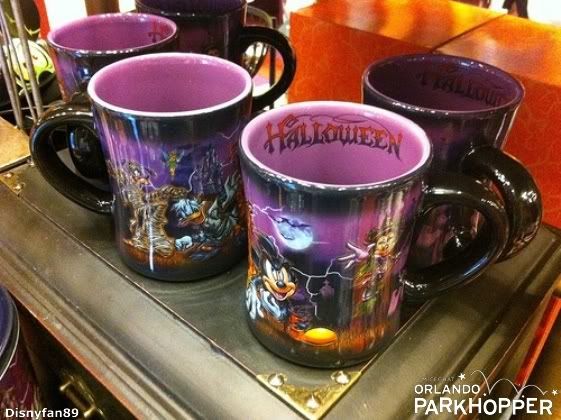 Mug- $11.95

Glow in the dark Pumpkin Mickey Ears- $16.95

Electric Candle- $19.95

Glow in the dark FrakenMouse Ears- $16.95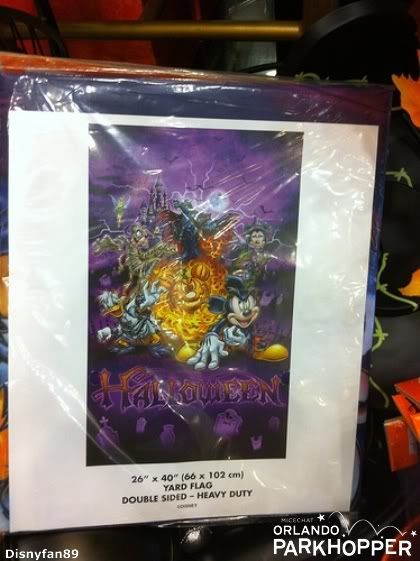 Decorative Flag- $21.95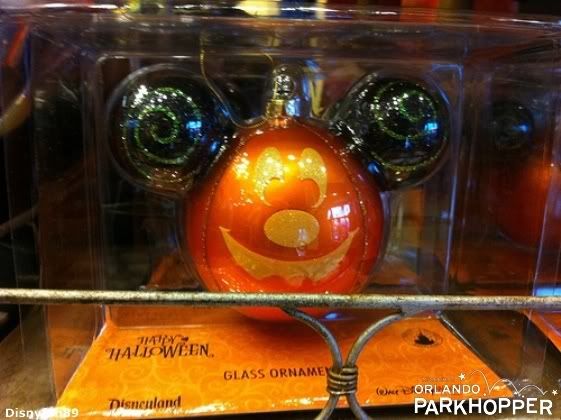 Glass Halloween Ornament- $16.95

Halloween tote- $4.95

Flaming Pumpkin shirt- $21.95

Halloween Duffy- $30.00
Overall this year seems to have a great selection of items with lots of new products and something for everyone.



By SummerinFL



Fairfax Fare - Breakfast


My daughter and I arrived at Disney's Hollywood Studios with minimal time on our hands, and as a result, we had to seek out breakfast somewhere within. Having never really eaten breakfast in Hollywood Studios, we headed toward my daughter's first attraction of choice (Rockin' Roller Coaster), hoping to stumble upon something along the way. Located at the end of Sunset, right at the entrance to Rockin Roller Coaster & Tower of Terror, Fairfax Fare with its bricked and shuttered decor caught our attention, ok, it really was the smell of food but the building is nice!

It's simple, yet fulfilling menu, consists of egg and cheese english muffins (with your choice of bacon or sausage), yogurt, mixed fruit cup, cereal with milk, granola bars, cinnamon rolls and various danishs.



Upon placing our orders we were pleased to see that the milk came in a full size plastic bottle instead of the small paper cartons and the breakfast sandwich came with double meat and double egg, essentially making it a meal for two people, if you choose to do so. The cinammon roll was huge, yet satisfying the only way it can be and you can also request ice water for free, if you don't wish to purchase the bottled water.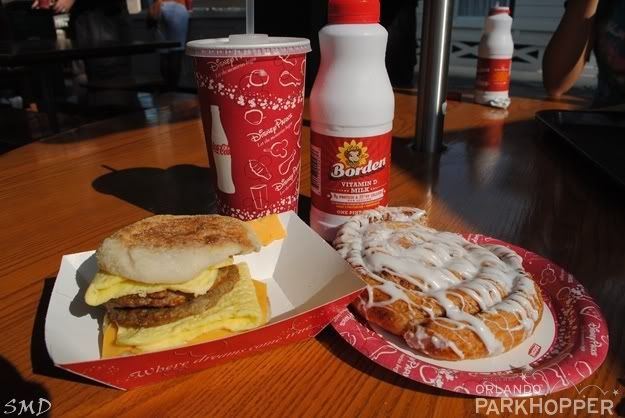 Overall its a great one stop location for your breakfast needs but just remember you might want to eat after you ride Tower of Terror or Rockin Roller Coaster, you wouldn't want any of it coming back up!




By SummerinFL

Busch Gardens Welcomes New Baby Fennec Fox!
My family and I were walking through Jambo Junction and stumbled on the cutest new addition to Busch Gardens. This five month old fox was busy frollicking around behind glass doing, what it appears to be training, on how to eat his squiggly worms with trainers close by for guidance.



By DisneyFan89

If you'd like to visit Universal Studios Orlando Halloween Horror Nights with the safety of a large group of MiceChatters, check out this discussion link and vote in the thread that you'd like to attend. We'll send you more information as soon as we have final details and ticket prices from Universal: MiceChat's Night of Horror Thursday, October 20th.

HALLOWEEN HORROR NIGHTS: AN INDEPTH LOOK
Finally the wait for details is over! On Wednesday, August 31st, Universal finally released all of this year's gory details for Halloween Horror Nights 21. This reveal comes rather late this year compared to year's past. however, it looks like this year's event is shaping up to be an amazing one and we're so excited to share an in depth look at this year's event! The latest press releases take into account all of the work going on at Universal to transform the streets in time for opening night.


Most exciting of all we can reveal to you this year's "face" of HHN, "Lady Luck!" Lady Luck is the force behind this year's event, and she awaits those brave enough to challenge her and take a chance. Her main weapon of choice? Her desire if for you to make yours but no matter what you decide, you can't escape the terror she has in store!


"You seek her...hoping she'll be on your side. She appears...an enchanting seductress...and you decide to take a chance.


But the more chances you take, the more she craves...you. Her eyes grow cold, her face contorts into...something that is not human. Her charming laugh turns into a rabid growl, your luck has run out! You have made your last choice...



As you can see Lady Luck has two sides to her which is unique to this year's icon.

In additiion to the reveal of Lady Luck, Universal announced this year's "8 All New Haunted Houses", "6 Terrifying Scarezones" and the return of "Bill and Ted's Excellent Halloween Adventure", plus an all new show, "Death Drums".

Let's start by taking a look at this year's houses:

Nevermore: The Madness of Poe:

Located in Spring two (previous house: Havoc: Dogs of War), this house will invite you to "step into the mind of the iconic writer, where every turn of the page takes you closer to the bring of insanity. Each room will bring to life one of Poe's famous literary masterpieces.

What will be really interesting is that this year both HHN and HOS are featuring a house based on the works of Poe. This will give Haunt fans the opportunity for the first time to fully compare HHN vs HOS in terms of scares, scenic design and overall execution of a Haunted House.

The Forsaken:



Located in the parade builing (Hollow'd Past), this house tells the story of Christopher Columbus' cursed fourth ship that was "condemned to a watery grave", but now the "mutinous and cursed crew" of that 4th ship has returned with a vengeance. This house will take you through an old forte and deep into the cursed ship itself.


H.R. Bloodengutz Presents: Holidays of Horror:


Located in the Disater queue, this location has developed the reputation of being a "dark humor" house, starting with "Leave it to Cleaver" in 2009 amd continuing with "Zombiegeddon" at last year's event. This year they continue their tradition of a comedy house where you will "join creature feature house, H.R. Bloodengutz, in his final televised broadcast as he presents a SCARE-a-thon of holiday based horror." This is also not Universal's first time corrupting other holidays as they have done a Christmas based house in 2007'. We are looking forward to seeing HHN's unique version of popular holidays such as Thanksgiving, 4th of July, and Easter.

The Thing:


In order to help promote Universal's upcoming prequel of John Carpenter's cult horror film classic, "The Thing", Universal is giving a sneak preview of the movie to HHN guests by actually putting them right in the middle of the action. This haunted house, where "paranoia spread like an epidemic among a group of researchers in an isolated Antarctic outpost as they are infected, one by one, by a horrifying creature from another planet", will accurately recreate the sets, props and creatures found in the upcoming movie. This is the second time Universal has given guests the chance to experience the movie before they can see it in theaters and we are eagerly looking forward to it. While this isn't the first time Universal has done a "Thing" house, this year it finally gets the "Soundstage Treatment" and will be located in Soundstage 22B.

Saw N' Steam: Into the Machine:


Based on last year's hit scarezone, this marks the first time ever that HHN has taken a scare zone and turned it into a full fledged Haunted House. This steampunk house is based in a world where all of the water on the planet has dried up and needing to steam to help power the city and once inside the Machine you will experience "spinning blades and massive, crushing pistons await you around every corner as you are forced deeper into the bowels of a mechanical nightmare." This house will be located in the Jaws queue (The Orphanage: Ashes to Ashes)



A first look at the Saw's N Steam house entrance


The In-Between:
"An ominous portal reveals a 3rd dimension where all is not what it seems: a realm where our world and another collide. Surrounded by fiendish creatures, your eyes will decieve you with every step through this phantasm of terror." Located in Sprung one (Catacombs: Black Death Rising), this will be a traditional 3-D haunted house designed with effects that will confuse and disorient you making it difficult to figure out just what exactly is real and what is not. Universal's last 3-D house in 07' was their best to date and we hope they can once again top themselves and deliver a great experience with this house.




The In-Between facade.


Winter's Night: The Haunting of Hawthorn Cemetery

Set in 1899, this is Universal's second time in 21 years of using a strictly ghost based house. "As snow falls on this normally serene gothic cemetery, the dedeased souls that occupy its confines have their sights set upon you, insuring that the chill you feel up your spine is more than just the cold of night." Based on released concept art for this Haunted House, in Soundstage 22 (Legendary Truth), it looks like it will be the most beautiful and detailed house to look at. Plus it will feature a new effect involving "blue light."

Nightingales: Blood Prey:


"Within every war, the Nightingales have appeared. Able to transform themselves to fit any setting, these savage banshees feed on the weak and helpless. Patrolling WWI era trenches, you discover that you are more than just at war.. you're being hunted." This house will be located in Soundstage 23 (Hades: Gates of Ruin) and will place you in the snow covered trenches of WWI.Next is the Scarezones and as mentioned above we have the latest look at their construction:


Acid Assault:

"For decades now the city has been degrading from the effects of Acid Rain that still falls today, caused by factories which sprung up on the city's edges during the 20th century. Those that have lived and survived the blistering decay are all alone in the city. Survivors have stripped the city of a life to sustain their own...dare to enter the ACID ASSAULT."

This looks to be our biggest and most detailed Scarezone so far this year!


Props are beginning to line the streets.



Guess he is singing in the acid now.



Around the corner near Mummy.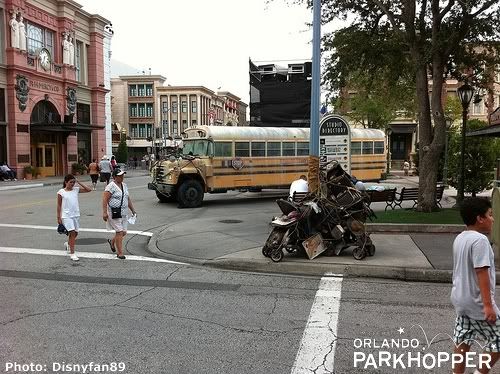 These projectors will create the illusion that the facades in New York will be decaying and crumbling. Similar to the effects used on Space Mountain out in Disneyland for Ghost Galaxy.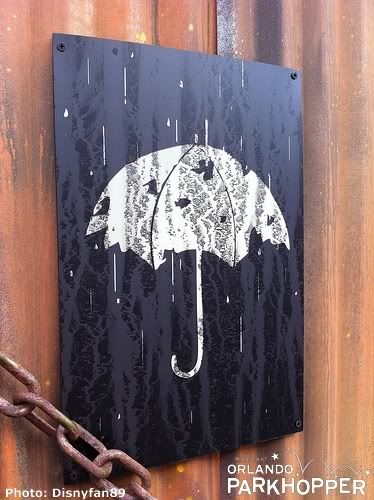 Additional speakers for sound effects for the projection effects.

Canyon of Dark Souls:

"Upon entering into the Canyon of Dark Souls, you will feel like a small spec of humaity as the overwhelming sense of death surrounds you. Creatures that dwell within the Canyon are not welcoming so walk slowly as to not disturb them."


Lighting installed for the zone.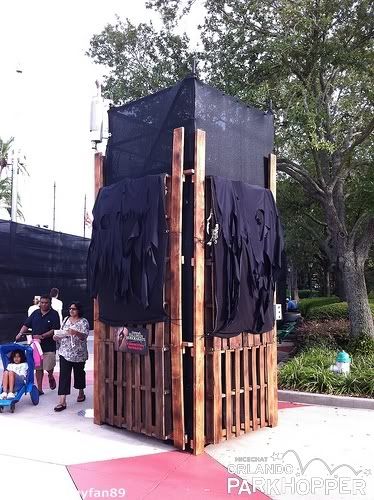 The black fabric will be removed during event nights and reveal the skeletons underneath.



Flame throwers! Who doesn't love some fire?

Grown Evil:



"Enter, if you dare, into our garden where Evil grows. Nature has taken this once well manicured sanctuary back from the humans who once kept it. Now the creatures that inhabit the garden are making any human that enters their prey."


Over in central park more trees are being added.





Fake doors have been added to the nearby building, although we aren't sure if this is HHN related or something else.

NightMaze:



"Journey through the ever changing maze of darkness. This all black maze will morph and change as you walk through it. You will not be scared the same way twice!"




Trusses have been installed above the two entrance ways.




Here you can see where they have multiple holes in the ground for multiple arrangments.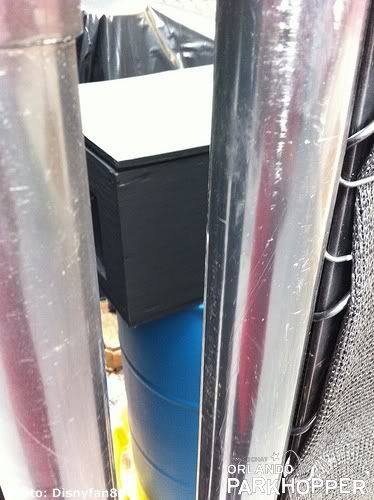 Fog machine set up in one of the pens.

A movable spot set up on one end.




Looking toward RockIt.

7:


"As daylight shines upon our Temptresses, their appearance, though evil, allows you the spectacle of beauty. As night falls, these seven tempresses will show their true colors and take on their true Fatal Evil forms. Beware of your own temptations."As of Saturday no work has been done in guest view for this scare zone besides some lighting being set up.

You Luck Has Run Out: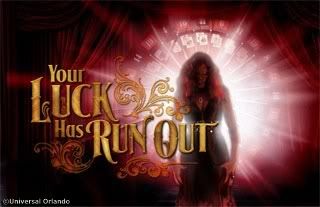 "Enter if you dare into the lair of the LUCKY! Your choices will determine if you make it out alive. Witness lucks deadly wrath, will she choose you to be her next victim?"And new for this year is a high energy "stomp" like show featuring live music and dancing is....

Death Drums:
Universal is describing "Death Drums" as a "seductive, hard-hitting and raw extreme drumming experience." This show will have three performances at night and each show will be different. It will be performed in New York by the main lagoon. Light posts have already been set up for the show.

In addition to all of this Universal is also making sure no corner is left untouched for this year's event and with a scarezone this year in Central Park the Hundreds of Pumpkins that usually adorn the trees each year have been moved to the kid zone where guests queue up for the two sprung tents. The pumpkins are always a favorite since their premire in 2008 and we're excited to see them return again and it appears there are more of them than ever before.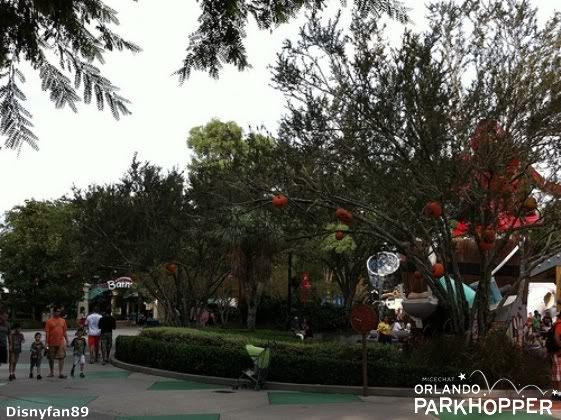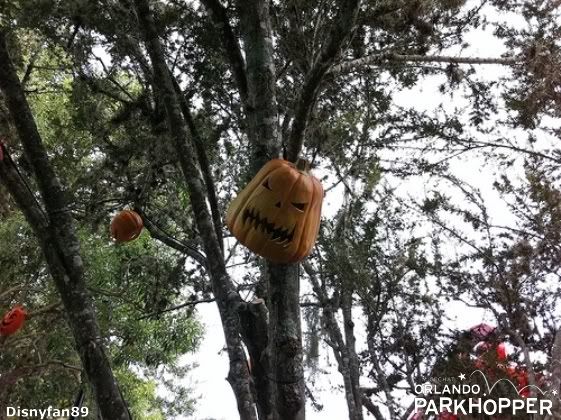 Universal also announced that for the third year in a row that Rip Ride Rockit will be open for this year's HHN event. However, unexpected set backs or changes to Rockit's maintenance schedule have prevented it from being open for the events past. This year it looks like there is nothing standing in its way from being operational for this year...well, almost nothing. The queue line for the soundstage houses traditionally pass under Rockit's track during the event and due to the volume of people entering and exiting the houses there is no way around guests walking underneath.
This brings some concern to us here at OPH. As you can see, based on the picture taken two days ago there are no nets positioned below the track that runs above the queue lines to the soundstages to catch possible items that may fall from the ride. This means one of two things (assuming the nets are not installed before the event opens) 1) Guests will have to wait under the track and dodge any cell phones, wallets, keys, etc..that come flying their way or 2) Universal will have to keep the ride closed during the event. While its not required to have nets up and while Rockit does have a strict no items policy for riders we know that is hard to guarantee that all items are locked up and not in rider's pockets. We hope for the sake of safety that Universal at the very least installs temporary nets for the event.We're just two weeks away from this year's event and here at OPH we couldn't be more excited! We will continue to bring you all the latest on this and other Halloween events as we draw closer to opening night.

Games People Play
Now through September 10th - Orange County Regional History Center - Orlando, FL
Starting with the pinball machine, journey through time to discover how electronic games have evolved, through the first computer games and rise and fall of the arcade, to the advanced game consoles of today.




Orlando Science Center - Guitar: The Instrument that Rocked the World


Now through September 11th
The National GUITAR Museum announced that its touring exhibition, GUITAR: The Instrument That Rocked The World will launch worldwide at the Orlando Science Center. The 5,000 square foot will explore the history and evolution of the guitar-from lutes and lyres to modern high-tech instruments-and show how the instrument became the cultural symbol it is today.




Where the Past Meets the Future: The Art of Fay Grajower


Now through September 28th - Florida Holocaust Museum - St. Petersburg, FL

Women of Ybor: 125 Years of Influence


Now through October - Ybor City Museum - Ybor City, FL
A new exhibit honoring the amzing contributions women have made to Ybor City throughout its 125-year history is on display at the Ybor City Museum State Park. History is often told from a male perspective, while the equally-important female story often goes untold. This exhibit seeks to tell that story by exploring the role some of Ybor's earliest women had in shaping the town, as well as the positions women would hold as Ybor's history unfolded. You will learn of womens' contributions to almost every aspect of the community, including business, education, medicine, the arts, and civic life. Don't forget to check out the other areas of MiceChat that offer news, updates and photos about the other Disney Parks around the World!


Where are the Parkhoppers this week? It's up to you to

decipher

the picture and see if you can find us. Every week we'll provide a partial image of a photo and it will be your job to guess where you think we're hiding! The 1st person to guess correctly will have their name featured in the following week's game listed along side the correct answer. Good luck!!
This Weeks pic:
Last Weeks pic:

Coca-Cola Cool Ship in Tomorrowland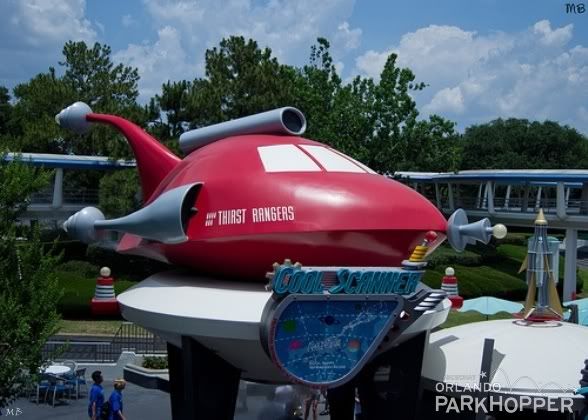 Fun fact! Did you know that the ship is a refurbishment of the prop used in the movie Flight of the Navigator?

Congratulations to Ukelele Guy for being the 1st person to correctly identify the location of the hidden parkhopper! Imaginationeer recieves an honorable mention however, for knowing the exact location and name of the image!


---
MiceTube

- Introducing MiceChat's new channel on YouTube. Kevin Yee and MiceChat Sarah have been uploading entertaining videos weekly, along with many other of your MiceAge and MiceChat favorites.

Weekend Update

Offers a world of Disney theme parks as well as other sights and landmarks!

In The Parks offers news, updates and tips from Disneyland and other Southern California offerings.

SAMLAND - Your weekly look at some interesting tales from Disney history.

MiceDeals

- We are just about to launch a brand new daily deals site for Disney and theme park fans. Every day a different deal. You won't want to miss out on these great deals for Orlando and Anaheim, sign up for the daily deal emails today!
Show us you appreciate this column by sharing this page with your friends!
We want your photos! Contribute to the Orlando Parkhopper by emailing orlandoparkhopper@miceage.com with your submissions. We welcome volunteers for single contributions as well as permanent "Parkhopper" staff.

Thanks to our fantastic and talented crew of writers, photographers and news contributors who work hard every week to bring you the latest information available. This week's team included: