There were a lot of Micechatter's in the World this week! We have coverage of a night of fun at Mickey's Not So Scary Halloween Party, a whole group descending upon Epcot's International Food and Wine Festival and some changes are being implemented now when you want to make dining reservations. Grad Night has come to Busch Gardens, we briefly visit Halloween Horror Nights and Legoland just released a new app that will help guests with their theme park needs. Let's get started!
A lot of fellow MiceChatters were in the World this week as they sipped and nibbled around World Showcase during the Food and Wine Festival at EPCOT. We also take a look at the new dining changes at some of the more popular table service restaurants at Walt Disney World (hopefully to open up tables for walk ins and those not on the dining plan), and a look at the Not So Scary Halloween Party as well.

DISNEY DINING RESERVATION CHANGES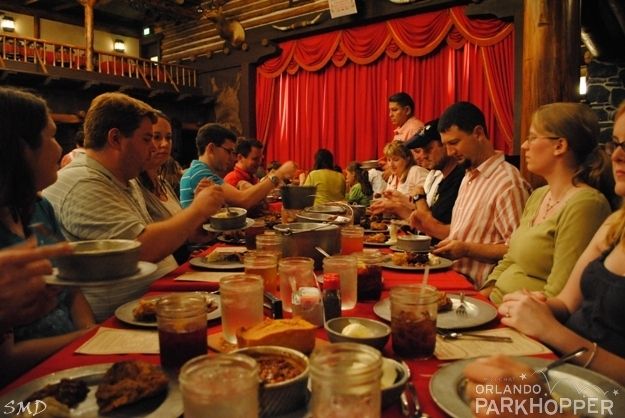 www.disneyworld.com/dining
, or at any guest relations or resort front desk.
While we've shared some photos before of the Halloween season at Walt Disney World, it never hurts to add more from different perspectives. Here's a look from ABOMIBOT of Mickey's Not So Scary Halloween Party with a sampling of gorgeous shots, as well as Hallowishes from a truly unique vantage point.
MICKEY'S NOT SO SCARY HALLOWEEN

SPOOKY FLORIDA FUN
by ABOMIBOT

The Halloween season is one of the many things we looked forward to as we planned our move to central Florida. And now that we're here, we're out and enjoying as much of the spooky fun as we can! Here are a few photos from a trip to the Magic Kingdom for Mickey's Not-So-Scary Halloween Party, Universal Orlando's Halloween Horror Nights and a special late-dinner viewing of HalloWishes from California Grill's outdoor deck atop the Contemporary Resort. Let the spooky begin!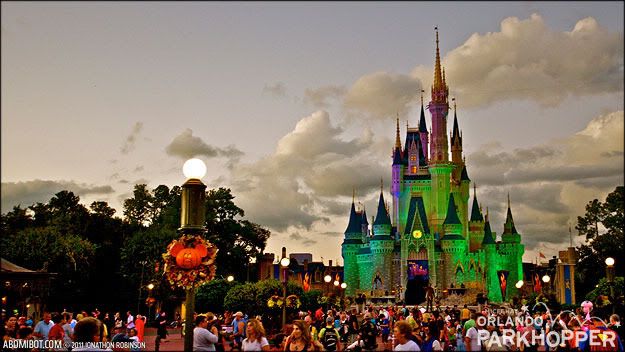 A crisp, cloudy sunset and some colorful lighting puts you immediately in the mood for some HalloweenTime fun!
There may be a maintenance issue or two around the Magic Kingdom that would never be seen in the Anaheim park, but thank goodness no one has (yet) gutted the landscaping budget. While summer heat in Florida may melt even the newest plantings the fall flowers and foliage around the hub look pristine.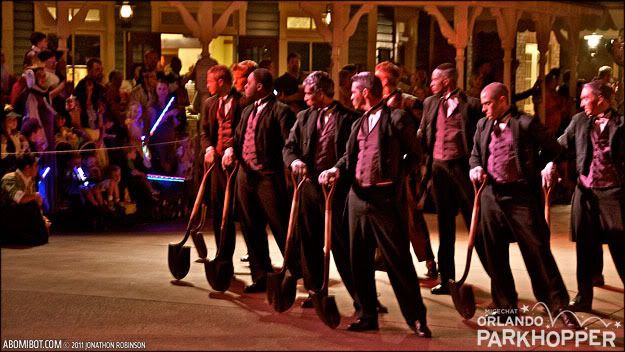 We've been going west to Disneyland for Halloween for a few years and haven't seen the "Boo to You" Halloween parade since 2008. There are some great new floats but sadly fewer dancers, it seems. We recall an army of cowboys before and now there is only a half dozen or so. But I'm happy to report one of the coolest groups of performers is still fully staffed and making sparks by dragging their shovels down the parade route.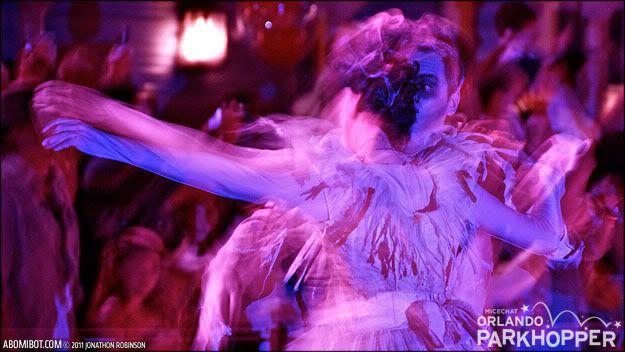 Sometimes it can pay to be using a too-slow shutter. These ghostly ballroom dancers seem even ghostlier in what is technically a bad photo. Yay for bad photos!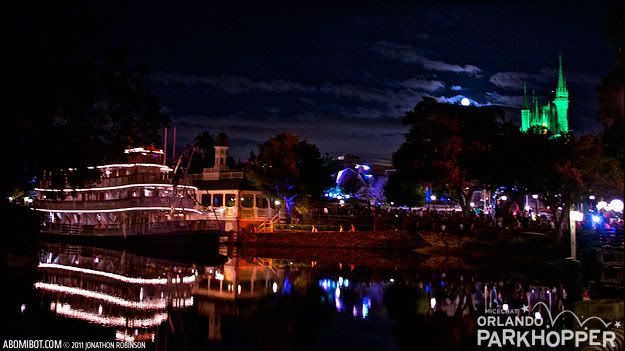 The clouds parted and presented a nearly-full moon over Cinderella Castle!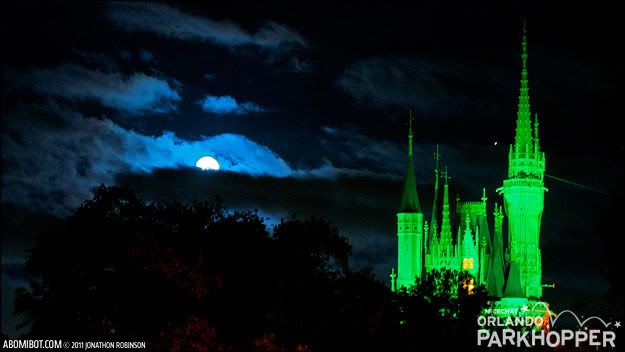 It was magically spooky!
A lot of people take long exposure fireworks photos with incredible results. I personally don't like carrying even a small tripod, however. But there's a personal preference at work for my fireworks photos, too. I like seeing illuminated smoke and bursts of light frozen in the blink of an eye.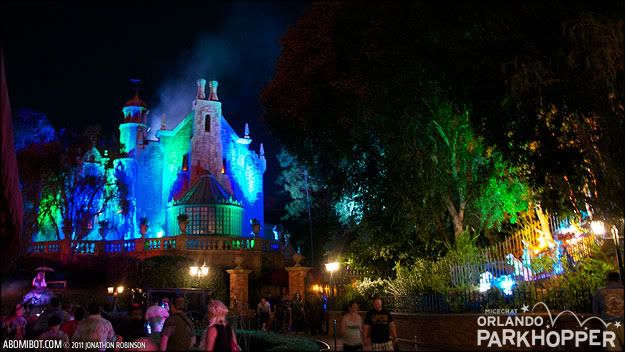 The Haunted Mansion is appropriately lighted and smoky for the occasion.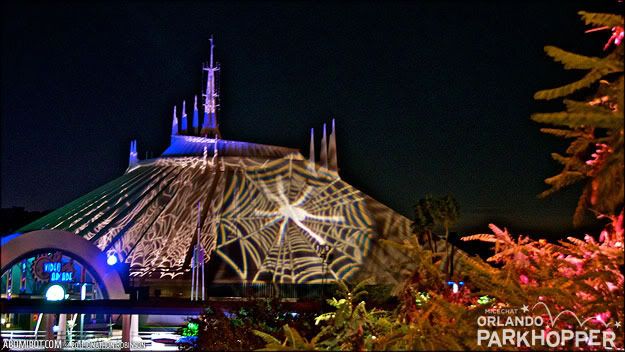 Sure, spider webs are season-appropriate. And I'm glad they're doing something with Space Mountain. But we desperately need a Halloween overlay like Ghost Galaxy. It wouldn't spoil the experience for the 70% out-of-towners like a more extensive overlay arguably might. And the Halloween Party is in desperate need of something new and shiny to keep it fresh.
While riding the PeopleMover (our favorite ride in the park), we were stopped for several minutes just under the Space Mountain lift hill. I can't tell you how many too-dark or too-blurry photos of this scene I have. You can even clearly see the space station projection on the ceiling! Thanks to whatever caused the shutdown!
This is a view directly behind the PeopleMover ride vehicle position where I snapped the previous shot. The dust and 70's-era princess phone isn't terribly magical, but you can see the linear induction magnets in the floor that propel the ride vehicles forward as well as the pressure mats lining the tunnel so they know the moment anyone exits. The purple spots in the distance project invisible light for an infrared camera. You can see these camera views on loading platform monitors.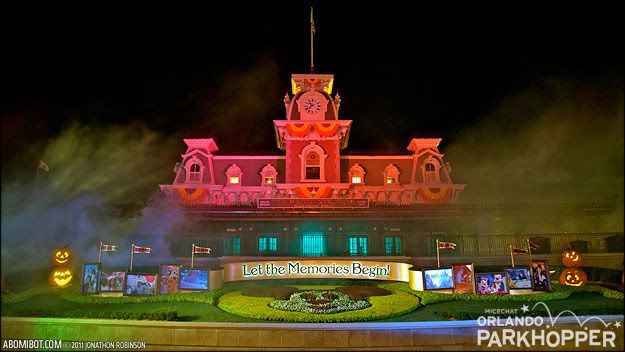 We left the party a bit early at 10 and it afforded us a rare opportunity to photograph the train station without a soul in sight! I'd love to know how many hundreds of gallons of fog juice they use each Halloween season...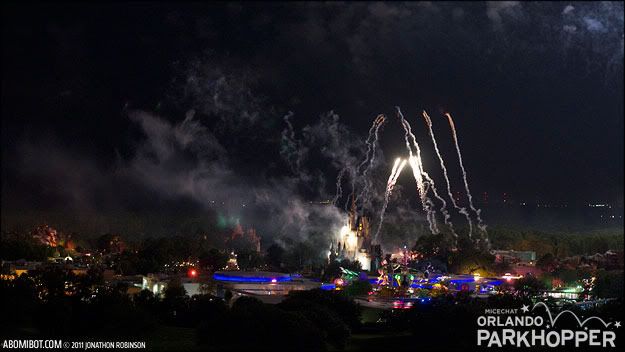 Our Spooky Fun Tour ends with some photos of HalloWishes from California Grill's rooftop deck at the Contemporary Hotel.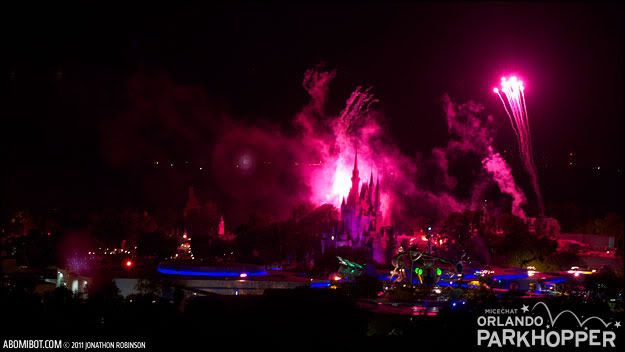 Even if you're in the middle of a meal, you are invited to head outside on the deck to watch whatever fireworks show is presented that night. The music is pumped in as loudly as it is on Main Street and you get a sweeping view from the Polynesian Resort on the left all the way around Seven Seas lagoon to the Magic Kingdom.
And without turning your head you can see from the top of Chickapin Hill on Splash Mountain to the spires of Space Mountain. This was an accidental surprise when we had our first California Grill dinner way back in the day and it is now a tradition for us to see HalloWishes at least once a year from this vantage point. And having an awesome dinner doesn't hurt, either.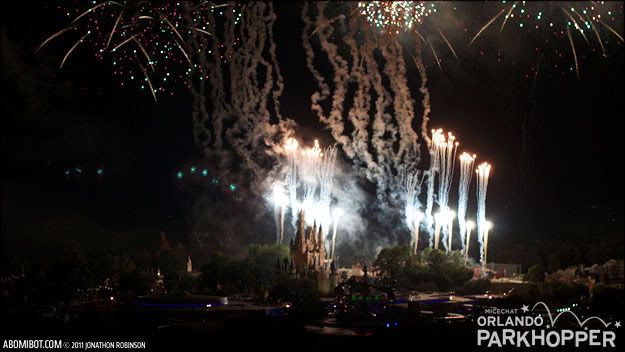 We recommend you make this one of your HalloweenTime traditions, too. But California Grill reservations fill up early so check the scheduled fireworks time for the night you plan to be there and make your dinner reservations within an hour or so of that time. Have a spooky Halloween everybody and stay safe out there!

SIP AND NIBBLE
MiceChatter's descended upon Epcot for the yearly International Food and Wine Festival. Lots of sips and nibbles were had as we strolled leisurely around World Showcase. Here are some pictures from this fabulous event!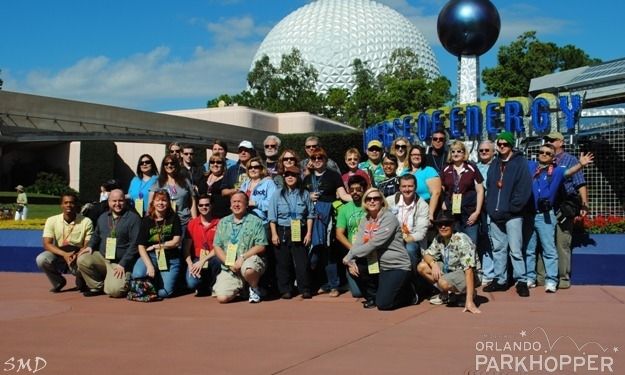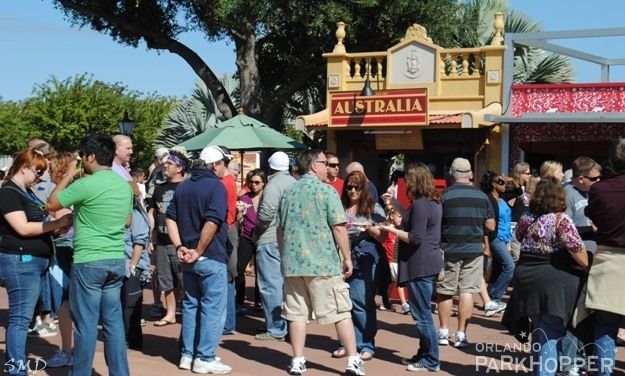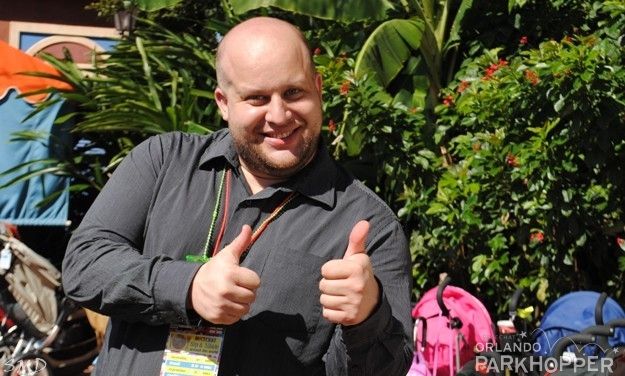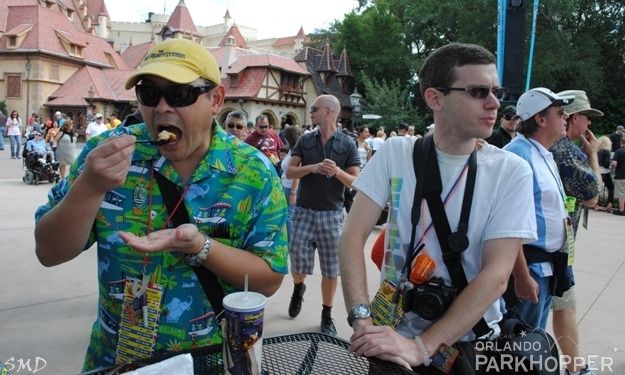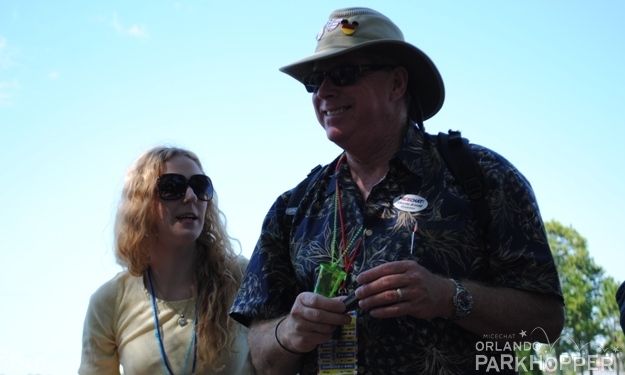 We did take a break from eating to ride the Gran Fiesta Tour.
Festival Welcome Center in the old Wonders of Life Pavilion
Speaking of food....there was plenty to be enjoyed~!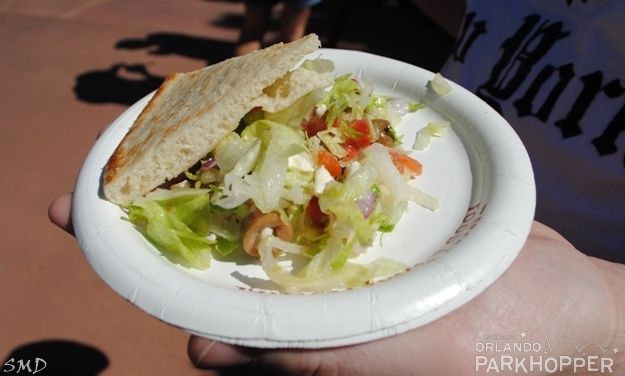 Greek Salad with Pita Bread
Maple and Moosehead Beer glazed Salmon with Barley Salad & Chicken Chipotle Sausage with Sweet Corn Polenta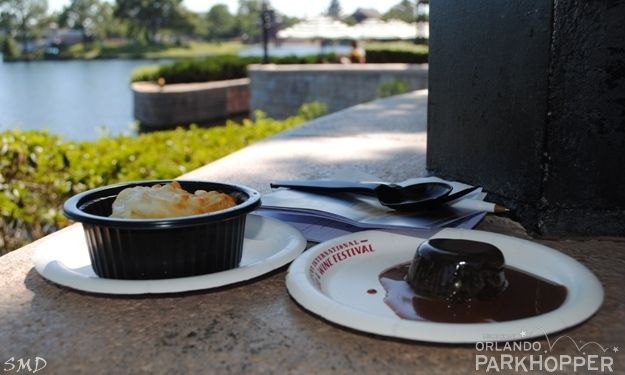 Lobster and Scallop Fisherman's Pie & Warm Chocolate Lava Cake with Baileys Irish Cream Ganache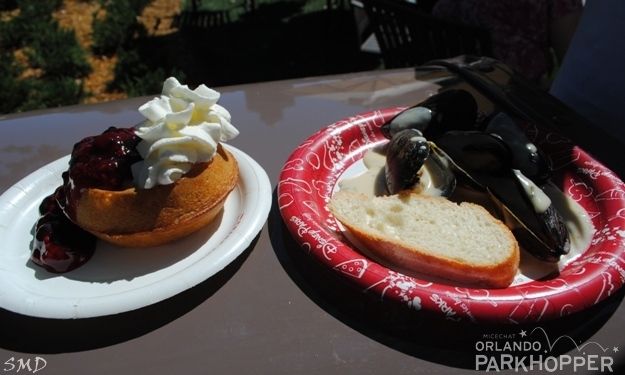 Belgian Waffles with Berry Compote and Whipped Cream & Steamed Mussels with Roasted Garlic Cream
Seared Sea Scallop with Vegetable Slaw and Lemon Oil
New England Lobster Roll
Shrimp on the Barbie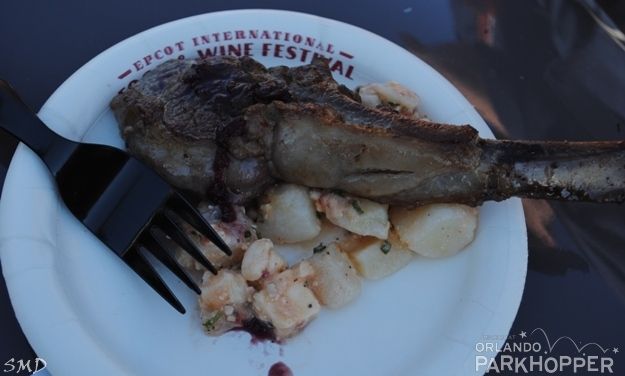 Grilled Lamp Chop with Roasted Potato Salad and Red Wine Reduction
Cannoli al Cioccolato (Chocolate Covered Cannoli Shell Filled with Sweet Ricotta Cheese, Chocolate, and Candied Fruit) & Cappellini con Gamberi Piccanti (Pasta with Spicy Shrimp)
Rib Eye Taco
Free sample of Craisins! The only free item of the day!

JAPAN PAVILION CONSTRUCTION

Construction continues on the koi pond area of the Japan Pavilion.


Please welcome our newest sponsor...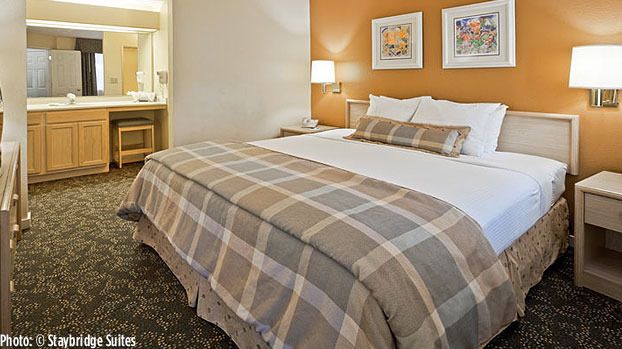 Staybridge Suites Orlando Hotels offers guests comfort and convenience just minutes from all of the fun and excitement of the world-class Orlando attractions. Their signature Two Bedroom/Two Bath Suites offer privacy and amenities to keep the entire family happy.


Staybridge Suites is the upscale all-suites brand of InterContinental Hotels Group, which offers guests the added bonus of earning Priority Club Points for each stay. Both Staybridge Suites Orlando Hotels have the distinction of being recognized as Walt Disney WorldMagic Your Way

We share some news that will have many people upset about one of Islands of Adventure's coasters, and we also check out some more of the Halloween Horror Nights taking place at Universal Orlando. Some creepy stuff going on, as always this season!
DRAGON CHALLENGE

Universal Orlando
has confirmed that the Dragon Challenge coaster will never "duel" again due to "safety reasons."
HALLOWEEN HORROR NIGHTS : A BRIEF LOOK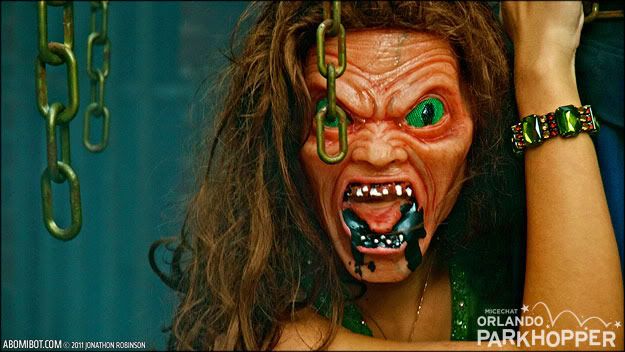 Our next round of spooky fun was a visit to Universal Orlando's Halloween Horror Nights. Here its clear hostess Lady Luck isn't quite so lucky in the dental department.
Even though the signs posted around the park say "no video and no flash photography," anytime I tried to take even a non-flash photo inside a Haunted House one of the many "watchers" in black got really snippy and told me to stop. If you don't want to allow photos of any kind in the houses, fine. But don't post one policy and enforce another.
The bad news should be obvious. The good news is that you are clearly now free to be as naughty as you want. This is from the Holidays of Horror house. Very imaginative and darkly funny!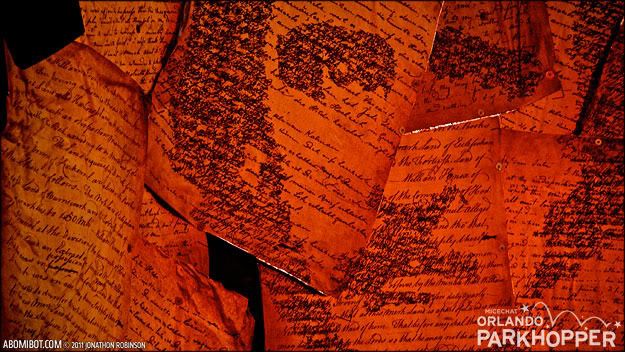 The Poe house was also very imaginative but not terrifically scary. But there were some spooky giant ravens that got me and the old man with the one dead eye from Tell Tale Heart made me scream. And the scenic was incredible.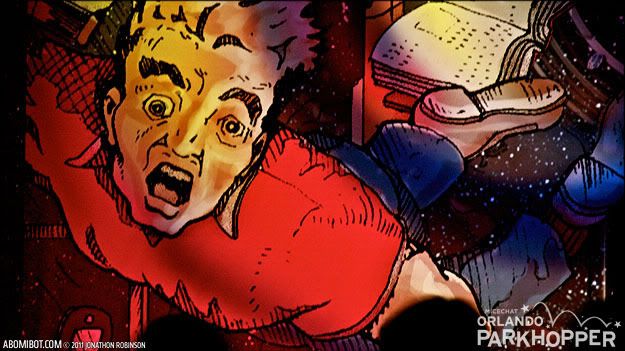 The In-Between starts and ends in a boy's bedroom. What lies in-between is one of the most awesome experiences of the event! The entire house is in 3D and you given polarized glasses to wear through the experience. It works very well and some of the scariest moments of our night were in this trippy maze. A tunnel effect had a few members of our party literally on their knees.
Even the non-spooky parts of the park are given a bit of seasonal face lifting.
Here is the coolest scare zone of them all called Acid Assault. A post-apocalyptic world full of crumbing buildings, mutants and acid rain. The crumbling building projection effects are very cool from a proper distance but the resolution is far too low to work well up close and the registration (how the projection lines up to the structure on which its projected) appeared to be off by as much as several feet on some surfaces.
Another technically awful photo that I can't resist sharing. The mutants had noisemakers and chainsaws and were very good at popping up right in front of your face out of nowhere. I was not taking a photo of him. He jumped into my frame and scared the living mutant outta me.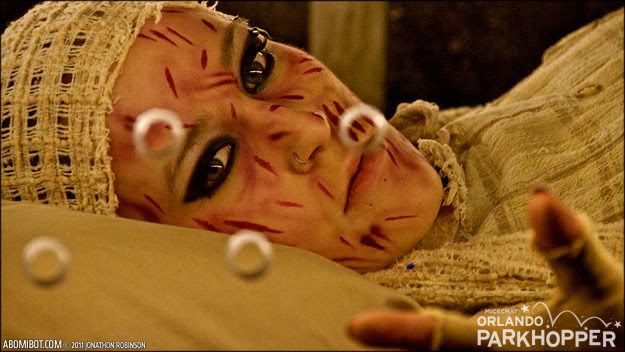 Rat Woman (trapped in this box with a dozen or so live rats!) bids you adieu.
I wish I had photos of the most amazing house on property, Winter's Night: The Haunting of Hawthorne Cemetery. The scenic was near movie quality, it snowed
real snow
inside and was
truly freezing
, and it had one of the scariest creature designs of the entire event, an angel statue reminiscent of the frightening Weeping Angels from Doctor Who. I can't wait to go back for another scary night at Universal!

LEGOLAND APP

Legoland Florida now has an official app for iPhone and Android phone users! Search "LEGOLAND Florida" and choose Official LEGOLAND Florida app. With it you can purchase park tickets, plan you visit, post to Facebook and even play a trivia game!
-
Legoland Florida on Facebook
While Walt Disney World may have canceled their grad nights this year, it seems seniors will have another option once they receive their diploma. A smart move on Busch Gardens' part, but one wonders if someone stealing Disney's thunder will force them to take the Grad Nite idea back in 2013. Guess we'll have to wait a year and see!
BUSCH GARDENS GRAD NIGHT


BUSCH GARDENS TAMPA BAY TO HOST FIRST-EVER 12th GRADE GRAD NITE
Cobra Starship and Comedian Gabriel Iglesias will Play an Exciting Role in this Special Night Devoted to Graduating High School Seniors.
Busch Gardens Tampa Bay is excited to host its first annual 12
th
Night Shades,

WHAT:

ADMISSION: $54.99 + tax
(One complimentary chaperone ticket given for each 10 paid student tickets; additional chaperone tickets can be purchased for $54.99 + tax)

RESERVATIONS:
Please email
gradnite@buschgardens.com
OR call
866-781-1333
Admission to the all new 12
th
---
Want to meet up with other Disney fans while at Disney World? Several of the Orlando Parkhopper team members are part of a group that meets every weekend. Join the public Facebook group and get notified of events (the locations are different every time). Drop by to visit the "attraction of the day" with us. Newcomers are welcome!
---

Where are the Parkhoppers this week? It's up to you to decipher the picture below and see if you can find us. We'll provide a partial image of a photo and it will be your job to guess where you think we're hiding!

The 1st person to guess correctly will have their name featured in next week's game listed along side the correct answer. Good luck!!


If you appreciate this column, share this page with your friends!
We want your photos! Contribute to the Orlando Parkhopper by emailing orlandoparkhopper@miceage.com with your submissions. We welcome volunteers for single contributions as well as permanent "Parkhopper" staff.



Thanks to our fantastic and talented crew of writers, photographers and news contributors who work hard every week to bring you the latest information available. This week's team included:
Editors: SummerinFL, YoYoFlamingo