Hop right up folks to your weekly Orlando Theme Park news and photo blog. If you haven't heard yet, President Obama recently made a visit to the Magic Kingdom in support of domestic tourism and we finally got the chance to actually play the new interactive Sorcerers in the Kingdom game. Next up, we stop by the Studios park to try and figure out what has gone so wrong with the Studio Backlot Tour. Finally, we drop by Universal for the latest construction shots at Despicable Me, the new Lagoon show, and to see what is happening behind the walls in old Amity. Come on, let's see what's hopping . . .


In a change to long-standing Cast Member grooming standards, Disney will begin allowing CM's to have beards and goatees beginning February 3rd. While this may seem like non-news to the rest of the world (where piercings, tattoos and other "alternative" choices are common) this is actually a big step for the mouse. We don't have much of an issue with any Cast Memeber's appearance as long as they are able to do their job and it is thematically appropriate. What would fly in Adventureland might not go over so well in Tomorrowland or Main Street U.S.A.. Let's hope they cast appropriately and uphold that squeaky clean Disney image, even if it does contain a few more hairs.


Main Street U.S.A. saw quite a bit of action this week. Aside from the maintenance projects that are making the rounds of the street, President Obama made a visit to give a speech on the steps of Cinderella Castle, promoting US tourism.

MAGIC KINGDOM MAINTENANCE:
Maintenance work continues on the bakery facade on Main Street while construction walls have now crawled forward into the central hub of the park. Fences and supports seem to be getting fresh coats of paint and walls are going up all over the place.


The bridge that connects Main Street U.S.A. with the central hub.


NO MORE CHRISTMAS:
The black, netted lights that were draped over Cinderella Castle are now begin removed with the aid of cranes and a little bit of help from the Fairy Godmother. You see, even Cinderella takes her Christmas lights down each year. It's almost February but hey, at least she isn't leaving them up all year.


OBAMA IN THE MAGIC KINGDOM:
The Magic Kingdom was very quiet and except for the extra walls and security within the walled off/roped off areas. The park was pretty slow, with Space Mountain at a 10 minute wait when we walked by (even with the People Mover being down at the time).

Even Streetmosphere (and the Mayor of Main Street) were kept off of Main Street. They greeted guests that walked into the park, and around Town Square.


There was a wall on this side of Main Street, seen as guests walked in. Security entering the park was not different than usual, but there was a metal detector for anyone invited to the event.



Guests were diverted through a backstage area, which was lined with decorations and floats (including ones that haven't been used in a while). Main Street transportation vehicles were also displayed.




Guests were hoping for a glimpse of the President, but every vantage point was blocked off:



The Hall of Presidents hosted a simulcast.


While it is understandable that there was limited access to the president it did seem that the Management did the best they could under the circumstances. A very special thanks to Denise Preskitt of MouseSteps.com for sharing her photos from the day.
TOMORROWLAND:
It seems the future will be all about burnt out light bulbs.



Neon will be harder to maintain



Recessed lighting will be randomly illuminated



And signs will not be properly lit . . . Welcome to the future!


SORCERERS IN THE MAGIC KINGDOM:
MiceChat's Orlando Parkhopper staff was recently invited to try out some of the interactive elements hidden throughout the Magic Kingdom for the new Sorcerers In the Magic Kingdom Game. The game, much like the Kim Possible game in Epcot's World Showcase, has guests seeking various locations and setting off a variety of effects hidden in plain sight. But instead of cell phones, the Sorcerer game requires the use of playing cards that players are to take to each location and present at specific times. They have certainly spent some money on this as each kiosk uses a cleverly hidden video screen and two cameras on the left and right of the guest to register interaction.The plot, which at this point is nearly meaningless, has guests defeating Yzma, from The Emperor's New Groove, as she and her minions wreck havoc on the fairy-tale happiness of the Magic Kingdom.

The game begins at the Firehouse on Main Street and we were then guided into Adventureland.




The Cameras that monitor your movement are very carefully hidden.


The ending was at this fireplace in Frontierland



Was the game fun? To a degree, yes it was. Guests will be exploring the Magic Kingdom with an entirely different set of eyes as they seek out planted details to progress in the game. To this end it was impressive.

But during the game, we traveled from the Firehouse, to Adventureland, to Main Street, to Frontierland, to adventureland, to frontierland, to adventureland, to fantasyland and then to Frontierland. There was A LOT of walking. For the smaller ones this may end up being far too much walking simply to set off yet another video screen. The effects and the sleuthing are fun, but may not be enough to compete with Splash Mountain or getting to hug Mickey Mouse.

In the end, this should be viewed as an enhancement to a trip to the Magic Kingdom, rather than a major attraction. We recommend playing the game at a leisurely pace and taking the tasks as you come across them. This way, you will see what the park has to offer while at the same time discovering the hidden bits of magic planted around the park. Have you had a chance to play? What do you think? Is this a fun for the whole family adventure?




Here is the latest video update from Kevin Yee. This week he covers Flamingo Crossings
, the announced but unbuilt expansion of Walt Disney World to the west of Animal Kingdom
TEN PERCENT WHAT?

The Role Of Authenticity At The Studio Backlot Tour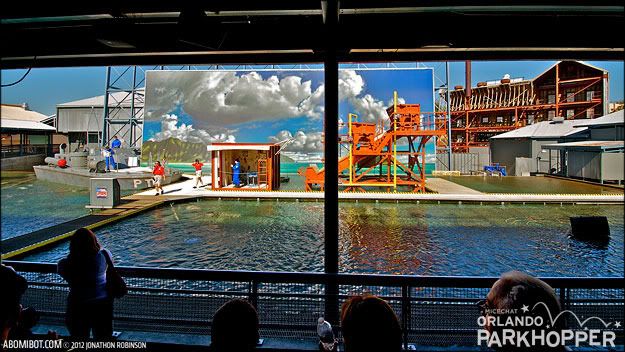 Hi, I'm Amy, a production coordinator here at the studios. And if you believe that. . . I have some lovely Florida farm land I'd like to sell you.


I suppose it could be argued that, technically, all
IS IT AUTHENTIC?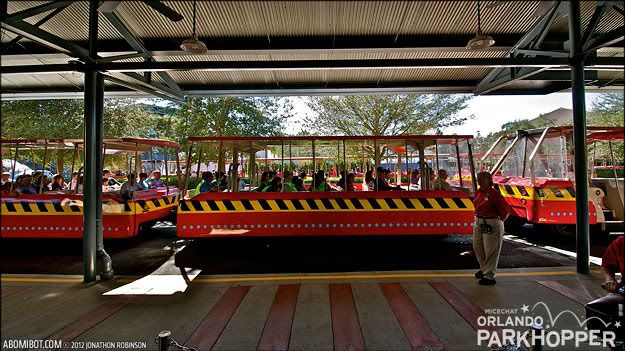 DOES AUTHENTICITY MATTER?

st Century theme park and celebrates our love of film.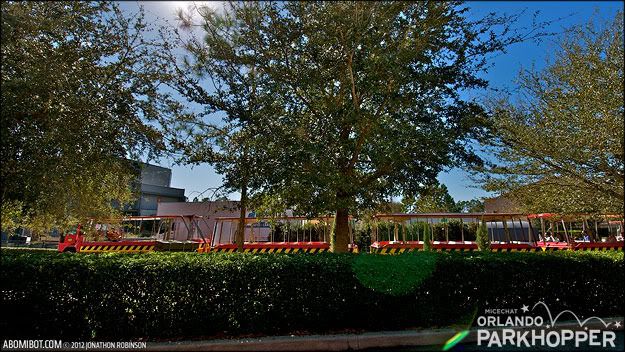 Sure would be nice to see the trams full again.

Folks, this is just how I see it. What would you like to see done with the Studio Backlot tour, if anything? Love it or hate it, we'd love to hear you sound off in the comments below.




THE BONEYARD:
The Boneyard play area is suffering from some maintenance issues. However, this one in particular is sad. These bones normally create a touch sensitive xylaphone. Unfortunately, you have to beat the heck out of them to get them to activate at all, when they should be just activated by a mere touch.



The drinking fountains here were also too high for most of the children to use them. It appears there is a box on the ground for kids to stand up on, but this doesn't look all that safe... we were even able to move the box around. A more permanent, lower drinking foiuntain, seems like it would be a much better and safer soultion than this movable box.

Islands of Adventure is one of our favorite parks in Orlando. For the last year, they've been spending a lot of time and money refurbishing the park. Record crowds from a hot new attraction (Wizarding World of Harry Potter) will do that for you. They recently finished refurbishing the Dudley Do-Right Ripsaw Falls. This, "You will Get Wet" flume ride is wildly inventive and unique in certain aspects, but a let-down when it comes to the hollow stretches of empty show building that could be telling story (and were meant to before the pre-opening budgets were slashed). The ride is now back up, but we hope that a little of that magic Harry Potter money makes it to Toon Lagoon to flesh-out this cartoon ride out a bit more.



LOST CONTINENT:
New stilt performers were spotted working the crowds in the Lost Continent area of the park. A nice touch indeed.



JURASSIC PARK RIVER ADVENTURE:
As the Dudley Do-Right flume ride came back up, the Jurassic Park River Adventure went down for its annual refurbishment.



HOLLYWOOD DRIVE-IN GOLF:Here are the latest progress shots from the Hollywood Drive-in Golf course under construction in CityWalk. This project continues to impress and we can't wait to try it out.



The mini golf can be seen from the speed ramps at CityWalk, which gives them great curb appeal. The two courses have the potential of being among the most popular in Orlando due to the massive crowds which zip by them every day.

TOONS STORE RENOVATION:
The Toon Store near E.T. Adventure is undergoing refurbishment.



AMITY CONSTRUCTION:
No visible progress has been made in Amity since the Jaws Closure. We will keep you posted.

Unfortunately, Universal can't use magic to make this Harry Potter expansion happen overnight. These construction walls will be around for a while.


LAGOON SHOW:
Work continues on the infrastructure for the new Lagoon show coming this summer.


Not as ugly as the big inflatable balls used for Universal 360, but not pretty either.



DESPICABLE ME:
More exterior work is noticeable at the Despicable me overlay. Minios have begun to greet guests ahead of the opening of what is sure to be an entertaining simulator attraction.



We'll miss Jimmy Neutron's Chicken Dance, but are really looking forward to seeing what the minions have cooked up.




Ever dreamed about playing baseball and learning from former greats of the game? Every January, the Detroit Tigers host a Fantasy Camp at their spring training home in Lakeland, Florida. During the week that camp lasts (there are 2 camp sessions), campers are mentored by former Tigers and ends with playing against them. The final games on Saturday are open to the public at Joker Marchant Stadium for a $2 donation, which supports the local Boys & Girls Club.This year's Fantasy Camp featured a salute to former Tiger great (and current Arizona Diamondbacks bench coach) Alan Trammell. "Tram" himself came out to partake in the fun, along with other former Tiger greats such as Lou Whitaker, Darrell Evans, Willie Horton, Mickey Lolich and more! Autograph seekers have a field day getting signatures from the players they watched while growing up (the players sign randomly during the game and between innings, all up to their discretion). The games are a lot of fun to watch and you never know what kind of shenanigans might go on.


A beautiful day for baseball... in January? Hello, Joker Marchant Stadium!





Player introductions.




Alan Trammell signs some autographs before the game.



Let's play ball!


The 2nd week of this year's Fantasy Camp is this week, ending with another game of campers vs. former major leaguers on Saturday January 28. For more information about Detroit Tigers Fantasy Camp, you can visit Detroit Tigers Fantasy Camps | tigers.com: Fan Forum.



Cogratulations to PhilippeP for guessing last weeks parkhopper in posting..."Hidden PH : Kraken ... too easy "


Look into the magnifying glass below and see if you can figure out where the park hoppers are this week. Post your guess in the comments area below. If you are the first to guess the answer you will be featured in next week's update. GOOD LUCK!
---
Want to meet up with other Disney fans while at Disney World? Several of the Orlando Parkhopper team members are part of a group that meets every weekend.

Join the public Facebook group and get notified of events (the locations are different every time).

If you appreciate this column, share this page with your friends and don't forget to click that Facebook thumbs up button at the top of the page (it give us the encouragement to bring you even bigger and better updates)!
We want your photos! Contribute to the Orlando Parkhopper by emailing dustysage@micechat.com with your submissions. We welcome volunteers for single contributions as well as permanent "Parkhopper" staff.

Please join us in thanking the fantastic and talented crew of writers, photographers and news contributors who worked so hard this week to bring you the latest information from the parks. This week's team included:
- Editors: SummerinFL, Fishbulb, Dustysage
Thank you for reading, we hope you've been inspired to explore Orlando's many wonderful attractions. We'd love to hear your comments below.