Excuse me for a moment. I am going to reach over here and grab a soapbox. There. Very good. Now I would like to stand on top of this box and bleed my heart out for a few minutes. Okay?


One of the great traditions at Disneyland and the Magic Kingdom is to honor those who have made an impact on the Disney Company and its parks with a window on Main Street. Walt Disney himself started the idea. According to legendary Imagineer, Marty Sklar, the rules for achieving this honor are:

Only on retirement

Only the highest level of service/respect/achievement.

Agreement between top individual park management and Walt Disney Imagineering, which creates the design and copy concepts.
Location, Location, Location
Walt spent a lot of time and energy on the Disneylandia traveling show project. He had learned a lot in the development process but he decided to push that project aside and focus on a placed based attraction instead. The time had come to build Disneyland.

In the world of real estate, they say that location is everything. Walt originally wanted to build Disneyland across the street from the studio on Riverside Drive. As he continued to refine and expand the project he realized that the adjacent property would just not be big enough. To figure out the perfect location, Walt turned to
numbers genius
Buzz Price - and through the years, Walt would turn to Buzz time and again.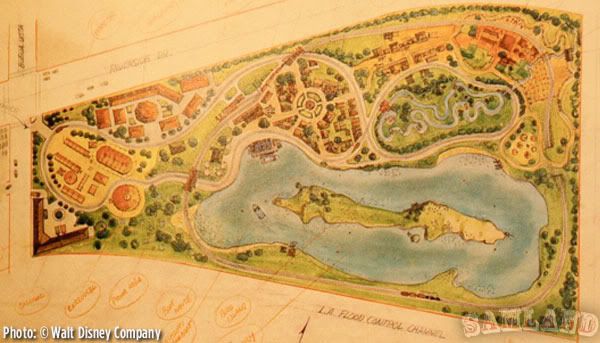 Early concept for a park across from the Disney Studios
Like most movie moguls, Walt had a great deal of faith in market research and test screenings. He would always insist that the final product reflect his standards but a little feedback from the audience is always welcome. He decided to go shopping for somebody who could find the best location for his park.

Over his long career, Buzz Price worked on an estimated three thousand economic feasibility studies. Most of those were in the leisure-recreation-attraction field. Price would go on to advise Walt and Roy on more than 150 projects. It was Walt that suggested Price change the name of his firm from SRI to Economic Research Associates (ERA). Price ran ERA until 1969 when he sold the firm.

In order for Price to get an accurate read on the viability of the Disneyland project, Walt had to clearly describe his vision for the park. Price needed to understand why this project would be different and better than other amusement parks. As Price recounts in
, the project description would enable him to identify analogs that would allow him to come up with more accurate data for his feasibility analysis.

It began with the circulation plan. Before Disneyland, most amusement parks were planned with pathways based on a grid. There were usually four entrances or more connected to parking lots that surrounded the facility. Disneyland would only have one entrance.


As Walt described it, the entrance at Disneyland would lead guests through a corridor that was a stylized, turn of the century main street. At the end of the corridor would be a circular plaza. From the circular plaza, pathways would lead to four different thematic areas. To move about the park, you always had to return to the circular plaza.

Generally, amusement park operators wanted all the street visibility they could get. Walt wanted to hide his park from the outside world. To create that barrier he wanted to build a landscaped berm just like he did at the studio backlot and at his home in Holmby Hills. All of the rides would be customized and there not be any of the typical thrill rides such as a rollercoaster. Of course, he wanted to place an old-fashioned steam train around the perimeter. This would replace the train that he gave up at home.

The Feasibility Study
Buzz and Anne Price
Price and his boss, C.V. Wood, presented the findings to Walt and Roy. Walt immediately selected the Harbor Boulevard site but moved it down a quarter of a section to farther away from the freeway. The site was 160-acres and was held by seventeen different property owners.


The deal was concluded in August 1953 and the property costs approximately $4,500 per acre. It was all the Disney brothers could afford at that time.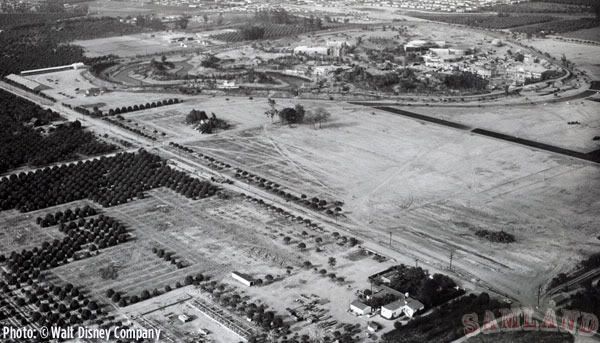 Art Linkletter described his first trip to the Disneyland construction site in
Inside the Dream

I'll step off
my soapbox to give you a breather until next week, when I will present more evidence in favor of a Buzz Price window. Well folks, what do you think so far?


Join MiceChat and SAMLAND in support of the Buzz Price Ryman Arts Endowment Fund and its agenda to make a real difference in the life of gifted young artists:
The Themed Entertainment Association (TEA) Foundation, along with the Ryman Arts program has teamed up to create the Buzz Price Ryman Arts Endowment Fund.
The Ryman Arts program is entirely free of charge, competitively based and seeks
Every Saturday, students from 90 different high schools join together to draw and paint and
learn techniques from professional artists and teachers. The program was created to
honor the memory and achievements of Herbert Ryman, who drew the very first overall
its members creating a scholarship endowment in the name of Buzz Price, to encourage
Buzz Price Ryman Arts Endowment Fund? You can also visit the Ryman Arts Buzz Price Scholarship web page
to learn more about Ryman Arts or to donate online.
Themed Entertainment Association
150 E. Olive Avenue, Suite 306
Burbank, California 91502