As you wait inside the queue for Disneyland's Pirates of the Caribbean, you surely have noticed the fine drawings on the wall. What you might not be aware of is that these pirates are the real deal. Well most of them anyway. In doing research for the attraction, Imagineer Marc Davis was inspired by real pirates and their stories. In fact, the attraction was originally going to be a walk-through attraction featuring famous pirates. But the humor started to win out and the walk-through became a boat ride and the rest is history. Let's take a look at the walls and meet the real and unreal pirates of the Caribbean.


Anne Bonny (March 8, 1700-possibly April 25, 1782)
&
Mary Read (unknown-1721)
Anne Bonny -
A General History of the Pyrates
Mary Read -
Sir Francis Verney (1584-1615)
Captain Jack Sparrow (Unknown)

Jack is most at home on the sea and was born onboard a ship caught in the middle of a typhoon. He was the son of Captain Teague but rejected the hectic life of being part of a pirate family and snuck away to Tortuga with only the clothes on his back. Always looking for opportunities, he lifted the Sword of Cortes, which gave him the ability to control storms. A very helpful tool if you are a sailor. After much success and many adventures he moved on to his most famous commission, the Black Pearl. He has been described as a blend of Keith Richards of the Rolling Stones and Pepe Le Pew. The final chapters of his life are not well documented. But one thing was certain; he was known to enhance his reputation through fanciful tales.


Sir Henry Mainwaring (1587-1653)
While many pirates were products of poverty, Sir Maiwaring was born to an elite class. His family were contemporaries of William the Conqueror and his Grandfather was the Vice-Admiral of Sussex. He graduated from Oxford University at the age of 15 with a law degree. His sailing career began with a commission to hunt down a famous pirate. But he turned his weapons on anything Spanish. He was so dominant, the Spanish government decided to hire him and his fleet in exchange for a full pardon. Britain also granted him a full pardon and he went on to write a Discourse of Pirates in 1618. He was knighted in 1618 and became a Vice-Admiral. Not your typical pirate.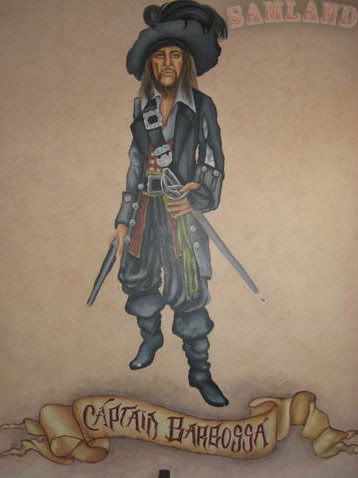 Captain Hector Barbossa
Known as the Pirate Lord of the Caspian Sea, Hector Barbossa was born from unknown origins and extreme poverty. He went to sea at the age of 13. He led a successful career and ended up on the crew of the Black Pearl rising to the rank of First Mate. The stories of that time are legendary and would make for a good movie. He traveled all over the world including Singapore. Throughout his journeys the East India Trading Company pursued him. Another merciless pirate, his reputation for brutality was legendary as was his morbid sense of humor. At one point Tia Dalma also known as Calypso also resurrected him from the dead. He returned the favor by helping to release Calypso from her human bonds. From this point his story gets murky but research into his life continues with further tales sure to be told.


Charles Gibbs real name was James D. Jeffers and was born in Newport, Rhode Island. He would be one of the last active pirates in the Caribbean and one of the last executed. He claims to have slaughter as many as 400 victims and his legend grew after his death. Born to a sea captain, Gibbs started his career in the United States Navy. His claim to fame was his brutality towards prisoners including chopping off their arms and legs or burning entire crews alive. He was captured in Long Island and executed on Ellis Island in 1831.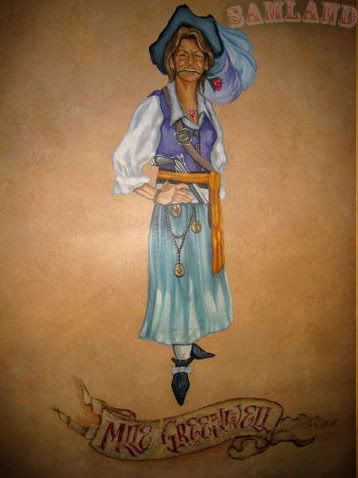 Mademoiselle Greenwell
A that's our Yo Ho tale of who's who in the Pirate's queue. Arrrrrrrrrrrrrrr. Did you enjoy that folks? Don't miss any of our updates, follow SAMLAND on Twitter @SamlandDisney
SAMLAND EVENT ALERT: We invite you to join Sam and MiceChat at the Huntington Gardens in July
.
Presented by the Los Angeles Region Planning History Group in cooperation with the Huntington-USC Institute on California and the West Huntington Library and Gardens
Saturday, July 9, 2011 at the Huntington Library and Gardens
David Sloane, Professor, USC School of Policy, Planning, and Development

Hassan Haghani, Community Development Director, City of Glendale

Vaughan Davies, Principal and Director of Urban Design, AECOM

Neal Payton, Principal, Torti Gallas and Partners
Cost is $40; for students with valid student ID, $20

Fee includes coffee and pastries, lunch, parking, and day pass to the Huntington

Seating is limited; please RSVP to:
Alice Lepis, Secretary
alepis@prodigy.net (preferred) or at 818.769.4179 no later than
Tuesday, July 5, 2011