I applied the urban planning tool called an urban transect to analyze the qualities of the various land uses
When Walt Disney decided to build a theme park, he wanted to find the perfect location. So he turned to his most trusted partner for advice. No, I am not talking about his brother Roy. Instead, I am referring to Mickey Mouse.
Back in the early 1930s, Mickey was really feeling the pressure from fame. So he decided to build a secret getaway for himself and his Toon friends. He called this place Toontown and would become the place where Toons could sneak away from the Hollywood limelight, let down their hair (or whatever), and just be normal (for a Toon).

Mickey realized that Disneyland would serve as a retreat for Walt and decided to help out. He suggested that Disneyland could be a good neighbor to Toontown. So Walt decided to open his park in rural Orange County, far away from the madness of Los Angeles and Hollywood.

Negotiations between Mickey and Walt went on for a while but the two would inevitably come to an agreement. Mickey demanded that Walt build a large earthen berm to shield the Toons from Disneyland visitors. Walt liked the idea so much he decided to copy the concept and build a berm around Disneyland to shield the visitors from the rest of Orange County as well.

By 1993, the Toons had seen enough and decided to the take the brave step of letting visitors come to town. A tunnel was dug under the berm right next to
At least that's the story as I'd like to believe it.

The reality is they cleared out three acres north of the railroad tracks and the berm that surrounds the park, which used to contain the pony farm, a storage facility, and a narrow road. It is tiny. The entire area measures about 500 feet wide and 200 feet deep. The team from Imagineering who worked on the project included Don Carson, Joe Lanzisero, Hani El Masri, Andrea Favili, Marcelo Vignali, Maggie Parr, Chuck Ballew, Jim Shull, and Judy Chin.


According to the book
Disney historian and MiceChat partner, Alain Littaye, talked with Don Carson, Senior Show Designer, to learn more about the area design. Carson said that the rolling slope of the main street was supposed to be much steeper. After considering mobility issues, that idea was dropped. He also talked about the original concept for , which was supposed to be a two-story attraction.

Toontown is divided into three sub-areas: Downtown (the Industrial area where the
As you look around, you notice that the architecture does not seem to contain any straight edges. When the Imagineers were doing the research, they took a long hard look at the world that Toons lived in. What they noticed was the architecture had a familiarity to it but did not mimic real physics. They wanted to reproduce this effect in three-dimensions so they borrowed an animation trick called Squash and Stretch.
Squash and Stretch is the effect that keeps the volume of a structure constant while it is "squashed and stretched" in seemingly unnatural ways. Or as former Disney animator Preston Blair explains, "When a sandbag moves through the air, it will "stretch" in the direction of the movement. Then when its progress is arrested, it will "squash" out." Blair adds, "If it were alive (anything can happen in a cartoon!), it would also squash from anticipating the action in which it stretches. The proper use of Squash and Stretch will strengthen an action. It is essential in creating a feeling of weight in characters." As Imagineer Don Carson said, "No one has ever built buildings that look fat and inflated with air with no right angles." Not only is the architecture exaggerated but also so is the super bright color palette.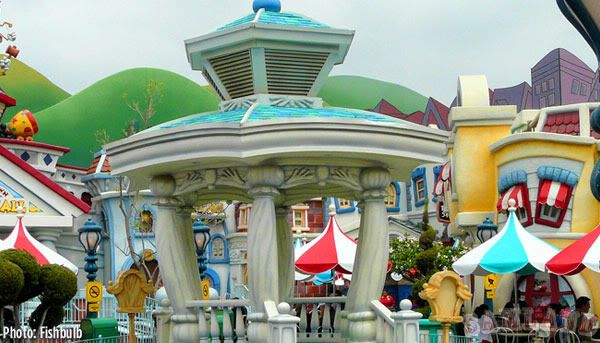 It was the success of the 1988 feature film Who Framed Roger Rabbit that would really make the difference. The movie provided the Imagineers an architectural design language of a world where Toons and humans could interact. Toontown could play by a different set of rules and allow for inanimate objects to became animated. Guests would be encouraged to touch everything and they would be rewarded by pleasant little surprises.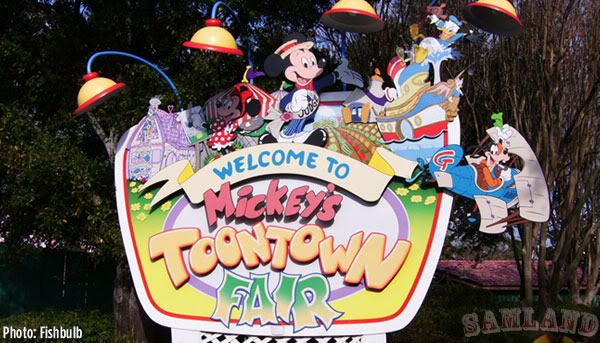 Fantasyland expansion.

Most of the gags are pretty obvious to all, especially children. But there are some adult touches as well. For example, if you look closely, Toontown echoes other structures that exist throughout Disneyland. Both have City Halls, Fire Stations, treehouses, pocket parks, houses, trolley cars (well at least they still work in Disneyland), boats, car driving experiences, roller-coasters, and an emporium.
However, the best gags are the ones activated by the guests. Take your time and you will see how this area can really suck you in. See those boxes sitting on the Warehouse dock? Go ahead and take a peak inside. This is one example of how you can judge a book by its cover. Open up the box for spare train parts and you have the sound of locomotives. The box destined for Clarabelle's Yogurt shop moos. And be careful if you try to open the box for assorted springs. The boxes vary in heights and everybody in the family can get into the act.
Be sure to push every button you see, twist every knob, and pull at every door. A tug on the Toontown Power Company's front door will result in a jolting discovery. Didn't get a chance to stop by the gym on the way to the park? You might want to try working out at Horace Horsecollar's gym. Be careful, as things may be heavier than you first think. Take time to listen to the talking mailbox, manhole cover or water fountains. This is a very playful environment for young and old.

The fireworks factory explodes with fun
If you look closely enough you will even find a small tribute the Old Mousetro himself, Walt Disney.

The old Jolly Trolley barn and loading platform is still there. Once upon a time you could catch a ride from one end of Toontown to the other with this fun little train. It added a level of kinetic energy that is sadly missing today. There is still one trolley station at the old depot. The other one was sold off on eBay a few years ago.

Do you enjoy Toontown as much as I do? If so, what are your favorite bits?


My New Book
In October, my new book, WALT and the Promise of Progress City, will be available. Just in time for your holiday gift list!