As my family and girlfriend will attest, my all-time favorite Disney attraction is The Haunted Mansion.

No matter what we do, where we're going, or what time we get there, it's the very first ride I go on. No ifs, ands, or buts about it. We get off the bus, we drop off our stuff in our room, and then we high-tail it to Liberty Square so I can satisfy my urge to party with the 999 happy haunts.

I remember walking through the queue when I was younger, and marveling at the strange tombstones on the hill just before entering the Mansion. Who were these people that were buried here, and why the heck did they have these crazy rhymes as their epitaphs?

I still fondly remember memorizing each and every one of them until I was old enough to understand what they actually meant. Even today, reading the tombstones is a favorite activity of mine, especially now that I'm able to explain to others what the inscriptions mean. Just like the windows on Main Street, each tombstone is an 'insider' tribute to an Imagineer who helped make The Haunted Mansion the ghastly place that it is today.

Though the recently redone queue has shifted some of these tombstones around, they are still there, waiting for you to find them. Some have even been moved closer, giving you a chance to pay your respect to the deceased, up close and personal!

Today I'd like to show you the original 13 tribute tombstones that appeared at the Walt Disney World version of the attraction.


HERE RESTS - WATHEL R. BENDER - HE RODE TO - GLORY ON - A FENDER - PEACEFUL - REST


Wathel Rogers worked as an animator on many Disney classic animated films like Pinocchio, Bambi, Alice In Wonderland, and Sleeping Beauty. In his spare time, he created model railroads and toys which caught the eye of Walt Disney. As a result, Wathel helped Walt create 'Project Little Man', the first of Disney's many audio-animatronics. Wathel became known as 'Mr. Audio-Animatronics' and helped the company create some of its iconic figures, including Abraham Lincoln and the 'walking' Benjamin Franklin who stars in The American Adventure at EPCOT.



HERE LIES - GOOD OLD - FRED - A GREAT BIG ROCK - FELL ON HIS HEAD - R.I.P.
Fred Joerger was a set designer and model builder best-known for the rock formations he created from plaster. Fred crafted miniature models of Disney theme park attractions prior to their full-scale construction. He was also responsible for giving many attractions the Disney 'look', and he designed all of the rockwork you see at Disney World.


REST IN PEACE - COUSIN HUET - WE ALL KNOW - YOU DIDN'T DO IT


Cliff Huet was a lead interior designer for The Haunted Mansion and an architect for WED.


REQUIESCAT - FRANCIES XAVIER - NO TIME OFF - FOR GOOD - BEHAVIOR - RIP


X. Atencio (the X is for Xavier) joined Disney in 1938 and worked on many of Walt's animated features before transferring to WED in 1964 to help with such famous attractions as Pirates of the Carribbean, Adventure Thru Inner Space, and the Haunted Mansion. He also co-wrote the catchy tune 'Grim Grinning Ghosts', which I have been known to hum from time to time! Atencio's voice can be heard pleading for release from within the coffin in the Mansion's conservatory.


DEAR SWEET LEOTA - BELOVED BY ALL - IN REGIONS BEYOND NOW, - HAVING A BALL

One of the newest tombstone to the Mansion cemetery is also one of the coolest. This stone moves up and down, and its pleasing face opens its eyes to look over the crowd entering into the Mansion - a wonderfully eerie touch! Madame Leota is named after Leota Tombs, a WED artist. Leota's head was used to test the Mansion's seance room crystal ball, but the Imagineers liked it so much they kept it for the final version. This tombstone, and the character in the seance room, are both named in her honor.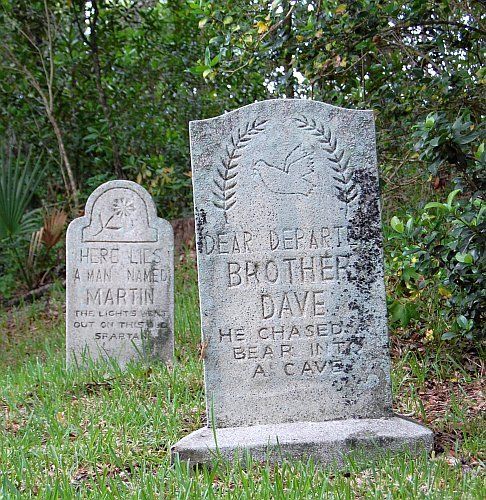 DEAR DEPARTED - BROTHER - DAVE - HE CHASED A - BEAR INTO - A CAVE

Dave Burkhart was a model maker with Disney. After the Mansion, he worked as a field art producer and show designer on the Swiss Family Treehouse and 20,000 Leagues Under the Sea. In 1974 Dave became Superintendent of Decoration at Disneyland in charge of making the 'show aspects' of the park look good every day. He kept advancing in the company until his assignment in 1984 to the Tokyo Disneyland Project. There, he created the Show Quality Assurance Program to help Japanese management learn how to keep maintenance on par with the rest of the Disney Parks. After leaving Disney in 1996, Dave worked for Universal Studios as the Creative Director for their theme park in Japan.


HERE LIES - A MAN NAMED - MARTIN - THE LIGHTS WENT - OUT ON THIS OLD - SPARTAN


After leaving 20th Century Fox, Bill Martin helped design and build Disneyland. Every Saturday, he'd walk the park with Walt to see how they could improve it. Bill also contributed to the creation of all dark ride track development. In 1971, Bill was named Vice President of Design at WED. He was also responsible for the design of the Utilidors that run beneath that park and for the design of various watercraft, including the Admiral Joe Fowler and Richard F. Irvine riverboats that take guests to the Magic Kingdom.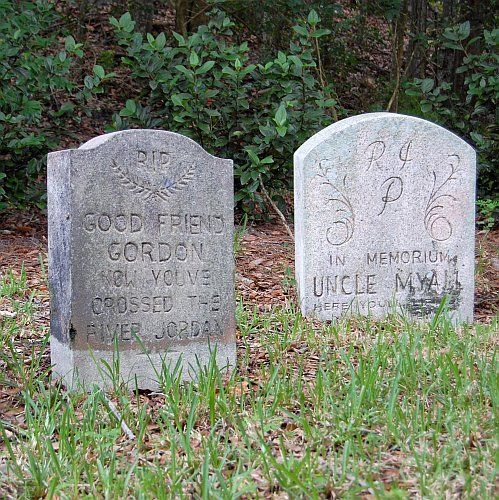 RIP - GOOD FRIEND - GORDON - NOW YOU'VE - CROSSED THE - RIVER JORDON
Gordon Williams was an authority on audio-animatronics and an accomplished audio designer. He was behind almost all of the sound effects in The Haunted Mansion.


IN MEMORIUM - UNCLE MYALL - HERE YOU'LL LIE - FOR QUITE A WHILE


Chuck Myall was one of the master planners of Disney World as well as an art director and project designer for WED. His projects included Sleeping Beauty Castle, the monorail, and Pirates of the Caribbean in Disneyland.

RIP - MISTER SEWELL - THE VICTIM - OF A DIRTY - DUEL - PEACEFUL REST


Bob Sewell joined WED after Disneyland opened in 1955. Sewell was in charge of show installations at the park, and he was head of the Model Shop at WED for most of his years at Disney until his retirement in 1981.

IN MEMORY OF - OUR PATRIARCH - DEAR DEPARTED - GRANDPA - MARC


Marc Davis is one of Disney's legendary 'Nine Old Men'. He was one of the most creative forces in theme park design history. His concept art is well-known by many Disney fans, and were the origin of many audio-animatronic scenes found in both Pirates of the Caribbean and The Haunted Mansion.

AT PEACEFUL - REST LIES - BROTHER - CLAUDE - PLANTED HERE - BENEATH THIS - SOD


Claude Coats was originally a background artist for Walt's animated films. Later, as a show designer, he helped bring Disneyland (and Walt Disney World) to life. He was largely responsible for designing The Haunted Mansion's interior environments.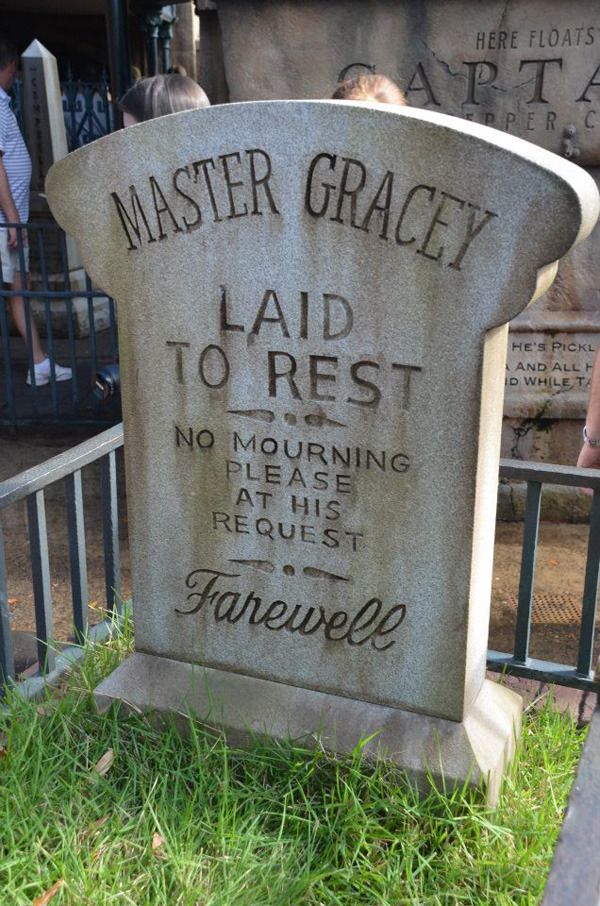 MASTER GRACEY - LAID - TO REST - NO MOURNING - PLEASE - AT HIS - REQUEST - FAREWELL

Yale Gracey and Rolly Crump spent a year in a warehouse together doing nothing but coming up with special effects and gags for The Haunted Mansion. While Rolly ultimately left the project, Gracey stayed on until the end, and was responsible for nearly all of Mansion's special effects. Yale was the 'master' of effects which earned him the title 'Master Gracey'. Though there was never an official story behind the Mansion, this grave leads guests to believe that Master Gracey was the master of the house, and in turn, the Ghost Host that takes you on the tour. Disney never officially acknowledged the rumor, but it led to the character of Master Gracey in the The Haunted Mansion movie. If you look closely, you'll see that the dirt around Master Gracey's grave is different than the dirt in front of the other graves. It looks as if he was just recently 'laid to rest!' Often, to pay their respects, Cast Members will place a red rose on the dirt as well.

Those were the 13 original tombstones of The Haunted Mansion. However, for a brief two-week period, there was another stone in the graveyard. It was put there to honor John Sullivan when he retired as President of the Magic Kingdom. What did it say? Well, unfortunately, that's still a mystery to me! If anyone out there has any information or photos on it, I'd love to hear from you!

In addition to the tombstones honoring the Imagineers, Disney also placed three crypts by the exit. The purpose of these crypts was to pass on clever puns, some of which are quite funny if you take the time to read them on your way out of the Mansion.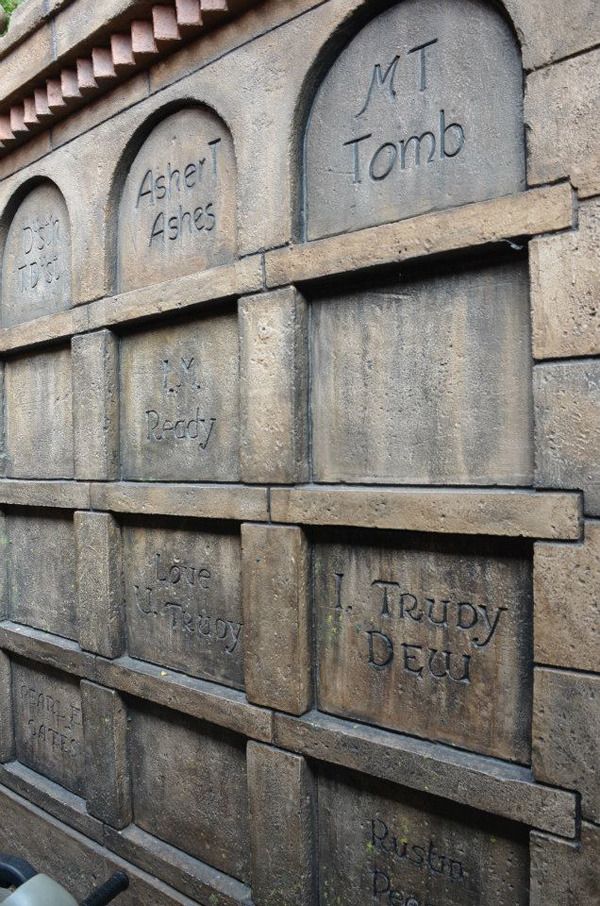 The first crypt contains the following dearly departed: C.U. Later, Dustn T. Dust, Asher Y Ashes, MT Tomb, Hail N. Hardy, I.M. Ready, Love U. Trudy, I. Trudy Deui, Rusty Gates, Pearl E. Gates, and Rustin Peese.



The second crypt, which bears the inscription 'In Spiritual Repose', contains the bodies of I Ial Lushinashun, Bea Witch, Hap A Rition, Manny Festation, Metta Fisiks, Clare Voince, Wee. G. Bored, I. Emma Spook, and Paul Tergyst.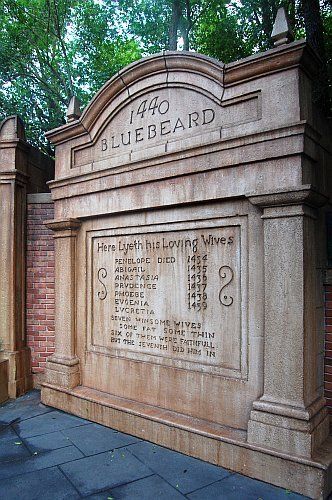 The final crypt pays homage to the French literary folktale of Bluebeard. It contains his loving wives, and it reads:


Blue Beard 1440 Here lieth his loving wives: Penelope - died 1434 Abigail - 1435 Anastasia - 1436 Prudence - 1437 Pheobe - 1438 Eugenia - 1439 Lucretia - Seven winsome wives Some fat, some thin Six of them were faithful But the seventh did him in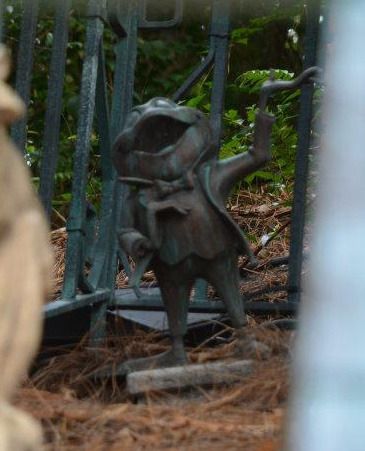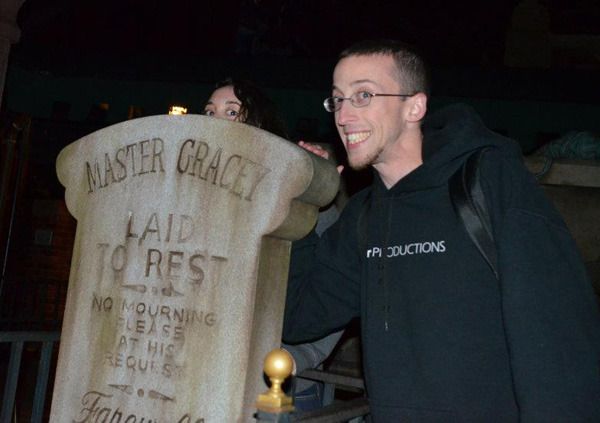 As mentioned earlier, this was just the beginning of all the neat tributes and hidden secrets of the Mansion. Ever since its recent refurbishment to both the inside and the queue, even more things have popped up along the way! Stay tuned for Part 2 of The Hidden Tributes & Secrets of The Haunted Mansion!

Do you have a favorite tribute that you always stop and admire while walking through the Mansion's queue? Leave a comment and let me know why you like it so much. I'd love to know!


---

If you enjoyed the column, or have any questions, comments, or gripes, please feel free email me at jeff@bamferproductions.com or leave a comment below. I'd love to hear from you!

FOLLOW ME ON TWITTER: www.twitter.com/jeffheimbuch
FRIEND ME ON FACEBOOK: www.facebook.com/jeffheimbuch