Growing up, my favorite Disney film was the under-appreciated 1944 classic,
The Three Caballeros
. And it's still my favorite film.
I'm not sure what I love so much about this movie, but I watched it over and over as a child until I wore out my original VHS tape (on which we had copied the film from a telecast). Later, I bought Disney's official VHS release, and I wore out that tape, too.
Why?
Perhaps it was the bright, vibrant colors of the South American countries featured in the film? Or maybe it was the antic of cute little penguin Pablo? Or the film's cultural significance and the learning opportunities it afforded?
I suppose I might have had the hots for Aurora Miranda.
Who knows?
Regardless, the film is my favorite, and because of it I'm attached to a character who gets very little love from the Walt Disney Company - that dapper Brazilian parrot, Jose Carioca.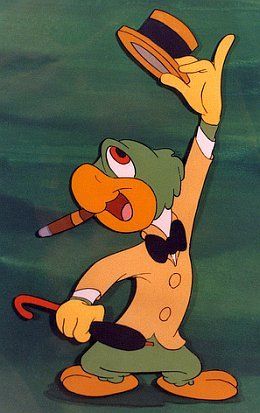 Jose Carioca's origin came out of Walt Disney's 1941 good will trip to South America. Walt took 16 of his animators, artists, and writers to visit South American countries on behalf of the U.S. government which hoped Walt could help stem the rising tide of Nazism in that area during World War 2. The idea was to include South American themes in upcoming films to help bolster good will and cajole the countries away from the Axis powers.
The trip itself came at a excellent time for Disney. Back home, his animators were in the middle of a five week strike for their right to unionize. The trip gave Walt, and those he brought with him, time to get away for a bit and recharge their batteries. The fantastic film
Walt & El Grupo
covers the trip in great detail, and it's something we'll explore here on The 626 at some point, too.
Jose Carioca was born on this trip. Jose hails from Rio de Janeiro. Carioca is the term used for a person born in Rio, so in English the parrot's name translates to 'Joe From Rio'. In his cartoons, Jose is mostly well-dressed, holds a trusty umbrella, and smokes (gasp!) a cigar.
Contrary to popular belief, Jose didn't show up on the silver screen first. His first appearance, in October 1942, was in the Silly Symphonies comic strip. He appeared there as part of the pre-release publicity for his first theatrical appearance - 1943's
Saludos Amigos
- where he is introduced as Donald Duck's friend in the final sequence, 'Aquarela do Brasil.' In that sequence, Jose teaches Donald the samba, using the music of 'Brazil' and 'Tico-Tico no Fuba' to help get Donald into the groove. Jose was voiced by Brazilian actor Jose Oliviera. Have a look:
That cartoon's popularity led to Jose popping up several more times in Walt Disney's Comics & Stories. He and a new character, Panchito Pistoles, co-starred in
The Three Caballeros
, where they introduce Donald to more of the wonders of South America (though, I'm pretty sure Donald only remembers the women).
Disney planned to produce a series of films starring Jose and his pretty parrot girlfriend, Aurora, but the cartoons never made it beyond the storyboard stage. Jose's next theatrical appearance wouldn't occur until a brief cameo appearance in
Who Framed Roger Rabbit?
However, that didn't keep this bird down. In fact, he has become a sort of cultural icon back in his native land. Jose's adventures were chronicled in weekly comics that also featured Nestor, a crow who is Jose's best friend; Aurora, Jose's girlfriend; and his nephews, Zico and Zeca.
In 1962, Brazil started producing counterfeit Mickey Mouse and Donald Duck comics by superimposing images of Jose over the original Disney characters. As a result, Jose became an even bigger national star. Few people had suspicions since Mickey and Donald comics weren't prevalent in Brazil.
Eventually, though, people began to note some grave artistic errors; for example, the hazy silhouettes of Mickey and Donald that sometimes appeared around Jose.
In 1965, these counterfeits ceased production, and new, official Jose stories began to come out again. Brazil still produces comics starring Jose, testament to his lasting appeal among the Brazilian people. He even recently began to take on a secret super-hero persona, that of The Green Bat (or Morcego Verde, as the Brazilians call him).
Jose has now returned to America big-time as one of the stars in the re-vamped 'Gran Fiesta Tour' ride in Epcot's Mexico Pavilion.
The ride features a new storyline with The Three Caballeros reuniting for a show in Mexico City. Of course, Donald goes missing, and it's up to Jose and Panchito to search throughout Mexico to find him. The ride concludes with the birds finally arriving at the show to sing their theme song, with fireworks exploding overhead. In the ride, Jose was voiced by Rob Paulsen.
Will Jose Carioca ever return to the screen again?
Well, Don Rosa DID write two sequels to the original film: one in 2000 entitled
The Three Caballeros Ride Again
and another in 2005 called
The Magnificent Seven (Minus 4) Caballeros
. Unfortunately (for me, at least), neither film was ever made.
But I still hold out hope!
Jose, along with Panchito and Donald, still sometimes appear outside the Mexico Pavilion in Epcot, and he's featured on some merchandise inside.
If fans remain steadfast in their love, then perhaps Jose Carioca will one day grace the silver screen again!
And just because I can never get too much Jose, I leave you with my favorite musical number from
The Three Caballeros.
---
by Jeff Heimbuch

If you have a tip, questions, comments, or gripes, please feel free email me at jeff@bamferproductions.com or leave a comment below. I'd love to hear from you!

FOLLOW ME ON TWITTER: www.twitter.com/jeffheimbuch
FRIEND ME ON FACEBOOK: www.facebook.com/jeffheimbuch