Let's face it. If you've been to the Disney parks, chances are you've played the hidden Mickey game. We all know how the story goes. Clever Imagineers hid images of the world's most famous mouse in the attractions, restaurants, and resorts, for guests to find.

The hidden Mickeys give even the most seasoned guests a unique new way to approach the Disney theme parks - a scavenger hunt, of sorts. It's become so popular that practically everyone knows about hidden Mickeys, thanks especially to a few books on the subject.

But there's another 'hidden' scavenger hunt that most folks don't know about. These out-of-sight items can be a bit tricky to find. In fact, I'm tempted to say that even veteran guests could 'walk right over' them without even realizing it.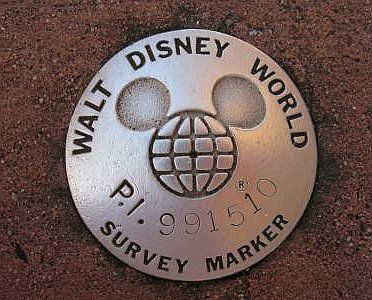 What are they, you may ask?

Survey Markers!

I'm sure by now you're thinking exactly what I thought when I stumbled across survey markers a few years ago: "What the heck is a survey marker?" Good question.

Allow me to explain...

Survey markers, sometimes called benchmarks, are objects used to mark key survey points on the Earth's surface. They are mostly used for land surveying, but they're sometimes used to indicate elevation, too. Markers were once used to help make maps of countries. They're a good way to keep track of boundaries or where things are supposed to go in construction projects.


Nowadays, survey markers usually take the form of three inch wide metal discs, though in the past, they could be anything from nails, glass bottles, or clay pots.

Disney only began using survey markers in the early 1980s. Originally, surveyors would mark specific locations in the parks using nails or with a big X using spray paint on concrete. However, a salesman at a survey monument manufacturing company came to Disney with an idea: how about they start using Disney themed markers?

The original design met with the approval of Disney surveyors right off the bat. It was a simple disk with the familiar three circle Mickey (much like most Hidden Mickeys today!), but the larger circle was made to look like a map of the Earth, with longitude and latitude lines.

From then on, the discs were used in almost all future projects at all Disney theme parks. Though they still conform to the original design, they've evolved over the years to be park specific, their designs representing where they can be found.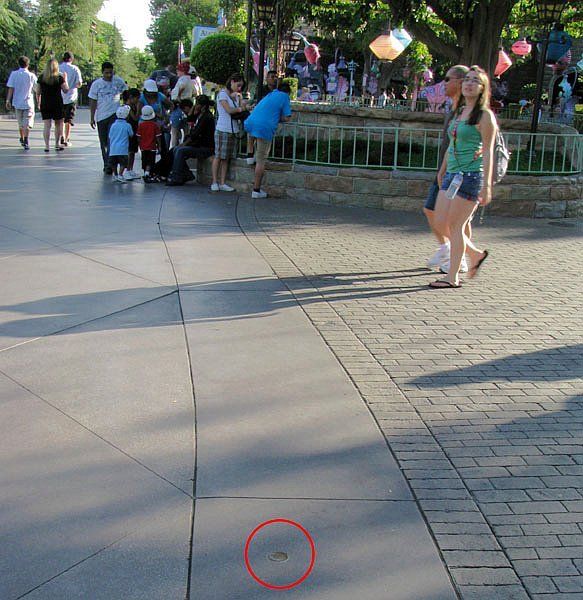 Now comes the million dollar question: just where the heck are all these markers?

Well, if you remember what I said earlier about folks walking right over them, you have a clue to point you in the right direction. And that direction is down! Most survey markers are located right under your feet, in walkways, on curbs, parking lots, roads, and sometimes even in the Seven Seas Lagoon. (Good luck finding THAT one!)

Survey markers aren't just in the parks, either. You can find them throughout Disney property, and in the most unique places that you wouldn't think to look. I once found one while walking down a little traveled path between two resorts!

Just as there are websites that catalog hidden Mickeys, there are websites that attempt to catalog survey markers. No website has a complete catalog because there are so many markers in so many places, often inaccessible places, that it's impossible to track them all down! And new ones are always being found.




Patty Winter's website, Disney Benchmarks, seems to have the most comprehensive catalog, along with a guide for finding survey markers on your own. For you Geocachers and Waymarkers out there, the site even provides GPS coordinates to aid in your search!

Anxious to find a few survey markers? Here are a few locations to get you started:

Behind the Partners statue in the Magic Kingdom

On the curb, just before the Monorail going to the TTC in Epcot

Near bus stop #11 at Animal Kingdom

In front of the entrance to One Man's Dream at Hollywood Studios

On the walkway toward The Grand Floridian near the Tuvalu Longhouse at the Polynesian Resort

In the castle walkway just before you enter Fantasyland at Disneyland
So, next time you're wandering around the World, be sure to keep an eye on the ground for these hidden gems. Who knows, you may just find one that nobody has discovered before!

Do you have a favorite Survey Markers? Let me know in the comments below! I'd love to see if we can catalog as many of them as possible!


---
by Jeff Heimbuch

If you have a tip, questions, comments, or gripes, please feel free email me at jeff@bamferproductions.com or leave a comment below. I'd love to hear from you!

FOLLOW ME ON TWITTER: www.twitter.com/jeffheimbuch
FRIEND ME ON FACEBOOK: www.facebook.com/jeffheimbuch