For many, Pirates of the Caribbean is the highlight of their trip to Walt Disney World. Though it is not as complex as the original Disneyland version of the ride, this tried and true classic has entertained and delighted millions of guests since it opened in the Magic Kingdom in 1973.
However, Pirates of the Caribbean almost didn't make it into the Florida swamplands when Walt Disney World was on the drawing board back in the 1960s. In fact, guests don't know how close they came to experiencing a different type of ride altogether - one that would have floated them down the banks of the Mississippi instead of sailing around the Caribbean.
And what, you may ask, did we almost get instead? Why, none other than the most famous of the 'rides that never were:' The Western River Expedition.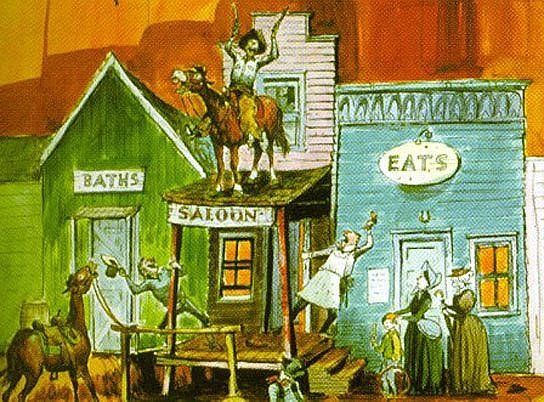 The Western River Expedition began its life as an attraction for 'Riverboat Square,' a proposed in-door Disney theme park that was proposed to be built in St. Louis, Missouri. Marc Davis, the Imagineer famous for his work on everything from The Carousel of Progress to The Enchanted Tiki Room, proposed this boat-based attraction as a recreation of the historic journey that Lewis and Clark made through the American West. Walt loved the idea, and asked Marc to expand on it.
As we all know, there is no Disney theme park in St. Louis. However, Marc refused to let his idea for a Western attraction go to waste.
When it came time to plan for Walt Disney World, a debate was heating up in WED (what they called Disney's Imagineering Department in the early days). It was thought that Pirates of the Caribbean, though extremely popular in Disneyland, did not belong in Florida. Though it's hard to imagine the Magic Kingdom without Pirates these days, this line of thinking made sense at the time.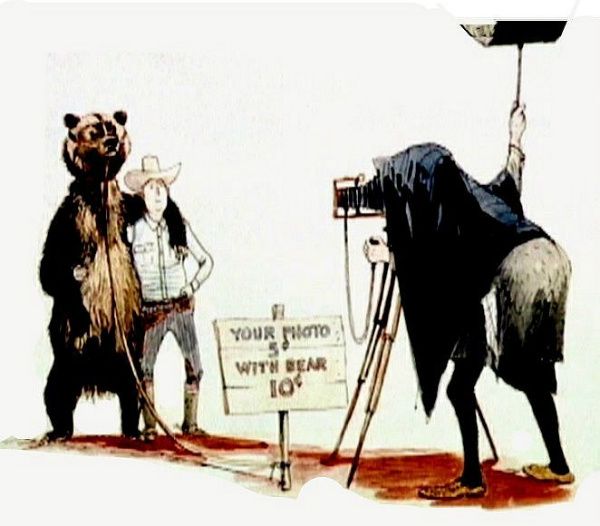 You see, real-life swash-buckling pirates were an enticing commodity to the people on the West Coast; they didn't know too much about them! However, Florida's history was filled with stories of these salty sea-goers, and stories of them were familiar to local residents. Because of this, Disney executives decided that the Pirates attraction wouldn't be too popular at Walt Disney World, and it was too costly to risk that sort of failure.
So Dick Irvine, Chief Executive in charge of WED, put out a call for any new ideas. Davis, who wasn't completely satisfied with how Pirates turned out anyway, thought back to his Lewis & Clark idea. He believed that, with some tweaks to the original ride's theme, he could create an attraction that would surpass even Pirate's popularity.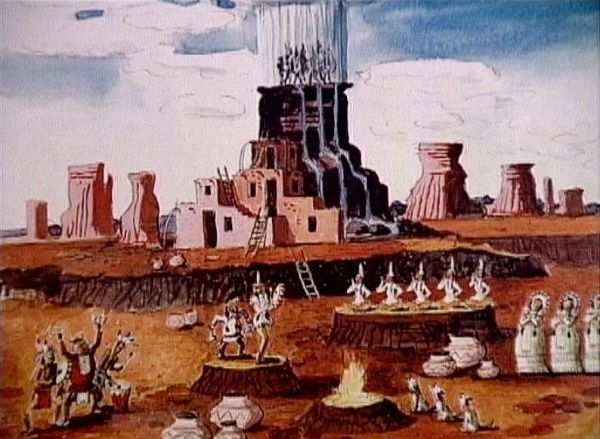 And so, the Western River Expedition was born again, albeit in the slightly different form.
The attraction would now focus on the Wild West of American lore, giving guests an overview of this historic time period, and allowing the attraction to integrate better with its Frontierland surroundings.
Davis' line of thinking was that WED had spent all their time at Disneyland learning to use all the new technology they had created, which included everything from the special effects to the audio-animatronics. Now, with their intimate knowledge of the systems, Davis believed they could push the limits of their new toys to create even more incredible effects and have the audio-animatronics perform much more complex and life-like movements. He wanted everything to be bigger and better than Pirates.
Davis was quite ambitious about the project - so much so that 'bigger and better' might not even be the best words to describe it! What Davis envisioned for the Western River Expedition seemed like it could be an entirely new land for Walt Disney World, and a whole new dimension of realism for Frontierland.
Allow me to explain: Davis' plan for the Western River Expedition was so expansive that there were some concerns about the size of the show building. Every attraction in the Disney parks has their buildings cleverly hidden behind fake facades and sometimes even underground to keep them out of sight. Western River Expedition's show building would have been quite a challenge to blend in to its Frontierland setting.
As a matter of perspective, the Western River Expedition would have been located in about the same area that is now home to Splash Mountain. If you thought Splash Mountain was big, you'd be surprised to know that Western River Expedition would have been THREE times the size of it!
Davis came up with the genius idea of hiding the building in plain sight by making it part of the actual 'theming' of the ride itself. He proposed that the building be dressed up like a mesa, one of the flat, tabletop-like mountains found in the west. The top of the mesa would be open to guests, so they could take in the sure to be breath-taking view of the entire park. To give the guests another reason to visit the top, Davis suggested an Indian village for them to explore, along with a run-away mine train ride built to run on top and down the sides of the mesa itself.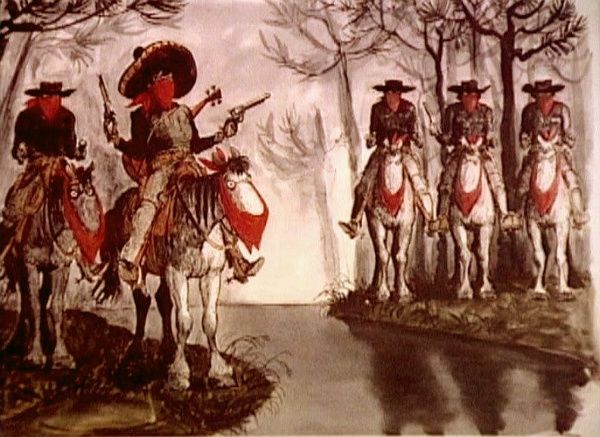 Davis' idea for 'Big Thunder Mesa' was growing by the minute, and after many pitch meetings, Dick Irvine grew to love it. He gave Davis the okay to begin its development, and off Davis went.
The ride itself, if it had been built, would have definitely rivaled Pirate's popularity. It started in a lonely canyon at dusk, taking guests up a waterfall in a boat to meet a singing cowboy and his chorus of cows. They would then glide past scenes of desert wildlife, bandits robbing a stagecoach, Indian rain dances, a gunfight between the sheriff and bank robbers, and the town of Dry Gulch during a typical day in the Wild West. The ride would have ended with a daring escape from the bandits and a forest fire by plummeting down a waterfall into the safety of the canyon.
Much like other attractions, a single song would serve as the unifying theme between scenes. This country western tune, a comical ditty about life in the Old West, would be heard throughout the ride. Davis also injected his trademark humor into nearly all the scenes. Singing cactus would join in on the choruses and drunken cowboys (along with their horses) would sit on the roof of the saloon, firing their six shooters into the air while the barkeep tries to talk them down.
The ride even had its own spokesperson, Hoot Gibson, a wise old owl, who guided guests on their journey through the Old West. Hoot would pop in and out of scenes, offering insight to what was going on and advising guests how to avoid the dangers ahead.
Dick Irvine and Roy Disney were very impressed with what Davis came up with, and asked him to build a scale model of the ride's interior.
Those who were lucky enough to catch a glimpse of this model have said it was the most impressive thing that WED had ever produced. Had the project been approved, it would have been the most ambitious ever undertaken by WED - and the most expensive.
And that's the primary reason why the Western River Expedition was never built.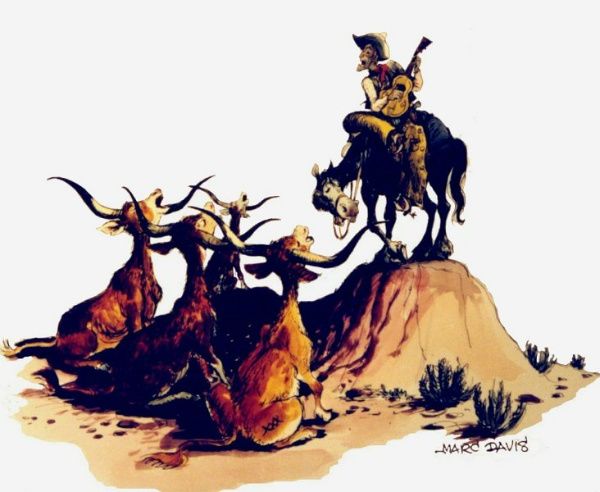 Though incredibly impressed with the idea, the scale and scope of the project scared Dick Irvine. Imagineering and construction were already stretched thin building all the other attractions of Walt Disney World. It would have been impossible for them to take on the extra responsibility of building Big Thunder Mesa and having it be done in time for the Magic Kingdom's opening day.
So, Irvine pushed back the project to be built at a later date. It was a good business model at the time. Guests would come to the park when it first opened to see everything they had to offer, and then be lured back a few years later with the prospect of brand new attractions.
Disappointed that his vision wouldn't be realized quickly, Davis was nonetheless pleased that it was still part of the plan. In fact, the Western River Expedition was heavily promoted during the park's first few years of operation in everything from vacation guides to park maps. An audio-animatronic Hoot Gibson was even created for the post show area of 'The Walt Disney Story,' along with a small model of one of the scenes from the ride. For years, Hoot talked up the Western River Expedition to guests exiting the film. It seemed like everything was set for the ride to begin construction soon.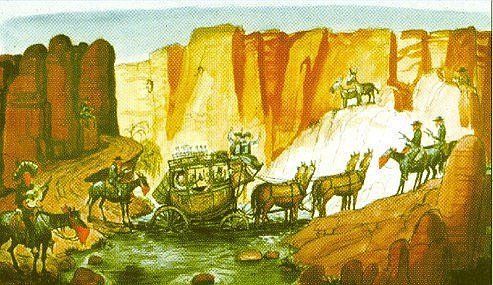 Then something completely unexpected happened.
When the park first opened, people were confused. You see, for years they had been hearing about this Pirates ride at Disneyland, and were curious as to why they could not find it at the Magic Kingdom. So, the guests started to ask Cast Members "Where are the Pirates?"
As the question kept being asked, it eventually came to the attention of E. Cardon Walker, who became president of the company after Roy passed away. Soon, he concluded that there was only one thing he could do to satisfy the guests: he would build Pirates.
Davis was slightly disappointed. The prospect of Pirates being built would push back construction of the Western River Expedition even more. Not wanting to make Walker unhappy (because, after all, he had the power to wipe Western River Expedition off the radar forever!), Davis helped bring Pirates to Florida (although in a slightly truncated form).
Then, another problem arose.
The Energy Crisis in the early 1970s wreaked havoc on Walt Disney World's attendance levels. With profits down, the estimated $60 million cost of Western River Expedition didn't look like a feasible option. Top Disney executives feared that the Wild West had a declining interest with the American public. It had been years since a western film had made money at the box office, and the long running show 'Gunsmoke' was ending its 20 year run on television.
In addition, Disney worried that caricatures of Old West Indians (now becoming known as 'Native Americans') would land the company in trouble with the American Indian Movement, which was quite popular at the time. The traditional idea of Cowboys and Indians were at an all time low in popularity.
It was obvious to Davis that Western River Expedition might be riding off into an early sunset, never to be seen at Walt Disney World. Not wanting the space planned for Western River Expedition to go to waste, Dick Irvine started looking at other ideas. It was at this point that Tony Baxter's re-imagining of the runaway mine train concept (originally planned to be part of Big Thunder Mesa) came to light. It was a thrill ride, a concept that Frontierland was severely lacking in at the moment, and it would be considerably less expensive than building the whole of Big Thunder Mesa.
So, when construction began on Big Thunder Railroad, it was another serious setback for Western River Expedition. Davis tried, for years, to bring his idea to life at other Disney parks. He pitched it to Disneyland to no avail, and even tried to bring it across the pond, when EuroDisney was on the books. Unfortunately, the idea never sparked. Davis retired not too long afterward, and it seemed that Western River Expedition retired with him.
However, as anyone at Imagineering can tell you, good ideas never die! Imagineers often cite the Western River Expedition as one of the most incredible attractions that was ever designed. It is still studied today for its complex theming, sight gags, and various other technical achievements. Remnants of the Western River Expedition do live on, as Imagineers often borrow concepts from it for other Disney attractions.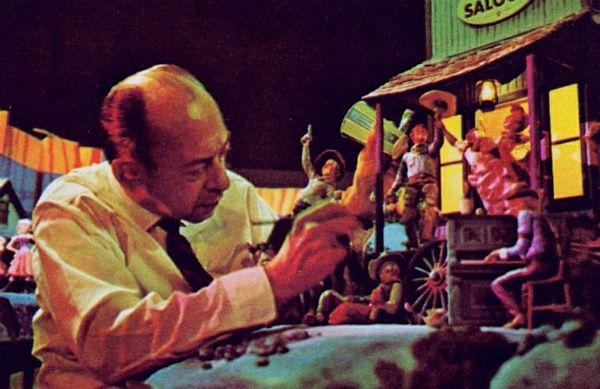 For example, the town of Thunder Mesa at Disneyland Paris is a direct reference to Davis's original idea of Big Thunder Mesa. Also in Disneyland Paris, the final scene of Phantom Manor takes guests through a hellish version of Dry Gulch, the same town guests would have visited on the Western River Expedition. Even the now extinct World Of Motion from Epcot paid tribute to Western River Expedition with its infamous train robbery sequence.
Hoot Gibson also lived on in various forms over the years. As mentioned earlier, he was stationed outside 'The Walt Disney' story to help promote Western River Expedition from 1973 until 1981, when the project was taken off the drawing boards for the Magic Kingdom. After that, Hoot stuck around to help promote EPCOT Center, and then did the same for Disney / MGM Studios in 1989. Shortly after that, Hoot was packed up and shipped off to a warehouse, where he still sits today.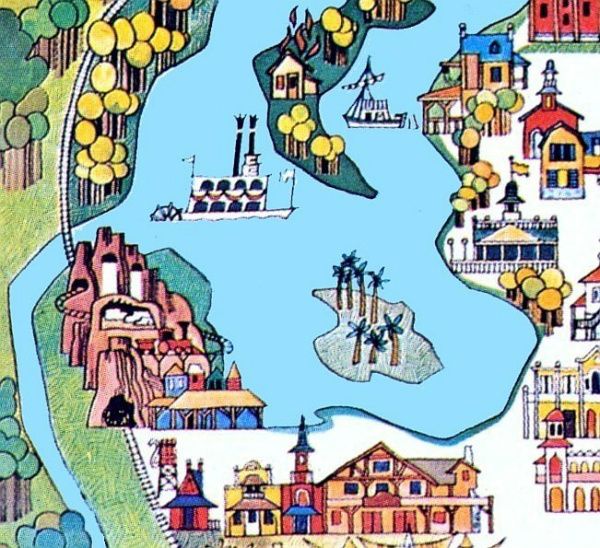 At the 2011 D23 Expo, Tony Baxter actually shared a "virtual ride through" of the ride. Using concept art on the screen, Tony guided guests through how the ride would have gone if it had ever been built. It was incredibly impressive, and lucky for us, caught on camera!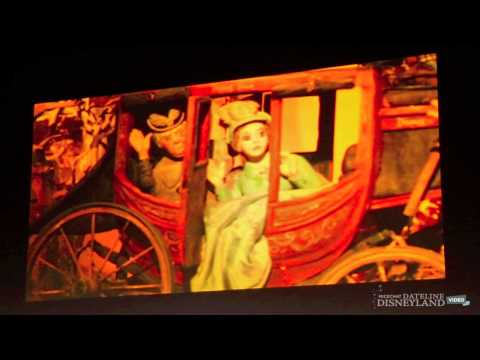 The Western River Expedition remains, to this day, the most famous of the 'rides that never were.' Many people, from Imagineers to Disney fanatics, still dream that this ride will one day be built. After all, the project was never officially canceled. It was merely shelved to be saved for another time.
As Walt Disney once said: "Get a good idea, and stay with it."
And that's exactly what Marc Davis did for almost ten years. So maybe, just maybe, one day Davis' dream will come true.
What do you think of the Western River Expedition? Do you think it would have been a good addition to the Park? Or are you happy with the current resident, Splash Mountain? Let me know your thoughts in the comments below!
---
by Jeff Heimbuch

If you have a tip, questions, comments, or gripes, please feel free email me at

[email protected]

or leave a comment below. I'd love to hear from you!

FOLLOW ME ON TWITTER: www.twitter.com/jeffheimbuch
FRIEND ME ON FACEBOOK: www.facebook.com/jeffheimbuch