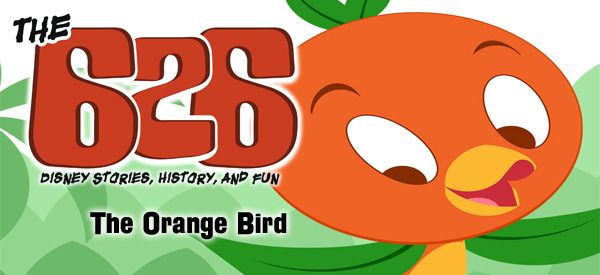 Something magical happened this summer...Disney decided that The Enchanted Tiki Room will no longer be under 'new management,' and its rightful owners returned to their perches. Am I happy? Excited? Elated? Absolutely.

While The Enchanted Tiki Room Under New Management attempted to update the attraction for modern audiences, I (like most of the Disney blog-o-sphere) missed the original show.

The show has finally returned to its roots, with guests once more being able to sing like the birdies sing. However, there is one bird whose fate is still questionable at this point. A bird whose elusive nature has not dimmed his immense popularity.

The Orange Bird!



If you've been to Walt Disney World anytime in the past few years, I'm sure you've seen his likeness on merchandise, but have you wondered where that bird with an orange-shaped head came from?

The Orange Bird was created by Disney as a mascot for the Florida Citrus Commission (FCC). Back in 1967, the FCC entered into negotiations with the Walt Disney Company to sponsor an attraction at the Magic Kingdom. The two companies had worked together before: in 1941, they had signed a deal to establish the Donald Duck brand of orange juice, which is still available today. The Orange Bird deal was finalized in October 1969, with the FCC putting up $3 million toward the cost of a tropical bird show. As part of the deal, WED Enterprises was to create a mascot to be the FCC's official mascot for all of their advertising campaigns.

Designed by C. Robert Moore, Orange Bird made his home in Adventureland's Sunshine Tree Terrace in Adventureland. In typical Disney fashion, when the Tropical Serenade (the original name of The Enchanted Tiki Room) show was over, guests would exit past the the Sunshine Tree Terrace for some cool refreshments.

The Tropical Serenade was filled with fake oranges, giant green plastic leaves, and other tropical props. A small model of The Orange Bird himself sat on a lower perch in clear view of guests. Orange Bird couldn't talk and could think only in orange thoughts. So, above his head, Disney placed a small screen on which his 'orange thoughts' were projected as images. Even though Orange Bird had only orange thoughts, he did manage to make appearances in the park for photos and autographs.



Orange Bird proved to be quite popular, and a long line of merchandise was released featuring his likeness, including figures, kitchen and glassware, salt & pepper shakers, bobble heads, shirts, and much more.

In 1971, a full length LP was released featuring stories and songs about Orange Bird. Anita Bryant, another spokesperson for the FCC, narrated and sang on the album. The Bird appeared in television commercials and print ads for years afterward - true testament to his popularity.

One such ad, was an animated short called Foods and Fun: A Nutritional Adventure, which came out in 1980. As expected, it featured Orange Bird, who shared some lessons on how to properly exercise and eat right. A comic book came with the film (and is now highly sought Disney collectible).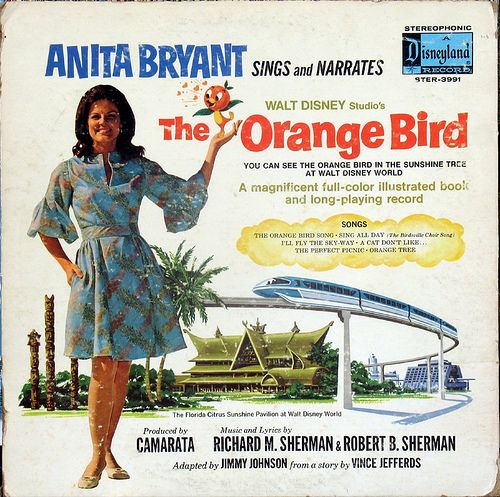 In 1981, Disney and the FCC renewed their agreement for another five years. This time, they added another location to the Magic Kingdom, the Enchanted Grove in Fantasyland. However, Orange Bird was now only making appearances in the park, his glory days of print and TV campaigns gone.

By 1986, the contract between Disney and the FCC expired, and was not renewed. The Orange Bird, along with the Sunshine Tree Terrace, quietly disappeared.

But of course, that's not the end of our orange feathered friend. Merchandise with his likeness has achieved near cult status. It was sold at road side stands and swap meets for years. In 2004, Tokyo Disneyland began to release their own Orange Bird merchandise, and just a few years later, these items began to appear in Disney World.



Now, you can walk into almost any shop in the Magic Kingdom and see Orange Bird related material. Even a special limited edition Vinylmation of Orange Bird was produced last year. His popularity seems to be on the rise again.

I leave you with this song about Orange Bird, penned by the ever popular Sherman Brothers:


Little Orange Bird in the Sunshine Tree
Won't you think of something sunny just for me?
Think funny thoughts or sunny words
That will make me happy, little Orange Bird
He thinks beautiful orange pictures and beautiful orange words
Though his little feet can't even make a squeak
All the thoughts he ever spoke appear in orange smoke
That's what makes Orange Bird unique
When you're just about green with envy
Or gonna be feeling blue
And you could use
An orange thought or two
When you start in blushing pink
Or your temper turns you red
That is when the Orange Bird
Can see you through
With his beautiful orange feathers
And beautiful leafy wings
He's a fluffy little puffy sight to see
He can turn your frown around
When you see him looking down
The little Orange Bird up in the Sunshine Tree


Below is the original, full-length album currently available on YouTube. I warn you, though, the tune WILL get stuck in your head!



I'm sure that some of you have fond memories of the Orange Bird. I'd love to hear your comments below. Would you like to see Orange Bird return to the park? In way way?

---