In
Part 1 of The Hidden Tributes & Secrets of The Haunted Mansion
, I talked about all the original tributes that were part of the Walt Disney World version of the attraction when the park first opened in 1971. However, in 2011, after the Haunted Mansion queue went through a major overhaul, a few new tributes popped up in the form of tombstones and crypts.
Today we'll be looking at those new tributes, along with the new interactive queue, and a few secrets you may have never noticed before!
FIRST LADY OF THE OPERA – OUR HAUNTING HARRIET – SEARCHED FOR A TUNE – BUT NEVER COULD CARRY IT

This tombstone appeared on the hillside adjacent to the queue as a tribute to Imagineer Harriet Burns. Burns began working as a prop and set painter for Disney in 1955. She also was one of the original members of WED, working in the model shop. Burns also did a lot of figure finishing for such attractions as The Enchanted Tiki Room and the Submarine Voyage.

CAMPBELL
HE DIED IN THE FALL, IT'S A FACT NOTWITHSTANDING – BUT THE JUDGES ADMIRED –HIS FORM ON THE LANDING

This tombstone appears in the new, interactive queue, and is a tribute to Imagineer Collin Campbell. He illustrated the book that accompanied the Story and Song from the Haunted Mansion album, the artwork of which is still very famous today. Strangely enough, Campbell passed away just a few days after this tribute tombstone debuted 2011.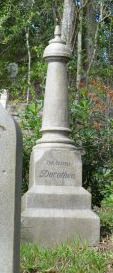 OUR DEAREST DOROTHEA

This simple tombstone is a tribute to Imagineer Dorothea Redmond, who produced concept art for the attraction. You can find it on the hill, on the left side of the queue right before you walk into the attraction.

FAREWELL FOREVER – MISTER FREES – YOUR VOICE WILL CARRY – ON THE BREEZE

Paul Frees was a fantastic voice actor who loaned his vocal chords to several Disney attractions, such as Pirates of the Carribbean, Adventure Thru Inner Space, and as the imfamous Ghost Host of the Haunted Mansion
WHILE BROTHER ROLAND – HERE REPOSES – HIS SOUL'S ABOVE – ONE SUPPOSES

DRINK A TOAST TO – OUR FRIEND KEN – FILL YOUR GLASS – AND DON'T SAY "WHEN"

Ken Anderson's knowledge of architecture, perspective and art direction helped to bring Disneyland to life. His concept drawings and design work is reflected in such popular Fantasyland attractions as Peter Pan's Flight, Mr. Toad's Wild Ride and Storybook Land.
A TRAIN – MADE A STAIN – OF ABSENTED MINDED – UNCLE BLAINE – REST IN PIECES

Blaine Gibson was quite possibly the greatest sculptor Imagineering has ever had. You can see his work in virtually every attraction at the Disney theme parks. His epitaph was partially written by his son, Wes, and referred to his father's forgetfulness.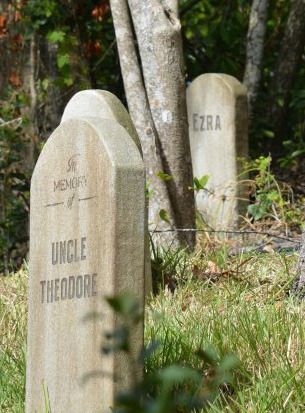 Aside from all of these tributes, some other tombstones were erected on the hillside to refer to some of the other inhabitants of the Haunted Mansion. You may notice the tombstones for Rollo Rumkin, Uncle Theodore, Cousin Algernon, Ned Nub, and Phineas P. Pock amongst the graves. These five men may be better known to you as the Singing Busts, which you see crooning "Grim Grinning Ghosts" toward the end of the attraction. There are also tombstones for Ezra, Phineas, and Gus, referring to the infamous hitch hitching ghosts (who very well may just follow you home!).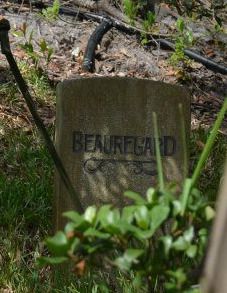 Other new tombstones include Bartholomew Gore (original name of the ghostly sea captain in an early concept of the Mansion), Beauregard (another character that originated from early Ken Anderson concepts), as Priscilla (who was supposed to be the murdered wife of Captain Gore).
Of course, the new interactive queue introduces you to a few new residents of the Mansion, though most of them allude to former concepts for the attraction. The first few you come across are the Dread Family. The five memorial busts of Uncle Jacob, Cousin Maude, the Twins, Aunt Florence, and Bertie allude to a murder mystery that you're welcome to try to solve using clues hidden in their inscriptions!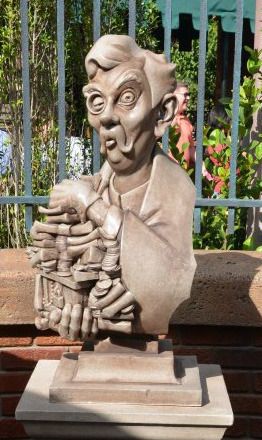 UNCLE JACOB
GREED WAS THE POISON – HE HAD SWALLOWED – HE WENT FIRST – THE OTHERS FOLLOWED
HIS KILLER'S FACE – HE SURELY KNEW – NOW TRY TO DISCOVER – WHO KILLED WHO

Jacob was clearly killed for his fortune, which you can see him hoarding in the bust. But who killed who? The game is afoot!
COUSIN MAUDE
OUR SLEEPING BEAUTY – WHO NEVER AWOKE – THE NIGHT HER DREAMS – WENT UP IN SMOKE

Above her epitaph is a picture of a hammer. There also seems to be a portrait of her amongst Phineas' baggage during the Hitchhiking Ghosts scene, so perhaps there is some sort of relation there?
THE TWINS
WELLINGTON & FORSYTHIA
DEPARTED LIFE – WHILE IN THEIR BEDS – WITH IDENTICAL BUMPS – ON THEIR IDENTICAL HEADS

Above their epitaph is a picture of a dead canary.

AUNT FLORENCE
NEVER DID A – DISHONORABLE DEED – YET FOUND FACE DOWN – IN CANARY SEED

Above her epitaph is a picture of a gun.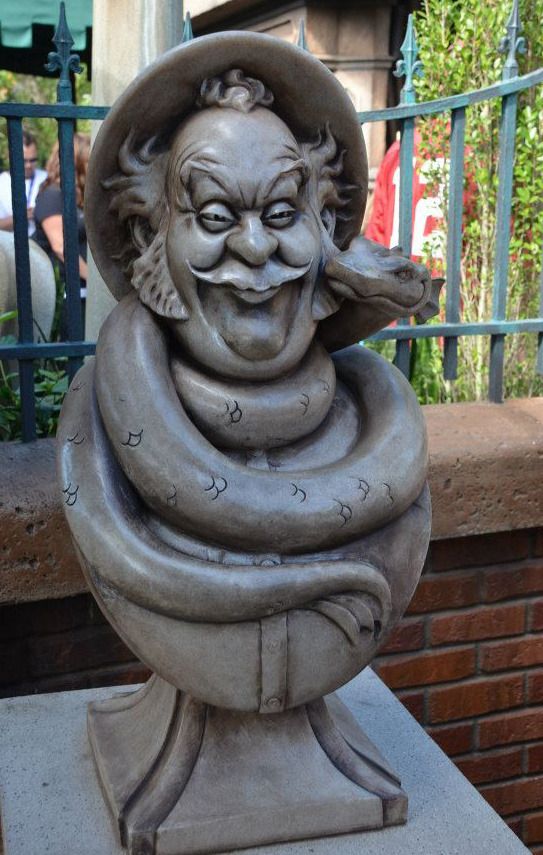 BERTIE
AVID HUNTER - AND EXPERT SHOT – IN THE END - THAT'S WHAT HE GOT

Above his epitaph is a picture of a bottle of poison.
Using their epitaphs, and the photos above them, it's pretty easy to figure out who did who in.
SPOILER ALERT!
If you don't want to know the solution, I'd skip down a few paragraphs. Otherwise, please read on!
Uncle Jacob, the first to meet his untimely end, was killed by Bertie with the poison. Bertie was shot by Aunt Florence. Aunt Florence was killed by the Twins, Wellington & Forsythia, as foretold by the dead canary on their bust. The Twins were killed by Cousin Maude with her hammer. But that leaves Maude still alive, even though her epitaph clearly states she was killed in a fire. And since this is a murder mystery, someone had to do her in as well, right? So, just who killed Cousin Maude?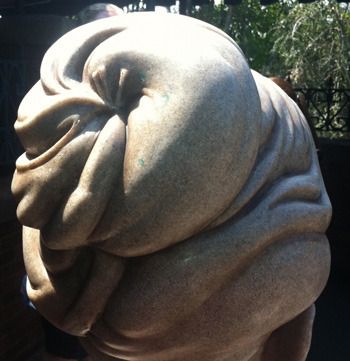 The answer lies hidden on her bust itself. Her epitaph states she passed in her sleep during a fire. Expert eyes will show you that if you look BEHIND her head, hidden in her hair bun, is a group of matches. Maude apparently isn't the safest of people, and fell asleep with them still in her hair. They must have rubbed against something during the night, causing the fire that ended her life!
END SPOILER!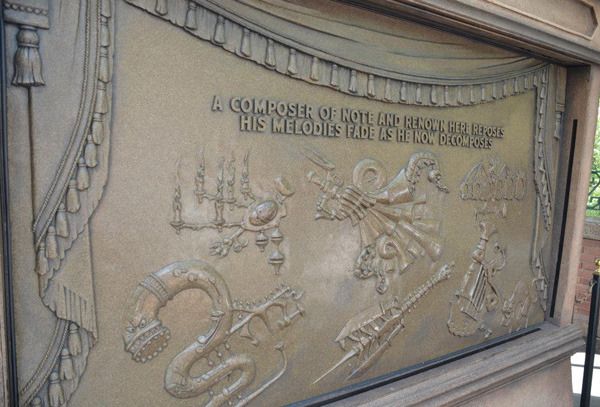 HE'S GONE FROM THIS WORLD OF TROUBLE AND STRIFE – BUT A TOUCH OF YOUR HAND BRINGS HIS MUSIC TO LIFE
A COMPOSER OF NOTE AND RENOWN HERE REPOSES – HIS MELODIES FADE AS HE NOW DECOMPOSES

After the Dread Family, you come across the crypt of a composer with the above inscription. While there isn't a name located anywhere on it, it's thought to be where the phantom organ player, seen during the ballroom sequence, is buried.
The crypt is double sided, with interactive elements on each. The first side has engravings of instruments you may find being used later on in the Mansion. Each plays a part of "Grim Grinning Ghosts" when you touch it. On the other side are some really bizarre instruments, all of which were inspired by Rolly Crump's original sketches for the Museum of the Weird. The Museum was originally set to be part of the original Mansion in Anaheim until the plans for it were scrapped. These instruments also made assorted noises when touched.
Part of the tomb is a pipe organ replica, much like the one in the ballroom. It is inscribed with the word "Ravenscroft," which is a tribute to Thurl Ravenscroft, who provides the voice for one of the singing busts (and for many other attractions). You can use the keys or the organ to play as well, but look out! You may get a bit of water squirted on you by playful spirits.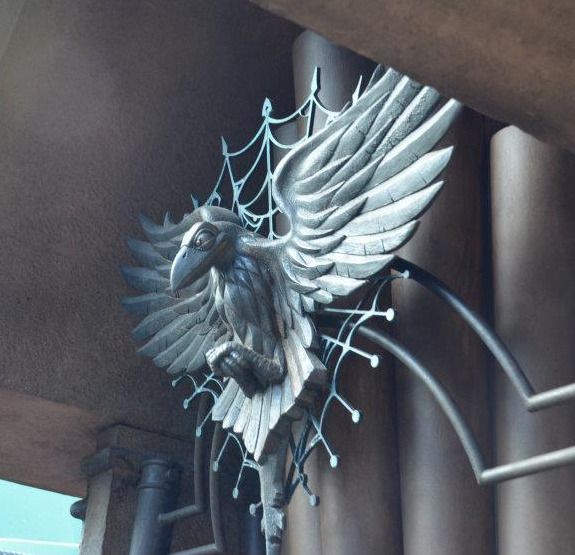 The Raven on top of the organ is a reference to one of the original narrators of the Mansion. In fact, you can still see the raven pop up in various parts of the Mansion today. It was designed by Peter Carsillo to invoke the classic bat stanchions you see just before boarding your Doom Buggy.



HERE FLOATS CAPTAIN CULPEPPER CLYNE
ALLERGIC TO DIRT SO HE'S PICKLED IN BRINE – HE BRAVED THE SEA AND ALL HER WRATH - BUT DROWNED ON LAND WHILE TAKING A BATH



Captain Clyne is a reference to the "Mariner" portrait that can be seen inside the Mansion itself. You can sometimes hear him singing old songs from inside the crypt, while bubbles and water will occasionally pop out onto unsuspecting passersby.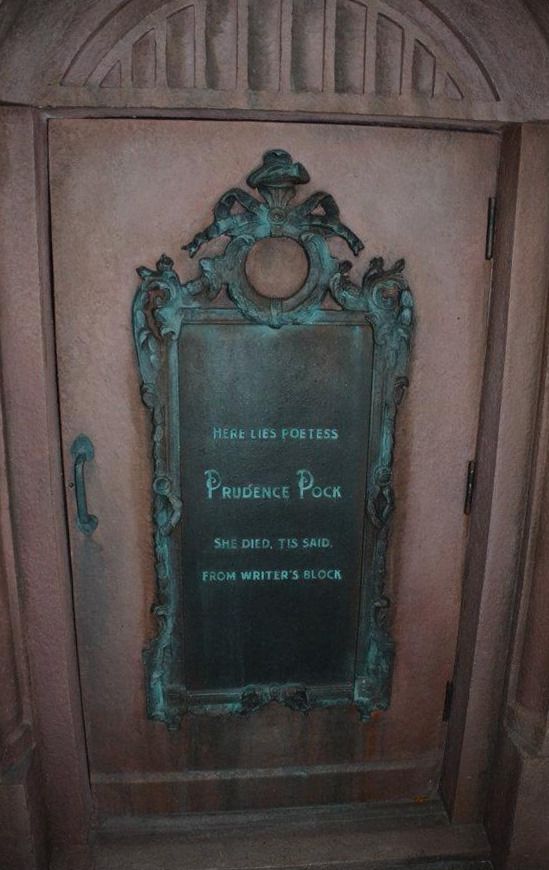 HERE LIES POETESS - PRUDENCE POCK – SHE DIED, TIS SAID – FROM WRITER'S BLOCK



Prudence is a member of the apparently very large Pock family, who already has two other members of their clan within the Mansion. They include the hitchhiking ghostly traveler, Phineas Pock, along with the singing bust Phineas P. Pock.



Prudence, much like her inscription reads, is having some trouble completing some verses, and needs your help to do so. Though she is deceased, you can use the Spectrecom, patented by R.H. Goff (a tribute to Imagineer Harper Goff) to "speak with the nearly departed."

Here are just a few of her poems that you can help her complete:


"Al was not scared to go out in the rain. Too bad that it was a Class 5 hurricane."

"In honor of poor Charles, we're having a wake. He died from eating too much birthday cake."

"One night on safari, crazy Franz Geiger tried to ride a man-eating tiger."

"Deep in the wild, on his off-road machine, Greg found that his tank had no more gasoline."

"Sweet Hanna had taken a cruise to Manila. She was thrown overboard by an angry gorilla."

"Irv thought he'd relax in his jungle cabana, but a really big monkey thought him a banana."

"Old Lucy, you see, had such poor eyesight. Instead of a candle, she lit dynamite."

"In the swamp, poor Sally Slater was eaten by an alligator."

"The miner forgot his warning canary. Now he mines six feet under the old cemetery."



The crypt itself also features an another interactive element, with books coming out of the sides. Pushing one in causes a few others to pop out! It's actually pretty fun to see how many you can press down before another pops up. The books are also notable because some of them have strange symbols engraved into their spines. This cryptogram (pun intended, of course) is there for guests to figure out the secret message.

Of course, if you don't have the time to decode it (don't worry, it doesn't say "Be sure to drink your Ovaltine"), I'd be happy to let you in on the ghostly secret. It says:



Welcome home you foolish mortal, this mansion is your mystic portal,
where eerie sights and spooky sounds, fill these happy haunting grounds.

Just before you rejoin the regular queue again, you come across a brand new emergency exit. These stairs lead around the side of the building. You can really see the care that went into this, though. The Imagineers could have just as easily made the staircase and been done with it. However, they took the time to make sure it was themed properly with the rest of the area, and fit in.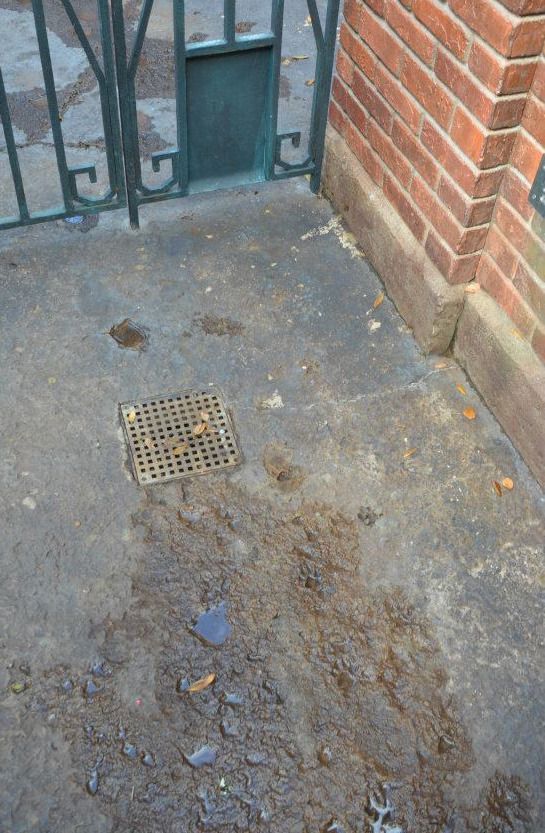 In fact, if you look around the gate just before it, you'll see the foot (and paw!) prints of the Mansion's sole living inhabitants, the caretaker and his dog, in the cement. The gate even has a little doggy door for the dog to go through!

Now that we've poked around outside the Haunted Mansion for a bit, I'd love to tell you a little more about the inside. There a few things in there that many people never get the chance to see, or that go by so fast, you'd never notice.

For instance, just after you exit the Stretch Rooms, off to the right, there is a door marked "Servants Quarters." This is where Cast Members go in and out. If you're in a wheelchair or need assistance, this is sometimes where you are taken to get on the ride. Or, if you have a great tour guide for "Keys To The Kingdom" (like I did one year!), they just might take you through there.


In any event, even though this room is rarely seen by guests, it is still highly themed. There are two things of note in here. First up, there is a board filled with keys to all the rooms of the Mansion on it. Over the years, some of them have gone missing, but most of them are back today.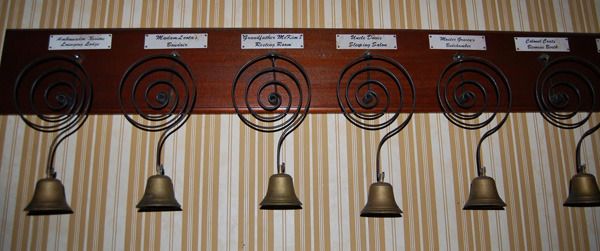 Secondly, there is a row of bells. These bells would supposedly be connected to strings in their corresponding rooms, in order to summon the servants directly to them. The rooms attached to each bell are Ambassador Xavier's Lounging Lodge, Madam Leota's Boudoir, Grandfather McKim's Resting Room, Uncle Davis' Sleeping Salon, Master Gracey's Bedchamber, and Colonel Coat's Bivouac Berth.


Further along in the Mansion, you get to meet the infamous bride, Constance Hatchaway. As you can tell by the redone attic, she's been a bit busy. Throughout her life, she married, and subsequently murdered (by beheading) all of her husbands, earning her the title of the Black Widow Bride. Her husbands are as follows:

Ambrose HarperFrank Banks – From California. He was an eastern banker and a pillar of his community. Married in 1872.

The Marquis de Doom - From Peking, China. He was a foreign diplomat. Married in May 1874.

Reginald Caine - From California. He was a celebrated railroad baron, gambler, and world-renown gourmand. Married in 1875.

George Hightower – From Newport Beach, California. He was one of the owners of the house that would later be known as The Haunted Mansion. Married in 1877. Constance probably inherited the Mansion after George's death, which explains her being there still. Imagineer Joe Rohde portrays him in the wedding photo. George of Constance can also be seen in one of the Stretch Room portraits; She, as an old woman, is sitting on his grave with a rose, while his marble bust has a hatchet lodged in it. Though it is not confirmed, George may also be a relative of Harrison Hightower III, the doomed adventurer and multimillionaire who built Hotel Hightower in New York (and the backdrop of Tokyo DisneySea's Tower of Terror attraction).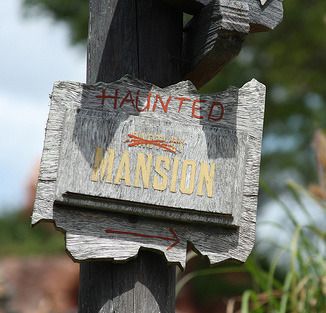 There is another great Haunted Mansion reference…but it's not located in the Mansion itself! In fact, you need to travel all the way over to Frontierland to see it. Across from Pecos Bill's, near Splash Mountain, is a wooden directional sign. It points in the direction of various nearby attractions. However, at the bottom is a peculiar looking piece of word with the words "GASTLEY MANSION" written on it. The word "Gastley" is crossed out, and "Haunted" has been written above it. This apparently appears to be the true name of the Haunted Mansion, and tells us that at some point, the former residents had the surname of Gastley.
So there you have it...quite a few of the great little things you have find in that ghostly retreat. Being as how it's my favorite attraction, I just love showing all this great stuff to everyone I go through the queue with. I hope you enjoyed learning about it as much I enjoy telling you!
Do you have a favorite tribute or secret about the Haunted Mansion? Maybe you know of one that I forgot?
Let me know in the comments below!
---
If you enjoyed the column, or have any questions, comments, or gripes, please feel free email me at
jeff@bamferproductions.com
or leave a comment below. I'd love to hear from you!
FOLLOW ME ON TWITTER:
www.twitter.com/jeffheimbuch
FRIEND ME ON FACEBOOK:
www.facebook.com/jeffheimbuch
You'll find more articles and videos from Jeff Heimbuch on MiceChat:
Read
From The Mouth of the Mouse
every Wednesday
Watch
Communicore Weekly
on the
MiceTube