Since it opened in 1974, Six Flags Great Adventure has been the go to meeting place where New Jerseyians could gather and share in their love of theme parks. In fact, one could argue that Great Adventure was America's very first "themed" park. Up until that time, theme parks were little more than a bunch of rides and attractions thrown together in one area, with little to no story tying them together.
However, Great Adventure changed all of that when it opened its doors. Its richly detailed and immersive environments transported Guests to other worlds. By dividing the park into different "sections," each themed area helped sell the illusion. It is a little known fact that it was from this concept that Walt Disney developed the original Disneyland. While Uncle Walt may have perfected it, it was Six Flags that invented this novel concept.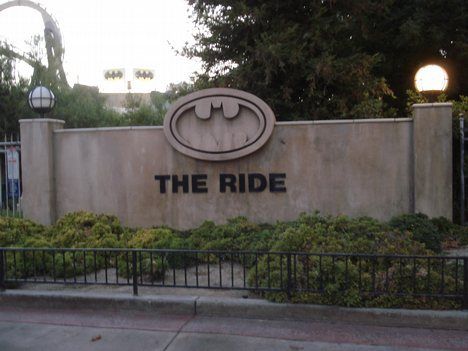 While there are many great details of the entire Park we can go into, today we are going to focus on just MovieTown, the area themed to the art of movie making.
MovieTown began its life in 1975 as "Fun Fair." This section was originally themed with a county fair-like atmosphere (Disney was known to "borrow" this concept with Mickey's Toontown Fair in 1996). When the age of the county fair began to fade, Six Flags management quickly scrambled to find a suitable replacement theme, one that would be quick, albeit not cheap, to put in its place. With the brand new craze of "moving pictures" on the rise, the Six Flags execs decided to capitalize on this fad and rename the area "MovieTown" in 1993.
In order to make this new theme fit, the entire area underwent a massive makeover. Posters advertising "Ma Dumpkin's Chicken Dumplings" were replaced with movie posters for current hits at the time, such as Casablanca and Lethal Weapon 3: More Lethaler.
Some buildings were bulldozed, and completely rebuilt from the ground up using their original blueprints. While some may see this as a money eater, park officials were quoted as saying "It made sense to us at the time."
Lightnin' Loops, a popular D-Ticket attraction at the time, was given a fresh coat of paint, and became Batman: The Ride. Though the track and cars were the same, Guests couldn't tell the difference, and praised the "brand new ride" that Six Flags had built.
Another re-purposed attraction was Freefall, which quietly became Stuntman's Freefall overnight. The makeover required a random assortment of movie props to be placed in the queue. A funny side story, though, is that some people in upper management claim that theming was a complete accident. The props were being moved, via crane, to another location. According to the legend, a cable snapped, and the props littered the ground around the Freefall. Surveying the damage, the current park president thought it looked "good enough for me," and so they were left.
Splashwater Falls, which was being planned to be built into that area anyway, was quickly scrapped from the plans and went back to the drawing boards. It easily turned into The MovieTown Water Effect, which gave guests a firsthand look at how it would be to live in the world of Kevin Costner's WaterWorld.
Batman & Robin: The Chiller, which debuted in 1997, added a much needed superhero presence to the area. Though Batman: The Ride had been there since 1993, it wasn't nearly as popular as it used to be, and many felt Michael Keaton (who was making daily appearances as the character he popularized in the 1989 film of the same name) wasn't pulling his weight. He was known to hang upside down in the darkened areas of his meet and greet area, cape over his head, repeating "I'm Batman" to passers-by. Luckily, George Clooney was brought in to pick up some of his slack.
Aside from the improved meet and greet (to help push merchandise), Batman & Robin: The Chiller added a new thrill ride that went both forward AND backward. However, due to guest complaints that the ride was not up to par with the Park's current thrill rides (such as the Bugs Bunny Spinners and Nacho Mountain), the ride was removed in 2007.
Not quite done with their Batman theme, they added The Dark Knight Coaster ride in 2008 (though, due to other contractual obligations, Christian Bale did NOT make his scheduled park appearances). This ride was praised as an engineering marvel, and became the first "wild mouse" type roller coaster in the world. It was quickly duplicated in other theme parks worldwide.
As you can see, MovieTown was a trailblazer, paving the way for theme parks all over the world, and solar system, to become more than just glorified fairs. The advancements made in just that small section of the park helped usher theme parks out of the dark ages and into the modern world.
Do you guys have any favorite rides at Six Flags Great Adventure's MovieTown? Any extinct attractions that you miss fondly?
JEFF NOTE: This column was used for April Fool's Day 2012. I received quite a few emails from folks who didn't get the joke! Obviously, none of this stuff is true...except for the Park about Michael Keaton. I totally saw that happen. For real.
---
by Jeff Heimbuch

If you have a tip, questions, comments, or gripes, please feel free email me at

[email protected]

ions.com or leave a comment below. I'd love to hear from you!

FOLLOW ME ON TWITTER: www.twitter.com/jeffheimbuch
FRIEND ME ON FACEBOOK: www.facebook.com/jeffheimbuch

I also invite you to check out my other column, called From The Mouth Of The Old Guy Who Dances A Lot In Those Six Flags Commercials.

If you enjoyed today's column, you might also enjoy the show I co-host, FlagChat Weekly on FlagsTube!