Welcome back to Aulani. Last week, we shared the moving opening celebration for Disney's brand new Hawaiian hotel. This week, we'll take a look at a variety of rooms at the resort.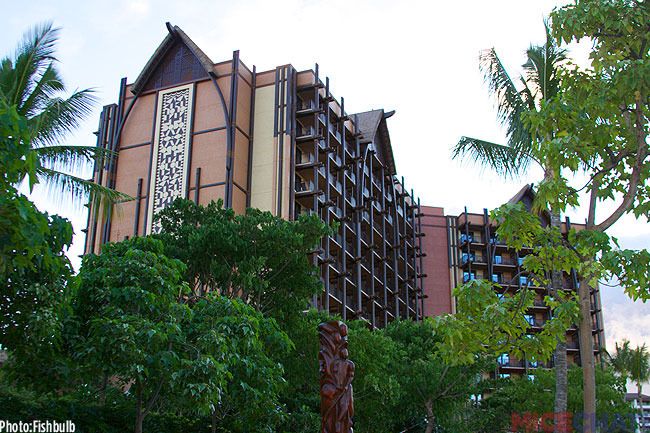 Approaching Aulani

Aulani is a visually impressive hotel. Its size and styling is accentuated by its placement in conjunction with the arrival road. The hotel appears to be on a hill and you arrive from below. Looking up at the two hemispheres of the hotel, the resort looks massive. In actuality, you are arriving on the 3rd floor. That puts the lobby in the perfect spot to look out upon the entire property and affords a luscious view of the ocean beyond.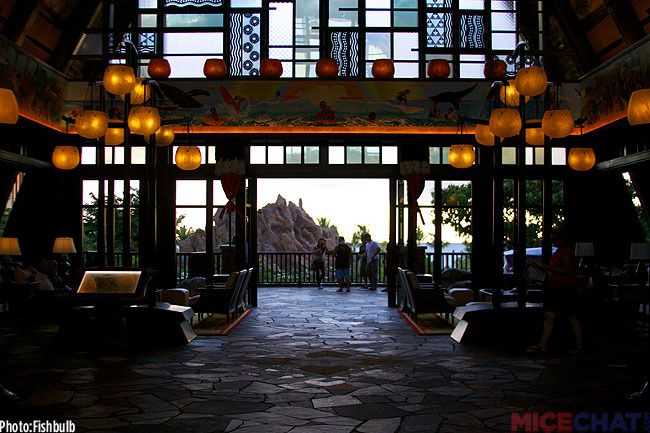 The front door is directly behind you and this is your view when entering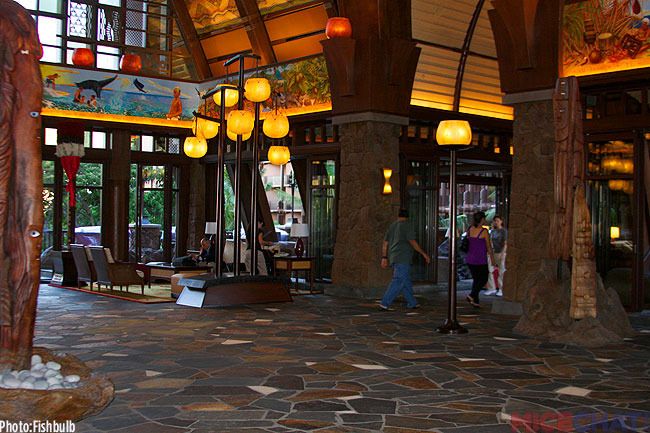 Those folks walking to the right are headed toward the front desk along a hallway which connects Aluani's two hotel towers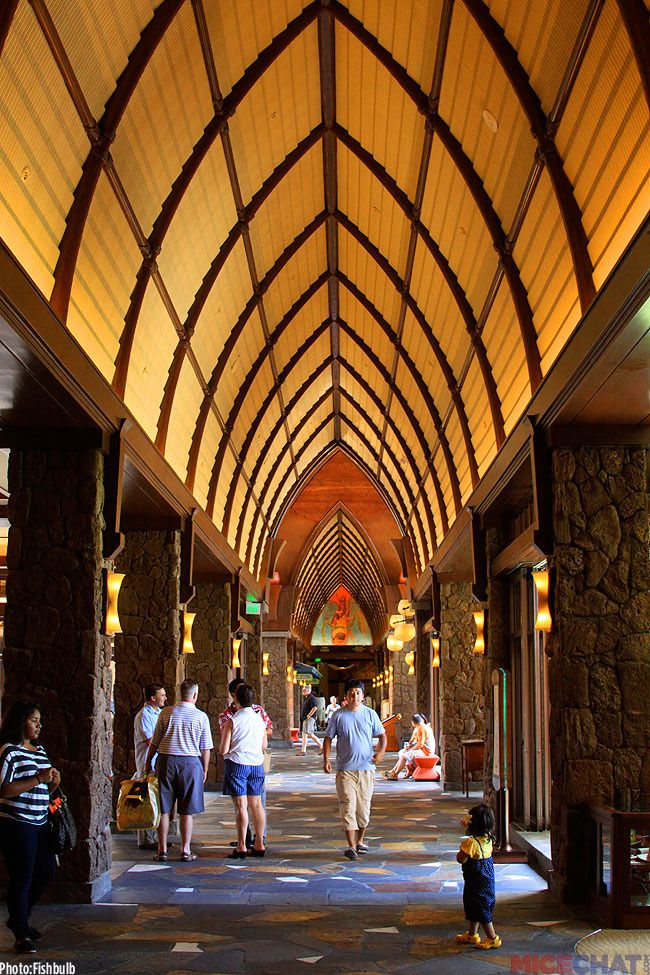 Murals circle the lobby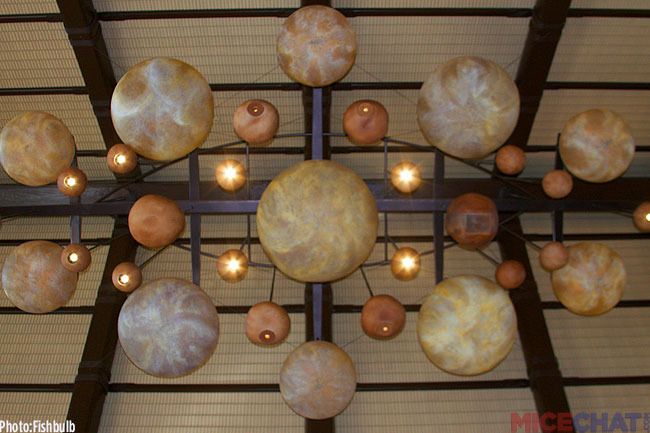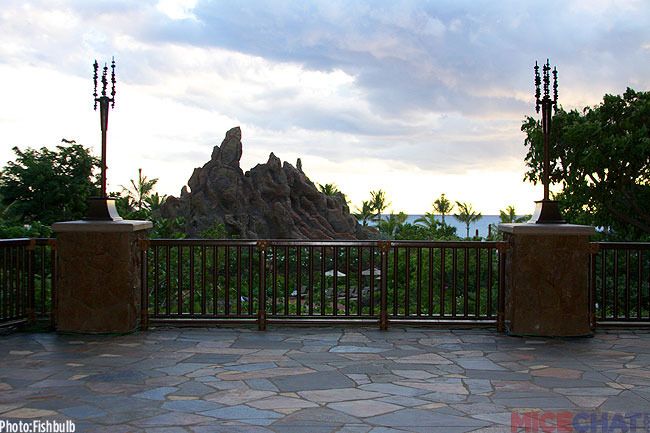 The view from the balcony of the lobby.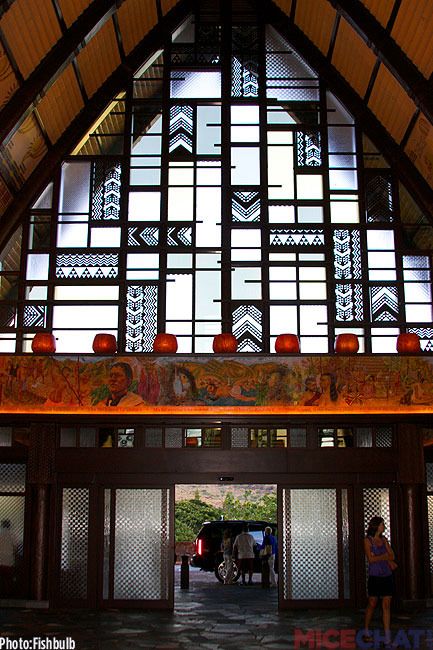 Looking back at the entrance.
The lobby is open air but ornate. Looking up, you'll see a wrap-around mural surrounding you and three beautifully carved Ki'i (or tiki) located on the sides of the entry area. Open air water gardens flank the entry with bubbling faux-fire pots and water lilies. But the real star, is the volcanic outcropping of the pool area and the spectacular ocean view. Much of the resort is positioned to maximize that view.


The check-in desk is tucked away to your right after you enter (in fact, unless there is a cast member to direct you, it is easy to miss the front desk). The most notable element of the check in desk is a large rainbow colored mural. On closer inspection, you find that it is actually made up of hundreds of photos taken by elementary students (which depict their favorite Hawaiian images). Compared to the dramatic and classically Hawaiian entry into the hotel, the front desk mural is a stark contradiction, not in a bad way, but it is a jarring change in style.



Check in desk.



Don't forget to be nice to the front desk staff and bat those big beautiful eyes of yours, because you'll want a room on floor 5 or higher with a pool or ocean view. Let's take a trip up the elevator and see what you can expect to find in your little home away from home.

Unlike a theme park vacation, where you might find yourself only in your room long enough to sleep, a Hawaiian vacation is often much more relaxed, inviting extended time lounging on your balcony or returning for a nap or to read. Luckily, Disney has taken this into account with one of the most luxurious standard rooms they've ever created.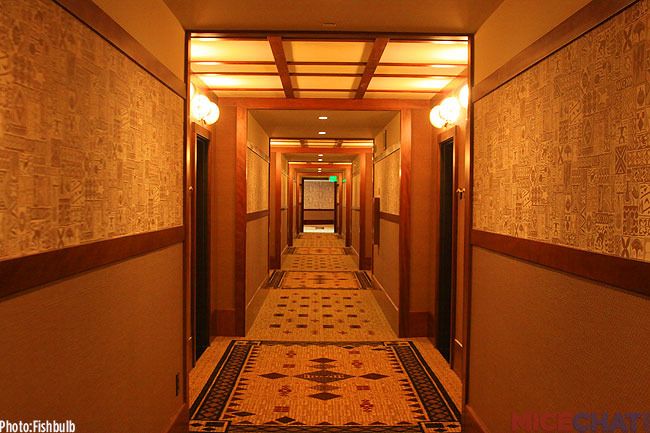 The Halls in the hotel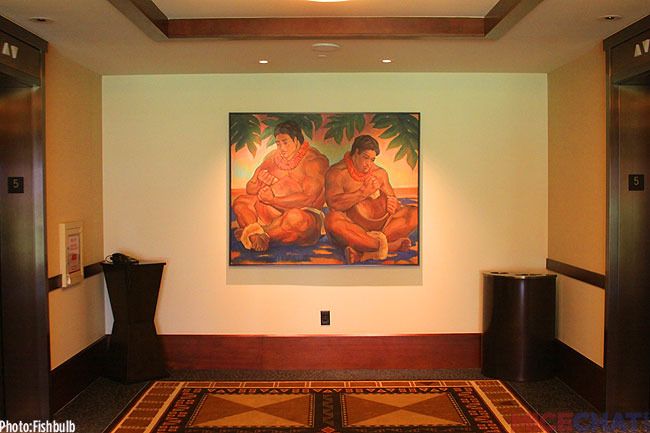 Native art is everywhere.


Dragging way too much luggage with us for a quick 4 night stay, we immeadiately dropped our bags and gaped at the stunning view from the opened curtains to the balcony. Although we had a standard pool view room, it took our breath away. Running to the balcony, we found that a pool view affords a full ocean view, once you reach your balcony and look beyond the pool. Why the fascination with views? This is Hawaii!!! The view is a huge part of your vacation.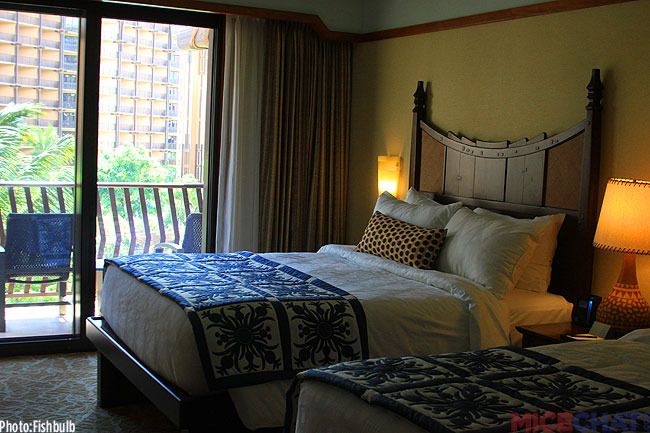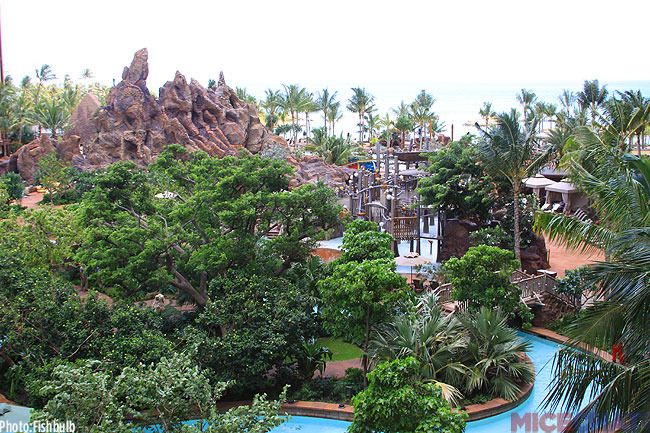 The view from the room.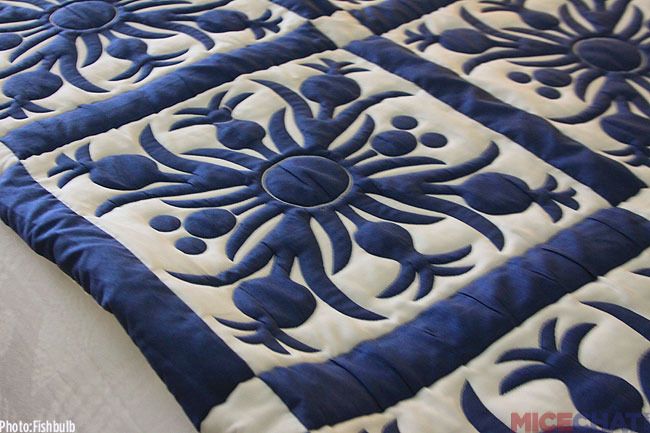 Spot the hidden Mickey on the bedspread?

But there is much more to an Aulani room than view alone. Key among these is a comfortable bed and a fantastic spa-like bathroom. A standard room will have either two queen beds or a single king sized bed with a sleeper couch. Either way, a standard room sleeps 4.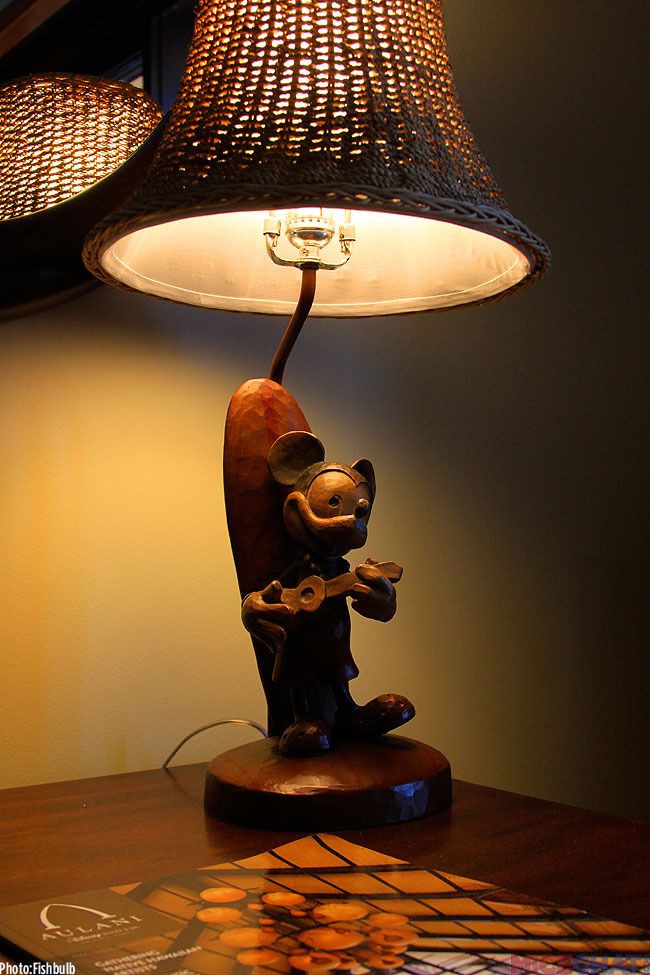 The Mickey and Disney touches are more understated at Aulani. This Mickey lamp is one of the few overt Disney icons in your room.


Rooms feature a large flat panel TV with DVD player, desk with Mickey lamp, mini-fridge, and ceiling fan. You'll find other nice perks as well, including free internet access, coffee maker, robes, large closet, ample dresser space and luggage storage under the beds (a brilliant and simple design).


The bathrooms are spacious and well designed, with expensive tile and rock work. The lighting fixtures add an elegant but whimsical touch. The tub is a marvel which is deep enough for a relaxing bath but which also offers a hand held shower wand as well as an overhead rain-style shower head.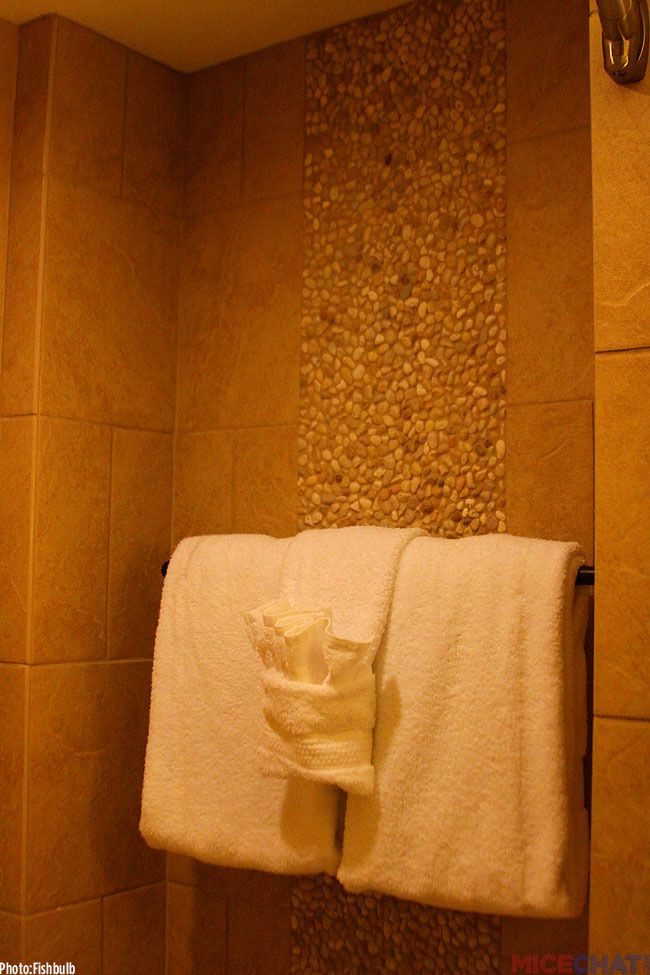 No plastic shower walls here. Stone and inlaid rock work impart a spa feeling.
Torch like sconces flank the mirror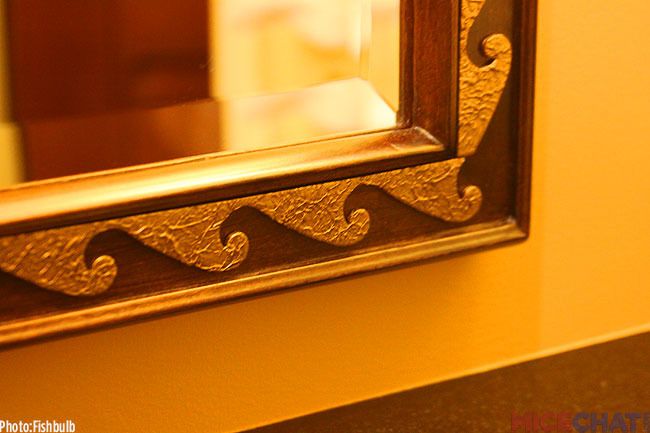 The frame on the mirror in the bathroom.


Custom H20 bath products (shampoo, conditioner, body lotion, shower gel, body soap and face soap)

Your maid will leave you a newsletter called the Daily 'IWA, which includes a weather forecast as well as featured daily things to do. It is worth browsing as you'll discover the times for the shows, activities for the kids, and much more.

Although there are suites in the hotel, most guests will end up in a standard hotel room or one of the Disney Vacation Club (DVC) units. These consist of studios (which are very much like a standard hotel room but with an added mini-kitchen), one bedroom, two bedroom or grand villas. One and two bedroom DVC units have a living room and full kitchen. The Grand Villa is the jackpot of Aulani. With over 2,700 feet of living space including huge living room, full kitchen, dining room, multiple balconies, master bedroom, and two additional bedrooms (sleeping 4 each), a Grand Villa is a spectacular place to call home. Best of all, most of the Grand Villa suites are at the very end of the hotel, closest to the ocean, offering the best ocean view rooms in the resort.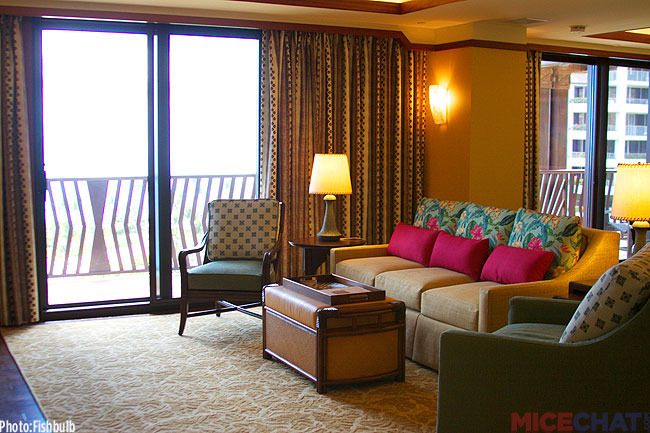 The living room of the Grand villa



Looking into the dining room.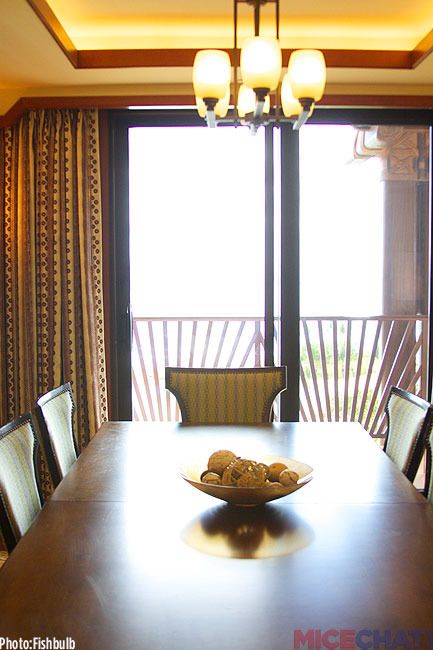 The dining room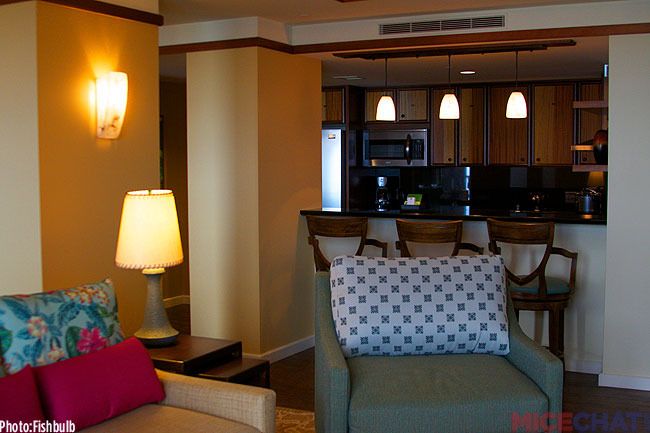 That's the full kitchen with breakfast bar.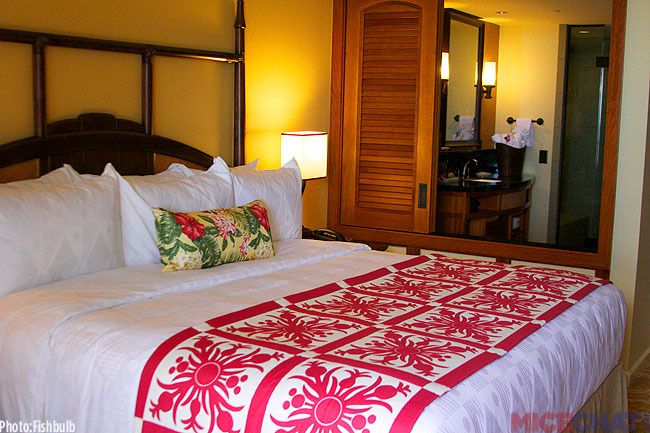 The master bedroom has a private bathroom with Jacuzzi style tub.



Guest room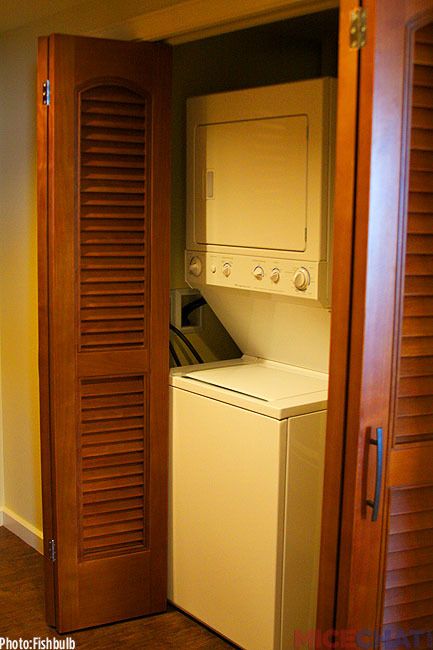 Laundry in the unit.

DVC rooms may be available for booking by regular hotel guests if they are not already fully booked by DVC members. Be sure to check when booking the resort, as they are a bit of a step up from a standard hotel room to be sure.

You really can't go wrong with any room at the resort. They're all up to the same high standard, though some don't have the views to match. Some of the lower floor rooms on the mountain side of the resort come with a not so magical parking garage view. However, even those parking structure views start at about $400 a night. That's pretty steep, even by Hawaiian standards. In the coming weeks, we'll detail ways you can help keep your Aulani vacation as affordable as possible.


Don't miss the rest of our Aulani series (including our honest opinions about the resort and suggestions for making an Aulani trip more affordable). You won't find a better guide anywhere else:
---
See Aulani for yourself -
contact MiceChat's approved travel partner, Fairy Godmother Travel.
---
Fishbulb is a Disney reporter and photographer who edits MiceChat's weekly
In The Parks
column and takes many of the photos you see on this site. He has recently joined Fairy Godmother Travel as a Travel Adviser for Disneyland and Hawaii vacations. If you have questions about Aulani or Disneyland or would like assistance planning a magical vacation, please contact
Fairy Godmother Travel
.
---
Disclosure:Portions of travel to Aulani were subsidized by the Walt Disney
Company, though MiceChat incurred significant expense to bring you this coverage.