Disney's Aulani Hotel in Oahu, Hawaii is a water-filled wonderland for those seeking the spirit of the islands. Over the last two weeks, we've brought you coverage of the grand opening of Disney's new Hawaiian hotel as well as a look at the rooms at Aulani. Today, we'll take you to the main attractions, the pools and beach! The Waikolohe Valley is the main pool area of the resort located between the hotel's two towers. You'll find two pools, two water slides through a volcanic outcropping, a lazy river that circles the entire area, four hot tubs, a kiddie play area, snorkeling lagoon and stingray encounter. And let's not forget that Aulani sits on a fantastic beach with a sweeping ocean view. In a way, Aulani is very much like a toned down water park. Let's take a dive into Aulani's waterways . . .


WAIKOLOHE POOL:
The main pool at Aulani is a free-form 8,200-square-foot monster which wraps around the far end of Aulani's man-made volcanic outcropping. There is a zero-depth entry into the pool which offers easy access for kids and those with physical disabilities. The hotel even offers a water wheelchair which can roll right on into the pool.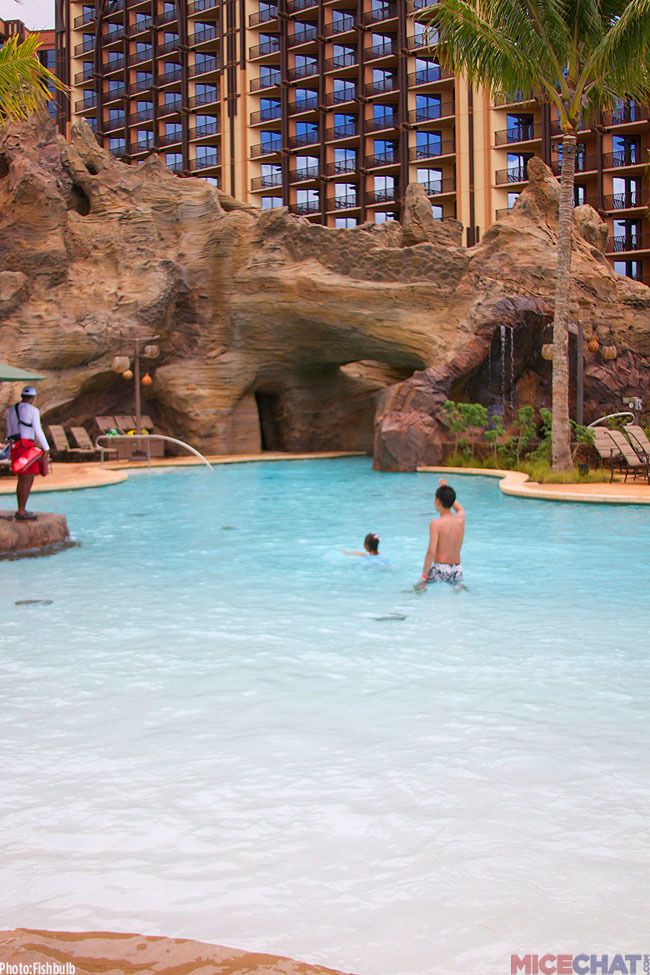 The pool snakes back into a little grotto with water dripping down into the pool below.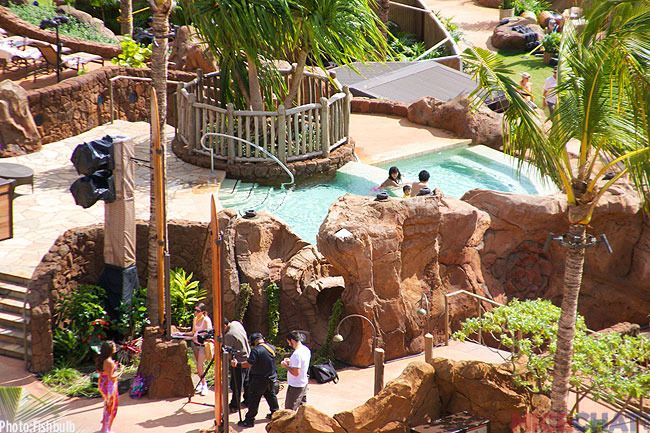 Two stacked hot tubs are located immeadiately next to the pool with ocean views.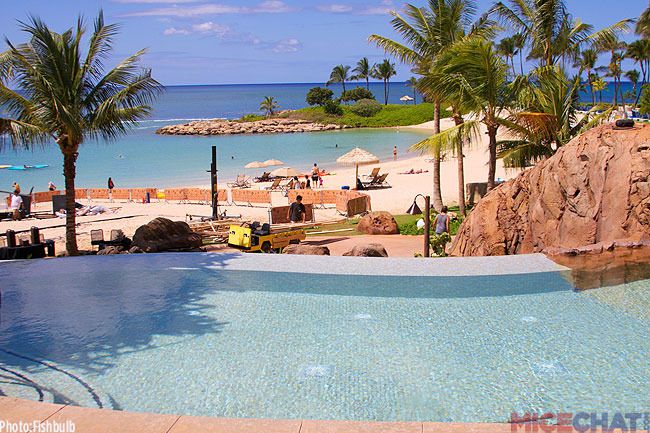 Imagine soaking here . . . (We did, and it was a dream)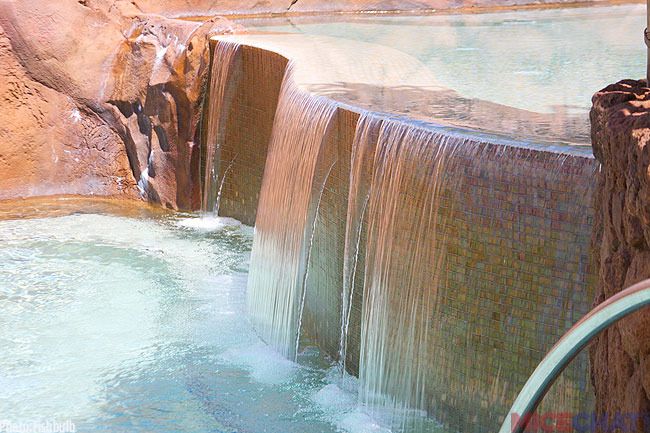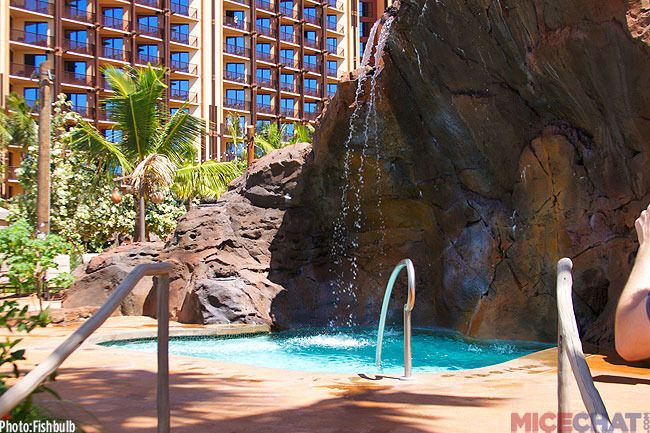 Another hot tub is nestled into crook on the interior side of the pool.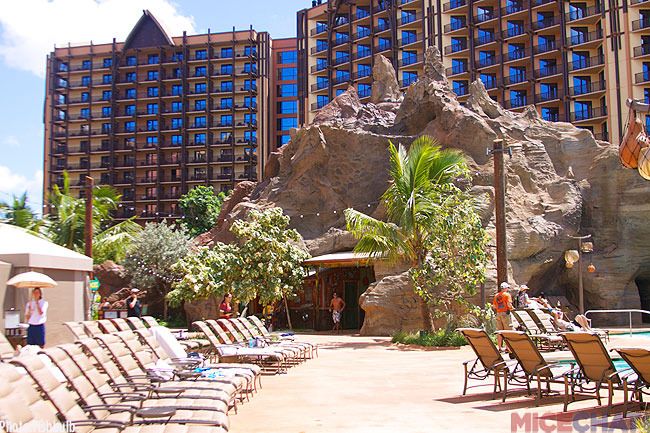 Plenty of deck chairs and lounges are available surrounding the pool.


WAIKOLOHE STREAM:
Winding its way around the pool area is a lazy river. Guests are invited to grab a free water tube and enjoy a relaxing adventure through gardens, caves and even some water spouts.




The lazy river is just that. . . lazy. Float at a tranquil pace for as long as you like. You could easily spend an hour or more floating along the beautifully landscaped path.


The river takes a turn through a cave gushing with waterfalls.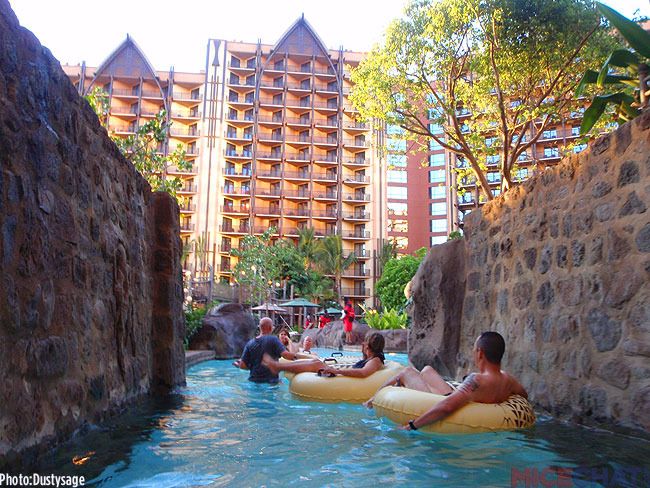 The river was one of our best memories of our trip.


WATER SLIDES:


In the middle of Waikolohe Valley is Pu'u Kilo, a man-made volcanic rock which is carved with subtle animal images (much harder to make out than the more obvious animals on Disney Animal Kingdom's Tree of Life). The centerpiece of this formation are a pair of water slides. One a body slide in darkness and the other a tube slide which allows the use of single or double tubes. Both slides are a decent length and lots of fun.

MENEHUNE BRIDGE:



This being a Disney hotel, you can be sure that the little ones have been thought of. The Imagineers have created an interactive play area filled with lots of water, fountains, 3 little water slides, and lot's of little Menehune (mythical little people) to be found throughout the Menehune Bridge structure. This is a zero-depth area, so it is safe for non-swimmers, which is a good thing, because your kids are going to be all over this place and you are going to have a heck of a time keeping up with them.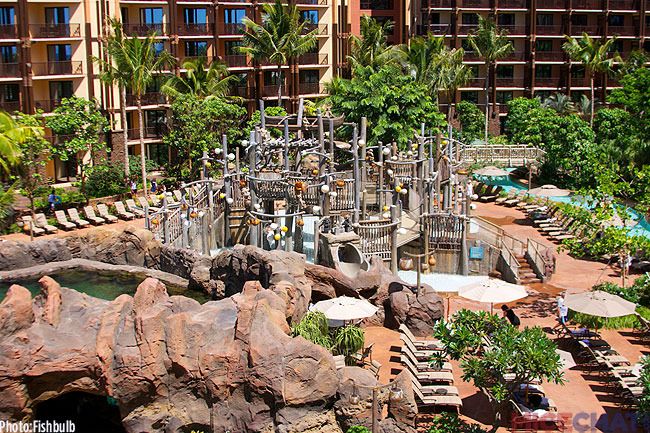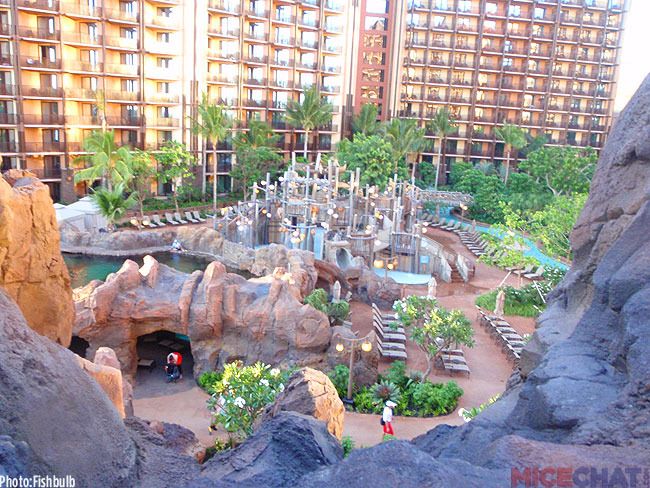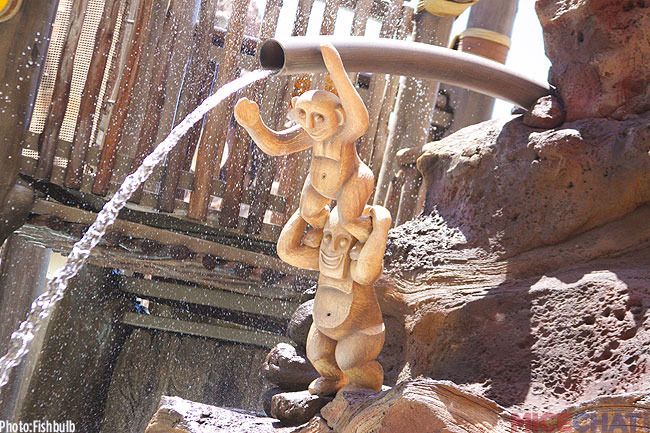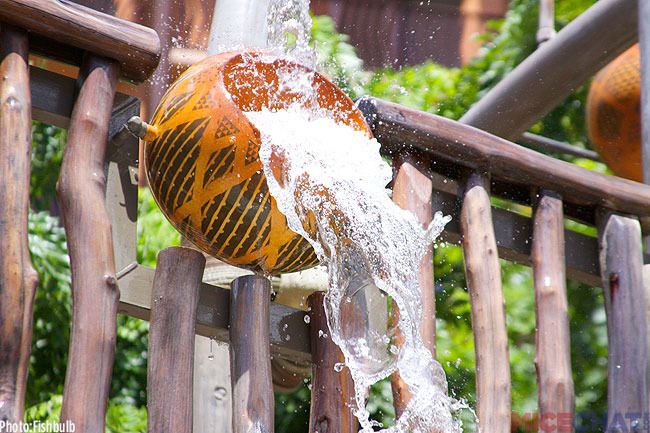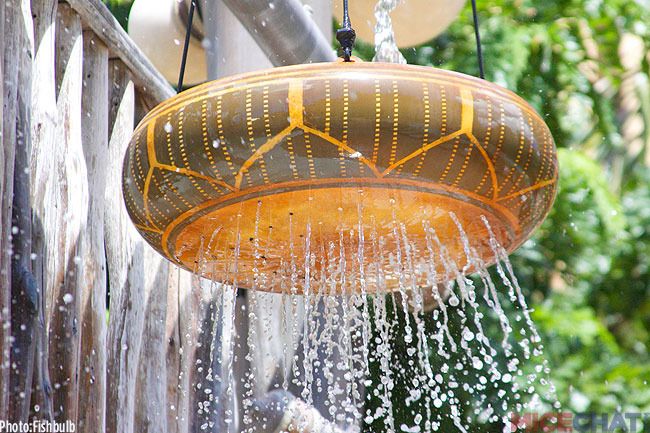 RAINBOW REEF:


One of the really unique activities at Aulani is Rainbow Reef. This man-made lagoon is located in the pool area and is stocked with all sorts of native fish. For those who don't want to pay for this upcharge attraction ($20 for adults, $15 for children), or who simply want to stay dry, there is an underwater viewing window with some benches where you can take in the view.

MAKAI PRESERVE:


Have you ever wanted to get up close and personal with a stingray? Well, Aulani offers you the chance to do so for $50 ($45 for children).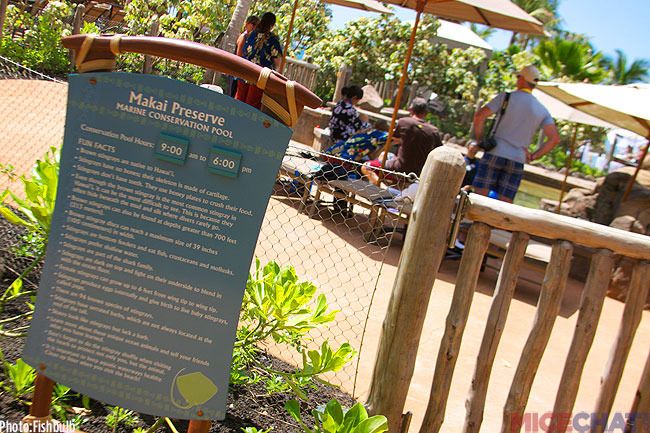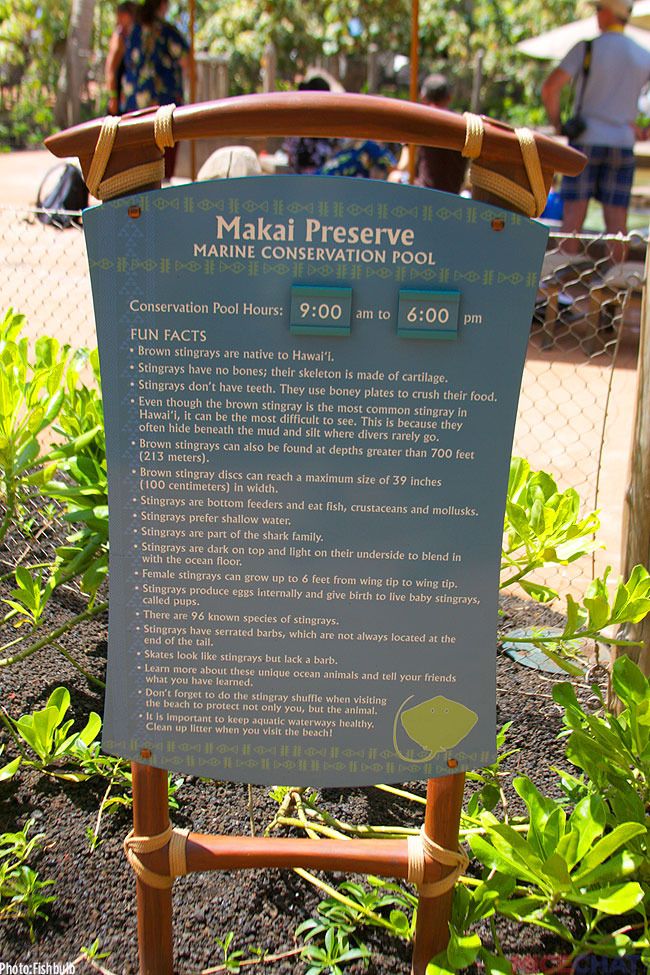 WAILANA POOL:
So far, we've shown you a bunch of pools which will no doubt be packed with kids all the time. But there is one spot which is designed with adults in mind. The Wailana Pool is located in a quite spot in the resort with its own bar.

THE BEACH:
With all the work that went into Aulani, the single most impressive thing about the property is its beach and view. Breakers keep the waves out of the bay, which makes it a great place to swim for people of all ages and abilities. One of our servers told us the touching story of how she'd bring her grandmother to Ko Olina to swim because if was one of the safest places on the island to get into the ocean. It's also a wide sandy beach with no shortage of paces to lay out a beach towel and soak in the Hawaiian experience. Pure bliss.


These are real shots folks. Just an average day at Aulani.



Blue ocean, blue sky, and the gentle sound of the waves.



The water in Hawaii is warm. Perfect for snorkeling and watching the aquatic life.



Orange Roughy



We hope you've enjoyed today's look at Aulani's pools, attractions, and beach. We'll be back soon with even more Aulani photos. There's a lot left to see.
Don't miss the rest of our Aulani series (including our honest opinions about the resort and suggestions for making an Aulani trip more affordable). You won't find a better guide anywhere else:
---
See Aulani for yourself -
contact MiceChat's approved travel partner, Fairy Godmother Travel.
---
This column was written by Fishbulb, a Disney reporter and photographer who edits MiceChat's weekly
In The Parks
column and takes many of the photos you see on this site. He has recently joined Fairy Godmother Travel as a Travel Adviser for Disneyland and Hawaii vacations. If you have questions about Aulani or Disneyland or would like assistance planning a magical vacation, please contact
Fairy Godmother Travel
.
---
Disclosure: Portions of travel to Aulani were subsidized by the Walt Disney Company, though MiceChat incurred significant expense to bring you this coverage.