For the last month or so, we've been featuring articles about Disney's spectacular new Hawaiian hotel, Aulani. But big fancy new hotels are often expensive and Aulani is no exception to that rule, perhaps even more so than you might expect. Never fear, Vacationeering is here with tips and tricks that might just make Aulani an affordable option for your family. Let's do a little creative budgeting and see what we come up with.

Booking your stay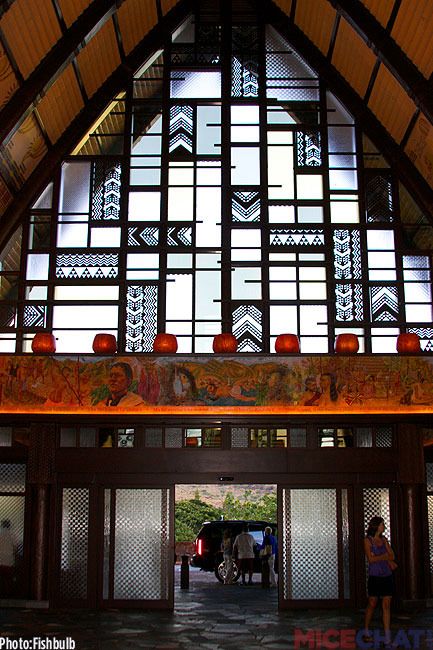 You could just call Aulani and book a room at the standard rate (which averages about $450 a night), but that would not be wise. Aulani is already running specials and deals. And unpublished discounts may also be available. Our advice is to contact a travel agent who specializes in Disney, since they almost always have the lowest rates and package deals available to them. Let your travel agent know how important view is to you. If you don't think you'll be spending much time in your room, you can potentially save a lot of money by forgoing an ocean view or even a "Garden" view. Ocean views can cost you an extra $1,000 per week (or even more). Disney will charge you an extra $25 a night just for a "partial view of the mountains, spa or landscaping from the room or balcony." So what does the least cost view get you? A parking structure view! Keep that in mind, though it may not be as bad as you think if you really just want to make it to Aulani and don't plan to spend much time relaxing in the room.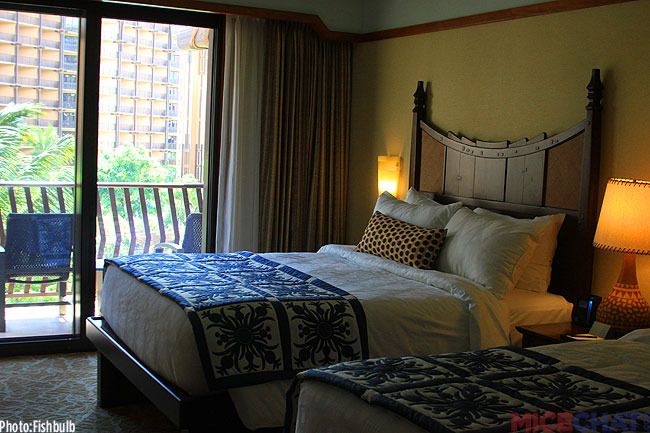 A view comes with a price attached - Ocean, Garden, Mountain or Parking Lot?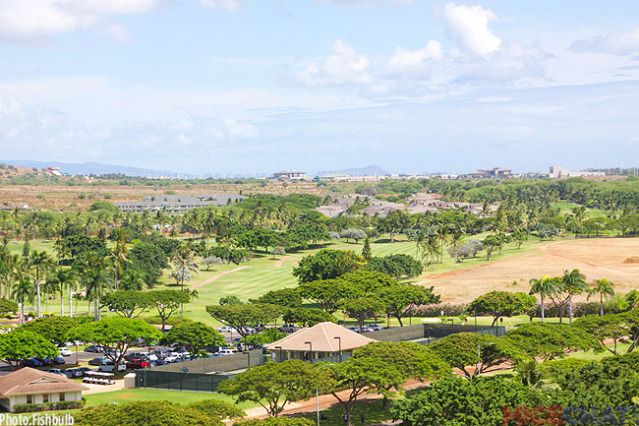 The view from the rooms facing away from the ocean. Not bad.


What about not staying at Aulani and just stopping by for a visit? That's certainly an option for some. A friend of ours stayed in a time share nearby and hoped to enjoy Aulani during his stay. Unfortunately, aside from just walking through the property and eating at the restaurants, the phenomenal pool area is reserved for hotel guests only. If the pools, lazy river, hot tubs and water slides are important to you, don't make the mistake of thinking you'll be able to use them if you aren't staying at Aulani. The cast members are eagle-eyed at spotting hotel wristbands.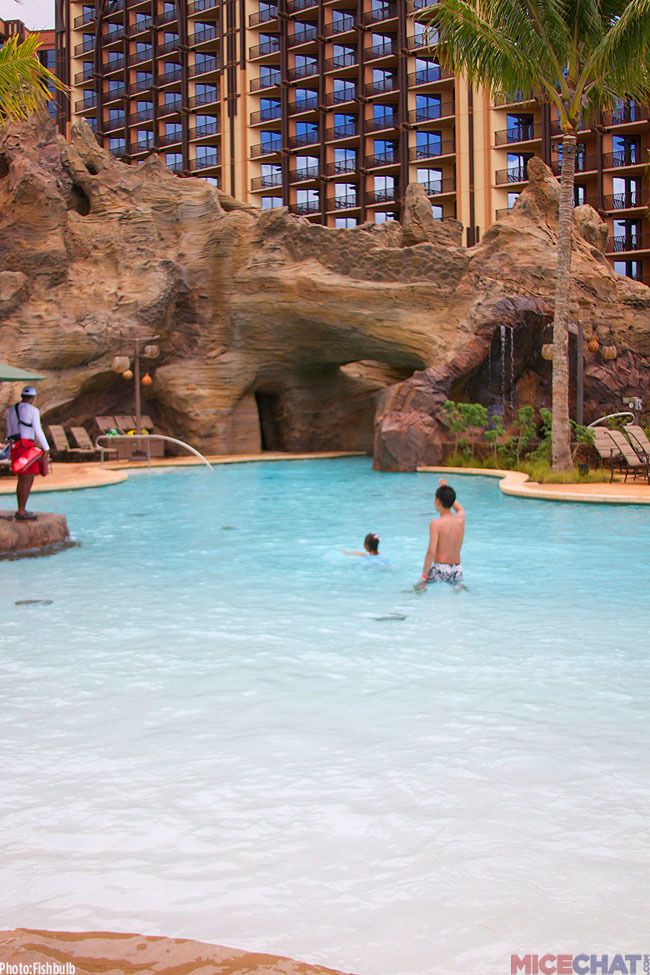 If you are just strolling through, the pool is for looks only.


We DO recommend that you attempt to book the airfare on your own. Why? Well, although most travel agents can get you a cheaper room, they usually can't get you a better deal on air (or have no incentive to do so since airlines don't pay much of a commission any more). Our suggestion is to plug your travel dates into Bing's travel engine and be flexible with departure airport (check the box for "include nearby airports"). Bing will return lowest rates by airline and airport and suggest if you should buy now or wait (based upon previous airfare history). We've saved a lot of money using this system and it really works.

Dining Decisions
The food at Aulani is really quite exceptional. But unless you want to bankrupt yourself, you'll probably want to reserve the fancy table service locations (Ama Ama and Makahiki) for special occasions and not eat all your meals at Aulani. You aren't a captive of the Mouse, consider renting a car at the airport and take advantage of local alternatives (many of which are walking distance), and foodies will want to drive into Honolulu for some really great dining options.

Ocean view dining comes at a steep price.
Beautiful but expensive
Affordable
Same menu options as Off the Hook


Aulani does have a few moderate choices. You can pick up a quick bite from One Paddle Two Paddle (a walk up window) or enjoy the same menu with table service at Off The Hook (which has a full bar and pool view). Sure, a burger and fries will cost you $15, but that is a about the going rate for resorts in Hawaii. To really save, you'll have to walk or drive off property and away from the beach hotels.

Aulani's next door neighbor


The Marriot next door to Aulani has some great restaurants, but they aren't much cheaper than what you'll find at Aulani. Not much farther is Ko Olina Center, a shopping complex just across the street from Aulani and certainly within walking distance. Here, you'll find some real bargains. An ice cream shop, Barbecue, Mexican restaurant, sandwich shop and a market. Just next door at the Ko Olina Golf Club is a Roy's Hawaiian Fusion restaurant. If you've never been to Roy's, it's a real treat (but not inexpensive).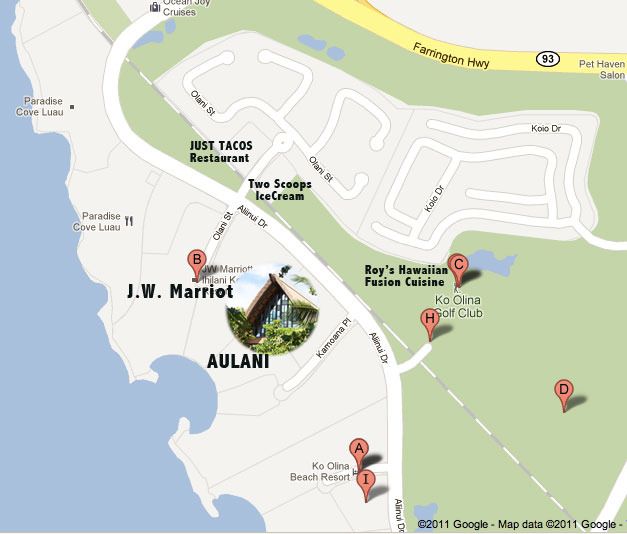 There are other options within walking distance of Aulani


Your Aulani room contains a mini-fridge, if you opt to rent a car, stop by a Target or grocery store on the way to Aulani and pick up some sandwiches, milk, water and snacks. You'll save a bundle over what you'd pay at the hotel.

There are a couple of bargains to be found at Aulani. Don't miss Papalua's Shaved Ice shack in the pool area where you can get a refreshing snack for just $3.75, that's a really good deal by Disney standards.


Across from the saved ice, you'll find the Lava Shack, where there's a refrigerator case which stocks drinks and cold sandwiches. If you are going to buy food, this is the least expensive you'll find at the resort.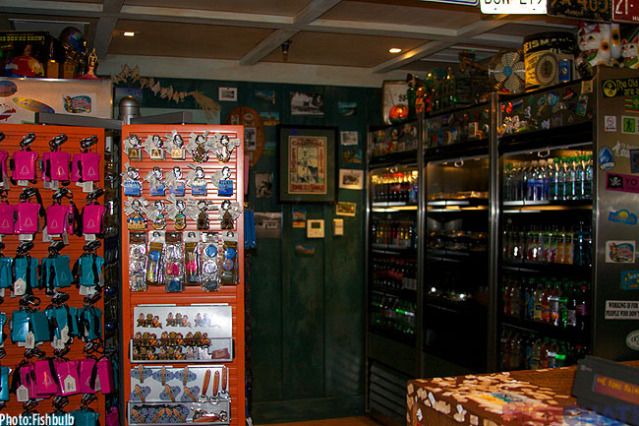 You'll also find a refillable beverage station here. True, you'll have to pony up an outrageous $19 for an insulated mug, but given the alternatives, it might be worth it for you. Especially if the kids suck back a lot of sodas.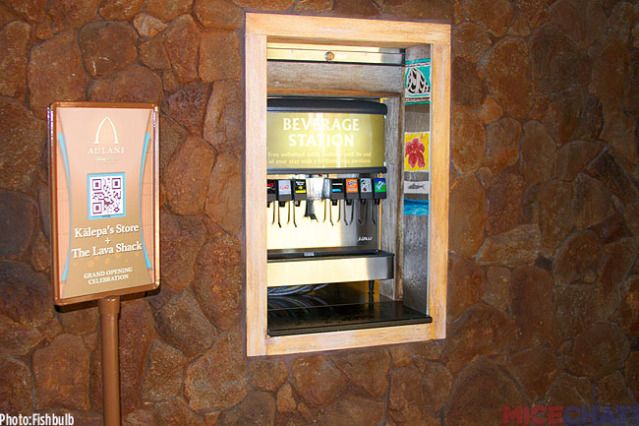 Activities Add Up
Some of the activities at Aulani are included. You'll be able to enjoy the pool, hot tubs, lazy river, water slides, Menehune Trail and beach at no additional charge. Fees apply to the snorkeling lagoon and stingray encounter. Honestly, you can skip both of those and just swim or snorkel in the ocean for free! Why pay extra to do so at Aulani when the real beach is just a few steps away?! Our suggestion is to pack some lite snorkeling gear or buy some at Target once you get to the island.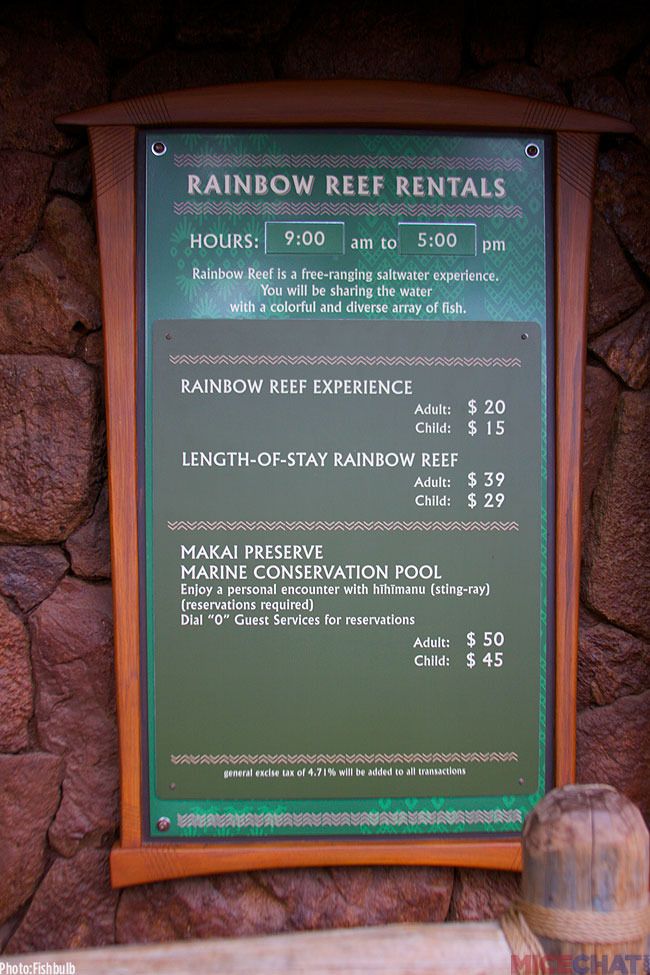 Save the money
Snorkel for free in the lagoon.


The real expenses start to add up when you book tours and excursions. You'll save hundreds or even thousands of dollars just by renting a car and exploring the island on your own. We have a few favorite guide books to Oahu which will make picking restaurants, activities, tours and not-to-miss locations easier to select and navigate to. Oahu is filled with wonderful things to see and do: Honolulu, Waikiki, Pearl Harbor, museums, trails, cultural centers, luaus - and more scenic views and beaches than you'll have time to visit in a month.

Our favorite guide books which will help you choose your perfect Oahu experiences:

Seeking Bargains and Thinking Outside the Box
There are quite a few ways for you to shave some costs and still achieve a magical vacation:


Research Before Booking. Browse through a couple of guide books and note the things which are most important to you and each member of your traveling party. If lounging, reading books, going to the beach and visiting the pool are the most important items, you'll likely want to book your length of stay at Aulani. If fine dining, shopping, hiking, exploring and tourist activities are most important, you might think about booking just a few nights at Aulani and then switching to a more affordable hotel in Honolulu or near Waikiki. Have kids under 12 traveling with you? No question, book your length of stay at Aulani. Why? Because you'll be able to check them into Auntie's Beach House (a kids activity center and day care) which will safely take care of your kids for you (they'll LOVE it) while you enjoy the resort, have a romantic dinner or head off on an adventure. Auntie's is no additional cost unless you want them to feed your kids or you'd like to enroll the little ones into some extra cost programs. Auntie's alone may be worth booking at Aulani for many families.

Relax. While the kids are being cared for by Auntie and a huge staff of well trained day counselors, you can check yourself into Aulani's world-class Laniwai Spa. Treatments and massage will set you back hundreds of dollars. However, you can still enjoy the spa, showers, lounges, pools and tubs for just $45 a day (which includes a body scrub kit). Now, that's a bargain considering that this is one of the most beautiful and relaxing spas you are likely to ever see.

Buy Some Gifts. Don't do all your souvenir shopping at Aulani or any of the beach hotels for that matter. You'll find small gift shops everywhere you go and their prices are often a fraction of what the hotels charge. Though, there are a few Aulani branded items which you might not want to pass up such as hats, shirts, pins and Vinylmation.

A Hotel With Character. Avoid the expensive and loud character breakfast at Makahiki and keep an eye out for character meet and greets which pop up during the day around the pool area.

Let The Iwa Be Your Oracle. Read Aulani's newsletter, the Daily Iwa, which will be placed in your room each night. It lists out all the activities at the resort including story tellers, shows, tours, star watching, hula lessons, flower lei making, yoga, fitness classes and much more. Take advantage of the free stuff, you'll be surprised how much of your day it consumes and how much money it will save you.

Be Active. You can walk or jog along the ocean and explore the bays of Ko Olina. For $20 an hour you can rent a kayak. Aulani's lagoon is protected and is therefore free of riptides and large waves. That makes it perfect for swimming with the kids or even teaching them to snorkel.



Not everyone is going to be worried about saving. But for the many of you, like myself, who scrimp and save to be able to afford a Disney vacation, saving a few dollars here and there makes all the difference. Aulani is a special place and we hope as many of you as possible will be able to enjoy it as much as we have. We've already planned to return in June of 2012 and invite our readers to take advantage of the up to 40% off group discounts we've arranged (see below).

And that wraps up our series on Aulani. If you've missed any of the previous articles (which include lots of photos, tips and tricks) we invite you to click the links below:




---
See Aulani for yourself -
contact MiceChat's approved travel partner, Fairy Godmother Travel.
---

Fishbulb is a Disney reporter and photographer who edits MiceChat's weekly In The Parks column and takes many of the photos you see on this site. He has recently joined Fairy Godmother Travel as a Travel Adviser for Disneyland and Hawaii vacations. If you have questions about Aulani or Disneyland or would like assistance planning a magical vacation, please contact Fairy Godmother Travel.

---
Disclosure: Portions of travel to Aulani were subsidized by the Walt Disney Company, though MiceChat incurred significant expense to bring you this coverage.