Our Weekend Update is short and sweet this week. Starting on Friday night, I'll be up in Anaheim all weekend celebrating the fifth anniversary of MiceChat. I am looking forward to this highly anticipated annual event – a weekend in the Disney Parks with three to four hundred of my closest MiceChat friends.
In celebration of the MiceChat anniversary, sir clinksalot has prepared a fantastic retrospective video. I hope I will get to see most of the MiceChatters that are featured in this video.
ichigopara went to Tokyo DisneySeas in search of Shellie May and sweet milk tea popcorn. If you think merchandise events are crazy at Disneyland, you'll have to read this report!
Finally we have vintage post cards that document the last voyage of the Queen Mary thanks to MickeyMaxx.
Welcome to the Worldwide Weekend Update!
sir clinksalot has prepared one of his great retrospective videos in anticipation of the MiceChat Fifth Anniversary celebration
<embed type="application/x-shockwave-flash" src="http://d.yimg.com/static.video.yahoo.com/yep/YV_YEP.swf?ver=2.2.46" flashvars="id=17867619&vid=6868459&lang=en-us&intl=us&thumbUrl=http%3A//l.yimg.com/a/p/i/bcst/videosearch/11603/101292671.jpeg&embed=1" bgcolor="#000000" allowscriptaccess="always" allowfullscreen="true" height="322" width="512">
[ame="http://video.yahoo.com/watch/6868459/17867619"]MiceChat Anniversary Video on Yahoo! Video[/ame] @
Yahoo! Video
ichigopara takes us in pursuit of Shellie May and sweet milk tea popcorn!
On the 22nd of January the Sweet Duffy event started at TDS. Duffy is the TDS version of the Disney Bear and that day they were introducing a girl version called Shellie May for the first time. There was also the introduction of a new milk tea flavor popcorn. (very yummy!) I arrived in the morning pretty close to the gate entrance and made a dash for Cape Cod but of course with a toddler it took me a bit longer than others so I made it to the queue at 10:15 at which point the line was pretty long already just starting the third wind. Honestly I thought it would be three maybe four hours. But no. It ended up beng 7 hours!! Duffy Dad joined me in the line later and informed me it was not the usual two stores that were open but an extra third store was also selling the goods! I'm used to seeing long lines at TDR and have seen the lines when a new attraction opens but had never experienced this kind of frenzy just for product! In fact I haven't gone to TDS since that day because of the stress!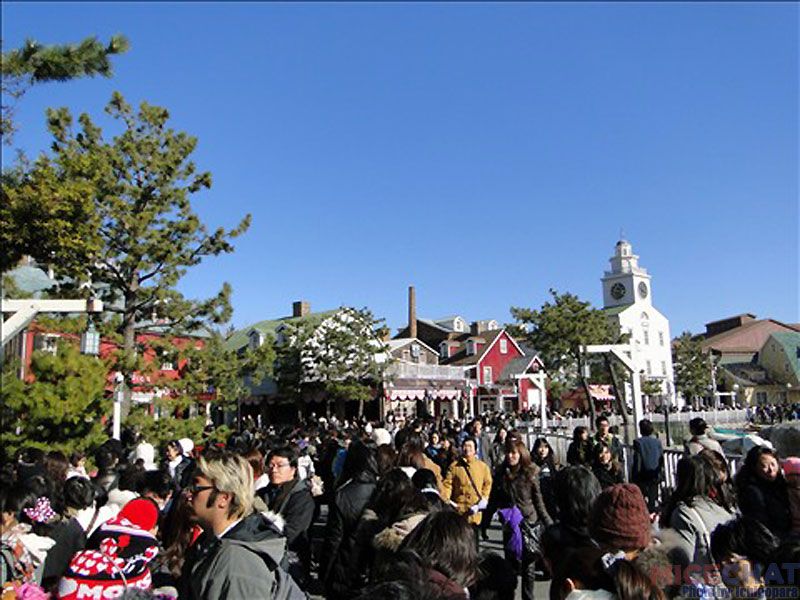 I couldn't see the end of the line at this point and wondered how far back it went.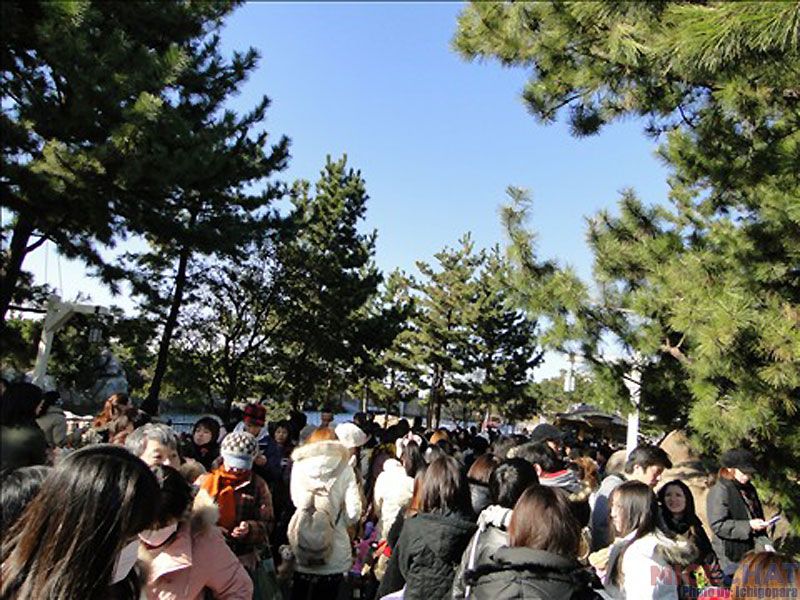 New maple Duffy cookie!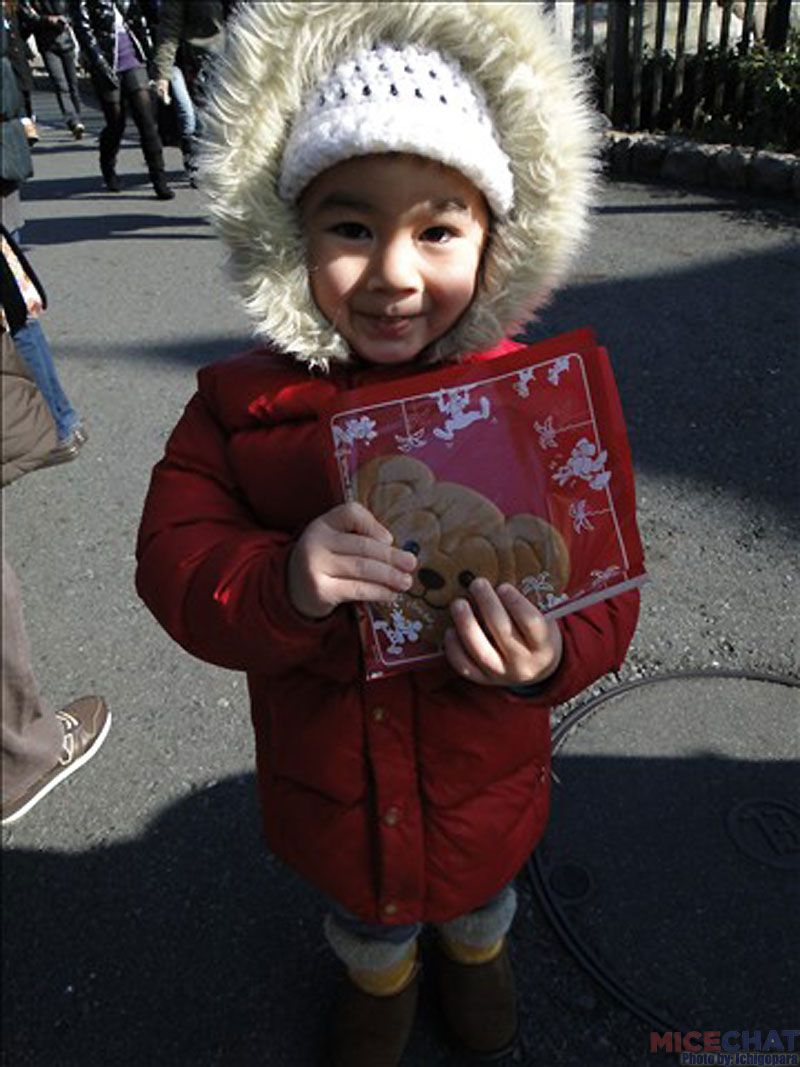 The winding line for popcorn and a 2100yen (23$ at current exchange rate) popcorn basket 3200yen (35$) with the strap!! Madness I know!
Cape Cod Cookoff was decorated as a sweets cafe like last year but with the addition of Shelly May. It's very cute and the sweets look delicious this year but I could not get in that day.
The outdoors merchandise cart could not be open because of the crowds but they eventually opened the register and were bringing the goods outside to ring up later in the day.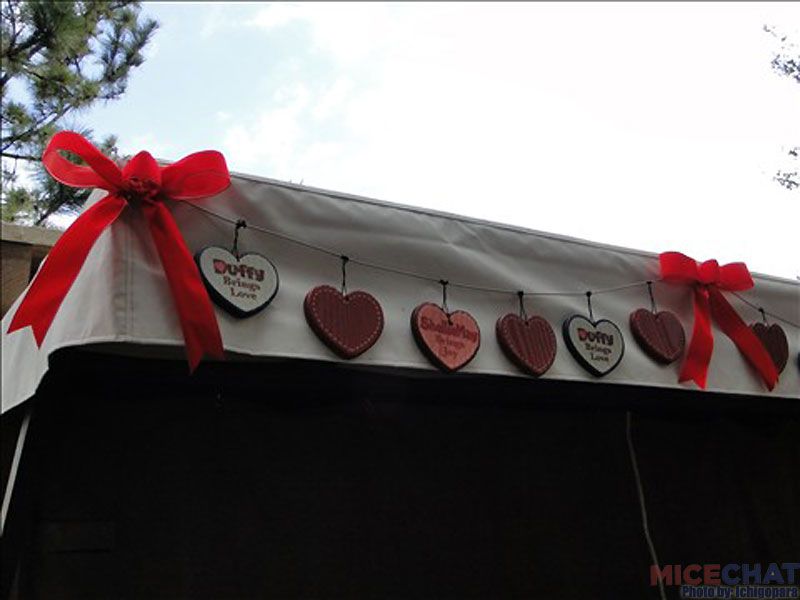 DuffyDad joined me in line and I went to buy popcorn! The milk tea flavor is great and makes the area smell so good!! I think the design of the cart was very nice too!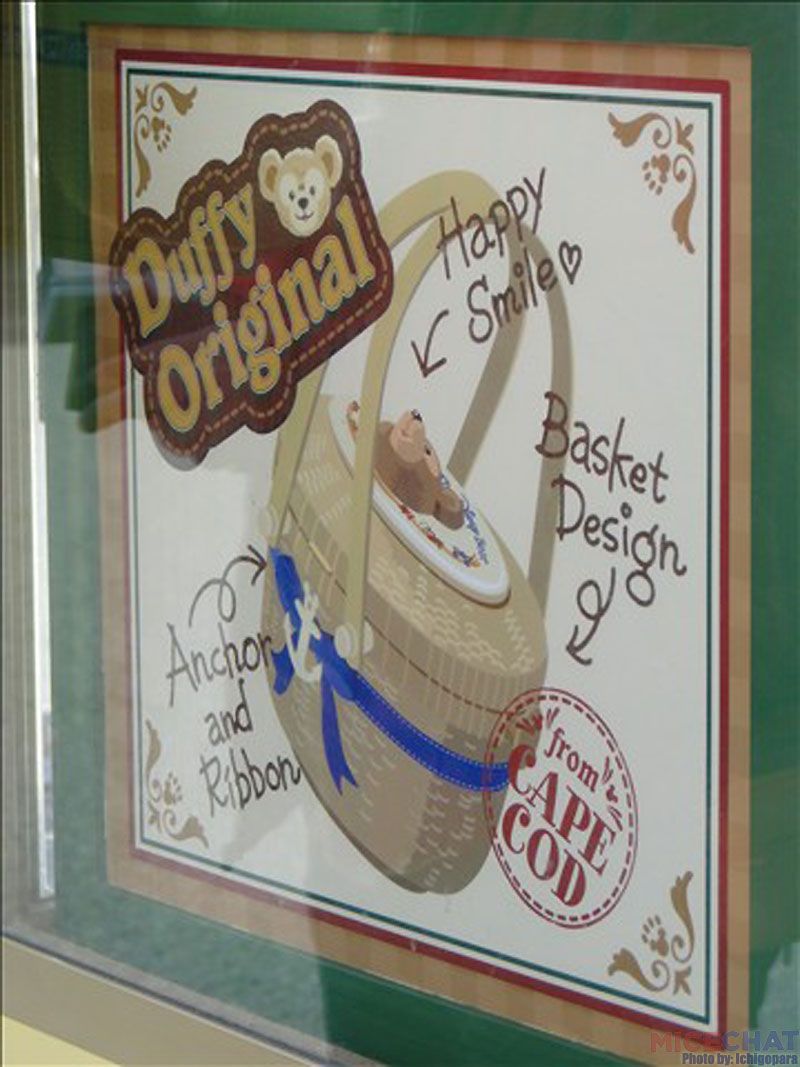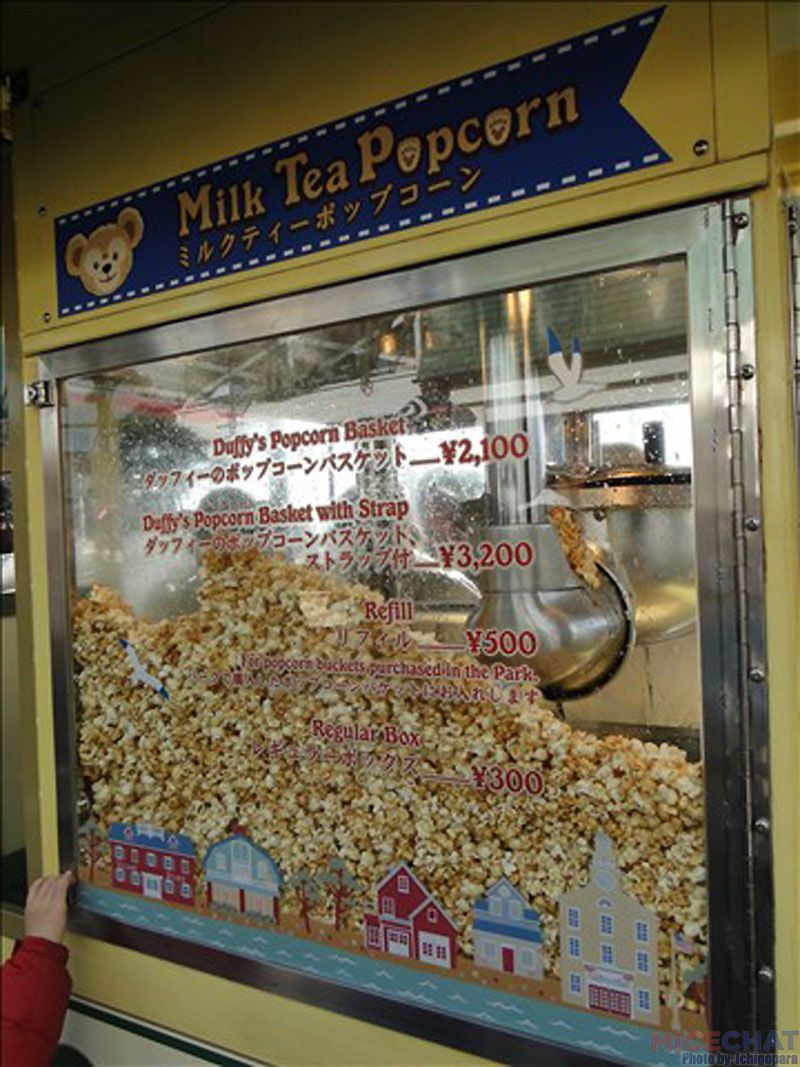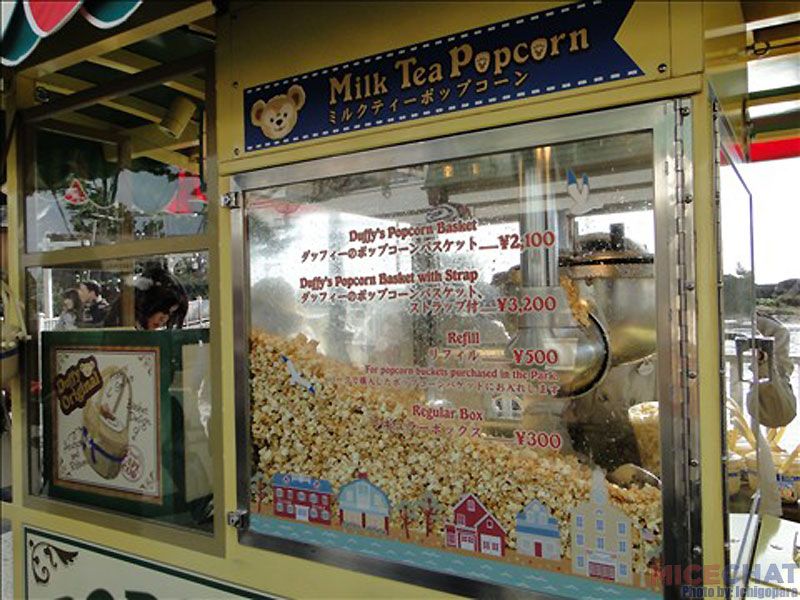 Back in line...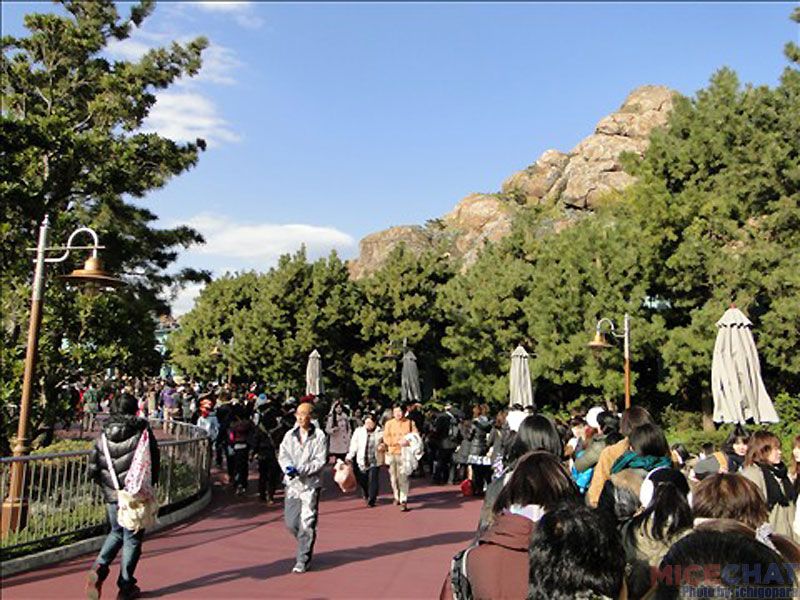 Look in the right corner they are laughing all the way to the bank. By this point we were laughing too because it was just so insane, what were we doing in this line?! We already waited this long though so we were sticking it out till the end!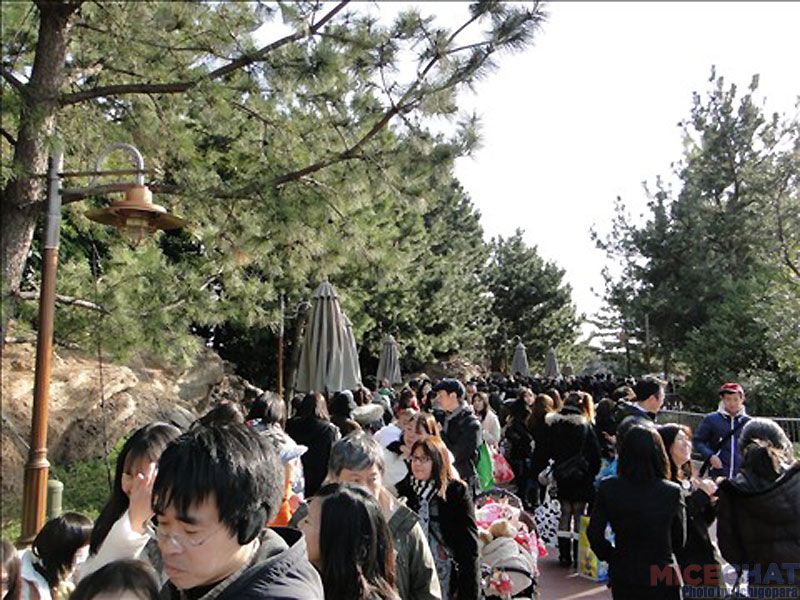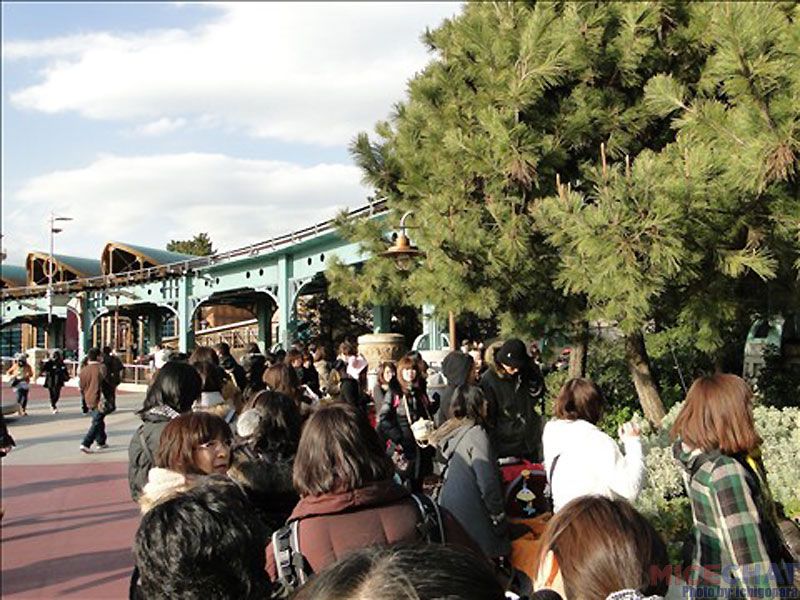 Finally we cleared the last bend and were on the way back to Cape Cod! Look at the sun setting ha ha!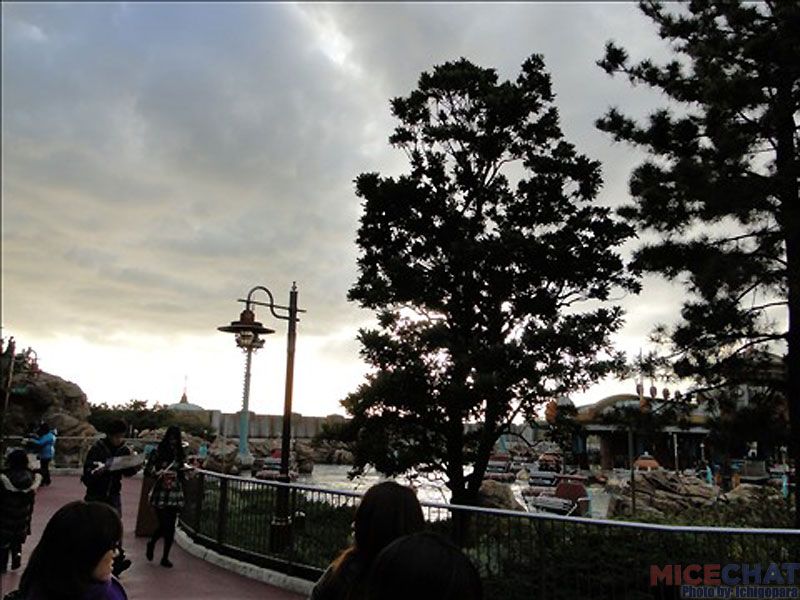 Eventually we passed the line cut sign which was very cute.
The outside register.
Almost there...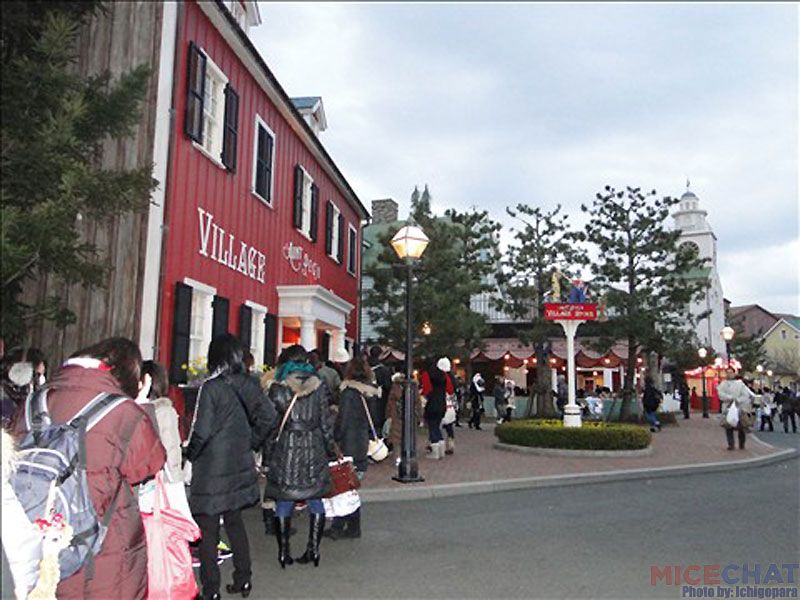 I didn't take pictures inside it was too crowded and just so exhausted. After shopping inside I passed Mc. Ducks of course still a very long line! Same for the other store.
The best part of the day though was the unofficial MiceChat meet we had at the end of the day! It was TDLFAN, JoeInJpn, DuffyDad, TokyoDisneyResortMaster, and myself. It was so great to chat and see everyone together!
I think I had a long enough break from TDS so I will go back to check out the cafe this week! Also maybe to try this montblanc at the Ambassador Hotel!:love:
MickeyMaxx raided the vintage post card box and came up with this post card folder that documents the last sailing of the Queen Mary
A quick shuffle through the old post card box brought this vintage folder to the top, "Queen Mary, The Last Great Cruise".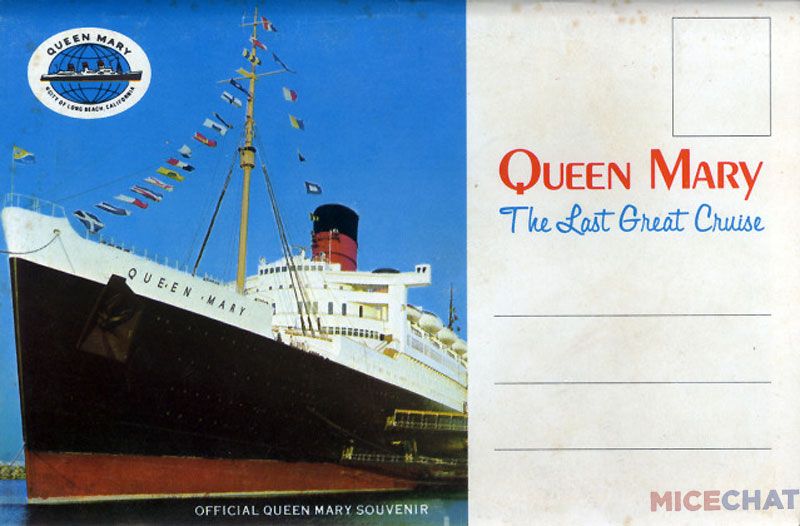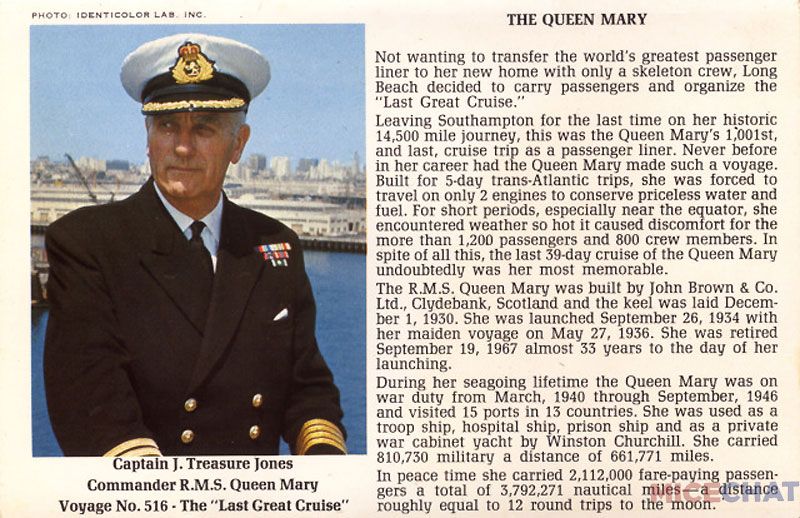 <embed type="application/x-shockwave-flash" src="http://www.youtube.com/v/ul35c8miLiQ&hl=en_US&fs=1&color1=0x5d1719&color2=0 xcd311b" allowfullscreen="true" allowscriptaccess="always" height="385" width="480">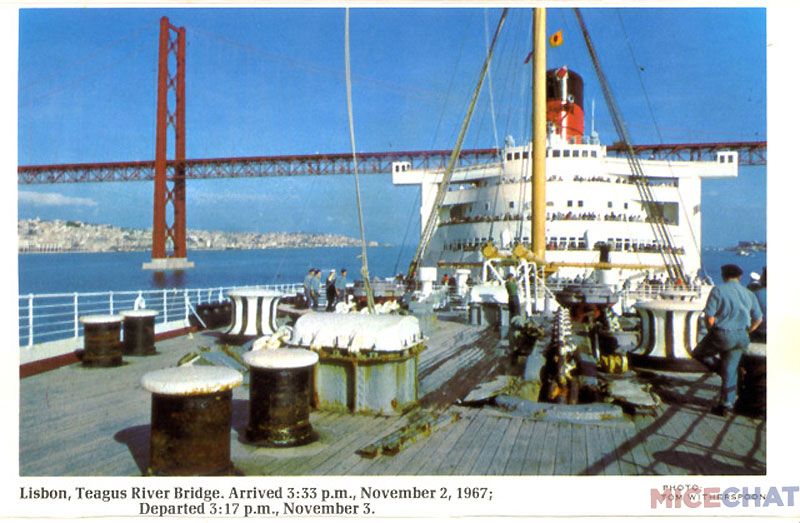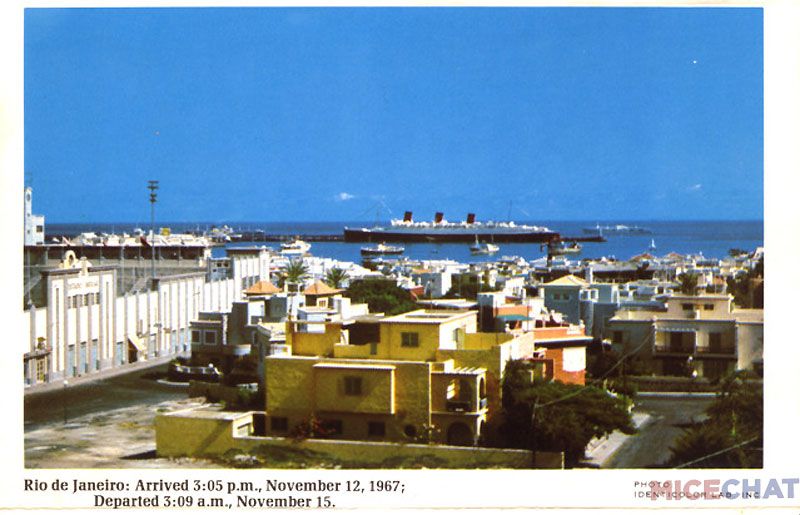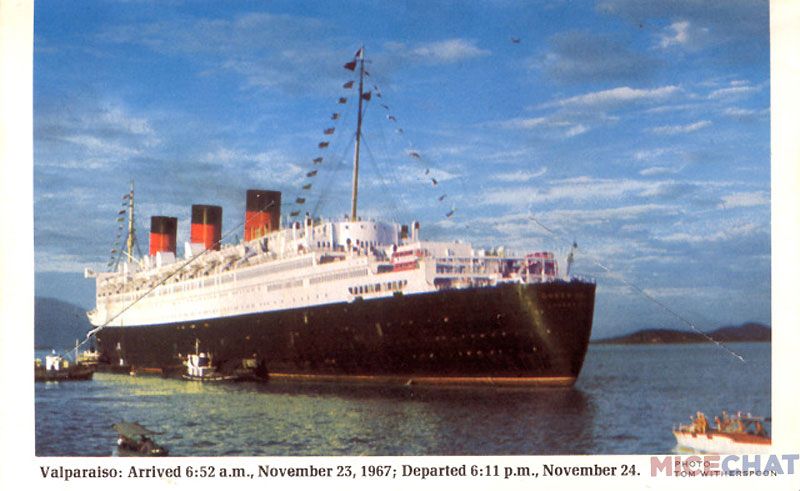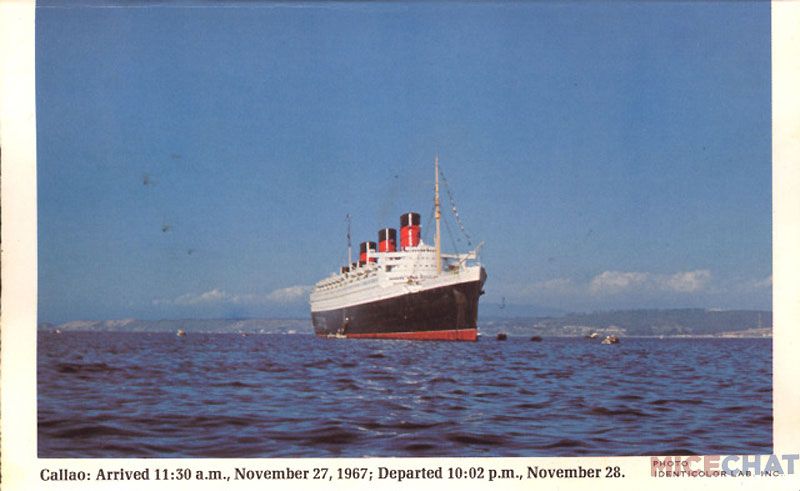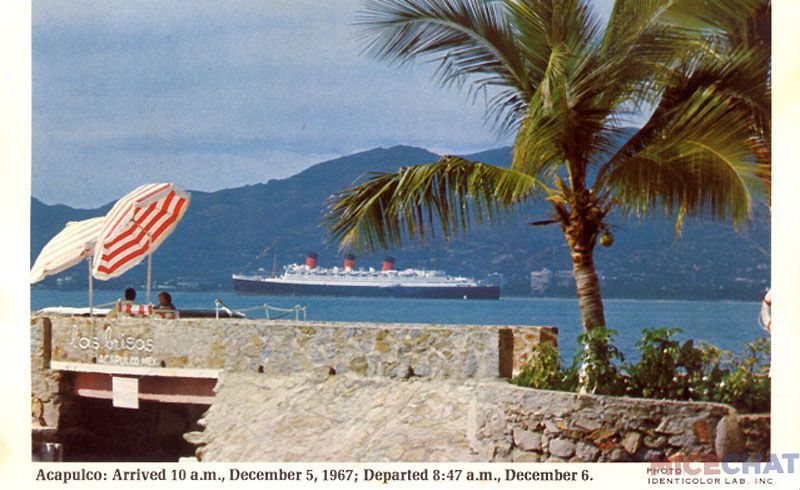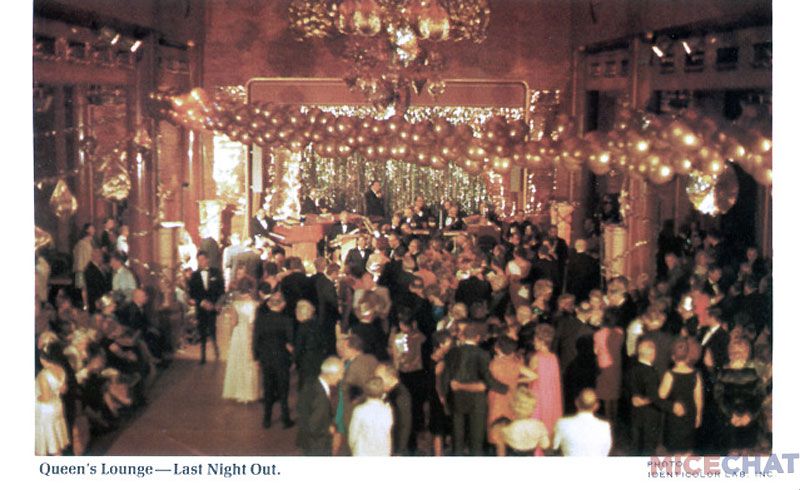 <embed type="application/x-shockwave-flash" src="http://www.youtube.com/v/SsK6MsNeNS4&hl=en_US&fs=1&color1=0x5d1719&color2=0 xcd311b" allowfullscreen="true" allowscriptaccess="always" height="385" width="480">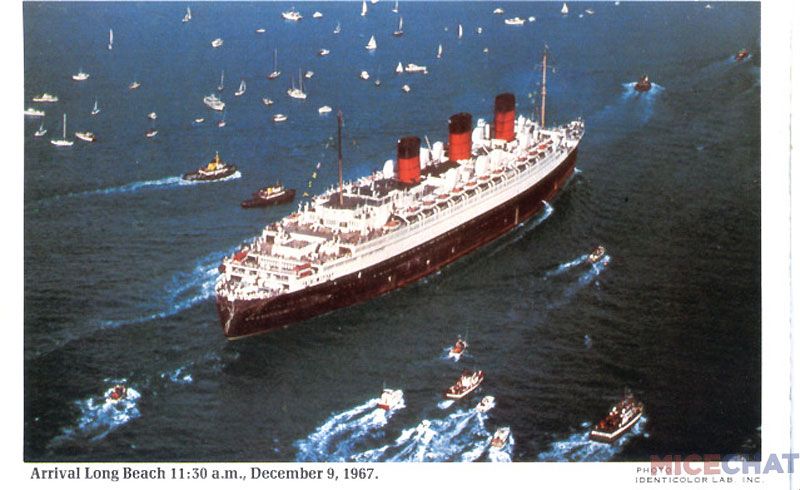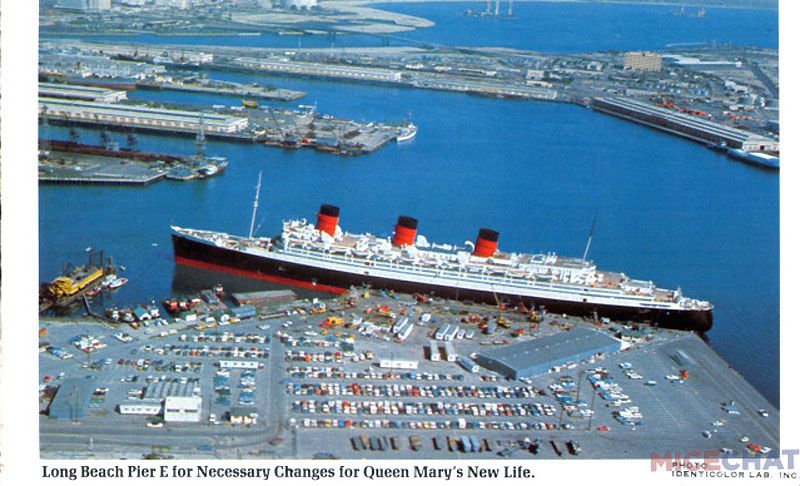 The Queen Mary in Long Beach
After her retirement in 1967, the Queen Mary steamed to Long Beach, California, where she is permanently moored as a tourist attraction. From 1983 to 1993, the Queen Mary was accompanied by Howard Hughes' Spruce Goose, which was located in a large dome nearby (the dome is now used by Carnival Cruise Lines as a ship terminal, and formerly as a soundstage).
Since drilling had started for oil in Long Beach Harbor, some of the revenue had been set aside in the "Tidelands Oil Fund." Some of this money was allocated in 1958 for the future purchase of a maritime museum for Long Beach.
When the Queen Mary was bought by Long Beach, they decided that the ship would be an iconic host and not for preserving her as an ocean liner. It had been decided to clear almost every area of the ship below C deck (called R deck after 1950 to lessen passenger confusion—all the restaurants were on "R" deck) to make way for the museum. This would increase museum space to 400,000 square feet. It required removal of all the boiler rooms, the forward engine room, both turbo generator rooms, the ship stabilisers and the water softening plant. The ship's now empty fuel tanks were then filled with local mud which would keep the ship's centre of gravity and draft at the correct levels, as these critical factors had been affected by the removal of all various components and structure. Only the aft-engine room and "shaft-alley", at the stern of the ship, would be spared from the cutter's torch. Remaining space would be used for storage or office space. One problem that arose during the conversion was a dispute between land-based and maritime unions over conversion jobs.
The United States Coast Guard had final say; the Queen Mary was deemed a building, since most of her propellers had been removed and her machinery gutted. The ship was also repainted with its red water level paint a bit higher than its old design. During the conversion the funnels were removed as it was the only practical way to lift out the the scrap materials from the engine and boiler rooms, subsiquently it was found that the funnels were held together with over thirty coats of paint and that they had to be replaced with new replica items.
Wikipedia
Looking for up-to-date reports from Disneyland
including photos, gossip, park schedules and more?
Visit these MiceChat columns each week:
And that brings us to the end of another week. Our photographers have just enough time to reload their cameras before we see you all again next weekend. Thank you to all of our wonderful readers, and as always, a huge thank you to our amazing team of global photographers, spies, and gossips:
Denise
nbodyhome
Preskitt
(mousesteps.com)
SummerInFl
sir clinksalot
MickeyMaxx
CaptPhoebus
Ian Parkinson and Richard Williams
BigPigletFan
Abominable Snowman
Fishbulb
PhotoMatt
Jack
Hollywood 1939
Wixom
Ken Eslick
(DisneylandPostcards.net)
ichigopara
Your Editor -
Rixter
Where have YOU been recently? We invite you to share your photos of theme parks or any other destination that may be of interest to our readers. Please feel free to contact me via MiceChat Private Message (screen name Rixter)
or send me an email: oceansiderick@gmail.com.
It is readers like you who make MiceChat such a special place.
Don't miss a single one of MiceChat's Featured Blogs (including the Weekend Update). Add our feed to your favorite feed software or site:
MiceChat: Featured Disney Blogs