The threat of rain is casting a pall on weekend planning in Southern California. Should we risk being in an outdoor venue if it rains? Or should we go to an indoor venue and be packed cheek by jowl with all the other cowardy SoCal residents? Maybe we'll plan to stay home...that will guarantee sunny skies!

You won't have to worry about rain as you travel with us on the Weekend Update Express. Our first stop this week is a look into the secret annual rite of Disneyland Cast Members known as Flashback. This is where they exclaim, "Hey kids, let's put on a show!"...and then actually do. CaptPhoebus has photos of this event which is rarely seen outside of the Disneyland CM family.

ichigopara is feeling a little under the weather this week, so TDLFAN graciously stepped in to give us a Tokyo Disney Resort update. Then we have a special treat from Pratt55: the Chinese New Year celebration in Phoenix.

Our MiceChatter friend BC_DisneyGeek lives in British Columbia (BC...get it?) and sent us some photos of the Olympic hubbub around Vancouver. Looks like the town has been taken over by Olympic fever. Our last stop this week is at Volcanoes National Park, courtesy of sir clinksalot.

Thanks for traveling with the Weekend Update!
CaptPhoebus gives us a rare look inside the annual Disneyland CM rite know as Flashback
Once a year, volunteer Disneyland Cast Members from throughout the Resort get together to put on a benefit show, which they call Flashback. The Resort roughly breaks up into 4 teams: East and West Disneyland, and North and South Disney's California Adventure. The other areas like Entertainment, Custodial, Main Gate, Parking, and TDA are also divided up between the 4 groups. Every year, the teams are shuffled, giving the Cast Members an opportunity to interact with new people. This, in turn, provides a different show each year. Cast Members spend over 2 months rehearsing after work hours to perfect their 17 minute skits, which involves a combination of acting, dancing and singing. Every year, all the money raised through ticket sales for Flashback gets donated to a local charity. This year, the charity chosen is called
Discovery Arts
.
The theme of this year's Flashback is called "Class of '55", in honor of the upcoming 55th anniversary of Disneyland. Each team was given one of the original "Lands" as the underlying theme of their skit: Fantasyland, Adventureland, Frontierland, and Tomorrowland.
Without any further ado, let's take a look at some of the highlights of this year's Flashback:
The man behind the dream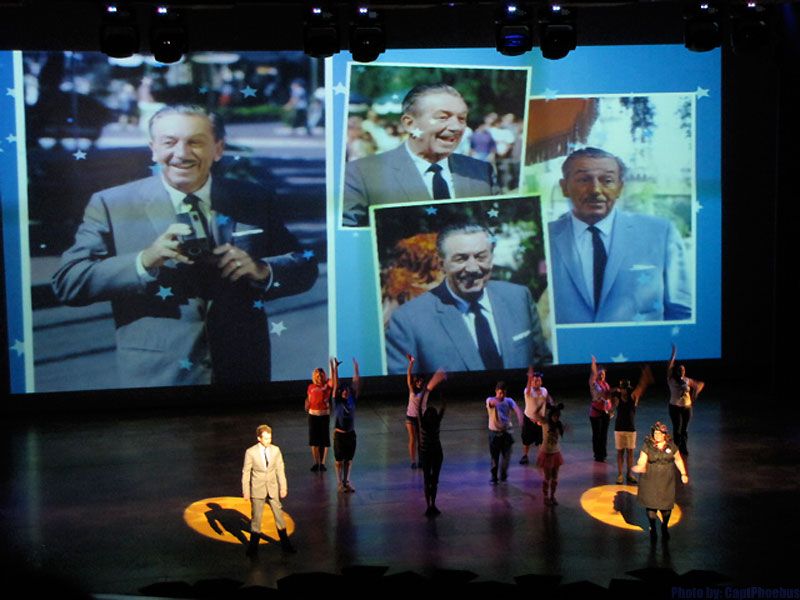 The Emcees of the evening, donned as Tour Guide "Plaids"
Team Red (comprised of Guest Relations, Photo Imaging, Costuming, Disneyland Custodial, Main Street Stores, and Disneyland East Side Attractions, Food and Stores) was assigned Fantasyland. Their story is about a princess raised by an evil witch who just isn't evil enough. Does she discover her true identity? Only one way to find out...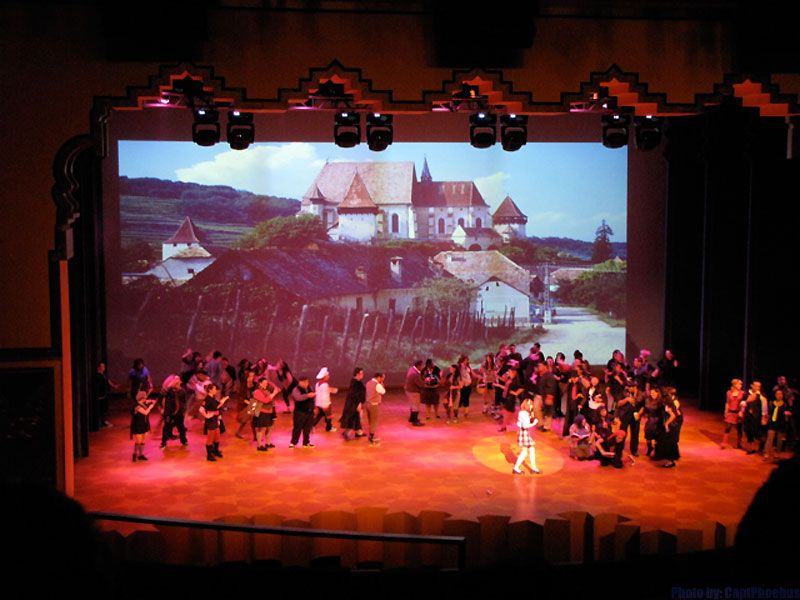 The Evil Witch, with her lackeys of "Flying" Monkeys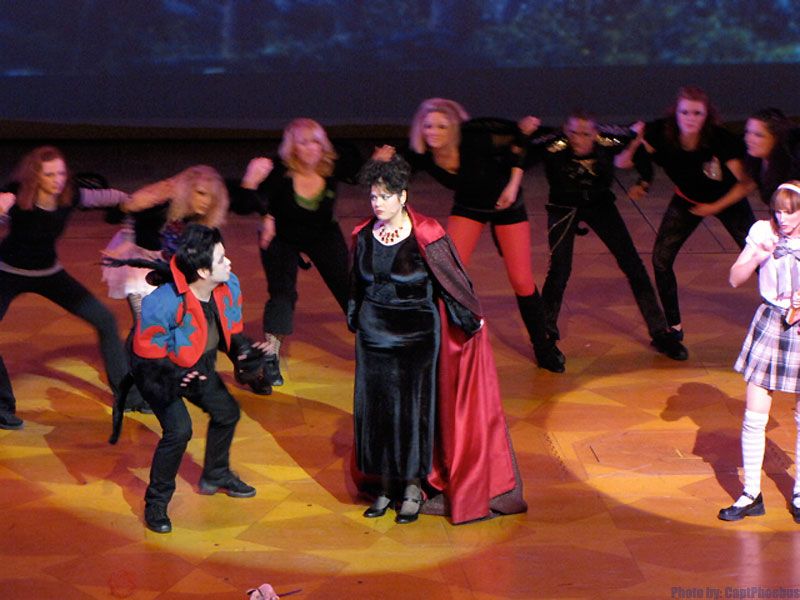 The Incantation Test: "Voulez Vous"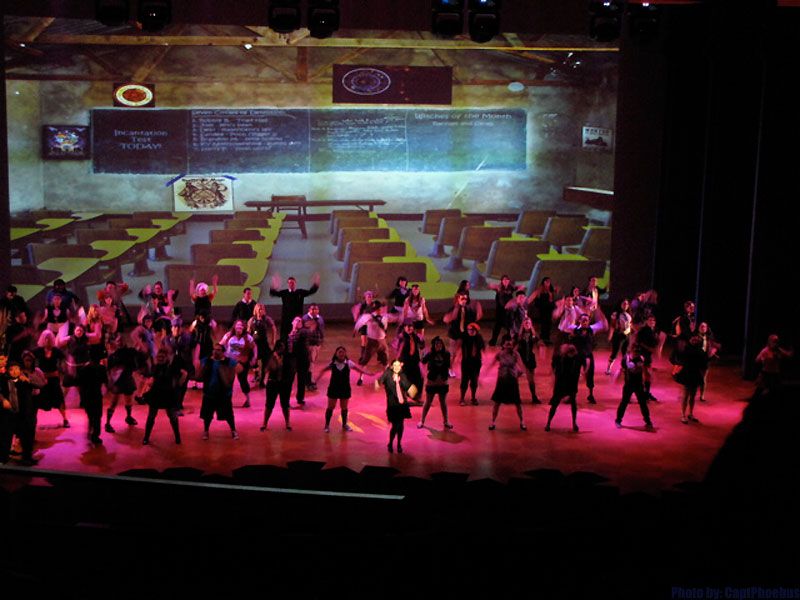 "I've Put a Spell on You"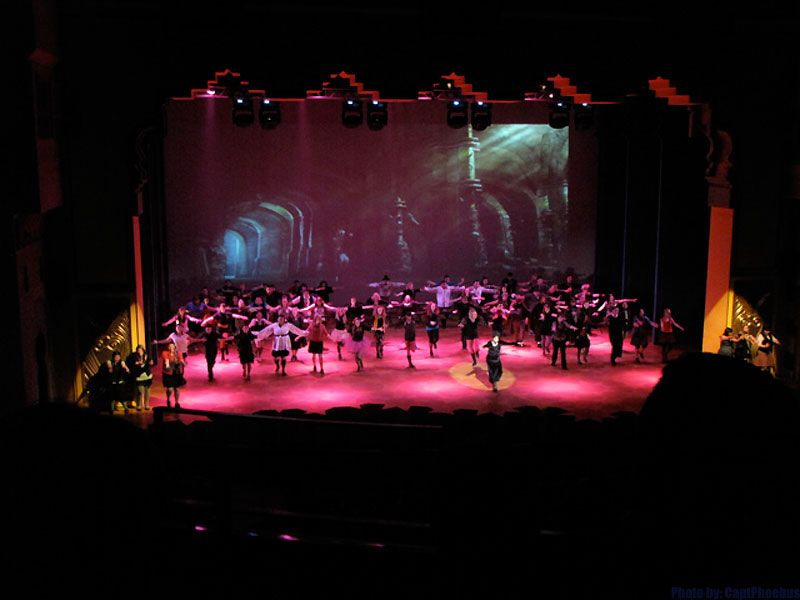 Dragon "Transformation" Time
Happily Ever After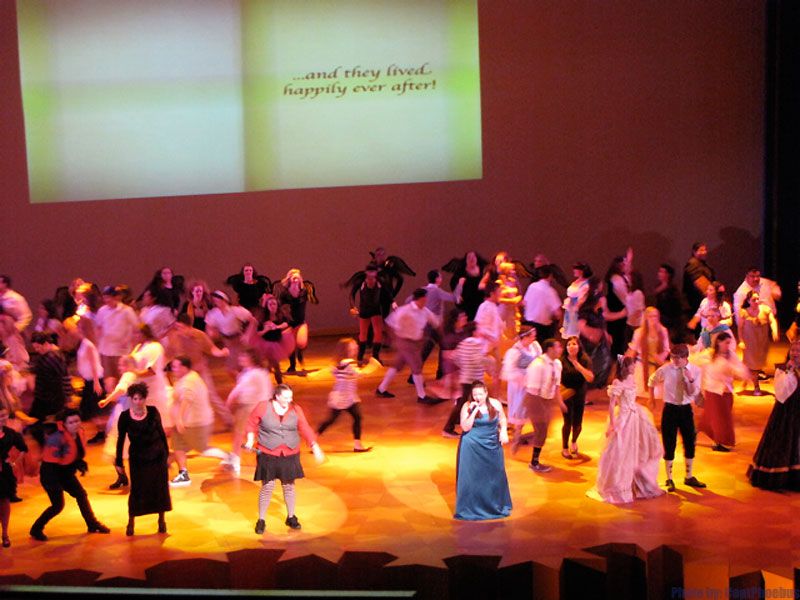 Next up was Team Green (consisting of Resort Transportation & Parking, Main Entrance, and Disney's California Adventure North Side Attractions, Food and Stores) who had Adventureland. They told the story of the cast of a 1930's radio show who set off for a jungle adventure in India in search of new inspiration. Let's see how their saga unfolds.
"Boogie Woogie Bugle Boy"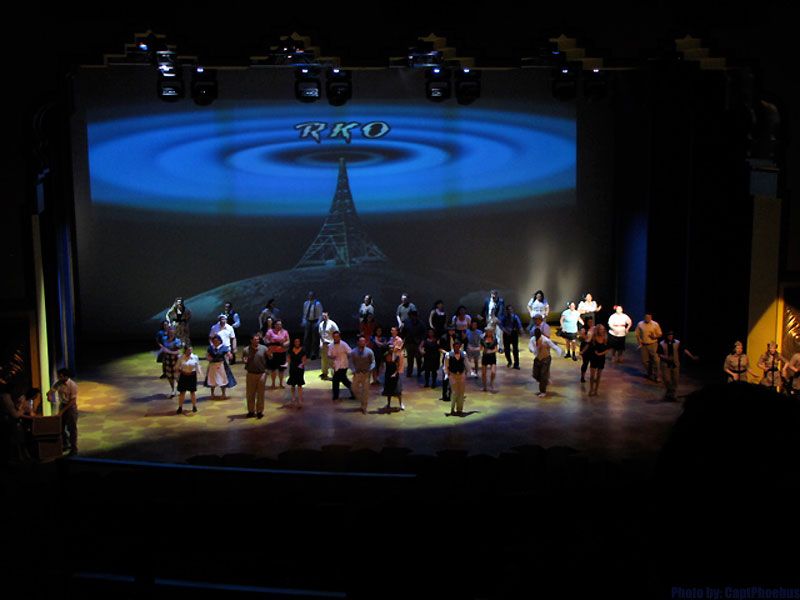 Meeting up with the Tour Guide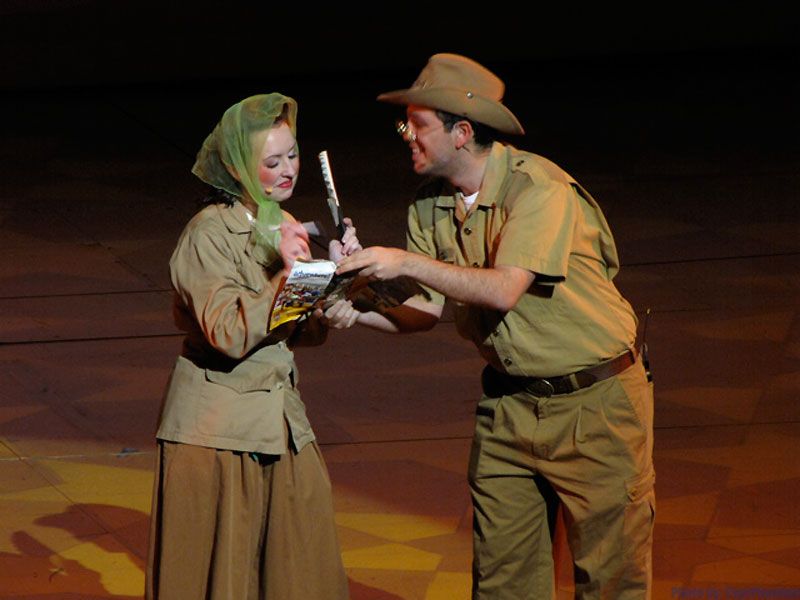 Cruising down the river
The Local Natives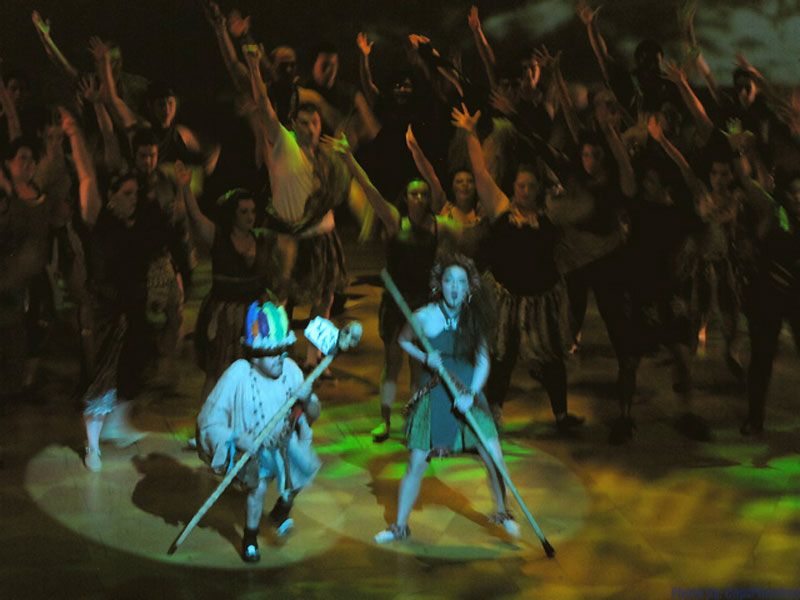 Trapped in the Temple with the Zombies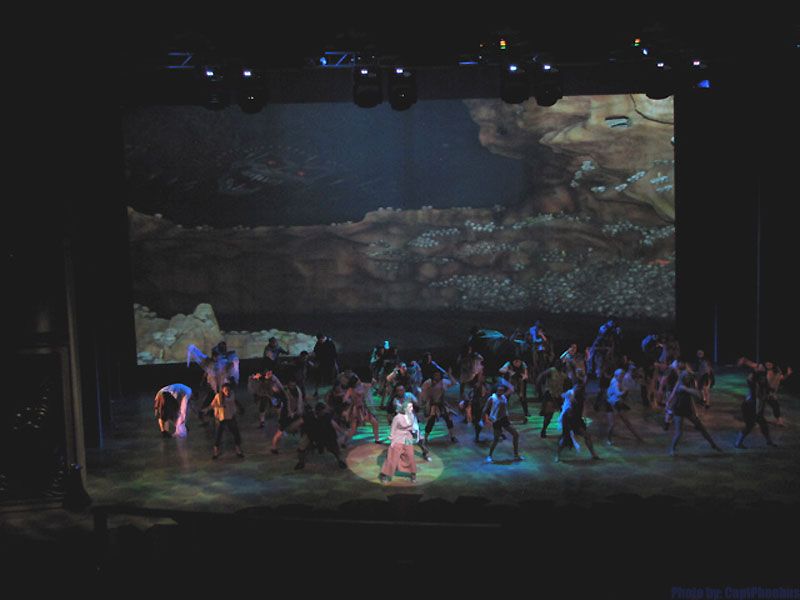 All's Well that Ends Well
Team Orange (made up of Walt Disney Travel, TDA, Security, Facilities, Entertainment: Characters, and Disneyland West Side Attractions, Food & Stores) drew Frontierland for their theme. Their tall tale revolved around an inexperienced Deputy and the local Saloon (and Spa) owner trying to save the town's Sheriff from the outlaws trying to take over the town.
Town Meeting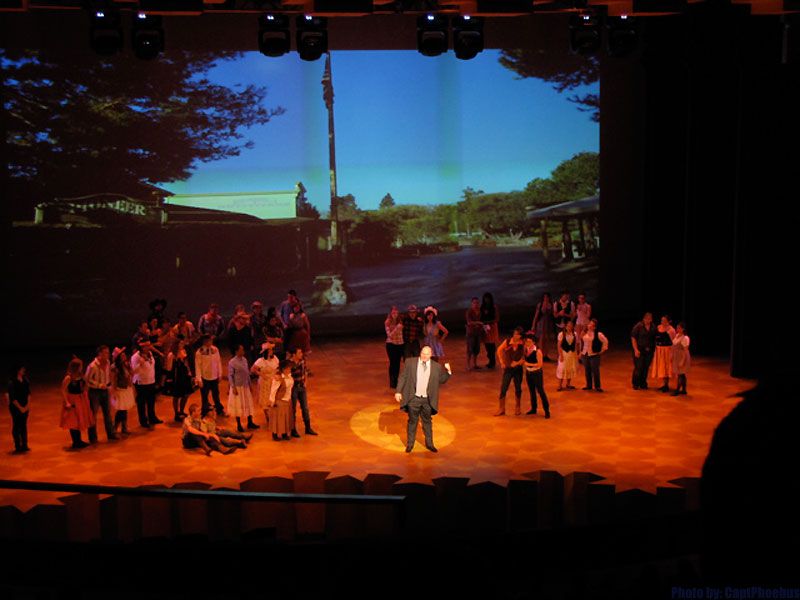 Our unlikely duo, the Proprietor and Head Can Can Dancer of the Local Saloon (and Spa) and the Deputy
Gathering up the courage - "Man in the Mirror"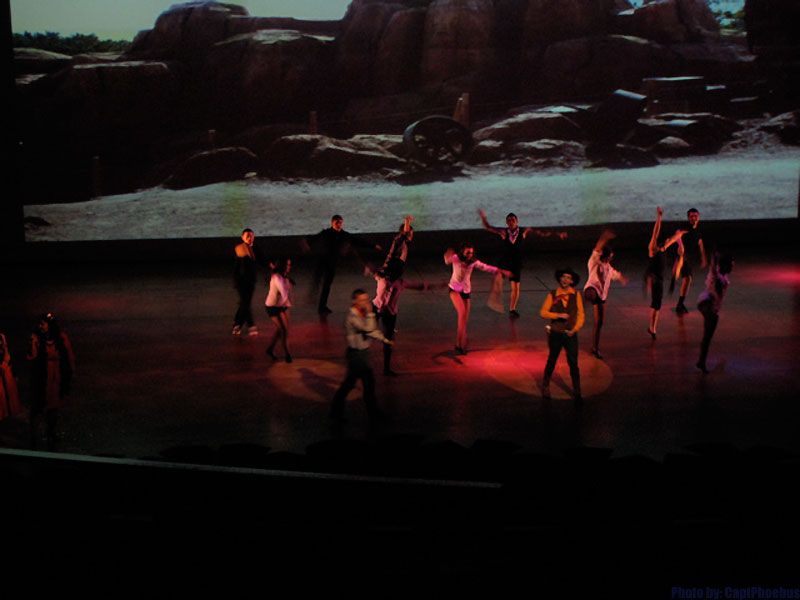 The High Stakes Poker Tournament - "Poker Face"
The Final Hand
Heroine tied to the Tracks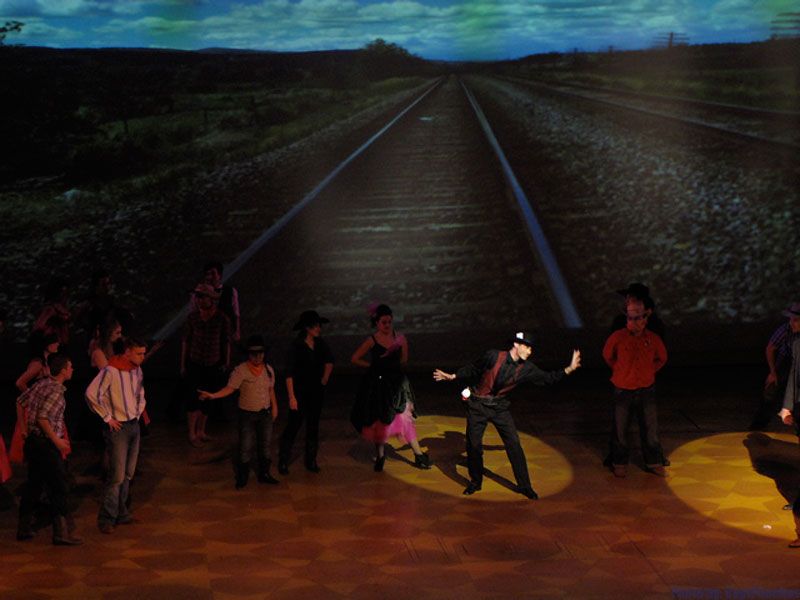 The Duel
"High Tech" Death
Happy Trails - "Wild Wild West"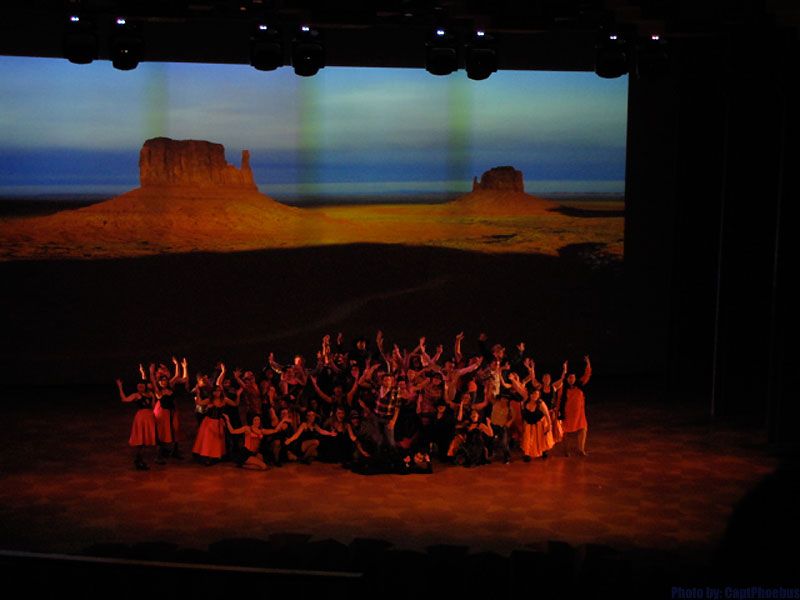 And lastly, Team Blue (comprising of Hotels, Entertainment: Parades, Scheduling, and California Adventure South Side Attractions, Food & Stores) had Tomorrowland. They chronicled a ragtag group of cadets from Star Command trying to become Space Rangers. Nothing goes right on their final mission, and they crash land on an unknown planet. What fate becomes of them?
Star Command Base - "Weird Science"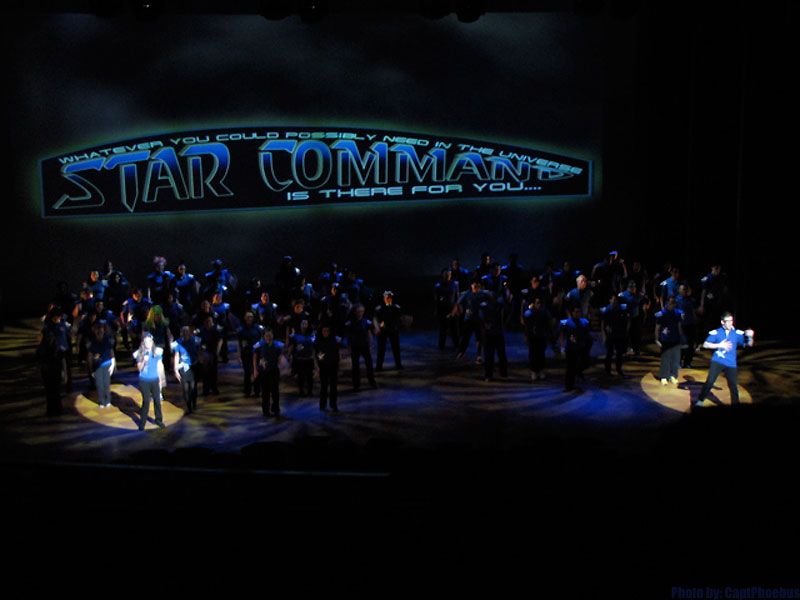 Crash landed
The Indigenous Species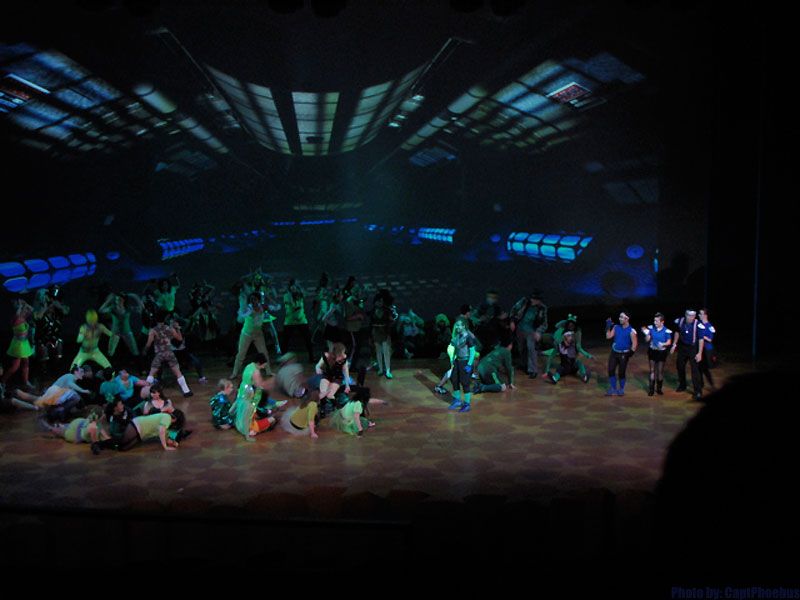 Plotting to capture the evil Overlord - "I Can't Do It Alone" (Chicago: The Musical)
The Plan in Action - "Circus"
Success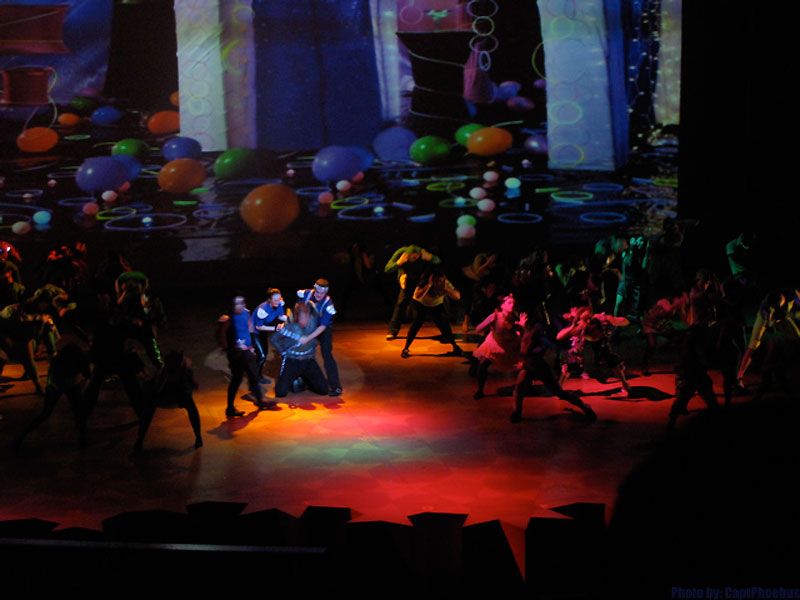 Ending out the show, the entire cast came together to sing "One Man's Dream"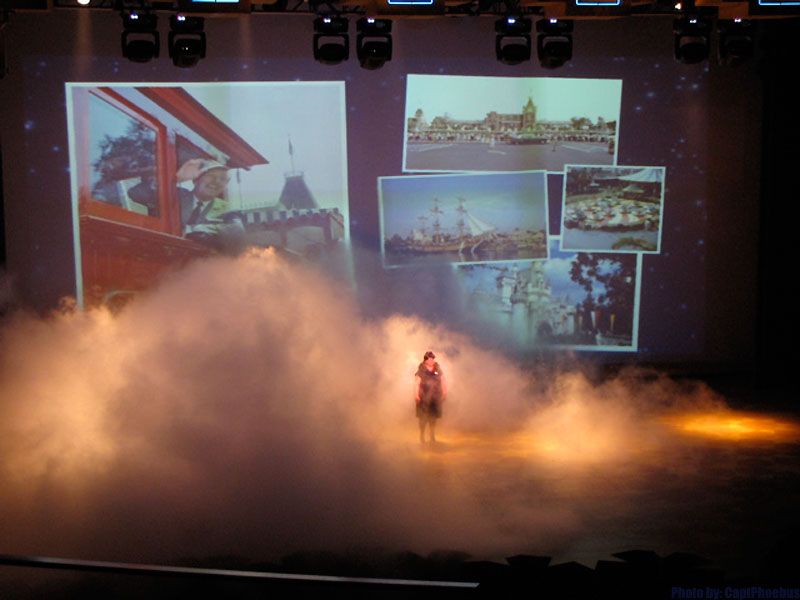 Even Mickey Mouse made an appearance
Giant Check: Yes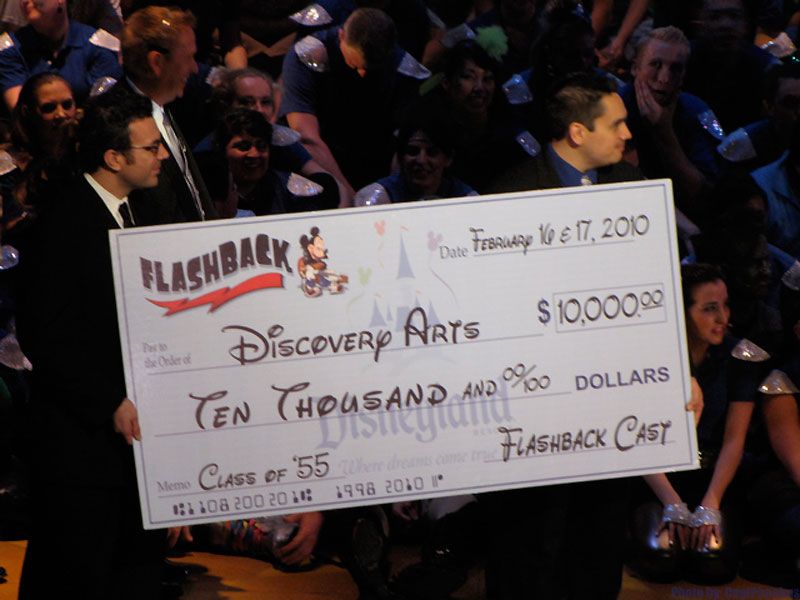 TDLFAN returns to the Weekend Update with these photos from Tokyo Disney Resort
TDLFAN wishes the Weekend Update another wonderful year ahead.
And a handsomely tanned Prince Charming does not hurt either....on this funtastic Valentine's Day visit to Tokyo Disney Resort.
Tokyo Disneyland is currently offering the special event "Power of Music".
TDLFAN's favorite window in World Bazaar. Minnie surprises Cinderella with a new dress...
Special walk-around entertainment during "Power of Music" event.
"UP" crash-landed in TDL's Adventureland some time ago.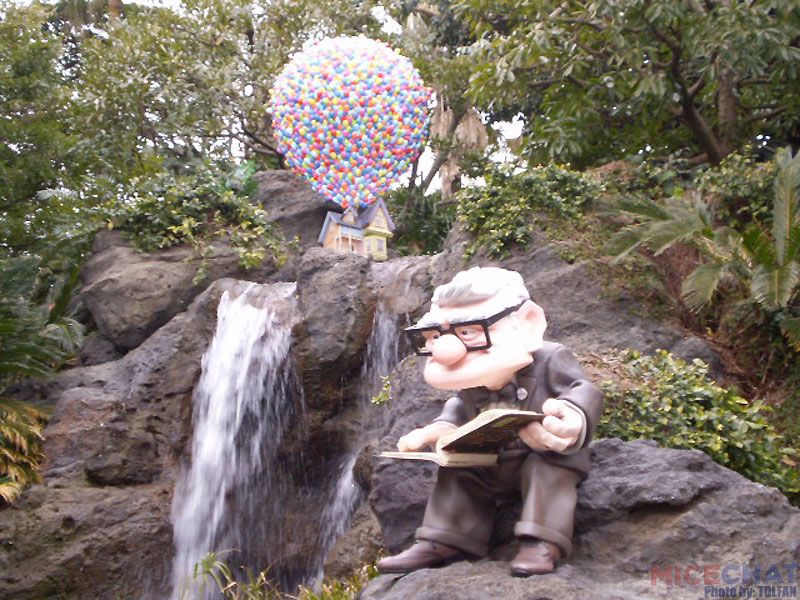 "Critter Country" feat. Splash Mt and Grandma Sarah's Kitchen.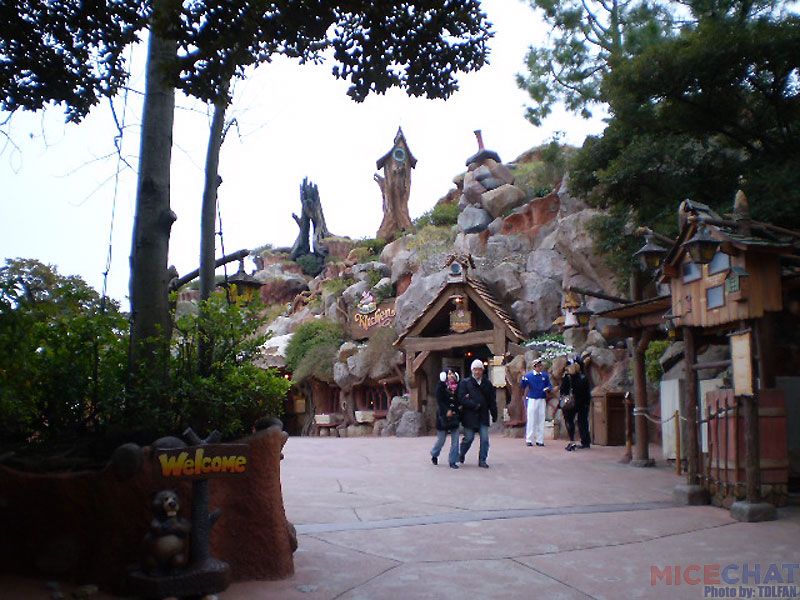 "Snow White's Adventures" in Fantasyland.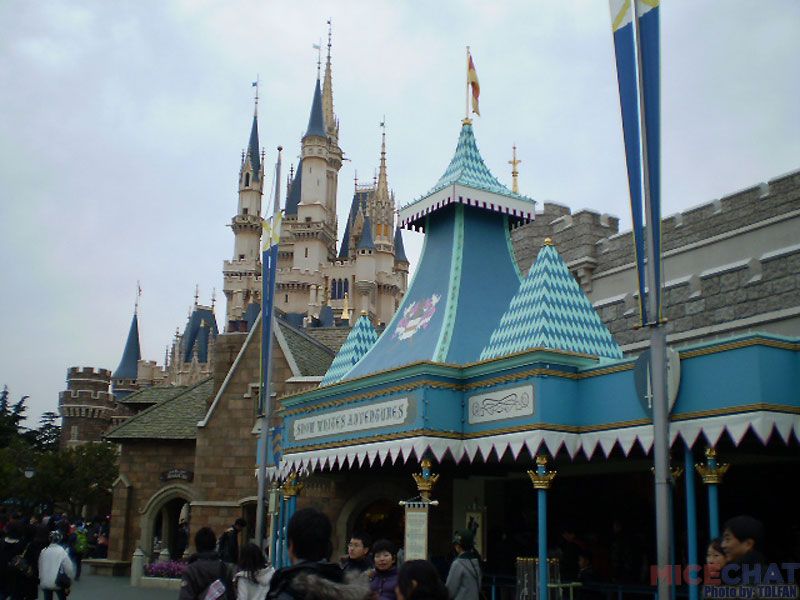 Hubba Hubba.. This Prince Charming is hot stuff with the japanese female fans.. (and some guys too...)
Don't mess with this menu board.. The Queen of Hearts' Banquett Hall is TDL's most popular, best themed and overall most magical buffet style restaurant in any Disneyland park in the World! Worldwide fans agree on that!
Character meet and greets create traffic chaos by "It's a Small World".
Mickey's Toontown home and Chip and Dale's treehouse.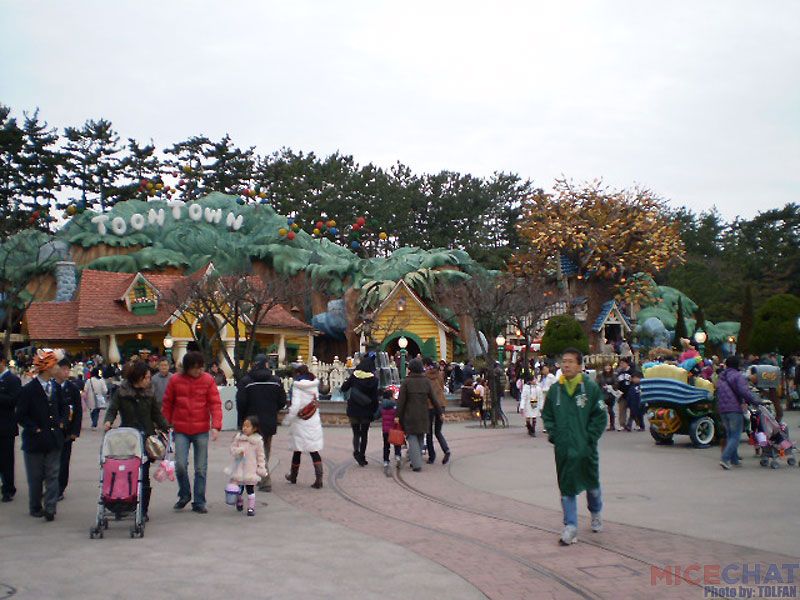 Guests eating at Tomorrowland's Pan Galactic's Pizza can enjoy this zany audio-animatronic show starring Tony Solaroni and his wacky crew of pizza making chefs.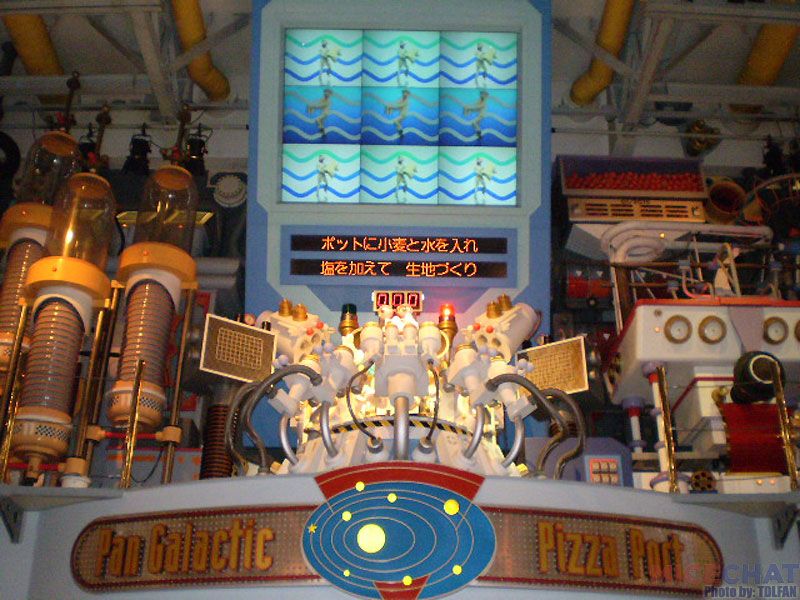 Tokyo Disneyland's hub is decorated for "Power of Music".
Best Crepes in the land can be found here at the New Orleans Cafe.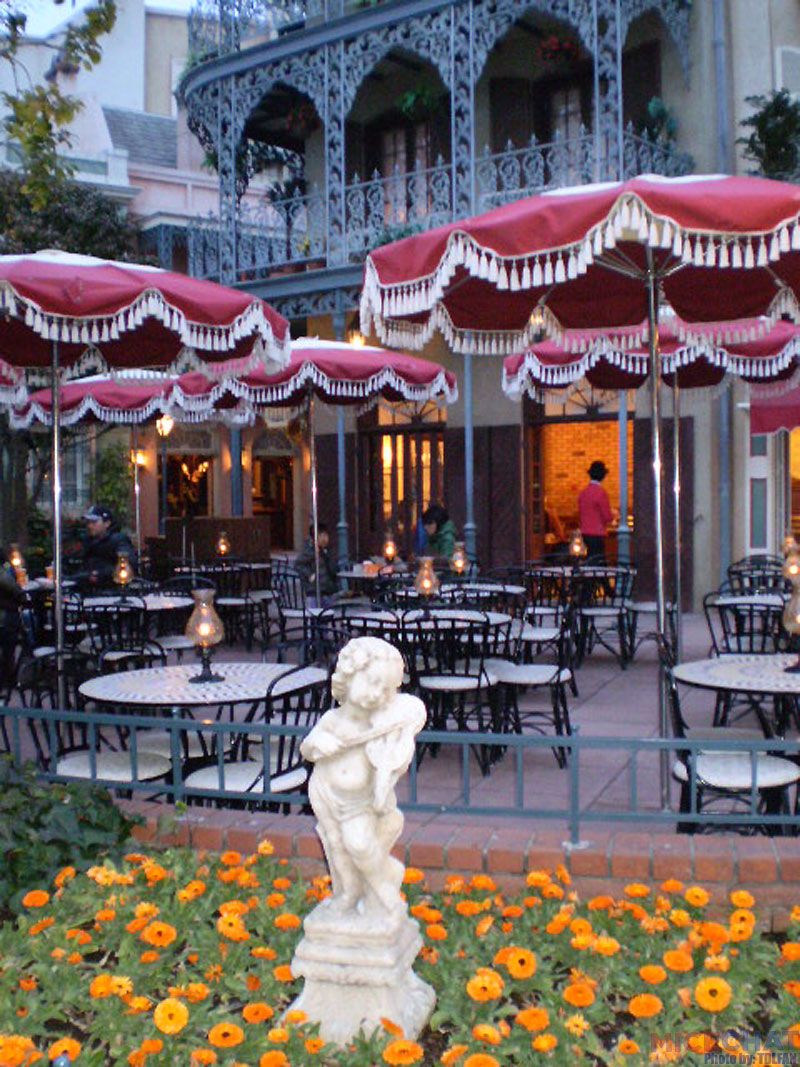 Tokyo Disneyland at dusk.
"Sweet Love 2010" is the current merchandise line for Valentine's Day at Tokyo Disney Resort.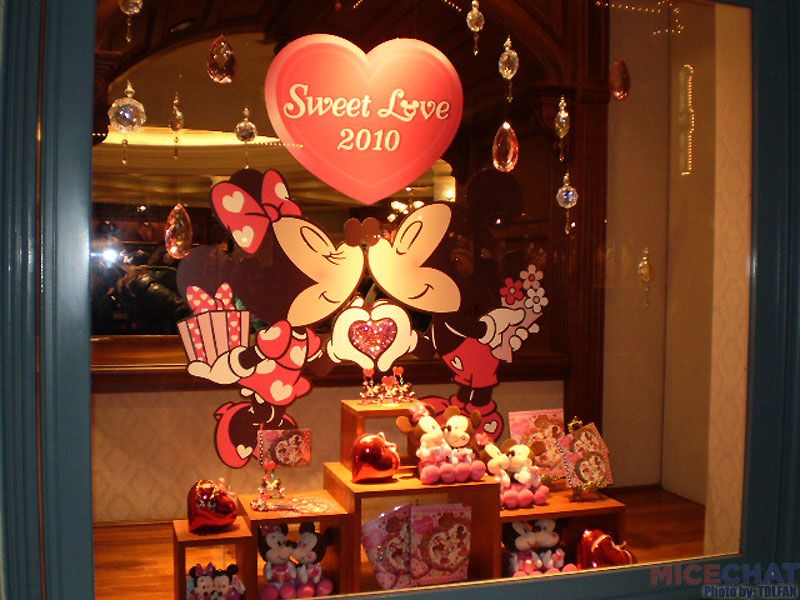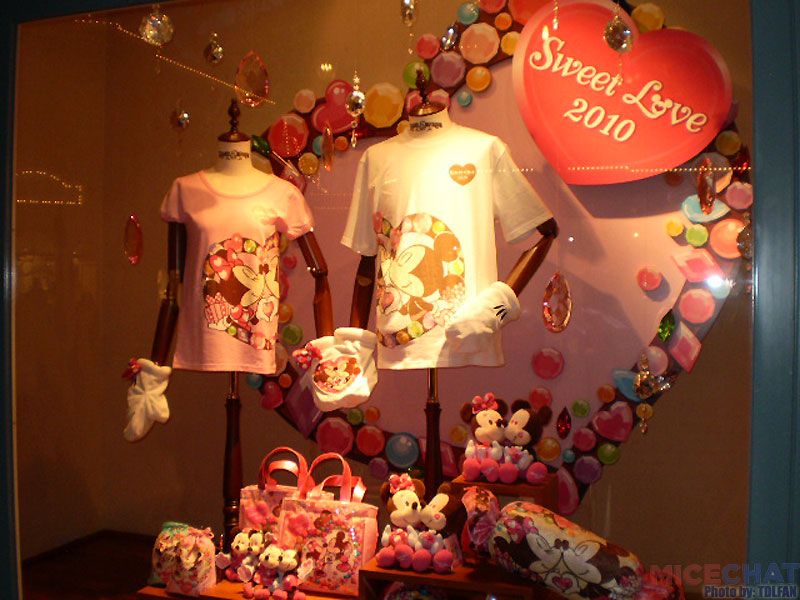 Official "Power of Music" Mickey and Minnie plushes.. with costumes as seen on the actual castle show.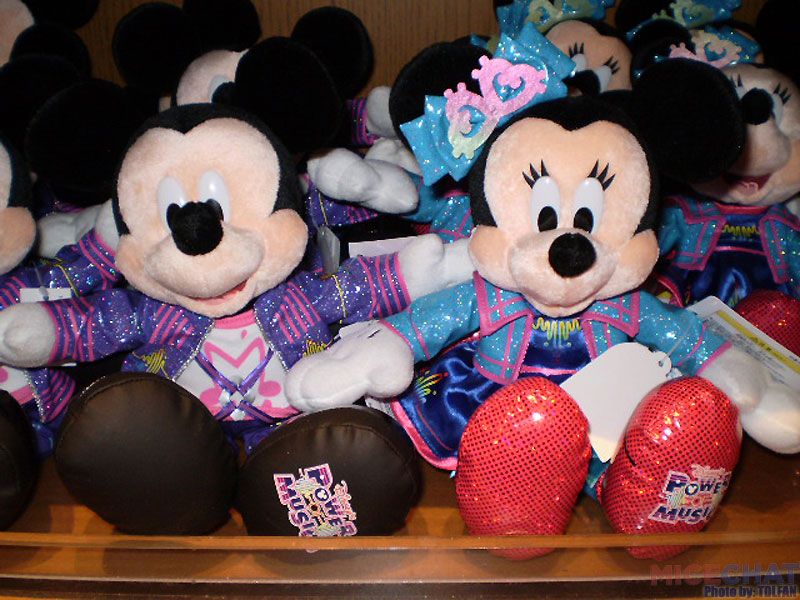 Lovely World Bazaar at night.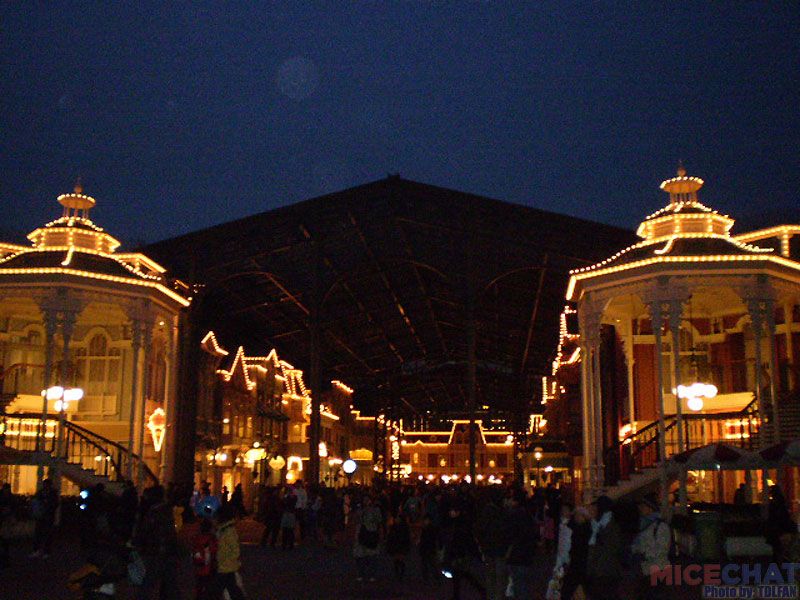 Special jazz show at the Plaza Stage, features Clarice, Marie, dancers and singers, and Tokyo Disneyland's most popular walk around performer, Steve Shaw, on the piano. This show plays during Power of Music event and draws quite a crowd..a feat since it is not advertized on the park's entertainment schedule.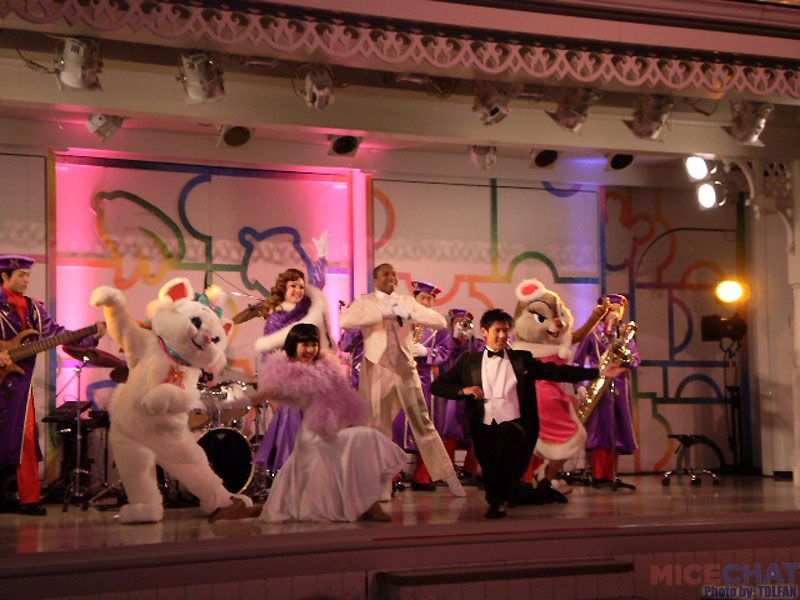 The main event takes place at Cinderella castle 3 times daily, "Power of Music" event show. The show transforms some of Disney's most popular tunes into several genres of music, such as metal, big band, disco/vogue, and even marching band style,, among others.. Aproximately 75 performers take to the stage, in fabulous costumes inspired by hip-hop, rock, and even Marie-Antoinette fashions.
"Power of Music" show ends with a fireworks blast.
Over at Tokyo DisneySea.. it's all about Disney Bears Duffy and Shelley May. March 14th is "White Day" in Japan..which is the day for a potential lover to reciprocate your love.. Remains to be seen if Duffy will dump Shelly May on that day.. and the bear saga continues. Stay tuned to Ichigopara's updates.
Duffy and Shelly Mae bring love and joy to TDS guests, but above all, they bring huge profits to the merchandise division at TDR...as the plushes and their numerous assesories are the best selling items at TDS. Duffy fans waited over 7 hours in line to buy Shelley May on it's release day. The souvenir cup and plates (with desert) seen on this table can also be yours as they are on sale at Cook-Off restaurant, along with a lovely US$24 Duffy popcorn bucket sold outside (not pictured).
"BraviSEAmo!", a romantic tale of love on the waters of Mediterranean Harbor, was quite the appropriate show to see on this Valentine's Day with your sweetie by your side.
"BraviSEAmo!" comes to a fiery end. The show will have it's final performance on November 13th, 2010, when it gives way to Tokyo's new version of "Fantasmic!" premiering in spring 2011. Look for the fiery special effect shown below during Disney's CA Adventure's new "World of Color" show.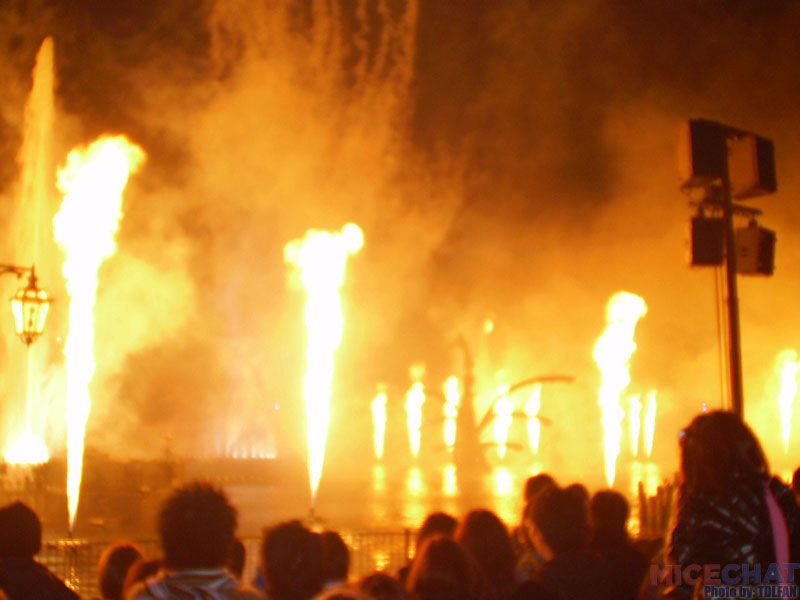 This shop window will give you diabetes.. is that chocolate heavy sweet!
"Winter Magic in the Sky" lights up the night over Tokyo Disney Resort.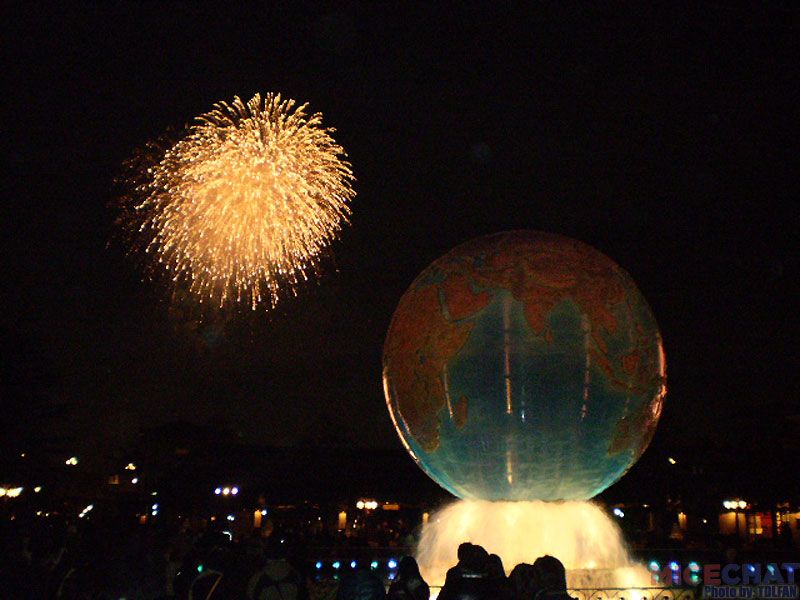 The Pratts went to a Chinese New Year Celebration in Phoenix recently and wanted to show us some of the sites. We'll let Lisa tell you about it.
The Chinese New Year is traditionally celebrated on the first lunar moon. In Chinese the lunar New Year is known as "Spring Festival". This is the Year of the Tiger or 4708. The Tiger symbolizes and possesses qualities and characteristics of being daring, passionate and entertaining. People born in the Year of the Tiger enjoy car racing, speedboat racing, martial arts, food and wine. Tigers are compatible with the horse, but the opposite is the monkey.

Most of the pictures taken are of the Cofco Center Chinese Cultural Center Garden that is open year round and is free.

There is a Taipei Dragon Boat that was donated by the city of Taipei which is the sister city to Phoenix.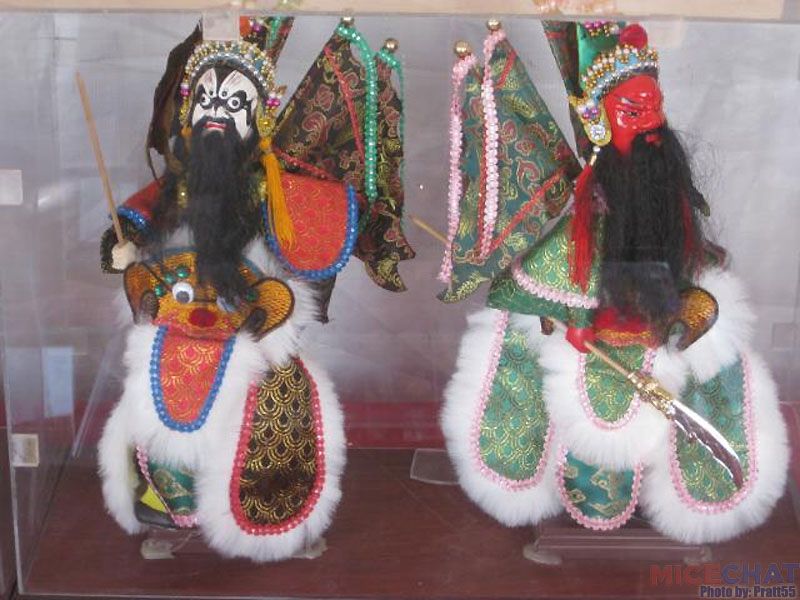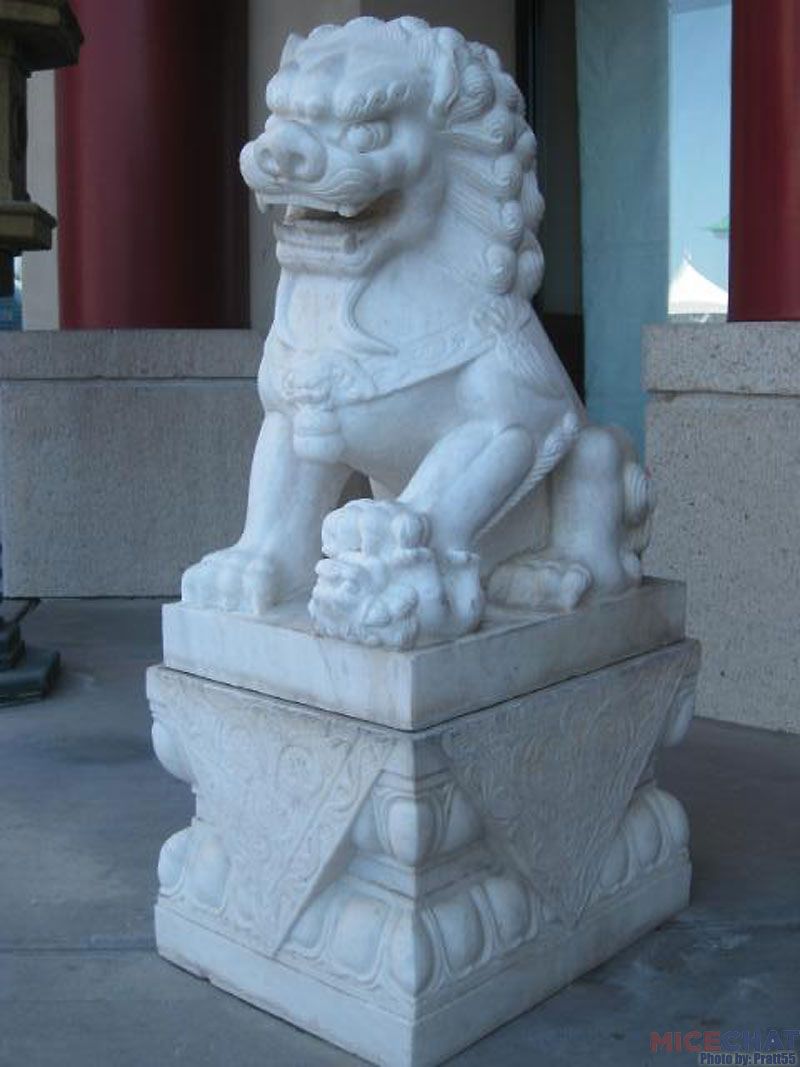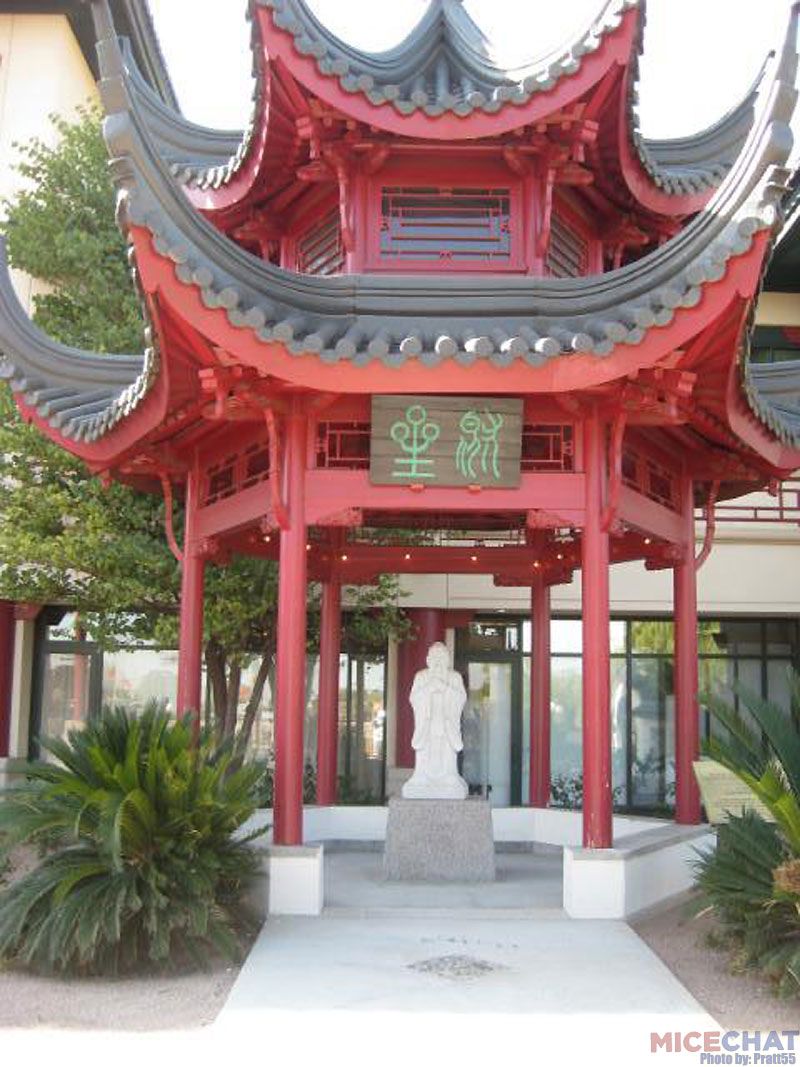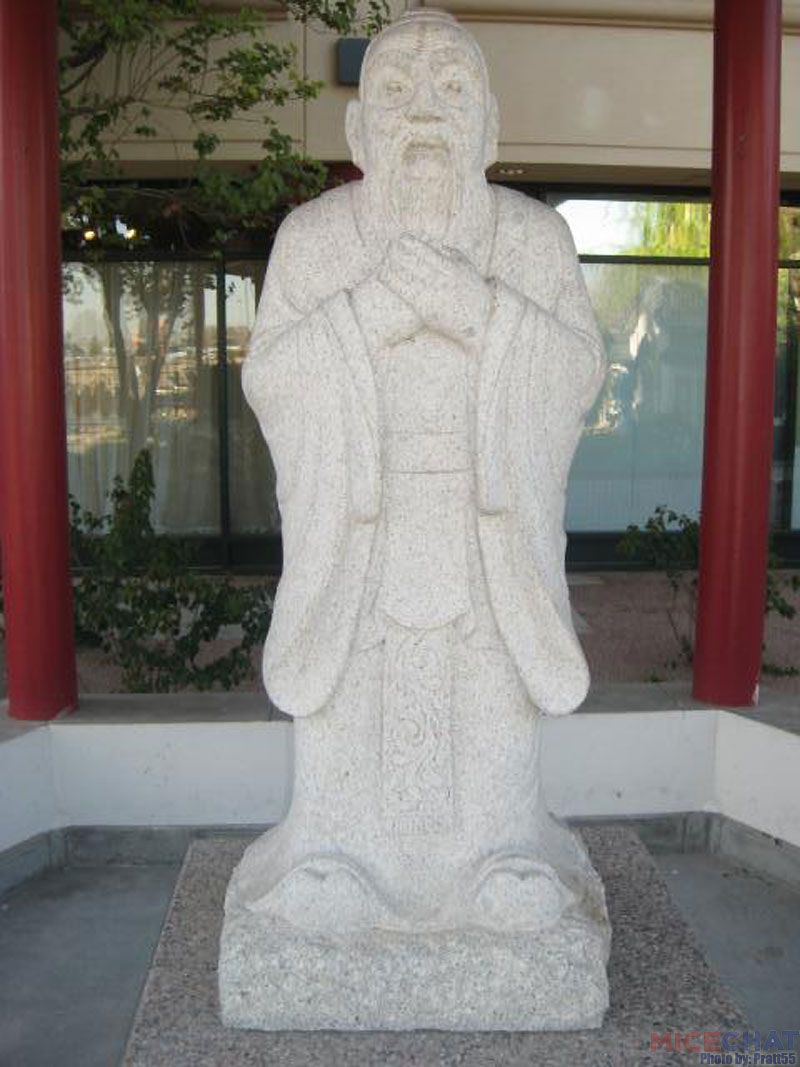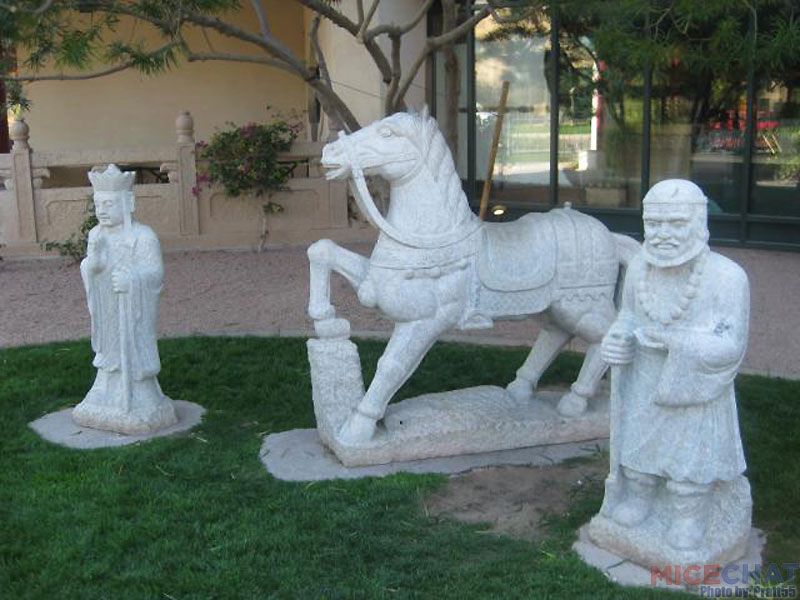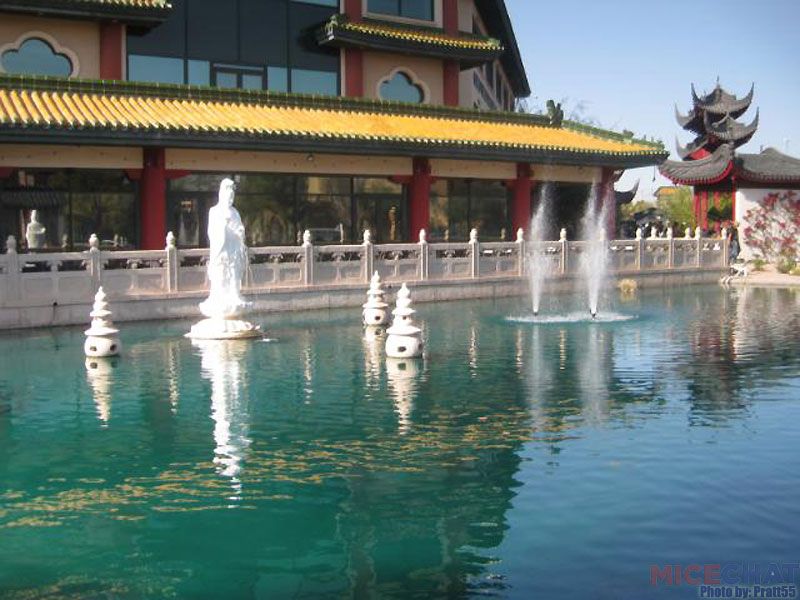 The Winter Olympics were in MiceChatter BC_DisneyGeek's own backyard, and he shares these photos of the effects of this celebration on the city of Vancouver, B.C.
In downtown Vancouver, a simple but effective sign uses the Olympic rings, and an Inuksuk, which is the symbol for these games
In downtown Vancouver, a giant Canadian flag is both a display of patriotism, as well as a clever way to cover up a building still under construction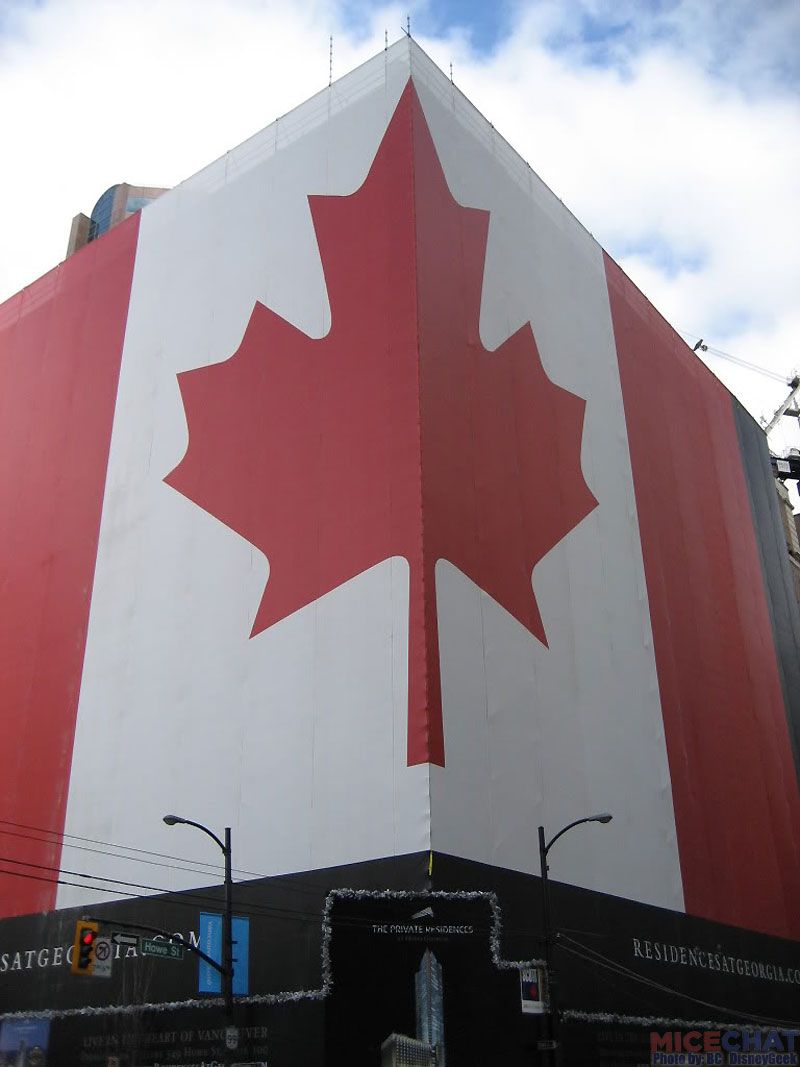 Many downtown buildings are wrapped in Olympic artwork, this being one of the few that isn't also a corporate advertisement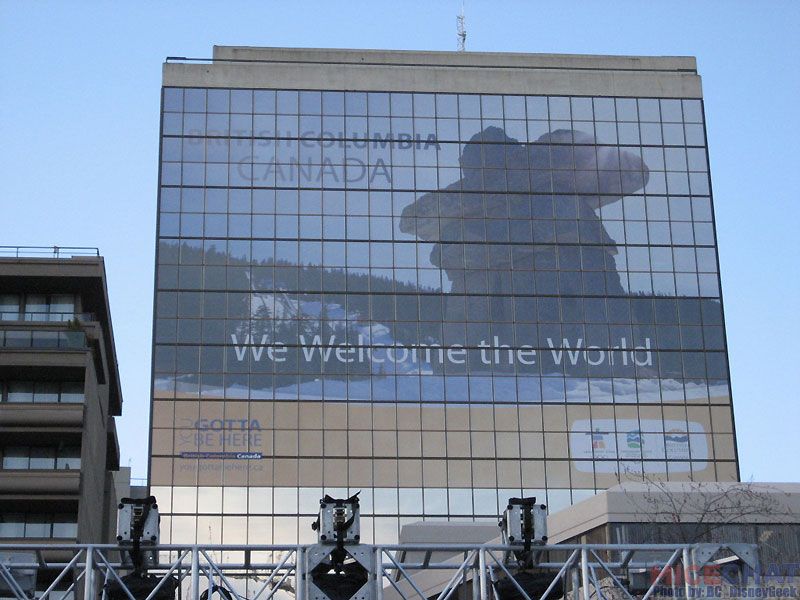 This building, originally constructed for the 1986 World's Fair, is normally home to Science World. For the duration of the games it has been transformed into Sochi World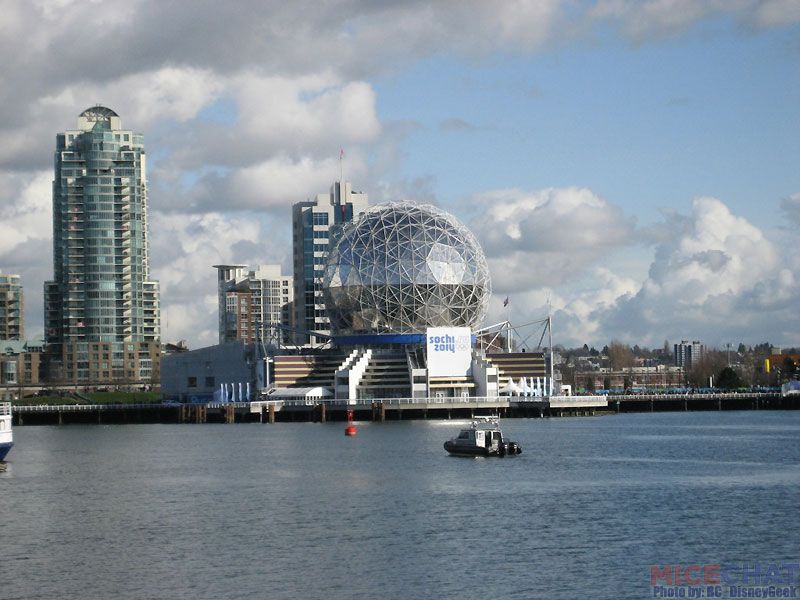 Sochi, Russia is the home of the 2014 Winter Olympics
Just 1,453 days until the next Winter Olympics!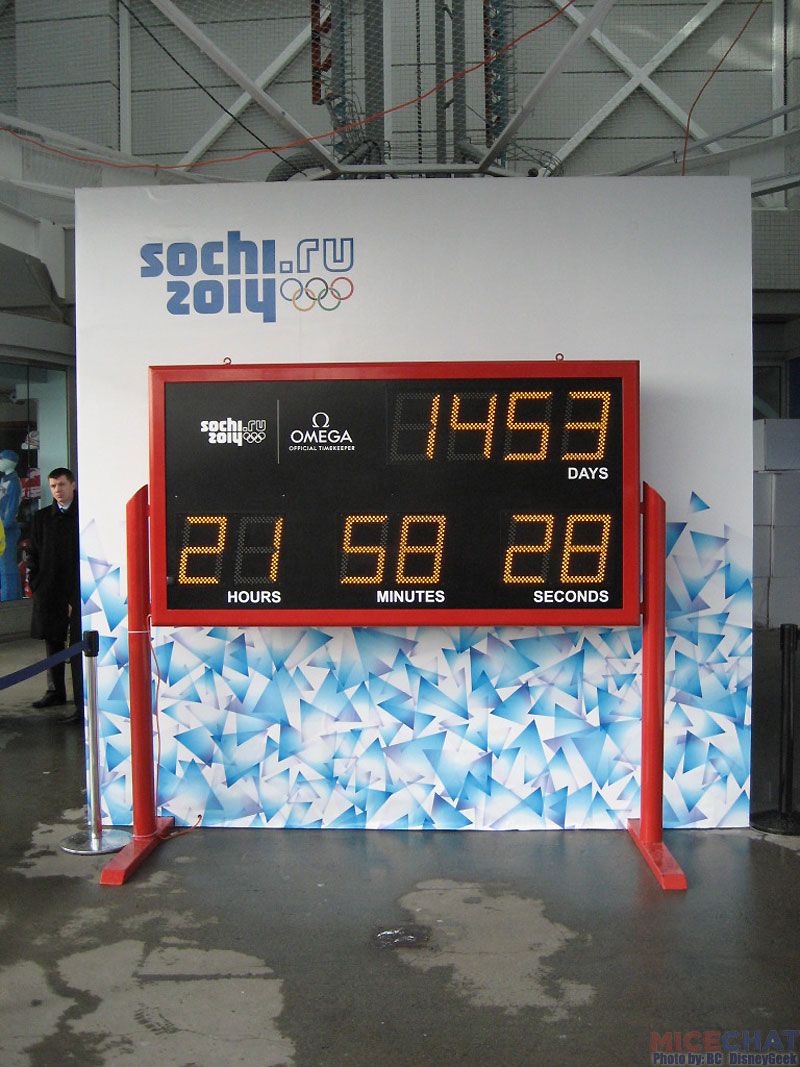 Inside Sochi World, an elaborate model of their Olympic site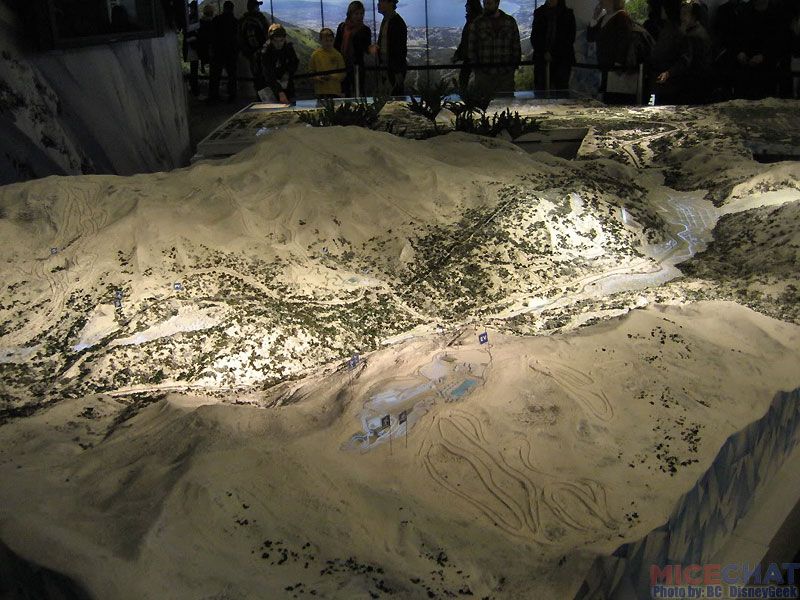 Another view of the impressive model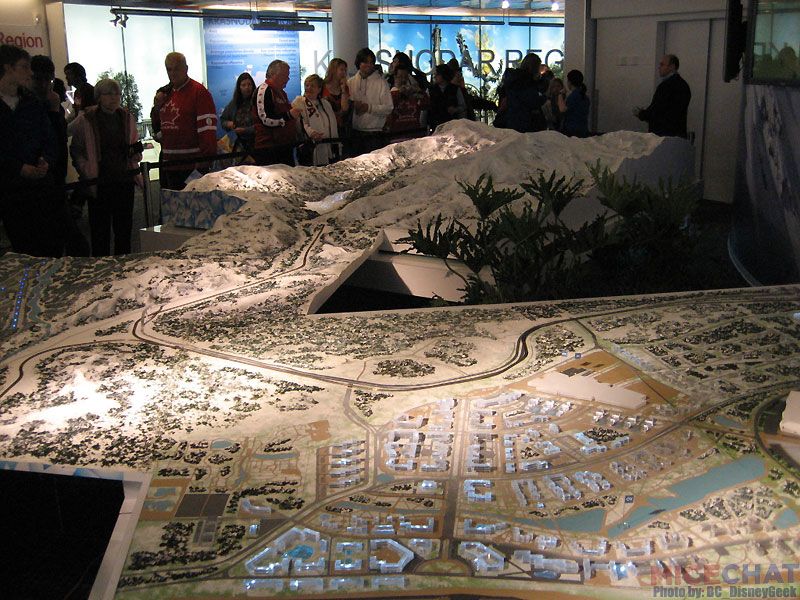 It wouldn't be a Russian pavilion without a bar. The design and lighting was very well done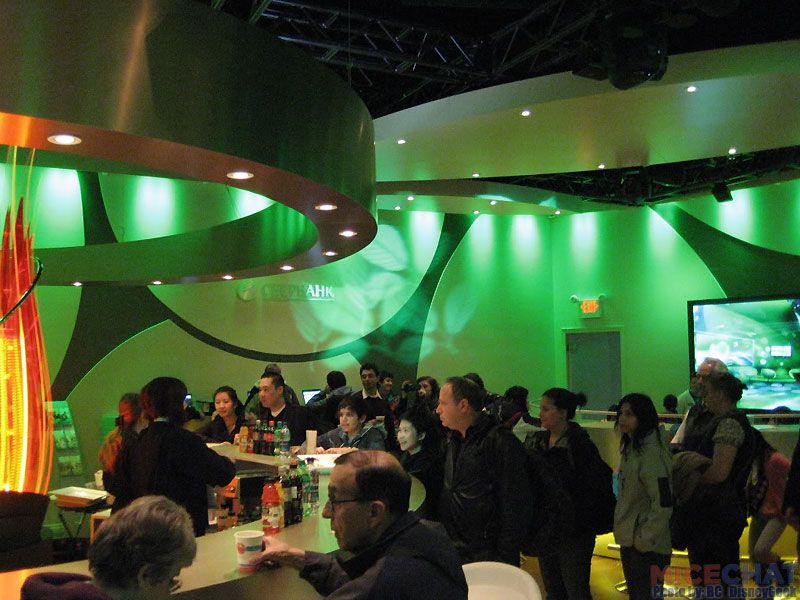 Russian Olympic paraphernalia was on display
Posing with the 2008 Beijing Olympics torch on the left, and Vancouver's on the right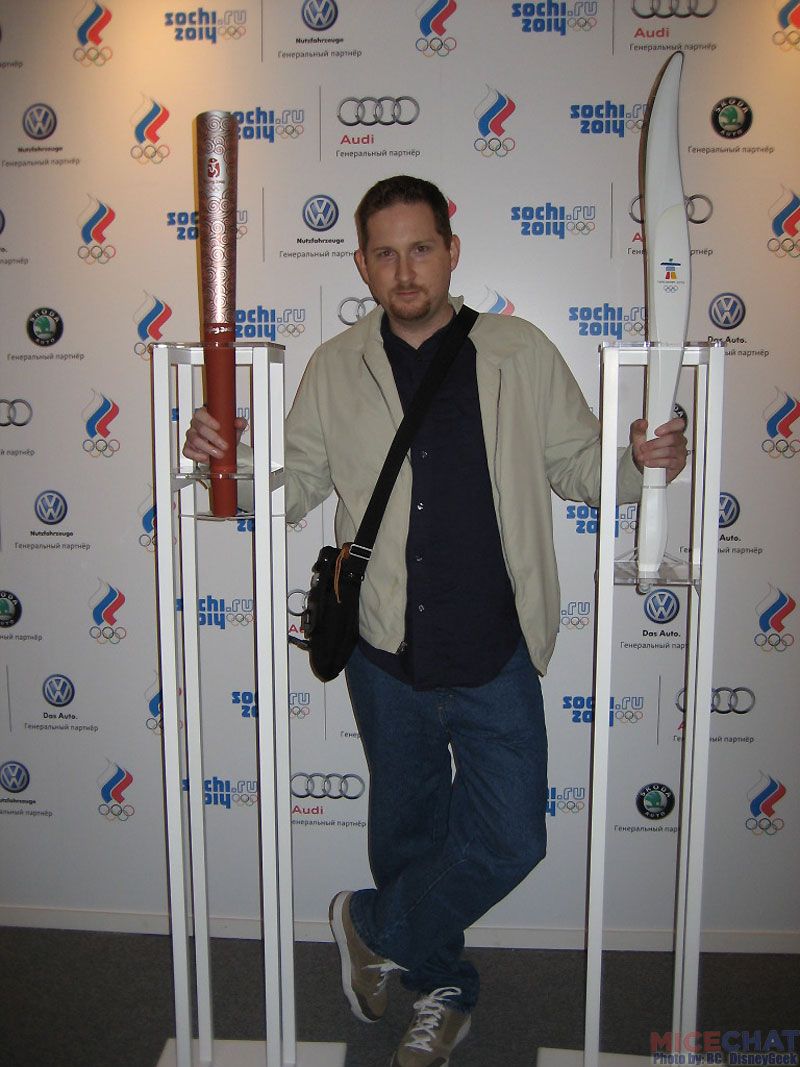 The Olympic Athletes Village, with the competing countries flags along the water
Every Canadian Province, as well as several other countries, have set up pavilions throughout the games. Quebec house is popular for its French Canadian food and free concerts
Canadian Hockey House is a place to watch Hockey, but you have to pay for admission for this one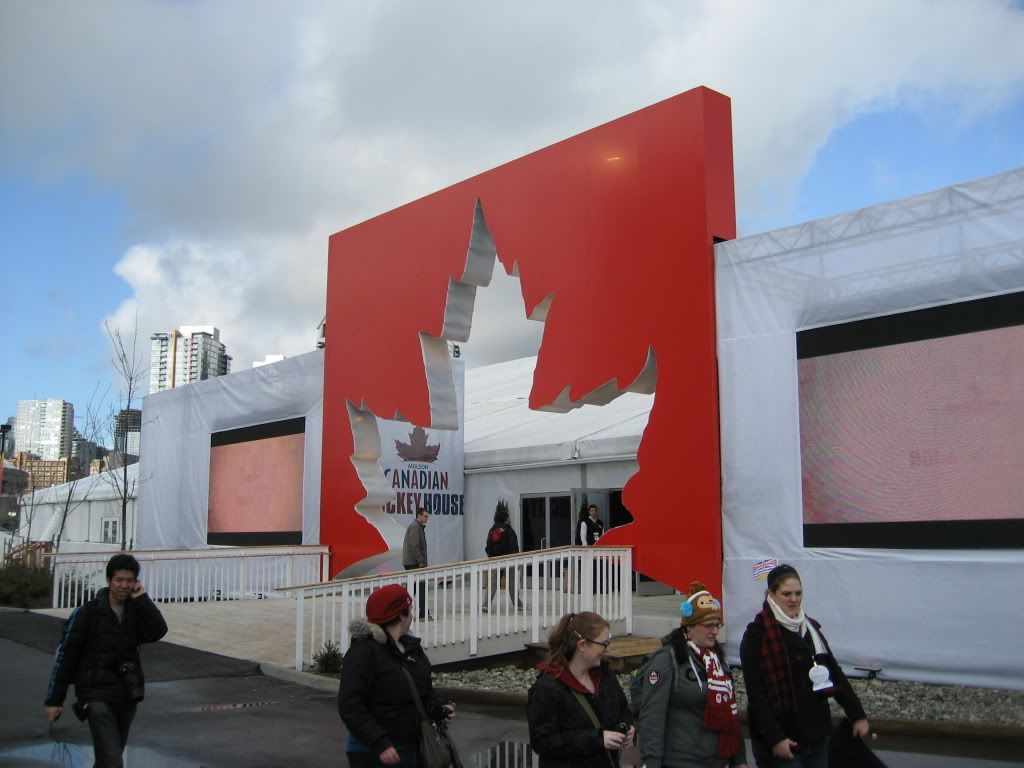 Ontario House has one of the more interesting exteriors of the pavilions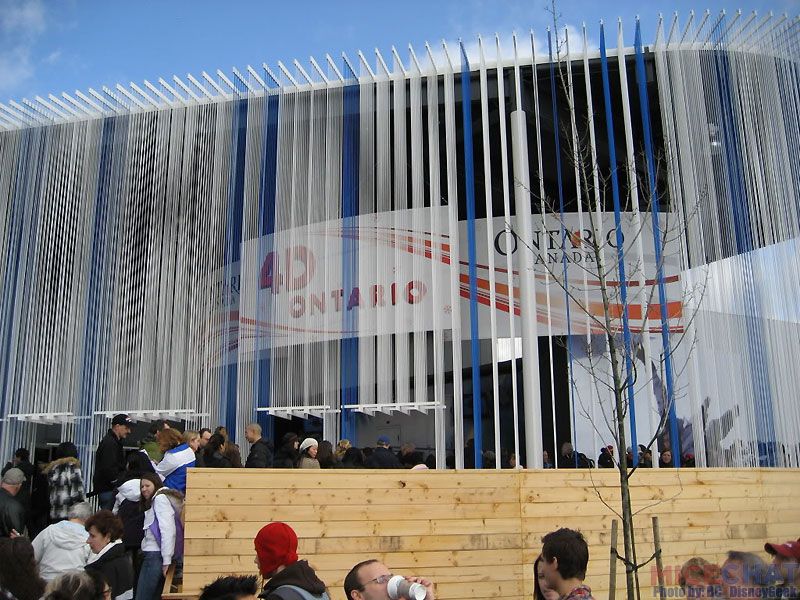 Inside the "Bell Ice Cube", visitors can plug their provided headphones in and watch their choice of several live events, on the provided televisions, or learn about Olympic athletes on the smaller kiosks in the center of the room
Canada Hockey Place. The fence in the foreground shows off the colour scheme of these Olympic games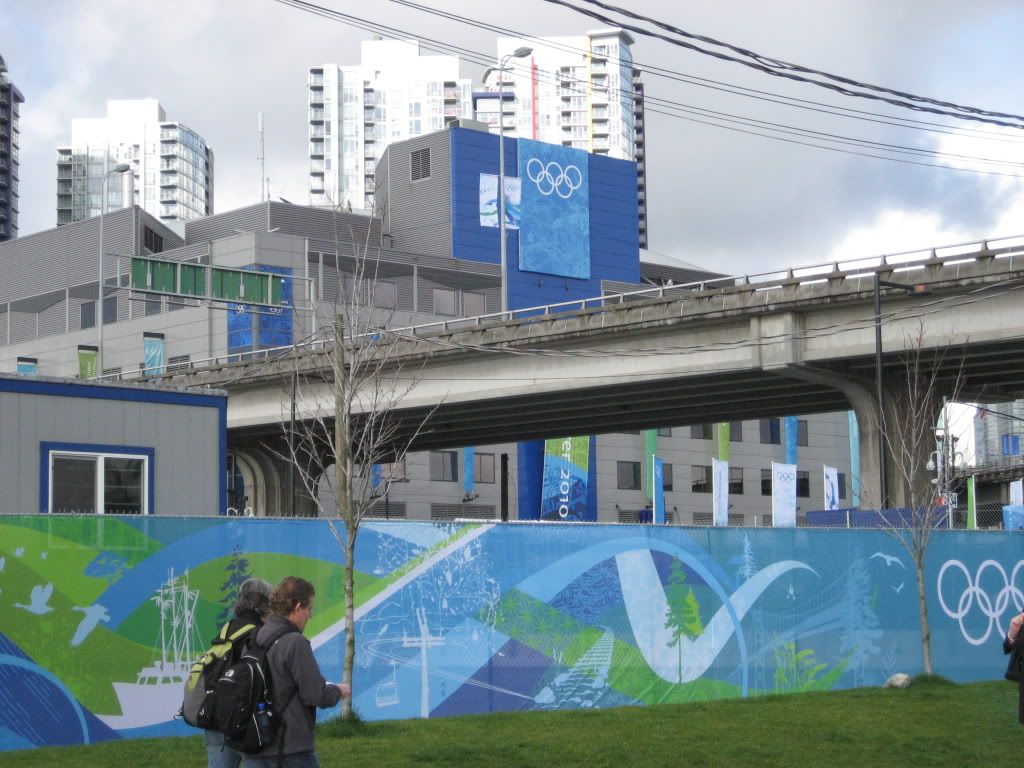 Artwork adorns the steps outside the Vancouver Art Gallery, home of the British Columbia pavilion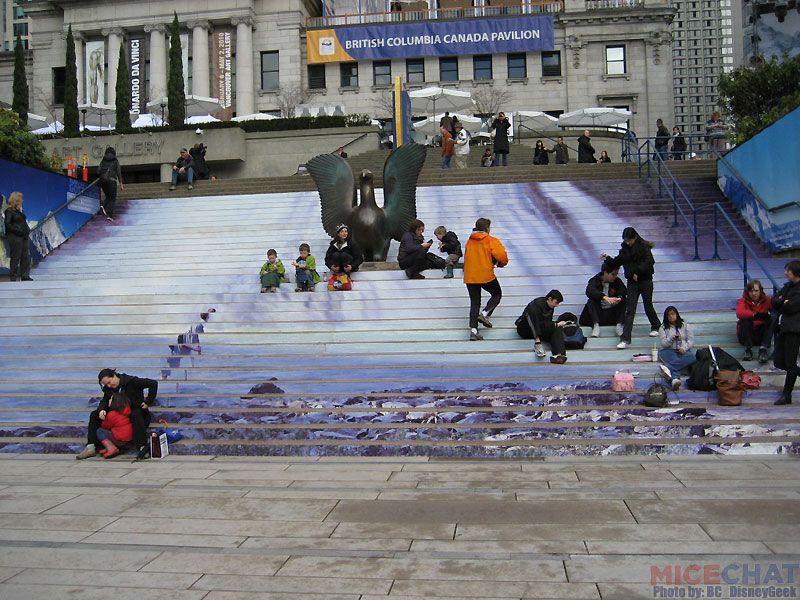 Robson square in the heart of Vancouver. There are concerts, and an outdoor skating rink. You can take a zip line directly overhead, if you're willing to wait up to five hours for the privilege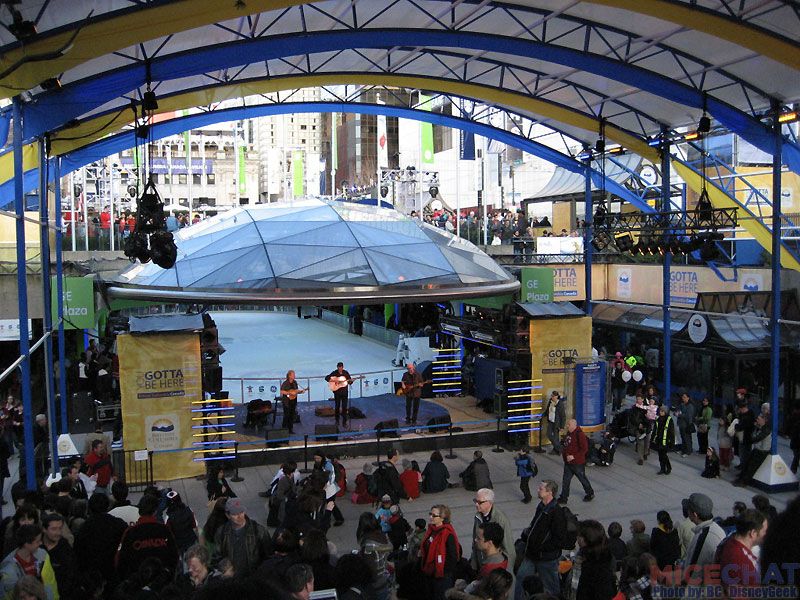 Miga, one of the three Olympic mascots.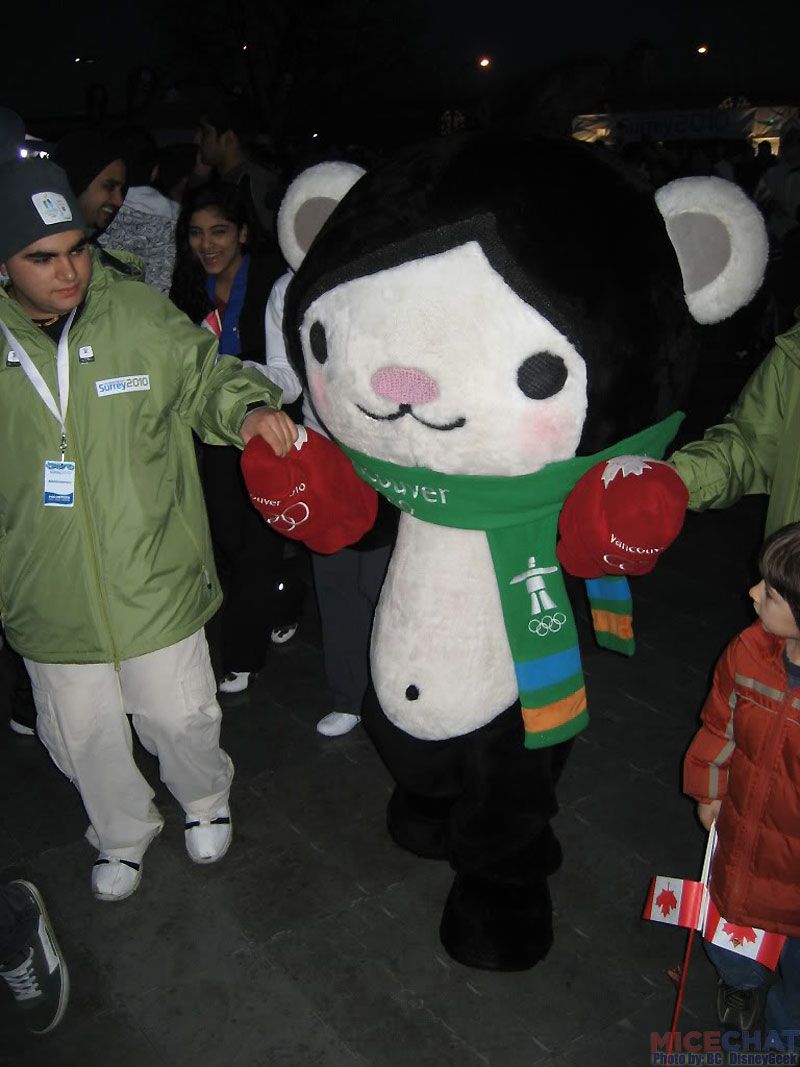 This photo doesn't do it justice, but every night through the Olympics, twenty searchlights light up the Vancouver waterfront. The position of the lights is determined by visitors to the Vectorial Elevation website (
http://www.vectorialvancouver.net/home.html
)
Part Two of Hawaii from sir clinksalot
Continuing in Hawaii, this week we bring you to Volcanoes National Park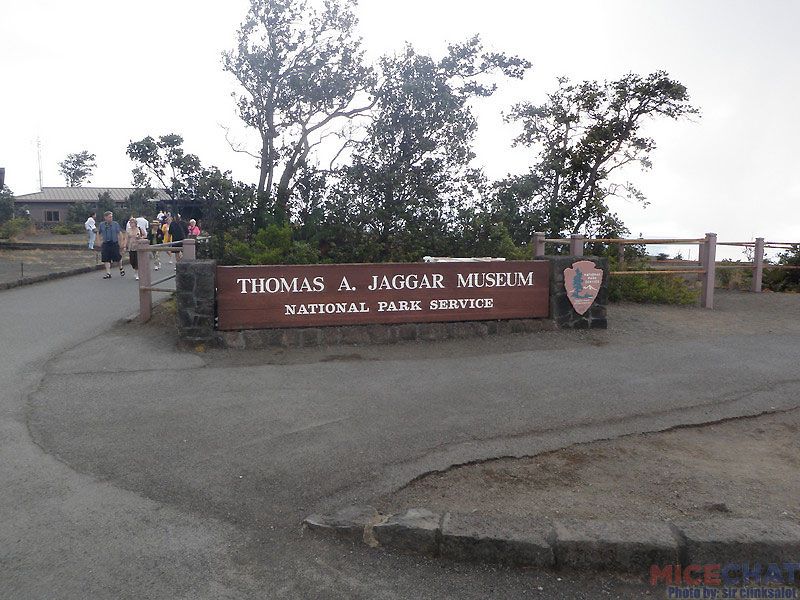 This is one of the many steam vents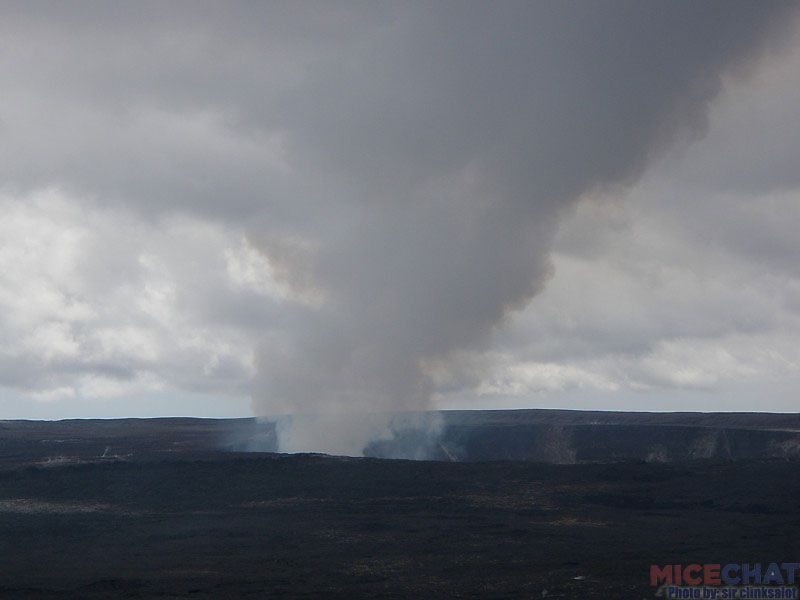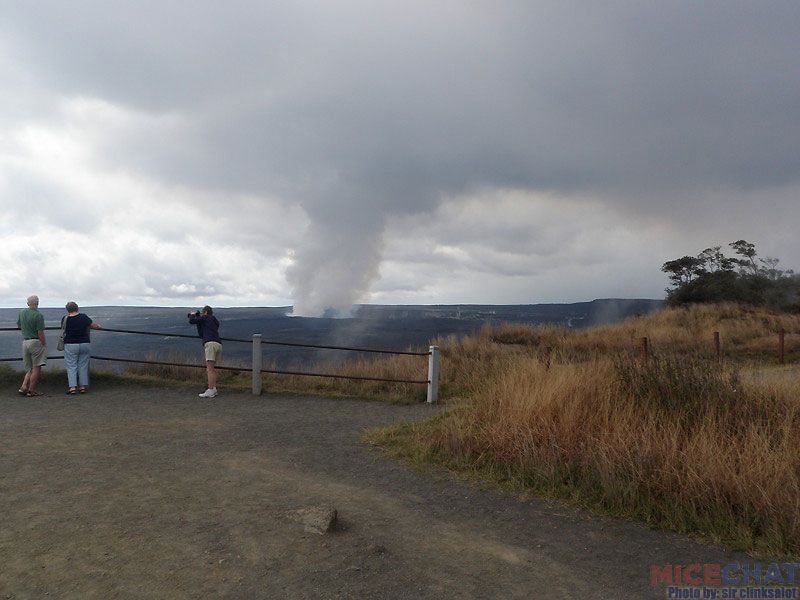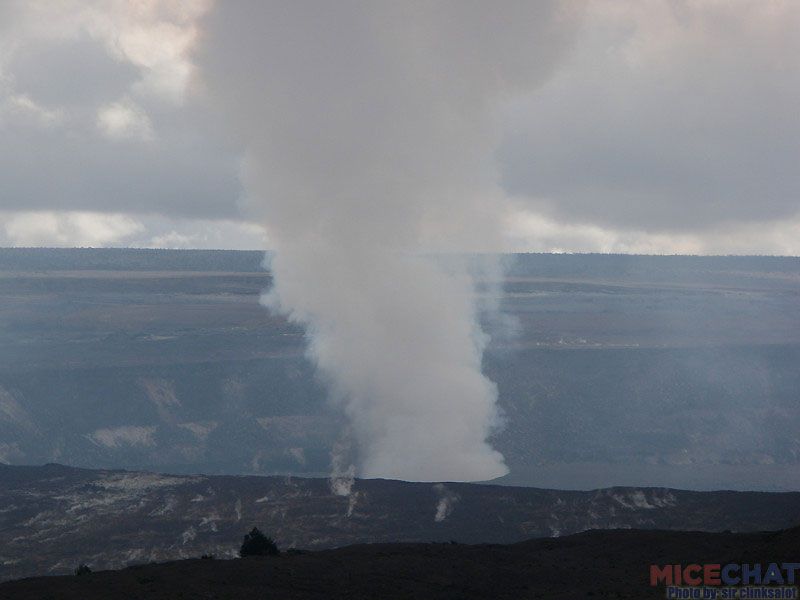 The Visitor Center has many interesting things
Like Pele's hair
A close up of one of the vents
You can get quite close to some of them
One of the coolest things to do is go through the Thurston Lava Tube
You have to traverse a rain forest to get there
Not for the faint of heart
But the reward is more than worth it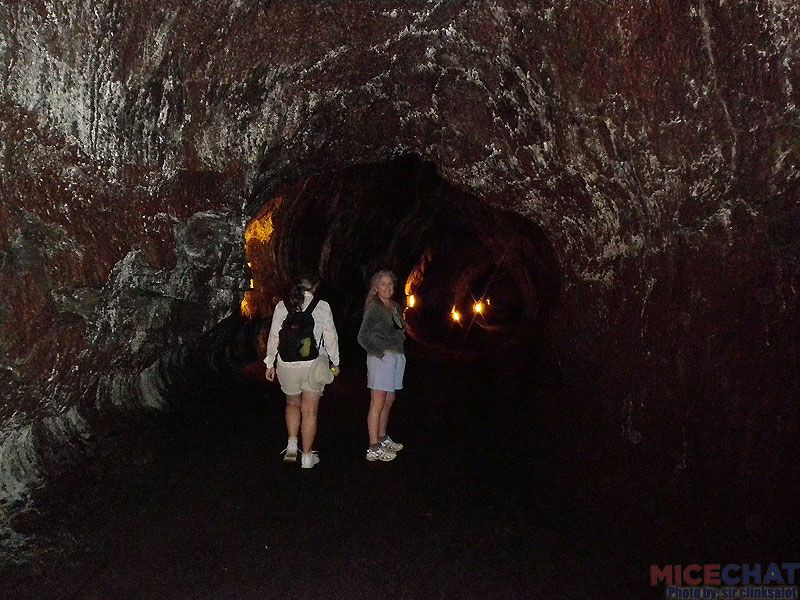 The vista's in the park are amazing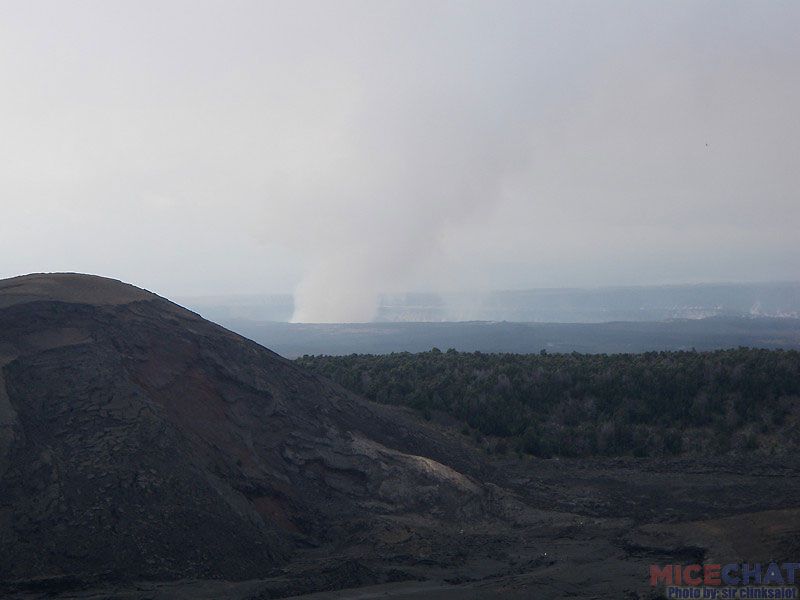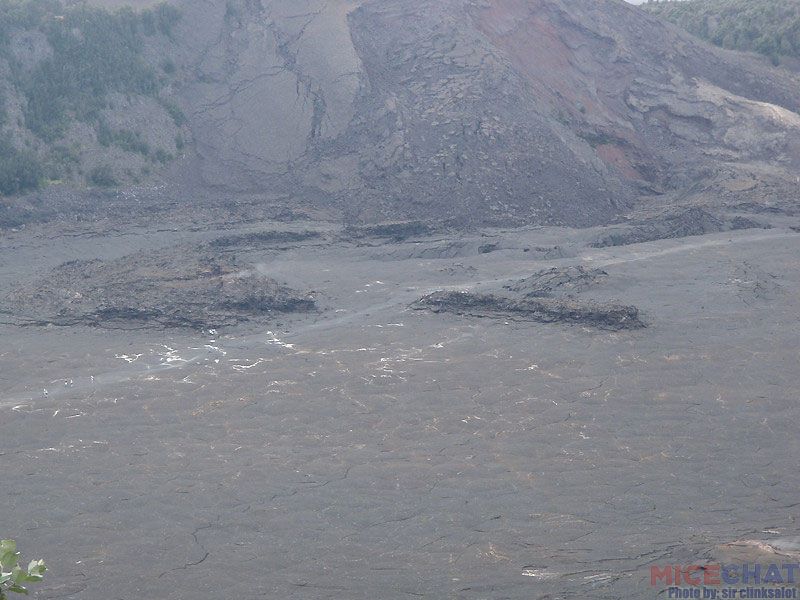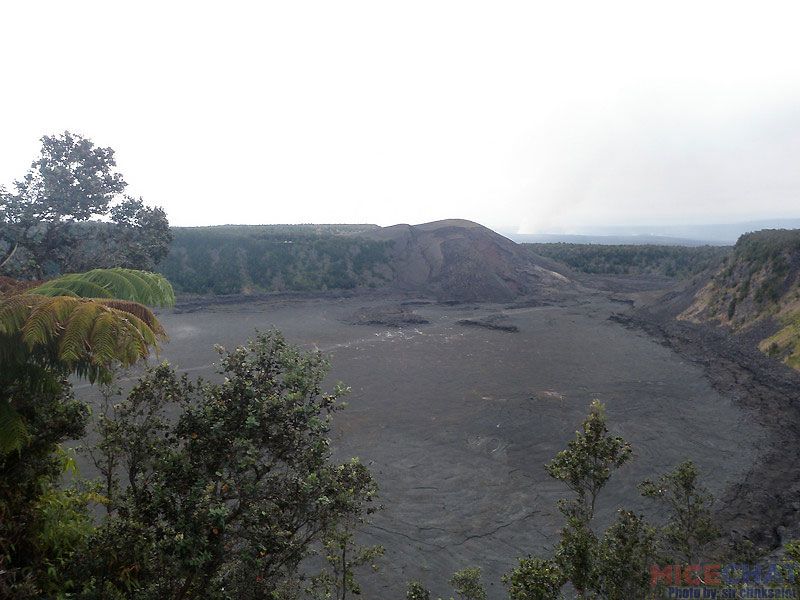 Looking for up-to-date reports from Disneyland
including photos, gossip, park schedules and more?
Visit these MiceChat columns each week:
And that brings us to the end of another week. Our photographers have just enough time to reload their cameras before we see you all again next weekend. Thank you to all of our wonderful readers, and as always, a huge thank you to our amazing team of global photographers, spies, and gossips:
Denise
nbodyhome
Preskitt
(mousesteps.com)
SummerInFl
sir clinksalot
MickeyMaxx
CaptPhoebus
Ian Parkinson and Richard Williams
BigPigletFan
Abominable Snowman
Fishbulb
PhotoMatt
Jack
Hollywood 1939
Wixom
Ken Eslick
(DisneylandPostcards.net)
ichigopara
Special thanks to
BC_DisneyGeek
and
TDLFAN
for their contributions this week.
Your Editor -
Rixter
Where have YOU been recently? We invite you to share your photos of theme parks or any other destination that may be of interest to our readers. Please feel free to contact me via MiceChat Private Message (screen name Rixter)
or send me an email: oceansiderick@gmail.com.
It is readers like you who make MiceChat such a special place.
Don't miss a single one of MiceChat's Featured Blogs (including the Weekend Update). Add our feed to your favorite feed software or site:
MiceChat: Featured Disney Blogs