I'm editing this edition of Weekend Update as I cruise at 30,000 feet on my way to Mickey's east coast home. We'll be meeting up with a group of MiceChatters who are already there having fun. I've heard that they are at Disney's Hollywood Studios today to catch some of the Star Wars Weekends festivities. In their honor, we start this week's Update with a report from Denise
nbodyhome
Preskitt on Star Wars Weekends. The addition of an animated 3CPO sounds pretty cool. I'm hoping I'll get a glimpse of him while I'm in Florida. I can't say that I am looking forward to the weather that is pictured in Denise's report.
TDLFAN
is back this week with a great report on two of China's treasures. These architectural wonders represent the China of yesterday and today.
For those of you that are comic fans, we have some photos from the Rock'n Comic-Con in Pasadena. It looks like this was a unique opportunity to spend some quality time with Stan Lee.
Finally this week,
Pratt55
shows us how she spent Memorial Day weekend with a trip to Tombstone and a visit to Wyatt Earp Days.
Stay tuned to Weekend Update each week because we have quite a few great reports coming up in the next few weeks.
sir clinksalot
is working on a series of retrospectives on the great classic theme park rides.
ichigopara
continues to bring us great photos from Japan. Next week we'll have her photos from Tokyo DisneySeas Spring Carnival. We'll also have a series of comprehensive land-by-land photo studies from
HKDLFAN
.
Thanks for visiting the Weekend Update. Now go out and explore!
Denise nbodyhome Preskitt has more coverage of Star Wars Weekend at Disney's Hollywood Studios
The coolest thing (for me) this week was C3PO at Disney's Hollywood Studios. It was completely unexpected, he isn't Disney owned (nor Lucas owned), and he talks to you in a voice that sounds - well, just like C3PO - as he answers questions and asks for your name. It is very much like the Mickey Mouse at Disneyland that was interactive. We have video of him as well!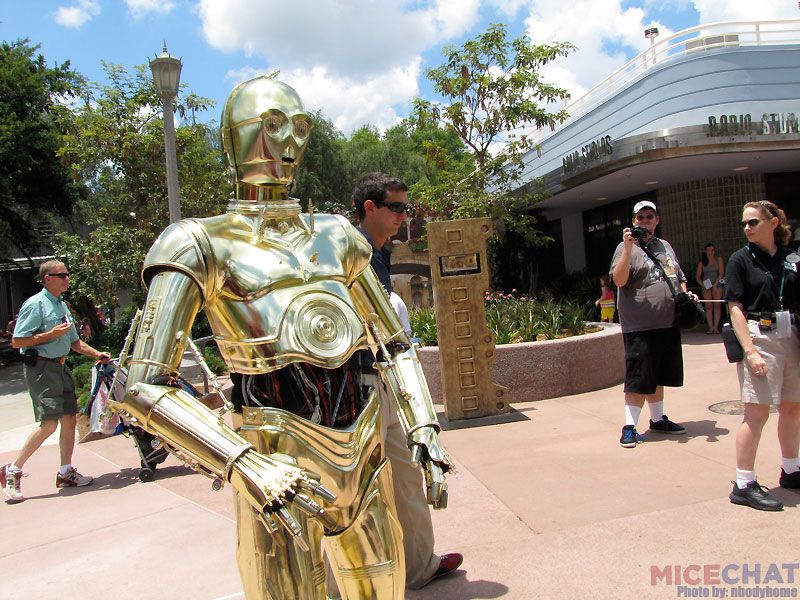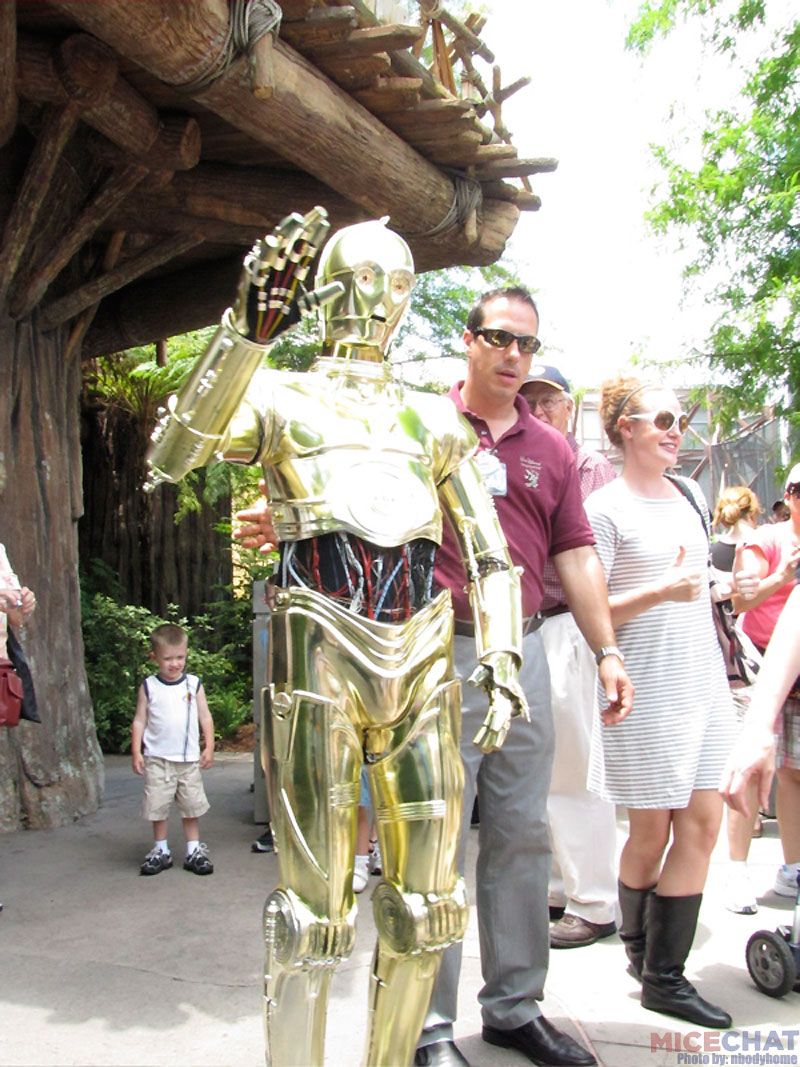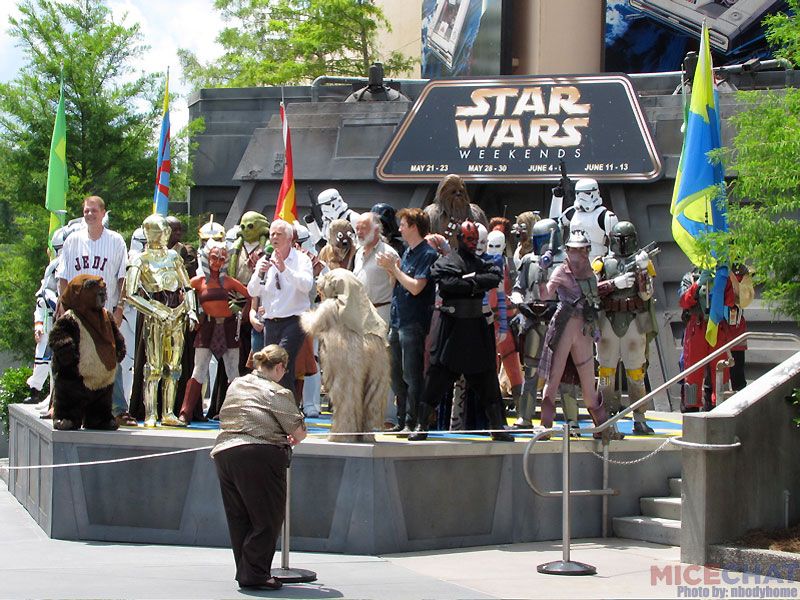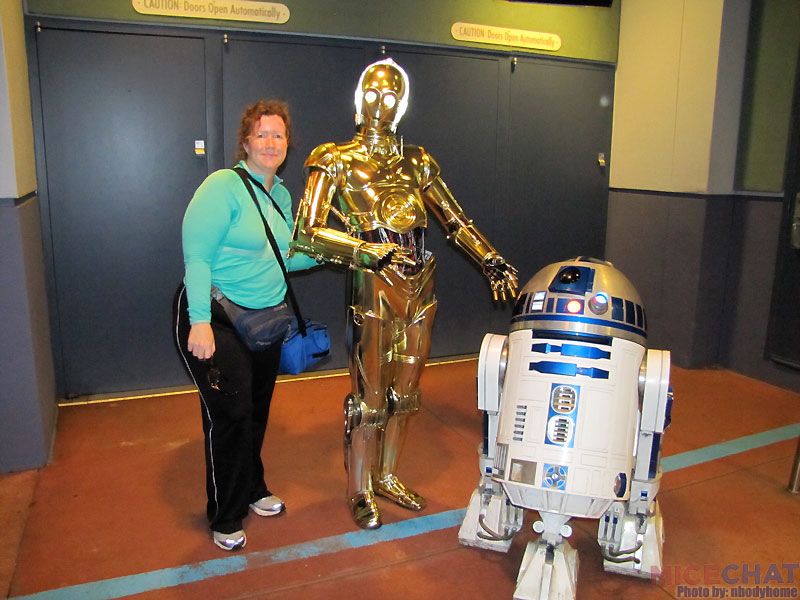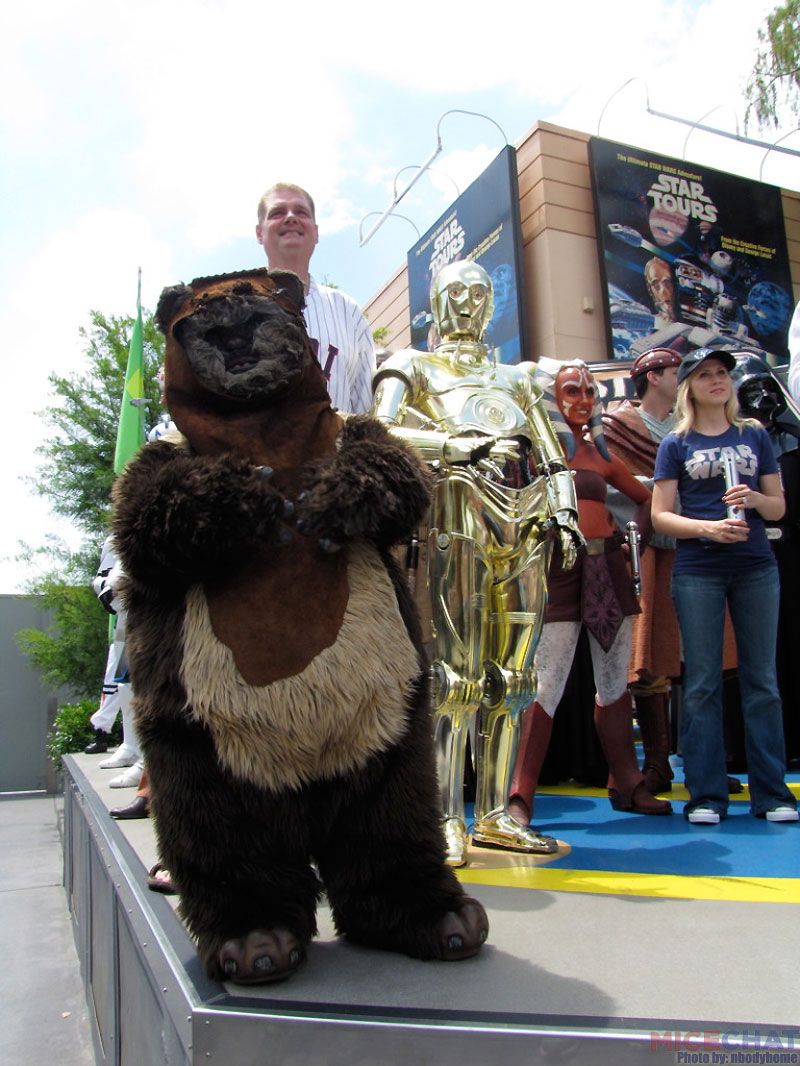 [ame=http://www.youtube.com/watch?v=OFdd_oFQ43A]YouTube - C-3PO Talks, Interacts and Walks at Star Wars Weekends 2010, Disney's Hollywood Studios[/ame]
[ame=http://www.youtube.com/watch?v=lQZn-ix3UR4]YouTube - Interactive C-3PO with R2-D2, Star Wars Weekends 2010, Disney's Hollywood Studios[/ame]
He is supposed to be there this weekend (and next weekend), he was VERY popular this past weekend - so catch him if you can!
A handful of other photos, here is Jeremy Bulloch dancing during the Celebrity Welcome: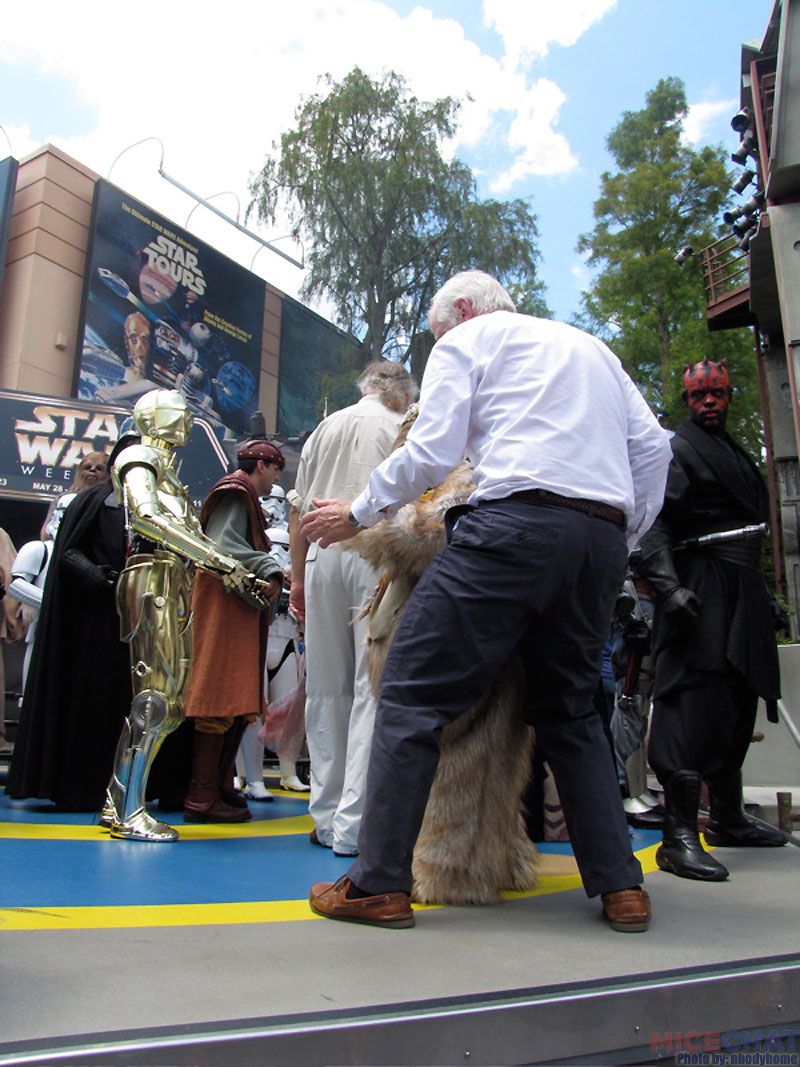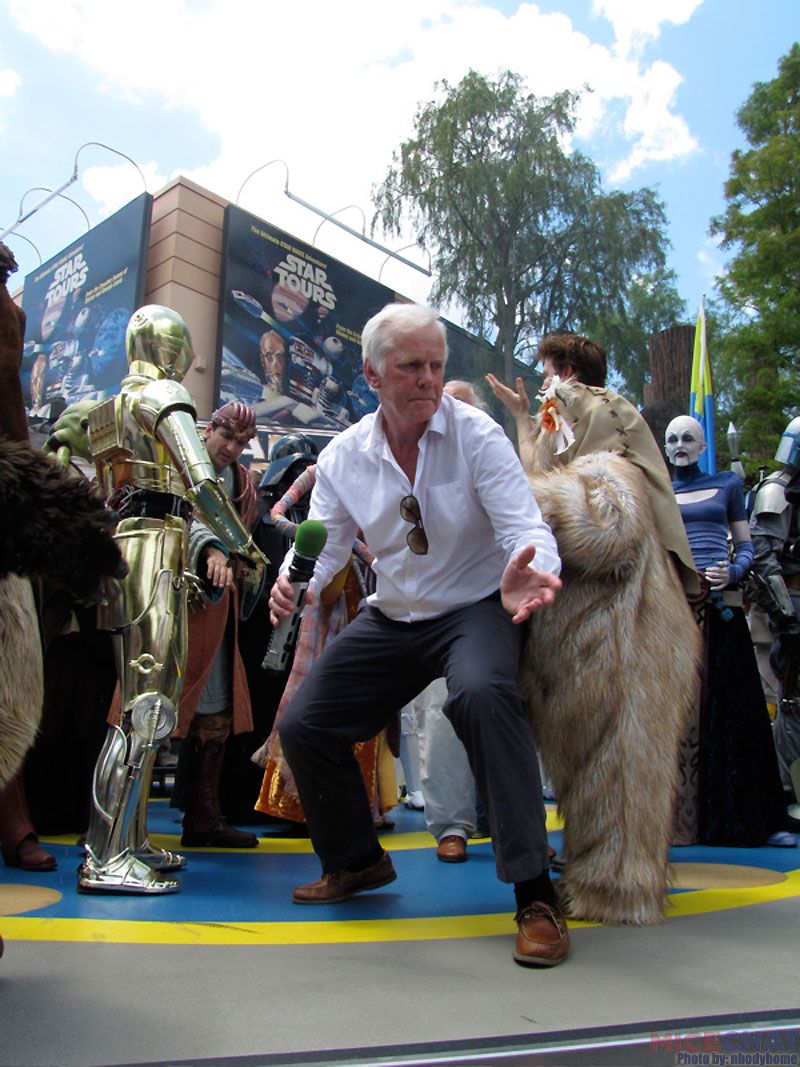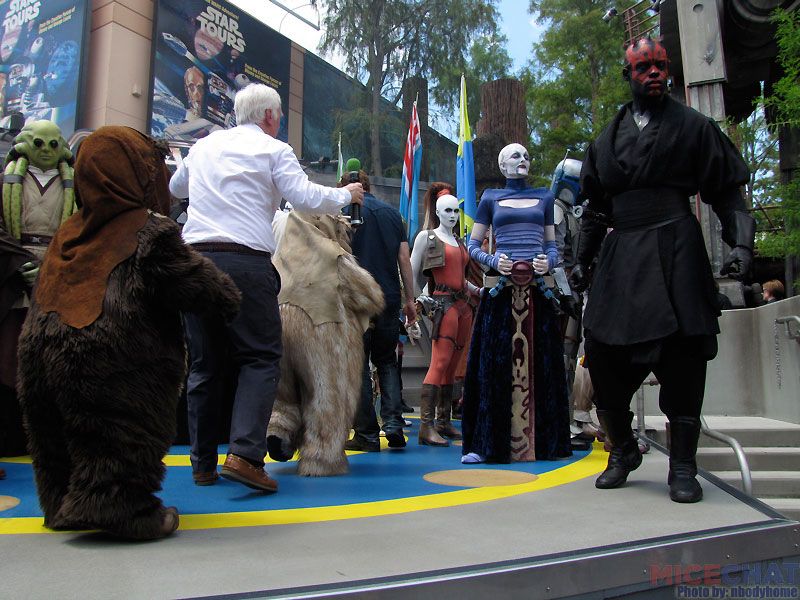 The motorcade: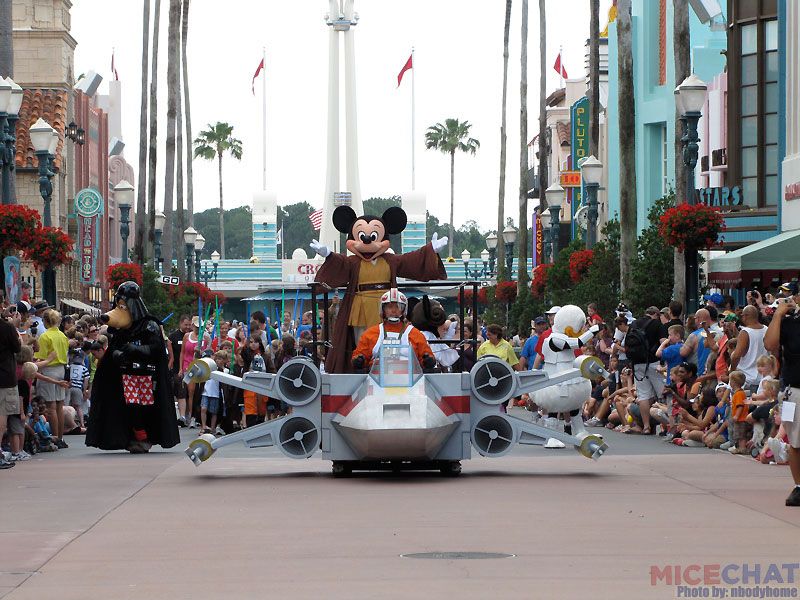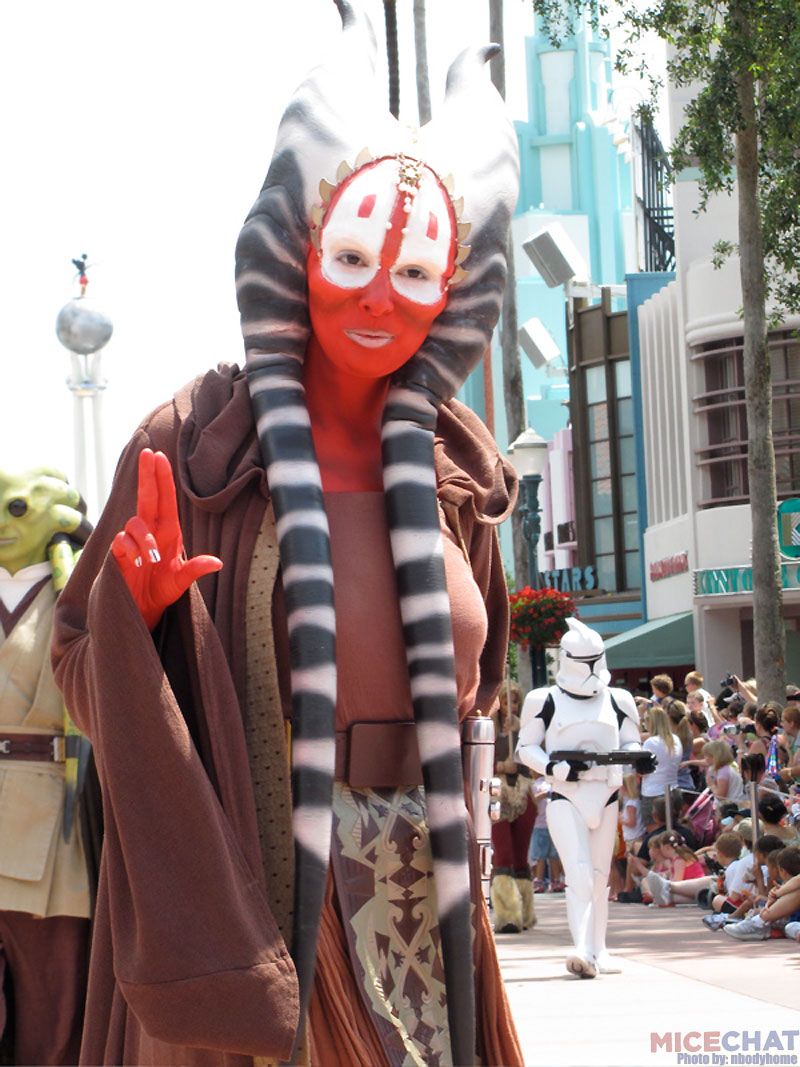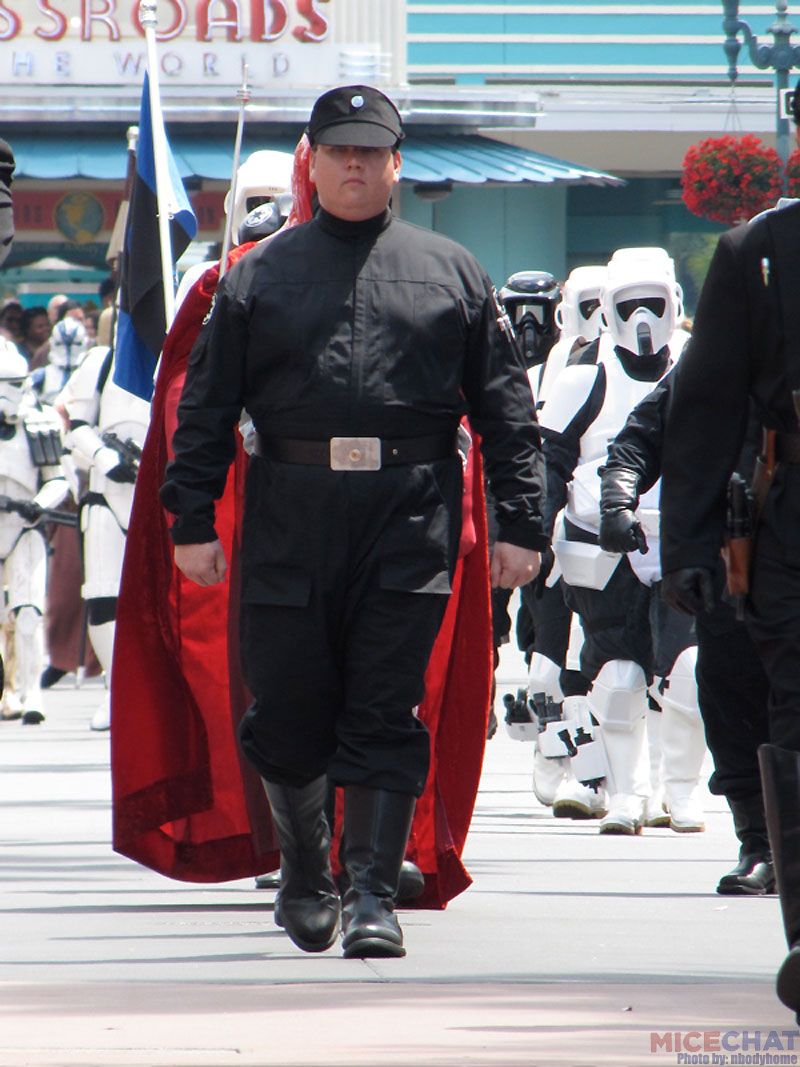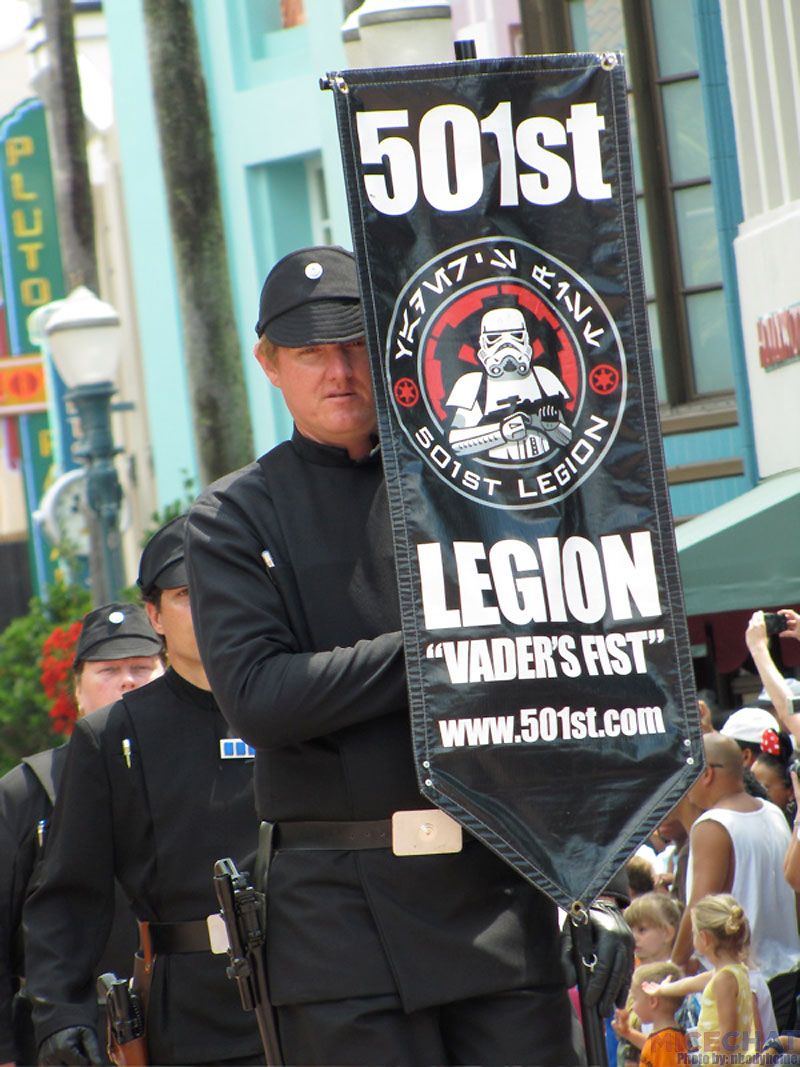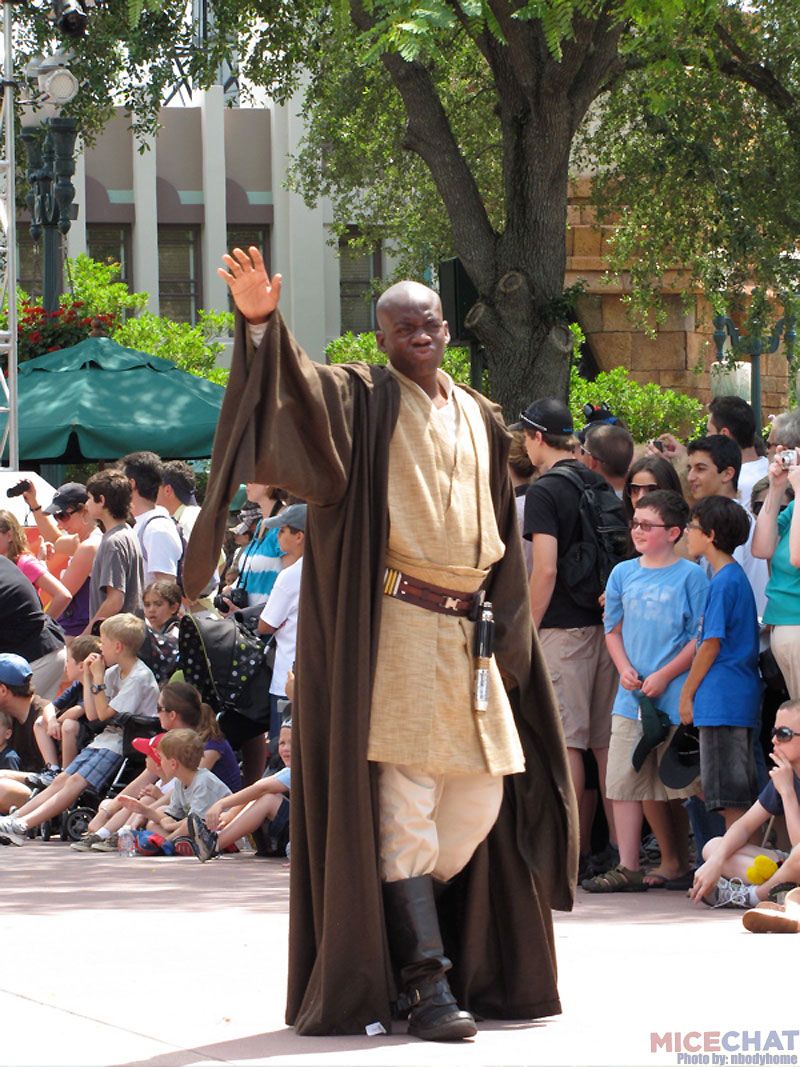 A a few other photos, including Tom Kane, the current voice of Yoda, coming in from out of the rain: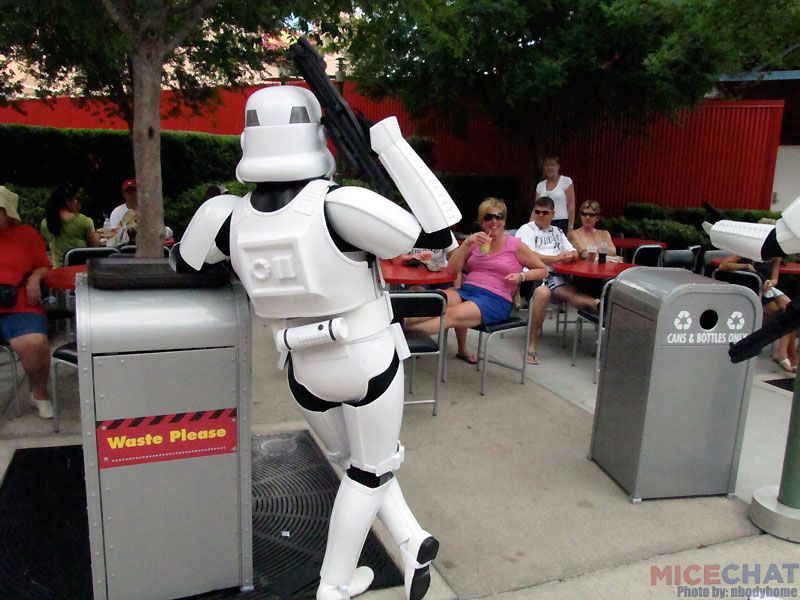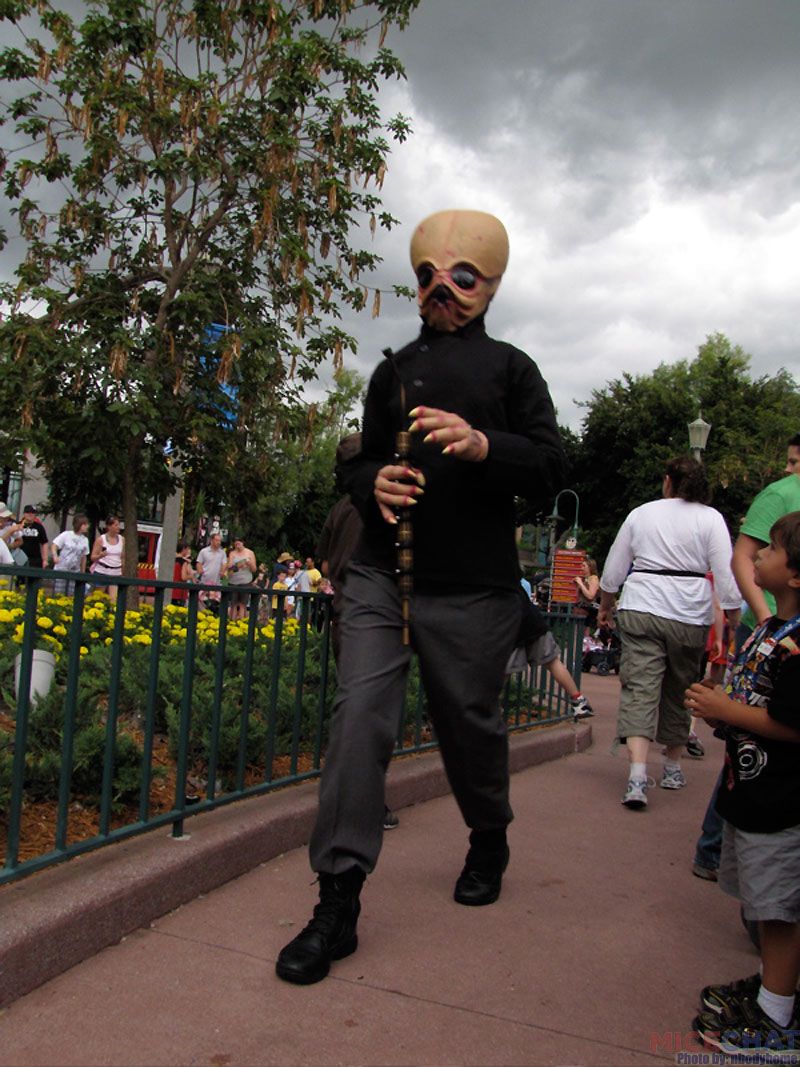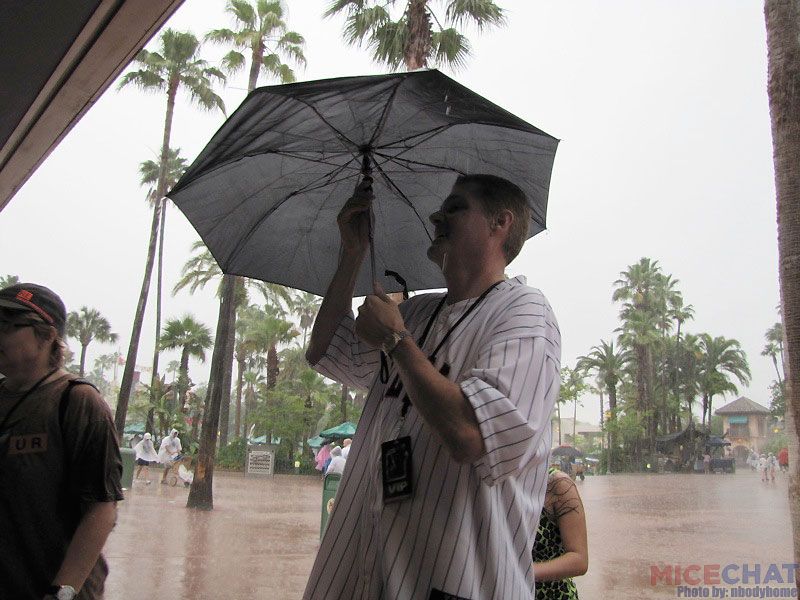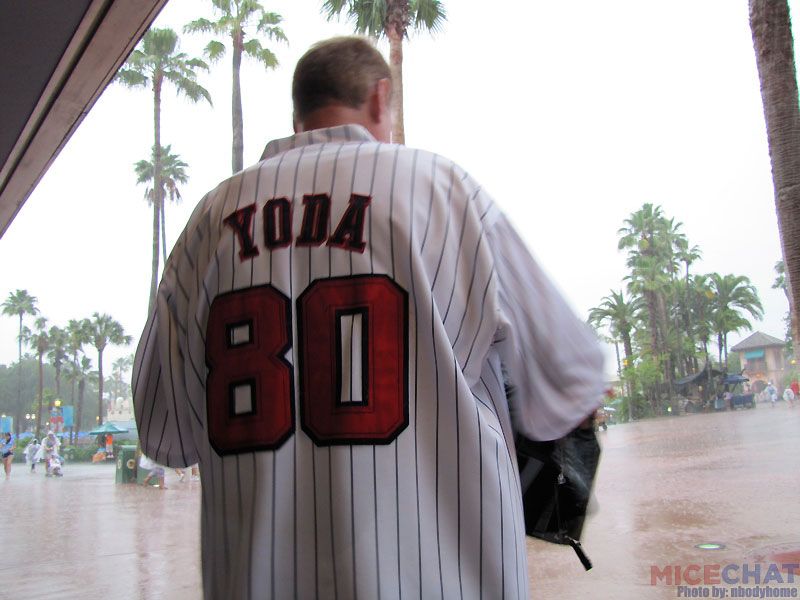 Be sure to check out more photos and video at Denise's website,
mousesteps.com
.
TDLFAN shares a look at two Chinese treasures
Today, we are visiting two of China's most interesting architectural wonders of yesterday and today...
First up, The Temple of Heaven, the oldest circular wooden structure on Earth.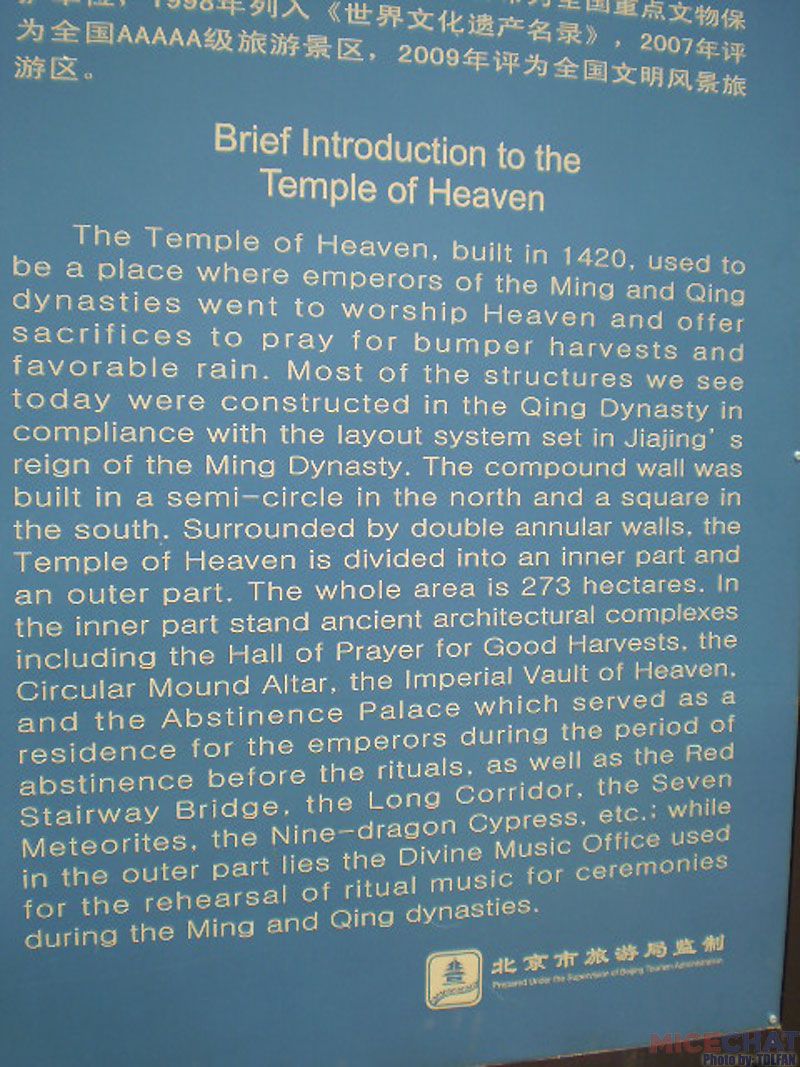 Yes, it's a long walk thru a lovely garden to get there...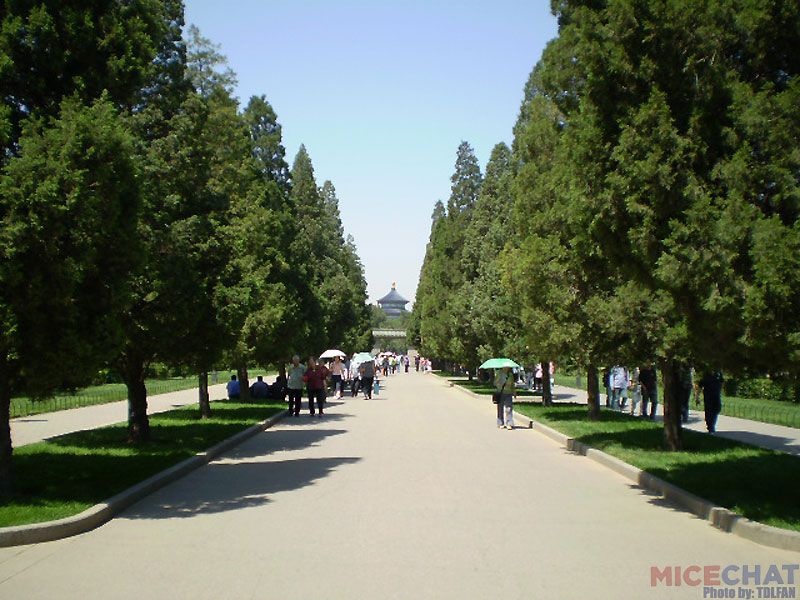 Here it is.. The Temple of Heaven, as seen at EPCOT's China showcase.. only that, this is the real one in Beijing!
Remember this set of doors? they are seen at the end of the "Wonders of China" circle-vision movie, opening up to reveal the Temple of Heaven behind it. Today, they were closed... but trust me, the Temple of Heaven is right behind them.
Inside the Temple of Heaven. Spectacular design and artwork.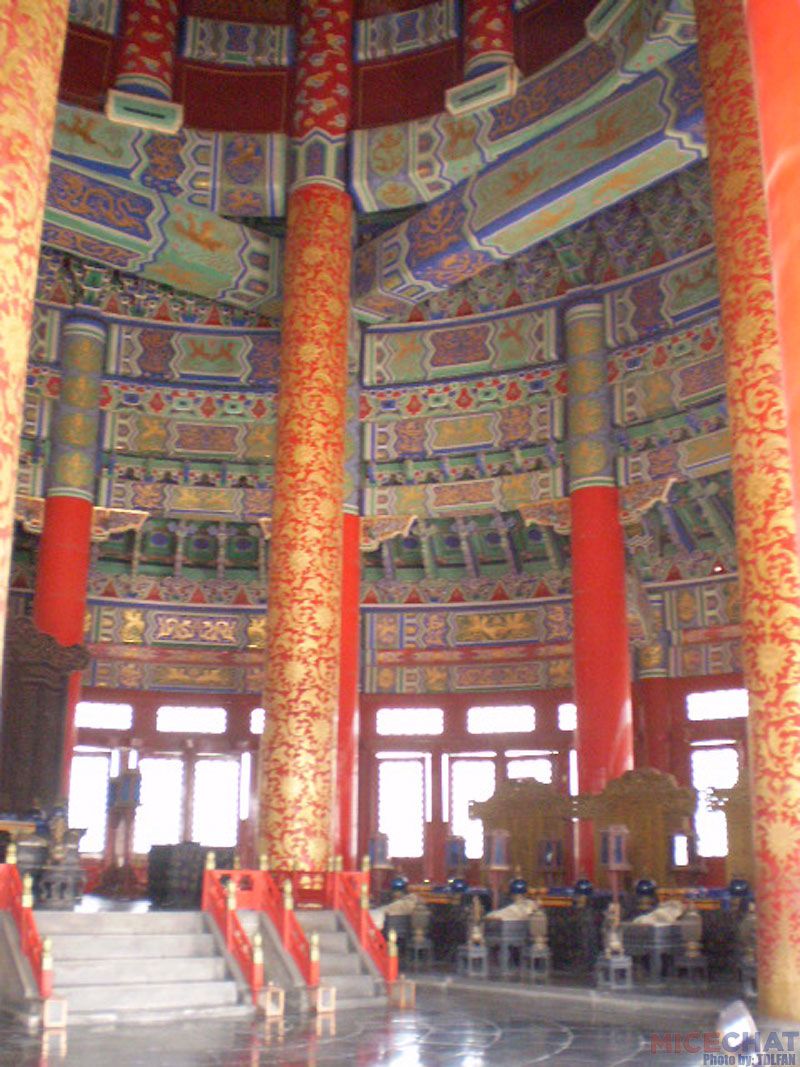 Backside of Temple of Heaven.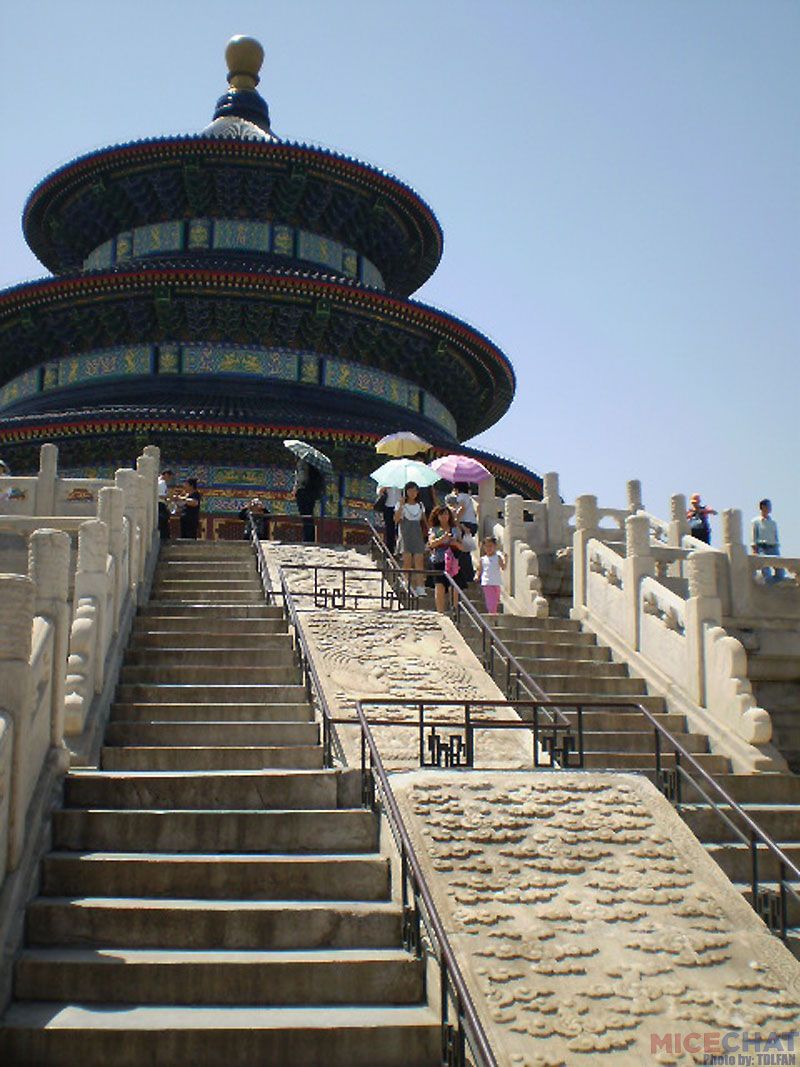 Structures around the Temple of Heaven represent clouds, dragons, phoenix... but the weather has taken a toll on some of them, as seen here...
Nearby, there is a smaller temple. TDLFAN calls it the "Baby Temple of heaven".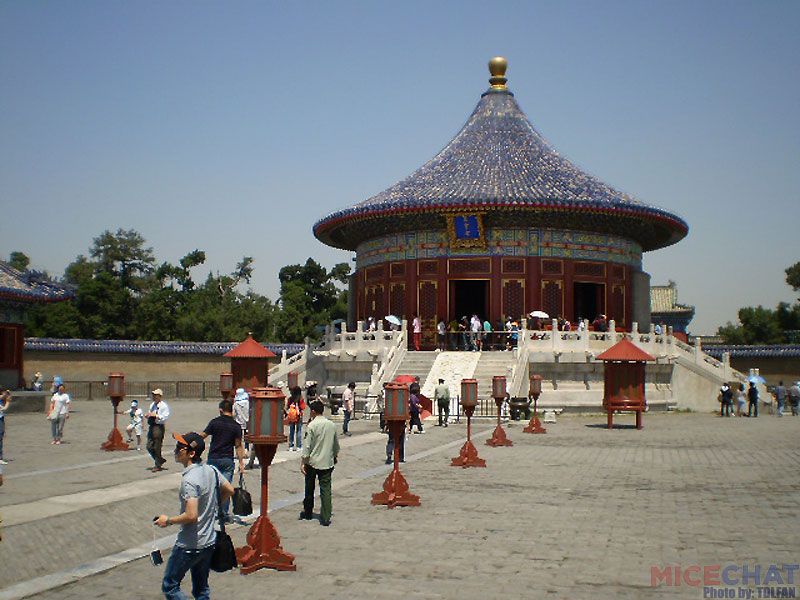 Inside the "baby".
Talk about themed trash cans around the Temple of heaven!!!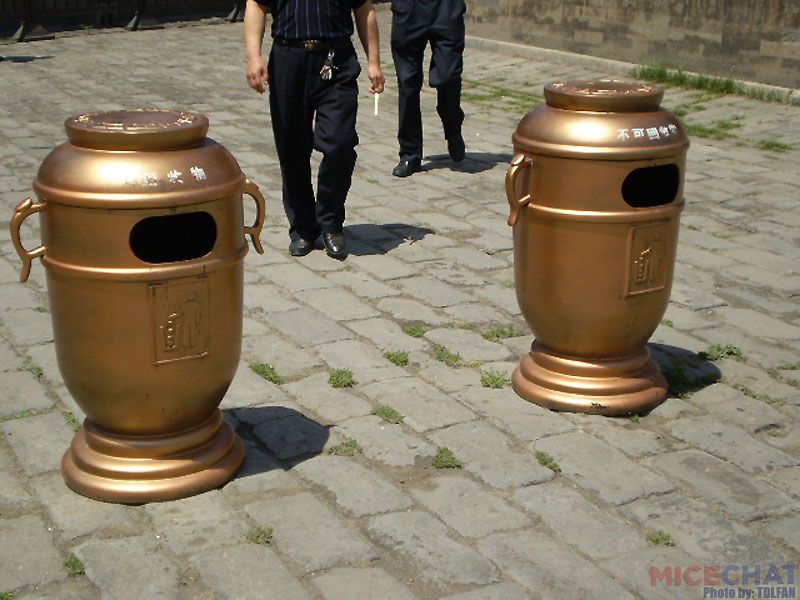 After visiting the spectacular Temple of Heaven, which dates back to the 1400s... TDLFAN travels to the 21st Century and goes to another spectacular circular (ok.. more like oval) structure.. Beijing's Nationa Stadium, aka the Bird's Nest, Home of the Beijing 2008 Olympics!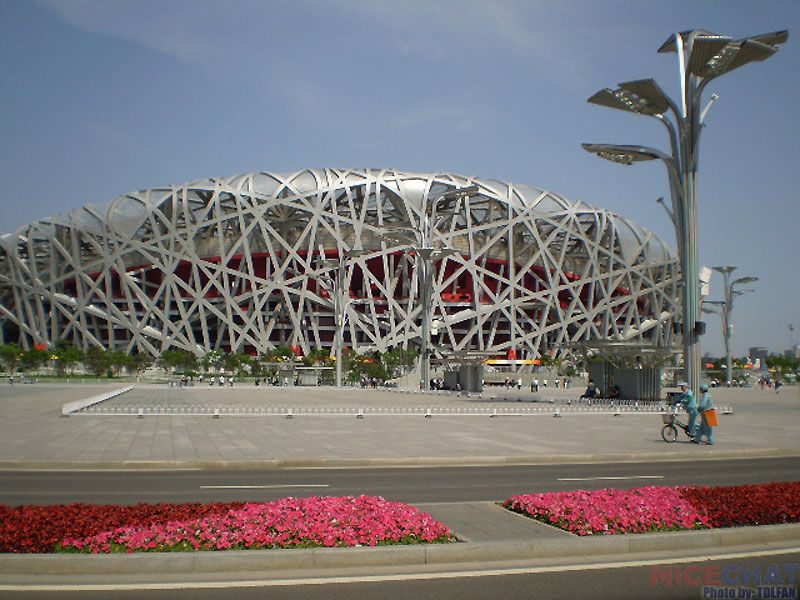 The Bird's Nest at the Olympic Greens.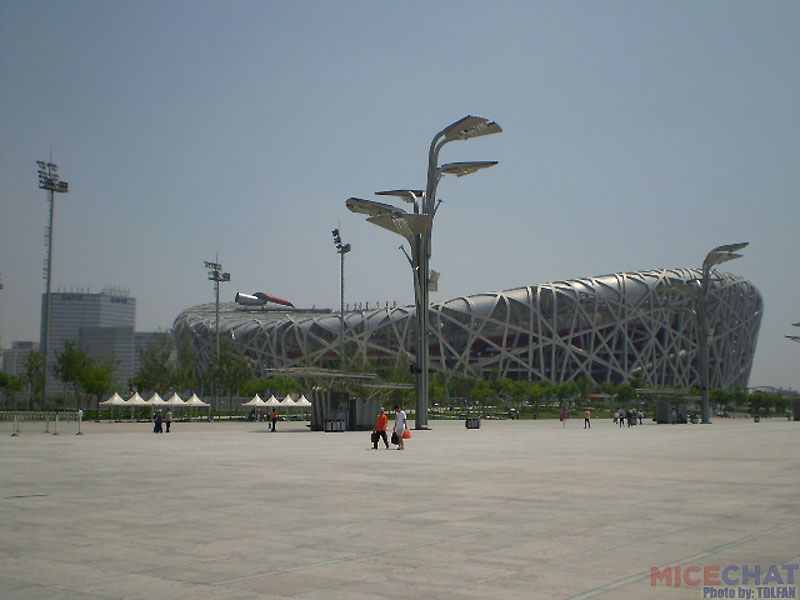 Fabulous architecture defies conventional construction at the Bird's nest.
Check this out!! the light fixtures around the Bird's Nest match the look of the stadium.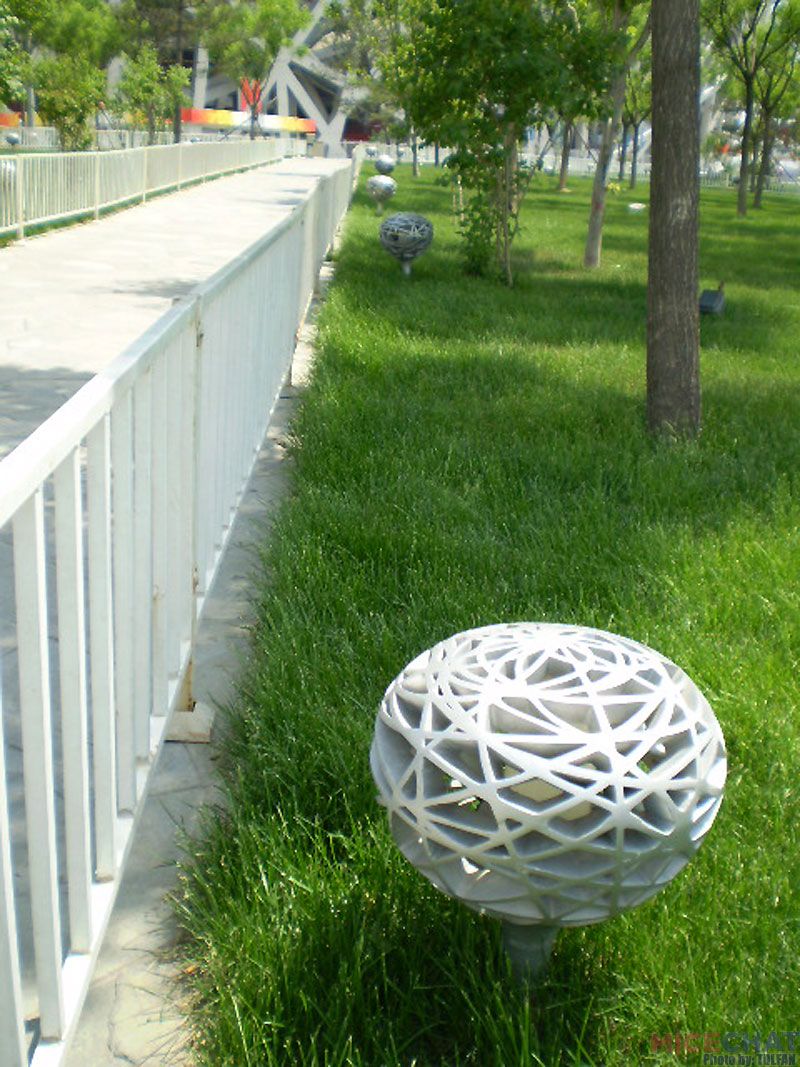 Inside the Bird's Nest. yes folks, this is where those fabulous opening and closing ceremonies took place.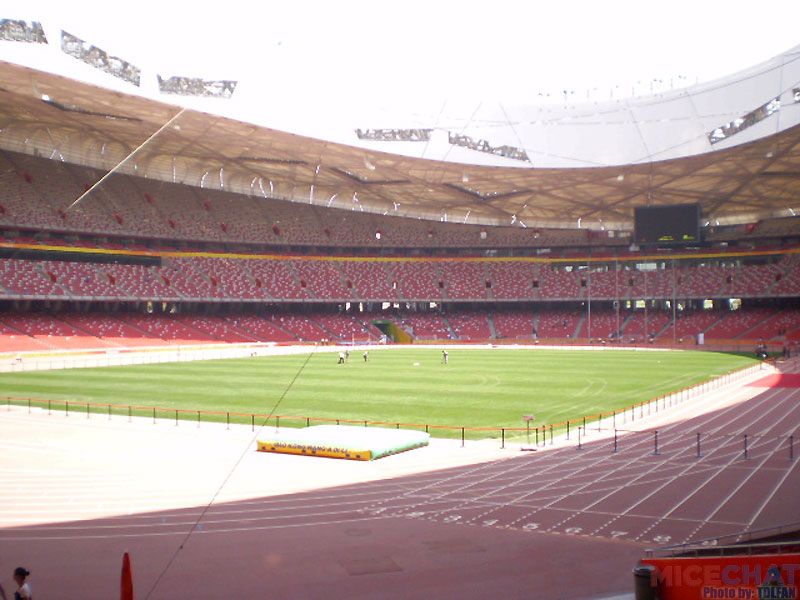 The gift shop at the Bird's Nest. You can buy 2008 Olympics souvenirs, pins, and Bird's Nest merchandise and other souvenirs.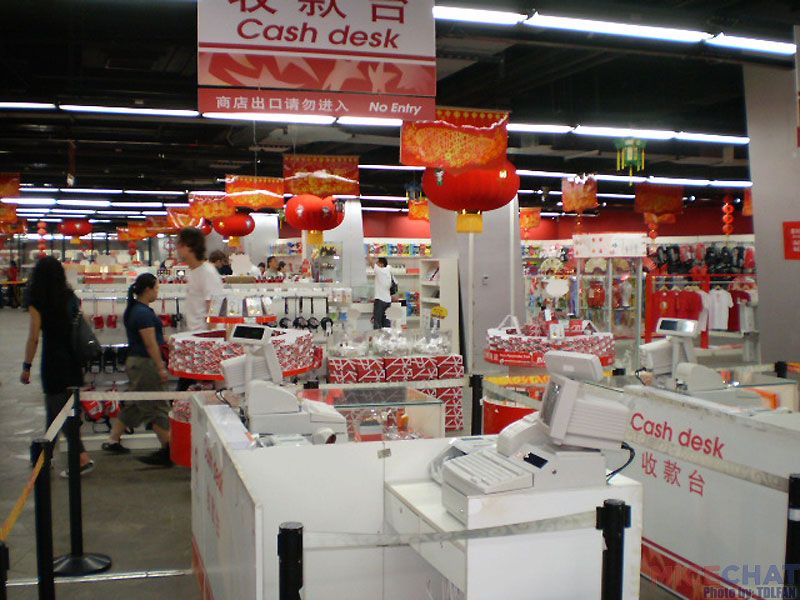 This beautiful gold model of the Bird's Nest caught TDLFAN's attention.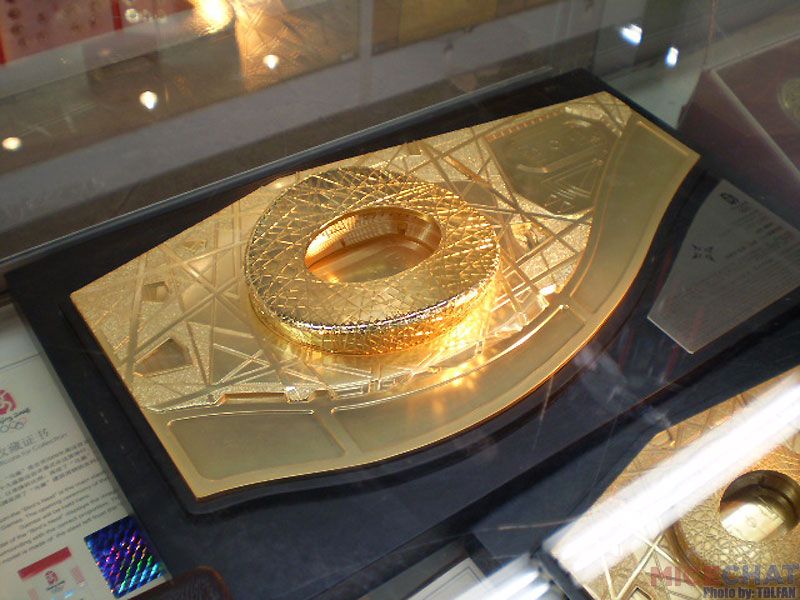 A tight rope walker performs over the Bird's Nest stadium. They would not pay me enough to do this!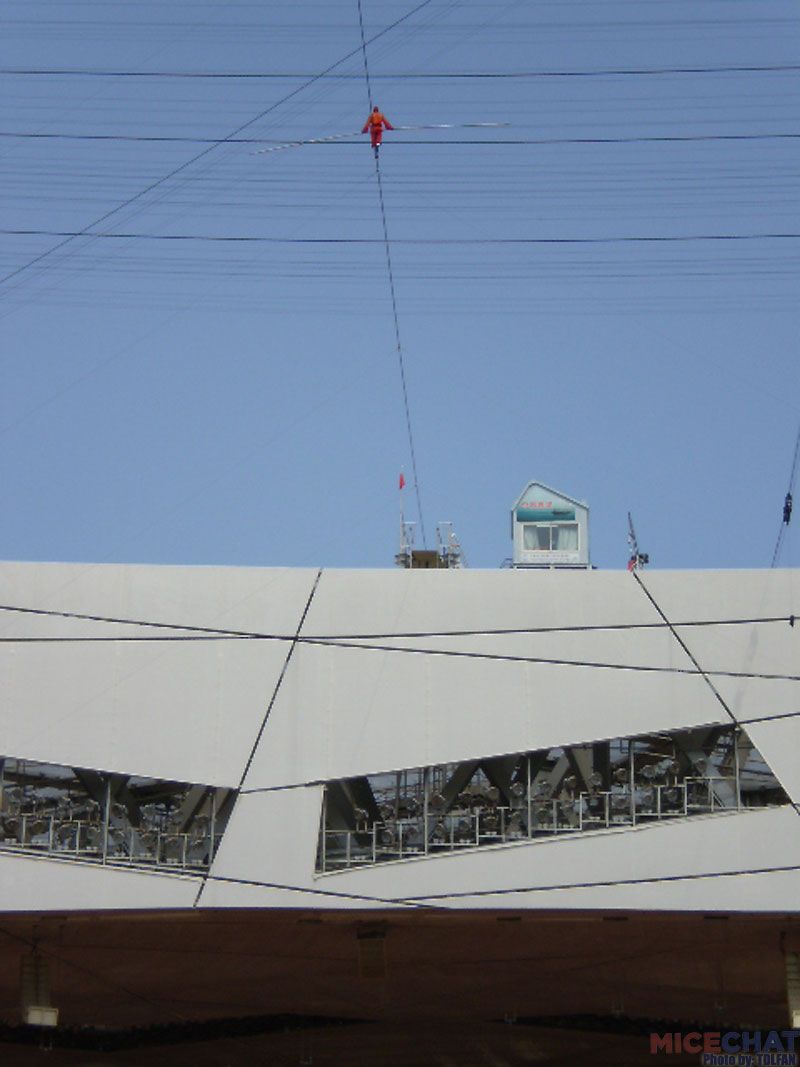 Architecturally gorgeous and innovative. The stairs to the higher seating areas of the Bird's Nest are beautifully integrated into the scheme of the design.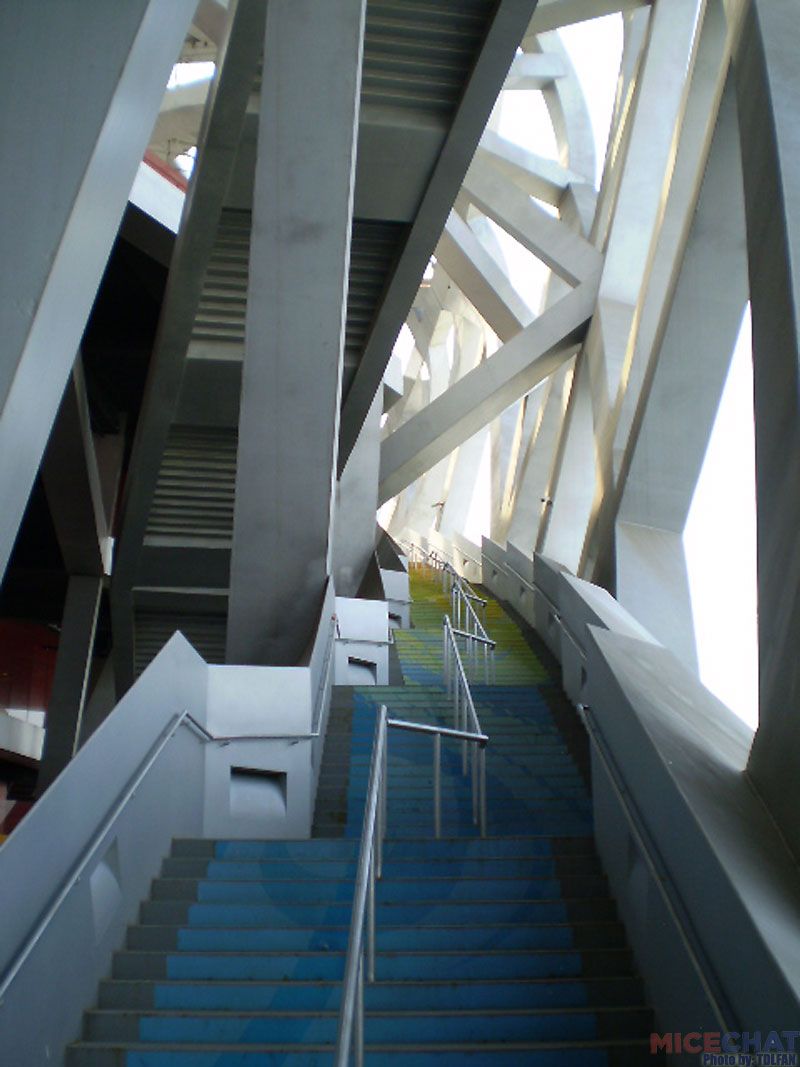 Outside the Bird's nest, this lovely hotel/shopping complex can be found. TDLFAN calls this building "The Cow Lick Tower".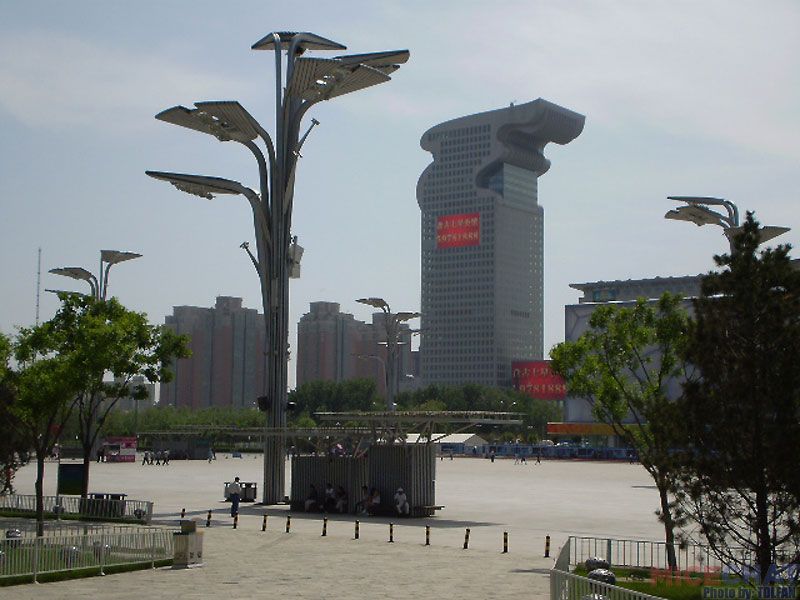 Another interesting venue.. the Water Cube, is actually the water complex where olympiad Michael Phelps won all those gold medals.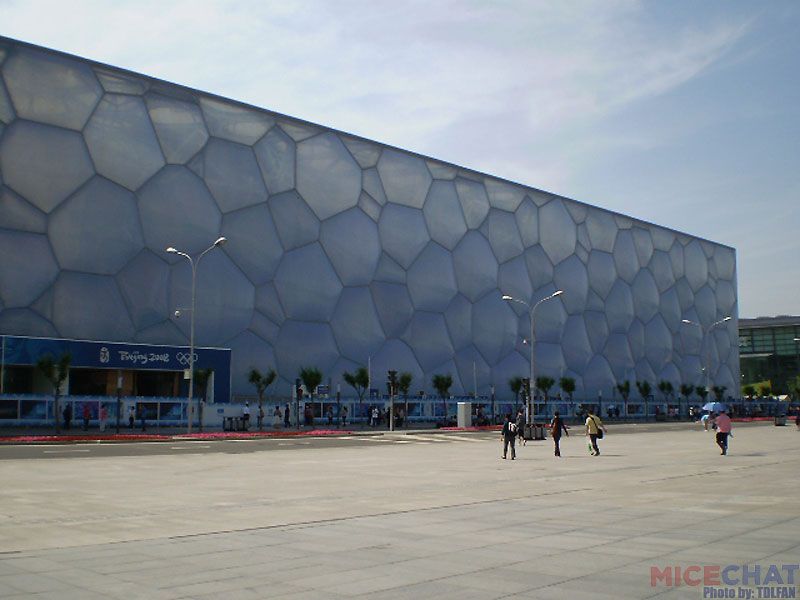 Gardens around the Water Cube and the Olympic Greens complex are quite colorful.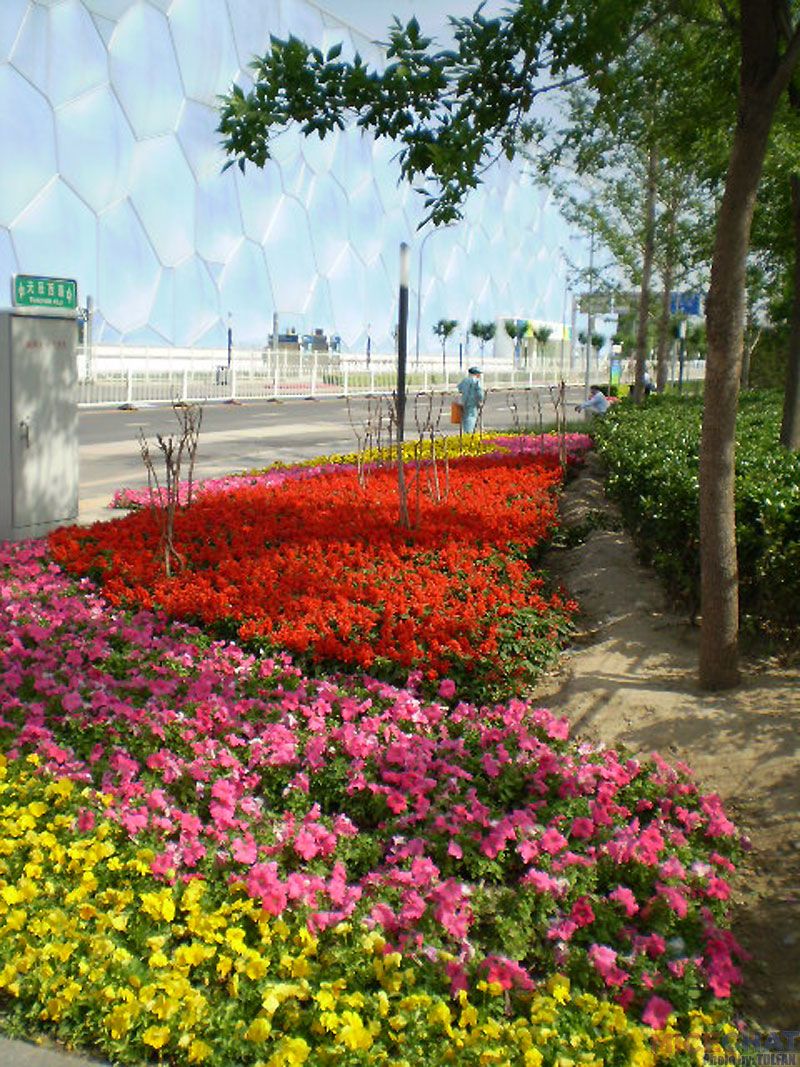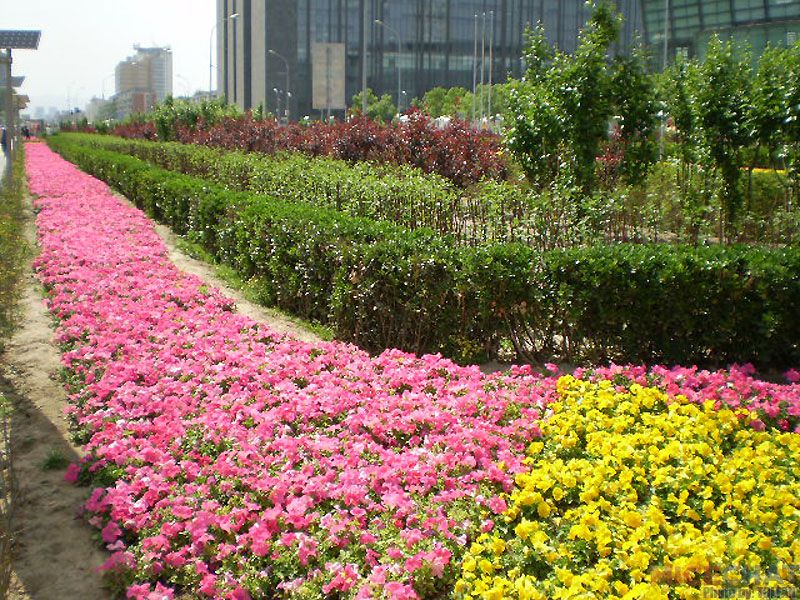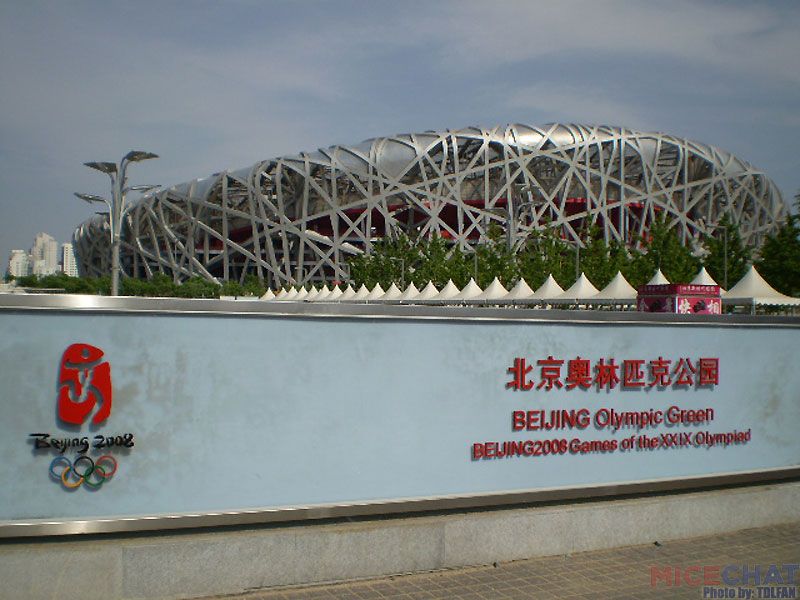 The stairs leading to the Subway station below the Olympic Greens are quite an interesting contrast of old and new, with nice statues of chinese warriors on horses... Very nice.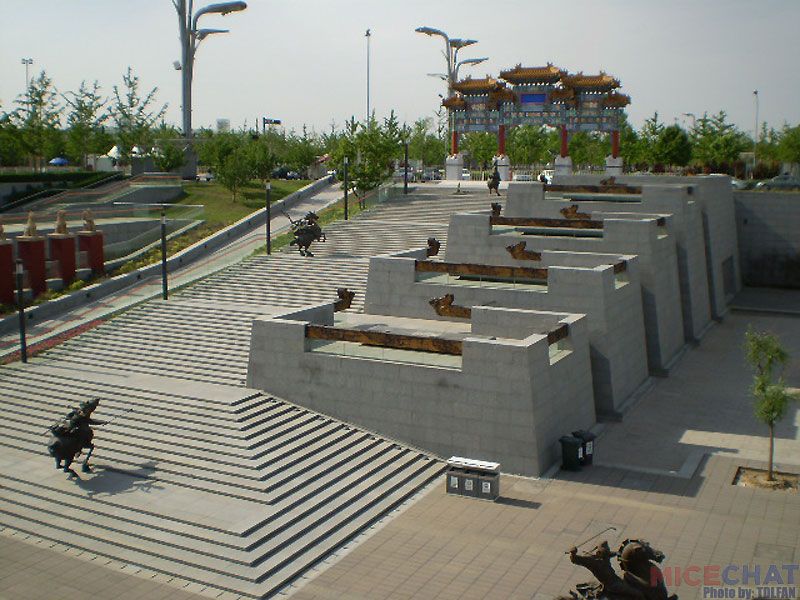 One last look at the Bird's Nest before departing the Olympic Greens complex.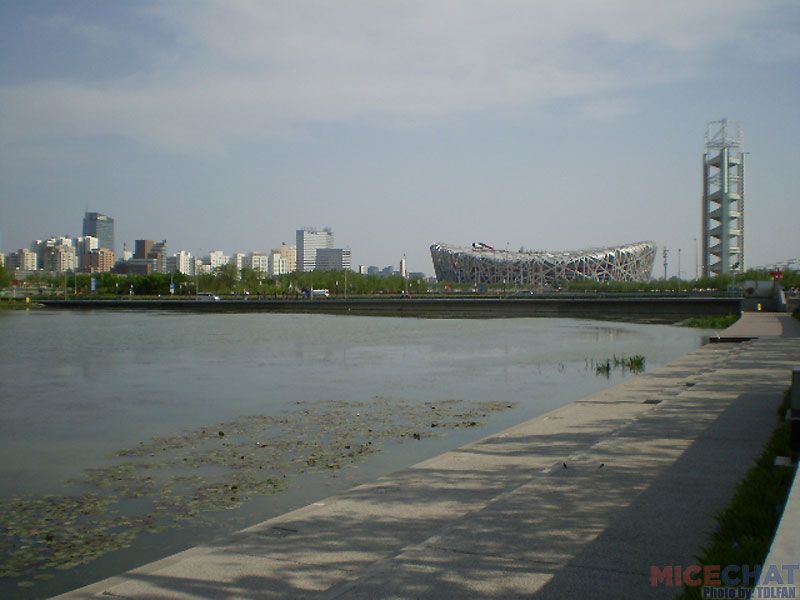 Pasadena hosts a Comic Convention
There was yet another comic convention on Memorial Day Weekend, this time in Pasadena.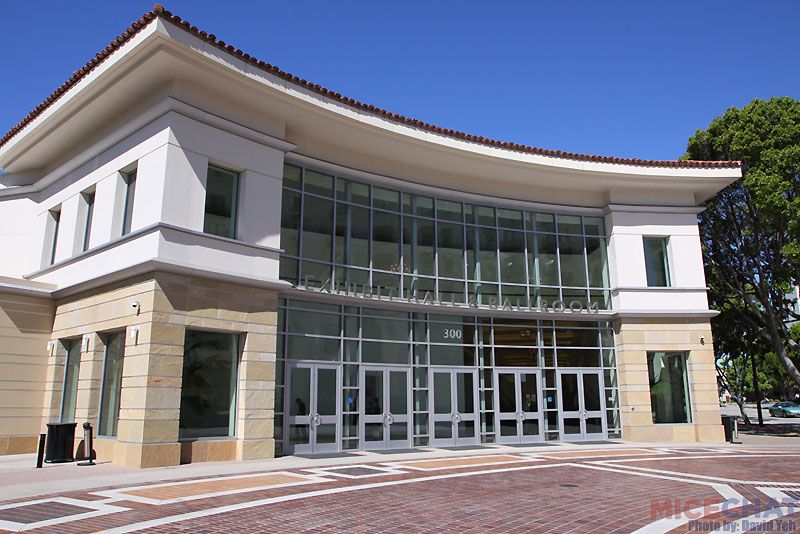 The Rock'n Comic-Con probably could have selected a better time to hold the event as the crowd never fully rocked out to attend.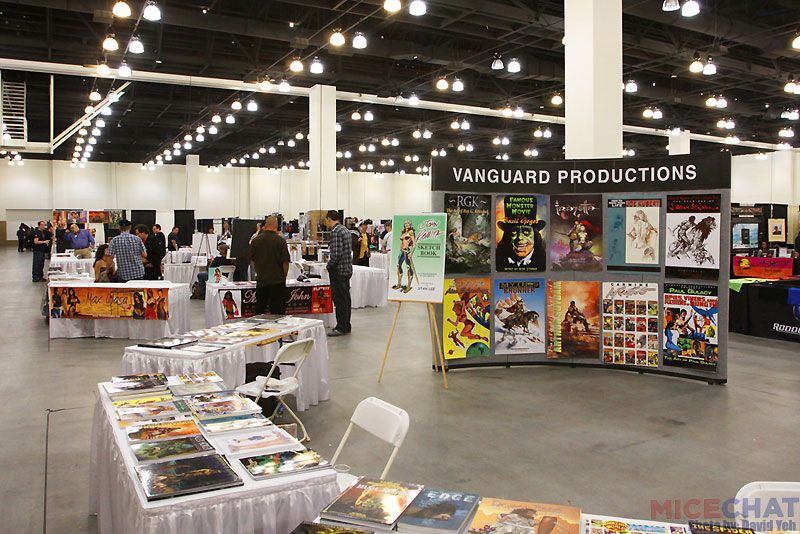 Southern California being home to the San Diego Comic-Con International as well as Wizard World, maybe it's just too much Con?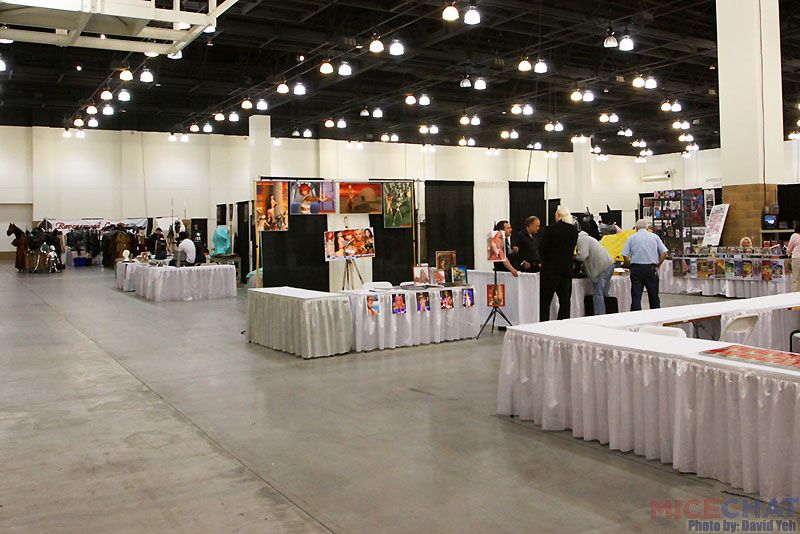 Not even Trekkies showed up for this cool display.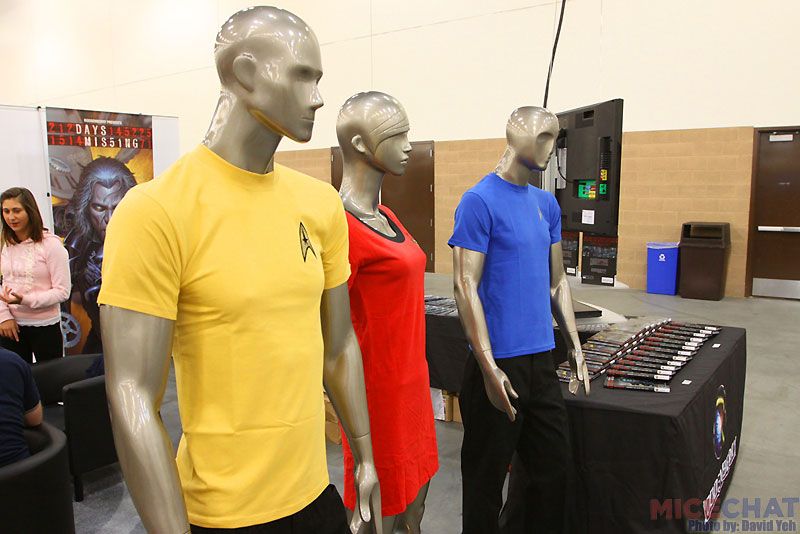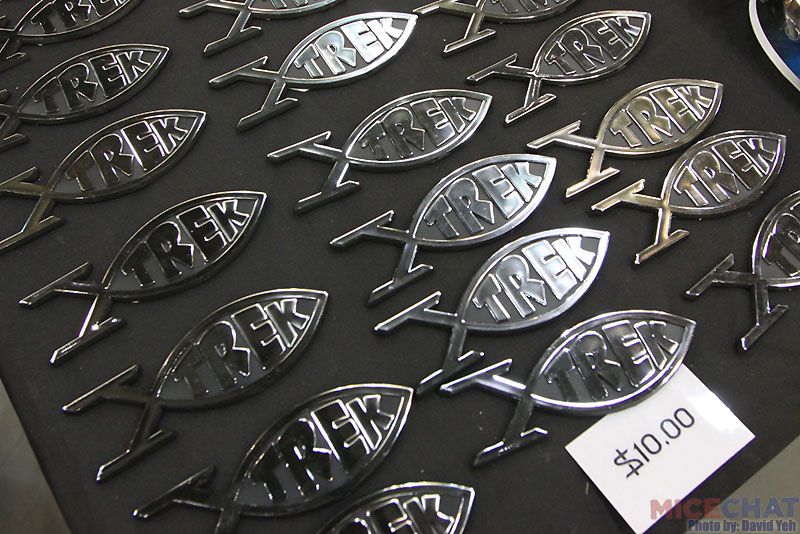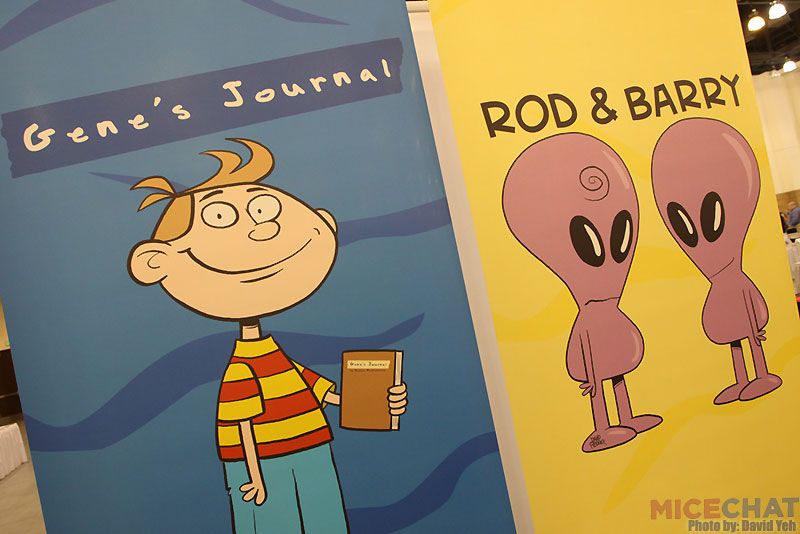 Comic Conventions are built for artists to show off their work, but there were only a handful at the convention.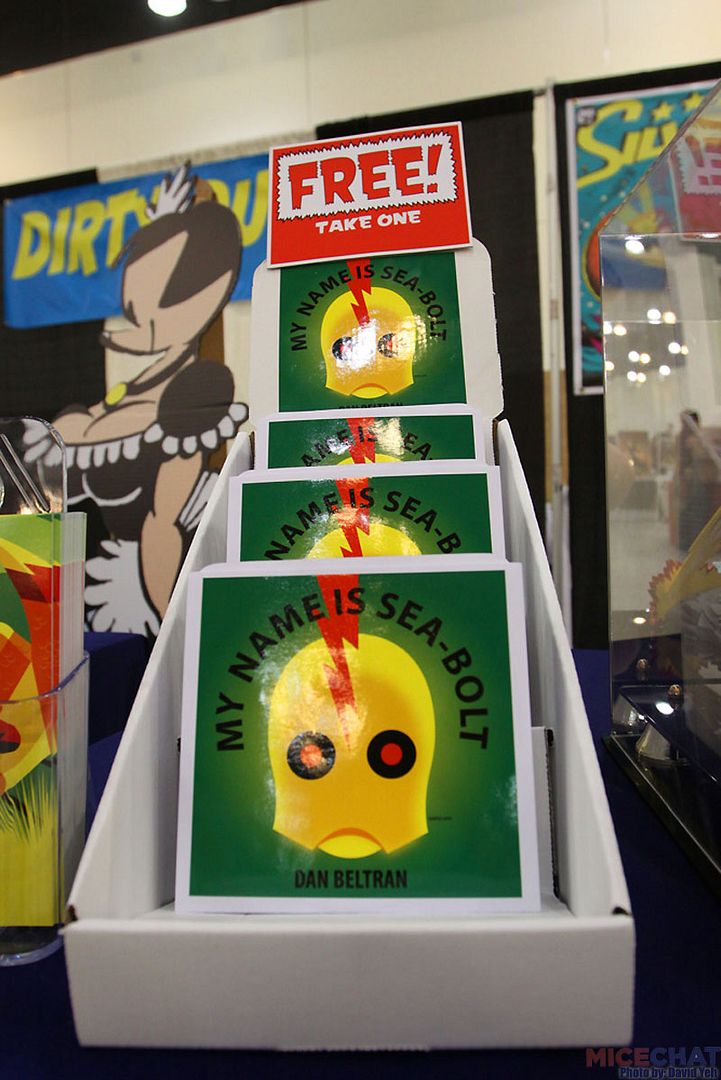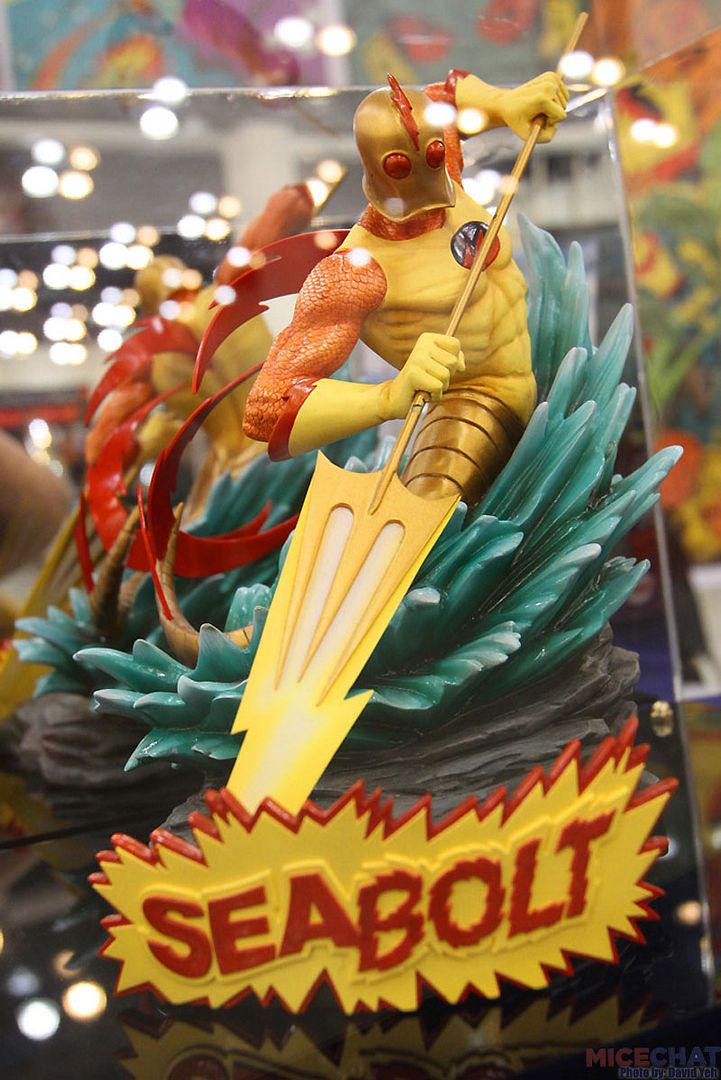 For those who enjoy cosplay (costume play), there was plenty of leather and swords for you to try.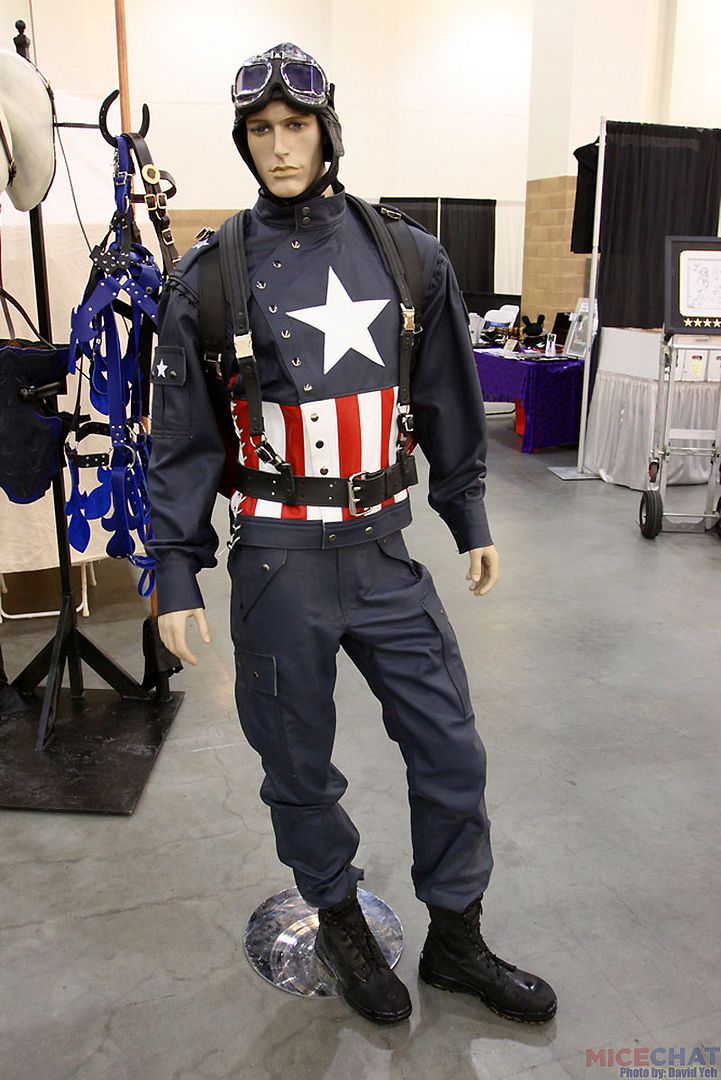 Or if Pirates are more your thing, they have you covered also.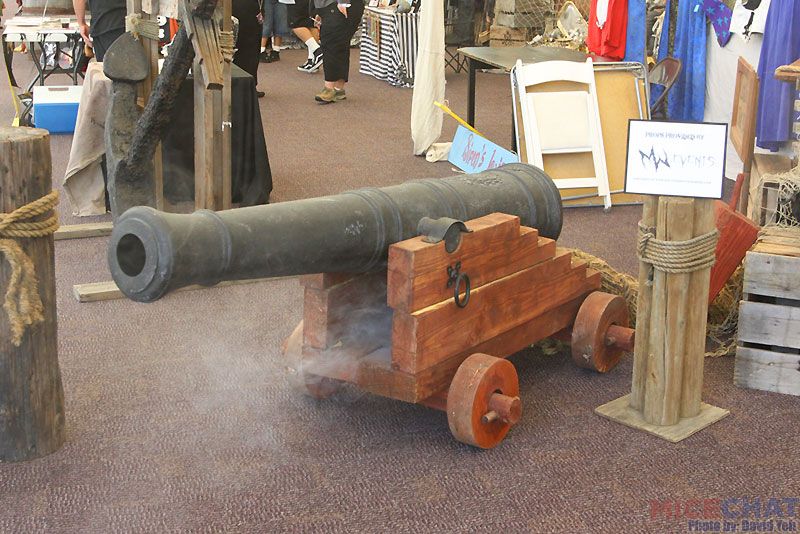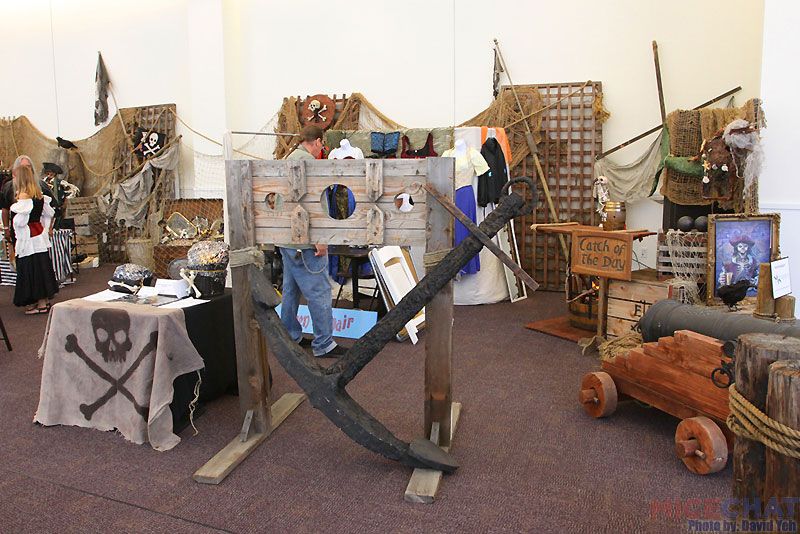 Going to a con is also great to find that hard to find collectible. But also in Southern California is Frank & Sons where you'll find many hard to find items every Wednesday and Saturday in the city of Walnut. Most of those vendors didn't bother showing up for this convention but you might find a few gems if you bother to look.
But the main event of this convention was Disney's newest partner, Stan lee.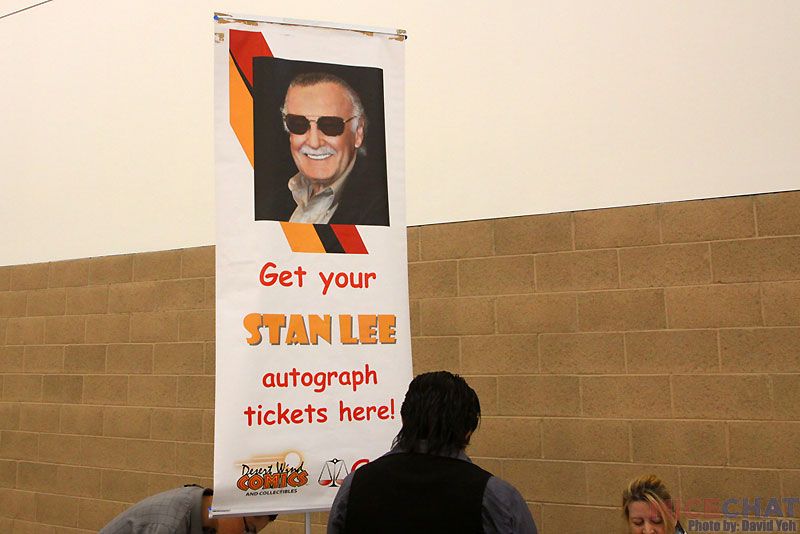 The crowds were so few that this was probably your best opportunity to spend time with Stan Lee and get a number of things signed.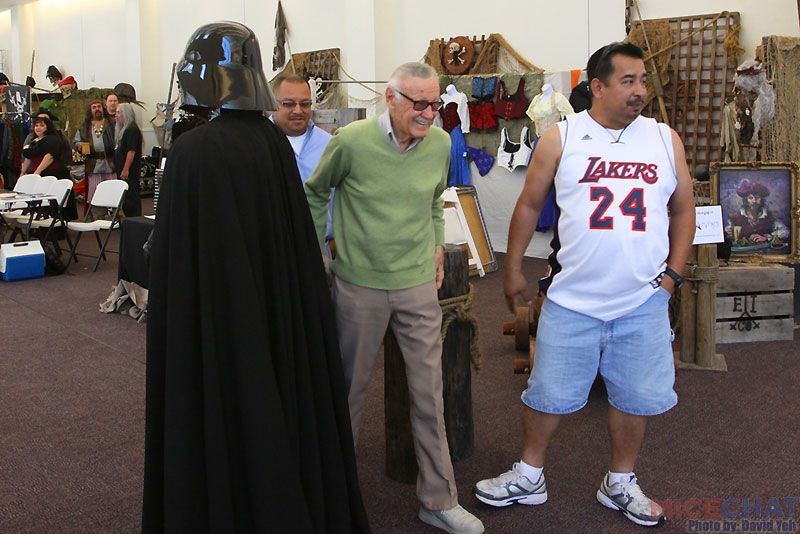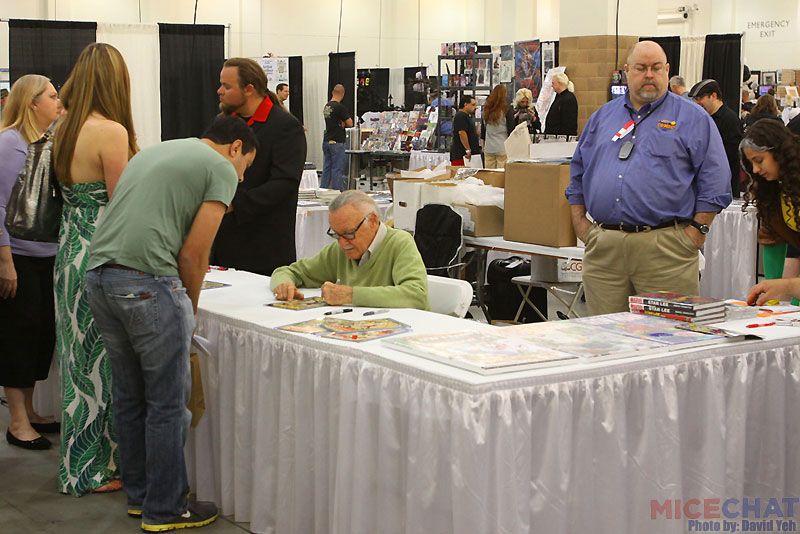 A photographer and turtle are star struck as well.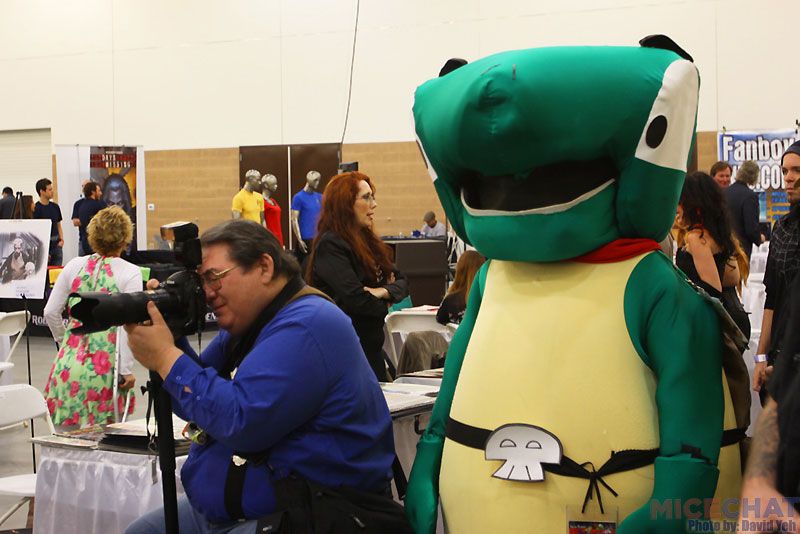 There were a few other C and D list actors at the convention. If you had a Spider-Man movie poster you could have knocked two birds with one stone.
There were a few other booths and guests at the Pasadena Rock'n Comic-Con but because it was Memorial Day Weekend, there's more out there to cover.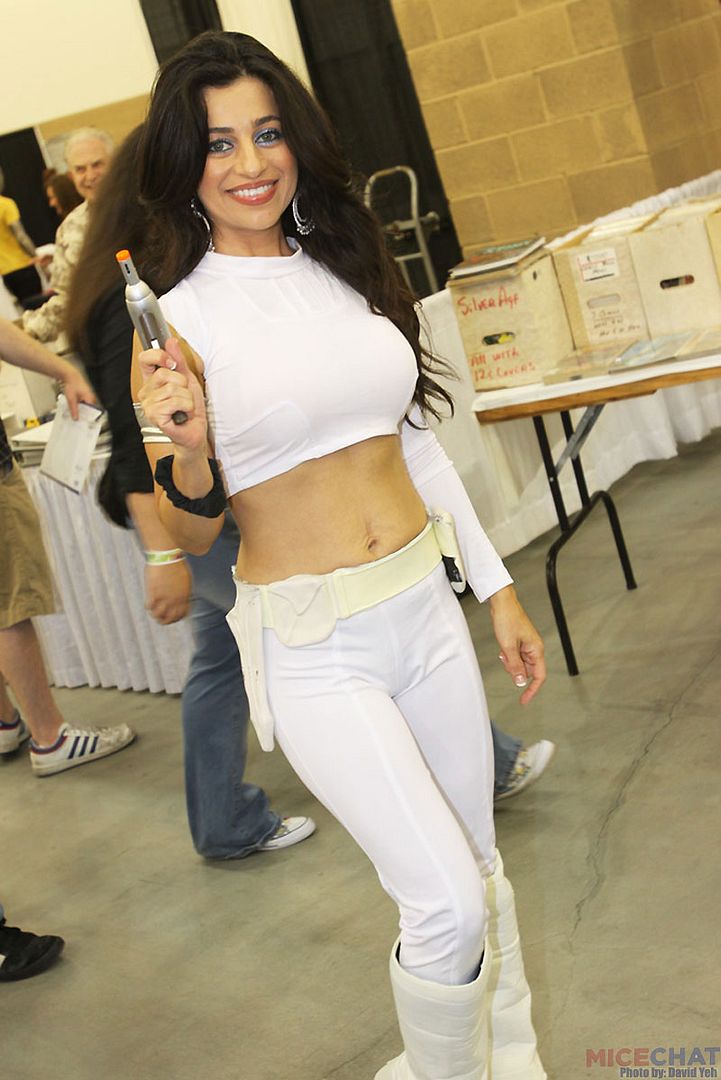 Here's how Pratt55 celebrated Memorial Day in Arizona
Over Memorial Weekend the Pratt's toured Southern Arizona. First stop Tombstone, Arizona "The Town too Tough to Die" . Memorial weekend also happens to be Wyatt Earp Days.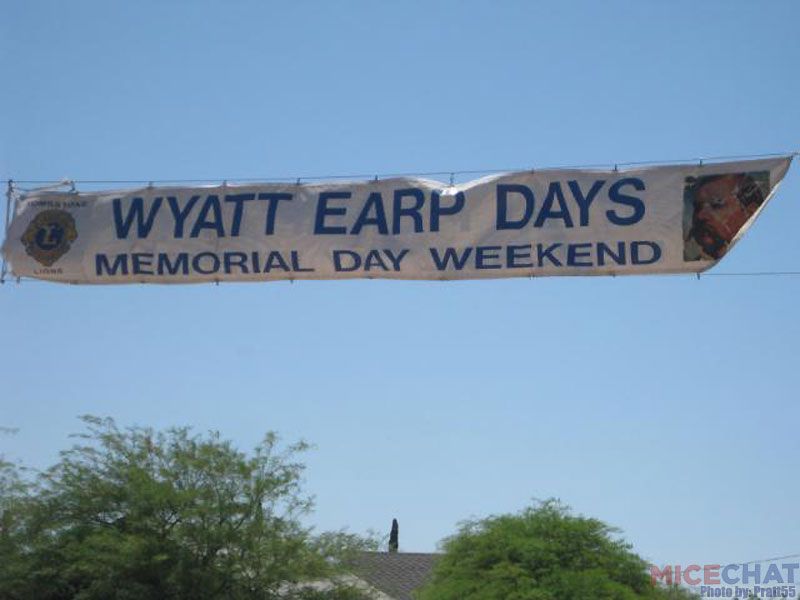 During this annual event hundred's of people dress in period costumes and participate in various re-enactments of the town's past.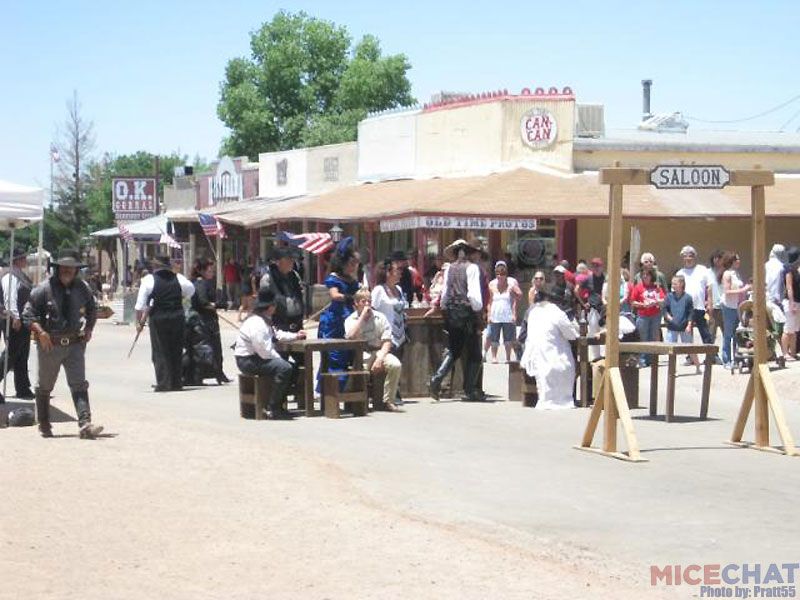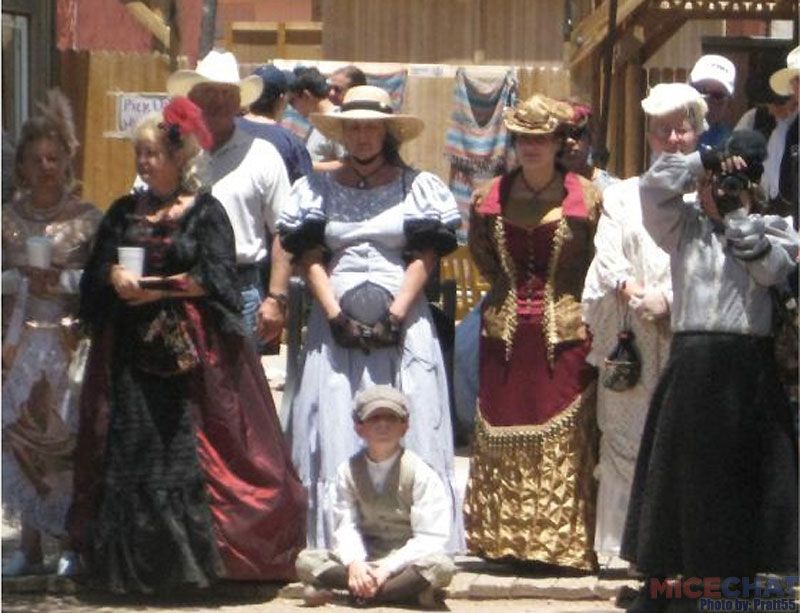 They really enjoy talking about the history of the "old west" and happily pose for pictures.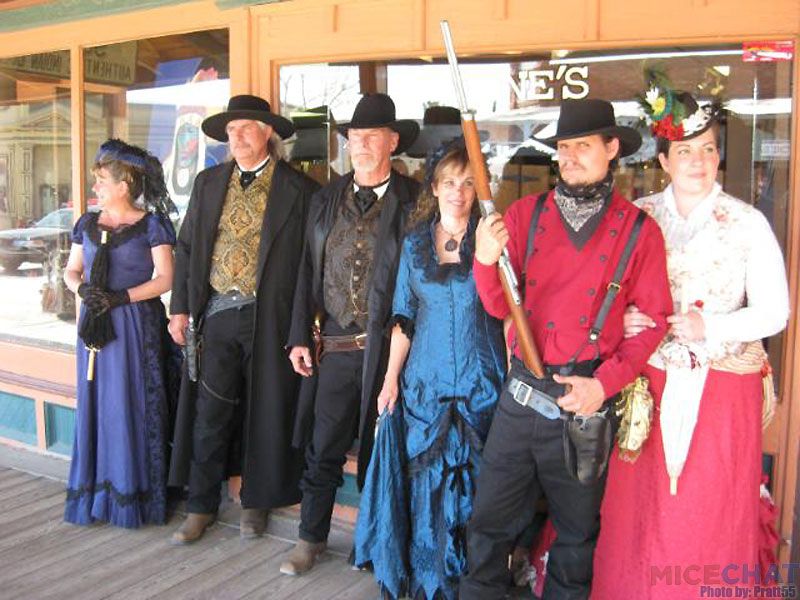 A young Ron Weasley lookalike.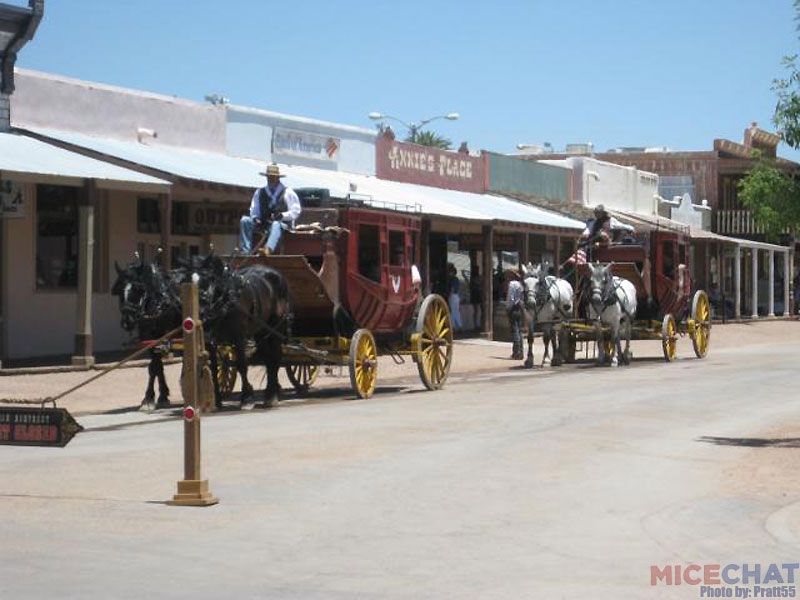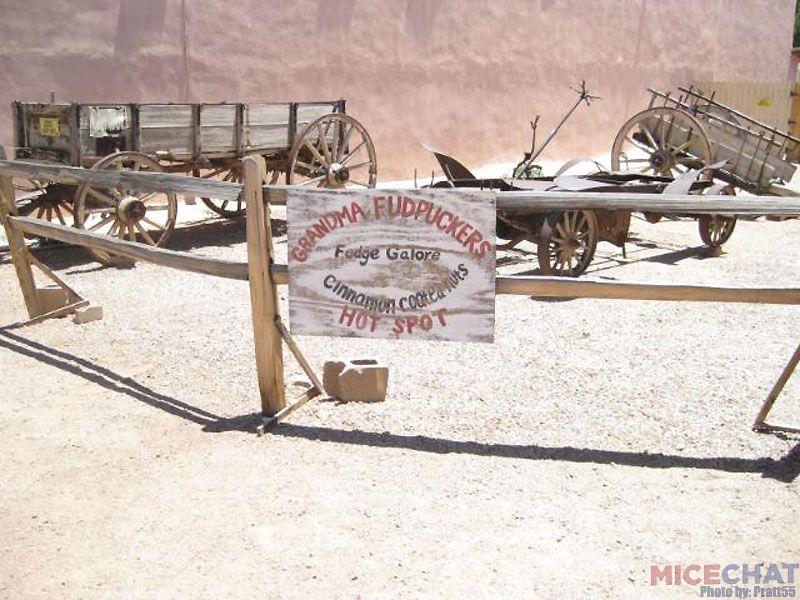 The Bird Cage Theatre was a saloon, theatre, gambling hall and brothel. It opened Christmas Day 1881 and ran 24 hours a day, 7 days a week, 365 days a year until closing its doors in 1889. In 1882, The New York Times reported, "the Bird Cage Theatre is the wildest, wickedest night spot between Basin Street and the Barbary Coast."
Big Nose Kate's Saloon, was once the Grand Hotel, the original building was built in 1881. On October 25, 1881, the night before the Gunfight at the OK Corral, the Clantons and the McLaurys were guests here.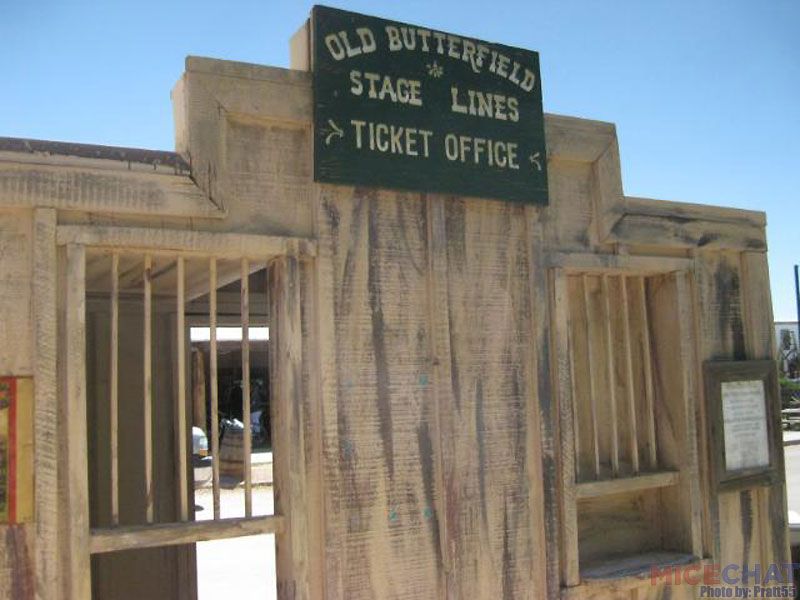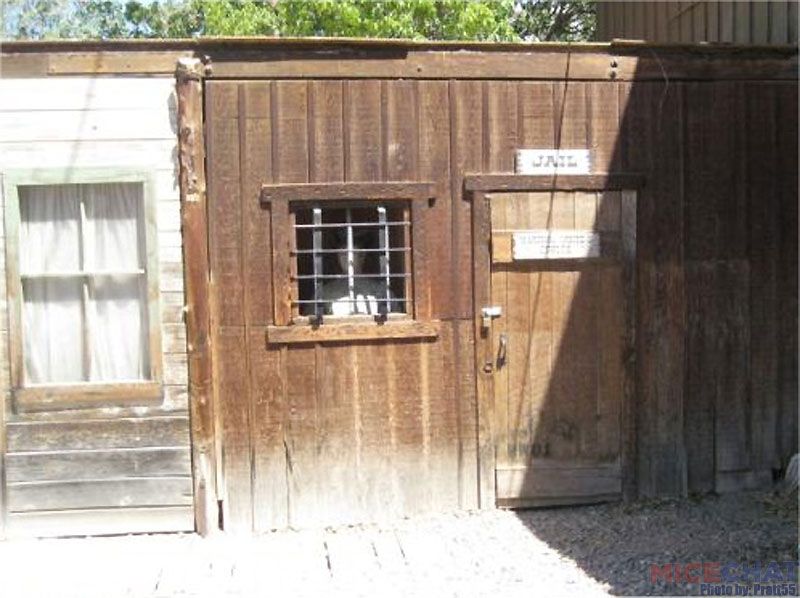 The most famous event in Tombstone's history was the famed Gunfight at the OK Corral, which didn't actually happen at the corral, but in a vacant lot on Fremont Street. On October 26, 1881, members of the "Cowboys" had a run-in with Wyatt, Virgil and Morgan Earp with help from Wyatt's friend Doc Holliday. 24 seconds and 30 shots later, Billy Clanton, Tom and Frank McLaury were mortally wounded.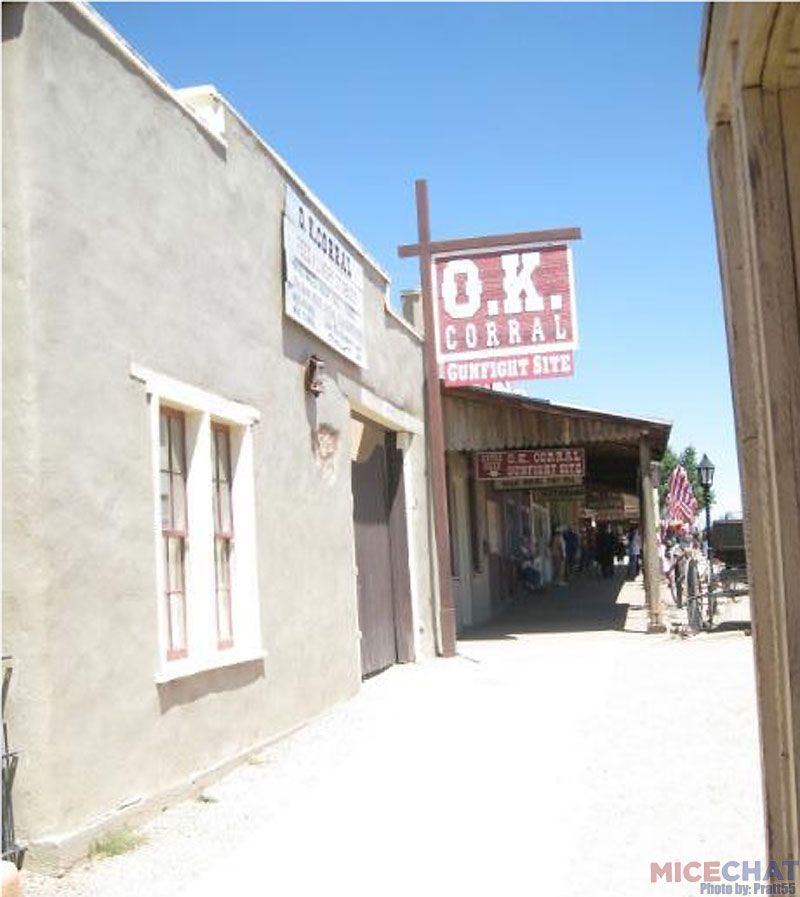 If you push a button you can get an audio slightly animatronic version of the shootout.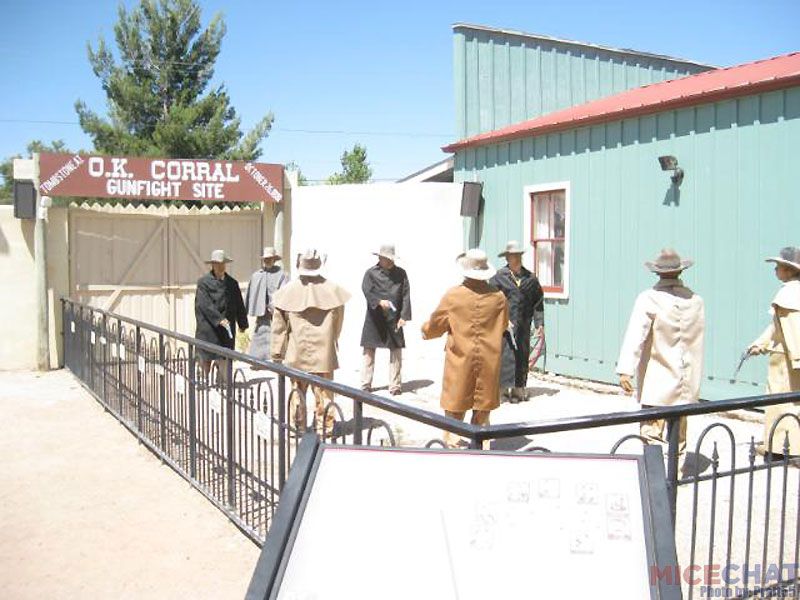 The C.S. Fly Photography Studio was right in front of where the actual shootout occured.
A hearse that was used to take the dead to Boothill Graveyard.
Boothill Graveyard was opened in 1879 and was used until 1884 when a new graveyard opened up. Billy Clanton, Tom and Frank McLaury are buried at Boothill Graveyard.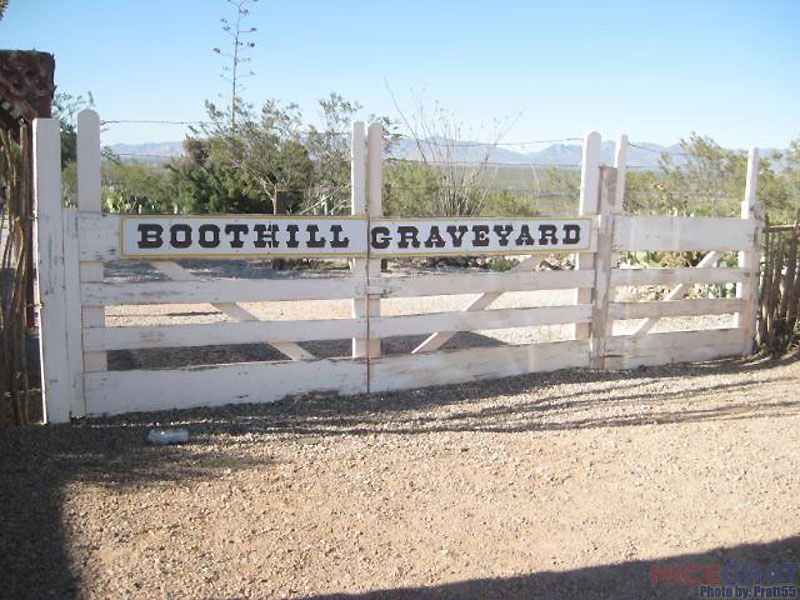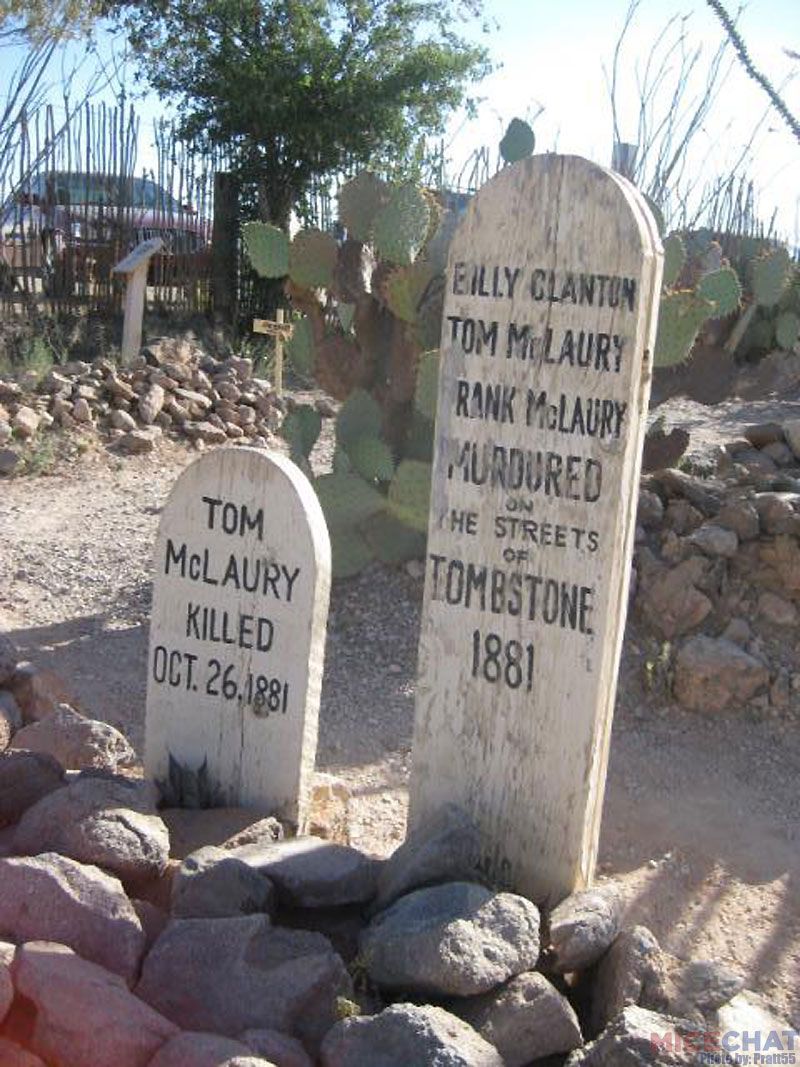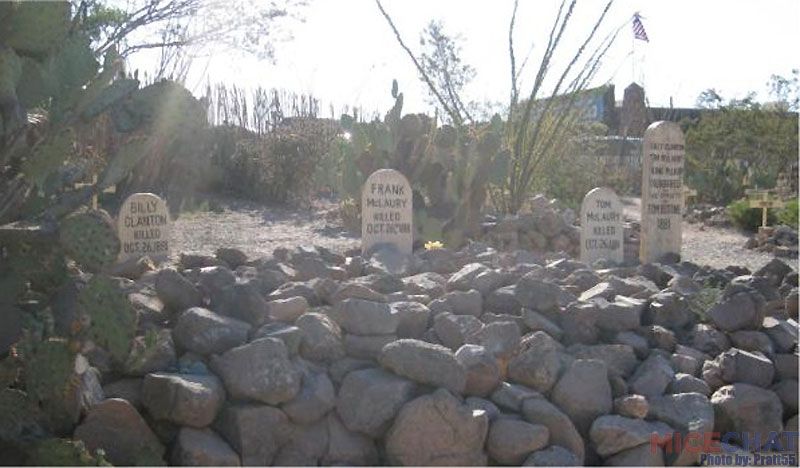 A view from Boothill Graveyard.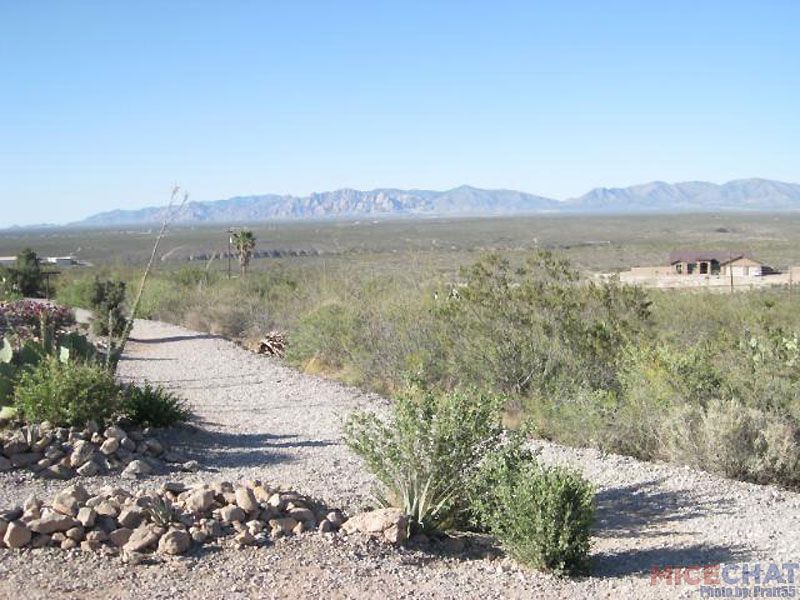 He was right but it didn't matter in 'The End'.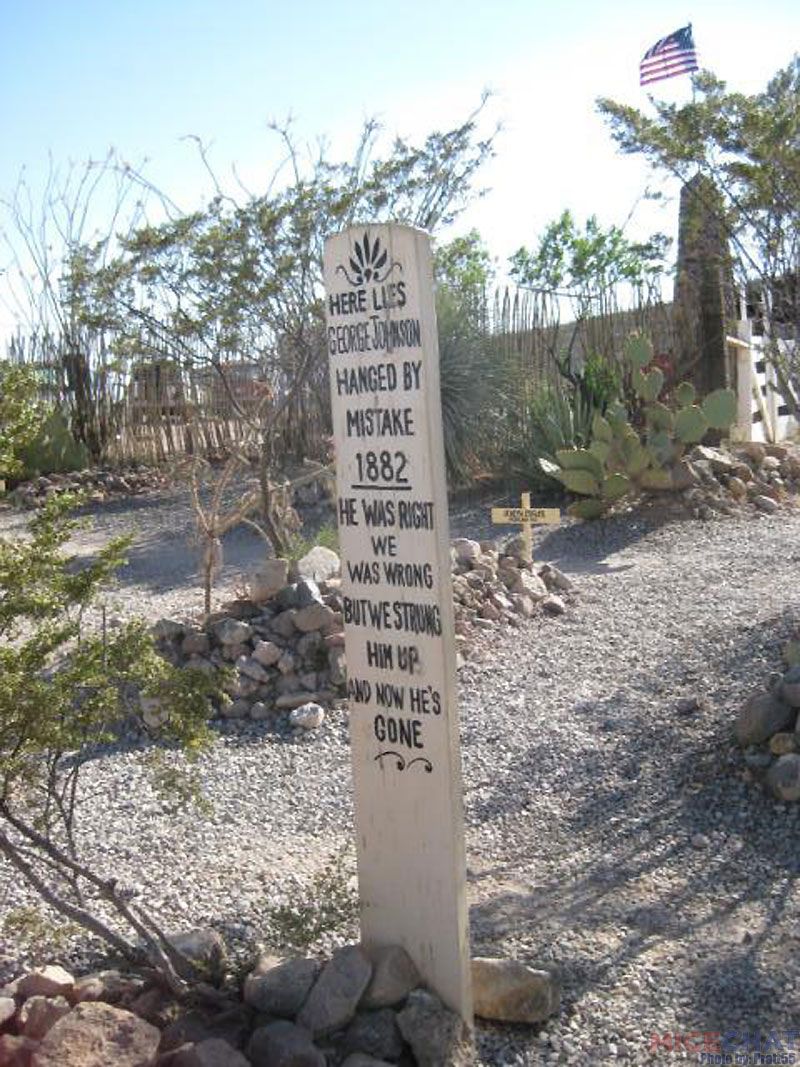 Looking for up-to-date reports from Disneyland
including photos, gossip, park schedules and more?
Visit these MiceChat columns each week:
And that brings us to the end of another week. Our photographers have just enough time to reload their cameras before we see you all again next weekend. Thank you to all of our wonderful readers, and as always, a huge thank you to our amazing team of global photographers, spies, and gossips:
Denise
nbodyhome
Preskitt
(mousesteps.com)
SummerInFL
sir clinksalot
MickeyMaxx
CaptPhoebus
Ian Parkinson and Richard Williams
BigPigletFan
Abominable Snowman
Fishbulb
PhotoMatt
Jack
Hollywood 1939
Wixom
Ken Eslick
(DisneylandPostcards.net)
ichigopara
Your Editor -
Rixter
Our thanks to special contributors this week
Pratt55
and [B]David eh[B].
Where have YOU been recently? We invite you to share your photos of theme parks or any other destination that may be of interest to our readers. Please feel free to contact me via MiceChat Private Message (screen name Rixter)
or send me an email: oceansiderick@gmail.com.
It is readers like you who make MiceChat such a special place.
Don't miss a single one of MiceChat's Featured Blogs (including the Weekend Update). Add our feed to your favorite feed software or site:
Follow us on Twitter