We start the Weekend Update this week with a few photos from
KingEric
's post-holiday visit to Islands of Adventure. That's followed by some vintage images from the collection of
RegionsBeyond
. Our Australian correspondent
Rya86n
has gathered some images of the floods that are devastating that country.
In stark contrast to the flood photos, we get to take a hike in a local nature preserve with
SummerInFL
. And we round out our weekend coverage with a trip report to Calico Ghost Town contributed by
techskip
.
It's just two more weeks until MiceChat celebrates its sixth anniversary. I'm counting the days! Tickets to the two special events are going fast! Watch the MiceChat "
Contests, Meets and Events
" section for up-to-date information on the weekend schedule as it evolves.
MiceChat is turning 6 years old at the end of the month, that calls for a celebration! (We never miss an opportunity to throw a party around here). January 28-30th will be filled with good old fashioned MiceChat fun. Meets and events at Disneyland, California Adventure and beyond.

While most of the weekend is free for you to join in, we do have two very special ticketed events during the weekend that you will simply not want to miss.


MICECHAT WINE RECEPTION
Friday, January 28th from 7 to 9pm at Pop The Cork Wine Bar in the Anaheim GardenWalk
Join us for an evening of fun and drinks with the who's who of MiceChat. Meet Al Lutz, Sue Kruse, Momma, Dustysage, Monorail Man, a host of fabulous columnists and all your favorite Micepals at the very cool Pop the Cork Wine Bar in the Anaheim GardenWalk. Admission is just $12 for this MiceChat exclusive event AND includes your first glass of wine OR soda! There will be a full cash bar and appetizers available for purchase. Make sure to stop by and say hello to your hostess with the whip, Moderator IndianaJenn.

GRAB YOUR TICKETS TO THE MICECHAT WINE RECEPTION HERE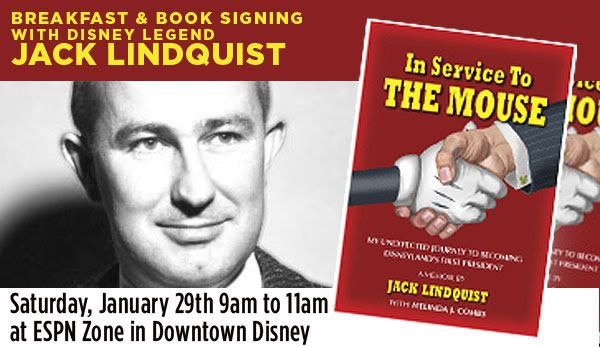 BREAKFAST WITH DISNEY LEGEND JACK LINDQUIST


Saturday, January 29th 9am to 11am at ESPN Zone in Downtown Disney


If you love Disneyland, we've got an opportunity for you to meet a real Disneyland original - Jack Lindquist. Jack was Disneyland's very first president and a man who forever shaped the history of Disney's theme park empire. Now in his mid 80's, Jack has penned a book about his experiences with Walt Disney, famous Imagineers and a host of celebrities and Disney notables. Jack will have copies of his book, In Service To The Mouse: My Unexpected Journey to Becoming Disneyland's First President, available for purchase and signing. While we learn a bit about Disneyland History, we'll also feast on a delicious breakfast at one of Jack's favorite restaurants, the ESPN Zone in Downtown Disney (which is celebrating its 10th anniversary). Breakfast with Jack is just $20 and includes a gift bag with a $10 game card and an ESPN Zone lanyard!

Don't miss this once in a lifetime opportunity to let Jack know how much he means to the Disney fan community -
MICECHAT BREAKFAST WITH JACK LINDQUIST TICKET HERE
KingEric visited Islands of Adventure after the holidays
I took a quick trip over to Islands of Adventure to checkout the post Holiday Crowds, and the progress on Ripsaw Falls.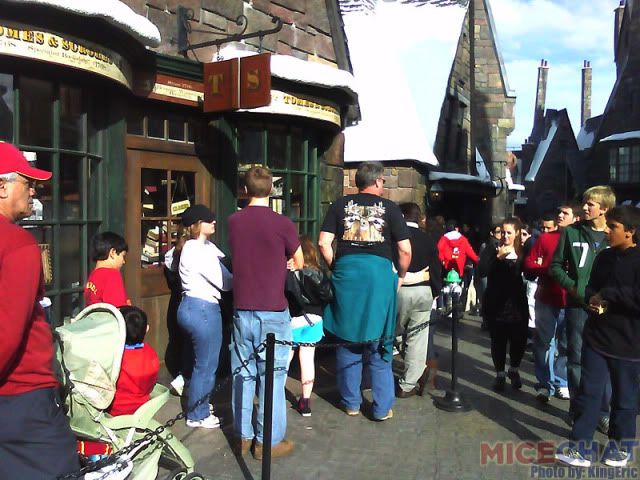 The line for Olivandra's continues even during the non-peak season.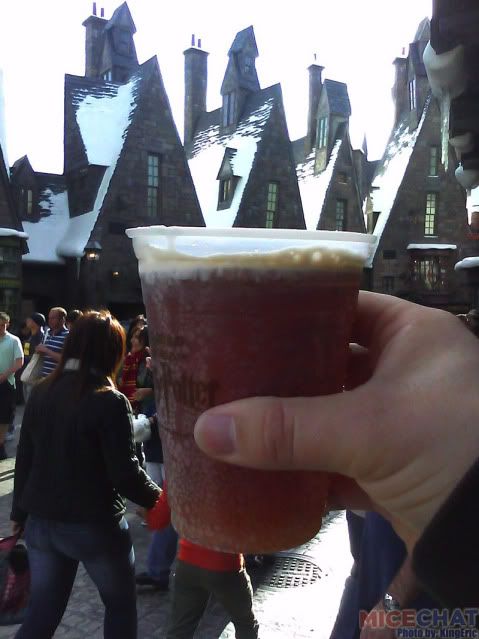 Butter Beer in all of it's Glory!
The Triceratops Discovery Trail is now closed. The reopening is TBD.
Construction walls and a crane now surround Ripsaw Falls.
A great themed sign explaining the closing of Ripsaw Falls.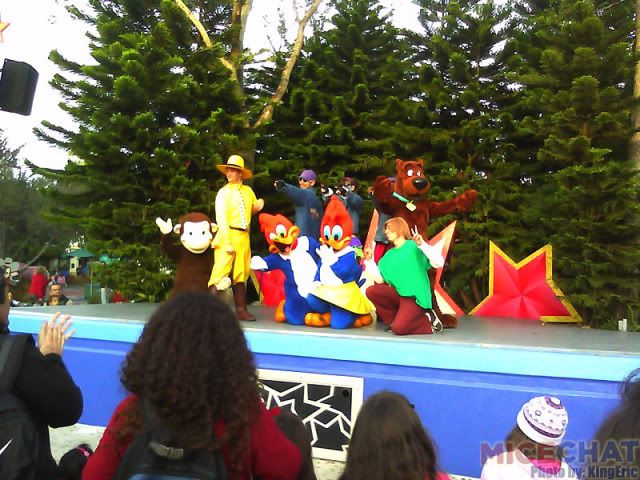 A cute Character performance at the Kid Zone at Universal Studios
Terminator 2 3-D is closed for it's yearly rehab, and has this great themed sign out front.
Retro images from the collection of RegionsBeyond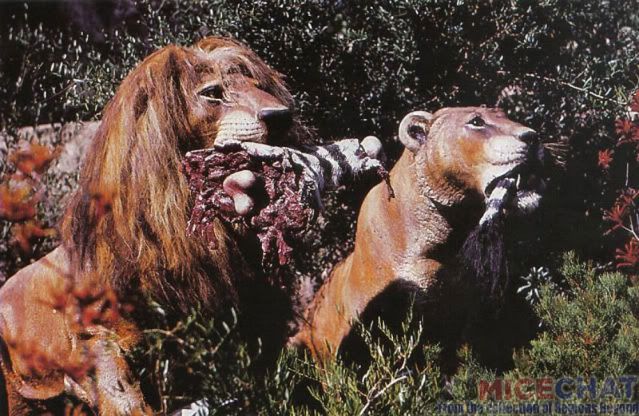 The Jungle Cruise back when skewed slightly more realistic in terms of dangers of the jungle.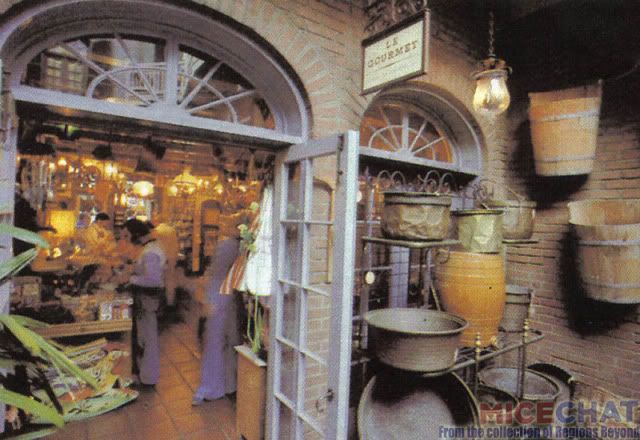 Le Gourmet shop in New Orleans Square, current location of the large Nightmare Before Christmas retail location
A 1950's era view of the parking lot.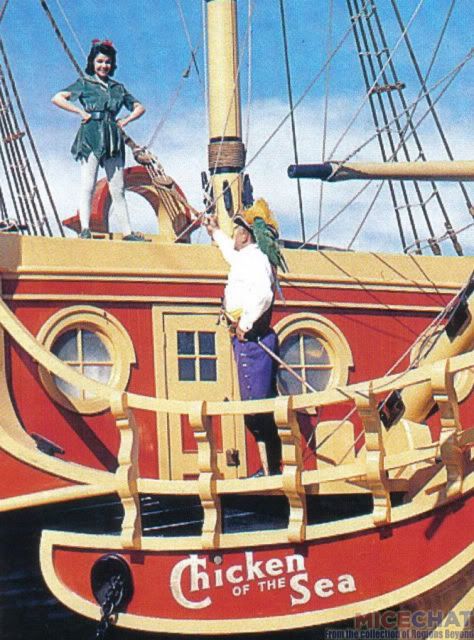 Anette Funicello messing around on board the Chicken of the Sea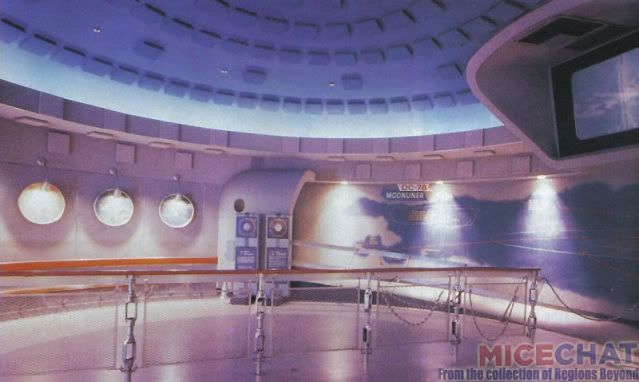 Briefing room for the Rocket to The Moon
Rya86n gathered these images of the devasting floods in Australia
This week I considered a Wet'n'Wild update (it even had a Disney-esque New Year's Eve event with a preview screening of Tangled). but the themepark has taken a back seat as the rest of Queensland has proven to be more dramatically, Wet and Wild!
Over 75% of Queensland was declared a disaster zone on Tuesday after flash flooding in Toowoomba and Brisbane City, where water levels were expected to peak higher than the 1974 floods. Just to put it into perspective, this is an area more than the size of Texas and Oklahoma combined!
Despite constant rain, we've been lucky to keep our feet dry on the Gold Coast. Unfortunately not everyone was so lucky; I thought I'd share some of these unbelievable images from further North.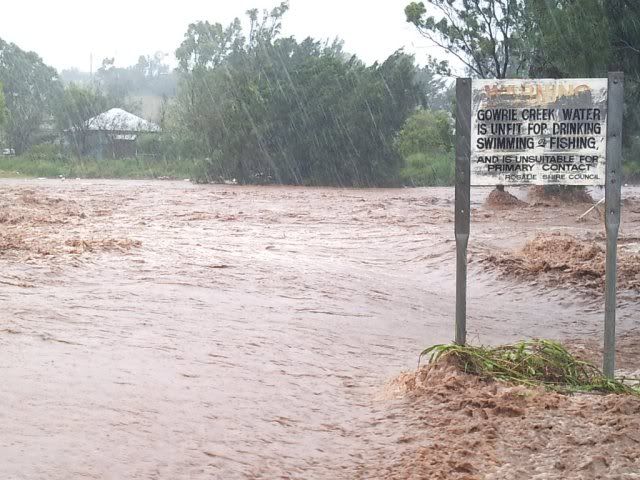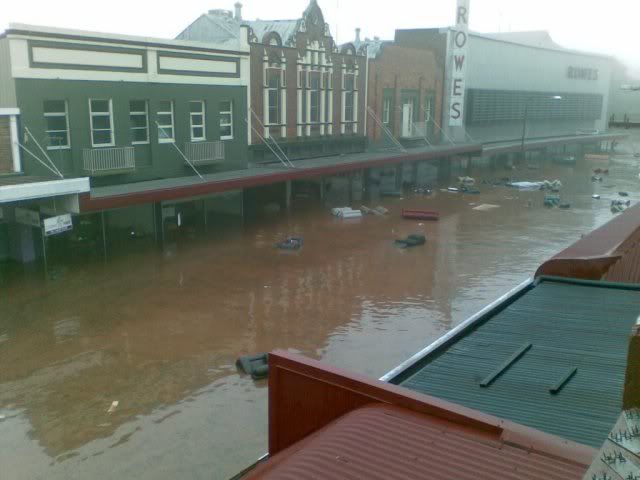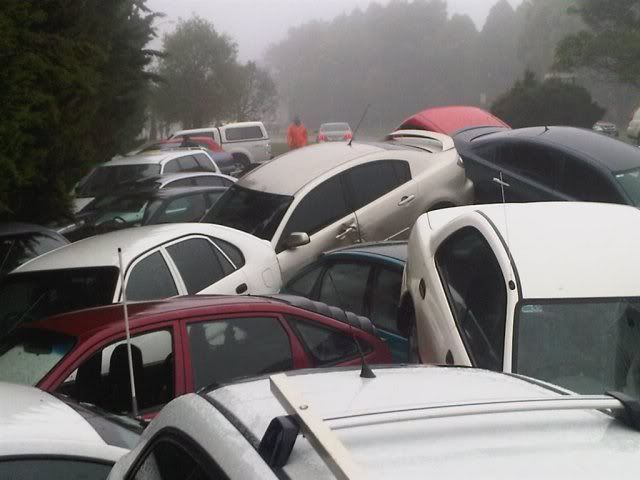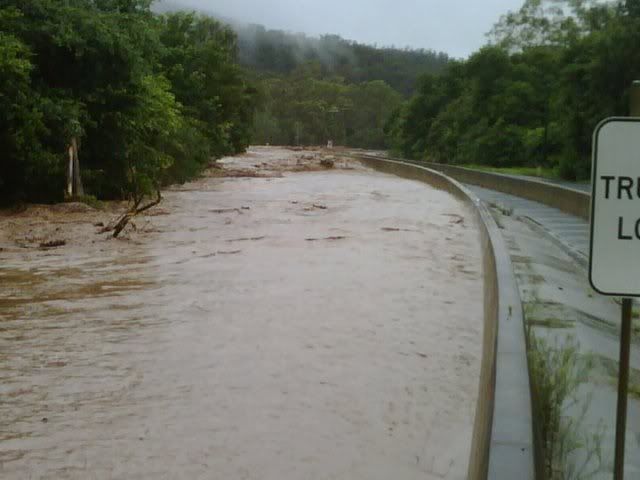 There is a certain errie feeling you get when seeing city streets nearly submerged; its one thing seeing photos, but they don't exactly give you same impression as this:
<object width="480" height="385"><param name="movie" value="http://www.youtube.com/v/kYUpkPTcqPY?fs=1&amp;hl=en_US&amp;color1=0x5d1719& amp;color2=0xcd311b"></param><param name="allowFullScreen" value="true"></param><param name="allowscriptaccess" value="always"></param><embed src="http://www.youtube.com/v/kYUpkPTcqPY?fs=1&amp;hl=en_US&amp;color1=0x5d1719& amp;color2=0xcd311b" type="application/x-shockwave-flash" allowscriptaccess="always" allowfullscreen="true" width="480" height="385"></embed></object>

Days later, the river in Australia's third largest city broke its banks shutting down the CBD, roads and power supply.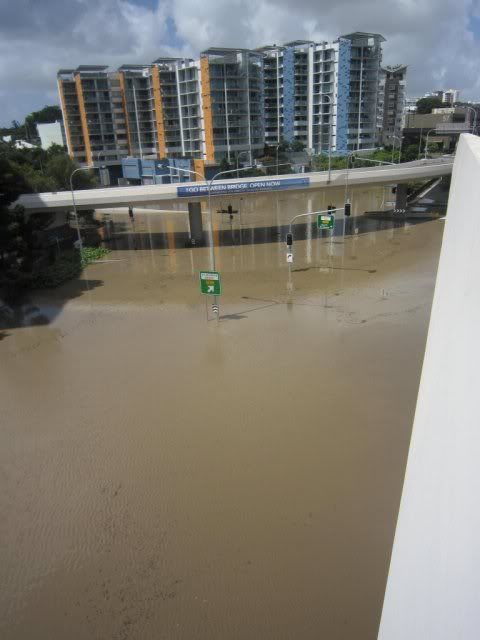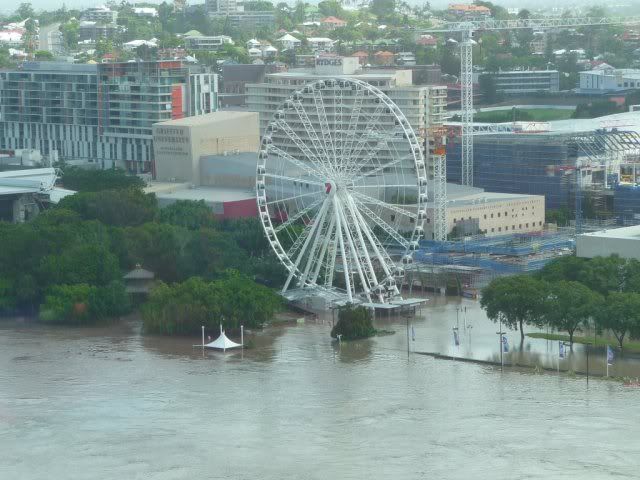 <object width="640" height="385"><param name="movie" value="http://www.youtube.com/v/mANvEa5v-mM?fs=1&amp;hl=en_US&amp;color1=0x5d1719&amp;color 2=0xcd311b"></param><param name="allowFullScreen" value="true"></param><param name="allowscriptaccess" value="always"></param><embed src="http://www.youtube.com/v/mANvEa5v-mM?fs=1&amp;hl=en_US&amp;color1=0x5d1719&amp;color 2=0xcd311b" type="application/x-shockwave-flash" allowscriptaccess="always" allowfullscreen="true" width="640" height="385"></embed></object>
Please consider donating to the flood releif appeal and supporting the Queenslanders and Australians in need.
Hiking in Florida with SummerInFL
We had planned on visiting Weeki Wachee last weekend but when I discovered that the river cruise boat ride was closed, we opted to go hiking at a local preserve instead.
BROOKER CREEK PRESERVE
The award-winning Brooker Creek Preserve Environmental Education Center lies within Pinellas County's largest natural area, Brooker Creek Preserve, and is part of Parks and Conservation Resources.

The Center provides a window into natural Florida through interpretive programs and hikes, educational instruction, exhibits and public outreach activities, presentations and workshops, and other events.

Nestled amid a wetland forest alongside Brooker Creek, the Center is a beautiful, 25,000-square-foot, three-building complex designed in old Florida Pioneer-style architecture. It includes a 6,000-square-foot exhibit area, indoor and out-of-doors classrooms, and an auditorium capable of seating for over 200 people. Art exhibits by local artists are on display on a two-month rotation.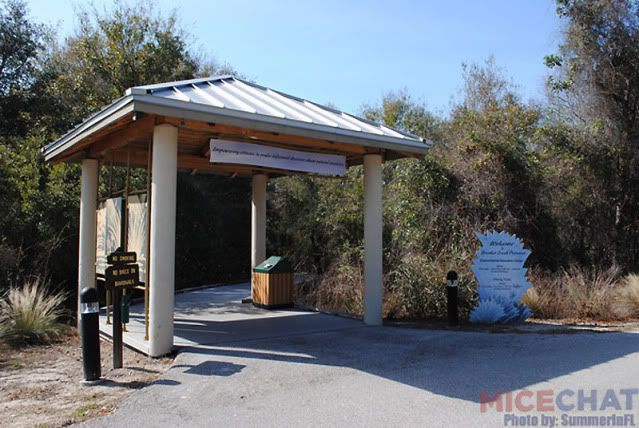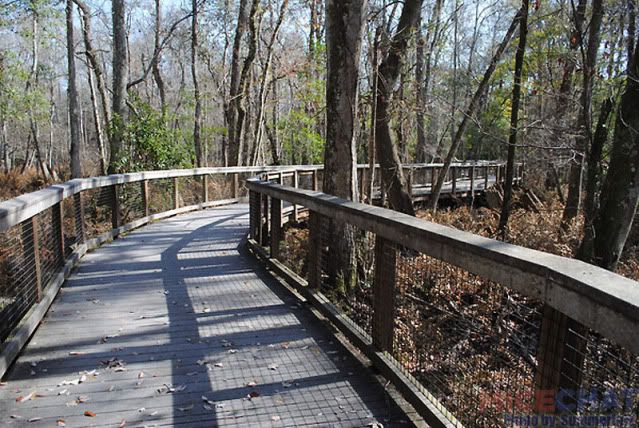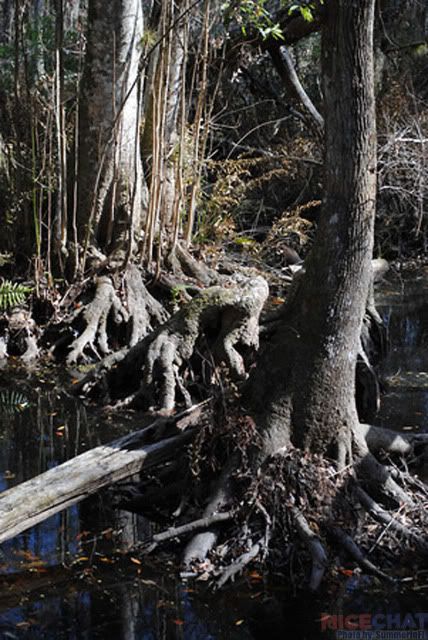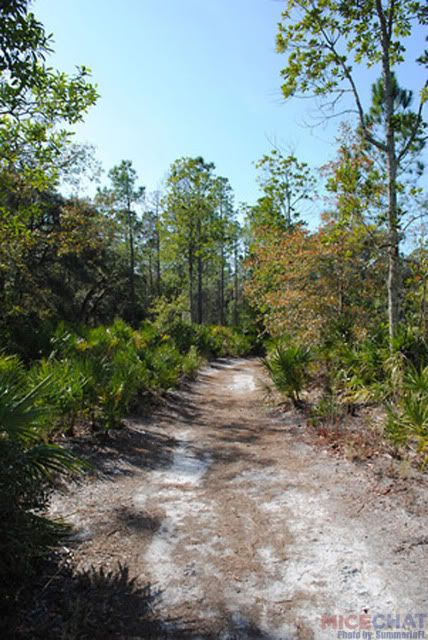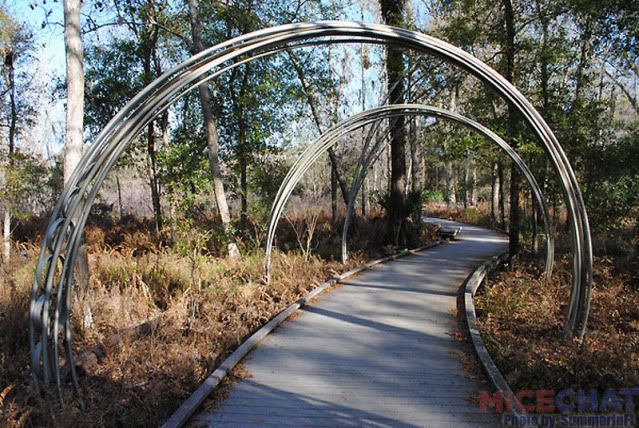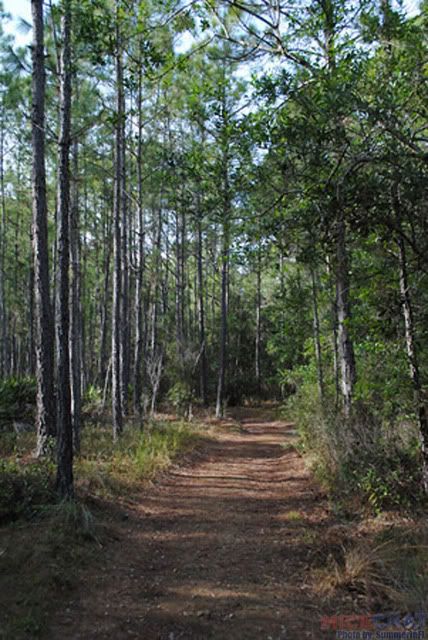 Longtime MiceChatter techskip and family visit Calico Ghost Town
The Calico Run
The week before Thanksgiving, techskip, Tink, and the five little ones, headed to the Barstow area to visit Calico Ghost Town. Ride along, as we get to see an in-depth look at Calico, through the eyes of five little ones, and their parents! Here is some of what they saw.
Calico Ghost Town is way out in Barstow. It is roughly 2hrs from our house. On normal days there is a per person admission. That weekend, Nov 26-28 was a special celebration. To "kick off the holiday festivities" they had combined a heritage festival with the holiday festival. Tink and I had talked about it all week. The price to get in was $10 a car, that alone would save us substantially. Then you add in free gold panning, free mine tour, and free mystery shack... toss in free games and activities for the kids... ok this might work.
Walking up to Calico, finally they realize where we are going. We had to explain what a "Ghost Town" is. The first comment was "Frontierland", followed by "This is like Knott's". They were so excited to see this place.
In case you get lost going down the only main street...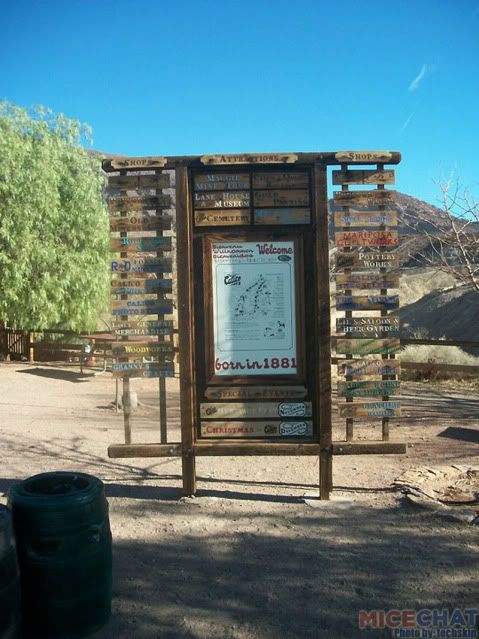 Another shot of that famous sign.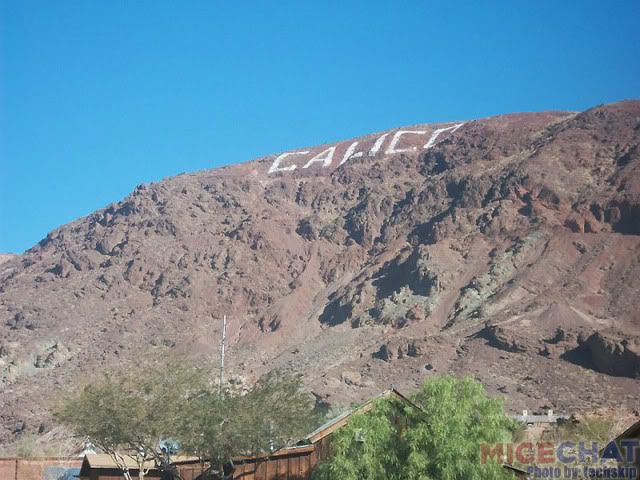 Everywhere you looked Calico was decked out for Christmas. This somewhat reminded me of Frontierland to be honest.
One of many wagons I would see today, this one greeted visitors at the front entrance.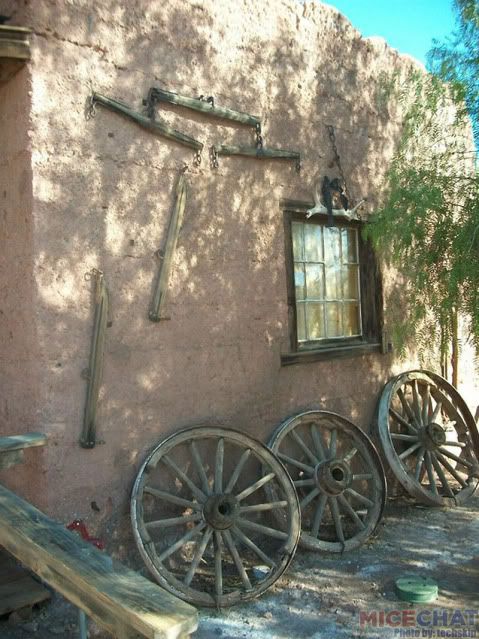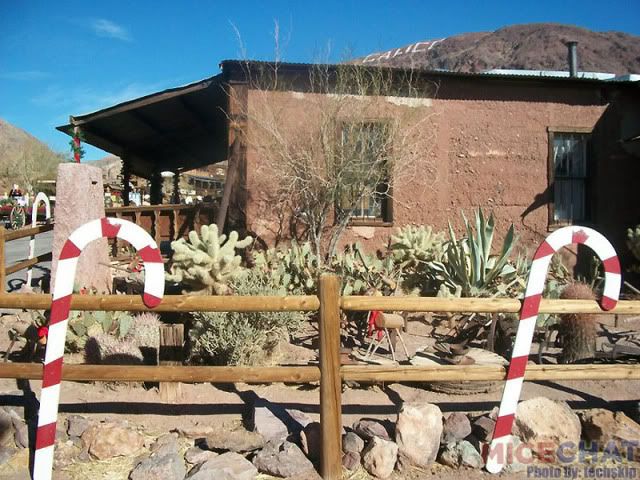 Here is a piece of history (literally). This is the bottom half of a grinding wheel used to break down silver ore
One of many buildings that has fallen to the harsh elements, likely never to be rebuilt.
Ruins of Chinatown. The kids kept playing in the old adobe. This was better then a jungle gym. I did do the customary look over but it was too cold for rattlesnakes.
They kept going room to room asking who lived there and what they did. Lots of history to this place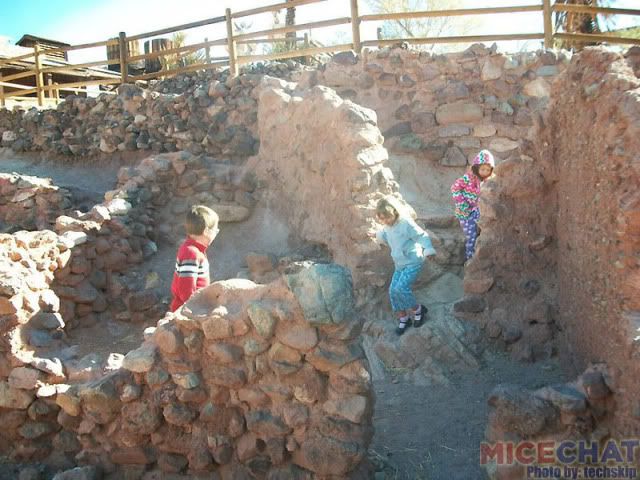 And just as I was about to say something the kids heard the whistle blow and I was surrounded by kids wanting to go on the mine train. I didn't bother taking a picture of the locomotive (not much to look at) but I finally agreed to the train. It was one of the only attractions we had to pay for.
The train did offer a historical narrative. It explained that there was once over 50 saloons on Main Street, how there was a family neighborhood outside of the "main strip" and how the town was easily 5 times the size of the current remains.
An old ore car.
This was a donkey powered ore buster... the grinding wheel we saw earlier they believe may have been steam powered (no running water in the area and too heavy for donkeys etc.).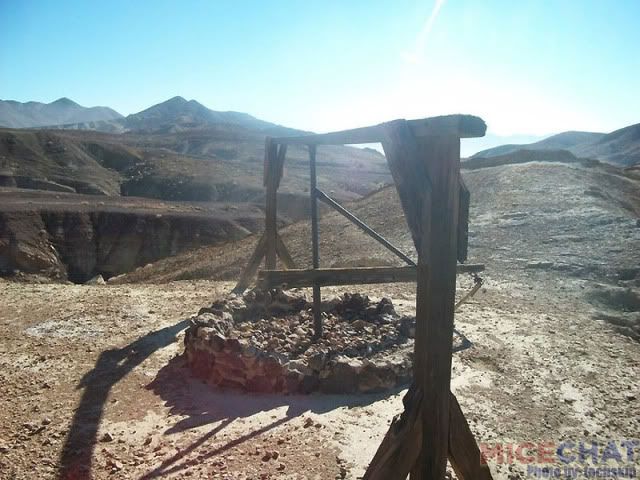 The self guided "mine" tour was free today, may as well look around!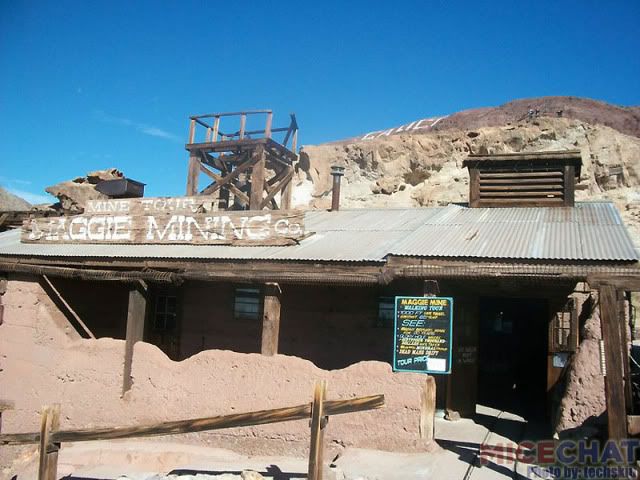 A bellow used to ventilate the air in the mine.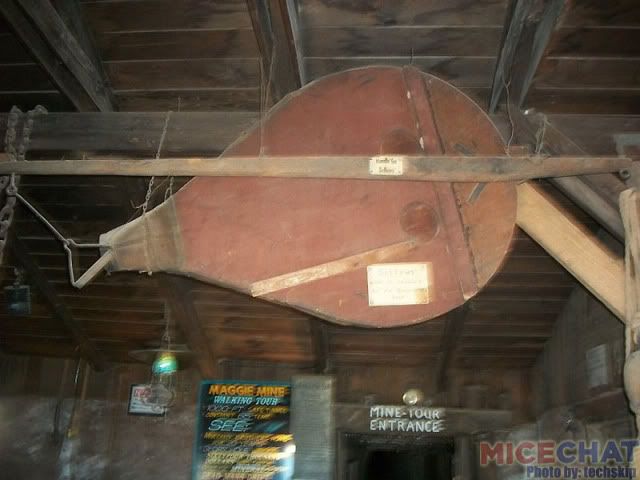 Ore car.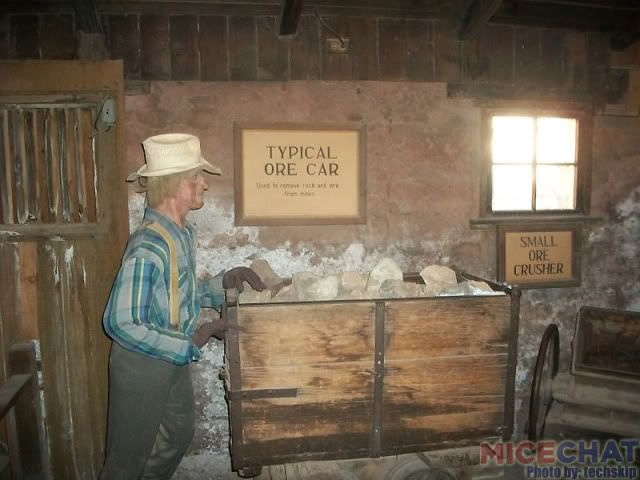 In we go... with the kids making the walls echo from pure excitement.
Considered the "glory hole" of mines, this was the record breaker the first couple years. Calico was based on silver mining.
This was right next to the exit. It is a constant reminder that there are mines EVERYWHERE in the hillsides and not to venture in to them. A lot of the mines are unstable because of earthquakes and wood rot.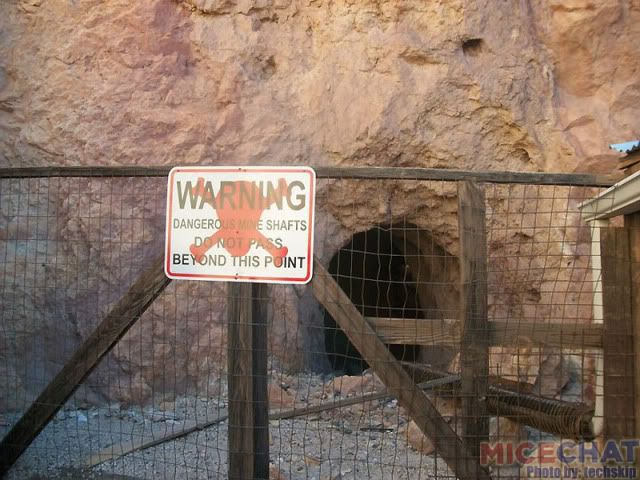 Calico from the top.
Another miner's cabin built into the rock face.
The Calico bottle house. Bottle houses were not unique, as miners would use anything lying around to make a cabin out of. This is actually a replica but according to Ms Lane there was at least one bottle house in Calico.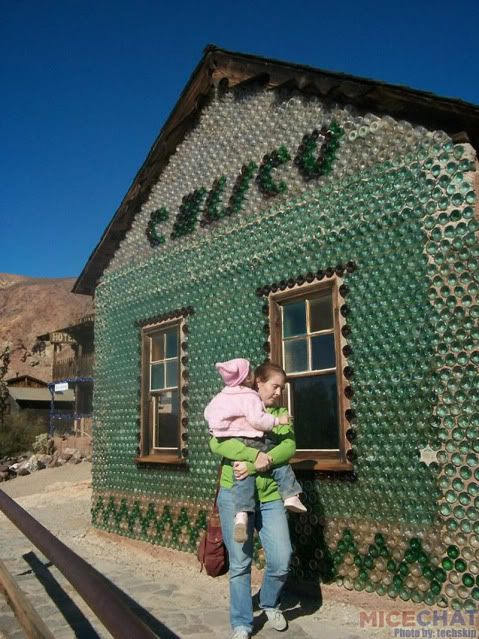 Sadly some of the bottles have fallen victim to vandals, but at night they light the cabin from the inside and it is beautiful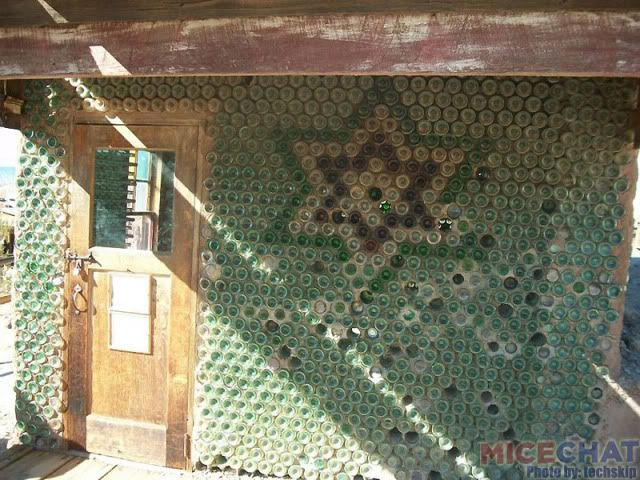 Wagons.
While the kids were playing I decided to look around the Chinatown ruins. I couldn't believe it...this is a fireplace (verified by the chimney hole on top). Wow... a part of history right in front of me.
There you go Steve... something steam related. This may have been the "engine" for the ore buster, no one knew for sure. There is a much larger replica of this at Big Thunder Mountain at Disneyland.
Walter Knott grew up in Newburry Springs (down the road from Calico). As a boy he spent time in Calico. As a businessman he decided to buy Calico, and then rebuild as much of it as he could. He felt that the history needed to be saved. He knew Ms Lane personally, and his workers who were in Calico looked after her. Her house was the only piece of property that Knott did not buy. He wanted her to be comfortable, to have free run of the town, and most important he wanted to make sure her experiences were recorded. Shortly after she died he donated Calico to San Bernadino County on the condition that they preserve the town for future generations.
It is a landmark, it is a piece of history that was very close to being lost to the desert.
Most importantly it is here, and will remain here, for future generations to learn about the past. It survived because Walter Knott cared enough to make sure it survived. I wish Cedar Fare would require upper management to spend a day in Calico before taking up their respective positions at Knott's Berry Farm. This is a legacy left by an amazing man.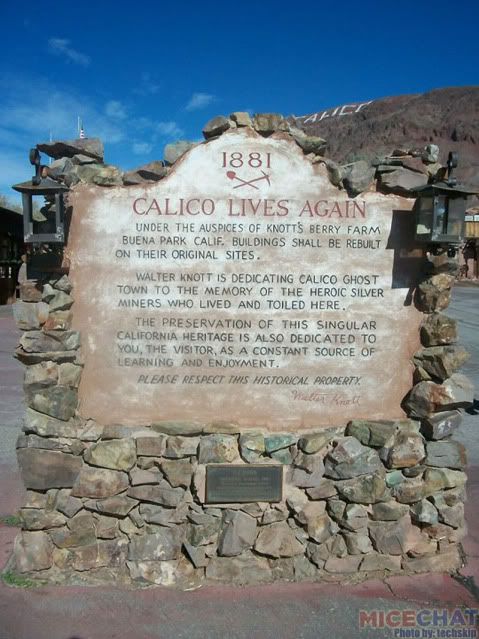 Another part of the heritage festival was learning to make rope.
The "machine" didn't always work (this one unwound) but that didn't matter to us. The point is the kids were learning things you don't learn in books... this was an experience.
With wood structures everywhere this was sort of important...
I wish that they would have had this running for a demonstration (I have seen demonstrations before). However water is in short supply in the desert. A lack of water was given as the reason a lot of buildings burned down (dirt was often used to combat fire as well). Likewise, bad water was blamed on a lot of deaths at Calico.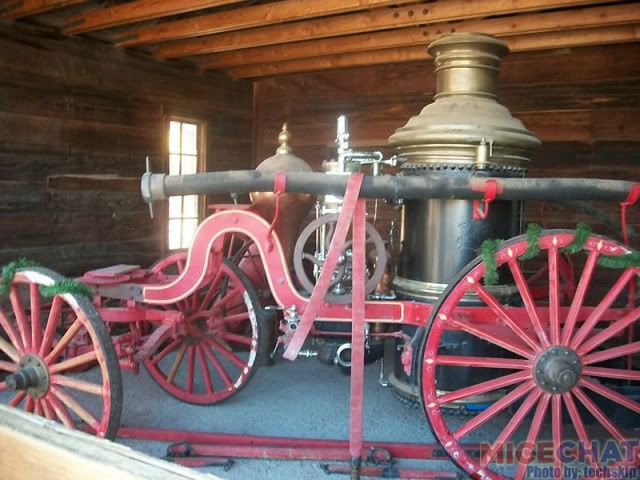 This cabin was built under a natural overhang.
I'm sorry... but if I had to walk to school I'd love to have a bridge like that. I plan on printing this and showing the kids when they're older... see... you ran TO a school!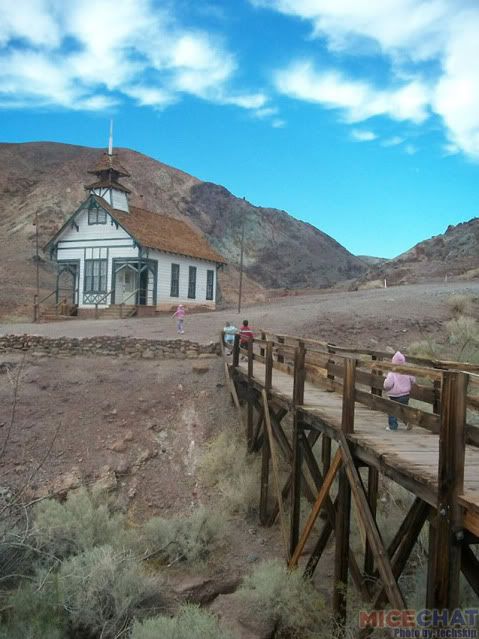 Had to play tourist and have them in the desks.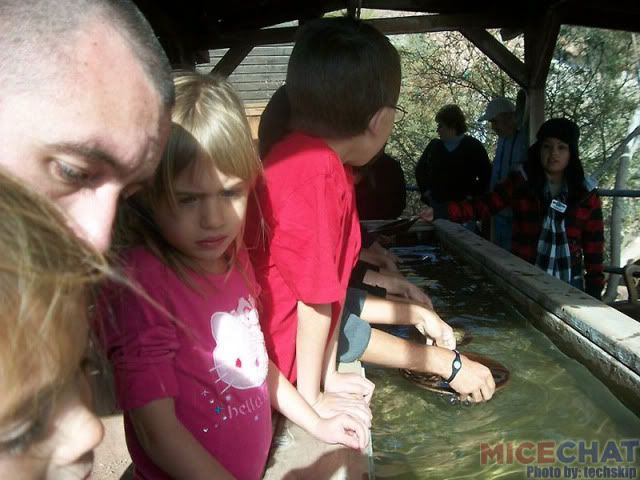 They were very very careful. Several times I had to encourage them to "spin harder". They were afraid they would loose the gold if they spun it too hard. I kept hearing "look Daddy" as they pointed at the flakes. It's pyrite (due to gold prices) but who cares... to them it is real gold! They get a ziplock bag at the end with their flakes in it.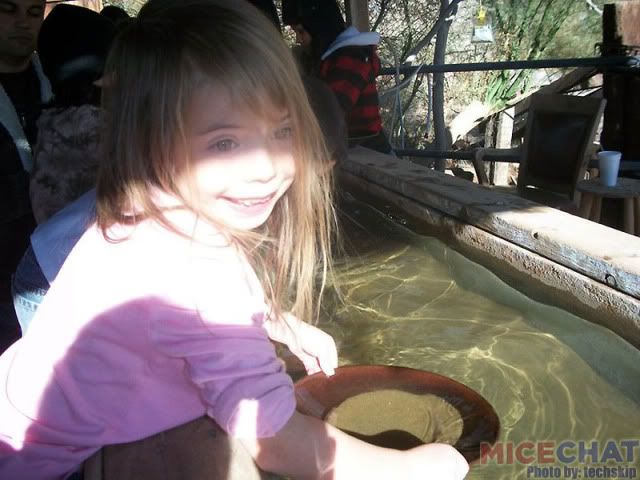 Just like Knott's, there is a working blacksmith. This one loved to interact with the kids.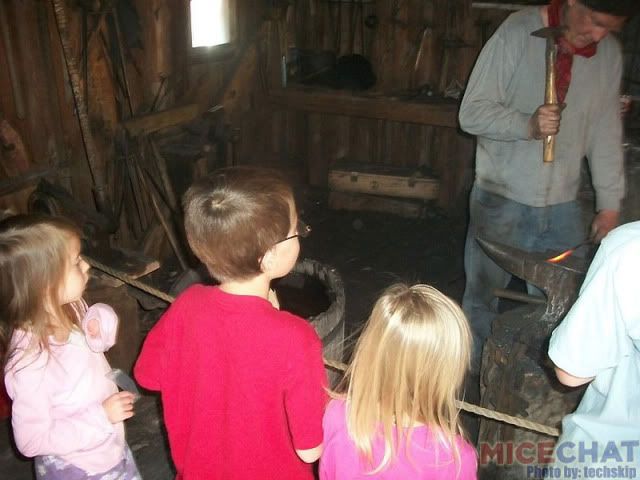 He would explain the fire, and the iron, and everything else except what he was doing. At one point he asked if a kid would sing a song for something. Our girls did a duet of Twinkle Twinkle Little Star that brought the house down... very proud... and the blacksmith gave them each a small horseshoe as a reward. Big brother also got one for helping out. The blacksmith refused any sort of tip.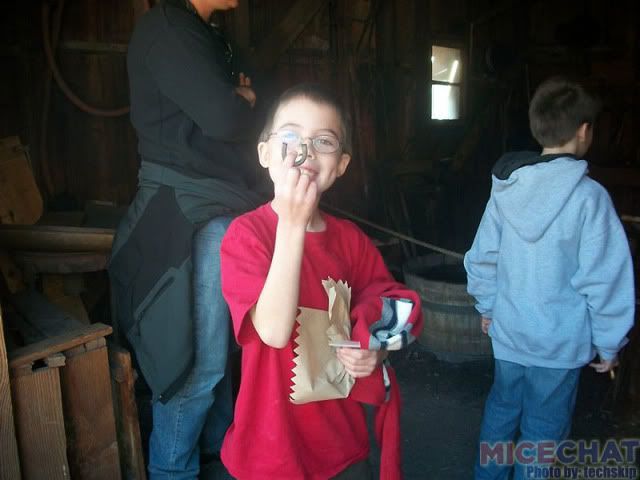 For those old enough to remember, Knott's once had a Mystery Shack (called the Haunted Shack if I remember). It was a bit larger then Calico's and sat where the current swings are now (across the tracks from Ghost Town). This version is smaller, but a LOT of fun!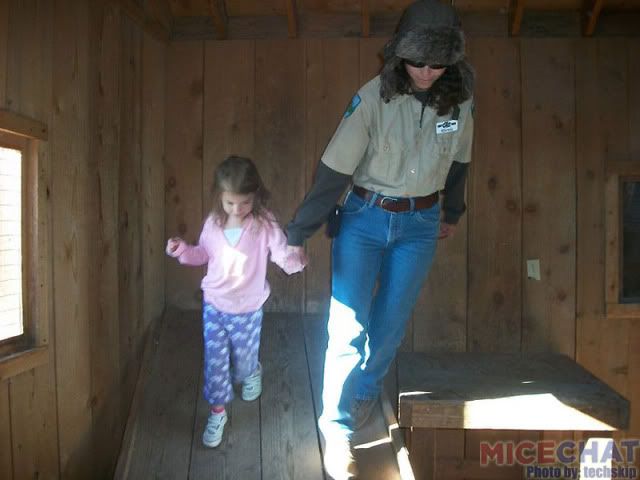 We had thought the sign was a joke but the barber assured us it was only a quarter (and a tip if you could).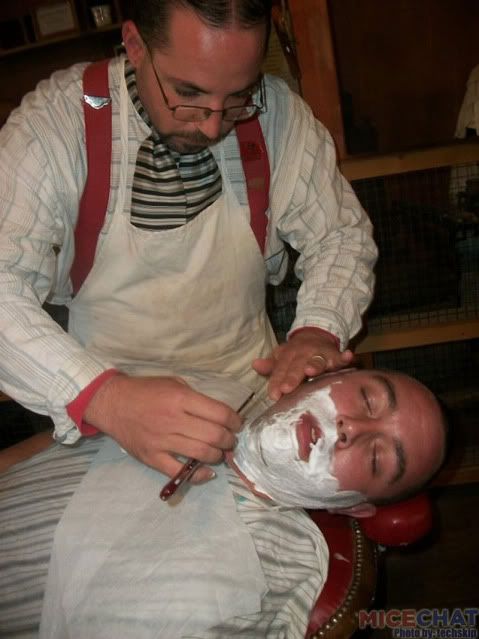 His name is "Kevin the Barber" and he does all the festivals at Calico. He also teaches at the barber's college. There is NOTHING like the feel of a straight edge shave, hot towels, a brush and aftershave. It was incredible. I tipped him what we had. He has 5 kids... so seeing our 5 made him laugh and smile. I have no idea how he was able to do it with the kids standing about but man was it amazing!
Not exactly a sleigh but the kids didn't care. Here was Santa right in front of them at Calico. Santa was only there on this day for the tree-lighting which for us was very lucky. Because remember we had planned to be there yesterday, not today!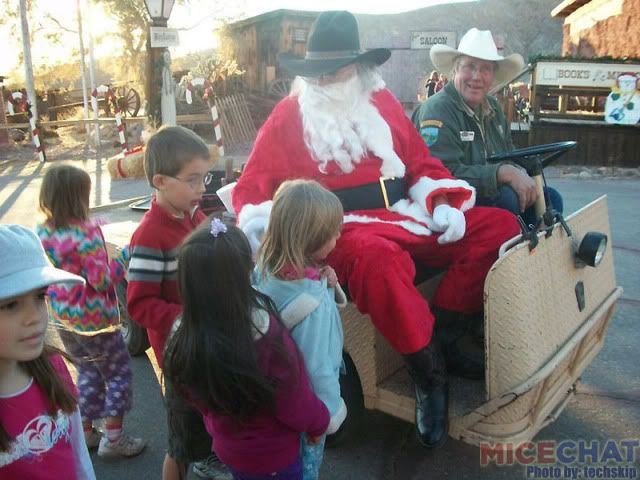 I had to wake two of them up for this photo... but there was no way I could leave and not let them take a picture with Santa!
The sun was starting to set on some of the rocks so I asked Tink for a favor. I wanted to see the cemetery but I didn't want to drag the kids over there to do it. She agreed to let the kids listen to the holiday concert while I made the walk over. Future reference... it is easier to drive then to walk to the cemetery as it is farther then it seems...
I had hoped to walk among the graves and pay my own respects to the men and women that made this place home. Unfortunately the cemetery has been locked up for some time due to recent vandalism (explained by a local who was camping that weekend).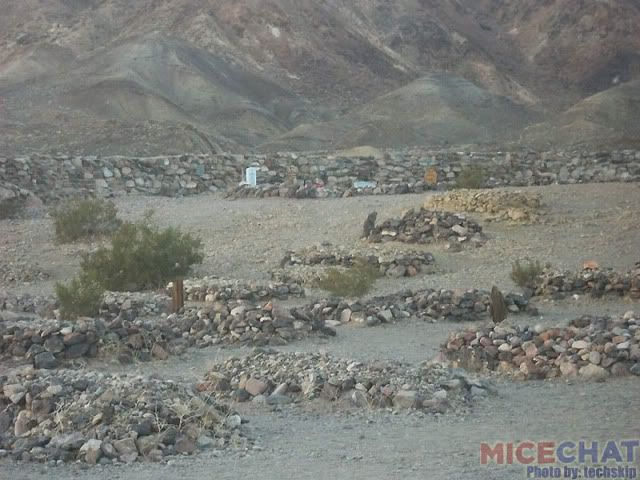 The original "plan" was to spend part of Black Friday a Calico. To make a trip out in the morning, spend the afternoon, come back in the evening. Had it not been for the traffic on the 15 that is exactly what we would have done. As it turned out we spent the night, and then an entire day at Calico. We left before the tree-lighting because the kids were tired... but they had an amazing day!
Seeing how much Knott's has changed over the years makes me sad. Walking through Calico reminds me of how Knott's used to be. It is a legacy that Walter Knott insisted on... and it brought his Ghost Town into perspective. Disney built Disneyland because he loved the steam trains... It could be argued that the first thing Knott really built up on his farm was the Ghost Town! The "excuse" I had often heard was that people were lining up for the chicken dinners and he wanted to give them something to do!
Sunset at Calico.
You can read techskip's complete trip report here:
The Calico Run
Looking for up-to-date reports from Disneyland
including photos, gossip, park schedules and more?
Visit these MiceChat columns each week:
And that brings us to the end of another week. Our photographers have just enough time to reload their cameras before we see you all again next weekend. Thank you to all of our wonderful readers, and as always, a huge thank you to our amazing team of global photographers, spies, and gossips:
Our thanks to our special contributor this week,
techskip
.
Where have YOU been recently? We invite you to share your photos of theme parks or any other destination that may be of interest to our readers. Please feel free to contact me via MiceChat Private Message (screen name Rixter)
or send me an email:

[email protected]

.
It is readers like you who make MiceChat such a special place.
Don't miss a single one of MiceChat's Featured Blogs (including the Weekend Update). Add our feed to your favorite feed software or site:
Follow us on Twitter