Countdown clocks are ticking all over the MiceChat universe. By this time next weekend, the official
MiceChat Sixth Anniversary festivities
will have begun. This will be the fifth such event I will have attended and I look forward to visiting with many of my MiceChat peeps that I see only once or twice a year.
MickeyMaxx
shares some photos from last year's event to whet the appetite of those of you who haven't yet made plans to join us next weekend.
Every year, our fearless leader
Dustysage
and his
Special Events Crew
strive to create a unique event that will top all of the previous anniversary parties. This year they have really outdone themselves. The Friday night reception at GardenWalk promises to kick off the anniversary weekend with a bang. That's followed the next morning by an event that I'm sure MiceChatters will be talking about for years to come. You have until Monday to purchase tickets for the Saturday morning breakfast at ESPN Zone with Disney Legend
Jack Lindquist
. I will be attending both of these events and I hope to see many of you there.
We're starting out the Weekend Update with additional photos of the Haunted Castle at the Santa Cruz Beach Boardwalk. After we ran the photos from
RegionsBeyond
, we were contacted by the guys who actually created this new vision of an old Beach Boardwalk favorite. This week they share some great photos from inside the ride with a promise of more photos of their other work to come in future weeks.
Penguins in Australia may sound counterintuitive, but
Rya86n
found a Penguin Encounter exhibit at SeaWorld Australia. The penguins certainly seem to be happy in the photos. Come to think of it, I guess this is no stranger than penguins in Southern California.
RegionsBeyond
took a trip to a post card show last weekend, so we have some new vintage post card images to share and
MickeyMaxx
's anniversary photos round out the column this week.
I hope to see you next week – at the parks or here at the Weekend Update.
Here's more on the Haunted Castle at the Santa Cruz Beach Boardwalk from the ride designers themselves
We would be happy to supply you information on any of our projects. *We also designed Neptune's Kingdom and The Cave Train Adventure up in Santa Cruz. *We are just celebrating our 30th year in the business and have probably created alot of Parks and Attractions you are aquainted with. *We are somewhat unique in that we are a two man company and do all of the design from concept thru sets, lighting, audio etc. ourselves.

Attached here are some of our photos of the Haunted castle including one with us by the car during construction. I am also sending you some information sheets on some of our projects and a client list. We are also big Theme Park enthusiasts and have done alot of work with Santa Cruz, Kennywood, Lake Compounce and Rye Playland as we appreciate the history of the business and enjoy working on these historical parks. *We can supply photos and design/construction photos of any of these projects and attractions you may be interested in.

We'll look forward to contributing to your column!

Best Regards,

Rick Bastrup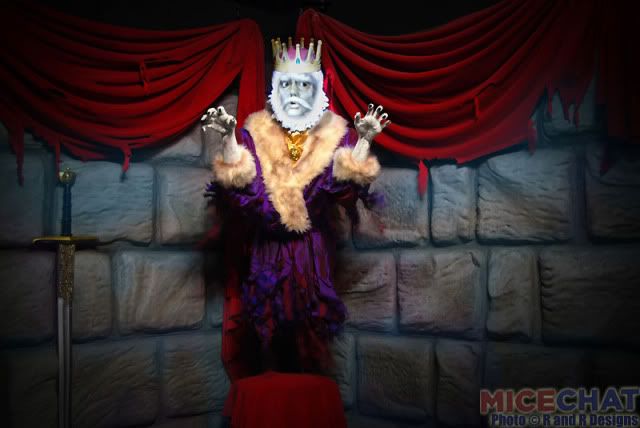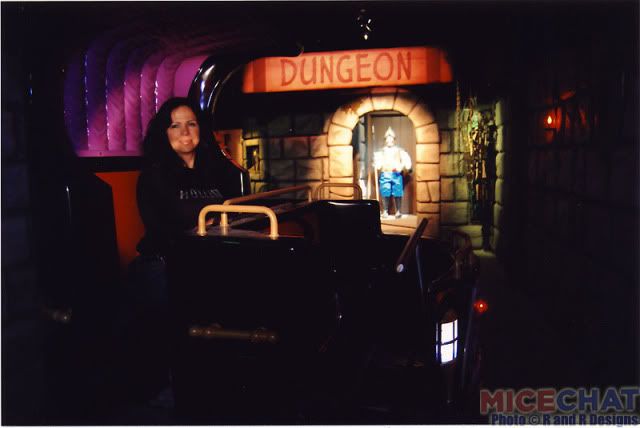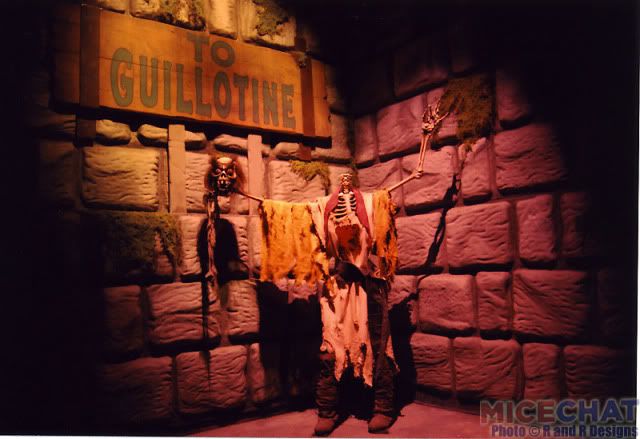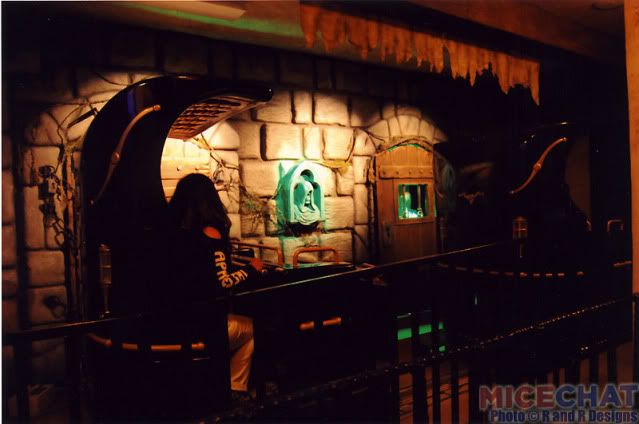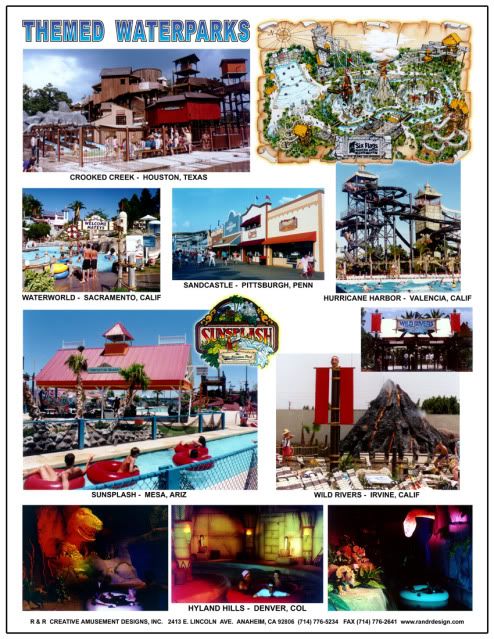 Rya86n brings us photos of Penguin Encounter at Seaworld Australia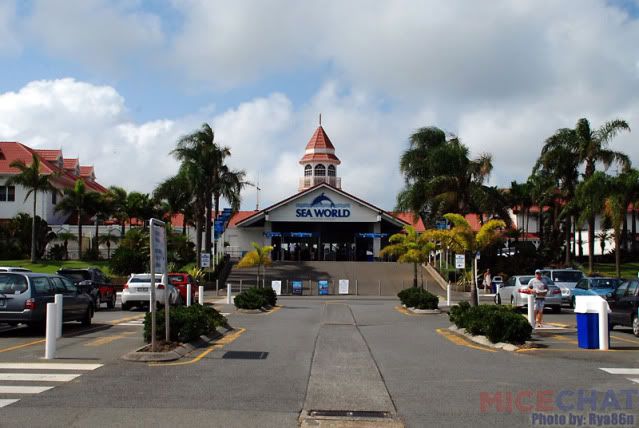 Seaworld Australia recently launched a new attraction.
Penguin Encounter.
The new building is large and impressive.
As the name suggests its home to a Penguin exhibit; the second Penguin based exhibit at the park.
This new exhibit is home to the world's second largest penguin species, the King penguin, as well as the agile Gentoo penguin with its distinctive bright red bill.
There's plenty of information in the Penguin Learning Centre.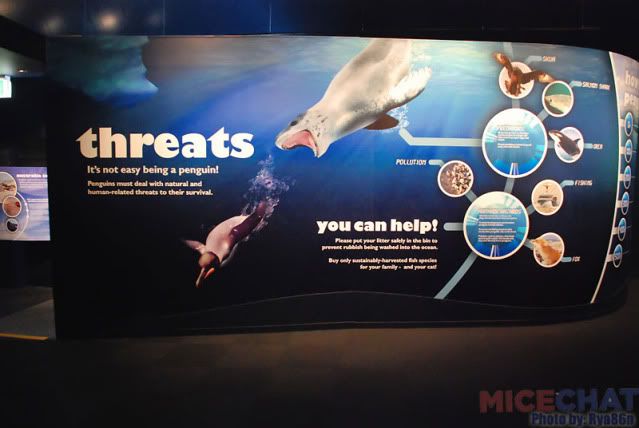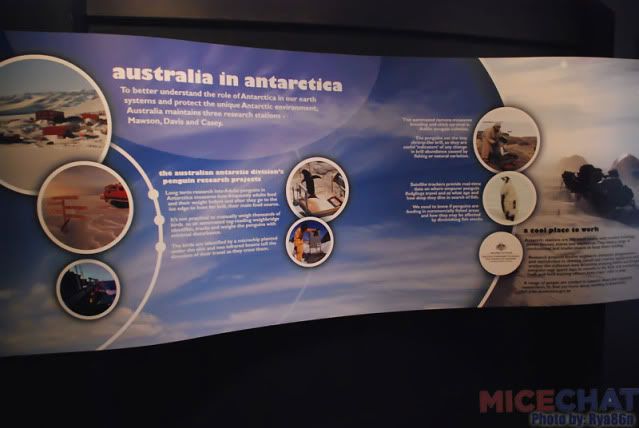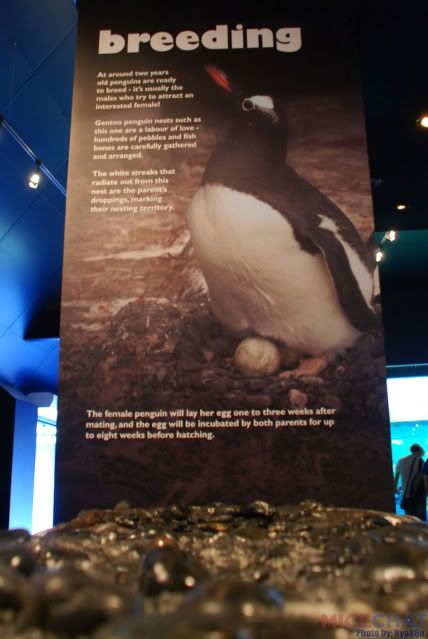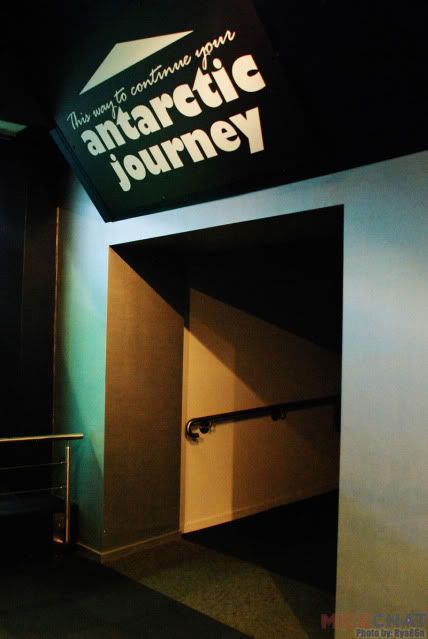 But the highlight of this attraction...
...is in custom built enclosure with icy rock formations and a crystal clear pool.
The Gentoo Penguins are very keen on the crowds and attention.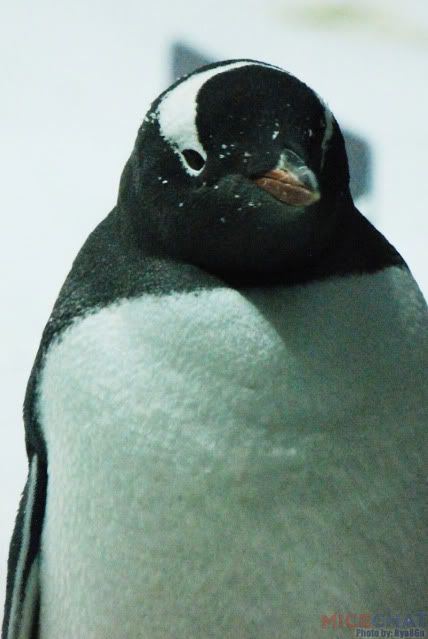 With
Happy Feet 2
well into production; this little guy was preparing for the
Happy Feet 3
auditions.
Below the surface, an underwater viewing area allows guests to witness the agility and grace of the King penguins.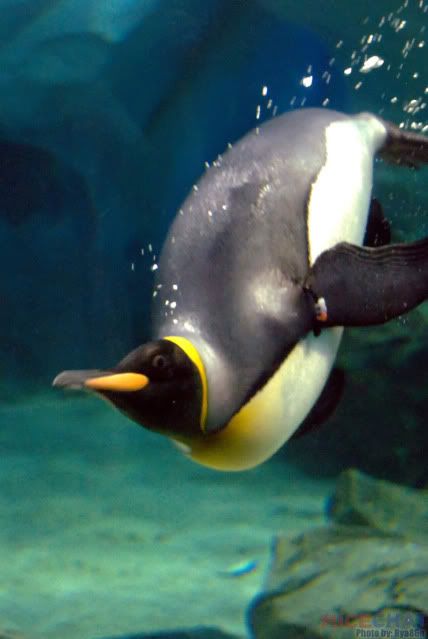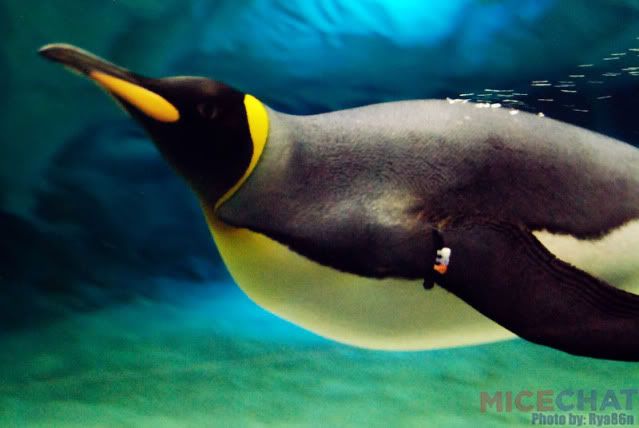 Sea World is now the only place in Australia where you can see King, Gentoo and Fairy penguins in the one location.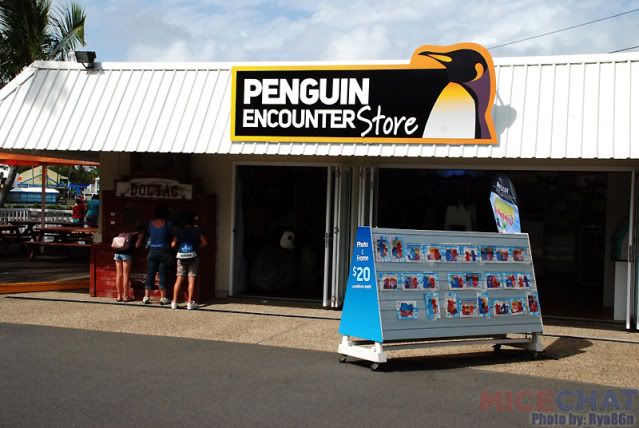 And what theme park attraction would be complete without a storefront?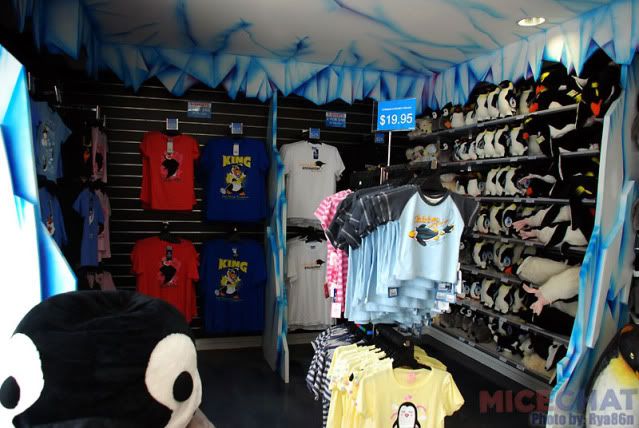 More vintage post cards from the collection of RegionsBeyond
Went to a postcard show on Sunday.
Norma Shearer as Marie Antoinette at the now-closed Movieland Wax Museum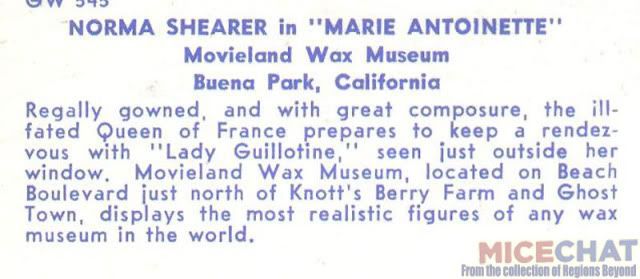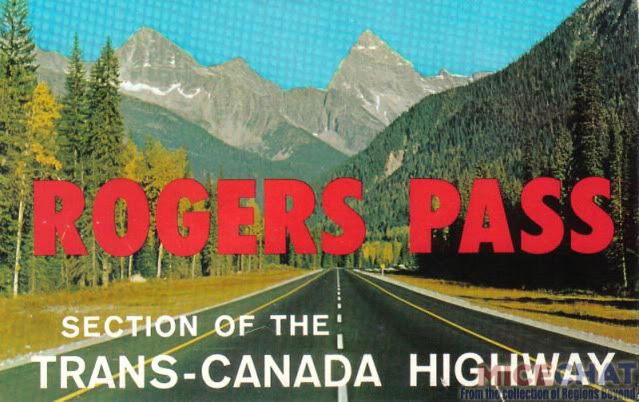 This card has no back description, owing I imagine to the famous nature of the Roger's Pass section of the Trans-Canada Highway

And the card back: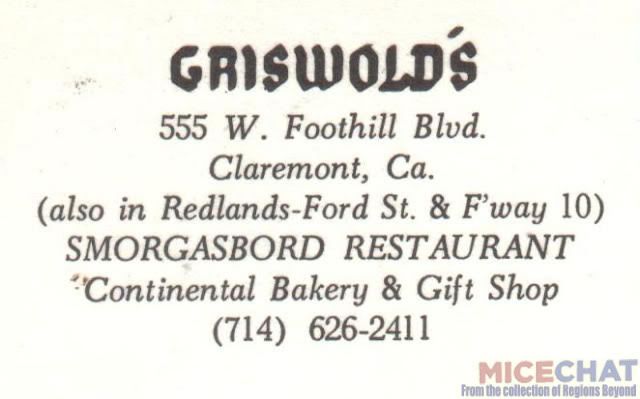 Fearsome fictional cryptid beastie, the Hodag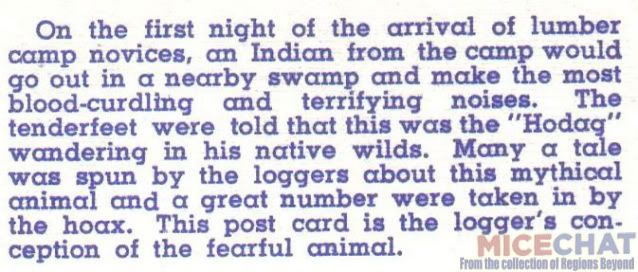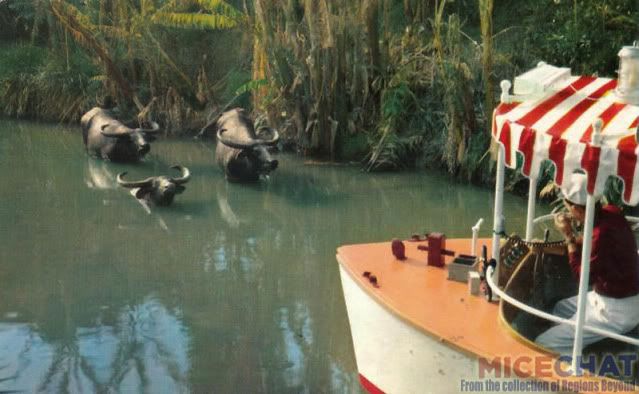 An early Disneyland card depicting the Jungle Cruise, sadly lacking any back text description.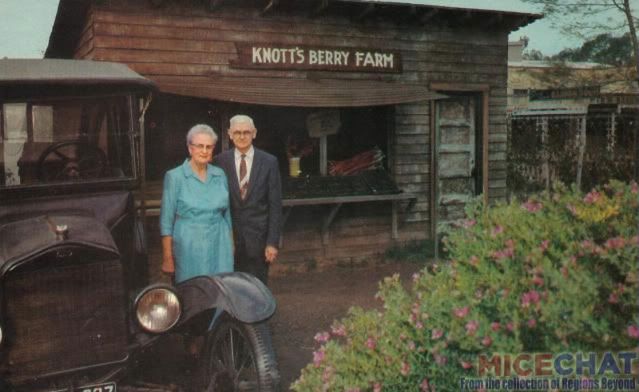 Only one week until the spectacular MiceChat Sixth Anniversary Celebration!
What follows are some photos of your fellow MiceChatters having fun at our Fifth Anniversary Party last year.
DAY ONE: CALIFORNIA ADVENTURE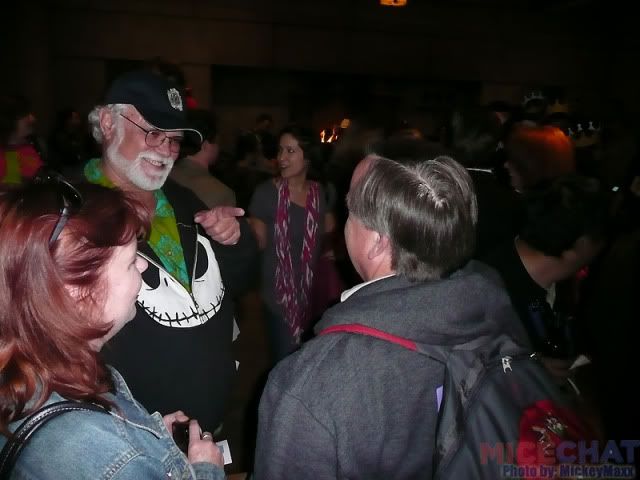 Mary Read, mcow1
Abominable Snowman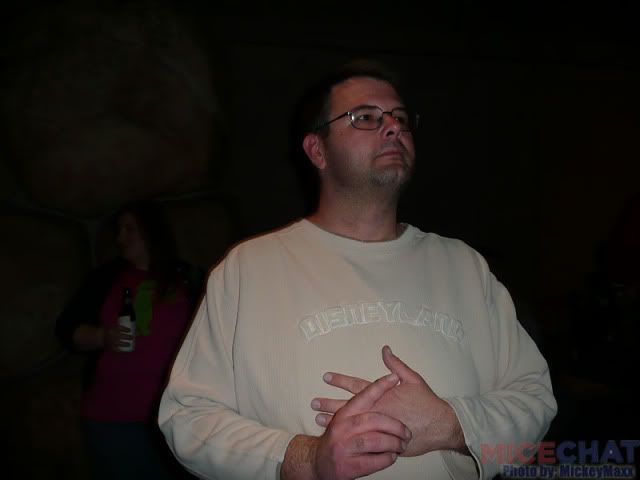 cmpaley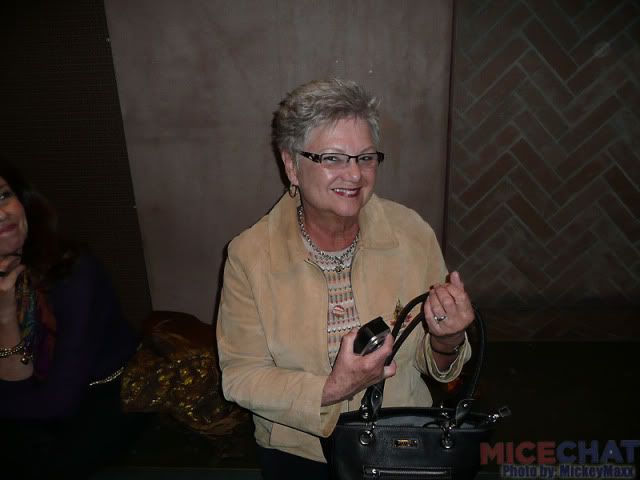 coachnancy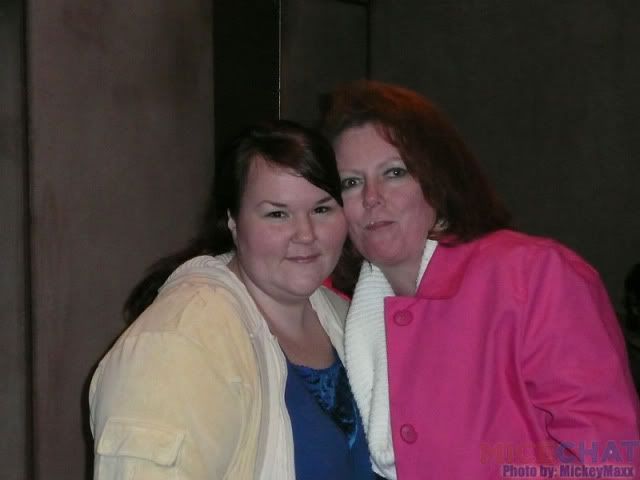 Disney1978, Pratt55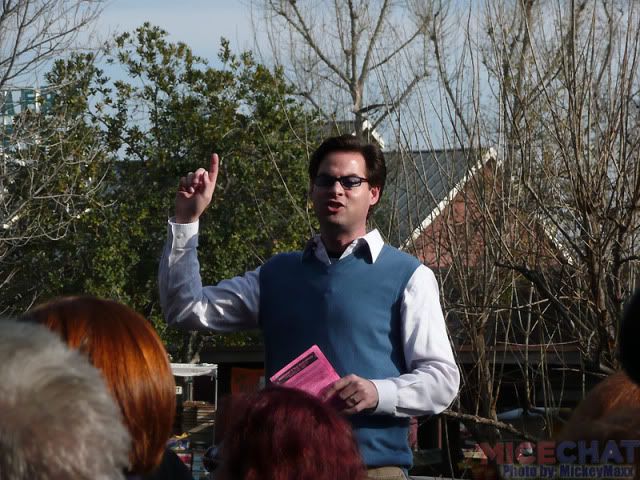 Dustysage
Dustysage, Circarama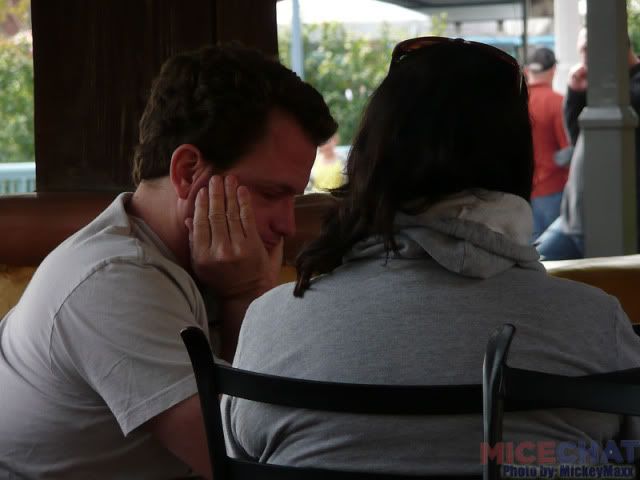 Fishbulb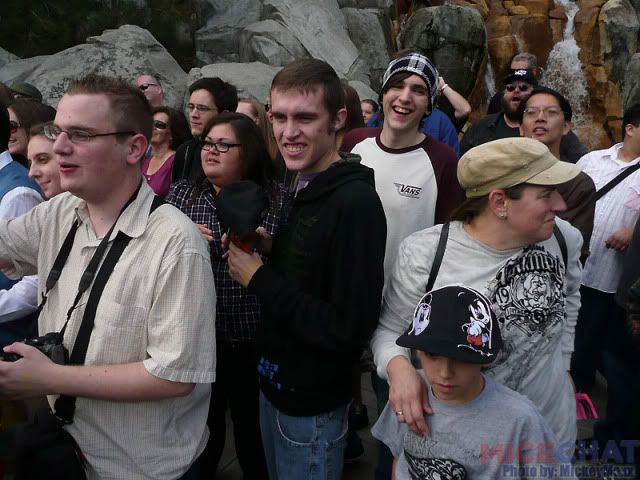 Group Shot
IndianaJenn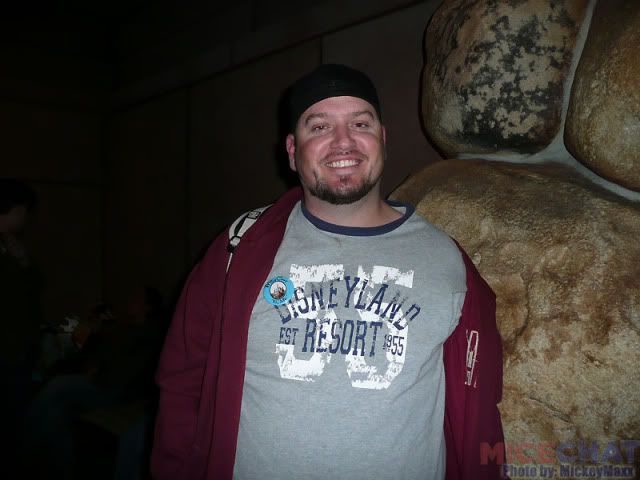 Joshnya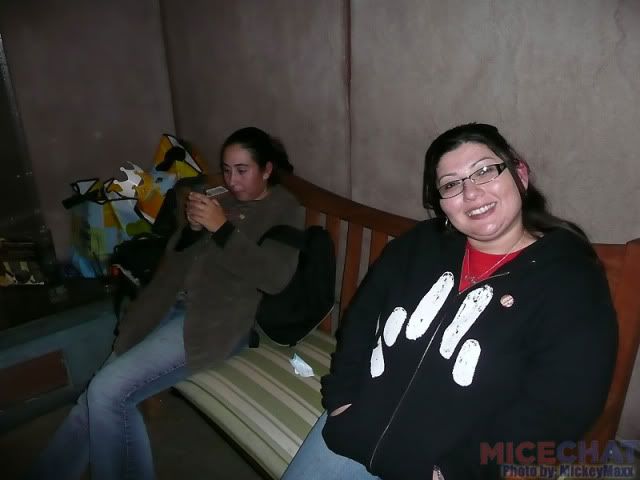 tamasurvivor's sister and Miss Information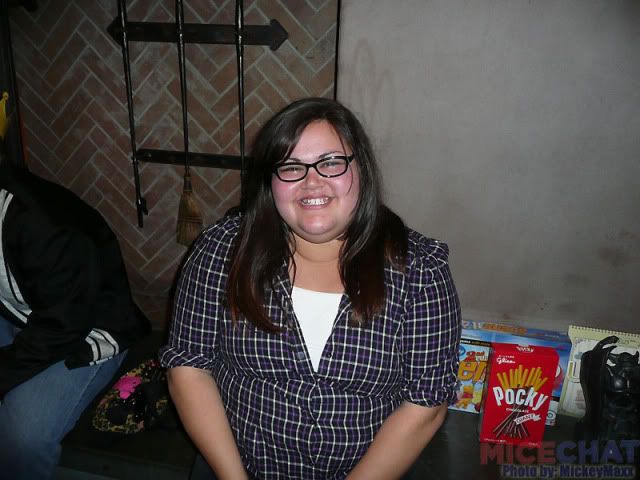 MonstersGoBoo!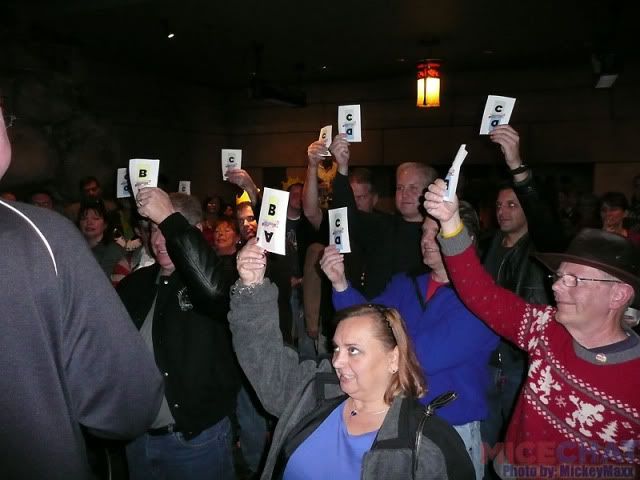 Playing Trivia
Princess Buttercup
quiltmaker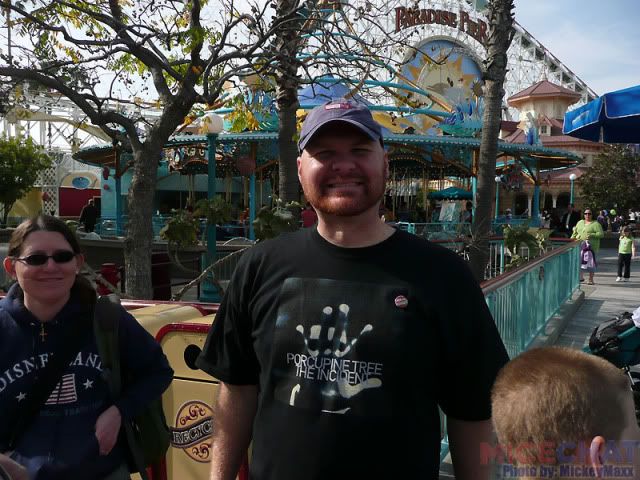 sirclinksalot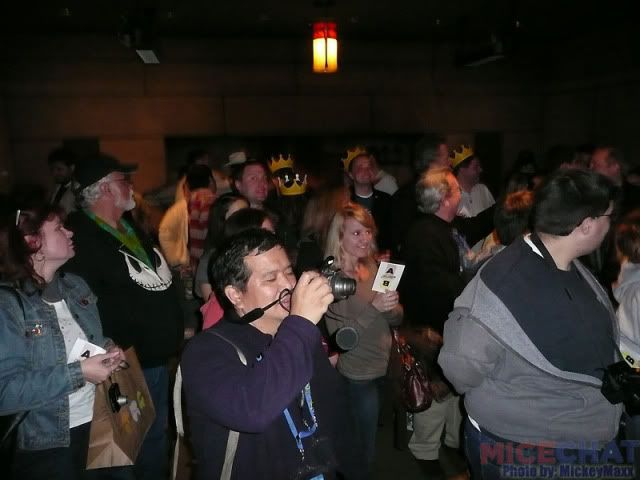 Ready for Trivia!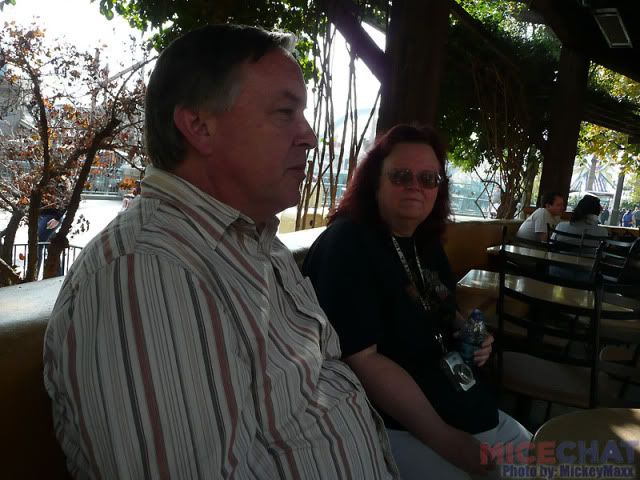 Rixter, penguinsoda
tamasurvivor, Princess Buttercup, Earkid, SusieP., Joshnya
TarzanTrashcanMan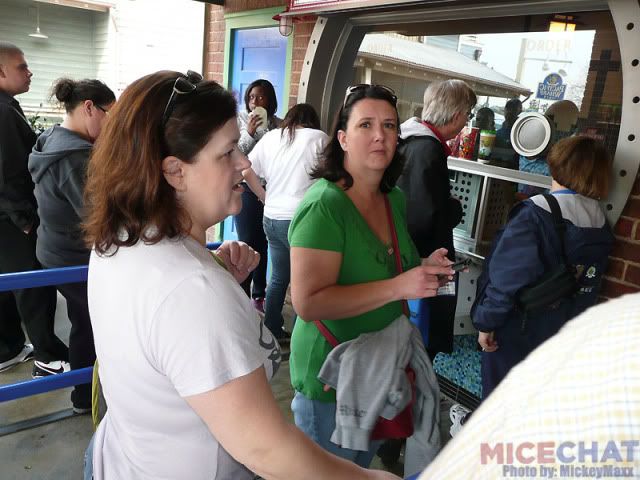 tinkermonkey, mamabot
Triviameister Monorail Man
Worthie (aka Momma)
Breakfast at Riverbelle Terrace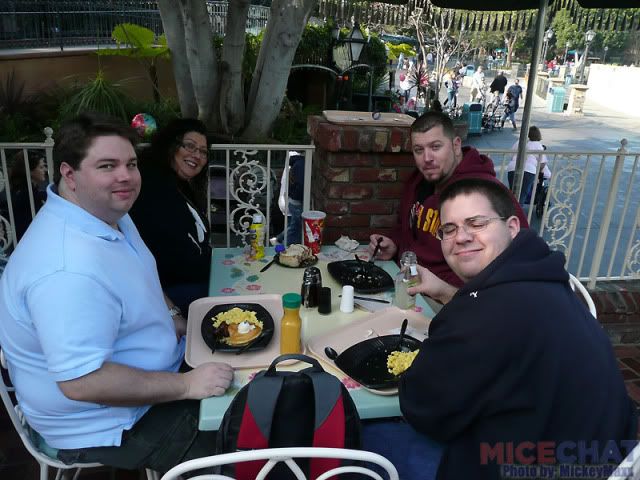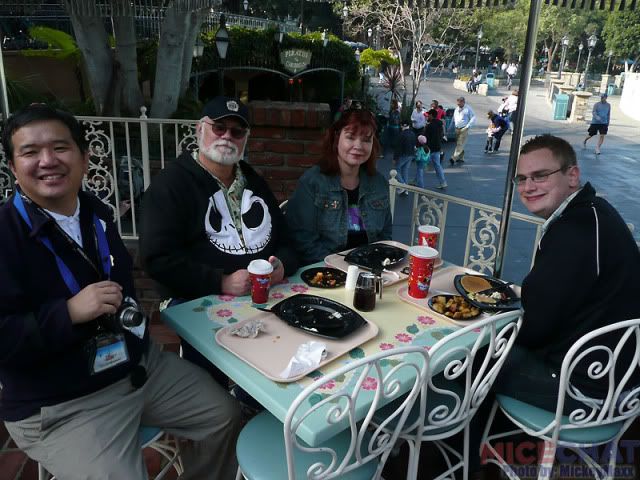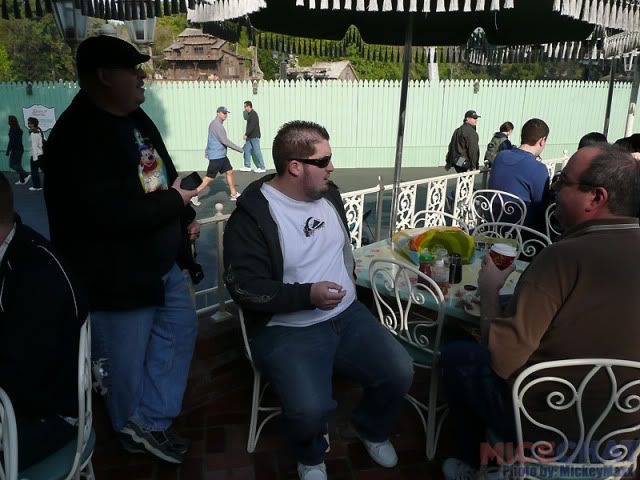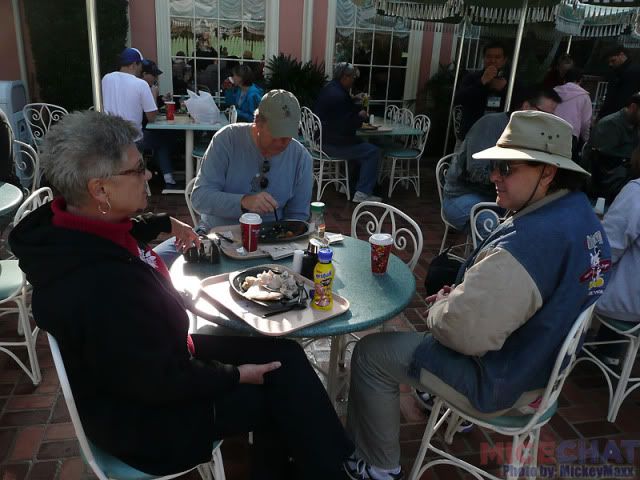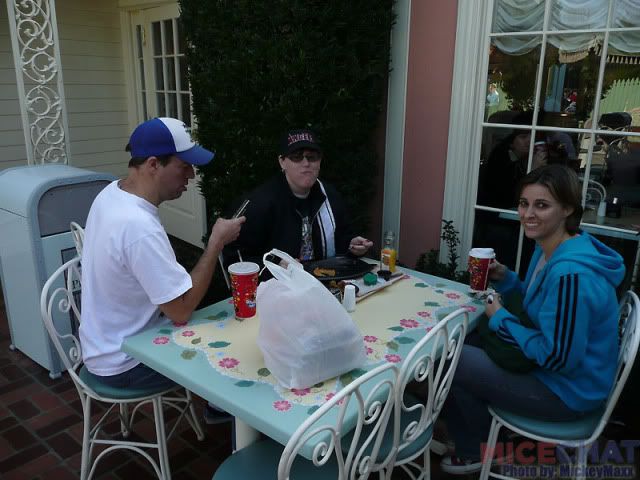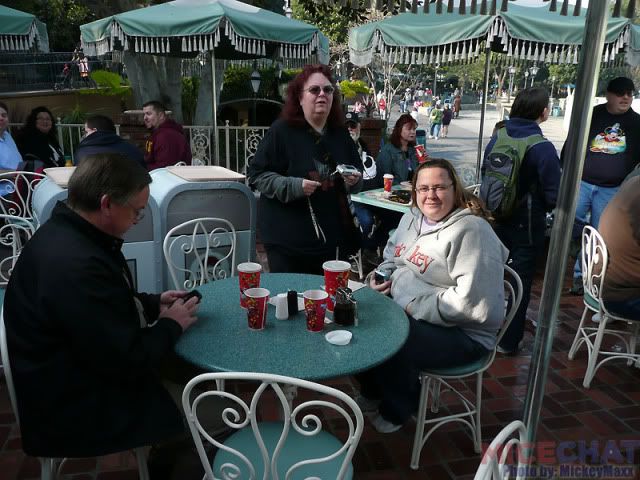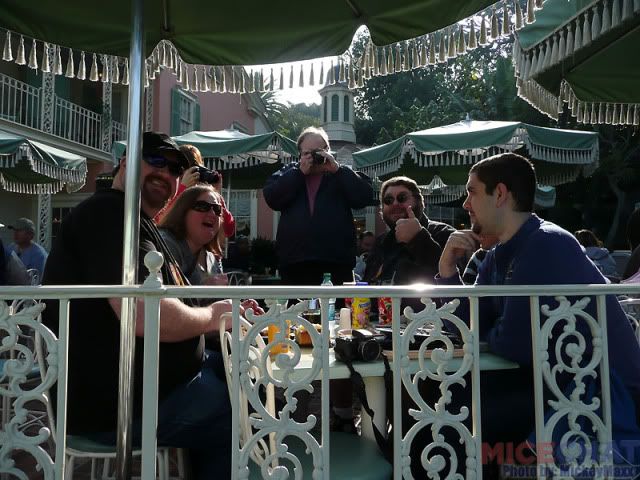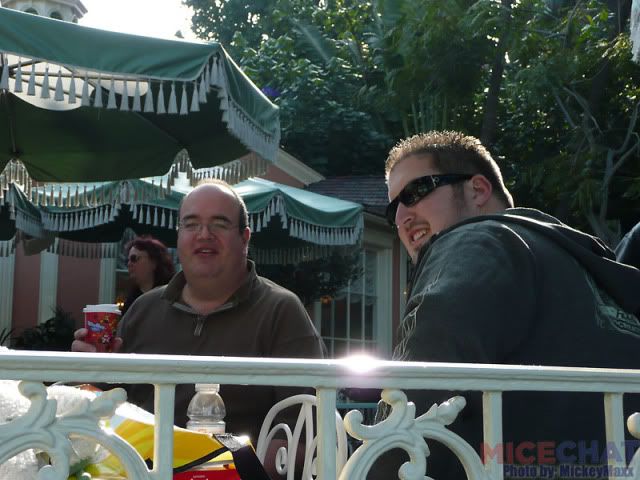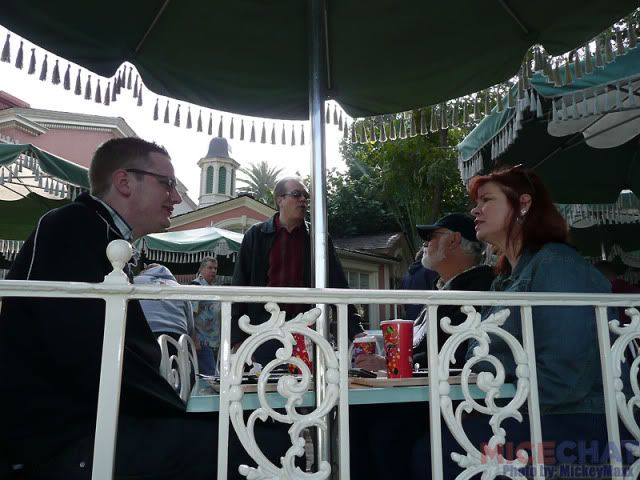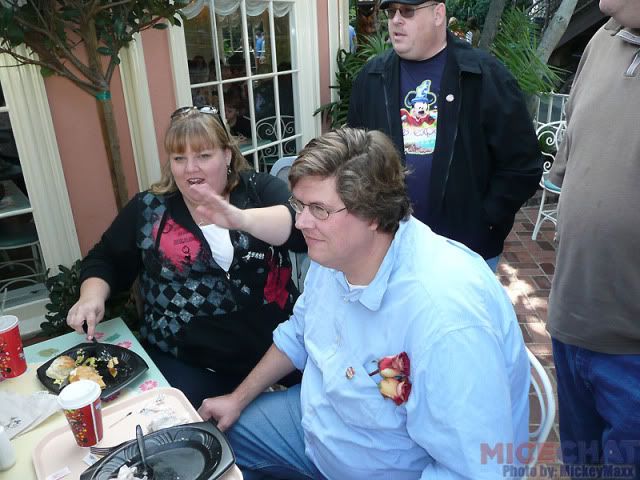 Train Ride around Disneyland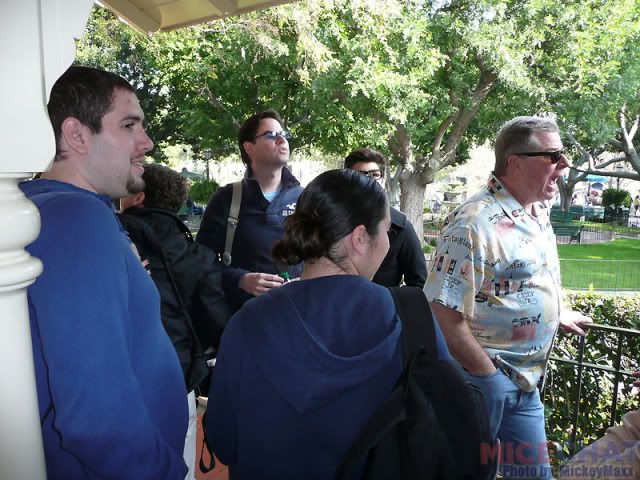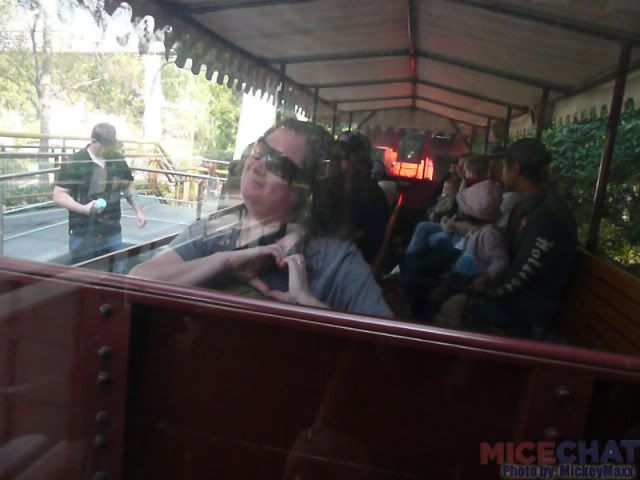 Hub Meet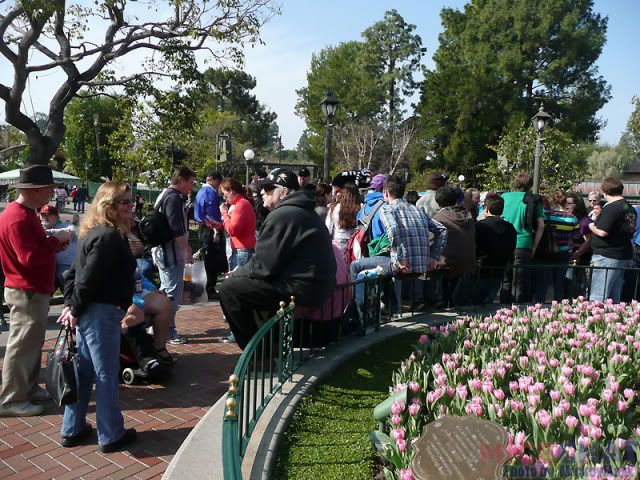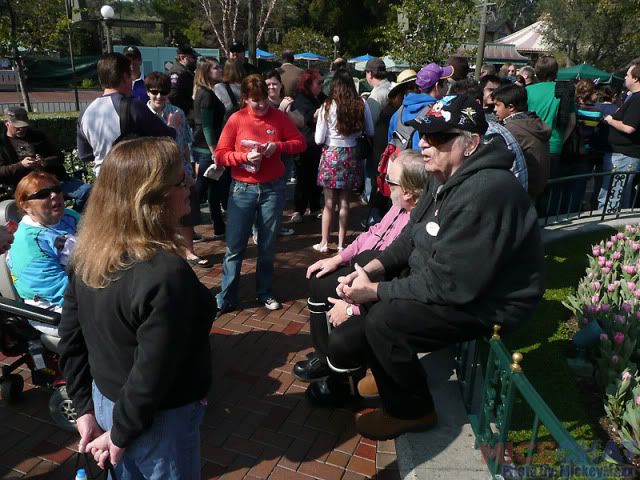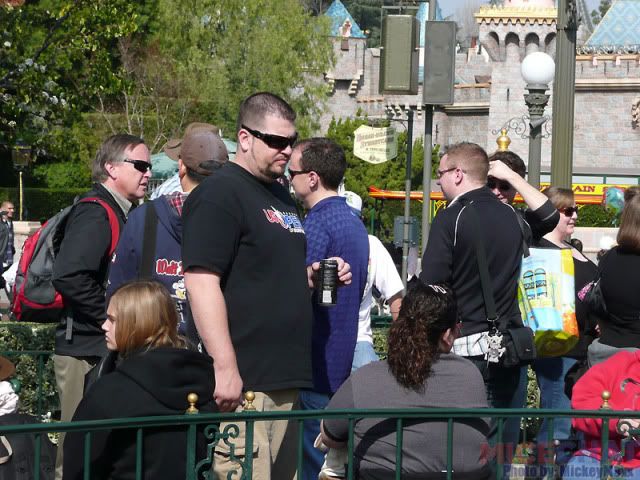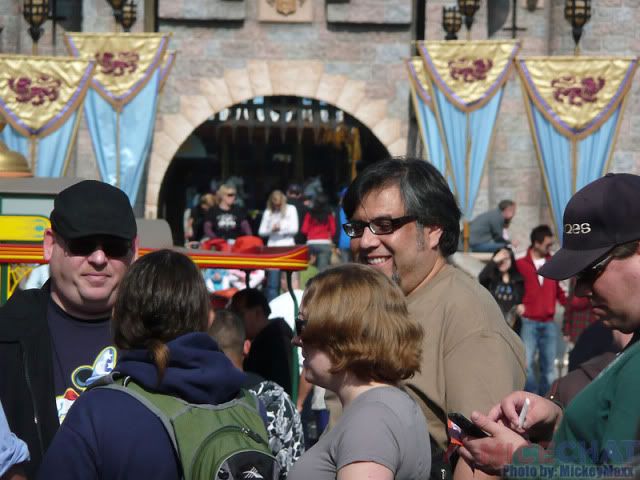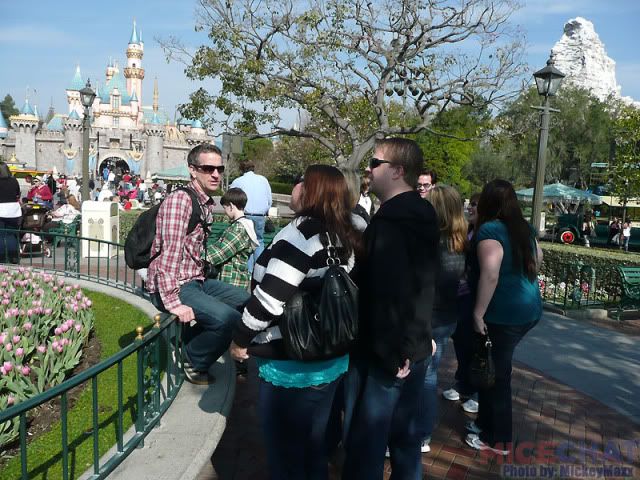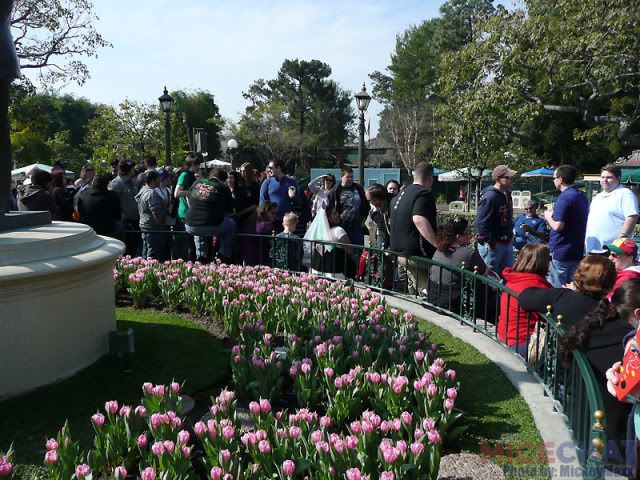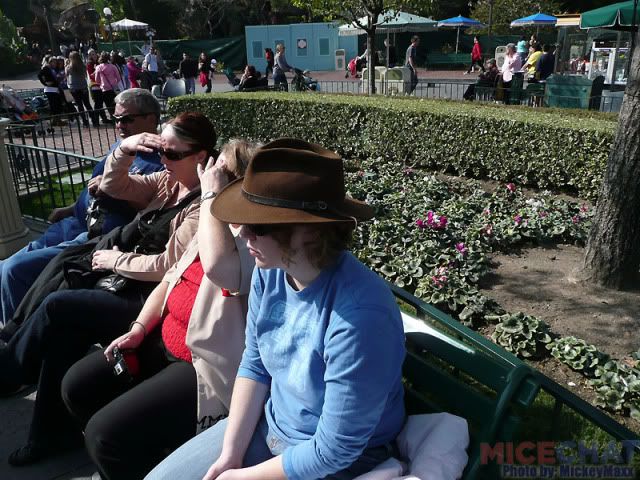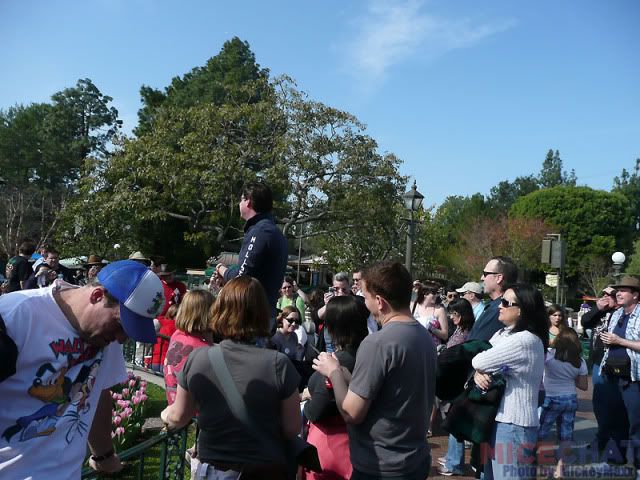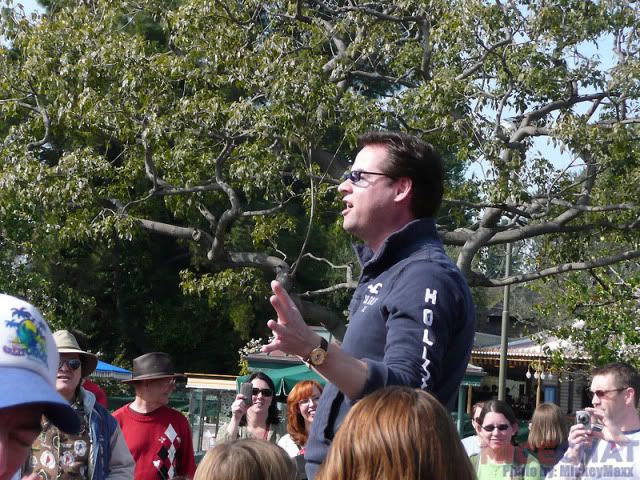 YOU can be a part of MiceChat's Sixth Anniversary Celebration: here's how:
NOTE:

Last Chance to secure your spot in the Jack Lindquist breakfast and book signing at ESPN Zone.

Ticket Sales must close on Monday January 24th. Grab your tickets today: MiceChat Events Store (Powered by CubeCart)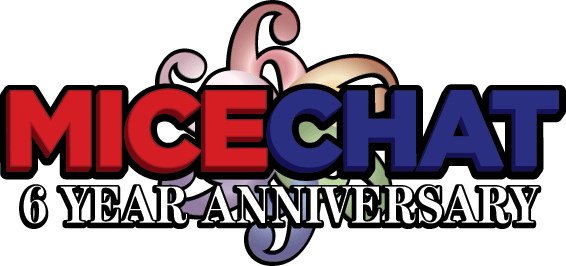 Hello

M

ice

Chat - Happy Anniversary! The big MiceChat celebration weekend is just 1 week away and we've finally got all the details nailed down.

This year's signature event will be a fabulous Wine Reception at the Pop The Cork wine bar in the Anaheim GardenWalk. We are renting out the whole place just for you! Ticket availability is extremely limited, you'll want to secure your spot right away - Wine Reception Tickets Available HERE.

AND, as a very special bonus, we have also arranged a breakfast at the ESPN Zone to meet Disney legend and first Disneyland President, Jack Lindquist - This event will be very popular, get your tickets now - Jack Lindquist breakfast and book signing Tickets Available HERE

We are trying something new this year, each of the meets and events is hosted by a well known MiceChatter, Moderator, Admin, or Columnist. It will be a great way for you to meet new folks and old!

3 days of fun, food, friendship and frivolity await. January 28th through 30th at the Disneyland Resort.

Party Night
FRIDAY, JAN. 28th
7:00 – 9:00 pm
IndianaJenn and the Temple of the Trampled Fruit Pre-Party
Pop the Cork Wine Bar, Anaheim Gardenwalk
(21 and older event) Tickets Must Be Purchased In Advance

An evening of fun and drinks with the who's who of MiceChat. Meet Al Lutz, Sue Kruse, Dustysage, Monorail Man, a host of fabulous columnists and all your favorite Micepals at the very cool Pop the Cork Wine Bar at the Anaheim GardenWalk. Admission is just $12 for this MiceChat exclusive event AND includes your first glass of wine OR soda. There will be a full cash bar and appetizers available for purchase. Make sure to stop by and say hello to your hostess with the whip, Moderator IndianaJenn.

Fun And Games Day
SATURDAY, JAN. 29th
(DCA park hours 10 am to 10 pm)
9:00 am - 11:00 am
Breakfast and Book Signing with Disney Legend, Jack Lindquist
ESPN Zone in Downtown Disney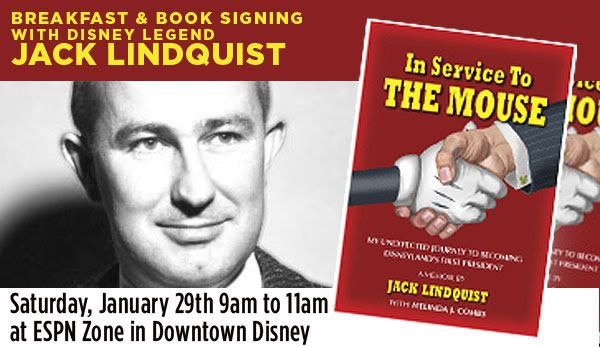 BREAKFAST WITH DISNEY LEGEND JACK LINDQUIST
Saturday, January 29th 9am to 11am at ESPN Zone in Downtown Disney
If you love Disneyland, we've got an opportunity for you to meet a real Disneyland original - Jack Lindquist. Jack was Disneyland's very first president and a man who forever shaped the history of Disney's theme park empire. Now in his mid 80's, Jack has penned a book about his experiences with Walt Disney, famous Imagineers and a host of celebrities and Disney notables. Jack will have copies of his book, In Service To The Mouse: My Unexpected Journey to Becoming Disneyland's First President, available for purchase and signing. While we learn a bit about Disneyland History, we'll also feast on a delicious breakfast at one of Jack's favorite restaurants, the ESPN Zone in Downtown Disney (which is celebrating its 10th anniversary). Breakfast with Jack is just $20 and includes a gift bag with a $10 game card and an ESPN Zone lanyard!
Don't miss this once in a lifetime opportunity to let Jack know how much he means to the Disney fan community -
MICECHAT BREAKFAST WITH JACK LINDQUIST TICKET HERE
11:30 am
Fishbulb's Mice and Go Seek
Start and Finish in Hollywood Pictures backlot in front of the former Millionaire building (by the exit of Muppet Vision 3D)
We'll welcome all our MiceFriends and start our anniversary off with a fun game of Mice-and-go-seek! You'll meet 5 MiceChat personalities, who will then be sent out into the park to "Hide". Your goal is to find them - the person who finds the most wins! Look for clues by following MiceChat's Twitter feed. Hosted by Micechat's Art Director and In The Parks Editor, Fishbbulb.
12:45 pm
Maximum Lunch Time with MickeyMaxx
Pacific Wharf
(tables to the side of Cucina Cucamonga and closest to Paradise Pier)
Grab your food at any of the Pacific Wharf eateries. We'll grab tables and schmooze with Moderator MickeyMaxx.

2:00 pm
Mamabot's Marvelous Mid-Day Eye Spy
Sonoma Terrace at the Golden Vine Winery, in front of the Blue Sky Cellar
A returning favorite event hosted by Special Events Crew Member, Mamabot, and assembled by Mamabot & Fishbulb. This is a fun little event that ANYONE can play and enjoy. The team who completes the most questions in one hour wins! We've never had a perfect score, will you be the first?

3:00 pm
Rixter's Relaxing Respite at the Blue Sky Cellar
Blue Sky Cellar next to the Sonoma Terrace at the Golden Vine Winery
While Mamabot's team scores the Eye Spy, join Rixter, Special Events Crew Member and Editor of MiceChat's "Weekend Update", and take a peek inside the Blue Sky Cellar for all of the exciting changes coming to the little park that could.

4:00 pm
pratt55's Puppets and Pixar Tour
Meet at the Mickey Fountain in front of Monsters, Inc.
As soon as everyone is assembled, join Moderator pratt55 on a ride through scenic Monstropolis. Then, we'll head off for even more shenanigans with Kermit and the Muppets.

NOTE: No Dinner Meet is Planned
7:00 pm
MaryAnn in Wndrlnd's DRINK MEet
Hearthstone Lounge at the Grand California Hotel
(find a spot on the heated outdoor patio)
Lounge around with Special Events Crew Member (and MiceChat's resident bartender) MaryAnn in Wndrlnd. Kick back and relax!
7:30 pm
Monorail Man's Magical Mystery Trivia Contest
Hearthstone Lounge at the Grand California Hotel
(on the heated outdoor patio)
Join MiceChat Administrator and Game Show nut, Monorail Man, for his renowned trivia contest (a hit of last year's anniversary and the Gumball Rally). With a new format to surprise us all, you don't want to miss this much talked about event.
9 pm
ElecTRONica
Hollywood Pictures Backlot
In Front of Flynn's Arcade
(Former Hollywood and Dine)
Step into the grid and meet a legendary micechatter with one post to his/her name, but everyone knows his/her face. The answer will SHOCK you….
Classic Disneyland Day
SUNDAY, JAN. 30th
(Disneyland park hours 9 am to 11 pm)
9:15 am
Demigod's Feast for the Multitude
River Belle Terrace
Breakfast at the Riverbelle. An anniversary tradition! Only made more regal by Demigod, MiceEars Crew Member.

10:15 am

Disneyland Railroad Grand Circle Tour hosted by Dustysage
Start and Finish at the New Orleans Square Station
Another anniversary tradition! Dustysage will take us through every land in the park in under 30 minutes! Then, as time allows, we'll take a trip around the Rivers of America and prepare for the biggest meet of them all in the Hub at noon!

12:00 pm
Noon Hub Meet (Sponsored by Howard Johnson, Anaheim Resort)
The Walt Disney and Mickey Mouse Statue in the Hub in front of the Castle
As we do every Sunday, we'll meet by the Partners Statue just to Walt's right hand. This is the meet that started it all. We'll greet new friends and old, chat, gossip, give thanks and then take a big group picture!

12:30 pm
Group Picture
In front of Sleeping Beauty's Castle

1:00 pm
penguinsoda's Practically Perfect "Potluck" Lunch
Carnation Gardens
Grab lunch from wherever you'd like and then bring it back to the tables located at Carnation Gardens (the area next to the stage located behind Rancho Zocalo and to the left of the castle). Moderator penguinsoda will be expecting you and assist you with tables.

2:45 pm
Barbaraann's Bumpkin Bash with Billy Hill and the Hillbillies (get in line because this show always fills up on MiceChat weekend)
The Golden Horseshoe
Join Barbaraann, one of our most prolific posters and earliest members, with 40,000+ posts to her name, as we pay a call to the four brothers named Billy. Stomp, hoot, and holler along with the songs and slapstick.

3:45 pm
Geek Out with D23's Disney Geek, Jeffrey Epstein
Magnolia Park, in front of the New Orleans Train Station
D23's Jeffrey Epstein hosts a meet and greet with the MiceChatters, complete with Prizes for a few lucky folks!

4:15 pm
Villains Fan's Voyage of Villainy with Pirates and Poltergeists
Magnolia Park, in front of the New Orleans Train Station
Meet Moderator Villains Fan in Magnolia Park (the round park between the New Orleans Train Station and Haunted Mansion). We'll head off together as a group by 4:20 to pillage the Caribbean. Then, we will proceed to wake the dead at the Haunted Mansion. We will return to Magnolia Park to say goodbye to dear friends. This will be the last stop on MiceChat's 6 Year Anniversary itinerary.


Whether you are able to join us or not, THANK YOU for making MiceChat a part of your life. We appreciate you and your support over the last 6 years and can't wait to share a whole new year of friendship and fun.
Stay at the Howard Johnson Anaheim Resort
If you are looking for a place to stay, please contact our good friends at
HoJo who always take the very best care of us and support all of our special events: Howard Johnson Anaheim Resort
Call 800-422-4228 Between the hours of 8am to 5pm Monday through Friday - Ask for the special MiceChat Rate.
Looking for up-to-date reports from Disneyland
including photos, gossip, park schedules and more?
Visit these MiceChat columns each week:
And that brings us to the end of another week. Our photographers have just enough time to reload their cameras before we see you all again next weekend. Thank you to all of our wonderful readers, and as always, a huge thank you to our amazing team of global photographers, spies, and gossips:
Our thanks to our special contributor this week,
R & R Creative Amusements Design, Inc.
.
Where have YOU been recently? We invite you to share your photos of theme parks or any other destination that may be of interest to our readers. Please feel free to contact me via MiceChat Private Message (screen name Rixter)
or send me an email:

[email protected]

.
It is readers like you who make MiceChat such a special place.
Don't miss a single one of MiceChat's Featured Blogs (including the Weekend Update). Add our feed to your favorite feed software or site:
Follow us on Twitter