We just returned to our hotel room from the MiceChat 6th Anniversary Wine Reception. What a wonderful event. It was so nice to see so many of my MiceChat friends. Now I need to get the Weekend Update posted and over to Al before he gets home from the reception!
I don't have time to post photos from the reception, but I do have three reports this week that I think will interest you. First up,
RegionsBeyond
takes a trip to a strange shrine to an even stranger amusement park. I have vague memories of visiting this park as a child during a family trip to San Francisco.
Second up, we're reprinting a very special trip report from MiceChat member
DisneyAnalyst
. This story about his Disneyland trip will warm your heart.
Finally, it's a trip to the Monster Truck Rally with
TechSkip
.
Thank you for visiting the Weekend Update! I hope to see many of you this weekend!
RegionsBeyond visits a loving tribute to a long lost seaside amusement park
The Playland-Not-At-The-Beach Museum is an affectionate tribute to a long-closed San Francisco staple, located near the Cliff House and Ocean Beach. Playland closed in 1972 after operating for close to 60 years in various forms. To read more about the original amusement park, Wikipedia has some good general info:
In 1926, George Whitney became general manager of the growing complex of seaside attractions and changed the name to Playland-at-the-Beach, also sometimes known as Whitney's At the Beach. Although the attractions continued to be operated as independent concessionaires, during the late 1920s and '30, especially during the Depression when concessions began to fail, George and Leo began to purchase the attractions outright. The Whitneys bought the Roller Coaster in 1936 and the Merry-Go-Round in 1942. Playland took up three city blocks and in 1934, the Midway had 14 rides, 25 concessions and 4 restaurants besides Topsy's Roost.

Although Playland's attractions originally sat upon leased land, the Whitneys eventually purchased the land beneath Playland as well as several adjacent lots for future expansion. In 1937, George Whitney, Sr. purchased the then-vacant Cliff House from the Sutro estate and reopened it as an upscale roadhouse that same year. George Whitney was called "The Barnum of the Golden Gate" as he went on to buy up the concessions and even bought the Sutro Baths in 1952. He bought out his brother in 1952 and continued to operate the area on his own until his death in 1958.

Despite this expansion, the post-war years saw the tearing down of the Shoot the Chutes in 1950, and the Big Dipper in 1955, and after George Whitney died in 1958, Playland was never quite the same. For a while after George Whitney's death, Playland was operated by his son, George K. Whitney, Jr. and then by Bob Frazier. It was eventually sold to Jeremy Ets-Hokin (a millionaire developer) in 1971 and it was torn down on September 4, 1972. Condominiums were built on the Playland property and a permanent art project commemorating Playland was installed in 1996.

The modern museum is located in a former grocery store in El Cerrito, and features artifacts of the closed park, old photos, vintage film clips and segments, recreation models, pinball machines and games of chance, and new themed areas inspired by the attractions of Playland.
Let's take a look, shall we?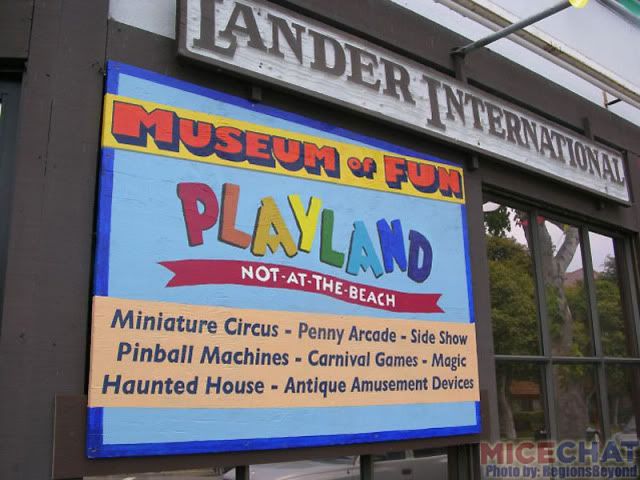 Just inside the doors is a display of original artifacts salvaged from Playland at the Beach.
Original Pretzel dark ride cars.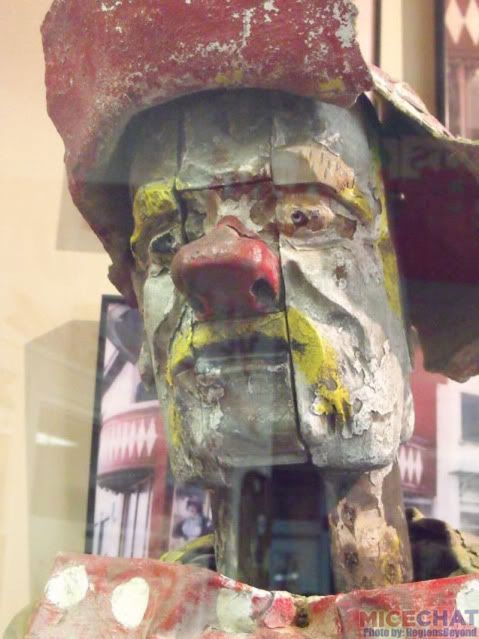 Next up is a new recreation (alongside an old model) of the classic funhouse figure, Laughing Sal: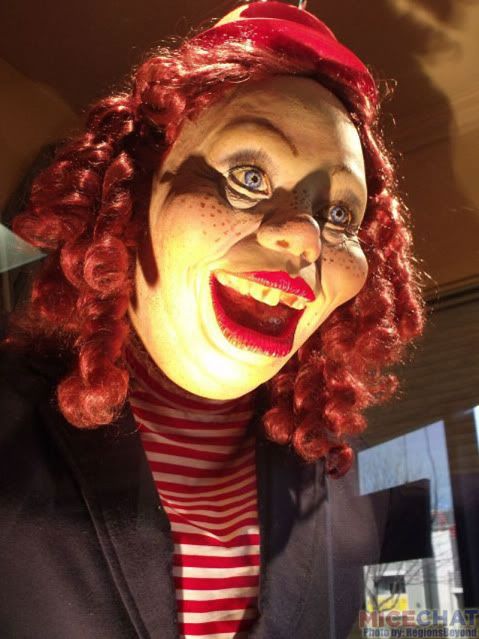 Here is one of the Playland Sal figures, still in operation at the Santa Cruz Beach Boardwalk:
<object width="480" height="385"><param name="movie" value="http://www.youtube.com/v/UxV_wjpUeGY?fs=1&amp;hl=en_US"></param><param name="allowFullScreen" value="true"></param><param name="allowscriptaccess" value="always"></param><embed src="http://www.youtube.com/v/UxV_wjpUeGY?fs=1&amp;hl=en_US" type="application/x-shockwave-flash" allowscriptaccess="always" allowfullscreen="true" width="480" height="385"></embed></object>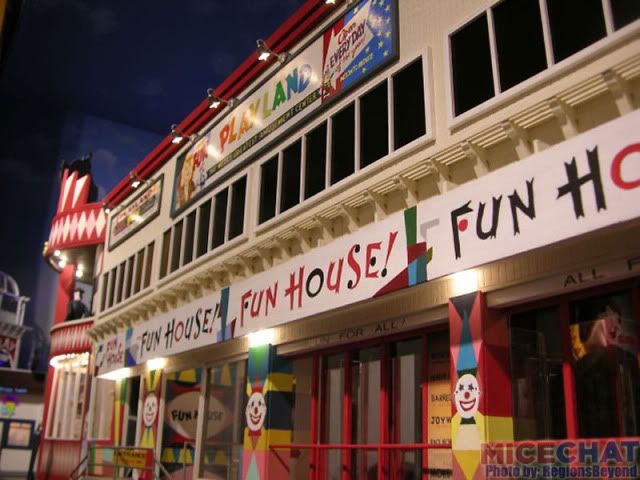 A model of the main strip attractions at the park.
The first section, and one of the largest, pays tribute to the circus and sideshow elements found in amusement parks of the day with a collection of oddities and hand-carved dioramas of circus life.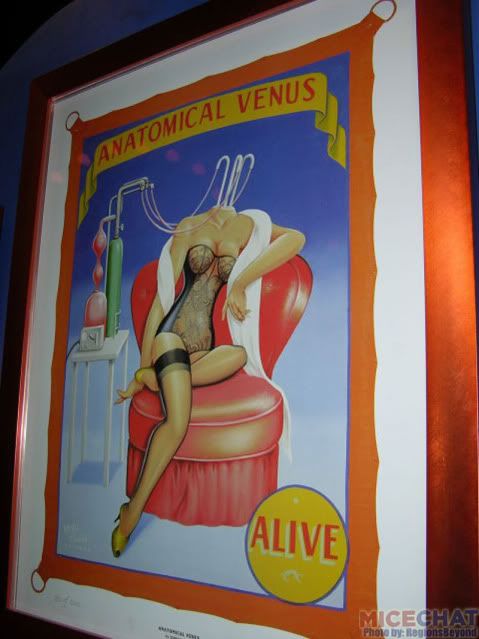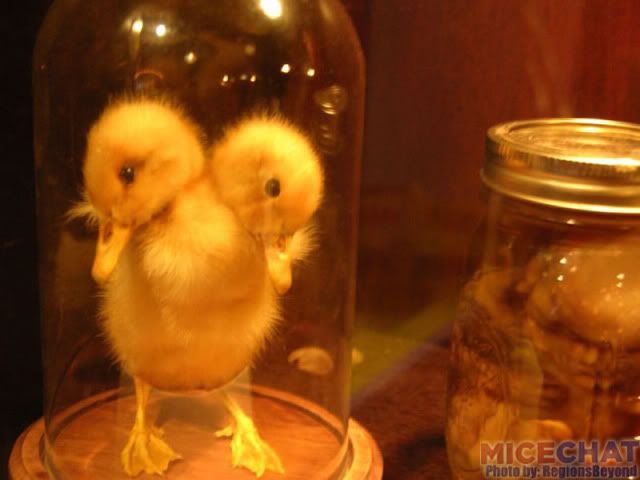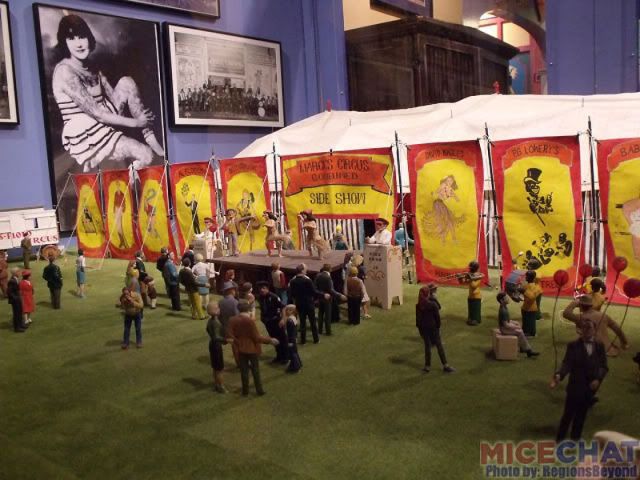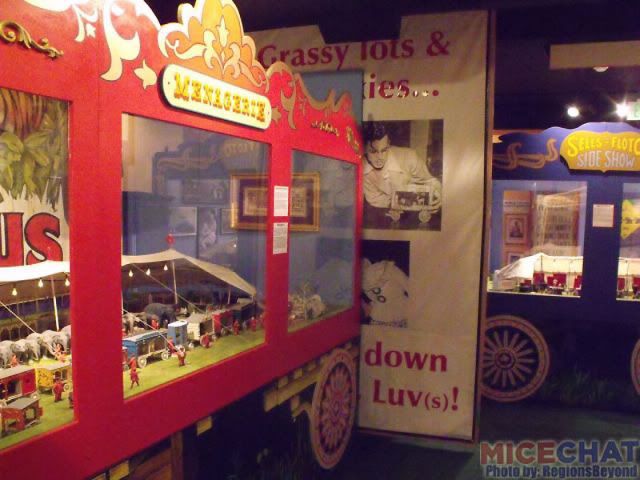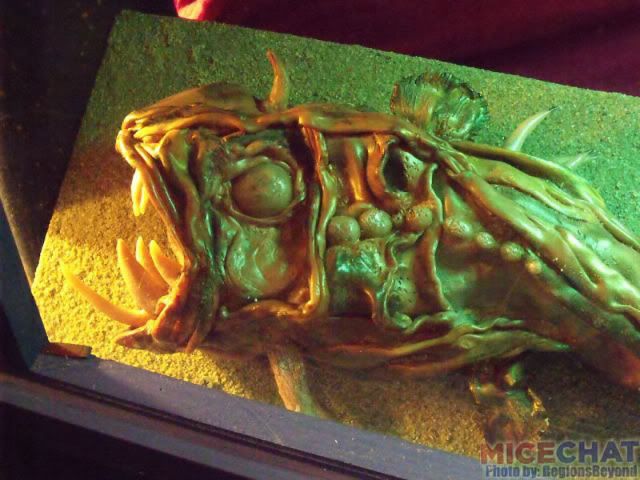 The atomic fish.
Sculpted bust of Johnathan Merrick, the Elephant Man
The next area features more memorabilia, some salvaged items, and old photos: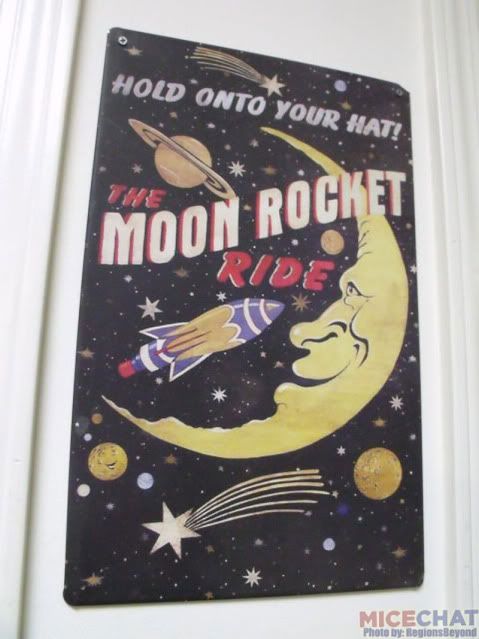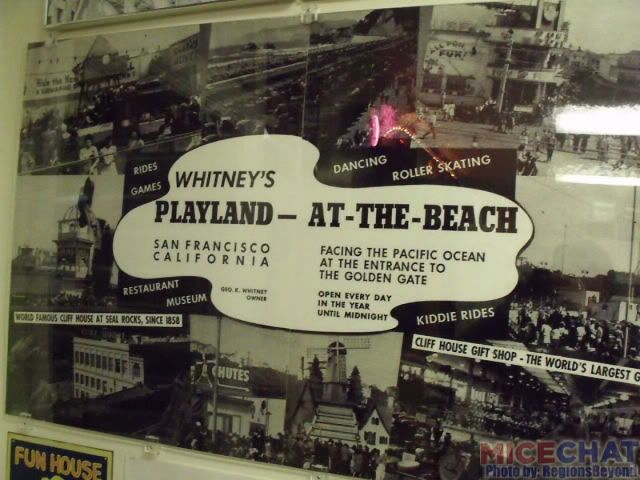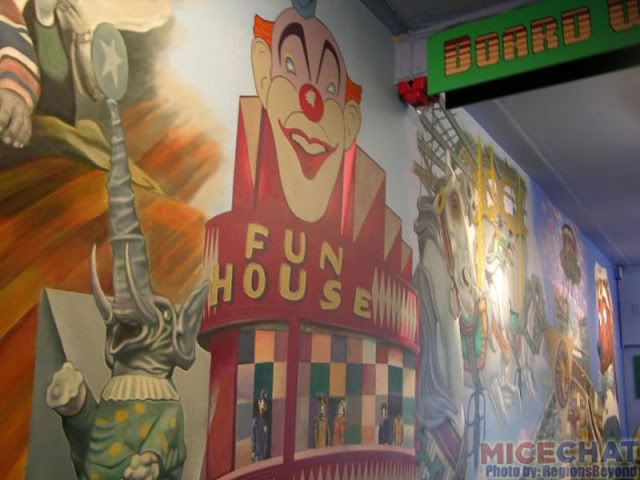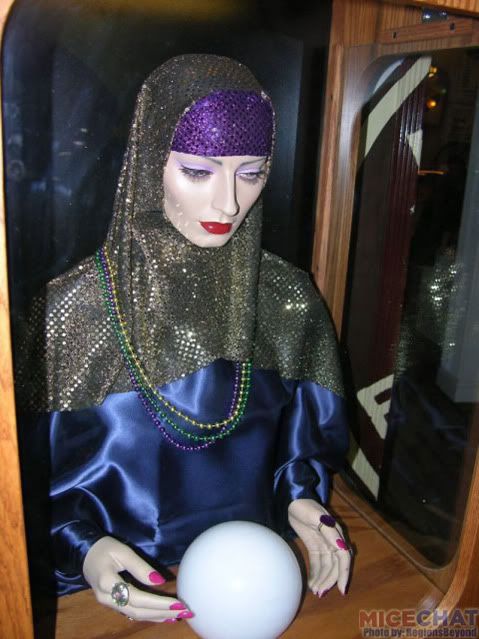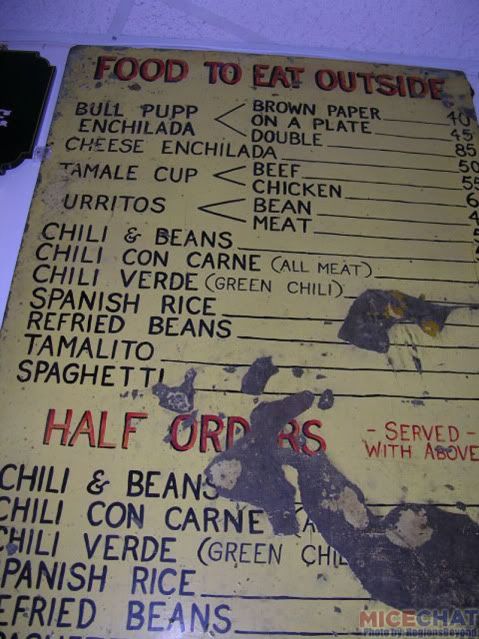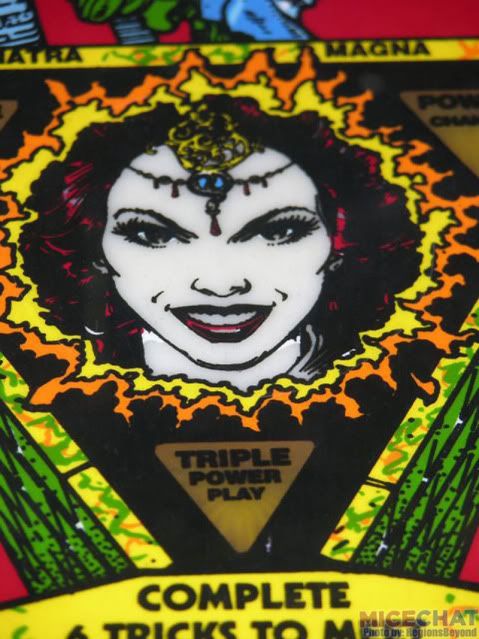 Also to be found in this area is this fellow, whom some readers might find very familiar:
He is a rescue from the Mr. Toad's Wild Ride at the Magic Kingdom, though how the museum owners obtained him remains mysterious.
Next up is the "dark mystery" section, which features several black lit displays of humorous horror based scenes.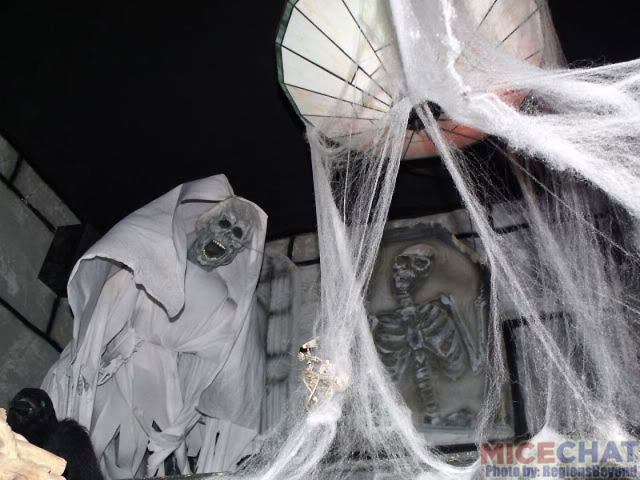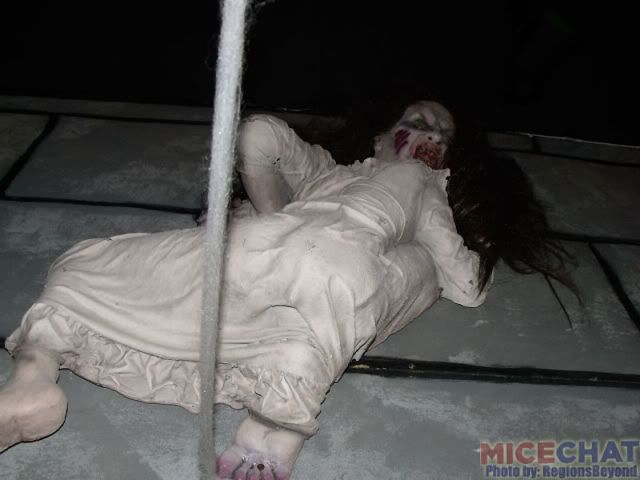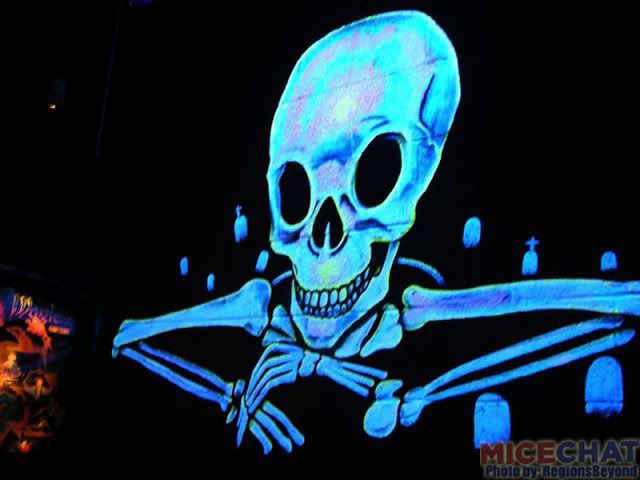 I hope you have enjoyed this glimpse of Playland-Not-At-The-Beach, and a visit comes highly recommended. Not pictured features include the near 30 vintage pinball machines (playable for free!), magic shows, Santa's Village dioramas, and more. Visit the website
[HERE]
.
Imagine the last time you went to Disneyland, you were eleven years old. Further, imagine that ten years later, you finally got the chance to correct that situation. Would you be thrilled or disappointed? As you rounded every corner, would your childhood memories live up to what your adult eyes were seeing? Disney Analyst just had a chance to compare his fond memories with Disneyland as experienced by an adult. We'll let him take it from here!
So I guess to start things off with... I joined Micechat in March 2005 (it says April, there was some glitch and everyone who joined in March got switched to April) Because of Micechat, my knowledge of the parks (and my obsession) has grown substantially..
I had dreamed (several dreams) of coming back to the park now that I was older and could really appreciate everything. My first and only time at Disneyland was in 2001, I was 11. I never got to ride Pirates as it was closed, never really appreciated the details around me, and I just wanted to rides the rides. So as soon as the opportunity had finally come to get my butt down to California, I jumped at the chance! I mean who wouldn't want to escape the icy palace that is Canada in January?!
I had just finished performing in a production of White Christmas, and a fellow Cast Member and I both discovered we loved Disney.. Thus, a trip was formed and planned.. But then came my best friend, who I love to pieces. I had always wanted to go to Disneyland with her, but she couldn't afford it (her job and my job don't result in the same cash flow) I was sort of stumped on what to get her for Christmas, when it hit me! Bring her with us! So I sort of surprised her one night while she was closing at her work with an envelope containing her surprise trip to Disneyland! Everyone was pumped and ready to go.
Saturday January 15th was the day of Departure, on a bus from Vancouver BC, headed to Seattle where we would board our...
Now you may think we took the conventional way of getting somewhere far away, flying of course... WRONG. We took a train across the west coast. I mean, is there really a more fitting way of getting to Walt's park?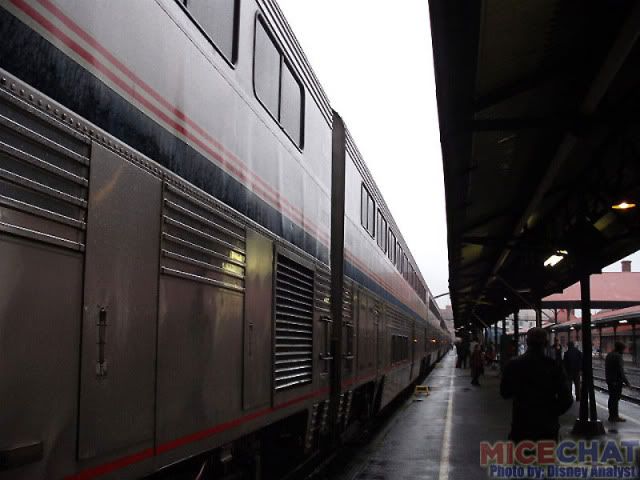 It was a trip thru the mountains and the coast, a surprisingly eventful 36 hour train ride. Drunk ladies, cats, and new american friends were all aboard the train.
Our accommodations were quite lovely...
We went thru all these crazy tunnels on the train, and came out to this amazing view!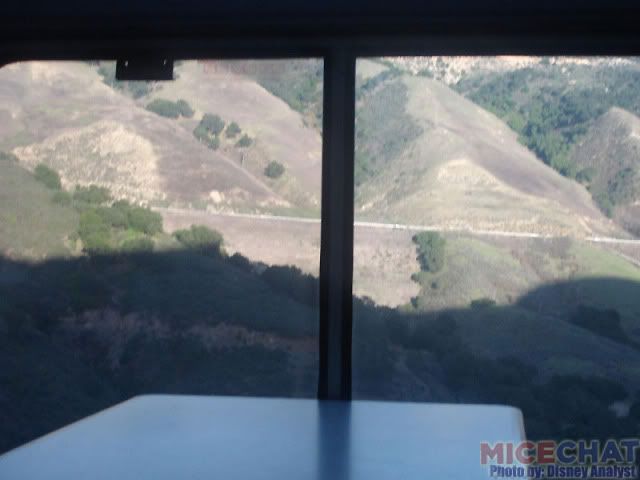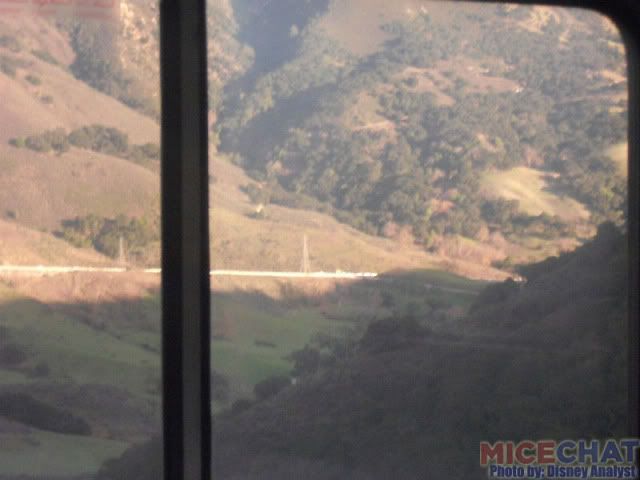 We left around 11:15 am from seattle on the 15th, and arrived in Anahiem 12:30 am Monday the 17th. An arrival I felt like I had waited my entire life for.
I was so excited.
We stayed at the Anabella hotel, we got a good deal, and it was only a 15 minute walk to the parks (I walk fast, make it 10)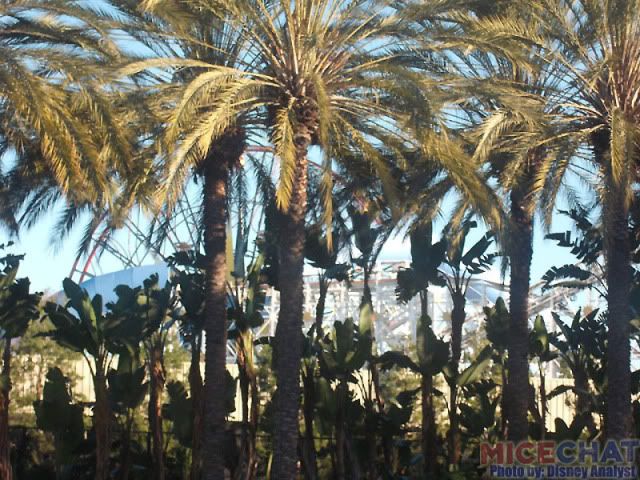 We could see DCA peaking thru the trees from our hotel, the excitement was building.. Not to mention blue skies and sunshine! Haven't seen that in a while...
As we were walking on our first day to the park, I saw this sign and I knew we were getting closer. The long train ride with barely any sleep would soon be worth it!
After detouring thru the Grand Californian, and going thru bag check. We had arrived, I could see the entrance.
Going thru the gates and finally seeing the Mickey floral and the train station was definitely surreal, I could not believe I was here. Ready to go under the tunnel into a new world.
Jessica (my friend from the show) Amelia (my best friend), and myself (Evan) Were ready to conquer Disneyland. Everything. From all the rides, to the Lilybelle, to seeing Fantasmic, Remember, and World of Color. We were going to do it all! And believe me, we did!
I don't know what to say.. It was amazing. There was absolute true happiness felt while at the parks. True child like joy came alive in each of us.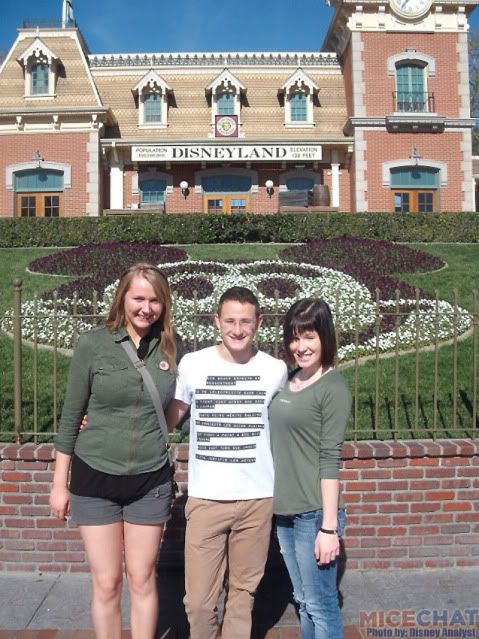 Amelia on the left, me in the center, Jessica on the right
Our first ride would be Space Mountain, and our last was the Carousel on Friday night. We somehow picked up swedish accents during our trip, people in lines thought we were crazy.
The park was beautiful, the weather was amazing. Crowds minimal.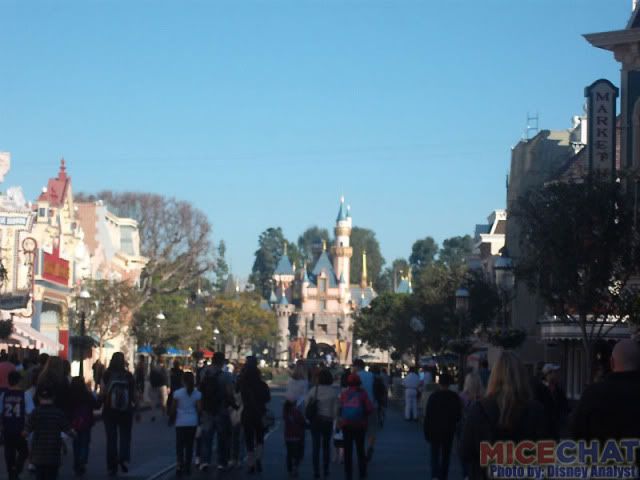 First look at the castle.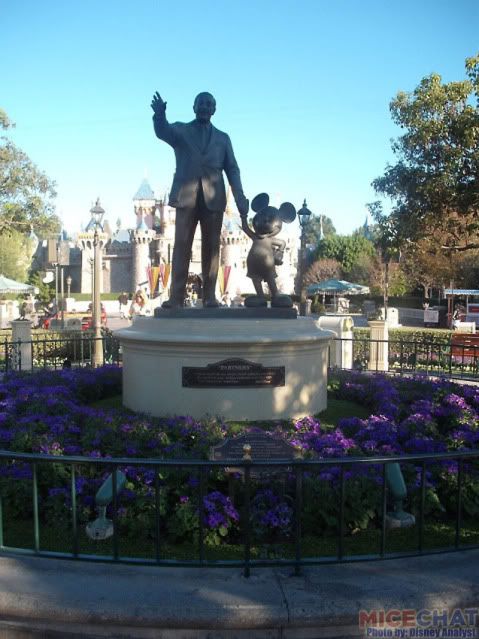 I had many goals to accomplish, much of which I discovered thru this site over the years. One was to find the center of the park.. and I did.
We made it!! Hazzah!
Me trying to take nice photos with my crappy camera: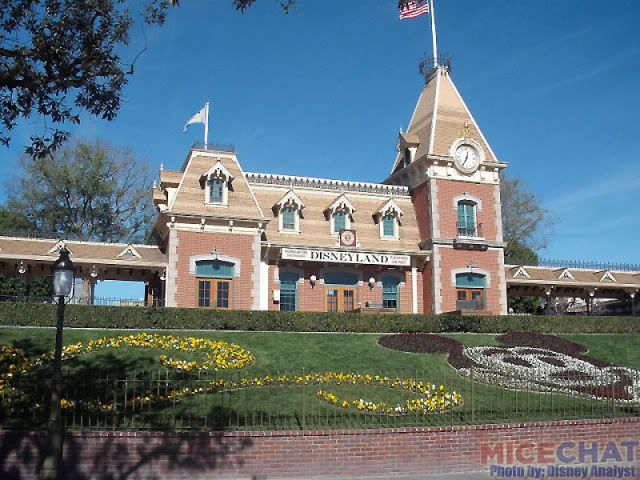 Our first pixie we've ever met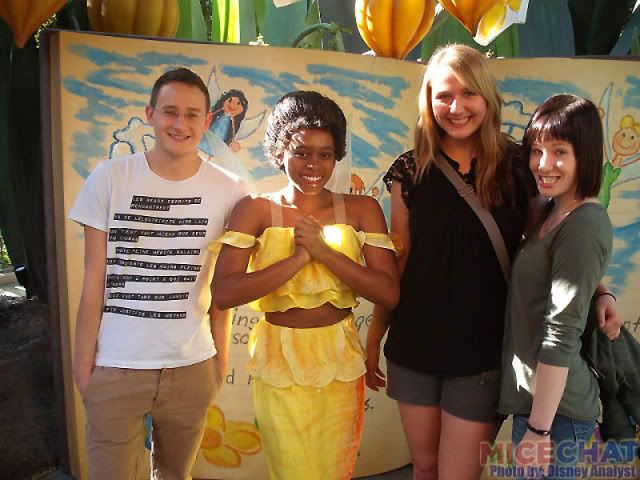 Amelia got a cold on the last 2 days of trip... she was blowing her nose when Eeyore came up behind her.. he felt bad for her!
Does it need an explanation?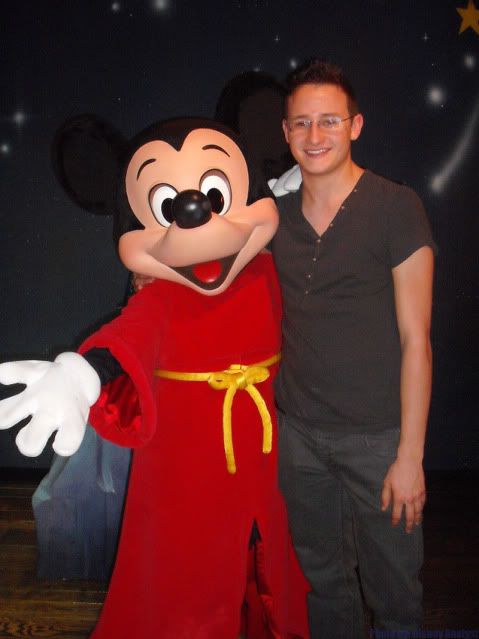 Okay funny story.. we were taking pics infront of this.. it was my turn to go.. we were taking 2 each.. I was all afraid that someone was gonna open gate.. but jessica got hers done.. no problem.. I step up.. take first photo.. suddenly loud noise from behind. gate starts opening.. I may or may not have ran away screaming like a little girl... there may or may not have been a lady with a stroller as a witness who laughed her butt off...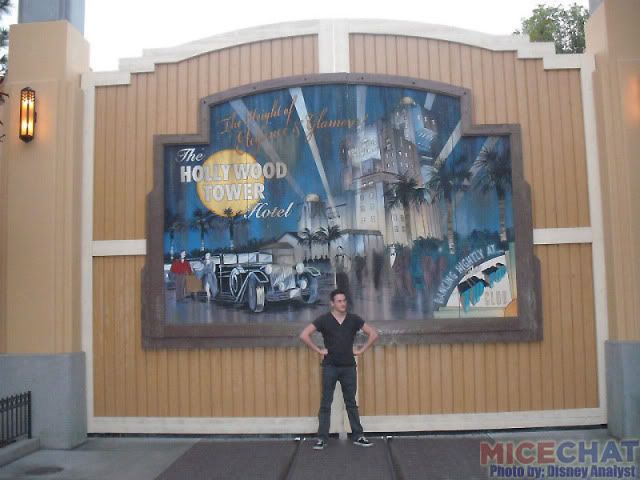 The lillybelle was another goal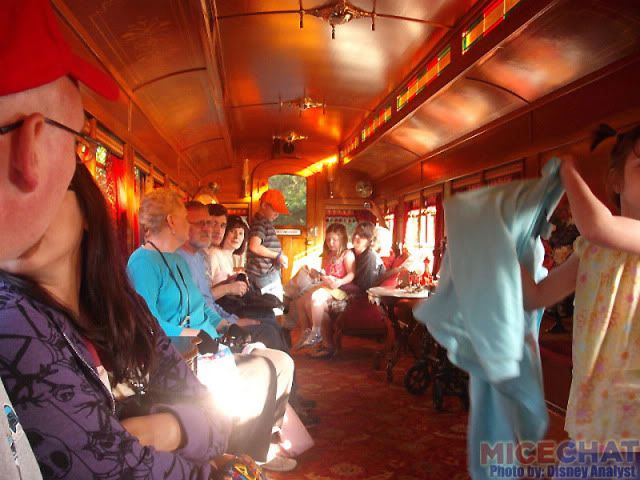 We rode all the rides that were opened... and then some (tower of terror 11 times)
Jessica had some friends she made last time she was at the parks (both of which work at the parks) We met up with them, met some characters on a more personal level because of it, managed to score some awesome spots for WOC without a fastpass, and saw the parks from a completely different perspective.
Now let me just add something about the shows..
Fantasmic was the reason I fell in love with Disneyland.. That show stuck with me the moment it ended in 2001.. So seeing it again (and seeing Murphy) was ABSOLUTELY amazing!
Remember Dreams Come True.. what can I say?! I never thought I'd get to see this show live.. After sitting on MiceChat the night of its premiere, waiting for video of this amazing new fireworks show.. It blew my mind. I was in complete awe and joy watching this show.. As were my friends. And the new tinkerbell effect (not so new now) was amazing!
and finally...
World of Color..
The hype, the countless threads, the videos.. they had led to this moment.. Our first viewing of the show would be on Tuesday, with the use of fast passes.. from the very front.. Wet Zone.
I LOVED IT. It was beautiful, majestic.. the videos do not do this show justice.. the colors alone are so vivid and beautiful. We all stood in awe.
The trip was fast paced, involved lots of walking, and very sore feet were a result. But from the sunshine, to finally getting to ride the HUGE ride that is Pirates of the Caribbean. I would not trade the experience we had for anything. Aladdin the Musical was amazing.. everything was amazing. Disneyland has stolen my heart, and I can't wait until we come back. I really am at a loss for words, I dont know how to sum up anything. I just felt truly blessed to be in the happiest place on earth, with great friends.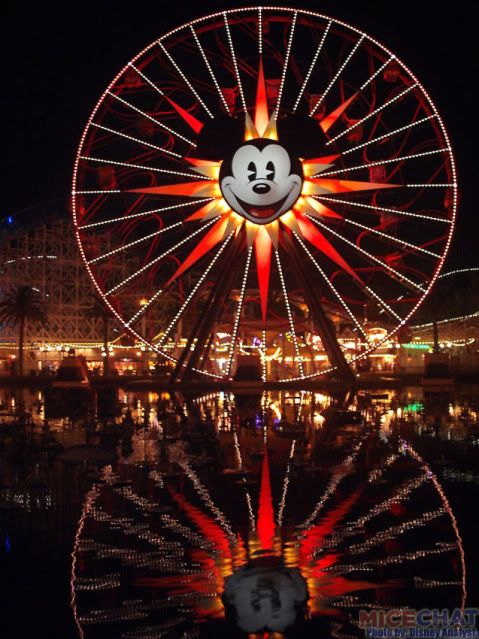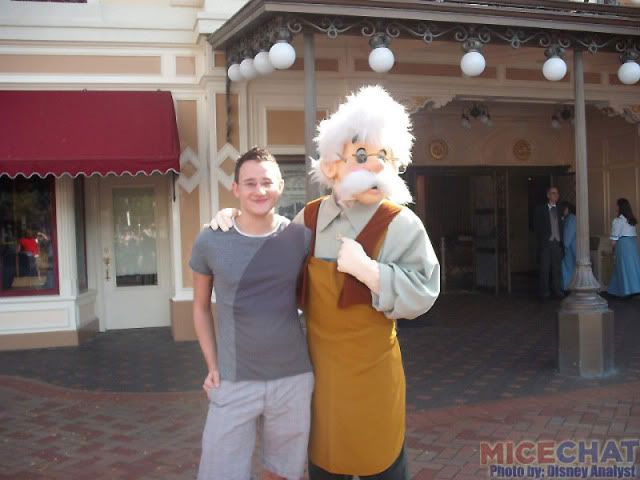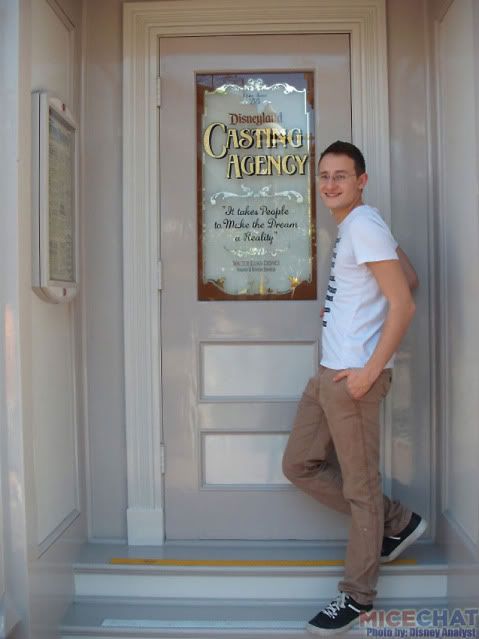 The theming is just amazing.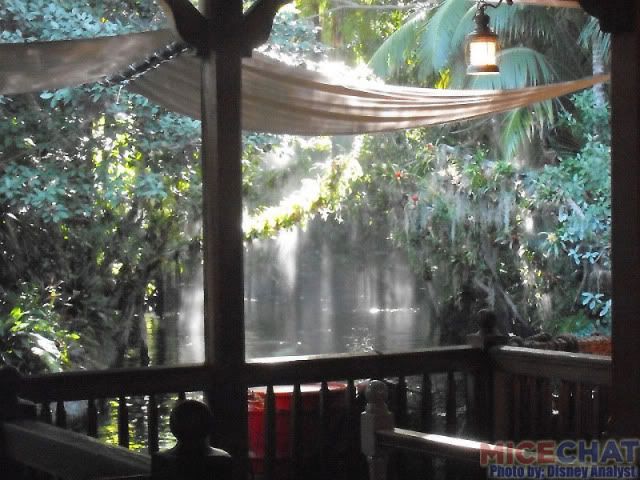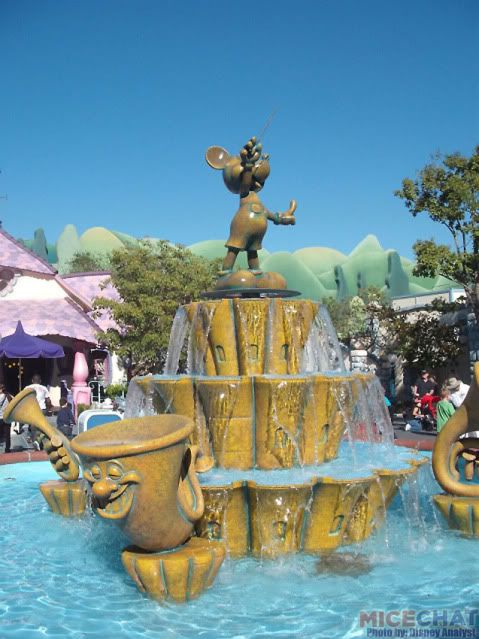 I probably had the best time of my life in this place. I finally got to do all the things I had read about on this site. (monte cristo anyone) Not too mention, I shared this all with my best friend.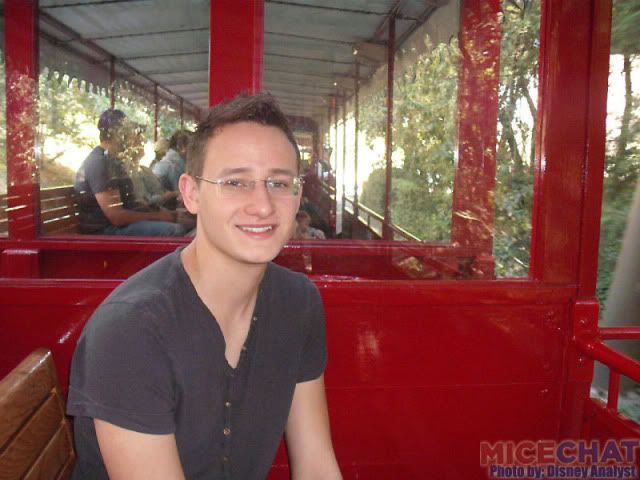 This place is a truly magical place, and everyone who gets to experience it atleast once a week should feel so blessed. I wish I could be there every day.
On our last night, we watched Fantasmic again.. and then watched it from the far side (so cool seeing the behind the scenes side of the show) Watched Remember from the ROA. (Loved the use of fog and lasers) and then decided to do our final ride of the trip.
The Carousel.
The only ride we had not ridden yet.. Not going to lie.. I got a bit teary eyed going round on it, knowing it was the end.. But the real waterworks happened when I stepped off the ride, and was just about to walk under the castle.
Now it takes a lot to make me cry.. however... something hit me.. and tears started flowing. Who would have known after all these years on this site, lurking at photos, and videos.. feeling like I had already visited a hundred times.. that it would hit me like this.. However, it did.. And I miss the place greatly already.
The ocean on the way home.. it was dark by the ocean when we arrived the first time.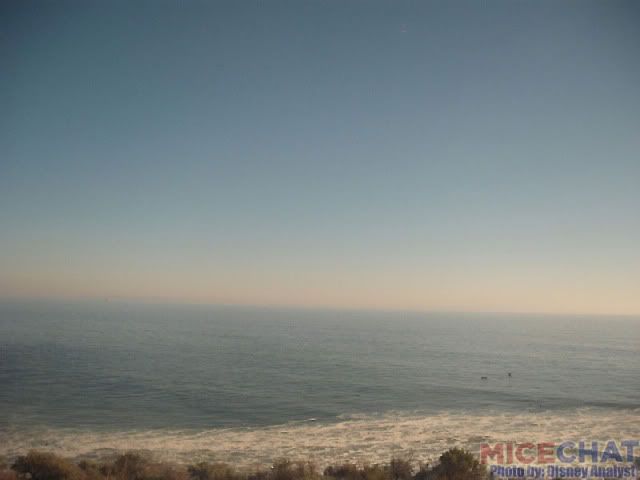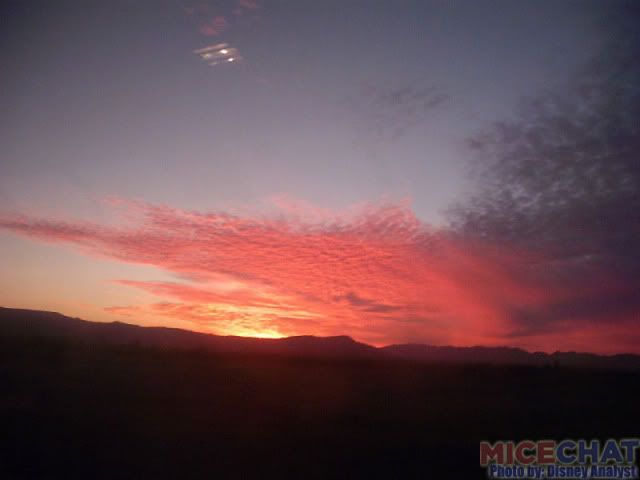 As the california sun set on the train ride home.. there was a definite.. gloom among our group. We were sore, tired, but had just experienced a magical trip we will never forget.
Until the next one, I bid you all adieu.
KingEric takes a trip to SeaWorld in Orlando
This past weekend, I took a long needed trip to SeaWorld, and also visited my favorite Wizard at Islands of Adventure.
Sunday was a beautiful day at SeaWorld. If I had to estimate attendance I would say there were less than 7,000 people in the park that day.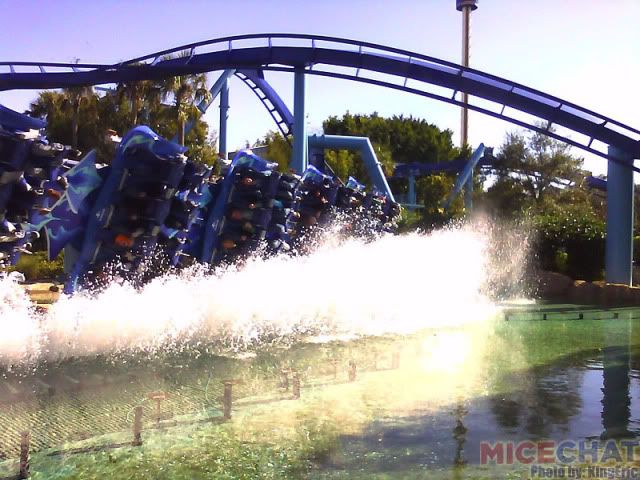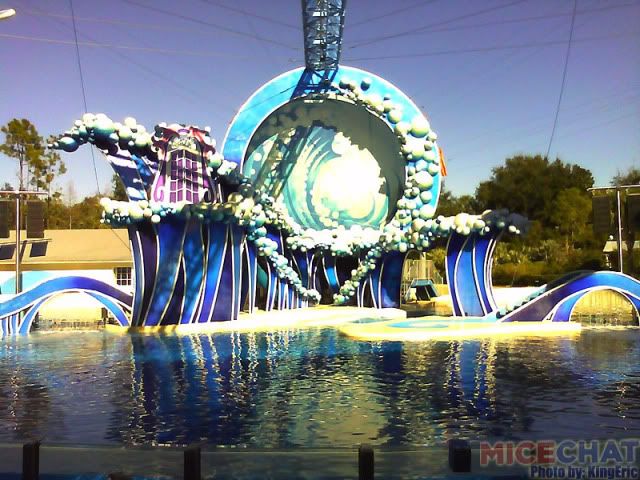 This poor performer got stuck, and they had to stop Blue Horizons for a few minutes while they got her down.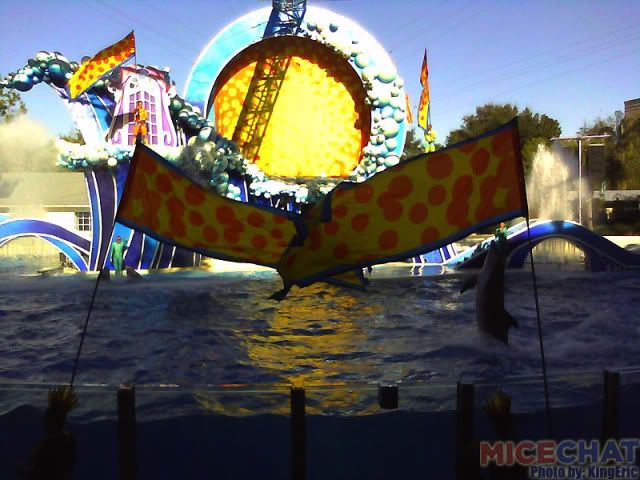 Journey to Atlantis is down for it's Annual Maintenance.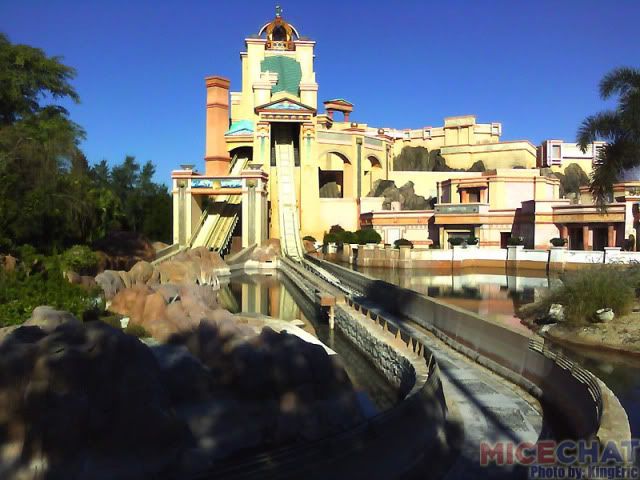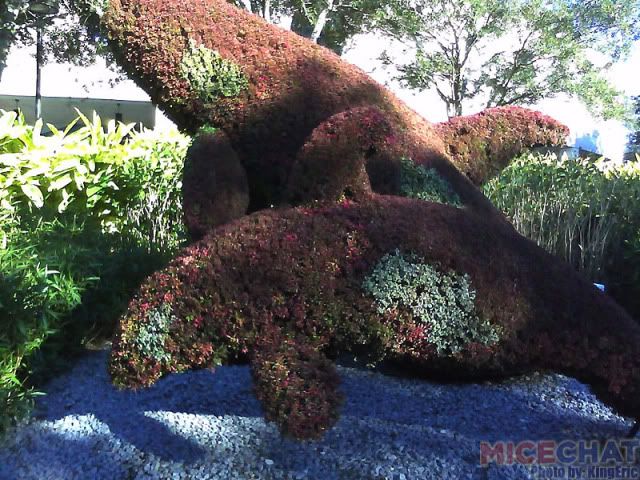 It was night and day comparing SeaWorld to Islands of Adventure, where it was busy as per the normal.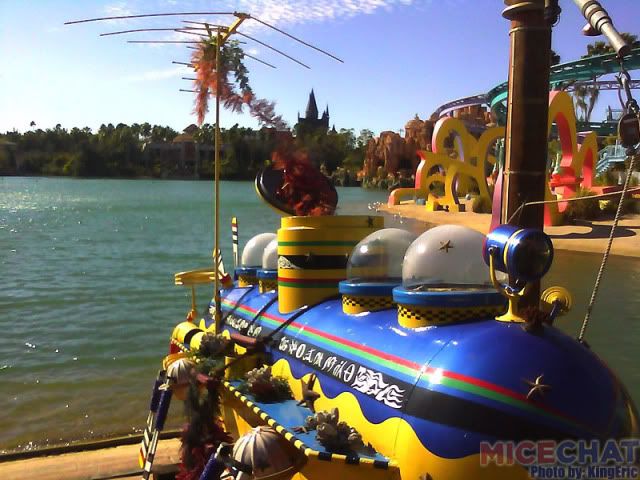 Lots of work is going on at Ripsaw Falls. It should be super pretty when it reopens!
Over at Universal Studios it was super busy for January.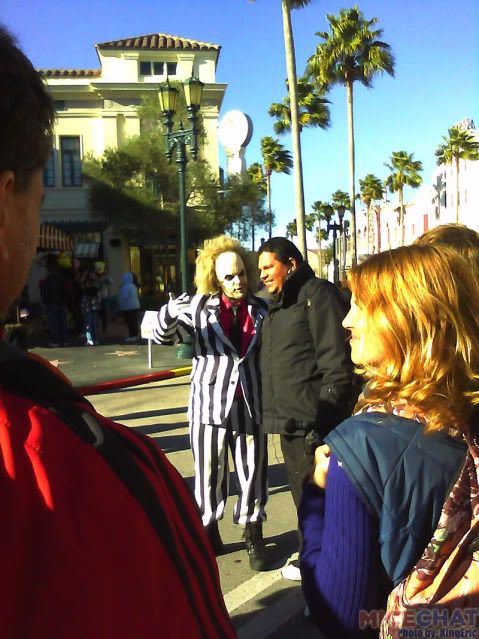 A shot of the Abandoned Hard Rock Cafe from Woody Woodpecker's Nuthouse Coaster.
This week, we'll have a chance to see techskip, tink and their five children as they get to see famous cars and monster trucks up closeas they make the trek south to San Diego for what turns out to be a very full day of family fun.
Tink and I left sometime around noon, picked up lunch in Oceanside, and arrived at Qualcomm around 230pm. The pit party started at 3pm. The nice thing about being early... front row parking...
Tink is just as excited as the kids. She has never been to a rally. This is another reason we decided on San Diego. When Tink was younger there was a prevailing thought that Monster Trucks were for boys... so only her brothers went to a rally. I didn't want to do that with my daughters so we made it a family trip.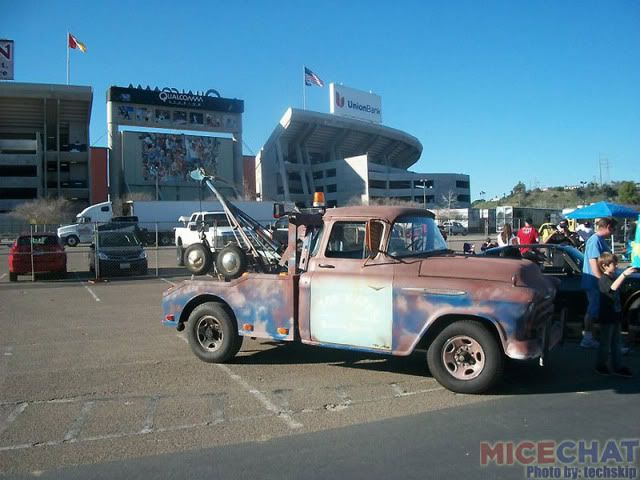 Look who we found on Hollywood Lane... Mater (minus the face in the front). The kids went nuts. We didn't realize this was even going to be here.
For all my Smoky and the Bandit fans... really took my breath away!
This brought Tink to tears... as a child this is the one thing she wished she would have seen... really hit a note with her.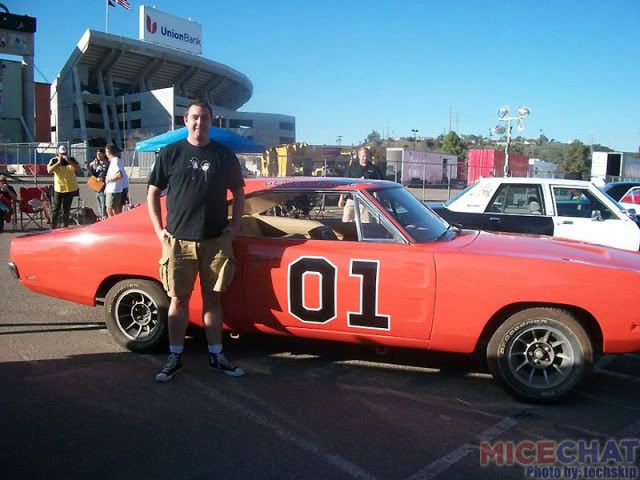 As a child of the 80's, this hit me. Also of note it is one of the few actual General Lees (several were used, abused, and destroyed over the show's life).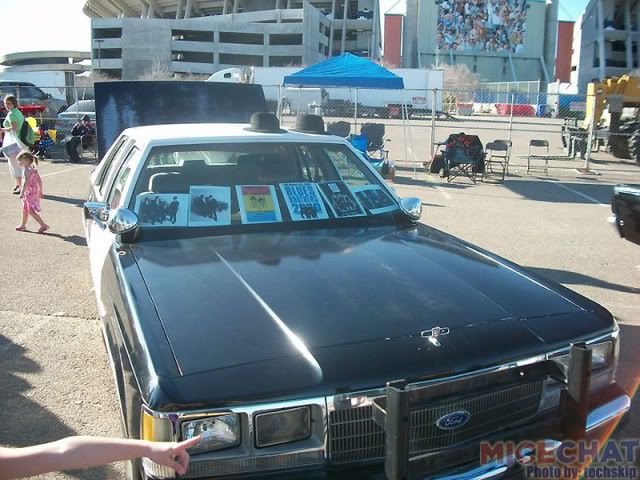 Blues Brothers 2000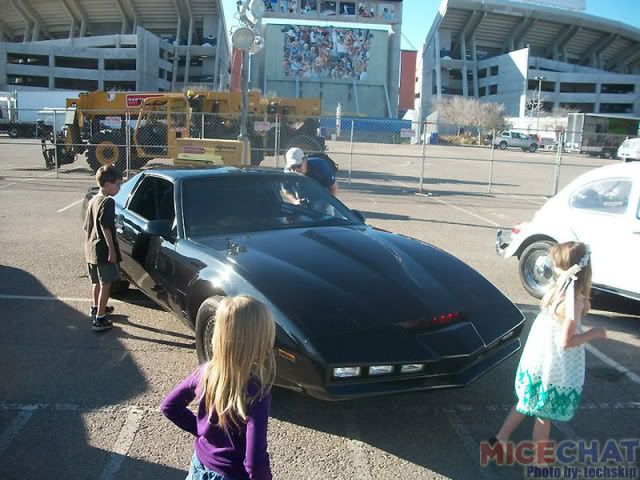 It took a little explaining to the kids... but KIT!
Even Herbie was around for a photo op! Funny, we get in the pit party and spend the first 15 minutes looking at this.
The main draw to the pit party is getting to meet the drivers. For die-hard fans it is a chance to talk to their heroes. For our kids it was a chance to meet different drivers, and see the trucks up close. Sadly I don't know the names. The drivers were very down to earth, and overall it was a lot of fun. I bought a program so the kids could collect autographs.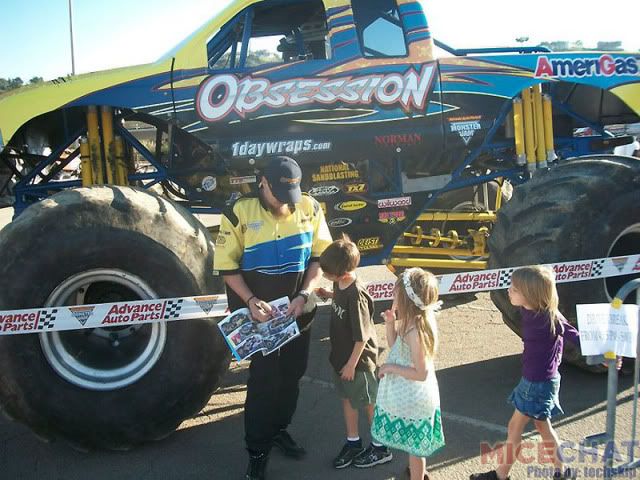 Obsession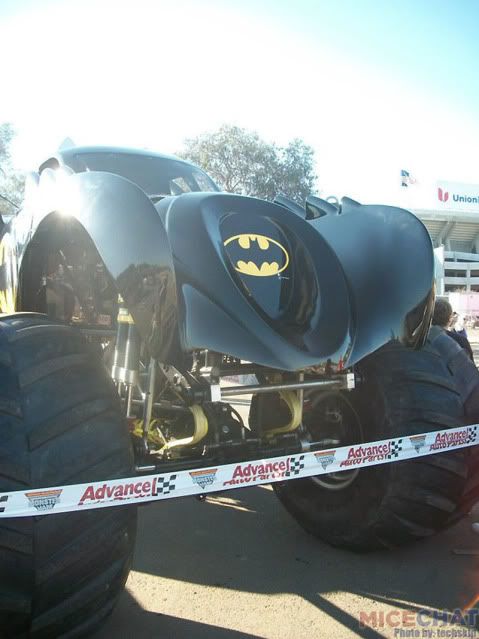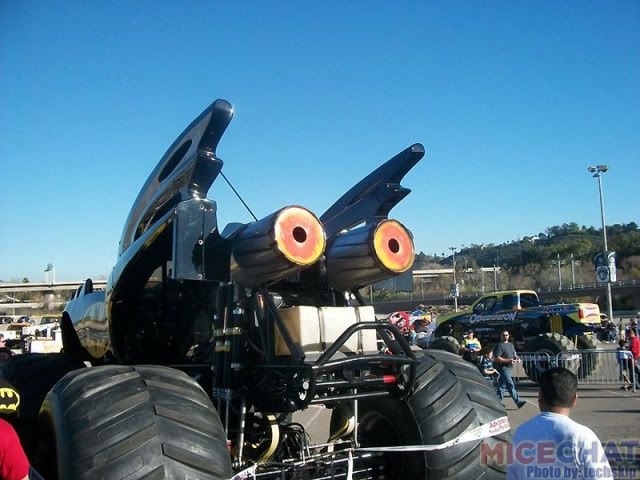 Bat Mobile... really cool setup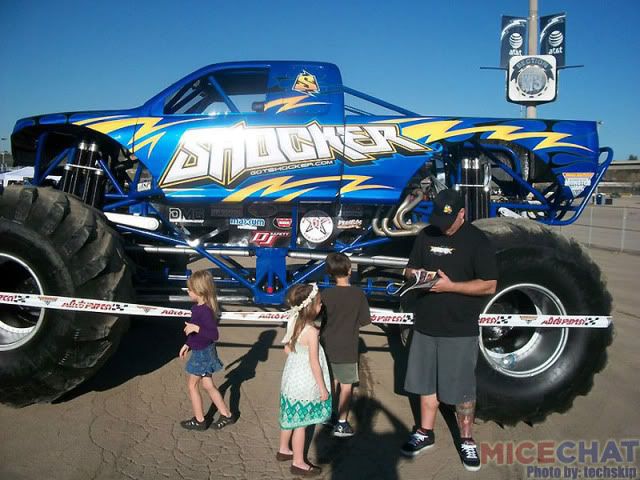 Shocker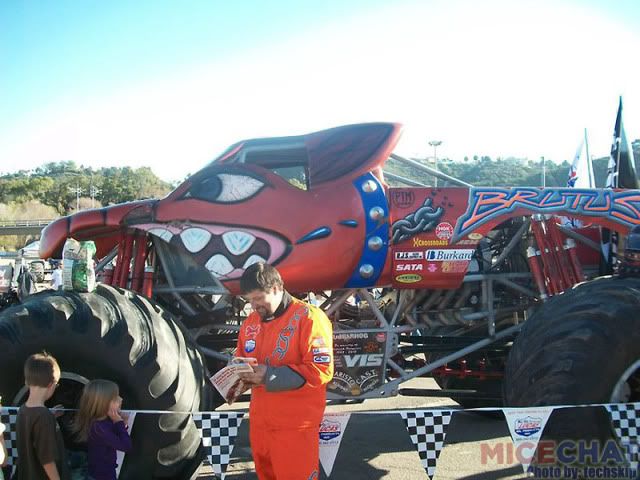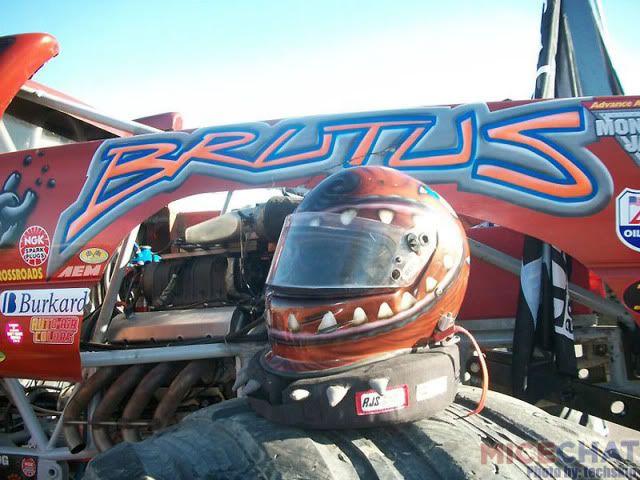 Brutus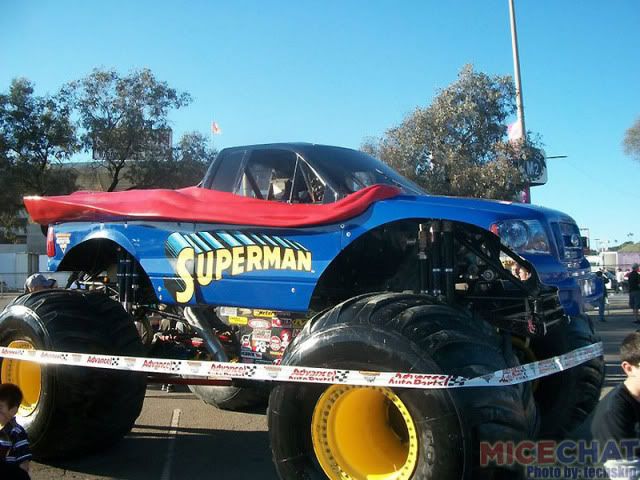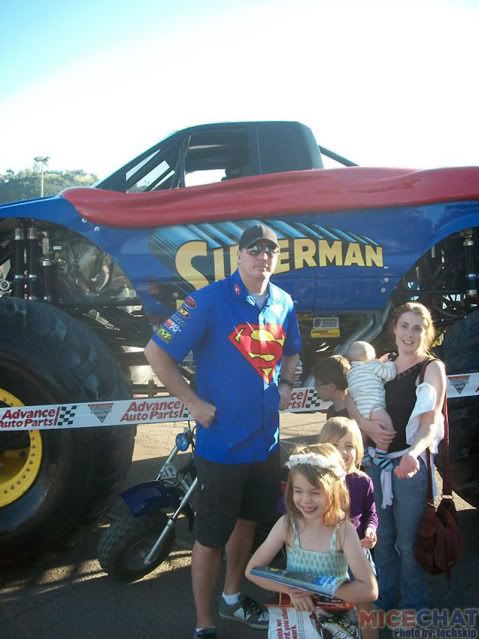 Superman (driver is actually 6ft 7in and has a custom built cabin)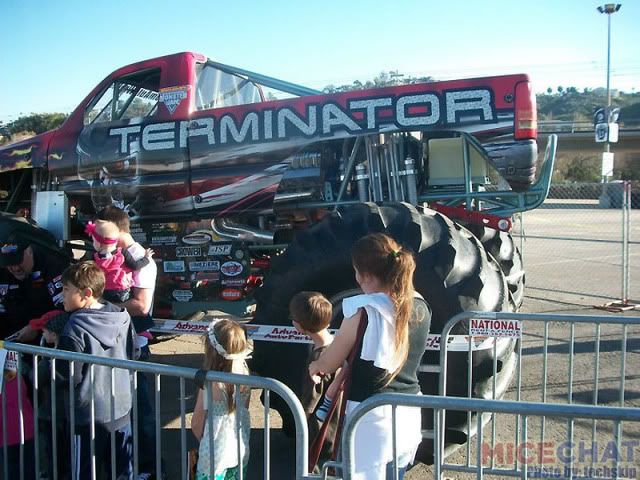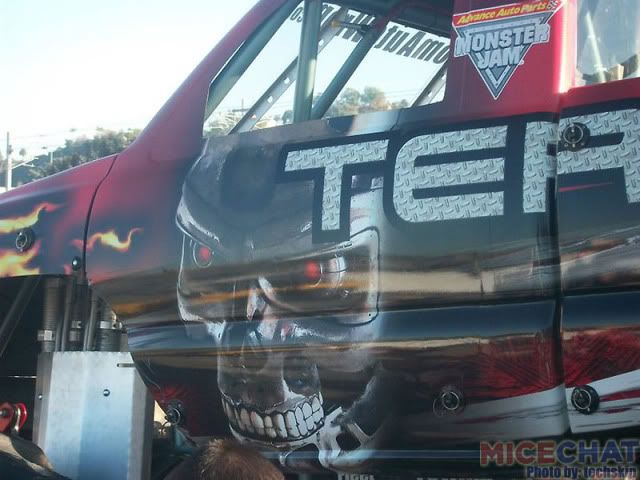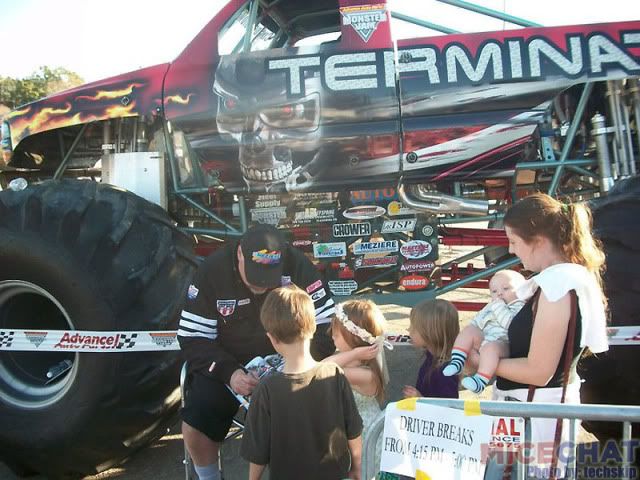 Terminator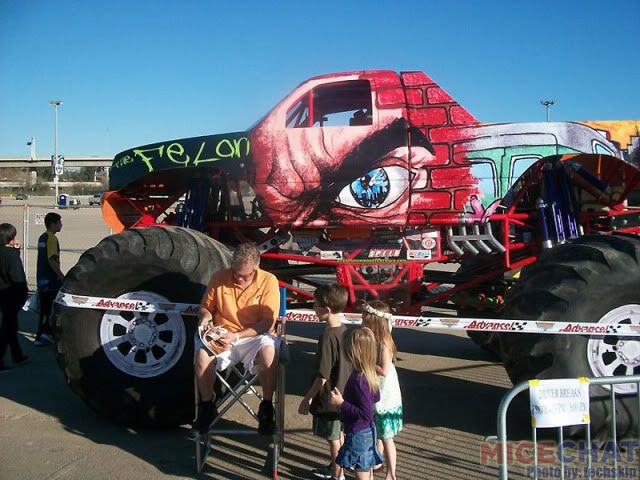 Felon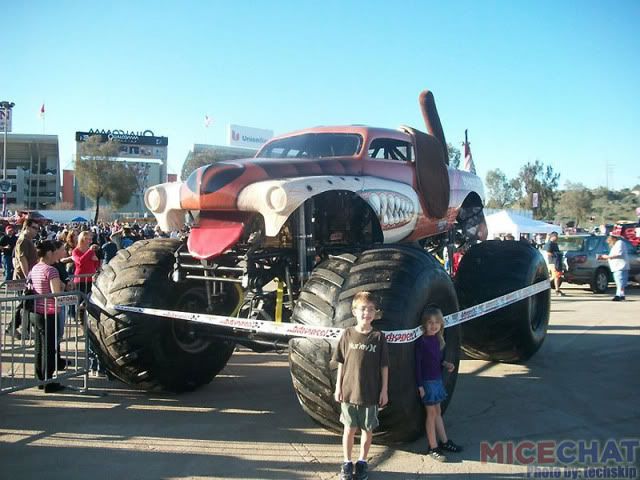 Monster Mutt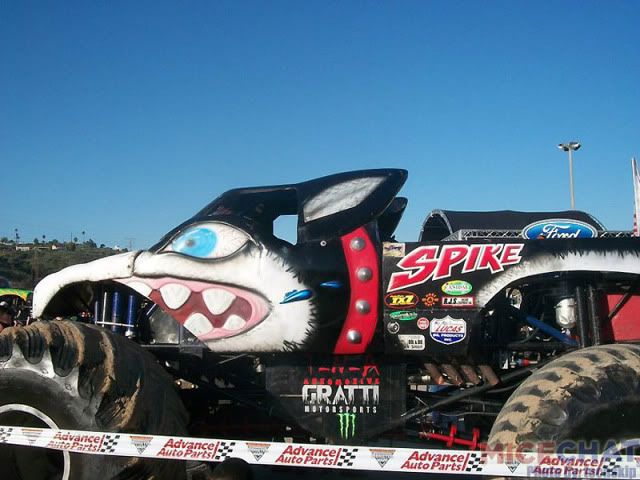 Spike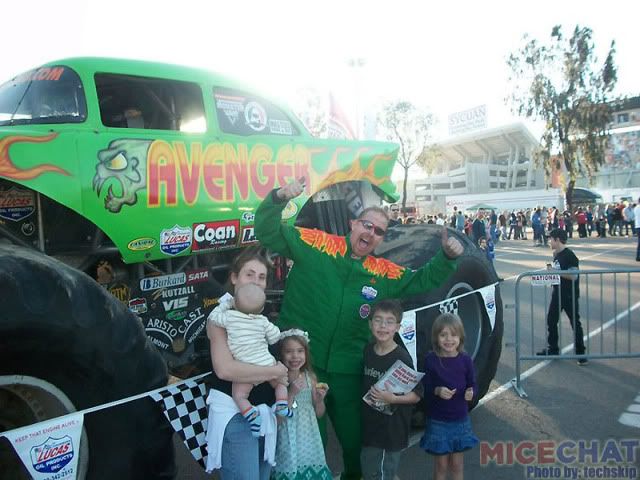 Avenger
El Toro Loco (line too long to get autograph)
The famous Grave Digger (no autograph since we'd seen him in Anaheim and because the line was wrapped around the corner).
Maximum Destruction
Crusader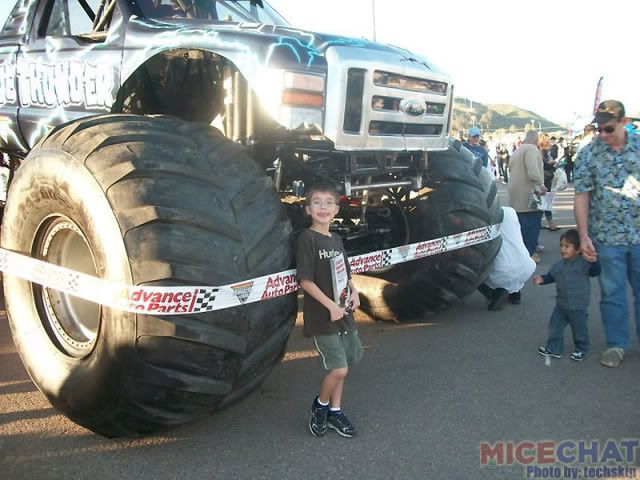 Blue Thunder (which we'd seen in Anaheim as well)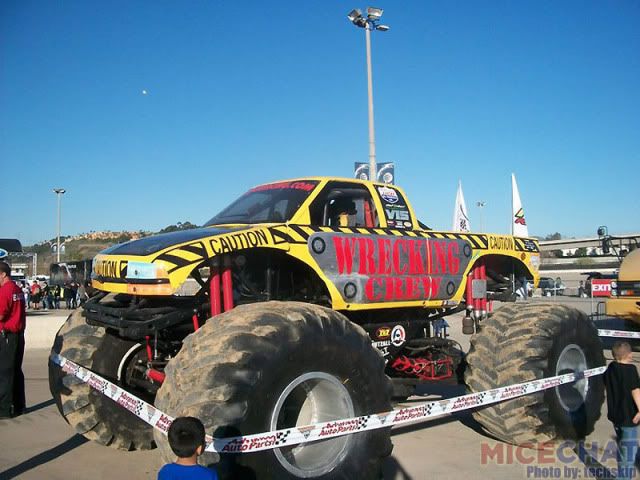 Wrecking Crew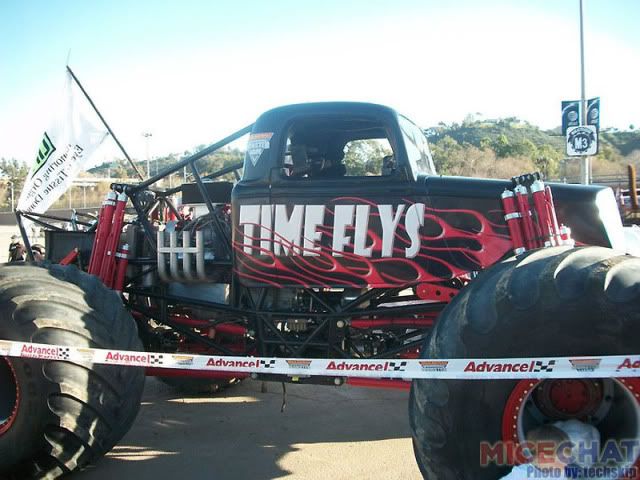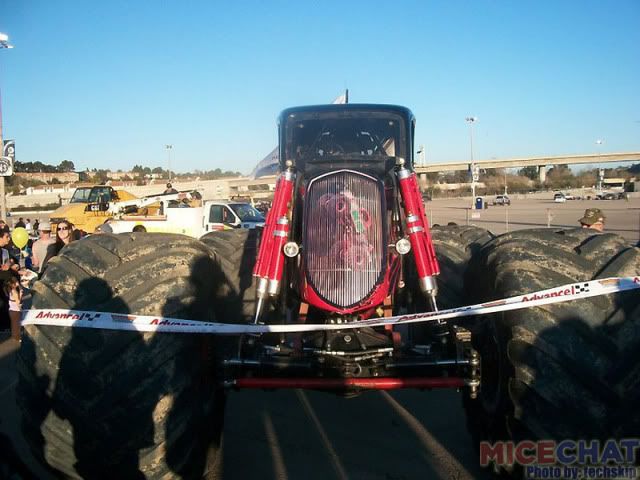 Time Flies... I guess in Anaheim he went over 20f in the air, landed, and one of his wheels flew off... his cat Snowball is in the tire resting.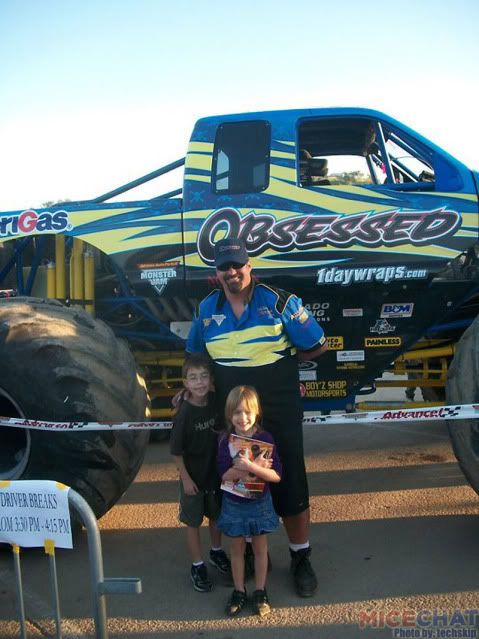 Obsessed
Looking over the autograph collection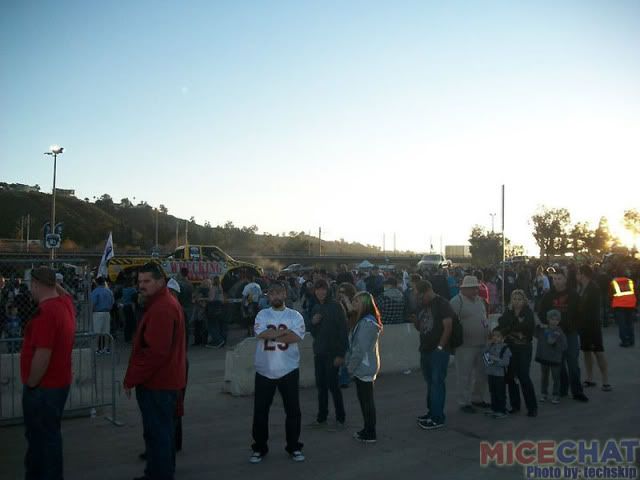 As the day progressed the crowds got larger and larger, eventually getting near any truck was difficult so we headed in to the stadium. My advice...get to the Pit Party early and you can see a LOT.
Next Week: The Battle Begins!
You can see techskip's complete trip report right over here:
http://micechat.com/forums/other-the...nster-jam.html
Looking for up-to-date reports from Disneyland
including photos, gossip, park schedules and more?
Visit these MiceChat columns each week:
And that brings us to the end of another week. Our photographers have just enough time to reload their cameras before we see you all again next weekend. Thank you to all of our wonderful readers, and as always, a huge thank you to our amazing team of global photographers, spies, and gossips:
Our thanks to our special contributors this week,
TechSkip
and
DisneyAnalyst
.
Where have YOU been recently? We invite you to share your photos of theme parks or any other destination that may be of interest to our readers. Please feel free to contact me via MiceChat Private Message (screen name Rixter)
or send me an email:

[email protected]

.
It is readers like you who make MiceChat such a special place.
Don't miss a single one of MiceChat's Featured Blogs (including the Weekend Update). Add our feed to your favorite feed software or site:
Follow us on Twitter