Welcome, folks, to the Weekend Update. Thanks for joining us on our crazy weekly trip around the theme park world.
First up this week, we have a great Walt Disney World update from
Denise "nbodyhome" Preskitt.
She has coverage of the new Haunted Mansion enhancements. This attraction just gets better and better.
MiceChat Administrator
Monorail Man
took a business trip to the Bay Area of California a few weeks ago and brings us a report on his tour of Alcatraz Island. In the weeks to come, he'll be bringing us details on his trip to Tokyo Disneyland Resort which concluded just prior to the earthquake. By the way, the title MiceChat Administrator sure doesn't do justice to the many things that this talented young man contributes to this website. I think he should be dubbed MiceChat Operations Genius!
Another fun weekend yielded another fun Weekend Update report from
SummerInFL
. She visited the Plant City Strawberry Festival. I never tire of seeing these photos of our regional festivals throughout the U.S. It's interesting to look at them in light of the fact that Walt Disney was trying to avoid many of their shortcomings when he envisioned Disneyland. The grid set-up of the Strawberry Festival booths seems a bit claustrophobic.
Finally,
KingEric
has been hanging out at Universal Studios Orlando again and shares some recent photos.
Have a great weekend everyone!
Denise nbodyhome Preskitt updates us on the Walt Disney World Resort
I've been busy this week as a guest blogger on i.seeKissimmee:
http://i.seekissimmee.com/author/denise-preskitt/
We were able to get to see the new Haunted Mansion queue in soft-opening mode yesterday. It has it's critics, but I love the detail - as well as the interactive queue element being added to attractions. I hope the queues are well maintained too!
The Tronorail was on the resort loop, I have never seen it there before:
The Haunted Mansion: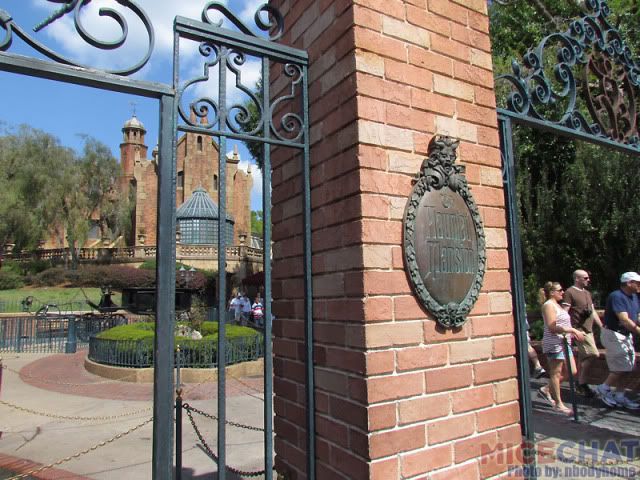 The first thing you see when you enter are a row of busts. It seems like you are supposed to guess who the killer is (there are plaques), but I'm not sure how.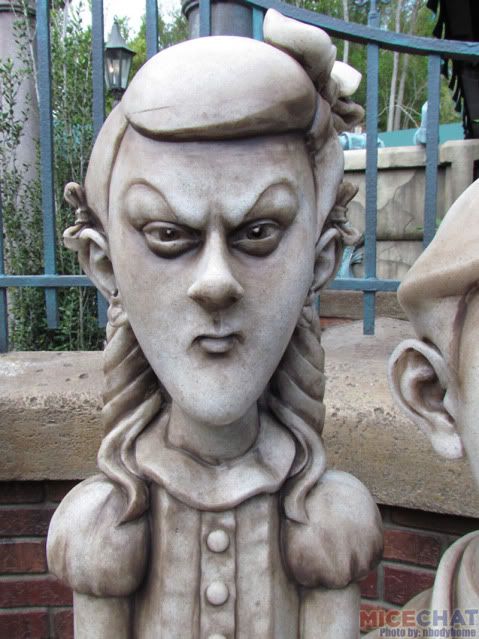 This Sea Captain sings, gurgles as bubbles blow out, and sneezes - if you are too close, you will get a little wet!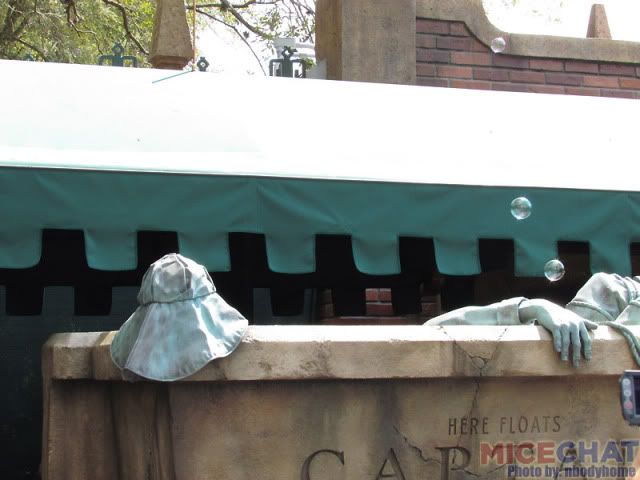 There are many more interactive elements - including a library with books that slide in and out, and musical instruments on a crypt that you touch to make music. I have tons of photos on my site and can share more here next week if anyone is interested! But here are a couple of more photos, including Madame Leota from a different angle than we've seen before: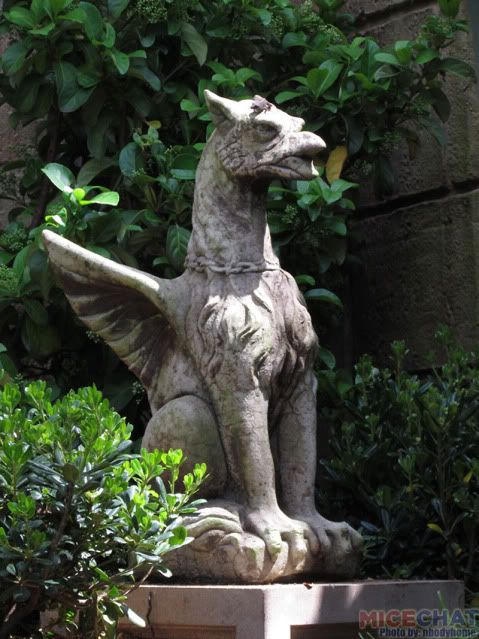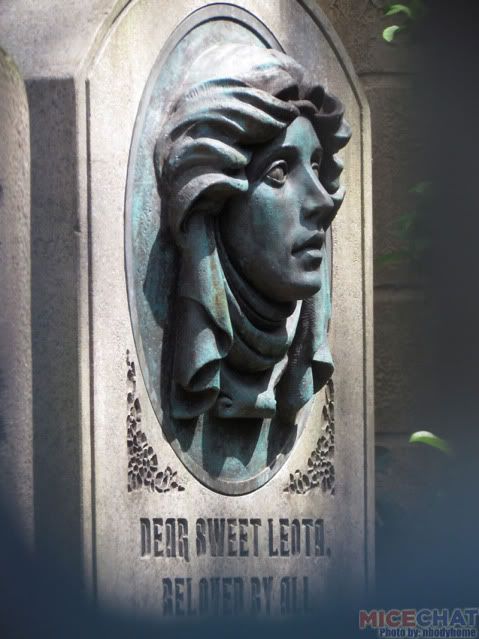 A full video tour:
<iframe title="YouTube video player" width="640" height="390" src="http://www.youtube.com/embed/WRDD4PJH7eU" frameborder="0" allowfullscreen></iframe>
This new queue area is slated to open officially on April 1st.
Construction in Fantasyland: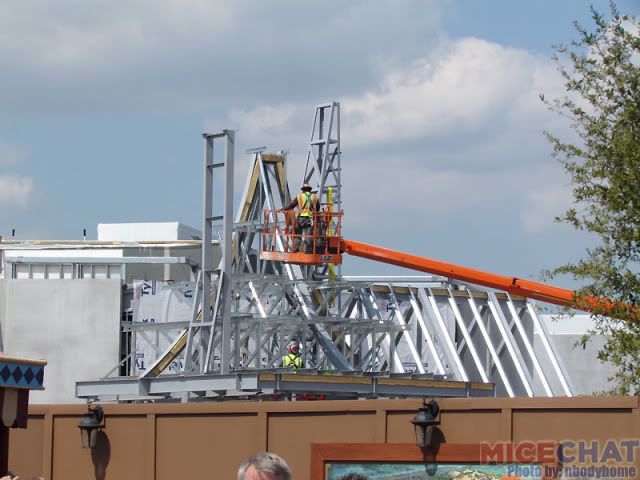 It looks like there will be a new wall added here next to the Tomorowland Speedway: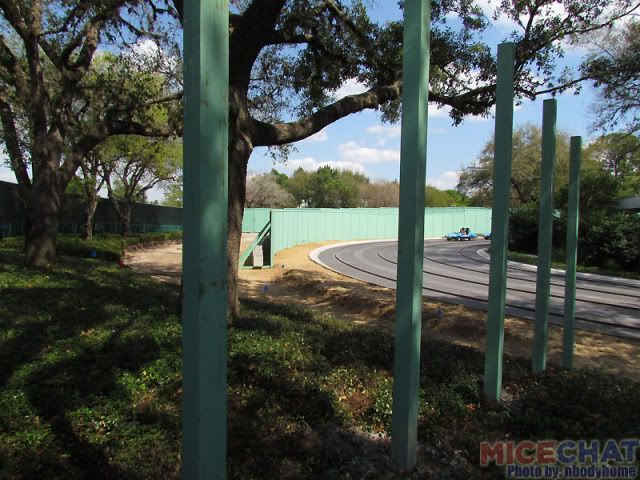 Another Tronorail photo as it travels through the Contemporary:
And this appeared to be a very new Cabana at the Polynesian Resort - like a "Grand Villa" of Cabanas, with a prime spot next to the beach: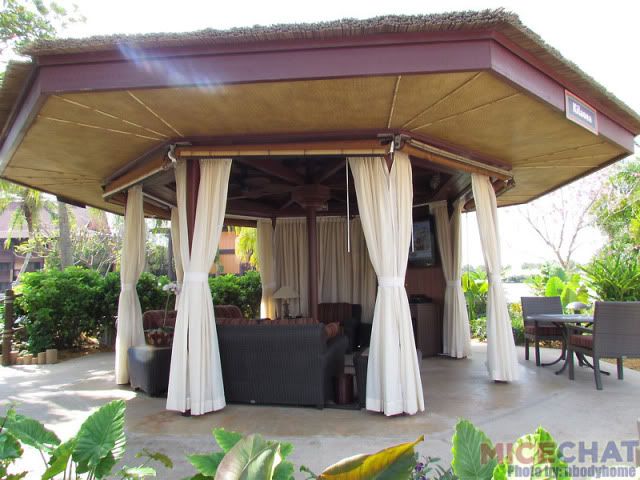 A new Toy Story 3 Hawaiian shirt:
Lotso Huggin' Bear is now at the front of Epcot with Buzz and Woody: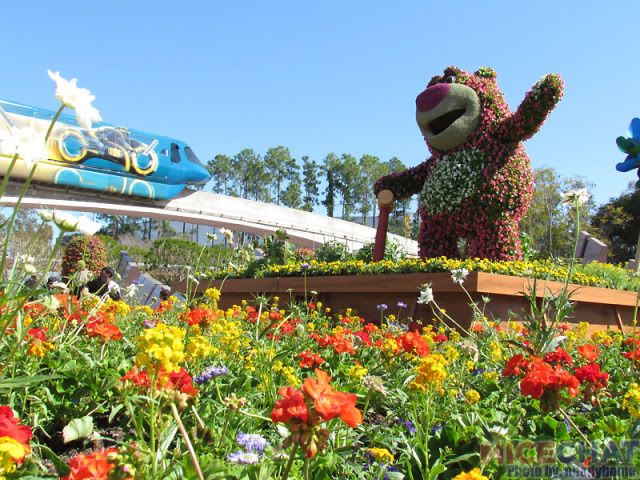 Lightning McQueen has also arrived: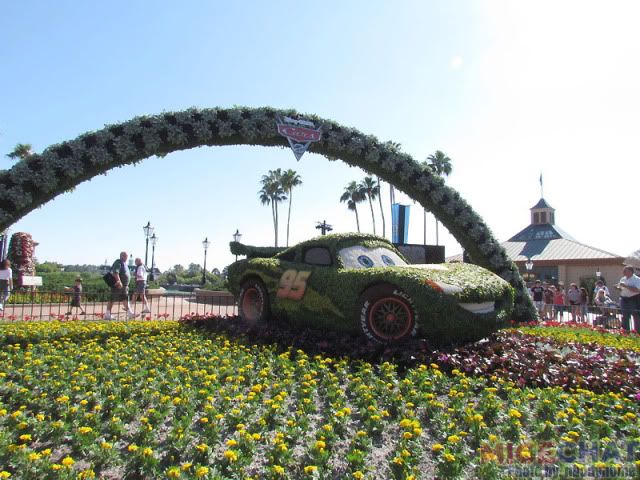 It's a great time to visit Walt Disney World - I can't wait for the new Fantasyland.
Follow Denise's trips around Walt Disney World and beyond at her website: mousesteps.com.

Monorail Man takes a trip to Alcatraz
Alcatraz Island just a mile of the coast of San Francisco was formed out of a crest of a hill in the last ice age, as the ice melted and water filled the San Francisco Bay, Alcatraz Island remained. It's history is long and well known. From what started as a US Army Base - became one of America's most brutal prisons. After the prisoners left, it became a site of protest. Today, everyone is invited to visit this historical island - as it's been declared a National Park as part of the Golden Gate National Parks Conservancy. Let's take a visit to one of San Francisco's most interesting destinations...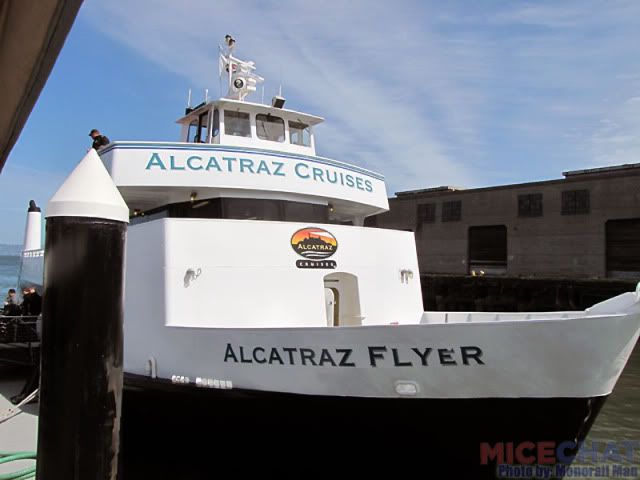 Our adventure begins at Pier 33 in San Fransisco, where we board one of the Alcatraz Cruises' fleet of ships that come to and from the island. Tickets can be bought online at
AlcatrazCruises.com
.
The trip lasts about 25 minutes, and there's lots of comforts aboard the ship.
Better grab a snack, because there's no food where you're going...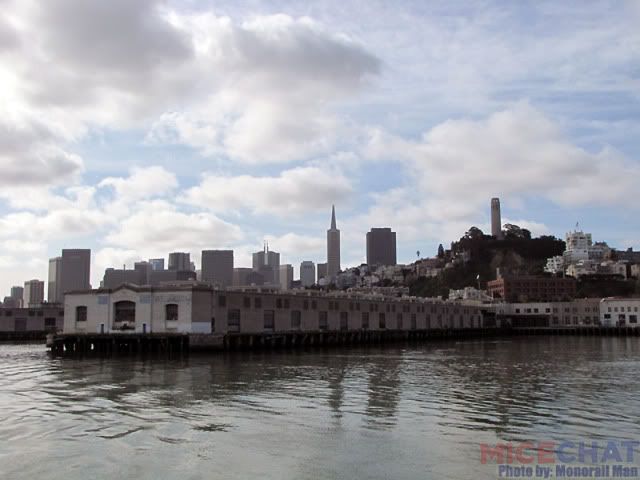 Wave goodbye to the city of San Francisco.
After a short trip, you'll see the island. One of the first things to jump out at me was all the wildlife. Clearly this isn't just a rock.
The first building you see as you disembark the boat is the barracks building. This building served as a home from the early 1900s all the way through the closing in 1963.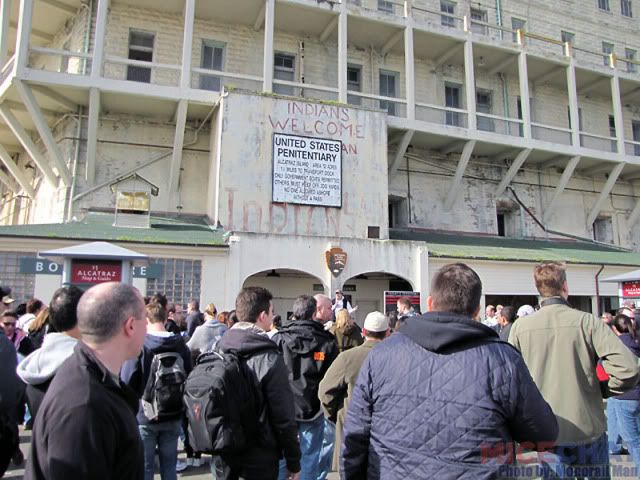 After you get off the boat, a park ranger tells you some basic rules and a quick schedule for the day. You're allowed to spend as much time on the island as you wish, and catch any boat back.
Be sure to check the schedule board to see what guided tours are being offered. There's also an excellent audio tour of the cellhouse.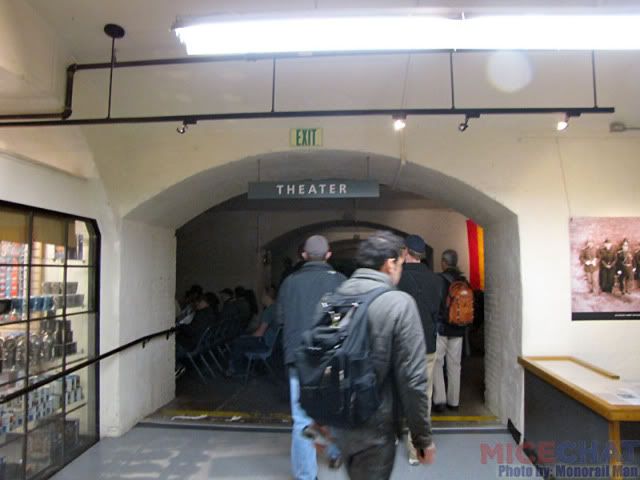 You might want to start your tour in the theater. This 18 minute video, produced by the Discovery Channel, gives you all kinds of fun history of what you'll see on Alcatraz.
After the film, why not explore the exhibits on the history of Alcatraz? You'll find great exhibits on the prison, the wildlife, and the Indian protest.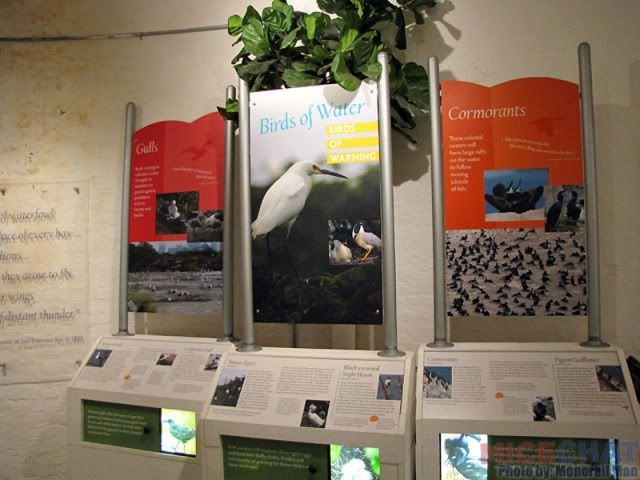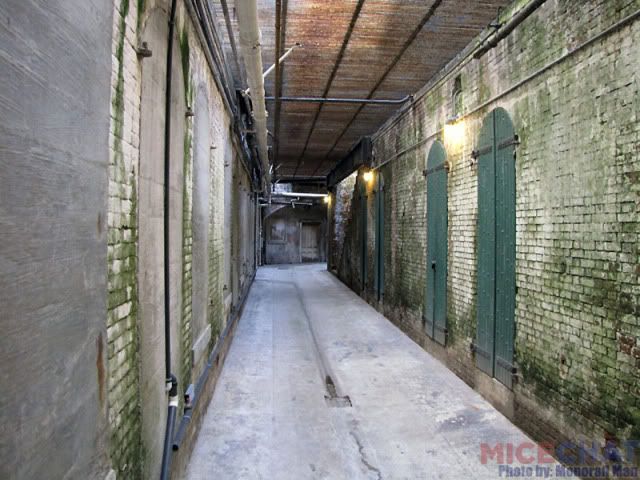 As most of the people flowed up, towards the Audio Tour, I decided to take it slow, and really capture the history of this great island.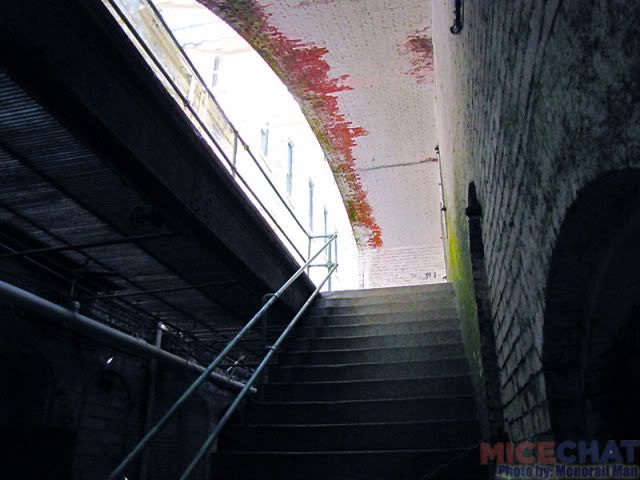 Cannon post from the Civil War days.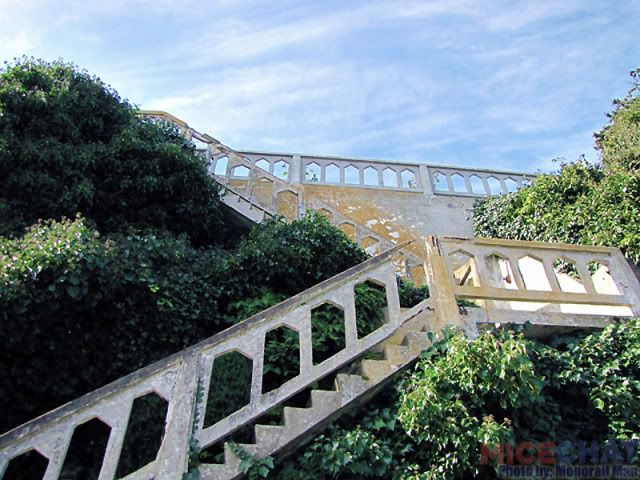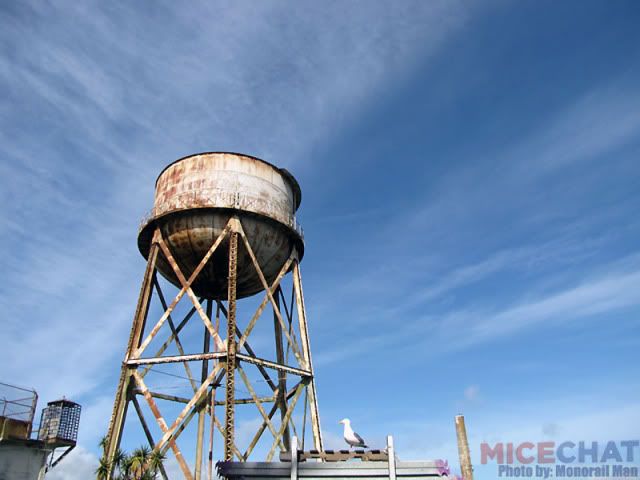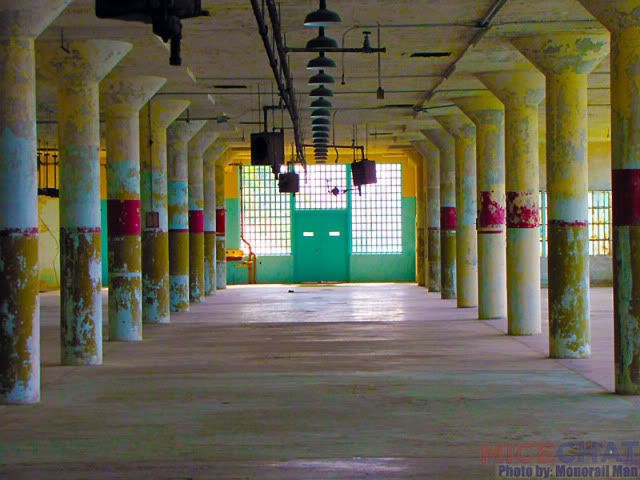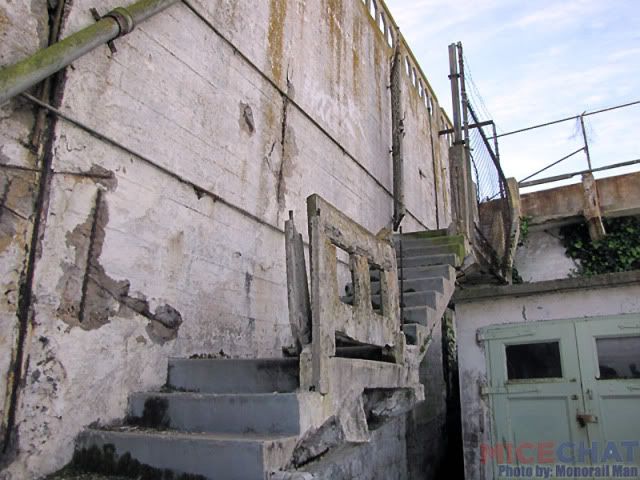 Next up was the Cellhouse audio tour. This was a real treat and highlight of the trip.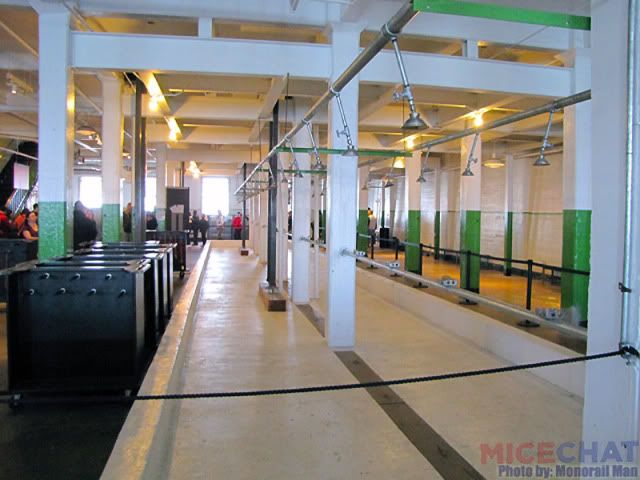 No, you don't have to start with a shower - but you'll line up to collect your personal audio tour. You can pause the tour anytime, so feel free to explore if you want to see more.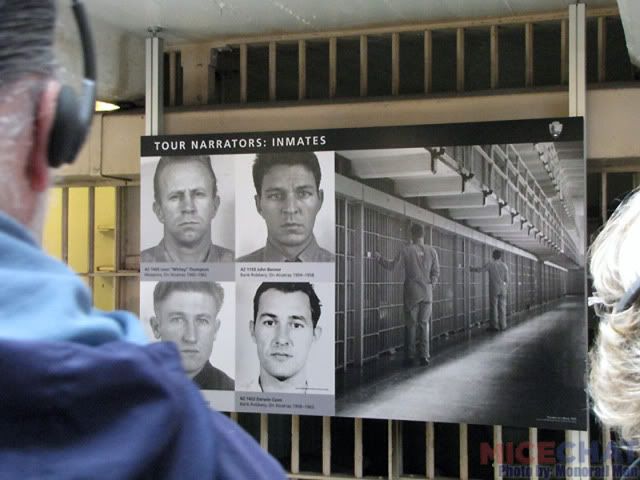 You're tour narrators are actual inmates and officers - who lived in Alcatraz. The tour is also filled with binaural audio, so you'll actually feel like you're in the prison. It's very well produced.
Average prison cell, missing a bed.
The D-block, the cells here are larger - but this is for the 40 or so most dangerous inmates. They we're never let out of their cell, stuck 24/7 in the hell of bars.
How about solitary confinement? Step in here and close the door for pure darkness. A great story says that some inmates would prefer 'the hole', because with no noise or light, they could travel to the places they wanted to be in their dreams.
Need a book? The library would checkout approved books for the inmates to read.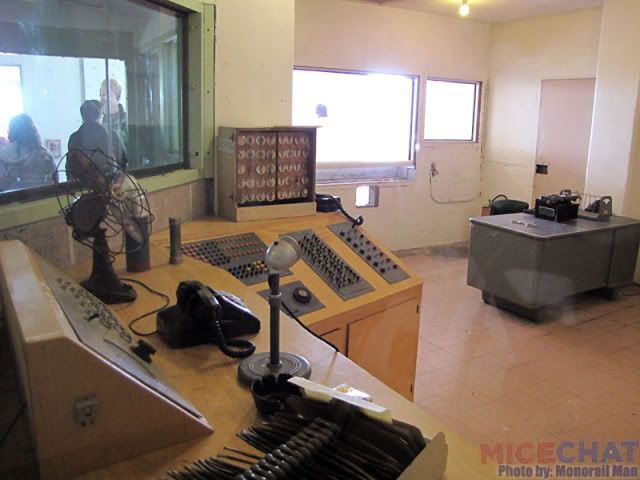 The prison control office.
Outside of the prison Administration area. You can still see the "FREE" the Indians painted in between the lines.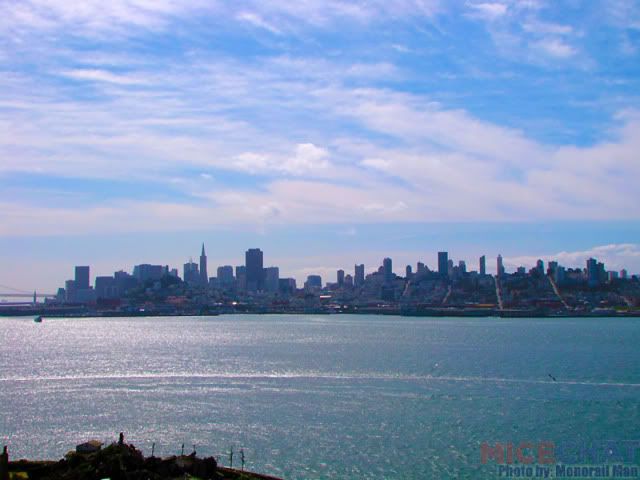 Halfway through the tour, you'll get wonderful views of the city from the island.
See that broken vent? That's where Frank Morris, John Anglin, or Clarence Anglin escaped. The only 3 to every successfully escape Alcatraz! What happened to them is still not known.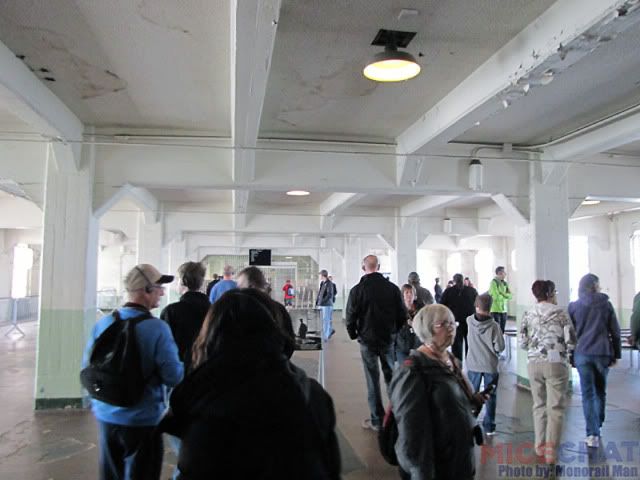 You'll finish the tour in the Dining Hall.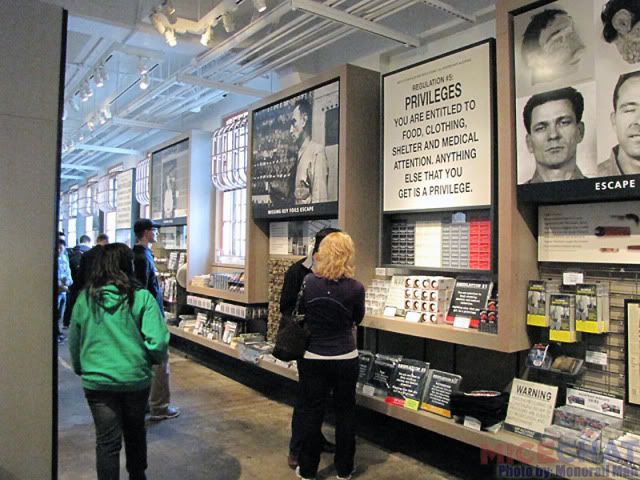 Once done, you'll find a gift store, where you can purchase all kinds of Alcatraz souvenirs. Profits go directly to the National Parks Service, so shop away!
Alcatraz island was quite a treat, so when you're in the San Fransisco area - be sure to drop in for a visit!
As you can see, Alcatraz island is a wonderful place to visit and a great National Park. In addition, they also offer night visits, and all kinds of different fun activities. For more information, visit
Alcatraz Island - Official Tickets Site
! Thanks for joining me on an Escape to Alcatraz!
SummerInFL takes us to the Plant City Strawberry Festival
Every year, when strawberries are at peak season, Plant City holds it's annual
Strawberry Festival
. There is a Strawberry Queen, pig races and every deep fried junk food known to man is at your disposal.
That particular day happened to be wrist band day, that is, we paid $20 and my daughter got to ride as many attractions as she could handle. I was interested in only one ride, the ferris wheel and the exhibits. Okay, so I was a little excited to see my first pig race.
Freak Out - Aptly named, I would never ride this, my daughter loved it however.
The food was roughly every two feet, which was great for most, but my diet wasn't very happy.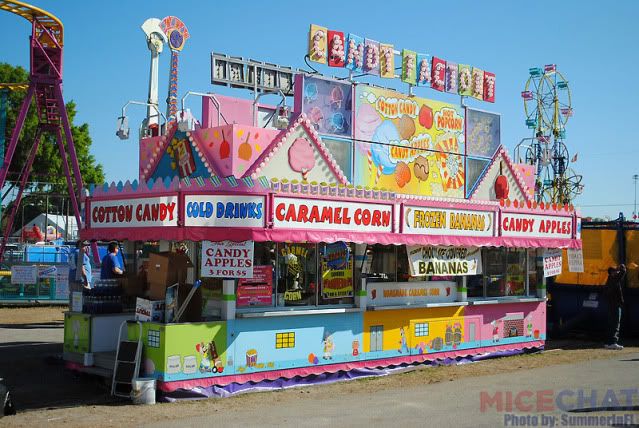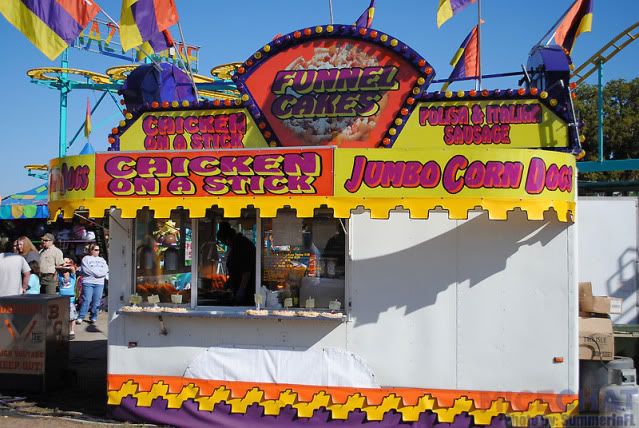 Only one metal bar keeping you from flying off into space? Yes, please.
This seems oddly familiar.....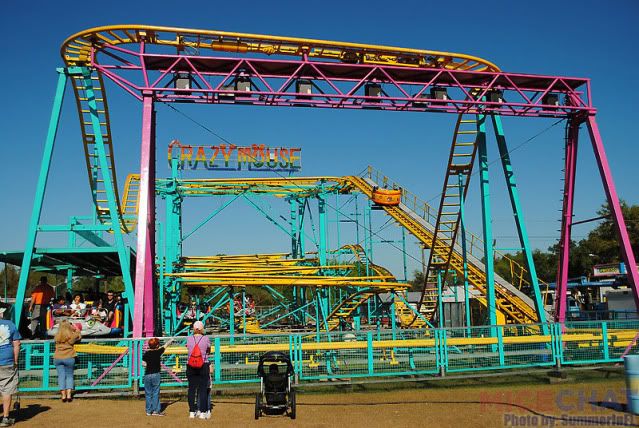 Why am I craving a Coke?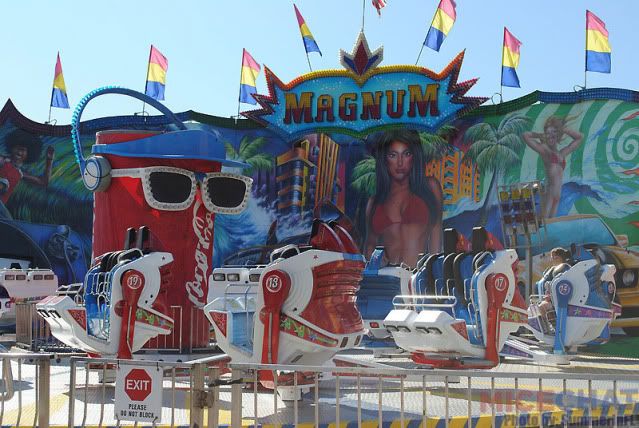 hehe Just because....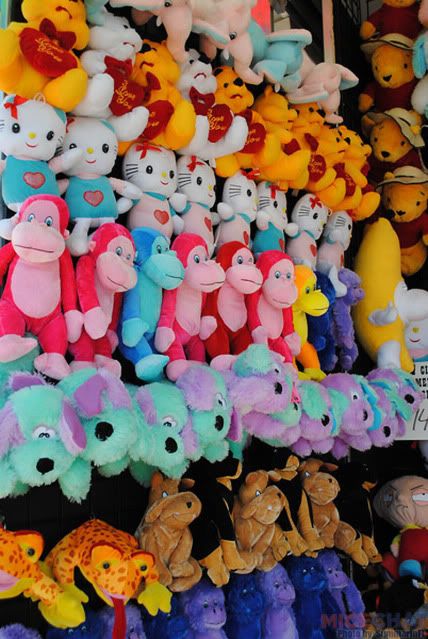 Advertising elephant ears were displayed just about everywhere...
This was my favorite ride as a kid, I love the spinning to popular music.
Views from lofty heights!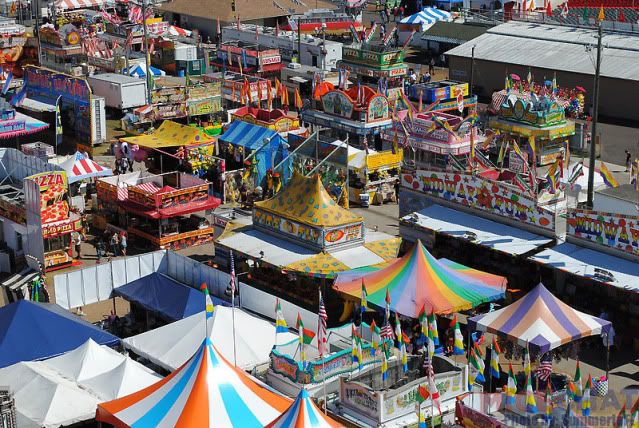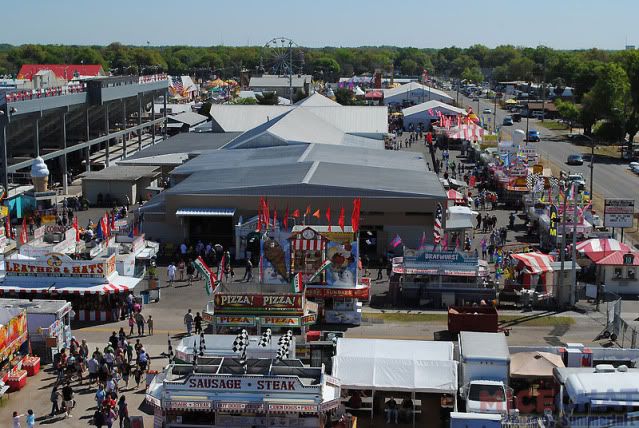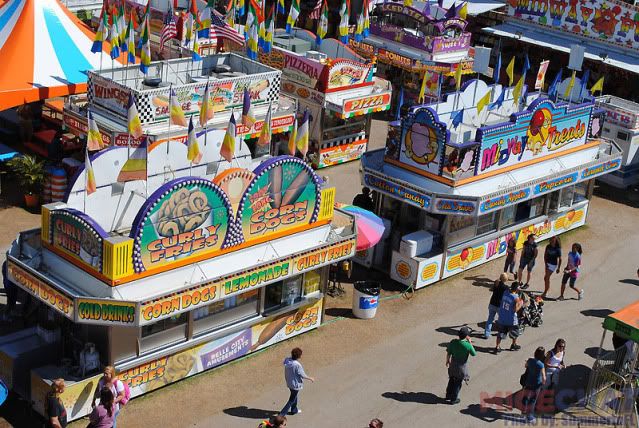 Who hasn't wanted to be a human hamster? Anyone?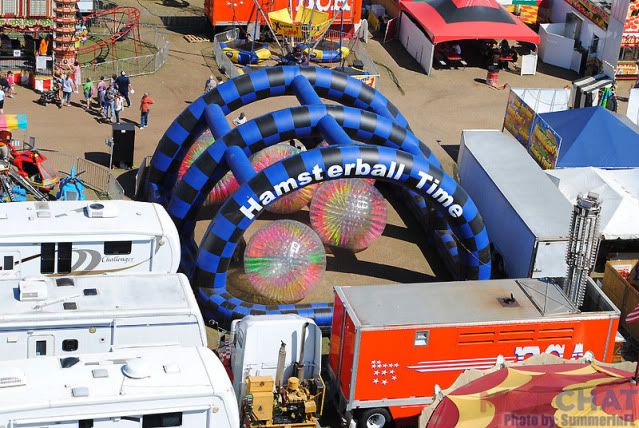 Mmmmm.....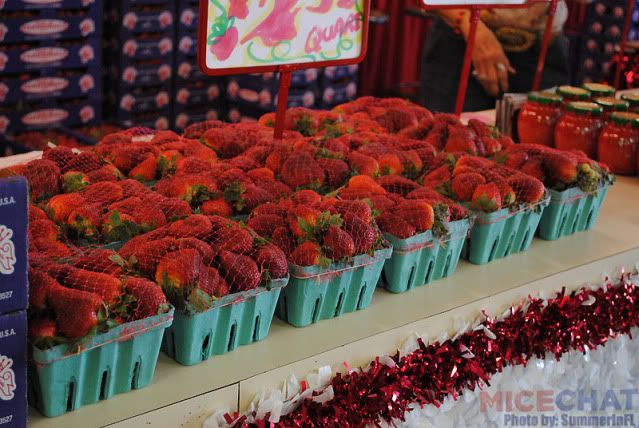 It would not be a Strawberry Festival, in the South, without Strawberry Sweet Tea, sadly, I did not partake.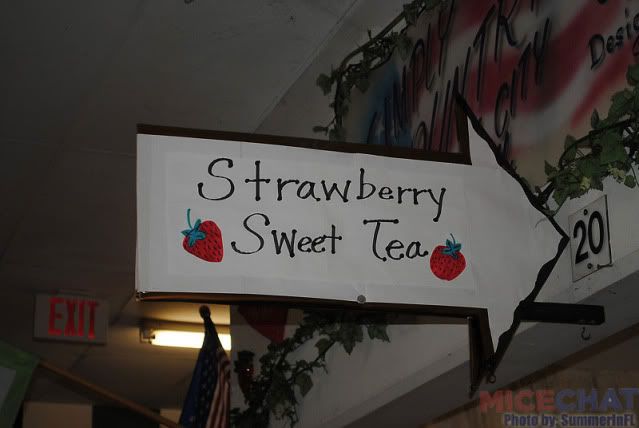 Did you know that Worlds Largest Gone With the Wind Collection is located in Plant City, FL? Neither did I.
There were many competitions going on at the fair, cow, bull, scrapbooking, quilt and cake decorating, just to name a few. I think there were some cake decorators influenced by a certain company we all know and love...
The 2nd ferris wheel at the other end of the festival. We did lots of walking, hopefully we managed to circumvent all the extra calories we were eating....wishful thinking, I know.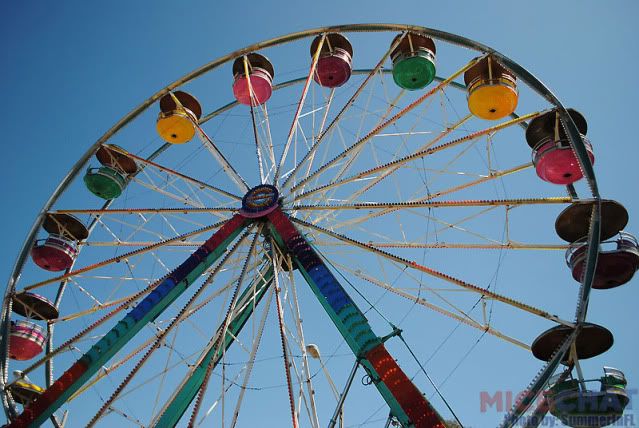 Wait a minute, is that....pig races???
This festival was a lot more massive than I expected but the layout of everything was nicely put together, there was never any bottlenecks that we experienced. Other than the occasional family that decided to stop right in the middle of traffic of course.
And now the moment you've all been waiting for.....PIG RACES!!! (I must be channeling the carny spirit) lol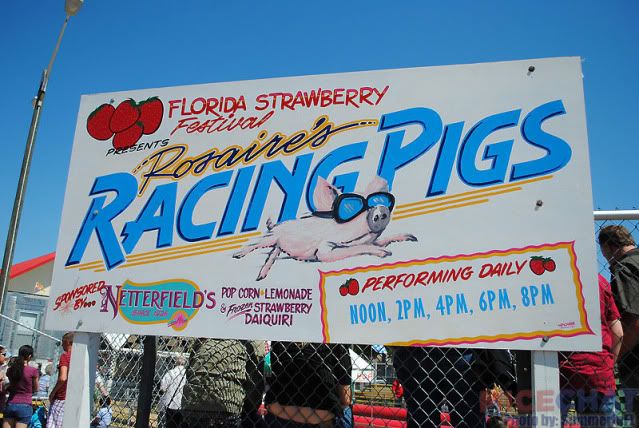 In between shows they hosted a "pig hop", basically people paid $3 a person to race each other on an inflated piggie, it was definitely comical, especially when some would wipe out before the finish line.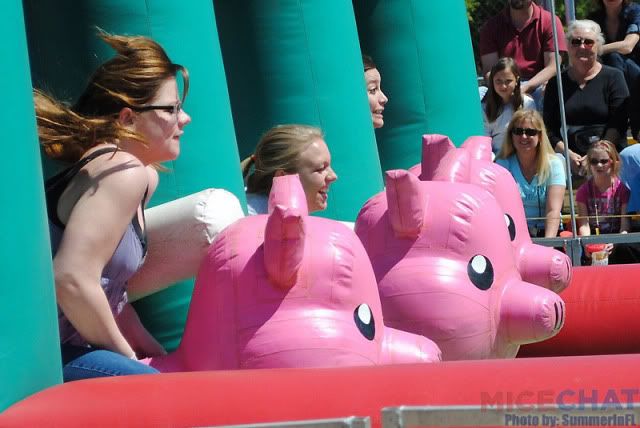 1st Race! - Wild pigs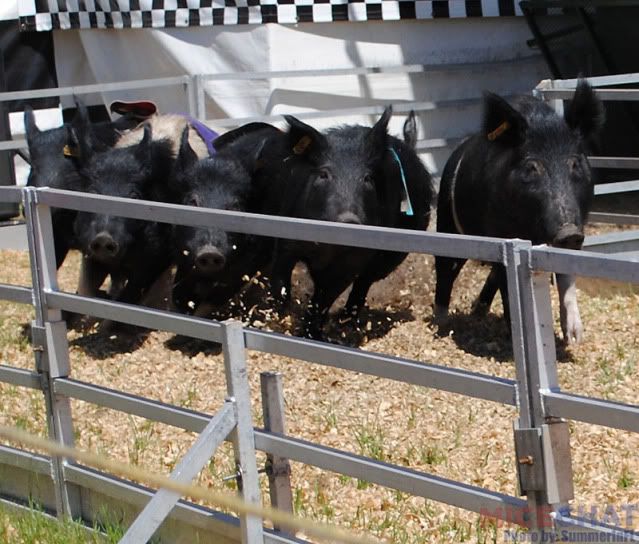 2nd Race! - Domesticated piggies...
3rd and Final Race! - Pot-bellied pigs!! - Though it was more a walk off than a run off but still fun to watch.
This guy gave up entirely and started to just eat the track!
After the pig races we stumbled upon the candy warehouse, where they gave you a basket and sent you down rows and rows of candy and then charged by the collected pound when we were finished.
Their tagline was they carried all manner of unique and classic candies...
We also caught part of the prized cow competition.
This one took first place!
We finished the day with a few rides, an elephant ear and picked up a goldfish my daughter won earlier in the day.
KingEric shares some fun detail shots from the Universal Orlando Resort
A Beautiful Sun Dial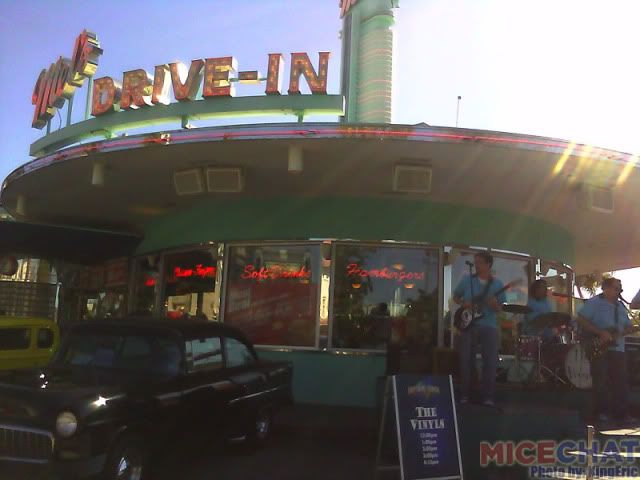 A Rockabilly band performing in front of Mel's Dinner
The Characters from Madagascar! getting ready to meet and greet!
The Beattle Juice Graveyard Revue. If you haven't seen it, it is definitely worth your time to check out.
This past weekend there was the NDA competition at Universal or Cheerleaders were in swarms? Gaggles? Herds? They were grouped together.
Hogwarts on the Horizon from Camp Jurassic
The Incredible Hulk Roller Coaster is getting a fresh coat of stunning green paint![/QUOTE]
Visit these MiceChat columns each week:
And that brings us to the end of another week. Our photographers have just enough time to reload their cameras before we see you all again next weekend. Thank you to all of our wonderful readers, and as always, a huge thank you to our amazing team of global photographers, spies, and gossips:
Our thanks to our special contributor this week,
Monorail Man
.
Where have YOU been recently? We invite you to share your photos of theme parks or any other destination that may be of interest to our readers. Please feel free to contact me via MiceChat Private Message (screen name Rixter)
or send me an email: oceansiderick@gmail.com.
It is readers like you who make MiceChat such a special place.
Don't miss a single one of MiceChat's Featured Blogs (including the Weekend Update). Add our feed to your favorite feed software or site:
Follow us on Twitter