Here we go again around the theme park world with the Weekend Update. No April Fool's Day jokes here – our photos are the real deal.
Mickey Mouse has a new meet and greet location in the Magic Kingdom. Denise
nbodyhome
Preskit was one of Mickey's first visitors and she has photos and video to prove it.
Disneyland Paris is making preparations for their 20th Anniversary celebration.
Disney and more
blogger
Alain Litaye
bring us up to date on Mickey's Paris home.
The weather is beautiful right now in Australia and our correspondent from down under
Rya86n
took advantage of the sunny days with a trip to Seaworld Australia.
I never tire of seeing photos from Universal's recreation of Hogwarts School of Witchcraft and Wizardry at Islands of Adventure. MiceChatter
nnic
visited Harry's home away from home recently and shot some dynamite photos.
Join us for a trip around the world that doesn't even require a passport!
Denise nbodyhome Preskitt shares photos of the new Mickey Mouse Meet and Greet at the Magic Kindgom
Mickey Mouse has a new meet-and-greet at the newly re-named Town Square Theater (formerly Exposition Hall). It has so many wonderful touches that Disney fans will love, though you'd need to visit multiple times to see them all! In our case, it was so slow that Mickey and Minnie gave us a tour of their new home - on our fourth visit through. It allowed us to get photos and video we'd normally not have time for (I have 160 total photos on my site -
mousesteps.com
).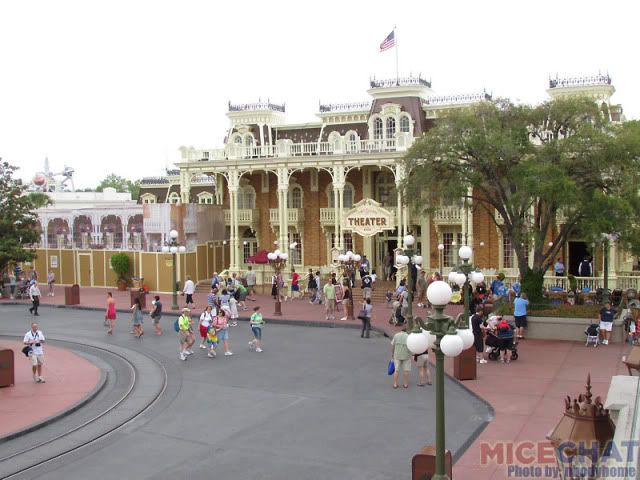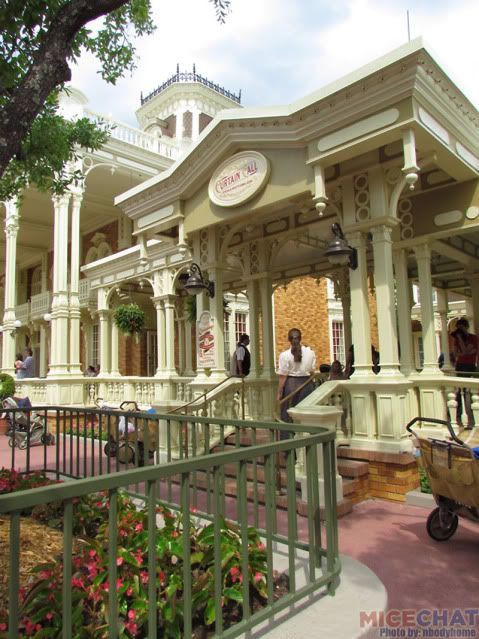 The lobby, where "1901" is spelled out in the tile to commemorate Walt Disney's birth year:
We never waited more than 10 minutes for Mickey - and in two of our four visits, we had no wait (it isn't advertised widely yet).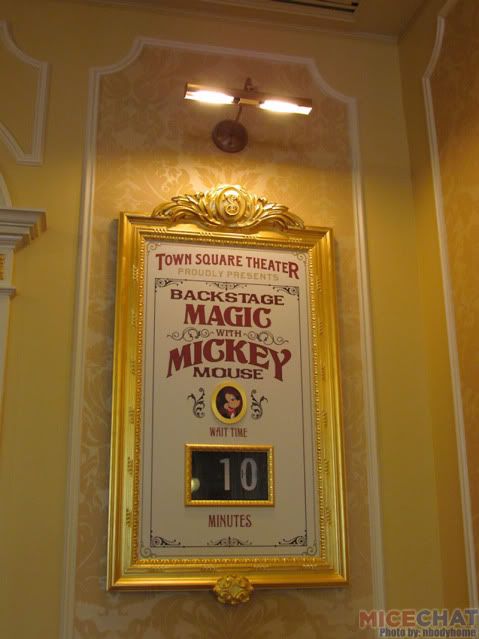 There are several pieces of artwork that come to life, though they aren't the same as on the Disney Dream - you can't make them move.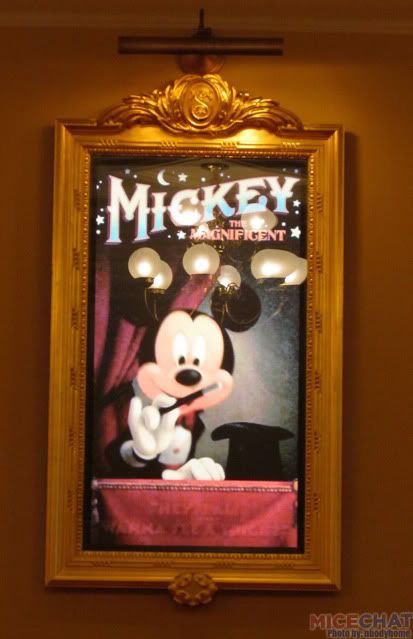 On Mickey's wardrobe and trunk, stickers refer to a variety of Disney places: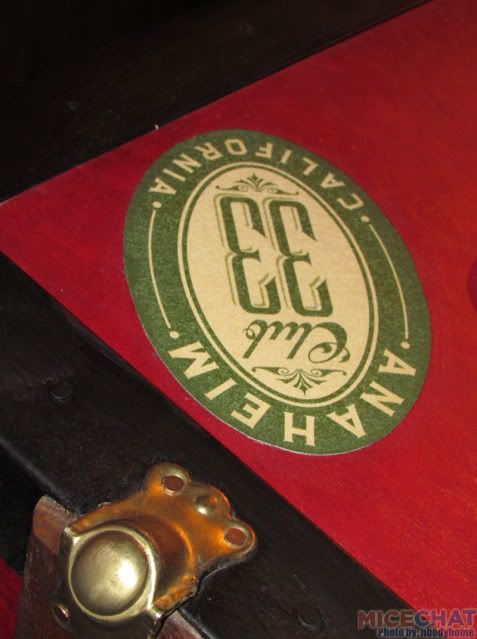 Mickey and Minnie:
A bulletin board which includes references to various Disney films and characters (like Oswald, Band Concert and 101 Dalmatians):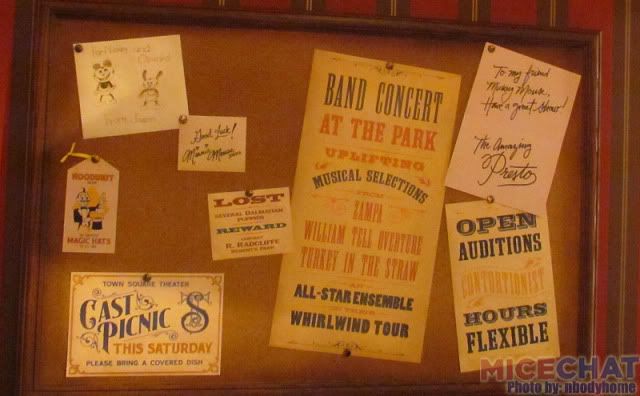 This bookshelf display represents the four Walt Disney World parks: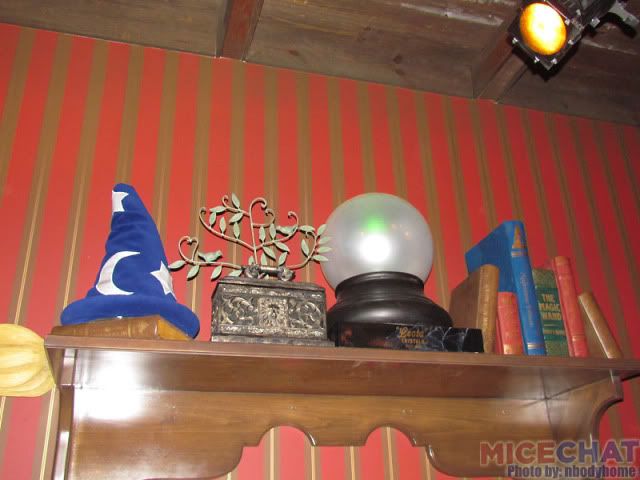 Joyce, the disappearing bird is named after the longtime Imagineer, Joyce Carlson: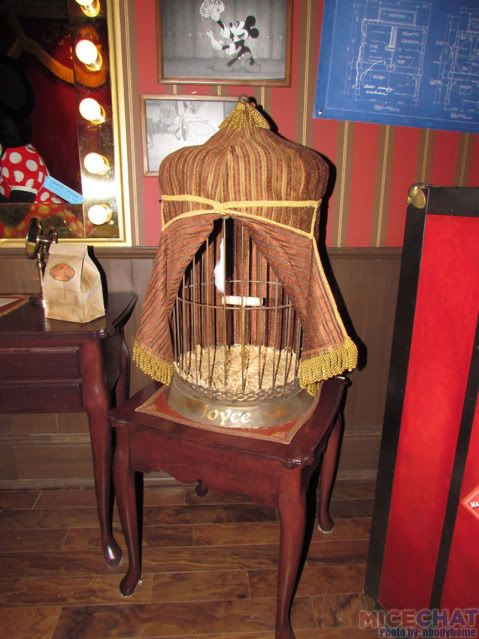 A note from J. Thadeus Toad, Motors LTD: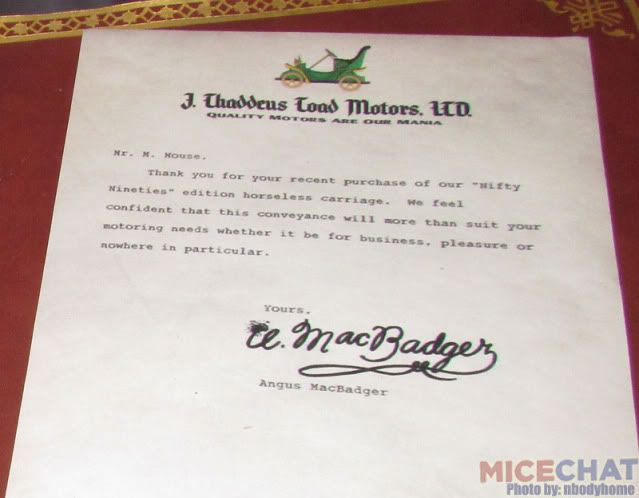 Mickey and Minnie wave goodbye:
We have a full video which includes the queue and meet-and-greet, with the tour by Mickey and Minnie (as well as the shop):
<iframe title="YouTube video player" width="640" height="390" src="http://www.youtube.com/embed/Uz5G1dHe_yA" frameborder="0" allowfullscreen></iframe>
A tribute to Mickey's Toontown Fair in the gift shop (heavily themed with magic related items - but curiously sells no magic wands, tricks, or anything else!)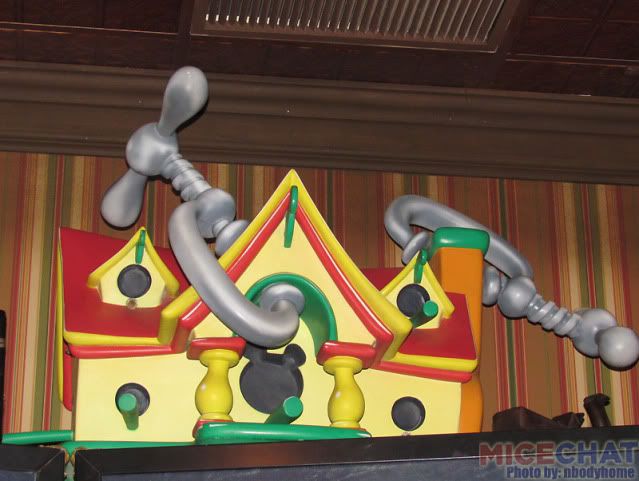 The princesses also have their meet and greet there:
Our video:
<iframe title="YouTube video player" width="640" height="390" src="http://www.youtube.com/embed/F2ztt0R5GyM" frameborder="0" allowfullscreen></iframe>
A well done job by Disney!
Follow Denise's trips around Walt Disney World and beyond at her website: mousesteps.com.

Alain Litaye has an update on the preparations for Disneyland Paris' 20th Anniversary celebration
MiceChat blogger and friend from Disney and More, Alain Littaye, is a Frenchman and frequent visitor to Disneyland Paris. Today, he updates us on what's new at the park and preparations for Disneyland Paris' 20th Anniversary!
Of course, the icon for any Disneyland park is its castle. And it only makes sense that the beautiful Disneyland Paris Sleeping Beauty Castle would be getting a major update.
The castle will be returning to a color scheme closer to what it opened with. Expect some beautiful blue tones and lots of gold on top of the spires.
Main Street is getting some painting as well on Walt's Restaurant and the Gibson Girl facades.
But it is the relocation of Disney & Co's iconic band organ (pictured below) which is the big news.
This lovely piece of Disneyana is being packed up and sent to the Magic Kingdom in Florida as part of the new Story Book Circus area in the Fantasyland expansion project.
In exchange, the Imagineers are sending Disneyland Paris some character visuals to feature in the shop. Parisians can cry while the Floridians rejoice.
Disneyland Paris seems a bit more alive lately with nearly all of its Main Street Vehicles out and running.
On this particular day, it was only the double-decker bus which was missing in action. The vehicles really add a lot of flavor and excitement to the street.
You may recall that Small World had a lovely display of minatures at its exit. That building is being gutted to make way for a new Princess Pavilion where little girls will be able to meet their favorite princess as well as have their photo taken.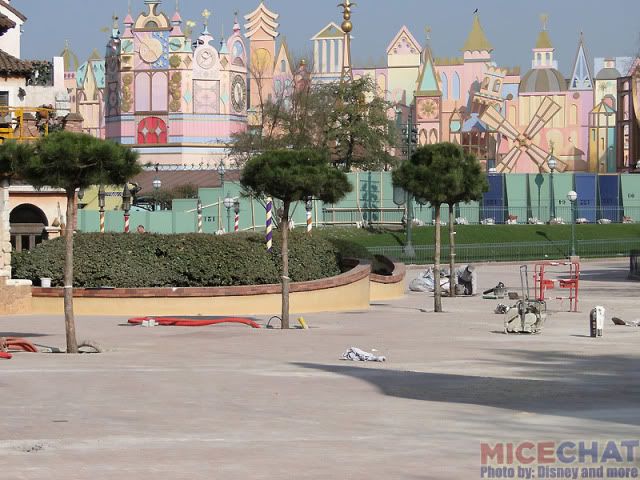 In Tomorrowland, the Astro Orbiter (which is nearly identical to the one at Disneyland in California) is getting a major refurbishment to repaint the entire ride and fix some long-broken effects.
But the most exciting news is the return of the Molly Brown, the Western River Queen. Two years ago, she caught fire and it was unclear if she'd ever return. But after an extensive rebuilding project, she is back on the river!
Buffalo Bill and some Disney Amassadors helped to relaunch the ship.
Molly sports a new brownish paint job which is quite a bit less colorful than she previously had. and they've recorded a brand new narriation which features elements from the original with extra dialogue from Molly Brown! The narrator and captain still speak in french but Molly Brown is now speaking in English.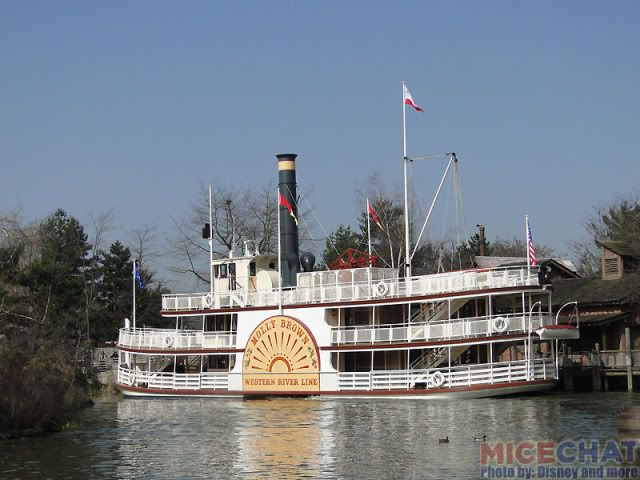 And here's some video of the relaunching ceremony curtesy of our friends at the French boards Disney Central Plaza:
Molly isn't the only boat on the river. The king of this river is still the good ol' Mark Twain!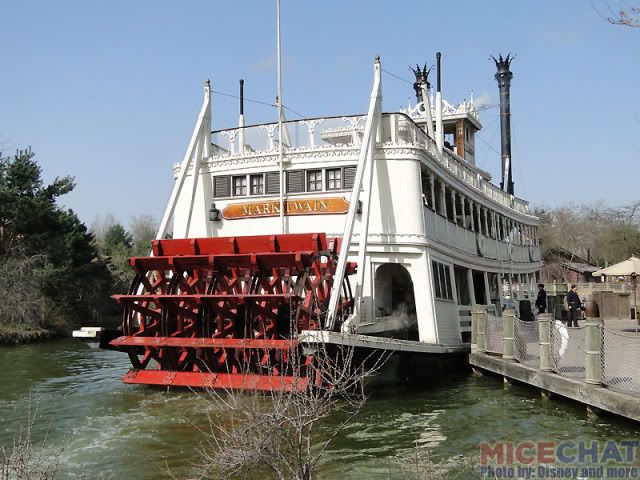 Taking a look around the river, we find a few fun details here and there, but the river is missing the level of storytelling that other Disney parks maintain in their version of the attraction.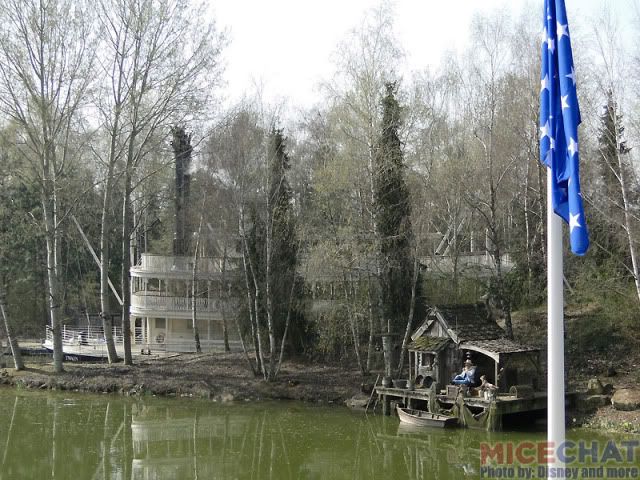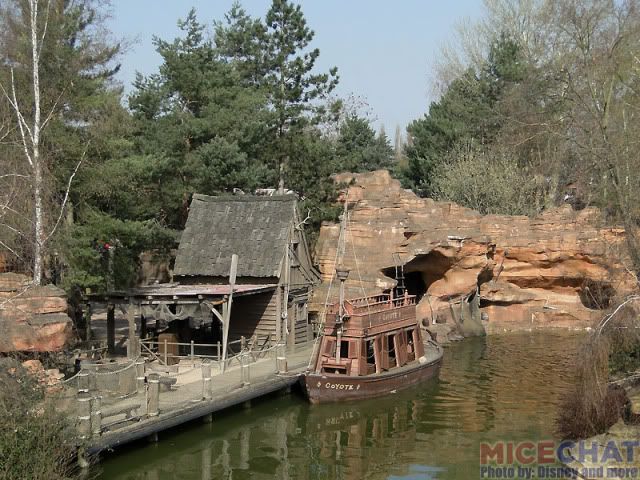 And some details are in some serious need of attention and paint. Though we are told that Big Thunder will be cleaned and repainted later this year.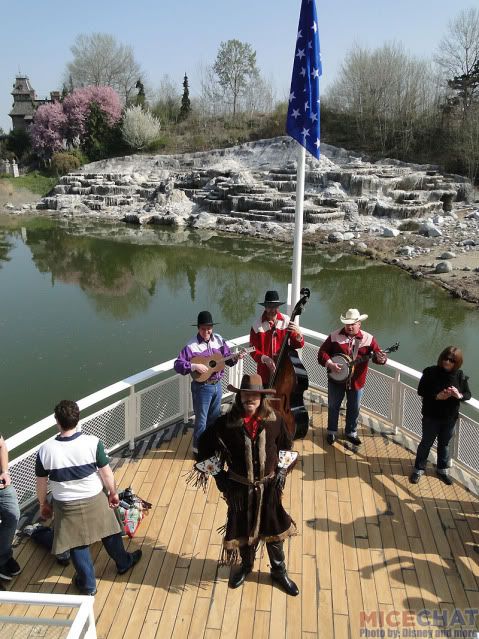 Saddly, the gysers at the edge of the river near Phantom Manor have not been functional for many years and are not scheduled to return any time soon.

Park hopping from Disneyland to the Studios finds even more news. The RC Racer photo location in Toy Story Playland has been removed due to some incidents involving guests climbing on the display.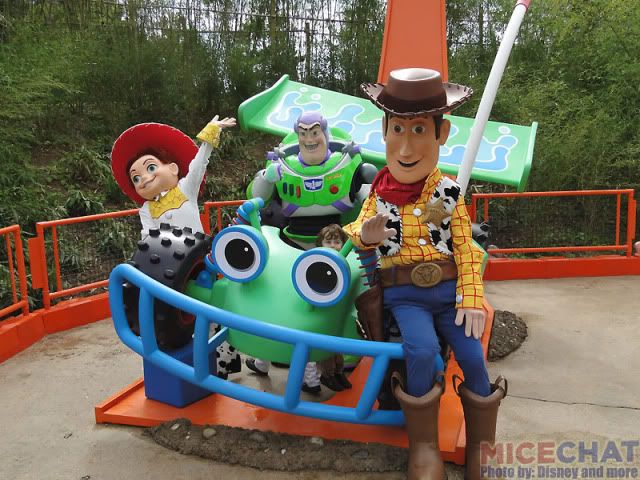 This cute car has been removed
RC will be replaced with a large toy box photo location which will make it look as though the guest has been encased in a toy package.
Over at the hotels, lots of work is underway and eventually all of the hotels and rooms will be completely renovated.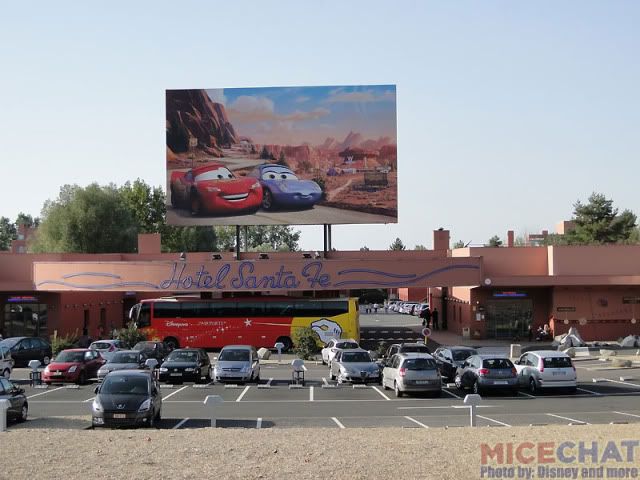 Hotel Santa Fe is getting a Cars overlay and may eventually sport some Cars figures out front.
Work has already begun on the small lodges and they're now renovating the rooms on the 1st and 2nd floors of the main building. It's really a brand new theme with new colors and Bambi artwork on the walls, new flat screen TVs as well as in-room internet access.
Alain has even more photos of Disneyland Paris posted to his blog -
Disney and More
Here are some Seaworld Australia photos courtesy of Rya86n!
On a hot, busy Gold Coast day, I managed to find some of the quieter, more peaceful areas of Seaworld Australia.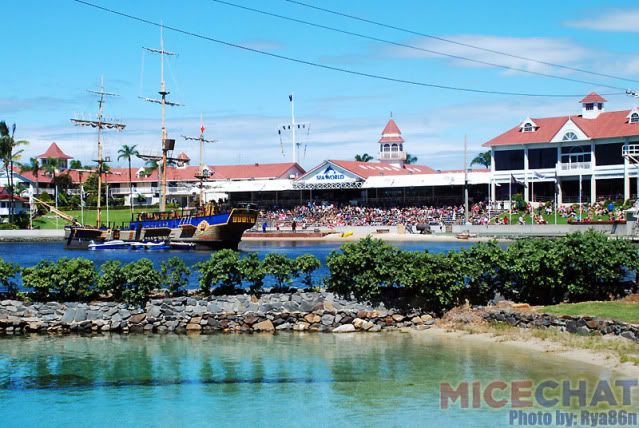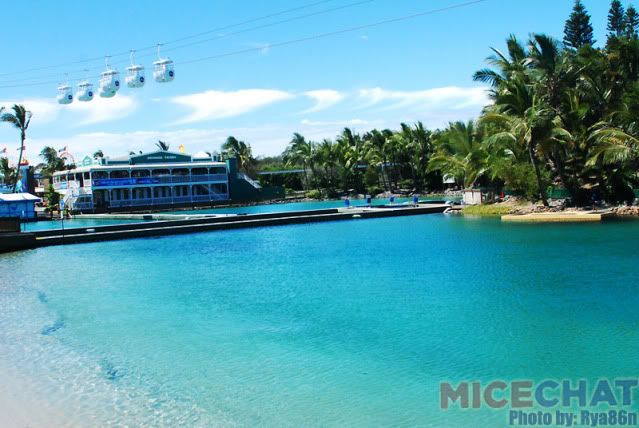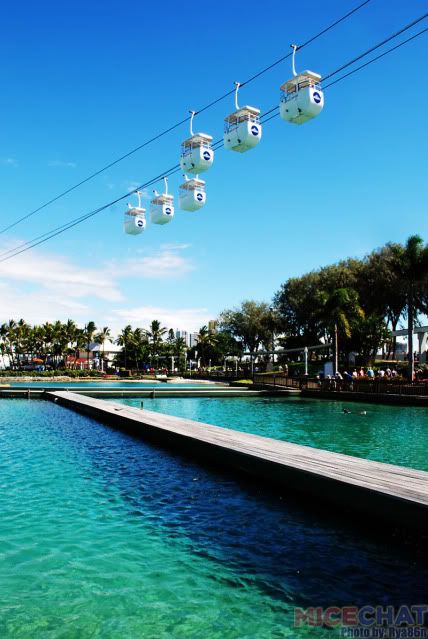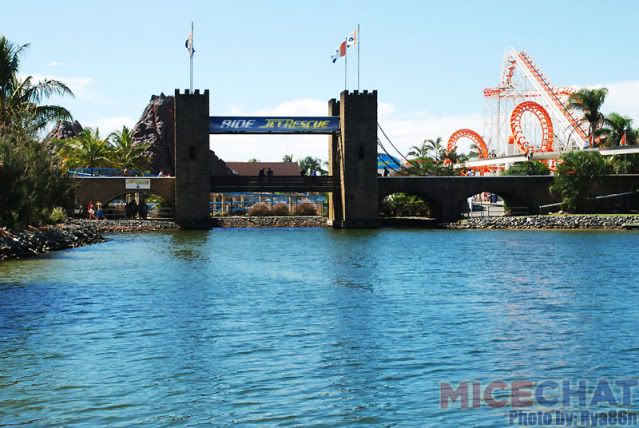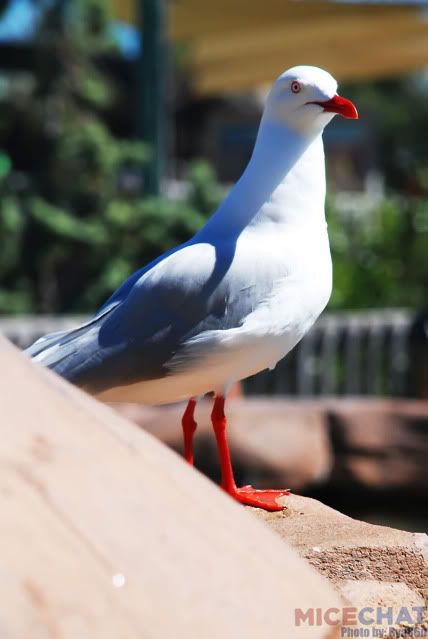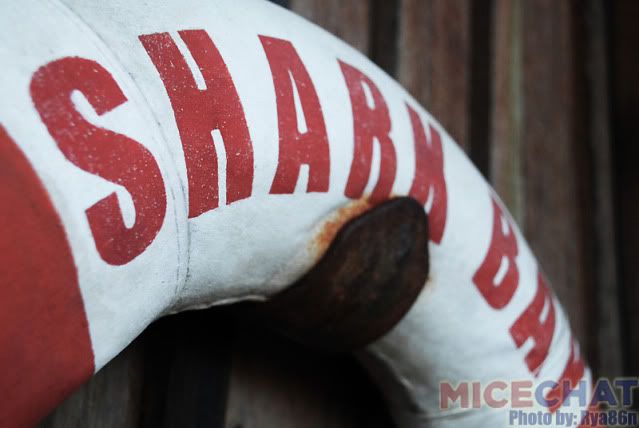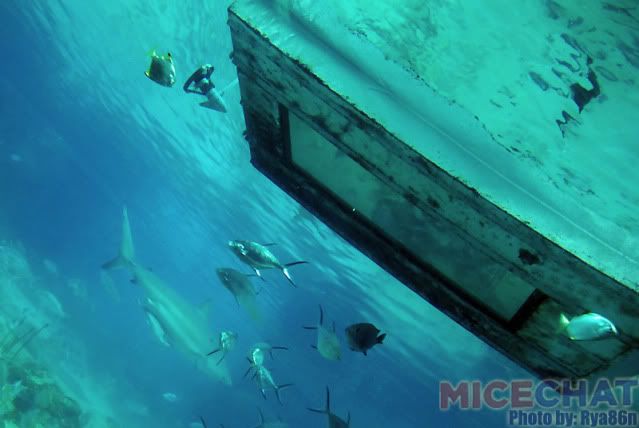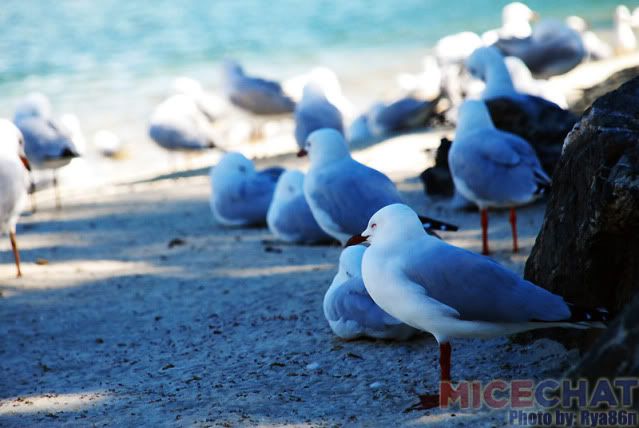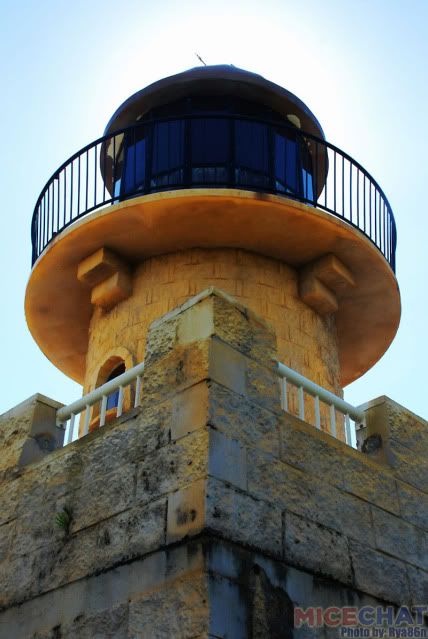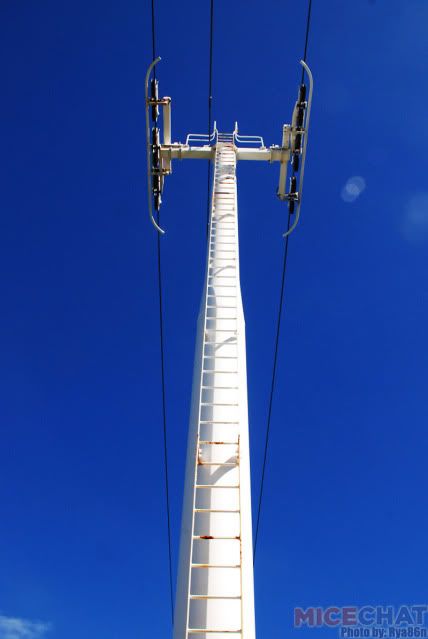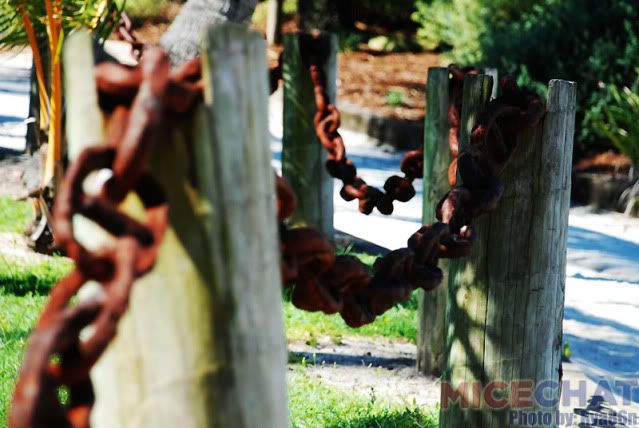 nnic shares a trip to the Universal Orlando Resort
MiceChat member
nnic
and family recently traveled to the Universal Resort in Florida. The primary mission was to see the Wizarding World of Harry Potter, which they did, but, as you'll see, they saw so much more, too! Looks like a wonderful trip, and we think you'll enjoy seeing the resort through these wonderful photos.
To see more, and read about the trip, you'll find the whole story right over here:
http://micechat.com/forums/universal...oto-heavy.html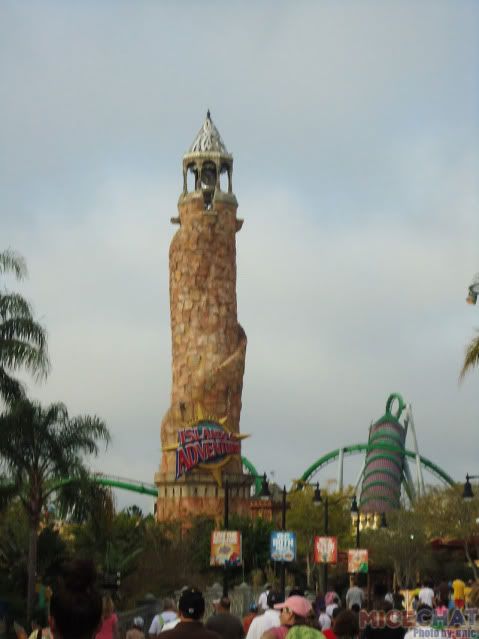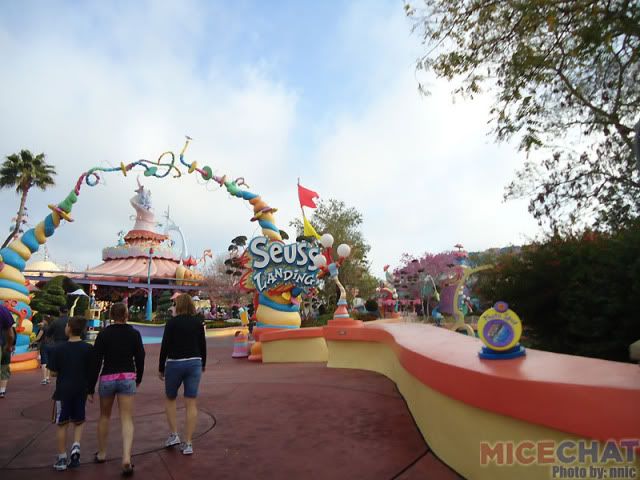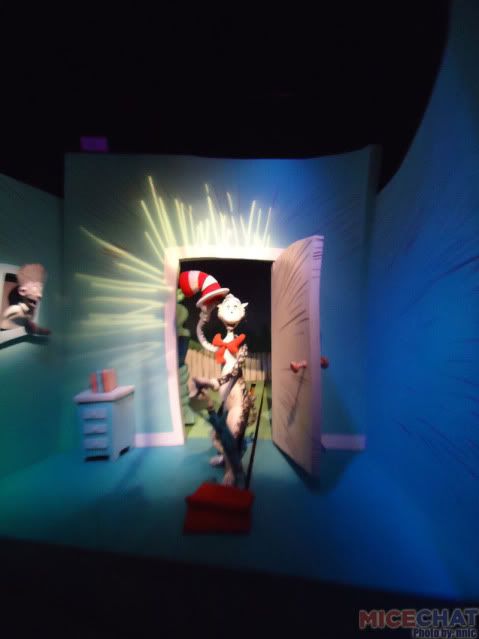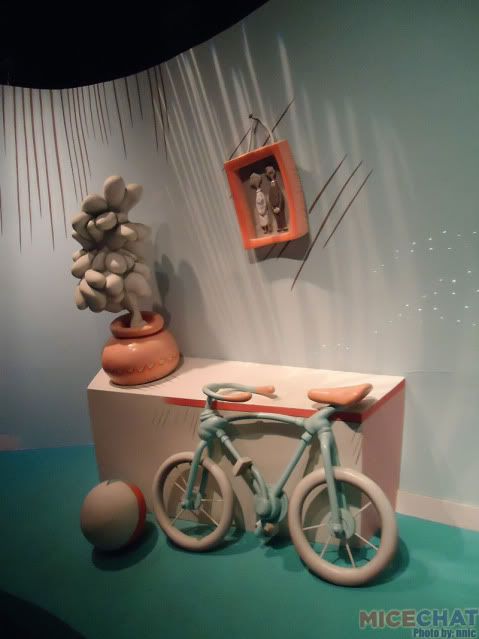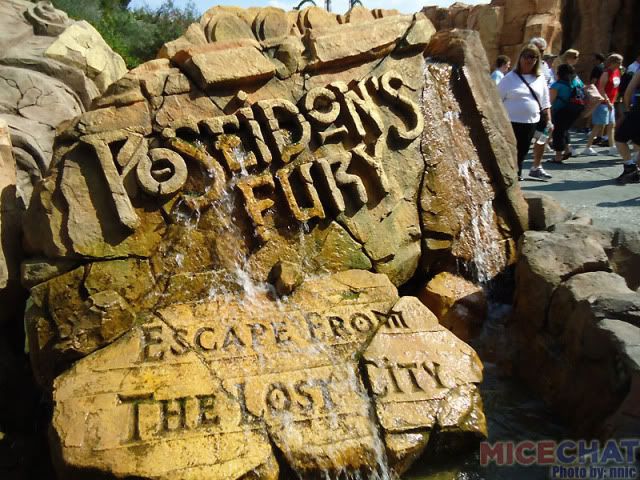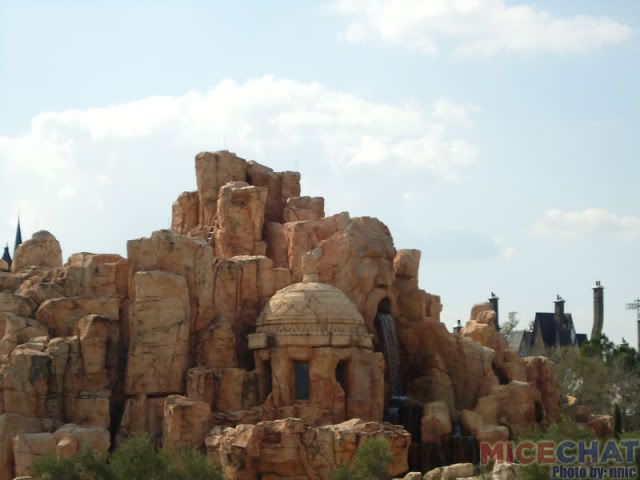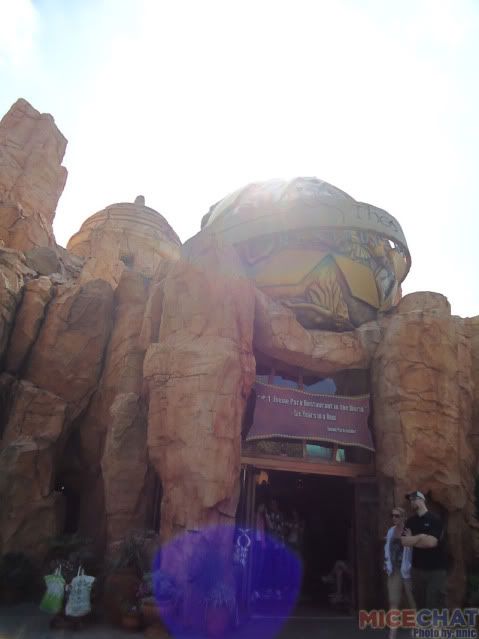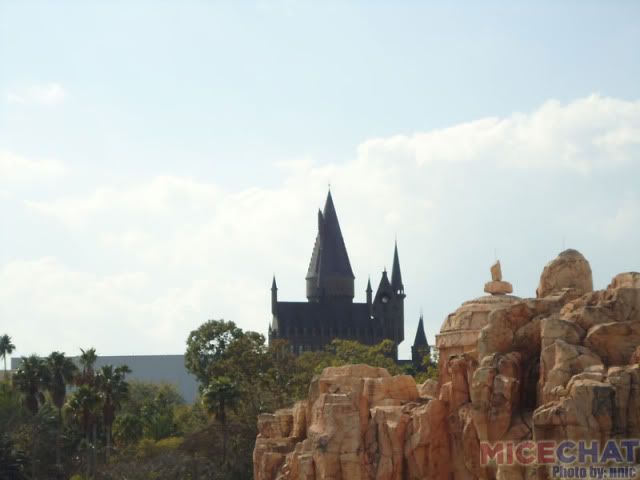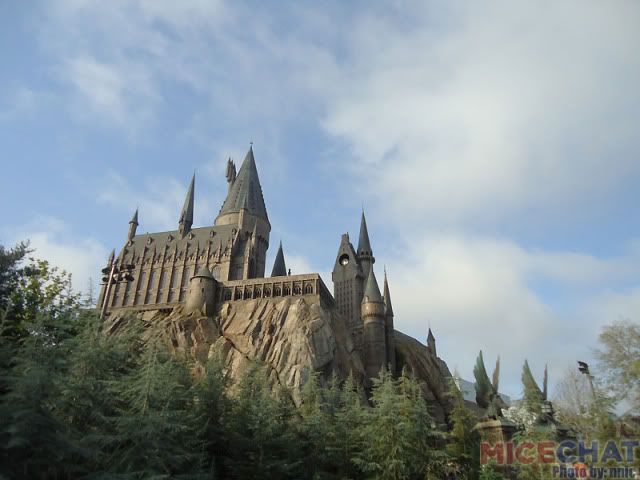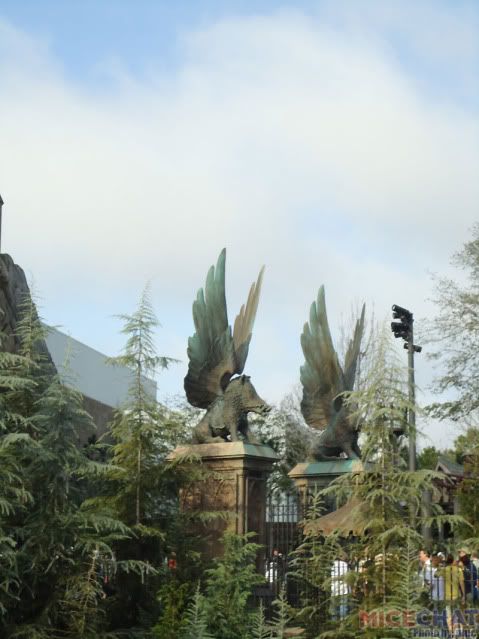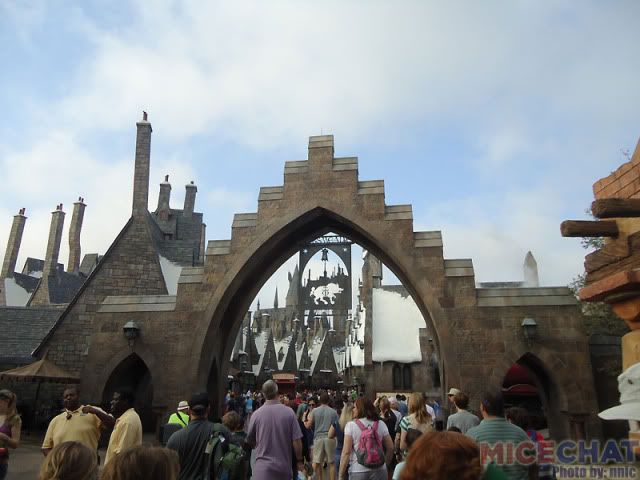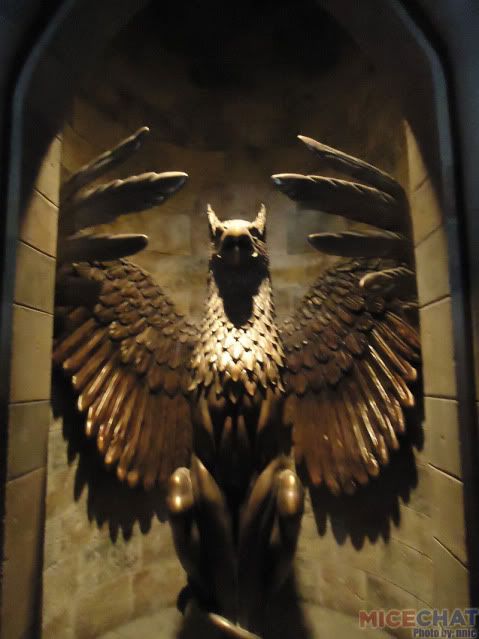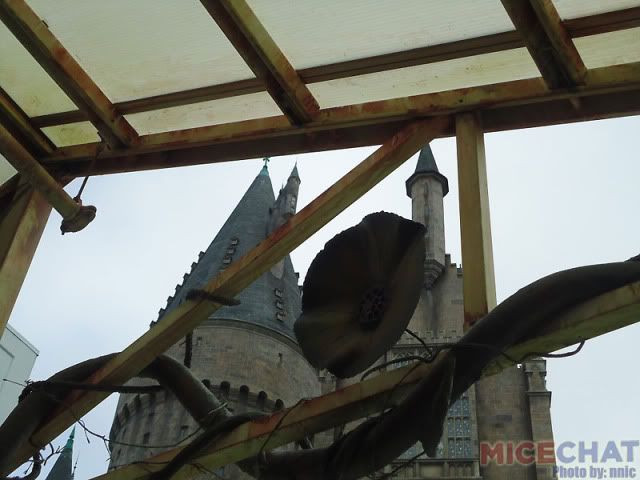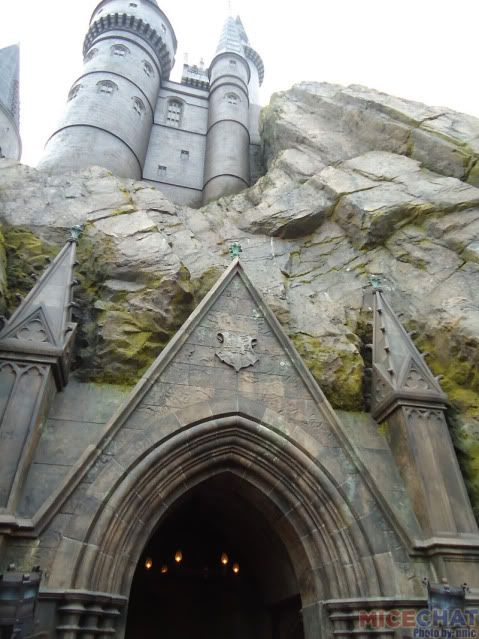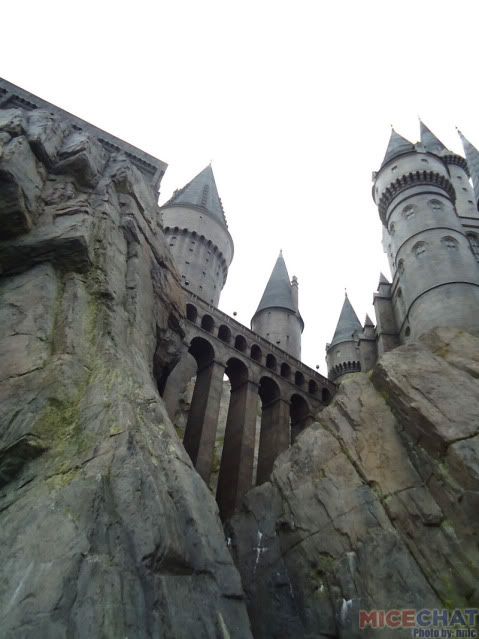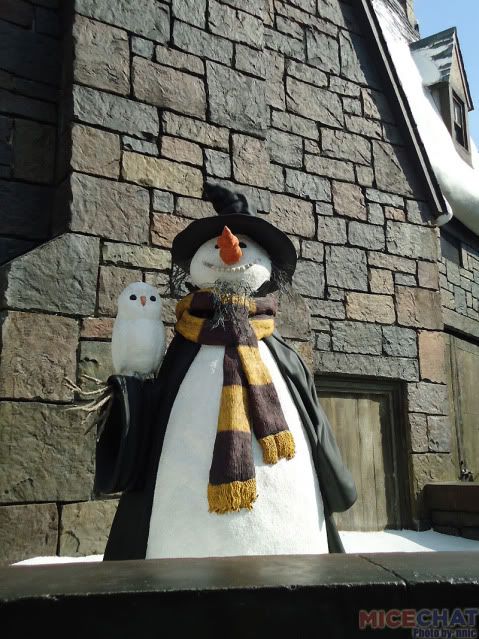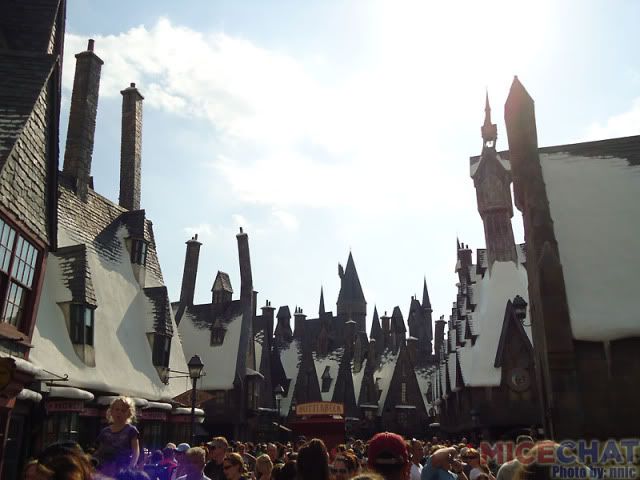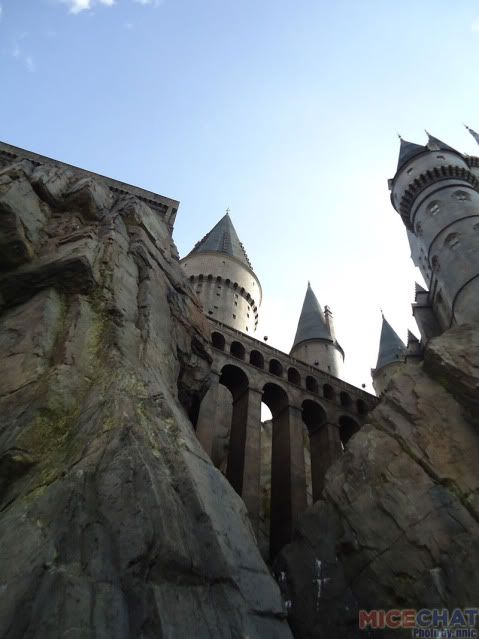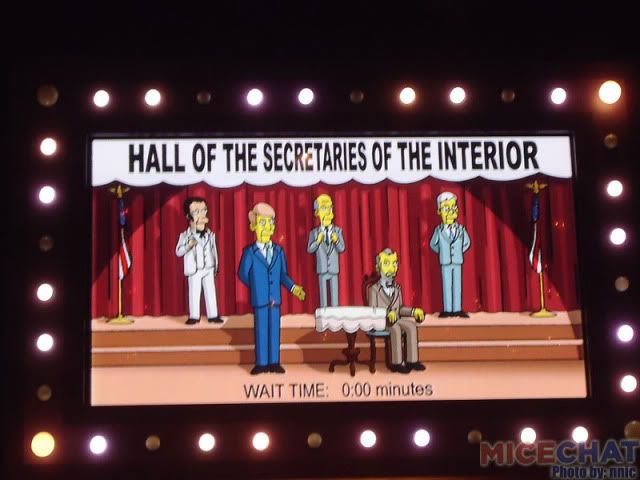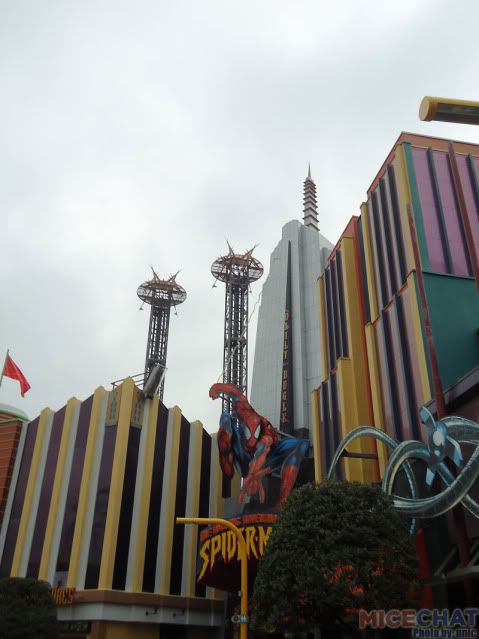 Visit these MiceChat columns each week:
And that brings us to the end of another week. Our photographers have just enough time to reload their cameras before we see you all again next weekend. Thank you to all of our wonderful readers, and as always, a huge thank you to our amazing team of global photographers, spies, and gossips:
Our thanks to our special contributor this week,
nnic
.
Where have YOU been recently? We invite you to share your photos of theme parks or any other destination that may be of interest to our readers. Please feel free to contact me via MiceChat Private Message (screen name Rixter)
or send me an email: oceansiderick@gmail.com.
It is readers like you who make MiceChat such a special place.
Don't miss a single one of MiceChat's Featured Blogs (including the Weekend Update). Add our feed to your favorite feed software or site:
Follow us on Twitter