Howdy everyone. It's time for another Weekend Update!
Denise nbodyhome Preskitt
ventures outside of the Mouse House and visits one of our favorite Oddlando attractions:
Ripley's Believe it or Not
. There is always something new to see here. Denise's photos of the
Beast's Castle
are also a kick to see.
We're lucky to have more photos from
Disneyland Paris
brought to us by MiceChat contributor
Alain Littaye
. What do you think of the
Magical Moments Festival
?
Rare white lions are featured in a new exhibit at
Australia's Dreamworld
.
Rya86n
takes a detailed look at this new attraction. [Note: I titled the blog "White Tigers" in error - the lions are housed on
Tiger Island
.]
Finally,
David Yeh
manages to turn his camera away from the new Star Wars section at
Legoland's Miniland USA
and shows us some of the other areas of this tiny little Lego land.
Thanks for visiting us again. Make the most of your weekend, everyone!
Denise nbodyhome Preskitt visits Ripley's Believe it or Not plus brings us a Walt Disney World update
We went to Ripley's Believe it or Not this past week, which not only includes morbid items like a shrunken head, but also some references to Disney.
This Wall-E is made up of automobile parts:
This isn't Disney, but two wax(?) figures that look like tourists taking a photo. Everyone would stop for them until figuring out that they weren't real.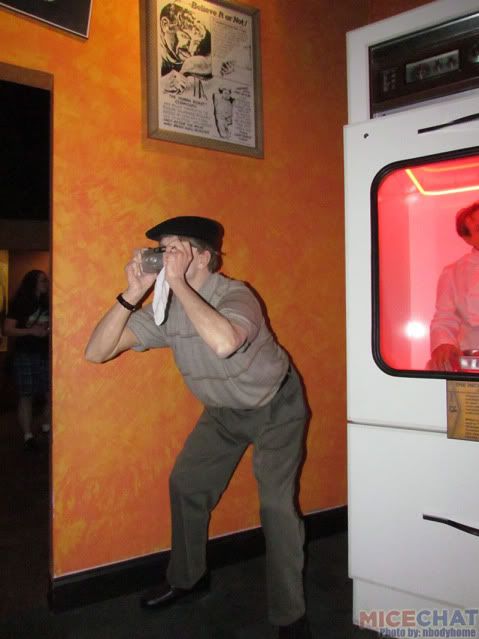 This Terminator figure has like 1000 movie figures painted on it, including Jack Sparrow and Penelope Cruz's Angelica character:
At the Magic Kingdom, the new Beast's Castle pretty much appeared out of nowhere! It looks giant at different angles, but not so much when workers are on or near it. I have 100 or so detailed photos on my site.
We watched as a turret was placed:
A worker on the castle: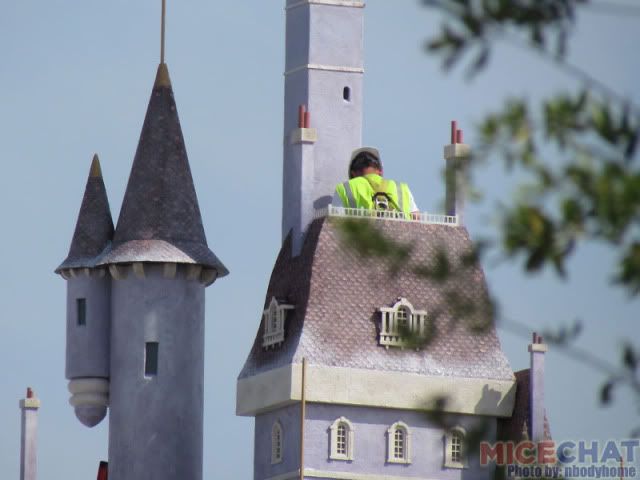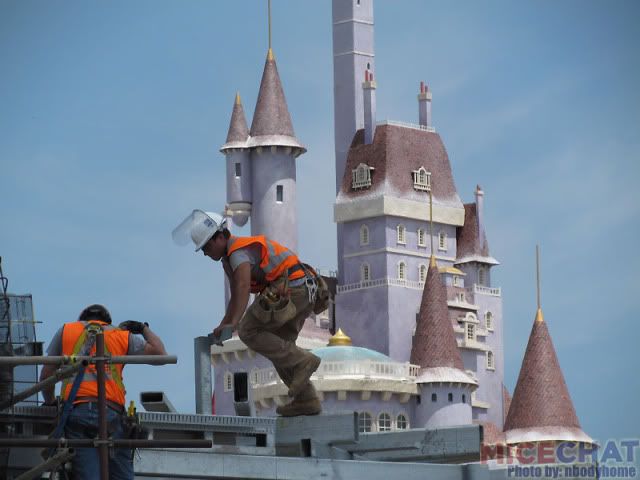 Our video shows the turret being put in, and more!
<iframe title="YouTube video player" width="640" height="390" src="http://www.youtube.com/embed/fkrV3lc8F34" frameborder="0" allowfullscreen></iframe>
Mickey and Minnie: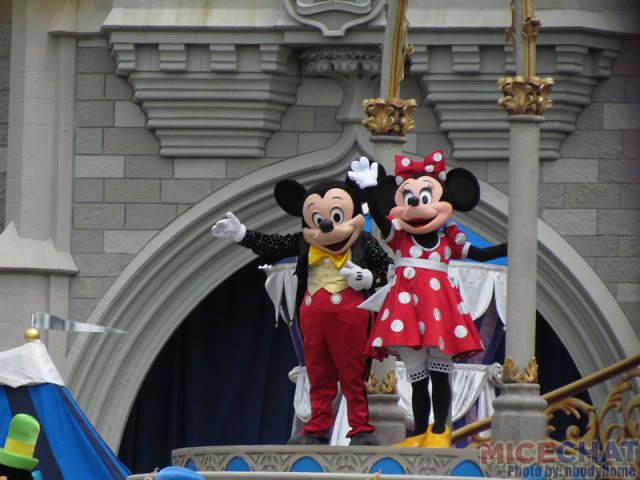 Pinocchio:
And Angelica, from the new Pirates of the Caribbean 4 film:
Angelica answering our questions:
<iframe title="YouTube video player" width="640" height="390" src="http://www.youtube.com/embed/zyt-b6ZrjXQ" frameborder="0" allowfullscreen></iframe>
Follow Denise's trips around Walt Disney World and beyond at her website: mousesteps.com.

Here's more Disneyland Paris from Alain Littaye
Disneyland Paris has been making all sorts of changes lately. Join our Disney and More contributor from Paris, Alain Littaye, as he fills us in on the new Magical Moments Festival and lots of news and photos from the Disneyland Paris resort.



The festival is a collection of shows, entertainment and photo opportunities. Nothing major, but a fun diversion none the less.


A Rapunzel (or Raiponce as they call her in Paris) photo location has moved into Fantasyland near Dumbo.

And nearby, guests will find a temporary princess meet and greet in a royal tent. The princesses will soon move to a permanent spot at the exit of Its a Small World.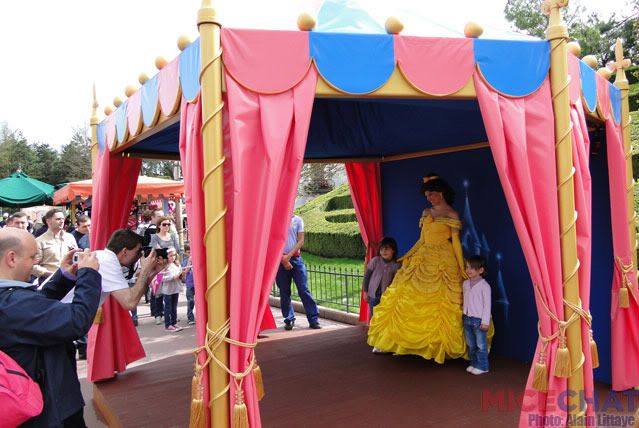 An open air photo exhibit is located near the Fantasy Festival Stage. They contain photos of the park as shot by VIPs from all over Europe.

The Mad Hatter and Alice have been making appearances near Alice's Curious Labyrinth.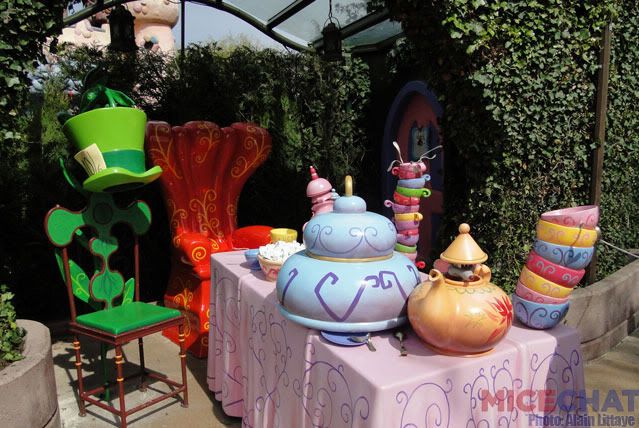 The back of Sleeping Beauty Castle is now being repainted.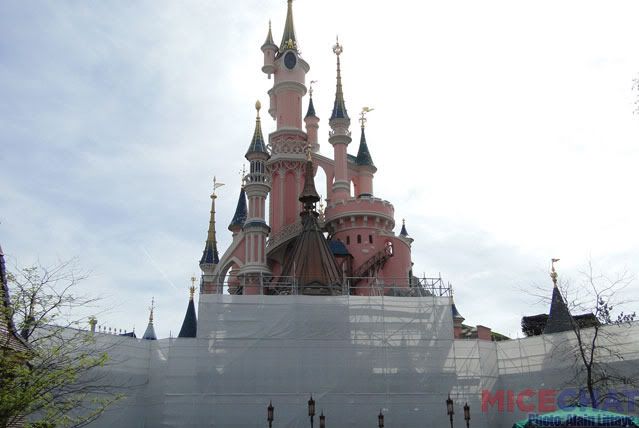 While in front of the castle lots of big white globes popped up for a special projection show to launch Disney Magical Moments season on April 2nd. This is all now gone as it was just a special event for opening night.



Here's what the castle looked like during the day . . .

And here was the show at night . . .
YouTube - Disneyland Paris Disney Magical Moments Grand Opening Show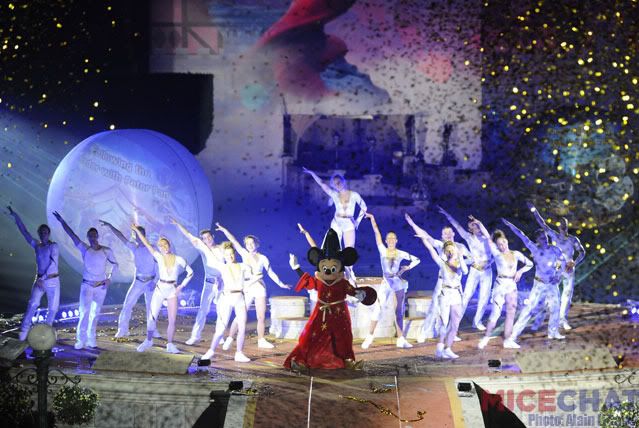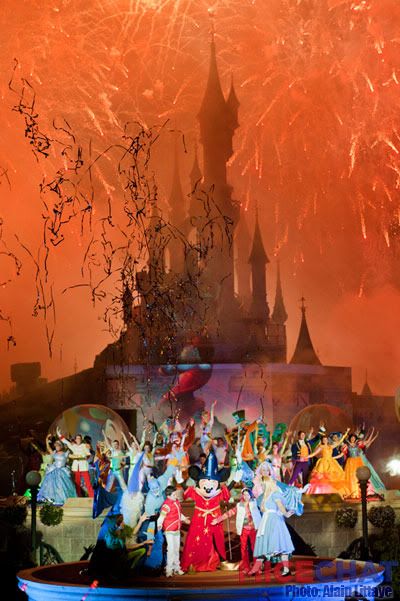 For a one night show, this was pretty good.

One of the highlights of the festival is the new Peter Pan show titled "Following the Leader with Peter Pan." Children and guests from the audience are asked to participate - children play the lost boys - and the show is simple but charming.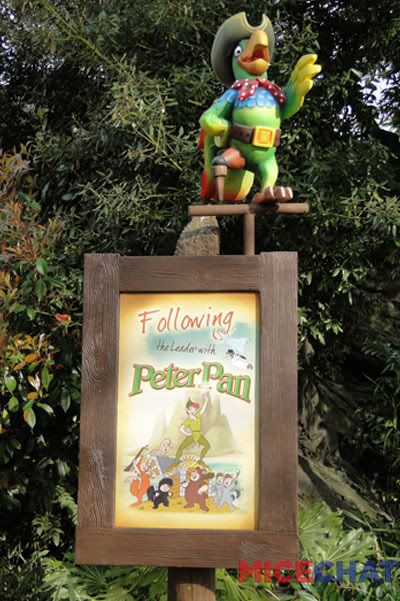 On a side note, it looks like Captain Hook's ship is about to collapse. In fact, the ship is in such bad shape that they've decided to just replace it rather than try to fix it up.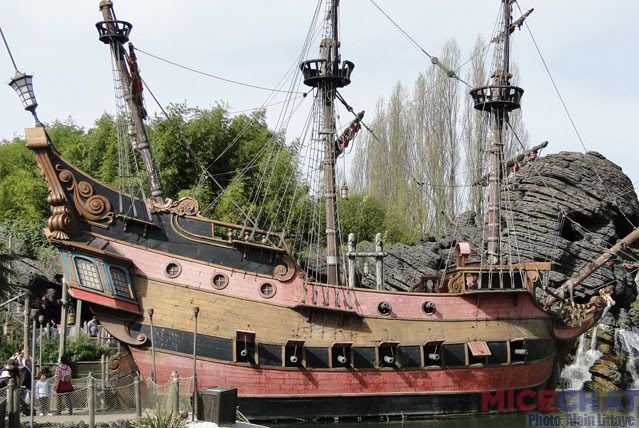 Yikes!



An Aladdin meet and greet has also been added in Adventureland.

Near the Hakuna Matata Restaurant you'll find Kaa and Zazu



Out in Disney Village, a new World of Disney store is under construction as well as a new Earl of Sandwich.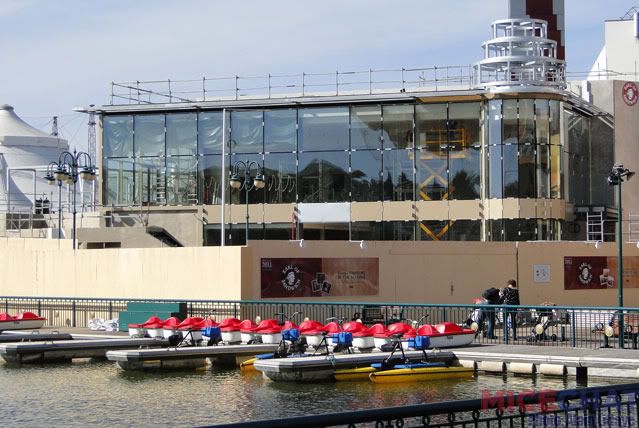 Earl of Sandwich going in


At the Moteurs Action stunt show, Lightning McQueen is now appearing. See the video below if you don't mind the spoilers. But Mater makes an appearance on the big screen and a real life Lightning McQueen bursts onto the stage.


YouTube - Moteurs Action Lightning McQueen Sequence
Find more photos and news from Disneyland Paris on our Partner Site, Disney and More.
Rya86n took a trip to the new lion exhibit at Dreamworld Australia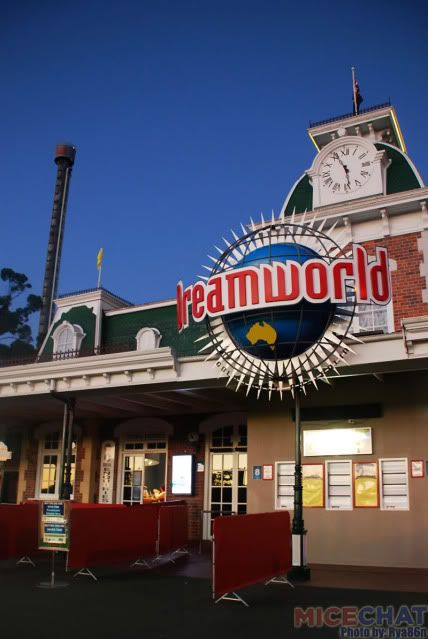 This Easter season,
Dreamworld Australia
has opened the doors to a brand new exotic animal exhibit known as
The Lair
. For the first time ever on the Gold Coast, Dreamworld guests will be able to get up close to two rare White Lions as they roam around the new enclosure.
I checked out the new attraction last weekend.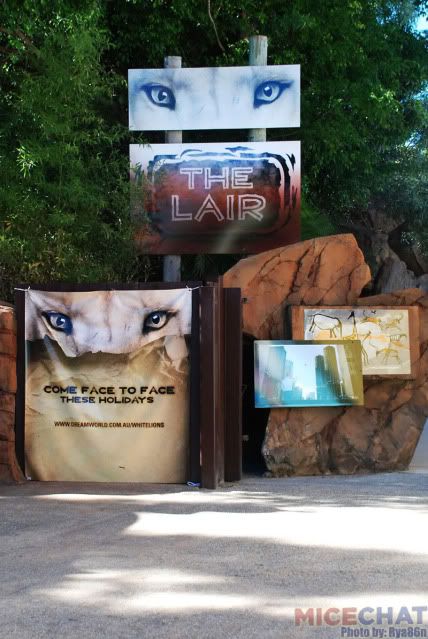 The Lair is smartly positioned next to Dreamworld's Tiger Island.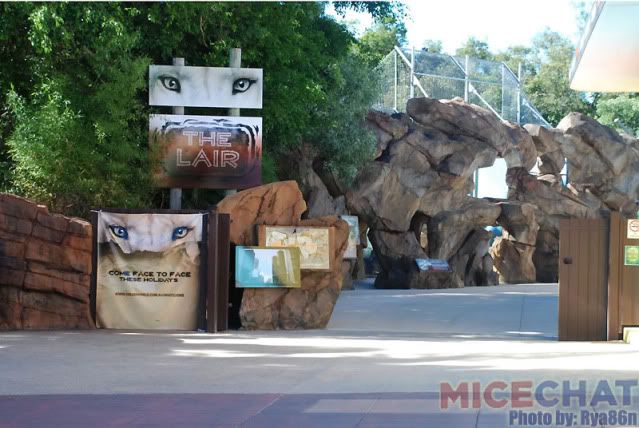 Upon entering the new area, guests enter a traditional Timbavati village, passing a series of signs from which they can learn about the plight of one of the world's rarest big cats, discover the ancient Zulu legends and the significance of spotting a White Lion.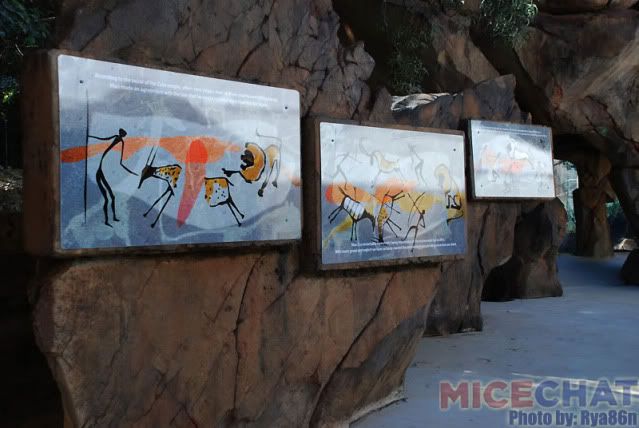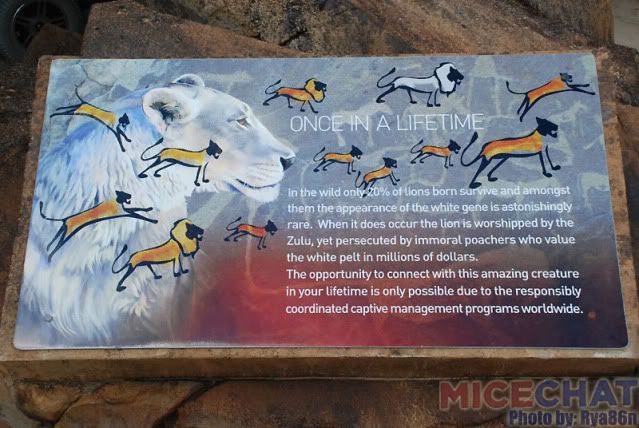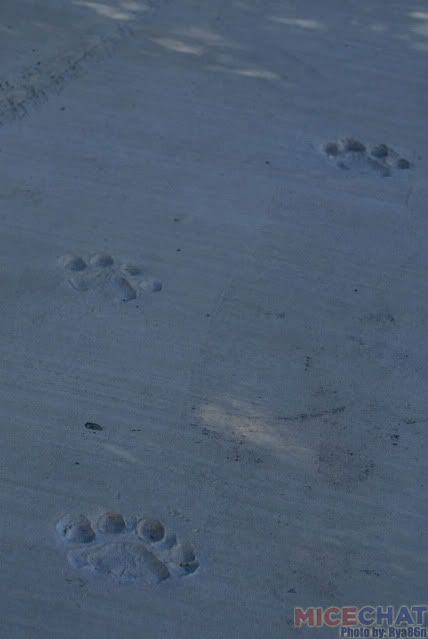 The path to the enclosure, is also marked with some nice additional touches.
The main part of the exhibit is visually impressive. As guests venture deeper into the village they reach a rocky outcrop and come face to face with The White Lion.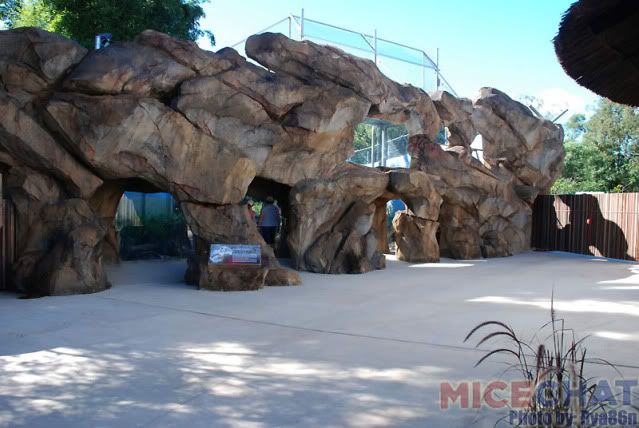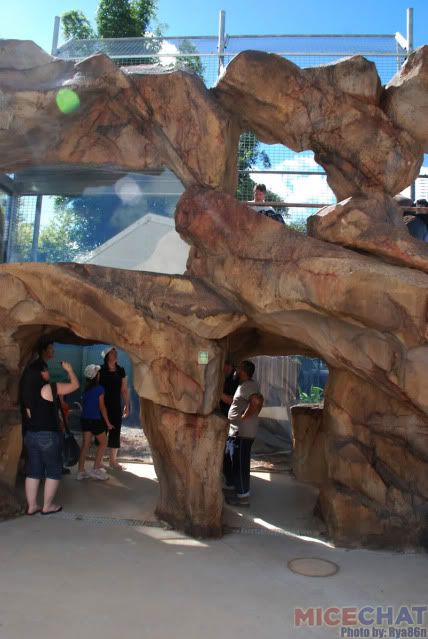 Guests can view the new tennants from safely behind purpose built, triple laminated, toughened glass, able to withstand the force of a 200kg Lion.
Jake, whom I've nicknamed "White Simba" is
reportedly 202kg
, I wonder what difference that extra 2kg makes?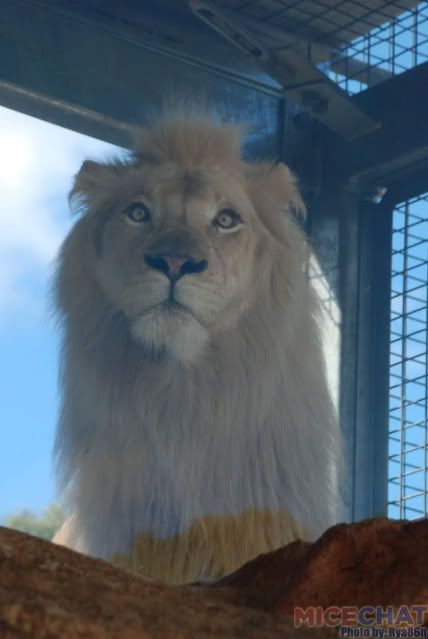 Jake and his sister, Mischka are quite impressive, very magestic animals. Born on 19th October 2007 in Cape Town South Africa, the siblings were transferred to Australia in 2008.
Both cats are extremely playful and love playing with new toys. Their new home has a unique viewing area which includes a raised glass box to allow guests incomparable viewing and photographic opportunities.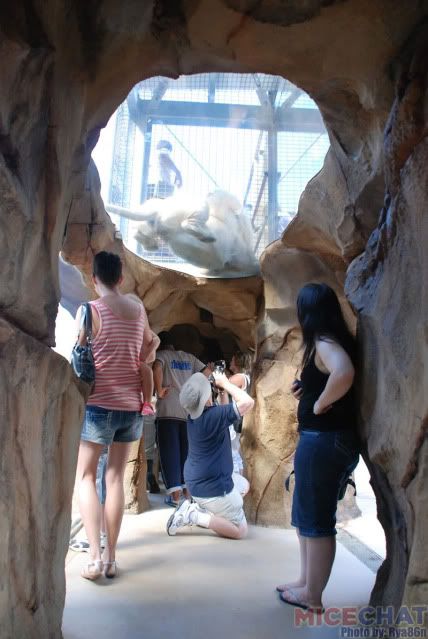 As a result, you'd frequently find cameras pointed skywards.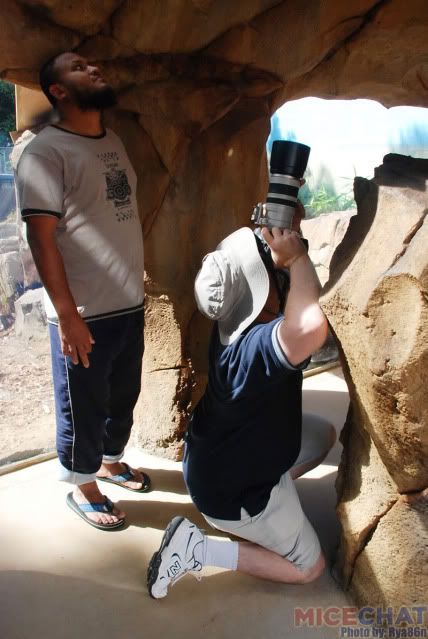 Especially during the early morning feeding times.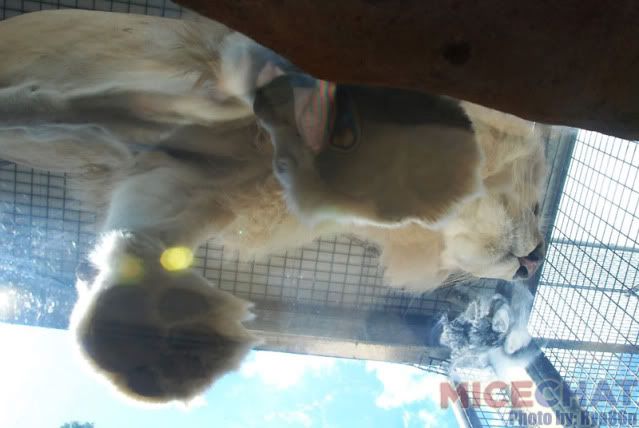 Jake loves his food, and as a result weighs 50 kilos more than Mischka. It was quite evident as he'd push her to the side whenever food was near.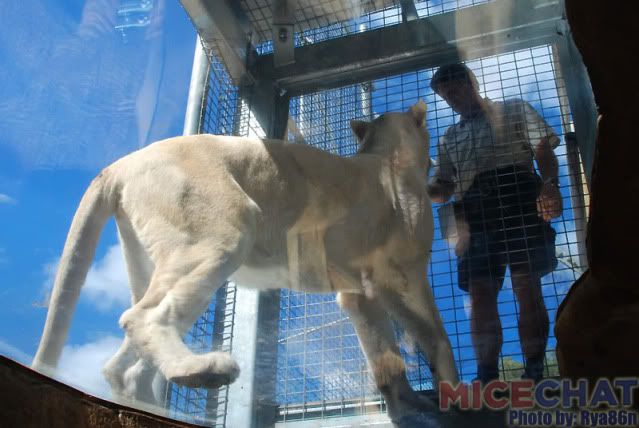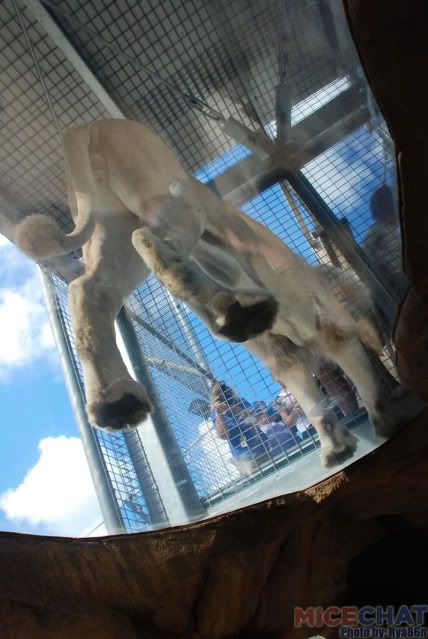 "Does this enclosure make my butt look big?"
The habitat within the enclosure resembles the Lions native Timbavati region of South Africa.
Its native influences create a simple, yet authentic surrounding for these amazing creatures.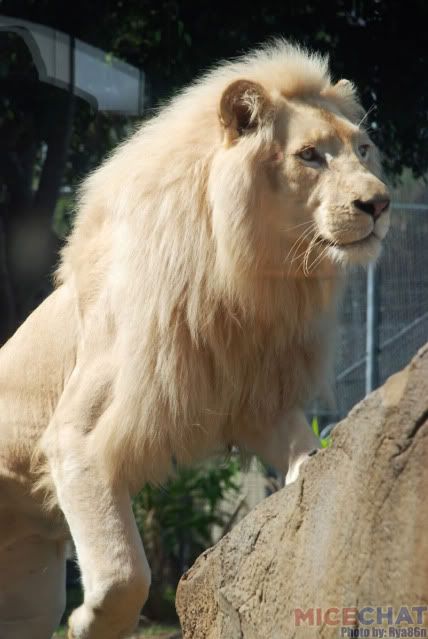 Mischka, the photogenic female.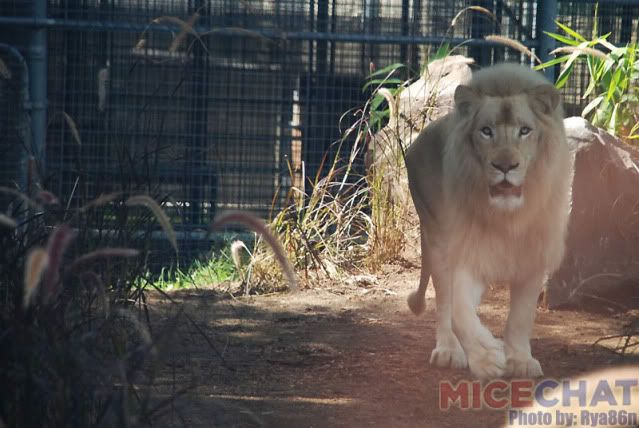 Most of the day, it was quite hot and the Lions were content staying in the shade.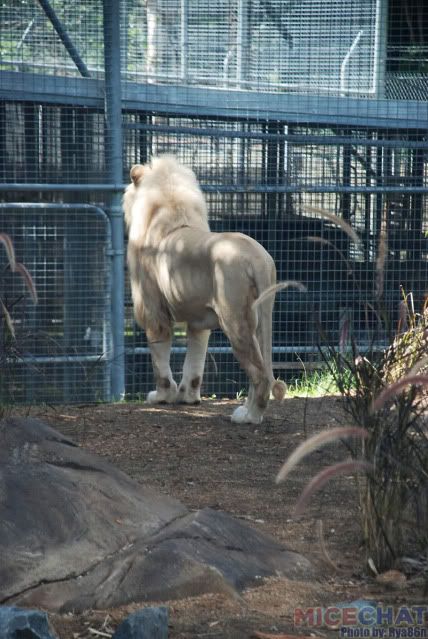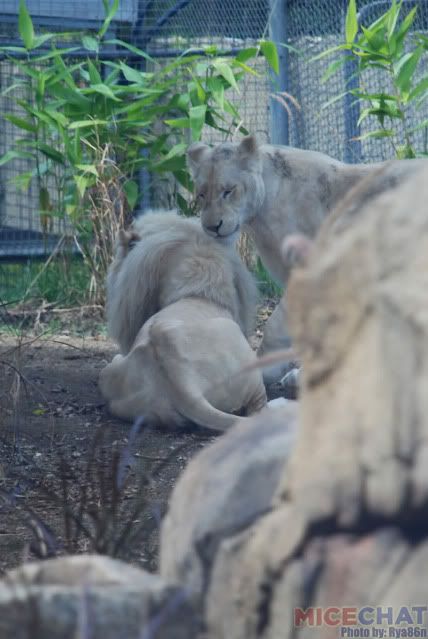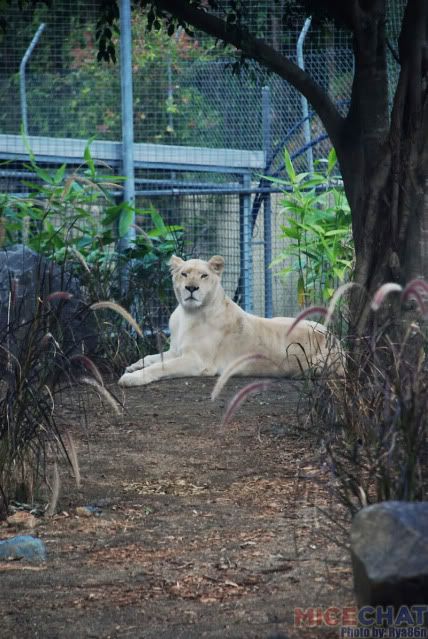 They couldnt even be tempted with a game of tug-of-war.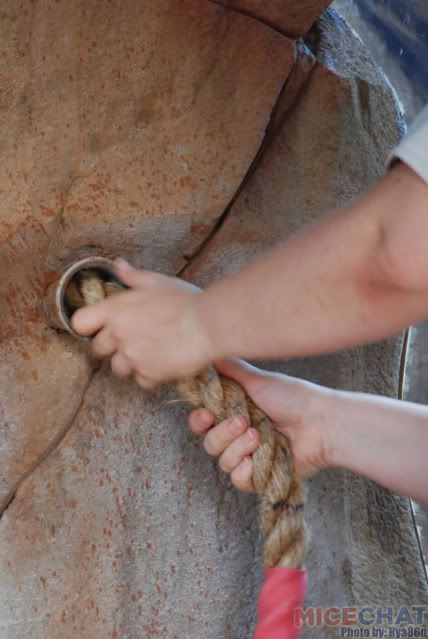 I was very much looking forward to taking on Jake, and as I would've undoubtedly lost, I am claiming his no show as a win! Jake-0 Ryan-1
Another very cool interactive aspect of the enclosure is the ability to feel the Lions breathe through customer holes.
On the other side of the glass, The Lair also includes an African themed hut which plays a video loop about Lions in the wild and helping conserve these rare wild animals.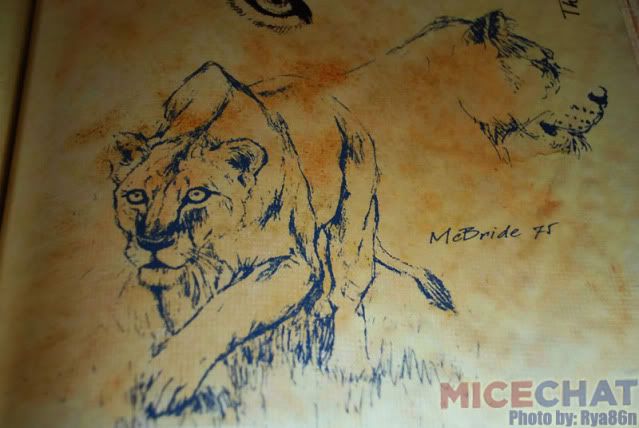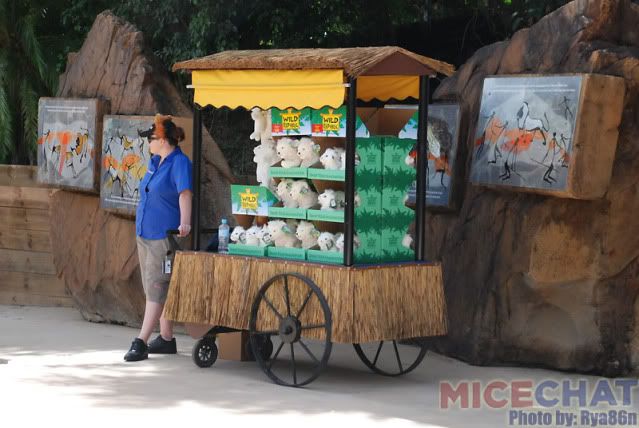 And as with all themepark entities, theres a temporary souvenir stand, at which I would've liked to see more Lion themed merchandise (only because I enjoyed watching the Lions and wouldve happily paid for anything that sported the attraction logo).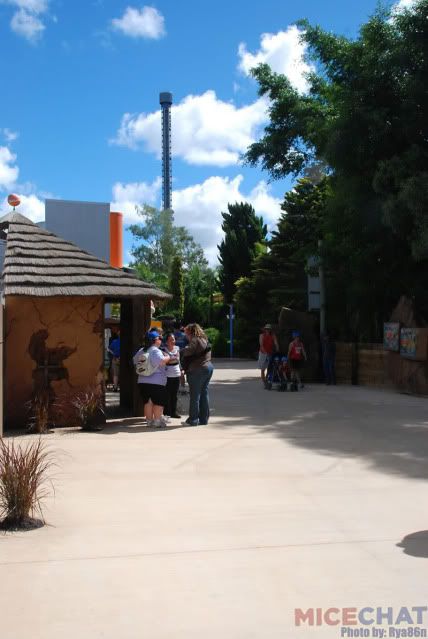 I could've spent hours with the Lions at Dreamworld's new exhibit! With less than 100 white lions remaining in the world, seeing a White Lion at Dreamworld this Easter holidays could be a once in a lifetime opportunity and it serves as an excellent reminder that humans can help to conserve big cats in the wild. I highly recommend a trip to Dreamworld before April 30 when Jack and Mischka return to their permanent home at Canberra Zoo.
David Yeh takes us on a mini Weekend Update trip around the teensy tiny Miniland USA at Legoland
More shots from Legoland!
Last week we took a look at the new Star Wars addition to Miniland USA at Legoland California. This week we'll take a quick peek at some other highlights in this impressive display.
Adjacent to Miniland USA is the Coast Cruise, a slow-moving boat ride that passes by a few famous landmarks built with Legos. The Sydney Opera House and Eiffel Tower for example..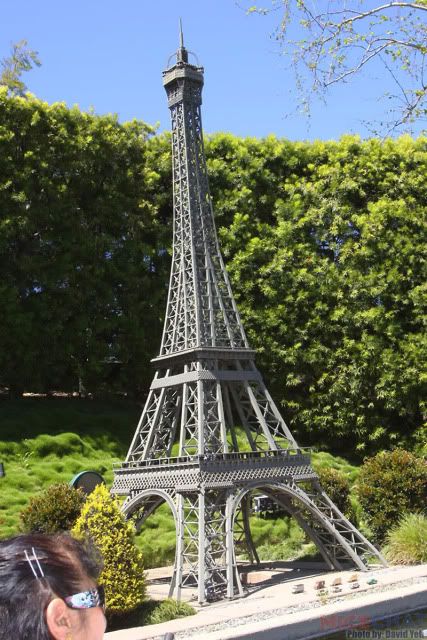 From afar, Mt. Rushmore looks like it could be completely sculpted out of rock...
But upon closer inspection, it really is made out of Legos!
You'll even pass by the Statue of Liberty and New York Island.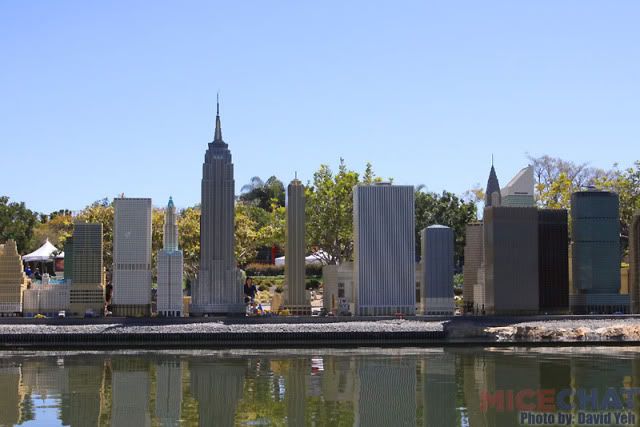 Over in Miniland USA you can browse the opposite side of New York.
One of my favorite shows is also a Lego Landmark...
Love Vegas? Then you'll love this Lego-sized Strip.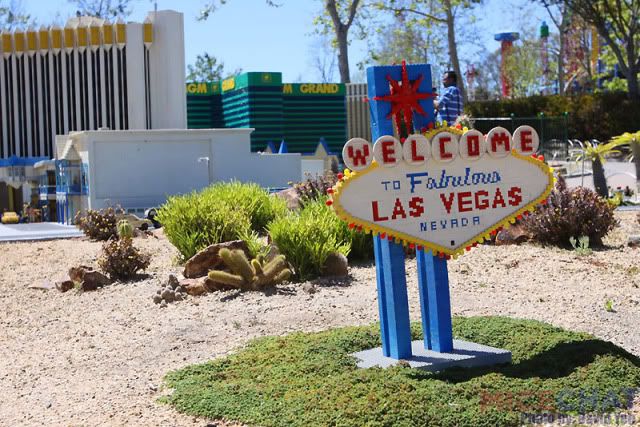 Luxor
Excalibur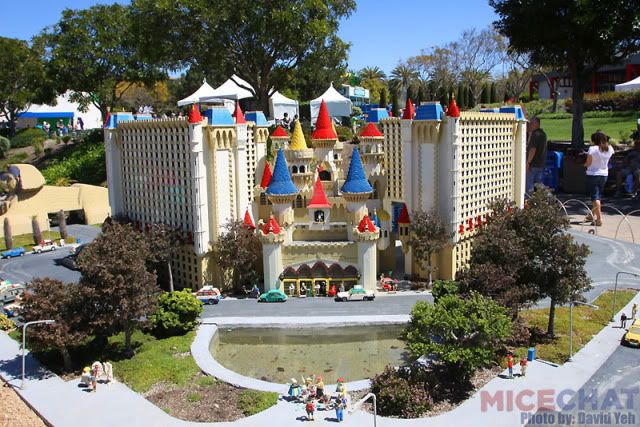 New York, New York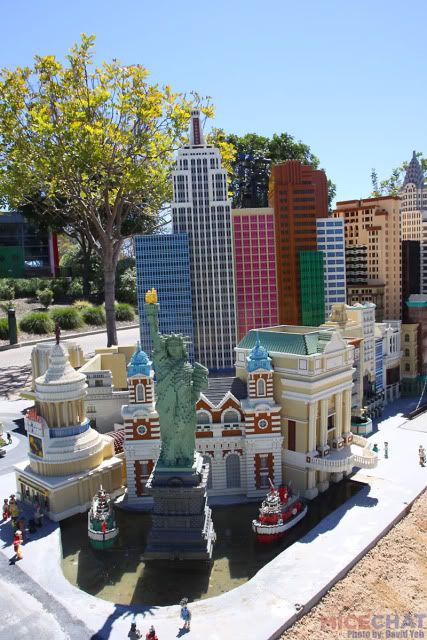 The Mirage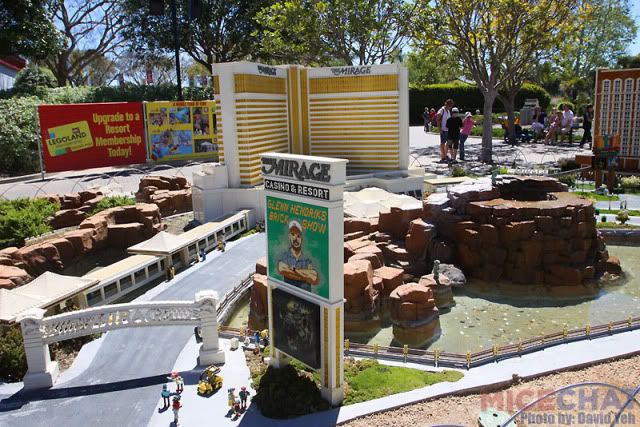 Here's Treasure Island...
And the Venetian...
It is the desert so don't be surprised if you encounter heat stroke...
There's plenty more Miniland displays to browse, much more than I'm showing here so you'll just have to check it out for yourself! How many of the following locations can you recognize?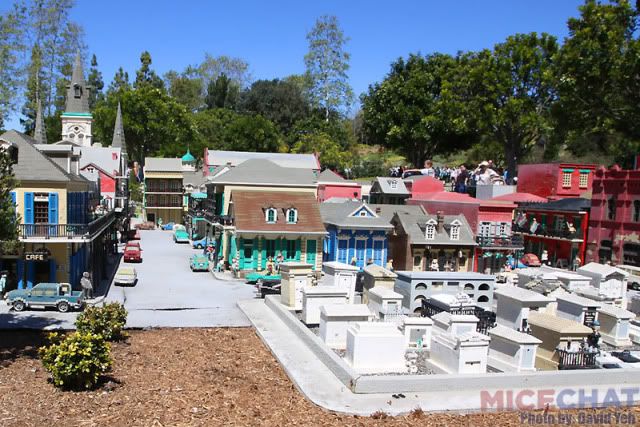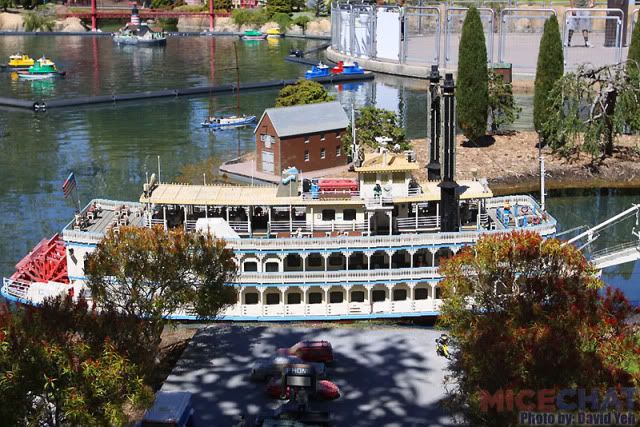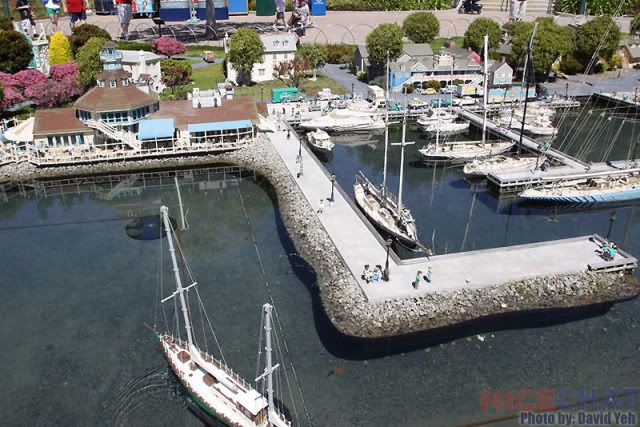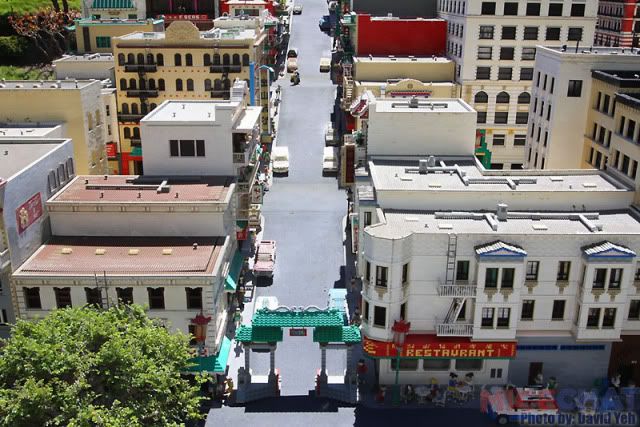 This marching band actually moves!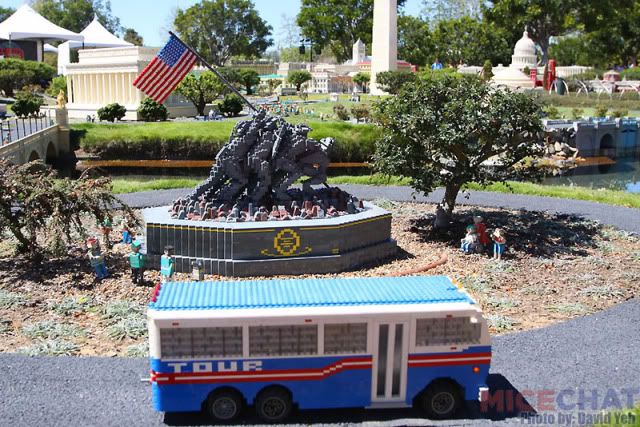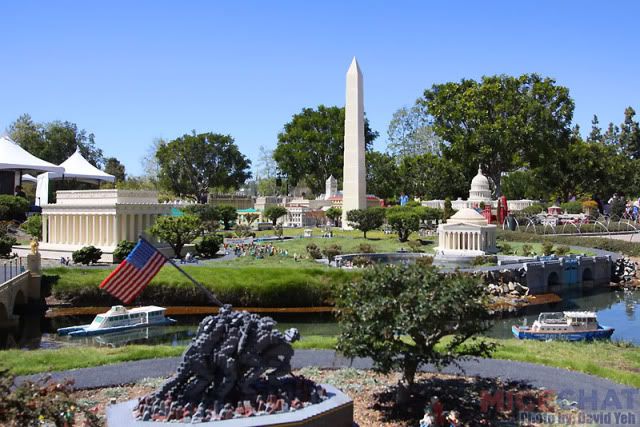 We'll close on this image, which reveals that even Lego ladies are peeped on.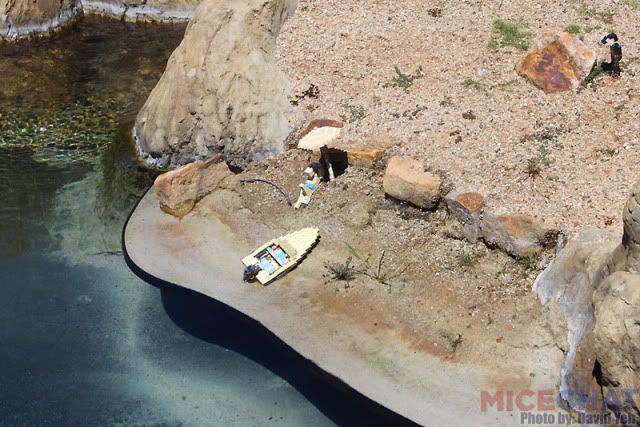 Visit these MiceChat columns each week:
And that brings us to the end of another week. Our photographers have just enough time to reload their cameras before we see you all again next weekend. Thank you to all of our wonderful readers, and as always, a huge thank you to our amazing team of global photographers, spies, and gossips:
Our thanks to our special contributors this week,
Alain Littaye
and
David Yeh
.
Where have YOU been recently? We invite you to share your photos of theme parks or any other destination that may be of interest to our readers. Please feel free to contact me via MiceChat Private Message (screen name Rixter)
or send me an email:

[email protected]

.
It is readers like you who make MiceChat such a special place.
Don't miss a single one of MiceChat's Featured Blogs (including the Weekend Update). Add our feed to your favorite feed software or site:
Follow us on Twitter