We have part three of
Roger55
's incredible report on
Tokyo Disneyland's Easter Wonderland
. We can't thank him enough for taking the time to share this detailed narrative and his wonderful photos.
Disney and More
columnist
Alain Littaye
was in London for the
Royal Wedding
. His photos are accompanied by a clever Disney twist.
Rya86n
visited the
Australia Zoo
on Easter weekend. This zoo is owned by the Irwin family and was opened by the parents of Steve Irwin of
Crocodile Hunter
fame. The zoo was also featured on a recent episode of
Kate Plus Eight
.
Thanks for visiting the Weekend Update!
Roger55 finishes up his three part report from Tokyo Disneyland
Tokyo Disneyland Easter Wonderland 2011 - Part III
For my third and last installment, I'd like to share with you all photos from the recently opened Cinderella's Fairy Tale Hall, and wrap things up with photos of diverse and amazing merchandise being sold in conjunction with this year's version of Easter Wonderland.
I hope this report, along with my previous ones on Easter Wonderland, give you all a good idea of the special and unique way Tokyo Disneyland celebrates this spectacular spring time event. Please enjoy!
Cinderella's Fairy Tale Hall
Cinderella's Fairy Tale Hall opene officially on the same day the park re-opened after the long shutdown due to the Great Tohoku Earthquake and tsunami. It is built inside Cinderella's Castle and is a Guest walkthrough experience.
The attraction is built in the former location of the Cinderella Castle Mystery Tour, which closed back in April of 2006.
The entrance is in the courtyard on the Fantasyland side of the castle. Wait times were averaging around 100 minutes. This is, in my opinion, primarily due to the fact that it is a self paced walk through attraction. Once inside, Guests are free to walk around and spend as much or as little time as they choose. As Guests leave, more are permitted to enter the attraction.
Once inside, you enter a hall with paintings and the suit of armor statue. At the end of the hall is the elevator tha takes you up to the main floor of the attraction.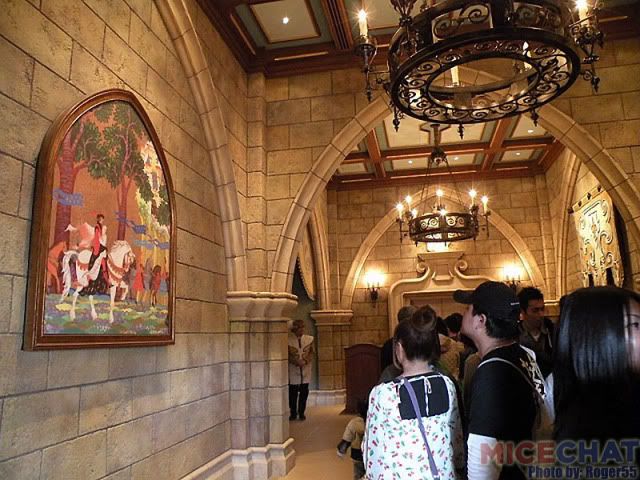 As you exit the elevator, you enter a room where there are paintings on the wall depicting the story of Cinderella.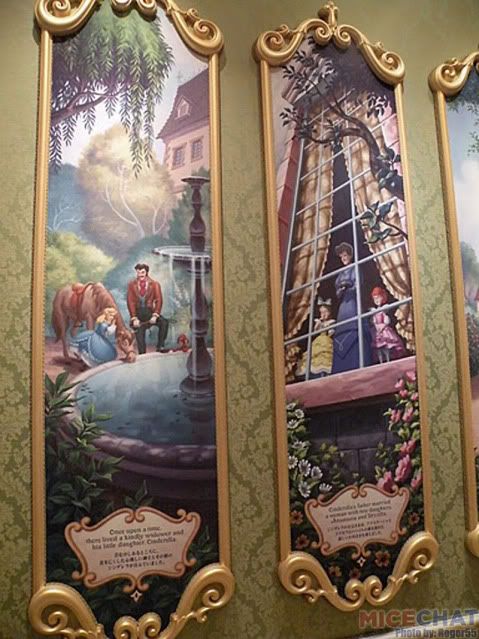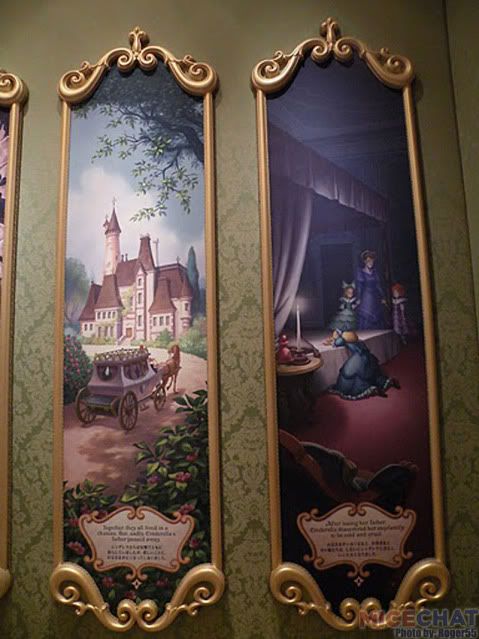 The next room has a beautiful stained glass window through which you can look out into the Magic Kingdom.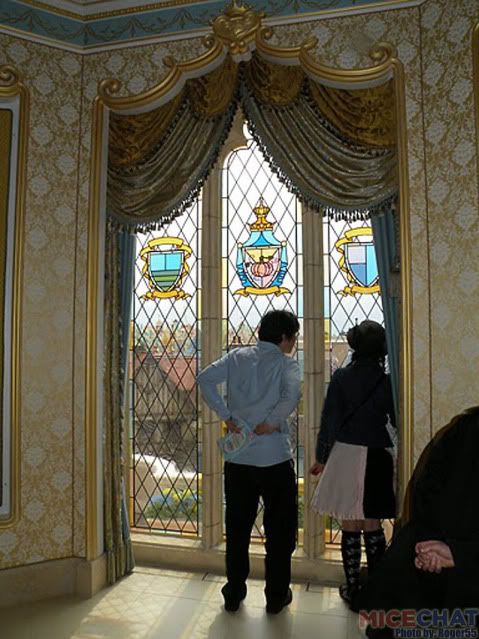 Also in this room are several displays created by various artists using various artistic media and styles. Each display depicts different scenes from the story.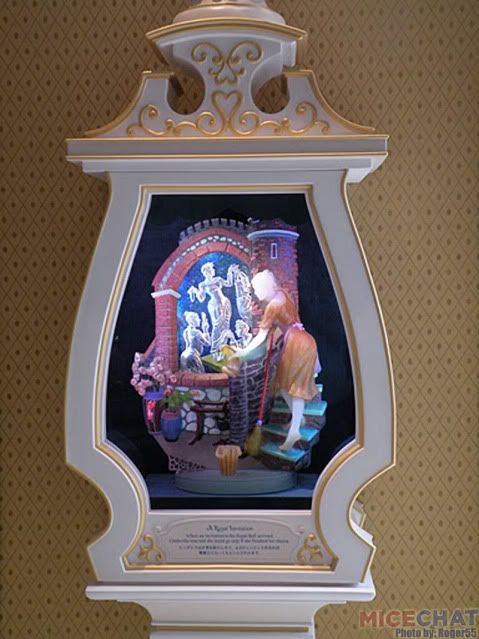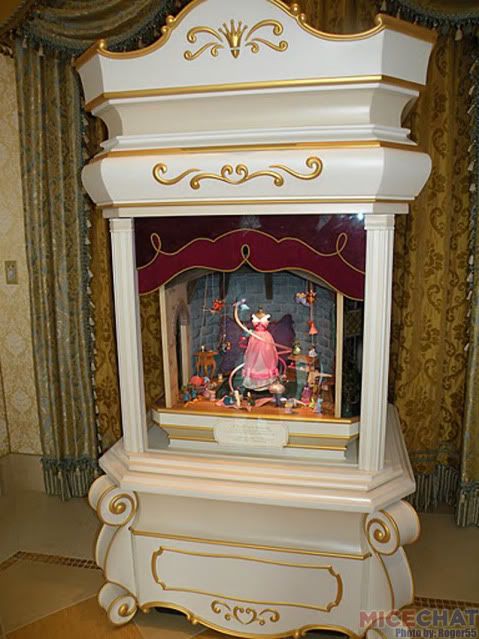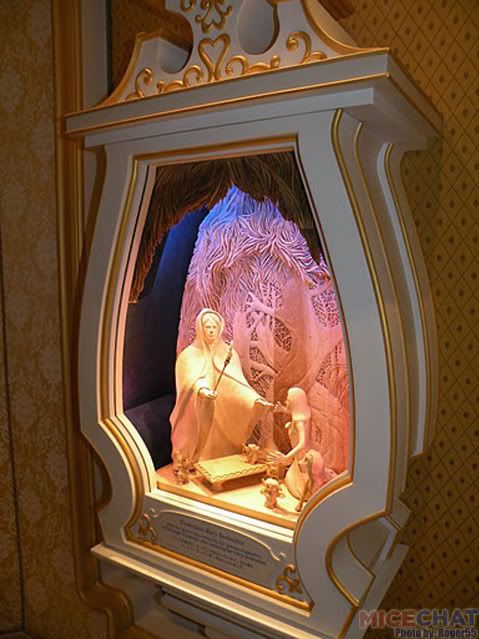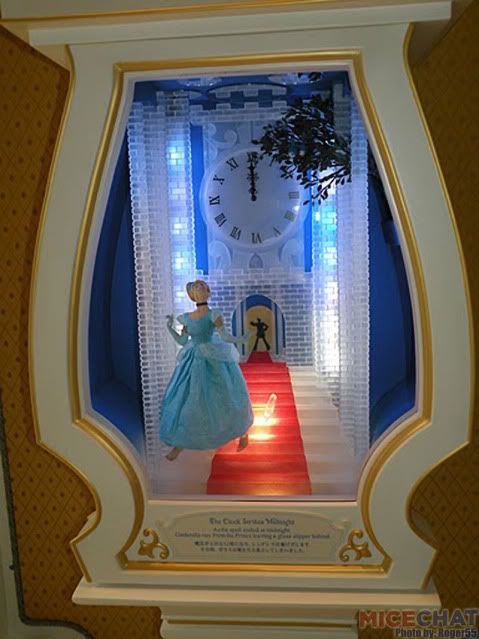 The next room has more of the paintings depicting the Cinderella story.
The final "hall" is the throne room.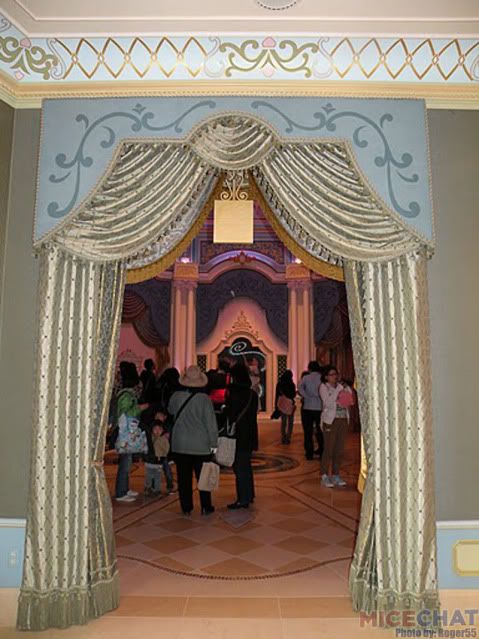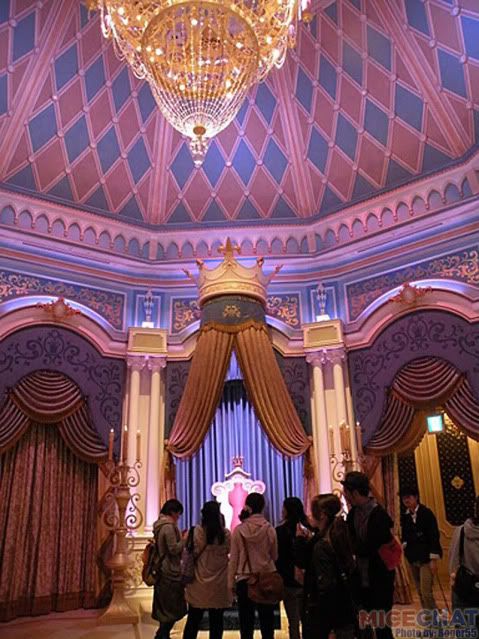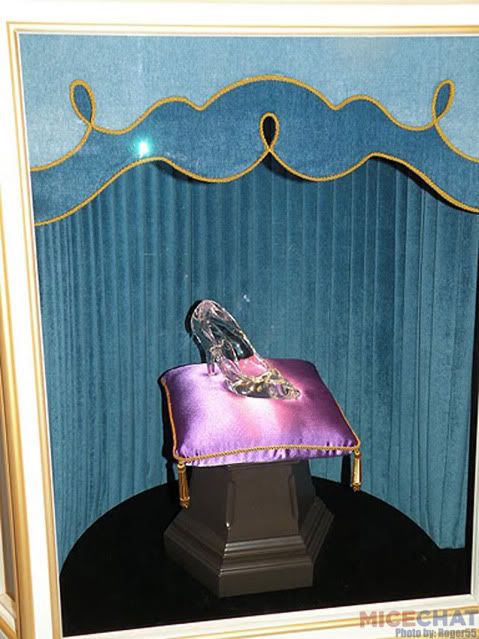 A very special feature in the throne room are the two magical paintings. These were designed to be used as backdrops for Guests to take pictures of themselves standing in front of them.
At first I was a bit puzzled why all the Cast Members were encouraging everyone to make sure they use the flash on their cameras. When I did as they said, I was surprised by the results!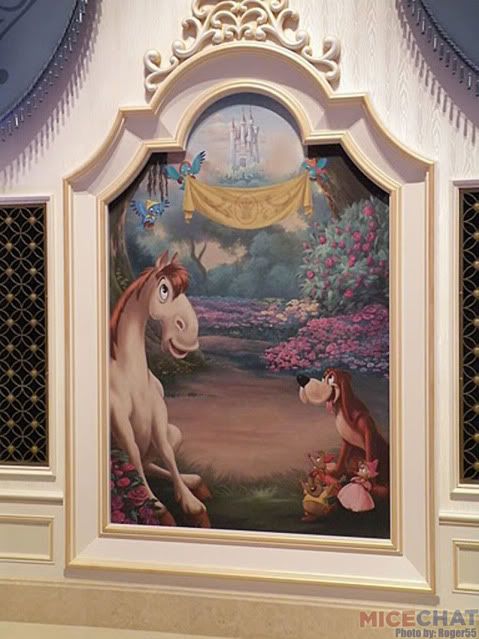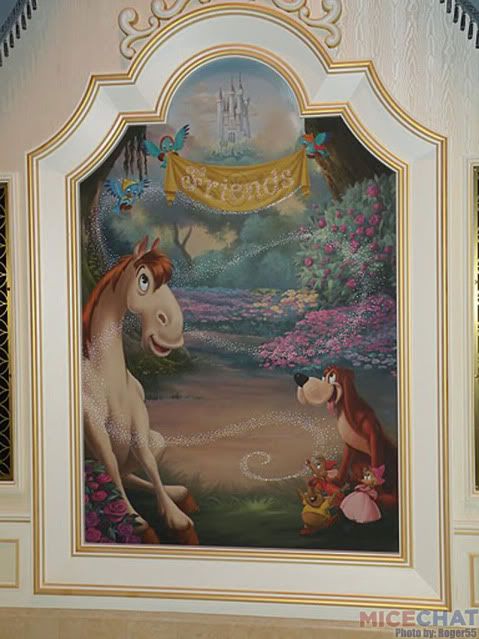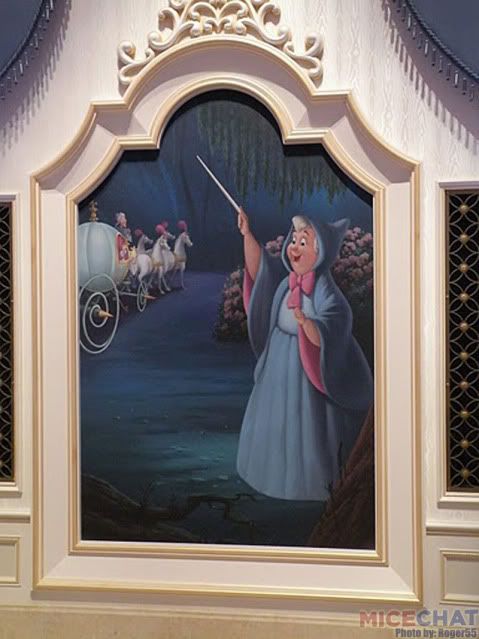 As you exit the throne room, you are directed down exterior steps back down to the courtyard in Fantasyland. Guests with disabilities can take the same elevator they came up on to return back to ground level.
Easter Wonderland Merchandise
In previous reports I've been sharing pictures of all the great decorations, entertainment and activities associated with this years Easter Wonderland.
This week I wanted to share with you all the wonderful merchandise created especially for this years Easter Wonderland.
Tokyo Disney Resort always goes way above and beyond the other Disney Parks when it comes to special merchandise. As you will see in the following photos, the amout and different designs of the special merchandise is mind blowing.
Here you can see a ballon CM in the World Bazaar. You can see the special Easter Wonderland Balloon in the middle of the bunch.
In the hub surrounding the Easter Wonderland centerpiece display there are several little merchandise stands selling snacks and drinks that come with event themed dishes and cups.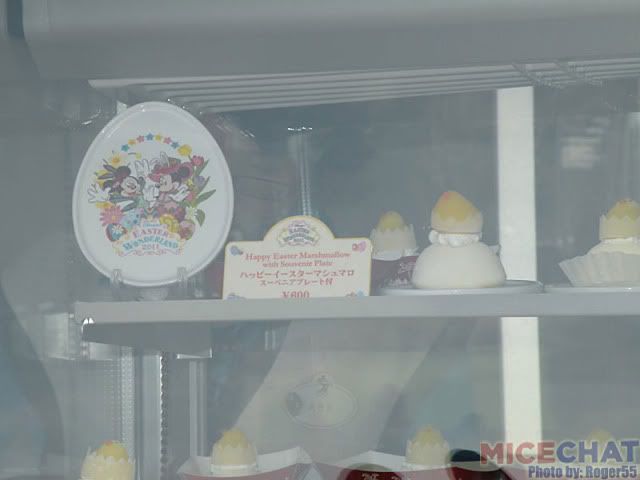 The popcorn stands also feature Easter Wonderland themed popcorn buckets.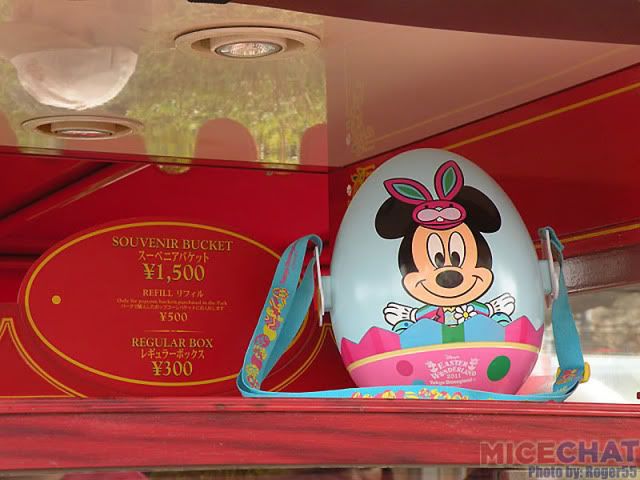 In Tomorrowland, accross from Star Tours, they sell specially themed and customizable charms that hang on necklaces, bag chains or phone straps. Depending on the special event going on (e.g. Easter, Halloween, Christmas, etc.), different designed customizable themed items are sold.
Guests line up (and I mean REALLY line up) to choose and place orders for their customized souvenir items. After placing and paying for your order, you are told when to return (and yes, get in another line) to pick up your items. Guests wait times can be over an hour in line. Return times are usually 3-5 hours after placing your order.
This year's Easter Wonderland souvenir is similar to last years. It is a egg design where you can select back and a front halves of your egg.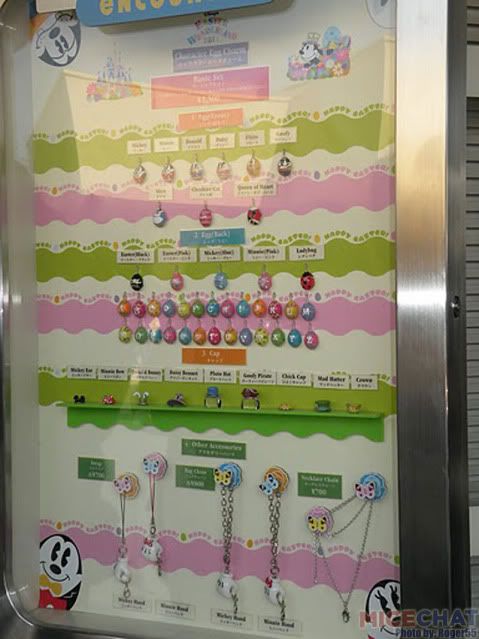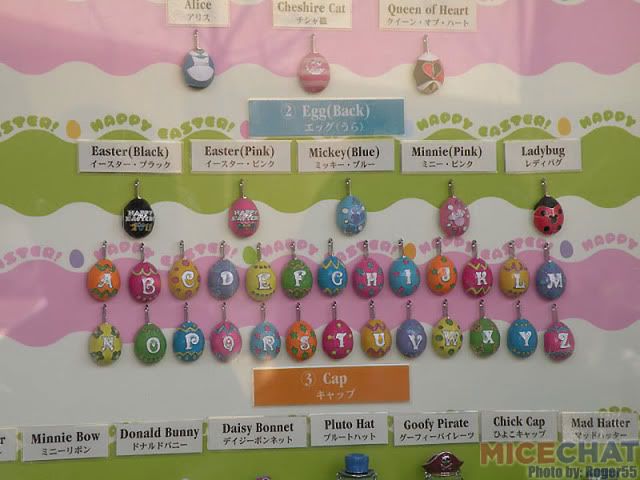 You also select the "cap" you want and also your choice of a necklace, phone strap or bag chain accessory.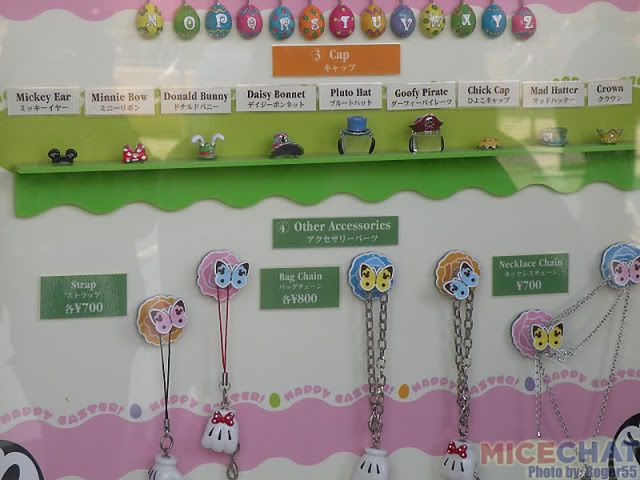 Here are the completed samples on display.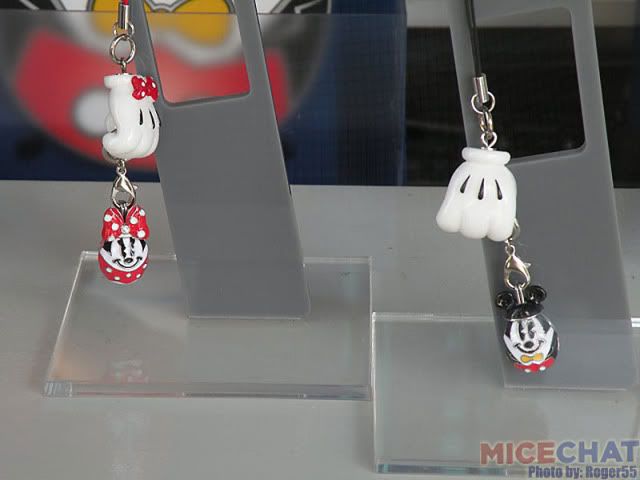 Japan is famous for being the land of "cute", and the Easter Wonderland merchandise is no exception to the rule.
Here you see the small size "plush" character figures which are very popular with the Japanese Guests. People collect these and strap them to their bags, backpacks, neck lanyards, or just about anywhere else they can think of. Showing off your Disney merchandise is very popular in Japan.
Speaking of plushes, there is no shortage on the variety avaialble for purchase.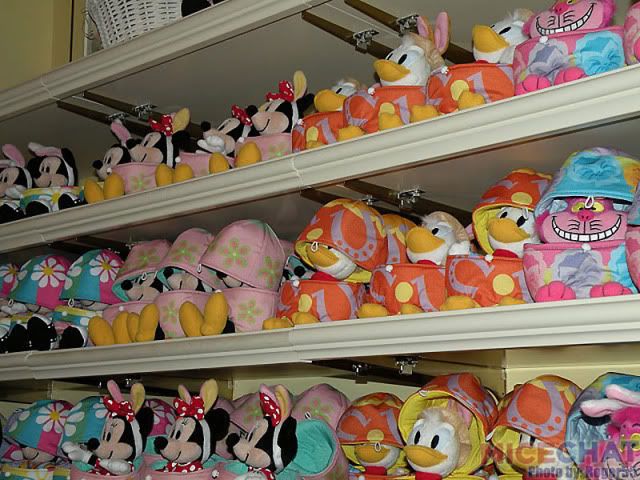 I mentioned earlier about phone straps. Phone straps are almost a necessity for the Japanese people. Strap designs and styles goes way beyond Disney. There are phone straps of all types available everywhere in Japan.
In the picture bellow you can see all the different styles available for Easter Wonderland. The White Rabbit is actually a keychain.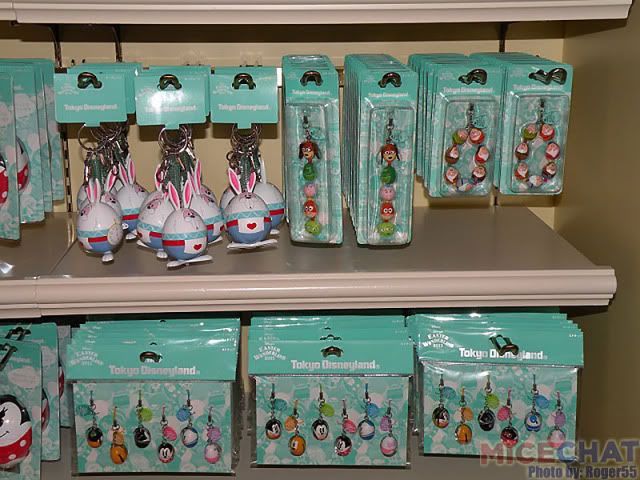 This next photo shows the Mickey and Minnie egg figurines. The "parts" stick to the egg with magnets.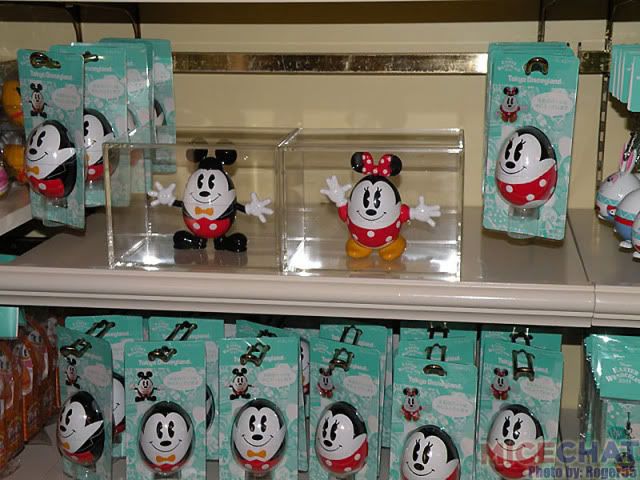 The character eggs below contain candy. Below them are stationary and keychains.
Drinking glasses.
Pen set. On the right are magnetic stackable/posable little figures.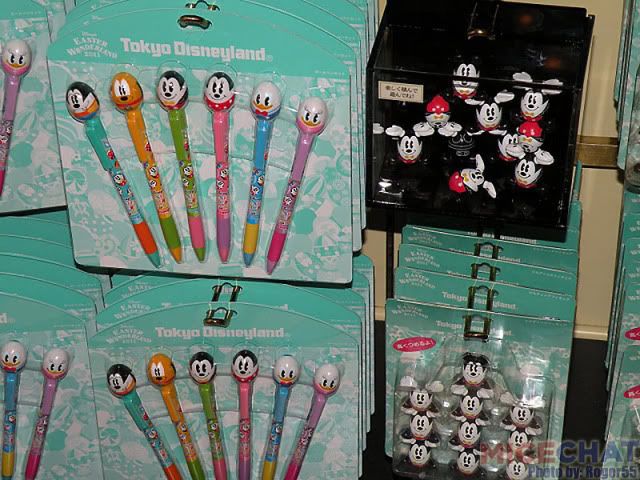 Placemat.
Candy gift tin. Gift tins are very popular in Japan. It is tradition for people who go on trips to take home gifts or "omiyage" to their family, friends and associates back home. Tokyo Disney of course provides a wide selection of "omiyage" to choose from.
Candy gift bag.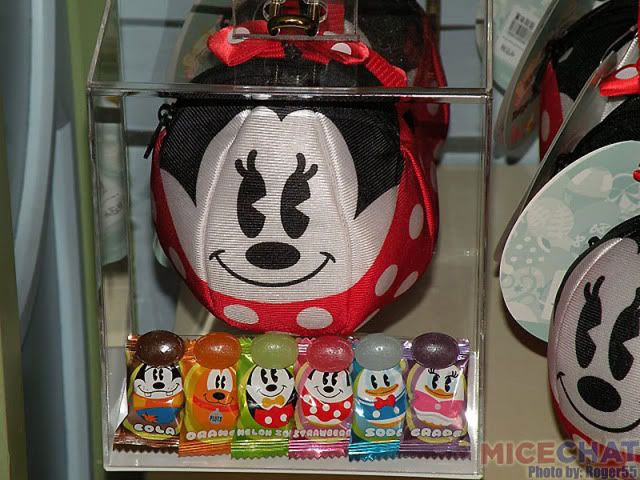 More confection.
Headware is also very popular and as you walk around the parks, you will notice they appear to be a "must have" accessory for all the young lady Guests at Tokyo Disney.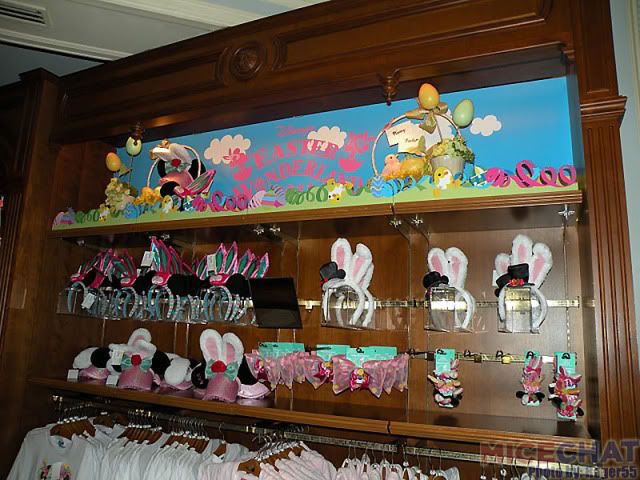 A display showing some of the clothing available.
Plastic figurines of the Easter Wonderland parade characters. I personally find it interesting that these figurines depict the "rubber head" versions of the characters. I guess authenticity is important. I would prefer to have the characters appear in their more traditionally drawn style wearing their parade cosutumes.
Cookie tin.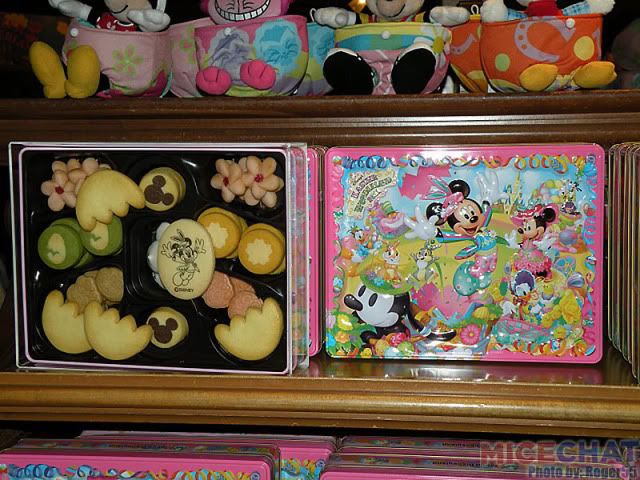 On top are stationary clips. Below are commemorative stamps and phone cards. The commemorative stamps and phone cards are a long standing tradition and have been produced for every special event over the years.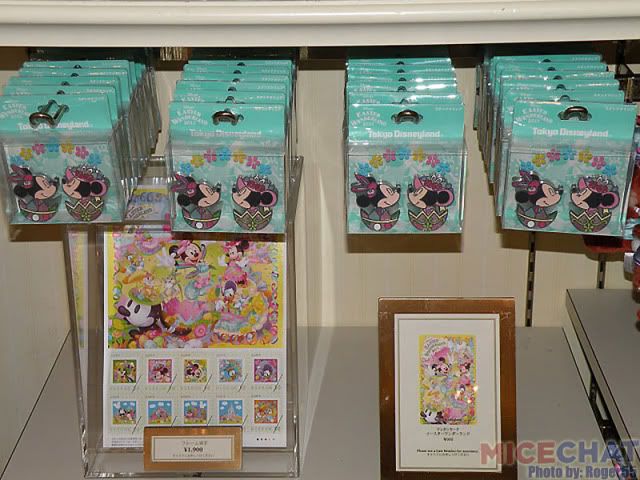 This is a kid's meal lunch set.
Okay! That about wraps up my report on Tokyo Disneyland Easter Wonderland 2011. I hope you all enjoyed everything from the past three weekends.
I also hope it was interesting to see the post-earthquake photos from around the resort. Although Japan suffered an unimaginable tragedy, the entire country and its people are working every day to restore and rebuild their lives.
It is my hope that for those of you who have not yet had a chance to visit Japan and the Tokyo Disney Resort, my photos inspire you to make a trip there some day. I'm pretty sure you will not be disappointed. And the Japanese people will surely appreciate your support too!
Disney and More columnist Alain Littaye was in London for the Royal Wedding
Our French correspondant, Alain Littaye, of the
Disney and More blog
brings us a very special treat today as he takes us on a trip to the royal wedding of William and Kate.
I'm back from London and those five days were absolutely amazing! The atmosphere in London, the old Victorian city, the heart of the British Empire, was incredibly electric, everyone was awaiting the Royal Wedding of Prince William and Catherine Middleton and it was beyond all expectations.
If you didn't watch the Royal Wedding live on TV you can visit the Royal Channel on YouTube
HERE
. This was an event full of pageantry as only the British can accomplish.
The whole city was prepared for the royal event whether it was near Westminster Abbey and Big Ben...
Or any of the steets in the heart of the city.
...and of course on the Mall, the large avenue leading to Buckingham Palace!
Even the shops had their windows themed to the wedding (like Harrods, London's most famous store).
In front of Westminster Abbey and on the Mall, Prince William and Kate fans came and slept in their tents three days before the wedding...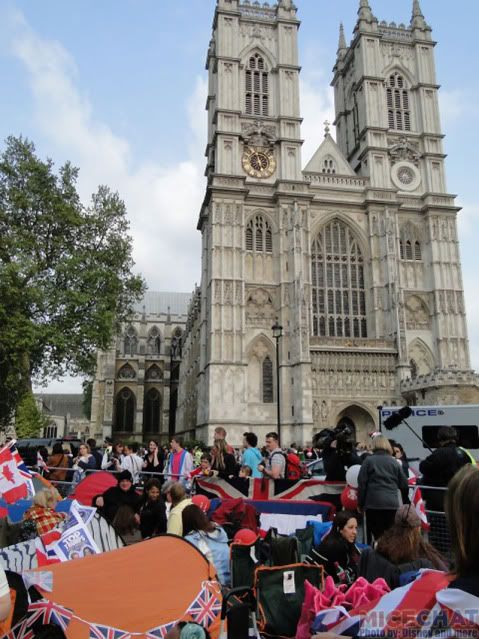 And in front of Buckingham Palace and Westminster Abbey, huge structures were built for TV news coverage from all around the world...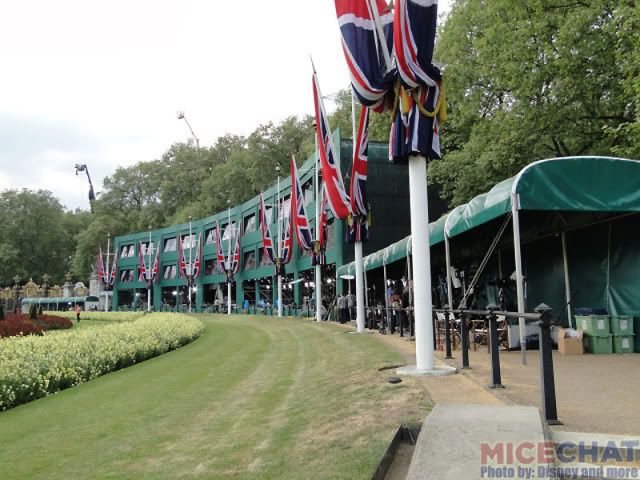 And then the big day arrived. There were so many people on the Mall that at 10am it was already impossible to access it as all the streets were blocked by the Police who asked everyone to go to Hyde Park where they could watch the wedding on giant screens. Here's a bit of video I took which shows the crowded but festive location.
And then the magic started. William and Harry appeared on the balcony of Buckingham Palace and World War II planes flew overhead to celebrate the marriage of Prince William and Catherine Middleton.
It was a real fairy tale. Just like the old Disney animated classics, but for real. A real fairy tale, in a real kingdom. The wedding of a real Prince to a pretty girl from an ordinary family.
Cinderella Image Copyright Disney
Official photo released by the Royal Family
Cinderella Image Copyright Disney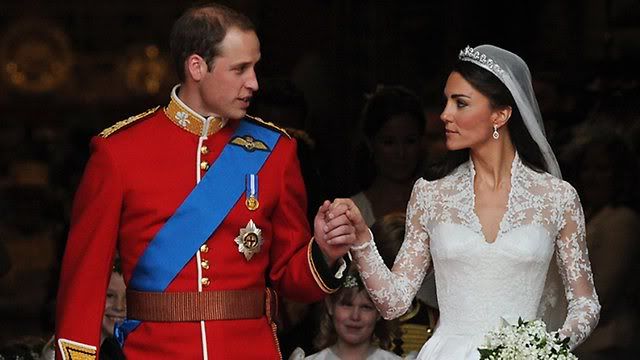 Official photo released by the Royal family
It's very rare, in the world we're living now, to have the privilege to watch something like this. And I think that the reason these hundreds of thousands of people were there last friday was because everyone wanted to make sure that fairy tales still exist.
And it was a triumph.
You can find more from Alain Littaye at his blog
Disney and More
How about a trip to Australia Zoo with Rya86n?
I spent this Easter on Australia's Sunshine Coast, where I visited Australia Zoo for the first time.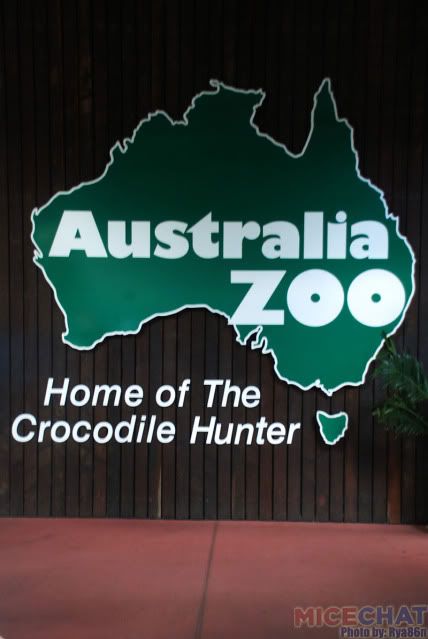 It is an amazing attraction and well worth a visit.
There is a great, immersive family atmosphere from the moment the gates are opened, and you enter the park.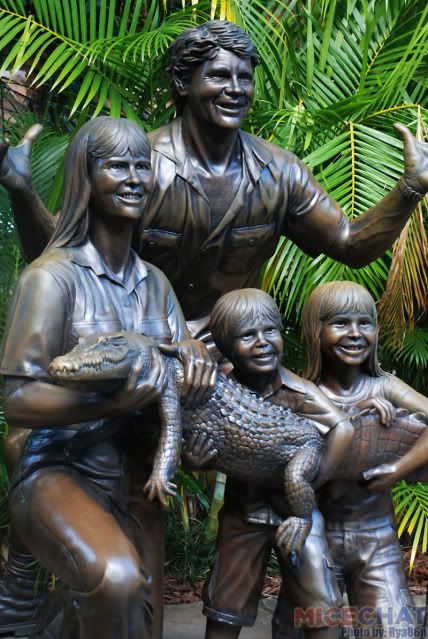 Australia Zoo was made famous, the world over by the late, great Steve Irwin, The Crocodile Hunter.
A bronze memorial pays tribute to the Aussie Icon just inside the entrance.
The zoo is home to a vast variety of animals; Giant Turtles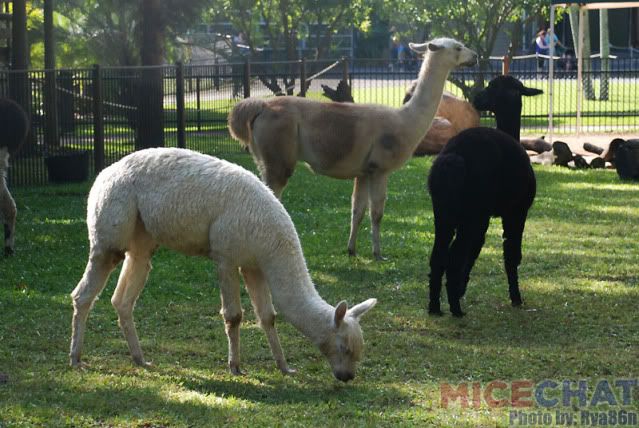 Lama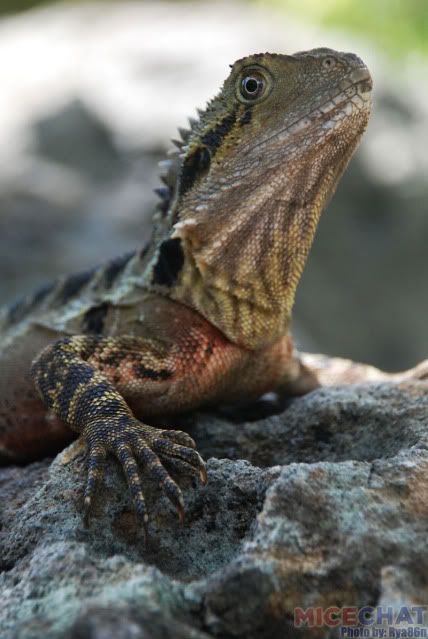 Lizards
Otters
Camels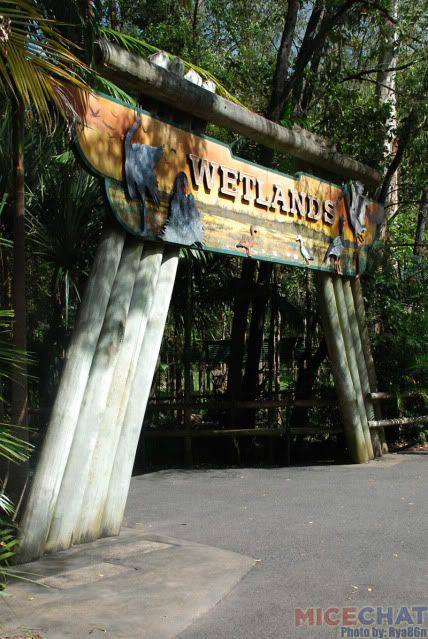 Birds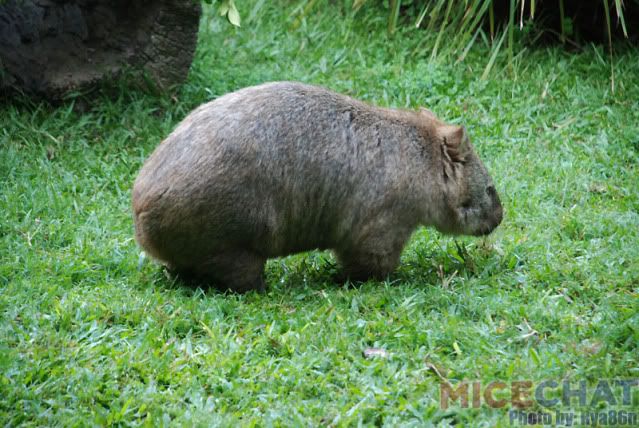 Especially lots of Aussie locals; Wombats
Dingos
Koalas
Kookaburras
Kangaroos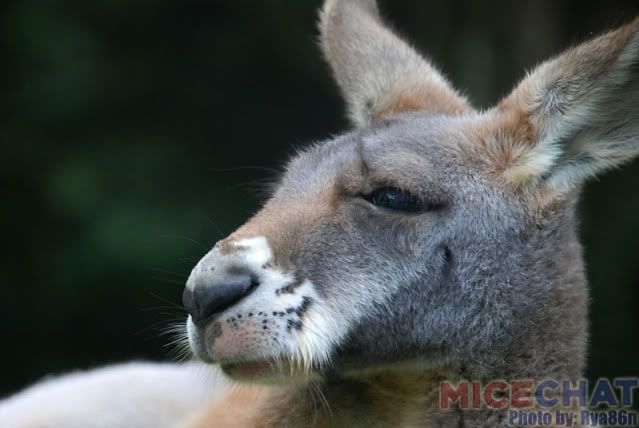 There is a great animal nursery for the kids and the baby animals.
and of course, that which the park is famous for, lots and lots of Crocodiles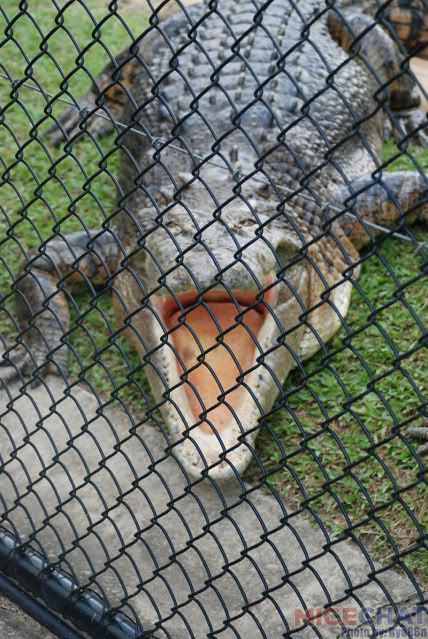 even the slightly more ugly, American Alligator
Still on the reptile theme; this has to be one of the best inflatable slides ever.
A couple of my favourite exhibits at the zoo, were the incredibly well themed Elephant and Tiger
enclosures.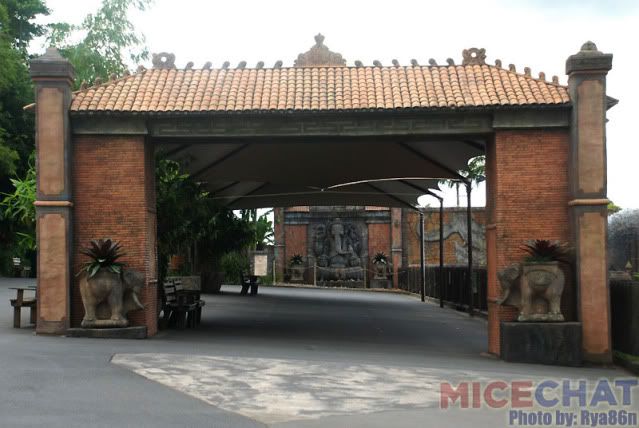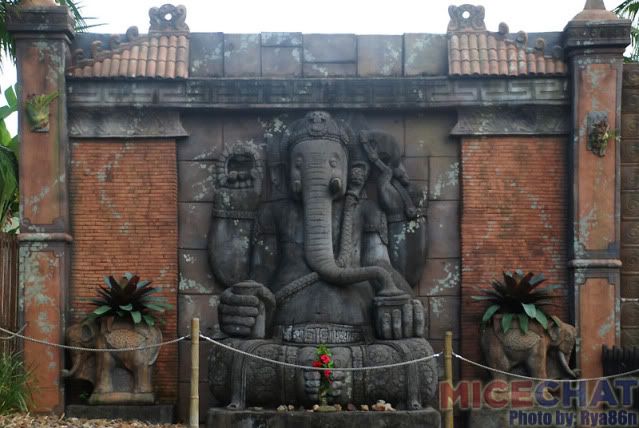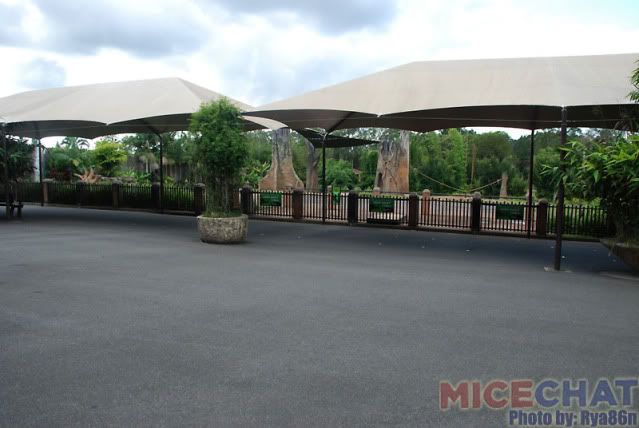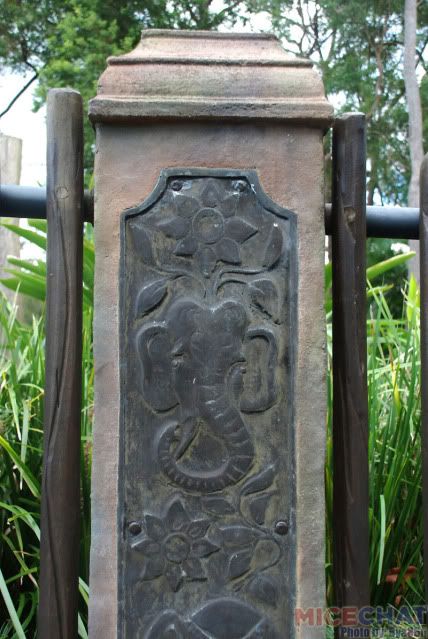 Theres even a focus on the finer details, which reminded me very much of a Disney level of detail and showmanship
But whats an elephant enclosure without the main attraction?
They are truely amazing creatures.
And of course a shop.
Similarly, I was very impressed with the Tiger Temple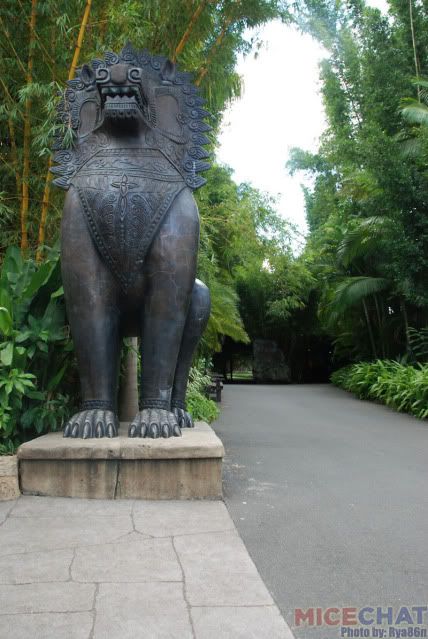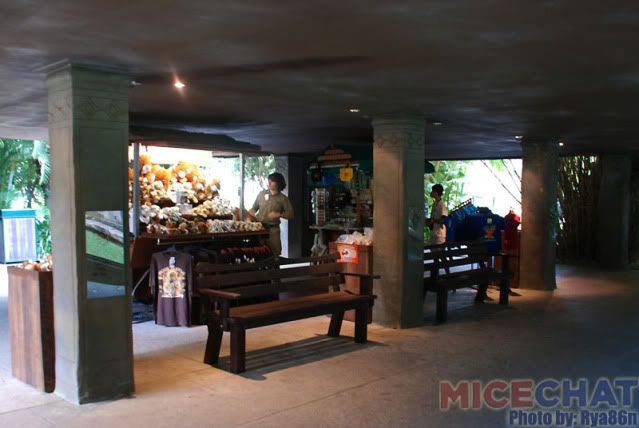 Again, there area has a high level of detail.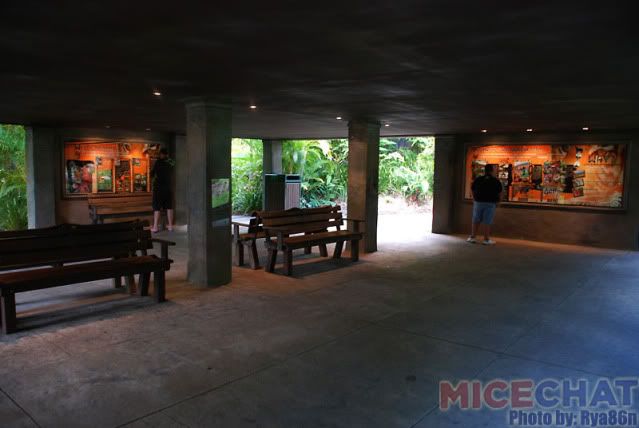 A great immersive environment.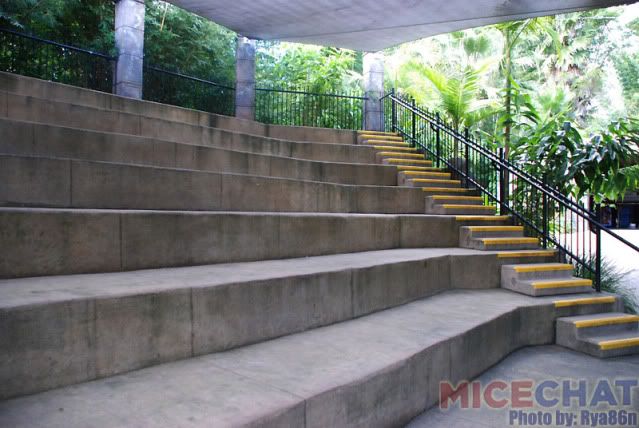 And a great enclosure for the tigers!
It provides a great opportunity to get up close and personal with these magestic creatures. Much closer than Dreamworld's Tiger Island with which I am more familiar.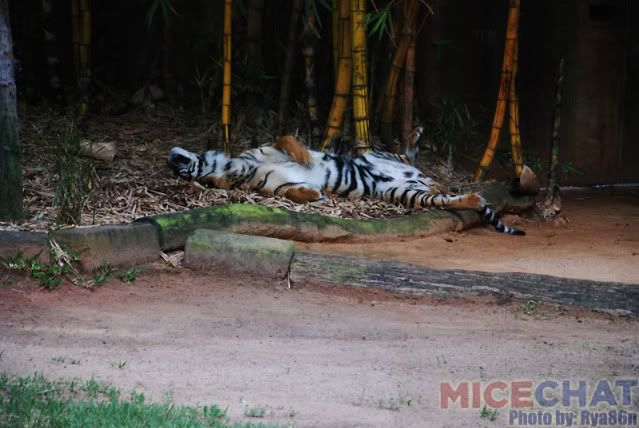 It was clearly a hot, sunny day!
We'll have part two of Rya86n's report next week including photos of the Irwin family.
Visit these MiceChat columns each week:
And that brings us to the end of another week. Our photographers have just enough time to reload their cameras before we see you all again next weekend. Thank you to all of our wonderful readers, and as always, a huge thank you to our amazing team of global photographers, spies, and gossips:
Where have YOU been recently? We invite you to share your photos of theme parks or any other destination that may be of interest to our readers. Please feel free to contact me via MiceChat Private Message (screen name Rixter)
or send me an email:

[email protected]

.
It is readers like you who make MiceChat such a special place.