As I have said many times in the Weekend Update, I'm never sure where in the world our correspondents will take us! This week's column was a surprise, even to me. I think you'll agree that this week's trip around the globe is quite unique.
Fishbulb
got a sneak peek at the new "
Happiness Is" Ice Show
at
Knott's Berry Farm
. The ice shows at Knott's are known for their professionalism and high production values. It sure looks like that tradition lives on.
Denise nbodyhome Preskitt
spent some time in
Washington, D.C.
and attended a special Flag Day ceremony. Her photos from
The Smithsonian
are particularly interesting. She also shares a few shots of
Fantasyland
construction from
Walt Disney World
.
We have a museum show this week which will delight Nightmare Before Christmas fans. MiceChatter
WildForMrToad
answered our call for photos of the
Tim Burton
show at the
Los Angeles County Museum of Art
. You'll be amazed at the high standards of this show.
The
PIXAR Cars
characters were spotted in Arizona by
Pratt55
and
Timmy55
. They braved the heat and crowds to bring you these photos.
sir clinksalot
participated in a very unusual test of physical endurance last week. He tells us his story of his participation in
Camp Pendleton's Mud Run
.
Finally,
The Disneylander
brings us a continuation of his photos from
Korea
. What a beautiful country!
Fishbulb got a sneak preview of the new ice show at Knott's Berry Farm that opens on Saturday June 18th
There's an adorable new ice show called
Happiness Is
... at Knott's Berry Farm in Buena Park, Ca. The show opens June 18th and runs through to August 28th (dark Wednesdays)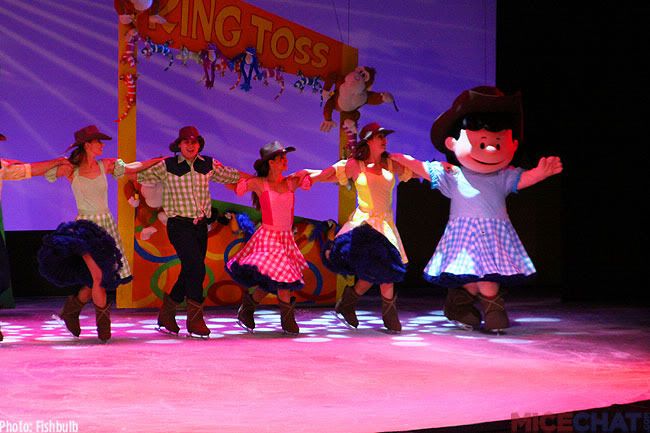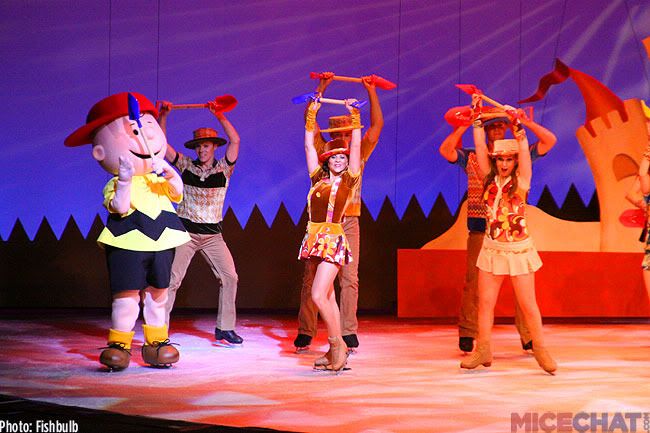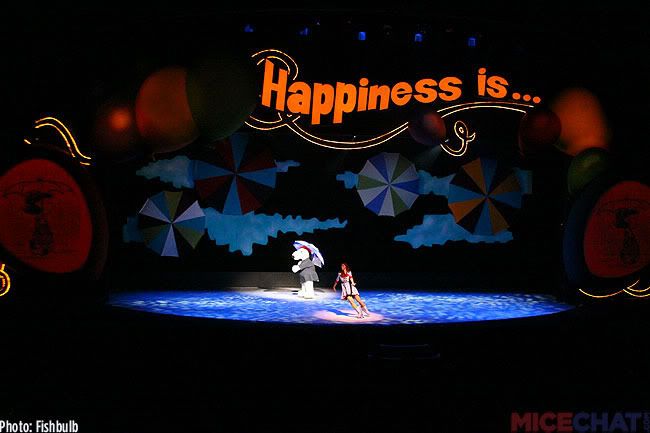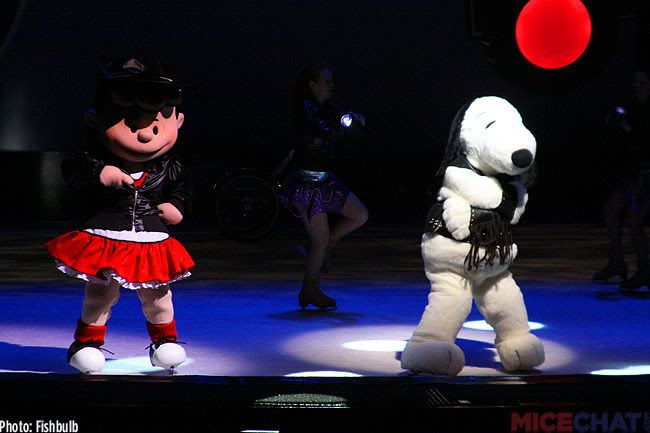 The new Happiness Is ice show opens today (June 18th), so treat your family to a day of good old fashioned fun and see what the Peanuts gang has in store for you! While you are there, don't miss the wonderful Snoopy's Starlight Spectacular light show presented in Camp Snoopy at sundown each night. We can't think of a better excuse to queue up for Mrs. Knott's Chicken Dinner! And just in time for Father's Day too.
Denise nbodyhome Preskitt shares a Washington, D.C. trip as well as WDW Fantasyland construction photos
We were out of town this past week for Flag Day events in Washington DC. My father runs a foundation that helps blinded and sensory disabled veterans, and he gives out awards on Capitol Hill each year (plus has a picnic for a couple of hundred guests at his house). We also stopped by some of the Smithsonian museums, before getting back home and right back to work photographing the parks and resorts.
Color guard on Capitol Hill:
Marine band:
Jeff Miller (R), Florida receives an award for his work with veterans:
Bob Filner (D), California gets a special award, my father is behind him:
I boxed up some of the food from the reception as dinner for the airport:
The day before the event, we went to the Smithsonian American History and Natural History museums.
Original Muppets:
I can't get away from Dumbo no matter where I go:
Dumbo video:
<object height="390" width="640">


<embed src="http://www.youtube.com/v/kWYl9sTFDog&rel=0&hl=en_US&feature=player_embedded &version=3" type="application/x-shockwave-flash" allowfullscreen="true" allowscriptaccess="always" height="390" width="640"></object>
Michelle Obama's dress (I think one of the nicest of all the First Lady dresses on display):
Laura Bush's Inaugural dress (she was in a different gown when I went to my only Inaugural Ball in 2005).
A family friend who is a Medal of Honor winner has a display in the Smithsonian dedicated to him - I hadn't known that until we arrived to the exhibit:
My favorite exhibit that we saw had to do with forensics and the Jamestown settlers. It was an extremely fascinating display, with a lot of mysteries solved with the bones of some of those who had been buried in Jamestown. The last part of this exhibit was a researcher and his dog - it included a life photo, and he donated their bones to the Smithsonian with the request that they be displayed after his death. It took a number of years for that to happen, the Smithsonian needed an exhibit that would allow this display to fit in naturally. Instead of being disturbing, I thought it was extremely moving - that these two friends are still together as they were in life.
My brother-in-law runs Ben's Chili Bowl, we enjoyed a meal there (actually at Ben's Next Door, which is their newer sit-down restaurant):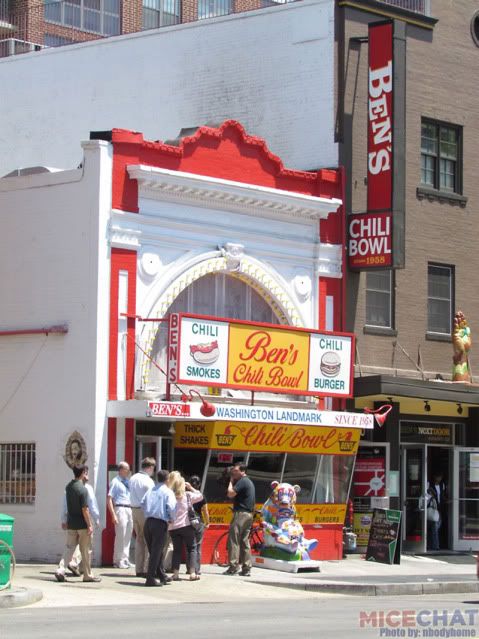 And back to Disney - we stopped at the Pop Century before we headed to DC, and the Art of Animation Resort is getting a paint job (the Finding Nemo wings as well as the front of the main building) and a pool is partially done:
We have a video that includes pictures I took of artwork during D 23's Destination D, so you can see how the Finding Nemo building (and the others) will look:
<object height="390" width="640">


<embed src="http://www.youtube.com/v/_dzCmFR62q4&rel=0&hl=en_US&feature=player_embedded &version=3" type="application/x-shockwave-flash" allowfullscreen="true" allowscriptaccess="always" height="390" width="640"></object>
Fantasyland: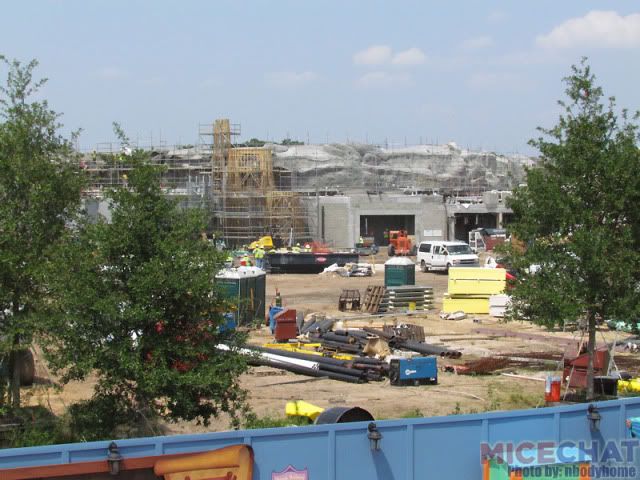 Video from Dumbo:
<object height="390" width="640">


<embed src="http://www.youtube.com/v/hz1zf3nb2Ic&rel=0&hl=en_US&feature=player_embedded &version=3" type="application/x-shockwave-flash" allowfullscreen="true" allowscriptaccess="always" height="390" width="640"></object>
And next week I'll share a little more of the Magic Kingdom - the Main Street Confectionery looks wonderful (now that the scrim is up), and more. The one thing I didn't take many photos of was of the Jamestown settler exhibit at the Smithsonian, I was too engrossed in it!
Don't forget to visit Denise's website for more photos and video:
Mousesteps.com
MiceChatter WildForMrToad takes us along to the Tim Burton exhibit at the Los Angeles County Museum of Art
If you haven't been down to the new LACMA exhibit featuring Tim Burton, it is pretty amazing with lots of awesome drawings and exhibits, including costumes and props from some of his films.
A Topiary outside is from Edward Scissorhands.
The Entrance to the Exhibit.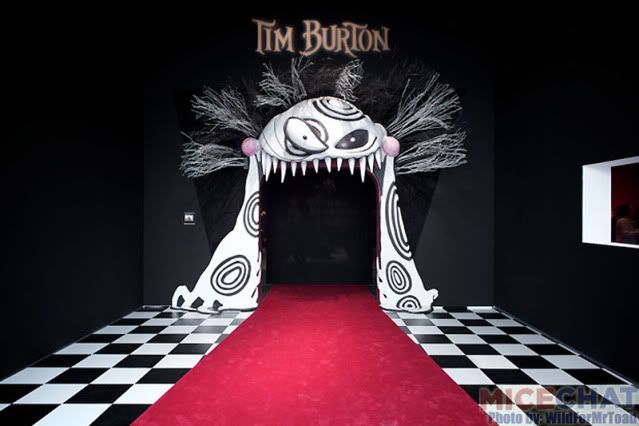 Frakenweenie from 1982
One of my favorite exhibits has to be this glow in the dark room which features a moving carousel in the middle all in glow in the dark. It also features a oogie boogie man and some glowing drawings painted on black velvet, all this happening to music produced by Danny Elfman for that exhibit. Very cool room.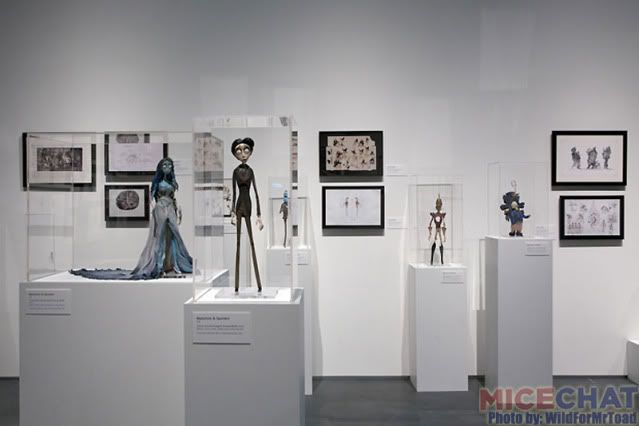 These guys are also Dancing to Danny Elfman Score.
All in all i give this exhibit a perfect 10 and would recommend it to anyone. I plan on going back again because there is just so much in these rooms. There is also lots of his animations he has created playing on the walls to little notes he has written to the Edward Scissorhand outfit. There is so much i just didnt want to spoil all the great and amazing stuff for everyone so if you want to see all hundreds of paintings, drawings, costumes, writings, animations, and miniature figurines. I think any Disney fan will love this exhibit. Future reference that the exhibit costs $20 with no discounts but you get to enjoy the rest of the museum with that ticket afterward. Go during a weekday if you can because i drive by this museum everyday and there is a huge line out the door and would be so crowded that you will not enjoy all the hidden gems inside. Also the gift shop at the end has some amazing souvenirs and books from the exhibit so pick up some of that stuff if you can. I picked up the 430 page art book with all of Tim's stuff. Very cool and awesome cover. Well hope you enjoyed this and i hope you get to make it out to the Museum.
PIXAR's Cars on Tour

Pratt55 and Timmy55 recently attended the Cars 2 "Agents on a Mission" Tour presented by State Farm on Monday, June 6th at Tempe Marketplace. About 2,000 people were in attendance. The event producers were not expecting nearly the crowds that showed up, as you can tell from the length of the lines in the photos below.
Cars 2 "Agents on a Mission" Tour Disney/Pixar have partnered with State Farm Insurance to bring life-size remote-controlled replicas of Cars 2 stars Lightning McQueen, Mater (pictured), and Finn McMissile (watch) as part of a multi-city tour. According to the press release, the cars are the largest radio-controlled models ever built, weighing in between 1,760 and 2,700 lbs. Each can travel for 30 minutes on electrical power at speeds up to 10 miles per hour.
Free stuff!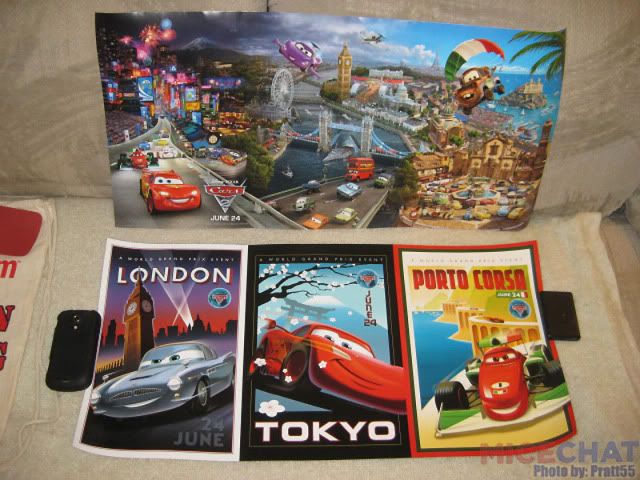 The Cars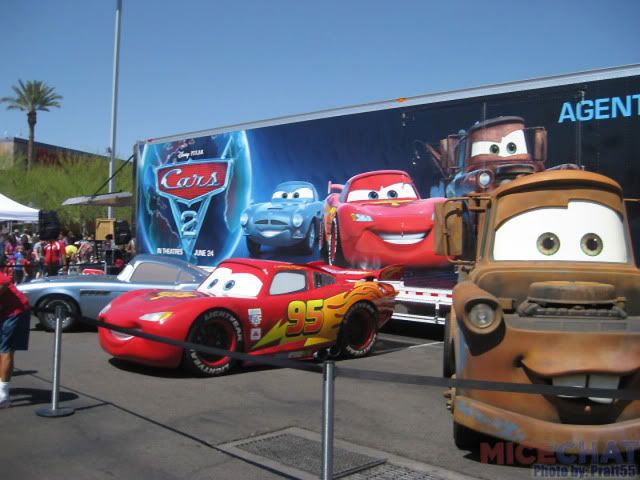 Cars 2 Models
Disney/Pixar Crate for the nerd in all of us.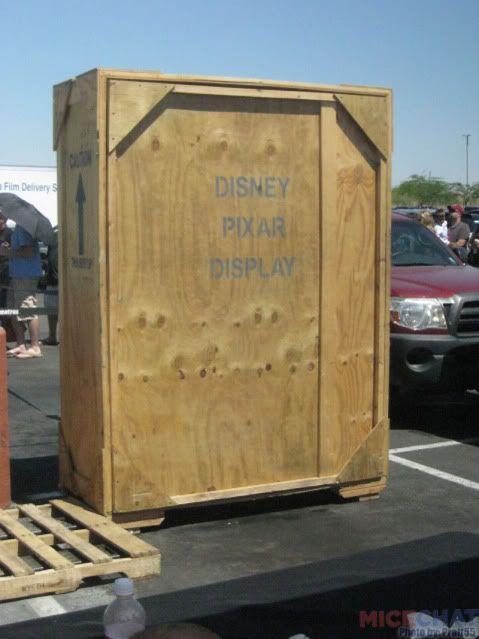 The Info Board
Event Poster
Radio Disney Tron Van
Front Trailer

The line behind us.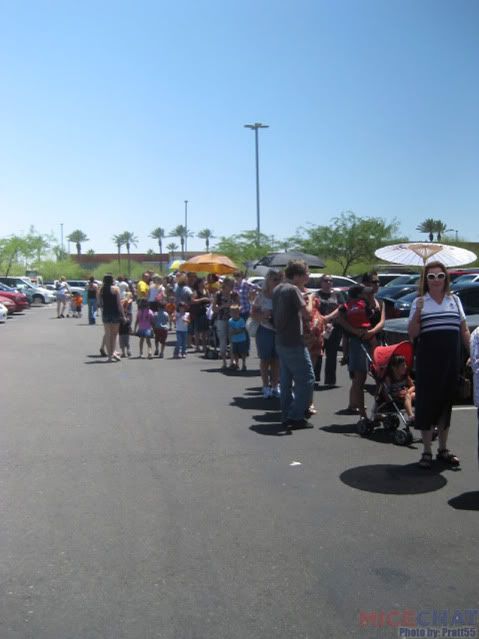 The line in front of us.

sir clinksalot takes his camera where other cameras fear to tread
This past weekend was the last day for the "World Famous Camp Pendleton Mud Run" and sir clinksalot was invited to join some friends who were running the race.
This was always something I've thought of doing in the past, but never dreamed of being able to complete before. It's most certainly something I will never forget doing and something that I will do again in a second.
After meeting at about 7am, it was time to head to the base.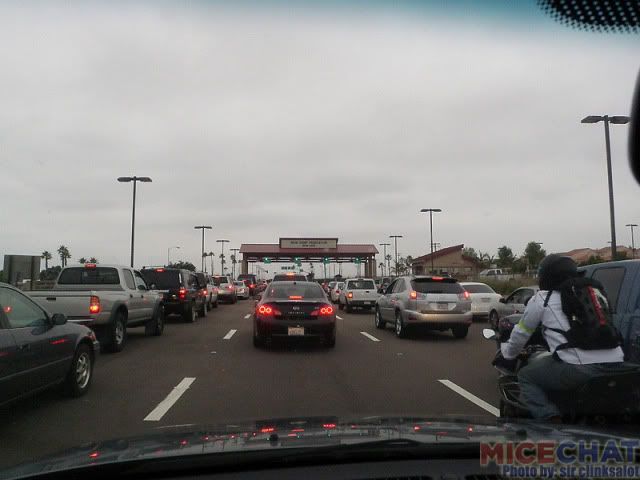 Some teams came dressed in costumes, this team was going off for a wedding or something (more on them later)
The Smurfs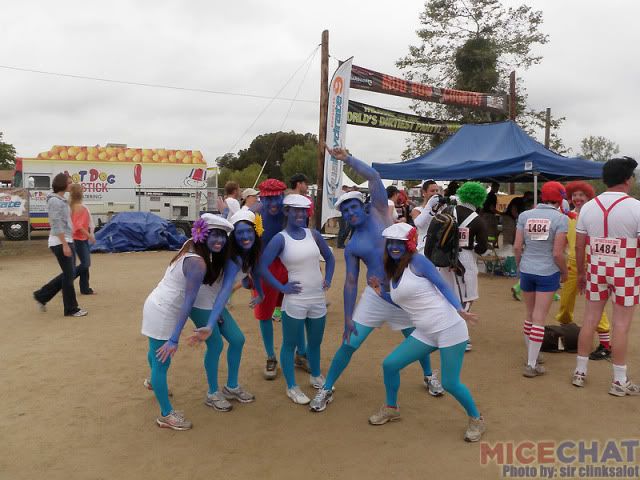 The starting line for the team event. The Individual event started about 30 minutes prior to the team event
After waiting for what seemed like forever, it was time to move to the actual starting line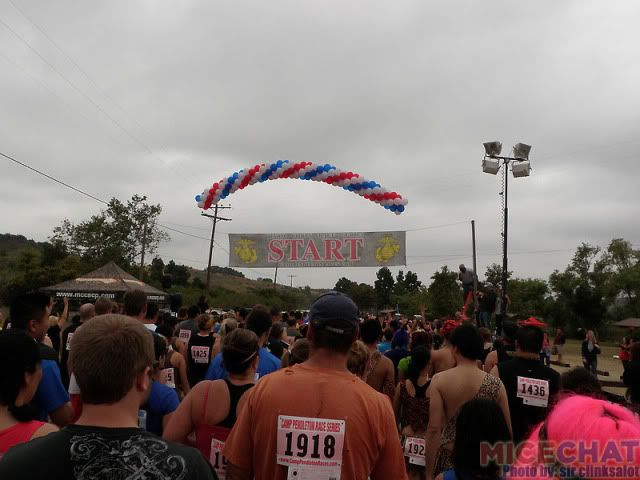 Just after the starting line, firemen were waiting with hoses. Some people were trying to avoid them, which I didn't get. I'm here to get dirty!!!
This was the only bit of "road" throughout the entire race
The Marines were cheering us on
Heading off into the wilderness
The trail split in two here, and my finger wanted it's time in the spotlight
The first couple of miles had a couple places where the course got congested (just like driving on the freeway)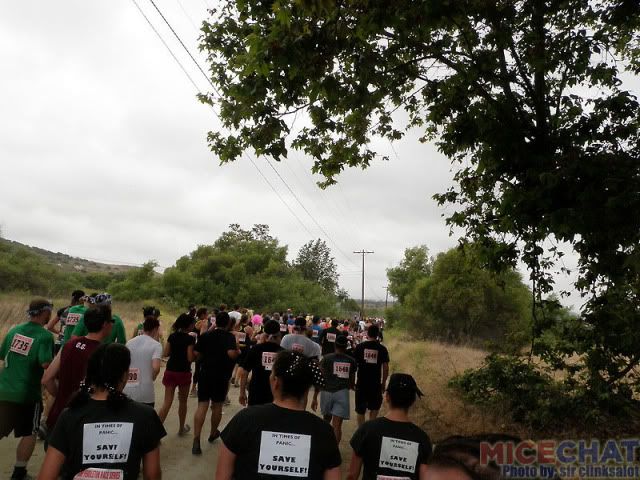 Backing up before the first obstacle
Heading across the creek
And now we are muddy
Miles 1-3 basically consisted of some pretty challenging hills and valleys. This hill is longer and steeper than it looks. This is maybe 1/4 of the length of the hill.
In between hills
Trying to take pictures of yourself while running never turn out good
Area 25 ... not sure what government secrets are hidden here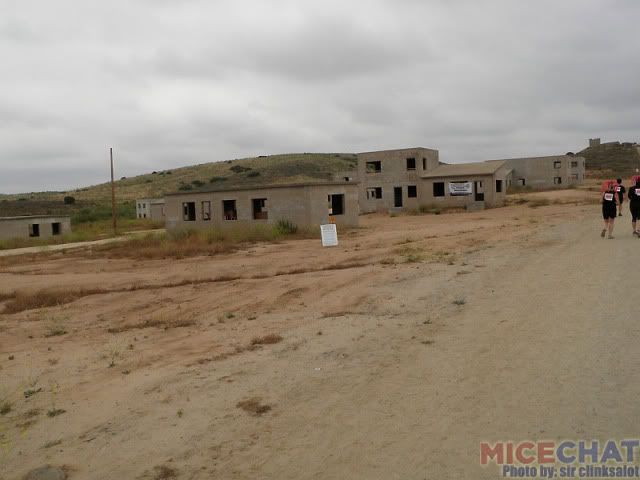 Up the next hill ... steeper than it looks
Looking down on Area 25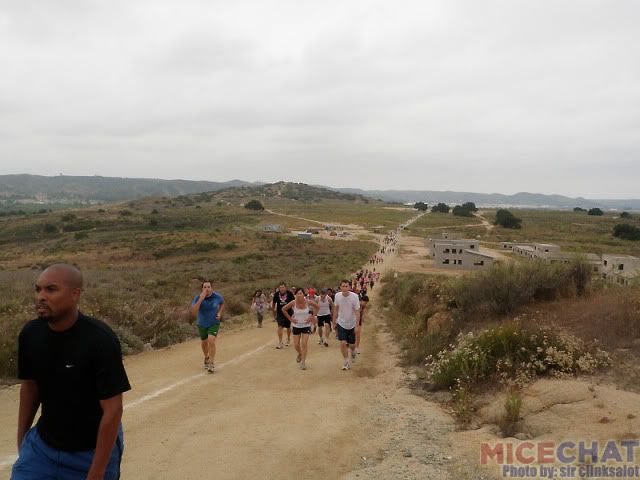 Some kind of fort ... I'm sure it's only to disguise what's really in there
This was the end of mile 3
The Marines are ready to take out whoever lingers on the course too long
Down the hill ... it was fun
Back across the creek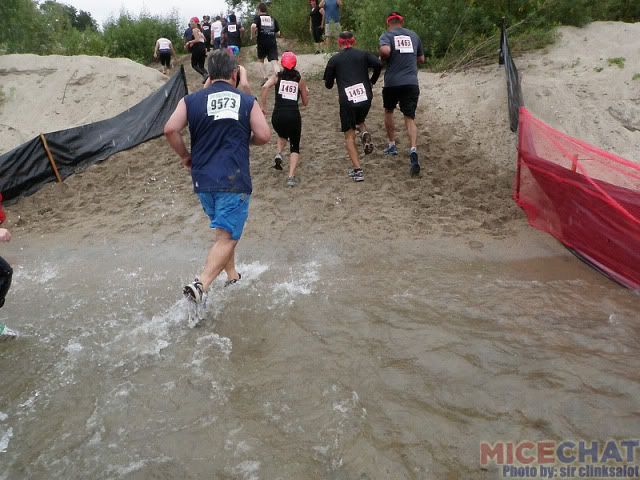 And into the first mud pit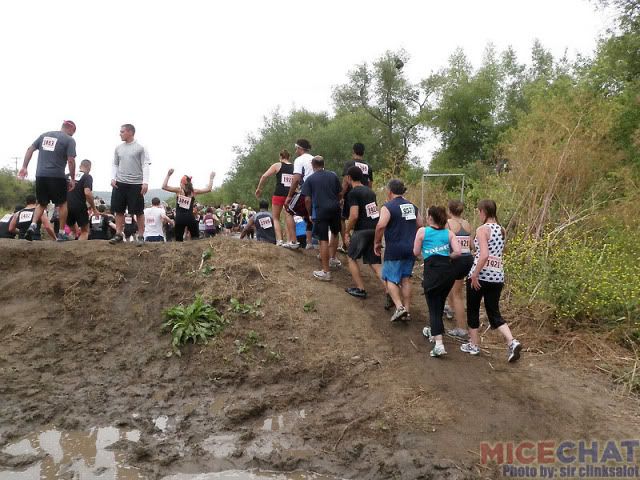 This is what the mud run is all about
Next is the lake crossing, this was probably my favorite part of the race. At this point it was so refreshing to be in 6 feet of water
See ... lake
If I stood on the bottom, I would have been up to my eyes in water
This is what the water looked like from underneath
Lifeguards were on duty just in case. You also had the option of skipping this challenge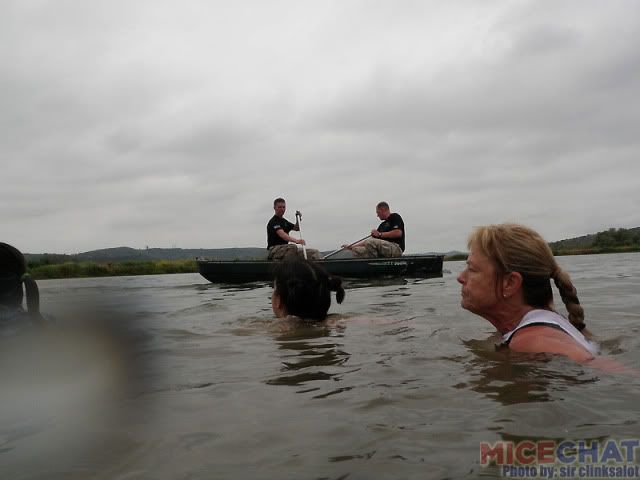 The bridal party making their way across the lake
Looking back on the lake crossing, it wasn't a short distance by any means
The first mud wall that we climbed before the lake
Mud pit #2
Yes, you can get this muddy and love every second of it!
After hopping over the wall ... rule #1 in the mud pit, keep your mouth closed!!!
Next up were the mud tunnels ... I had a hard time with these, but apparently accidentally took a picture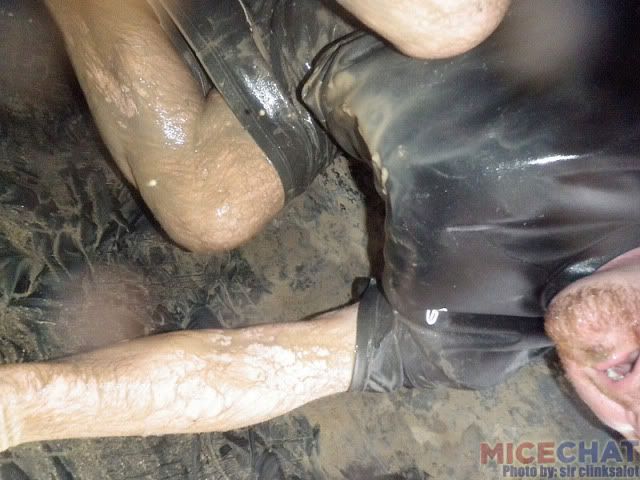 Ronald McDonald emerges from the mud
That poor wedding dress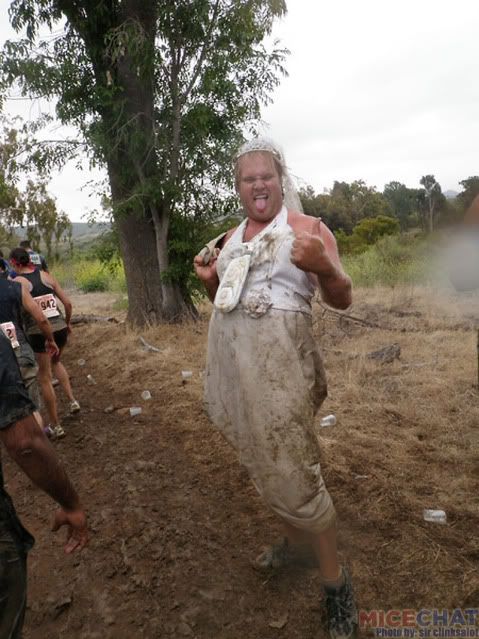 This was the mud hill ... apparently the lens had something on it ... wonder what it could be.
When I heard "mud hill" I wasn't sure why it would be down hill ... nope.
Looking down on mud hill ... if you squint you can see the fire hose.
Final obstacle, the mud crawl
Remember, keep your mouth closed!!!
These are my shoes after the race ... they are now in shoe heaven.
The event is amazing, such a fun run. I wouldn't classify it as a "race" because honestly, it's not about having the best time, it's accurately named a mud "run".
MiceChatter, The Disneylander, will be spending some time in Korea and has promised to share some of the sights with the Weekend Update
Korea: Hwaseong Haenggung
The Hwaseong Haenggung (화성 행궁; literally, "Resting Place of the King at Hwaseong") is a palace located in Suwon, South Korea, about an hour's drive from downtown Seoul. It was constructed in stages, with the main gate being erected in 1790 and continuing until 1795.
It was built as an act of filial piety by King Jeongjo, the 22nd king of the Joseon Dynasty, and was built as a retreat for the King in times of vacation, as well as a means of escape. Although there were several such "temporary palaces" set up in Korea, the Hwaseong Haenggung was known to be the most often used, as well as the most beautiful.
However, the palace is also infamous for the gruesome killing of who could've been the future King. Although his name was Jongjo, he is better known as the "Sado Saeja" (사도세자; literally, Crown Prince Sado).
Although he was earmarked as the future King, Jongjo had several qualities that made him unfit to rule - such as a taste for brutal murder, for example, as well as a personality that made him infamous in Seoul.
Finally, the current king (King Yeongjo) solved the problem by locking him up in a rice chest and letting him starve to death over seven days. He was 28 years old at the time.
This is the main entrance to the palace, called the "Sinpungru" (신풍루).
A bronze map of the palace, located next to the main entrance.
Looking back from the main entrance towards the outside courtyard and downtown Suwon in the distance.
Once you step inside, this is what you see - yet another wide-open courtyard.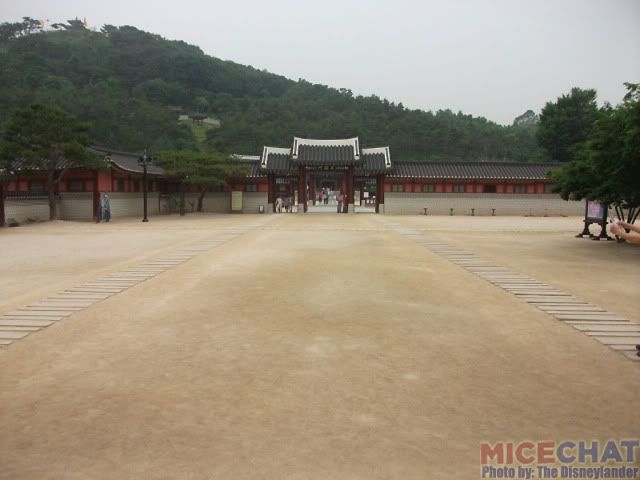 If you turn right immediately after entering the palace, this is what you'll see: the "protector tree", also known as the guardian of the palace. Its exact age is unknown, but it is said to be at least centuries old.
A small side door, leading to an inner yard that branches off from the main courtyard.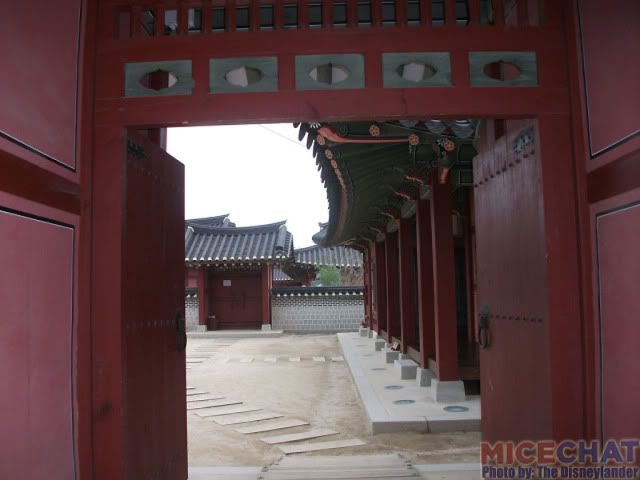 Once you get past the main courtyard, you can turn around and see this view. The entire palace is built symmetrically.
And finally, looking back from the very end of the courtyard, standing in front of the actual palace itself.
Behind the palace itself was the servants' quarters. The rooms were tiny - probably no bigger than your bathroom.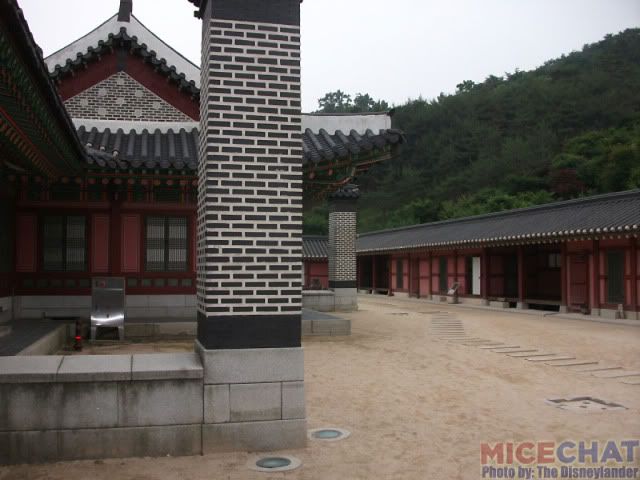 The palace is built on the side of a mountain called Paldal-san (팔달산). Also, check out the ornate details on that chimney!
Behind the servants' quarters. The entire complex butts up against lush forest.
To give you an idea of the size of the palace - this picture was taken after about a 15 minutes' walk, at a slow pace, from the main entrance.
Check out that amazing detail! It nearly looks like it belongs in a Disney park.
Next up, pictures of Hwaseong Fortress - an ancient wall that surrounds the main palace, and built in 1794.
We'll have more adventures for you soon.

Visit these MiceChat columns each week:
And that brings us to the end of another week. Our photographers have just enough time to reload their cameras before we see you all again next weekend. Thank you to all of our wonderful readers, and as always, a huge thank you to our amazing team of global photographers, spies, and gossips:
Our thanks to our special contributors this week,
The Disneylander
,
Fishbulb
, and
Pratt55
and
Timmy55
.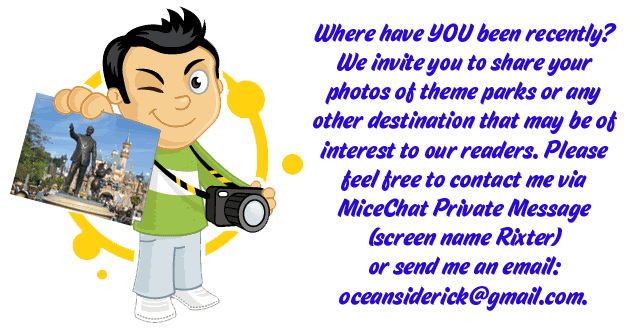 It is readers like you who make MiceChat such a special place.
Don't miss a single one of MiceChat's Featured Blogs (including the Weekend Update). Add our feed to your favorite feed software or site:
Follow us on Twitter