Happy weekend everyone! Let's take a trip around the Weekend Update world, shall we?
David Yeh
starts us out this week with the first part of his mega recap of
Comic-Con International
. This annual event is attended by many of my MiceChat friends each year. David's report captures the excitement of Comic-Con and shows us why thousands of people descend on San Diego each year.
MiceChatter
kcnole
went to
Singapore
on business recently. Lucky for us, he was able to break away from his business responsibilities to do a little sightseeing. This week we have the first installment of a multi-part tour.
Our Aussie theme park correspondent
Rya86n
collaborated with
PokerPig89
to bring us photos of
Wet 'n' Wild Water Park
.
The Disneylander
continues his reports from
South Korea
with some photos of an interesting area of
Seoul
called
Insa-Dong
.
Finally this week we have some gorgeous post card images from
Tokyo Disneyland
furnished by
Teresa Cory
, owner of MiceChat partner
Fairy Godmother Travel
.
We have two quick notes for you before getting on with today's update. First, we are having a bit of a software issue which is creating some formatting (mostly spacing) issues in today's update. Please forgive the slightly off kilter look. Secondly, MiceChat will now be publishing on Sundays beginning tomorrow. Please be sure to check back for the first edition of "Vacationeering".
David Yeh reports on this year's activities at Comic-Con International 2011
SAN DIEGO COMIC-CON 2011


The world's biggest pop-culture convention took place just a few weeks ago and while Disney pulled out of massive panels to plug future films and other off-site experiences (thank the D23 Expo), there's still plenty of fun to be had from Wednesday through Sunday.
On the left, the San Diego Convention Center and Downtown San Diego to the right.
The San Diego Comic-Con (SDCC from here on out) is akin to the Mos Eisley Cantina in Star Wars. You won't find a more wretched hive of scum and villainy... and you must be cautious, especially with your wallet.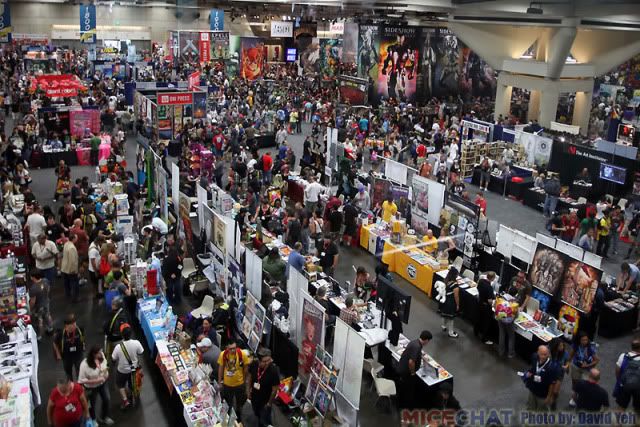 No panels for The Avengers but they sure had one of the largest booths around:
ABC had one of the more sought after freebies of the convention to plug their upcoming show PAN-AM, complete with a flight experience, show preview, and your own PAN-AM luggage to take home!
Disney Channel's Phineas and Ferb were also on hand to take pictures with con-goers but it was the PLATY-BUS that turned heads.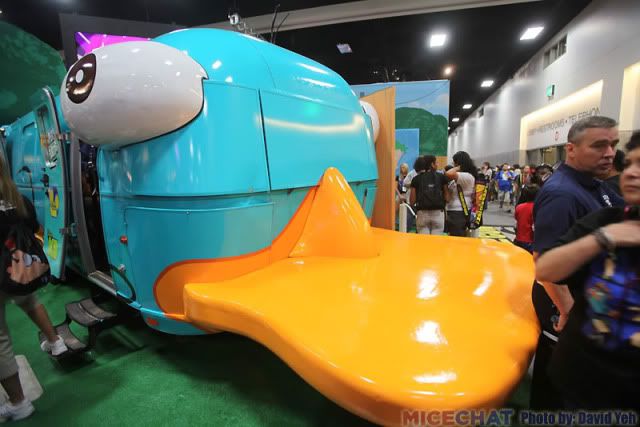 While folks go to SDCC for comics, movies, television, video games, art, the big draw for me is seeing the toy companies present their latest in collectibles. Sideshow Collectibles and Hot Toys have the best (and most expensive) items coming this year and next.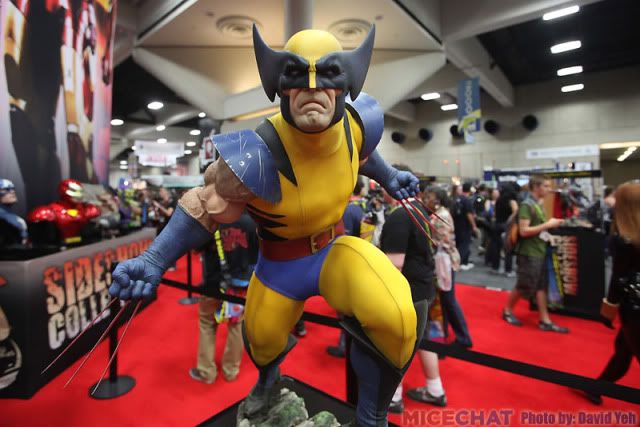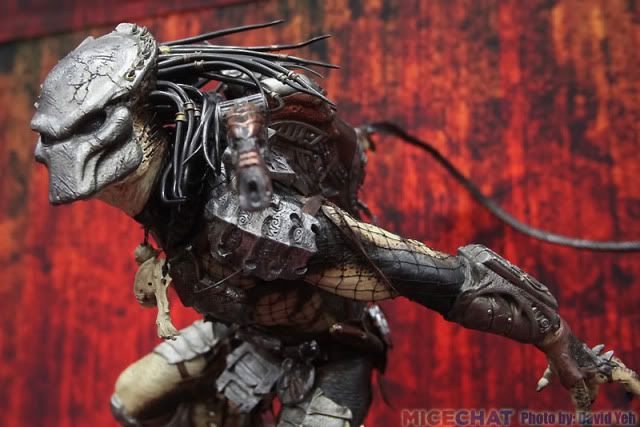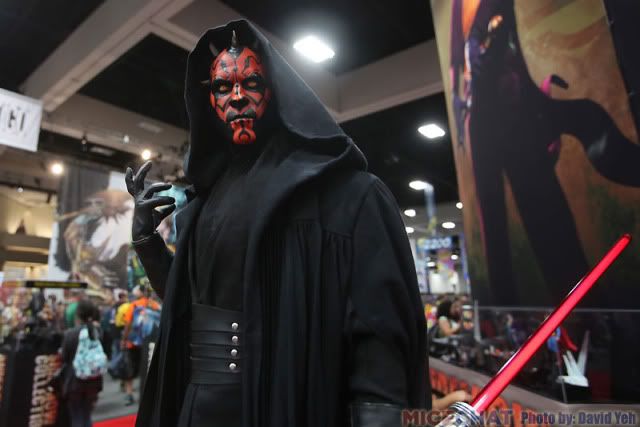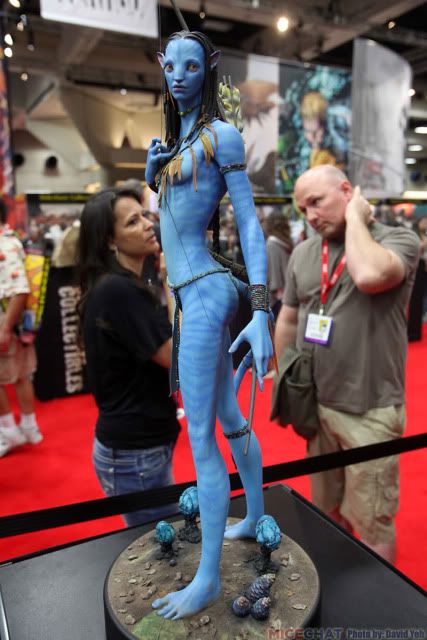 These figures are 1/6th scale (12 inches)... and aren't they amazing?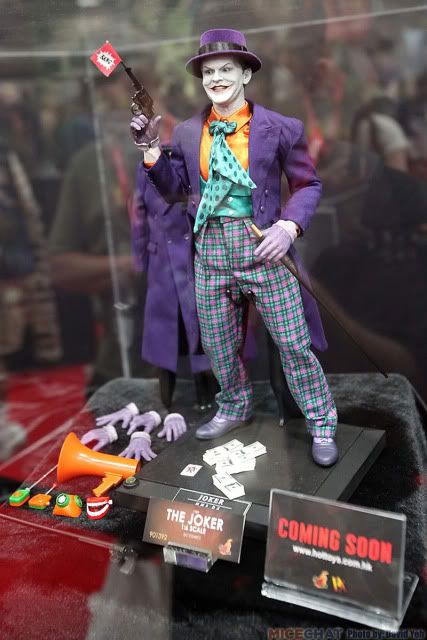 Actors from STAR WARS CLONE WARS pose with their respective toys.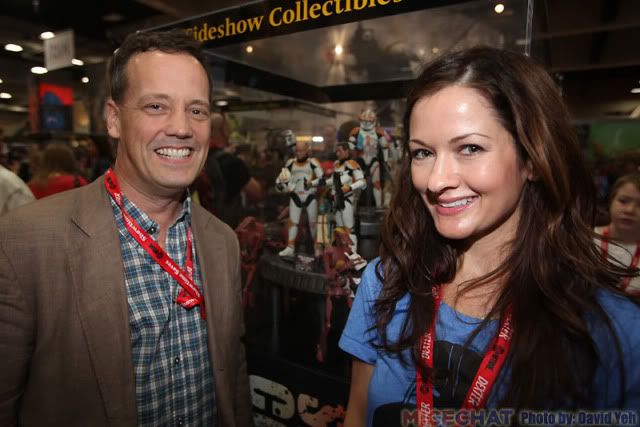 Over at the Hasbro booth, nostalgia for 30 years of G.I.Joe sinks in.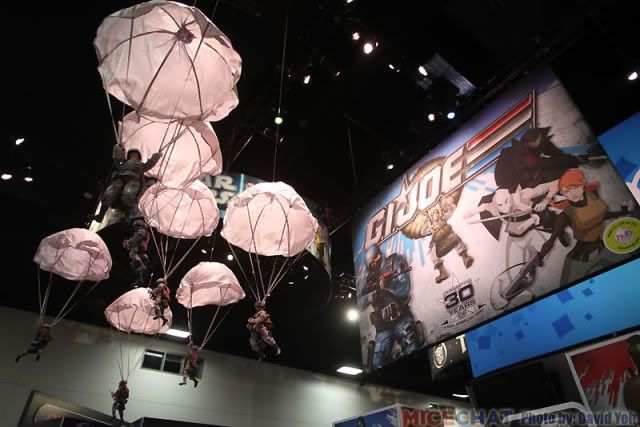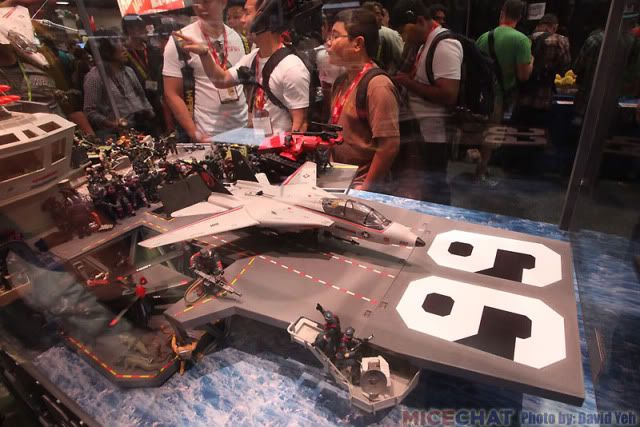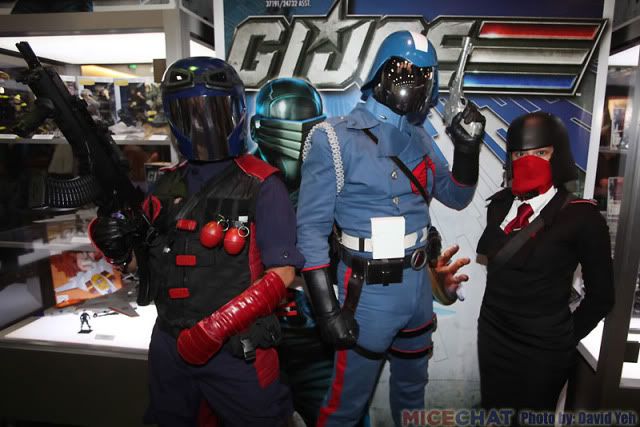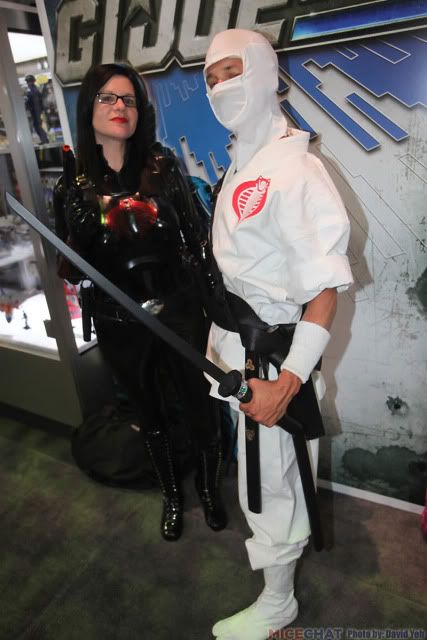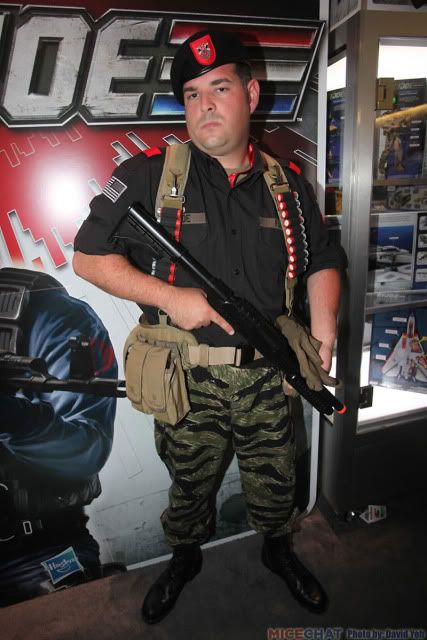 Over in Hasbro's Star Wars display, you can sit on the Emperor's Throne for a photo op.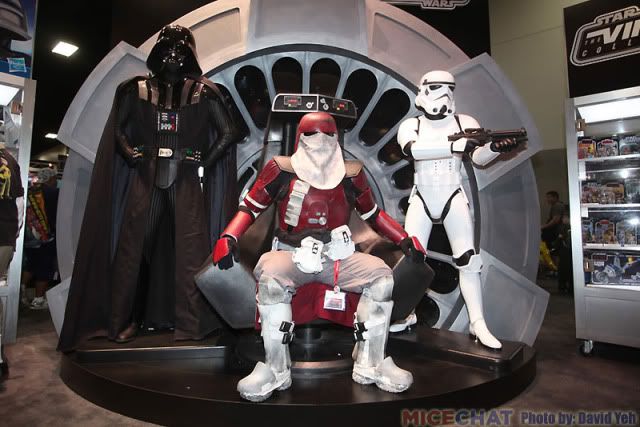 Or make your moves on the Amazing Spider-Man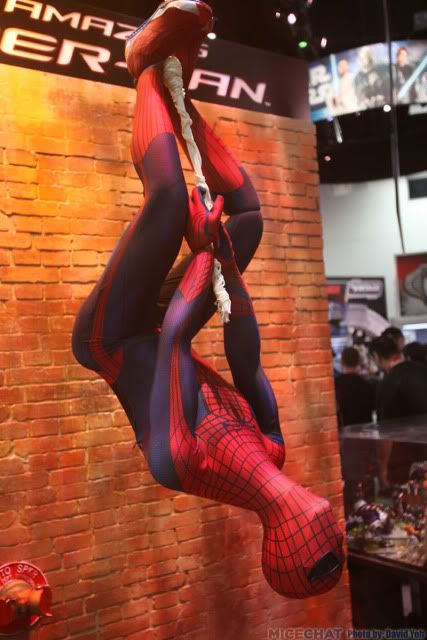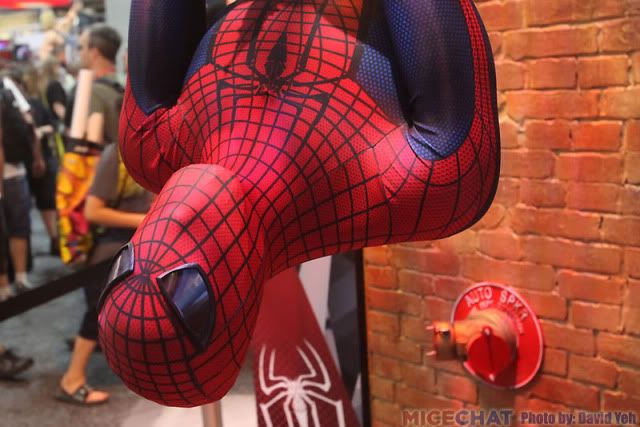 The big reveal at Mattel's booth this year was a relaunch of Voltron toys.
Never before have the classic figures and lions looked so good..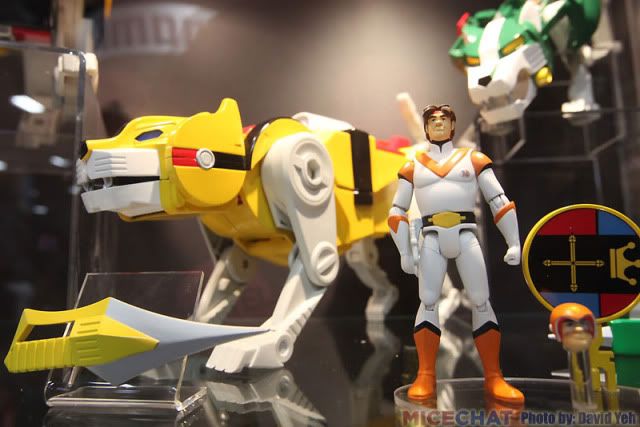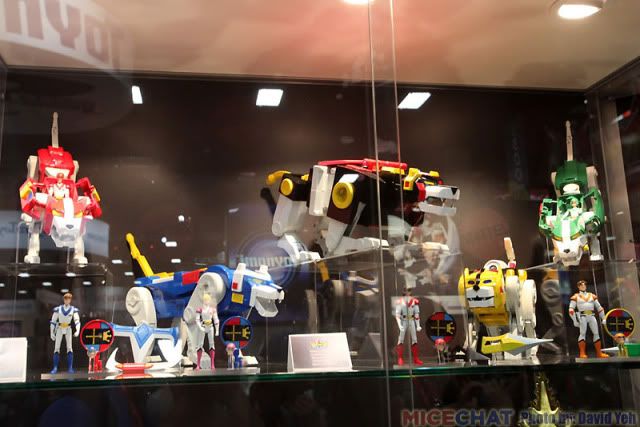 All of the lions combine to build Voltron Lion Force that stands over 20 inches tall! To order, visit
MattyCollector.com Online Store - Welcome
. You have until August 14th to reserve your figures and lions.
Some other shots inside the convention floor: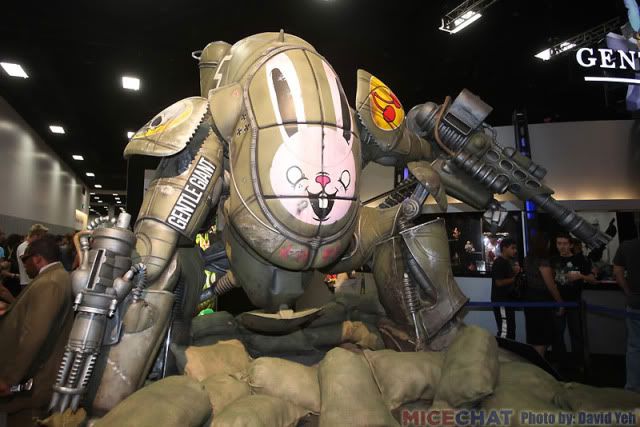 As much fun as it is inside the convention, the insanity has gotten further and further into the city of San Diego, creating a Times Square meets Mardi Gras atmosphere of costumed characters and geeks partying from day till night.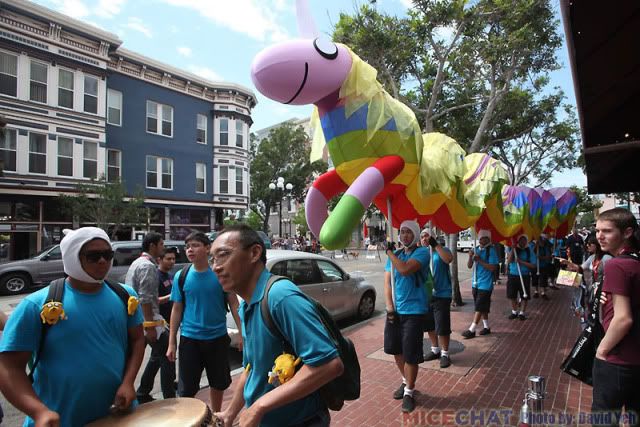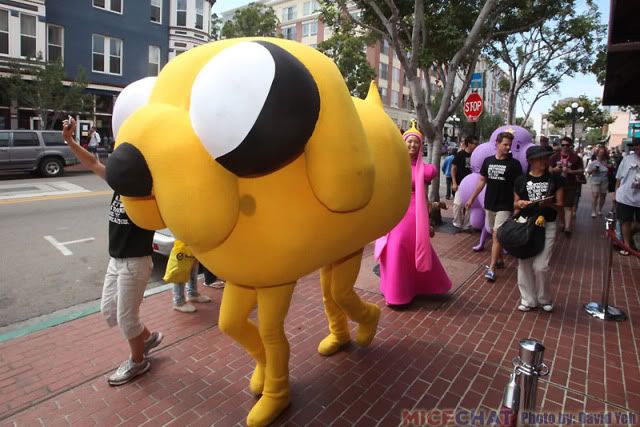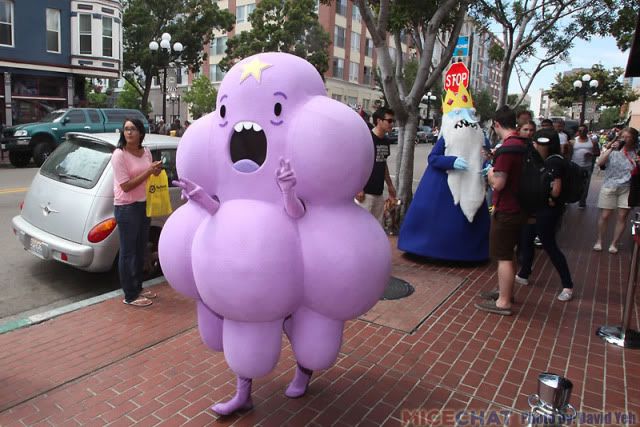 Even the studios are taking it to the streets with the Total Recall vehicle on display just outside of the convention.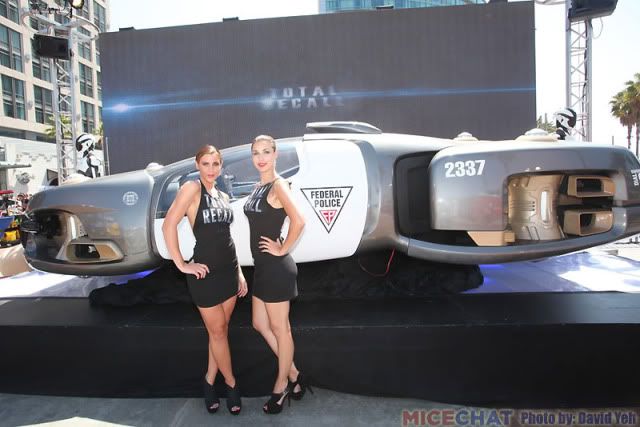 NBC took over the Tin Fish restaurant daily and presented a look at their upcoming slate. Visitors each day were able to take advantage of different giveaways and prizes.
Hasbro's new toy called KREO are what you get when you cross Transformers with Legos. Optimus Prime and Bumblebee helped distribute free figurines.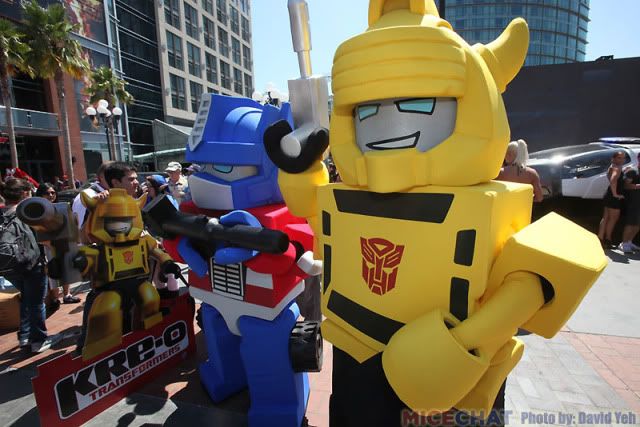 Where last year's wonderful FLYNN'S ARCADE experience was located is a preview of what's to come to next year's SDCC. MARVEL MONSTERGEDDON is a monster truck rally with your favorite Marvel characters. Convention goers were able to purchase tickets in advance at 50% off the ticket price and reserve their seat for what they claim to be the largest Marvel experience ever, coming in 2012 at Qualcom Stadium.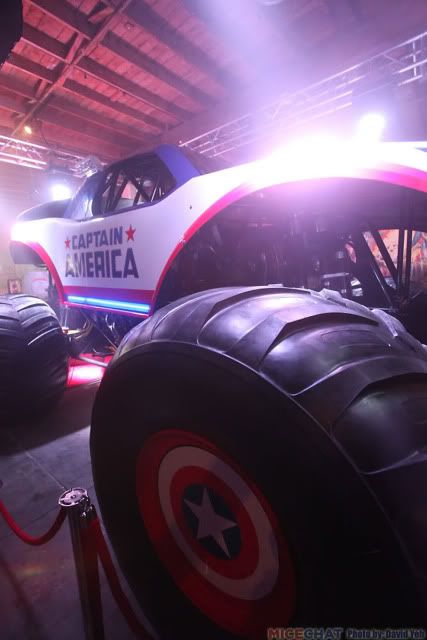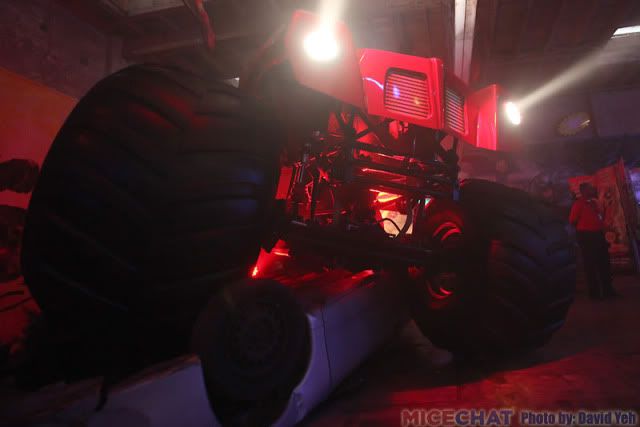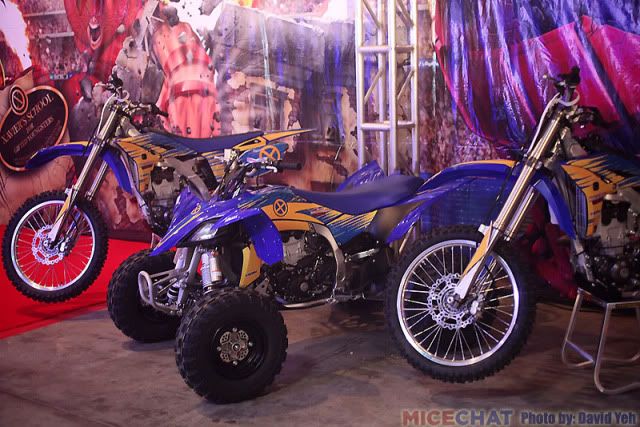 John Romita Jr. and Stan Lee were signing autographs for those who purchased tickets.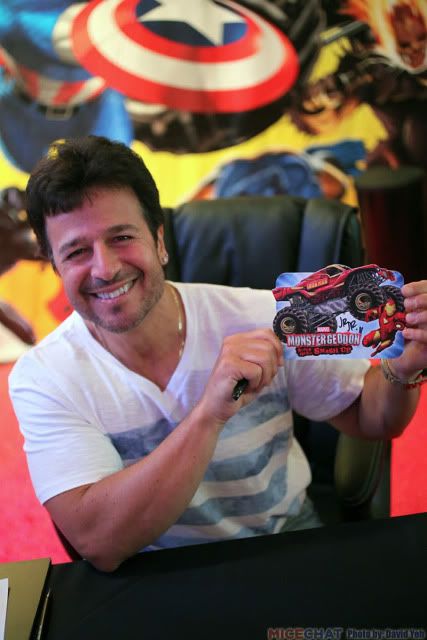 Even Conan O'Brien took up residence in Downtown San Diego with his CocoMOCA, a Museum of Conan Art. Fans submitted entries of Conan's alter ego: THE FLAMING C. Eager fans who stopped by received free tee-shirts and a green screen experience that inserted them into a scene with the Flaming C.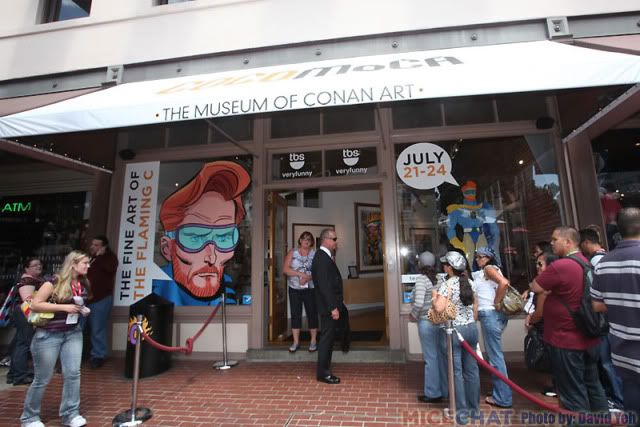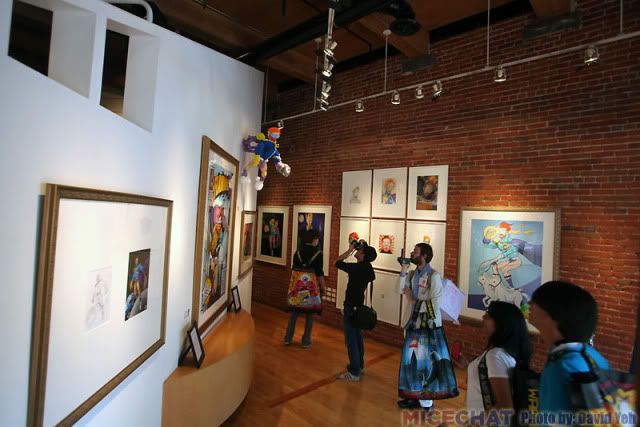 Hope you enjoyed this brief look at some of the fun at San Diego Comic-Con. Keep in mind that this is only 2% of what you'd see if you went. Stay tuned next week as I take you into the world of cosplayers (costume play).
MiceChatter kcnole took a trip to Singapore
This first part of the report is on some of the sights in Singapore. I'll focus on Sentosa and Universal in future reports.
I was given the chance to visit Singapore a few weeks back for a business trip. I knew very little about the country before visiting other than the fact that they had a Universal Studios in the country and that it was in Asia. As a result I began a bit of research into the country and was very intrigued by much of what I learned. The country itself is very small, in fact the entire country is less than twice the size of my relatively small city. However there are almost 5 million people who live in that area primarily Chinese, Malay, and Indian. I was pleased to discover that English was the primary language spoken however.
With the brief amount of time that I had available to see the country I decided that the best course of action would be to use one of the hop on/hop off tour buses that traveled to most of the major areas in the city. The first stop on the tour was at the Singapore Botanic Gardens which was originally founded in 1822 by Sir Stamford Raffles, the Founder of Singapore. The Gardens were absolutely beautiful and free to visit. However it was very hot and as I had limited time, we only visited a few of the gardens that it holds. I've included a few photos below: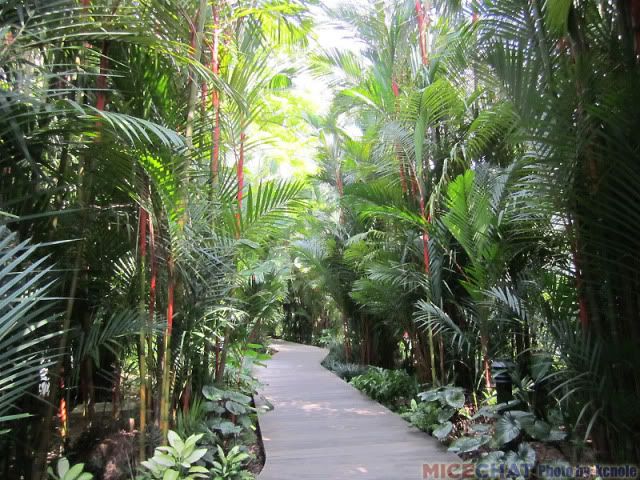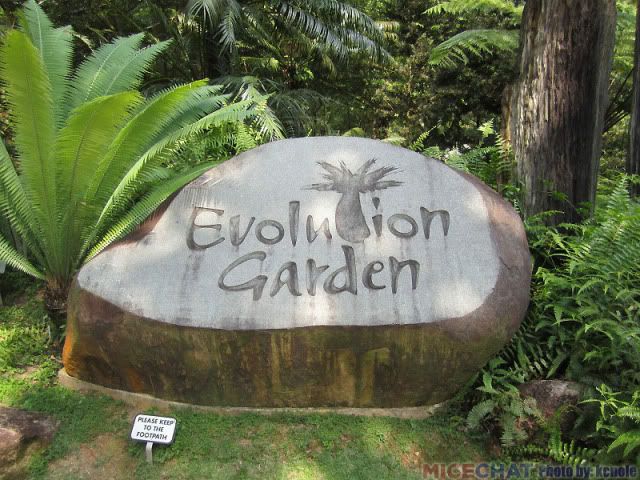 After leaving the Gardens, we hopped back on the bus for a stop at the Singapore Flyer. The Singapore Flyer is a giant observation wheel reaching 541 ft making it tallest Ferris wheel in the world. It is 16 ft taller than the Star of Nanchang and 98 feet taller than the London Eye. It gives amazing views of the surrounding city and harbor. A ride on the Flyer takes approximately 37 minutes to complete and is fairly comfortable as you ride inside a very large and thankfully, air conditioned, capsule.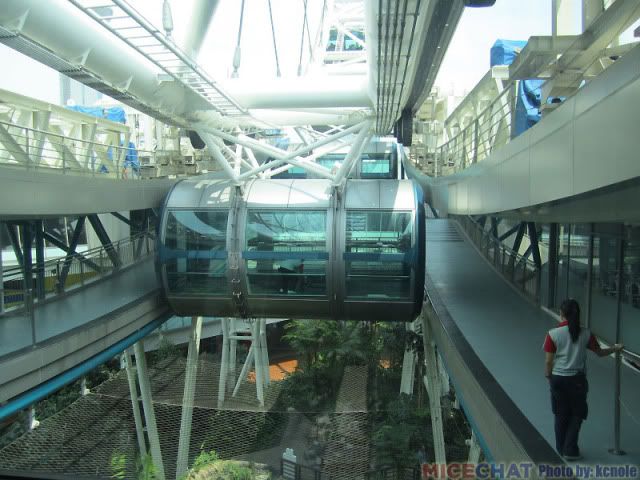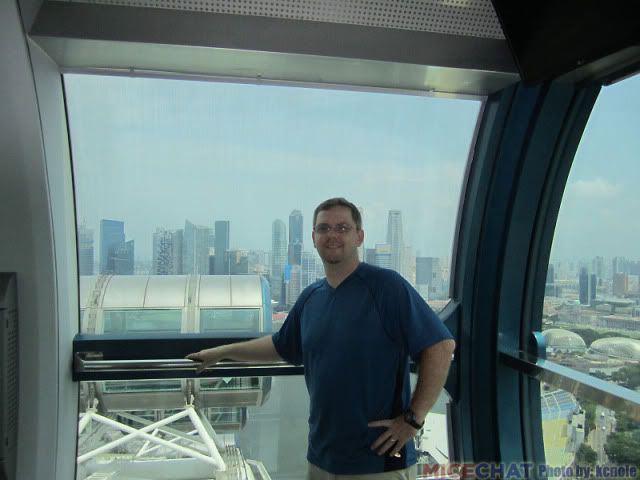 A photo of me (with Singapore visible behind) from the Flyer. Also visible from the Flyer is Singapore's F1 race course.
In addition to the Flyer, there are numerous other attractions at that location such as a flight simulator and the Ultimate Driving Experience which allows you to drive either a Ferrari or a Lamborghini around the F1 course and over the streets of Singapore for an hour. We desperately tried to work this into our trip (as my boss wanted me to bring some of our clients out to do it) but were unable to find the time to make it happen so the closest I got was taking the following photo of the cars.
It was close to lunch time at this point so we made our way over to the Hawker Center below the Flyer. Traditional sit-down restaurants are fairly rare inside Singapore (outside of the tourist areas) but instead, you find many open air complexes referred to as Hawker Centers which combine multiple separate vendor carts.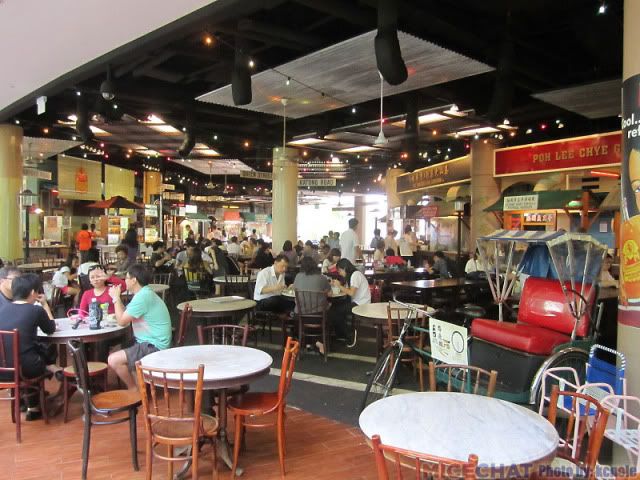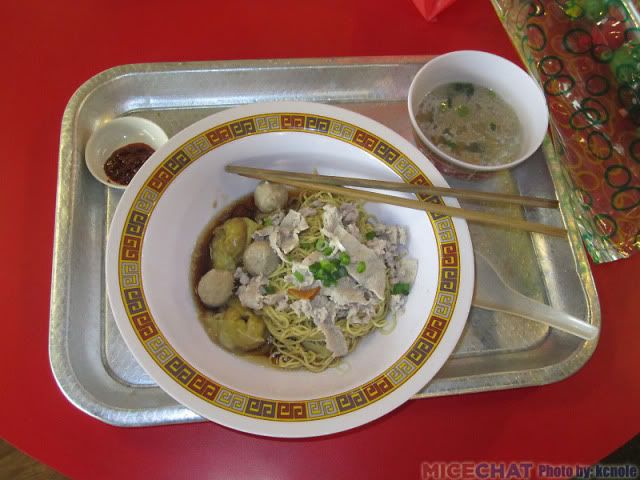 I absolutely loved the food in Singapore. Chinese food in the states cannot compare to the fresh, light flavors that they get. I can easily see why so little of their population is overweight. I truly miss the "White Chicken and Rice" that was prominent in so many restaurants.
After lunch we headed over to Merlion Park for a view of the Symbol of Singapore, the Merlion. The Merlion is a mythical creature with the head of a lion and the body of a fish. The fish portion represents Singapore's origin as a fishing village and the lion head represents Singapore's original name of Singapura which means lion city. There are several of these found throughout the city with the one in Merlion Park being the most well known.
Directly across the waterway from Merlion Park was the amazing Marina Bay Sands which is billed as the world's most expensive standalone casino. It features a 2,561 room hotel, a 1,300,000 square foot convention-exhibition center, an 800,000 square foot mall, an ArtScience museum, two theaters, 7 restaurants, two floating Crystal Pavilions, an ice skating rink, and the world's largest atrium casino. All of that is topped with the amazing SkyPark which can hold 3,900 people and includes a 150m infinity swimming pool. I'm tired just typing all of that. It was simply one of the most amazing buildings I had ever seen.
Our day ended finally in ChinaTown which was a very cool, ethnic area including a ton of roadside shops, restaurants, and temples. Unfortunately the battery on my camera ran out shortly after we arrived so I only have a few photos of this area.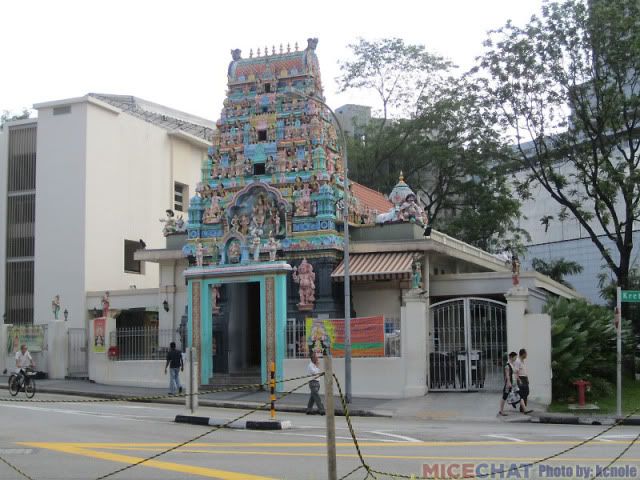 Out of all the places that my work has sent me this year (South Africa, Barcelona, and Singapore) this was by far my favorite. Singapore is an incredibly clean and safe city (thanks to their very strict laws) and includes some of the friendliest people I've met. They were truly proud of the country that they live in and were very willing to show you around or share their thoughts on what should be seen and done. Aside from the 22 hour flight, I would love to go back to Singapore again as the city is beautiful, the food amazing, and the people very friendly.
Future reports will focus on the Sentosa Resort (specifically on their Songs of the Sea nighttime show) and a full report on Universal Studios Singapore which is an incredibly well themed, although small, theme park.
Wet'n'Wild Water World
As I had a busy schedule at Village Roadshow Studios has prevent me from getting a weekly themepark fix of late, and in order to show the Weekend Update readers more of Australia's themeparks, this week I reached out to another fellow Gold Coast themepark fan,
PokerPig89
, for a quick glimpse at
Wet'n'Wild Water World
.
Owned by Village Roadshow Theme Parks, the large water park is open year round, ranked 1st in Australia and 8th in the World!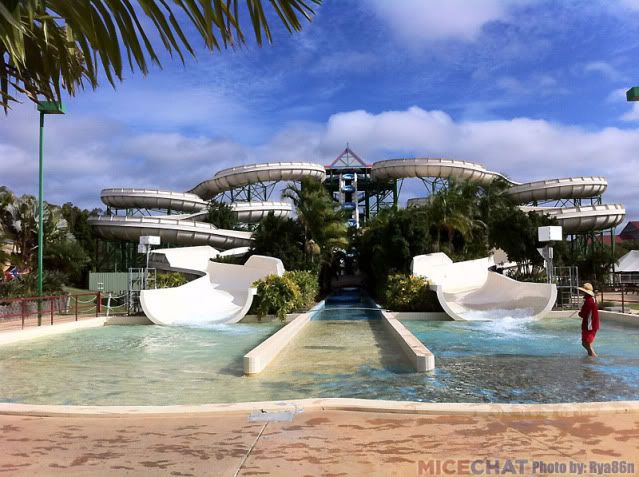 It is constantly expanding and diversifying the local water park offerings, and is must see stop on any trip to the Gold Coast.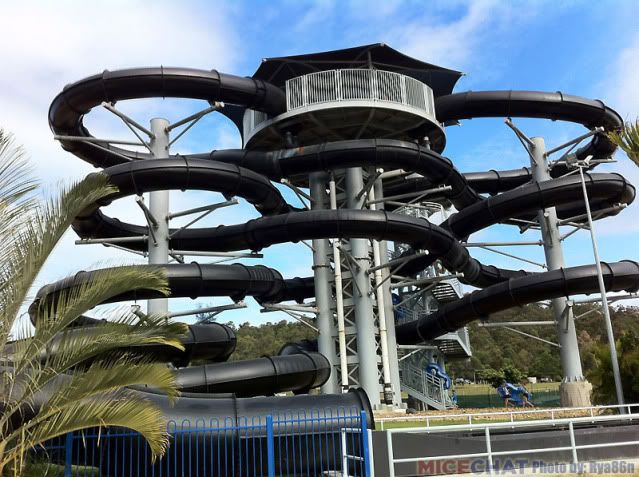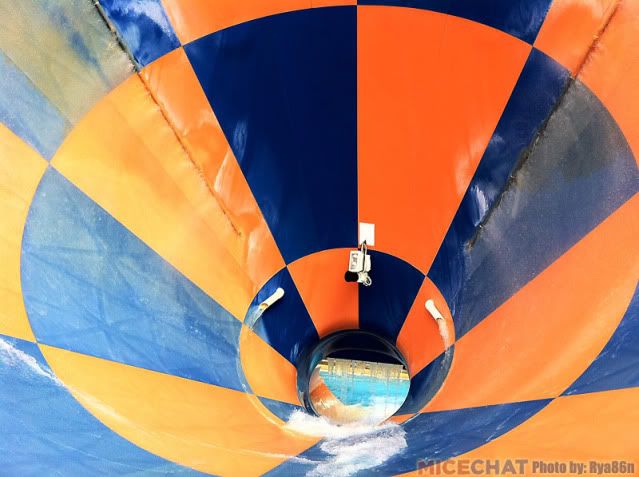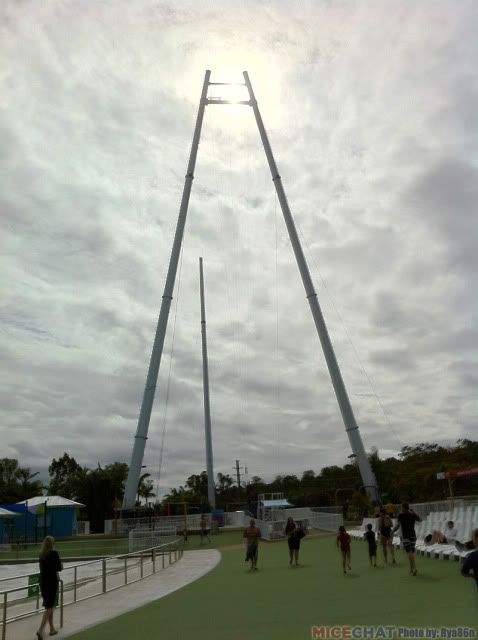 Insa-Dong, South Korea
Welcome to Insadong!
This is hodduk (호떡) - basically a glob of dough wrapped around brown sugar filling,
and deep-fried. It's delicious, and very bad for you.
I can feel my arteries clogging.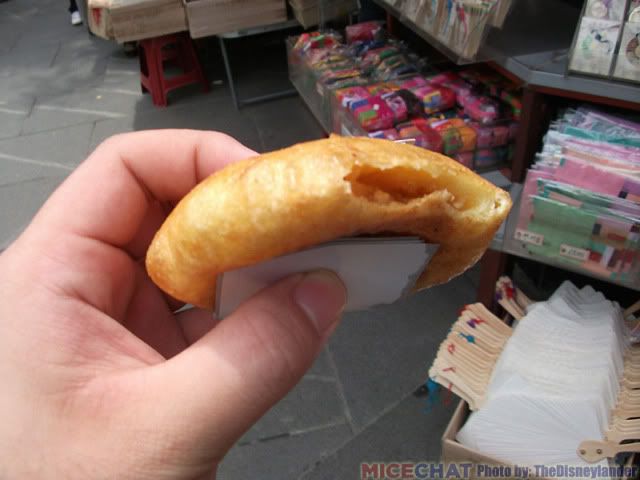 Sidewalk vendors! About five seconds after I took this photo, an old lady started to yell at me to turn off the camera
Another sidewalk vendor, this time selling pottery.
I have no idea what they were selling (some kind of noodles made of sugar or such), but they were LOUD. And extremely funny. Imagine a carnival game vendor yelling at you to come play their game. Now imagine three of them. Now imagine them yelling in synchronization.
Another sidewalk vendor, this time selling traditional paper fans.
Heading down the street again...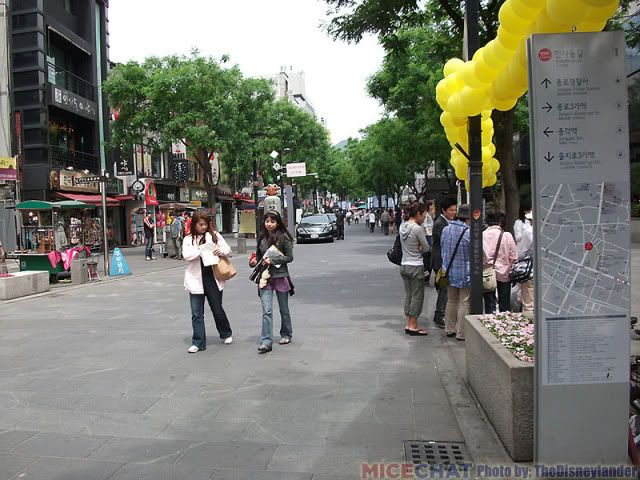 This was interesting. Apparently this is the only Starbucks in the world to write out their name in a language other an English. The reason being, Insadong is a traditional Korean culture street - and the zoning laws prohibited any business from having an English sign. Hence, the Starbucks written out in Korean as "스타벅스".
This was an interesting store. It sold traditional paintbrushes, inkwells, and calligraphy equipment.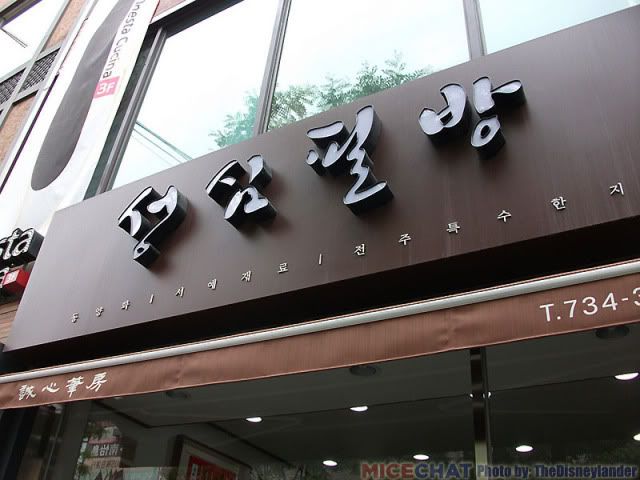 Ink wells. They were heavy, and they were expensive.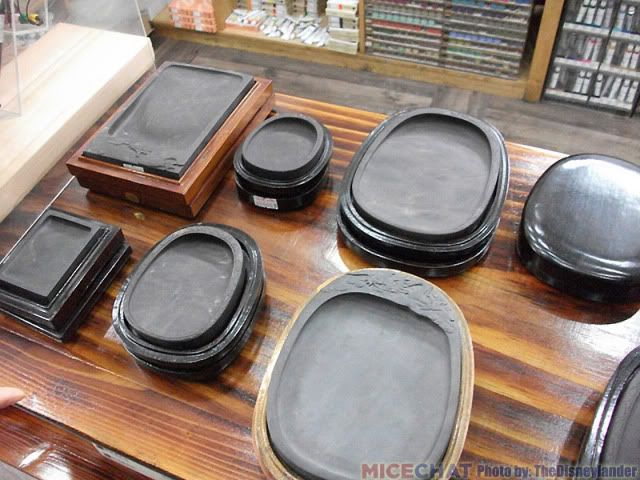 Brushes and brushes and more brushes...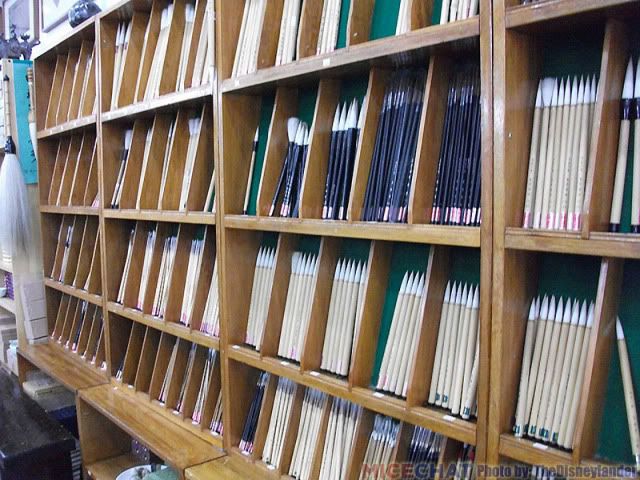 This was another interesting store - a restaurant that specialized in dduk (떡), sticky rice cakes. They had transformed dduk into an art form.
This was an outdoor store that was selling authentic stone statues and carvings.
Although it was closed (for Sunday), this is the famous Nakwon Instrument Store, where you can buy basically everything that's related to music. A lot of shows were filmed here - such as "Running Man" and "We Got Married".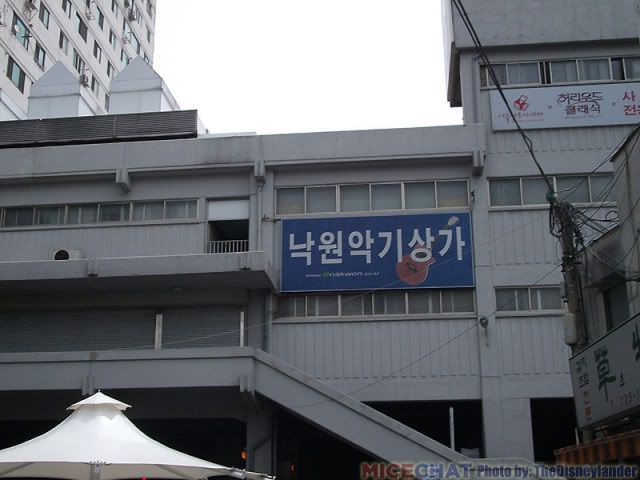 Post Cards from Tokyo Disneyland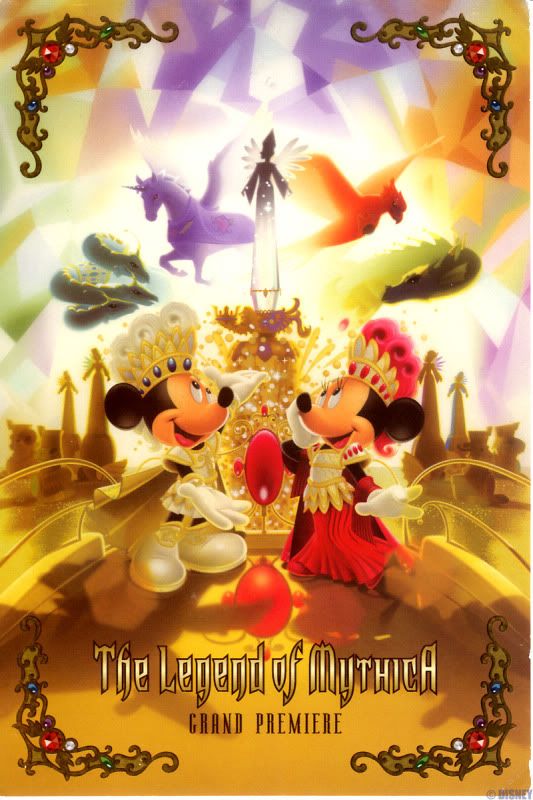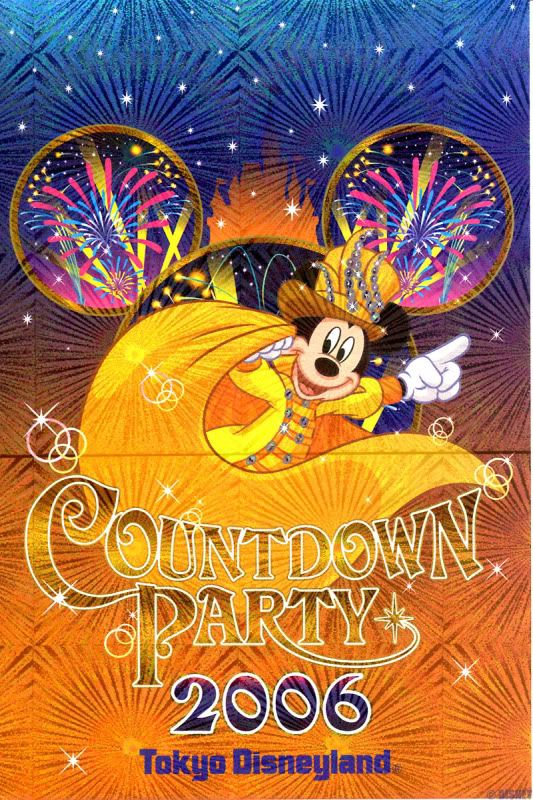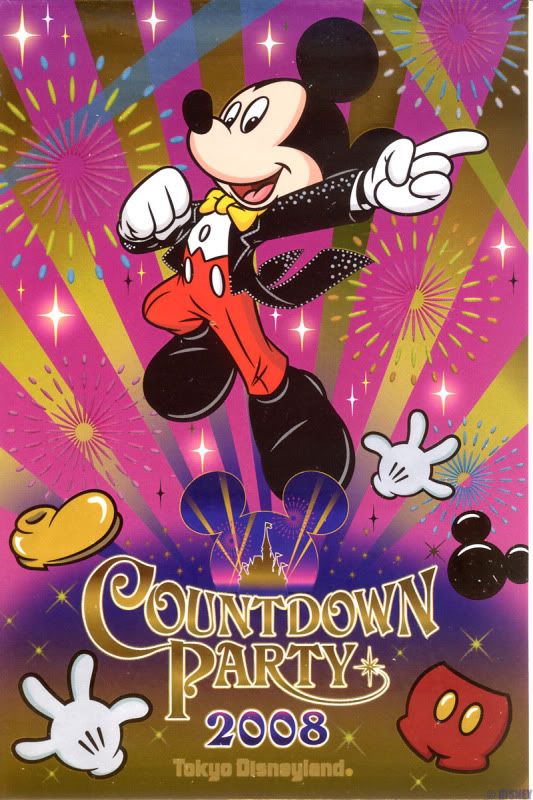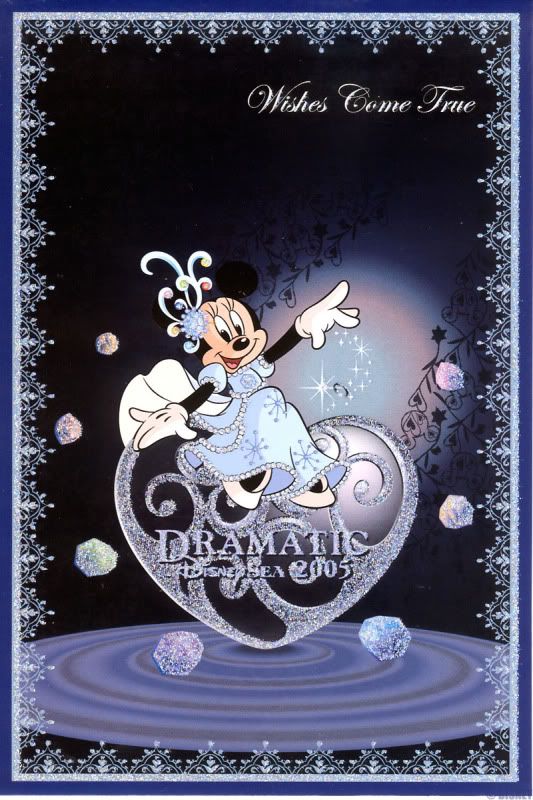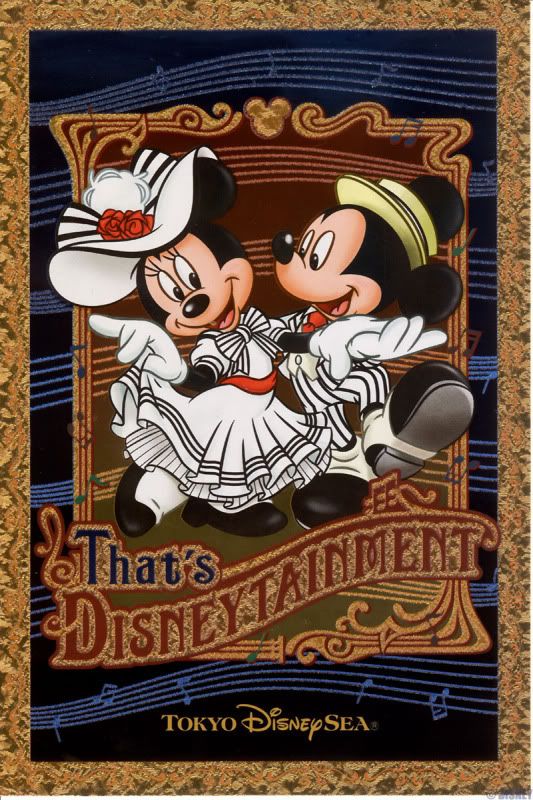 They really do things up right at Tokyo Disneyland Resort, don't they?!
Might we also suggest that you visit these fine MiceAge/MiceChat attractions for even more Disney and theme park fun:
MiceTube - Introducing MiceChat's new channel on YouTube. Kevin Yee and MiceChat Sarah have been uploading entertaining videos weekly, along with many other of your MiceAge and MiceChat favorites.

Dateline Disneyland

which is packed with great news and photos from the Disneyland Resort.

Orlando Parkhopper

featuring news and photos from Disney World and Orlando area theme parks.

In The Parks offers news, updates and tips from Disneyland and other Southern California offerings.
SAMLAND - Your weekly look at some interesting tales from Disney history.
MiceDeals - You won't want to miss out on these great deals for Orlando and Anaheim!
And don't forget to check out our new VACATIONEERING column which debuts this Sunday!
And that brings us to the end of another week. Our photographers have just enough time to reload their cameras before we see you all again next weekend. Thank you to all of our wonderful readers, and as always, a huge thank you to our amazing team of global photographers, spies, and gossips:
Denise
nbodyhome
Preskitt
(mousesteps.com)
SummerInFL (summerinfl.smugmug.com)
RegionsBeyond
Rya86n
KingEric
sir clinksalot
MickeyMaxx
CaptPhoebus
Ian Parkinson and Richard Williams
Jack
Hollywood 1939
Wixom
Ken Eslick
(DisneylandPostcards.net)
Roger55
Your Editor -
Rixter
Our thanks to our special contributors this week,
David Yeh
,
Fairy Godmother Travel, The Disneylander
,
PokerPig89
and
kcnole
.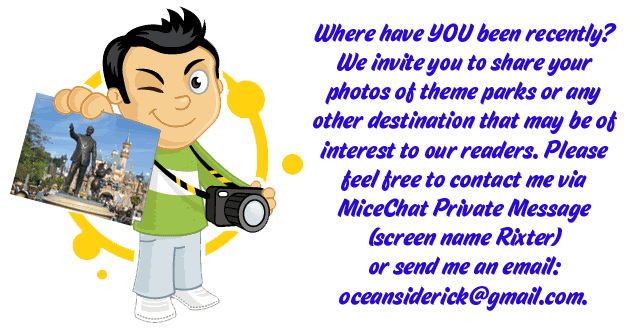 It is readers like you who make MiceChat such a special place.
Don't miss a single one of MiceChat's Featured Blogs (including the Weekend Update). Add our feed to your favorite feed software or site:
MiceChat: Featured Disney Blogs