As I put the finishing touches on the Weekend Update, I'm looking forward to next week's D23 Expo. At this time next week, we'll be finishing up our first day of meeting our members at the MiceChat booth. Just like last time, the MiceChat staff has a few surprises cooked up for everyone who visits the booth this year.
Dustysage
has made a few things public, however, and I'm really looking forward to meeting Disney Legend
Jack Lindquist
and
Don Ballard
at our booth. Jack served as Disneyland's very first president (at the same time my Dad was working in the park) and Don is the author of the very cool
Disneyland Hotel, the Early Years 1954-1988
. There's a link to the complete schedule below. You'll also have the opportunity to meet many of the MiceChat staff, columnists and moderators at the Expo, including yours truly. Rumor has it that the inimitable
Al Lutz
will be dropping by the booth throughout the weekend.
We have two Disney park updates for you this week.
Denise nbodyhome Preskitt
shares lots of photos and videos from her travels around the Florida parks this week.
Alain Littaye
has some fun news from
Hong Kong Disneyland
. We also have a nostalgic look back at the
Seasons of the Vine
movie at the
Golden Vine Winery
. (This is now the location of the Blue Sky Cellar).
MickeyMaxx
took a trip to the top of
Sea World San Diego's Skytower
. He got some great shots of the park from above including some of the areas under construction. Finally,
David Yeh
finishes up his great photo coverage of
San Diego's Comic-con International
.
The Weekend Update will be taking next week off in favor of MiceChat's complete coverage of the D23 Expo. Thanks for visiting. We'll see you in two weeks!
Come see us at the D23 Expo August 19-21. Meet Disneyland's first President, Jack Lindquist, enter to win big prizes including a 2 night stay at the Grand Californian, and find out how you can save lots of money on your future Disney vacations at the MiceChat booth in the D23 Collectors Forum at the Expo!
Here's the full D23 Expo events schedule (and discussion).
Denise nbodyhome Preskitt shares a Walt Disney World update
We covered quite a bit over the past week (and next week we'll be covering the D23 Expo!)
Agent P made an appearance at Disney's Hollywood Studios last weekend to greet guests, spending about an hour total with Phineas and Ferb. The line was extra-long to meet them all!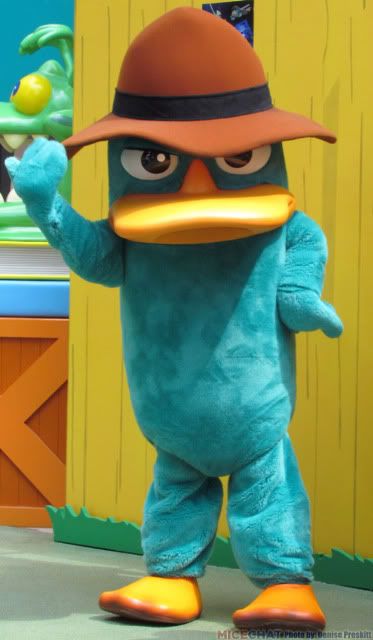 Agent P video:
<iframe width="640" height="390" src="http://www.youtube.com/embed/0yxiCs3MsMY" frameborder="0" allowfullscreen=""></iframe>
Our Enchanted Tiki Room is set to re-open on Monday. I'm very happy to have it back to normal!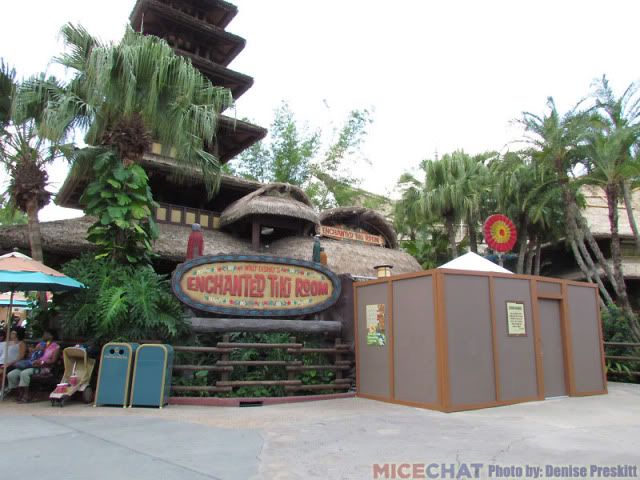 We took photos and video of Fantasyland (and the surrounding area) from the Contemporary Resort.
Beast's Castle: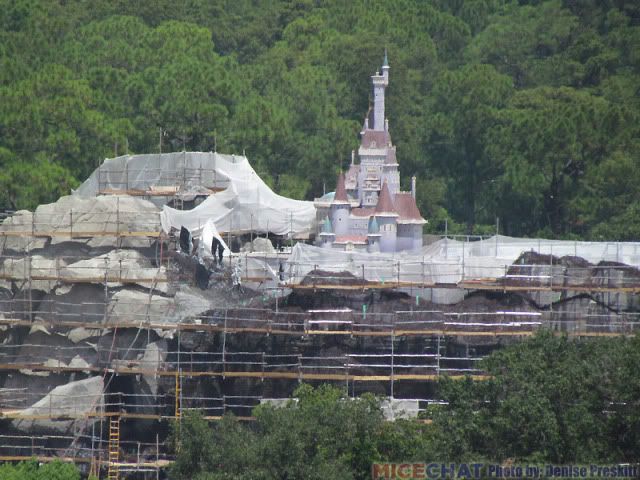 Bonjour Village Gifts: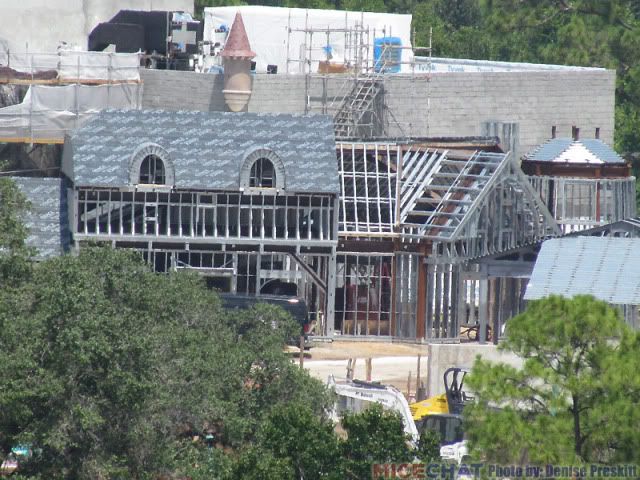 Magic Kingdom:
Grand Floridian:
Ticket and Transportation Center: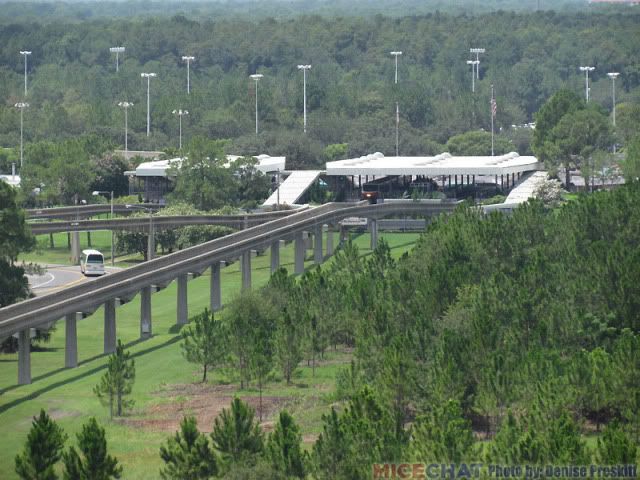 Spaceship Earth:
Video from the roof:
<iframe width="640" height="390" src="http://www.youtube.com/embed/96jOWzQwPLM" frameborder="0" allowfullscreen=""></iframe>
The Kabuki Cafe at Epcot is now where you can buy a Kakigori, replacing a cart: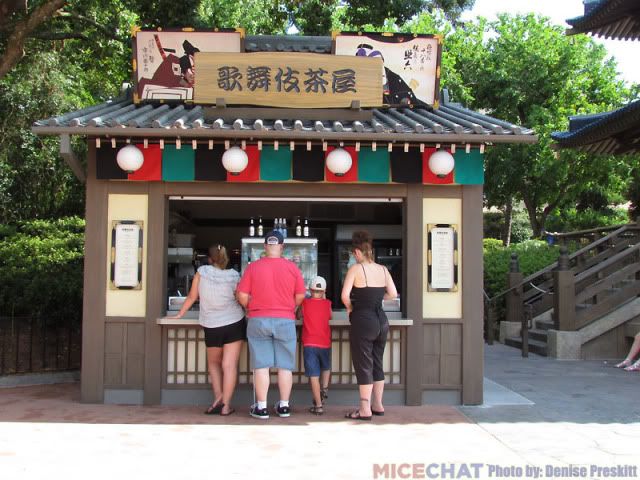 Video:
<iframe width="640" height="390" src="http://www.youtube.com/embed/FRLkzEtJ8zg" frameborder="0" allowfullscreen=""></iframe>
Cinderella Castle: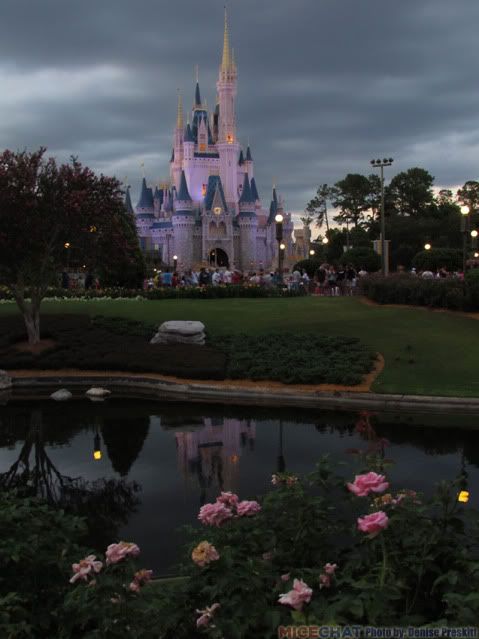 Timothy Mouse with Space Mountain in the background: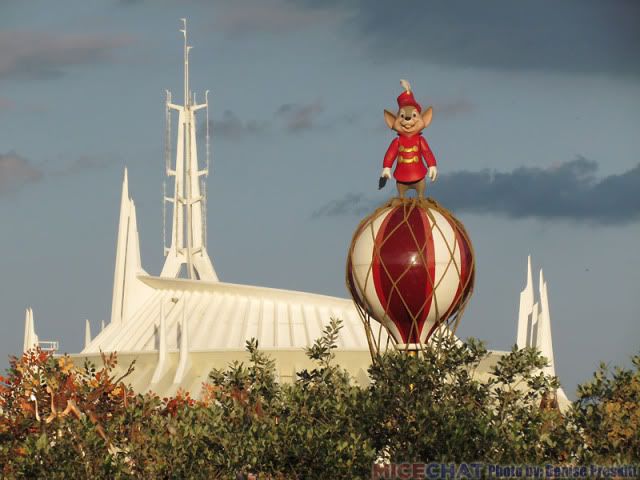 And Tinker Bell and her fairy friends are now in Adventureland.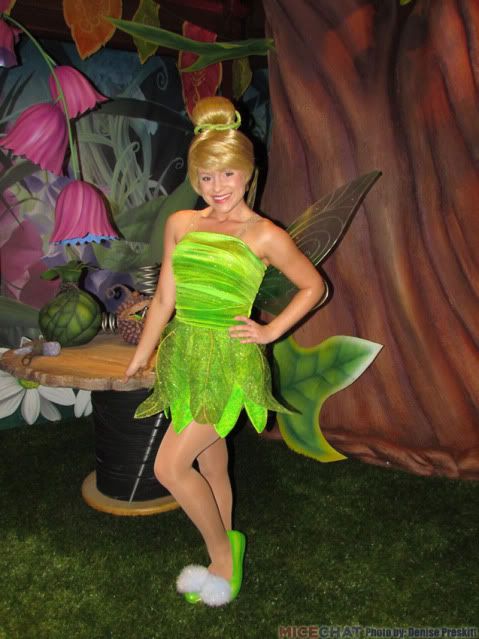 Kevin and Jody designed some beautiful 40th anniversary merchandise, including this vase that is based on the Mary Blair mural in the Contemporary Resort: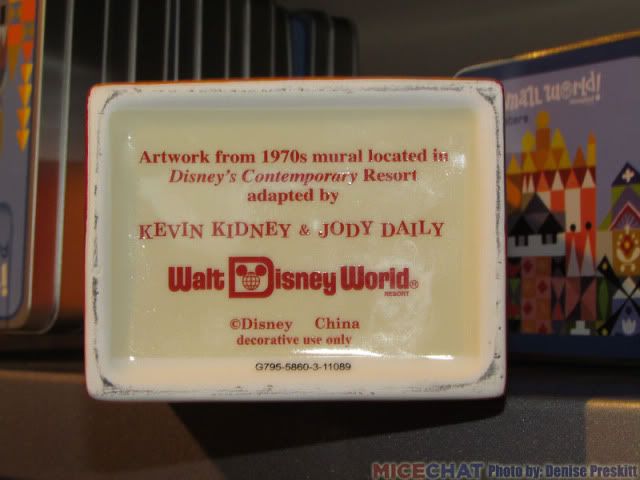 Don't forget to check Denise's regular WDW updates on her website:
MOUSESTEPS.COM
Remembering California Adventure's Seasons of the Vine
Before there was a Blue Sky Cellar, when DCA was still shiny and new, there was a little movie attraction at the Golden Vine Winery called
Seasons of the Vine
. Our friends at the
InfaMOUSEproject on YouTube
have preserved the experience. Let's sit down in the cozy Barrel Room as we remember this original California Adventure attraction.
Do you have favorite photos from the Golden Vine Winery? We'd love to see them. Post them in the comments below.
Hong Kong Disneyland Update
Our good friend Alain, from the
Disney and More Blog
, sends in this update from Hong Kong Disneyland, where a new mini-land called Grizzly Gulch is under construction.

I was lucky enough to visit Hong Kong Disneyland last week, and have some photos of what we can expect from the new land of Grizzly Gulch as well as a great video from michael20183 which shows the work going on with the construction of the three new mini-lands for the park.



Most of the pictures below were shot in the "Magic Continues Preview Gallery" on Main Street. Note that it's pretty dark in there and not so easy to shoot good pictures without a tripod, but i did my best... The first picture above show the Opera House building in which are The Art of Animation and the Preview Gallery. Below, the model of the three new areas of the park.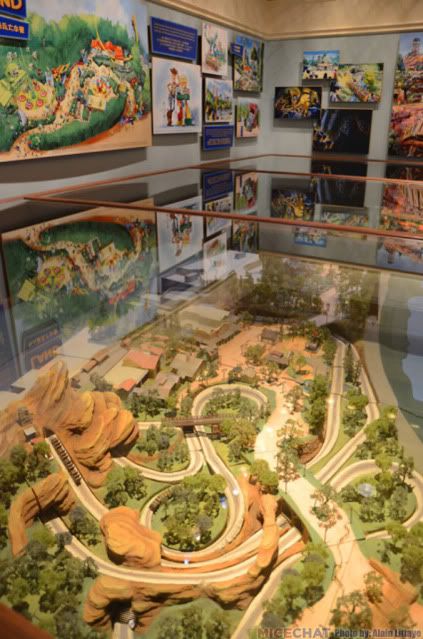 The two next pictures show renderings for the Grizzly Mountain coaster in Grizzly Gulch. Do they remind you of anything (a few things really)?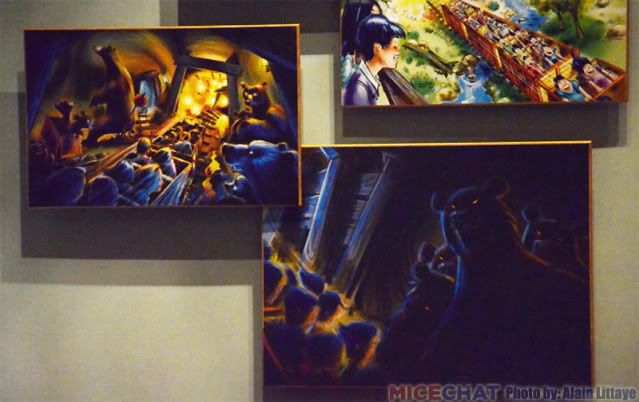 Looks a bit like a cross between Big Thunder Mountain and Expedition Everest on a mountain shaped like DCA's Grizzly Peak doesn't it?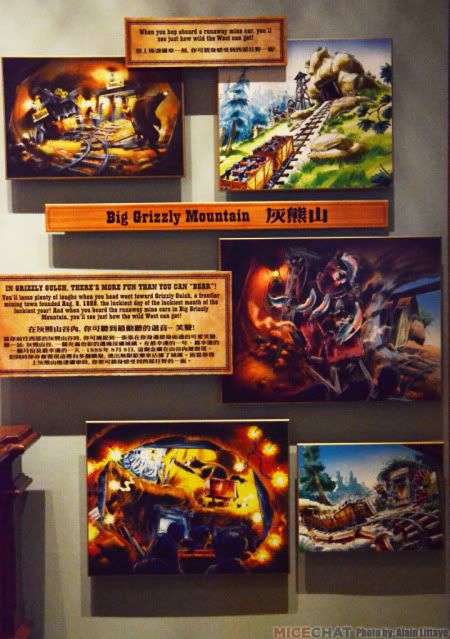 Another picture showing interesting renderings for Grizzly Gulch.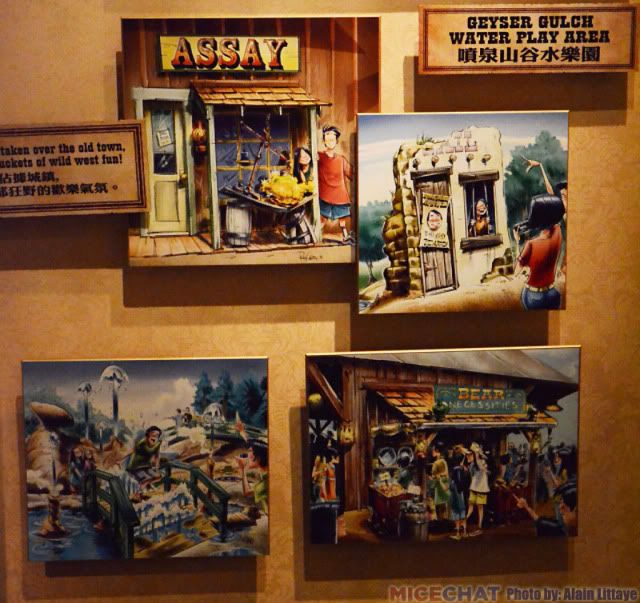 One of the other new areas will be Mystic Point (a mysterious mansion filled with spirits but quite different from the Haunted Mansion), but the first to open will be Toy Story Land, and the next two pictures show the model of TSL and renderings. These are interesting as they show decor elements that were not in the first Toy Story Land which opened at the Walt Disney Studios at the Disneyland Paris Resort last year.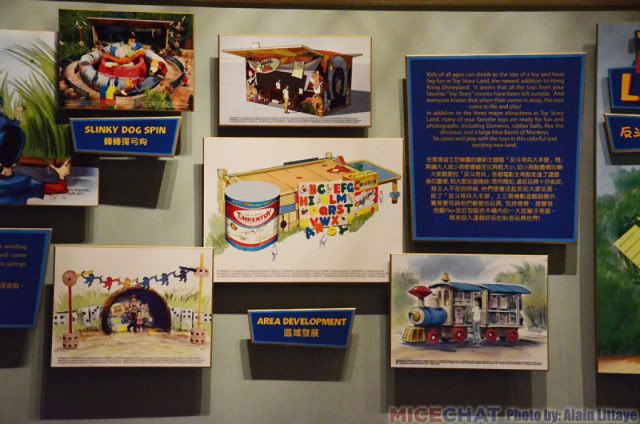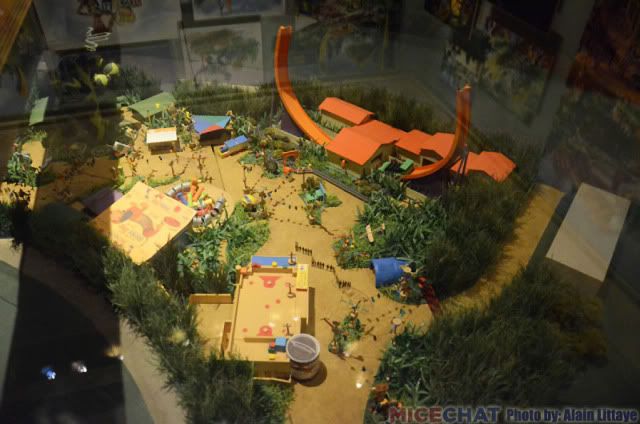 From what i've been told, Toy Story Land is almost ready to open, the testing of rides are now in progress. Apparently, HKDL wants to combine Christmas events with the grand opening of Toy Story Land, making the "toys" the christmas gift to HKDL visitors. The did a similar thing with the combined celebration of HKDL 5th anniversary and Chinese New Year events early this year.
The "Sparkling Christmas" will kick off on November 17 and the official opening of TSL might be at that time although I won't be surprised if there was some soft openings well before that date. Talking about Christmas, as the floats of Disney on Parade are now retired, a new shorter-length Christmas parade will be performed on Main Street this year.
Grizzly Gulch will be the next to open early in 2012 (with Mystic Point opening in 2013).
We've got some Halloween season news as well for you as HKDL continues to offer one of the best lineups of Halloween attractions of any Disney park. This year, in "Haunted Halloween", HKDL will have a new host, the Headless Horseman. A new haunted house featuring the Headless Horseman will replace last year's Demon Jungle in Adventureland. The backstory of this new haunted maze is about an entrepreneur and his world-travelling circus who came to a village of Adventurers. To boost the attendance, the entrepreneur claims he found the head of the world famous Headless horseman, causing the revenge of the real dark knight. The story takes place in a circus, so guests will go through the backstage like dressing room, the stage and of course, the forest. This haunted maze will also pay tribute to Haunted Mansion's Madame Leota with projected heads inside crystal balls. The Headless Horseman and his horse will also join the Pre-Parade of this year's Halloween Parade. Finally, the Haunted Hotel and Space Mountain "Ghost Galaxy" will also stay in the new Halloween season lineup.
And now, here is the promised video showing the work on the three new construction areas, filmed by michael20183 who always does a great job! Many thanks to him!
Link for the video:
HKDL - Expansion Update (01/08/2011) - YouTube

Pictures: copyright Disney and more - Video: copyright michael20183 - Artwork: copyright Disney


And enjoy Alain's Tokyo Disney Sea iPhone App:
MickeyMaxx shares views from the top at SeaWorld San Diego
I don't recall ever having ridden the Skytower at SeaWorld San Diego, so I took a ride to the top a few weekend ago.
At 320 feet, there are wonderful views in every direction. It was built in 1969 and received a new capsule in 2002. SeaWorld stresses that in the 40 year history of the ride, passengers have never needed to be rescued from the cabin. Nevertheless, the San Diego Fire Department has an annual practice evacuation just in case. Riders have been stranded on the tower several times, but although there have been long mechanical failures, they were never deemed long enough to necessitate a rescue. Good thing. The method of evacuation practiced each year uses cables to slide from the cabin to safety below.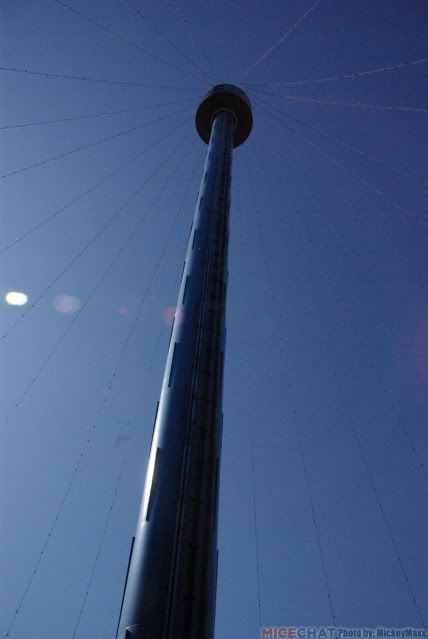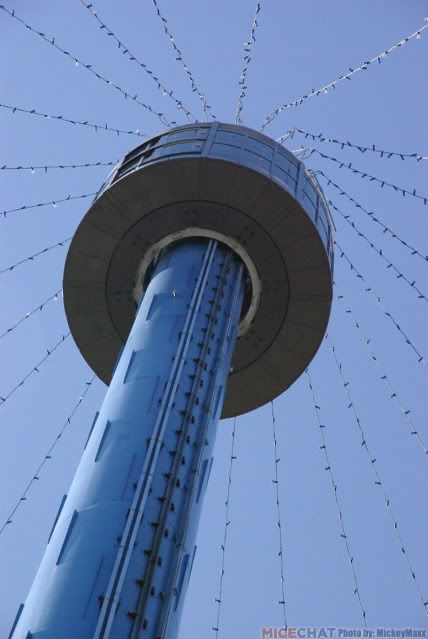 Almost time as the capsule descends to the loading station.
We load into the two levels of the cabin.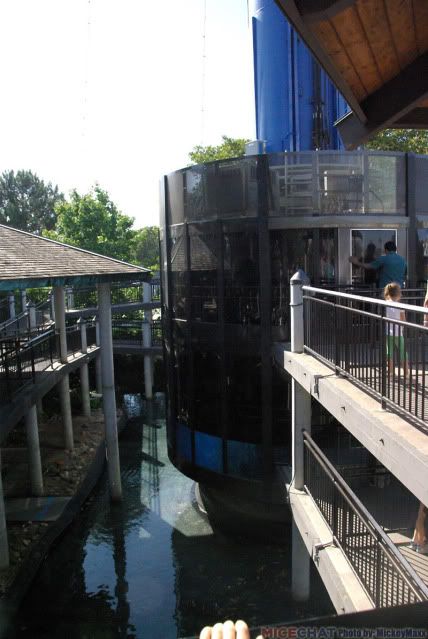 We sit on seats arranged around the core of the cabin. No standing allowed once it is in motion.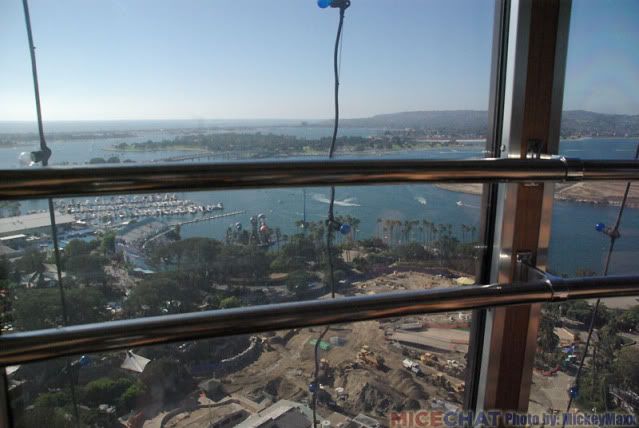 Dolphin Stadium, currently running the show, Blue Horizons.
Shamu Stadium has the One Ocean show.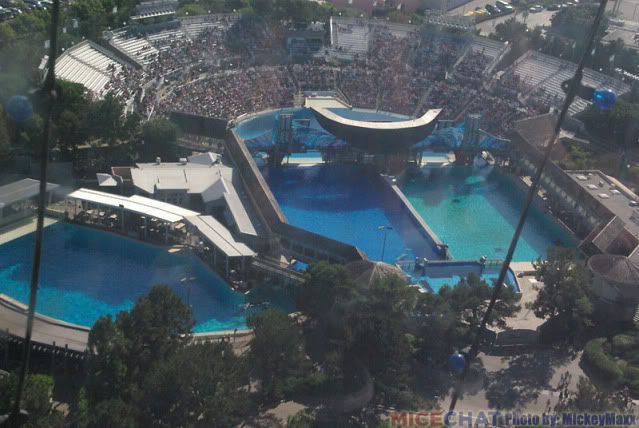 Humans and a dolphin interacting.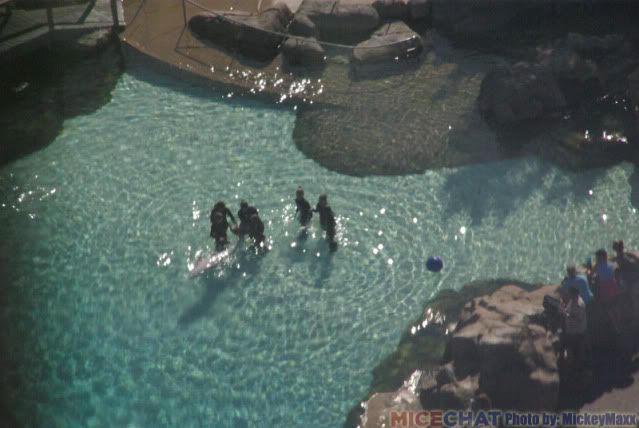 Sea Lion and Otter Stadium features Sea Lions LIVE all year long, and in the summer, Sea Lions Tonight, which is a very clever and funny show, wherein SeaWorld makes fun of itself, spoofing other shows, construction walls, prices, you name it. They are not afraid to laugh at themselves, and the audience loves it!
Ongoing construction on the new Manta coaster, due to open in 2012.
Sesame Street Bay of Play, a great place for the kids to get cooled off and very, very wet!
Six minutes later, we're back down and as we walk out, the next riders are just a few footsteps behind us.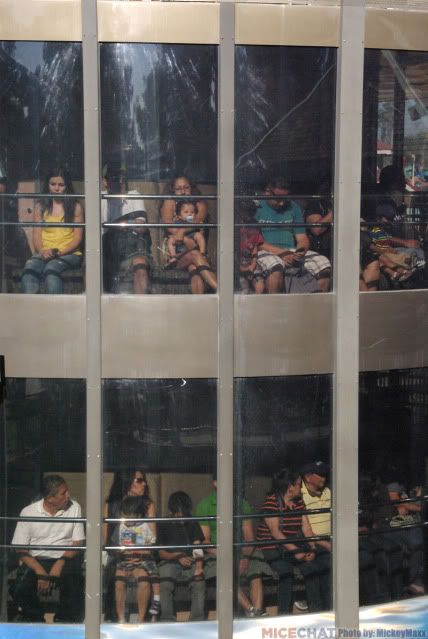 What would a trip to SeaWorld be without some flying killer whales, and the fun of being drenched repeatedly in a single show by several of them. The splash zone extends all the way up to row 18, nearly half the seats in the stadium.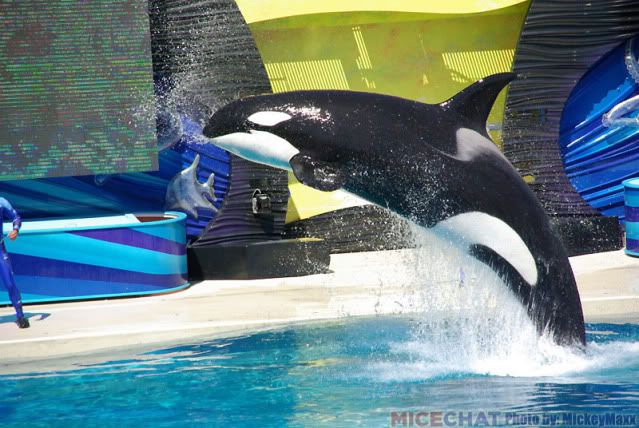 David Yeh's San Diego Comic-Con -- THE COSPLAYERS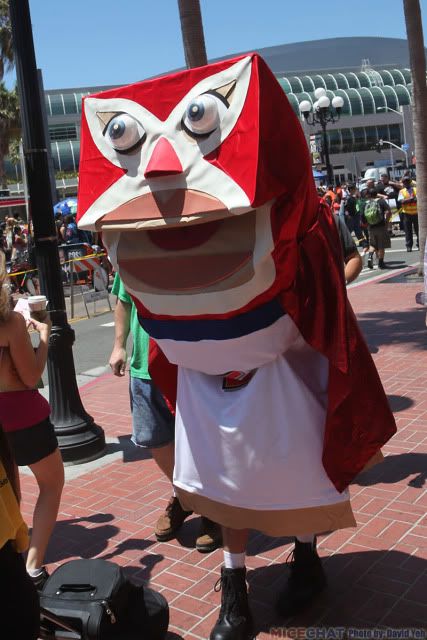 Part of the fun of attending any type of convention is seeing the costumed people working the booths, but at San Diego Comic-Con (among several others), the costumed folks are attending the show for themselves! They're called Cosplayers, coined from Costume Players and the phenomenon has spread throughout the world. I had a great deal of fun not only seeing the sights at the convention but also checking out the really creative costumes presented at the show.
This guy is probably Logan all year long.
I love me some ewoks!
Battleground Teela can be found working up Mattel's booth.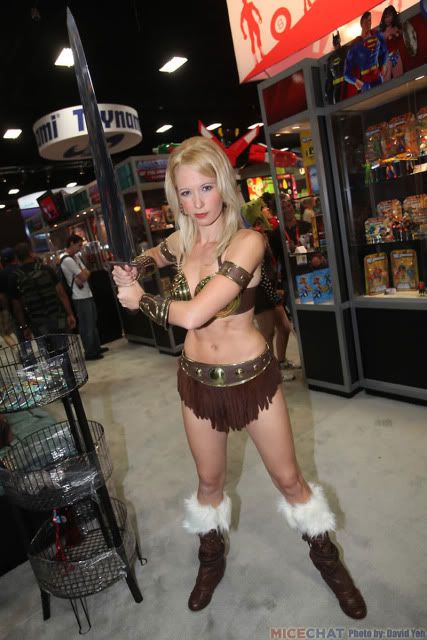 This guy's a horse!
Not your every-day stroller...
The most powerful man in the universe, He-Man!
Yikes...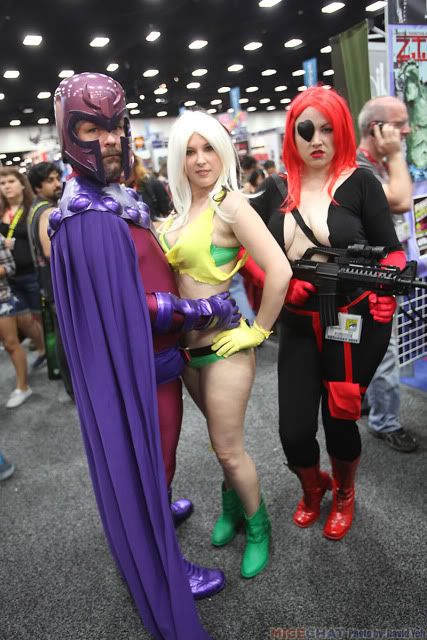 Swoon for Sailor Moons!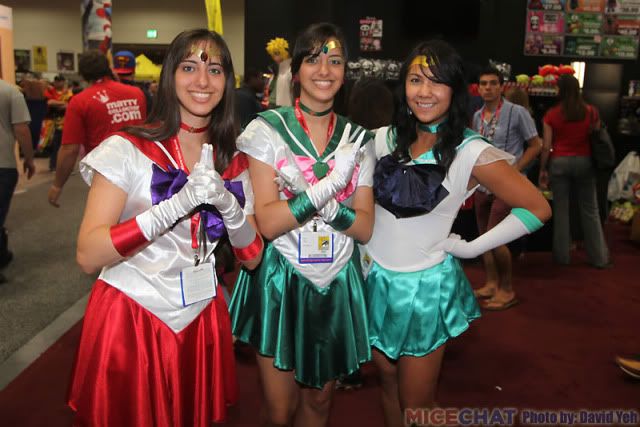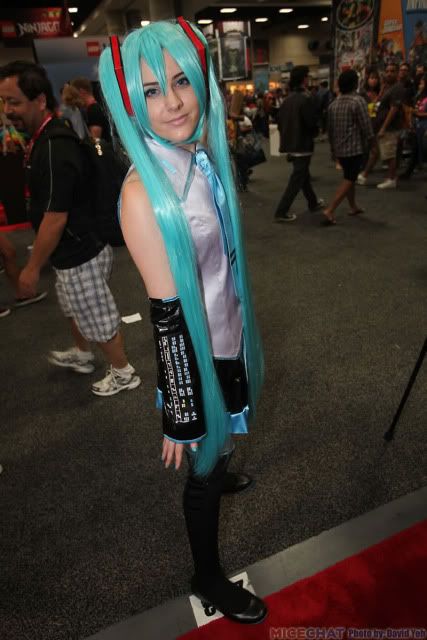 Some DC Universe heroes here..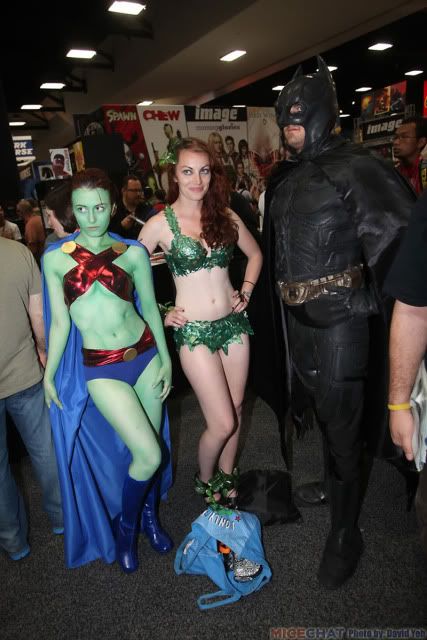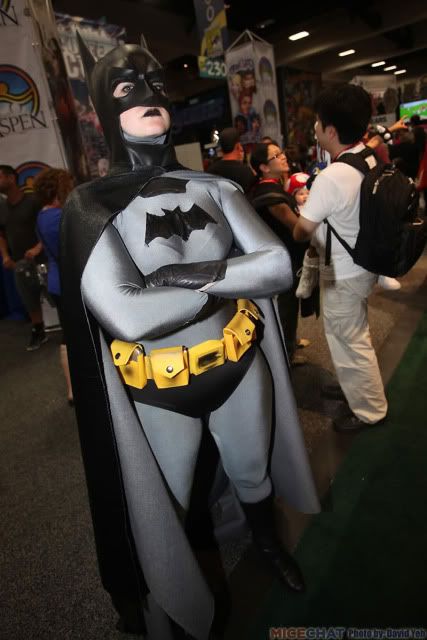 Sometimes the costumes aren't that convincing but the boys appreciate it nonetheless..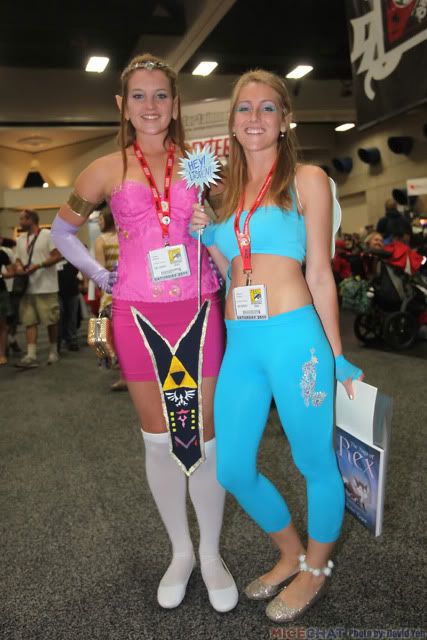 You're never too young to start cos-playing, even if you don't know who you are (Chun-Li):
Photobomb!
Sometimes cosplaying can be a pain when you need to lift up this barrel everytime you pose for a photo!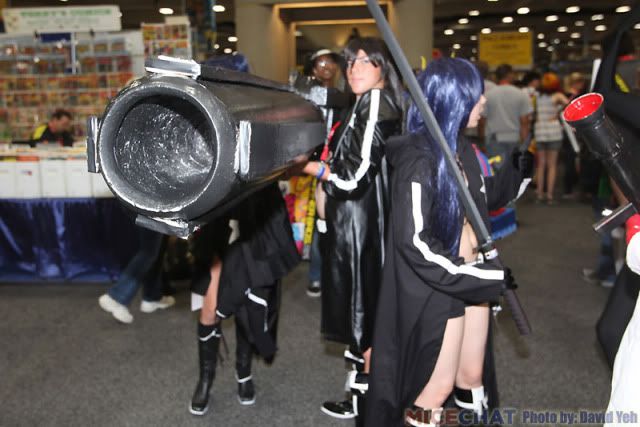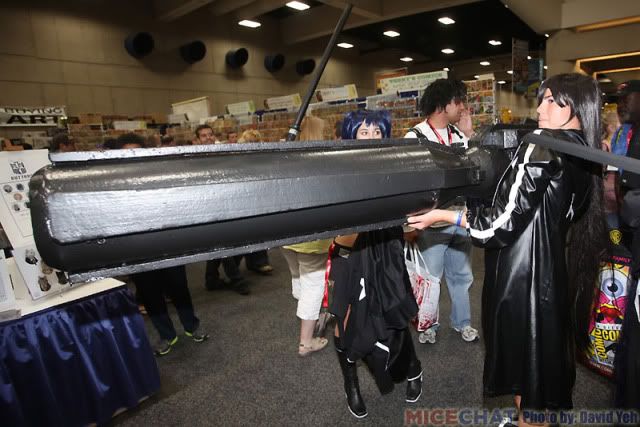 Suckerpunch was probably the most popular with the ladies this year: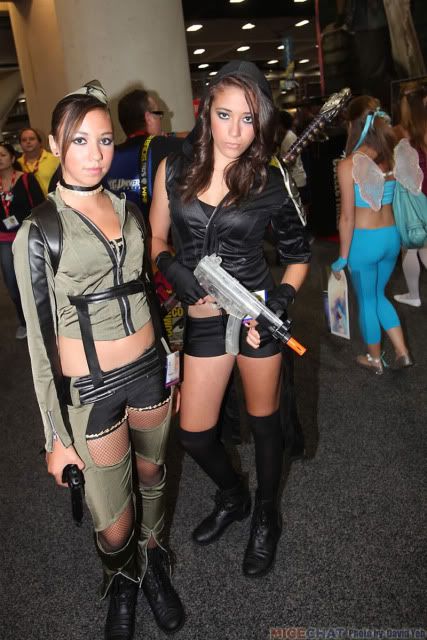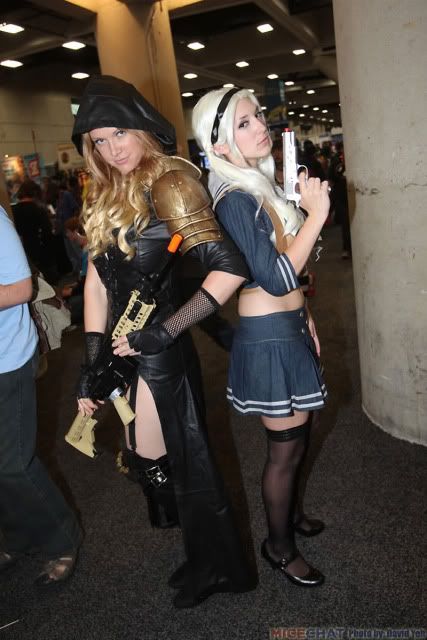 These boys brought their own Speederbikes.
Lord No-Nose has a nose!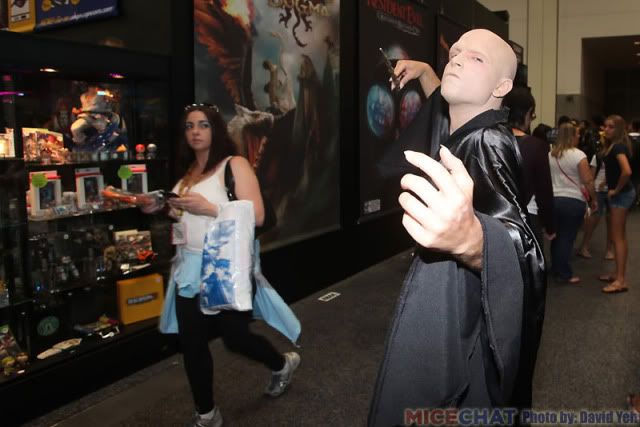 Baby Commander Bly on the right.
Star Trek getting some face-sucking love...
Imagine if the Scooby-Doo's human friends were done A-Team style..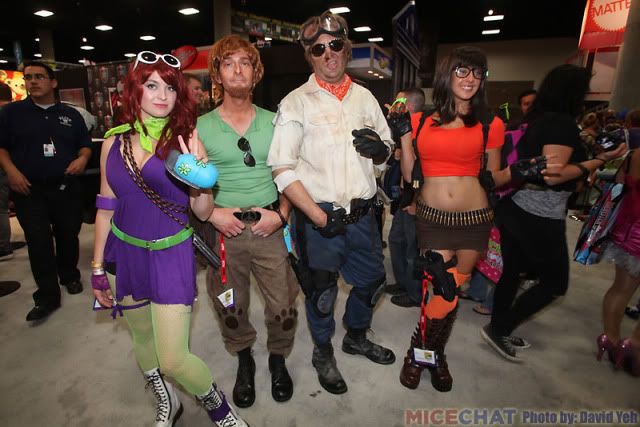 Marvel's movie heroes Iron Man, Spider-Man, Stan Lee, and Captain America.
More Marvel ladies...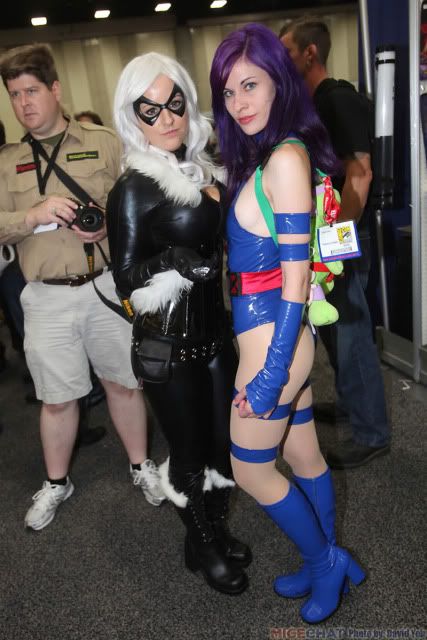 And to close it off, I present a handful of Disney cos-players!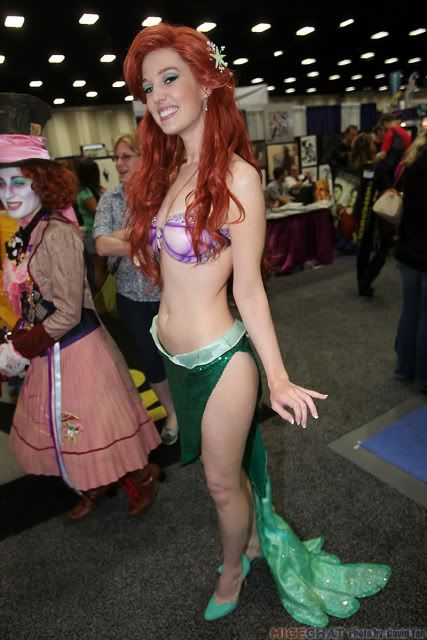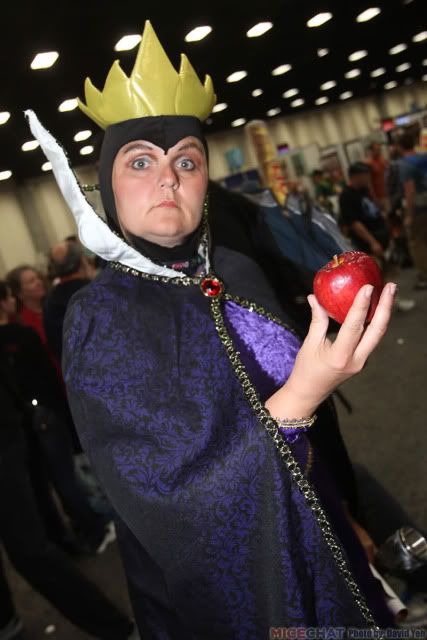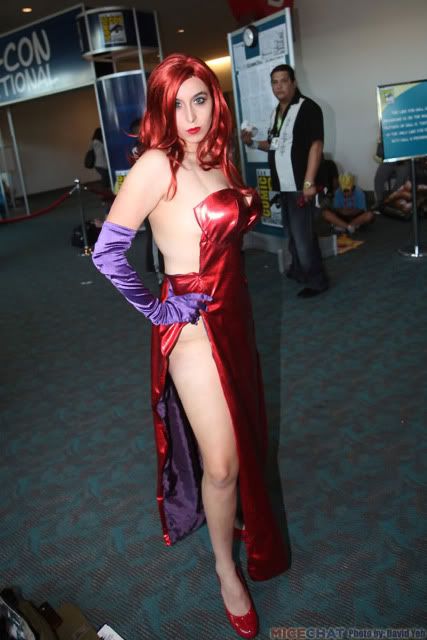 Hope you enjoyed this look at Comic-Con Cosplayers. I leave with one more for the road...
Oh just kidding...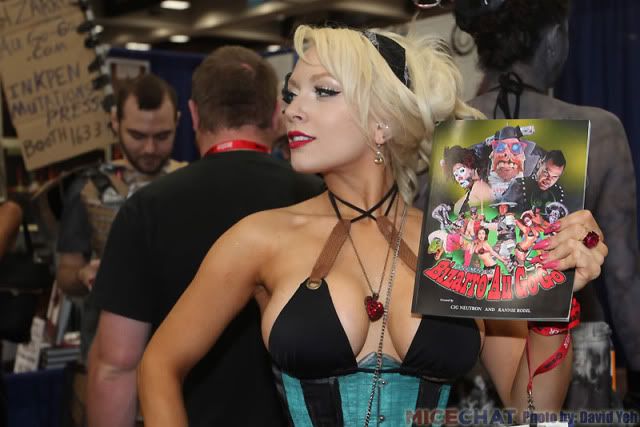 Might we also suggest that you visit these fine MiceAge/MiceChat attractions for even more Disney and theme park fun:
And that brings us to the end of another week. Our photographers have just enough time to reload their cameras before we see you all again next weekend. Thank you to all of our wonderful readers, and as always, a huge thank you to our amazing team of global photographers, spies, and gossips:
Our thanks to our special contributors this week,
Alain Littaye
and
David Yeh
.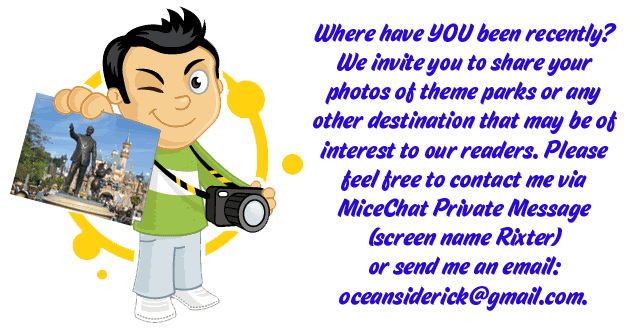 It is readers like you who make MiceChat such a special place.
Don't miss a single one of MiceChat's Featured Blogs (including the Weekend Update). Add our feed to your favorite feed software or site:
Follow us on Twitter