Hey everyone! Are you ready for the last three day weekend of summer? Where does the time go?
We have a fun little Weekend Update to get your weekend started right. First we have a rare and wonderful
Disneyland
trip report from
Denise Preskitt
. Rare because Denise's reports are usually from
Walt Disney World
. Wonderful because we had a chance to spend time with Denise and
Jeff Lange
at the D23 Expo and Disneyland! I can't stop looking at the photo of the food from
In-N-Out Burger
. How come my fries never look that good?
The Disneylander
is back with more photos from
South Korea
. I really don't care if they're only insect casings. I still wouldn't eat them!
Dan Chadwick
,
asylim
on
MiceChat
, took a family trip to Seattle's
Woodland Zoo
. What a beautiful zoo! By the way, Dan doesn't want his wife to see one of the photos. I can't say that I blame him!
The rain got the best of
Rya86n
's plans for a visit to
Sea World
so Plan B was a trip to
Movieworld
. His little niece Xanthe is quite a cutie!
By the way, make a note to visit the Weekend Update next week. We have a great and detailed report from
Kevin Nole
on his trip to
Universal Studios Singapore
.
Thanks for visiting us! Stay safe everyone!
Denise Preskitt spends time with us on the West Coast!
We had such a great 2 week trip to California, which included the D23 Expo, Disneyland, Sea World San Diego, the Venice Canals, the Tim Burton exhibit in L.A. and more! The trip went by too fast, I took over 5000 photos - 22 which I'm sharing this week. It was great seeing everyone at the Micechat meet also!
We watched World of Color twice - we've only seen it in the blue section from the bridge, 4 times since it first started. It's a great place to see it from, and the last night (Sunday) was the best, since there were fewer crowds. The bridge wasn't packed at all. It's not my favorite of Disney's shows, but I like how they keep it current, making changes during the year we've been away.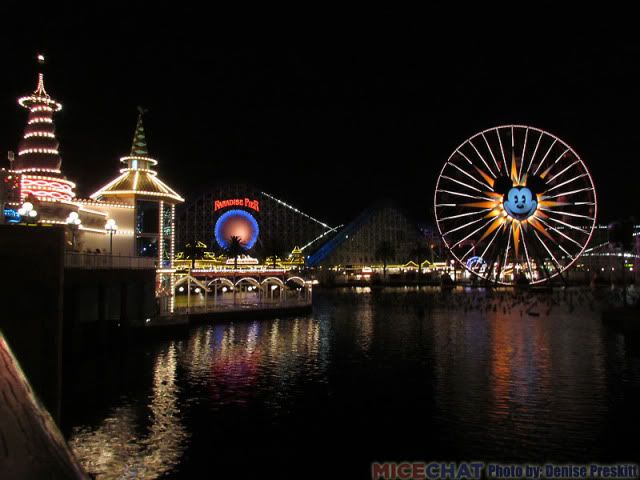 I found Pluto standing around on Main Street alone one evening, and asked if I could take his photo. He got down on all fours: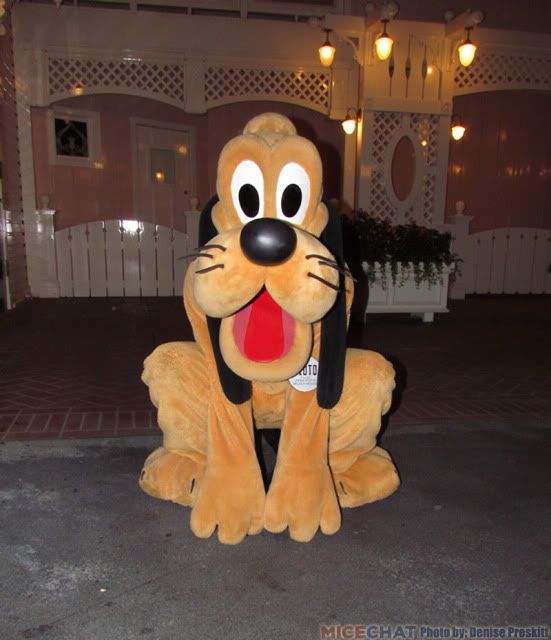 We went to Club 33 one evening. While the view of Fantasmic isn't great, I enjoy seeing it from up there without the large crowds around.
Mickey:
I also tried my first real mint julep. I prefer the non-alcoholic ones, but I'm glad I tried it once: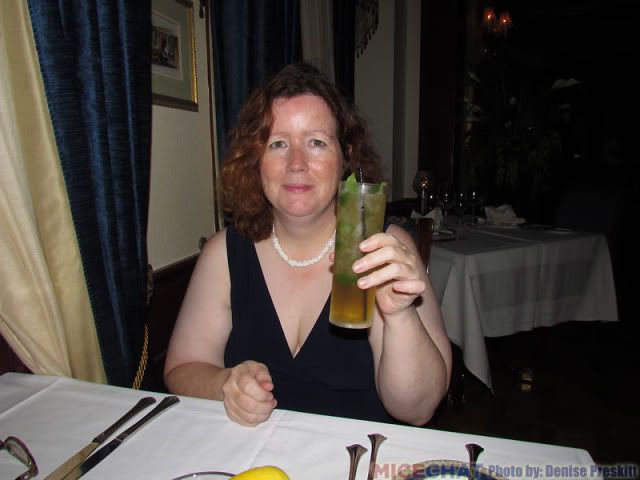 I didn't realize this Peter Pan actually has a huge fan following online ("Spieling Peter"). We happened upon him near the Wishing Well, and he taught guests how to toss coins into the fountain.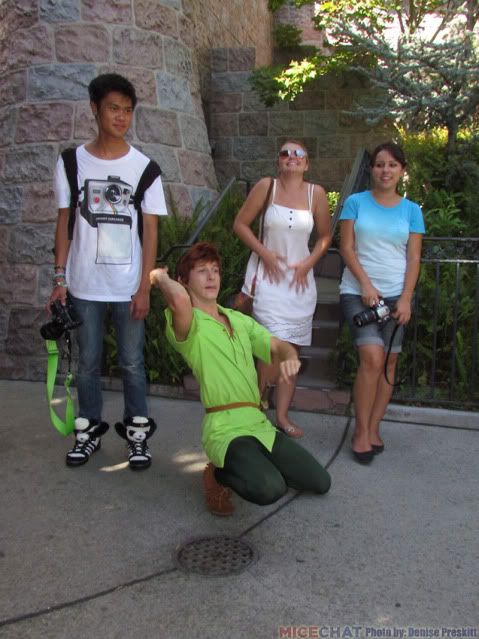 Video I took of Peter Pan, tossing coins and having guests salute the Pearly Band:
<iframe width="640" height="390" src="http://www.youtube.com/embed/ELcd7MtwIRc" frameborder="0" allowfullscreen></iframe>
A few more creative photos I took: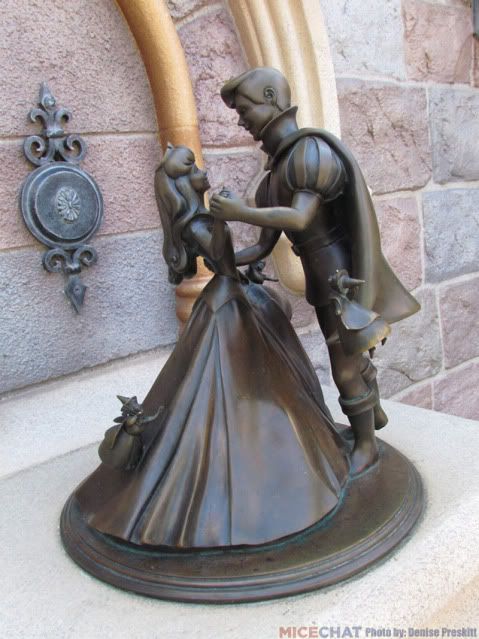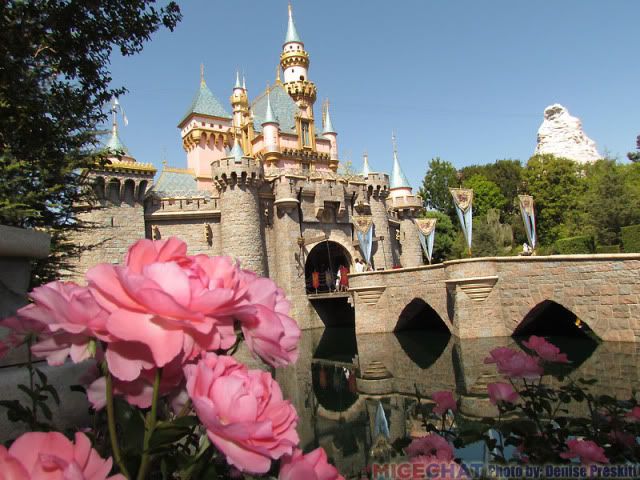 These hats are all the rage at Disneyland now:
We enjoyed a visit to Trader Sam's, especially the Florida references, like the Orange Bird and the Colonel from the Adventurer's Club:
We enjoyed four visits to In and Out Burger:
I'd never seen the interactive, talking Mickey Mouse in person. From what I understand, a more advanced Mickey had been there (the D23 Expo) the day before. I took photos as Steven Clark posed with him:
Here is our video of talking Mickey:
<iframe width="640" height="390" src="http://www.youtube.com/embed/q08CSy2ePF4" frameborder="0" allowfullscreen></iframe>
We visited Innoventions, where we watched the advanced Robot Asimo climb steps:
Character meet and greets are very different at Disneyland than at WDW. It isn't unusual to find a princess, or other characters by themselves. This little girl was with Cinderella for several minutes, with Cinderella taking her hand and leading her to some flowers: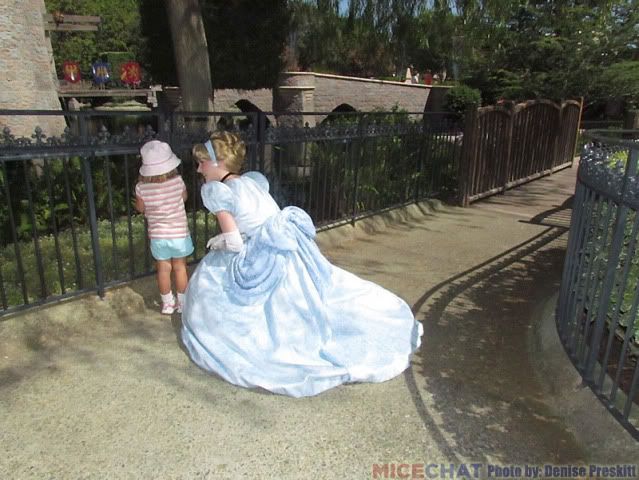 My first time meeting Bandleader Mickey:
This wonderful show with Mary Poppins, Bert and the Pearly Band has been going on for at least a couple of years, but I didn't know anything about it. I am a huge fan now of this show, Bert is especially fantastic.
Video of the show:
<iframe width="640" height="390" src="http://www.youtube.com/embed/3UbKzbTedws" frameborder="0" allowfullscreen></iframe>
The night after seeing World of Color, a wall went up at Disney California Adventure, re-routing the traffic:
And a couple of night pics: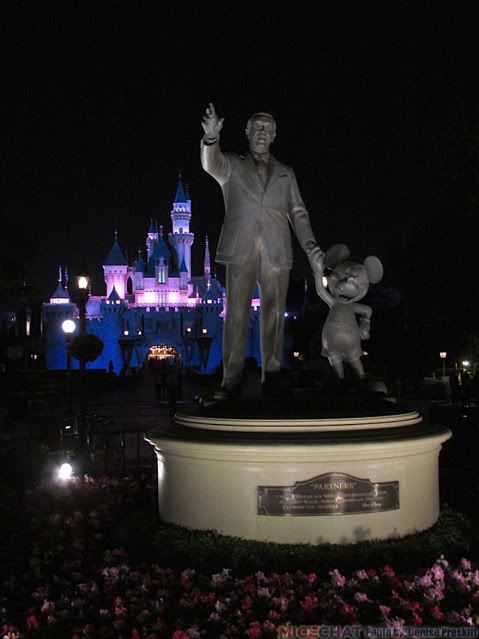 Follow Denise's travels around Disney World (and sometimes Disneyland) on her Mousesteps.com website!
The Disneyland Presents Life In Korea: Insa-Dong (Part 2) (인사동)
Continuing our tour of Insadong, the culture district packed chock-full of amazing and curious stores, vendors, and food.
This is another famous Insadong store, the Tongin building.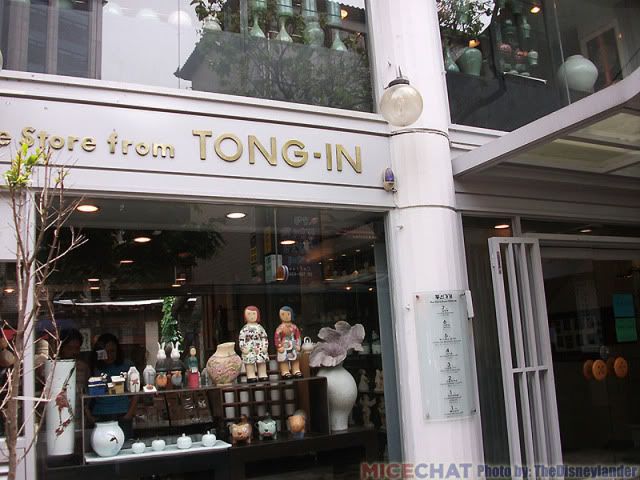 And inside, we find this...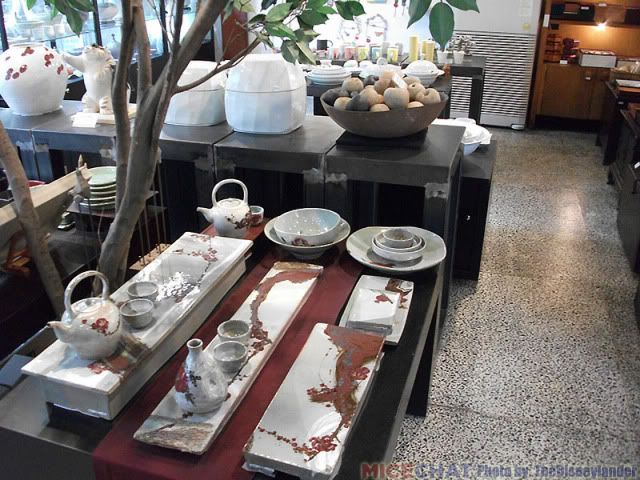 As well as this...
As well as these.
Needless to say, I was very very careful. These were pretty darn expensive.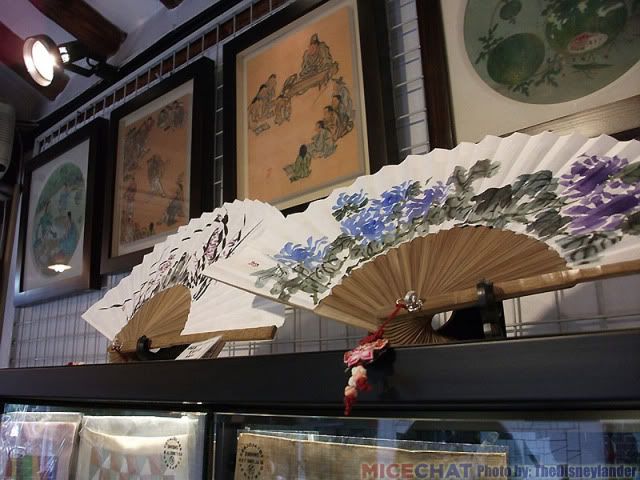 Back outside, I ran into a store selling stone seals. You could pick out a design you wanted, and they would engrave your name on the bottom so you could use it as your official seal.
And this is what I chose to spend my hard-earned (read: received as spending money) on. My name is engraved on the bottom of the seal. The red design on the bookmark is what it would look like if I used it.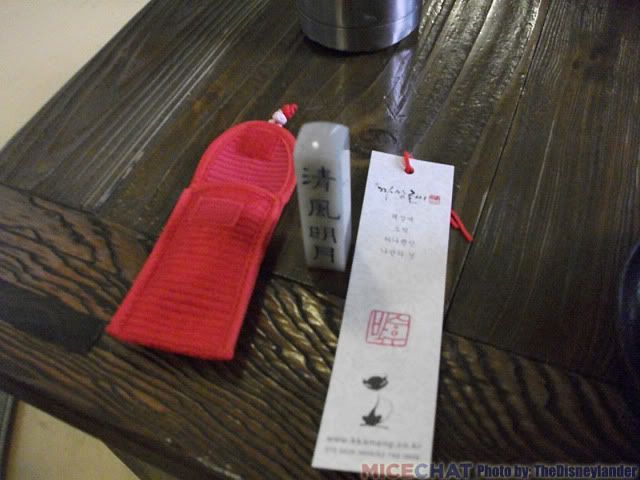 This is yet another Korean street food that is holy-#$@% delicious but amazingly horrible for your health. This is bbokki (뽑기) And it is basically brown sugar that is spread over a griddle and made into cute shapes.
A huge collection of Korean bells and chimes for your wallet's pleasure.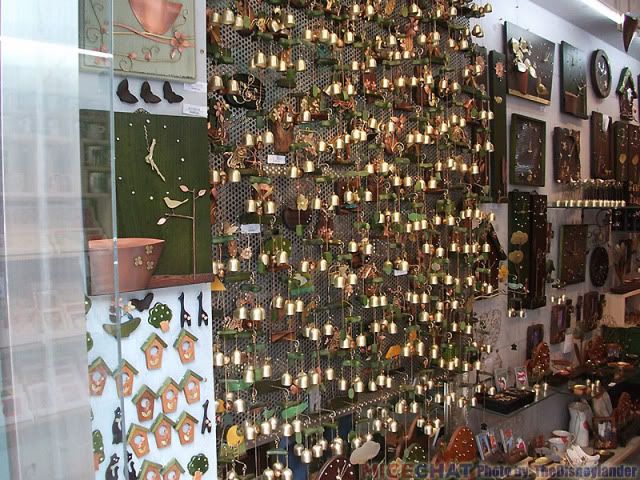 Another neat pottery shop that I didn't bother going into because there were so many of them.
I was about to buy one of the glazed pigs, but I remembered I had something else to buy...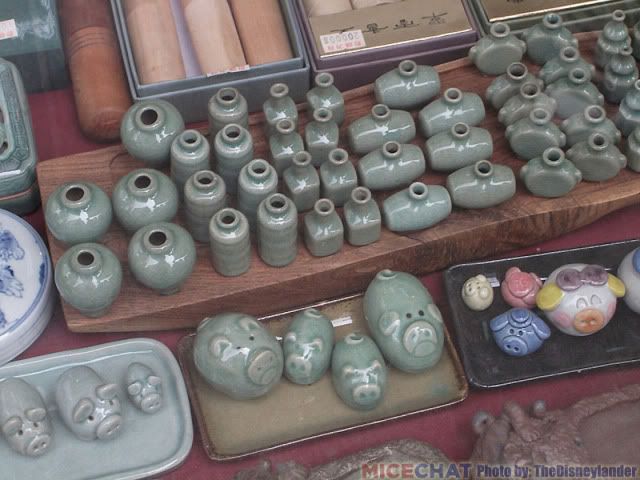 Lunch! This is bibimbap (비빔밥), Jeonju-style. Take a traditional bibimbap and add a raw egg, some bean jelly, and other assorted doodads and you end up with a heavenly experience.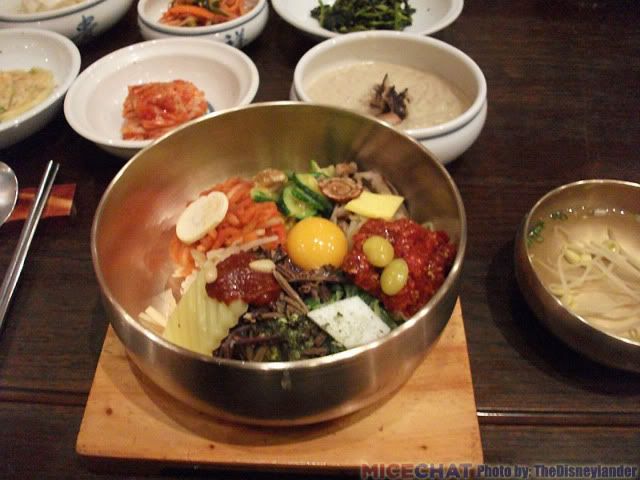 Clockwise from top left: white kimchi, pickled bean sprouts, spinach, abalone in sesame sauce, kimchi, and jeon.
And what the table looked like fifteen minutes later.
Back outside, this is another famous building in Insadong - there were dozens of shops crammed inside the 4-story building.
Although it definitely showed its age, you could definitely feel the 'vibe' from the artisans and sellers everywhere. Definitely a building with a lot of history to it.
Yes, you eat this! This is bundeggi (번데기) and those brown things are actually silkworm cocoons that are boiled in large, steaming vats. They're ridiculously delicious, and surprisingly for a Korean street food, healthy for you - they're loaded with fiber.
To round out the day, I spent an hour or so inside a traditional tea shop. You wouldn't even notice that you were in the middle of a bustling tourist district.
Don't mind the scribbles on the walls - they're everywhere. People just can't resist a blank wall to inscribe their mementos on.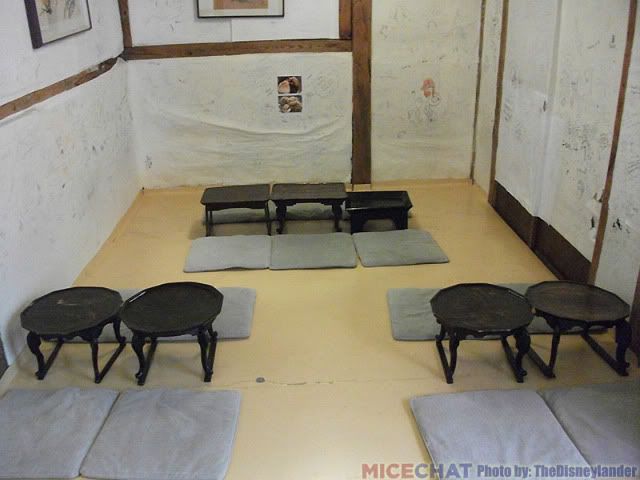 A cup of tea.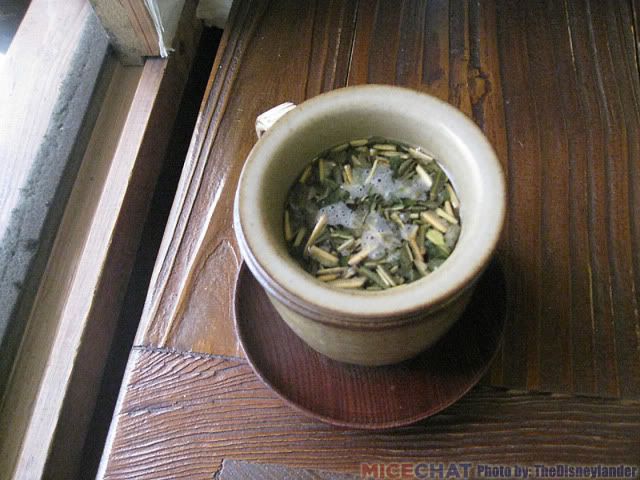 And that's everything that is to see in Insadong. There's far more to see than just what I've posted - in fact, I only covered about three blocks or so, and Insadong stretches for far more than that!
Dan Chadwick shares this family trip to Seattle's Woodland Zoo
We woke bright and early at 5:00, loaded the kids (still in their PJ's) into the van, picked up my mother-in-law and brother-in-law and headed for the border. After a twenty minute wait we were cleared for entry into the United States and then had a nice two hour drive down the I-5 into Seattle.
We were headed for the
Woodland Park Zoo!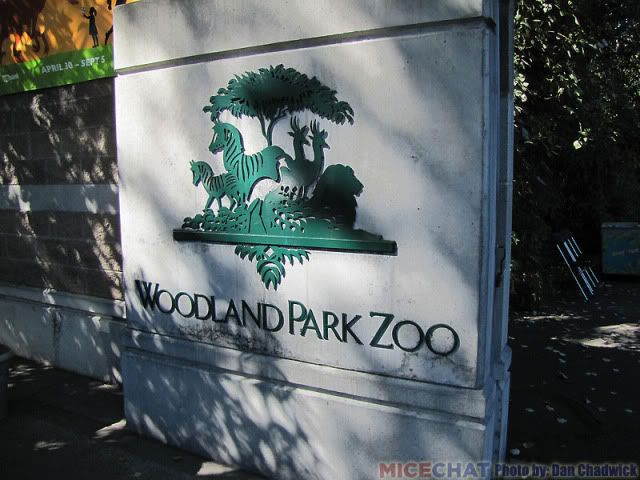 Once we got everyone out of the van and ready for the day we headed inside. First stop was the African Village adjacent the African Savanna Exhibit.
African Village Well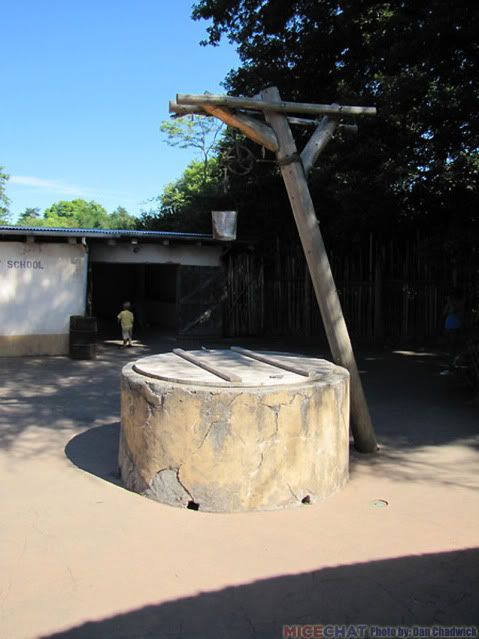 African Village Primary School Classroom
Inside the savanna we spotted an Ostrich. At this point it was already hot. Most of the animals were resting to try and stay cool.
In the same enclosure we also saw this Gazelle. From past visits I also know that they typically have Zebra's in here as well. Due to the heat though we didn't see any this trip.
The aviaries at this zoo are neat as you get to go in with the birds (through a two door entry system).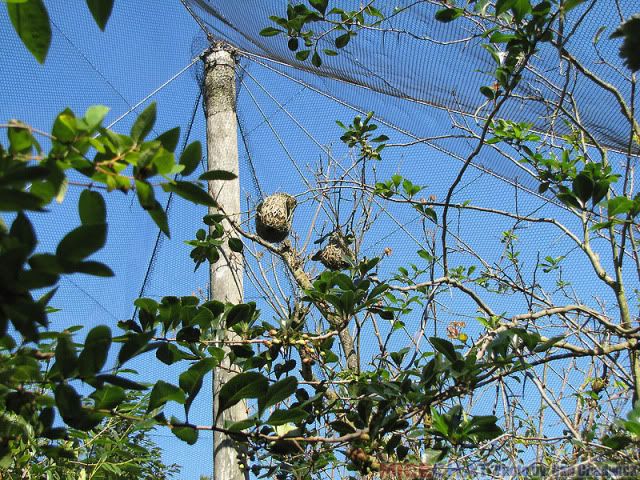 A mostly submerged Hippopotamus.
The zoo takes up half of Seattle's Woodland Park. It is rather heavily wooded.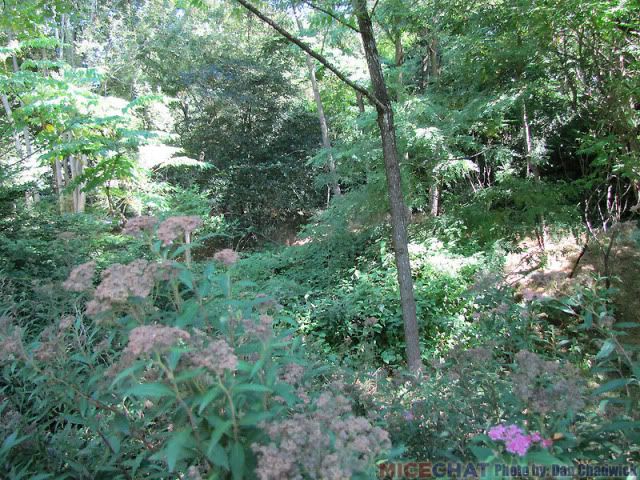 This is an interesting area that allows zoo guests to pay a small fee (all the money goes back to the zoo) to feed the Giraffes.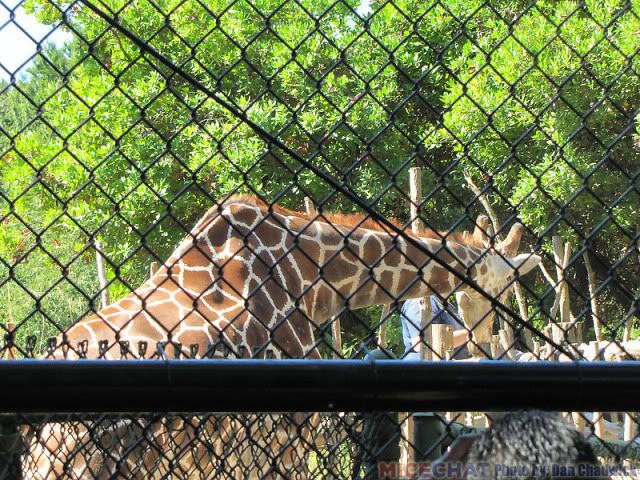 This was my second shot. This Wild Dog didn't have it's head raised in the first one.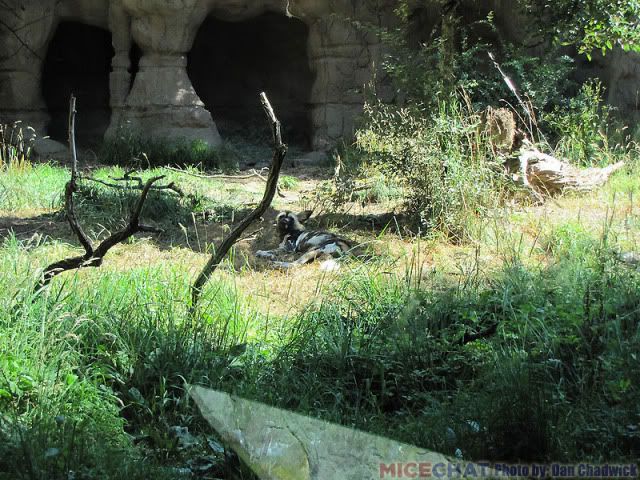 Hard to believe that only ten feet of grass and a 3 inch thick piece of glass was all that separated me from this sleeping Lion.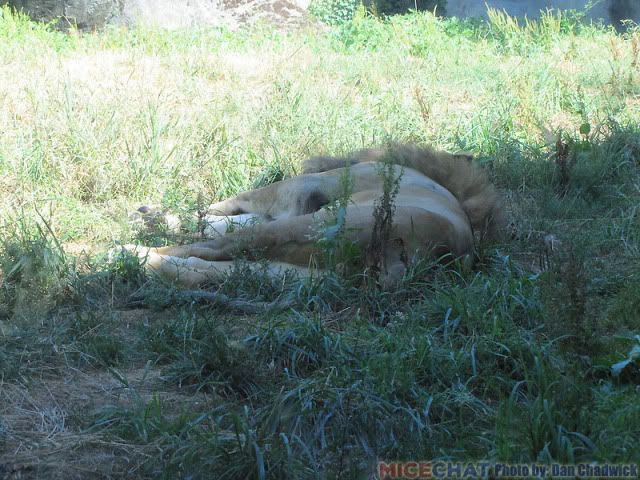 The zoo had plenty of volunteers out and about interacting with the guests. Here is my mother-in-law, Pat with my son Nicholas discussing the skull of a Wild Dog with a volunteer.
The zoo has a very large Elephant enclosure. Large enough that should they choose to the Elephant's can completely hide from the public. These trees are in the middle of the enclosure.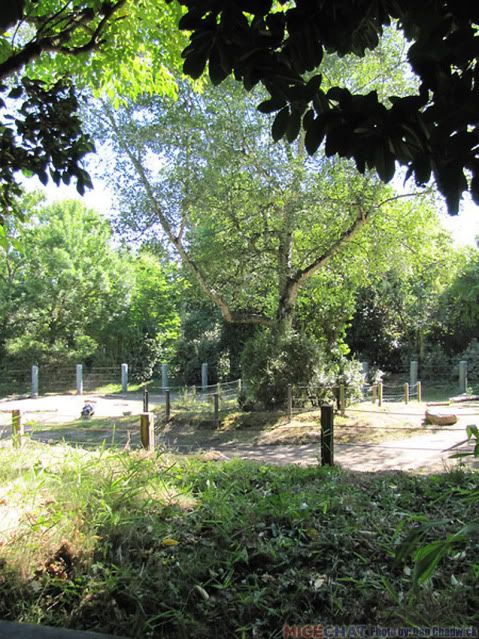 Obviously this Elephant chose to hang out by the cool waters of the pool.
The entire Elephant area is designed to look like a Thai Village. This is one of the many structures in the area.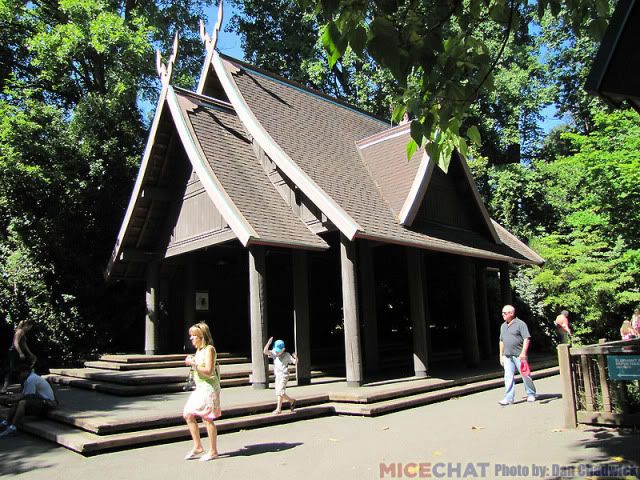 I've always liked the design of the Elephant Barn Roof.
This Siamang and its friends sure like to make a lot of noise. But at this moment it was calm.
The Siamang's and Oranutans are in an area call the Trail of Vines. Really cool setup if you ask me.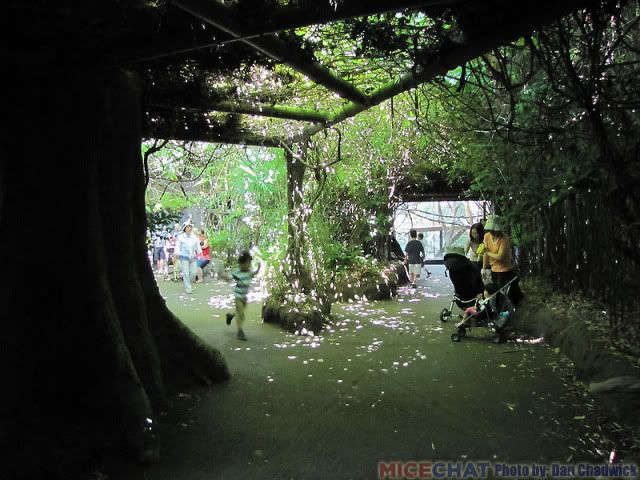 Caught this Orangutan sleeping right next to the glass on the interior part of their enclosure. Right after I took the picture his eye's popped open and we had a moment.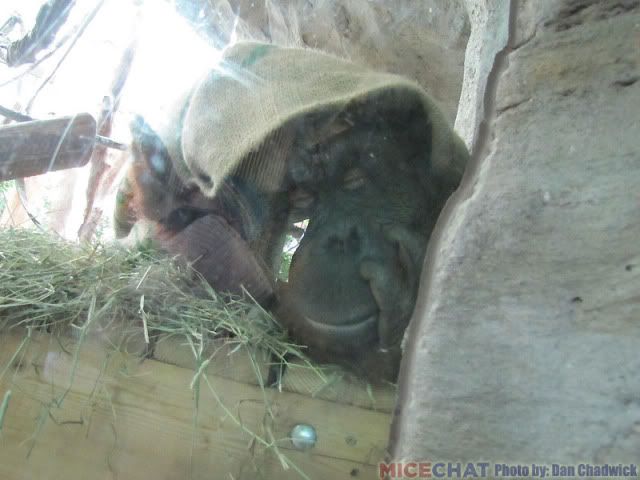 As nice as the inside is, I find the exterior part of the Orangutan Enclosure is better. Guests are on a raised platform over top and can look down on any Orangutans that might be out and about.
Apparently the zoo hasn't had the Meerkats for very long. Could explain the old style enclose. The zoo doesn't have many of these types of enclosures left so I'd imagine as money allows the Meerkats will eventually get better housing.
We came across this Orangutan Sculpture. The two wearing clothes are my wife, Nicole and my son Nicholas. (My wife is going to kill me when she sees this but that's the risk I take to bring this great zoo to you MiceChat.)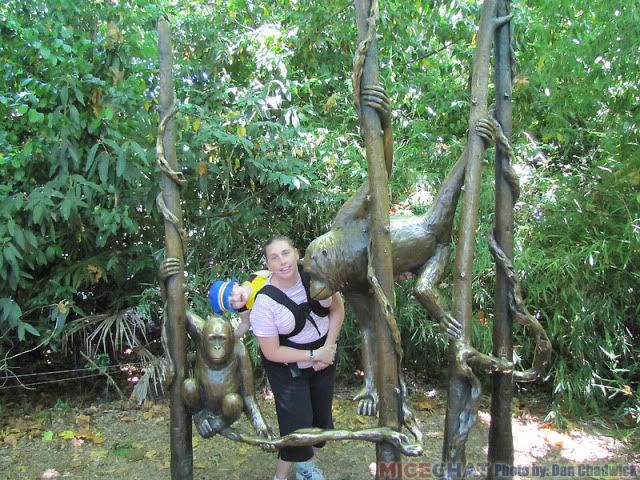 Not sure if they have any others but we saw this Komodo Dragon next door to the Meerkats.
A rare sight for me. An actual Bumblebee on one of the plants.
The zoo's Tigers will be getting a much nicer enclosure in the coming years. This one didn't seem to mind the current enclosure though as he was sound asleep.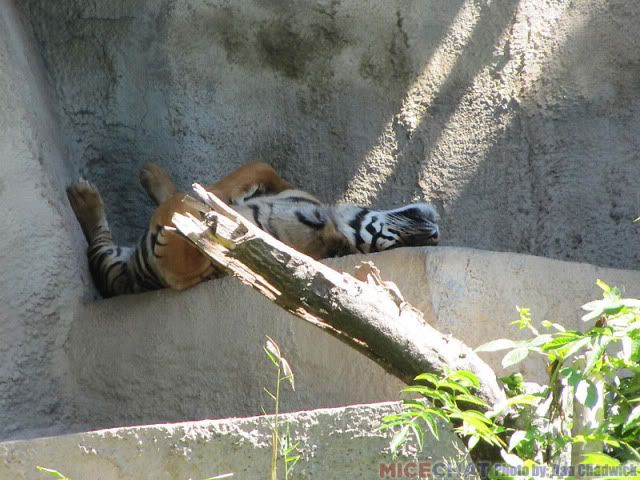 Apparently in the snow this Snow Leopard would be white but as there was no snow, he tried to blend in with his surroundings.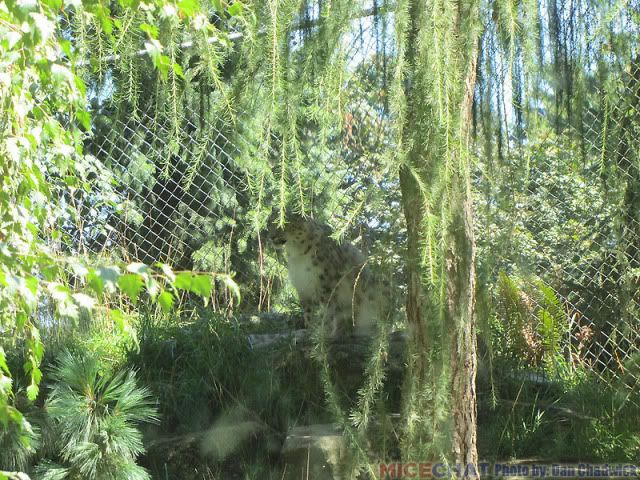 The zoo had a special Dinosaur display going on for the summer. (Ends after Labour Day - Pardon the Canadian spelling of Labour
) The dinosaurs are all animatronics.
This Dilophosaurus decided to spit a bunch of water at me right after I took the picture.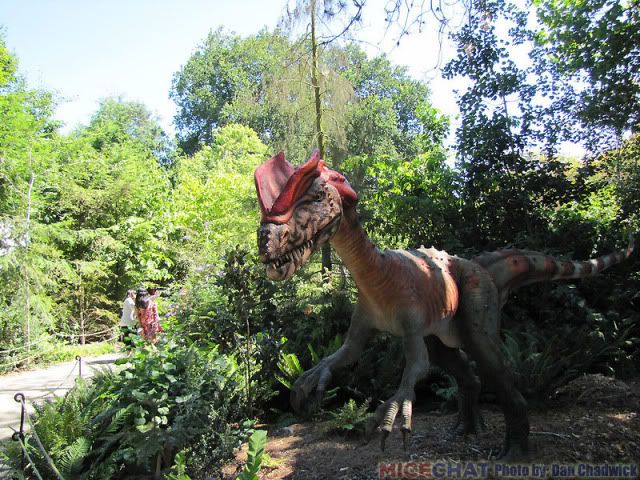 This was an Edmontonsaurus Nesting Site. My son found them to be cute.
The T-Rex was huge. Here it is with my wife Nicole, son Nicholas and brother-in-law Stuart.
A couple of Penguins. Took a few other shots but the glass was dirty and they didn't turn out that well but this one was alright.
This water was gushing into the enclosure. Was rather forceful.
The zoo has a fully restored 1918 Historic Carousel housed in this building.
My family decided to go for a ride.
Some more trees.
One of the zoo's Gorillas.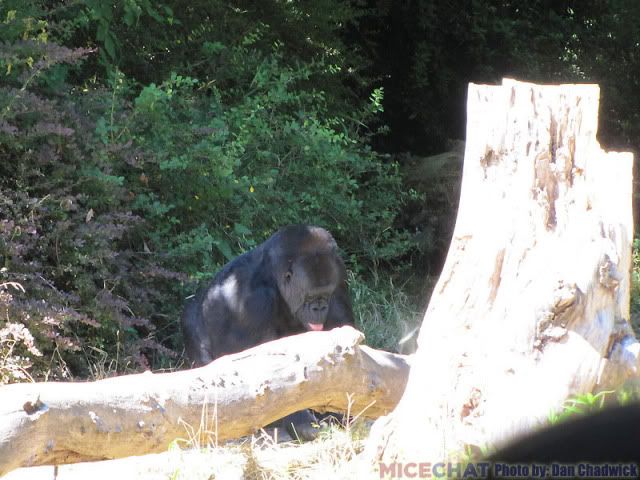 These two young Gorilla's gave us a show with their play fighting. My son was egging them on by asking for more.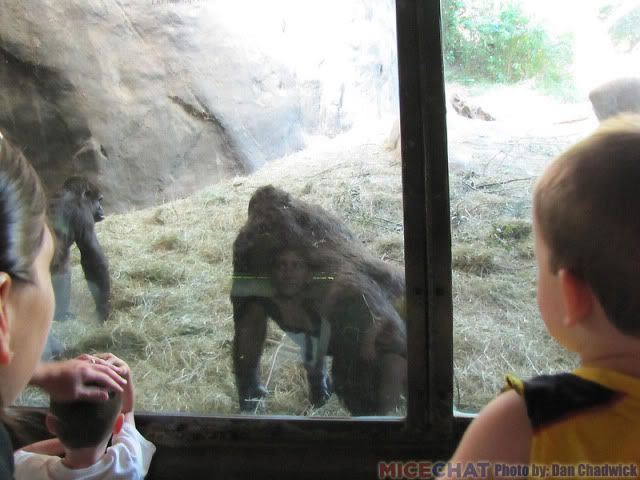 Due to the heat and cause we were all up early we decided to call it a day around 4:00. Once I got back on the I-5 everyone started to drift off. Before she did my wife snapped this shot of my son, sound asleep.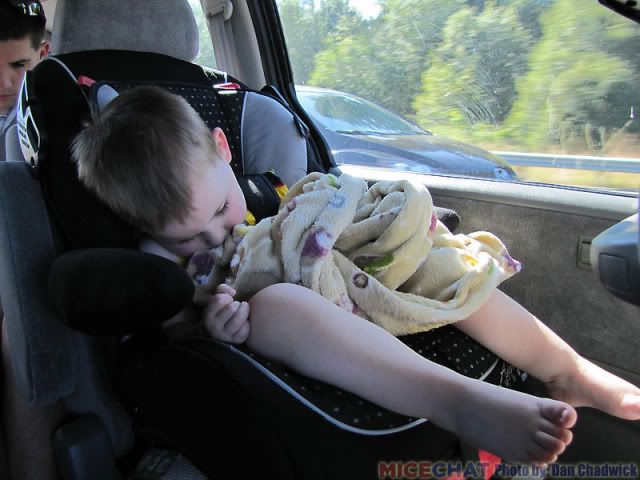 We missed about 25% of the zoo and plan on another visit next summer to catch the rest of it. It really is a great zoo and I strongly recommend a visit if your travel's take you through Seattle.
Rya86n takes Xanthe to Movieworld!
Last weekend we planned to return to
Seaworld with our little niece
. The planned trip was quickly changed to Movieworld on account of the bad weather and the significantly larger
under cover area at Movieworld
.
The wet weather did manage to limit my photos, but I did manage to get a few of Xanthe's first
Movieworld
visit! Just like Seaworld, the carousel proved to be the favourite.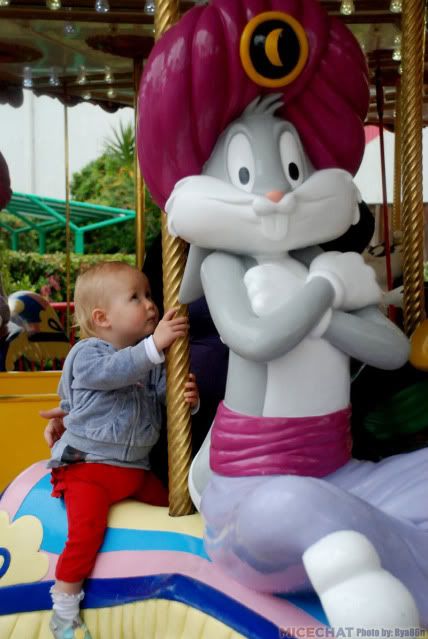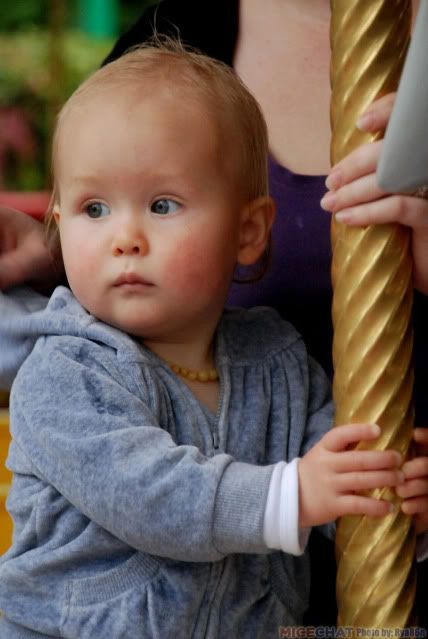 The big kids also had fun!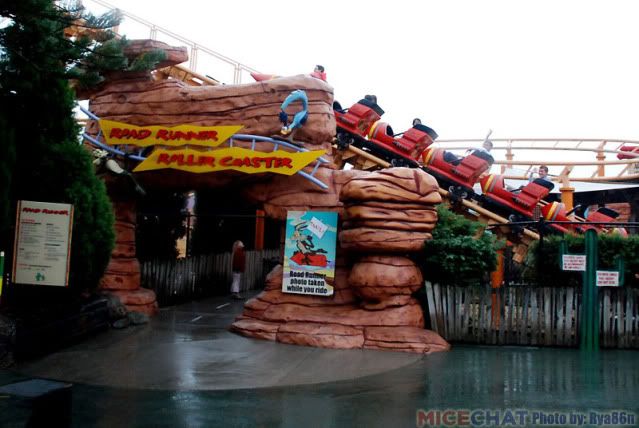 This particular photo of us braving the
Road Runner Rollercoaster
in the rain, made me track down this old video from 2003!
The Road Runner Rollercoaster is a Vekoma Junior Coaster which sends riders on a journey with Wile E. Coyote as he chases the Road Runner from the ACME Fireworks Factory through the Arizona Desert in an exciting journey of twists and turns, ups and downs.
And as the website says, it really is a fun adventure for the whole family!
Might we also suggest that you visit these fine MiceAge/MiceChat attractions for even more Disney and theme park fun:
And that brings us to the end of another week. Our photographers have just enough time to reload their cameras before we see you all again next weekend. Thank you to all of our wonderful readers, and as always, a huge thank you to our amazing team of global photographers, spies, and gossips:

Denise Preskitt Mouse Steps
The Disneylander
Dan Chadwick
Rya86n

Your Editor - Rixter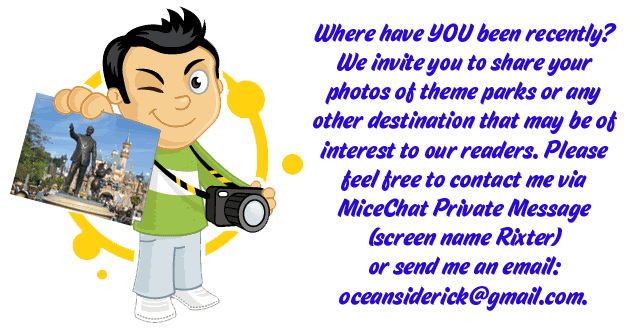 It is readers like you who make MiceChat such a special place.
Don't miss a single one of MiceChat's Featured Blogs (including the Weekend Update). Add our feed to your favorite feed software or site:
Follow us on Twitter