What a crazy week! As we sat in the dark on Thursday night and listened on the radio to the dire predictions of a power outage that might last through the weekend, I wasn't sure that there would be a Weekend Update this week! Of course, the power was restored and we managed to put together some fun stories.
kcnole
's recent business trip to Singapore yielded multiple photo essays about that country. This week's submission is the first part of his visit to
Universal Studios Singapore
.
sir clinksalot
ran the
Disneyland Half Marathon
last weekend and shares some sights that are only visible to those who are brave enough to run the 13.1 mile course.
Finally,
rya86n
shares an update from
Sea World Australia
.
Around the world we go with the Weekend Update!
kcnole's trip report continues with part one of his visit to Universal Studios Singapore
I hope you've enjoyed reading about my trip to Singapore over the last few weeks. It truly was a remarkable country to visit and I'd love to go back again at some point should the opportunity ever arise. However, out of everything that I visited while I was there, my trip to Universal Studios on the final day was what I was looking forward to most of all. It is my goal to eventually visit ever Disney and Universal park in the world. I don't know that I'll ever reach it, but I was very happy to be able to mark this park off of my list.
In researching Universal Studios Singapore, I discovered that the park is fairly small compared to theme parks in the US and as a result can get very crowded, especially on the weekends. As a result, it does sell out quite often and you are encouraged to purchase your tickets online ahead of time to ensure access to the park that day. While purchasing my tickets I was very happy to see a fairly hefty discount which would be given to anyone who purchased their tickets using a citi-card. As a result, the cost of entry to the park came out to only 49 dollars US. Even at full price, the park is far cheaper to visit than any of the US parks. Even at the highest rate (ticket prices due vary by season), a one day ticket only comes out to 60 dollars US which is far more affordable and realistic than the prices currently charged at theme parks here.
This week I will take you on a tour of the first half of the park (Hollywood, Madagascar, Far Far Away, and Lost World). We'll finish up the report next week.
I woke up early Saturday morning and booked a taxi to take me to the parks. I expected the ride to take quite a while as the resort is on the outskirts of the country, but Singapore is exceptionally small and I arrived at the entry to the Sentosa resort (where Universal is located) in less than 15 minutes. After another 10 minute walk from the parking garage, I was at the gates of Universal.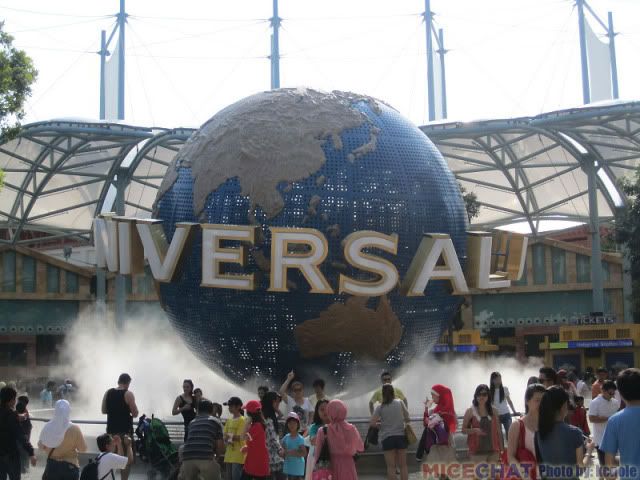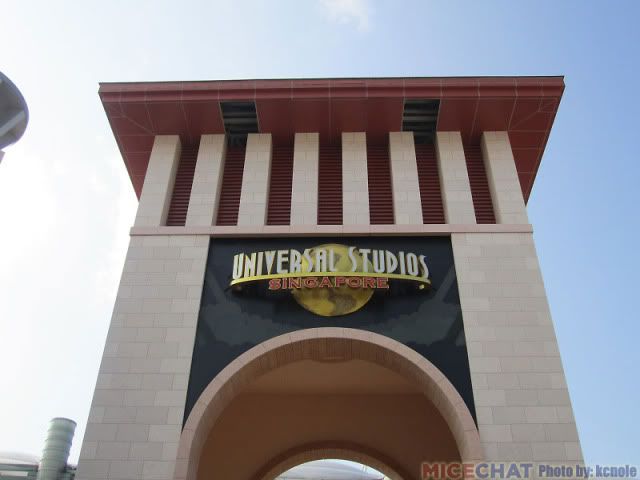 I decided that since the ticket price had been so inexpensive and since I would only have the one day to visit that I should add on an Express Pass as well, so I made a quick stop by the ticket booth to purchase one. As I waited, the Sentosa Resort Monorail rumbled by.
I had arrived about 10 minutes before the park opened, so I had to wait outside the entrance for a few minutes, which already had quite a few people lined up. Unlike other parks I've been to, once the gates open, the admission process was fairly simple and I was inside the park in their version of Hollywood very quickly. It was beautifully themed and I couldn't help but be jealous a bit as this is the type of entrance Universal should have had in Florida instead of the sound stages. The only issue that I had was with the roof that is put in place over the entire street as it does rip you from the immersion a bit. I understand the reasoning for having them, but I'm not crazy about them.
Hollywood Street empties into a small intersection with a beautiful directors statue. From here you have a clear view of all the lands which await your exploration later throughout the day. Unfortunately, it is at this point that you do see the major flaw that Universal Singapore suffers from, lack of land. While this may be one of the better themed parks that I've ever visited (including any Disney parks), it is so small that lands often fall right on top of other lands creating a bit of thematic confusion which creates a feeling of claustrophobia and confusion rather than exotic excitement. They've done the best that they can with the space, and it doesn't destroy the beauty of the park, but it does make you appreciate that aspect of the US parks to a much greater extent.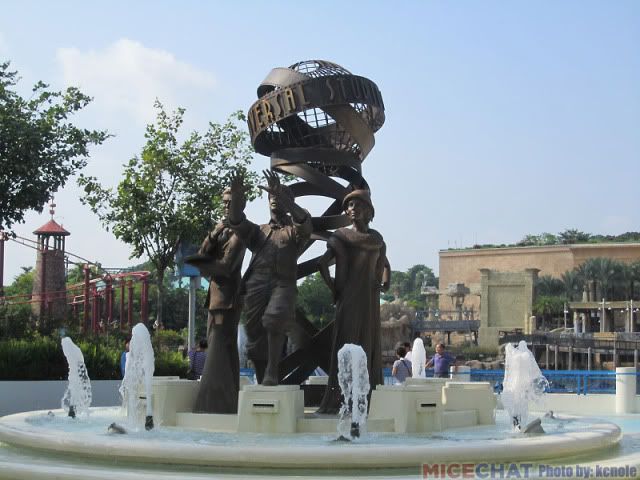 This video shows a great 360 degree view of Universal from behind the statue, but also demonstrates the thematic jumbling that occurs far too often.
Madagascar:
Upon exiting the Hollywood entrance I turned left as I always do in my theme park adventures and entered the land of Madagascar. I was very excited about this land as it is unique to this park only and the massive dark ride was finally open as well. The entrance to the land of Madagascar takes you past an enormous ship which looks identical to the one the animals stow away on in the movies. It also houses the dark ride.
I was immediately blown away by the level of theming in this land (This would be a continual observation throughout most of the park). The designers went to amazing heights to add theming everywhere that they could. I truly felt like I was ripped away to an exotic location as the theming was everywhere from support poles in queue lines, to speakers, to benches. They did an amazing job. This photo of speaker poles is one example.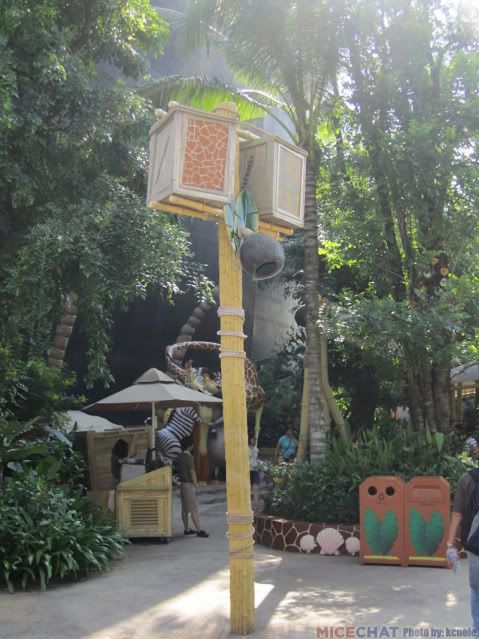 I took a few moments to walk around the land and take in a bit of the theming.
After checking out the amazing details of the land I entered the line for the dark ride called "Madagascar a Crate Adventure". As the line was fairly short I decided to save my express pass for later in the day. I was very glad that I did as this ride was amazing. I truly wish this would make its way to Orlando. This would be an amazing addition to IOA. I can see it fitting in beautifully back in Toon Lagoon and would make the park a much more family friendly affair. I took a bit of video of the attraction so that you could see how great of an attraction it truly is.
After leaving the ride, I came upon a very fun street show called Madagascar Boogie.
Satisfied with this land, I happily ventured on hoping that the rest of the park was as amazingly themed and detailed. I was pleased to find that it was, as you can see as soon as you enter the land of Far, Far, Away.
Far, Far, Away...

The amount of detail in this land is staggering and you truly feel that you have entered the world of Shrek and friends. The castle is amazing and the entire street is full of gags from the movies. It is a little disappointing that instead of housing an amazing attraction, that the castle only houses the old Shrek 4D attraction, but I will allow that to pass as the only negative to this land.
My first stop was a quick ride on Enchanged Airways. This is the first ride where I was glad to have fastpass. Its a small family coaster, but the line was already over 30 minutes long as the load times are a bit slow. I was amazed at the level of detail that was put into a ride of this level. I've never seen a family coaster as this themed as beautifully as this.
The ride even has an animatronic Pinocchio which gleefully tells you that the ride has never had any accidents whatsoever. Of course, I'm not certain if I believe him as his nose grew right in front of me.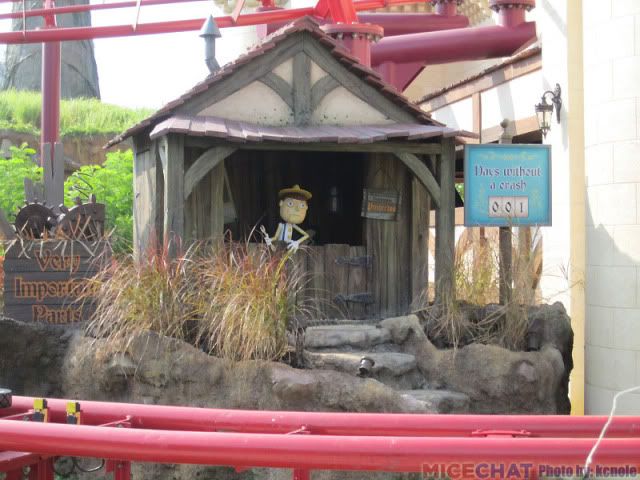 After exiting the ride I decided to take a visit to Shrek's house:
He didn't seemed too pleased for my visit, so instead headed down to visit Donkey in his comedy club. Donkey Live is a show very similar to Turtle Talk with Crush where Donkey gives us a live comedy and song routine, during the show he carries out conversations with the audience members. Photos were not allowed inside, but I did take a few of the exterior and waiting areas.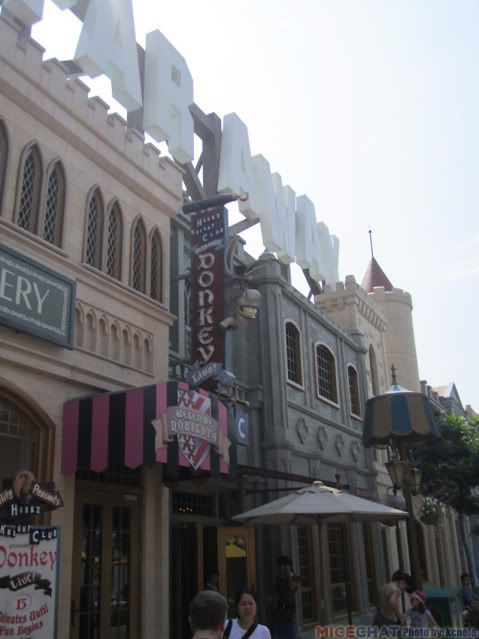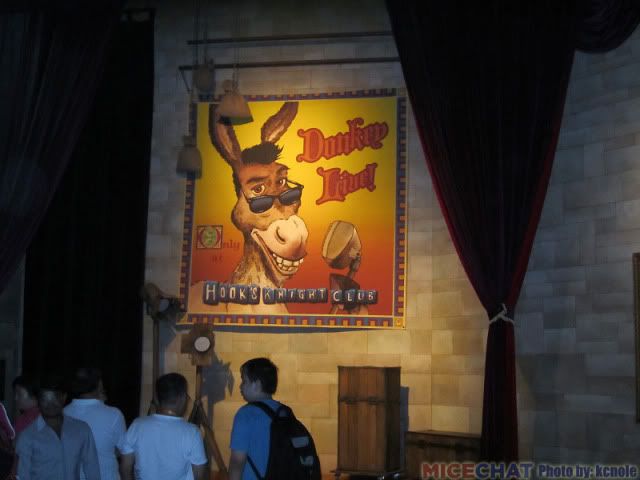 After experiencing the three attractions in Far, Far, Away I decided to walk around a bit and just take in the amazing atmosphere: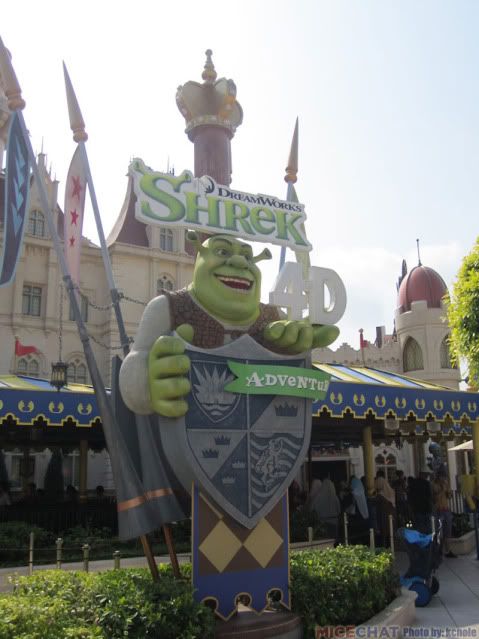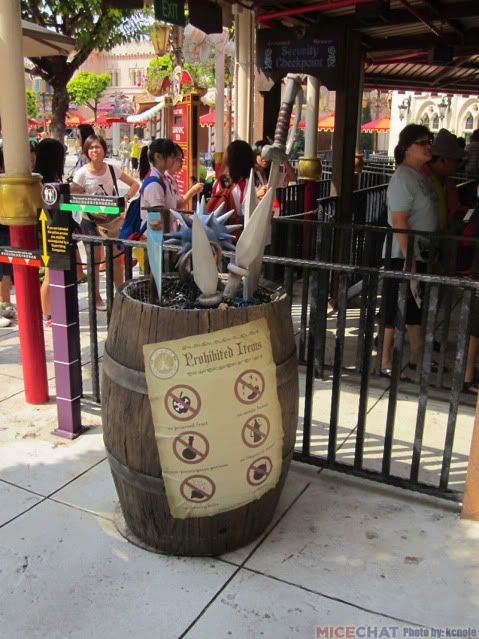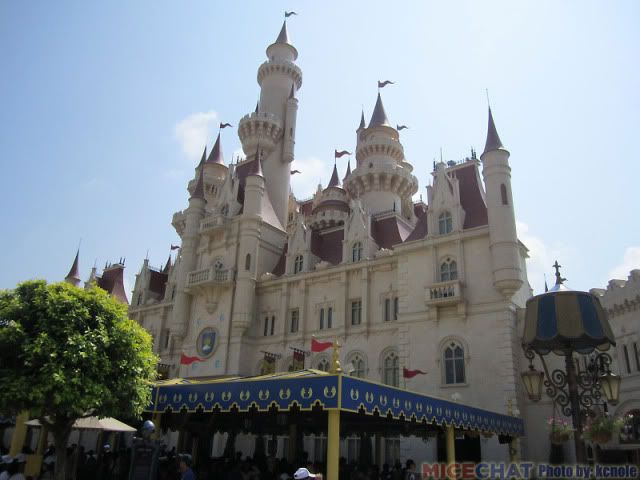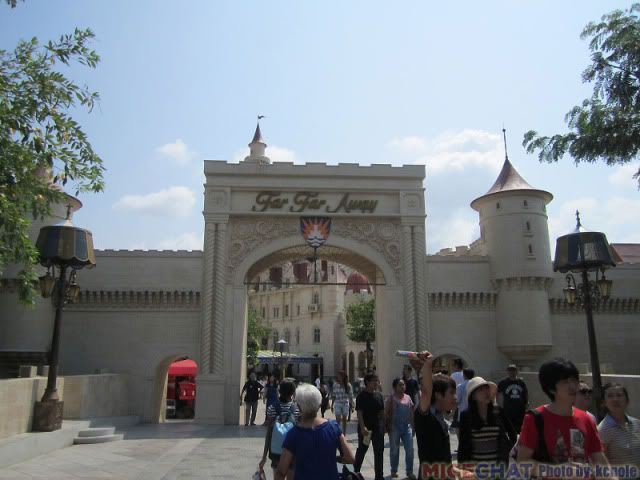 Lost World

The next stop on our journey was Lost World. This is a somewhat strange mixture of themes as it is divided into the Jurassic Park theme and the WaterWorld ride. While the two themes don't mix very well, it does seem to be the best location for WaterWorld in the park, and it does a fairly good job of dividing them. When you enter the land you can go left to experience WaterWorld or continue along the path to enter the Jurassic Park section.
WaterWorld is the same attraction that you've already seen in Hollywood, however as I have never had the opportunity to visit Universal Studios in Hollywood I was very excited to finally see it here. I loved it, and truly wish that this would be added to the roster of attractions in Universal Studios Orlando. It would be a much better addition to the park than the tired Fear Factor show is.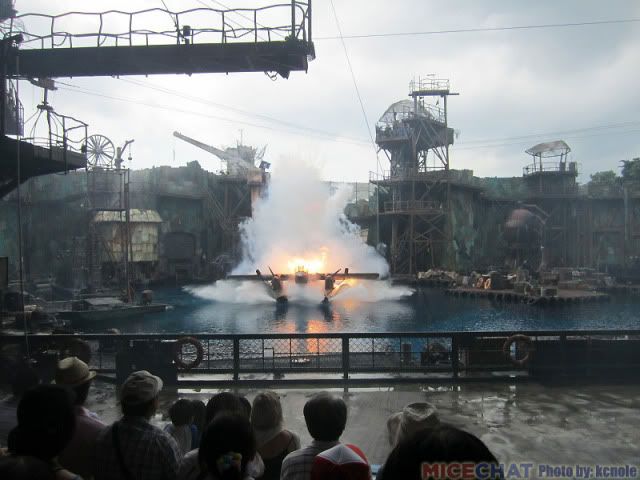 After leaving WaterWorld, I headed into the Jurassic Park section. This land houses three different rides; Jurassic Park Rapids Adventure, Canopy Fliers, and a very cute spinner ride who's name I can't recall.
Jurassic Park Rapids Adventure is very similar to the versions that we have in the states except that it utilizes the river rapids ride system instead of the raft system used in the US and the ending is slightly different as you are lifted up an elevator and attacked by the T-Rex throughout the ascent. While I prefer the US ride system, I think the ending actually works better here. And by the way, this ride system assures you that you will be soaking wet.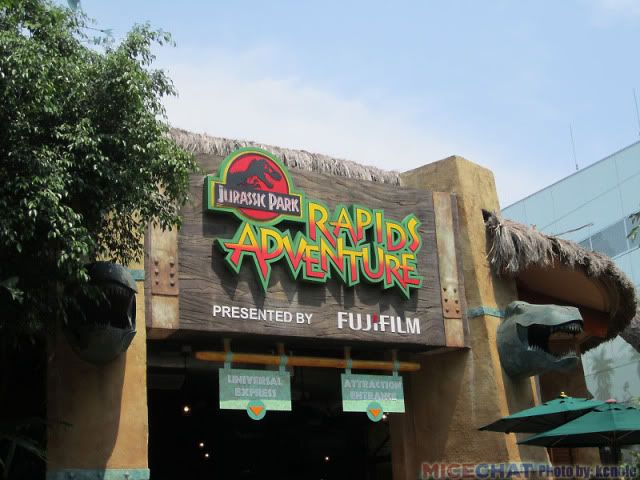 Both of the major attractions in this land require Express Pass. The Rapids Adventure ride had a wait time of an hour and a half and Canopy Flyers was near an hour as well. I was very happy to have Express Pass here. Canopy Flyers is similar to the ride in Orlando except that it has a slightly higher throughput and does not require that you ride with a child. It does grant you some amazing views of the land.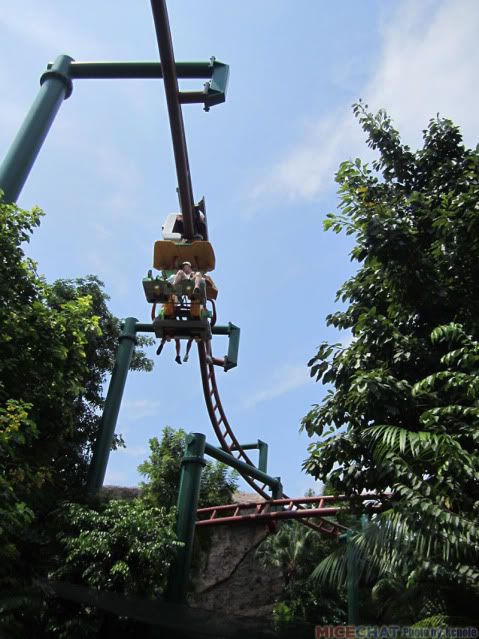 The spinner attraction, which I did not ride.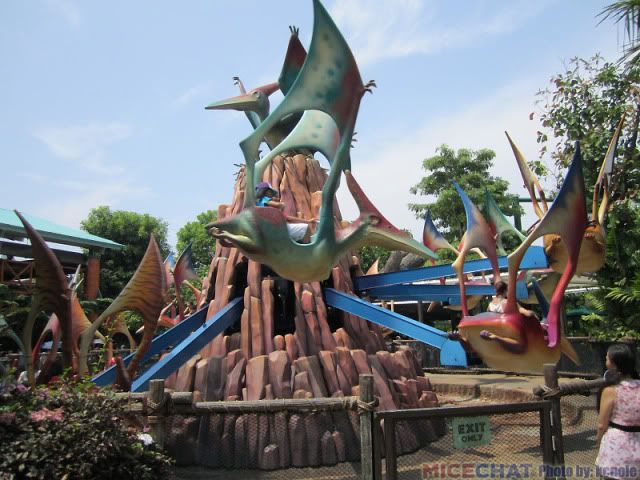 As I did in most of the lands, I took a bit of time to explore the great theming. While I wasn't as blown away by this land as I was with madagascar and Far, Far, Away; it was still very well done.
Notice how well the speakers are hidden here.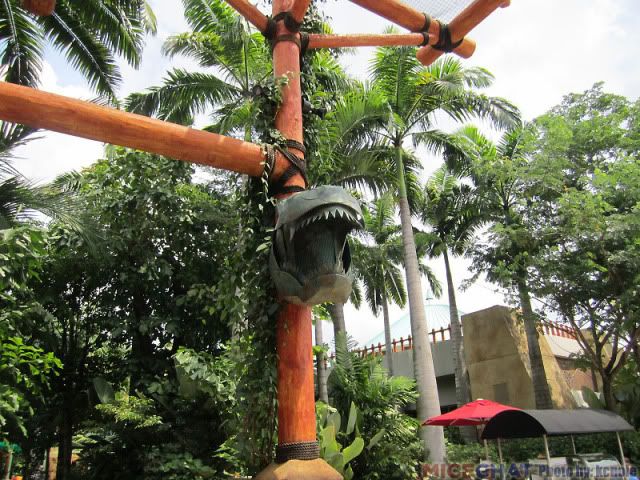 And that brings us to an end of the first half of our tour of Universal Studios Singapore. We'll finish up my report next week when we hit the last three lands in the park (Ancient Egypt, Sci-Fi City, and New York). I will wet your appetite a bit for those three lands with a few photos so you'll make certain to tune in again.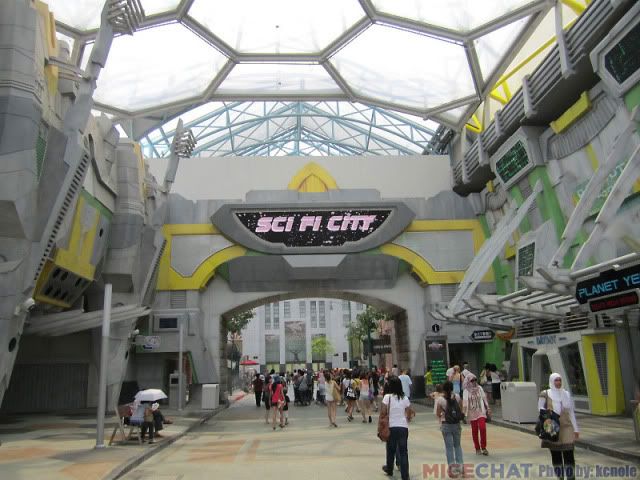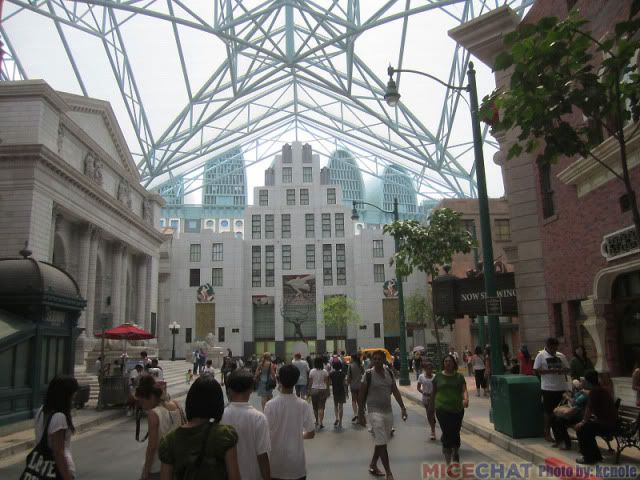 sir clinksalot gives us a behind the scenes look at the Disneyland Half Marathon 2011
Heading to the Fitness Expo the first thing you see is the highly anticipated finish line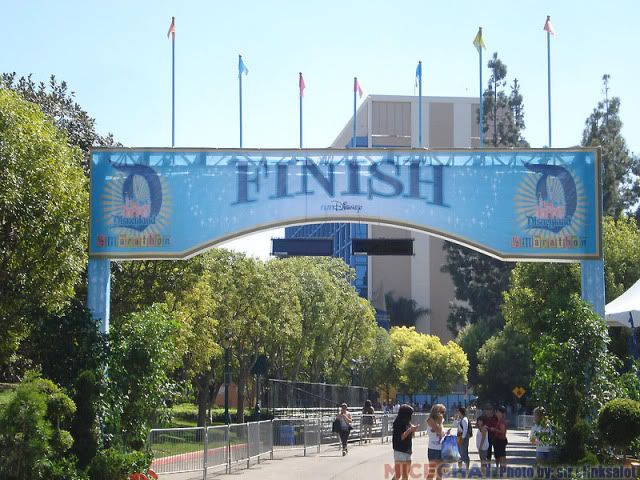 Run down below and check in for your race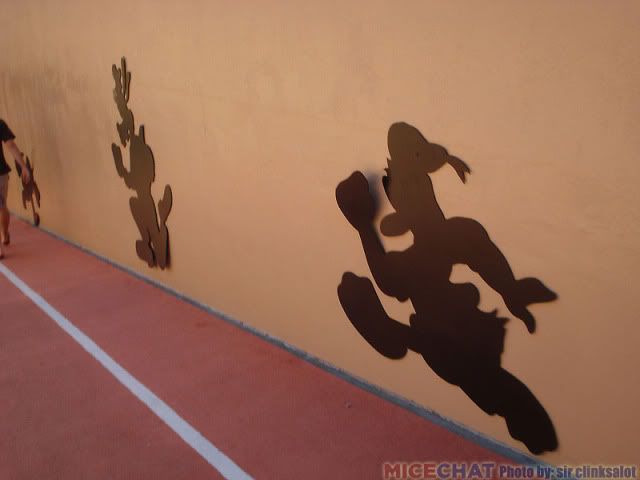 Fast forward to Sunday Morning about 4:15am ... the esplanade is quite empty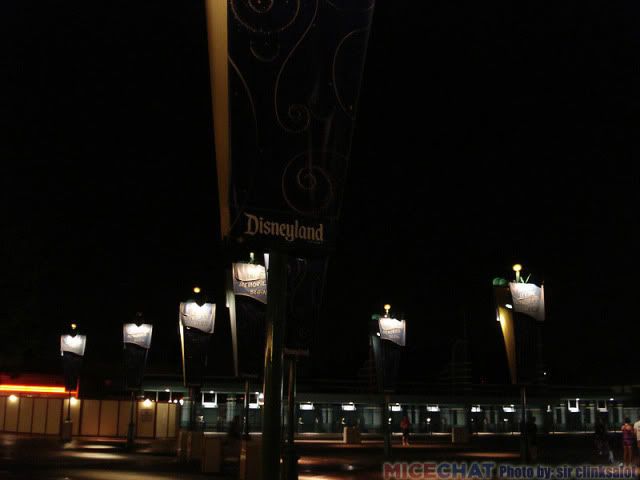 The stage is showing videos and helping people to "wake up"
In our Corral, waiting for the start of the race
Looking back towards the parking structure
And here we Go!!
The course went up Disneyland Dr., to Katella and then on Harbor Blvd. We entered DCA through the gate near Tower of Terror
Through DCA, taking a right turn at Mermaid. For some reason we didn't go through Paradise Pier this year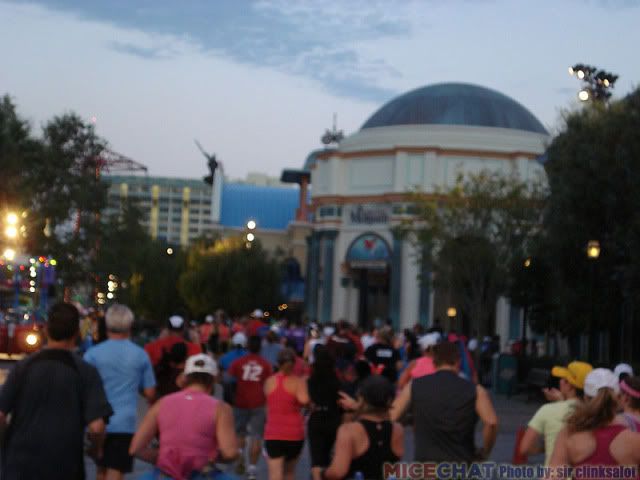 After heading through Grizzly Peak, the Esplanade and Main Street, we end up in Tomorrowland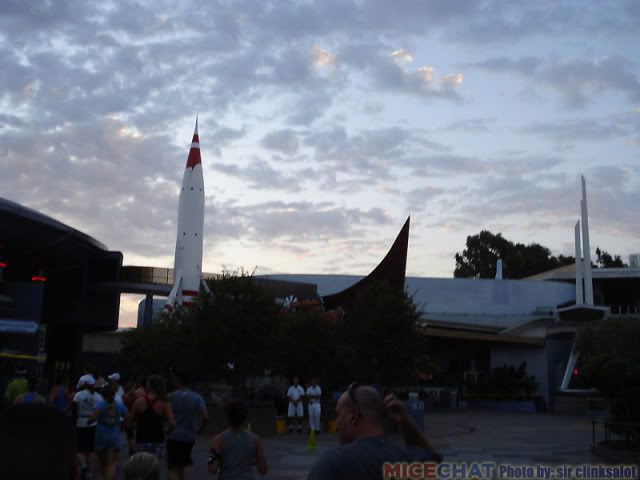 Through Fantasyland and out the front of the castle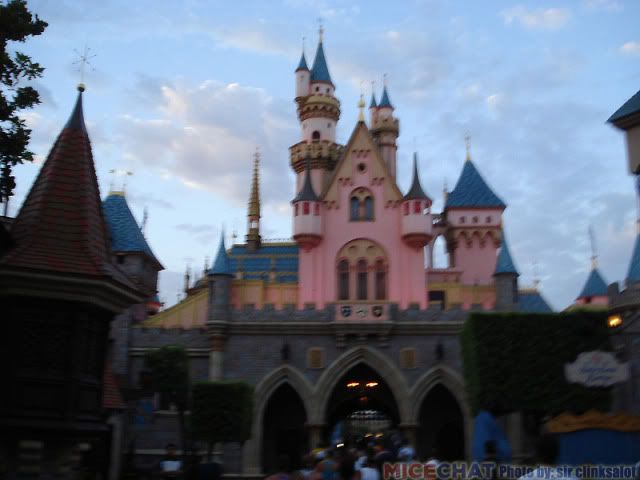 Entering Frontierland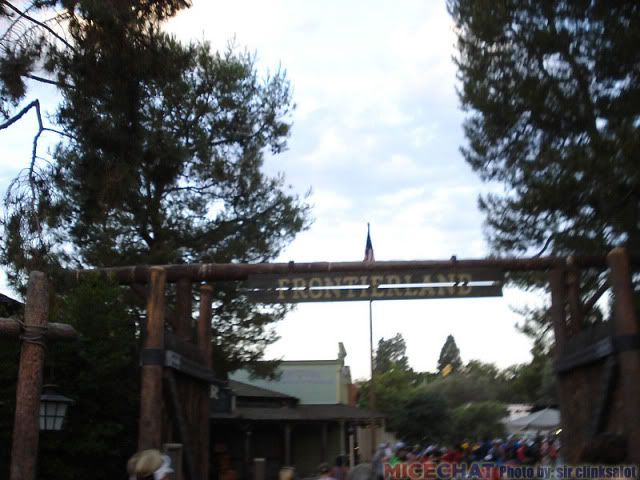 Through Frontierland, New Orleans Square and backstage near Splash Mountain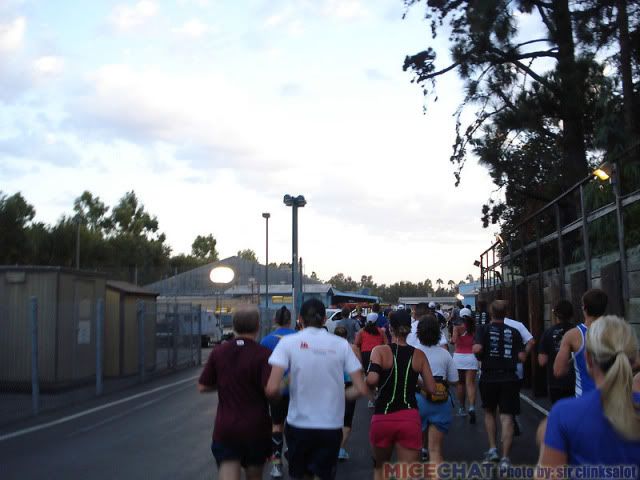 The Pooh building
The sun coming up backstage at Disneyland
The Horse Barn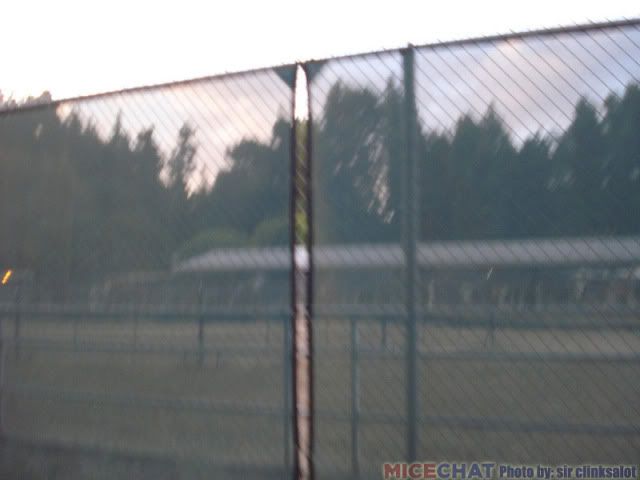 Behind ToonTown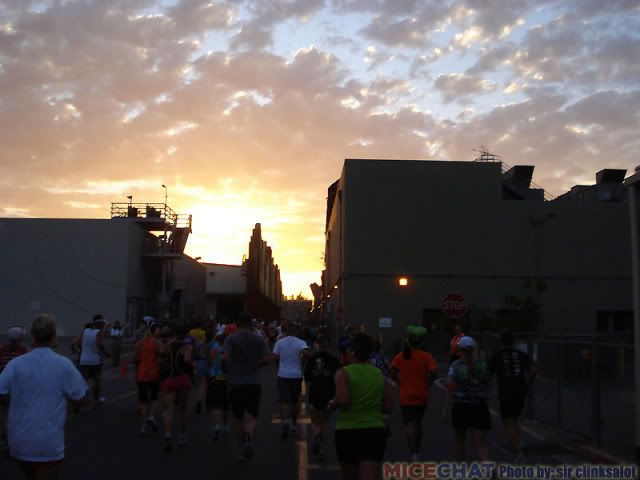 The Railroad Barn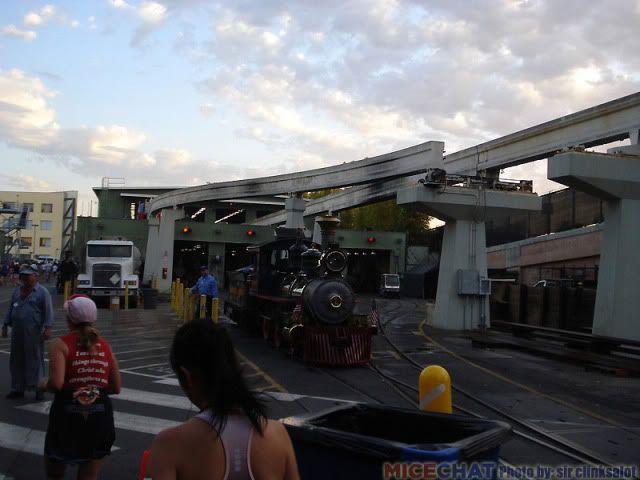 Lots of various ride vehicles were out for rehab
And I think this is a Jungle Cruise Giraffe
Outside of Disneyland and onto Ball Road
Lots of bands and cheerleaders were out along the course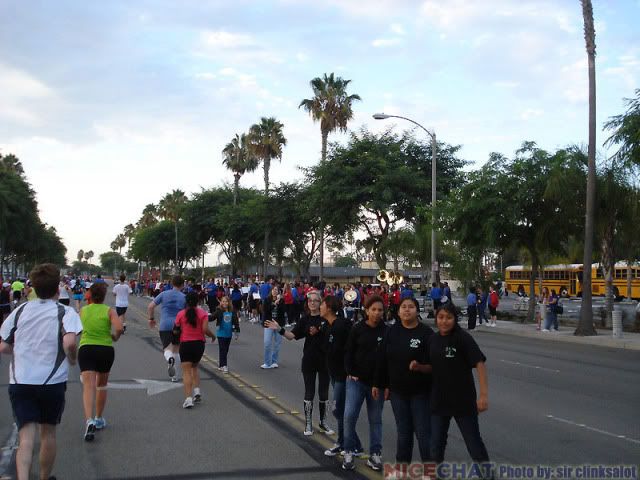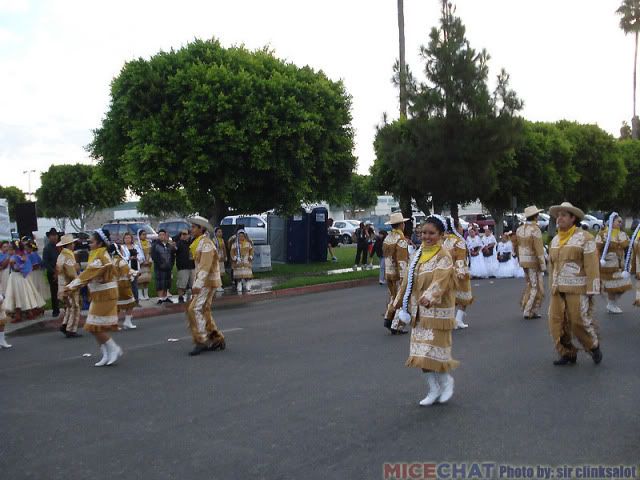 Behind Angel Stadium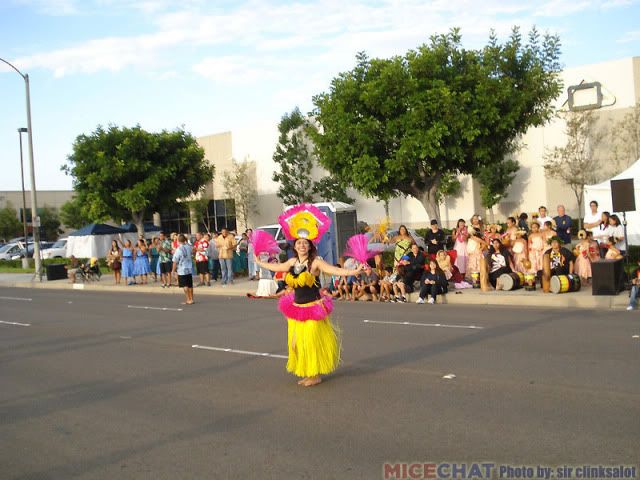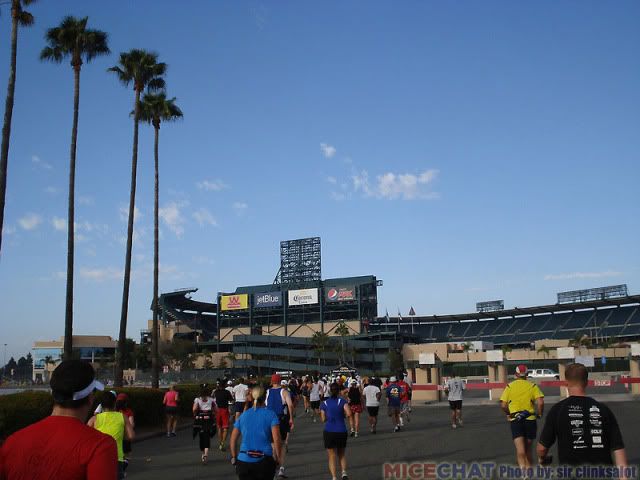 Running through Angel Stadium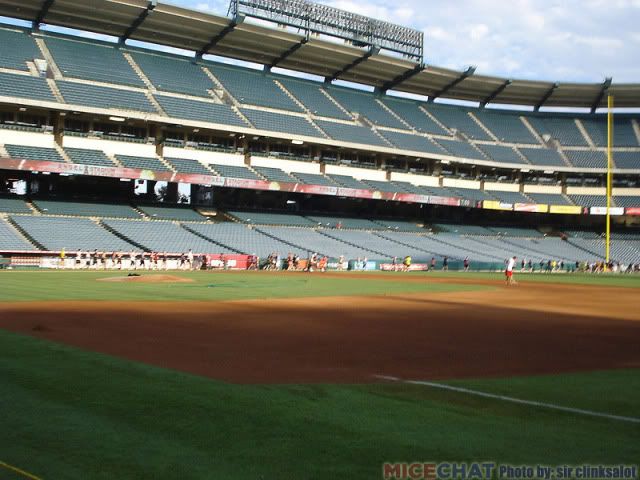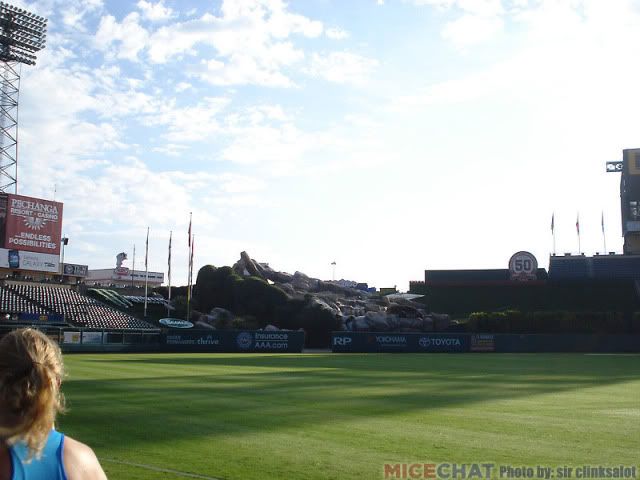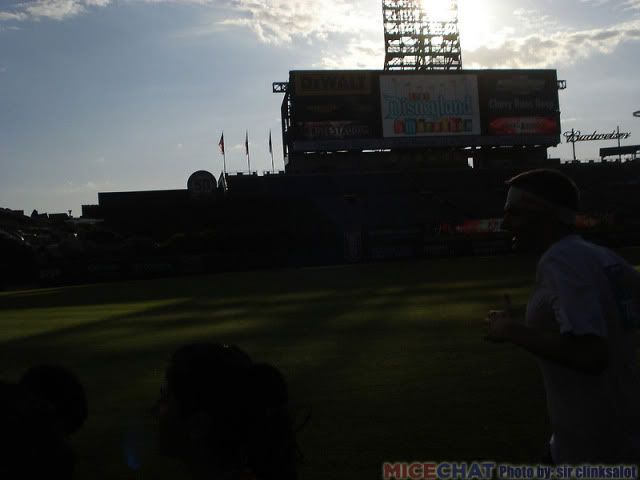 One last look at the finish line about an hour after the end of the race. They were very quick to begin the clean up.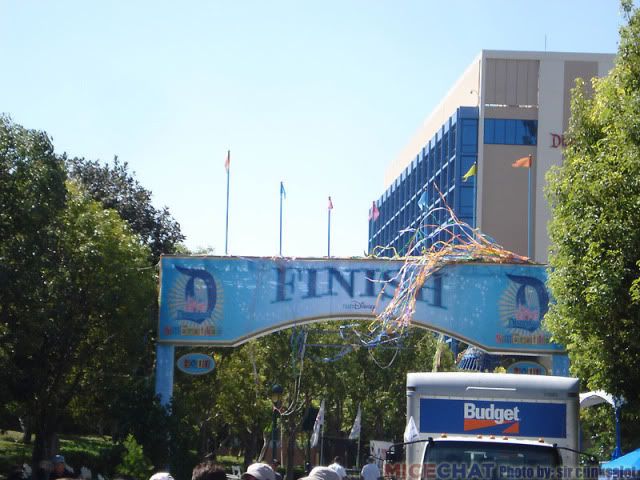 Rya86n reports on construction at Sea World Australia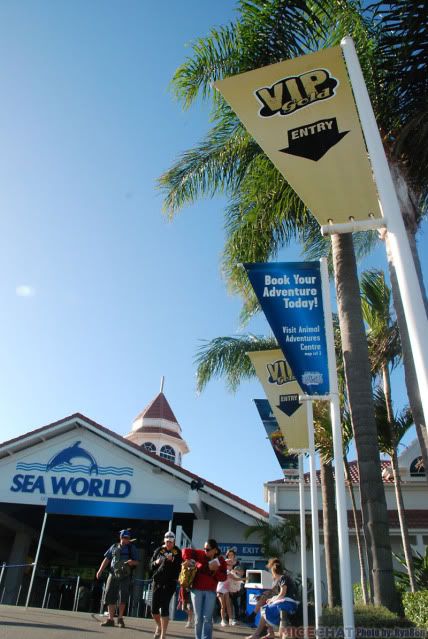 It's been a long two years since
Sea World Australia
has done without its former glory and headline act the Waterski Show. Back in 2009 to much public disappointment,
the longest running live attraction in the country was sunk
by Sea World's newest scallywags. The introduction of the
Pirates Unleashed
show
failed to impress audiences and press from the start
.
Now Sea World is well on their way to better utilising the hectares of lake in prime position at the park's entrance.
Construction is underway for their newest offering
Jet Stunt Extreme
, a water based stunt show featuring some of the world's best jetski performers cutting the biggest and best aerial tricks daily from September 17th.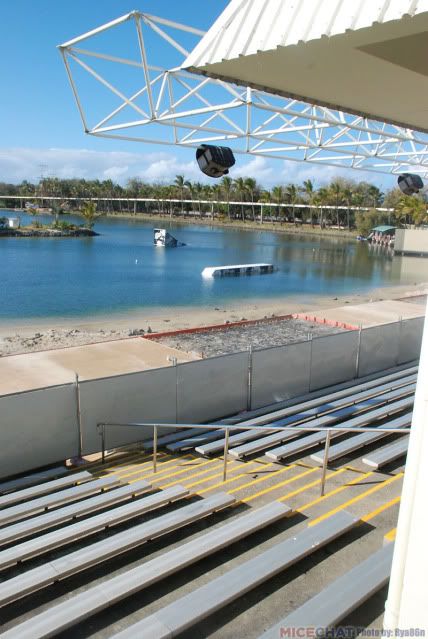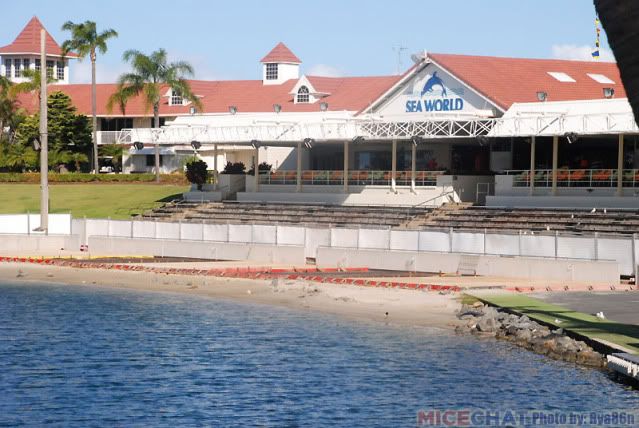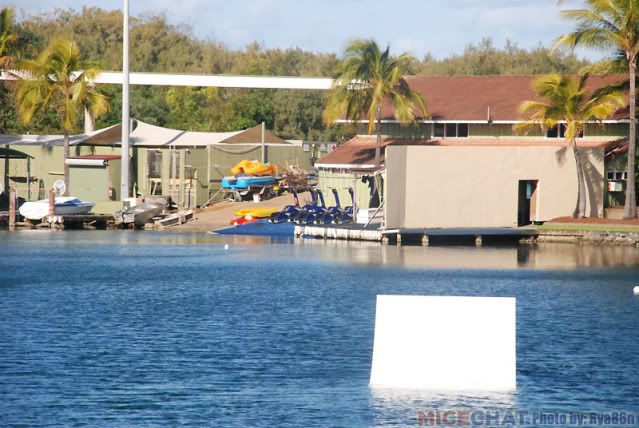 Might we also suggest that you visit these fine MiceAge/MiceChat attractions for even more Disney and theme park fun:
And that brings us to the end of another week. Our photographers have just enough time to reload their cameras before we see you all again next weekend. Thank you to all of our wonderful readers, and as always, a huge thank you to our amazing team of global photographers, spies, and gossips:

kcnole
sir clinksalot
Rya86n

Your Editor - Rixter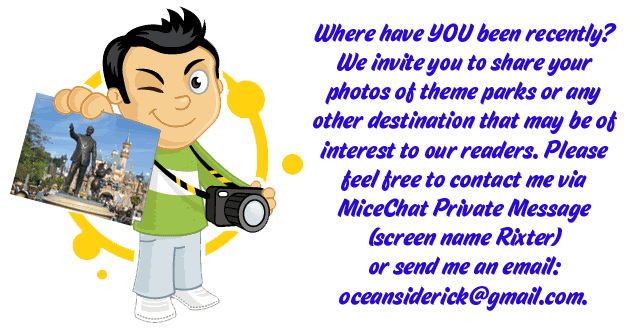 It is readers like you who make MiceChat such a special place.
Don't miss a single one of MiceChat's Featured Blogs (including the Weekend Update). Add our feed to your favorite feed software or site:
Follow us on Twitter