From
New Jersey
to
Florida
, from
Singapore
to
Australia
, we always have a surprise for you at the
Weekend Update
.
This week we share opening night at
Newsies
with MiceChatter
igrules
. I was one of the few people that were in the audience for the theatrical release of this 1992 Disney musical, and it has always been one of my favorites. I wasn't able to attend opening night of the musical adaptation, but we have the next best thing – a first hand report.
Denise "Mousesteps" Preskitt
has been busy rounding up the news from
Walt Disney World
. This week we have a report on a new interactive
Kim Possible
type game that is in testing at
Animal Kingdom
plus more photos from
Mickey's Not-So-Scary Halloween Party
.
kcnole
finishes up his report from
Singapore
this week with the balance of his trip to
Universal Studios Singapore
. Finally,
Rya86n
took a "
Behind the Screams
" tour of
Movieworld's Halloween Fright Night
events and has photos for us.
Let's get started on another
Weekend Update
...
MiceChatter igrules attended opening night at Newsies
Disney has launched a brand new stage musical based upon an adaptation of their 1992 musical film, Newsies. MiceChatter,
igrules
, brings us this report from the opening night at the Paper Mill Playhouse in New Jersey where the production is being staged.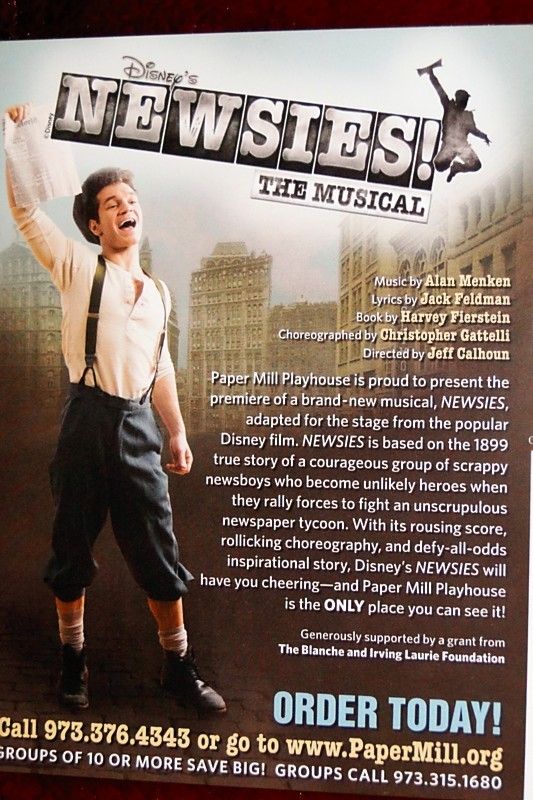 Stop the presses!
Disney has finally seized the day and brought the movie "Newsies" to the stage!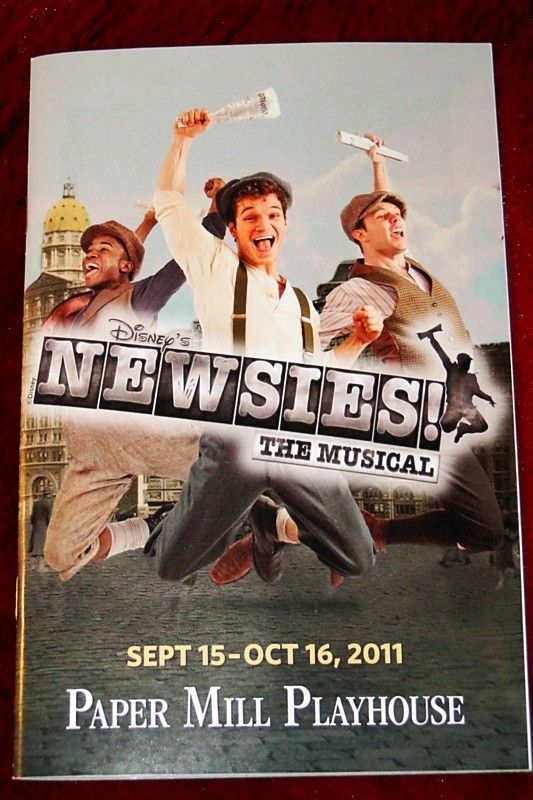 New Jersey's Paper Mill Playhouse was buzzing with anticipation as book writer Harvey Fierstein and legendary Disney composer Alan Menken mingled with the opening performance crowd. Nine square screens (3 separate towers, each 3 squares high) make up the "curtain," with the "Disney's Newsies! The Musical" logo filling the space. Sven Ortel's black and white projected headlines and buildings evoke the cold hardships facing the youth selling papers on the street. Tobin Ost's stark erector-set structure, in conjunction with the retractable screens, allow for multiple locations, interior and exterior settings, and multi-levele spaces to be on stage at the same time. The drab colors in the costumes by Jess Goldstein, and the monochromatic lighting designed by Jeff Croiter, allows the audience to step right into the pages of an 1899 newspaper.
In an attempt to increase profits without the public's knowledge, Joseph Pultizer increases the cost by 10 cents that the newsies have to pay for the papers they have to buy in order to sell. Taking the lead of striking trolley workers, the newsies unite and refuse to buy/sell. The head of the Newsies, Jack Kelly (Jeremy Jordan, who closes Act One with an impassioned reprise of "Santa Fe" that makes me want to see Jeremy in his upcoming Broadway show "Bonnie and Clyde."), is more fleshed out in the stage musical than in the movie - the focus on his drawing skills is the key that brings the new characters and additional story elements together.
New songs for Pulitzer and plucky reporter Katherine Plumber (Kara Lindsay), who could be the foremother of the "Damn Yankees" scribe Gloria, give insight not only to who these characters are, but also into the problems of the late 1890s and the change and hope that the dawning of a new century holds.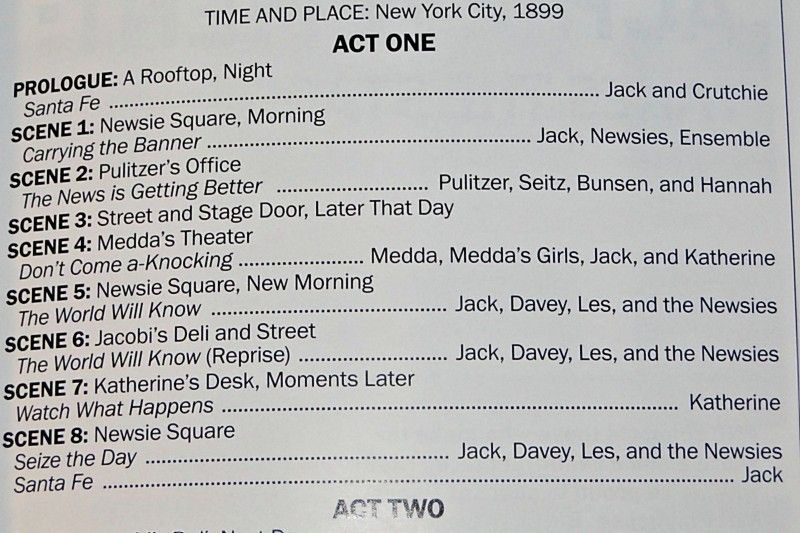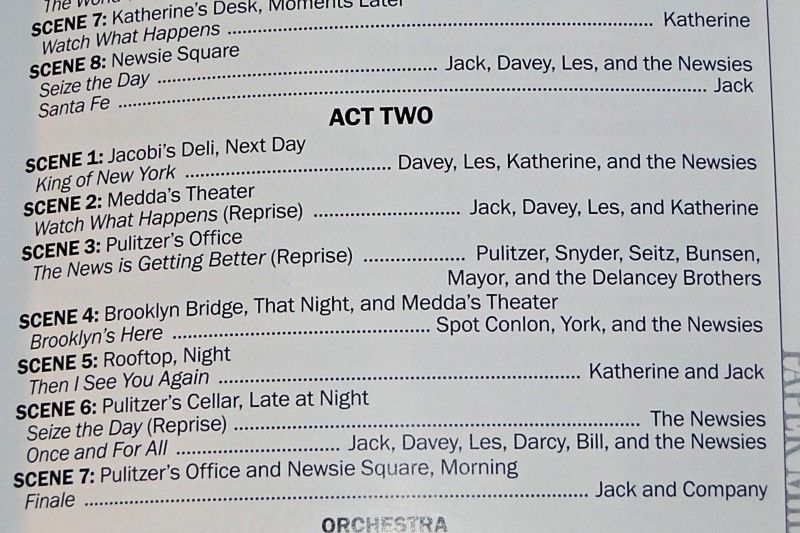 The dance sequences choreographed by Christopher Gattelli, are top-notch, "West Side Story"-worthy, and the selection of instruments and accompaniment chosen for Danny Troob's orchestrations are spot on. The production is seamless, and the performers make it look easy - the credit must go to director Jeff Calhoun.
The tight book and anthemic songs also help carry the performances to new heights. The stage version is different from the movie, but in a way that celebrates the original while streamlining and improving upon it. Paralleling the storyline of a children's crusade, I am betting that this production will inspire the next generation and beyond into proudly picking up and carrying the banner.
Newsies, the T-Shirt

"Disney's Newsies! The Musical" runs through October 16, and is dark Monday and Tuesday.
Here's our Walt Disney World Update from Denise Preskitt
I participated in the Wilderness Explorer game testing at Animal Kingdom, it's an interactive game in the same vein as a Kim Possible. It was fun, each segment probably would take 15 - 20 minutes or less (but I was taking photos and video, plus enjoying my time along the way).
Lion King topiaries are currently at the front of the park: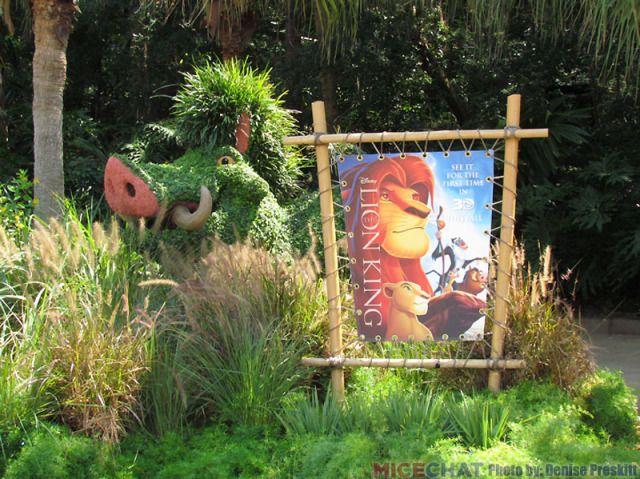 Rafiki greets guests nearby:
The map for the game: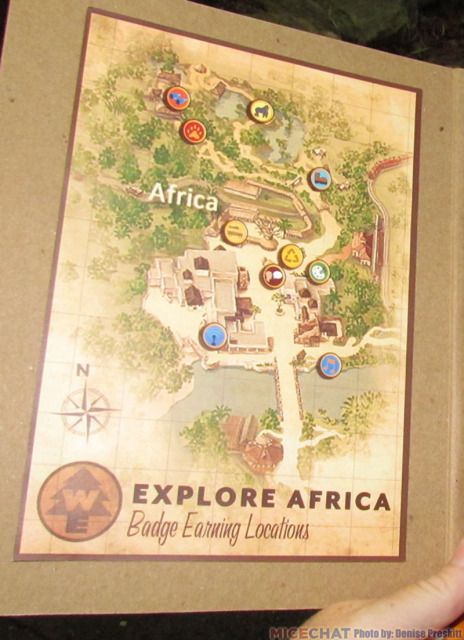 There were two different adventures I went on. One had to do with identifying animal poop: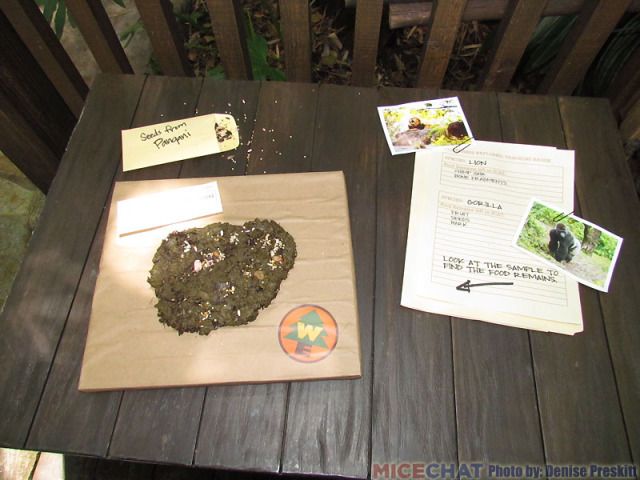 And the other with gorillas: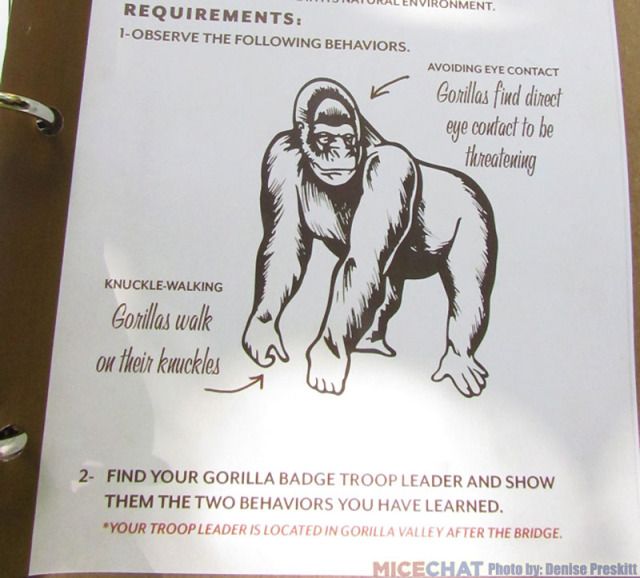 A large spider I saw along the way:
This was only a test - but a lot of fun, and I hope Disney implements it! I shot video of what I did:
<iframe width="640" height="360" src="http://www.youtube.com/embed/e8R3lPep-TM" frameborder="0" allowfullscreen></iframe>
We attended another Mickey's Not-So-Scary Halloween Party, visiting with characters that normally aren't seen in the park.
Jack Skellington candy apple: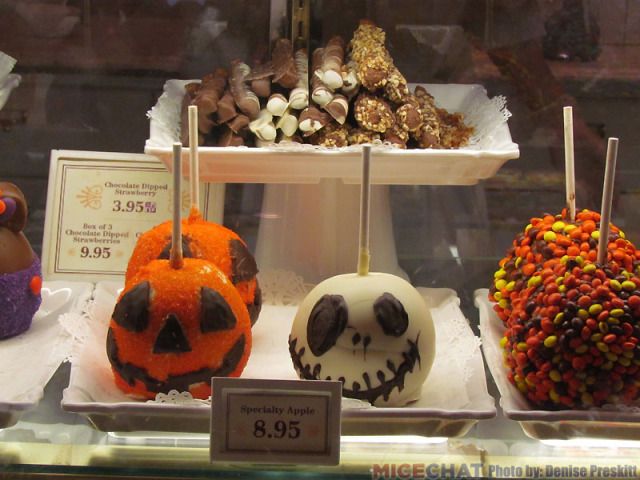 Cinderella and Prince Charming were among several different couples that were available to meet, normally the princesses are alone: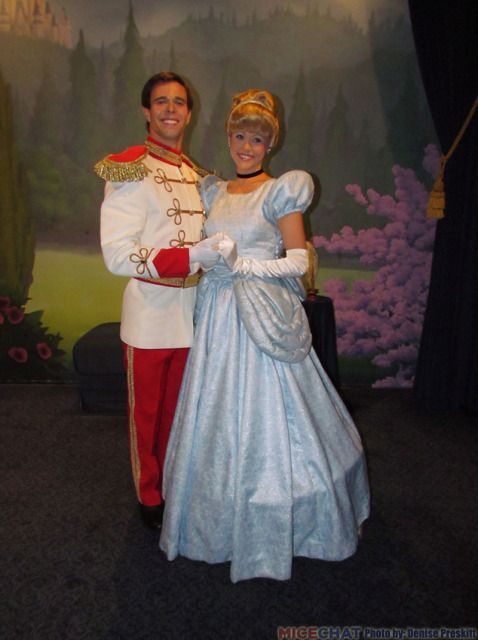 Duffy:
Mickey and Minnie in their Halloween outfits:
Woody checks out a Buzz Lightyear toy:
Gaston:
Along with Gaston, there was Lotso, Jafar, the Evil Stepsisters, and others in the hub greeting guests!
Cruella DeVil: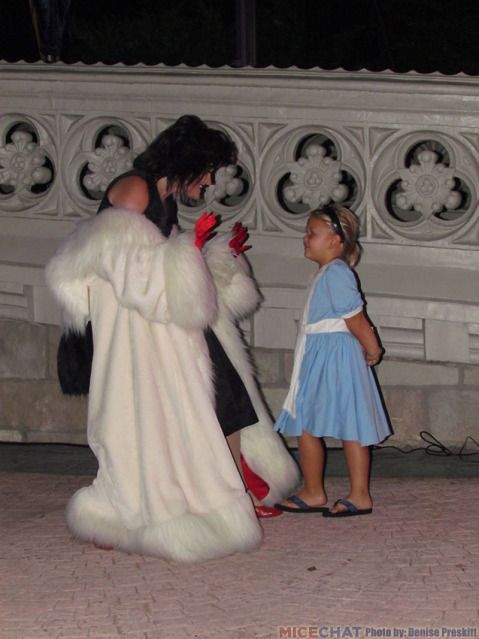 A cast member at the Haunted Mansion: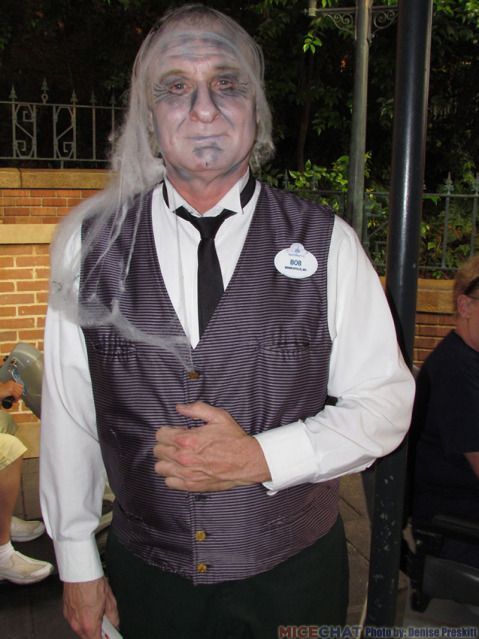 Fog around the Haunted Mansion tombstones:
Cinderella Castle:
The end of the night: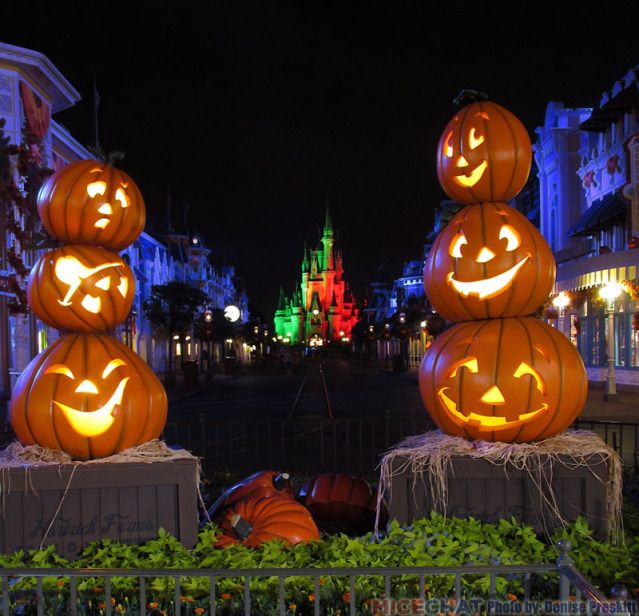 It's been 6 weeks or so since we've been to Disney's Art of Animation Resort. There is a lot of color to it (and there were already lights on inside).
Our video:
<iframe width="640" height="360" src="http://www.youtube.com/embed/VIgSPkbtV90" frameborder="0" allowfullscreen></iframe>
We went to the top of the Contemporary Resort to take photos of Fantasyland: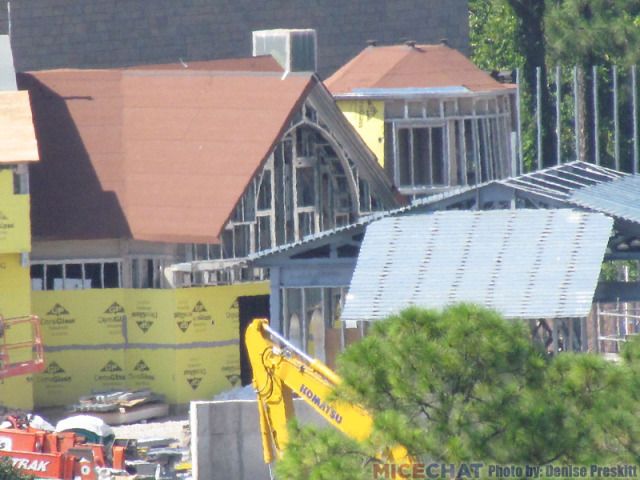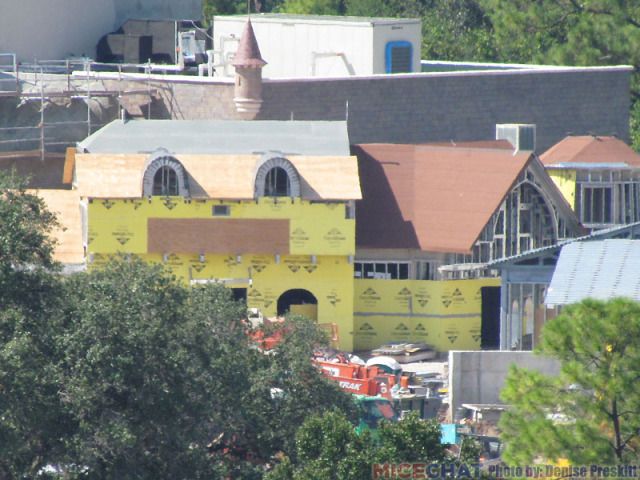 Video of Fantasyland from the roof:
<iframe width="640" height="360" src="http://www.youtube.com/embed/i8yDkTuwqbw" frameborder="0" allowfullscreen></iframe>
And the topiaries of Lightning McQueen and Mater that were at the Epcot Flower and Garden Festival are now in front of Disney's Hollywood Studios.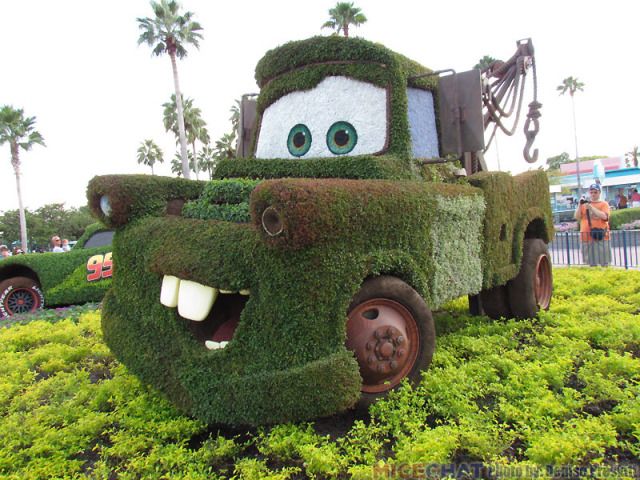 The Osborne Lights are in progress of being set up:
A Hidden Mickey in the lights: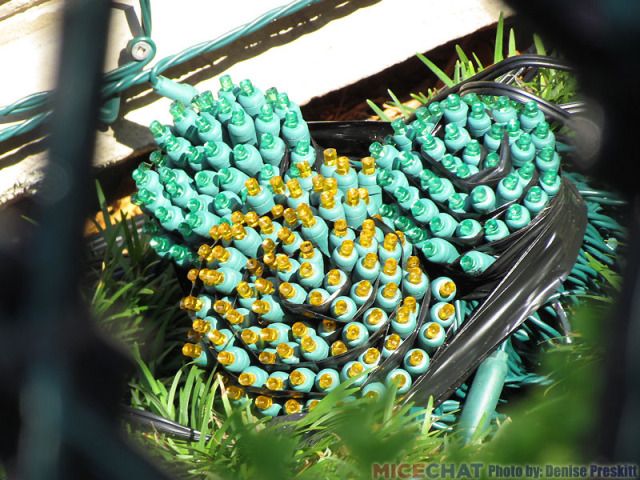 As always, you can read about all of these stories in more detail at Denise's website: Mousesteps.com
All good things must come to an end – and this is the final installment of kcnole's report on Singapore
Today we finally reach the finale of my coverage of my trip to Singapore and Universal Studios in Singapore. I do apologize for the delay in getting this final update to you all, but I've been under an extreme workload the last few weeks. I do appreciate all of the kind comments I've received from you all on this update. So lets finish this trip together.
If you recall from my update a few weeks back, I had visited Universal Studios in Singapore. We visited the amazing lands of Madagascar and Far, Far, Away as well as having moved into the Lost World land. This week we hit the final three lands found in Universal Studios Singapore; Ancient Egypt, Sci-Fi City, and New York.
Ancient Egypt:


This is another land in the park that displays amazing theming and attention to detail. You truly feel that you are entering an Egyptian dig site as you move into the land. Immediately upon entry you are faced with this site: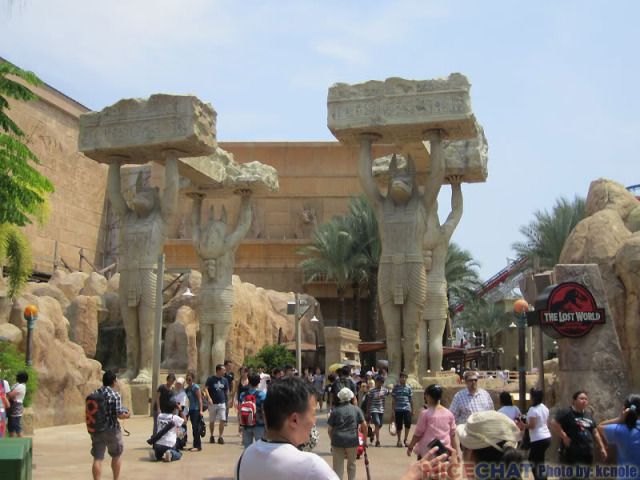 There are primarily two rides found in this land; The Revenge of the Mummy (the indoor coaster we've seen in the other Universal parks) and Treasure Hunters (a cute outdoor car ride suitable for the entire family). Overall I felt that this land was beautiful and again wished that this is how we had gotten the Mummy in Universal Orlando. While I've always loved the ride, it has never felt right being shoehorned into the New York section of the park. This was a much better theming presentation, and the addition of the family ride Treasure Hunters adds some true value.
I decided to take a ride on Treasure Hunters first. The capacity of this ride is rather small and as a result, the line seems very long. I was once again very happy to have a Universal Express pass. Without it, I probably would have just skipped this ride. The ride is very cute and I was very happy to see another ride aimed at the entire family. I felt the ride would have been better if it were indoors (as the theming is ruined a bit by seeing all of the other lands from the vehicles) but I was happy to see some nice animatronics throughout the ride. Its nothing amazing, and definitely a C-ticket ride, but the Orlando park could definitely use more family friendly attractions like this one: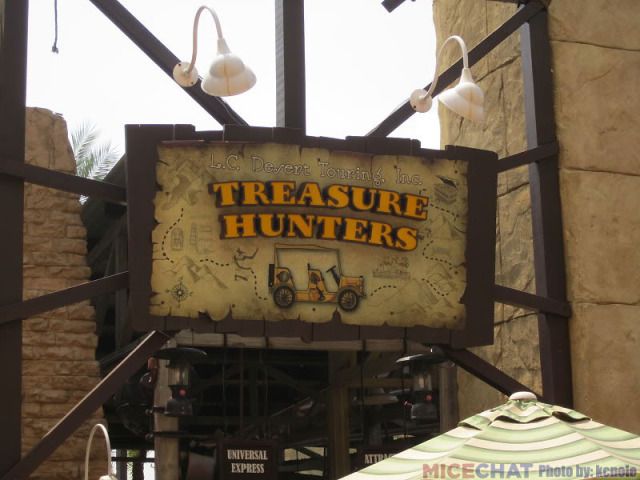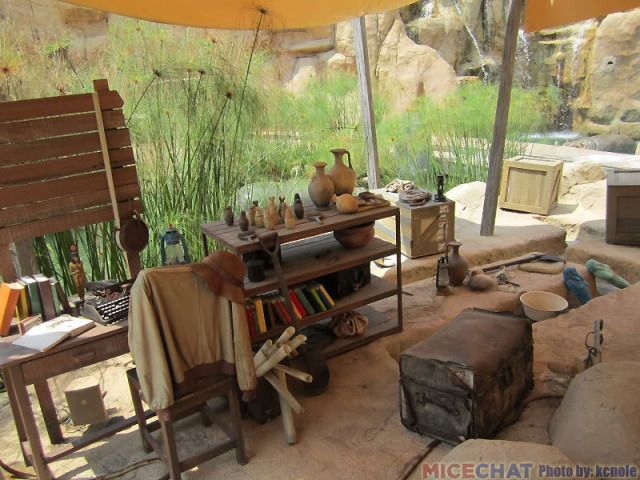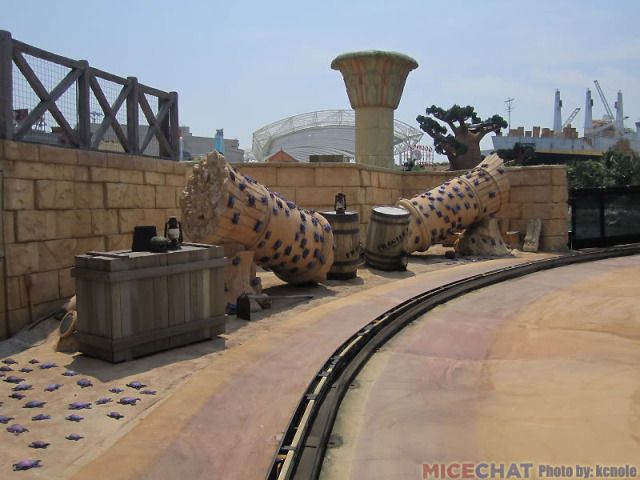 After exiting the Treasure Hunters ride I headed to Revenge of the Mummy to see how it compared to the version I've ridden in Orlando. While the exterior theming of the ride is far superior to the ride in Orlando, the actual ride is not. It seems to be a bit closer to what I have read the Hollywood version is like. It is definitely shorter, lacking the backwards portion and fake ending that is in the Orlando version. While I was very happy to not see the hollywood portions and Brendan Frazier in the ride I did feel that the actual ride in Orlando is far superior.
After leaving the attraction I explored the land a bit soaking in the wonderful details.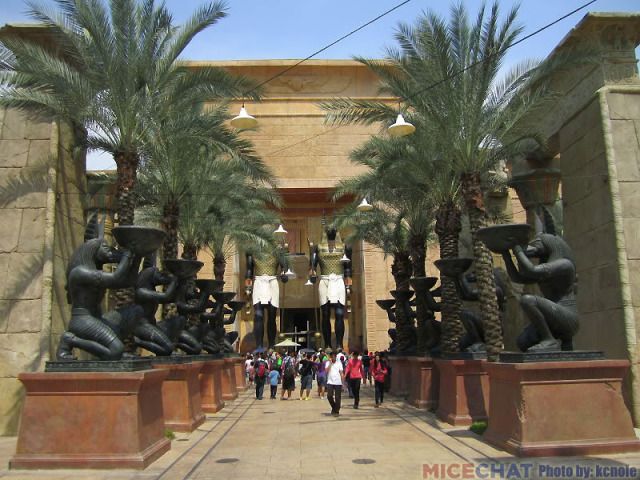 The Entrance to the Revenge of the Mummy
Once again, the food options in the park are far more exotic than what we routinely receive in the states. While I didn't eat there, I did want to try the Oasis Spice Cafe: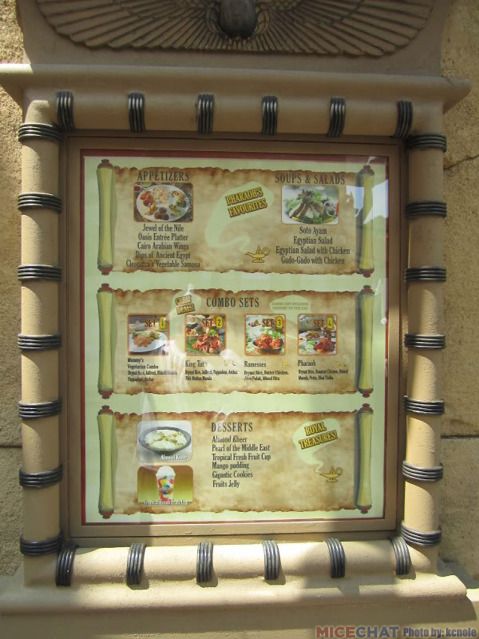 Sci-Fi City:

Up until now, every land that I had visited within the park had blown me away with the intricate theming, detailing, and great rides. Unfortunately that did not continue into Sci-Fi City. The theming here feels very forced and honestly, quite boring to me. This land just currently doesn't hold up. It only holds two rides currently, the Battlestar Galactica rollercoaster and a tea cup type ride. I saw very few people riding the tea cup ride and saw what appeared to be more people waiting for their companions to get off of the coaster than actually waiting in line for either ride. For what it is worth the coaster is a fairly decent dueling coaster but the theming to Battlestar Galactica is tenuous at best (as is the theming on most coasters) and it just didn't hold up to the standard of the rest of the park. With all of that said, I do fully expect to see this land hold a great deal more value once the Transformers attraction finally opens.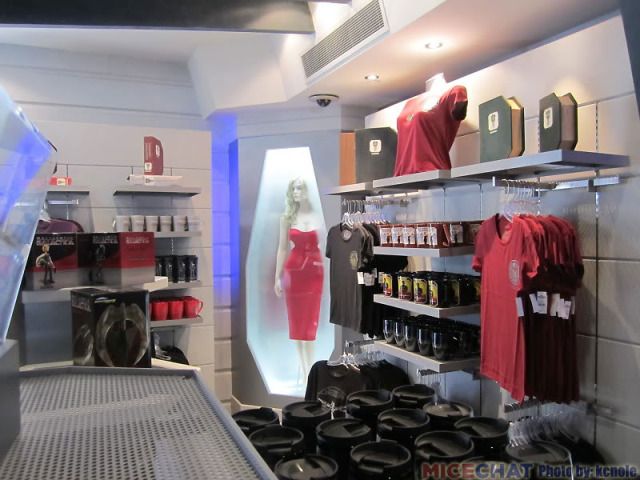 This is where I believe that Transformers will be housed once it opens although there is no signage to even indicate that construction is taking place. There is absolutely nothing else in this part of the land other than a few fake store fronts and a few street performers to get your pictures taken with.
New York:

The final land in the park is New York and again I had the feeling that it was incomplete as I did in Sci Fi City. This land has great theming in the design of the New York city facade, but it lacks much to do. There are a few restaurants, a store, and one small attraction which is unique to Singapore. It was a bit underwhelming though and I felt that the land almost should act like a grand finale. Unfortunately it was fairly empty as well. I noticed this trend through both Sci Fi City and New York. While crowds had been relatively heavy in the rest of the park, these two lands felt empty compared. Also, they added a roof to the New York area similar to Hollywood and while I understand the reasons, I feel it detracts from the theme again (albeit, not nearly as badly as Hollywood Rip, Ride, Rockit does in Orlando).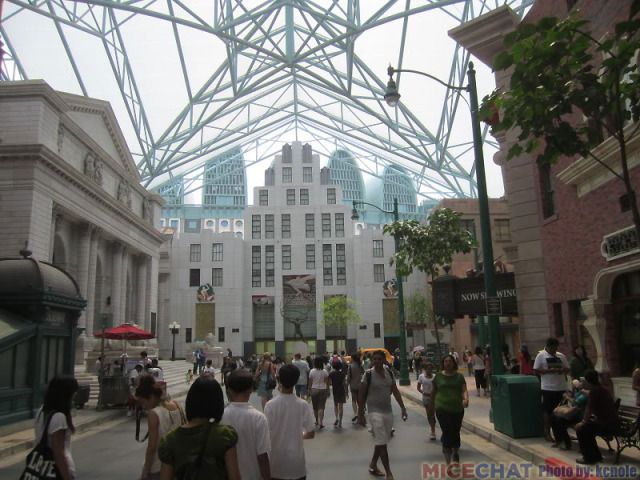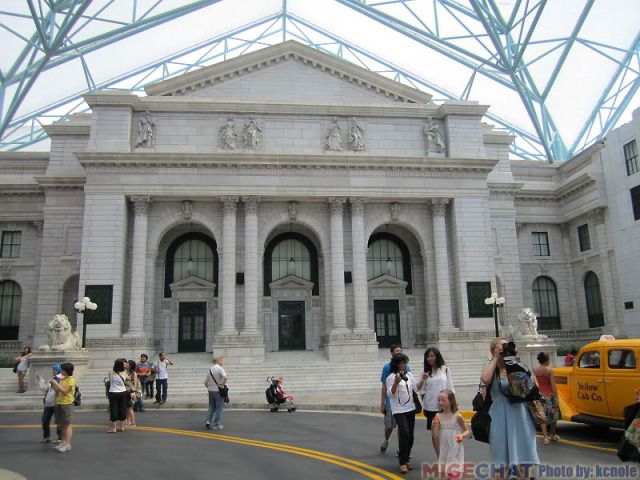 There is one small attraction in New York called "Lights Camera Action Presented by Steven Spielberg". It is very similar to Twister and Backdraft in other parks, but again, is unique to only Singapore. I did take video of the attraction, so you can decide for yourself whether it is better than the similar attractions in the US.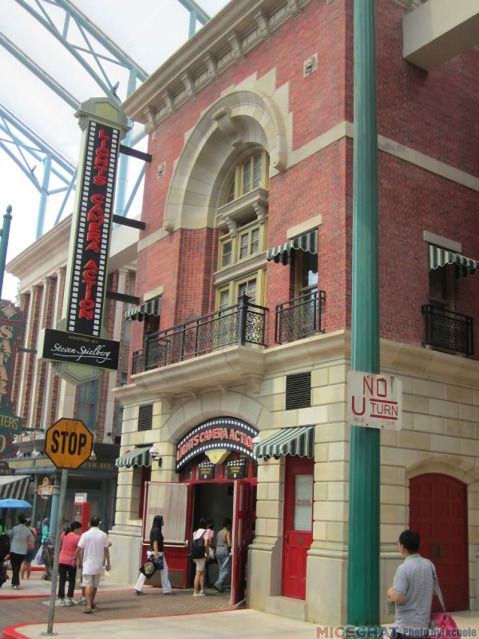 The Pre-Show:
The Show:
Overall, I truly enjoyed my time in the park and I would absolutely visit again, especially once Transformers is added as that side of the park really needs more attractions. All in all, the theming is absolutely amazing in most areas and the attractions top notch. The only complaints that I really had were with the final two lands which just felt completely incomplete and underwhelming. Hopefully there are plans to plus those areas with more attractions in the future. With one or two more attractions in the area (and again, Transformers will be there soon), the park will be amazing.
If you combine the park with all of the other fantastic things to visit in the Sentosa Resort and Singapore as a whole, then I highly recommend a trip for anyone looking for a vacation. I loved Singapore, Sentosa has a large range of activities that will take up at least two days by itself, and the Universal Studios is top shelf. I give the park a 4.5/5.
Rya86n took a "Behind the Screams" tour of Movieworld's Halloween Fright Night events
As we saw in
last week's update
, its that time of year again when Halloween is prevalent in parks across the globe!
Australia is no exception, with Movieworld launching their annual
Halloween Fright Nights
tonight (October 1st).
The event has been growing and improving each year. Before I got caught up in the launch of
Buzzsaw
, I was able to attend a special
Behind The Screams
preview of whats in store from tonight, as Village Roadshow Theme Parks took another positive step forward and opened up its doors to local themepark enthusiasts for this media preview.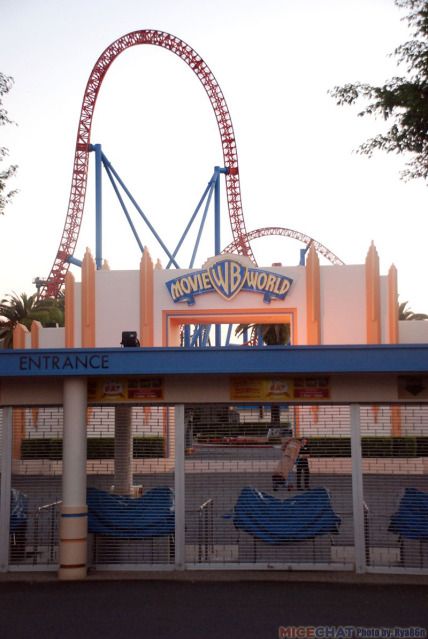 Visiting the park after hours...
...we ventured away from the theme park to the adjacent
Village Roadshow Studios
, where the soundstages play home to some of this year's headline mazes.
Situated in Soundstage 1 is
SAW Maze
, a
Sudden Impact
production that returns as a crowd favourite from 2010's Fright Night event.
We were greeted by Christophe Broadway, the park's Entertainment Manger, who described the mazes and gave us a guided tour inside.
In the interest of keeping a few surprises for the Fright Night guests, cameras werent allowed inside. That being said, we did emerge from Jigsaw's little game unharmed...
...and ready to take on
Frozen: Zombie Apocalypse
.
Situated across the road in Soundstage 2, construction was underway on this new maze for 2011.
Based on a highly successful maze from their sister park,
Wet'n'Wild Hawaii
, Zombie Apocalypse tells the story of a cyrogenic facility meltdown, within which its resident Zombies are slowly dethawing.
From the brief glimpse we got, even in the early stages of construction, this is truely a great addition to Fright Nights. Good story, simple theming (lots of fog) and hauntingly scary maze elements including a few deadends which make for quite a terrifying and disorientating experience.
Having navigated through the near zero visibility of Zombie Apocalypse, we soon found ourselves back within Movieworld, the location of maze number 3.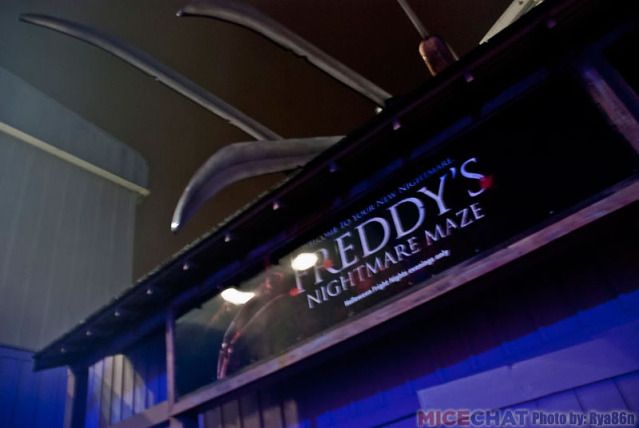 Last year this was the location of
Freddy's Nightmare Maze
.
This year it is home to
Batman Arkham Asylum Maze
. Based on the cult video game 'Batman Arkham Asylum', the Gotham City Penitentiary will be brought to life as the Joker and his psychopathic criminal friends try to catch guests unawares.
It has some great theming and decent costumes.
(photo courtesy Village Roadshow Theme Parks)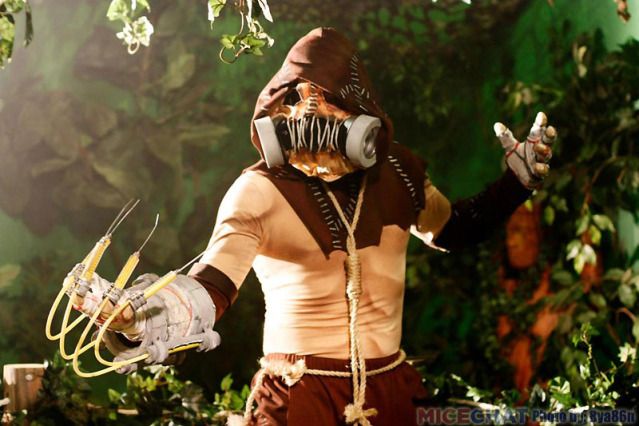 (photo courtesy Village Roadshow Theme Parks)
Psycho3D,
which returns (from 2010) as the fourth and final maze for 2011, had yet to begin construction.
I'll be attending Fright Nights next weekend as MiceChat tackles
Queen Mary's Dark Harbor
. I look forward to seeing the finished products, as well as sharing it all with the Weekend Update readers.
Might we also suggest that you visit these fine MiceAge/MiceChat attractions for even more Disney and theme park fun:
And that brings us to the end of another week. Our photographers have just enough time to reload their cameras before we see you all again next weekend. Thank you to all of our wonderful readers, and as always, a huge thank you to our amazing team of global photographers, spies, and gossips:

igrules
Denise Preskitt Mousesteps.com
kcnole
Rya86n

Your Editor - Rixter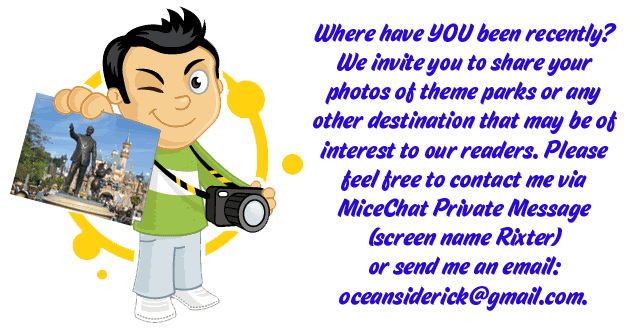 It is readers like you who make MiceChat such a special place.
Don't miss a single one of MiceChat's Featured Blogs (including the Weekend Update). Add our feed to your favorite feed software or site:
Follow us on Twitter