We've been in the Orlando area since Monday and we're having a blast. We visited
Busch Gardens Tampa Bay
on Tuesday and I had my first ride on
Cheetah Hunt
. This is an amazing steel roller coaster and I really enjoyed it. I have had a few other firsts this week including a
Five Guys
burger and a meal at
Steak 'n Shake
. Would it sound like this trip is all about food if I told you that we also had fabulous meals at
Epcot's Le Cellier
and
Liberty Tree Tavern
in the
Magic Kingdom
?
I'm also expecting a few more good meals while we are on the
Disney Dream
. We board Disney's newest cruise ship on Sunday morning. I'm looking forward to experiencing Disney's version of cruising. We'll visit
Castaway Cay
, Disney's private island as well as
Nassau, The Bahamas
. Dinner at
Palo
should be a treat as well as water sliding around the ship on the
"Duck"
.
We have a bit of an abbreviated version of Weekend Update for you this week and, due to the cruise, Weekend Update will be taking next week off. Be sure to check in next weekend, though, because MiceChat has a special treat for you in Weekend Update's place.
Florida's
Legoland
opened this week and
Denise Preskitt
covered the festivities. I live just a few miles from California's Legoland and have visited numerous times. It looks like the Florida version is very similar to the West Coast version with a nod to the Florida park's
Cypress Gardens
heritage. Denise's photos and videos give us a good sense of what this park has to offer.
SummerInFL
is our resident expert on
Busch Gardens Tampa Bay
. We were lucky to have her as our private guide this week during our visit. This week she shares some of her favorite photos from this park.
Legendary Disney artist,
Mary Blair,
would have been 100 years old this week and MiceChatter,
Igrules
attended a very special event in Hollywood to commemorate the occasion. We are fortunate to have her account of the evening to share with all of you.
That'll do 'er for this week. I have to get up early for tomorrow's
Sip & Nibble
event at Epcot. I'll be back in two weeks with an all new Weekend Update.
The East Coast edition of Legoland is finally open in Florida and Denise Preskitt was there on opening day
We spent two days at LEGOLAND Florida for the media event and Grand Opening. I have never been to a LEGOLAND before, and we really enjoyed it.
General Manager Adrian Jones places the final, golden brick (making fifty million LEGO bricks in the park):
Here is the entire presentation:
<iframe src="http://www.youtube.com/embed/I7yhyMHrDuc" allowfullscreen="" width="640" frameborder="0" height="360"></iframe>
A Southern belle made out of LEGO bricks in front of LEGOLAND Florida:
Continuing in the Cypress Gardens tradition, the Battle for Brickbeard's Bounty is the new Ski Show. While there isn't much of a storyline (at least for me), it was a fun show and there was some really great water skiing.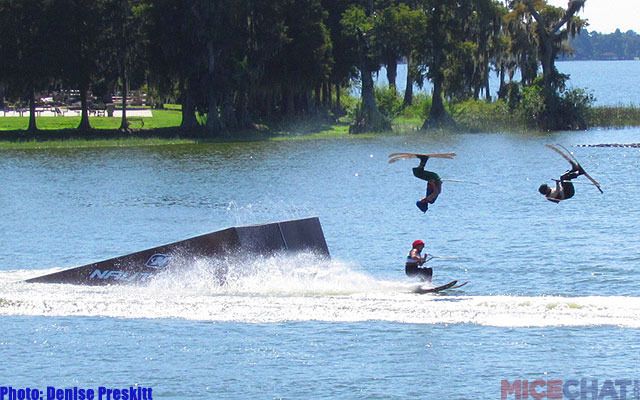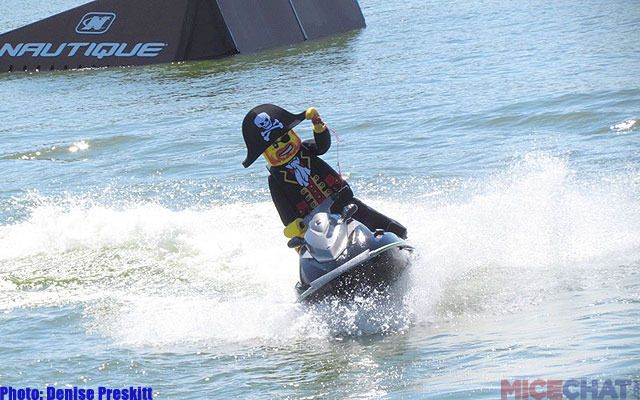 The full Battle for Brickbeard's Bounty ski show:
<iframe src="http://www.youtube.com/embed/9_RrGsTJxwk" allowfullscreen="" width="640" frameborder="0" height="360"></iframe>
Another Southern Belle, in the Cypress Gardens area: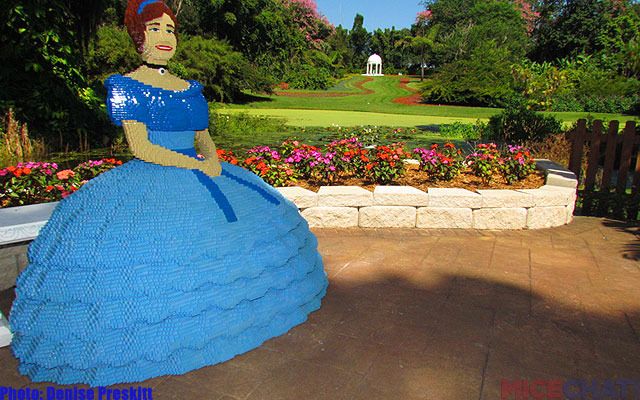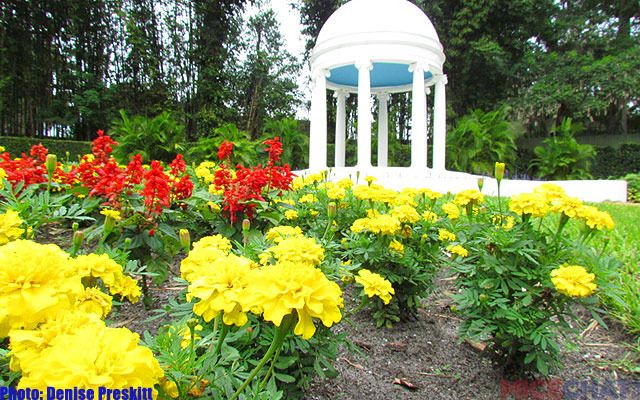 There are many statues in the gardens, and the water park in the background (the water park will reopen next spring):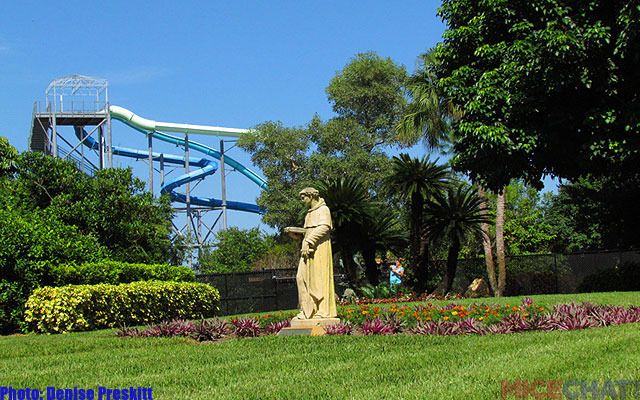 One of our favorite attractions is the Boating School, which has free-floating boats (not on a track).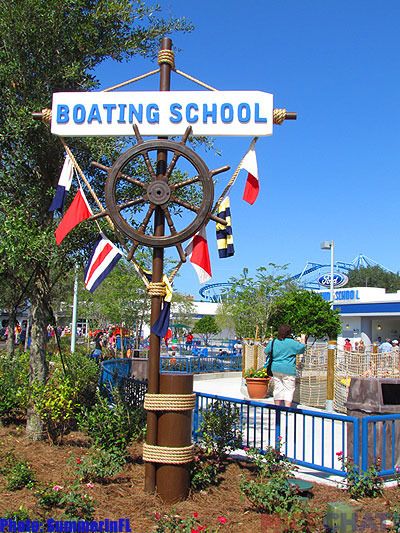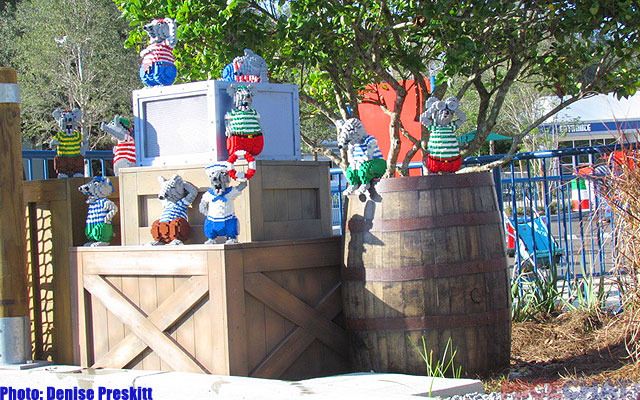 Video from the boat:
<iframe src="http://www.youtube.com/embed/vmwvcKYlPfk" allowfullscreen="" width="640" frameborder="0" height="360"></iframe>
The Grand Opening ceremony was very short on the official opening day. General Manager Adrian Jones spoke for a couple of minutes before flipping the switch: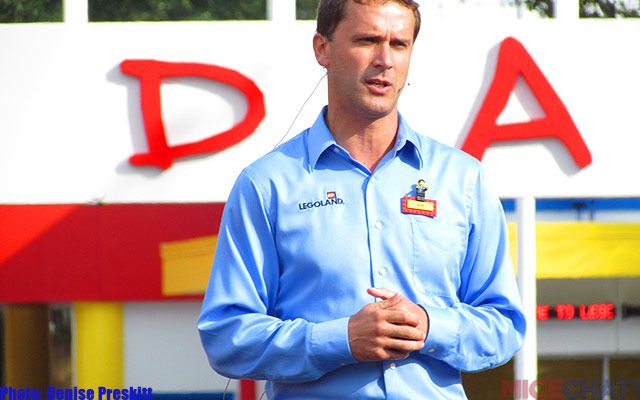 Confetti blasts over the crowd:
Opening Day video:
<iframe src="http://www.youtube.com/embed/1jxsI6ilVGc" allowfullscreen="" width="640" frameborder="0" height="360"></iframe>
The most amazing area of LEGOLAND Florida is MINILAND. There are a number of different areas built with LEGO bricks, including the Daytona International Speedway (and Washington D.C., New York City, Las Vegas, Tampa, Kennedy Space Center, etc.)
Here are a few photos of the Daytona International Speedway: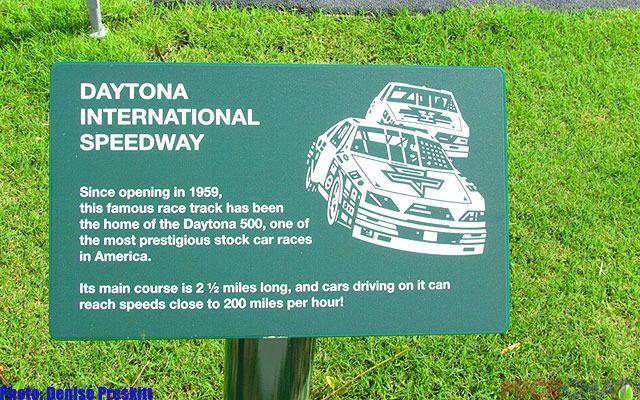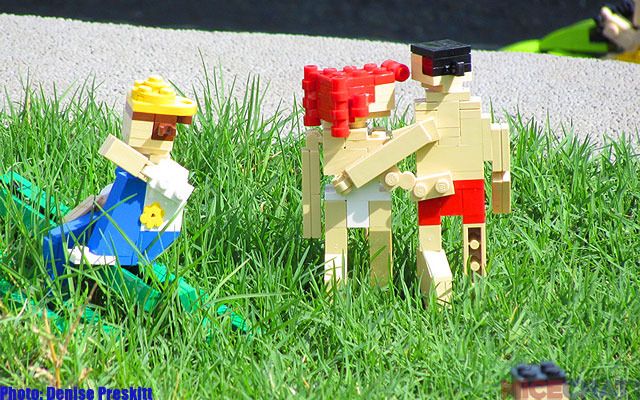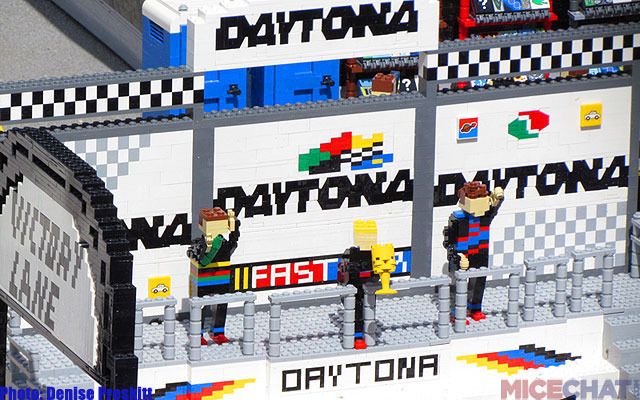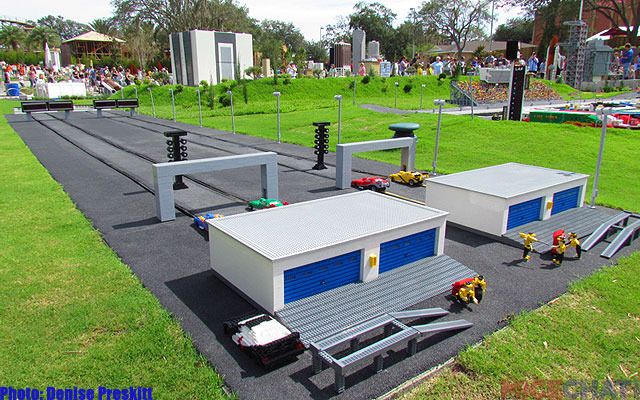 Video of the Daytona International Speedway:
<iframe src="http://www.youtube.com/embed/_0moPB4qo6s" allowfullscreen="" width="640" frameborder="0" height="360"></iframe>
There's always something new at Denise's website: Mousesteps.com
SummerInFL shares more photos of Busch Gardens
While my family and I spent the past two weekends enjoying Howl-O-Scream at Busch Gardens, we did arrive early enough in the day to enjoy some of the parks animal attractions and rides otherwise closed during the event. So this week I'm bringing you some general photos and observations around the park, as I believe Busch Gardens is very underrated in comparison to its Orlando neighbors.
Enjoy!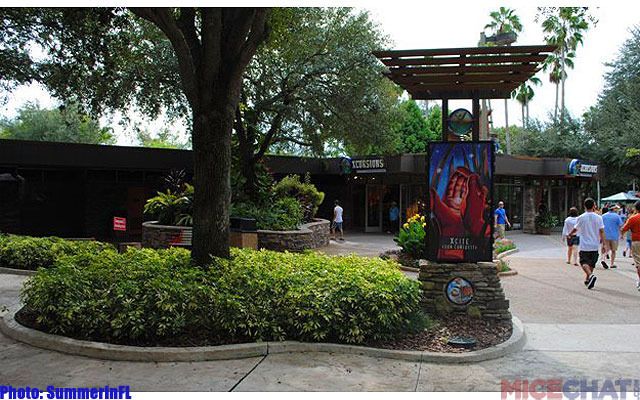 Most people come for the roller coasters but I really enjoy the various flora throughout the parks, there is some stunning colors dotting the walkways of this animal friendly location.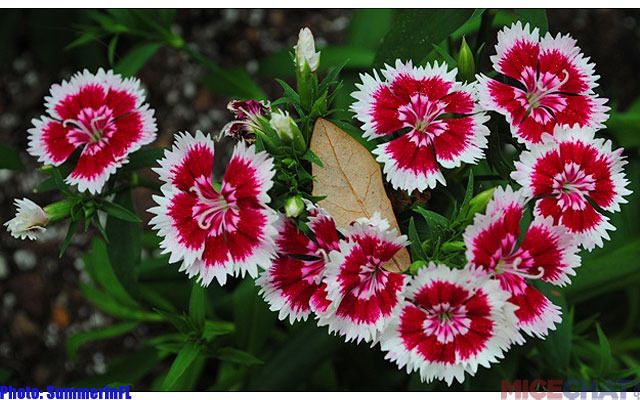 I was sitting on a bench, waiting for family, when this duck decided to walk right up to me as if he expected me to throw him some popcorn or something yummy. Sadly, all I had was water.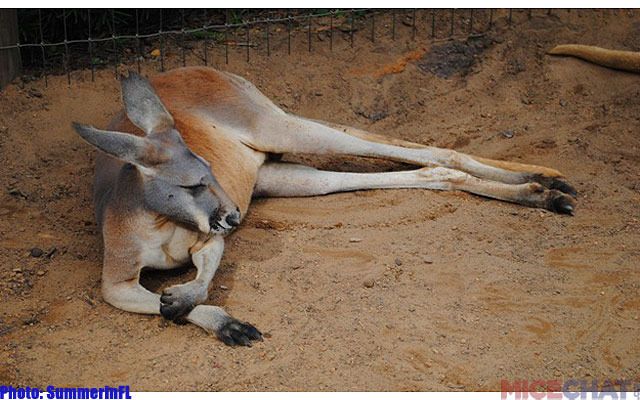 Kangaroos love to lay down and not move, no really, they do that every time I visit!
As we hadn't seen the new makeover with the Seasame Street overlay, we headed over to check it out.
And we saw this guy!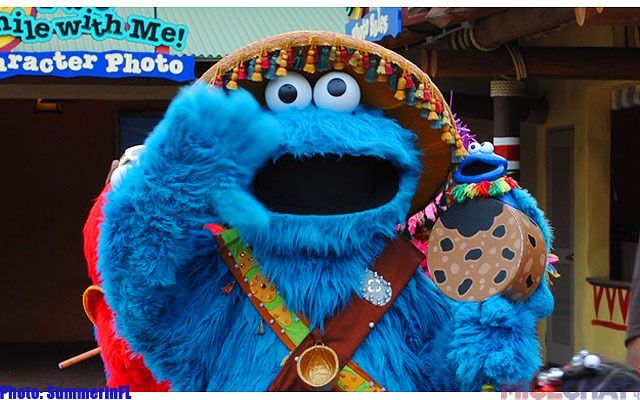 COOKIE MONSTER!!!
And who can resist a photo with Big Bird?
Lots of fun tunnels for kids to run and play in.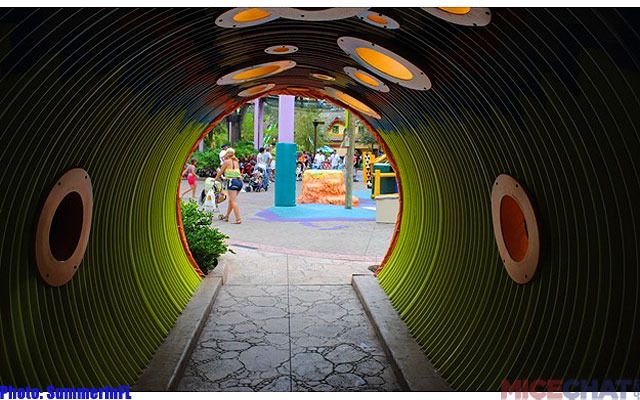 Made a small pit stop in the Jungala area.
Whose on display again here?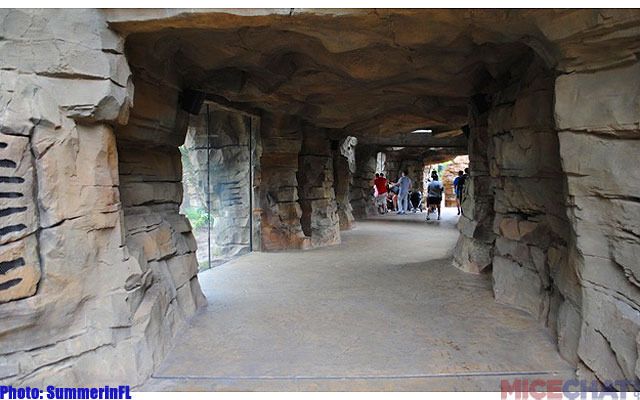 Then we took a nice ride on my favorite attraction, Skyride.
The views are amazing.
And sometimes, if you're lucky, you find yourself in the perfect place to really get up close and personal with Cheetah Hunt!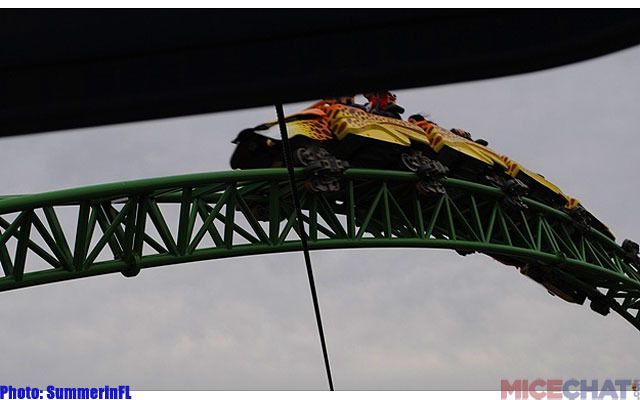 With a brief stop of the way out to visit the newest additions to the area.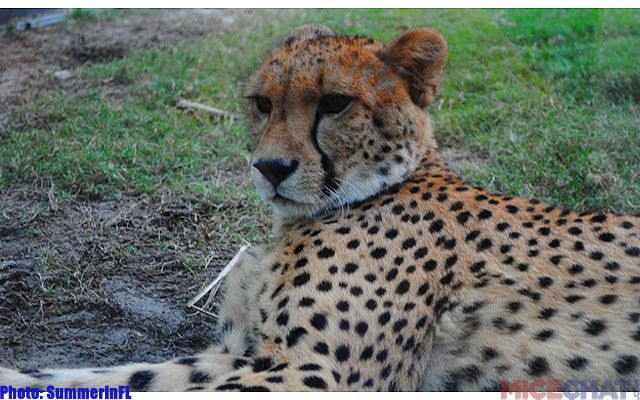 MARY BLAIR'S WORLD OF COLOR - A CENTENNIAL TRIBUTE:
MiceChatter, Igrules, attends a special tribute to Mary Blair and shares her account of the evening with us today. While Mary Blair may best be known for her art direction of the iconic "it's a small world" attraction, her impact on Disney, and the art world was broad.
On Thursday, October 20, the day before what would have been Mary Blair's 100th birthday, the Academy of Motion Picture Arts and Sciences continued its Marc Davis Celebration of Animation series with "Mary Blair's World of Color: A Centennial Tribute." In the lobby of the Samuel Goldwyn Theater, guests had the chance to view Mary Blair originals on loan from the Walt Disney Animation Research Library. Some of what was on display: a self-portrait, Alice in the witness box, the Mad Hatter and White Rabbit having tea, the Indian Chief's village, Lady peering in a window, Lady Tremaine's house, a fruit basket, collages from the World's Fair and Disneyland. Plus, one of Alice Davis' sketches for a Small World Hungarian doll.
Moderated by Charles Solomon, the first part of the evening was a panel with Alice Davis and one of Mary Blair's nieces, Maggie Richardson. Alice shared that it was her mother who had turned her on to the work of Mary Blair, but it wasn't until her and Marc's first honeymoon (they were saving up for a real honeymoon in Europe) in New York that she actually met Mary. Marc had surprised Alice by arranging for them to go to Mary's house. Mary had ribbons everywhere and they had to follow and untie the ribbons, which led to martinis and, eventually, the refrigerator, which had candles in it. When Mary moved to California to work on Small World, she would have dinner at Marc and Alice's home on a regular basis, and sometimes niece Maggie, who was a freshman at UCLA, would join them. Maggie remembers Harriet Burns picking up Mary for work, and of family complaining at Christmas time, "I hope Mary doesn't give me another painting." Mary was an excellent poker player and even took her niece to the horse races, where, one time after winning, they went to a toy store where the niece picked out a doll, which she named Anita after the race track. Mary was shy and humble, but also dramatic, shopped at Tiffany, and wore designer clothes and French perfume. Alice thinks that Mary's poor eyesight contributed to her amazing sense of colors and shapes. Sometimes Mary would have multiple pairs of glasses on, one atop the other, in addition to her contact lenses. One pair of glasses allowed her to flip one lens up at a time in order for her to apply makeup to her face while still being able to see what she was doing. Alice said she wishes Mary could have lived to experience the love that people now have for her work; Mary was much like Van Gogh, who only sold 1 painting while he was alive. Hopefully Mary felt some appreciation for her work from the fact that she was the only Disney artist allowed to sign her work.
Next up were clips showing Mary Blair's contribution to "Saludos Amigos" (the Donald Duck short "Lake Titicaca") and "Melody Time" ("Once Upon a Wintertime"). Rare images of Mary's paintings done for Disney artists to use as templates were shown: "So This is Love" artwork for "Cinderella;" the march of the cards, Queen of Hearts, painting the roses, bowing to the Queen from "Alice in Wonderland;" and Neverland from above, Captain Hook, Captain Hook's pirate ship, Pan with the mermaids, Mr. Smee, the Darling children flying out of their bedroom window done for "Peter Pan." Scenes from those movies were shown, followed by shorts "Susie the Little Blue Coupe," and "The Little House."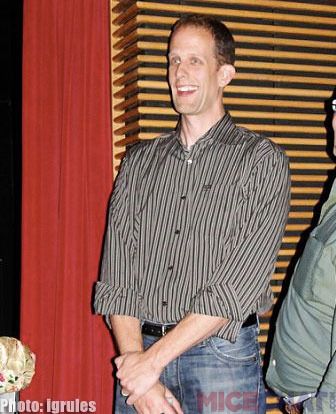 The final part of the evening featured Pete Docter, Michael Giaimo, Eric Goldberg, Susan Goldberg, and Daisuke "Dice" Tsutsumi discussing Mary Blair's influence on their work. Pete showed examples of Mary's influence in the tilework found in the "Monsters, Inc." lobby, and pointed out that Ellie from "Up" is all about Mary in her artistic abilities and spirit. When working on "Pocahontas," Michael found a box in the Disney Studios' repository (AKA "The Morgue") filled with Mary's artwork, and it became the key that opened a door to how to stage and art direct "Pocahontas." He showed a clip of "Colors of the Wind" to illustrate how they used, a la Mary, different colors from what people are used to in order to transport the audience to another place that is not quite real, but plausible. Eric found that Mary's curvy shape design of characters in "Once Upon a Wintertime" lent themselves to creating the Al Hirschfeld-like characters he had in mind for "Aladdin." He used that same Mary Blair character design in his "Fantasia/2000" ice skating segment "Rhapsody in Blue." Susan shared that in grade school she had a magazine featuring Mary's artwork, and for 5-6 years she imitated Mary's artwork from that magazine. That came in handy when she worked on the Mexican Pavilion at Epcot when they wanted to replicate the Three Caballeros. Dice said that Mary's modernism is what influences his work the most, as well as the charm, whimsy and child-like quality that is found beyond the technique. In "Toy Story 3" he tried not to use too many colors, while still making it appear very colorful. He only used a certain shade of red in tone scene, so that it would have a greater impact.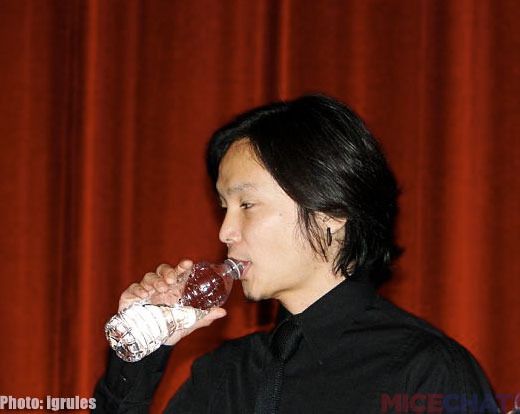 Pete Docter said that he first became aware of Mary Blair through Michael Giaimo, who was his teacher at Cal Arts. Eric Goldberg might not have known who she was at the time, but he first encountered Mary Blair's work at the 1964 New York World's Fair, as well as by watching "Alice in Wonderland." Dice Tsutsumi said that he learned about Mary at Disney Boot Camp, where Charles Solomon was his History teacher.
Michael Giaimo marveled at how an artist like Mary could thrive at Disney when she thought outside the Disney box. Other Disney artists would use her artwork for backgrounds, but were reticent to use it for more than that, despite Walt's approval of her talent. Mary was one of the few women to hold such a high position/regard in the industry, and Susan Goldberg commented that things haven't changed much today. When Susan attended Cal Arts she was told she would make a good assistant, or could be in the Ink and Paint department; women still aren't looked upon as capable of being leaders by some. Walt Disney believed that women artists would bring a different sensibility, and that since they're doing the same job as the men, they should get the same pay. Just think what a small world this could really be if there were more Walt Disneys and Mary Blairs in it today.
Google's Tribute to Mary Blair on her 100th birthday
Might we also suggest that you visit these fine MiceAge/MiceChat attractions for even more Disney and theme park fun:
And that brings us to the end of another week. Our photographers have just enough time to reload their cameras before we see you all again next weekend. Thank you to all of our wonderful readers, and as always, a huge thank you to our amazing team of global photographers, spies, and gossips:

Denise Preskitt Mousesteps.com
SummerInFL SummerinFL Photo Galleries
Igrules

Your Editor - Rixter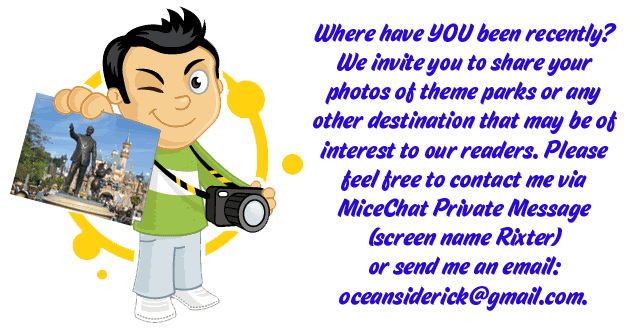 It is readers like you who make MiceChat such a special place.
Don't miss a single one of MiceChat's Featured Blogs (including the Weekend Update). Add our feed to your favorite feed software or site:
Follow us on Twitter