Holy smokes! Did you ever dream of visiting
three Disneyland parks
in just
one afternoon
? That's just what we're going to do in this installment of the
Weekend Update
!
First up though,
Denise Preskitt
will take us to visit the
ICE! Shrek the Halls
exhibit at the Gaylord Palms Hotel in Orlando.
Two million pounds of ice
is used to create this offbeat diversion. Of course, Denise doesn't stop there. She also sent us some great photos from the Disney side of Orlando.
Roger55
is in Tokyo at this very moment and shares his first photos of the Christmas decorations at
Tokyo Disneyland
. He's promised us lots more photos as soon as he returns from his trip.
That's followed by some vintage post cards from
Ken Eslick
at
DisneylandPostcards.net
. These cards feature the perennially popular Disney characters. We'll have more of these next week.
Then we have more Disneyland photos from
Alain Littaye
. As you might expect, Alain's photos are from
Hong Kong Disneyland
and document the new
Toy Story Land
from every angle.
Finally,
RegionsBeyond
has contributed one dozen beautiful images from the
original Disneyland
. I don't exaggerate when I say that each one of his photos are a work of art!
Happy Thanksgiving, everyone!
Denise Preskitt visits ICE! Shrek the Halls plus more Christmas at the Walt Disney World Resort!
We went to the Gaylord Palms Resort twice over the past week to see their new ICE! Shrek the Halls display (each year is a different theme) and then to see Puss in Boots in their new 3D theater. I also took daytime photos of the Magic Kingdom for Christmas.
ICE! is always incredible, with ice sculptures carved from 2 million pounds of ice! The slides are a lot of fun too.
Shrek the Halls:
Beware of Ogres:
Gingy:
3 Blind Mice:
Checking out Shrek's outhouse:
So many characters are carved in ICE!
And we met Shrek and Fiona, along with other Dreamworks characters.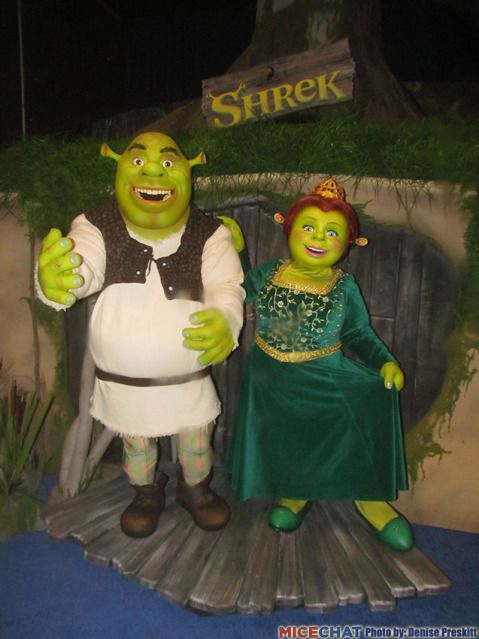 Puss in Boots: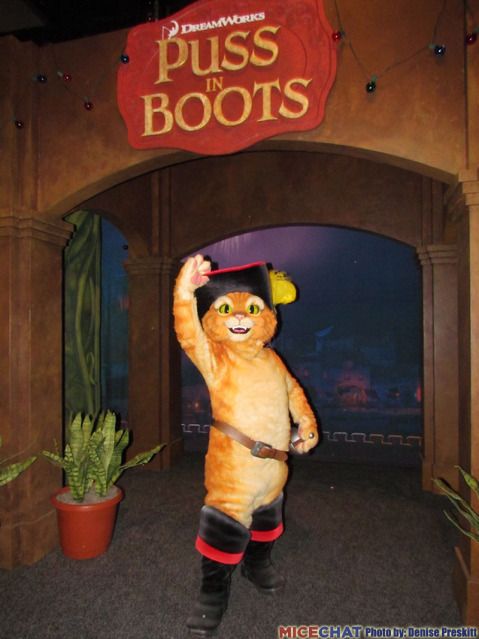 Po:
Julien and Alex:
Dreamworks:
Our YouTube walk-through of ICE!
<iframe width="640" height="360" src="http://www.youtube.com/embed/V-Kx-zdL9n4" frameborder="0" allowfullscreen></iframe>
I like the new Dreamworks experience very much, and ICE! is always a pleasure - we likely will go back later in the season to enjoy it again. There is a lot to do around the resort when visiting as well, such as live entertainment and the "polar bear pursuit".
Back to Walt Disney World - the resorts are gearing up for the holidays! The Grand Floridian Gingerbread House is now open, and we'll go back when the tree is up to take photos. At Disney's Polynesian Resort, small trees, wreaths and garland are now up.
The Mary Blair inspired Gingerbread display is being built at Disney's Contemporary Resort:
A little Halloweentime in front of the Chef Mickey's wreath:
And a few photos from the Magic Kingdom, I spent some time at the hub to take photos of characters with poinsettia plants behind them (and of other decorations as well).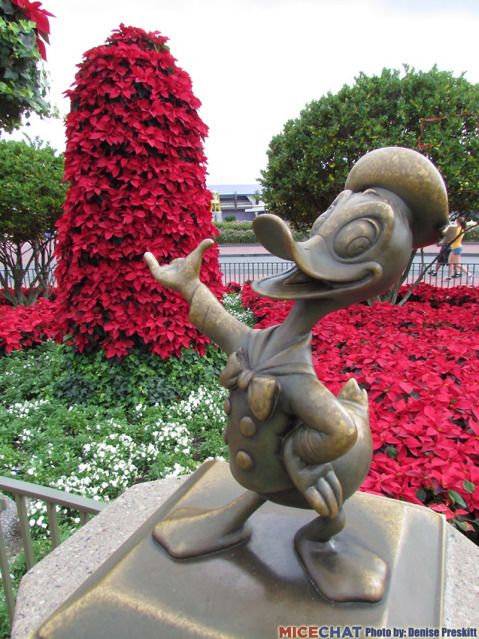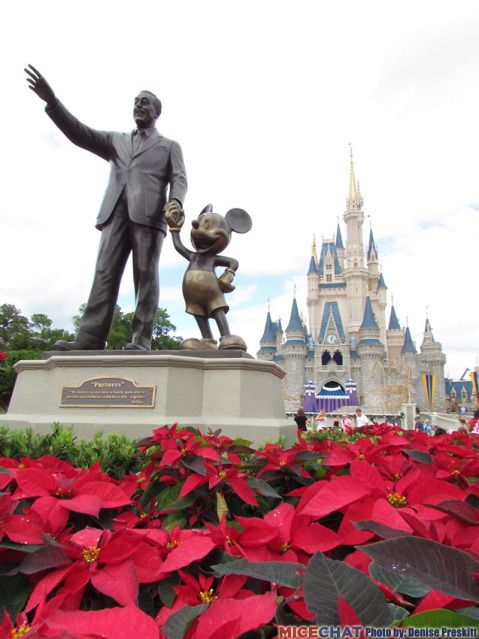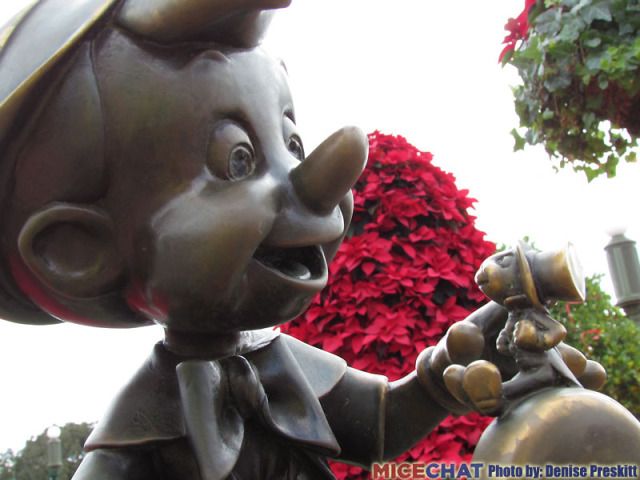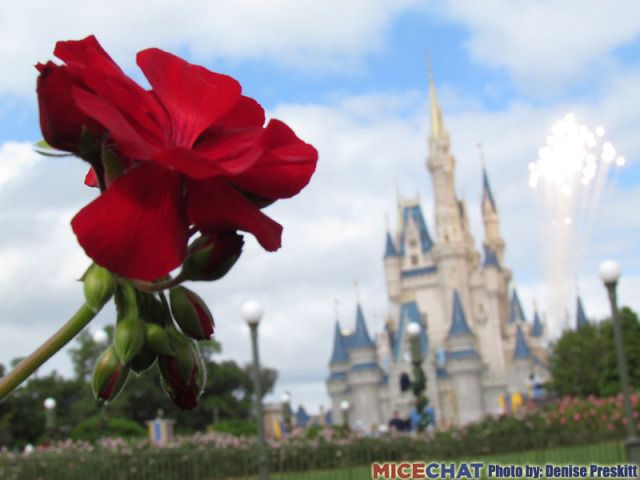 There's always something new at Denise's website: Mousesteps.com
and follow her on Twitter @ mousesteps.
Tokyo Disney Resort kicked off the annual Christmas celebration on November 7th. Tokyo Disneyland is once again having their "Christmas Fantasy" special event, while over at Tokyo DisneySea they are having their "Christmas Wishes" special event.
Since I'm still in country this week, I'll share with you all a quick photo report this week on the decorations for Tokyo Disneyland Christmas Fantasy. In subsequent reports after I return home, I'll report on the entertainment and merchandise for Christmas Fantasy, as well as the decorations, entertainment and merchandise for Christmas Wishes over at Tokyo DisneySea.
I hope you all follow along and enjoy the reports.
Tokyo Disneyland "Christmas Fantasy 2011"

Christmas Fantasy 2011 is once again a wonderful holiday offering from Tokyo Disney Resort. This year things are toned down a bit from past years. There is a new parade, Santa Village Parade (check back next week for more), and the Central Hub display is also all new. Haunted Mansion Holiday Nightmare is also back for another run, but the holiday version of It's a Small World was eliminated for this year.
The Mickey holiday floral display is identical to last year's display.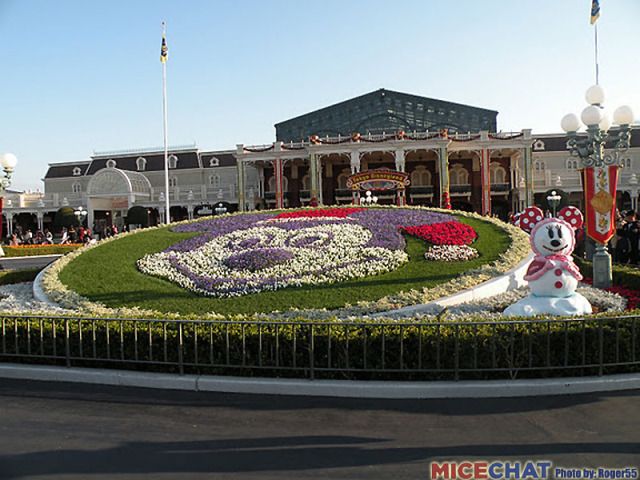 The entrance decorations are also an updated version of last year's decorations.
The World Bazaar's Christmas tree and garlands.
The World Bazaar at dusk with the decoration lights turned on.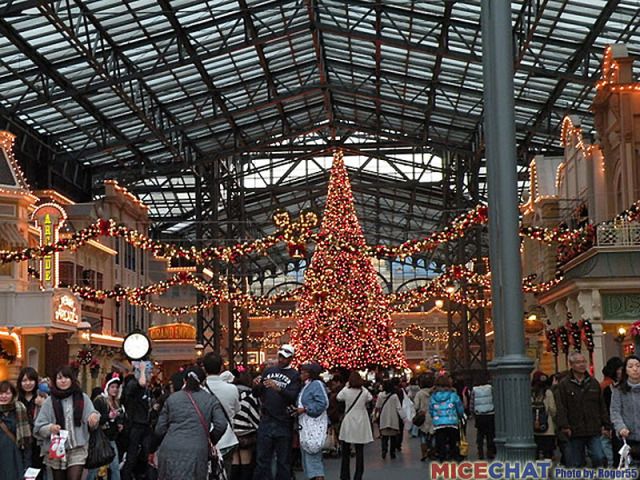 Here is a photo of the hub. Besides the obvious Partners statue and Cinderella Castle, you can see the central hub decorations and the massive crowd. The crowd level shown is a normal occurance at Tokyo Disneyland.
The new Santa Village arch leading to the central hub area.
Close up of one of the archway pillars. Very detailed and well made. Another characteristic typical of most things done at Tokyo Disney Resort.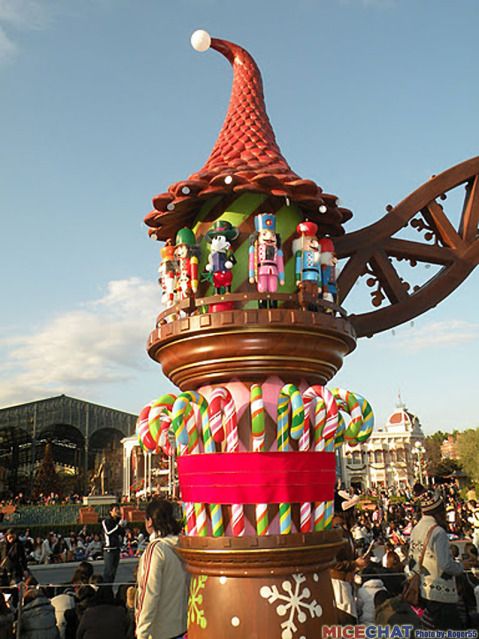 Santa Village banners decorated the light poles in the hub area.
The brand new central hub display. You can see the elves that are also new characters for Tokyo Disneyland's Christmas. They also appear in the Christmas parade.
Donald and Daisy are part of the side view of the central display.
There are typically secondary displays set up off to either side of the central hub display. Goofy and the elves make up one of these displays.
On the other side, the elves make snow-duck versions of Huey, Dewey and Louie.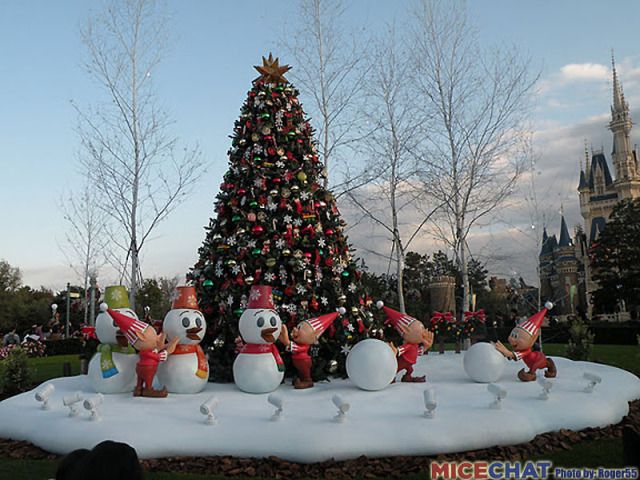 There are also Christmas trees as part of the hub decorations.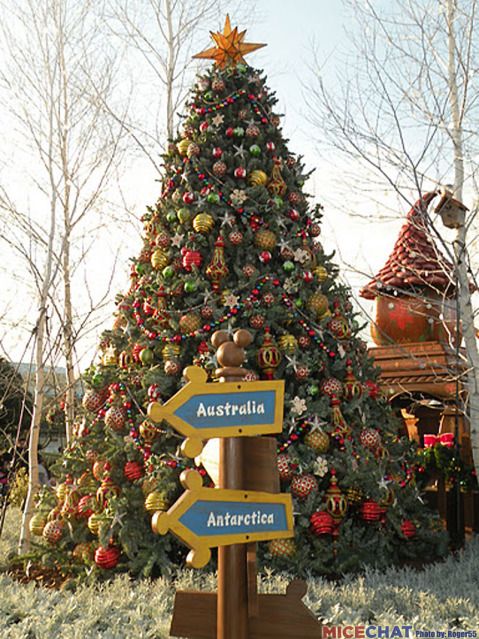 Back in Fantasyland, the Haunted Mansion is decorated for its Holiday Nightmare overlay.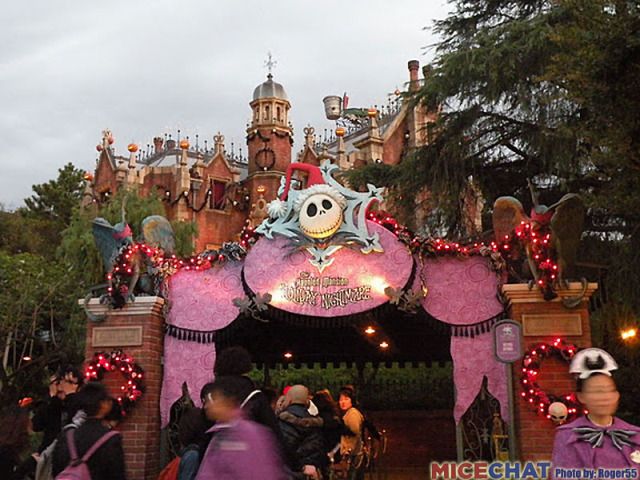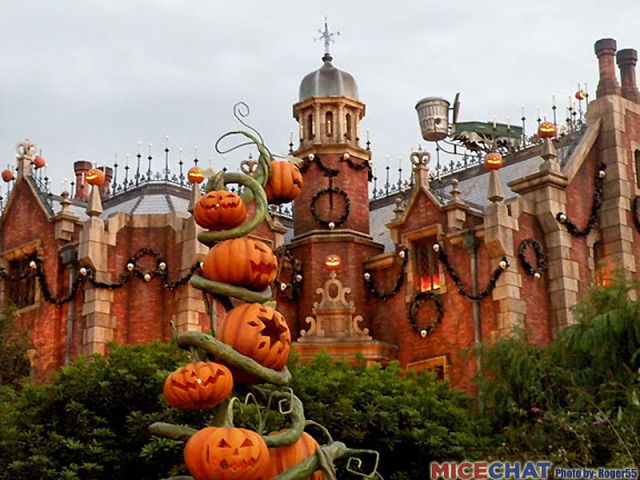 Cinderella Castle is modestly dressed up for the holidays.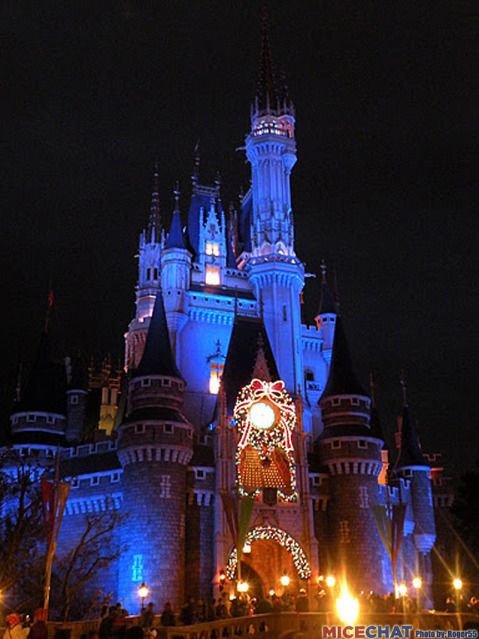 This next shot isn't really holiday decorations, but it came out nice so I thought I'd share it.
That it for this week. I'll have more to share in coming weeks.

This week we are very grateful to have a chance to see Disney characters, out and about in the Disneyland Park. These images are from Ken Eslick's Disneyland Postcard Reference Guide, quite an amazing place to visit. If you have not been to his site, you really owe it to yourself to do so. If you are old enough to remember Disneyland from way back when, you are going to be reminded of many, many happy memories. If you are a bit younger, seeing how the park evolved over the years is fascinating. A warning, though. Be prepared to spend at least a few hours wandering down memory lane. This stuff is addictive!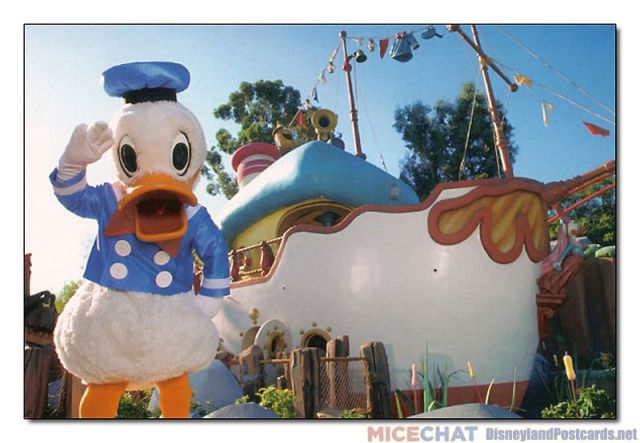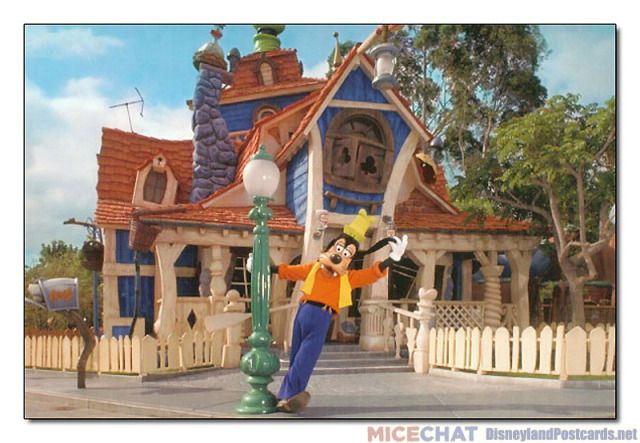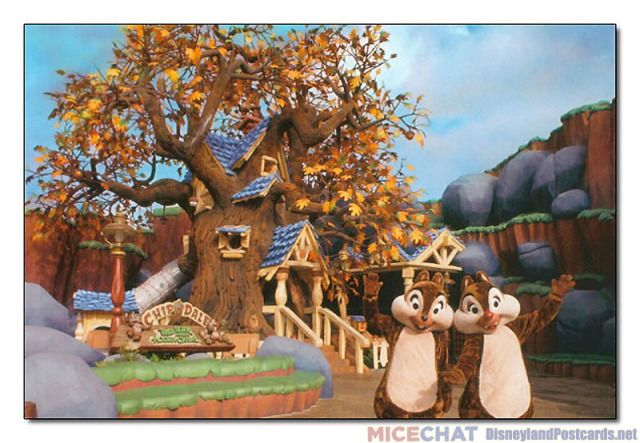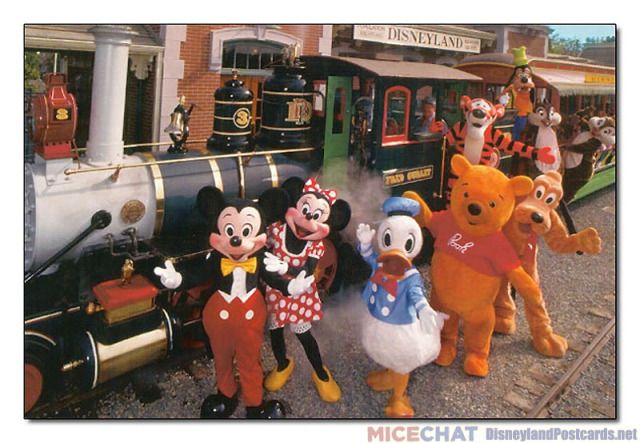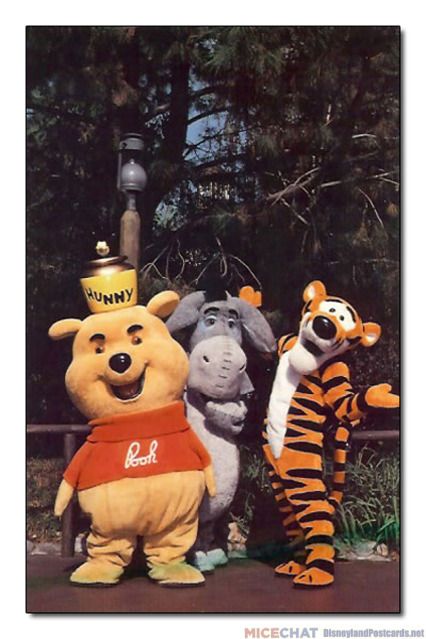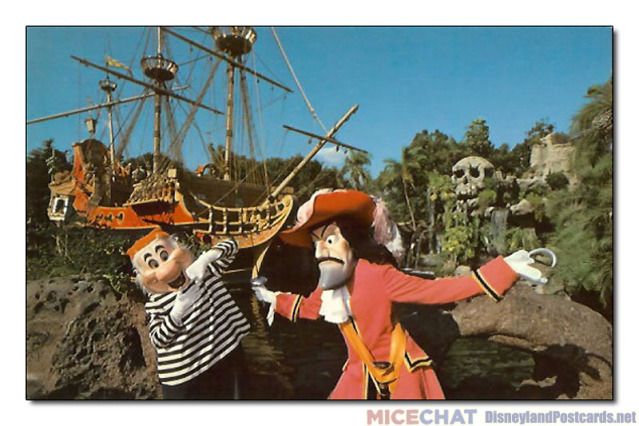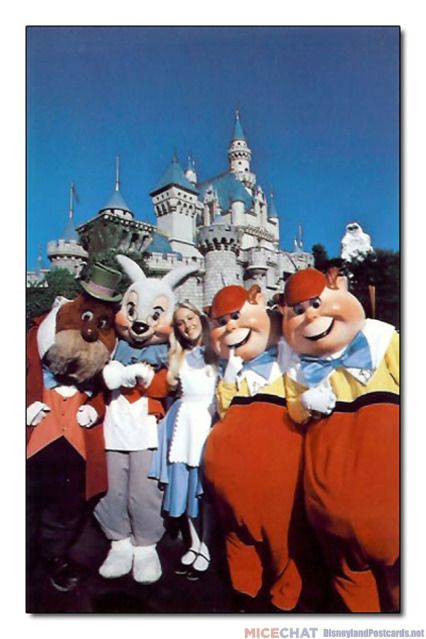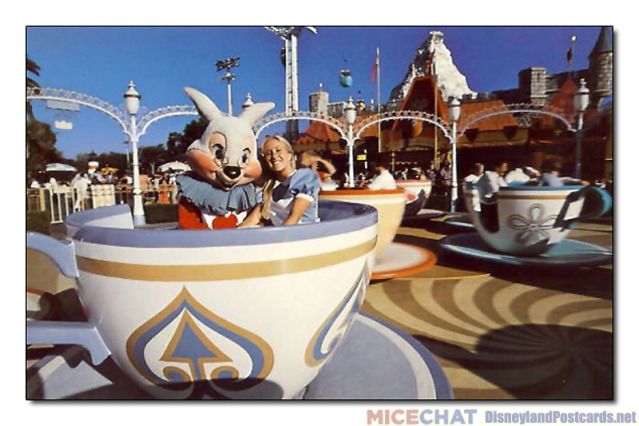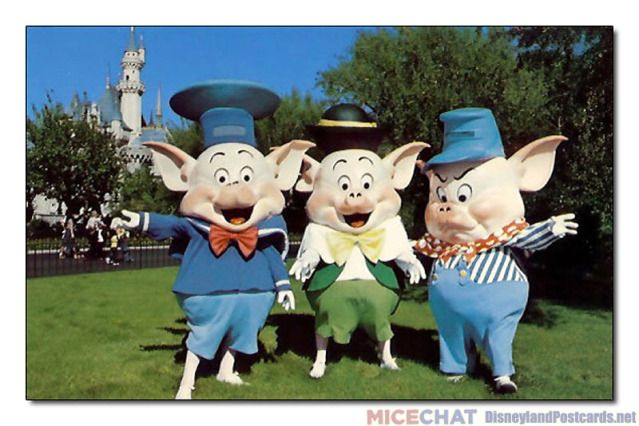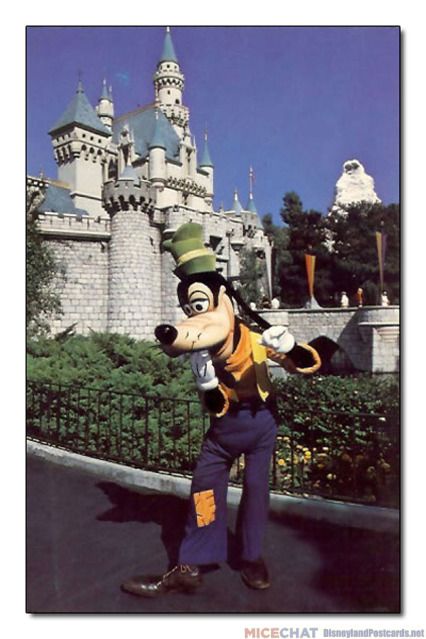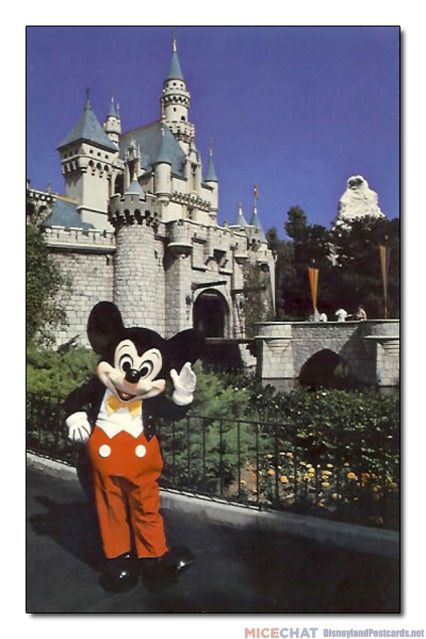 Alain Littaye shares a Hong Kong Disneyland update
Alain Littaye of the Disney and More Blog is back with us this week and has a special update from Hong Kong Disneyland's new Toy Story Playland. And please stay tuned to the end of this segment for a special announcement from Alain as well.
Thanks to a friend living in Hong Kong i have an exclusive report with dozens of pictures of the new Toy Story Land which opened on November 18th.
You may recall that the three main rides have a similar theming to the attractions at Toy Story Playland at the Disney Studios Paris park. However, as we will see, there are many decor elements which are new in the HKDL version.
There we go, and above you is a picture of the entrance. But before HKDL guests arrive at this entrance, there is a little path going from Fantasyland to Toy Story Land which probably helps to separate the new land and avoid visual intrusion of TSL's high structures on Fantasyland. All the big bamboos help to hide them and also give the feeling that Andy's toys are "in Andy's garden".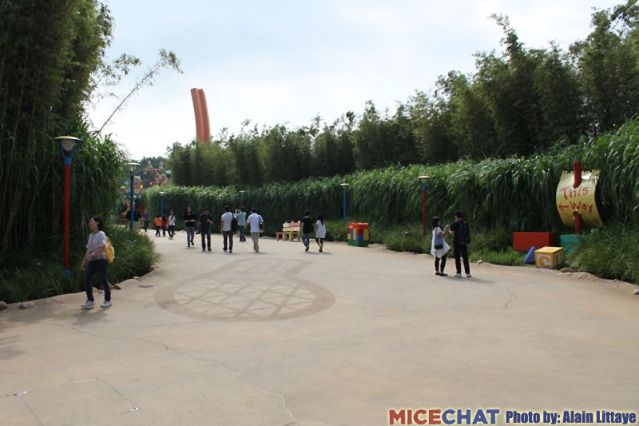 On the left of the entrance, and it's the first NEW element, there is the giant Woody. Disneyland Paris (DLP) has a giant Buzz Lightyear. HKDL already has a giant Buzz in Tomorrowland at the entrance of the Buzz Lightyear attraction. So another one wouldn't have made sense.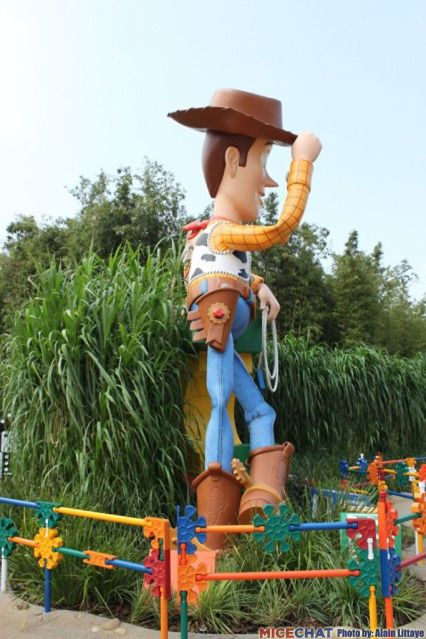 Also NEW and on the right side of the entrance is this giant Tinkertoy construction set box. It's a pretty smart idea to have put this at the entrance and helps guests understand where all the "Tinkertoy" decor elements of Toy Story Land come from.
The first attraction on the left is the Slinky Dog Spin ride, and most of the theming is the same than at the WDS TSL but the Slinky Dog sign at the entrance stands here on its own.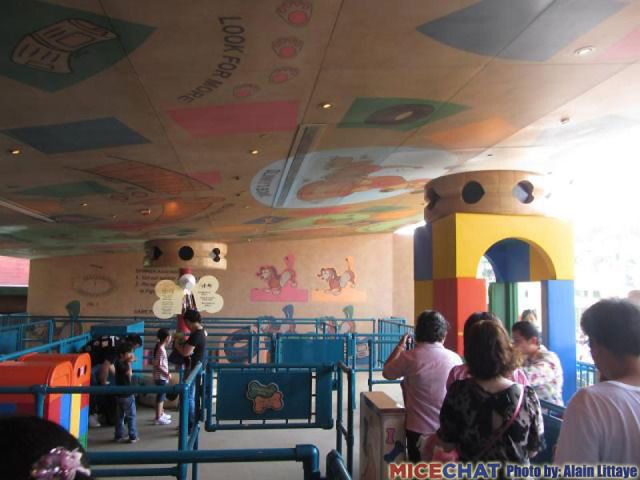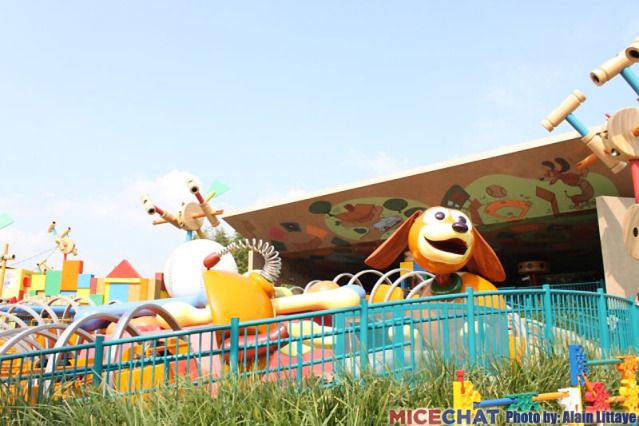 Also NEW, and a good idea, this Slinky Dog Barking Pass!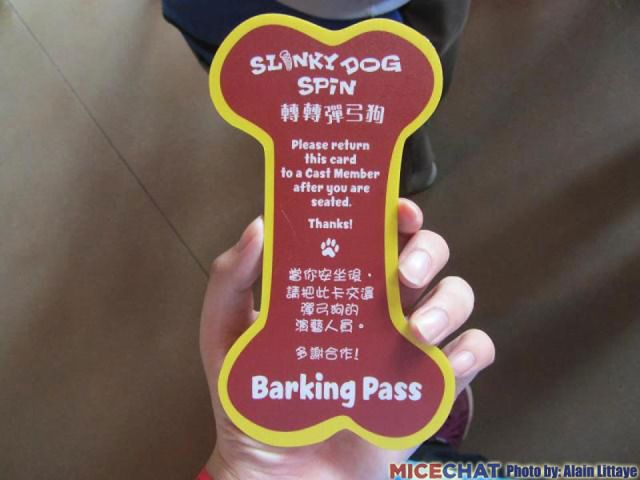 Close to the Lincoln Logs at Slinky Dog's Spin ride is Rex.
Totally new is Jessie's Snack Round-Up!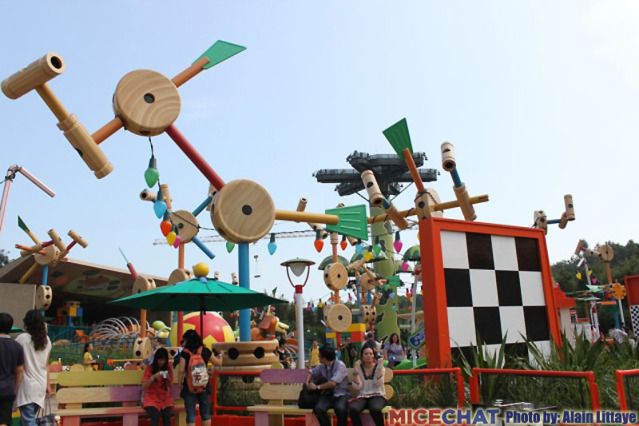 What would a Toy Story land be without a character photo location with Woody and Jessie?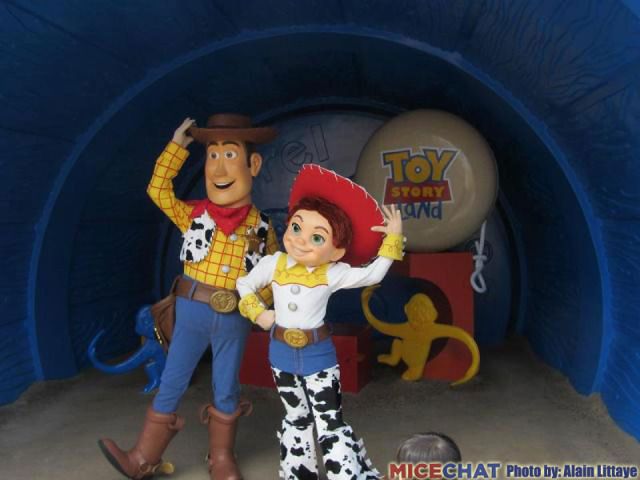 Also new is the Moon Patrol ice cream cart!
Taking about ice cream, the packaging of this one below is cool.
This "street animatronic" moving inside Toy Story Land, is sort of amazing. Kids love to play with it by turning the different parts and it interacts with them as well. This new interactive animatronic was briefly tested at Walt Disney World before being shipped to Hong Kong.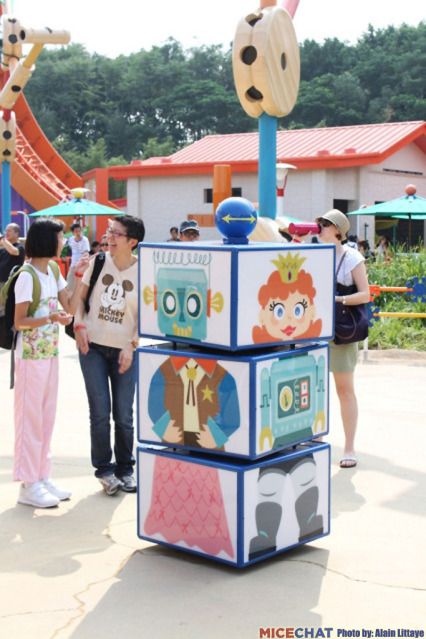 Next up is the parachute Drop ride, which again is very similar to the Walt Disney Studios Paris version.
There are a few interesting props scattered about and an open air switchback queue.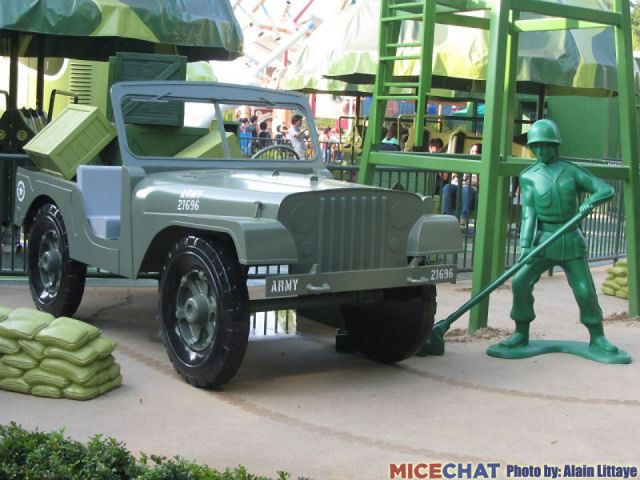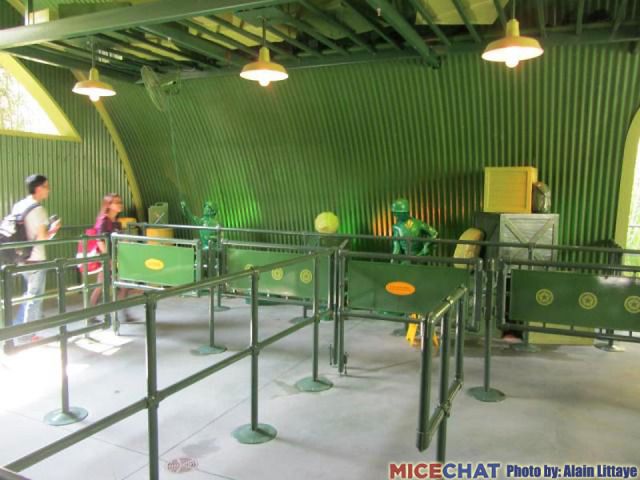 From the top you have of course a great view.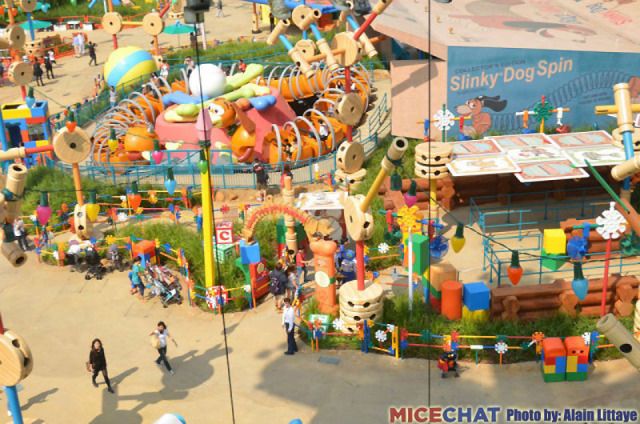 The Green Army Men also appear at the WDS but here, at HKDL, the little show is apparently more interactive with the audience and young kids.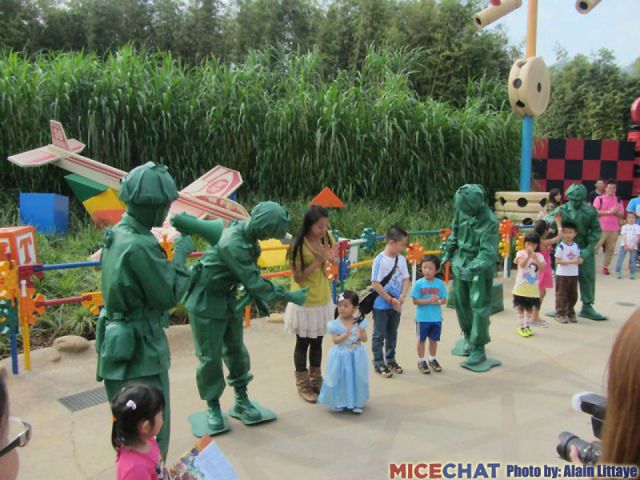 Let's move to something totally new, Andy's Engine where HKDL guests can find Toy Story Land inspired gifts
Next up with find RC Racer. Just like at the WDS version of Toy Story Land (TSL) before they removed it (because minor accidents were happening to young kids climbing on it) there is a RC Racer car on display. Let's hope it lasts a little longer here than it did in Paris.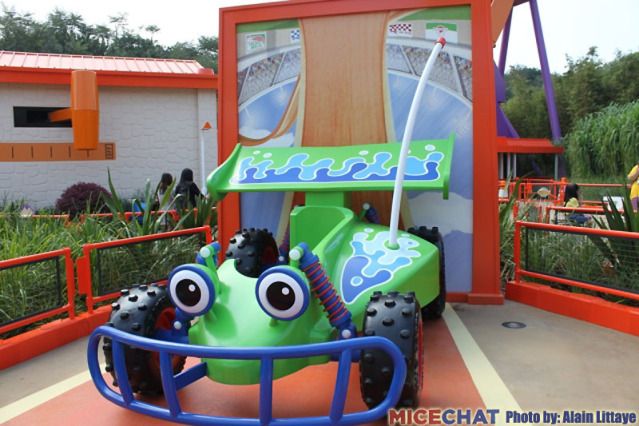 Inside RC Racer ride, the queue theming looks quite similar to the WDS TSL version but some of the murals seems to be different.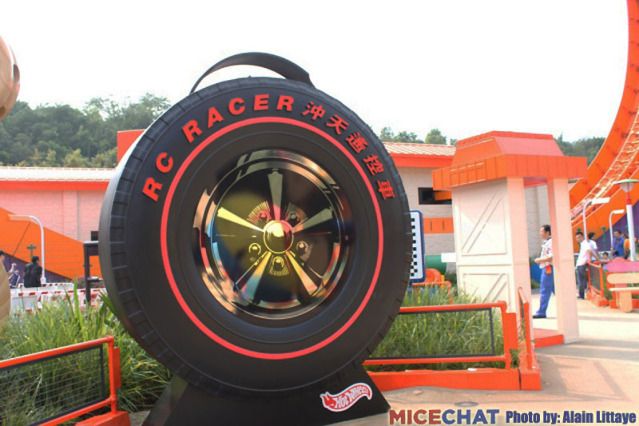 The land is filled with giant toys and games.
Now here's something really exciting - this photo of the entry to a new land not scheduled to open until 2013, Mystic Point and the highly awaited Mystic Manor attraction.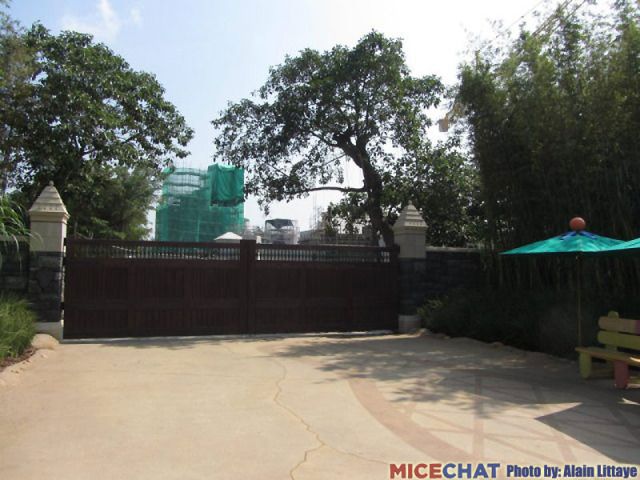 I'm curious to hear your comments about Toy Story Land below. Does it spark your childhood fantasies and live up to the standards of Pixar's Toy Story?
I'd like to finish up with something I'm very proud to introduce to you. I've just launched a brand new iPhone App which is FILLED with beautiful photos of Hong Kong Disneyland.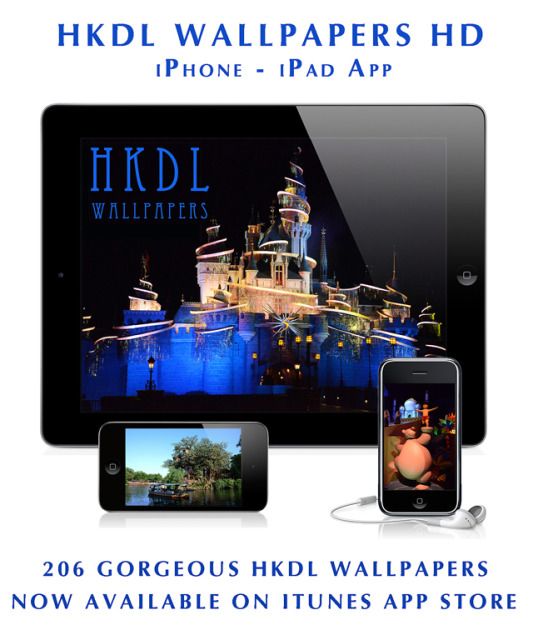 Don't miss the new HKDL Wallpapers HD App for iPhone, iPad or iPod Touch!
Direct iTunes link HERE!
RegionsBeyond shares this Disneyland "grab bag". Every one of these images is a treat!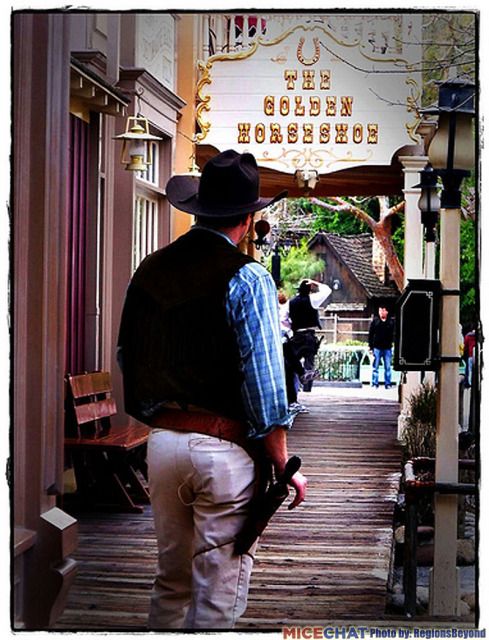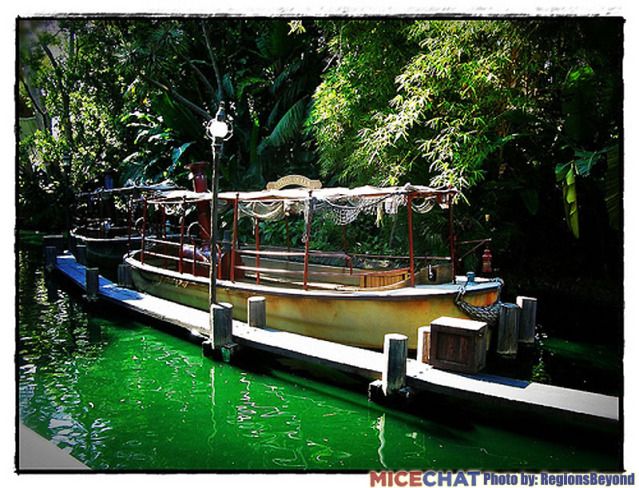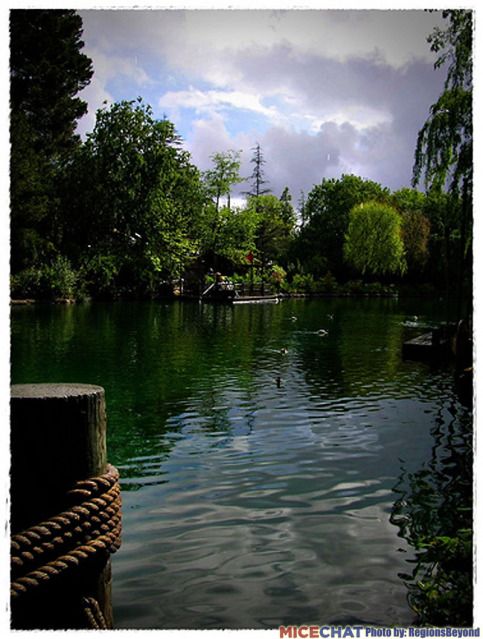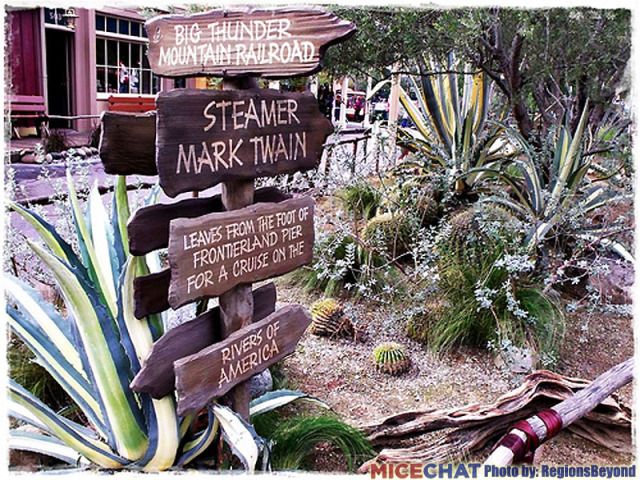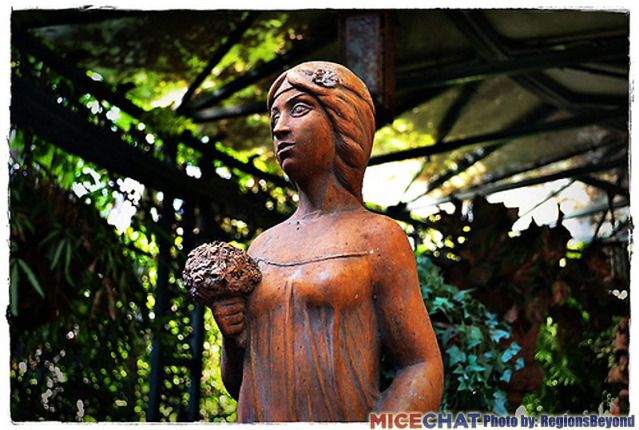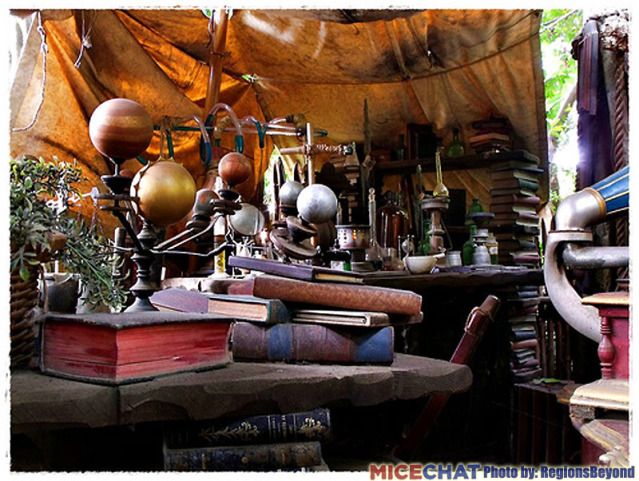 Might we also suggest that you visit these fine MiceAge/MiceChat attractions for even more Disney and theme park fun:
And that brings us to the end of another week. Our photographers have just enough time to reload their cameras before we see you all again next weekend. Thank you to all of our wonderful readers, and as always, a huge thank you to our amazing team of global photographers, spies, and gossips:
Denise Preskitt Mousesteps.com
Roger55
DisneylandPostcards.net
Alain Littaye Disney and More Blog
RegionsBeyond

Your Editor - Rixter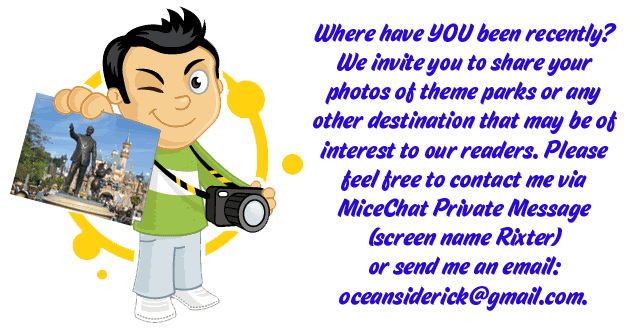 It is readers like you who make MiceChat such a special place.
Don't miss a single one of MiceChat's Featured Blogs (including the Weekend Update). Add our feed to your favorite feed software or site:
Follow us on Twitter