The Christmas season officially begins in our house tomorrow. We'll be attending our first Christmas party of the season tomorrow night. During the day I have a feeling that we'll start baking some holiday goodies using the bags and bags of ingredients stacked on the kitchen counter. MickeyMaxx has a new cookie recipe that I have had the privilege of sampling. They are yummy! Last weekend I dug out my tried and true peanut brittle recipe and added a new twist to a test batch. Some of the MiceChatters that sampled it last weekend approved of the addition of cayenne pepper to add a little heat.
Roger55
continues his epic report on Christmas at the
Tokyo Disneyland Resort
for us. The focus this week is on entertainment. I have learned through the Weekend Update reports from Tokyo over the years that the Japanese really know how to put on a show.
SummerInFL
and her mom visited
Vizcaya Museum & Gardens
in the
Coconut Grove
neighborhood of
Miami
. Her photos of the former estate of
James Deering
, of the Deering McCormick-International Harvester fortune give us a peek into the lifestyles of the
1%
.
Finally,
MickeyMaxx
shares photos of
Disney's Castaway Cay
private island. This was one of the highlights of our recent cruise on the
Disney Dream
.
Have a great weekend, everyone!
Back again this week with anothe report on Tokyo Disney Resort's special holiday events.
Up to this point my reports have been focusing on the holiday decorations. For this report, I wanted to share with you all the entertainment for "Christmas Fantasy" at Tokyo Disneyland.
Tokyo Disneyland "Disney's Santa Village Parade"


As part of the "Christmas Fantasy" special event for 2011, Tokyo Disneyland rolled out a brand new holiday parade. "Disney's Santa Village Parade" is a woderfully fun and festive parade that showcases many of the main Disney characters as well as a few Disney characters that Guests of the US Disney Parks aren't so use to seeing. Of course, Tokyo Disneyland has once again pulled out all the stops and created all new floats for the parade. They all are amazingly detailed and have a VERY high quality look to them. I don't think Tokyo Disney Resort even know's what a cut-out is!
To go along with all the characters, performers and floats, there is a all new parade soundtrack too!
I watched the parade multiple times and took photographs from three different locations. I've combined the photos from all three locations into this report so you'll notice the different angles and different lighting conditions. There is much to appreciate about this parade up-close and from a distance.
For those of you that aren't that familiar with Tokyo Disneyland, you might be surprised how popular the parades are with the Guests. As you can see in the photo below, Guests line up not a few, not several, but rows and rows deep to watch the parades. It also should be noted that this photo was taken on a weekday while schools are in session.
Guests start staking out the prime viewing locations several hours in advance. This particular area is THE prime are for the "Santa Village Parade". In order to provide a great Guest experience for so many people, this particular area (along with some others) is designated a seating area.
Japanese Guests for the most part are very courteous to others. Guests are reminded via public address sytem to remove any tall hats and not to hold any cameras higher than head level. Putting a child on one's shoulders is not even thought about and no reminder is given. I wish the US Disney Parks and their Guests could take a cue from the Japanese.
The Guest Control Cast Members in the gold coats come out and teach all the Guests the ever popular "Guest Participation" dance that goes along with the parade. Most every Tokyo Disneyland parade has a "Guest Participation" dance that the Japanese Guests LOVE. The Cast Members themselves do a wonderful job teaching the dance prior to the arrival of the parade. Some even have their own fan base!
The "Santa Village Parade" kicks off with these brand new characters. These elves are also featured on the displays in the central hub (see November 19 Weekend Update report)
[LINK]
as well as part of the decorations on the new parade floats.
While these elves look quite cute in small scale on the displays and as part of the float decorations, these full size elves are kind of creepy don't you think?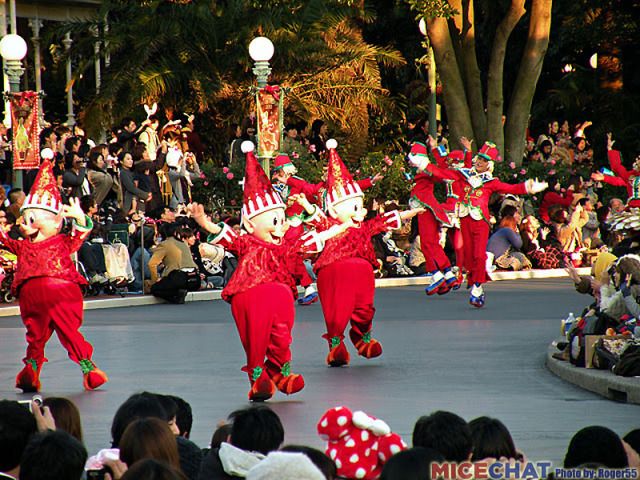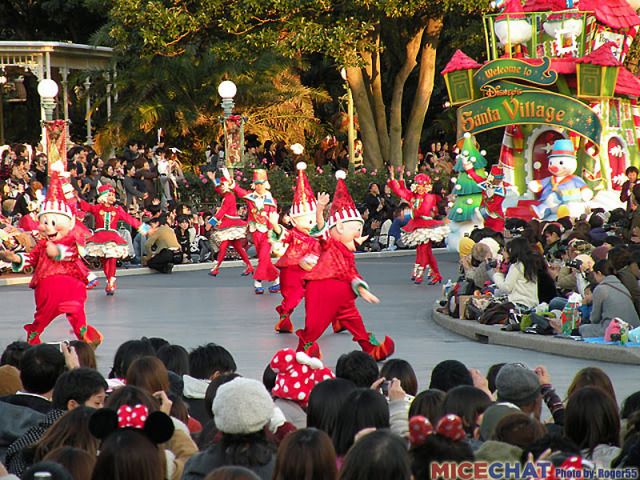 I think she is a snow fairy.
All the performer's costumes are wonderfully done. The performers are very polished and always give a high spirited performance.
The first float is Santa Village Post Office.
On the float is Donald, Daisy and Scrooge McDuck.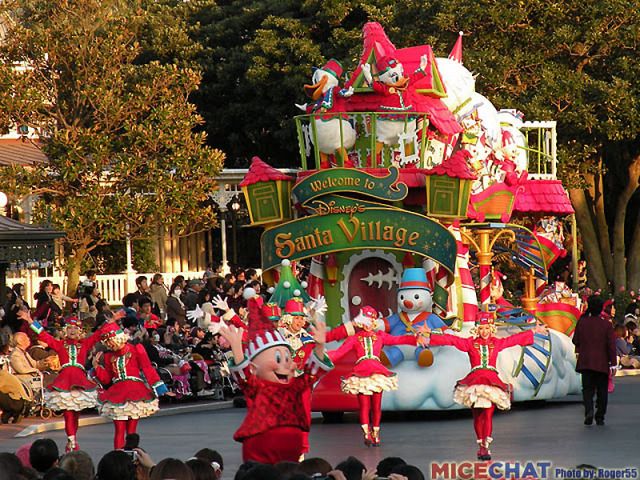 This float is very nicely done and is decorated with sacks of mail for Santa from all over the world. You can see the elves in the back sorting the mail as it comes down on a roller coaster like cart system.
If you look closely, you can see the float is decoarted with all sorts of stamps in 3-D, not just painted on. Great attention to detail!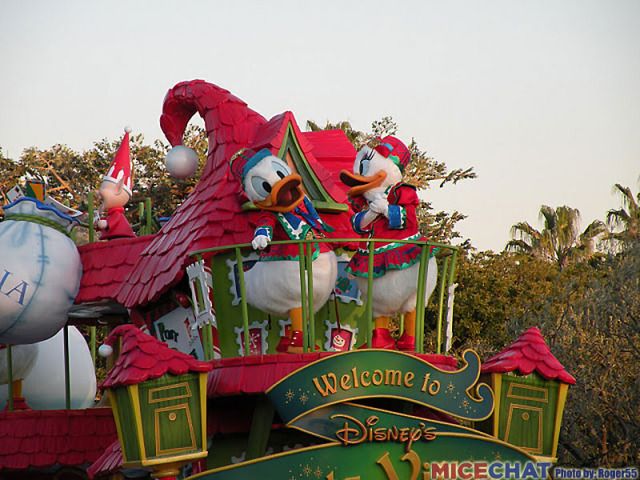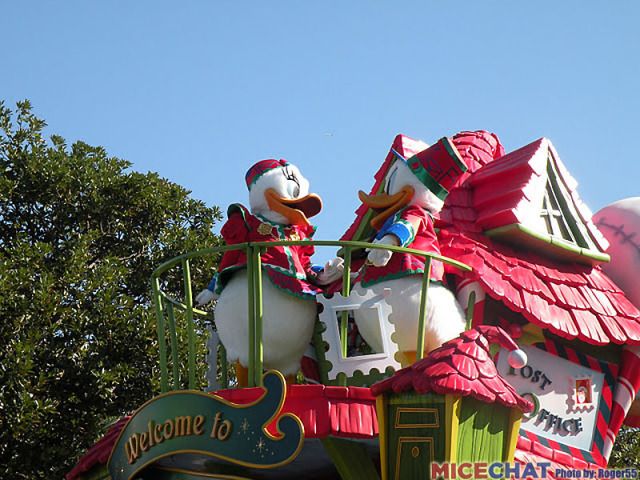 You can also see the fine work put into the roof shingles. It's these little details that make the Tokyo Disneyland parade floats look so much more spectacular.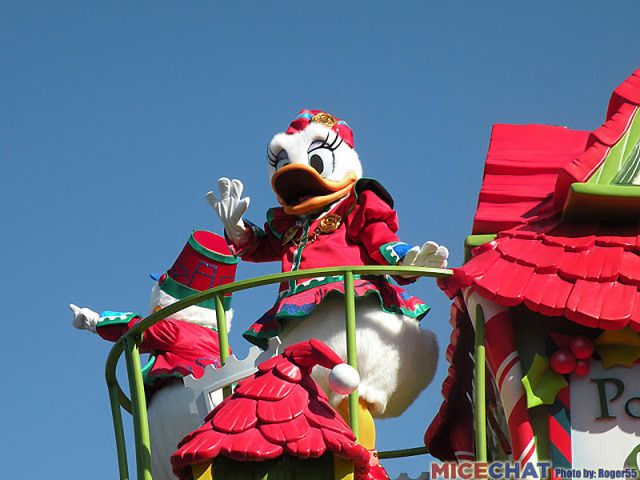 Next up is the Confection Factory.
Riding along on this float are Marie from Aristocats and Chip and Dale's friend Clarice.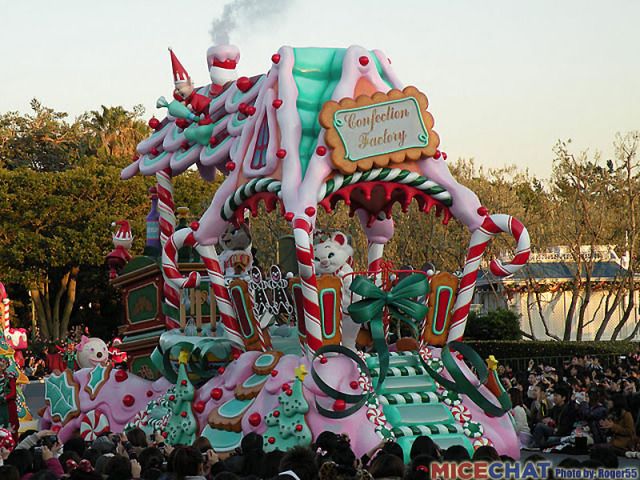 US Disney Parks fans probably can't imagine a whole float dedicated to these two characters. In Japan, both Marie and Clarice are quite popular and frequently appear in the parades and shows.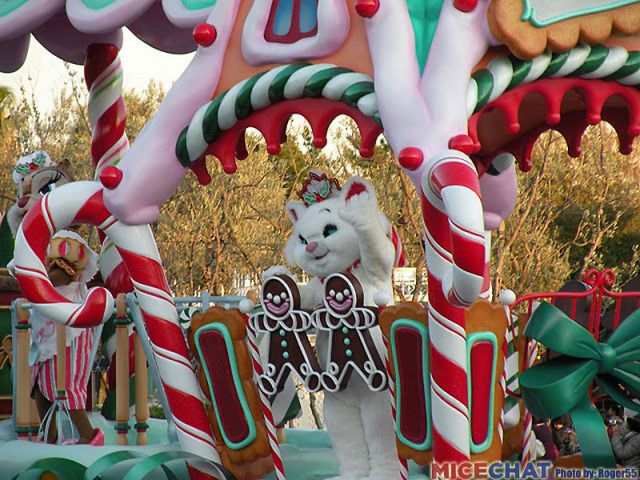 Again, the details on this float are amazing. The gingerbread men and all the candy are molded or sculpted. All this work for a parade float that will probably at best be used for 2-3 years.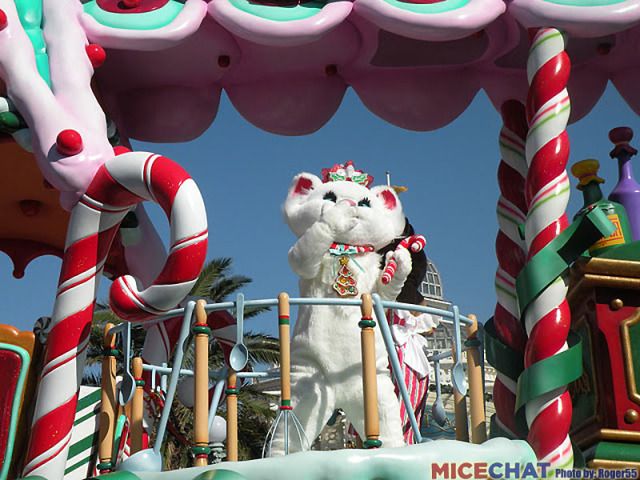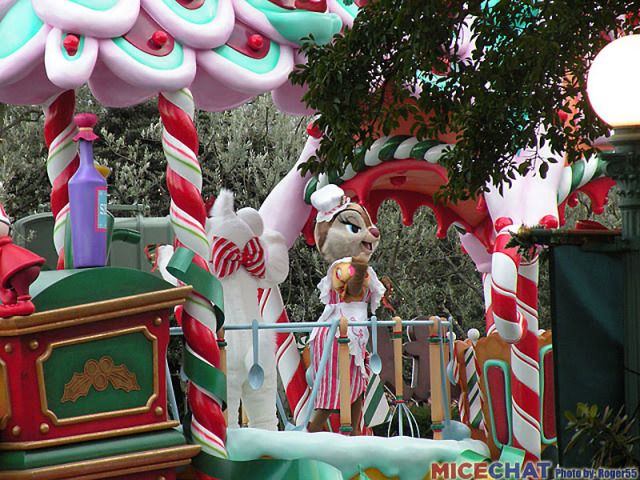 Following along with this float are the "classic" Disney Gingerbread people.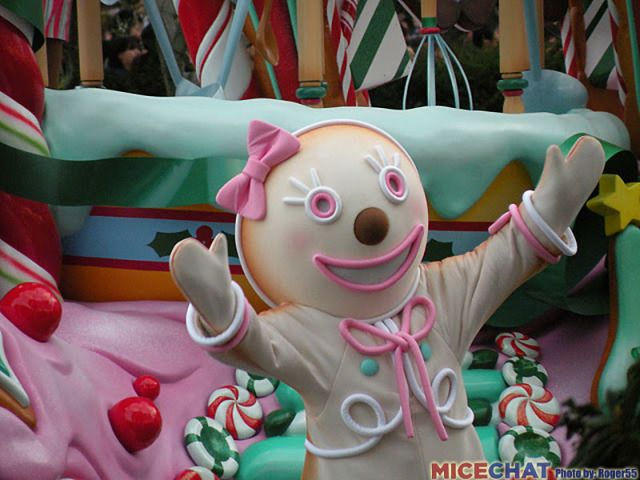 And there are also the "scrumptious" looking dancers. What amazing costumes! Adorable!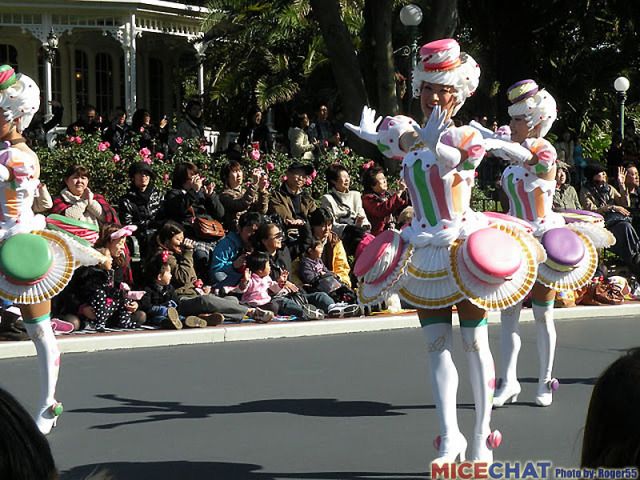 Keeping with the confectionary theme, the next float is Pluto's dog house built entirely out of cookies, macaroons, and candy all on top of a fruit tart.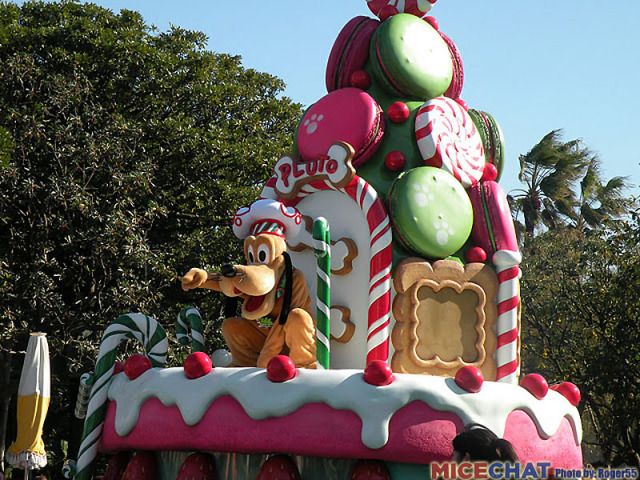 You can see that Pluto has been lending a "paw" by the prints all over the float and himself!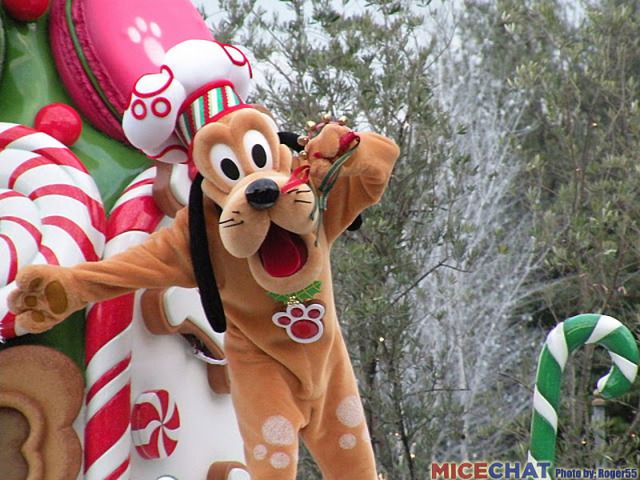 Those giant strawberries and rasberries look good enough to eat.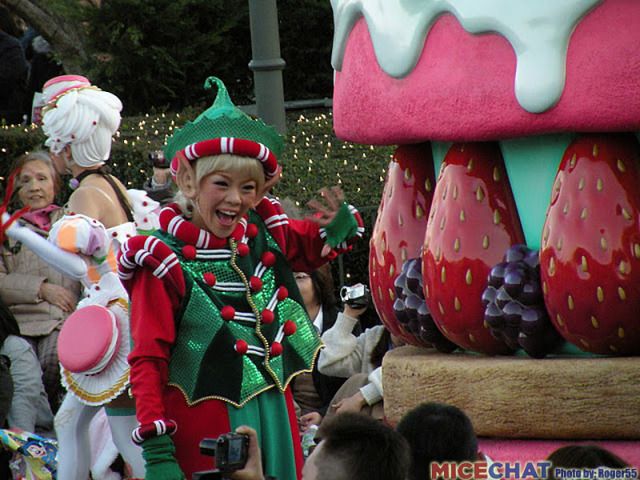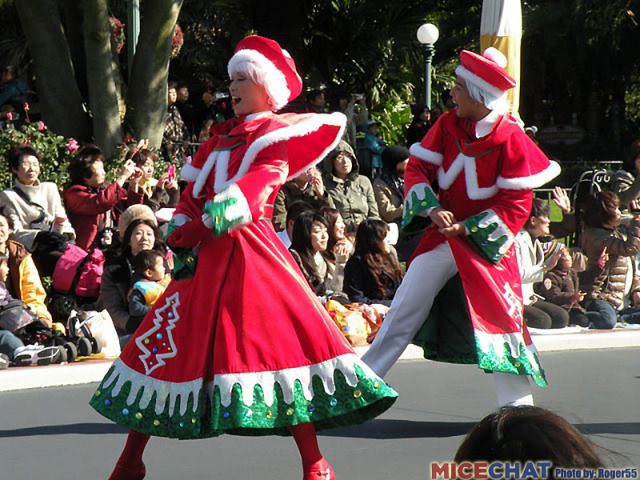 The main float in the Santa Village Parade is the Christmas Tree Farm float featuring five VERY CLASSIC Disney characters.
Japanese Disney fans really like and appreciate the classic characers. That is why they are given the distict priviledge of riding along on the main float with Mickey and Minnie.
There are so many things to take in. I've even forgot to mention until now all the unique and custom holiday character costumes!
Horace Horsecollar looking good!
Thanks for posing for the camera Minnie!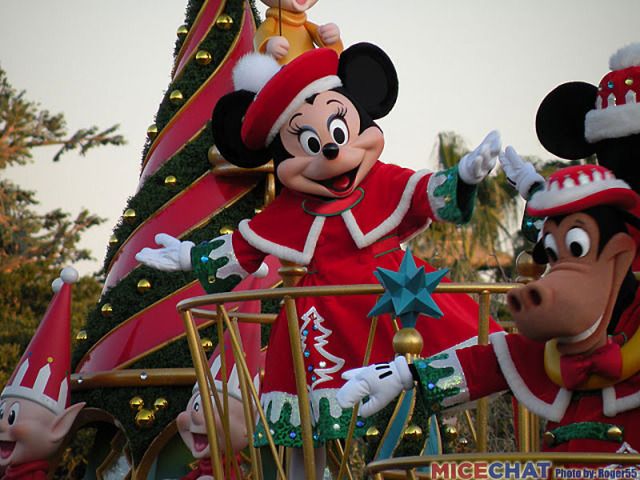 Here is a closer shot of some the float detailing.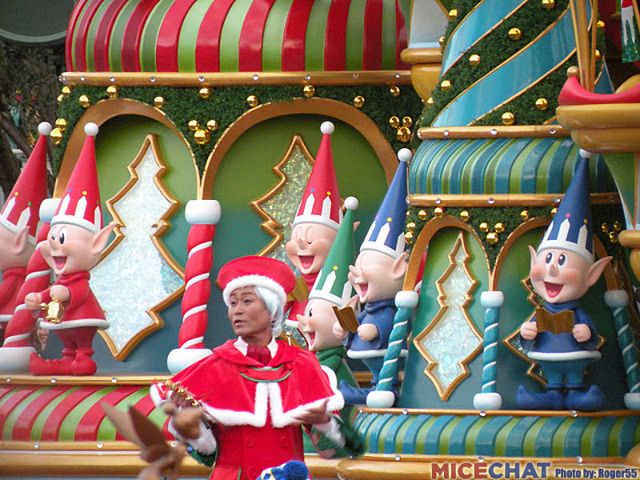 I just love it that Clara Cluck gets her moment in the spotlight. Only in Tokyo Disneyland!
As part of the show stop performance the characters and performers ring in the holidays.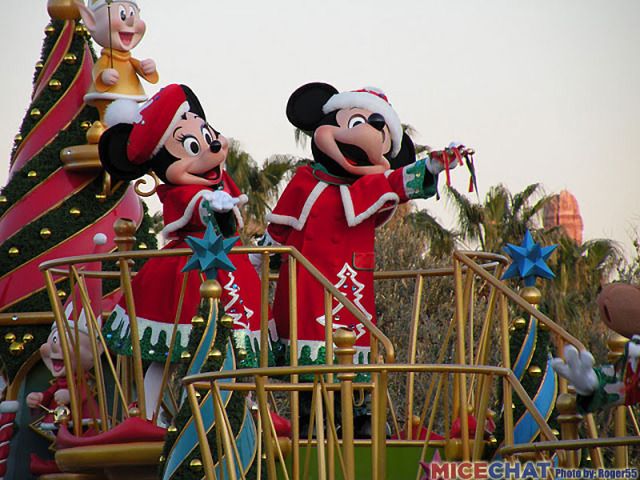 It isn't all work and no play in Santa Village. Goofy and Max show us all the fun there is to be had at "Snowman's Playland".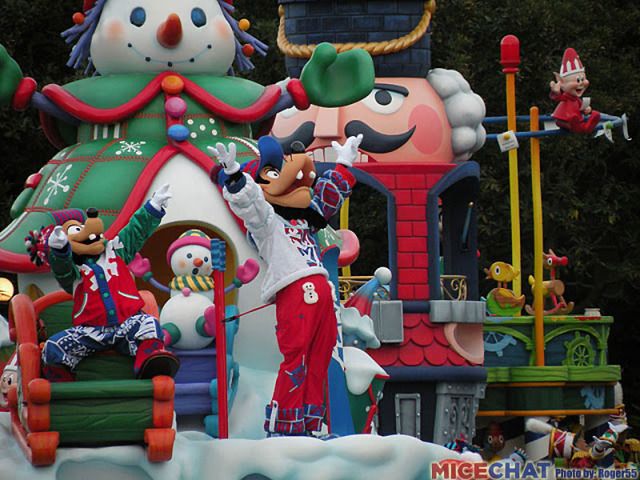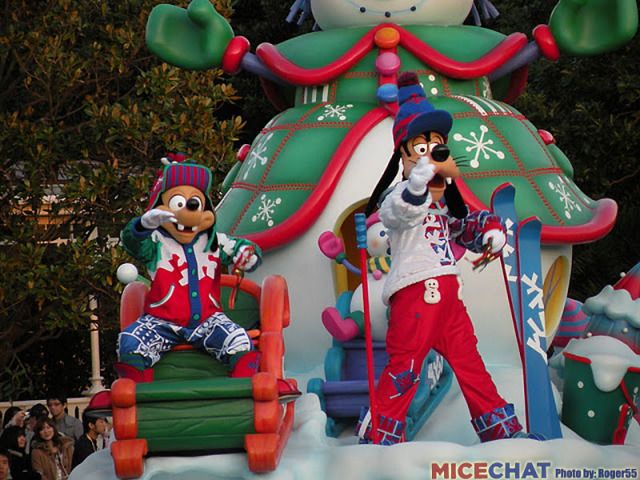 Goofy and Max get into the winter fun along with the snowmen and elves.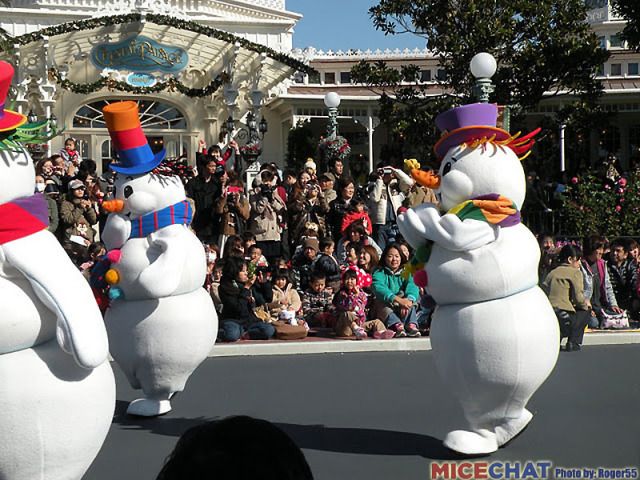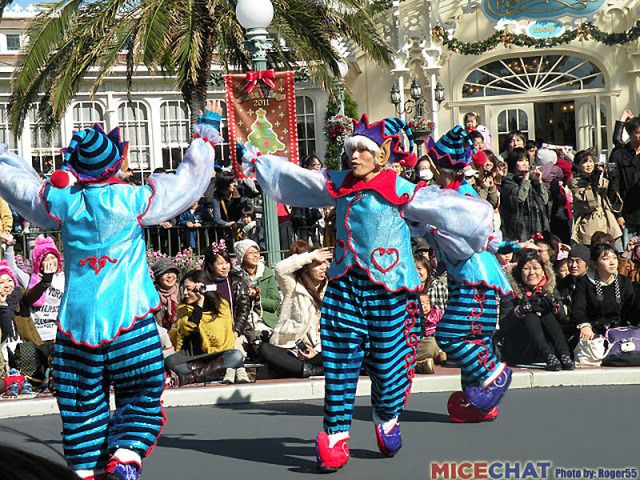 And of course Santa Village needs a toy factory.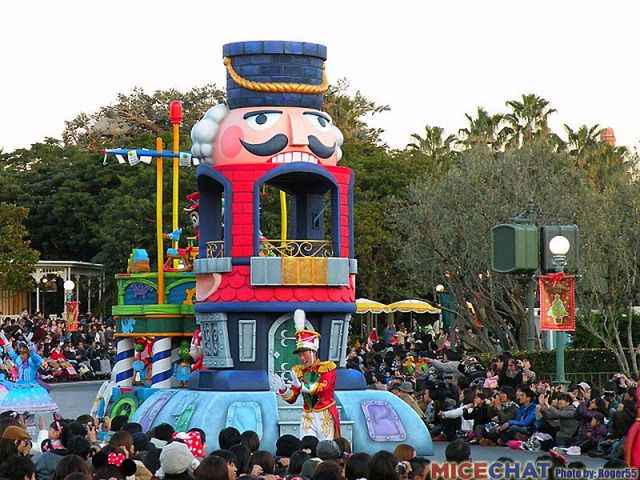 Chip and Dale have been given the job to build all the children's toys, along with some help from the elves.
You can see the toy orders posted up on the railing.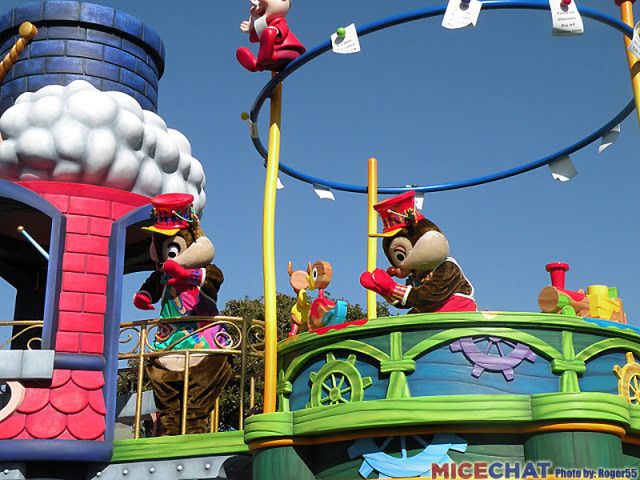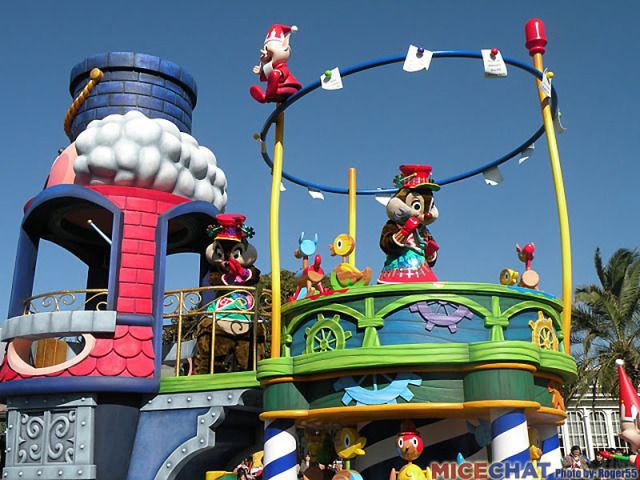 Also along with this float are some of the "larger" toys.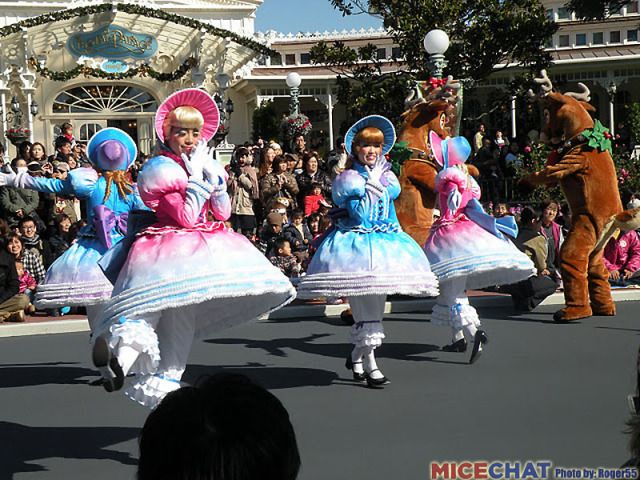 And of course there are the Christmas carollers.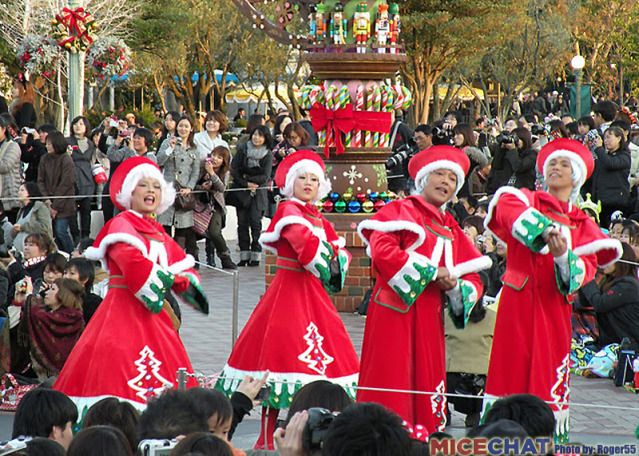 The final float is Santa's house. Accompanying Santa are his reindeer.
Huey, Dewey and Louie are over at Santa's helping pack his bag.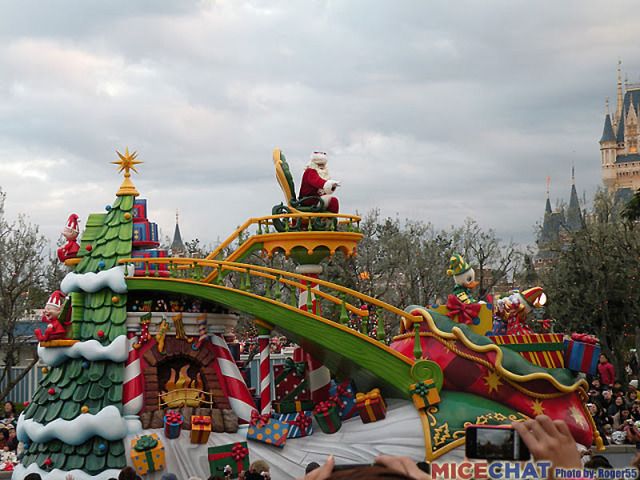 With its grand staircase, library, and Chirstmas tree fireplace, this is just a great looking float.
Now that Santa has made his appearance, that about wraps things up for the Santa Village Parade.
I've tried to share just some of the magic this parade has to offer. Pictures alone really don't do it justice. I hope that even this little sampling has brought a tiny bit of cheer from this wonderful parade from Tokyo Disneyland.
That will do it for this report. Next time I'll cover the two shows over at Tokyo DisneySea as part of their "Christmas Wishes 2011" celebration.
Until next time, have a great weekend!
SummerInFL and Mom visit Vizcaya Museum & Gardens
While my family attended a Dolphins game in Miami, FL, my mother and I decided to check out a famous local attraction,
Vizcaya Museum & Gardens
.
Built by agricultural industrialist James Deering in 1916, Vizcaya Museum & Gardens features a Main House, ten acres of formal gardens, and a rockland hammock (native forest).
Vizcaya, now named the Vizcaya Museum and Gardens, is the former villa and estate of businessman James Deering, of the Deering McCormick-International Harvester fortune, on Biscayne Bay in the present day Coconut Grove neighborhood of Miami, Florida. The early 20th century Vizcaya estate also includes: extensive Italian Renaissance gardens; native woodland landscape; and a historic village outbuildings compound. The landscape and architecture were influenced by Veneto and Tuscan Italian Renaissance models and designed in the Mediterranean Revival architecture style, with Baroque elements. Paul Chalfin was the design director.

Miami-Dade County now owns the Vizcaya property, as the Vizcaya Museum and Gardens, which is open to the public. 'Villa Vizcaya' is served by the Vizcaya Station of the Miami Metrorail.

We had tea while listening to live musicians serenade us to the music of Gershwin, it was almost Disney magical.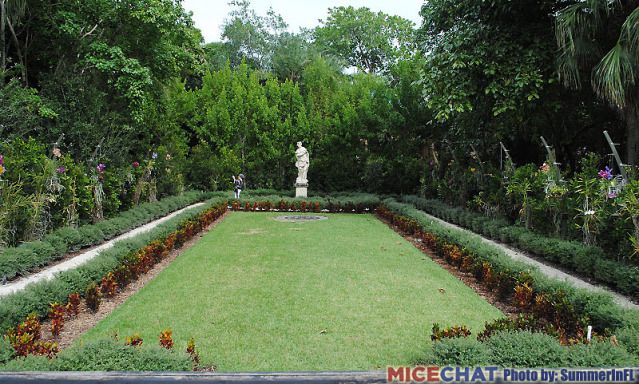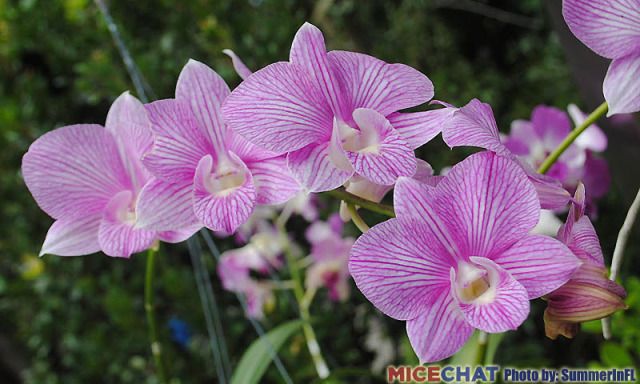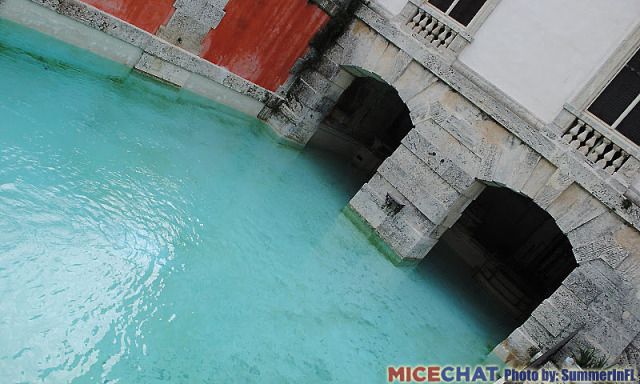 The indoor/outdoor pool that can be filled with either salt water or fresh water.
The barge used for picnics, greeting guests and to act as a barrier so the water wasn't so rocky for his swimming guests.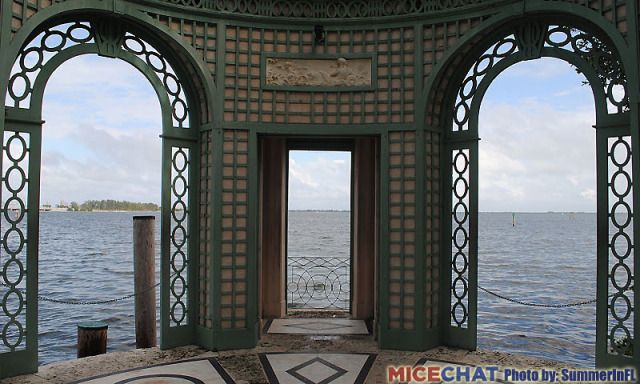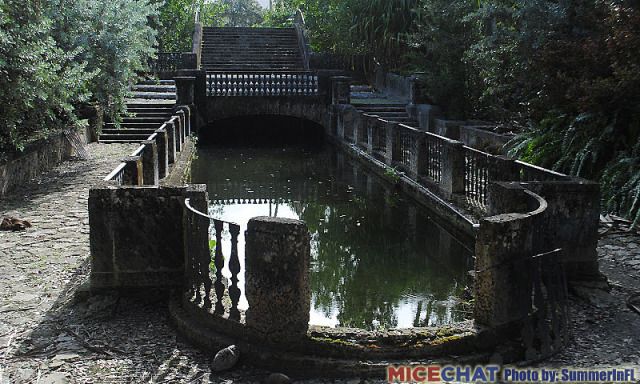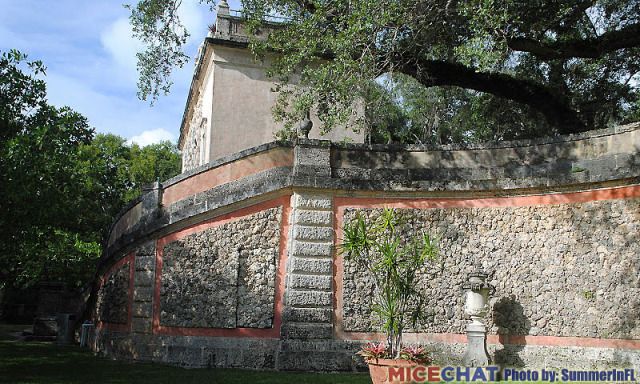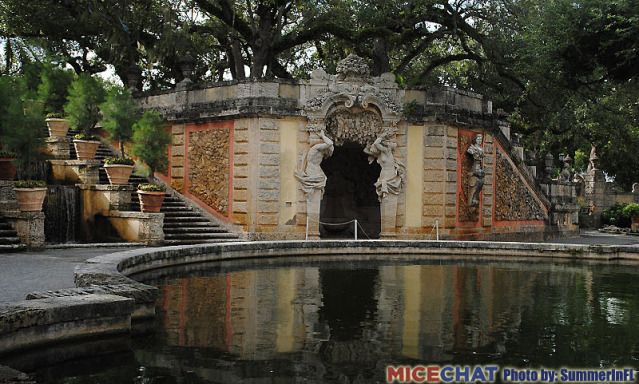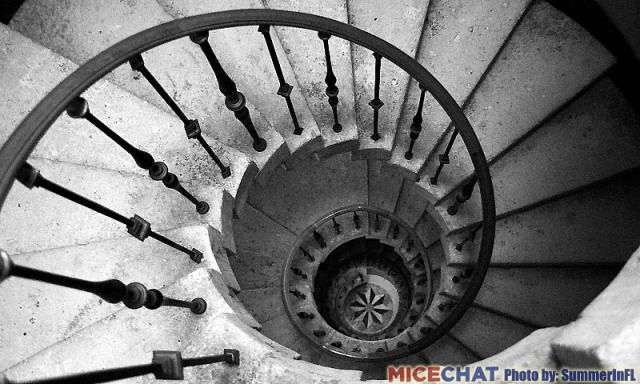 MickeyMaxx visits Disney's private island Castaway Cay
Several weeks ago, we were lucky enough to take a cruise on the new Disney Dream ship. There were many highlights, but our day on Castaway Cay, Disney's private island in the Bahamas, was right up at the top of the list. The theme of the island is that the facilities were put together by passengers who survived a shipwreck. There are officially three beaches, one for families, one for teens, and one for adults. We heard a rumor that there is also a private beach for the ship's employees, but don't know that to be a fact.
There are many activities to do and shops to peruse. We shuttled to the adult beach, where a wonderful buffet barbeque awaited us. The meals are included as a part of your cruise package. There are many activities, some requiring reservations and an upcharge. We had the use of a cabana, a small elevated cottage-like wooden structure with panoramic views of the clear blue water and just steps from the white sand beach.
The ships pull up nearly to the beach.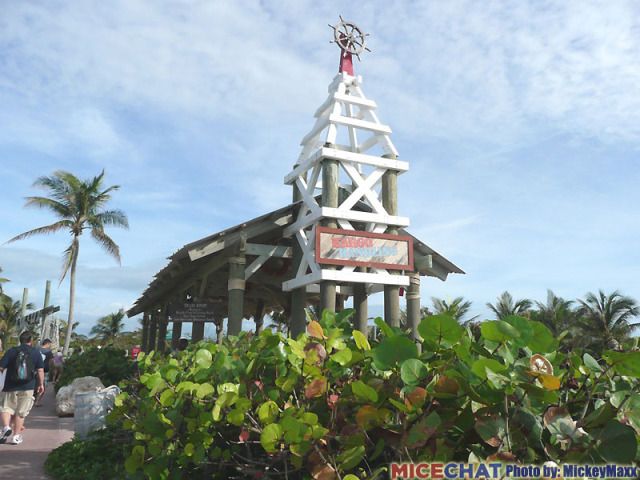 There are trams to take you to the different beaches, large golf carts to shuttle you to your cabana.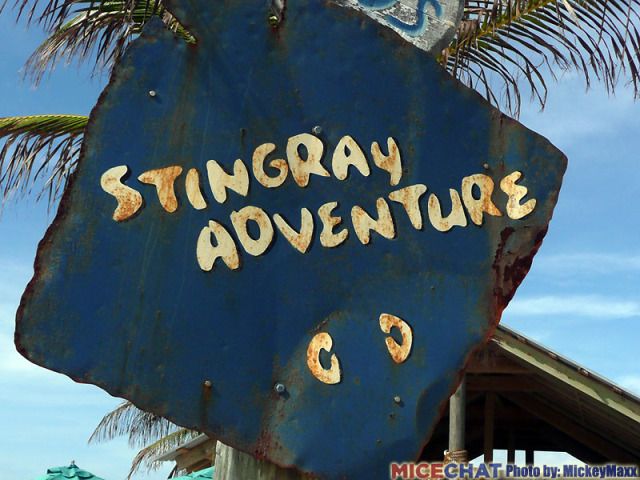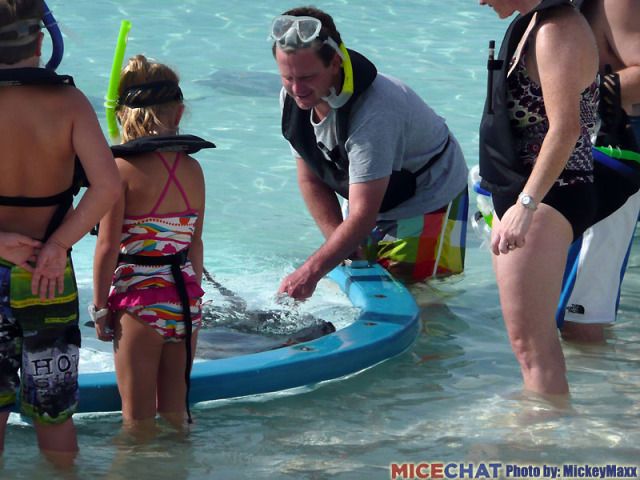 Water park style slides just off shore.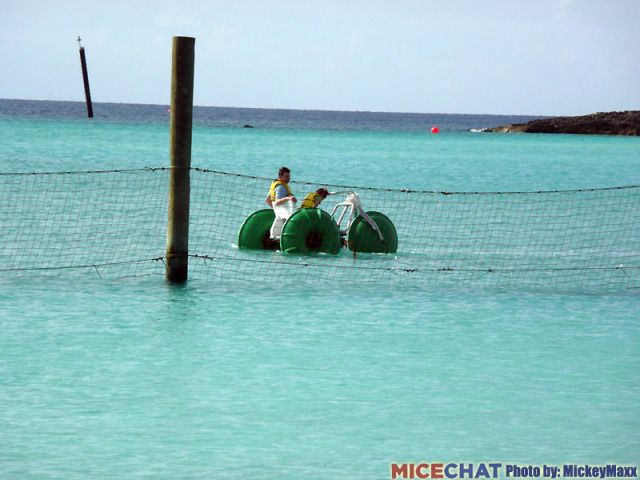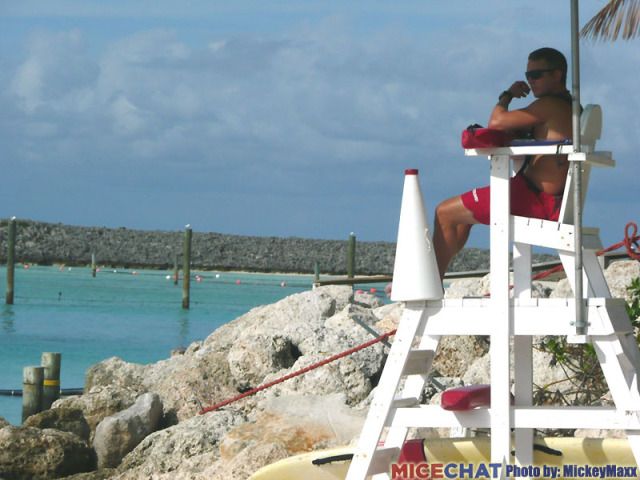 Arriving at cabana #20.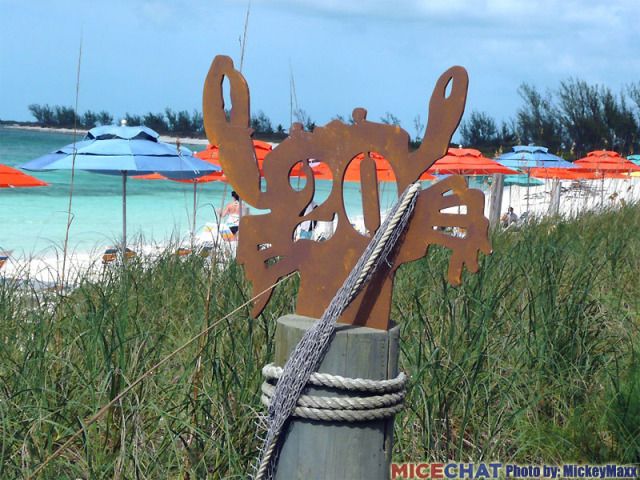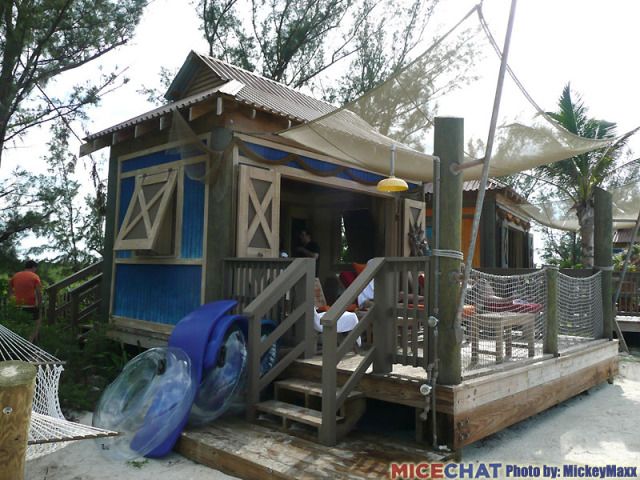 The view from our deck.
Might we also suggest that you visit these fine MiceAge/MiceChat attractions for even more Disney and theme park fun:
And that brings us to the end of another week. Our photographers have just enough time to reload their cameras before we see you all again next weekend. Thank you to all of our wonderful readers, and as always, a huge thank you to our amazing team of global photographers, spies, and gossips:

Roger55
SummerInFL SummerInFL's Photos
MickeyMaxx

Your Editor - Rixter[/B]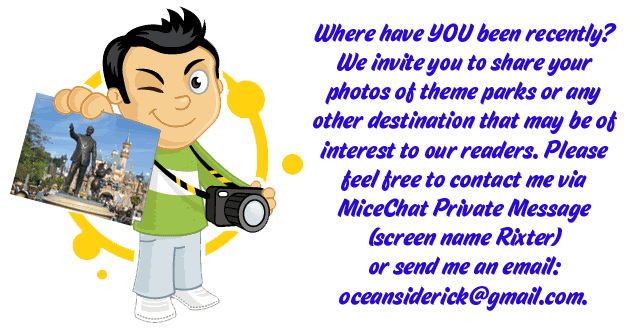 It is readers like you who make MiceChat such a special place.
Don't miss a single one of MiceChat's Featured Blogs (including the Weekend Update). Add our feed to your favorite feed software or site:
Follow us on Twitter