What's the weather like where you are? It's been freezing (literally) here in San Diego County. I know that the weather is pretty nice in Orlando right now. I have been living vicariously through texts and "check-ins" from some of my
MiceChat
pals who are at
Walt Disney World
. It sounds like they are having a great time.
Denise Preskitt
has an update for us from
Walt Disney World
. She attended the
Christmas Day Parade
taping and was lucky enough to see "
The Bieber
" among other celebrities. She also gives us a peek at
Disney's Art of Animation Hotel
. Looks like it's coming right along.
I'm sad to say that we have the last installment of
Roger55
's comprehensive report on the Christmas holidays at
Tokyo Disneyland Resort
. This week's report covers the holiday entertainment at
Tokyo DisneySea
as part of the
Christmas Wishes 2011
festivities. I can't thank Roger enough for taking the time and considerable effort to share his fantastic photos and reports with us.
Finally this week, we have a report from
Scarlett Stahl
on the
D23 Preview Event
at
Walt Disney Studios
. Looks like next year is going to be a banner year for members of the
Walt Disney Company
's official fan club. And if you are excited by what you see in the photos, you can experience the Walt Disney Studios for yourself with the MiceChatters this January as we kick off the MiceChat 7 Year anniversary with a very special event.
By the way, for those of you who have missed our Aussie theme park reporter's regular missives, we heard from
Rya86n
Denise Preskitt's Walt Disney World Update
I went with a friend to the Disney Parks Christmas Day Parade taping on Saturday. Justin Bieber ended up being the morning performer, singing "Under the Mistletoe" and "Santa Claus is Coming to Town".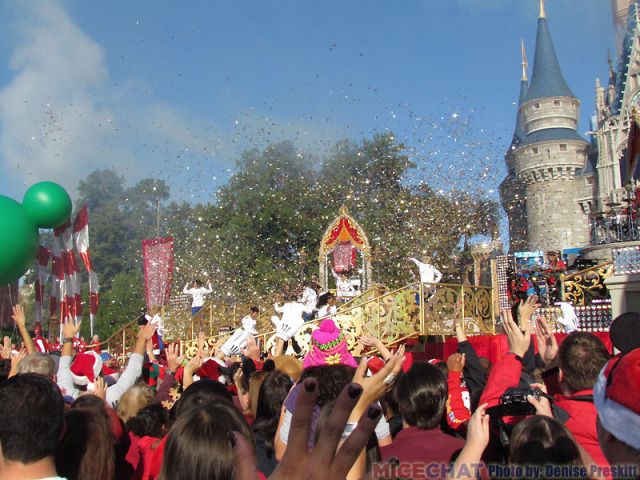 Maria Menounos: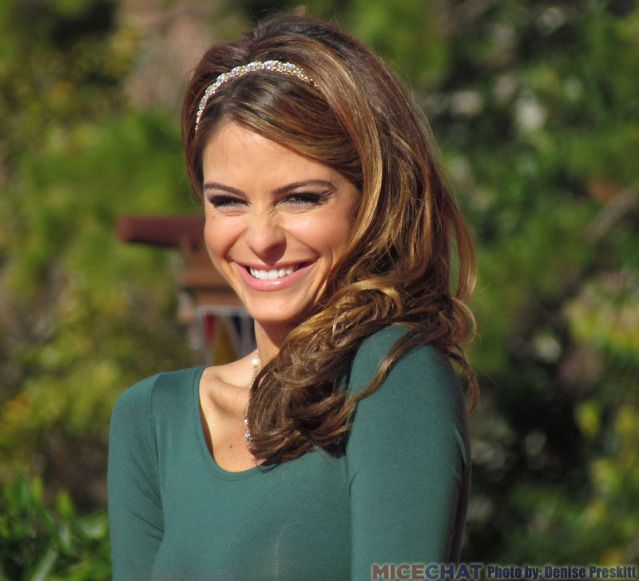 Justin Bieber video I took:
<object width="640" height="360"><param name="movie" value="http://www.youtube.com/v/sBefh6-bl1Q?version=3&amp;hl=en_US"></param><param name="allowFullScreen" value="true"></param><param name="allowscriptaccess" value="always"></param><embed src="http://www.youtube.com/v/sBefh6-bl1Q?version=3&amp;hl=en_US" type="application/x-shockwave-flash" width="640" height="360" allowscriptaccess="always" allowfullscreen="true"></embed></object>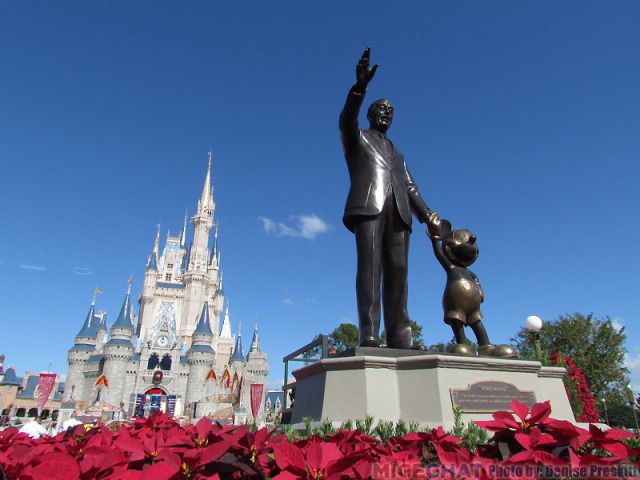 Elephant from Mickey's Jingle Jungle Parade: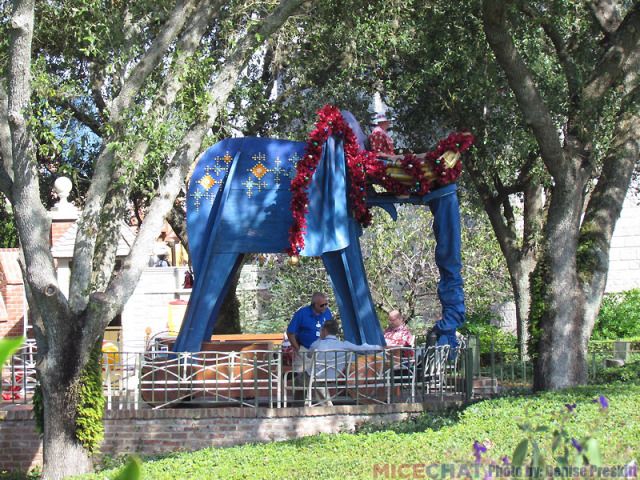 Villains float in Frontierland:
Captain Jack Sparrow: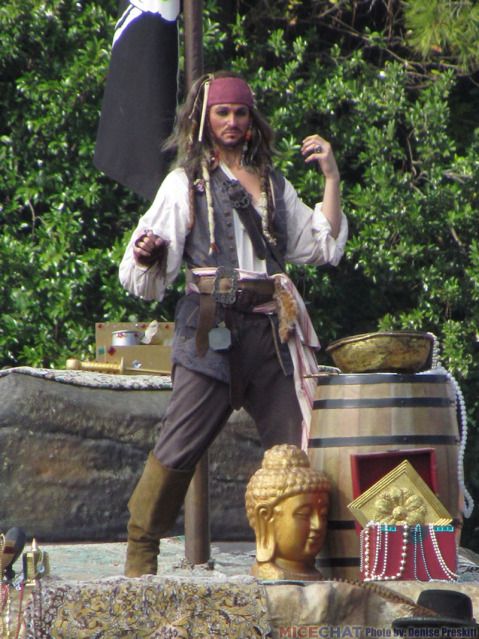 Mater:
Samantha Brown and Mario Lopez: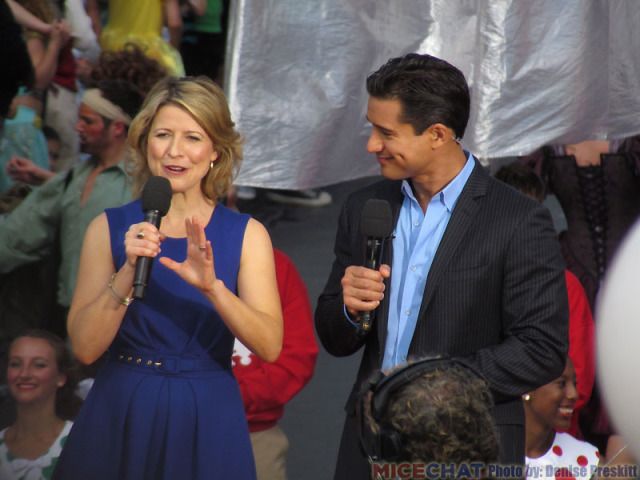 And Disney's Art of Animation has been moving right along! Artwork is now on the Cars buildings, and Mr. Ray and Crush have been moved into place (but are under wraps).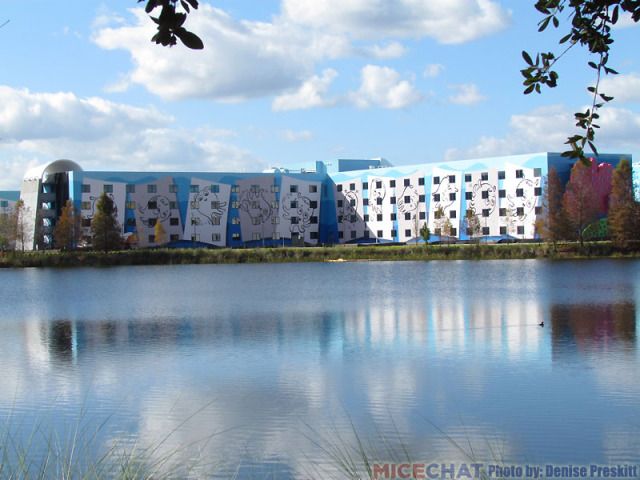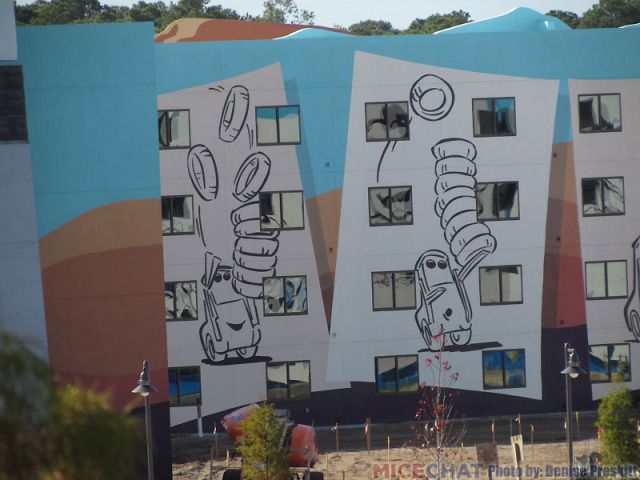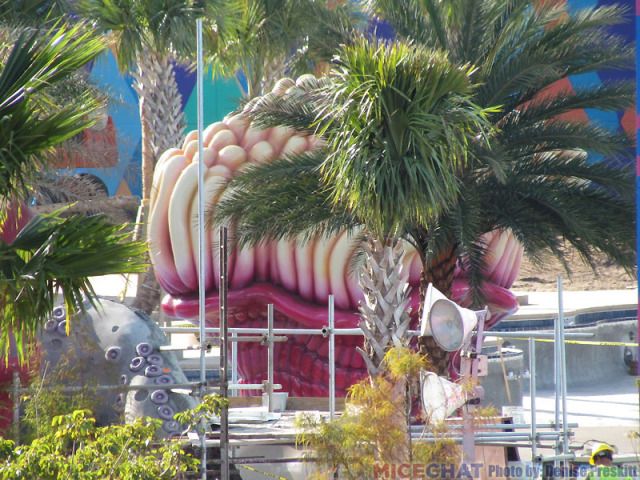 Disney's Art of Animation Video:
<object width="640" height="360"><param name="movie" value="http://www.youtube.com/v/f9ti1vfFQLk?version=3&amp;hl=en_US"></param><param name="allowFullScreen" value="true"></param><param name="allowscriptaccess" value="always"></param><embed src="http://www.youtube.com/v/f9ti1vfFQLk?version=3&amp;hl=en_US" type="application/x-shockwave-flash" width="640" height="360" allowscriptaccess="always" allowfullscreen="true"></embed></object>
There's always something new at Denise's website: Mousesteps.com
and follow her on Twitter @ mousesteps.
This week as promised, I will share with you the wonderful holiday entertainment going on at Tokyo DisneySea as part of their "Christmas Wishes 2011" festivities.
I'm posting this report from my hotel room in Walt Disney World where I'm in town for the D23 Magic & Merriment event. Because I'm a bit limited on time this week, I have to appologize for having to cut short some of my write-ups.
Tokyo DisneySea "Christmas Wishes 2011"


Christmas Wishes 2011 brings a completely new show and the return of a show that debuted last year.
The new shor for this year is "Christmas Wrapped in Ribbons". It is a modest production that takes place on the Lido Isle performance area in Mediterranean Harbor.
One thing that makes this cute little show popular is the intimacy it has with the Guests. As you can see in the photos, this show is performed within arm's reach of the Guests and parts of the show the performers actually go up into the audience.
The basic theme of the show has the characters representing all the different themed ports of Tokyo DisneySea bringing gifts and dressed in representative costumes.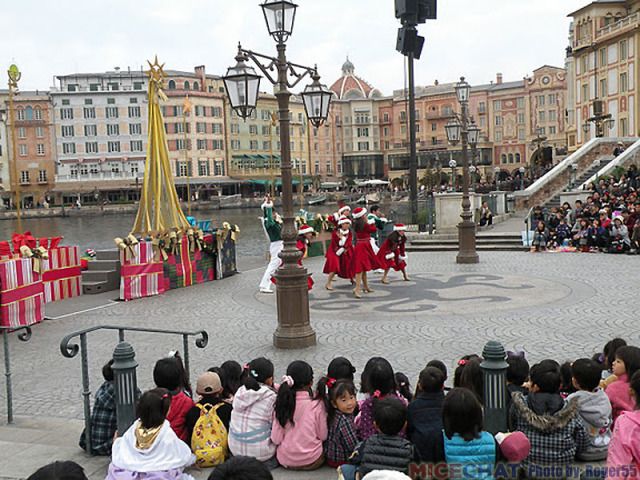 Minnie, Daisy and Duffy arrive by barge.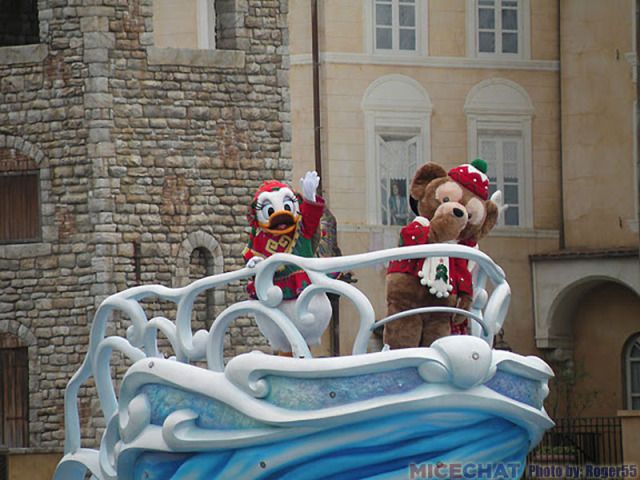 Minnie arrives representing American Waterfront.
Daisy representing Lost River Delta.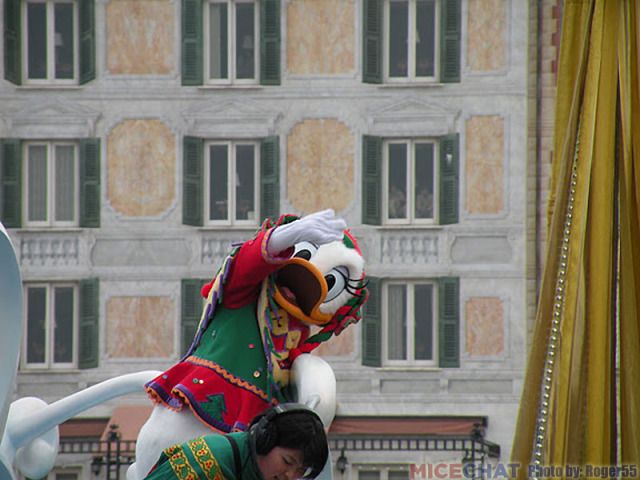 Duffy represents the sub-theme port of Cape Cod.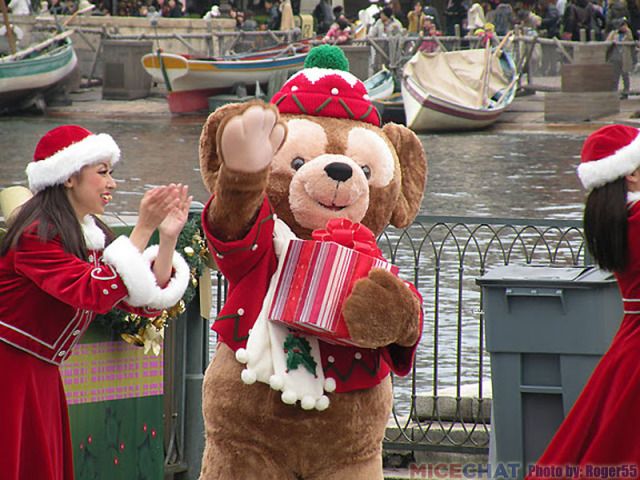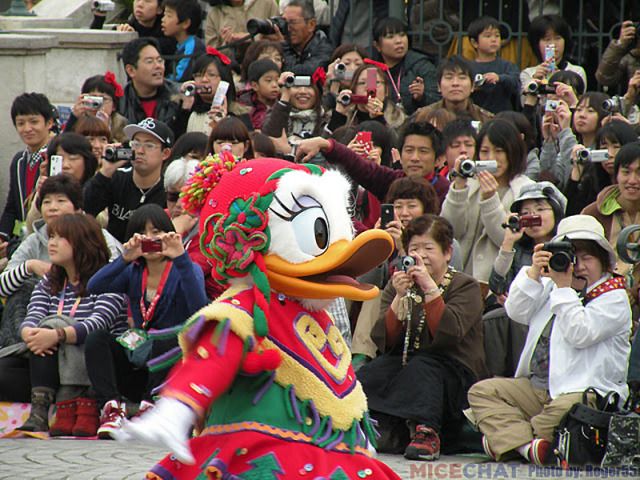 Donald, also representing Lost River Delta, arrives from behind the Guests with the gift.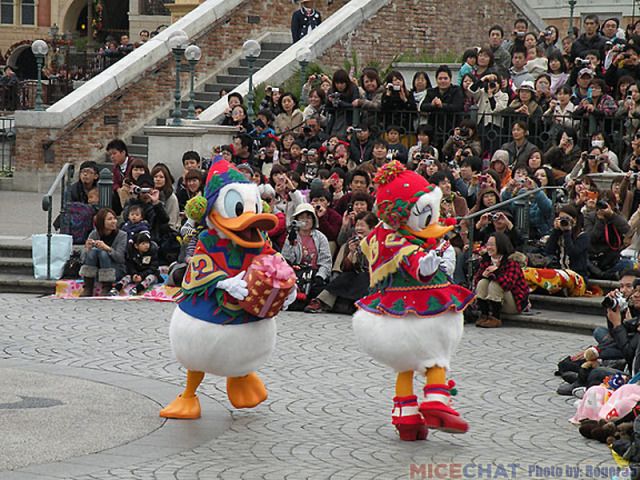 Chip and Dale join in representing Port Discovery.
Pluto from Mysterious Island.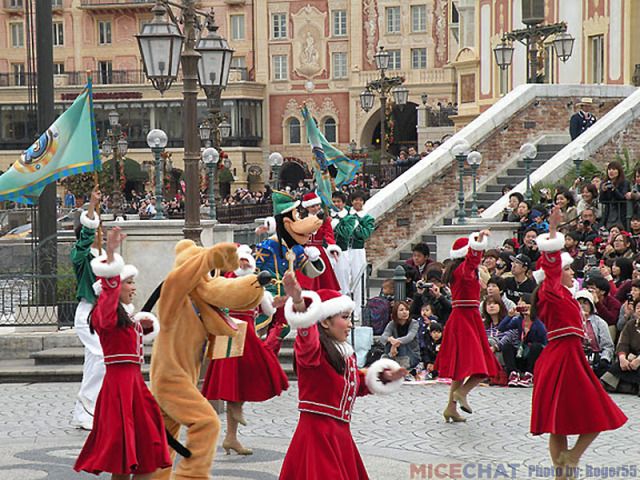 Goofy also representing Mysterious Island.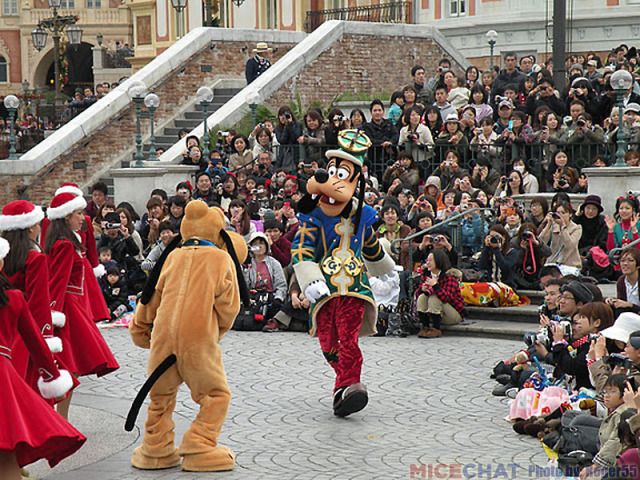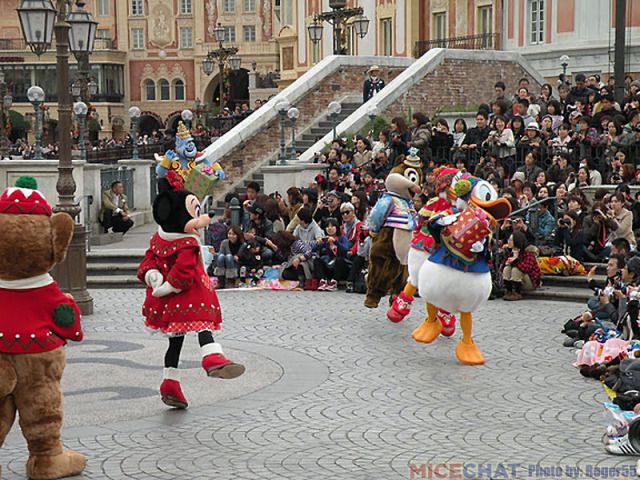 From Arabian Coast, Genie appears.
Ariel and Eric for Mermaid Lagoon.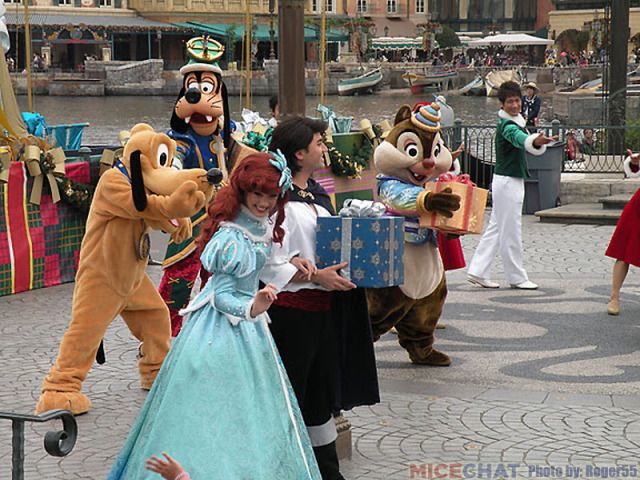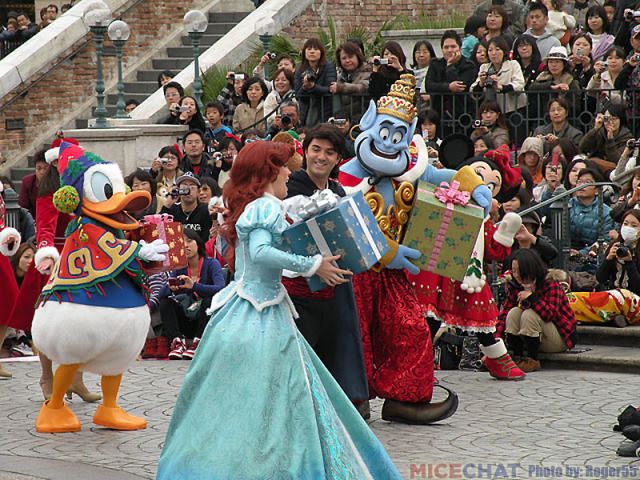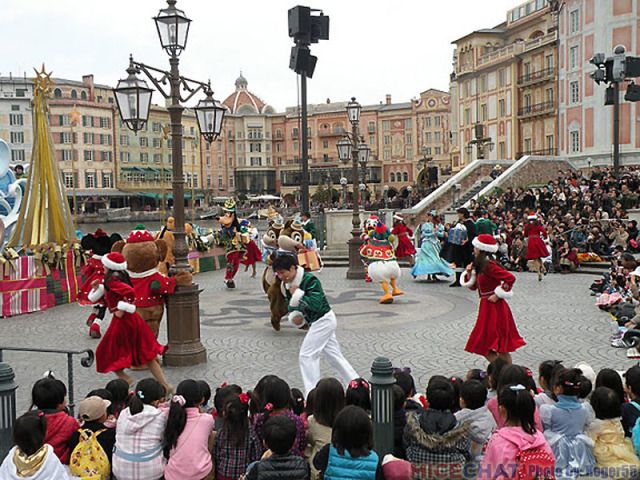 Mickey is the last to arrive representing Mediterranean Harbor.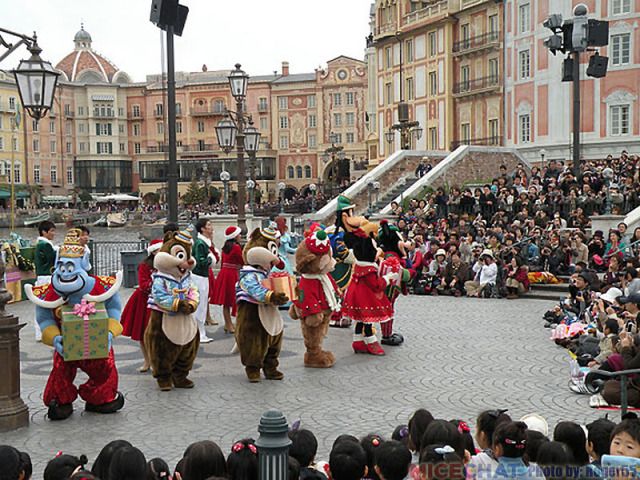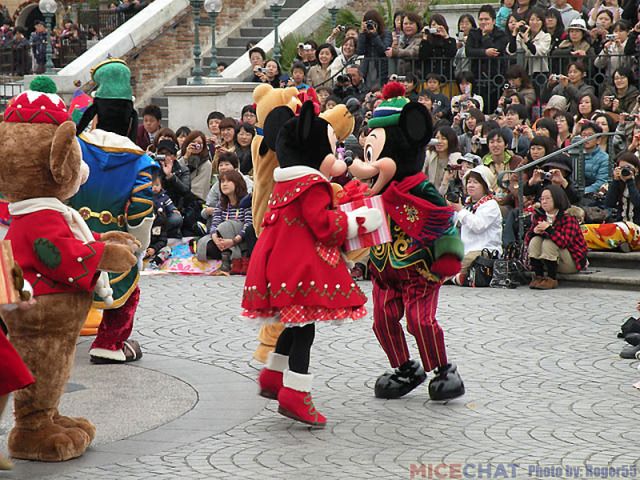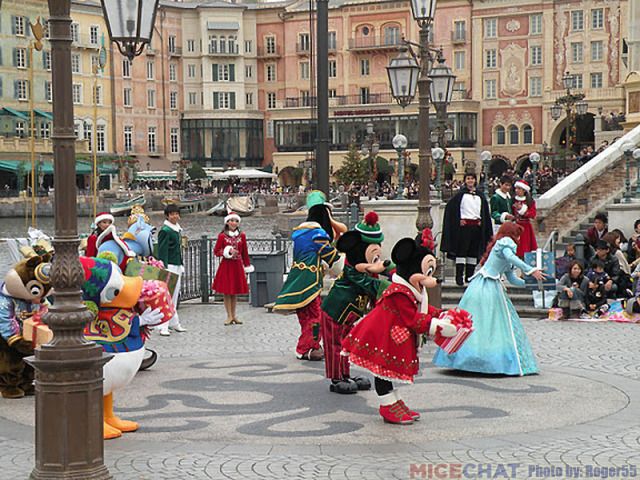 Ribbon Trees are raised for each port.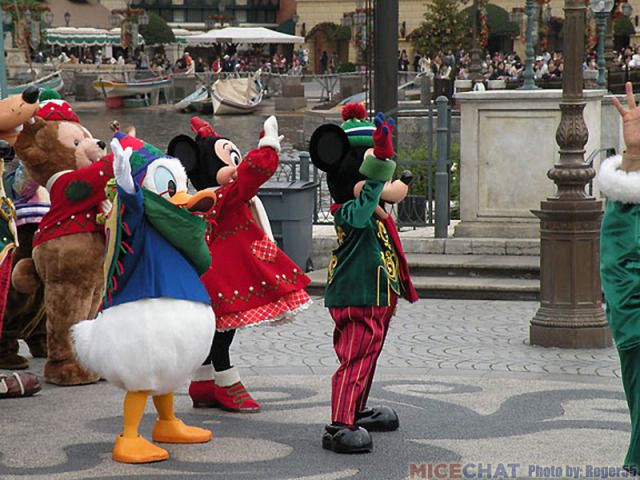 Some the dancers unravel ribbons and race out into the audience.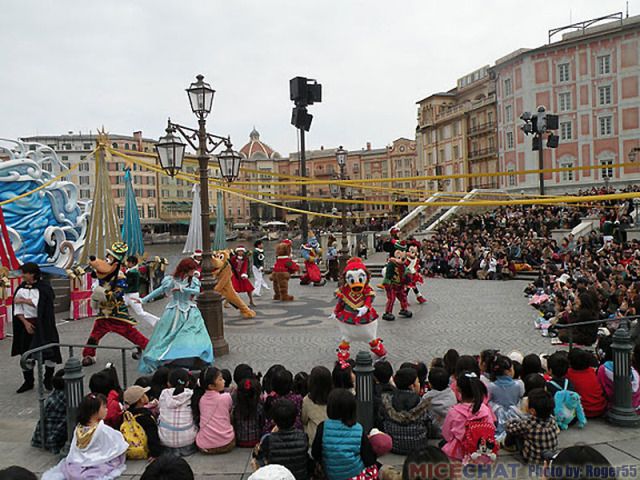 The characters all load up on the barge for the finale and their exit.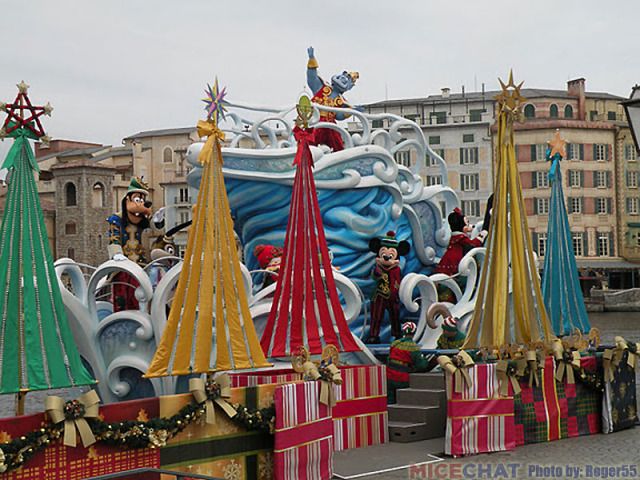 The featured show for Christmas Wishes is the "Wishes" show. This is a large production and in order to be able to watch the show from the main viewing area, Guests must try their luck at an electronic lottery system that randomly awards the hightly sought after tickets. You are only allowed one try at the lottery per day. I tried three times and was not ever awarded tickets. I took these shots from the very back of the main viewing area where people who did not win a ticket can stand and watch. I waited 2.5 hours at this "poor at best" location just to get some glimpeses of the show and the shots below using a very long 18x zoom lense. Sorry for the quality of many of the photos.
The show itself is full of beautiful costimes and all the popular characters Guests at DisneySea have come to expect. As you can see, each of the main characters go through multiple costume changes. With each new costume, you can here the Japanese Guests squeal with delight.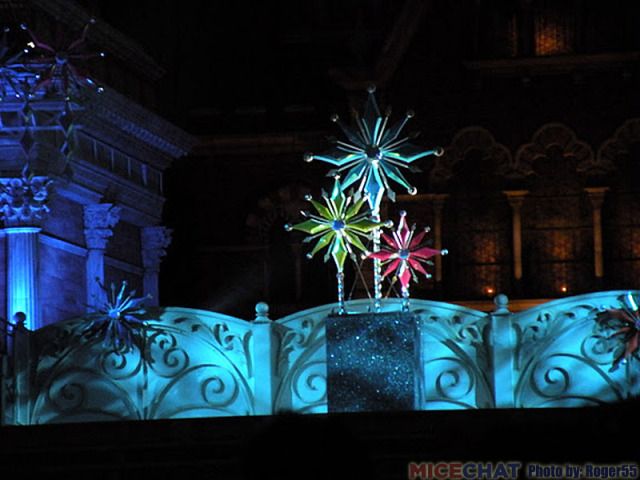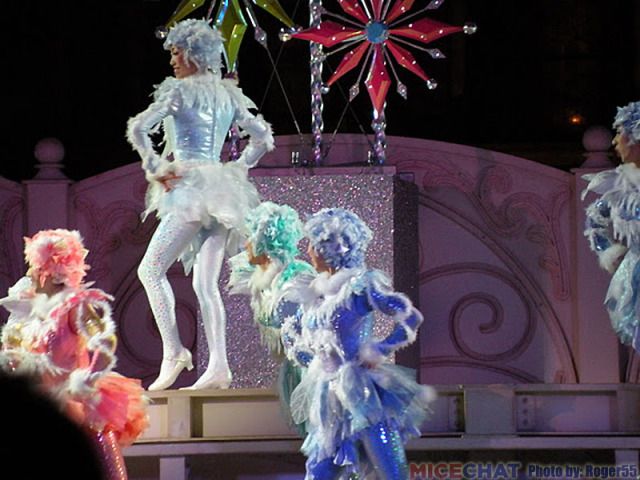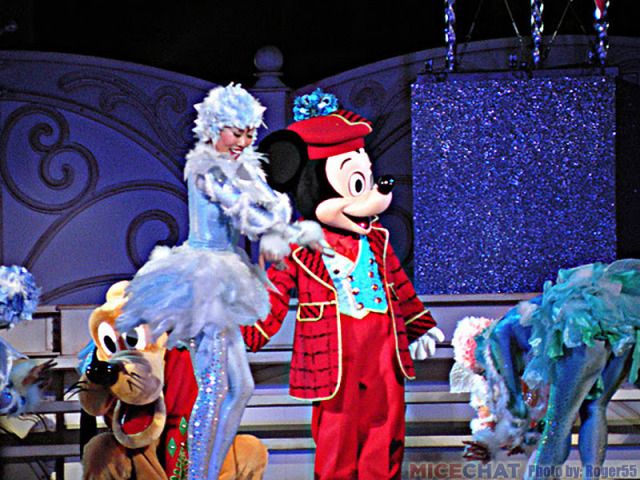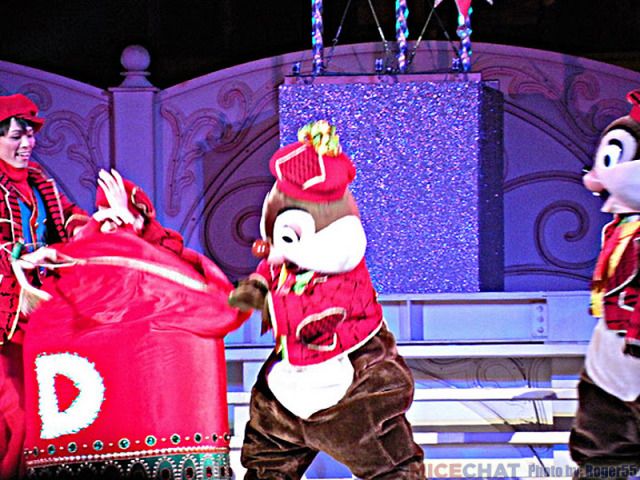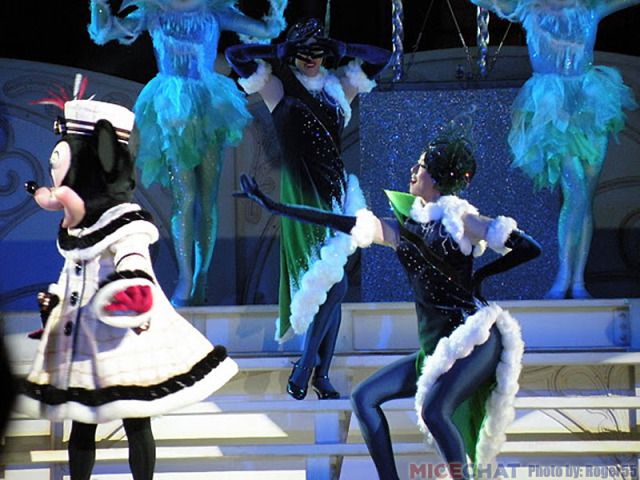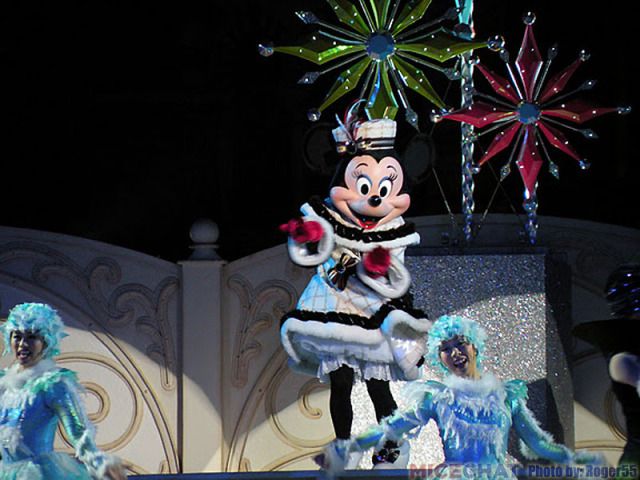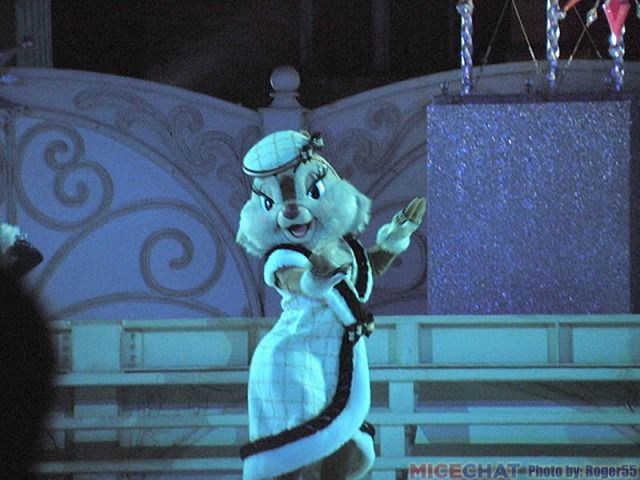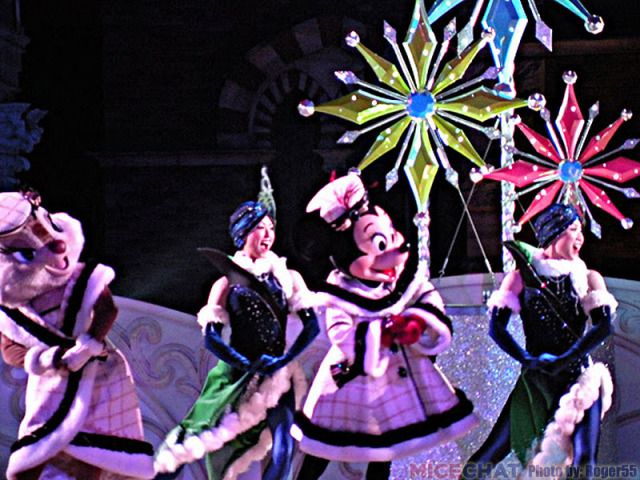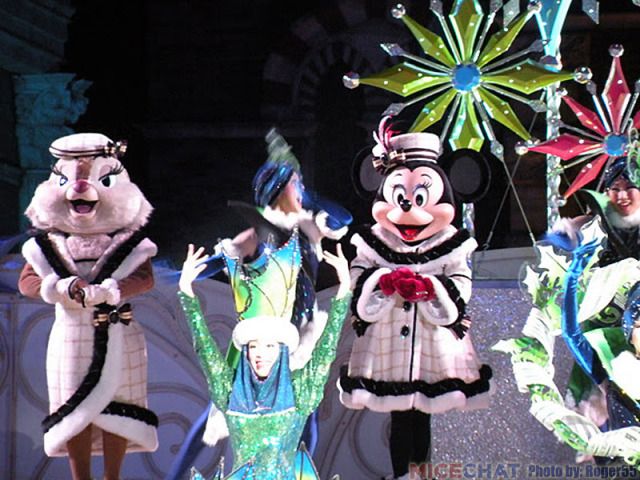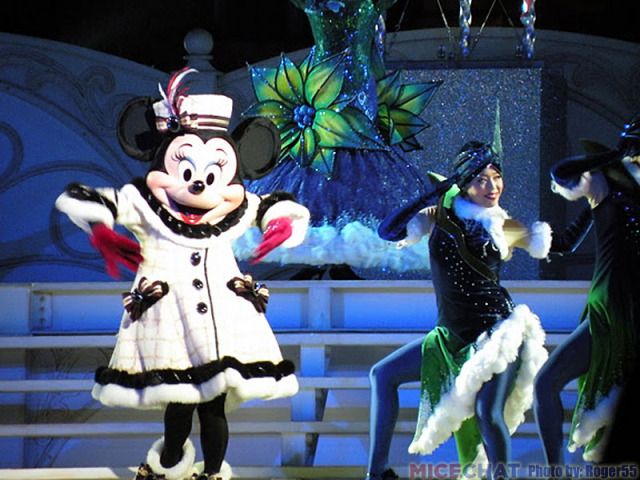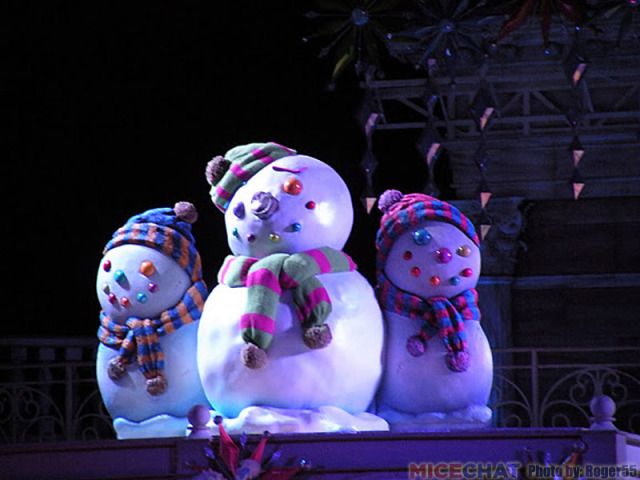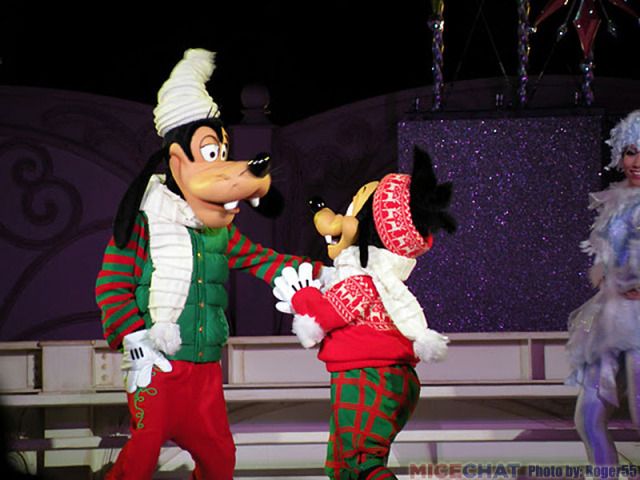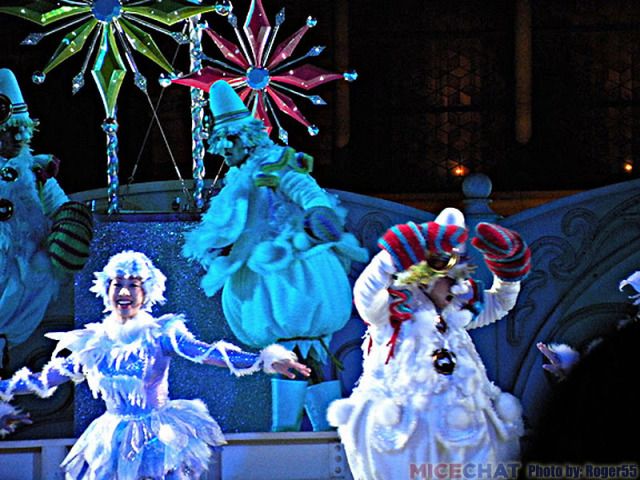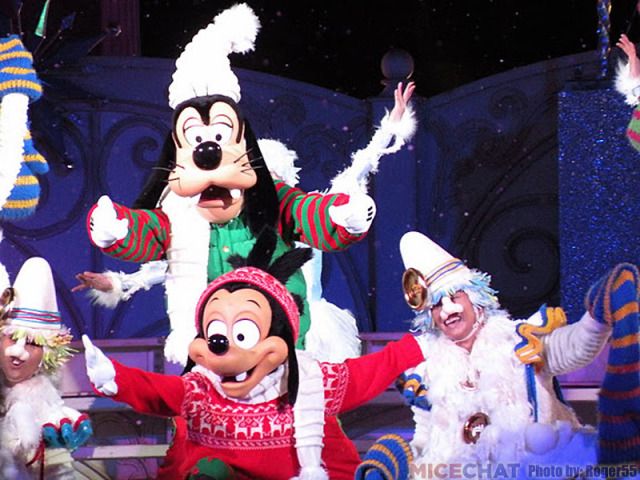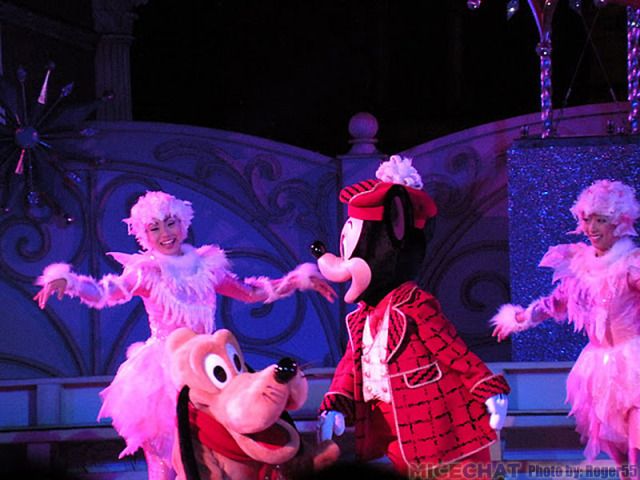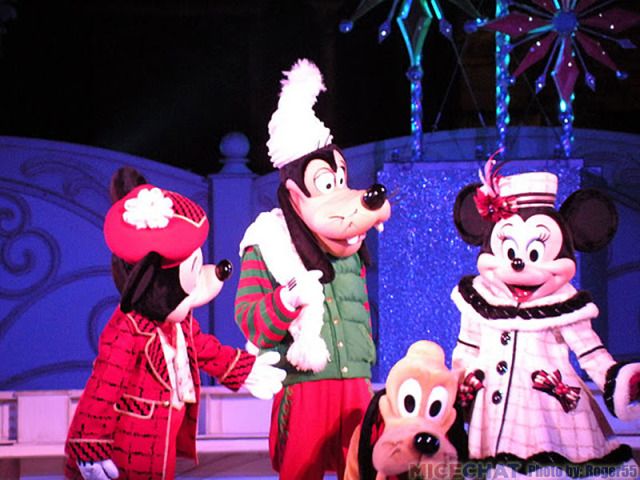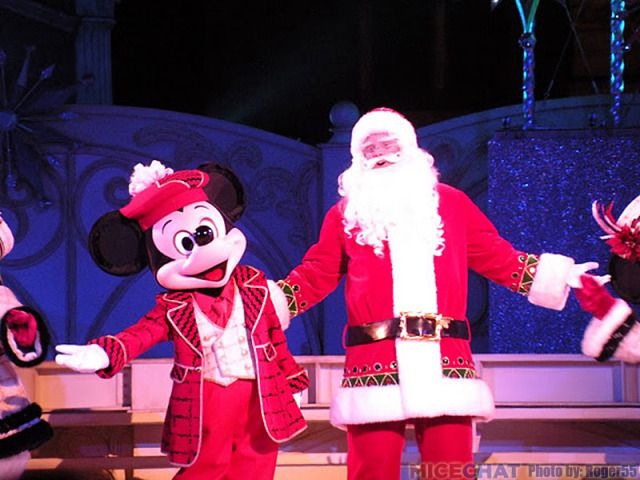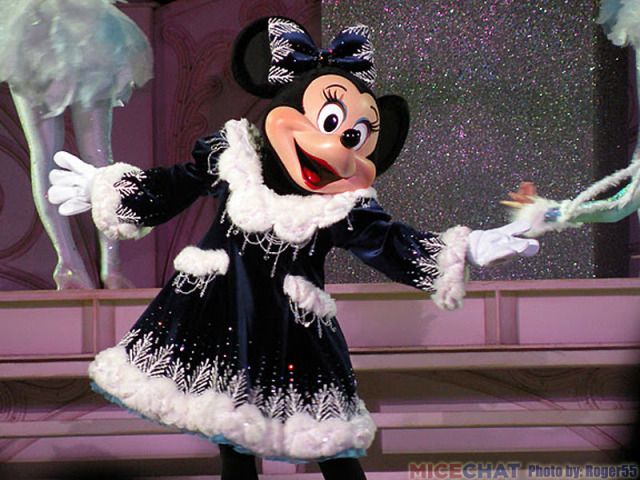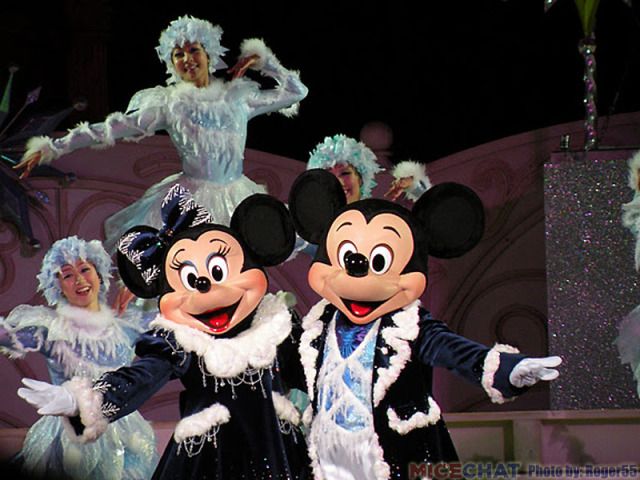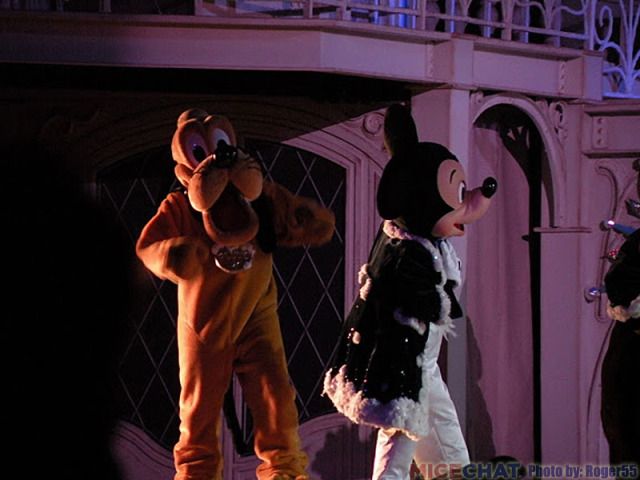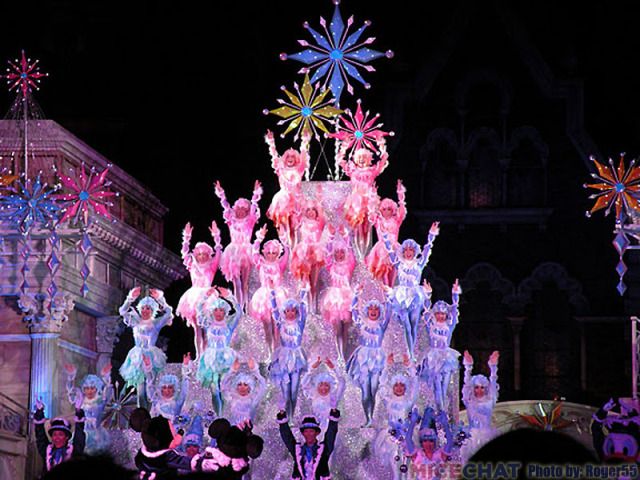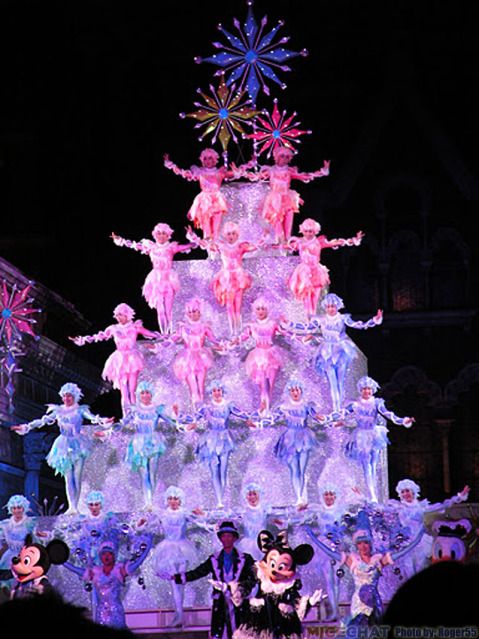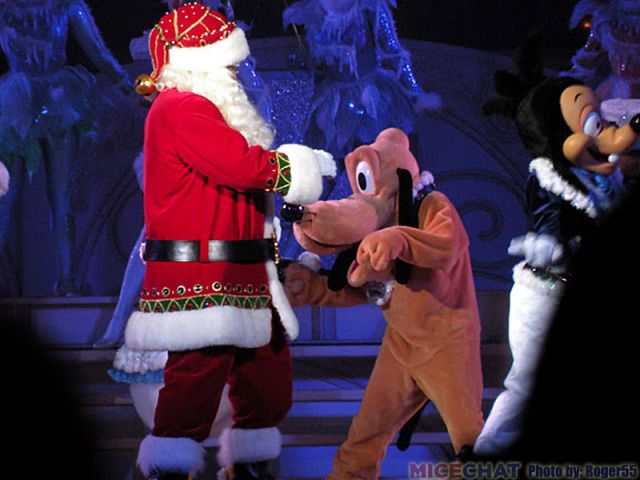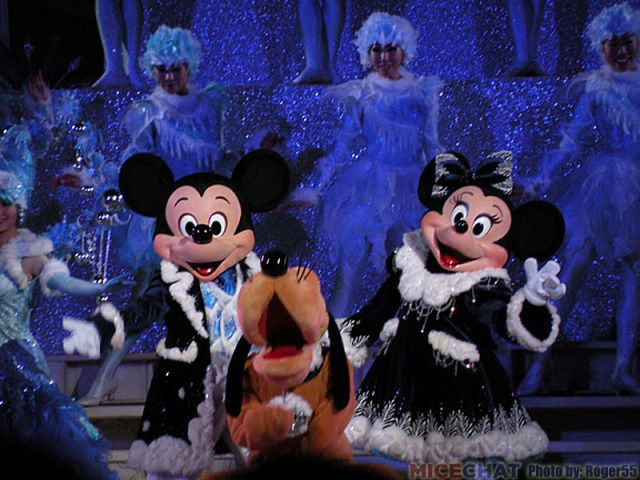 That will just about do it for my reports from Tokyo Disney Resort. Hope you enjoyed them!
A RARE LOOK AT THE DISNEY STUDIOS & SPECIAL MICECHAT ANNOUNCEMENT

The folks at Disney's D23 have announced their events for 2012. To help kick off the celebration and get as much attention as possible, they held a star-studded press event at the Walt Disney Studios. If you read MiceAge earlier this week, you may have seen Sue Kruse's account of this special day. Intrepid MiceChat reporter, Scarlett Stahl was also in attendance and shares this fantastic account of a magical day.
Thursday, December 8, 2011, the press and some well known bloggers were invited to the Walt Disney Studios in Burbank, Ca. for an update on Disney D23's upcoming events. With near hurricane winds forecast, invited guests of press and bloggers straggled in to gather in front of the theater in the Frank G. Wells Building. All were then escorted into the Archives to see rare animation cels and memorabilia. Guests were even allowed to hold and be photographed with one of the many Oscars won by the Disney company over the years, which everyone wanted to hold.
This is what happens when you give someone your camera. If you squint, you can just make out Becky Cline, and me, holding an Oscar
Becky Cline (Director of the Walt Disney Archives) and Steven Clark (Head of D23) were our hosts in the Archives.
Some of the D23 crew in attendance
Sneaking up on John Singh and Tim O'Day PR consultants for Disney and D23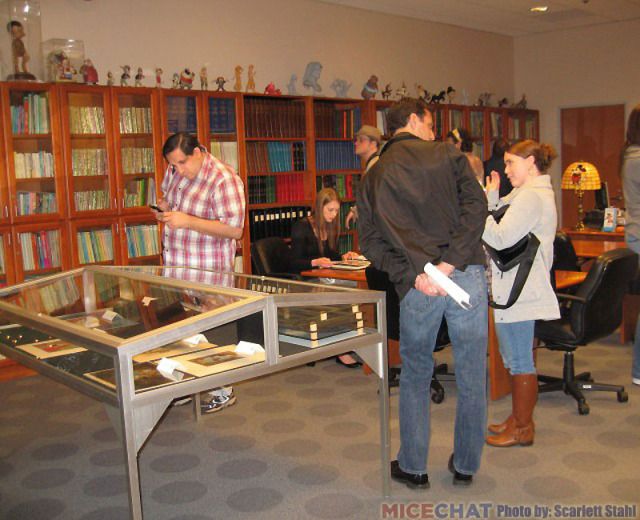 The Downstairs Archives are really just for show
Dusty previously announced most of the events below in MiceChat's D23 section
, but you'll find interesting new photos and artwork here.
Of course, the real reason for this amazing experience was for D23 to promote their upcoming events to press and bloggers:
D23 Presents the Smoke Tree Ranch Roundup
January 23-25, 2012
Palm Springs, California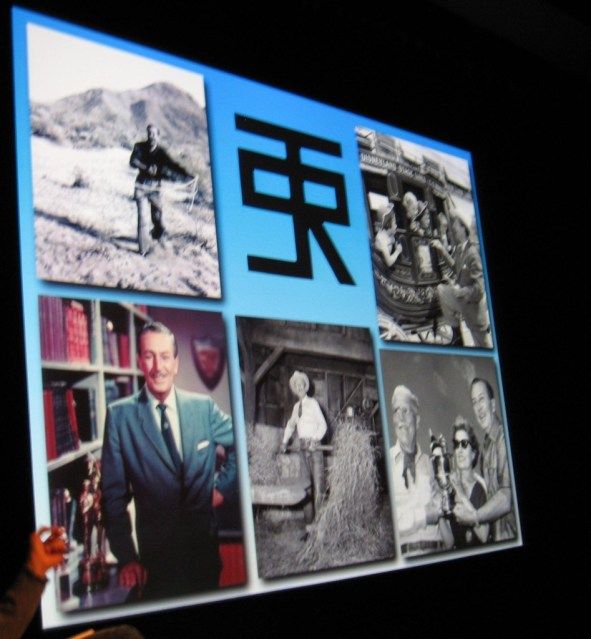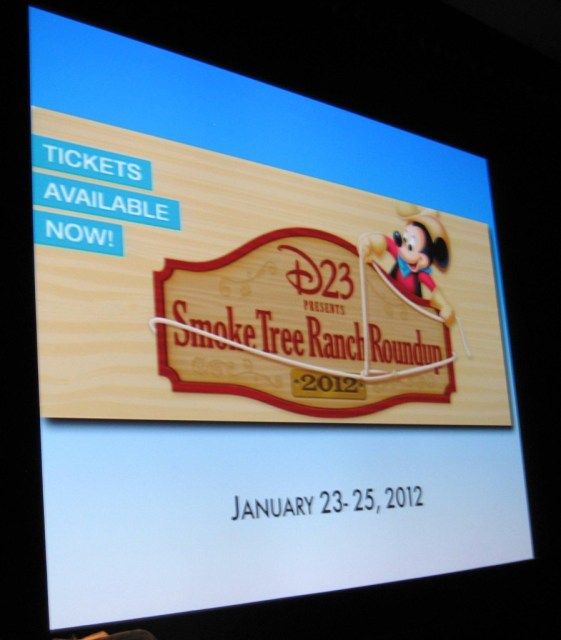 D23 Tour at the Walt Disney Studios and Archives
February 11-12, 2012; April 28-29, 2012; September 8-9, 2012;
Walt Disney Studios Lot, Burbank, California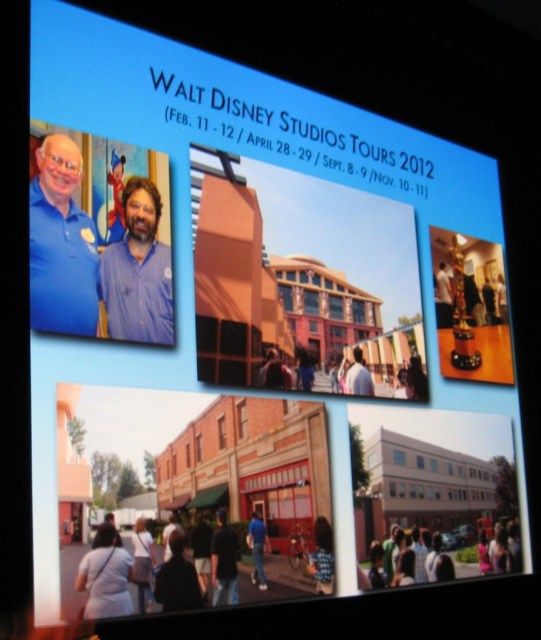 D23's From The Vaults: Newsies
February 25, 2012
Walt Disney Studios Lot, Burbank, California
D23 Fanniversary Celebration
March 2012
Orlando, New York, Chicago, Boston, San Francisco, and Los Angeles
March 14, 2012
Marceline, Missouri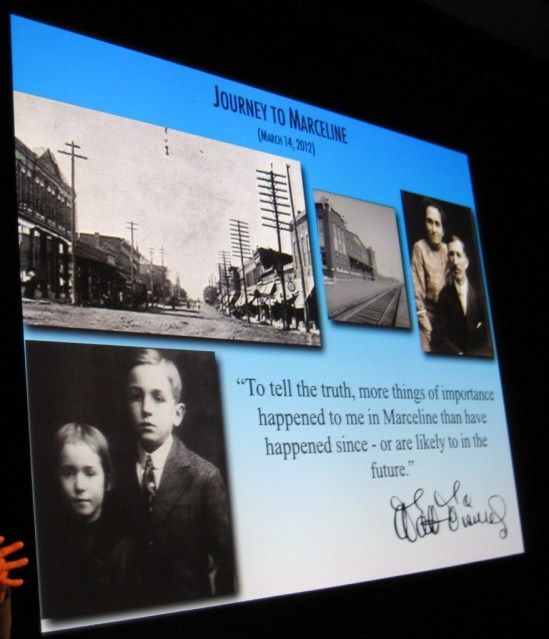 D23's 50 and Fabulous: In Search of the Castaways
May 26, 2012
Walt Disney Studios Lot, Burbank, California
D23's From The Vaults: Sister Act
June 23, 2012
Walt Disney Studios Lot, Burbank, California
Destination D: 75 Years Of Disney Animation
August 11-12, 2012
Disneyland Resort, Anaheim, California
[B]
This year's Destination D will celebrate Disney Animation.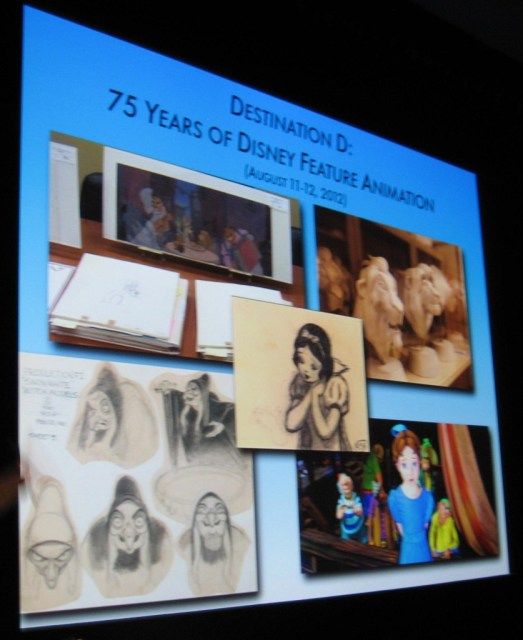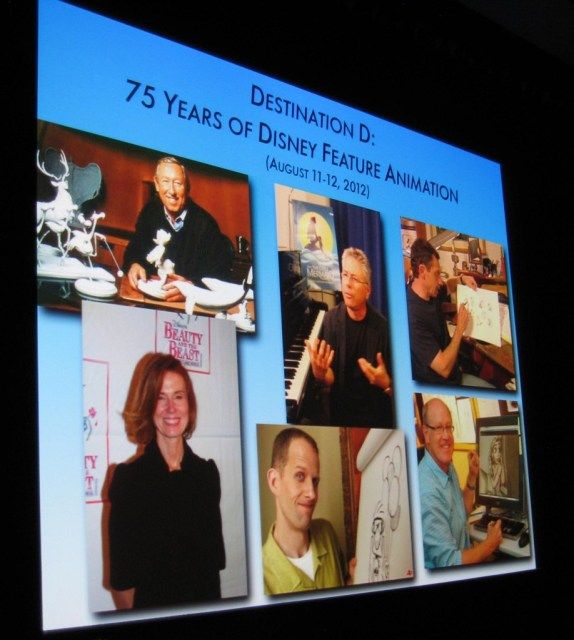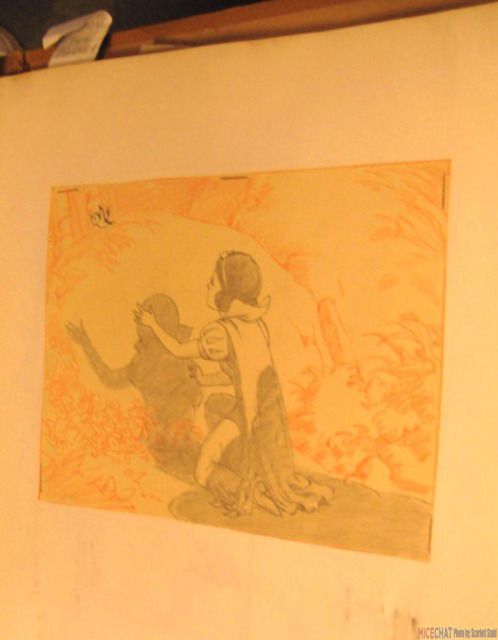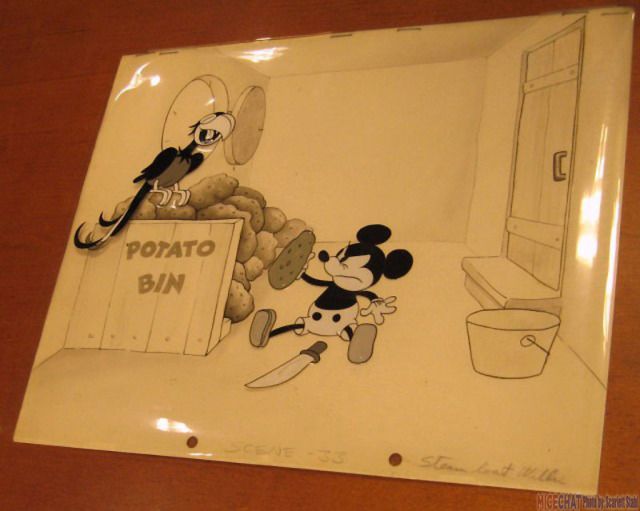 D23's From The Vaults: Treasure Island
September 22, 2012
Walt Disney Studios Lot, Burbank, California

D23's Sip & Scream
October 2012
Walt Disney World, Orlando, Florida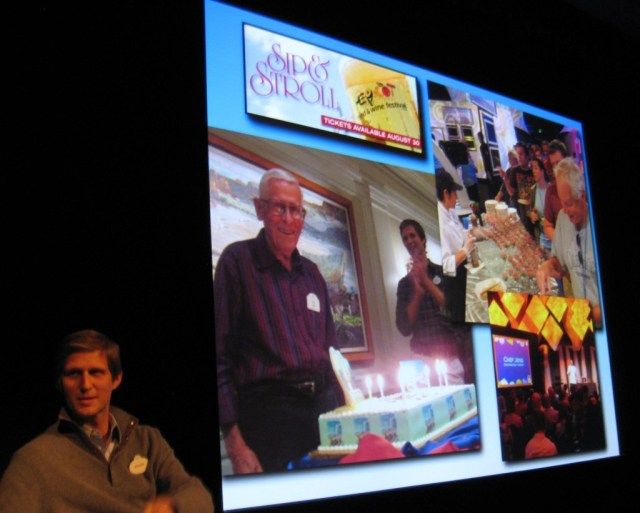 D23's Disney and Dickens
December 2012
Walt Disney Studios Lot and The Tam

D23's Magic and Merriment
Tentative Dates: December 7-8 and 9-10, 2012
Walt Disney World, Orlando, Florida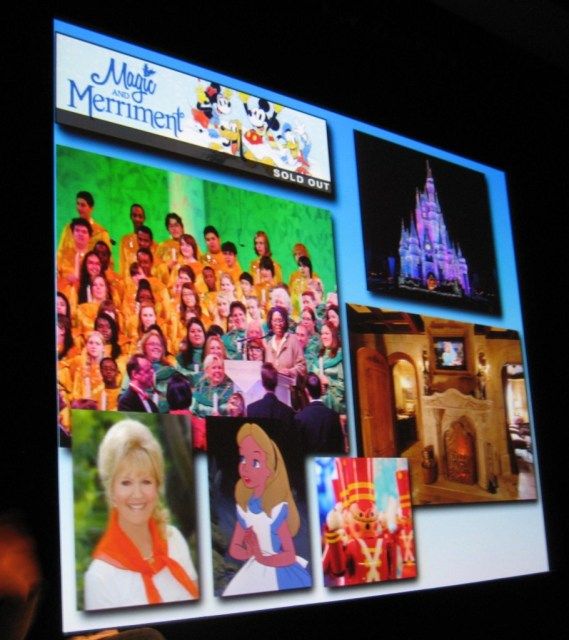 After the screening, the guests were led outside to view Legends and Luminaries being photographed in front of the original animation building for a future issue of D23 magazine.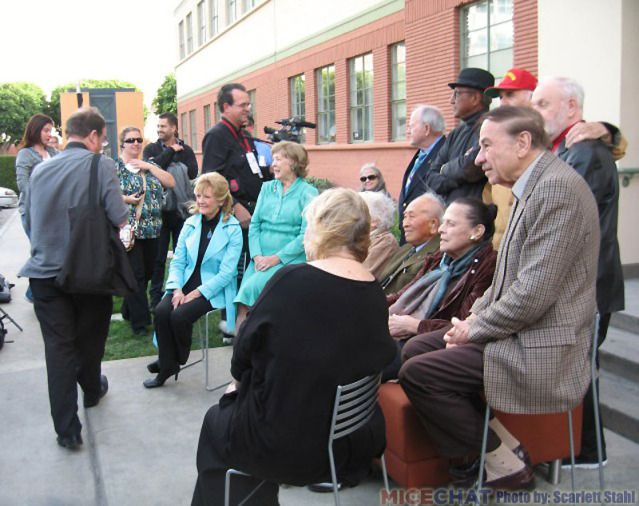 One person questioned the difference between Legends and Luminaries and it was suggested, but not confirmed, that Legends are those individuals, who have already been given a Disney Legend award, while the Luminaries are individuals who may eventually become Legends.
The guests were permitted to video the shoot, but not use their digital cameras, which is the reverse of the instructions in the theater. However, all the guests were then invited to participate in the photo shoot and were later sent a copy of the photo for themselves.
Here's a shot of Disney VP Howard Green (in the middle) with Dick Jones (Pinocchio) and his wife Betty
Listed below are the many Legends and Luminaries in attendance at the event:
Kathryn Beaumont, voice of Alice and of Wendy Darling
Alice Davis, Imagineer and costume designer
Lisa Davis, voice of Anita in "One Hundred and One Dalmatians"
Joe Hale, animation producer
Dickie Jones, voice of Pinocchio
Margaret Kerry, live-action model for Tinker Bell
Burny Mattinson, legendary storyboard artist
Floyd Norman, animator and "story man"
Richard Sherman, composer and lyricist
Ruthie Thompson, supervisor of Scene Planning department (Ink & Paint)
Steven Clark (Head of D23 and VP of Corporate Communications) and Margaret Kerry (Tinker Bell herself)
Richard Sherman with his wife Elizabeth
Kathryn Beaumont (Alice and Wendy), Mindy Johnson of Disney, and Alice Davis. Kathryn and Alice are Disney Legends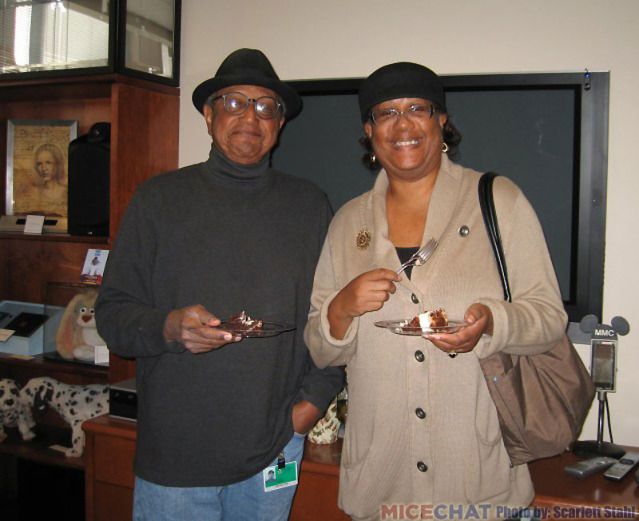 Floyd Norman (Disney Legend) and his wife Adriane
The select press and blogger guests, along with the Legends and Luminaries were led to the upstairs Archives, which is normally off limits, so this made the event even more special. Coffee, cookies, three different cakes and champagne were available, while to the delight of all, Richard Sherman entertained at the piano by playing and singing some of his memorable songs.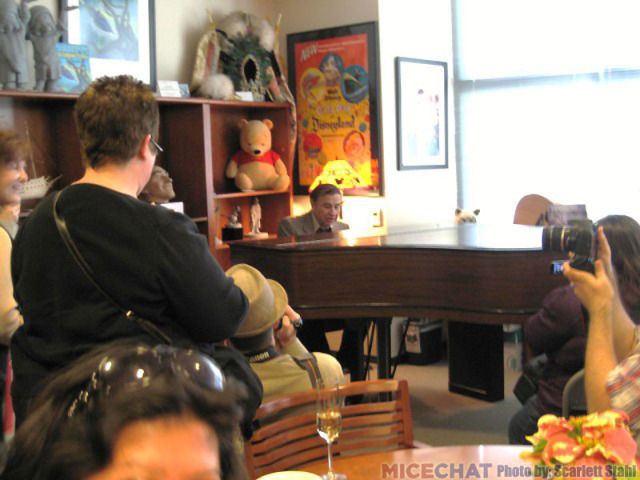 One of the Small World dolls was brought out for a photo op with Small World designer and Legend Alice Davis. When Alice remarked that she would like to do some Small World rag dolls, Becky Cline wisely jumped at the opportunity and told Alice that if she would be willing to design the dolls, D23 would be delighted to market them. The guests around all immediately said they would love to be able to buy one.
Alice Davis with a Small World doll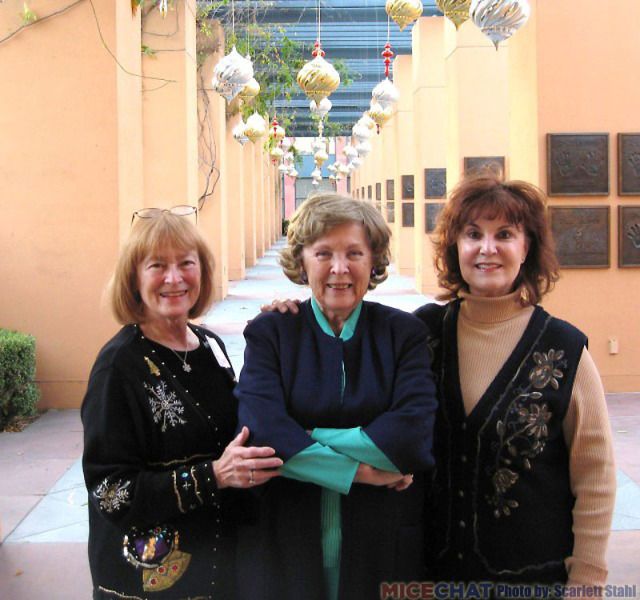 Margaret "Tinker Bell" Kerry (who is always a crowd pleaser) and Linda Swisher with me in the Disney Legend Plaza (which has been decorated for Christmas)
Scarlett's report of her trip to the Walt Disney studios was truly magical. You can experience your own magical Disney Studios adventure on the weekend of MiceChat's 7th anniversary this January 27th, 2012.



MiceChat's 7th Anniversary Kick-off Adventure




Disney has planned this trip to maximize the magic and will be led by Walt Disney tour guides. Transportation will be provided round trip from the Disneyland Resort. There is a restroom on board the motor coach and guests will travel approximately 110 miles over the course of the day. Here's some information about the upcoming event as previously posted by Dustysage.
Brief Overview Of MiceChat's Disney Studio Adventure (January 27, 2012)
While en route, guests are shown Walt Disney Treasures: Behind the Scenes of the Walt Disney Studio, a video detailing how it all started.
10:00 a.m.- Guests arrive at The Walt Disney Studio in Burbank, CA and experience a guided tour of The Walt Disney Studio Lot and the Disney Archives.
- Visit the Disney Archives and interact with a local expert (Disney Archivist)
- Stroll through the original animation building where films like Cinderella and Alice in Wonderland were created.
- See the historic soundstages used for filming Disney classics like 20,000 Leagues Under the Sea
- Explore the beautiful Legends Plaza, which honors those who have made significant contributions to the Disney legacy.
- Have the opportunity to purchase merchandise in the new Disney Store.
11:30 a.m.- Stop for lunch at The Walt Disney Commissary and have free time to shop at The Walt Disney Studio Store.
- A la Carte lunch included
- Choice of an entree, side dish, dessert and drink
12:30 p.m. - Guests depart The Walt Disney Studio for a walking tour of Hollywood, CA and a behind the scenes tour of the Kodak Theater.
- Behind the Scenes Hollywood Tour
- The Story of Hollywood - Guests learn how Hollywood got its name and how it became the entertainment capital of the world.
- Grauman's Chinese Theater - Guests tour the hand and foot print plaza of Sid Grauman's masterpiece and discover the story behind the world's most famous theater.
- Hollywood Walk of Fame - Guest will walk in the footsteps of the stars. They will learn how the red carpet is rolled out for the Oscars!
- Hollywood Roosevelt Hotel - Guests will see the first home of the Academy Awards.
- Masonic Temple - Guests will learn about Hollywood's first commercial building, which was once home to the fraternal order of Free Masons and is now the taping studio for ABC Television Network and Jimmy Kimmel Live.
- El Capitan Theater - Guests will visit Disney's Premiere Theatre, home to the west coast movie premieres for The Lion King, Toy Story, Monster's Inc, and hundreds of other famous films.
- Hollywood & Highland - Guests will view a $615 million retail center; the design is a tribute to D.W. Griffith's epic film Intolerance.
- Max Factor Building - Guests will learn all about Max Factor's original studio and headquarters.
- Receive a Disney swag bag in Hollywood
- Kodak Theater Tour - The Kodak Theater is a 3.332 seat theatre that opened in November 2001, and soon became known to more than one billion people across the globe at the first permanent home of the Academy Awards. The Kodak Theater is located in the Hollywood & Highland Center - retail dining and entertainment complex located in the heart of historic Hollywood. Guests will:
Receive a private tour of the theater from a local expert.
See an Oscar statuette
Visit the George Eastman VIP Room
Sit in the seats where the Academy members sit.
3:00 p.m.- Guest depart Hollywood for drive up Sunset Boulevard to Beverly Hills and Rodeo Drive.
- The Sunset Strip is the name given to the mile-and-a-half stretch of Sunset Boulevard that passes through Hollywood. It extends from West Hollywood's eastern border with Hollywood, to its western border with Beverly Hills. The Strip is probably the best-known portion of Sunset, embracing a premier collection of boutiques, restaurants, rock clubs, and nightclubs that are on the cutting edge of the entertainment industry.
- Chateau Marmont
- Sunset Tower Hotel
- The Comedy Store
- Mondrian Hotel
- The Viper Room
- The Whisky a Go-Go
- The Roxy
- House of Blues
- Key Club
- Additionally, guests will visit Beverly Hills where they will have the opportunity to stroll along the famous Rodeo Drive, a shopping district known for its designer labels and high fashion.
4:30 p.m.- Guests arrive at Gladstone's on Malibu Beach for heavy appetizers and drinks.
- Guests will enjoy appetizers and non-alcoholic beverages overlooking the Pacific Ocean during the final stop of the day.
- One alcoholic beverage (ages 21 and over) will be included as well, and additional alcoholic items will be at the guest's expense.
7:00 p.m. - Guests return to Disneyland Resort
Sound wonderful? A small group of just 40 people will be able to attend.
Contact Teresa Cory, of Fairy Godmother Travel
today to reserve your spot for this one of a kind MiceChat event!
Might we also suggest that you visit these fine MiceAge/MiceChat attractions for even more Disney and theme park fun:
And that brings us to the end of another week. Our photographers have just enough time to reload their cameras before we see you all again next weekend. Thank you to all of our wonderful readers, and as always, a huge thank you to our amazing team of global photographers, spies, and gossips:
Denise Preskitt Mousesteps.com
Roger55
Scarlett Stahl

Your Editor - Rixter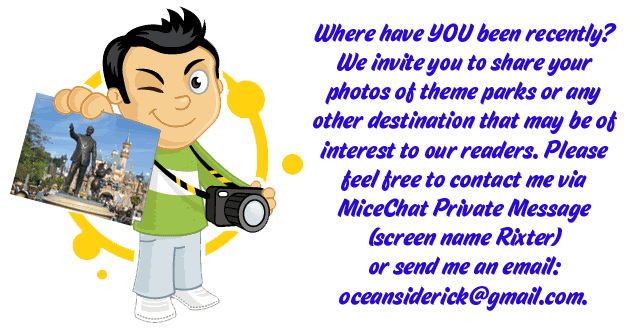 It is readers like you who make MiceChat such a special place.
Don't miss a single one of MiceChat's Featured Blogs (including the Weekend Update). Add our feed to your favorite feed software or site:
Follow us on Twitter