Mickeymaxx and I just returned from our local mall after our nightly "mall walk". We've been trying to shed a few pounds by counting calories and adding some activity to our daily routine. Two trips around the local mall, one upstairs and one downstairs, takes us about twenty minutes at a pretty brisk pace. I have often wondered how many calories I burn when I am visiting the theme parks. I know we cover a lot of territory, but obviously the pace is usually not that brisk.
Denise Preskitt
has traveled miles and miles and miles during her famous "walks". That's why her website is called
Mousesteps.com
. When we're lucky, Denise shares her photos with us at the Weekend Update. Denise visited the
Magic Kingdom
on the same day that
President Obama
visited. Although she didn't manage to get up close to the President, she did get to see the special arrangements that Disney made to make the day special for their "regular" guests.
Rya86n
and his beautiful bride made an epic journey to the USA and traveled from shore to shore visiting theme parks along the way. We have part two of
Rya86n's Odyssey
this week. What great photos of
Animal Kingdom
!
Disneyland Paris
is gearing up for their
20th Anniversary
celebration and has released a video teaser featuring some of their plans.
Alain Littaye
shares his analysis of the video and the upcoming activities.
Scarlett Stahl
made a family pilgrimage to
Richmond, Virginia
. Her family has a rich heritage going way back in that area and Scarlett was able to learn more about her many ancestors, including
Pocahontas
!
Have a great weekend, everyone...
And go for a walk!
Denise Preskitt visited the Magic Kingdom on the day of the Presidential Visit
I wanted to share some photos from the day the President came to Walt Disney World, even if I didn't see him personally. The Magic Kingdom was very quiet and except for the extra walls and security within the walled off/roped off areas.
I do have more photos going up on my site, but these give a good indication of the day. The park was pretty slow, with Space Mountain at a 10 minute wait when we walked by (even with the People Mover being down at the time).
Even Streetmosphere (and the Mayor of Main Street) were kept off of Main Street. They greeted guests that walked into the park, and around Town Square.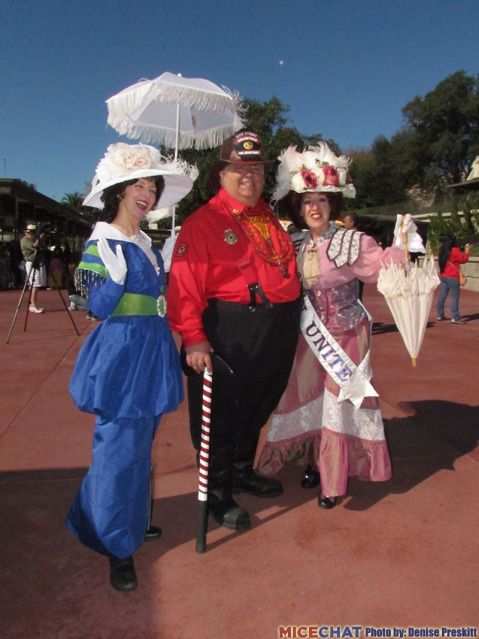 There was a wall on this side of Main Street, seen as guests walked in. Security entering the park was not different than usual, but there was a metal detector for anyone invited to the event.
Guests were brought through a backstage area, which was lined with decorations and floats (including ones that haven't been used in a while). Main Street transportation vehicles were also displayed.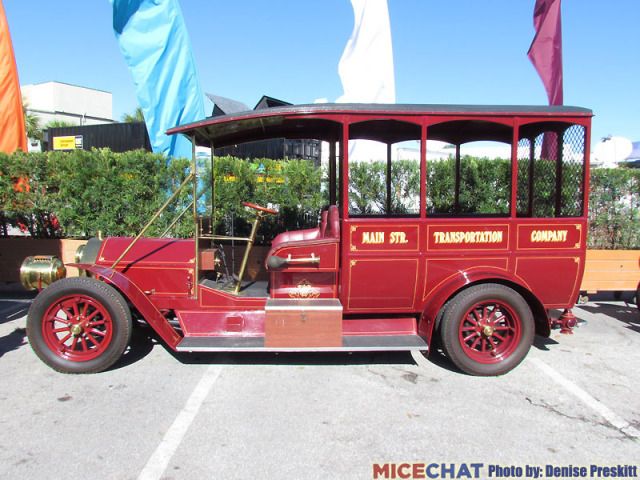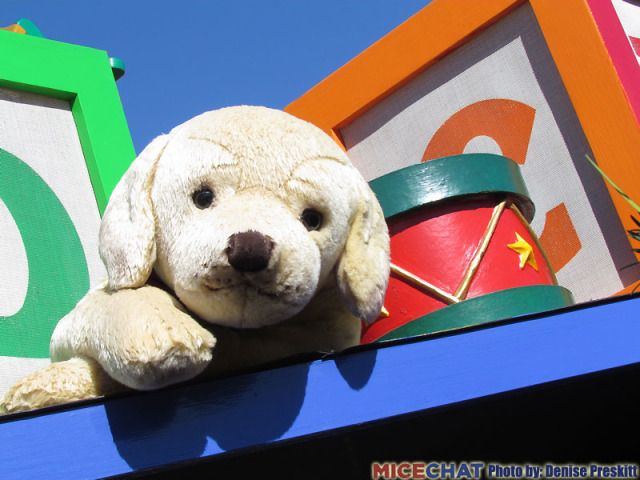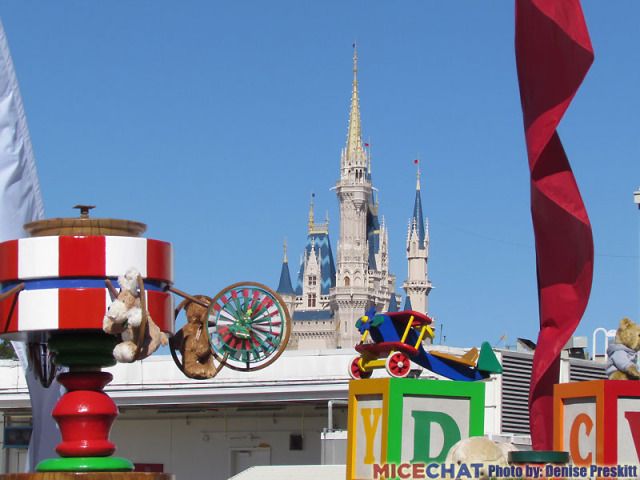 This float is from the Boo-to-You parade:
Tick-Tock:
This is a video we have of the floats, decorations and Cast Members dancing to the backstage DJ:
<iframe width="640" height="360" src="http://www.youtube.com/embed/WbTi6FJMHKk" frameborder="0" allowfullscreen=""></iframe>
Balloons around the exit: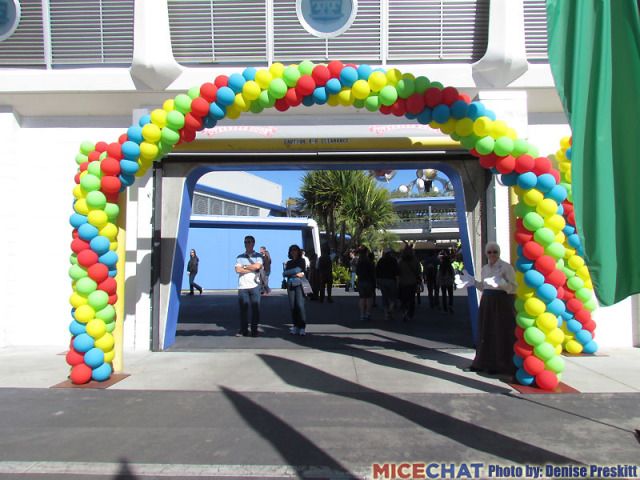 Nobody on this path to Main Street:
There were walls up around Cinderella Castle: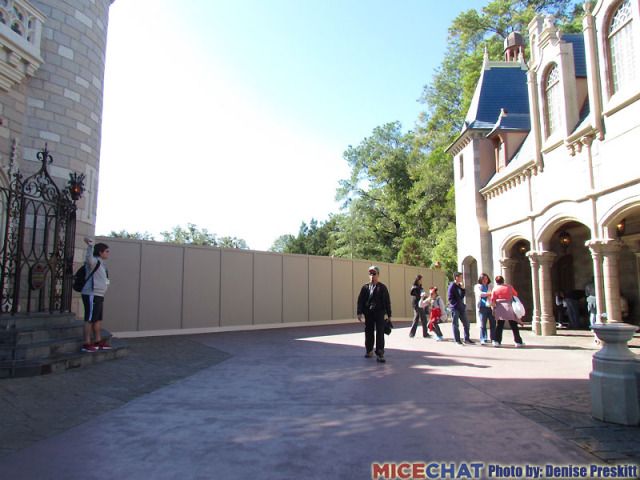 Guests were hoping for a glimpse of the President, but every vantage point was blocked off: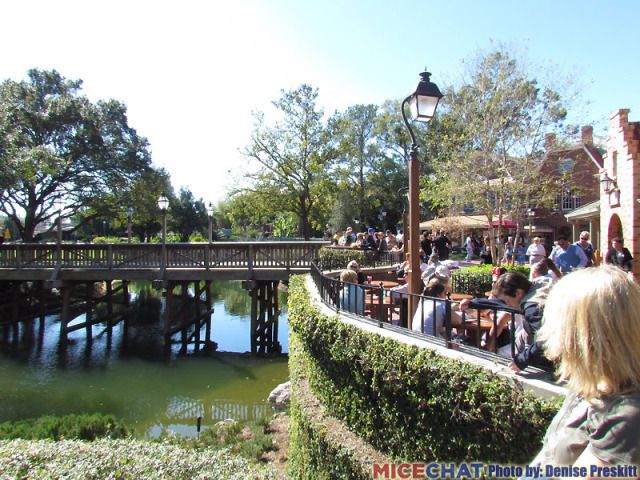 Main Street patriotic decorations: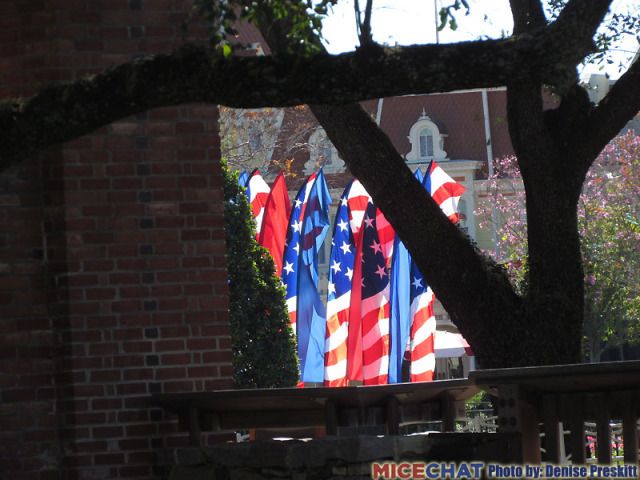 The Hall of Presidents hosted a simulcast: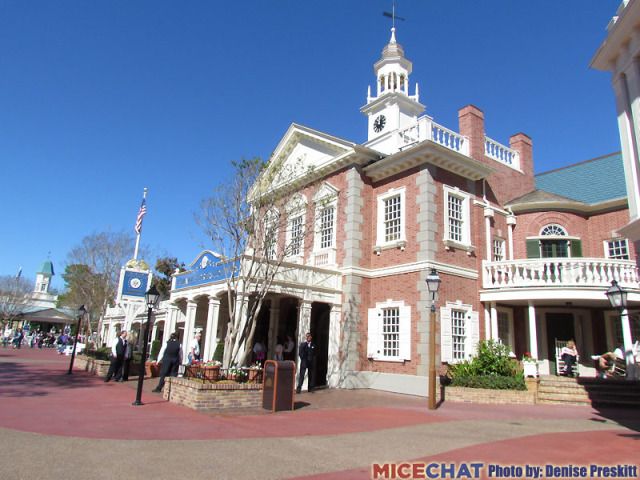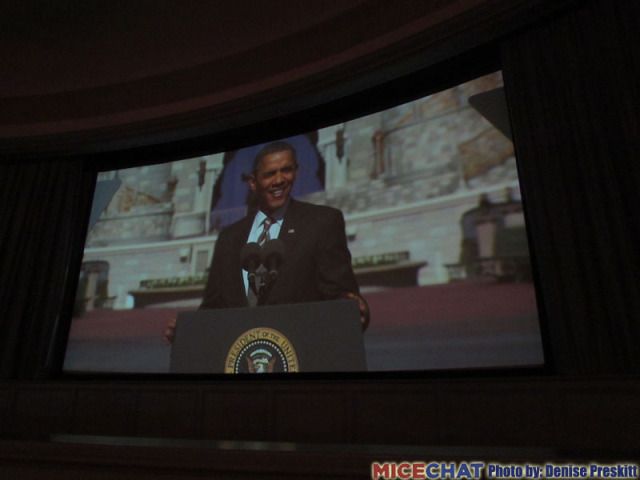 We have video of the simulcast, and you can hear crowd reaction. The Hall of Presidents was mostly full, but not completely for this event. I think most guests didn't know about it, as it was mostly a normal day at the park (no big banner saying "Welcome" to the President or anything like that).
<iframe width="640" height="360" src="http://www.youtube.com/embed/VCQIZ0l7ZSQ" frameborder="0" allowfullscreen=""></iframe>
And we went to the Animal Kingdom Lodge after the Magic Kingdom, and found the Oscar Meyer Wienermobile in the parking lot!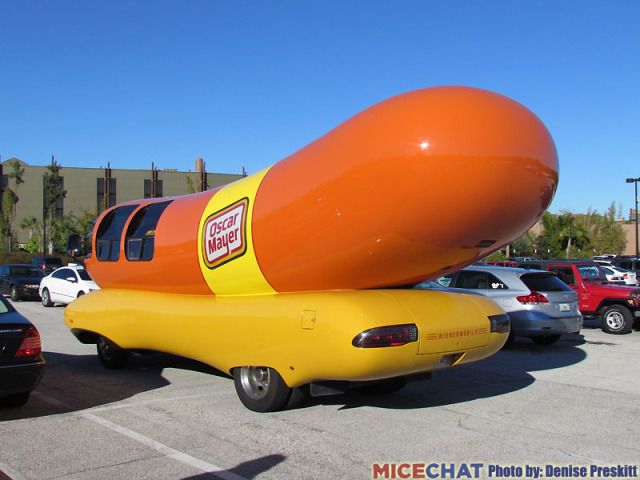 Disney's Hollywood Studios hosted "Rock the Night" fireworks as part of keeping guests out of the Magic Kingdom. I love fireworks at the Studios, this was very similar to the NYE fireworks here. I prefer a location that showcases the Chinese Theater a little more, and it's so much quieter than Hollywood Blvd! I had time to take some photos, playing with the black and white, vivid and other settings on the camera.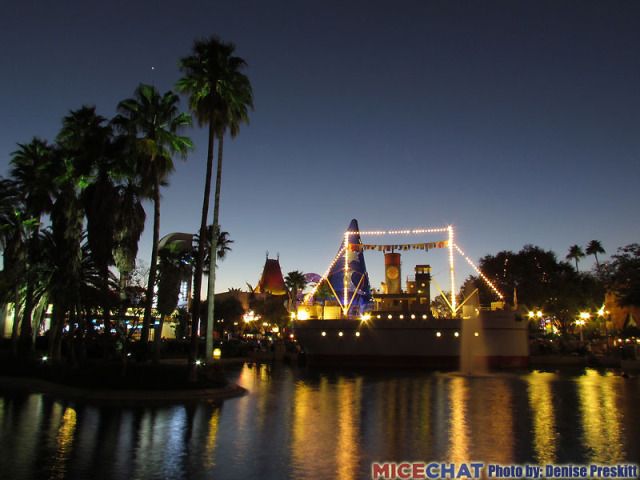 Our video of the Rock the Night fireworks, taken from Hollywood Blvd.:
<iframe width="640" height="360" src="http://www.youtube.com/embed/4MLsXeEOyNU" frameborder="0" allowfullscreen=""></iframe>
Fireworks: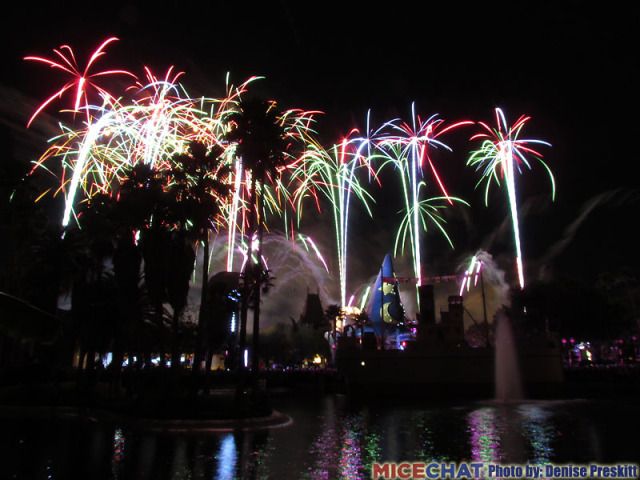 View more photos from this special day on Denise's website: Mousesteps.com
Aussie Odyssey Part Two
So last week I hinted at what's to come. This weekend, I go way back to the start of my
American Theme Park Odyssey
with a look at my first Walt Disney World park,
Disney's Animal Kingdom
.
Plenty to Discover
here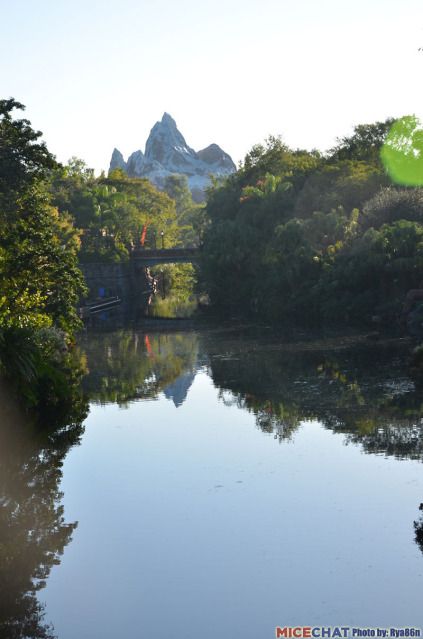 We went to Asia
Took a
ride through The Himalayas
Went to Africa
Explored the Savannah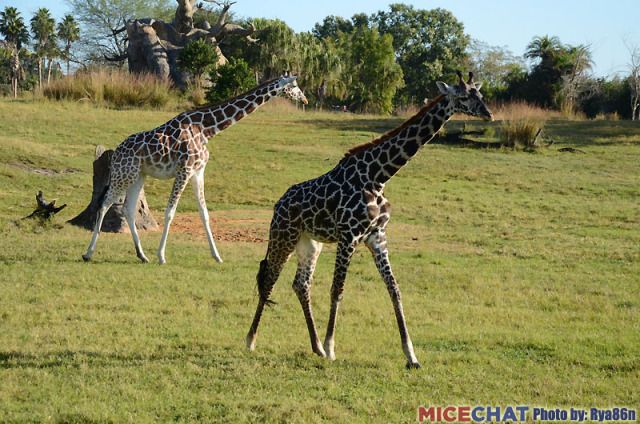 Said hello to the loacls; Giraffes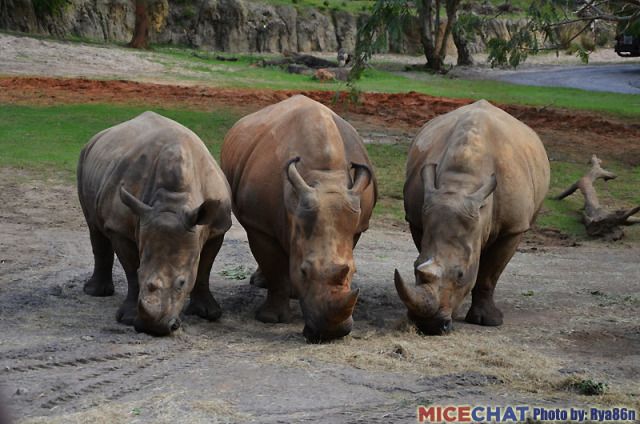 White Rhinos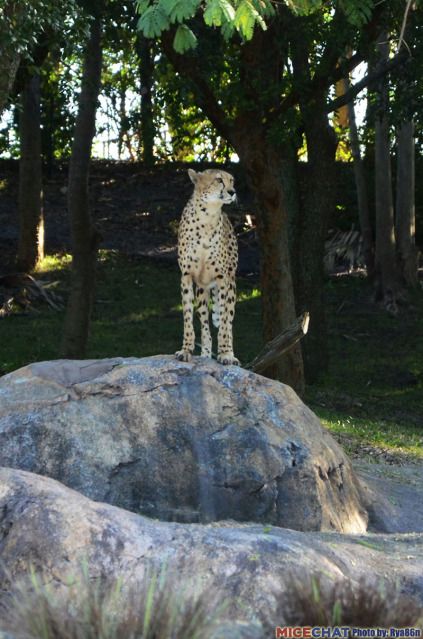 A Cheetah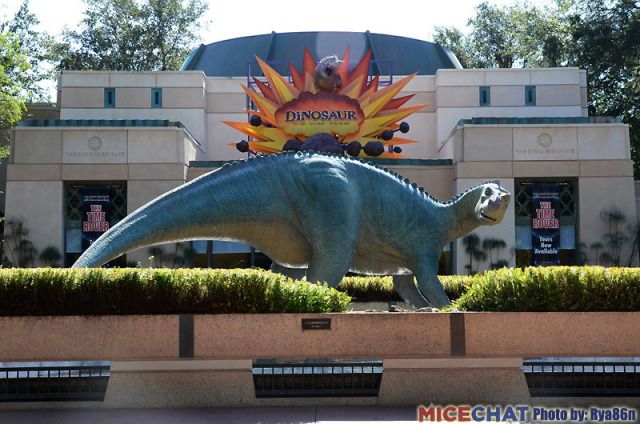 Even some
prehistoric wildlife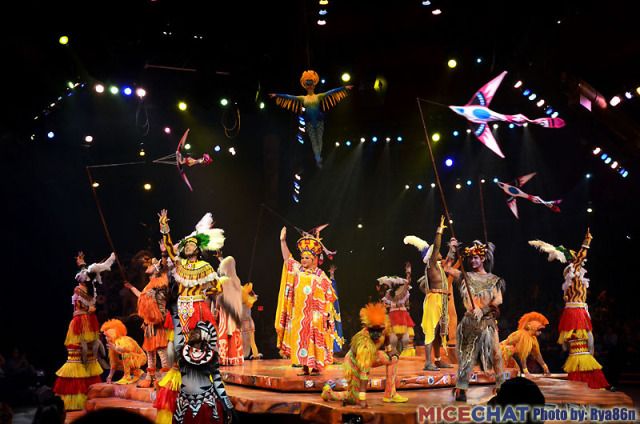 Festival of the Lion King
was high on our DAK to do list, but ultimately I preferred the
Hong Kong Disneyland version
.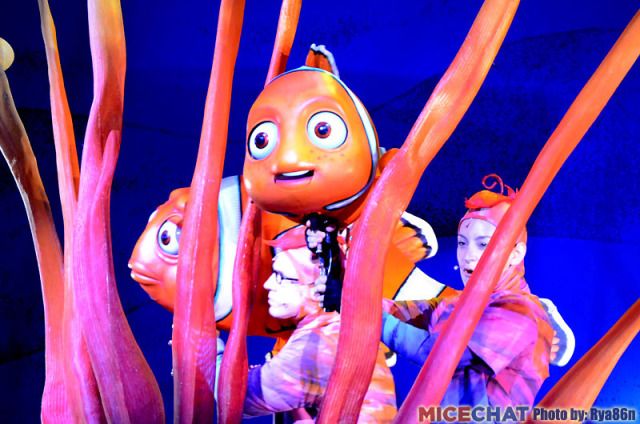 Nemo
, on the other hand, turned out to be one of the most enjoyable shows at Walt Disney World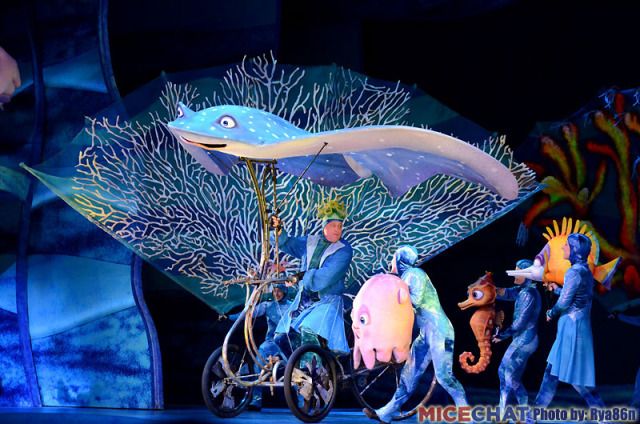 Worthy of a few repeat viewings (and of course, plenty more photos too!)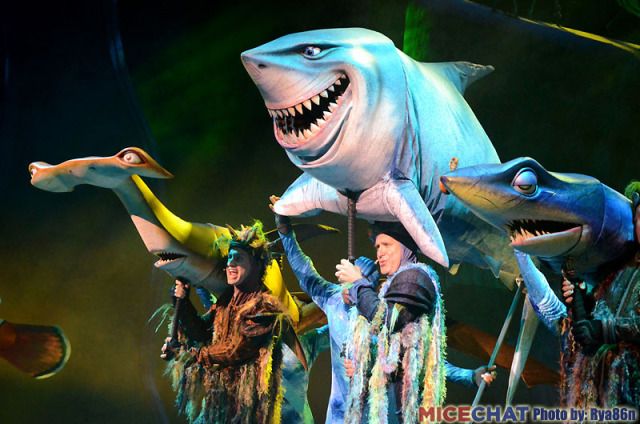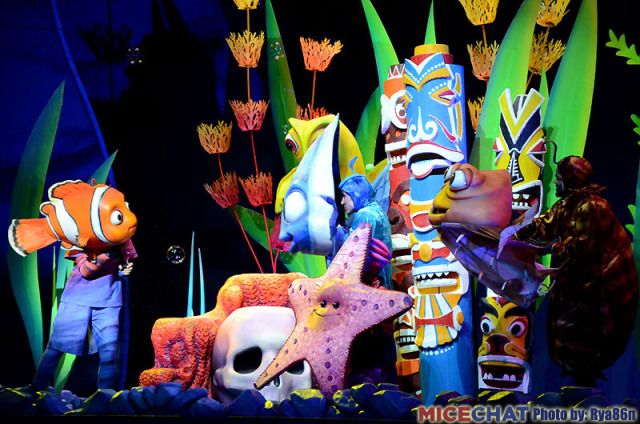 The one Australian address everyone remembers!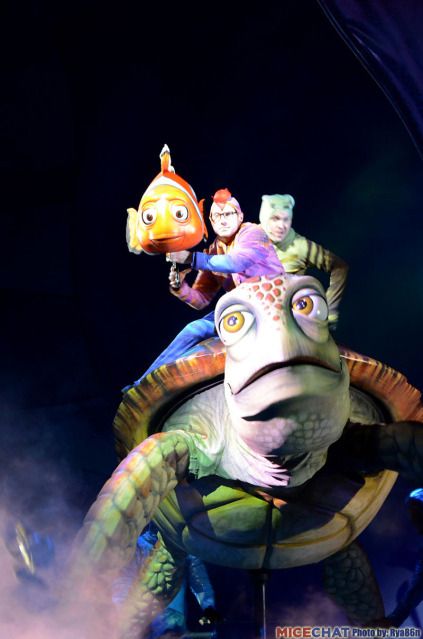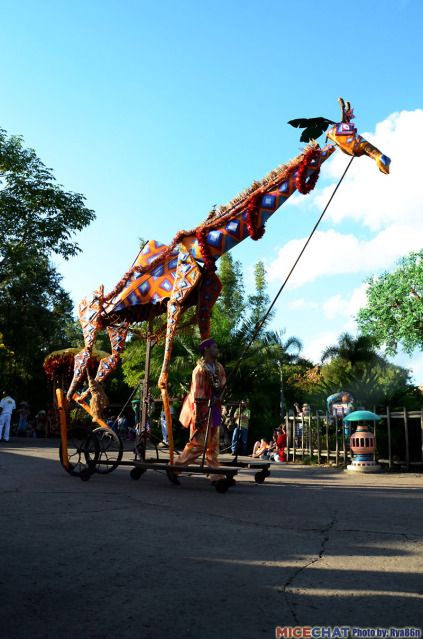 Parade Time!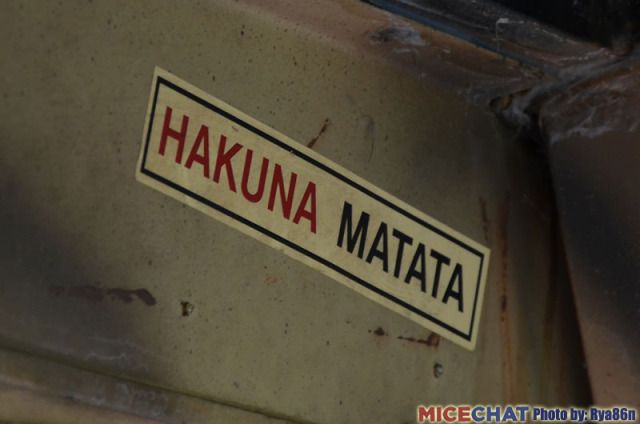 We had a great time at Animal Kingdom, but it was the small details that really made us smile!
Disneyland Paris 20th Anniversary Preview Video
Introduces New Parade and Disney Dreams Show
Disneyland Paris has released an interesting 20th Anniversary preview video which shows more of the awaited Disney Dreams show as well as the new floats in the Disney Magic on Parade!. Let's have a closer look at it.
The new "Disney Magic on Parade!" will cast Disney Characters "in a fantastic new carnival especially for our 20th anniversary". Flying out from their unforgettable stories, trailing light, color, music and magic, they glide through the park's party atmosphere before Mickey and friends shine "in a spectacular finale". Below, you'll see renderings of the new floats as well as the one for the final scene and the new Cinderella and Sleeping Beauty horse carriages.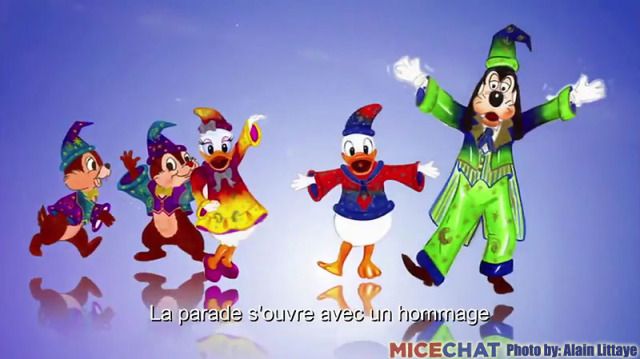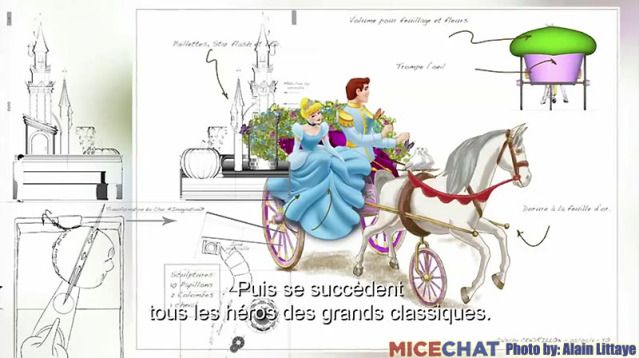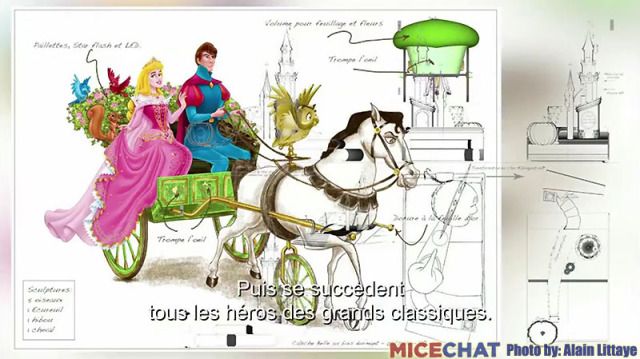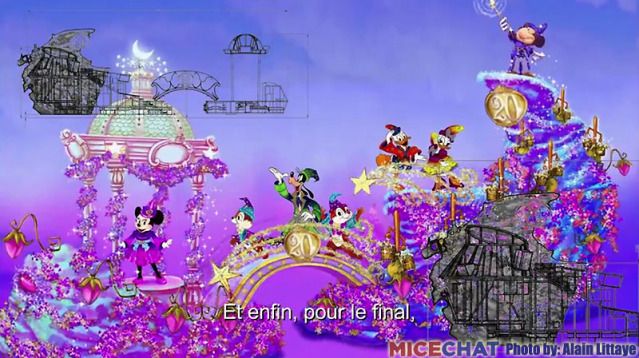 The video then talks about the Disney Dreams! show with Steve Davison and other WDI Imagineers introducing the show. One of the interesting segments you will see on the video presents the 3D renderings showing where the fountains (on which will be projected animated sequences), are to be installed around the castle.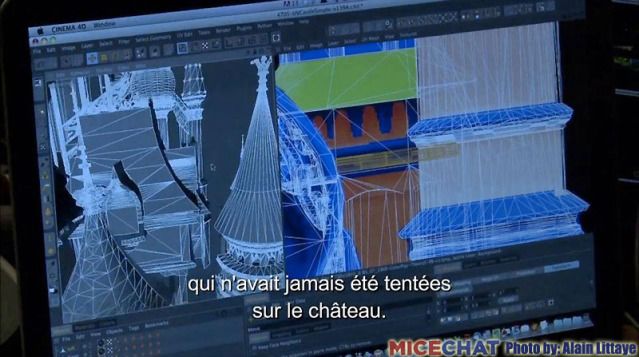 You'll also see some short animated scenes, including what likely will be the Disney Dreams! beginning with Peter Pan's shadow starting the show.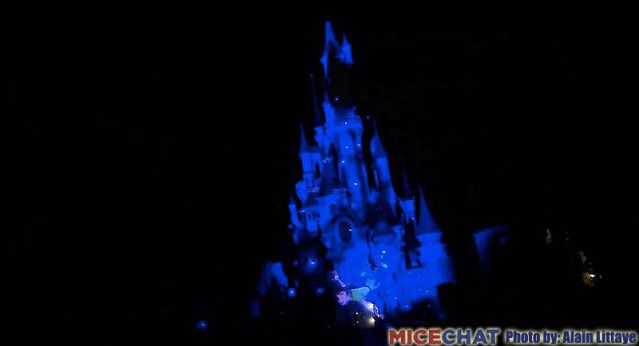 We can also see a selection of the lighting projection effects on Sleeping Beauty Castle including fire effects. All this sounds
very
promising.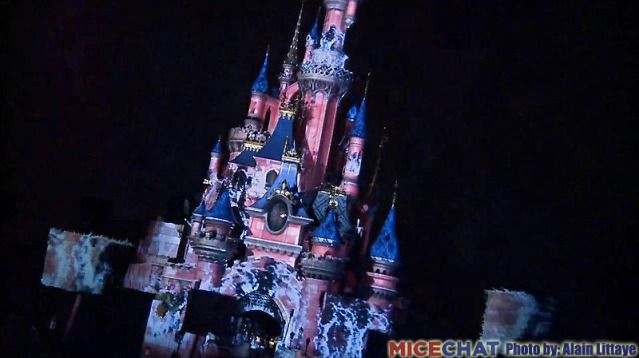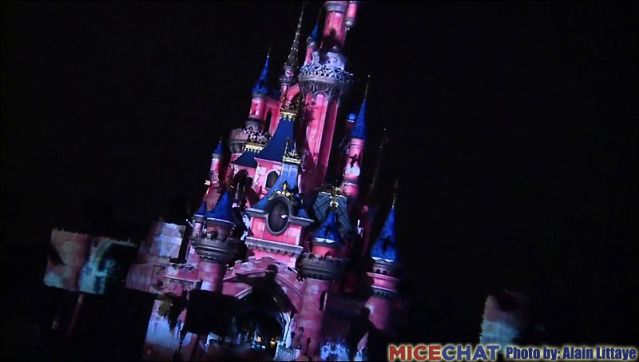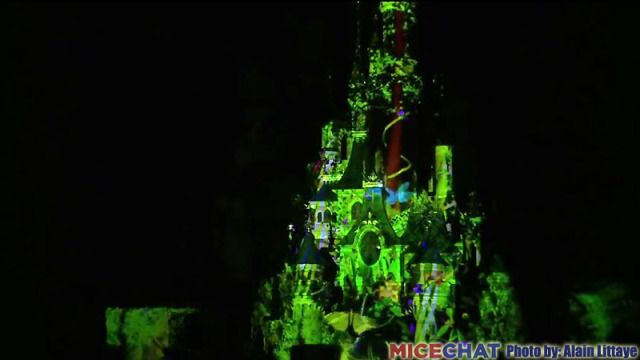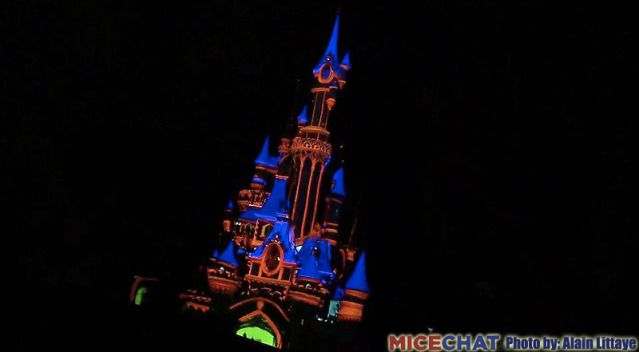 My feeling is that Steve Davison and his team have yet again designed a fantastic show which will be presented every day during DLP's 20th Anniversary. And - more good news - is that this show will continue after the anniversary celebration! As I suppose that by now you're dying to watch the video, here it is! I'll see you soon for more news about the Disney Dreams! show.
Pictures and video: copyright Disney
As a reminder, Dusty and Alain are releasing a very small number of the famous Disneyland Paris: From Sketch to Reality" books. This is one of the most collectible Disney parks books ever published. It currently goes for $500 used and over $1,200 in new condition on Amazon. However, for a very limited time, you can get it at its original publishing price. Click through for more information:
VIRGINIA
By
Scarlett Stahl
This past year I went on a family pilgrimage to Virginia for a week and loved every minute of it. I went with an Irish friend of mine, who wanted to see the historic South and this fit in with my family pilgrimage. I had made arrangements ahead of time so that I had access all the places that I wanted to visit. The curator, E. Lee Shepherd, at the Virginia Historical Society in Richmond had taken my Randolph family portraits out for me to view and photograph in their Archives, as well as those of my ancestor, Pocahontas, aka Lady Rebecca Rolfe. He also was kind enough to take us on a tour of the Museum, which fittingly had exhibits of the Civil War as this was its 150th anniversary. There was so much more to see in Richmond but I was on a tight schedule. I know I will go back to Richmond as well as other parts of Virginia with family ties.
William Randolph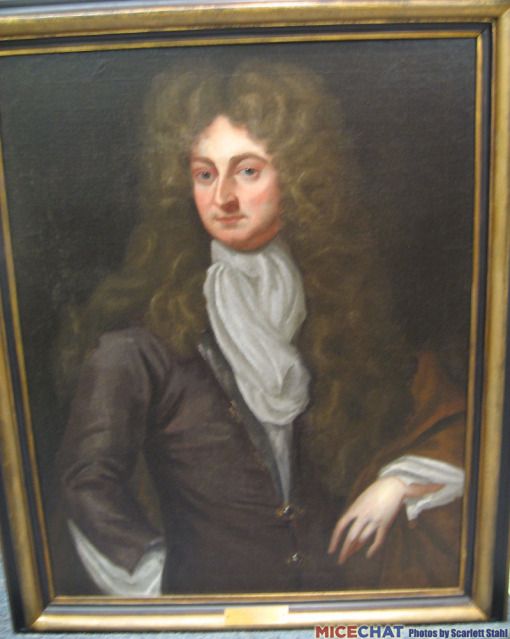 Mary Isham Randolph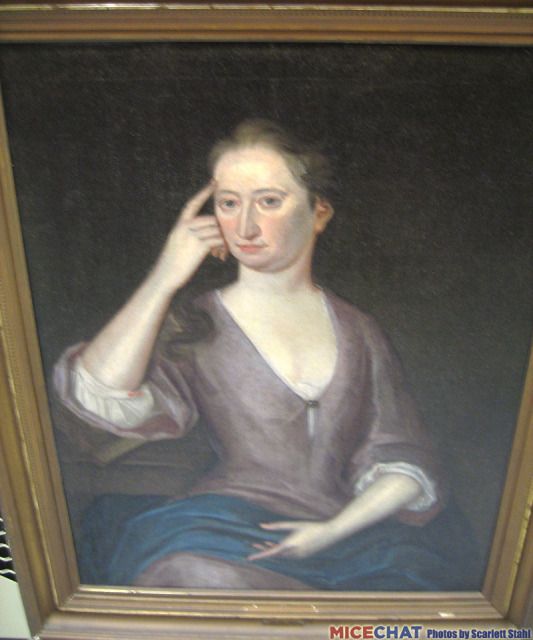 Pocahontas aka Lady Rebecca Rolfe
The owner of private property, on which my Randolph family gravesite lies twenty miles south of Richmond, drove down to let me visit. He told me that it is the oldest family gravesite in the United States and is maintained by the Henrico Historical Society. Additionally he told me that the Randolph home no longer exists as it was sold to General Pickett of the Confederate Army and that the Yankees gunboats sat in the James River and fired cannon balls into the house until it caught fire and imploded.
Randolph Gravesites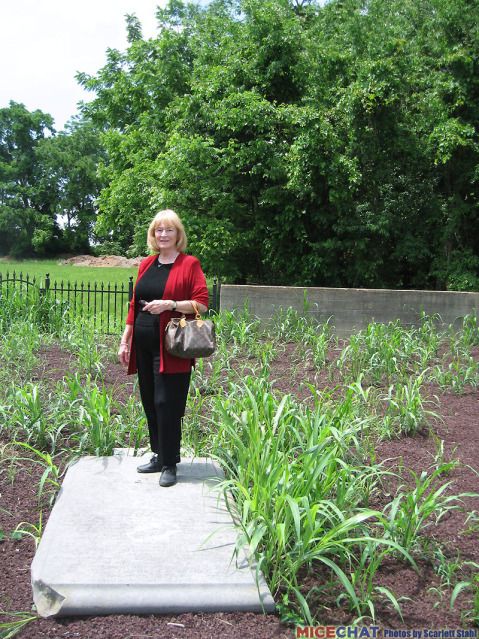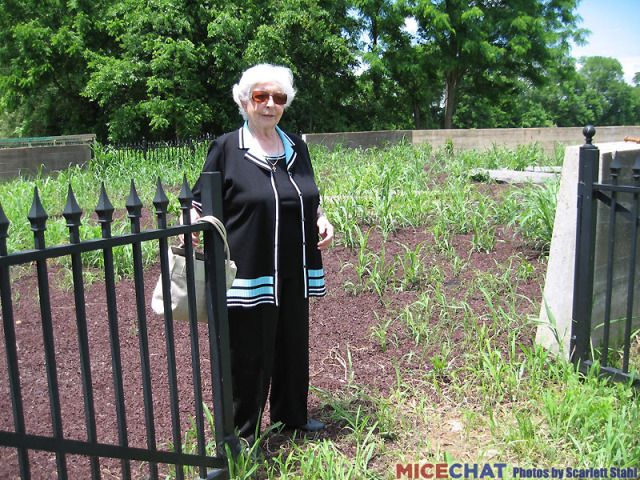 There were two lovely old homes that were open to the public near the gravesites and on the road from Richmond to Williamsburg. My favorite was Shirley Plantation, the ancestral home of Anne Hill Carter, the mother of Robert E. Lee, famed Confederate general. Robert E. Lee is another of my Randolph cousins but that is through his father's line. So his mother would only have been a relation of mine through marriage. Shirley is Virginia's first plantation (1613) and America's oldest family-owned business and farm (1638) while it also has been has been designated a National Historic Landmark. A tour of the home is well worth a visit with its lovely architecture and antiques.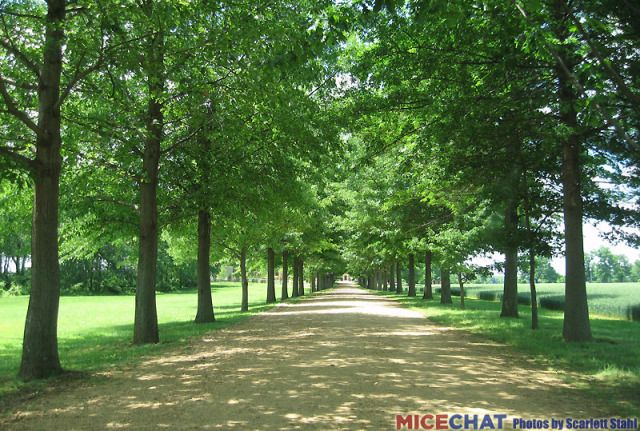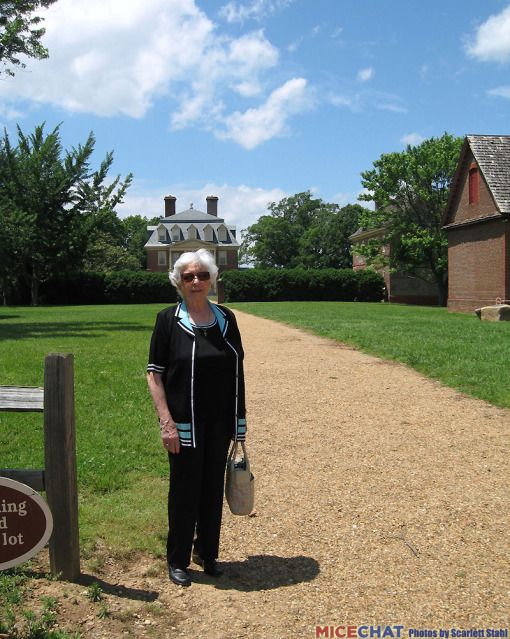 Another old plantation nearby is Berkeley, the birthplace of a signer of the Declaration of Independence and a U.S. President. Benjamin Harrison, son of the builder of Berkeley and the plantation's second owner, was a signer of the Declaration of Independence and three-time Governor of Virginia. William Henry Harrison, Benjamin's third son, born at Berkeley, was the famous Indian fighter known as "Tippecanoe," who later became the ninth President of the United States, in 1841. His grandson, Benjamin Harrison, was the 23rd President. However the plantation is no longer owned by the Harrison family.
Next we drove to Colonial Williamsburg and a visit to another Randolph's cousin family home, Peyton Randolph, first president of the Continental Congress. There are tours of the various houses in Williamsburg and this time it was in relation to slavery at the Randolph home. The tour guide, pretending to be a slave, asked a question of all of us to answer individually.....Would we have run for freedom, stayed or been conflicted in what to do? My friend was the first one asked and she replied that if she were young, there is no question that she would have run for freedom. I was next and my answer was that I would have been conflicted as the unknown awaited outside the plantation and that maybe some of the slaves would have been content. His response was that yes, many were conflicted but none were content.
Peyton Randolph home in Colonial Williamsburg with Costumed Rider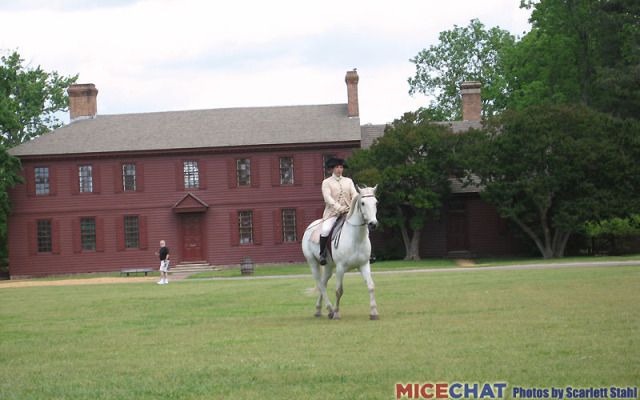 Randolph Home Marker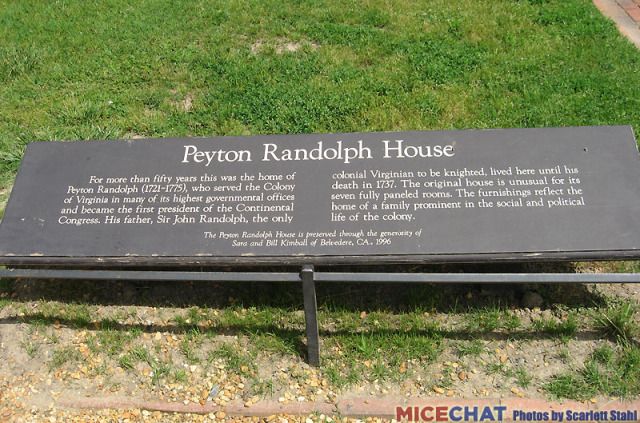 Randolph Home with Actor Portraying a Slave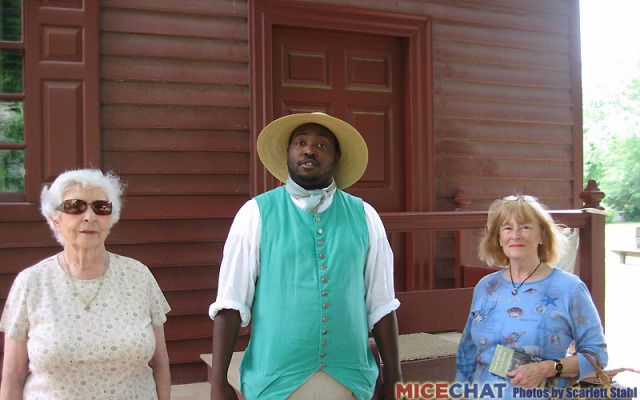 We stayed in Williamsburg at the Brick House Tavern, which had twin canopied beds and old World charm. It was right in the heart of Colonial Williamsburg and we felt like we had gone back in time. We dined more than once at the lovely Williamsburg Inn. For a special treat we had dinner one night at Christiana Campbell's Restaurant, where the waiters not only served us, but portrayed the parts of real characters from long ago. The lady portraying the original proprietor, Christiana Campbell, said she had played the part so long that it had become part of her. The food was superb...lovely salmon with spoonbread and ample desserts with old fashioned fiddle entertainment.
Brick House Tavern
Canopied Beds
When we sat in the garden of the Governor's Palace to listen to a Forefather speak, I was delighted that the speaker was Thomas Jefferson, another Randolph cousin (or an actor portraying him.). He gave a remarkable speech and then took questions from the audience, never faltering in his impromptu responses. I was later told that he was an authority on Thomas Jefferson and had taken on Jefferson's persona as part of his personality.
There were families with children dressed in costumes of Revolutionary War days and I learned that they came back yearly to participate in the activities. In the shops, you could see people making silver jewelry and there were many other crafting shops. There were candlelight ghost tours as well as a Civil War tour as even Williamsburg was touched by the Civil War. It was a unique step back in time that everyone should experience at least once.
Revolutionary War Group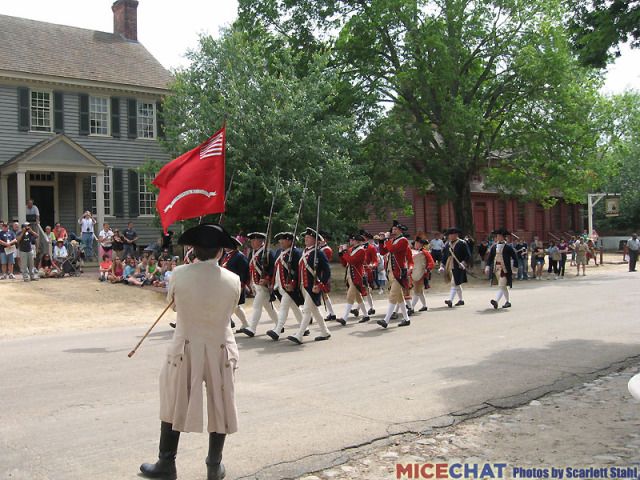 Bruton Parish Church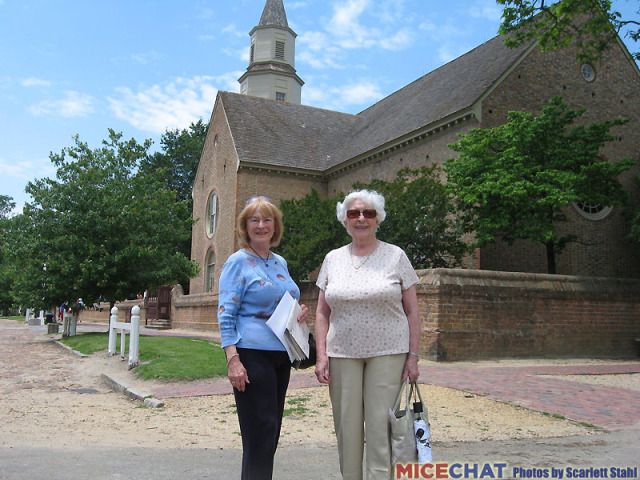 inside Bruton Parish Church
Footnote: My Irish friend questioned how I could be related to so many well known Americans. I explained that William Randolph is listed along with his wife Mary Isham in Wikipedia as the Adam and Eve of Virginia. They had several children, who married into the leading families in Virginia. Travel in those days was by boat along the James River and families would visit one another for a couple of months or more at a time, often intermarrying with cousins or neighbors. It was unheard of to marry a stranger. I have to admit that I laughed when her reply was that it sounded very incestuous to her. Below are the websites of the places I visited so you can click on them and read more about them for visits yourself.
Communicore Weekly - And The Five Legged Goat

Did you know that MiceChat has its own video channel on YouTube? We call it the
MiceTube
, and you can find all sorts of interesting news and programming there. Like a TV station for Disney geeks.
This week, we added a brand new video series called Communicore Weekly. Jeff Heimbuch from MiceChat's
From the Mouth of the Mouse
and
626
columns hosts with George Taylor from
Imaginerding
.
We think you'll agree that these guys are a lot of fun to watch.
Today, we'd like to share the pilot episode of Communicore Weekly with you, the version they sent to Dusty as a proposal for inclusion in the channel. We liked the pilot so much, we loaded it to the MiceTube right away so we could share it with all of you. Say hello to the five legged goat for us (just watch it and you'll get it).
Here's the video. Be sure to let the guys know what you think and leave comments for them below, or on YouTube.
Don't miss any of the videos from Jeff, George, Sarah, Kevin, Fishbulb and the rest of the MiceTube crew,
visit the channel HERE
and subscribe to our updates!
Might we also suggest that you visit these fine MiceAge/MiceChat attractions for even more Disney and theme park fun:
And that brings us to the end of another week. Our photographers have just enough time to reload their cameras before we see you all again next weekend. Thank you to all of our wonderful readers, and as always, a huge thank you to our amazing team of global photographers, spies, and gossips:

Denise Preskitt Mousesteps.com
Rya86n
Alain Littaye Disney and More Blog
Scarlett Stahl

Your Editor - Rixter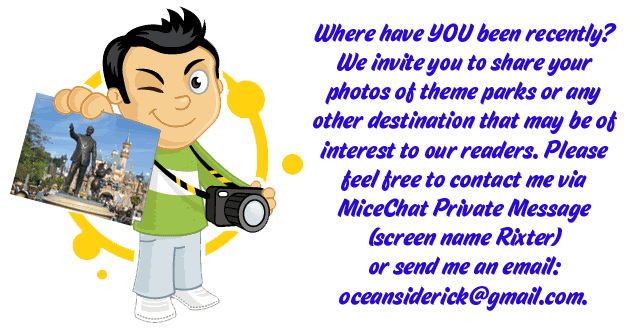 It is readers like you who make MiceChat such a special place.
Don't miss a single one of MiceChat's Featured Blogs (including the Weekend Update). Add our feed to your favorite feed software or site:
Follow us on Twitter