My niece Kayla is visiting from Montana with three of her friends and asked MickeyMaxx and I to act as their personal Disneyland Resort guides on Monday. We spent a bang-up day of riding ride after ride, unlike any day we've experienced in a very long time. We were the second car into the Toy Story lot in the morning and nearly the last one out! Of the three friends, one had never been to Disneyland, another had been there when she was two years old and had no memory of the park, and the last had visited as a young child. I can proudly say that we kept up the march, had the time of our life, and enjoyed every minute with Kayla and her wonderful friends. Our only disappointment was that our viewing of World Of Color was delayed. After the second delay announcement, as if on cue, bitterly cold winds and rain started. Our only regret of the whole day was that the girls didn't have a chance to see the show.

Oh, and a nod to our friends over at Touring Plans. They had predicted that the park volume would be a 1.1 on a scale of 10. No doubt the threat of rain (which was nearly non-existent until late at night) reduced the attendance even more, but every ride was pretty much a walk-on. Nice to know when planning the next "commando" trip to the resort.

A lot has been written about One More Disney Day at the parks on both coasts. Our intrepid correspondent Denise Preskitt attended the event at the Magic Kingdom and reports on her experience.

RegionsBeyond has a special fondness for Knott's Berry Farm. His love of this park shows in his great photos.

Rya86n's wild and crazy Disney honeymoon continues at the wild and crazy mini golf course Winter Summerland.

Finally, Alain Littaye has some very interesting information on Disney Dreams!, the Disneyland Paris 20th anniversary show.

Have a great weekend!



The One More Disney Day celebration didn't stop Denise Preskitt from posting her update!


Nothing like waiting until the last minute! I'm still trying to recover from One More Disney Day, I think I'm too old for pulling all-nighters (especially when we were planning to leave around 2am and didn't have a nap ahead of time!)

First, here are a few photos from my Fort Wilderness/Wilderness Lodge photo walk. I have done this walk hundreds of times, I'm sure - it's beautiful and peaceful.

By the time I started walking (after taking pool photos early), there weren't many deer out. I did see a few, though, along the way!




Silver Creek Falls:




I like this framed shot:



A foggy look at the Bay Lake Tower (the brush is much thicker than it used to be along the walk, it's harder to get photos across Bay Lake):



Mickey Mouse topiary at the Wilderness Lodge Villas: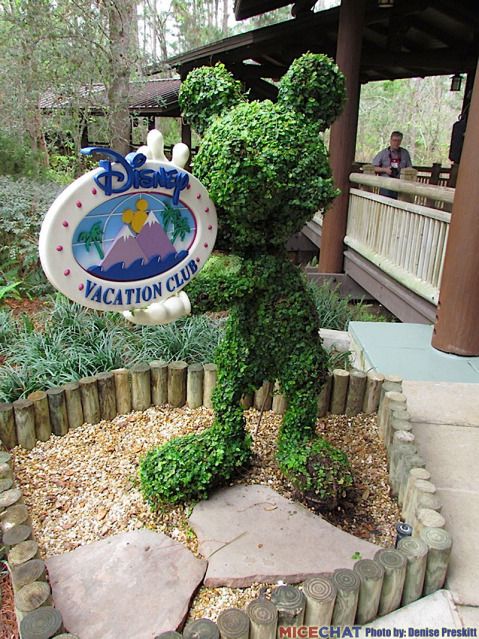 A couple of mice hide from a bird (hawk?) in one of the Wilderness Lodge Villas carvings:




A map that includes a lot of Disney characters:




Buffalo at the Wilderness Lodge:




We went to the Daytona 300 and 500 - actually, I only made it to the first Daytona 500 day, when it was rained out. But Jeff took photos and video (some of the latter ended up on ESPN2 and Fox Atlanta!)

A few photos from the Daytona 300:



A crash during the last lap of the Daytona 300:




Sunday was rained out for the Daytona 500, and Jeff went back to see the race the next day. It ended up being a very long evening, including a track fire when one car hit a truck.

Danica Patrick:



The big fire:




Race cars on the track, stopped for the fire:




Trevor Bayne and other drivers eventually got our of their cars:




A driver goes to the bathroom:




Apparently it is unusual for the drivers to use the bathroom during the race. Kyle Busch was the first to get out of his car, and when I asked Jeff if he was taking video of the fire, he said no - he was taking video towards the bathrooms! The Kyle Busch video below ended up shown on ESPN 2, as he emerged from the bathroom with a bow to cheers. The second video is of Dale Earnhardt Jr. and Brad Keselowski racing to the bathroom. Both videos were shown on Fox Atlanta as well, and quickly went viral once put on YouTube!


<iframe src="http://www.youtube.com/embed/utzZfYRsRg4" allowfullscreen="" frameborder="0" height="360" width="480"></iframe>

<iframe src="http://www.youtube.com/embed/ryCajn4NIoo" allowfullscreen="" frameborder="0" height="360" width="480"></iframe>


And we went to One More Disney Day - it was a last-minute decision, a day or two earlier. We were going to get there for 8pm and leave around 2am, but ended up staying all night (I'm still tired from it!) It was worth seeing Mickey and Minnie Mouse in their pajamas.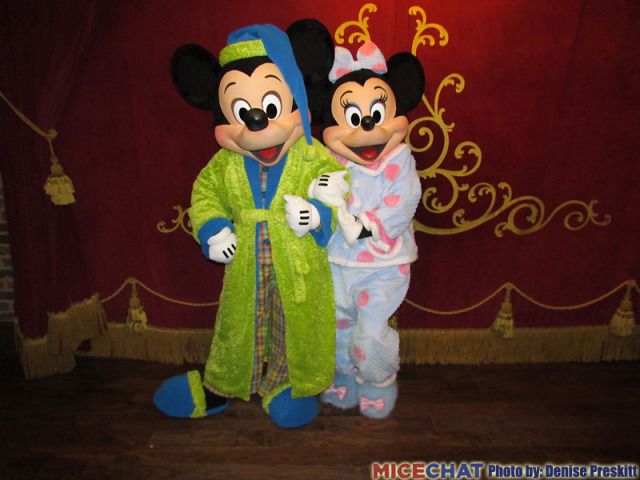 We split one of these cupcakes, they were very good! I love frosting, but I normally think that Disney cupcakes have too much of it. These didn't.



I loved seeing the dawn break at the Magic Kingdom!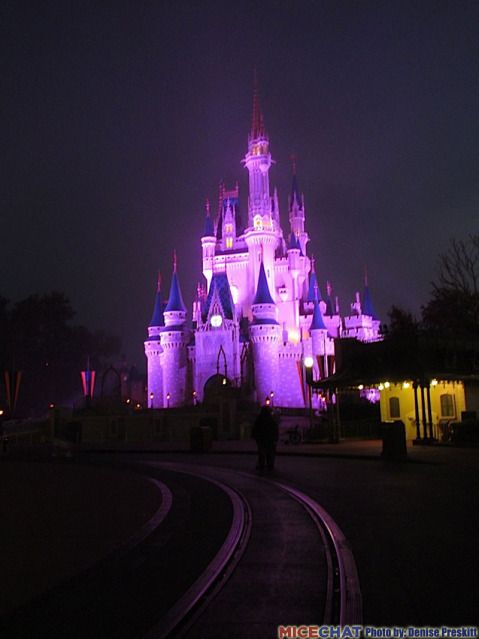 And we have a video of the different characters we saw:


<iframe src="http://www.youtube.com/embed/ZL9kb7B8HPo" allowfullscreen="" frameborder="0" height="360" width="640"></iframe>
As always, you can read about all of these stories in more detail at Denise's website: Mousesteps.com
Share your vacation photos with the Weekend Update
RegionsBeyond takes a look at Knott's Berry Farm from his unique perspective
Inside Judge Roy Bean's (snack shop, from the looks of it...it was closed).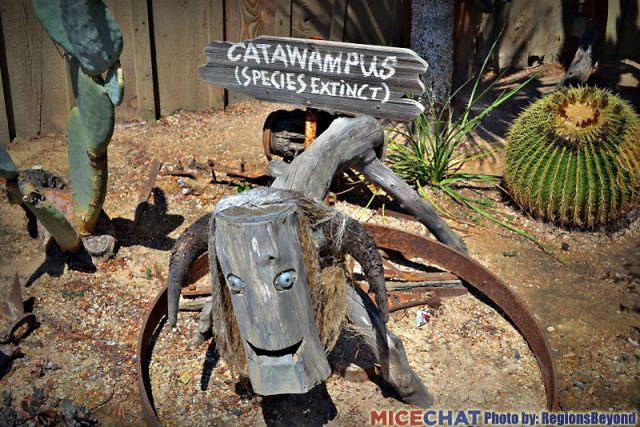 All hail catawampus.


I always have to swing by Boot Hill to see if Tavish is still lively from the great beyond. (he was!)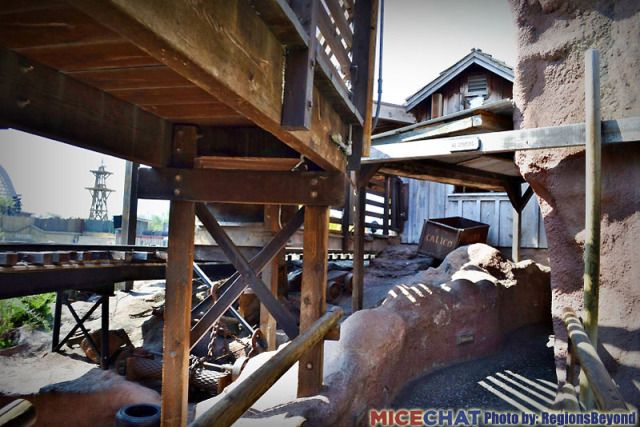 The George Washington fireplace display outside the park


If you find this unfortunate outlaw, you'll be in for a surprise reminiscent of a more well-known Mansion down the road a spell....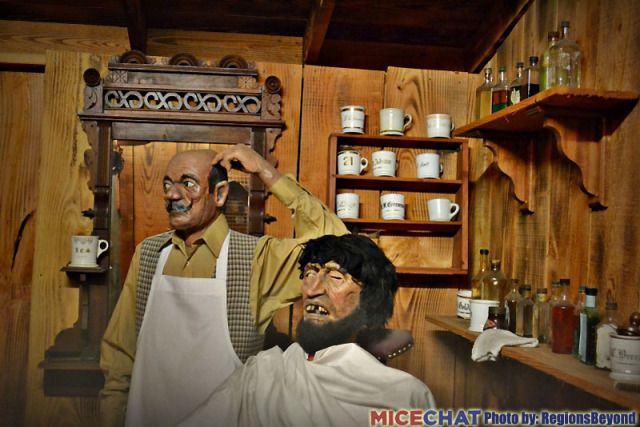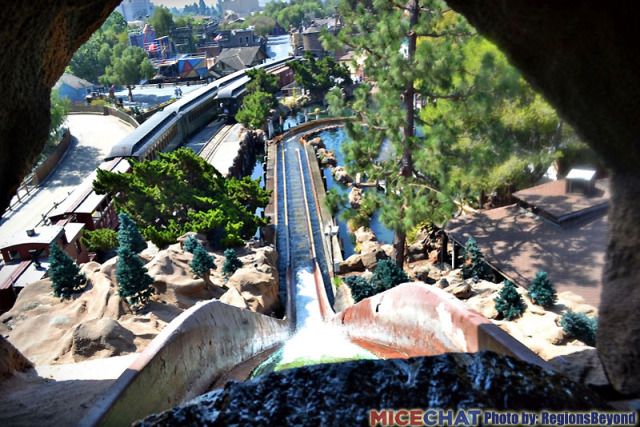 Inside Goldie's.


Some friends from Knott's Bear-y Tales.



Here's Rya86n!




Happy Leap Week MiceChatters! Unfortunately due to the lack of a Disney Downunder park, I wasn't able to celebrate One More Disney Day this week at a Disney Park. Technically our month long Disneymoon more than made up for it, although I am now adding "Spend February 29th at a Disney Park" to my bucket list. I thought of everyone celebrating on the 29th and even wore an appropriately themed Disney shirt to work in recognition from afar.

Last week I shared our first Disney Water Park photos. I was really keen to check out Walt Disney World's Blizzard Beach, but its season only started the day we left Orlando. It is on the to do list for later this year.

The closest we came to Blizzard Beach was the parking lot. Or, more specifically, the edge of the parking lot where Winter Summerland Minature Golf Course is located.



On looking back at these photos, I realised we had just as much fun playing Mini Golf as we did at the Water Park. So much fun, I just couldn't get away with any less than a hole by hole replay.



Wrapping up on the snow filled Winter Course, we moved onto the more familiar themed beach Christmas, Summer Course.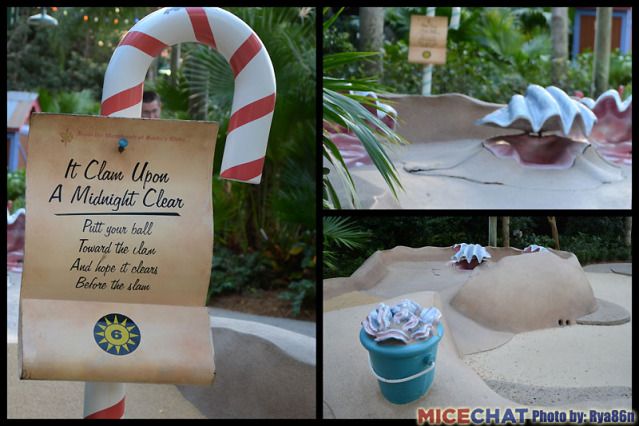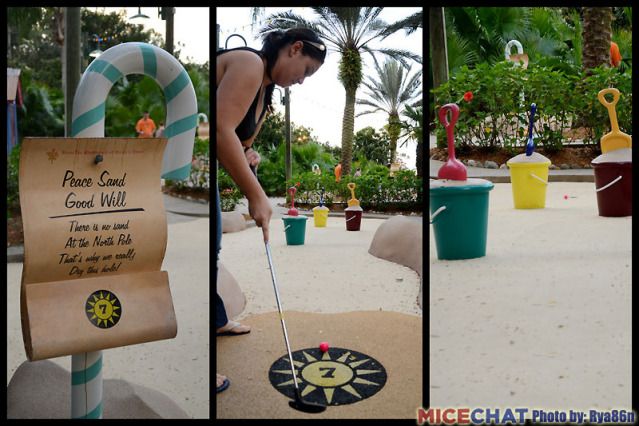 Disney World's Water Parks, Minature Golf Courses and Downtown Disney are all great places to discover extra bits of Disney magic! I'll continue to explore even more of that Magic next week!



Alain Littaye updates us on the Disneyland Paris Disney Dreams Show


Once again thanks go out to our friend, ALAIN LITTAYE, of the Disney and More blog site, for the latest news on the Disney Dreams! Show!


Today I have a big update about Disney Dreams!, the Disneyland Paris 25th anniversary show which will start April 1st, with a premier during the press event scheduled for March 31st.

Steve Davison, the creator of Fantasmic and World of Color, has tweeted recently that he was "heading to the plane to spend a month programming Disney Dreams in Paris", and he added, "Here's hoping that all goes well!" And so do we! With only one month before the show premiers, every element of the show better work perfectly!

But what kind of effects can DLP Guests expect from the Disney Dreams! show? As we know Disney Dreams! is a fountain show with projection effects on the castle and fountains, plus fire and firework effects, but with the addition of lasers and bubble effects, the show will culminate in a stunning finale.

As I've told you previously, Disney Dreams! tells the story of Peter Pan's shadow escaping Peter Pan and travelling in the world of Disney classics. The show will pay tribute to Peter Pan, Cinderella, Pinocchio, Lady and the Tramp, Snow White, Beauty and the Beast, Dumbo, Ratatouille, Aladdin, Hunchback of Notre dame, Rapunzel, Mary Poppins, Finding Nemo, Lion King, the Princess and the Frog, Hercules, and Fantasia 2000. Well, that was the original plan, but rumor has it that the Nemo sequence has been deleted. If that's true, then the "bubbles" effect, originally include in the show effects, might have been deleted too.

And what about the music, you ask? Well written and directed by Joel McNeely, who worked on several Disney movies, the score was recorded at the legendary Abbey Studios in London. The music will play a key role in Disney Dreams!, as Peter Pan, Wendy and Captain Hook will be the only ones to speak in English or French during the show. Talking about the score, here are more details about the themes which you will hear during Disney Dreams! as was reported during the annual stockholder meeting early this month.

Opening, The Magic of the Second Star:
Tinker Bell - Second Star on the right.
Peter and Wendy - Peter's shadow escapes - Diving into dreams.

Sequence 2, The Shadow at Play:
Be our guest.
Meeting Remy - Shadow set free.
Friend like me.

Sequence 3, Free to Dream:
Out There.
Step in Time..
I Wanna be like you
Magic Forest - See the light.

Sequence 4, Shadow Battle:
Friends on the other side.
Captain Hook captures Peter's shadow.

Finale, Dreams Can Take Us Anywhere:
Peter & Wendy
You can fly - Second Star

Now, talking about the second star to the right, Sleeping Beauty castle will suddenly become a starry sky during the show opening and the "second star" will light from the castle's top stained glass window, the one that you can see on the pictures below.
All the fountains are now installed and the water is back in the castle moats. Giant water screens will rise on the sides of the castle, and recently a tall, but really ugly, metallic structure that will be used to create the water screens was installed. The only problem is that you can almost see it from Main Street and there is no doubt that DLP must definitely find a way to theme this structure so it will be hidden during the day. They probably will be able to do that. Well, let's hope so. Many thanks to DLRP Welcome, who shot the wonderful series of photos, below.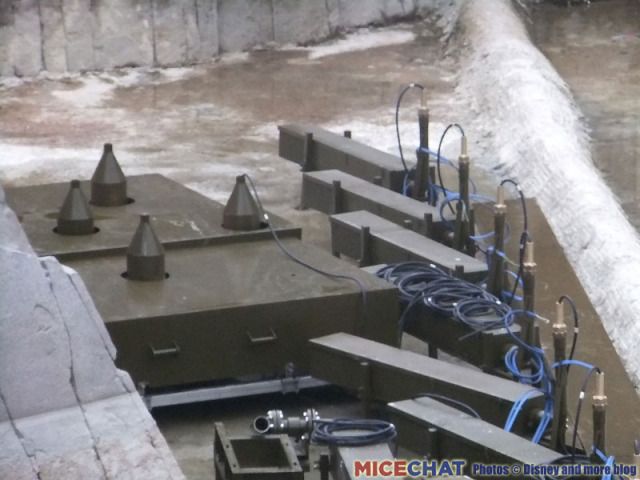 I've shown you pictures of the projectors installed on Main Street rooftops before, but more have been added including one near the Theatre du Chateau, this one being closer to the fountains.
All this will be directed from a control room located in a new little building built in front of Casey Corner, and i have an exclusive shot for you showing the inside of the control room.
During these last weeks, work was going on even at night and a lighting system mounted on a crane was illuminating Sleeping Beauty castle.
But, recently, the first projection tests have begun. DLP has released some pictures showing the projections on the castle, like the one at the top and this one below which shows the projection from Main Street rooftops.
The show apparently will last between 17 and 19 minutes and DLP fans are indeed expecting a lot of Disney dreams!, and my guess is that they won't be disappointed. With Steve Davison being a man who knows well what the words "fountain show" mean, the result should rise to the heights the fans expect!


Pictures: copyright DLRP Welcome, Disney


We have great news about the Disneyland Paris: From Sketch to Reality book!

We Have Reached Our Pre-Order Commitment To Send The Book To Print! Please Note that we only have 25 books remaining available at the special Pre-Order price before the price goes up $40 for all future sales of this book.



If you are curious about the book, George from ImagiNERDing and Jeff from Mouth of the Mouse have done a great review.

This is the opportunity of a lifetime. Pick up your copy of what is likely to be the last copies of Disneyland Paris, From Sketch To Reality to become available -

Preorder your copy today in the MiceChat Store!



Might we also suggest that you visit these fine MiceAge/MiceChat attractions for even more Disney and theme park fun:
And that brings us to the end of another week. Our photographers have just enough time to reload their cameras before we see you all again next weekend. Thank you to all of our wonderful readers, and as always, a huge thank you to our amazing team of global photographers, spies, and gossips:


Denise Preskitt Mousesteps.com
RegionsBeyond
Rya86n
Alain Littaye Disney and more blog

Your Editor - Rixter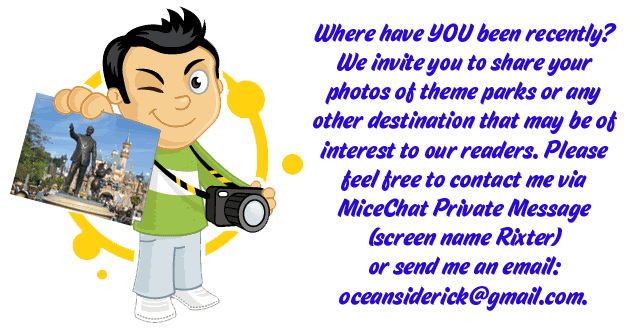 It is readers like you who make MiceChat such a special place.
Don't miss a single one of MiceChat's Featured Blogs (including the Weekend Update). Add our feed to your favorite feed software or site:
Follow us on Twitter