Rixter and MickeyMaxx are on an adventure this week and have handed the helm of the good ship Weekend Update over to Fishbulb and Dustysage for the day. They'll be back soon with all sorts of new adventures for us.

Luckily for all of us, we have a great collection of travels to share with you today, all Disney related in one way or another. We start with
Fishbulb, who took a trip to Disneyland yesterday just for the Weekend Update. And for once, he stops to smell the roses as he shows us the beautiful gardens and landscaping.
We then hear from Alain Littaye who shares a special look into the process of printing an iconic Disney book as he takes us inside the publishing house that is producing the final Collectors Edition copies of Disneyland Paris: From Sketch to Reality.
This is a project we've been following at the Weekend Update since it was first announced by DustySage several months ago, and we are excited to see it finally all come together.

We wrap up with Rya86n who sends us the latest on his trip to America. Up this time around is Downtown Disney Orlando.


DISNEYLAND RESORT FLOWERS AND FOLIAGE:

By Fishbulb
I have the full time job of going to theme parks and photographing them for a living. Unfortunately, I don't usually have time to enjoy the parks as I literally run from dawn to dusk searching for news and information, interviewing theme park operators and preparing articles for MiceChat. It's rare that I have time to stop and smell the flowers. So that's what I decided to do for you today. Let's slow down for a moment and look at the flowers and landscaping of the Disneyland Resort.

Flowers create your first impression of Disneyland.


Some of the plants are there simply to soften the look of the area or add splashes of color.

Town Square



Topiary near Dumbo



A field of pansies near Casey Jr. Train



Even Boxwood hedges are fancy in the Magic Kingdom



The New Orleans Train Station is flanked in colorful Snapdragons.



Gerbera Daisies in the hub.


Other landscape designs serve to enforce architectural styles.

Espalier vines grow on the sides of the train station


Some plant life is used to enforce storytelling. For instance, in Tomorrowland the imagineers theorize that all usable space will be utilized to grow food for an immense population. They call this concept "Agrifuture" and, in Tomorrowland, all plants used for landscaping are edible or produce edible fruit.

Citrus trees in the Tomorrowland rocks



Kale and Lavender



Persimmons, herbs and greens



As corny as the concept sounds, it actually works really well


Near Matterhorn, which is currently under refurbishment, the landscaping suggests alpine flora with Lupines, Columbine and other soft wispy foliage.

Or Frontierland's rugged look.


Everything has a wild look to it here



The tree lined pond near the old Mine Train tunnel on the Big Thunder Trail is one of my favorite spots in the park.


The Jungles of Adventureland.

Adventureland has an exotic flair with Orchids, Bromeliads, Ferns and Coleus for color.






Brugmansia's trumpet shaped flowers punctuate this tableau of green ferns and what appears to be red Coleus (or perhaps one of the larger variety of Begonia)


The backwoods of Critter Country is a coniferous forest.
In many spots around the resort, trees and flowers are use functionally as a barrier, to create shade, or to direct a visitor's attention elsewhere.

Trees are often used here to cover the less glamorous aspects of the resort



Strategically placed bamboo and palm trees are slowly working to obscure the view of the show building for Indiana Jones and the Temple of the Forbidden Eye



Supports are hidden



Sub-woofers shielded



Lovely shade, but it also obscures the view into backstage.


Every day at Disneyland is an adventure. The gardens are forever being changed and replanted and rethought. Seasonal displays and color schemes come and go. And every spring, Walt and Mickey get a beautiful pink backdrop. Now is one of the best times of the year to enjoy the beauty of Disneyland. I hope you've enjoyed this little romp through the park. It was quite an adventure and I didn't have to wait in a single line to do it. Pure bliss.
DISNEYLAND PARIS: FROM SKETCH TO REALITY
BOOK PRINTING SPECIAL REPORT:

By Alain Littaye
If you've been following the Weekend Update, you've no doubt seen several articles which feature or mention Disneyland Paris: From Sketch to Reality. Well, after a long week of printing, I'm pleased to announce to you that the Disneyland Paris book is now finished, each page and cover, etc... has been printed! And this is all thanks to those of you who pre-ordered the book and enabled us to bring this legendary book back.

I thought it would be fun to show you what goes into printing a book and have pictures of the process to show you. I am extremely happy with the printing quality, and to tell you the truth, this new printing of the collector's edition is even better than the first printing ten years ago. Actually, the pictures are even more sharp as printing technology has gotten better with time!

What you'll see below is pictures of the printed sheets just after they went out of the printing machine. 320 pages takes quite a long time to print and now, the binding process will begin. The pages will be folded, cut, etc...

Please note that because these pictures were shot at the printer, some have reflections from the celing lights. But you can still see how the process works. I've been so impressed with what I've seen, and I'm a notorious perfectionist!

Once the binding is complete, each book will be numbered and have the five lithographs of thee Walt Disney Studios inserted. Then it will all be packed up and prepared for shipping to Dustysage by the end of April.

Something important now: The book was available at a special pre-order price to reward those who were willing to help us finance this project and thank them for waiting. But now that the book is nearly on its way, the price will soon go up. There are just a few copies remaining at the promotional price. You can find it in the MiceChat Store.

Here we go with the pictures. Below is a pic of the front and back "end pages".

Below, a picture of the cover and the dust jacket. You have another pic of the dust jacket without reflection at the top.
And now, some pictures of the inside pages. You won't see all of them as there was a lot of printed sheets but you'll get the idea.
Some additional pictures showing you more of the printed pages. The white strip on the top of each stack is of course not part of the printing.
We have less than 25 books remaining available at the special pre-order price. We will then need to increase the price $40 for all future sales of this book (which will also be very limited in availability).

If you are curious about the book, George from ImagiNERDing and Jeff from Mouth of the Mouse have done a great review.

For Disney theme park fans and collectors, this is the opportunity of a lifetime. Pick up your copy while it is still available.

Pre-order your copy today in the MiceChat Store TODAY!



Rya86n Visits Downtown Disney Orlando:

By Rya86n
With the major parks checked off my list, there's still plenty more to do at Walt Disney World.


I always enjoy visiting Downtown Disney at Disneyland, and it was great to visit the Orlando location for the first time.



Our Premier Passports got us into Disney Quest, the Interactive Indoor Themepark.



We've made it a tradition attending each of the touring Cirque Du Soleil shows as they visit Australia, so La Nouba was high on our honeymoon to do list.




Characters In Flight looks fun, but unfortunately high winds seemed to get the better of us during our stay.



Planet Hollywood had a location in Sydney that I enjoyed but which is no longer in business. I was glad to see the one at Disney World is still around and has the rood I remembered.



AMC Theatres, my home away from home.



Four times the amount of screens that our local cinema has in Australia!



LEGO! The immagination center is a place I can release me inner child. This time around, we even made a few purchases - Lego prices are incredibly cheap in the US compared to Australia. I'll be buying more on our next visit.



Finally, can't forget the main store in all of Downtown Disney, World of Disney, a shop which I can spend hours browsing through. Trish even got a bit confused when she found my mannequin look alike.

I'll be back soon with more of my adventures in the US.


We hope you enjoyed today's romp around the world with us!

Might we also suggest that you visit these fine MiceAge/MiceChat attractions for even more Disney and theme park fun:
[*=left]MiceTube - Introducing MiceChat's new channel on YouTube. Kevin Yee and MiceChat Sarah have been uploading entertaining videos weekly, along with many other of your MiceAge and MiceChat favorites.
[*=left]

Dateline Disneyland

which is packed with great news and photos from the Disneyland Resort.
[*=left]

Orlando Parkhopper

featuring news and photos from Disney World and Orlando area theme parks.


[*=left]In The Parks offers news, updates and tips from Disneyland and other Southern California offerings.
[*=left]SAMLAND - Your weekly look at some interesting tales from Disney history.
[*=left]The 626 - The essential guide to all things Disney.
[*=left]The Mouth of the Mouse - Interviews and stories about Disney's most interesting cast members.
[*=left]Vacationeering - Every Sunday, we feature articles designed to help you create magical family vacation memories!
And that brings us to the end of another week. Our photographers have just enough time to reload their cameras before we see you all again next weekend. Thank you to all of our wonderful readers, and a huge thank you to the folks who share their stories with us today:
Fishbulb
Rya86n
Alain Littaye Disney and more blog

Your hosts this week have been Fishbulb and Dustysage
(filling in for Rixter who'll be back soon)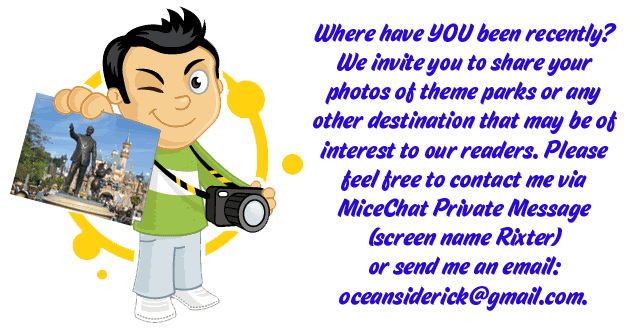 It is readers like you who make MiceChat such a special place.
Don't miss a single one of MiceChat's Featured Blogs (including the Weekend Update). Add our feed to your favorite feed software or site: