We're gearing up here at
MiceChat
for one of our biggest events of the year. In just a matter of weeks, our fearless leader
Dustysage
will be sending 500 intrepid thrill seekers into Disneyland to see who can ride the most rides in the shortest time. One of the greatest aspects of the
Gumball Rally
is that it allows each competitor to adjust their strategy to suit their team members. Some teams will compete with the fervor of Super Bowl athletes. Others will remain calm and collected, moving around the park with measured precision, knowing that their day will be filled with bonding and memory-making with their fellow teammates. Who will win? We'll have to wait to find out, but all will have the time of their lives!
Every year I have the privilege of greeting the teams as they arrive at the finish line to turn in their score cards. I will ask everyone the same question as they trickle in, exhausted and hungry. "Did you have a good time?" I will query. And every single person, with varying degrees of energy, will respond with a universal "We had a great time!"
There are just a few slots left in this year's
Gumball Rally
. If you have the slightest inkling that this might be fun for you, I urge you to take a chance and join us on May 19th. I promise you that I will be there as you cross the finish line and I will ask you... "Did you have a good time?" I can't wait to see your weary but smiling face and hear your affirmative response!
Don't hesitate. Follow this link right now to secure your spot in the Gumball Rally (there are just a few spots left) ...
Denise Preskitt
covered
Earth Week
activities at
Walt Disney World
. She also found animals added to
Casey Jr
. in the
Magic Kingdom
.
Universal Studios Orlando
has added a new night time
Cinematic Spectacular
show and Denise got a sneak peek for us.
Alain Littaye
has a theory about a
Star Wars Land
in
Disneyland Paris
. He draws some interesting conclusions in his article this week.
Scarlett Stahl
is back with another chapter in her quest to find out more about her family's history. This week she takes us along to
Richmond
,
James River Plantations
and
Jamestowne
.
Thanks for coming along with us this week. See you at the Gumball Rally!
Denise Preskitt covers Earth Week activities at Walt Disney World, new animals on Casey Junior and first photos from Universal's Cinematic Spectacular show
We never totally know what we will have in upcoming weeks, though we are heading to the Grand Opening of Sea World's TurtleTrek tomorrow!
Last week, we celebrated Earth Day by visiting displays at a few different resorts, and Animal Kingdom for their festivities. I just wanted to share a few photos from Disney's Boardwalk Resort, as they had Cast Member creations that were incredible! Everything is made out of recyclable materials.
My favorite was Wall-E: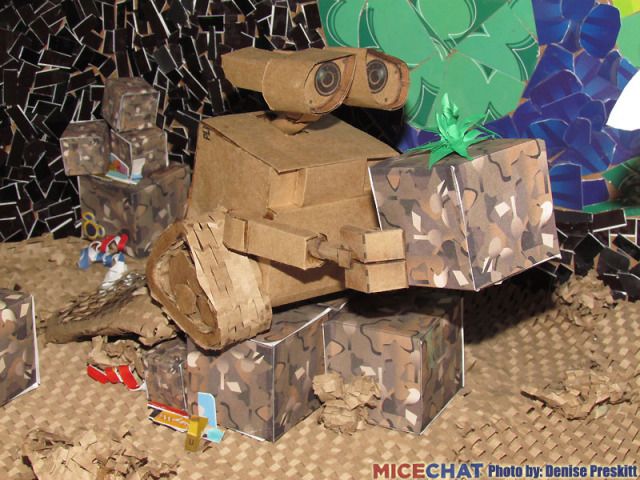 Minnie Mouse:
Flower: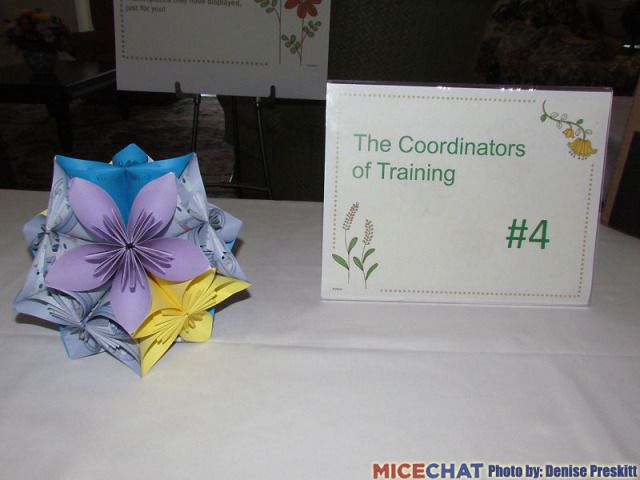 Here is our video with all of the displays:
<iframe src="http://www.youtube.com/embed/RZCdo2C7NUI" allowfullscreen="" frameborder="0" height="360" width="640"></iframe>
We haven't created the video for this yet, but there was a soft shell turtle named Herman who kept trying to get out of this fence. In the end, it turned out that Herman wasn't a he, but a she, and laid eggs that will be going to Animal Kingdom until hatched. (there is a lot more to the story!)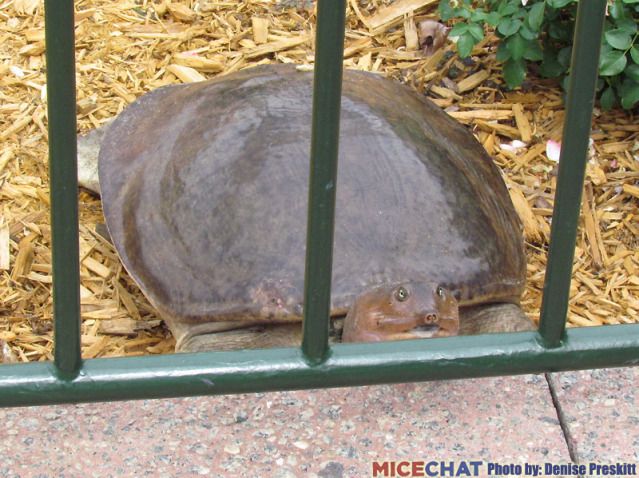 Animals have been added to Storybook Circus, in the upcoming Casey Jr. Splash 'n Soak: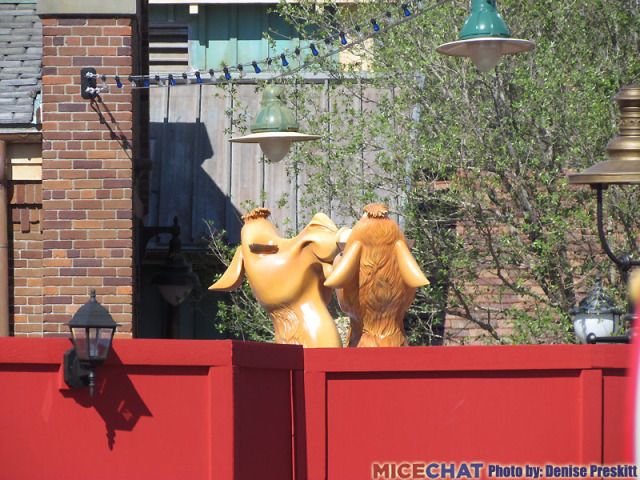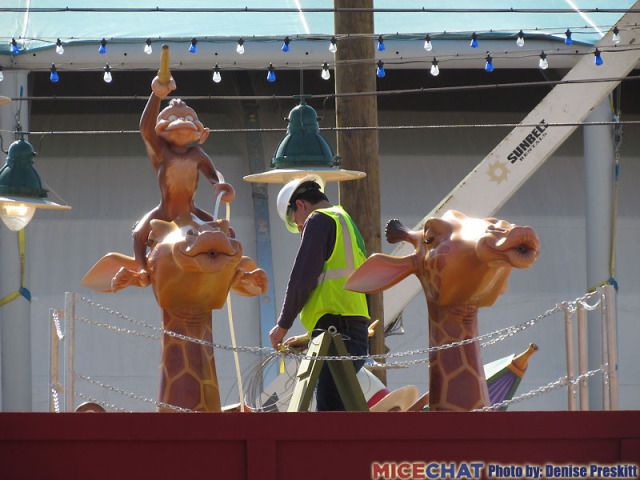 Video of Storybook Circus animals:
<iframe src="http://www.youtube.com/embed/pBnD-MYypOI" allowfullscreen="" frameborder="0" height="360" width="640"></iframe>
And we were there for one of the first showings of Universal's Cinematic Spectacular!
Despicable Me attraction is getting ready for summer opening: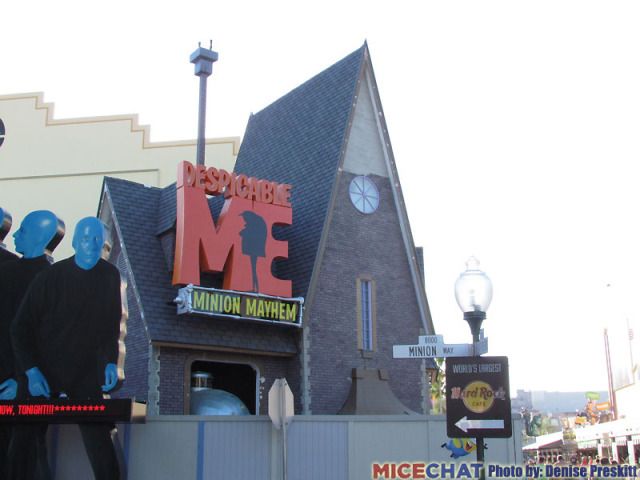 Universal's Cinematic Spectacular mixes movie clips with dancing fountains, pyrotechnics, and narration by Morgan Freeman.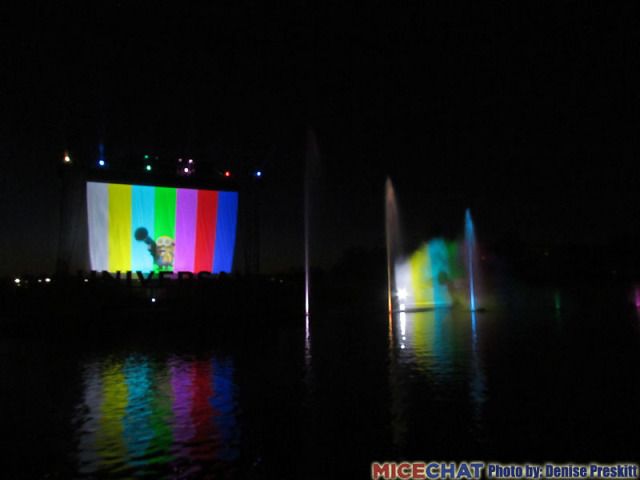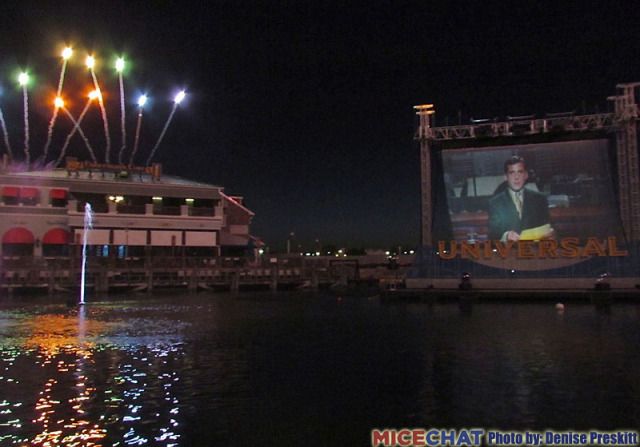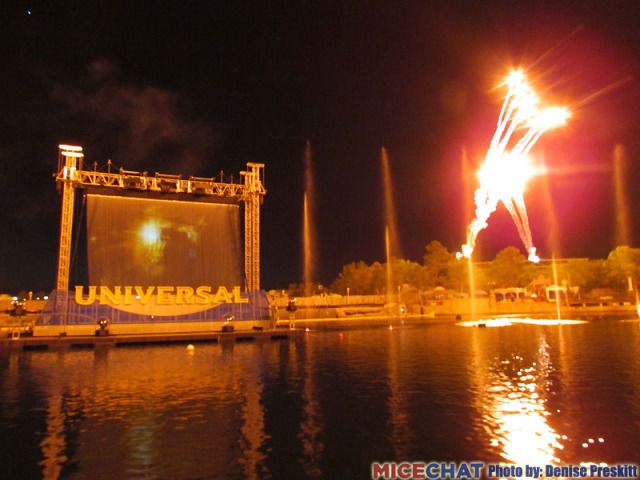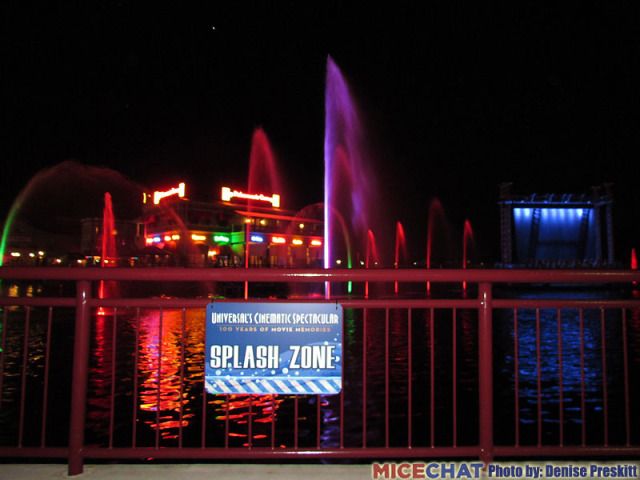 Our video of Universal's Cinematic Spectacular:
<iframe src="http://www.youtube.com/embed/t0XCddX7p90" allowfullscreen="" frameborder="0" height="360" width="640"></iframe>
We enjoyed the show!
And there is a ton of Despicable Me merchandise at Universal Studios.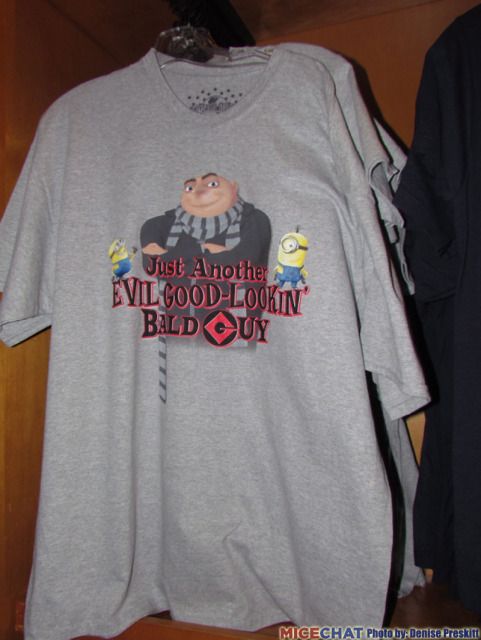 I brought home a Minion!
As always, you can read about all of these stories in more detail at Denise's website: Mousesteps.com
Share your vacation photos with the Weekend Update
Is Star Wars Land in Disneyland Paris' future? Alain Littaye shares his thoughts on the subject.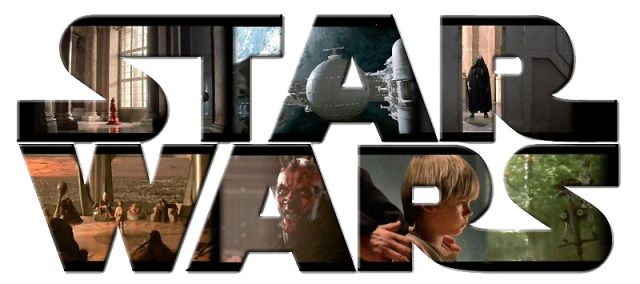 For two months, DLP fans forums have been talking about something pretty exciting. A "Star Wars Land" just might come to DLP's Discoveryland in 2015! The Disney Central Plaza forum detailed what we might expect in this Star Wars Land and so far they are listing it on DCP as a rumor. Of course, I tried to find out the truth in all this and, yes, from what i've been told it seems that DLP Imagineering is indeed working on a Star Wars Land project. Below, I'll try to detail why this Star Wars land is very likely going to be built. Before that, let's take a look at what the plan is supposed to include.
Not only will Star Tours 2 be brought to Discoveryland, but a transformation is planned of what is now the Captain EO Theatre, the Star Traders Shop, as well as the Pizza Planet Restaurant in order to create Star Wars Land. As you will see in the Google Earth screen capture below, they not only have plenty of room backstage to do it, but probably will even have enough room to add new rides in the future. The back of Discoveryland already has a different architecture than the front, so this Star Wars land shouldn't be an easy fit, aesthetically speaking.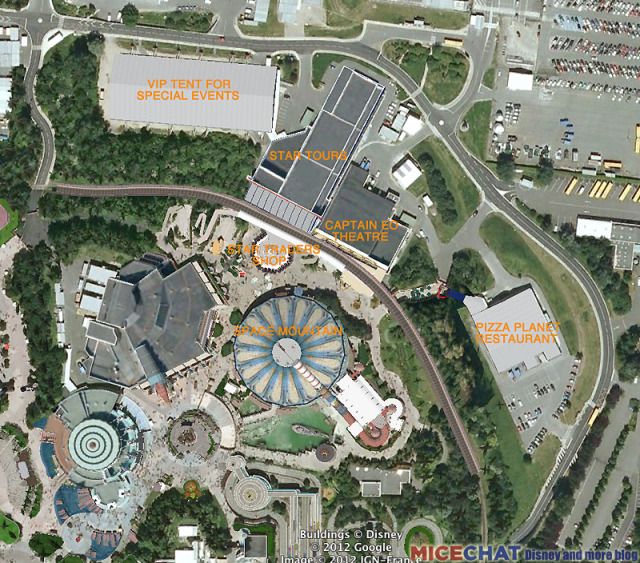 What you must NOT expect:
I located a Tim Delaney rendering from the past, in which Tim had envisioned a Star Wars themed land, with a full scale Millennium Falcon and a Space Mountain dome designed in the manner of thes Death Star. This will not happen so Space Mountain will keep its current beautiful dome. (You will find this concept art reproduced in my DLP book among 250 pieces of WDI artwork.)
What you CAN expect:
Of course, Star Tours 2 will replace the original version and the pre-show will have the same changes we've seen in the U.S version, but according to the DCP forum - and largely confirmed to me, the plans apparently are to make big changes in the Star Tours post-show, which will be welcome. Since IBM is no longer the attraction sponsor, the wonderful games which were there on DLP opening day have been replaced by arcade games. I don't yet know the exact plans, but a Star Tours shop will very probably occupy this quite large area, hopefully with great theming. Close to the exit the Star Traders shop might become a Star Wars photo location and what kid wouldn't be happy to have his picture taken with his favorite Jedi?
Youngsters will also be happy with the plans for the Captain EO Theatre, which will likely become the Star Wars Jedi Academy which has been very popular at Disney Hollywood Studios. Located indoors for weather reasons, young fans will enjoy becoming a young padawan, a Jedi apprentice. A cute and fun addition to the park. All of you have heard about the DHS Jedi Academy but some of you may have never seen it, so I've posted a video below showing the full Florida show.
<iframe src="http://www.youtube.com/embed/wwYyITTP2ZQ" allowfullscreen="" frameborder="0" height="360" width="640"></iframe>
The next transformation is an exciting one, as plans appear to call for the Pizza Planet restaurant, located a bit backstage behind Space Mountain, to become the famous Mos Eisley Cantina which appeared for the first time in the Episode 4 (the first Star Wars movie to have been released). Not only is it the Star Wars "restaurant" that everyone remembers from the movies, but it shouldn't be too difficult to recreate it. From the outside it looks like the photo below, a picture of a diorama model by Stefan Weber.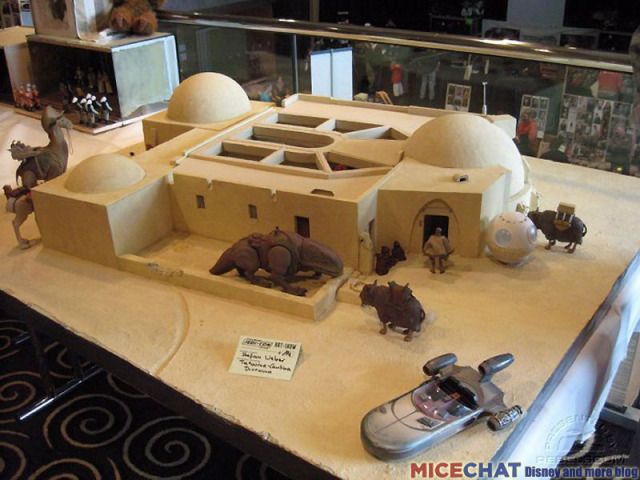 Here is the same model, showing the inside.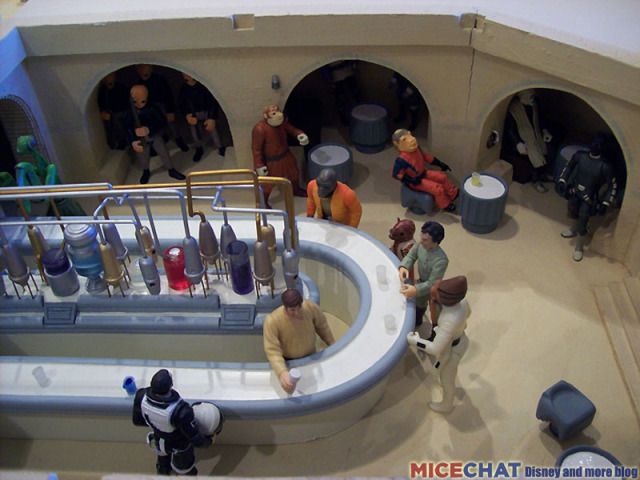 Here are two pictures, the first of which is the original model for the movie, and the next one is another non-official model.
A reminder that in the movie the Cantina is located on Tatooine, in a desert environment, which mean that DLPI will probably recreate a bit of desert landscape all around it. Not the most difficult thing to do, and they have the space in which to do it. Some additional creatures like the one you saw on the diorama and a land speeder waiting at the entrance would be a nice touch!
To be perfectly honest, this Cantina addition is the one on which i don't have confirmation on yet, but it makes so much sense! If it's a go, you can be sure that Lucas Film will keep an eye on the theming to make sure that the restaurant will be faithful to the original. This next picture will give you an idea of the inside layout of La Cantina.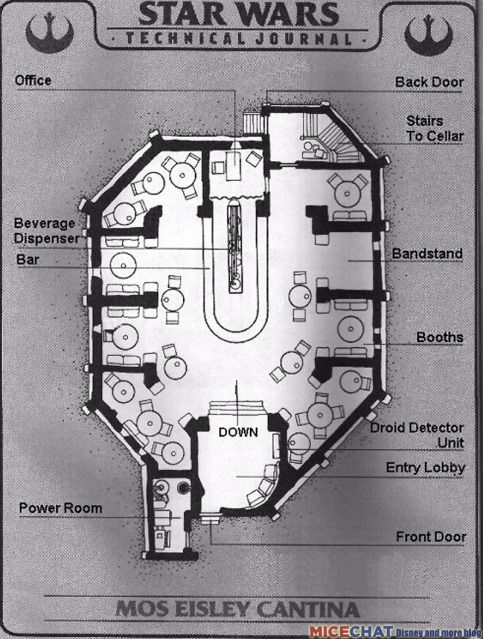 We all remember that the Cantina was full of aliens from all over the galaxy. In this case it's probably DLP guests who will be the aliens (!) but it would be nice if the cast members who will work inside the Cantina could be a little bit "themed". I don't know if French regulations allows that, so we'll have to wait and see.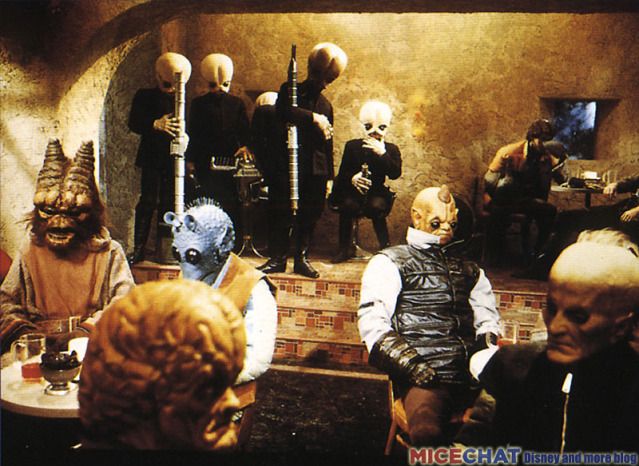 And what about the Cantina musicians, by the way? They have to be there, right? DLP have the choice of real musicians wearing masks or audio-animatronics musicians. My guess is that DLP might prefer "real" one for financial reasons, but WDI AAs would be welcome, too.
For those of you who don't remember the Cantina scene from Star Wars Episode 4, here is the video.
<iframe src="http://www.youtube.com/embed/UAGfC0Ktb5Q" allowfullscreen="" frameborder="0" height="360" width="640"></iframe>
So . . . is this Star Wars land going to be build at DLP? Very probably, yes, and here is why. One year ago, during a press event, a dinner was organized with a selection of web masters and Philippe Gas, DLP CEO. I was part of the dinner but it's another web master who asked him if DLP was planning to replace Star Tours 1 by Star Tours 2. To what Philippe Gas answered that they would be happy to do so but unfortunately the updating the attraction has a big cost attached to that redo, and for the same cost DLP could have a brand new attraction. One of the considerations is that DLP had bad experiences with previous upgrades to attractions. They did Space Mountain Mission Two and expected it to be a success as big as they had in 1995 when Space Mountain opened, but that has not been the case. There are concerns with the Captain EO/HISTA attendance comparisons. We can understand why DLP execs reservations, but in this case I think that because it's widely agreed that Star Tours 2 is considerably better than the first version.
But, at the time of this dinner we didn't knew the real costs involved of mounting Star Tours 2, and it was hard to understand why Philippe Gas thought that ST2 would be on the high side. Thanks to the Oriental Land company which always reveals the costs when they bring a new ride at TDL or TDS, we know now that TDL will invest 7 billion Yen to install Star Tours 2 - $84 Million which makes it around around 63.5 M euros. Even if the costs are always a bit higher in Japan because of anti-sismic regulations, the price for DLP is certainly not under 50M euros, and probably closer to 55M. I can understand now why Philippe Gas thought that it's quite a lot of money to upgrade a ride, as popular as it can that revision might be. Not to mention that it's advertising a "revamped" ride is more difficult that promoting a brand new one.
But DLP has two problems. The first is that Star Tours 2 will be introduced to all the Disney parks next year, except at DLP. The pressure from DLP fans would surely grow. And to put it more simply, the original ride is really showing its age, so sooner or later DLP will be forced to upgrade it. The second problem is located next door to Star Tours. Captain EO was not a big success, clearly not viable, for the long-term. Captain EO closed on April 2nd and the main problem for DLP is, what can they put in instead of EO? WDI doesn't do 3D movies anymore considering a new 3D movie is released almost each week in neighborhood theatres. It's better to use 3D technology in rides, like in Toy Story Mania or in the upcoming Ratatouille ride at WDS.
And it's at that point that someone probably came with this brilliant idea: what about having a Star Wars land in the back of Discoveryland? And this concept changes everything as DLP marketing will be able to "sell" or advertise not only an upgraded ride but a whole new land, and a new land dedicated to one of the most popular movie franchises in the world! Goodness knows that there are a lot of Star Wars fans in Europe. Not to mention that, as i told you, there is still plenty of land backstage to eventually add a new Star Wars attraction in the future if needed. I honestly believe that going forward in this way, is a very smart move from Philippe Gas and DLP Imagineering as this Star Wars land is probably the best way to resolve both the ST1 and Captain EO problems at the same time.
For sure, this Star Wars Land will cost more to DLP than a simple upgrade of the ride, but the benefits on many levels could be greater than the individual parts of it. Once Star Wars Land is a reality, why wouldn't they organize Star Wars week-end events like they do at WDW? It's very popular, and for sure it would bring fans from all over Europe in the park, fill rooms at DLP hotels, seats in DLP restaurant. Right? For all these reasons, i'm quite sure that a Star Wars Land will come to DLP, and from what is being said on the DCP forum, it won't be before Ratatouille opening which is scheduled for 2014. But 2015 might be the year that both Jedis and Empire forces will land again at DLP Discoveryland!
Pictures: copyright Disney, Lucas Film, Mark Dermul
Cantina Video: copyright Lucas Film
Cantina pictures from cantinacustoms.tripod.com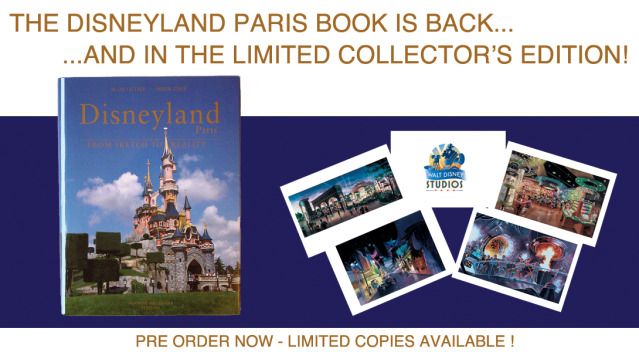 <iframe src="http://www.youtube.com/embed/3Zhj5H4QSjo" allowfullscreen="" frameborder="0" height="360" width="640"></iframe>

Remember you that that you still can order a collector copy of the DLP book. There are just a few more copies of this book available in the MiceChat store. Order now, while you still can:
MICECHAT.COM STORE
RICHMOND,
JAMES RIVER PLANTATIONS
and
JAMESTOWNE
by
Scarlett Stahl
Continuing my family pilgrimage, I flew into Atlanta to stay with good
friends, Carol and Mike Burgen. Then Carol accompanied me to Richmond,
Va. as Virginia is where the majority of my family came from.
Scarlett with cousin, Barry Holloway, at his home.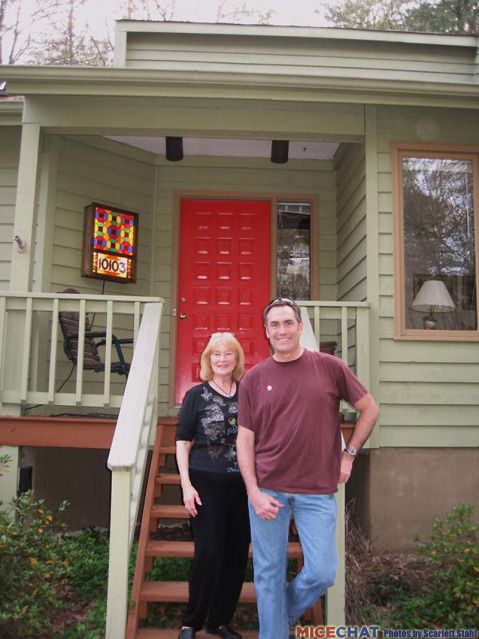 A button that belonged to Pocahantas
Next door to the Virginia Historical Society was the United Daughters of
the Confederacy Building. The entrance was at the side and it was necessary
to ring the bell to gain entry. The building is only open to members and
their guests so this was a real treat to visit. There was one room devoted to
paintings of the Jefferson Davis (President of the Confederacy) family with
lovely silver on tables beneath the pictures. There was an impressive Great
Hall, where the officials meet and all the chairs in the hall are from former
Confederate retirement homes. Of course there were paintings of General
Robert E. Lee (another of my Randolph cousins) and cases of Confederate
memorabilia lining the halls. I learned that there was at least one black
president of a UDC chapter in California, which was interesting. UDC is
a National society founded in 1894 for the female lineal descendants of
soldiers who served in the Confederate forces.
Scarlet in front of the building.
Miss Lee
Amy Howard, an employee and Scarlett's guide at UDC with a picture of Winnie Davis.
Scarlett with her friend, Carol Burgen, and a picture of Robert E. Lee, Scarlett's cousin
Confederate memorabilia in a case.
Robert E. Lee
Stonewall Jackson Flag
Jefferson Davis
There were many more museums such as the Virginia Museum of Fine Arts,
the Edgar Allan Poe Museum, the Museum of the Confederacy with the
White House of the Confederacy, to name a few. Richmond has many trendy
areas, such as Shockoe Bottom, a major dining and entertainment area while
Tobacco Row is being converted into loft apartments and condominiums.
Shockoe Bottom.
In the downtown area is the Virginia State Capital, which was designed by
Thomas Jefferson (another of my Randolph cousins). In front of the Capital
is an important statue with three tiers of pedestals: George Washington
on top/ Thomas Jefferson, George Mason, John Marshall, Andrew Lewis,
Thomas Nelson, and Patrick Henry in the middle/ and a series of allegorical
female figures and shields on the bottom.
Virginia State Capitol.
George Washington Statue.
Robert E. Lee Statue on Momument St.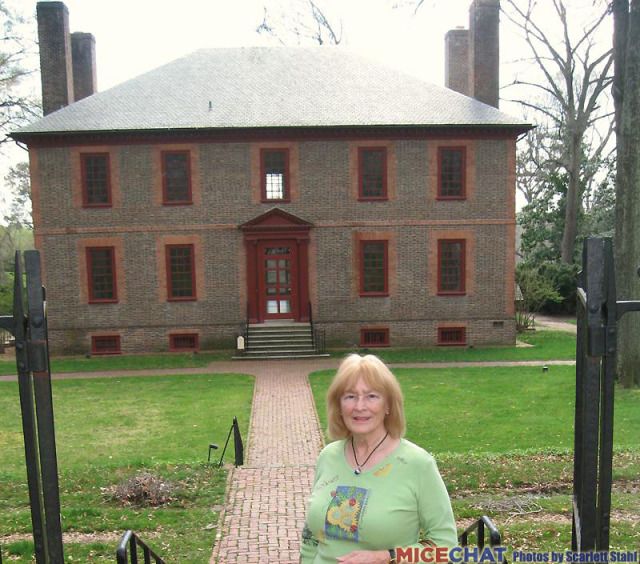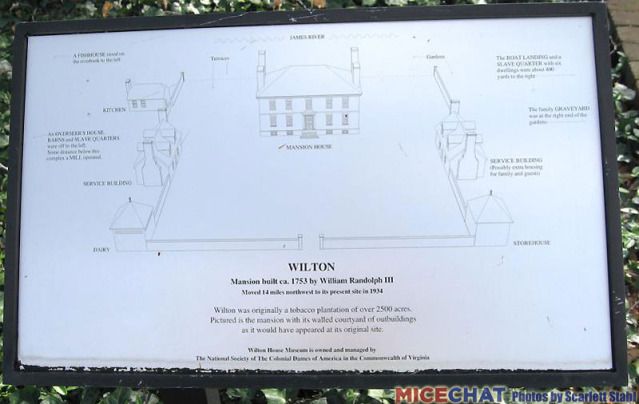 Being a direct descendant of Pocahontas allowed me to join the Jamestowne
Society as their membership consists of those individuals, who can trace
and prove their ancestry back to the colonists, who settled Jamestowne,
our first colony. I did visit their headquarters in Richmond and the director
took me on a tour of the small brick house but there really was little to see.
Downstairs there was her office, a small kitchen and bathroom, along with
a sitting room which featured a picture of Pocahontas on the wall. Upstairs
was a large board room with another room for storage. This really was not a
museum but an office for the Society.
In the parlor of the Jamestowne Society. Scarlett with her ancestor, Pocahontas.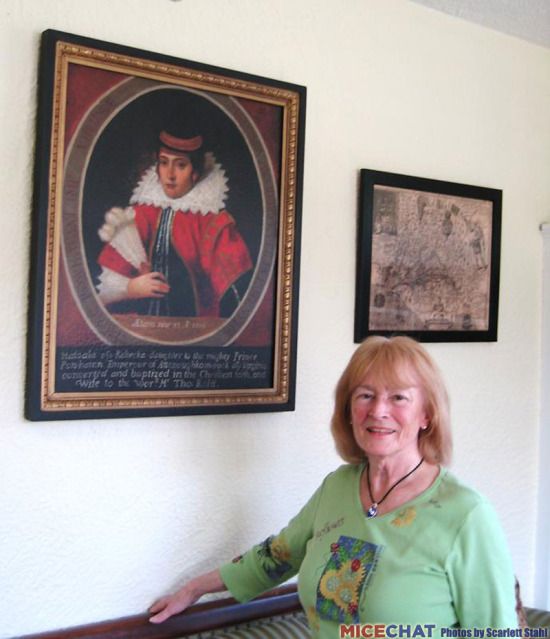 Jamestowne Society Bldg.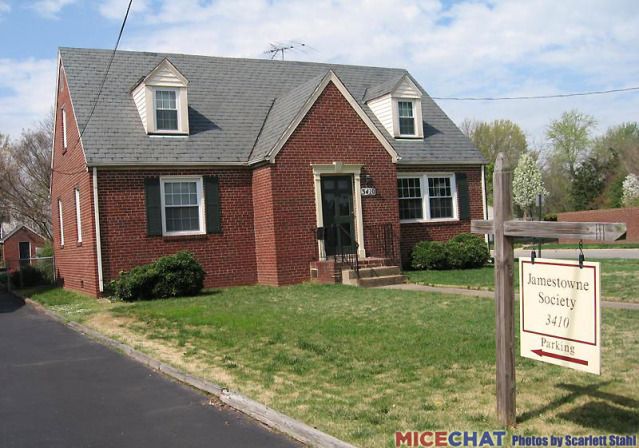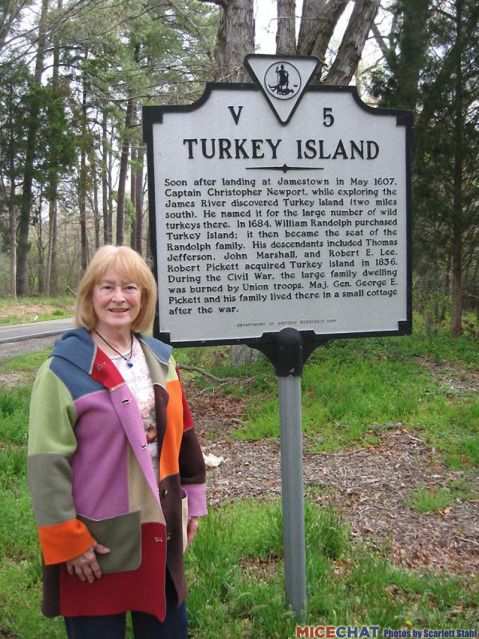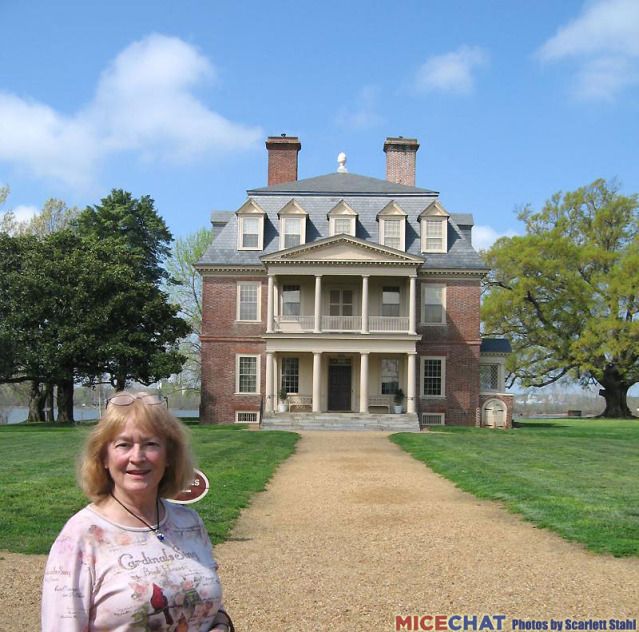 Sign for Shirley Plantation.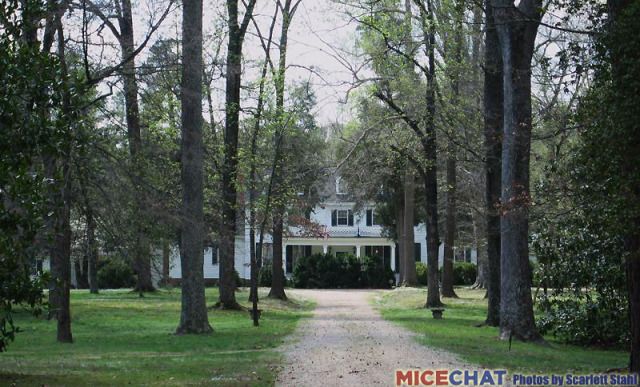 Historic Jamestowne is on the original island where the first colony existed.
Regarding its relatively recent history (1893) Mr. and Mrs. Edward Barney
gave 22 1/2 acres of land, including the 17th-century church tower, to the
Association for the Preservation of Virginia Antiquities (now Preservation
Virginia.) With federal assistance, a sea wall was constructed in 1900 to protect the area from further erosion. The remaining acreage on the
island was acquired by the National Park Service in 1934 as part of the
Colonial National Historical Park. Today, Jamestown is jointly operated by
Preservation Virginia and NPS.
Objects belonging to Jamestown colonists 400 years ago, have been
unearthed from the long lost James Fort site and are in an archeological
museum called the Archaearium, an exhibition facility. These are a treasure
trove to see and were found by the Jamestowne Rediscovery Project,
which continues on today with the recent discovery of the Church where
Pocahontas and John Rolfe were married. Unfortunately all that the public
can see is a tarp over the hole in the ground, where the archaeologists have
been digging, along with a commemorative plaque.
The Jamestowne Memorial Church, built in 1907, stands behind a brick
tower, erected c. 1690, which is the only surviving seventeenth-century
structure at Jamestown. The church is available for rental for special
occasions, such as weddings.
There is a statue of Pocahontas and a short distance away is a statue of
Captain John Smith, who was one of the founders of Jamestowne. There is a
large park on the James River but no other buildings, other than a memorial
tower. However there is a site of the original 1607 James Fort and plaques
designating other historical sites.
Nearby is a free ferry that transports cars across the James River to the
other side. I admit I was pleased to see that the ferry we took was named
Pocahontas and that the route was past the statue and church on Jamestowne
Island, which gave me a photographic opportunity that I took advantage of.
The highway on the other side of the river led us back to Richmond.
Note: Though I am a direct descendant of Pocahontas and John Rolfe, I
have no personal knowledge of them but only what I have read and what I
believe.
FACT: Chief Powhatan was the leader of the Algonquin Confederacy,
which consisted of about thirty tribes and Pocahontas, aka Matoaka, aka
Lady Rebecca Rolfe, was his favorite child. She was captured by the
English settlers to be exchanged for prisoners. During the year that she was
held hostage (without a prisoner exchange), she was converted to
Christianity. Quoting Historic Jamestowne-Jamestowne Rediscovery re John
Rolfe and Pocahontas: Rolfe was a pious man who agonized for many
weeks over the decision to marry a "heathen." He composed a long,
laborious letter to Governor Dale asking for permission to marry
Pocahontas. The letter reflected Rolfe's dilemma. The tone suggests it was
intended mainly for official records, but at some points Rolfe bared his true
feelings. "It is Pocahontas," he wrote, "to whom my hearty and best thoughts
are, and have been a long time so entangled, and enthralled in so intricate a
labyrinth that I [could not] unwind myself thereout." The wedding took
place when she was nineteen in the spring of 1614 with the approval of
Governor Dale and the Chief Powhatan. It resulted in peace with the Indians
long enough for the settlers to develop and expand their colony and plant
themselves permanently in the new land. One child was born, Thomas
Rolfe, who was taken with his parents on a visit to England for Princess
Pocahontas/ Princess Rebecca to meet the King, where she was treated as
royalty. Upon their return from England, she became ill and was taken off
the ship at Gravesend, where she died at only 22 years of age. The cause of
death has been variously described as smallpox, pneumonia, tuberculosis, or
lung disease.
Opinion: John Smith, as Pocahontas only met him when she was about ten
or eleven years old and as women had no say in love or marriage at that
time, I do not believe that there was any romantic relationship between
them. Also since John Smith wrote two books in which his life had been
saved by women, ie first Pocahontas and later a Turkish woman, it seems
highly implausible or possible wishful thinking on his part.
I am proud of my heritage but sad that I know nothing personally about her,
as nothing was passed down through my family. I also find it sad that her
life was so very short. I would like to think that she loved her husband and
my ancestor, John Rolfe, as much as he loved her but do doubt that as well.
Virginia Historical Society - The Center for Virginia History
The Museum of the Confederacy: Visit the White House of the Confederacy
Welcome to Wilton House Museum
Welcome to Shirley Plantation, Charles City, Virginia. America's Oldest Family Business and Virginia's Oldest Plantation. History for eleven generations since 1613.
Berkeley Plantation - the most historic James River Plantation in Virginia.
Sherwood Forest Plantation - Home of President John Tyler
Jamestown Settlement
Home--Historic Jamestowne
Might we also suggest that you visit these fine MiceAge/MiceChat attractions for even more Disney and theme park fun:
And that brings us to the end of another week. Our photographers have just enough time to reload their cameras before we see you all again next weekend. Thank you to all of our wonderful readers, and as always, a huge thank you to our amazing team of global photographers, spies, and gossips:

Denise Preskitt Mousesteps.com
Alain Littaye Disney and more blog
Scarlett Stahl

Your Editor - Rixter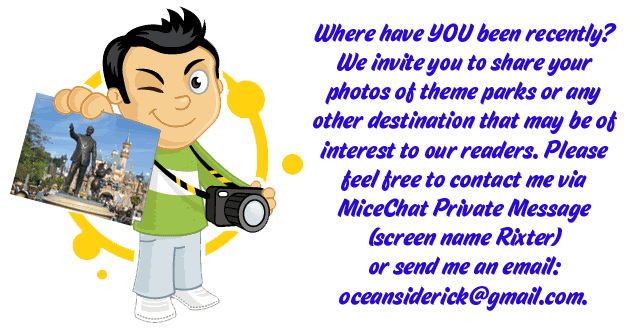 It is readers like you who make MiceChat such a special place.
Don't miss a single one of MiceChat's Featured Blogs (including the Weekend Update). Add our feed to your favorite feed software or site:
Follow us on Twitter