Round and round and round we go...

Where the Weekend Update stops, nobody knows!

Well, that's not really true.
I
know where we're going to go this week and I'm about to tell you...
We'll travel to a German Biergarten in Walt Disney World;

visit a pie festival in Celebration, Florida;

we'll take a tour of Sea World, Orlando;

and take a walk in New York City's park in the sky.

But first up we have a very special story from Scarlett Stahl. She was lucky enough to spend some time with Paige O'Hara, known to most of you as the voice of Beauty in the Disney animated film Beauty and the Beast. Ms. O'Hara has had quite a career in show business, however, and I'm guessing that you will have a new respect for this multi-talented singer and actress after you read Scarlett's article.
Now YOU know where the Weekend Update will travel! Thanks for joining us!
BEAUTY AND THE BEAST
By
Scarlett Stahl
I am associated with two Disney Clubs and have the responsibility and pleasure of obtaining our guest speakers. Recently at our Once Upon a Classic meeting, our guest speaker was Paige O'Hara, the voice of Belle from the animated film, Beauty and the Beast. Now I first interviewed Paige in 1998 backstage at the Flamingo Hilton in Las Vegas, when she was appearing in The Radio City Music Hall. Our paths have crossed more than once over the years and it has always been a pleasure to see her. Accompanying her to our meeting was her husband and manager, Michael Piontek. Michael had appeared in the stage production of Beauty and the Beast as the Beast. So in real life Beauty did marry the Beast!!!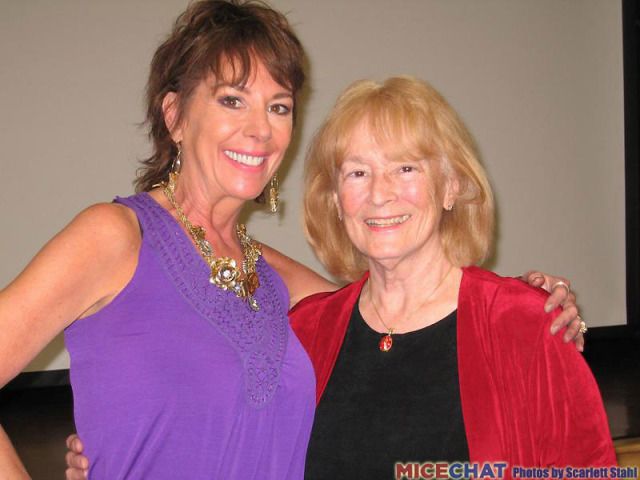 Paige is an artist at heart, whether appearing onstage or in creating her beautiful paintings of Belle by Belle, which are carried by Disney Fine Arts, as well as Renaissance Galleries in Las Vegas and her online store. Michael appears to be the Rock of Gibraltar and the corner stone of their marriage. They had brought a tape of Paige singing mainly solo but also doing a duet with Jodi Benson and best of all with Michael!!!!
Paige was born on May 10, 1956, in Ft. Lauderdale, Fl, the fourth of five children and is of German/Dutch heritage. Paige began taking acting classes and learning to paint when she was only three years old. Her singing lessons started when she was around ten or eleven years old. "My acting teacher was a little hard on us. Instead of bringing her an apple, I would bring her a little water color that I had done and she would be a little easier on me." Her mother directed and taught Shakespeare in a high school program, while Paige had her first role at age 9 in a production of Cinderella at the Ft. Lauderdale Children's Theatre.
When she was 17, she went to NYC, and her first role was in an off- Broadway showcase of Romeo and Juliet. Her maiden name is Helmintoller and she was required to change her name. She said her favorite actress was Maureen O'Hara and her favorite character was Scarlett O'Hara so she loved O'Hara and took the name legally when she was 18 years old. There were the lean years, when she would clean apartments to get rent money and then would paint all night to sell her paintings on the street. Her first Broadway show was Showboat, where she played the comedic role of Ellie with Donald O'Conner. Paige did concerts and albums with John McGlinn. When she read about the new Disney film, Beauty and the Beast, in the New York Times, she called her agent and said she had to have an audition as she was such a fan of Howard Ashman and Alan Menken. She went through five auditions. Normally she said she isn't good at auditions and gets stage fright. A lot of the casting people know this about her and bring her back a couple of times to make her feel comfortable so she can do her work. After reading the script, she just knew it was her part and she felt differently. "Michael and I were seeing each other at that time and were very involved but not married yet. He kept saying don't get your heart broken as there are 500 actresses up for this part. I said I can just see it, like God is telling me something. Well low and behold, in one week God gave me that part and on my birthday, Michael proposed to me. He proposed to me before I got the part, that was 22 years ago…..They would video tape us and take certain things…I had the long hair in my eyes and all these little gestures came about…..In the original drawings she looked like Angelina Jolie ….but they decided to make her more like me, pretty but a little quirky in the face….. Disney told me that over all these years, they have a queue where they rate who sells the most merchandise and it's a toss up between Belle and Ariel."
She had been chosen as Belle and they had chosen a voice over actor for the Beast. "On the first session they realized he wasn't going to work. He was all about the tones and nothing about the soul, no heart. They started looking again. Rumor has it that when Robby Benson sent in his tape, he changed his name on the audition tape. He got the part and turned out to be so brilliant. It was great to work with him….Robby and I requested to record together and it was more expensive and more time consuming but what a difference it made. The film took four years to make and after they had completed Be Our Guest sequence, they decided they didn't like it and went back and rerecorded the whole thing. The initial guest was to be Maurice, the father, and they decided to change it to be Belle. They were determined to make it perfect. It was the last of the hand drawn films."
"The title song of Beauty and the Beast had been written but had not been recorded yet….Alan had just finished writing it and Howard was in the hospital. Angie (Angela Lansbury) didn't want to sing it at the press conferences and wanted me to do it. I was thrilled to get the opportunity so I went over to Alan Menken's house and he played Beauty and the Beast on the piano. I sang it a couple of times and Alan said that we have to call Howard as he hadn't heard anyone sing it except for him. So I sang it for Howard over the telephone while he was in the hospital and he said it's so beautiful, you sound so beautiful. That was the last time I spoke to Howard."
"As an actress for 25 years, I know how tough the New York audiences can be. At the New York film festival there was a screening of the film and at the end of the screening, everyone stood up and cheered for ten minutes! They brought us on stage and they cheered again and again. Don Hahn was in tears and I could see the dollar signs in Jeffrey Katzenberg's eyes. It was just amazing."
"At the Oscars they wanted pop stars to sing the songs. …Jeffrey Katzenberg said if you don't use Paige and Richard, you can't use the song…..They used a costume designer that had no clue what Belle looked like and it turned out to be this bulky checkered with pantaloons….. We were in the wings and I chose to sing live, instead of lip syncing. The year before Madonna forgot her words. ..Angela Lansbury, the great Angela Lansbury was standing next to me and she was shaking. I asked her if she were nervous and she said Paige, when you get to be my age, then you learn when to be nervous. But if I sang like you, then I wouldn't be nervous and then she patted me on the bottom…. In the audience were Warren Beatty, Barbra Streisand, all in the front row and it really tested me."
Mary Costa, the original voice of Sleeping Beauty, is a great fan of Paige's and was disappointed that Paige didn't sing in the Broadway production of Beauty and the Beast, which I shared with Paige. As Paige explained, she had already signed a contract to star in South Pacific in Australia for fourteen months and they were paying her a lot of money and it was security. She also explained that she felt the role of Belle was for a seventeen year old girl and she was older, so when Jeffrey Katzenberg called to offer her the role, she turned it down. She had discussed trying to get out of her contract with Michael but they really didn't know how successful the play would be as this was the first Disney Broadway show. "In retrospect, I probably should have done it but I think it was meant for a reason….. I might have joined some of the touring companies later on but we were trying to have a baby and the fertility drugs made me blow up in weight. We tried for five years but the Lord just didn't mean that to happen for us. We're like parents to all our nieces and nephews, and now two kittens that we've adopted, who are raising heck at our house."
Growing up, Paige would dance around the floor to Judy Garland records with her mother. She describes her mother: "my mom was like the Pied Piper Auntie Mame, full of life, brilliant, beautiful like Carole Lombard. All my boyfriends had crushes on her. I really connected with Judy Garland and could imitate her. I studied over two thousand hours of her tapes for a production in Phoenix last year. It ended up running three hours long…there were standing ovations every night and finished with Over the Rainbow…..There is another Judy production on Broadway called End of the Rainbow, with a British star who had played it in England. I was called to do an audition for the understudy. To cut a long story short, everyone wanted me but the director. I don't think I could have been a standby at this point in my life, emotionally. It's the last couple of weeks of her life and is very sad. I really didn't want to portray her like that and maybe that's why I didn't get the part."
Paige performed as Fontine in Les Mis on Broadway and also played the Hollywood Bowl, once as Maria in The Sound of Music, and another time was called in to replace Julie Andrews in The King and I, when Julie got sick. Paige guest starred with Robert Goulet in his show at the Venetian in Las Vegas.
Regarding her present career, Paige humorously said "I'm working on Menopause in life and in Las Vegas. " One of her friends had come to stay with Paige and Michael in their "house that the Mouse built", while she tried out for a part in Menopause at the Luxor in Las Vegas. When she mentioned to the producers that she was staying with Paige, they were surprised to learn that Paige was living in Las Vegas and immediately requested that Paige interview. Of course she was hired and has been performing for seven years there.
In 2011 Paige was honored as a Disney Legend, with her handprints and signature cast in bronze and placed in the Disney Legends Plaza at the Walt Disney Studios in Burbank, along with all the other greats. The ceremony was part of the D23 event at the Anaheim Convention Center and was followed by a private luncheon. Paige sang onstage at the Convention Center Ceremony with other Disney Princesses and wowed the crowd as usual.
In her alternate career, she has been painting all her life and had painted Christmas cards for her friends. One of her friends, Rodel, had been painting for Disney Fine Arts and asked her to come to an event for autographs as he had done a Beauty and the Beast painting. Michael asked if they could bring one of Paige's paintings to sell, which sold for a LOT of money. The president of Disney Fine Arts was there and signed her immediately. She has been working for them for two years now and is also selling her artwork in a former Kinkade gallery at the Renaissance Galleries - Shoppes at the Palazzo as well as has her online store.
You can find more information about the availiability of Paige's
music, art, plus her appearances at her site.
http://www.paigeohara.net/
Share your vacation photos with the Weekend Update
Denise Preskitt covers the grand opening o TurtleTrek at Sea World Orlando plus the Celebration Pie Festival
We had several media invites to events last week, including to the Grand Opening of TurtleTrek at Sea World. TurtleTrek allows guests to see what it's like to be a sea turtle, from the moment of hatching. The film is in 3D/360 degrees, in a fully domed theater. Prior to experiencing the film, there are two habitats for guests to enjoy - one with manatees, the other with sea turtles.
Sea World Park President Terry Prather: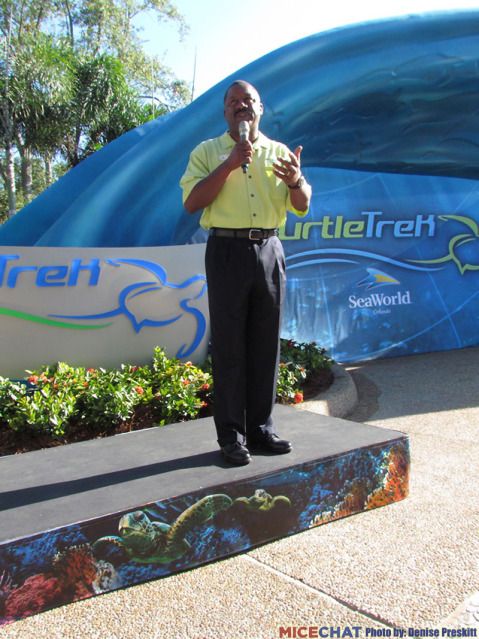 A number of rescued animals were brought out, including this baby owl: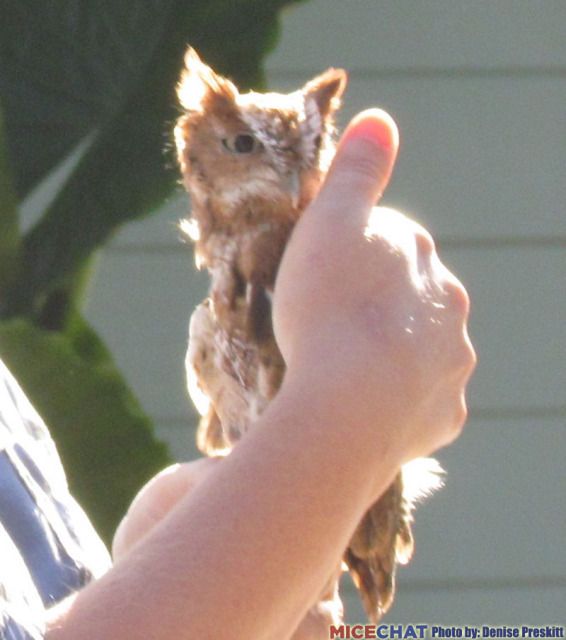 Manatee:
A sea turtle rests: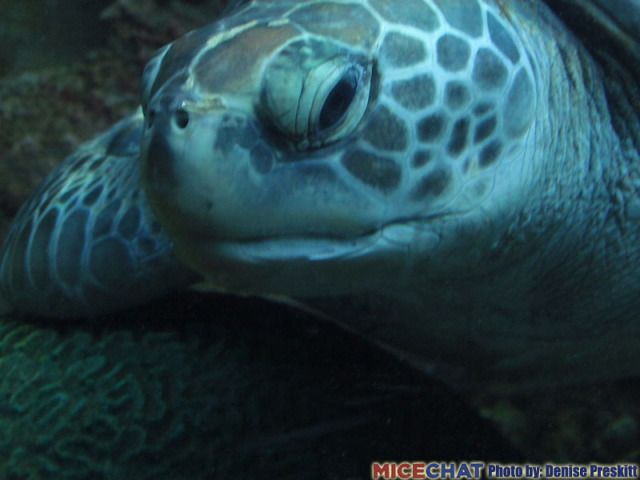 And another one from above: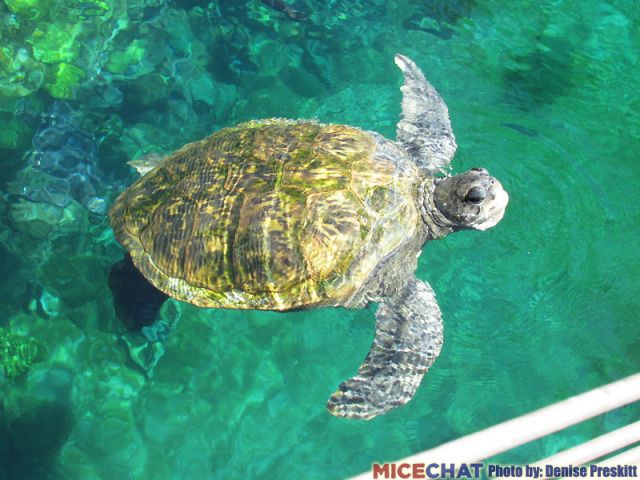 A new attraction, Antarctica: Empire of the Penguin is coming next year. Here are a couple of construction photos from the Skytower: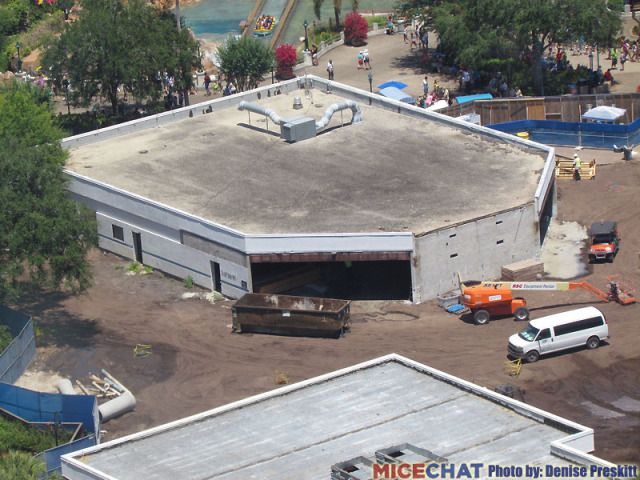 And a video sharing a little about Antarctica: Empire of the Penguin (and construction footage):
<iframe width="640" height="360" src="http://www.youtube.com/embed/M8QKREvv5qk" frameborder="0" allowfullscreen=""></iframe>
Celebration, Florida has a yearly Pie Festival which is always popular! For only $10, guests could enjoy all the pie slices they wanted (as well as ice cream from Publix, Dunkin Donuts coffee, etc.) It's always a fun time.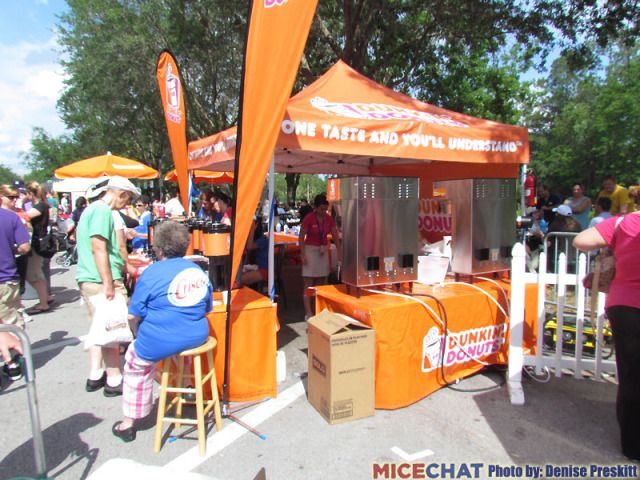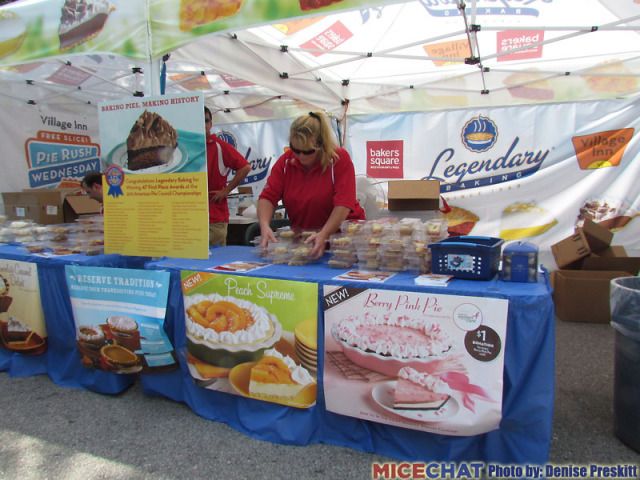 And there are characters, including the Pillsbury Doughboy and the California Raisin!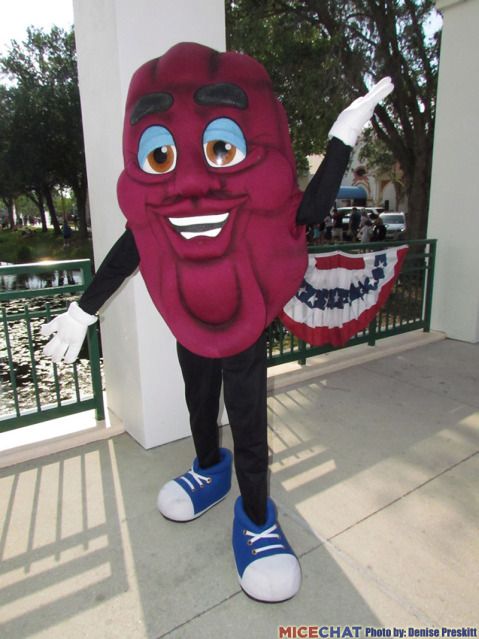 One of our favorite restaurants at Epcot is the Biergarten. We go each year near Christmas for the special show, but it's always a lively time (and the food is great).
Pretzel bread: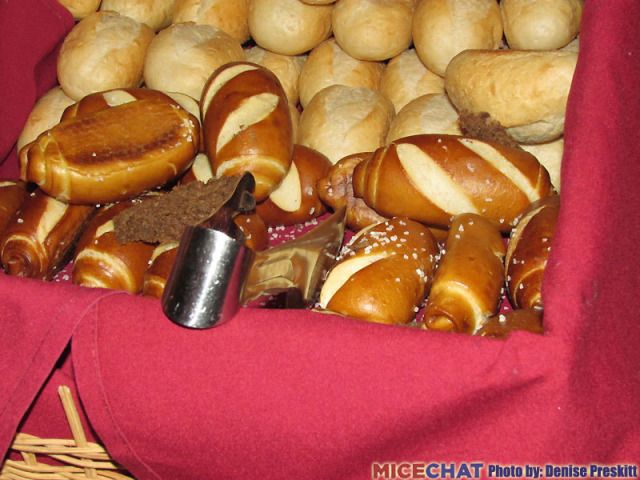 Desserts (my favorite is the Bavarian Cheesecake):
We enjoyed a couple of performances while there: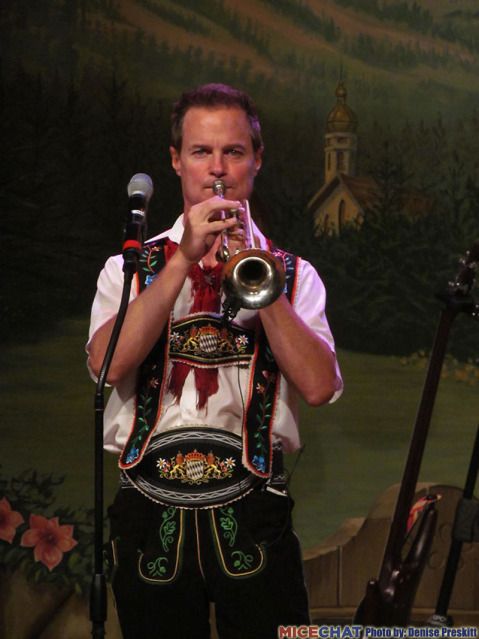 A butterfly in the Bambi's Butterfly Tent:
And a little girl was so excited about finding a caterpillar, that she brought me to it: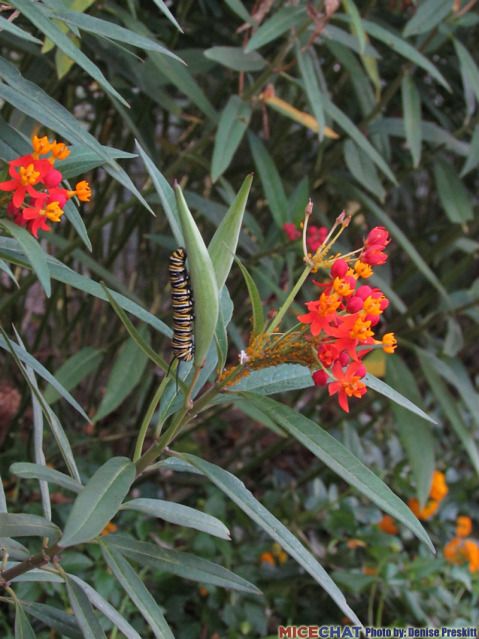 A new rainbow shirt at Walt Disney World:
Butterfly projections:
Sorcerer Mickey:
And Merida from Pixar's Brave is now out and about at Epcot, and will soon be moving to the Magic Kingdom.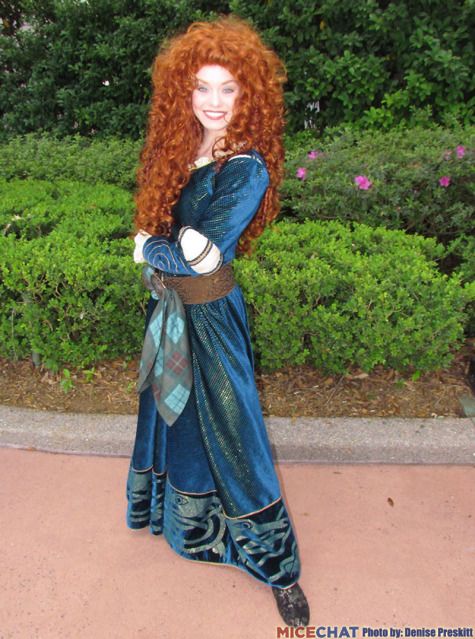 It's useless to try to teach me to hold a bow and arrow:
Here are two videos we shot of Merida:
<iframe width="640" height="360" src="http://www.youtube.com/embed/ykAi_9H6tVs" frameborder="0" allowfullscreen=""></iframe>
<iframe width="640" height="360" src="http://www.youtube.com/embed/PQHzcxyur1U" frameborder="0" allowfullscreen=""></iframe>
Figment rolled up to us on our way out of Epcot, letting us know to take a sticker:
Read more about these stories and much more at Denise's website: Mousesteps.com
Who knew that New York City has an eighteen block long park in the sky? CaptPhoebus takes us on a tour!
What better way than to enjoy a beautiful Spring day than to take a trip across the length of the New York City High Line. With the first expansion completed almost a year ago, this new urban park spans more than 18 city blocks, and is definitely worth a visit while exploring the City.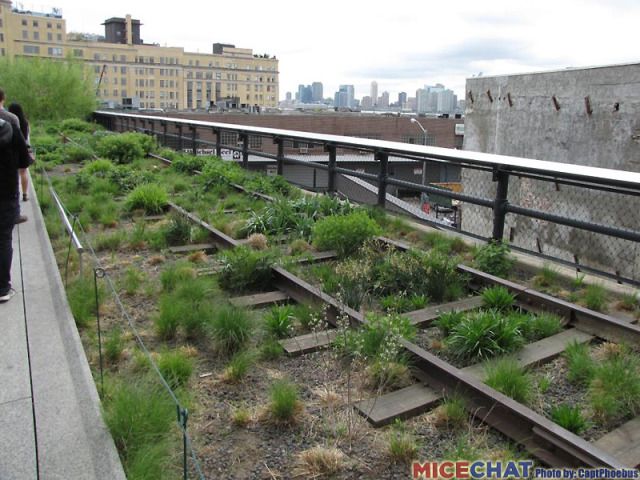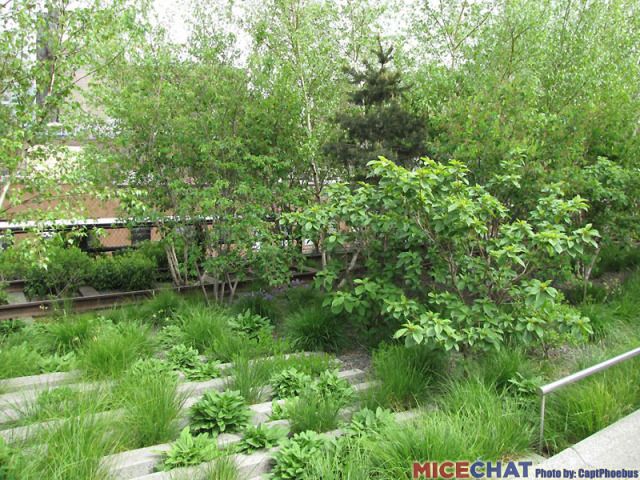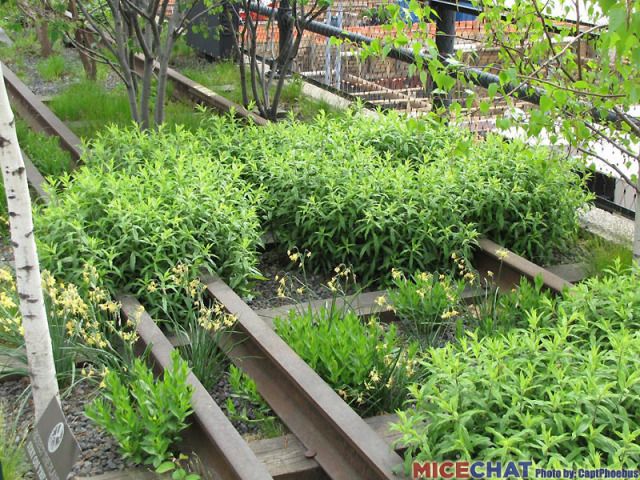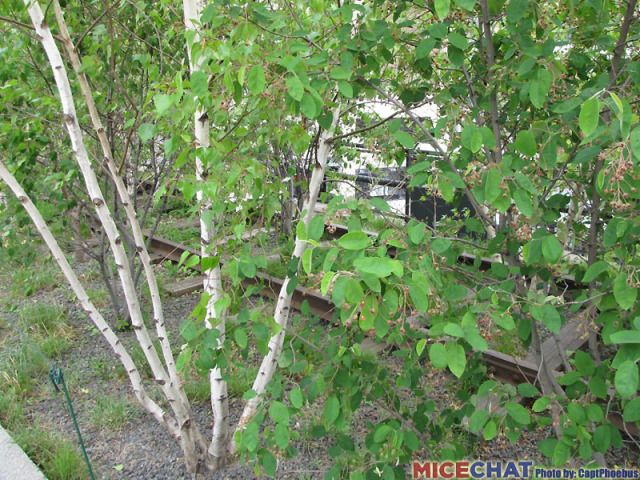 The High Line is a public park built on an historic freight rail line elevated above the streets on Manhattan's West Side. It is owned by the City of New York, and maintained and operated by Friends of the High Line. Founded in 1999 by community residents, Friends of the High Line fought for the High Line's preservation and transformation at a time when the historic structure was under the threat of demolition. It is now the non-profit conservancy working with the New York City Department of Parks & Recreation to make sure the High Line is maintained as an extraordinary public space for all visitors to enjoy. In addition to overseeing maintenance, operations, and public programming for the park, Friends of the High Line works to raise the essential private funds to support more than 90 percent of the park's annual operating budget, and to advocate for the preservation and transformation of the High Line at the Rail Yards, the third and final section of the historic structure, which runs between West 30th and West 34th Streets.
Some seats were actually built to sit on the rails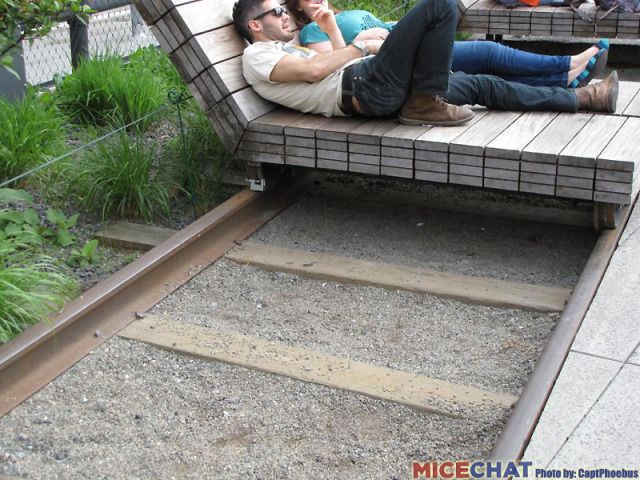 Some even slide along the track
The High Line as it cuts through Chelsea Market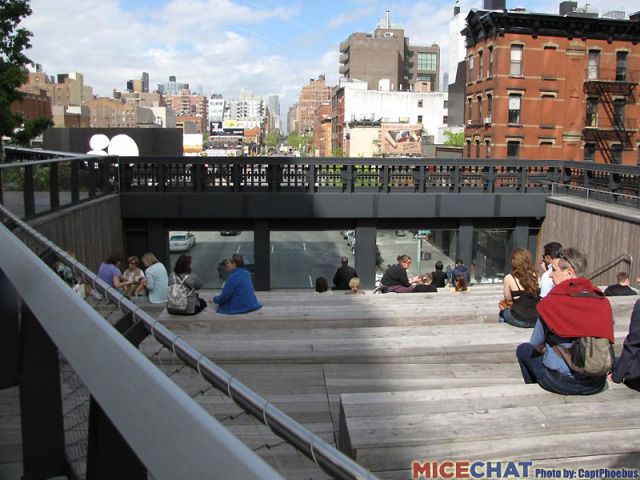 Seating area looking over 10th Avenue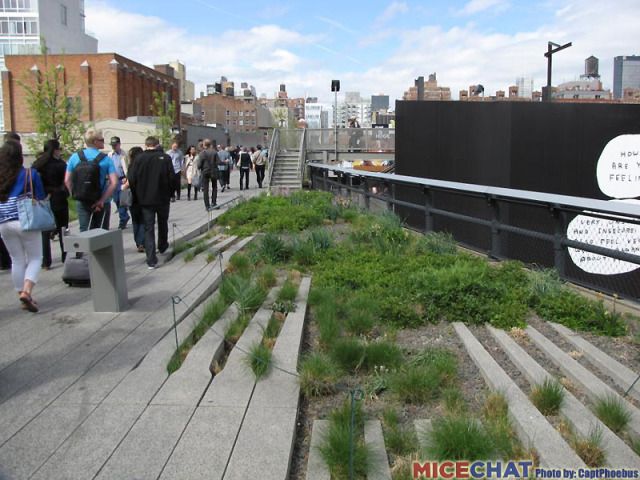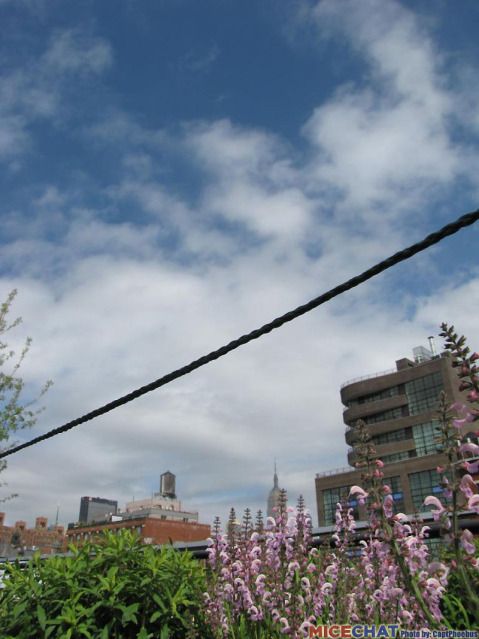 Different perspective of some of the New York Skyline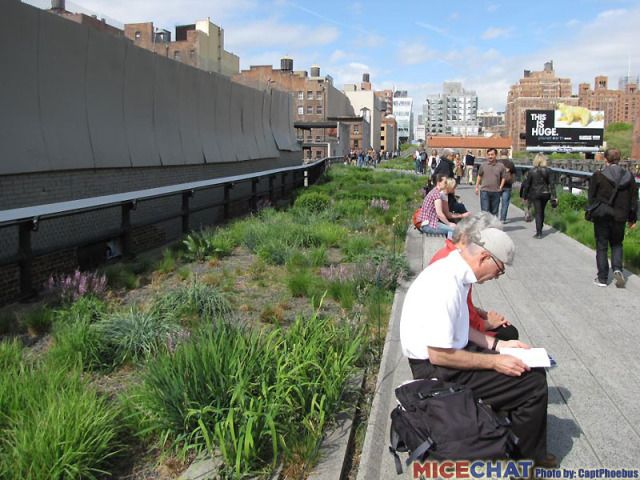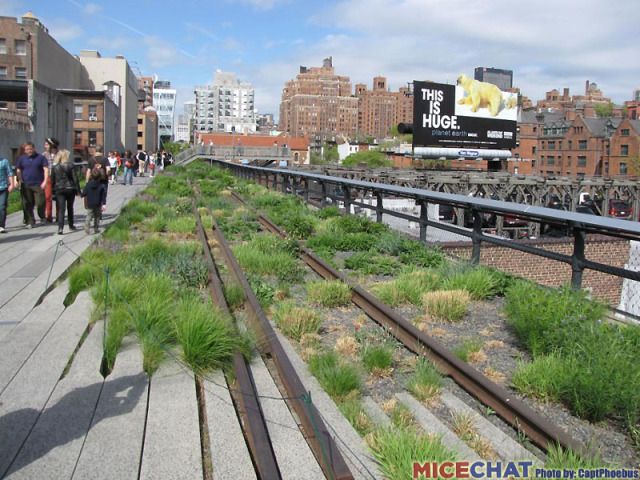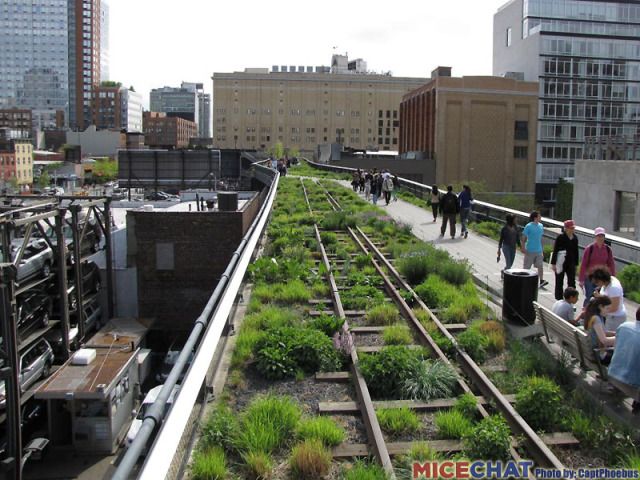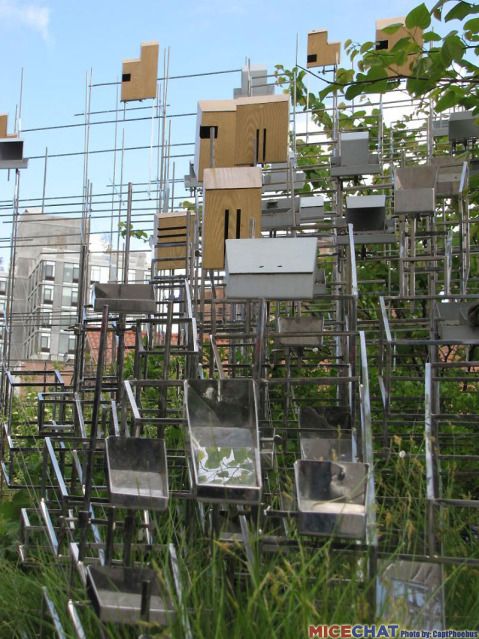 Giant birdfeeder/Art Piece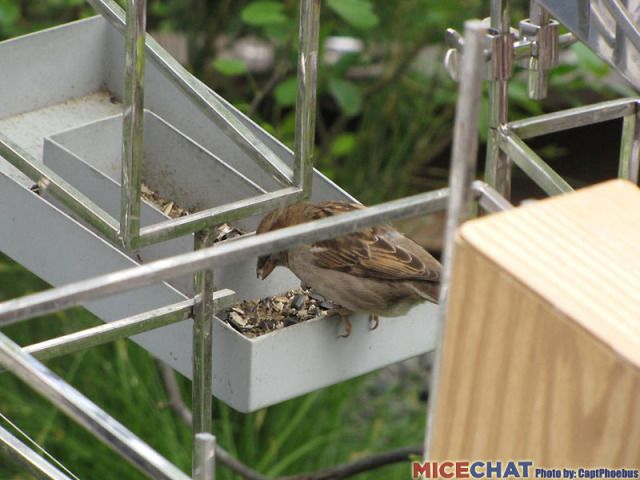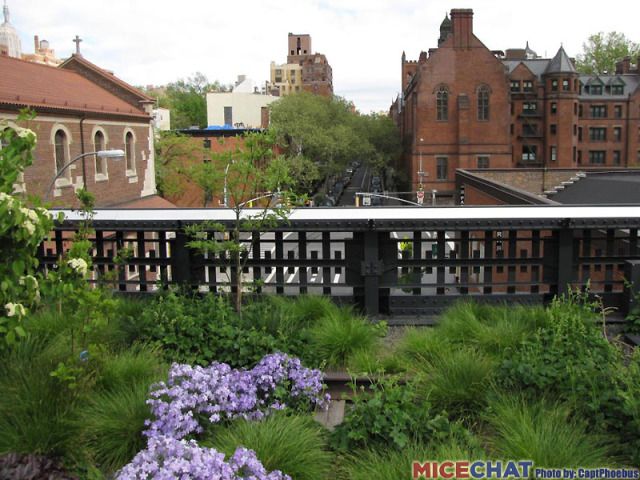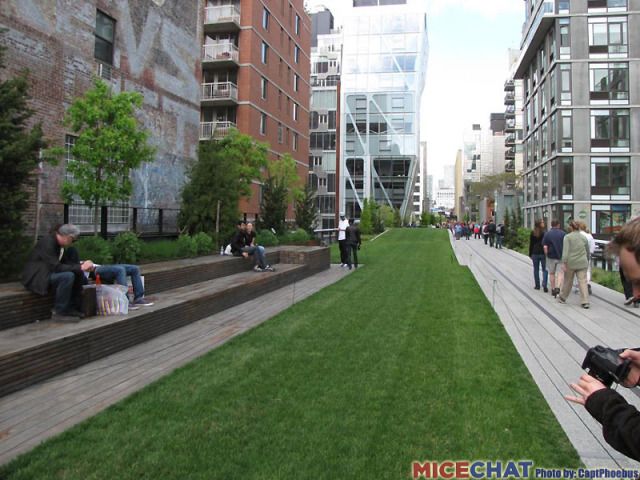 23rd Street Lawn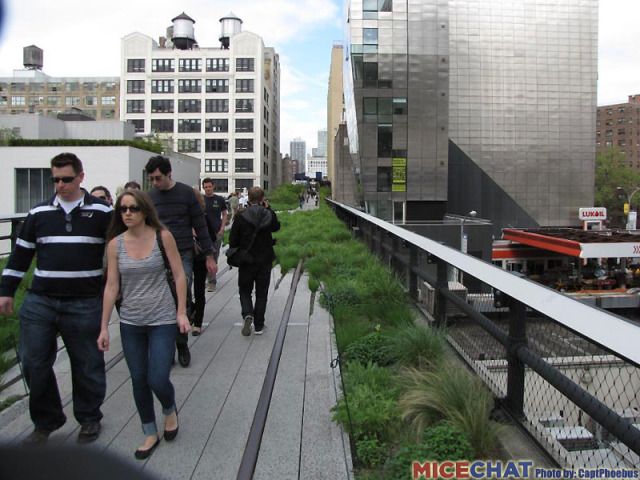 Portion of the walkway is built over the old rail lines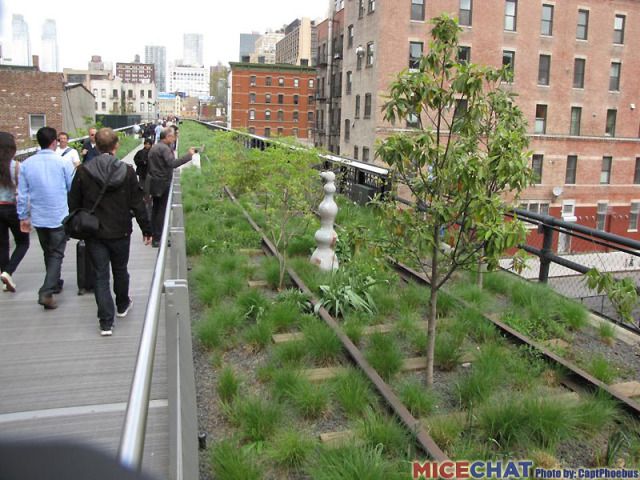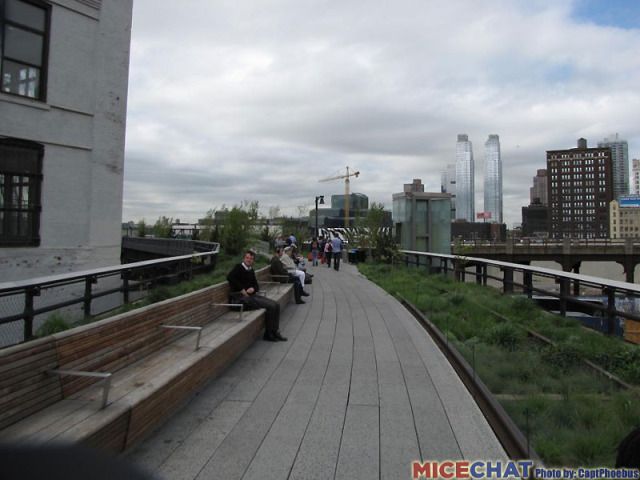 The current northern end of the High Line, at 30th Street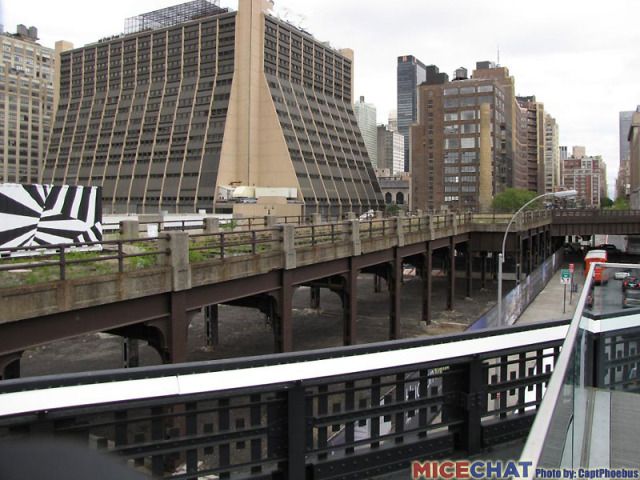 Next area of High Line expansion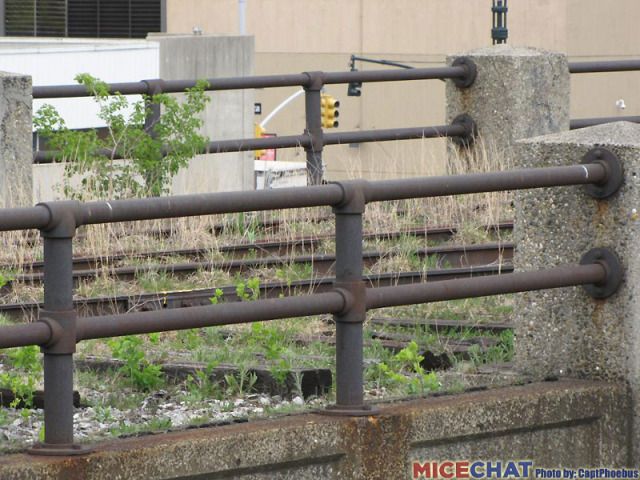 Rya86n takes us along on his trip to Sea World Orlando (part of the honeymoon extravaganza)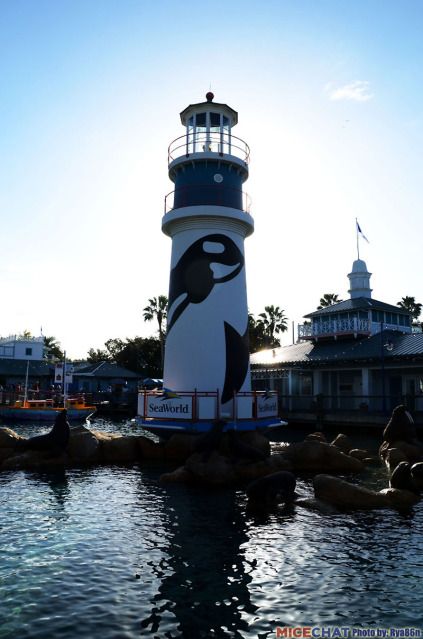 This week I've got some photos from
SeaWorld
, and not
SeaWorld Australia
for a change.
After an early start to the day, this was our first stop.
Manta
was an incredibly enjoyable coaster
Unlike any other ride I've experienced before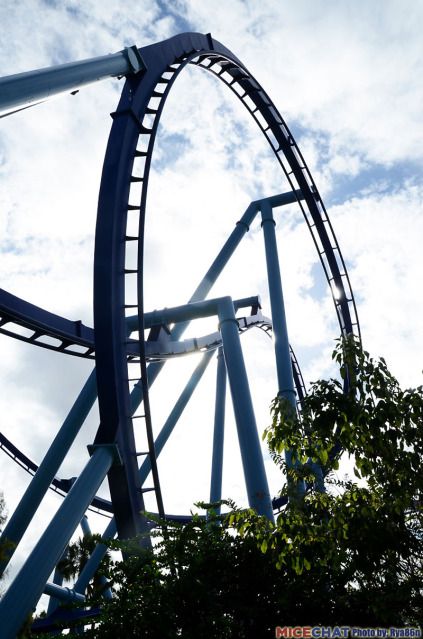 Quite possibly, the best ride of our themepark odyssey.
Australia really needs a flying coaster!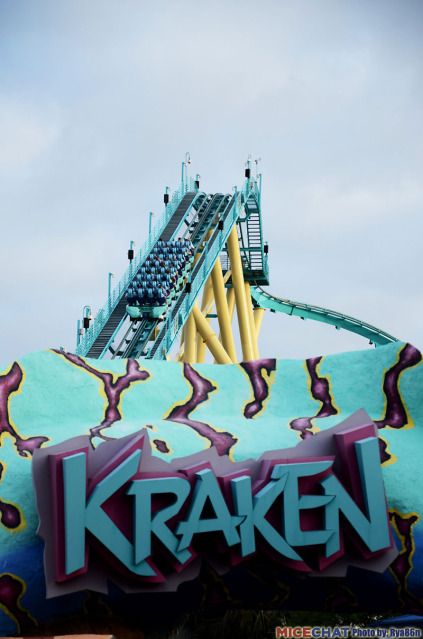 From one coaster, to the next. Not sure what usual wait times are, but we walked straight onto
Kraken
.
We completed the rides, with a
Journey to Atalantis
, before the crowds picked up.
And they did pick up, considering our visit coincided with the first day of
SeaWorld's Christmas Celebration
-- these snow globes also made an appearance at our Aussie parks this past Christmas.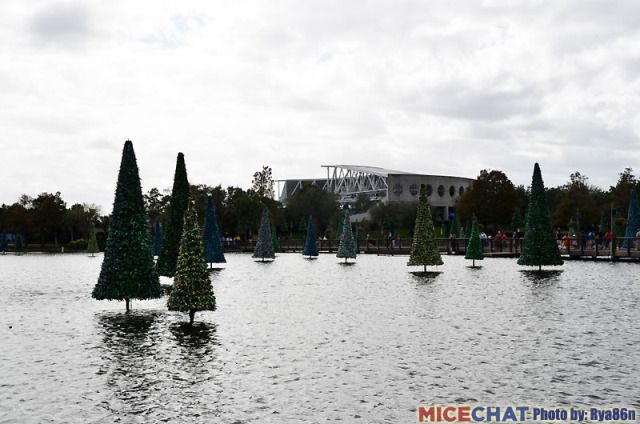 Plenty of Christmas decorations (if only, I'd held off on these photos another couple of Months, we could've run a Christmas in July Weekend Update).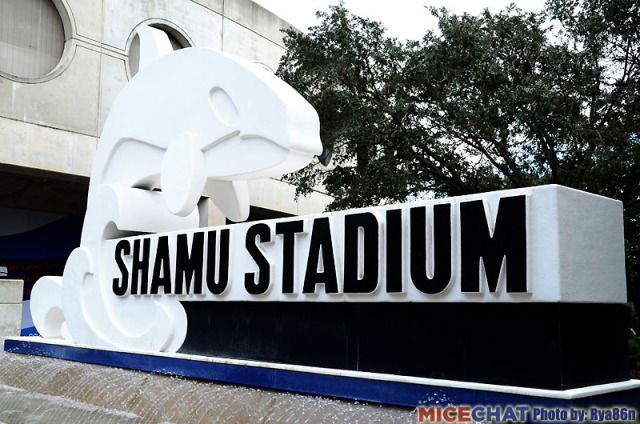 Next up, yet another SeaWorld highlight.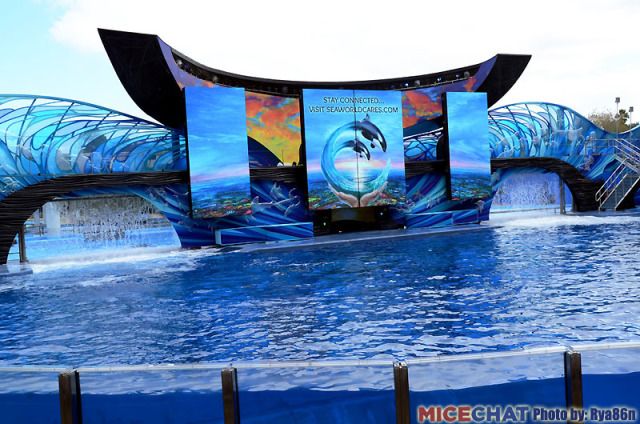 We've come to see Shamu!
If you don't notice these signs...
...you can't really miss these!
Shamu Stadium is as impressive as the shows it plays host to.
It doesn't take long for the crowds to fill up.
Before long, the show starts -
One Ocean
!
It's time to see the spectacular animals that call this tank home...
The next few photos really need no explanation, this was an incredible, exciting, enjoyable show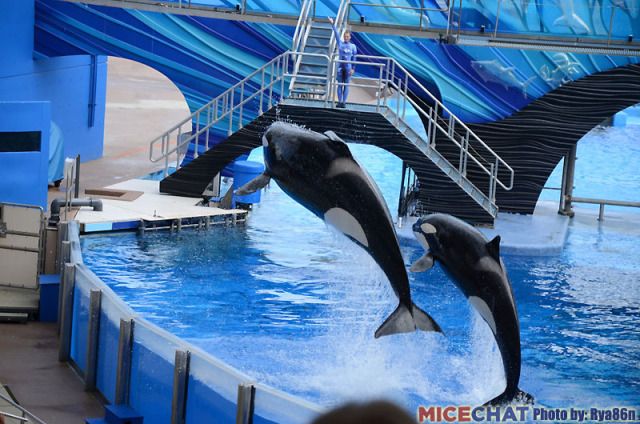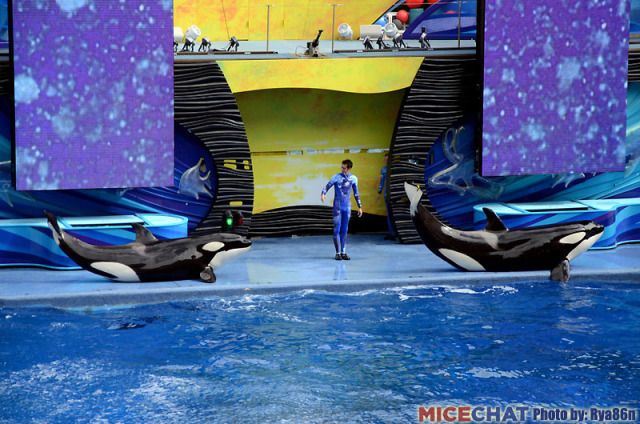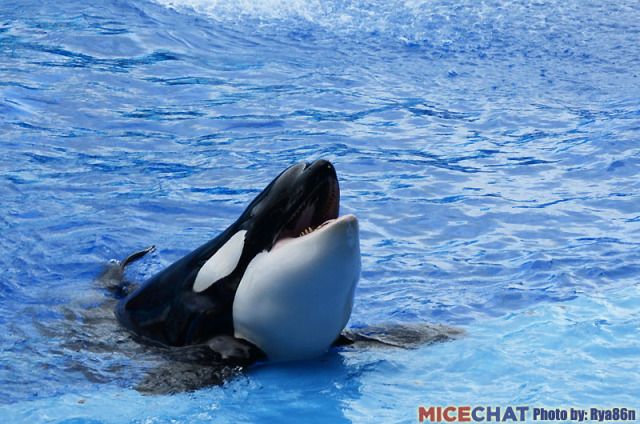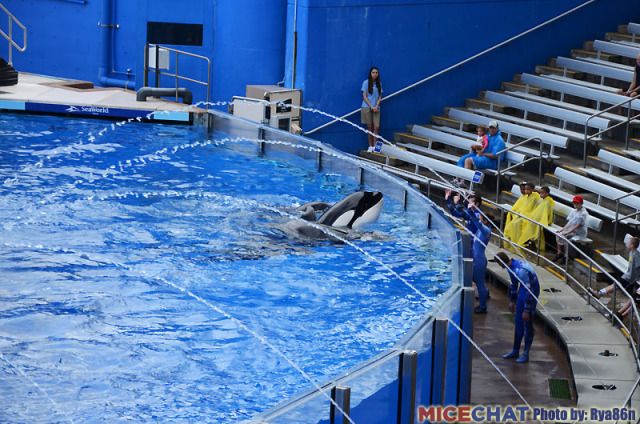 Before long, it's time to get wet!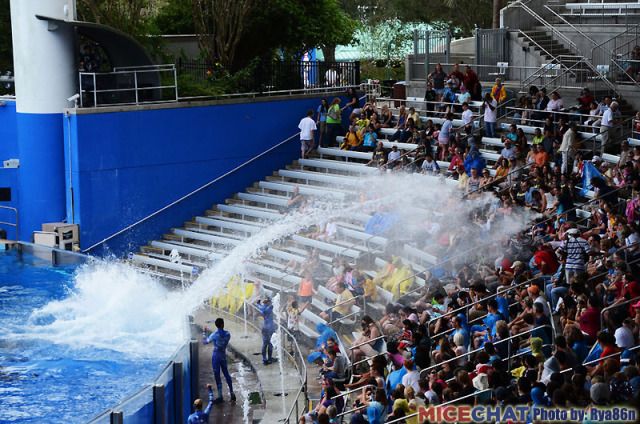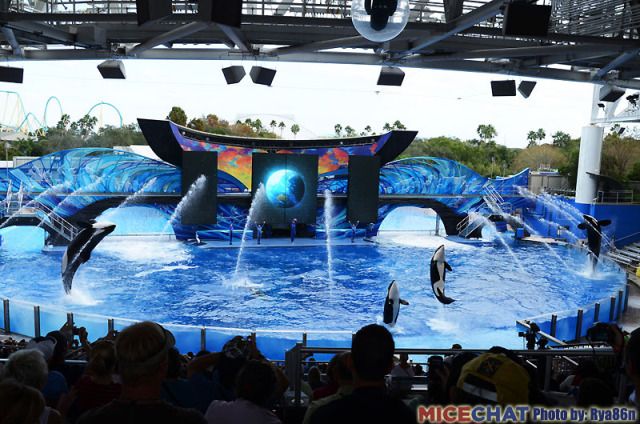 And the big finale...
...before the stars of the show say goodbye.
Onto see some seals.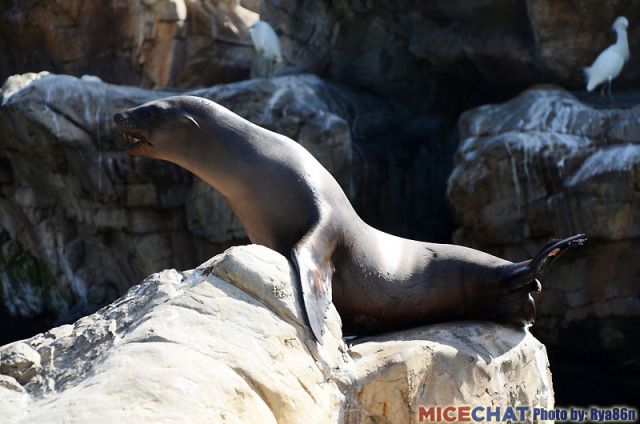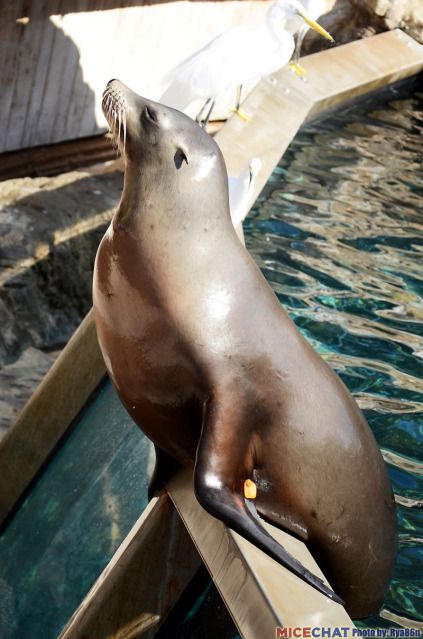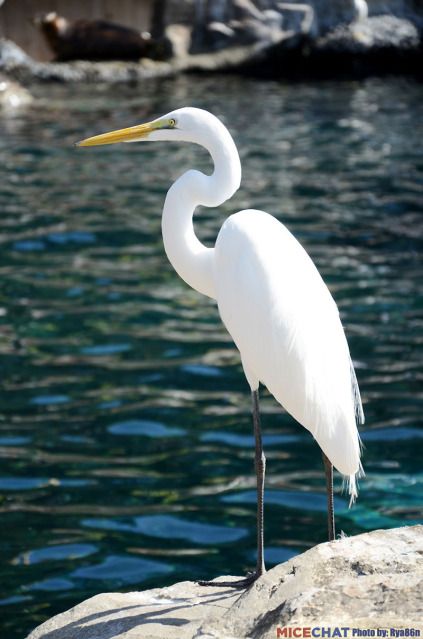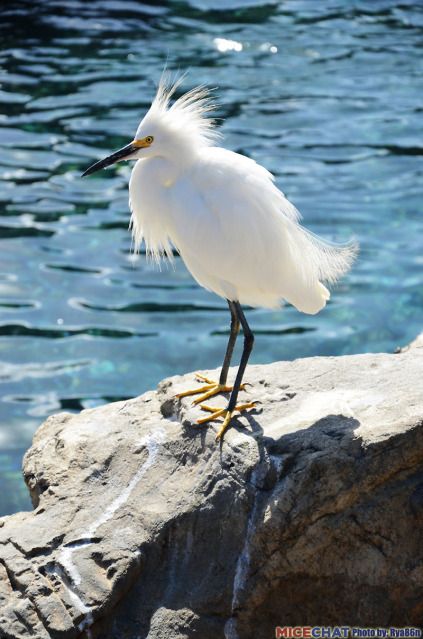 Sharks.
Penguins.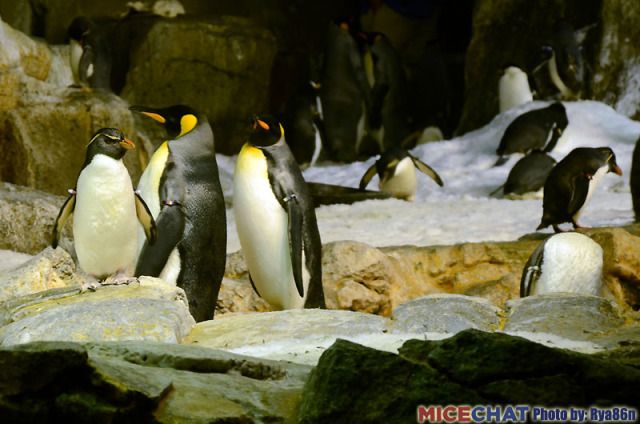 This enclosure made me realise how impressive
Penguin Encounter
at SeaWorld Australia actually is...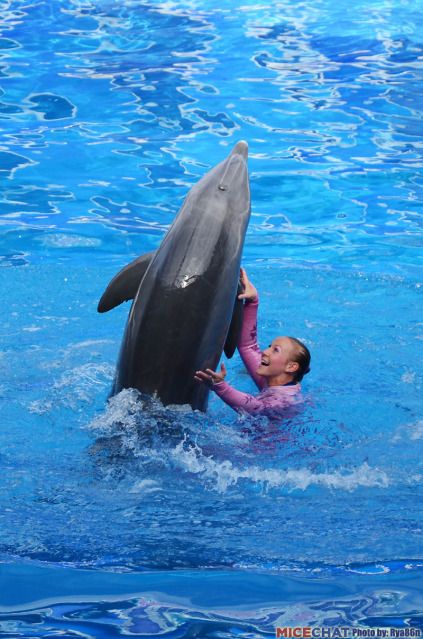 ...seeing the
Blue Horizons
Dolphin Show also highlighted just how impressive
Imagine
at SeaWorld Australia is too.
Whilst this show did have Dolphins...
...its less about the animals, more about the aerial acrobatics.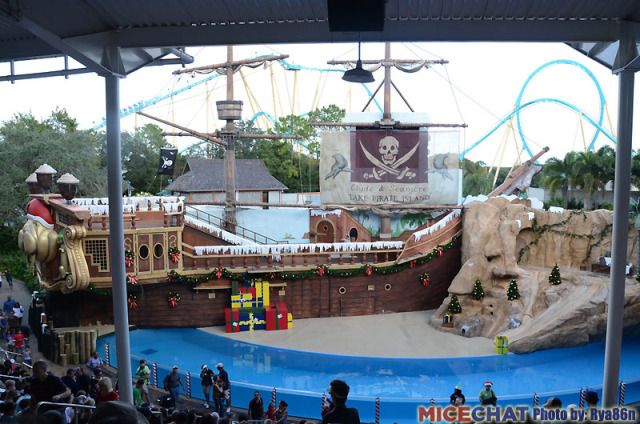 The comic releif saved the
Clyde And Seamore Take Pirate Island
show...
...but still not quite comparable to
Fish Detectives
at SeaWorld Australia.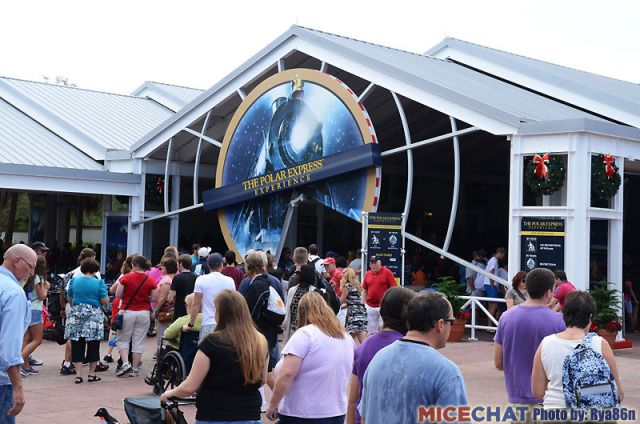 Yet another Christmas attraction, Polar Express is familiar from the Australian
MovieWorld
's White Christmas event. There certainly is alot of similarities between our local Australian parks and SeaWorld Orlando!
Even six months ago, during construction,
Turtle Trek
looked amazing.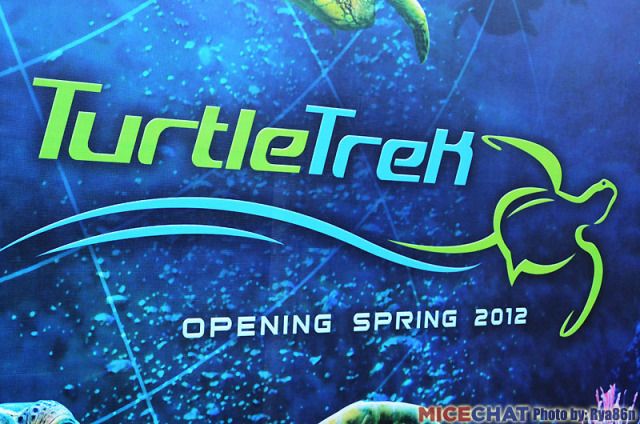 I'd be really keen to return to SeaWorld and check it out, now that it's open.
My first SeaWorld Orlando trip was fun and exciting. But with SeaWorld's Christmas Celebration, it got even better after dark! I'll have more photos from that next week.
Might we also suggest that you visit these fine MiceAge/MiceChat attractions for even more Disney and theme park fun:
And that brings us to the end of another week. Our photographers have just enough time to reload their cameras before we see you all again next weekend. Thank you to all of our wonderful readers, and as always, a huge thank you to our amazing team of global photographers, spies, and gossips:
Scarlett Stahl
Denise Preskitt Mousesteps.com
CaptPhoebus
Rya86n

Your Editor - Rixter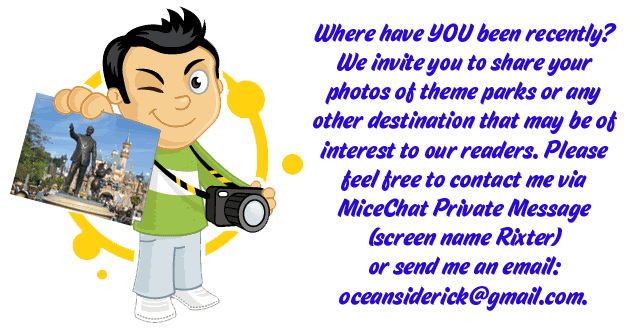 It is readers like you who make MiceChat such a special place.
Don't miss a single one of MiceChat's Featured Blogs (including the Weekend Update). Add our feed to your favorite feed software or site:
Follow us on Twitter