Well the weather is finally heating up and it finally feels like summer is coming. And, of course, gas prices are going up and sucking the life out of our travel budget. I have a feeling that MickeyMaxx and I will be staying pretty close to home this summer. Luckily for us, close to home means we'll have to "settle" for Cars Land, Transformers, Manta, and so many other choices.
Alain Littaye
brings us photos of
Tokyo DisneySea
, courtesy of
Maureen Chaffurin
via his
Disney and more blog
. We always enjoy these views of international parks.
Rya86n
has more photos from his honeymoon trip. The exact timing of his trip is revealed this week – he shows us
Sea World Orlando
at Christmas time. I had no idea that this park made such an effort during the holidays.
Finally, MiceChatter
igrules
has a wonderful photo essay of her whirlwind trip to
New York City
, complete with celebrity sightings.
Thanks for joining us this week for the Weekend Update!
Thanks to Alain Littaye and his Disney and more blog for sharing
this Tokyo DisneySea Photo Essay by Maureen Chaffurin
Photographer Maureen Chaffurin, regular contributor to Disney and more is back from Tokyo DisneySea with a different look at the park considered by many as the most beautiful Disney theme park in the world! Above, is the famous globe at the entrance, which now has a new photo location. Below, the TDS orchestra playing at Meditterranean harbor.
Four pictures showing American Waterfront.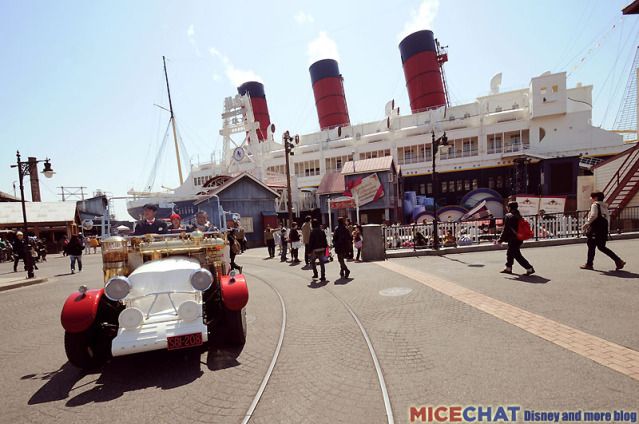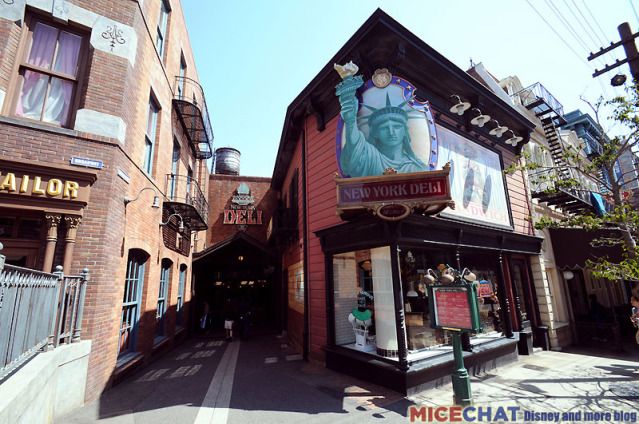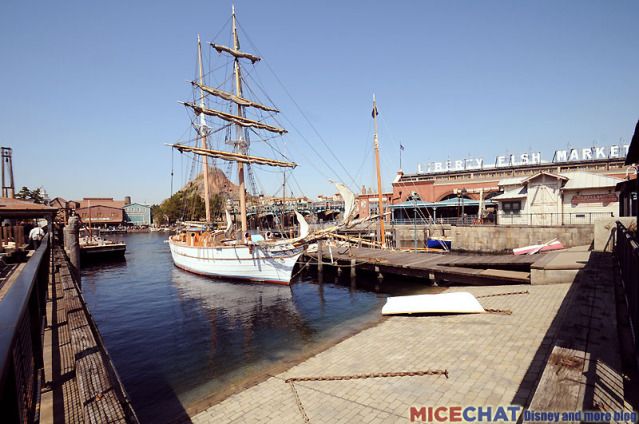 A sign at Cape Cod Area.
Arriving at Port Discovery.
The Aquatopia attraction at Port Discovery.
A TDS boat entering Lost River Delta.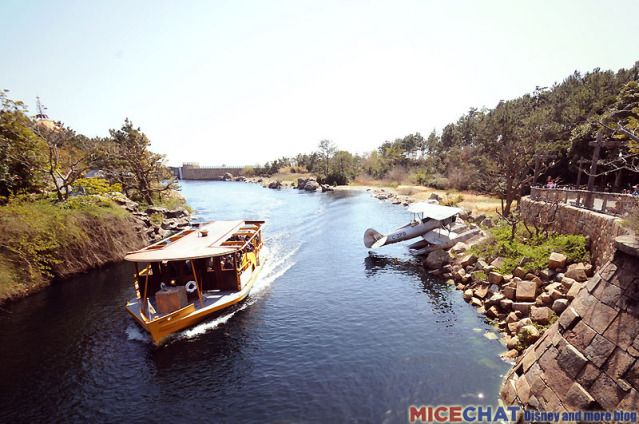 The new Jasmine flying carpet ride and details of Arabian Coast.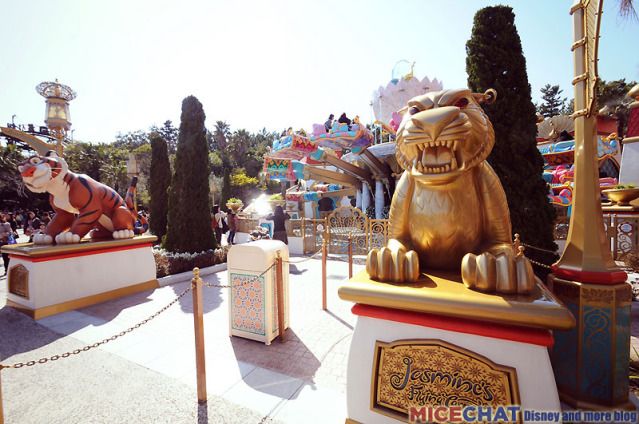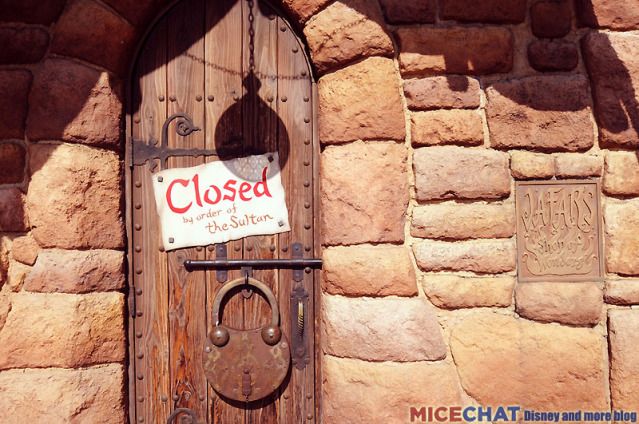 The entrance of Mermaid Lagoon.
Renaissance Fortress at sunset.
A night shot of Mediterranean Harbor Venitian canal.
American Waterfront street at night.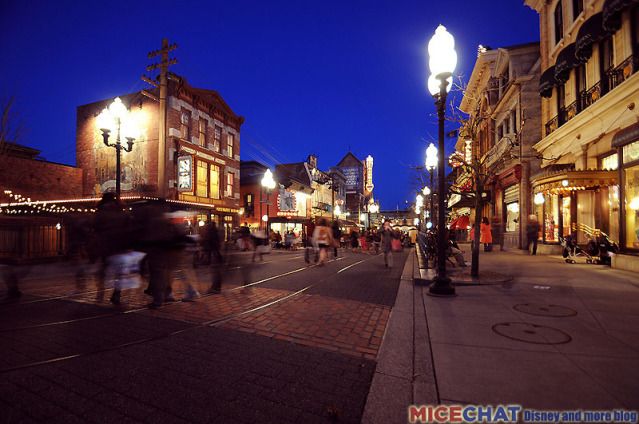 The great Columbia ship illuminated at night.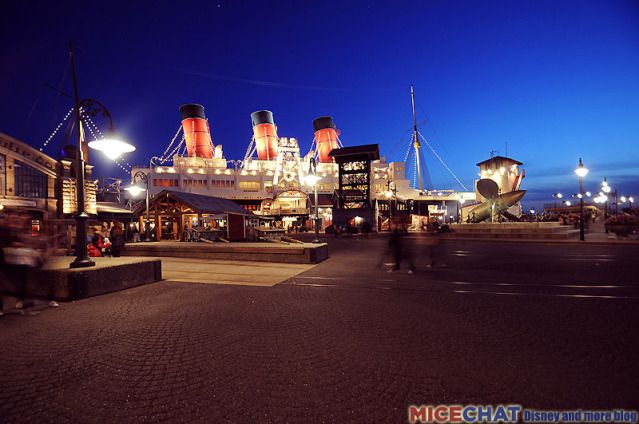 Pictures: copyright Maureen Chaffurin - Shootin.fr
There are more pictures of Maureen'd TDS report on his web site:
http://www.shootin.fr/2012/05/06/tokyo-disney-sea/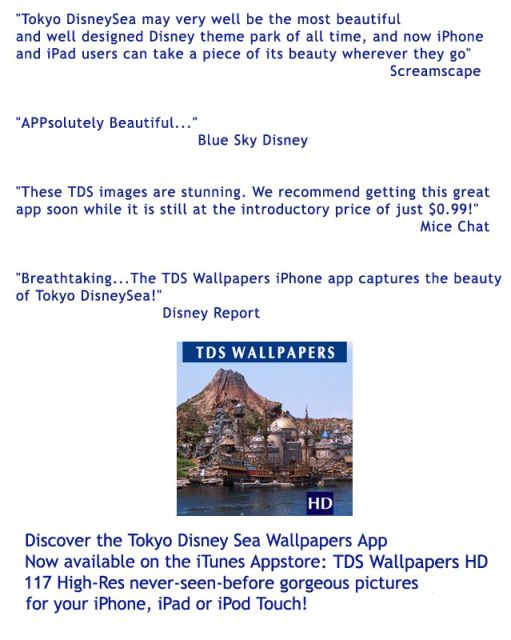 Speaking of Tokyo Disney Sea, if you haven't yet downloaded my great TDS Wallpapers app for iPhone or iPad with hundreds of stunning HD pictures of the park, it's time to do so!
For direct access to the TDS Wallpapers HD iTunes page:
[LINK]
You can also read my article on the app here: article
[LINK]
Share your vacation photos with the Weekend Update
Christmas at SeaWorld Orlando as captured by Rya86n is breathtaking!
SeaWorld Orlando is pretty impressive during the day
.
But as the sun sets...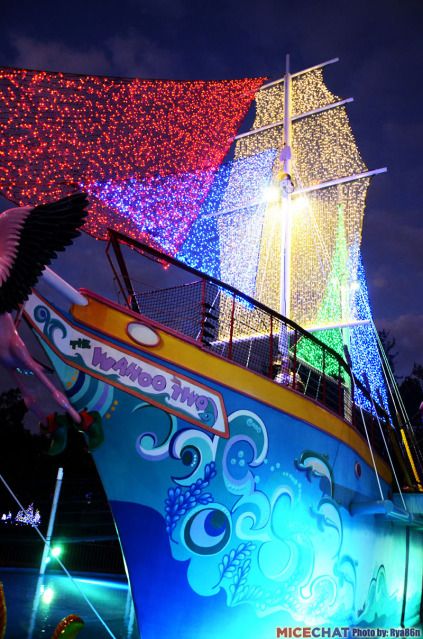 ...and the lights come on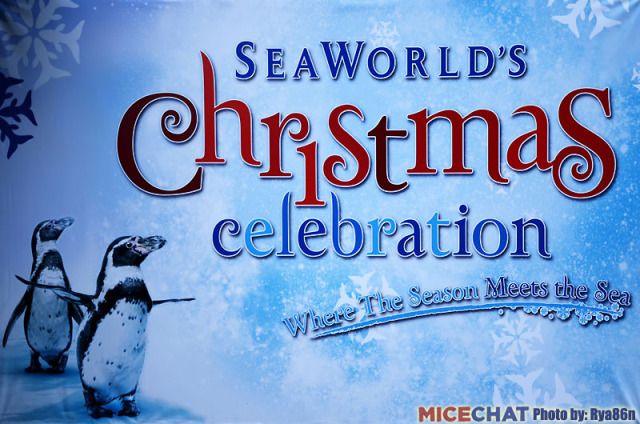 SeaWorld becomes a whole different world!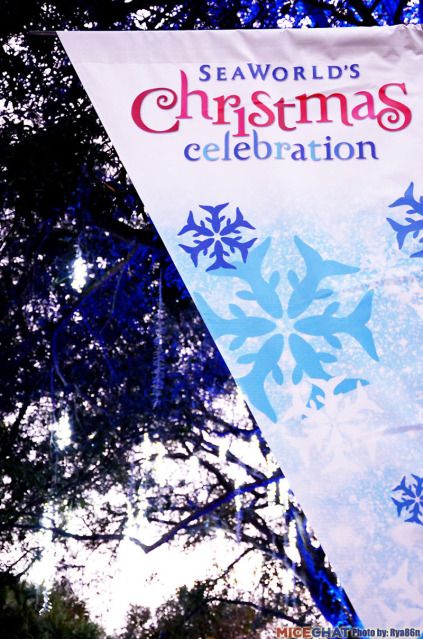 Our visit conincided with 2011's first night of
SeaWorld's Christmas Celebration
-- which was very exciting, and amongst the honeymoon highlights!
I thought Shamu Stadium (and it's amazing inhabitants) were amazing in daylight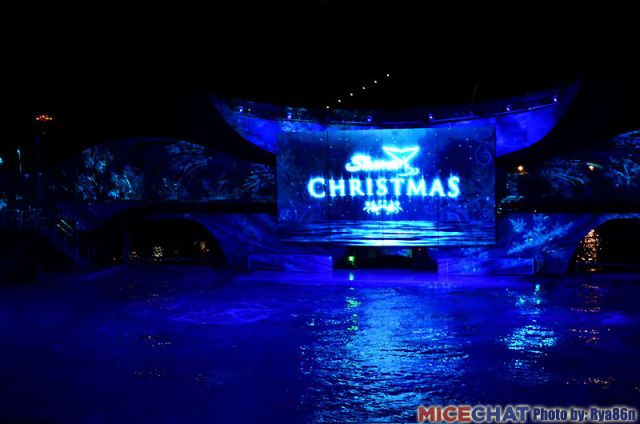 It only gets better after dark!
With the help of a few lights (and a few pictures for the show techs...)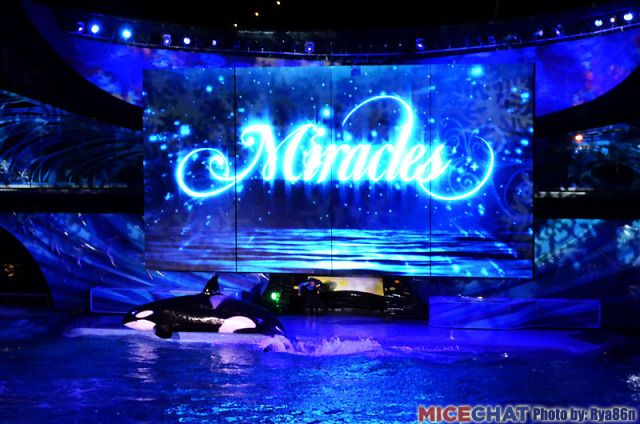 You might just see a Miracle
Just like last week, these next few photos really need no explaination --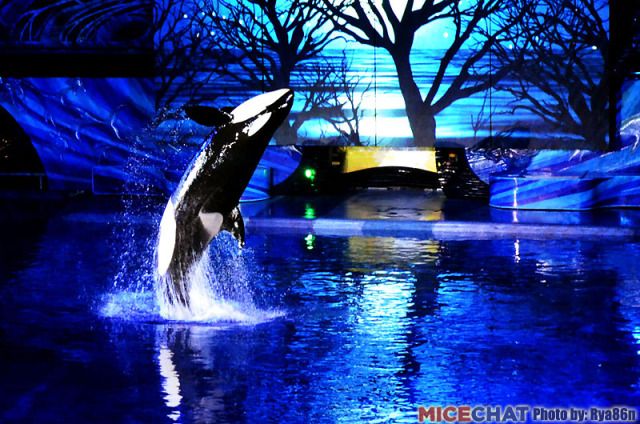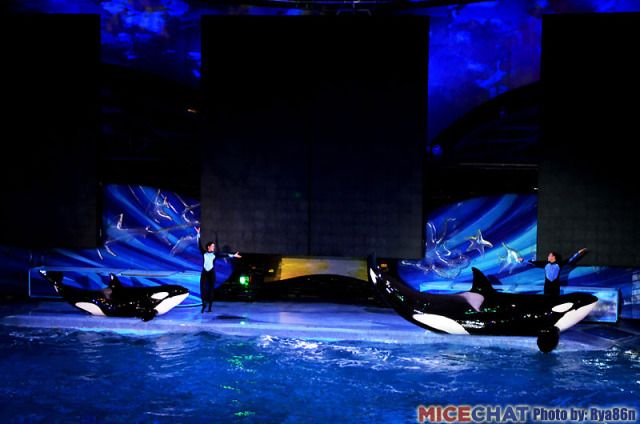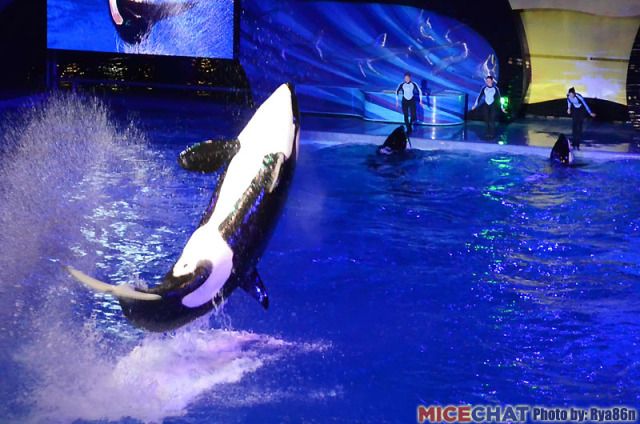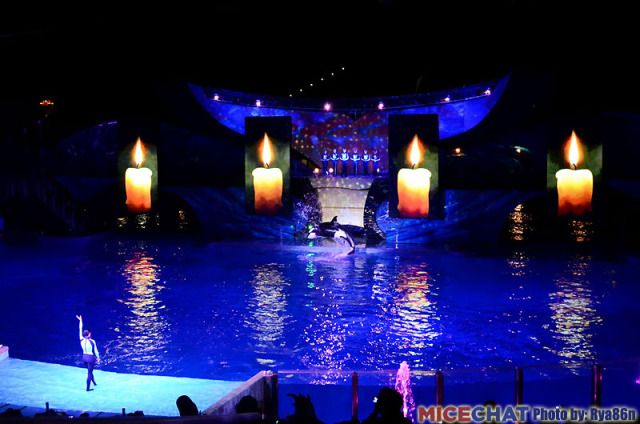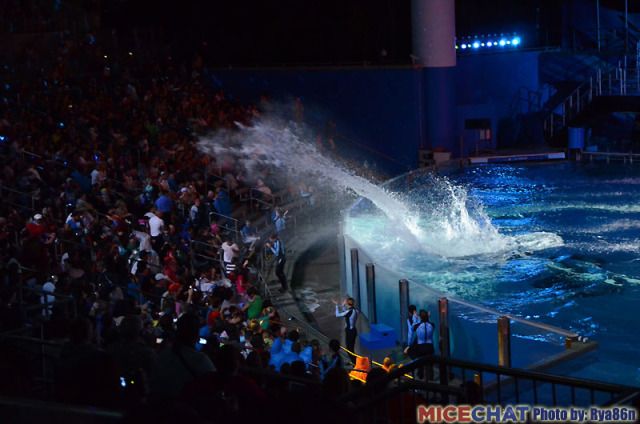 It may be dark, the temperatures may be cooler -- but you still get wet!
The Sky Tower was down for maintanence during our visit, so missed the chance for some aerial shots.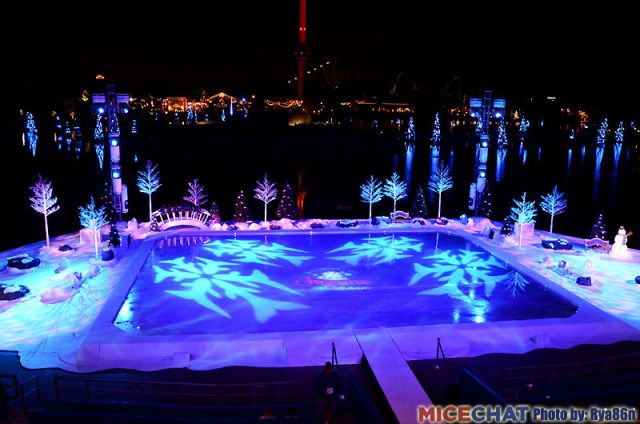 Ice Skating was also on the Christmas festivities program...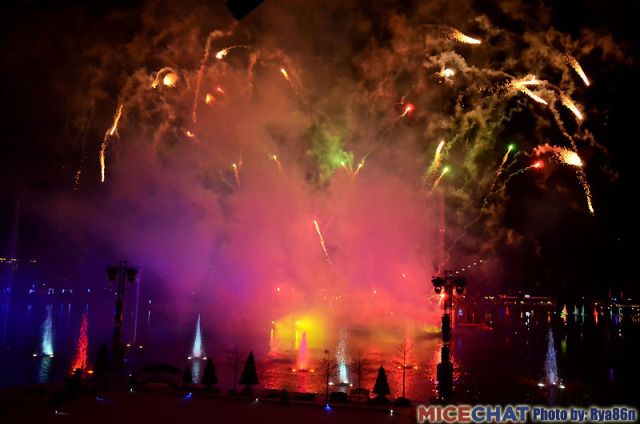 After a massive day, the how else do you end a night except with fireworks?
And (of course) some shopping!
SeaWorld was a real highlight -- but next week, I'll share my personal favourite...
MiceChatter Igrules sent us this wonderful trip report from N.Y.C. She's a big Disney fan and always finds little Disney things in each of her adventures...
Arriving in NYC at 5am, one discovers that the City actually does sleep. Most places we wanted to see didn't open until 10am. Our first stop was the World Trade Center; it was my first time to the area, and we walked in solemn silence. Walls surround the rising new towers, as well as the 9/11 memorial. Tickets are required to enter the construction area, but were not available at that hour. We stopped at the memorial at the nearby Engine 10/Ladder 10, and passed by St. Paul's Chapel, which has stood the test of time since 1766 (George Washington worshiped there).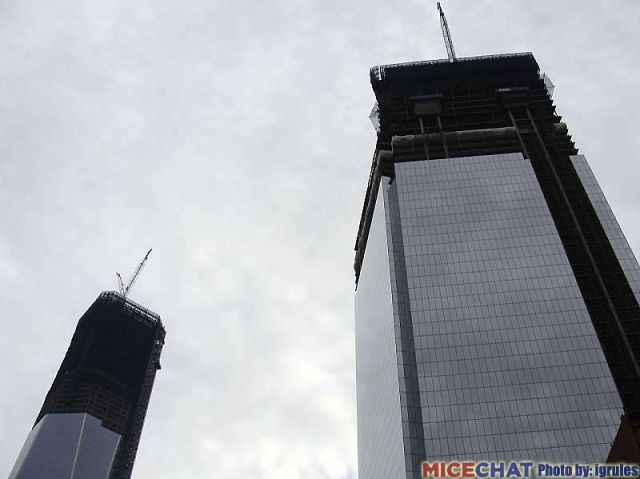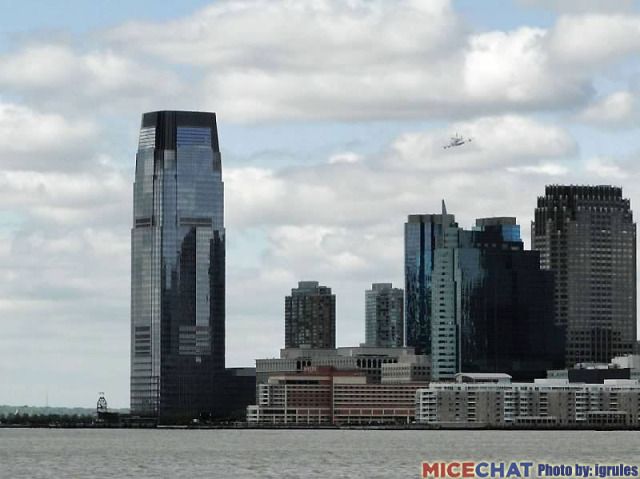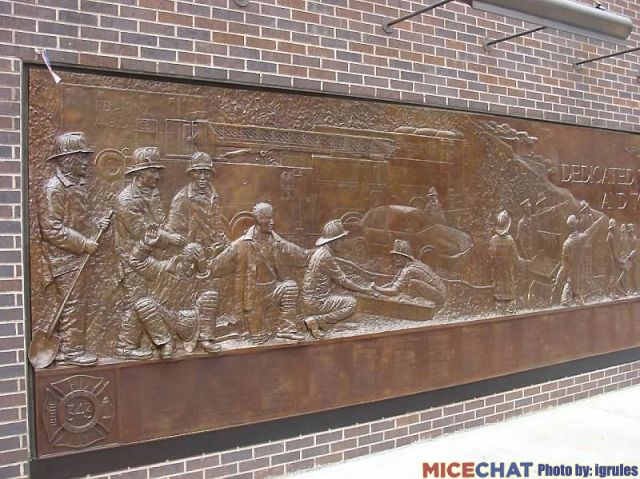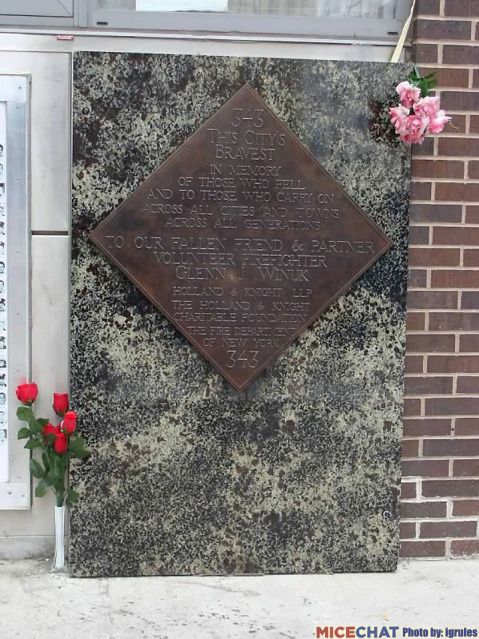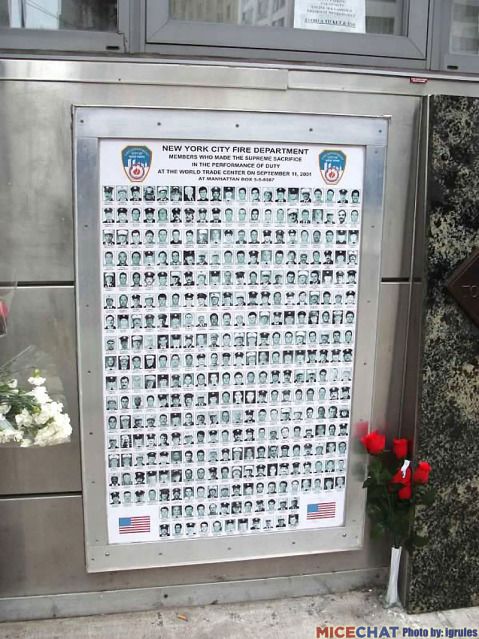 For breakfast we visited Donna Bell's Bake Shop for their delicious biscuits.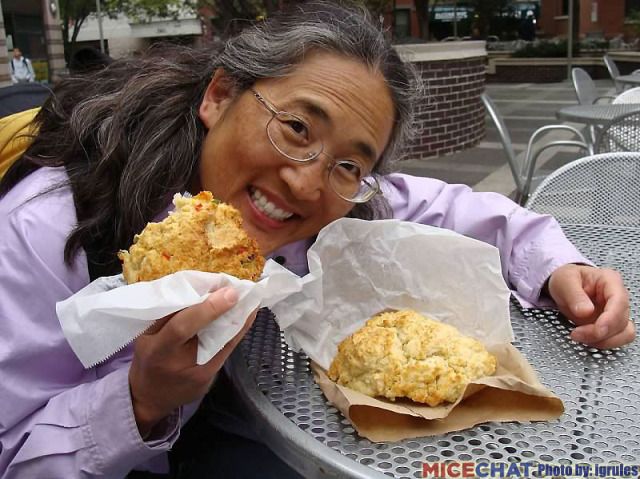 We then toured the various Broadway marquees. The Times Square Visitor's Center was open, and had a nice tribute wall to Dick Clark. The New Year's Eve Centennial ball is on display in the Visitor's Center, but the current ball was atop the 1 Times Square building at half mast in memory of Dick Clark. We checked out Rockefeller Center and ran into Jane Krakowski near the Rainbow Room/NBC Studios entrance. We checked into our hotel and took a much needed nap before having a late lunch/early dinner at the Shake Shack.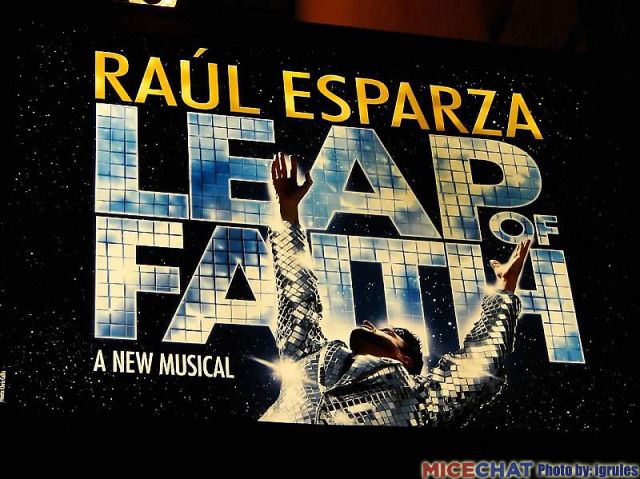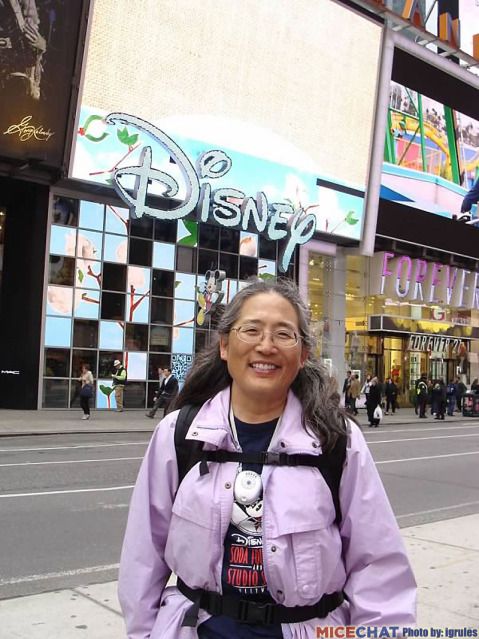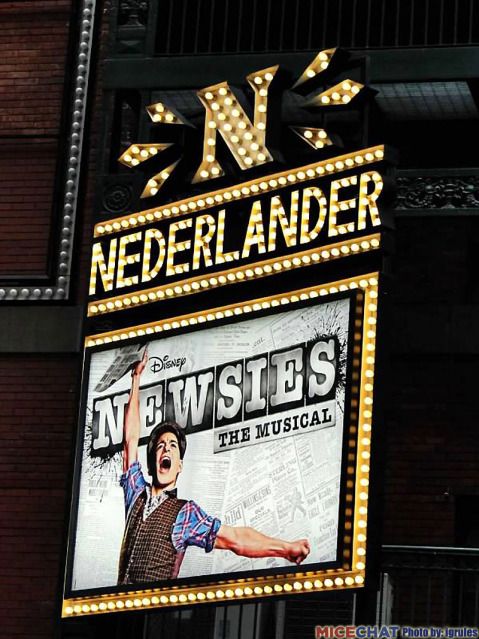 We picked up our opening night tickets for Alan Menken's "Leap of Faith" (based on the 1992 Steve Martin movie) and watched red carpet preparations. Harvey Fierstein arrived, and chatted with one of the "Newsies" kids, Lewis Grosso (who was also on Broadway in "Mary Poppins").
Alan Menken and the creative team of LOF came out to meet the press; as Alan passed Karey, she said hi and he stopped to acknowledge her and touched her arm. There were only a handful of people in the balcony, so it was like having a private showing, but we couldn't see the people below us, nor where the stage extends into the audience, so the balcony is not the best place to sit for this show. LOF is entertaining from the get go, with the gospel choir revving up the crowd. Raul Esparza is good as the crooked revival preacher, but I was floored by the vocal talents of Leslie Odom, Jr. (Sam on TV's "Smash") and lead actress Jessica Phillips (part of the country duo 10th & Carlisle). The emotional finale had me thinking about the various "chance" encounters that have changed my life. After the show we waited at the stage door and saw Megan Hilty (Ivy from "Smash") and her former "Wicked" co-star Eden Espinosa (who provides the vocals for Disneyland's summer fireworks soundtrack, "Magical"). Caught a glimpse of Mariska Hargitay (Olivia on "Law and Order: SVU"), and thrilled as people made a mad dash for Liza Minelli as she left the theater. Got some of the LOF cast's autographs, including Eliseo Roman, who said he was just a tad jealous that we were from CA. On our way back to the hotel we passed happy hockey fans leaving Madison Square Garden, where the Rangers won to advance in the playoffs.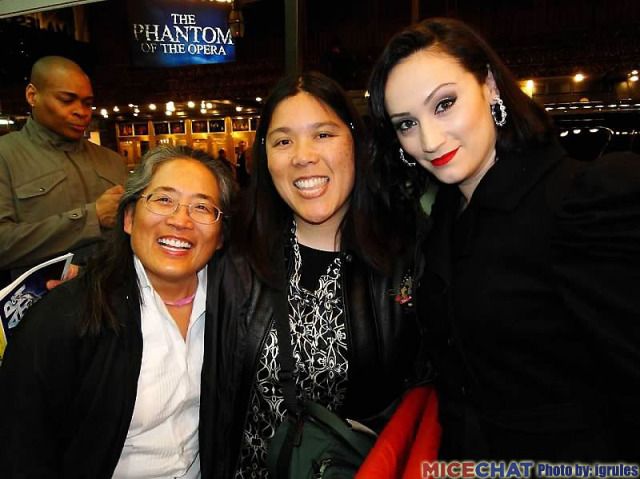 Friday morning we staked out a spot along the Hudson River in hopes of seeing the prototype Space Shuttle Enterprise piggybacking on a Boeing 747. It was supposed to fly around NYC on Monday, but had been delayed due to weather. Despite the cold and wind, it was all systems go on Friday, and we saw the Enterprise make 3 flybys.
When Pete and Mary dropped us off at JFK on Saturday, we saw the Enterprise and the jet on one of the tarmacs, where it will stay until the Intrepid Sea, Air and Space Museum is ready to permanently house it. We walked back uptown along The High Line, a public space and garden built on a freight rail line above the streets.
For lunch we ate at Kyotofu in Hell's Kitchen, where they use tofu in their desserts. We resisted having only desserts, and got the silky smooth green tea buckwheat soba noodles, and the best gruyere and monterey jack cheddar, truffle pate, panko mac and cheese; each entree came with chilled asparagus soup (too strong a flavor and gritty, but with incredibly light, melt-in-your-mouth croutons on top) or a side salad. For dessert we had their award winning chocolate lava cupcake (too dense, but the top part was good) with soy soft serve and berries, and the sampler platter: yummy miso chocolate brownie, crunchy hazelnut kinako chocolate chunk cookie, green tea nama chocolate (the green tea was overpowering), and mini green tea florentines (too spongy). I'd like to go back and try other food and dessert items.
We took an after lunch stroll through Central Park, stopping at the Alice in Wonderland statue, and making a pilgrimage to the Belvedere Fountain, where the big dance number in "Enchanted" (and many other films, including the incredible "The Avengers," which we saw last night and will see again, perhaps at midnight tomorrow) was done. We came across some spotting scopes near the model boat pond (where "Stuart Little" was filmed), and found they were trained on the famous red tailed hawk and his partner that have built a nest on a high-rise across from Central Park. It is amazing how clear a view those scopes have!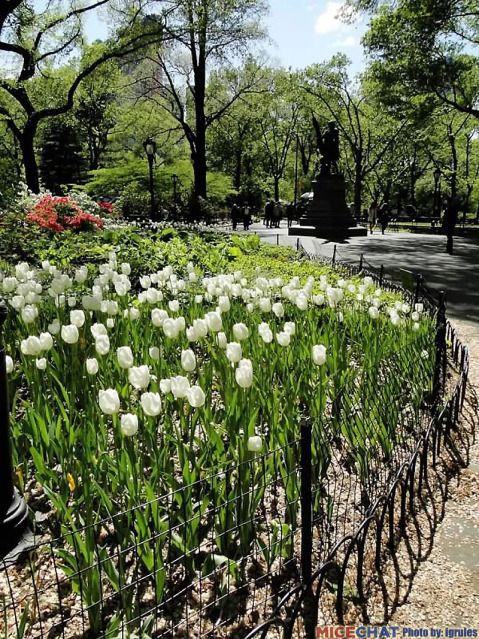 We asked one of the Times Square information guides where to get good pizza, and he suggested John's on W. 44th St., which, it turned out, was a few doors down from "Leap of Faith." As we neared John's, we passed a guy who looked like the star of "Newsies," Jeremy Jordan. I doubled back and asked if he was Jeremy and he said yes. I got my picture taken with him and then headed to John's, where the church-like interior has a beautiful stained glass ceiling.
A raucous group on the second floor turned out to be a choir, and the teens lined up along the railing and serenaded us before taking their leave. It was pretty miraculous... I guess 44th St. is the new 34th St (which was a block over from our hotel).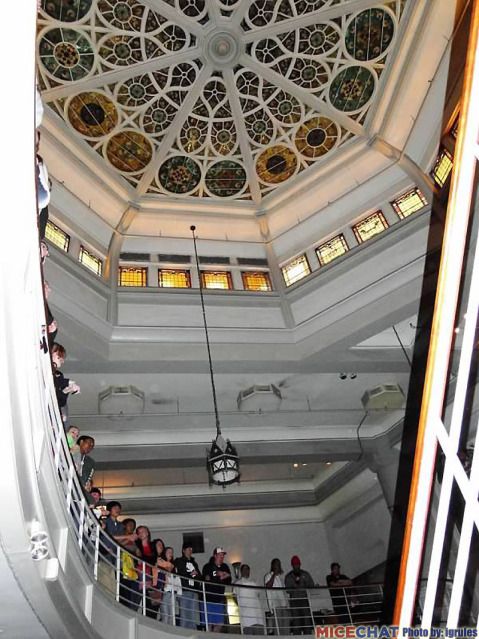 We had some time before "Newsies," so we went by the Schoenfeld Theater to see if we could see any of the stars of "The Best Man" arriving. The first to arrive, an hour before showtime, was Mrs. Potts herself, Angela Lansbury. At 86 she is getting around with a cane, but still doing what she loves! Someone dropped her off in front of the theater, and she was a little disoriented and couldn't find the stage door. Karey guided her in the right direction. Closer to 7:20pm we saw James Earl Jones, Jefferson Mays, Kerry Butler, and Eric McCormack ("Will and Grace"); we were disappointed to miss seeing Candice Bergen. When we arrived at the Nederlander, it was awesome to see the long line waiting for the doors for "Newsies" to open; Alan Menken is also the composer of "Newsies," and both LOF and "Newsies" are nominated for Tonys this year! The dancing in "Newsies" is phenomenal, and the seniors behind me couldn't stop talking about it; they were already planning their return to the show. I was happy that the lighting didn't seem as stark as when I saw "Newsies" in New Jersey last fall, but overall it seemed like the same show, just more fine-tuned. We sat in the rear orchestra, but couldn't see the very top of the set, so I'd recommend either sitting up higher, or closer to the front.
Saturday morning our NY Disney friends, Pete and Mary, picked us up and we headed to the Tribeca Film Festival Family Fair. We watched the entertainment on the main stage, which included a multi-ethnic elementary school singing group from PS 1 that sang in English and Chinese; they've won some kind of recognition from Michelle Obama. I was there to see the Broadway hour, which included performers from "Traces," "Memphis," "Ghost," "Rock of Ages," "Sister Act," "Priscilla Queen of the Desert," "Wicked," and "The Million Dollar Quartet." Spider Man from the Broadway musical also made an appearance, along with Mr. Met. Victor Cruz from the NY Giants was there taking pictures with fans.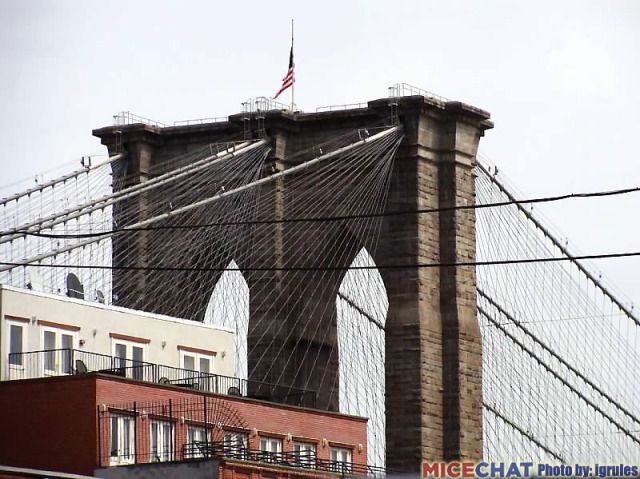 From the fair Pete drove us past the Brooklyn Bridge (so iconic), and then to the ultimate Disney geek location: the site of the 1964 (and 1939) World's Fair! The birth place of It's A Small World, Mr. Lincoln, Carousel of Progress, the People Mover, and the dinosaurs from Disneyland's railroad. The unisphere was pretty spectacular to see, even if the area in Flushing Meadows is run down.
Here's how it looked in the day...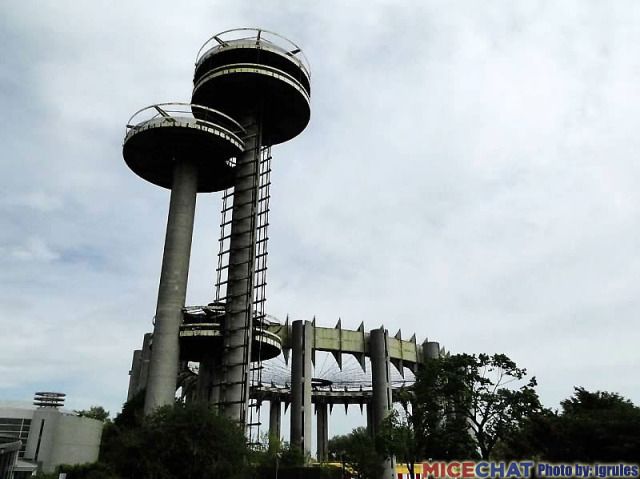 The USTA Billie Jean King National Tennis Stadium, where the US Open is played, is nearby. Across the way is Citi Field, the new home of the Mets, which looks like a really nice stadium.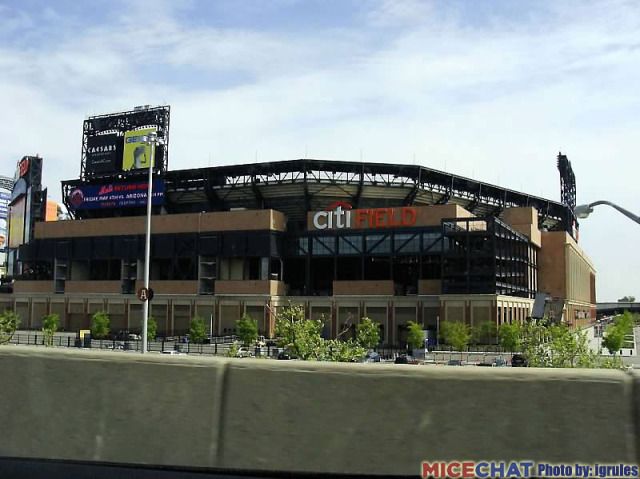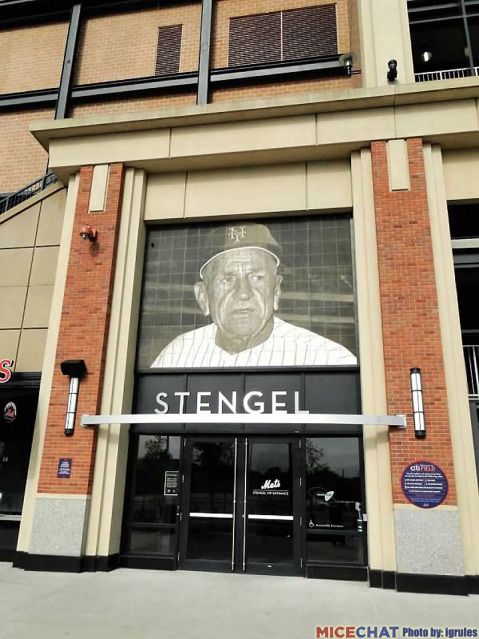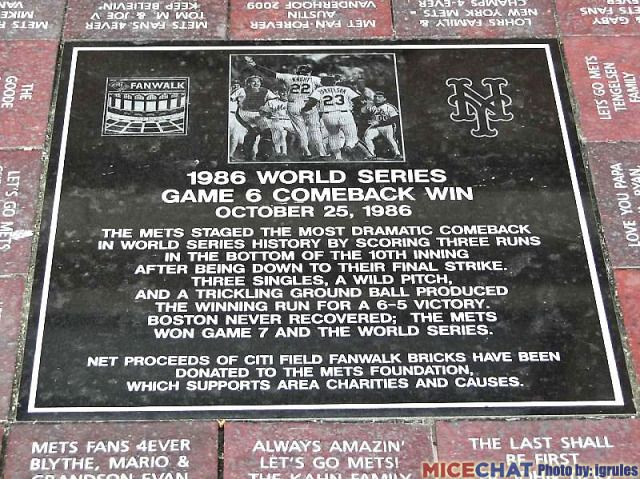 We ate dinner at one of Pete and Mary's old haunts, a pizza joint near where they used to live, and then it was time to head to the airport.
As usual, it was a fun-filled, jam-packed, Disney-fied magical trip.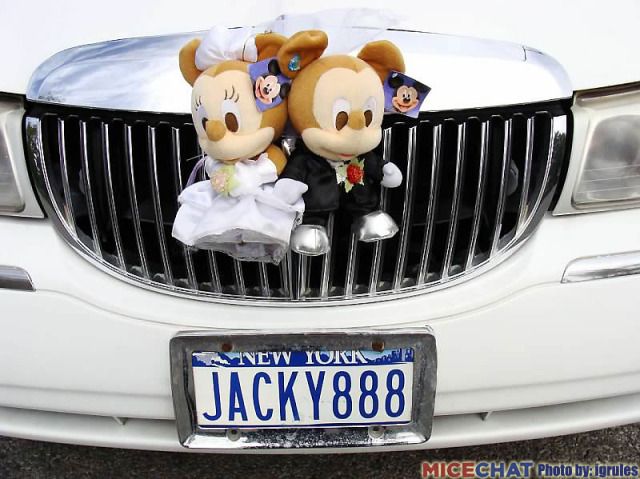 Might we also suggest that you visit these fine MiceAge/MiceChat attractions for even more Disney and theme park fun:

[*=left]MiceTube - Introducing MiceChat's new channel on YouTube. Kevin Yee and MiceChat Sarah have been uploading entertaining videos weekly, along with many other of your MiceAge and MiceChat favorites.
[*=left]

Dateline Disneyland

which is packed with great news and photos from the Disneyland Resort.
[*=left]

Orlando Parkhopper

featuring news and photos from Disney World and Orlando area theme parks.


[*=left]In The Parks offers news, updates and tips from Disneyland and other Southern California offerings.
[*=left]SAMLAND - Your weekly look at some interesting tales from Disney history.
[*=left]MiceDeals - You won't want to miss out on these great deals for Orlando and Anaheim!
[*=left]Vacationeering - Every Sunday, we feature articles designed to help you create magical family vacation memories!
And that brings us to the end of another week. Our photographers have just enough time to reload their cameras before we see you all again next weekend. Thank you to all of our wonderful readers, and as always, a huge thank you to our amazing team of global photographers, spies, and gossips:

Denise Preskitt Mousesteps.com
Alain Littaye Disney and more blog
Rya86n
igrules

Your Editor - Rixter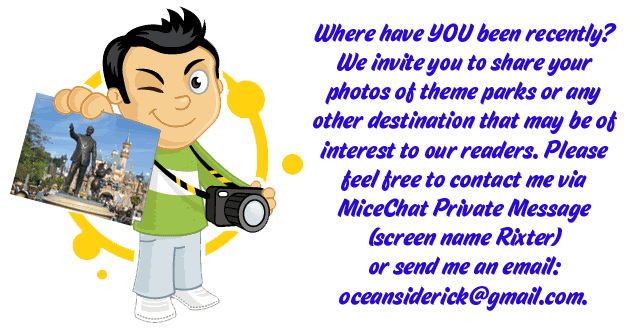 It is readers like you who make MiceChat such a special place.
Don't miss a single one of MiceChat's Featured Blogs (including the Weekend Update). Add our feed to your favorite feed software or site:
Follow us on Twitter