MickeyMaxx
and I just returned from the annual passholder previews of the new
Manta
ride at
SeaWorld San Diego
. I had low expectations for this new attraction because, as a resident of San Diego County, I am familiar with the many restrictions that are placed on SeaWorld by the California Coastal Commission. I give the people at SeaWorld high marks for creating an absolutely wonderful roller coaster that I will look forward to experiencing visit after visit. There are multiple delightful surprises that will make your trip to San Diego a worthwhile one.


Denise Preskitt
has been running around the Central Florida area all week enjoying many theme park events. She shares photos from the annual
Star Wars Weekends
at
Disney Hollywood Studios
, she visited with
Gaston
and
Wendy
at
Epcot
, and attended the grand opening of
Legoland Florida
's new water park.


Alain Littaye
from the
Disney and more blog
has an update from
Disneyland Paris
.
Mickey Mouse
is now meeting and greeting guests in the former
Fantasyland Festival Stage
area.
Affordable food options seem to be on Disney's mind at their
Aulani Hawaiian Resort
.
Hawaii Disney Fan
has a report on the changes that can be seen around this resort in paradise.
Scarlett Stahl
continues her Southern pilgrimage with a trip to
Appomattox Manor, Petersburg, and takes us for a journey to the first Memorial Day.
Finally,
Rya86n
finishes up his dream trip on the
Disney Dream
at Christmas time. This is the last honeymoon report from the East Coast. When we next hear from Rya86n, he'll be continuing his report from the West Coast!
Thanks for visiting the Weekend Update!
Denise Preskitt is busy, busy, busy – but she made time to share some photos of her travels with the Weekend Update


Every week I think we'll be doing a little less than the last, but it turns out to be the other way around!
Star Wars Weekends began last weekend. There is so much to see - not enough for one day's visit!
Jedi Mickey always leads the Star Wars Celebrity Motorcade.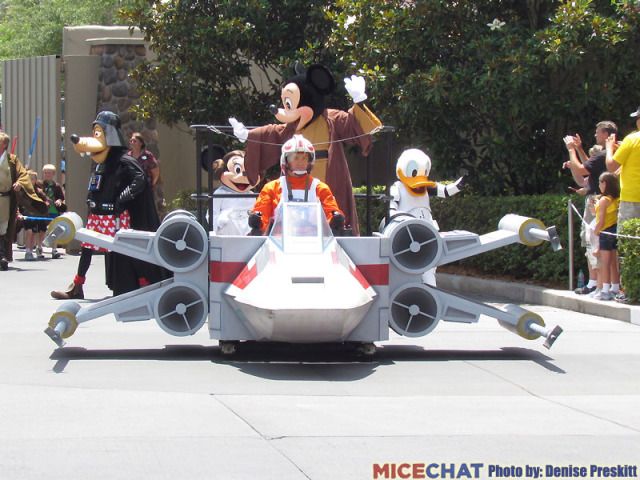 Chewbacca:
Ashley Eckstein plays Ohsako Tano in The Clone Wars: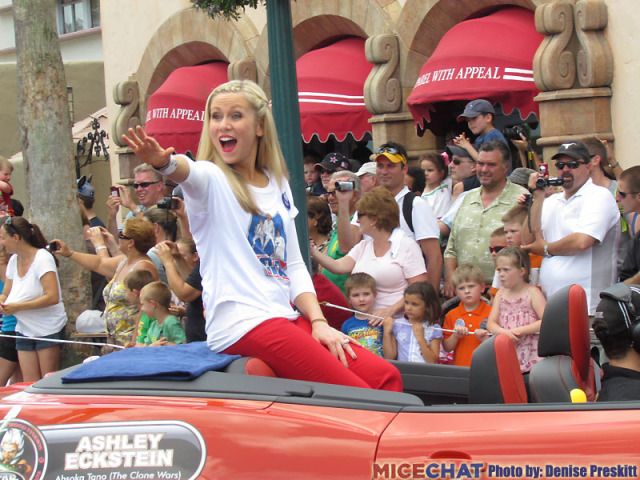 Zam Wessel:
We've previously had the opportunity to interview James Arnold Taylor (and Ashley Eckstein) at Star Wars Celebration. Taylor is extremely talented, and seemingly everywhere during Star Wars Weekends in his stint as host! He even has his own show, "Obi-Wan and Beyond", which we taped last year - and will tape again. If you go to Star Wars Weekends, that is a show not to miss.
Video of the Star Wars Celebrity Motorcade:
The main draw of Stars of the Saga is the Stormtrooper skit at the beginning. The talk show is fun, but you have to be there for the Stormtroopers!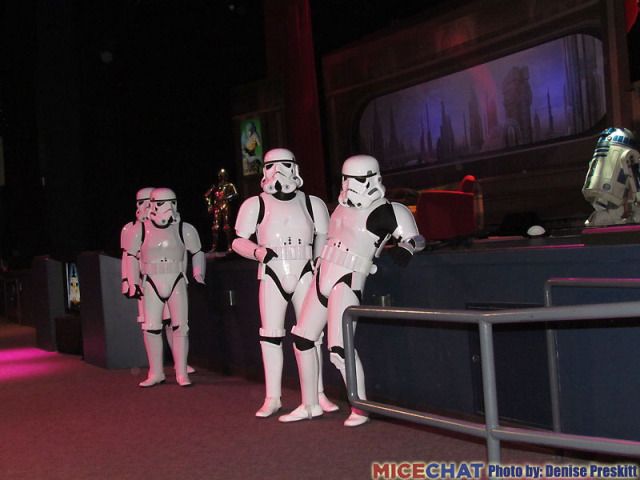 Video of the Stormtrooper skit:
I spent most of my time during the Hyperspace Hoopla underneath the Sorcerer's Hat, taking photos of characters before they went on stage (and after).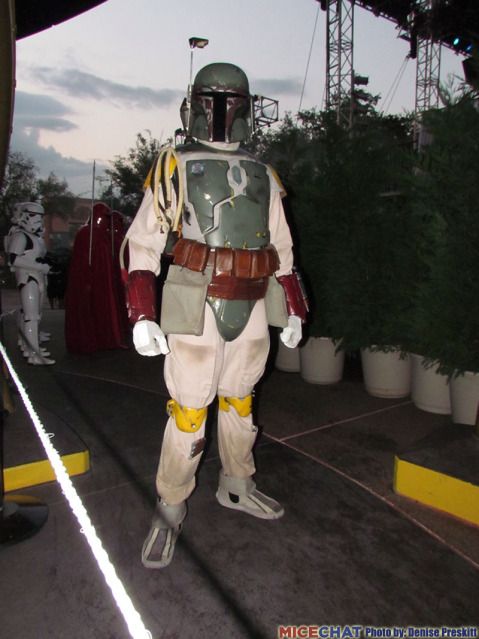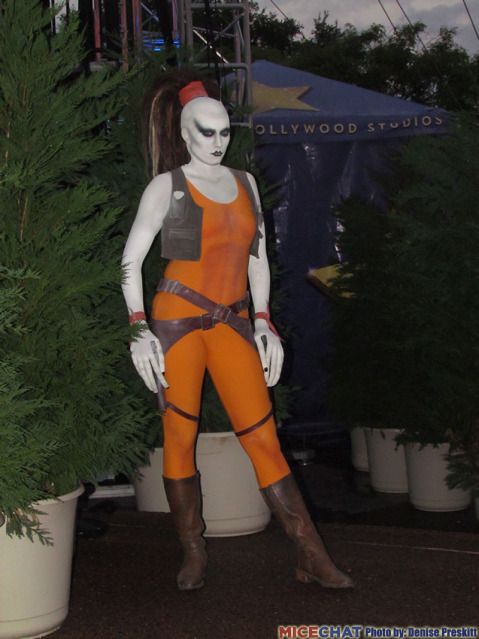 But I did take a few photos of Snig and Oopla (I couldn't see much more, it was busy!)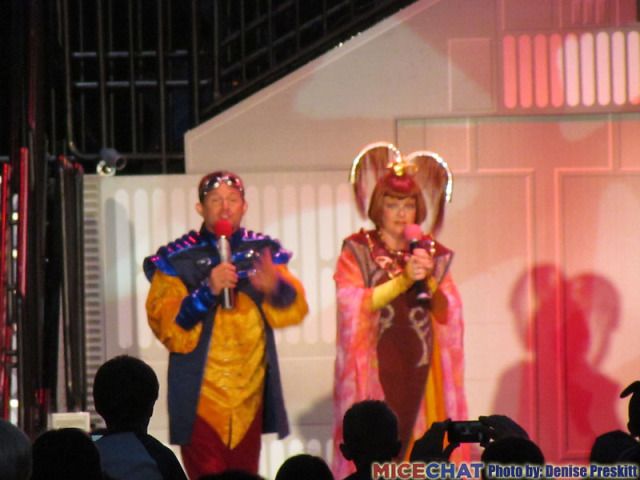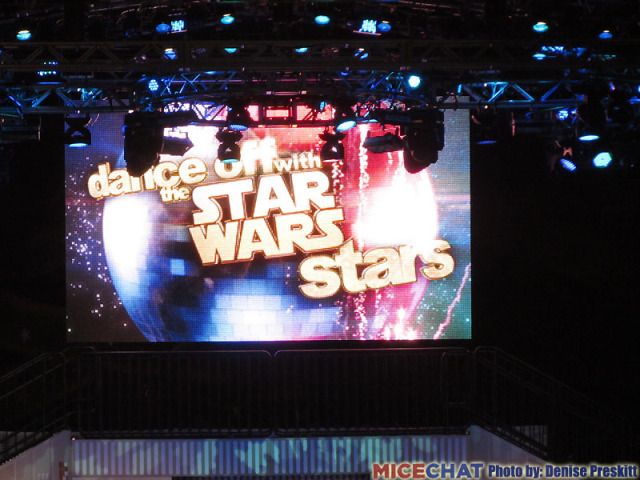 These two cute kids were dressed as Snig and Oopla: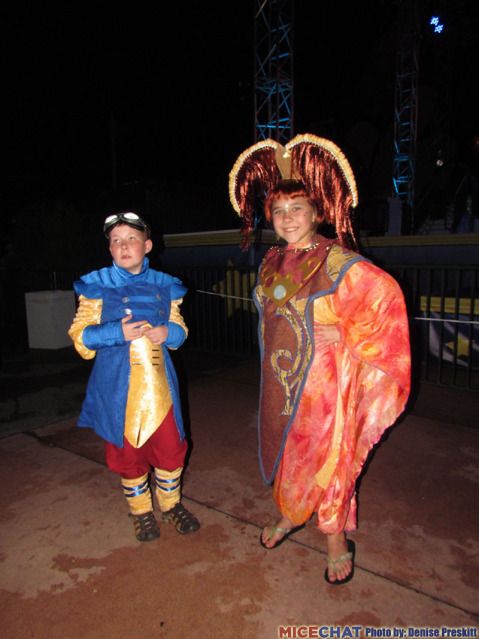 Hyperspace Hoopla entire show:
Two rare characters for meet and greets, Wendy and Gaston were out at Epcot a few days back. I don't know why Wendy was there (Screamscape said possibly for another park), but Gaston likely is there for Fantasyland character training.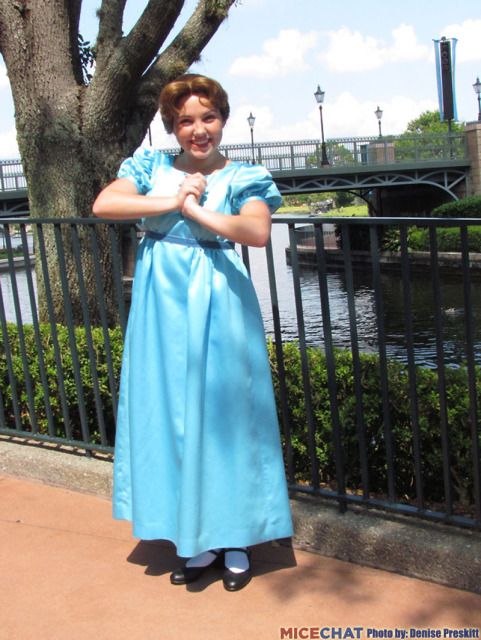 Our video of Wendy - she was quite chatty:
I thought Gaston was very funny, but the reviews seem split down the middle on our YouTube channel - about his hair, about his clothes, about his muscles, etc.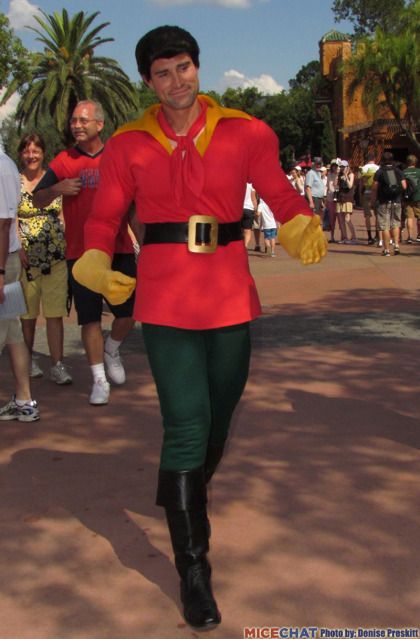 Our Gaston video, were he introduces himself and - well, talks about himself!
<iframe width="560" height="315" src="http://www.youtube.com/embed/sRCTvqYh6sI" frameborder="0" allowfullscreen=""></iframe>
After the meet-and-greet, we enjoyed dinner at La Hacienda de San Angel. Some very good friends of ours were in town, and had a Hoop De Doo show cancelled - which freed up some Disney dining credits, which they used to take us to dinner with. Actually, we ended up with 3 meals (Chef Mickey's, Le Cellier, and La Hacienda). Out of the three restaurants, I preferred the food at La Hacienda the best. The margaritas were wonderful too.
Masks on the wall:
One of the two margaritas (each of us had a different one).
Enjoying the margarita: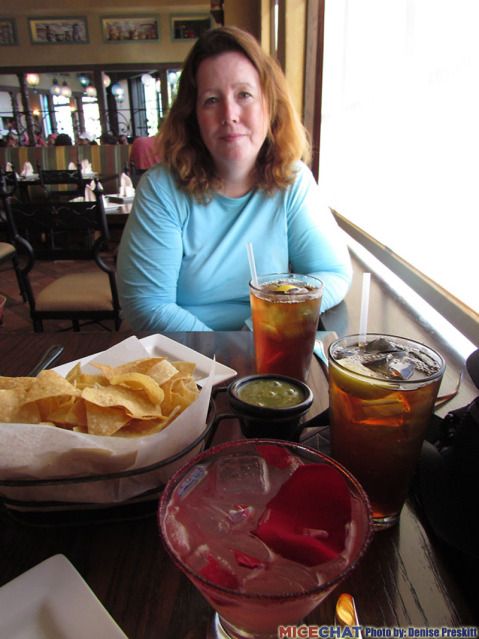 We each had the steak:
Both desserts were excellent (this is just one dessert!)
And we ended up taking enough food for another meal (we enjoyed that last night).
Then we were off the next day to the new LEGOLAND Water Park! They set out to break a Guiness Book World Record for most beach balls bounced. Instead of getting 401 volunteers, they ended up with over 1300!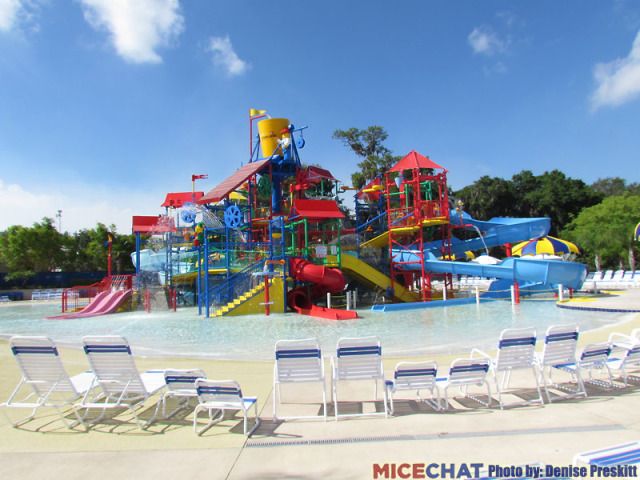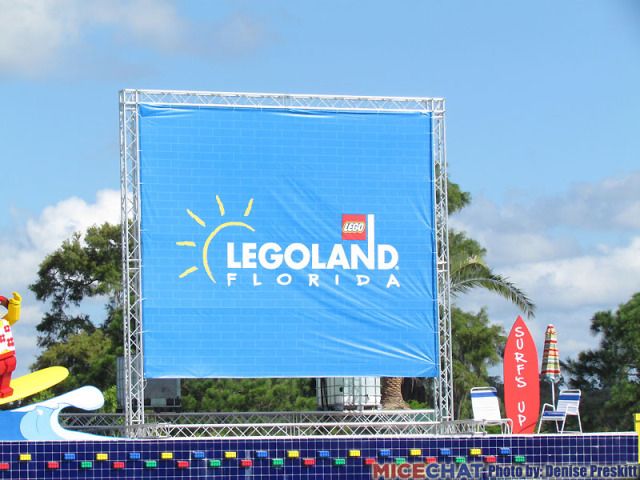 Guests bounced balls, and then enjoyed the LEGOLAND Water Park!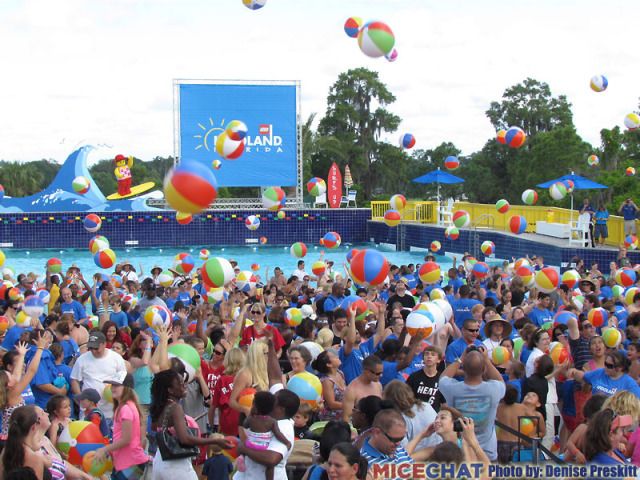 We interviewed LEGOLAND General Manager Adrian Jones: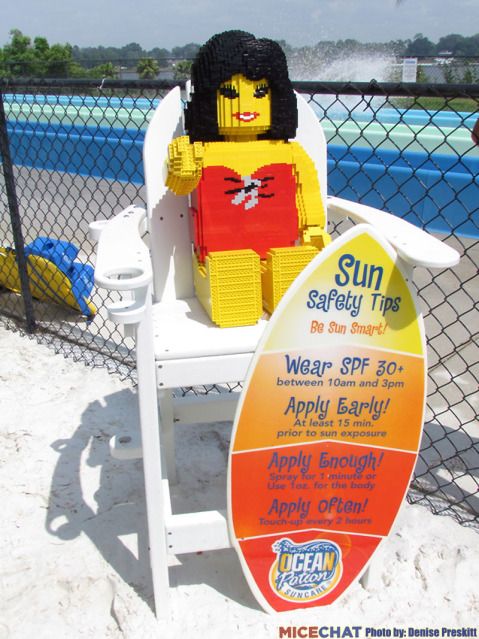 Adrian Jones told us that his favorite attraction was the Build-A-Raft, and we enjoyed it too!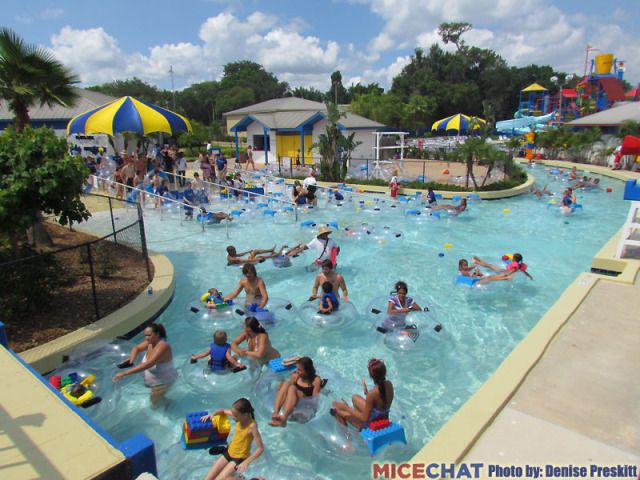 Our interview with General Manager of LEGOLAND Park, Adrian Jones (with an overview):
Tonight we'll be checking out "The Magic, The Memories and You!" new summer edition, tomorrow the LEGOLAND Water Park Grand Opening, and then Sunday we'll be at Star Wars Weekends. Next week? Disney's Art of Animation Resort, Snow White closing, a new (temporary) Brave area at Epcot, and I believe Cars Weekend. I'm tired thinking about it!
As always, you can read about all of these stories in more detail
at Denise's website: Mousesteps.com
Disneyland Paris Update
Once again, many thanks to Alain Littaye and his Disney & More Blog for bringing us news of two items of note from the Disneyland Paris Park.
Meet Mickey Mouse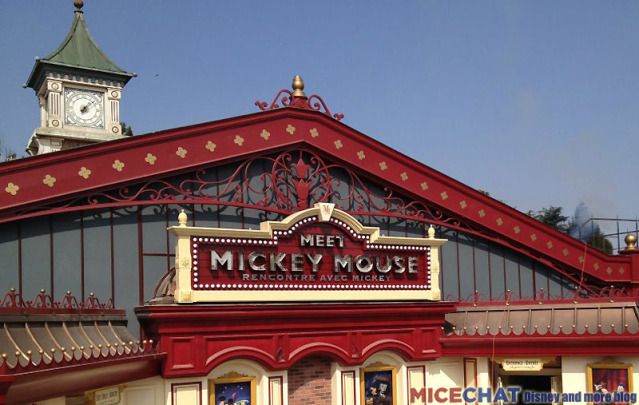 The long awaited "Meet Mickey Mouse" is now open in Fantasyland. The effort to transform what was the Fantasyland Festival Stage took a very long time, but as you can see in the video below, the final result was worth the wait!
I honestly think that DLPI Imagineers did a great job in the transformation of the Fantasyland Festival Stage. From what i can see in the video, it looks elegant and the theming is very good. My only concern is that the overall decor is of a style that you might more expect to find on Main Street than in Fantasyland. But that's not a big problem.
The actual meeting with Mickey is short of course but, again, Mickey's dressing room is very well themed. During the wait before the meet with Mickey, guests can watch eleven classic Mickey cartoons, alternatively in French or English, and the loop lasts about 40 minutes which should be long enough to keep the guests from needing to view the reel over, again . Apparently these are shorter versions of the original cartoons, but had a 5.1 remix and the surround effects and the definition of the animated short is excellent.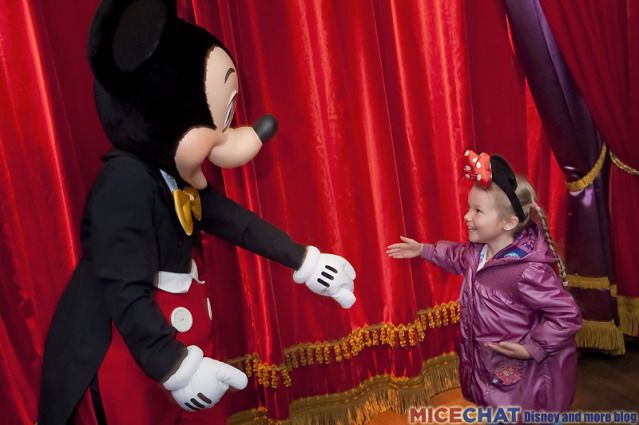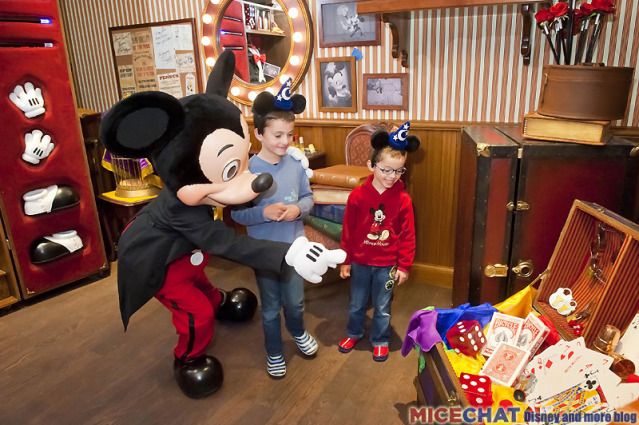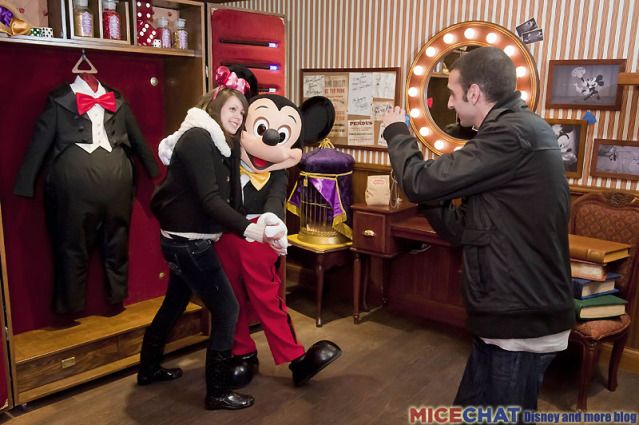 From what I've read, this new Meet Mickey Paris version looks much better than the "Backstage Magic with Mickey Mouse" in Florida, but it's a pity that for cost reasons or perhaps because there are too many different European languages, DLP didn't take the opportunity to introduce the impressive "talking Mickey" as they did in Florida. Although it's not really an attraction as there is nothing to ride, I think that this new meet and greet location is loaded with the genuinely magic touches that only WDI Imagineers at the top of their game can bring to this new Magic Kingdom area.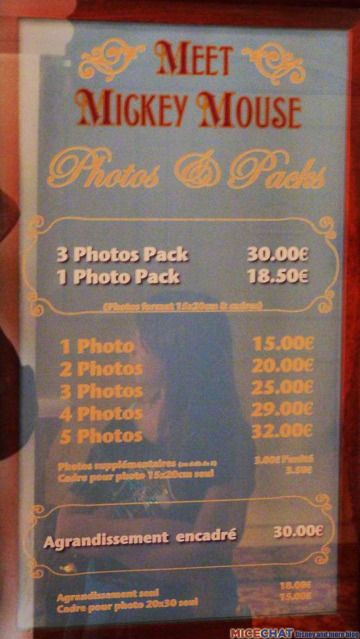 As you can see in the short video below, during the short meeting with Mickey, DLP guests, you can film or take pictures and there is a DLP photographer also there to shoot a digital picture which guests can buy at the exit. The only problem is the price of the photos, and many guests will probably find it a bit high. 1 picture: 15€ ($19!) - 3 pictures : 25€ ($30!). I'll be curious to know how many they will sell per day at this price. That said, no one is forced to buy one if they don't want, so just make sure your have your camera battery charged up before you get inside this new and great looking place to meet with Mickey. Take a look at the real thing with this video filmed by Jess21070609. Many thanks, to you, Jess!
<iframe width="640" height="360" src="http://www.youtube.com/embed/bYTSDv3NU0c" frameborder="0" allowfullscreen=""></iframe>
The World of Disney Superstore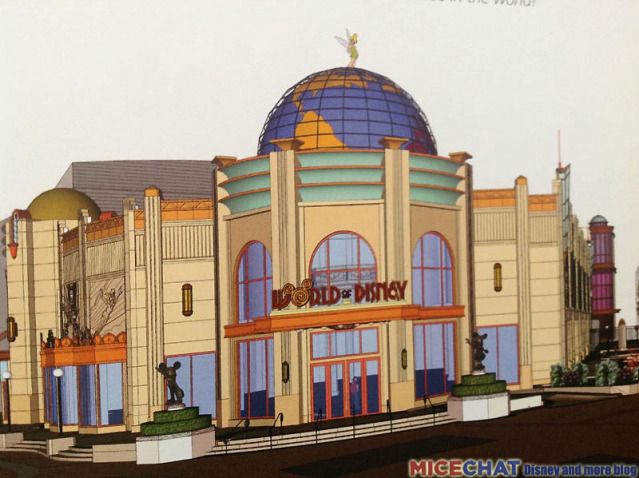 The long-awaited World of Disney super store located at the entrance of Disney Village will open on July 12 and most of the exterior is now finished. The giant dome is in place as well as is Tinkerbell on atop it. Outside, two statues of Mickey and Minnie were added recently as you will see in the pictures below provided by Moueeto and DLRP Welcome. Above, is new concept art showing the upcoming store.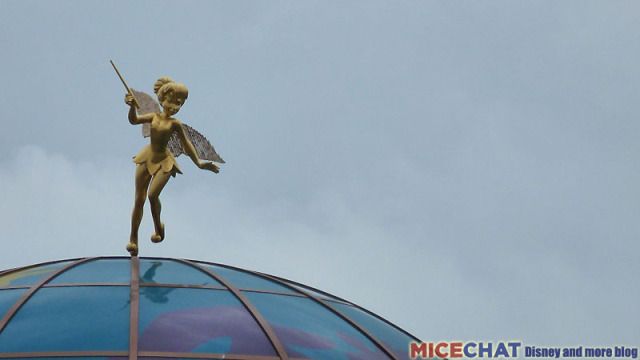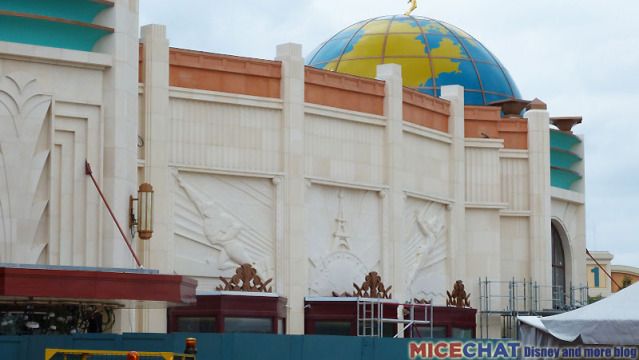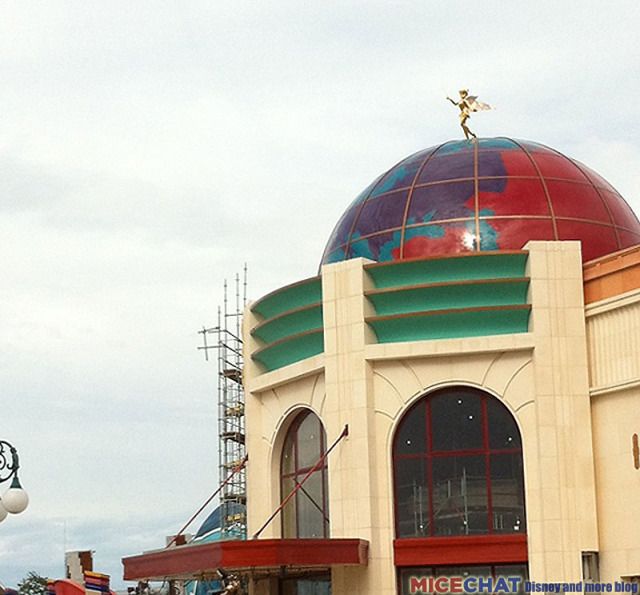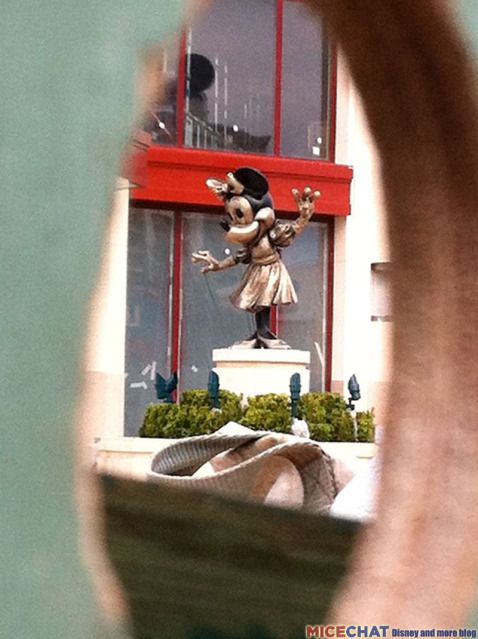 When World of Disney opens, the plans are to closed the current Disney Store inside Disney Village and that whole area of shops, DLP restaurants and entertainment should be revamped and receive a new theme.
New Apple Store
There is always a lot of hype around anything concerning Apple, so the opening of a new Apple Store is always a big event. Although it's not officially announced yet, Mac Generation, the best and most reliable non-official French Apple news blog, has confirmed that the 14th Apple Store to open in France will be located at Disneyland Paris.
Relax, it won't open IN the park but at the Val D'Europe shopping mall located at 2 km from the park and part of the DLP "area". This is a very nice mall, by the way, perhaps even the best in France, and from what i've been told in the past the mall feels that DLPI Imagineers gave some help in its design. The place is not only a cool place to do some shopping but is also very popular. So popular in fact that there is going to be an expansion, and it may be in this expansion that the Apple Store will open.
Although this is not really a Disney news, it's a good news for the park as the popularity of Apple Stores attracts hoards of customers all over the world. It's true that when you just bought a new iMac, your first thought is probably to go home to enjoy it and not to go to Disneyland. But it certainly won't hurt the park to have an Apple Store nearby! The opening date is not know, but could easily be a year or more off.
And, speaking of DLP, The Disneyland Paris "From Sketch to Reality book" which will tell you all about the creation of the park with 320 pages and 750 beautiful pictures and WDI renderings is now available with immediate shipping! Reviews from all those who have already received the book are "over the top" so, place your order now for a gorgeous collector's edition copy while you can! You can pick up one of the last remaining copies in the MiceChat Store today!
Pictures: copyright Disney, DLRP Welcome, Mouetto for whom I have many thanks!
Reader Hawaii Disney Fan has sent us the following photos and news from Disney's Aulani hotel in O'ahu
Aloha MiceChatters. Although the Aulani Hotel is still brand new and was well covered by Dustysage and Fishbulb when it opened, there are lots of little projects and changes you might be interested in. Perhaps the biggest is the construction of Mama's Snack Stop. It's a quick service restaurant going in right by the pool and next to the Shaved Ice stand. You'll note that most of the changes going on have a little something to do with adding affordable food options.
Here we see the construction walls surrounding the area for Mama's Snack Stop. They have actually "themed" the wall instead of erecting a boring plywood barrier. Notice the lauhala matting in the area near the Papalua Shaved Ice Stand. On the topic of Papalua Shaved Ice... they have added the option of putting ice cream at the bottom of your shaved ice, and also added a "snow cap" (condensed milk) option for the top. Both of these are local favorites. Really delicious addition. Perhaps not worth booking a trip to Hawaii for, but certainly worth trying out while you are here!
This shot shows the new location of Kawele Corner. This is where you go for your towels, life vests, etc. down by the pool. It used to be located where they are constructing Mama's Snack Stop now. It is now located next to the Menehune Bridge. Unfortunately, it takes the place of a window into Rainbow Reef. Of course the old window only looked over the top of the water in Rainbow Reef, so it isn't a huge loss.
Here's a shot of the new dinner menu at Makahiki. This is in addition to the buffett that's also still available. This now gives more options for guests for dining, without having to add on a new restaurant. On the subject of Makahiki, at one point or another the outdoor seating will be shut down for a bit. Makahiki is adding on an awning for the outdoor seating. This will alleviate some of the problems during rainy season... especially when character breakfast is booked solid. The popular character breakfasts are now offered four days a week, with a a fifth being added soon. At the moment, character breakfast is Sunday, Wednesday, Friday, and Saturday.
I've included a few more random shots for the heck of it. You can see how the foliage is really growing in the Waikolohe Valley. It's really beautiful at Aulani, no doubt about that.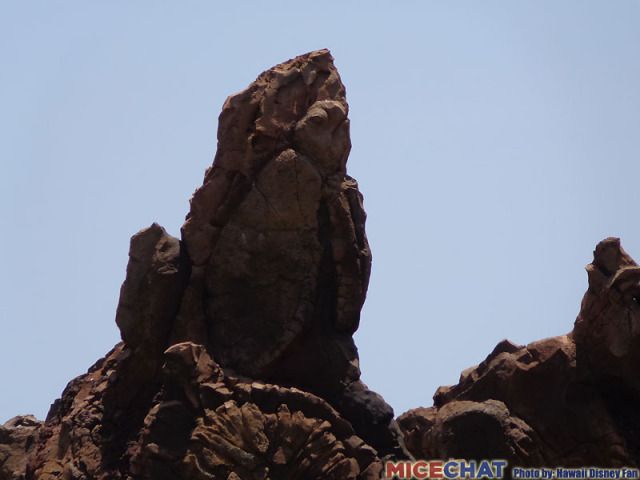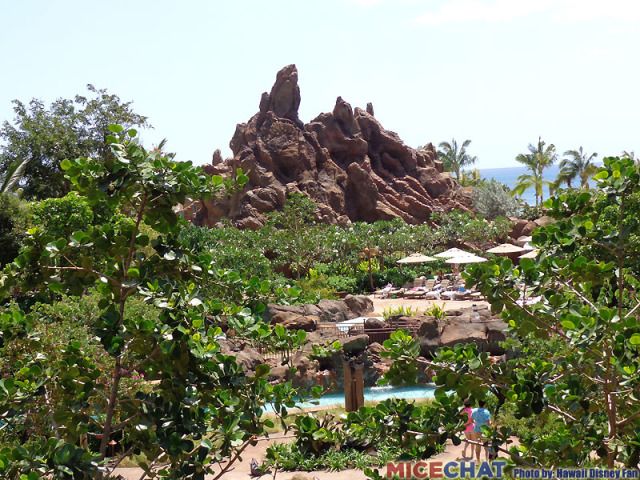 If this is the first you are seeing of this resort, I really recommend reading the multi-part Aulani review from Dusty and Fishbulb in MiceChat's Vacationeering column which starts
HERE
.
Hope to see all you MiceChatters in Hawaii soon. Mahalo!
APPOMATTOX MANOR,
PETERSBURG NATIONAL BATTLEFIELD,
BLANDFORD CHURCH
By
Scarlett Stahl
In other articles regarding my family pilgrimages, I have talked about the beauty of Richmond, Va. What I haven't mentioned is that I consider Richmond, Va. and Boston, Ma., to be the two cities that I would find hard to choose between, if I chose to live other than my present home in Los Angeles. I love the beauty of both as well as their historical history and sites, wonderful food and friendly people. Richmond is the city that I fly into to visit most of my family sites. About twenty miles southeast of Richmond is City Point, which is on the James and Appomattox Rivers. The owner of the private property, where lies my Randolph family gravesite (the oldest family gravesite in America) told me that everyone, whose family originated in Virginia, originally lived in City Point, which was annexed by the independent city of Hopewell in 1923.
It is important to give a little history of both City Point and Petersburg during the Civil War as it affected my own family. The headquarters of Union commander, Ulysses S. Grant, was at Appomattox Manor in City Point, during the siege of Petersburg in the Civil War. City Point was important to both sides as it had railroads and a river port. Nearby was Petersburg, where Grant constructed trench lines that extended over 30 miles from the eastern outskirts of Richmond (capitol of the Confederacy) to around the eastern and southern outskirts of Petersburg. It took nine months of trench warfare to break Petersburg and cut the supplies to the Confederate Army, which resulted in the Union victory and the end of the Civil War. For the duration of the war, Dr. Richard Eppes, the owner of Appomattox Manor, was a civilian contract surgeon for the Confederate army in Petersburg, who sent his family to Pennsylvania, which is where his wife's family lived.
Scarlett at Appomattox Manor in City Point, aka Hopewell.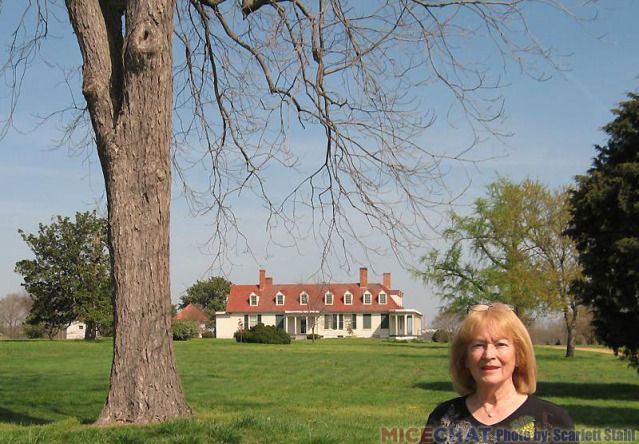 Appomattox Manor is important to me as it was the home of the Eppes family, who married into my Bland family. Appomattox Manor is now administered by the National Park Service's Petersburg National Battlefield. I went on a tour of the downstairs of the home, which was led by a Park Ranger. The Ranger showed me mannequins in one of the rooms of Dr. Eppes and his slave James Ruffin, whom she said were very close friends and added that James Ruffin continued to work for Dr. Eppes after the War. She also said that Dr. Eppes arranged to be buried near his friend upon his death. Eppes own journal said "(Ruffin) had more good qualities. I've known very few whites his equal."
Fireplace and picture.
Dr Eppes and James Ruffin in the Library.
The parlor.
Grant's Headquarter seen thru the porch at Appomattox Manor.
As I stood on Pecan Avenue, which is where Appomattox Manor is located, I looked down the street towards the white house about a block down on the corner of Prince Henry Avenue and down past it to the James River. The white house is known as the Christopher Proctor house and is number 19 on the City Point Open Air Museum Walking Tour. This is the home where my great grandfather, Christopher Bland Proctor Sr. was born on 6 Aug. 1863.
Christopher Proctor House.
Scarlett at the Christopher Proctor House, where her great grandfather was born.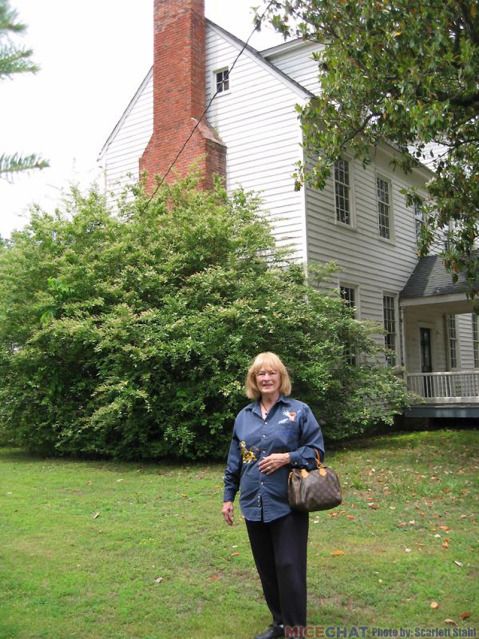 3D of City Point during the War.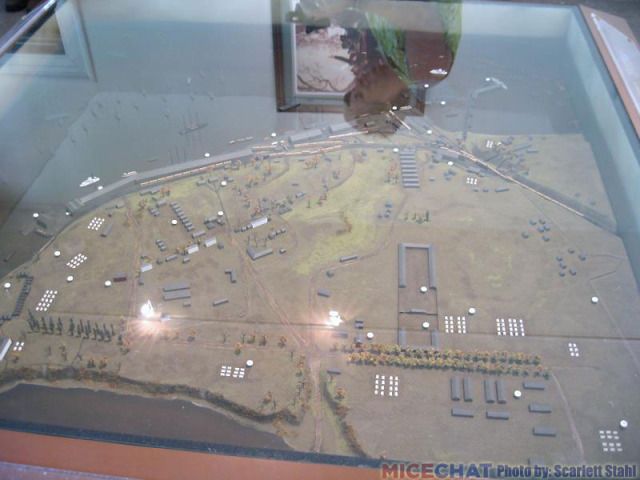 I had wondered how my great great grandmother, Rachel Magdalene (Maggie) Bland had met and married my great great grandfather, James Drury Proctor. As I stood there looking down the street, I thought how my great great grandmother would have naturally come for visits to her Eppes cousins at Appomattox and would have met their neighbors and friends. As I continued down the street, it was a bitter sweet moment, thinking of how this eighteen year old girl might have felt. She would have been so happy to be married and had such a happy life in 1859 before the War. I had read about her marriage in a newspaper clipping from the Library of Virginia. "PETERSBURG DAILY EXPRESS, FRIDAY MORNING JUNE 17. 1859, MARRIED- On the 14th inst by the Rev. J.E. Joyner at "Fountains," Mr. James D. Proctor and Miss Maggie Bland, daughter of John B. Bland, Esq. of Prince George." Her first child, Sarah Virginia, was born 15 Mar. 1860 and died 18 Sep 1861. Her second child, James Drury was born 8 Jul 1861 and died 2 Nov 1862. Finally my own great grandfather, Christopher Bland Proctor Sr. was born 6 Aug, 1863 and just five months later my poor young great grandmother died on 26 Jan 1864. She was a few months short of her 23rd birthday when she died and had lived through all this during the Civil War, which had began on April 12, 1861!! The home is empty now and appears to be used just for storage as I looked through the windows. I wish it echoed with laughter and love, instead of being barren, neglected and empty.
Poythress St in Hopewell (one of my family names).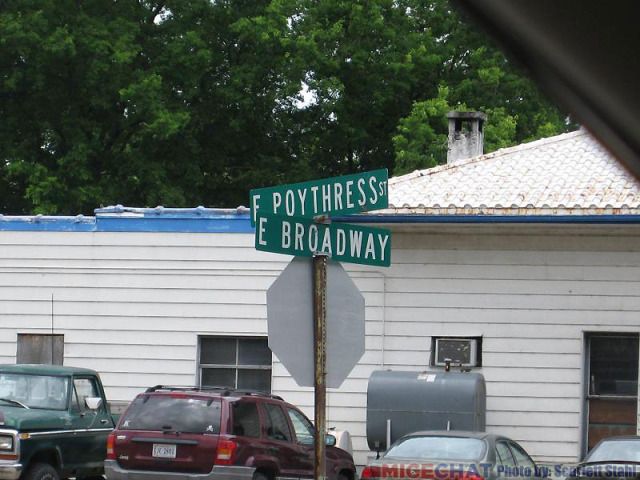 Randolph Rd (another family name).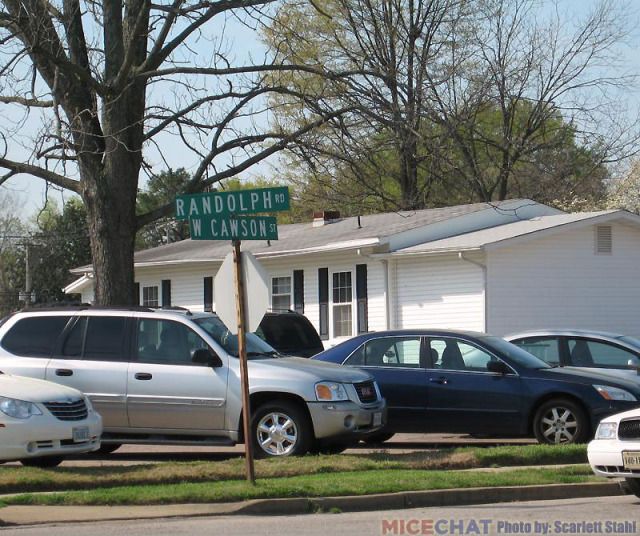 A lady, whom I had met previously and who lived in Colonial Heights, Jacqueline Hudson, graciously escorted me to Jordan's Point, which is about five miles southeast of Hopewell. This was the original home of my Richard Bland family but now only a gravesite still exists there with condominiums nearby. She showed me a DAR plaque honoring my ancestor, Richard Bland II, as he was with the Continental Congress during the Revolutionary War and is considered to be one of the Founding Fathers. In fact it is believed that he coined the phrase "Taxation Without Representation."
Highway marker for Richard Bland.
Jacqueline Hudson and Scarlett at the DAR plaque for Richard Bland.
Memorial replacement stone for Richard Bland.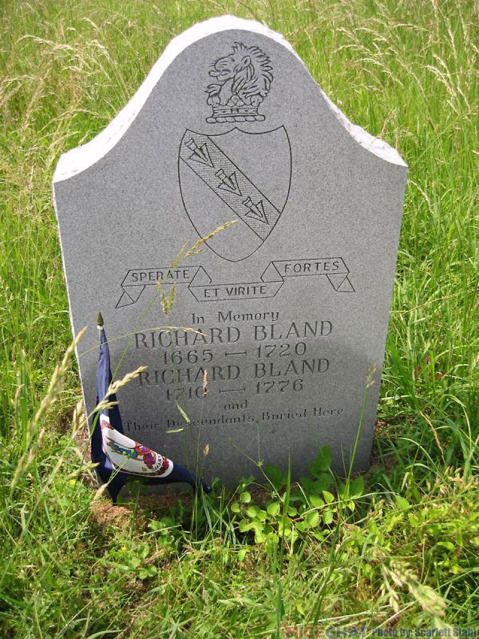 I am proud of my ancestors but just wish I had done more important things with my life as they did. And I was surprised to learn that Theodorick Bland (1629 -1671), the father of Richard Bland I, had established Berkeley Plantation as well as Westover Plantation, both of which survive today side by side as working plantations on the bank of the James River. However as Richard Bland I was not the eldest son, he moved further up the river and started Jordan's Point Plantation (where we were) on land his father had purchased in 1656. I was surprised to learn about Berkeley as I had visited the beautiful Plantation on a previous visit and had learned that two Presidents Harrison lived there and that the First Thanksgiving was celebrated there. And now I learned that my own family had once owned it! This was also the first I heard about Westover Plantation, which still exits. Near the original site of Westover Church, up the river a quarter-mile west of the house is where Theodorick Bland is buried. However the house was built by the Byrd family, after they purchased the property from my Bland family in 1688. Knowing this, I think another visit to Westover is in order to visit the gravesite and see the land.
Two of the stops at Petersburg National Battlefield.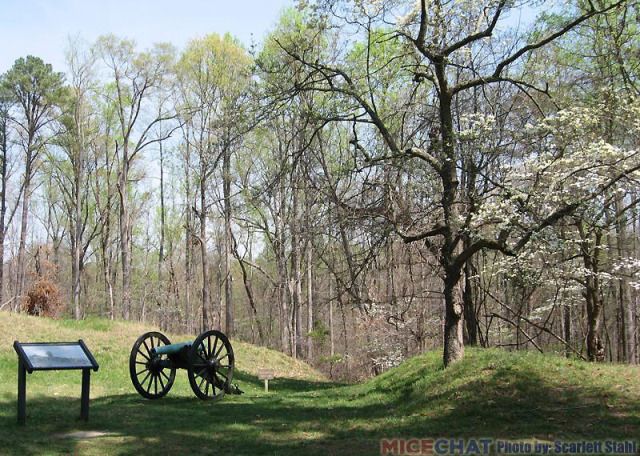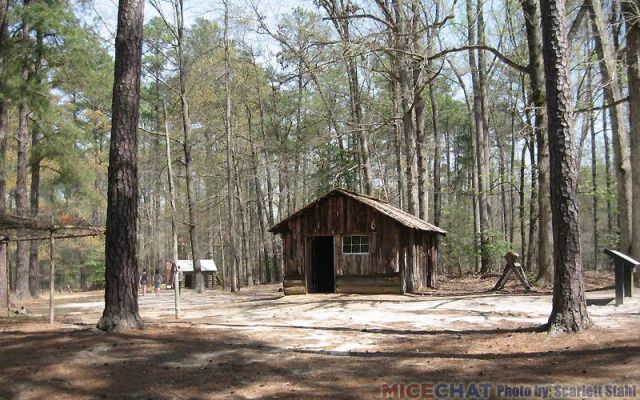 From there we continued our journey to the Petersburg National Battlefield as this is the 2nd year of the 150th anniversary of the War. To be honest, normally I avoid battlefields as they make me sad to think of all the lives that were lost on both sides. As this was part of my family's past and has affected my present, I felt it necessary to see it. It really is a beautiful 2,650 acre park with lush green fields and looming trees. The only thing to distinguish this park as a battlefield are the 16 stops of a driving tour, which have cannons and other props along with plaques telling of their history. There are four units of Petersburg National Battlefield: Grant's Headquarters at City Point (now Hopewell), which was the little shack near Appomattox Manor, and one that I had visited earlier that day. Another unit was the Eastern Front, where the initial assaults and the battles of the Crater and Fort Stedman occurred. Third was the Western Front, where intense fighting continued as Grant's Army encircled the City, struggling to destroy the remainder of Lee's supply lines. Last was the Five Forks Battlefield, a battle that decided the outcome and led to the Confederates' retreat to the city of Appomattox (not the Manor in City Point, which is often confused with the other as they share the same name.) The siege of Petersburg lasted 292 days, which is the longest siege in American history, and almost a quarter of the Civil War was fought around the city of Petersburg. Seven days after the fall of Petersburg, the Confederates surrendered at Appomattox Court House. I have always made it a rule not to discuss religion, race or politics as there will always be a disagreement between individuals and I prefer to make love, not war. However I will share with you, that a couple of my cousins are Robert E. Lee and Thomas Jefferson, while my entire family on both sides are from Virginia.
Plaques for the Crater.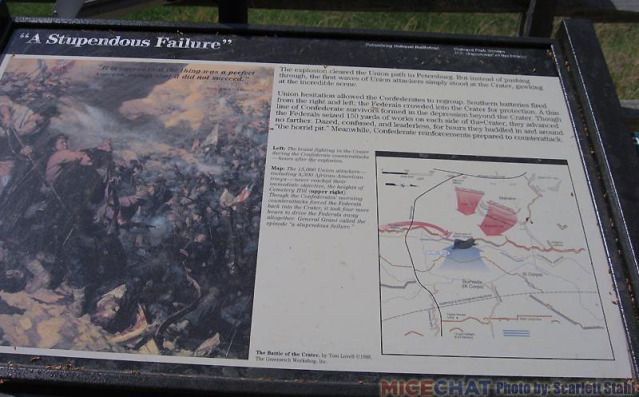 The Crater today.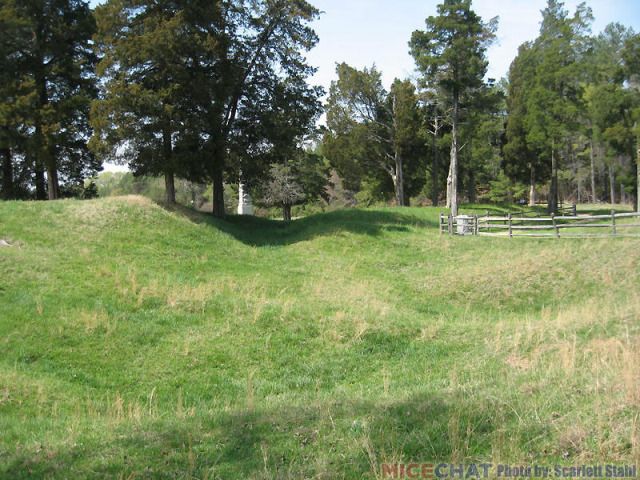 Next we drove to Blandford Cemetery in Petersburg. I am sorry that I wasn't able to get a picture of the horse drawn hearse entering the cemetery from the main road but it took me so by surprise and happened so quickly, that I didn't have time to get my camera out of my purse!! And by the time that we were able to turn around and go back, it had disappeared. I guess we could have searched the cemetery for it but truly I had more important things on my mind. I wanted to see my family's graves and also see the historic Blandford Church. The brick church on Well's Hill was built between 1735 and 1737. George Wythe, teacher of Thomas Jefferson and signer of the Declaration of Independence, was a member there as a young man. Quoting from a tourist guide "Richard Bland, the famous pamphleteer for the Patriot Cause, and member of the Continental Congress, built the wing and the church wall." This was rather historic for me, but in truth the church and cemetery are historic for all to visit and see. It is a short drive from Richmond and well worth the trip.
We went first to the Tourist Office in the Cemetery. There we paid for a tour of the beautiful old Church, which was kept locked, probably to protect the valuable Tiffany stained glass windows, which were also covered with protection outside. I learned that it is known as Old Blandford Church of Bristol Parish, was abandoned after the building of another Episcopal Church in Petersburg, when Blandford Town was absorbed into Petersburg in 1784. Memorial services where held here at the deaths of George Washington, John Adams and Thomas Jefferson. Unfortunately pictures were not allowed inside the church and words can not describe the beauty of those magnificent windows. They look like sparkling jewels and the colors change with the sun, while each window represents a different state and a different saint.
I learned that "In 1901 the city delegated to the Ladies Memorial Association of Petersburg the privilege of developing this church into a Memorial Chapel and a Confederate shrine in memory of the 30.000 heroes buried in its shadow." The stained glass windows were done by the famous designer Louis Comfort Tiffany of N.Y. The fifteen stained glass windows commemorate each of the Confederate states and were paid for with money raised by ladies in those states. Unfortunately the notes I took during the tour appear to be misplaced so I can not give accurate figures, however the guide told us that Tiffany had wanted over $1000 per window but accepted $350 as he so admired the project and purpose that the ladies had undertaken. In addition he gave one window free, "The Cross of Jewels" and it is above the west door. The inscription reads "Glory to God in the highest, and on earth, peace, good will to men." Weddings and funerals can be arranged to be held at the Church, but beware as there is no air conditioning nor open windows. There is a lovely gift shop at the Tourist Office and some beautiful Christmas ornaments are available as well as other items, along with post cards.
The Guide told us that at the end of the Civil War, beginning on June 9, 1865, the young ladies of Petersburg would visit Blandford Cemetery and decorate the graves of both Union and Confederate dead with flowers and flags. Mrs. John A. Logan, wife of the Federal general, who was in Petersburg at that time, saw this practice a couple of years in a row and was so moved that she convinced her husband to declare on May 5, 1868, "in General Order No. 11 -The 30th of May, 1868, is designated for the purpose of strewing with flowers, or otherwise decorating the graves of comrades who died in defense of their country during the late rebellion, and whose bodies now lie in almost every city, village and hamlet churchyard in the land. In this observance no form of ceremony is prescribed but posts and comrades in their own way arrange such fitting services and testimonials of respect as circumstances may permit." This is how the observance of Memorial Day in our country began and is continued today.
After leaving the Church and the Gift Shop, we went to my Bolling family Mausoleum, where my ancestor, Col. Robert Bolling is interred, along with other Bolling family members. His wife and my ancestor, Jane Rolfe (Bolling) was the granddaughter of Pocahontas and John Rolfe. She was buried at Kippax Plantation in Hopewell, near her father, Thomas Rolfe. The descendants of Robert Bolling and Jane Rolfe are called Red Descendants as they are the Real descendants. The descendants of Robert and his second wife are called White Descendants as they are Wanna be's and the third group are called Blue Descendants as they are Bogus. Yes, I have the proof that I am a Red and a real descendant. I am a member of the Jamestowne Society and they do require definite proof.
Scarlett at the Bolling family mausoleum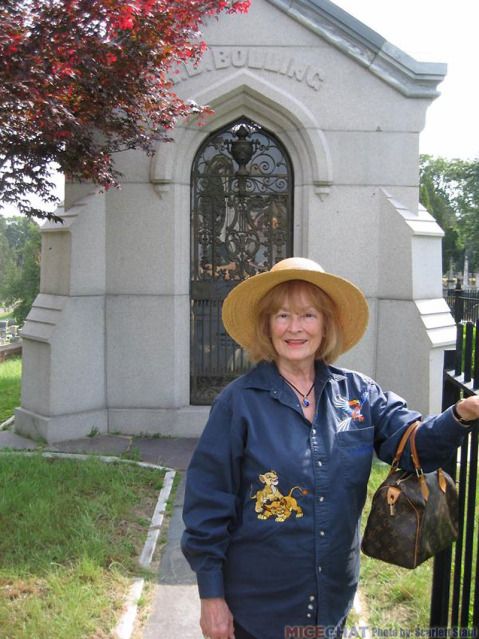 Stone inscription with Bolling family names inside.
Then we went to another part of the cemetery, where my Proctor family gravesites are. I wept at the grave of my young great great grandmother, Rachel Magdalene Bland Proctor, who passed away far too young. Strangely enough I felt I had come home and was at peace there in that cemetery. The last member of the family was buried there in 1913, almost a hundred years ago and there are two family plots remaining. As it has been so many years, there are some technicalities re future burials, but with the help of the City Council, it may be possible for me to come home for good in the hopefully! distant future.
Blandford Church with the Dugger/Proctor family plot in the right front.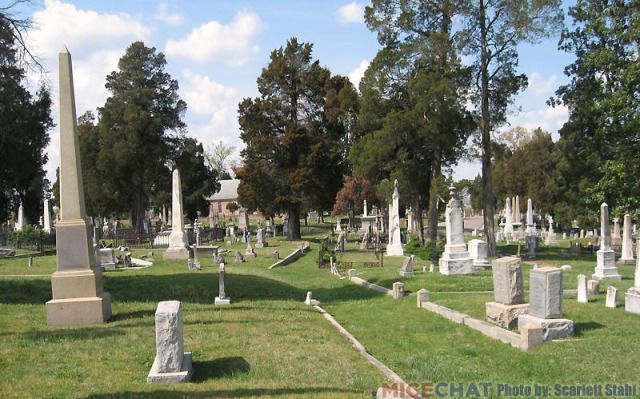 Dugger/Proctor family plot.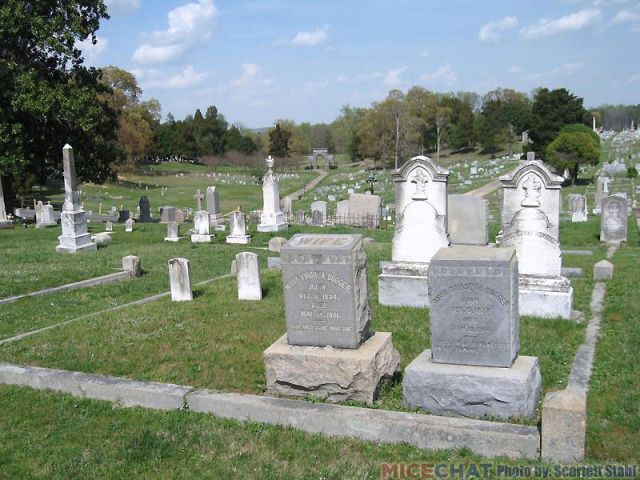 Scarlett at the gravesite of her great great grandmother, Rachel Magdalene Bland Proctor.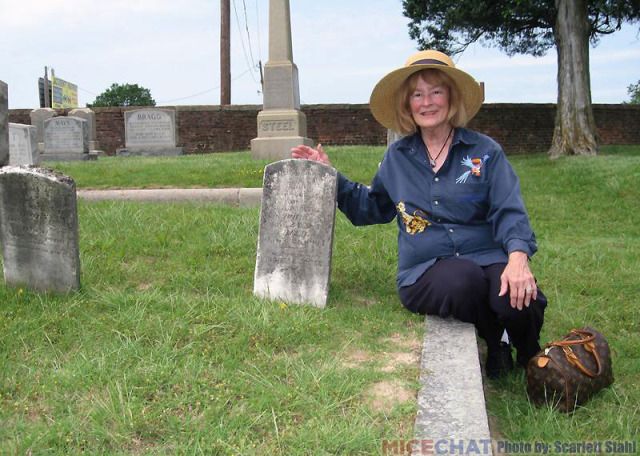 Magnet of Petersburg National Battlefield and Appomatox Manor w/Grants Headquarters.
Blandford Church ornament.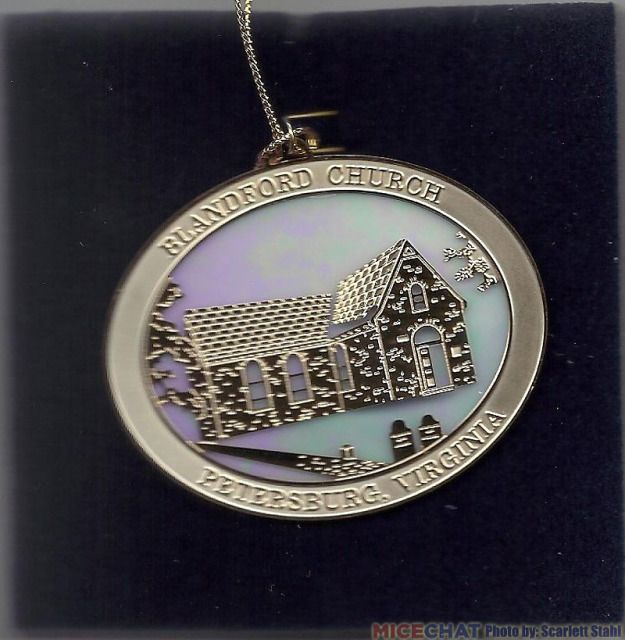 City Point Walking Tour.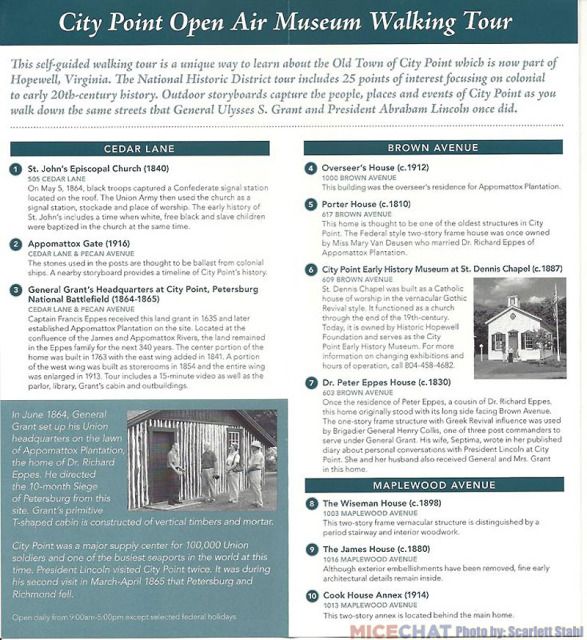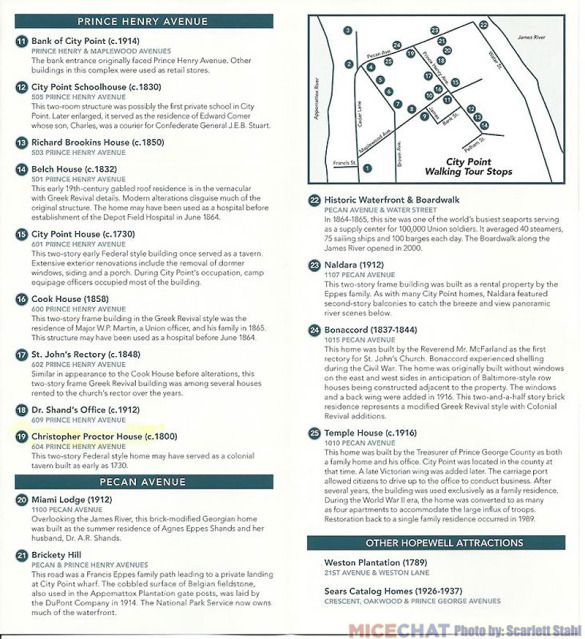 Scarlett with her friend Judy Hall, dressed in Civil War costumes.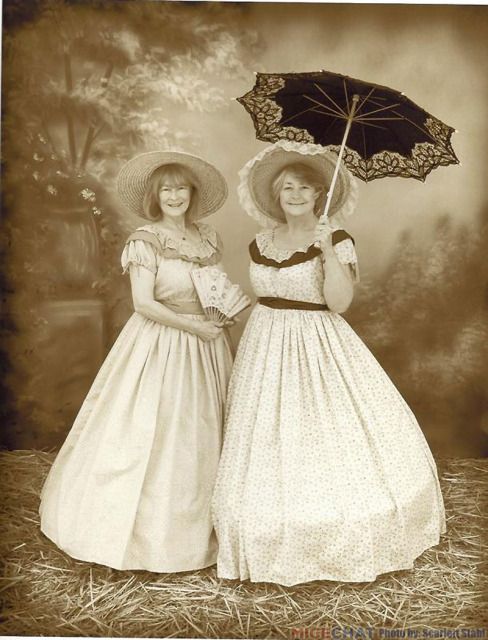 Note: While in Petersburg, you MUST visit King's Barbecue, 2910 S Crater Rd, Petersburg, VA., as their sauce is memorable!!
Appomatox Manor--James River Plantations: A National Register of Historic Places Travel Itinerary
Hopewell, Virginia - Wikipedia, the free encyclopedia
Richard Bland - Wikipedia, the free encyclopedia
Petersburg National Battlefield - Petersburg National Battlefield
Old Blandford Church
Here's Part Two of Rya86n's Christmas time trip report on the Disney Dream Cruise Ship
After a day on land, it was back to the ship -- and time to check out the Disney-class entertainment in the Walt Disney Theatre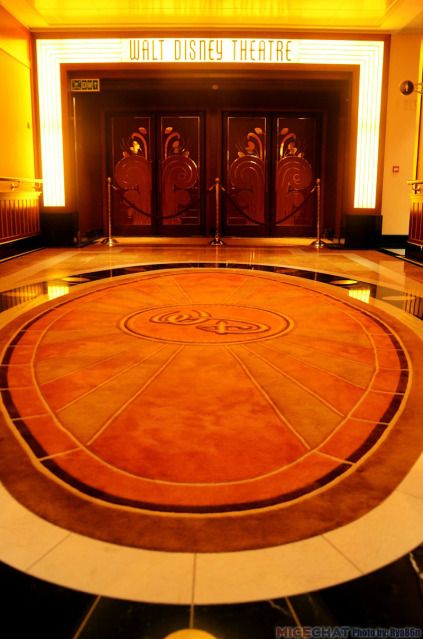 We skipped The Golden Mickey's having seen it at Hong Kong Disneyland
Our first Disney Cruise Line show was Villains Tonight!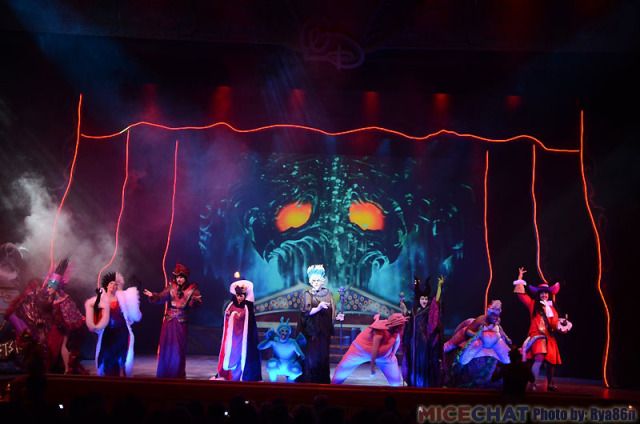 After the stage show it was onto dinner (at the honeymoon table again) at The Royal Palace.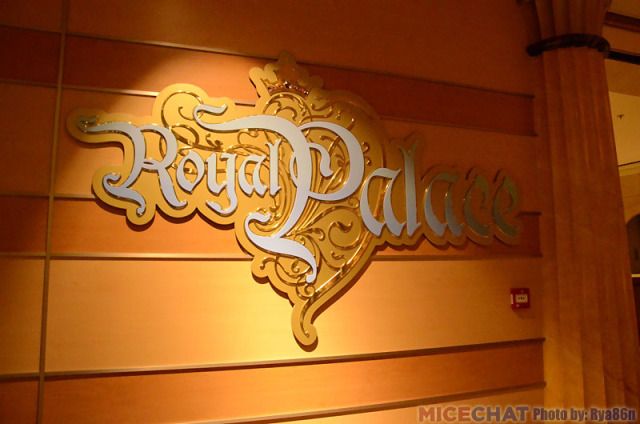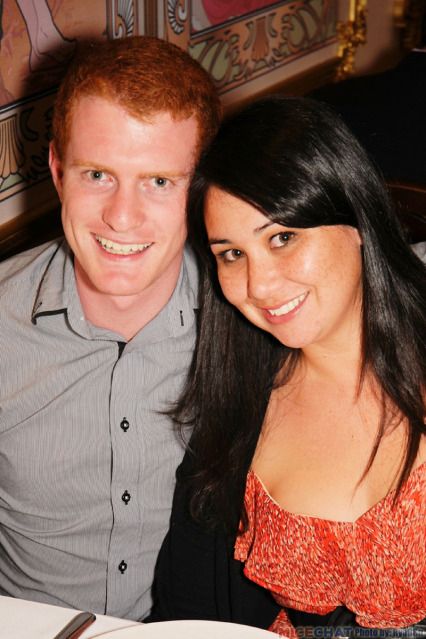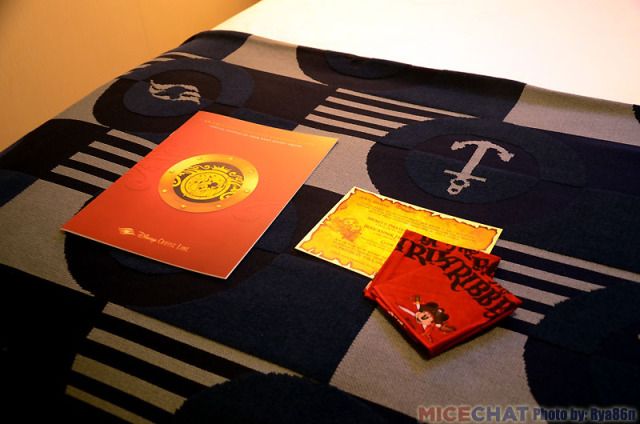 After dinner, we return to our room where invitations to the night's activities are ready and waiting.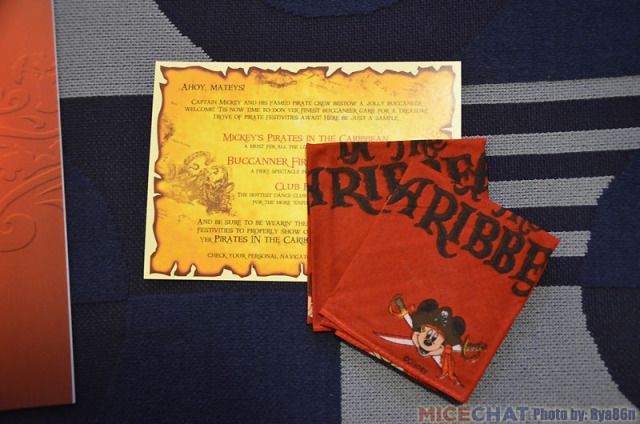 It's pirate night!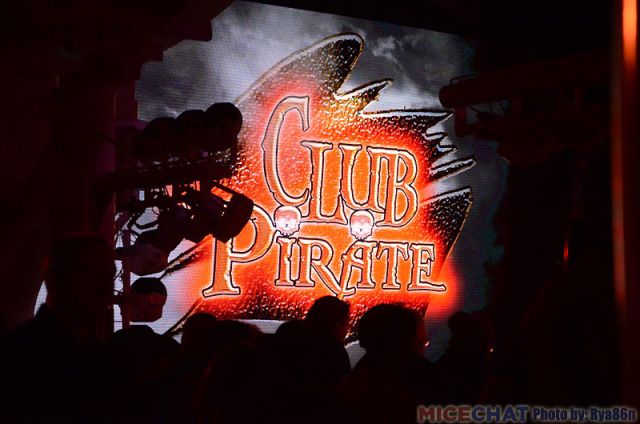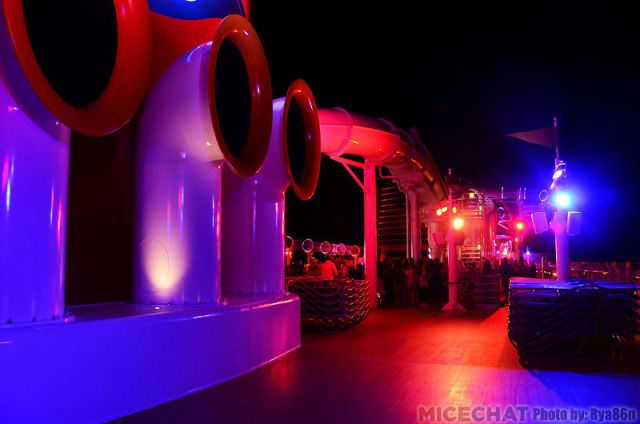 Up on deck, the Dream looks incredible under lights in the dark of night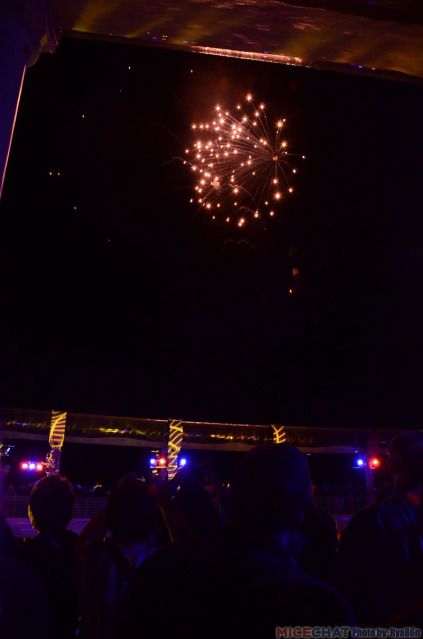 The only fireworks to be launched at sea, ensure the night finishes with a bang!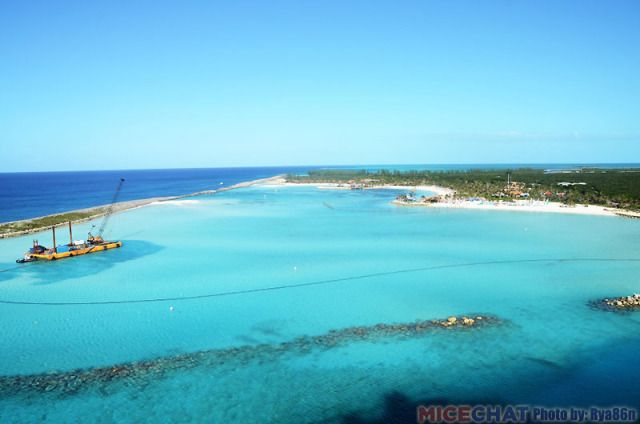 Again, the next morning we awaken to a new vista.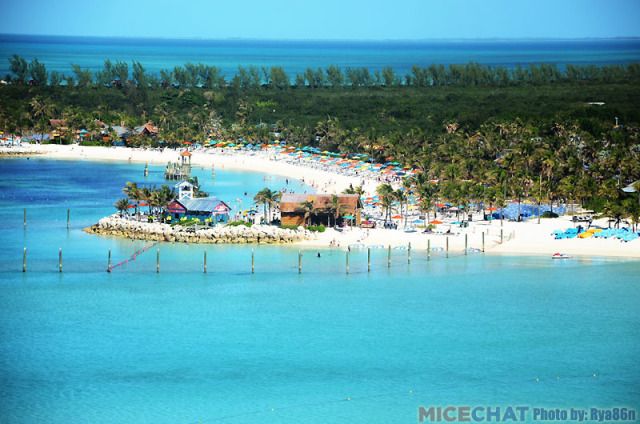 This time, it is the absolutely picturesque Castaway Cay!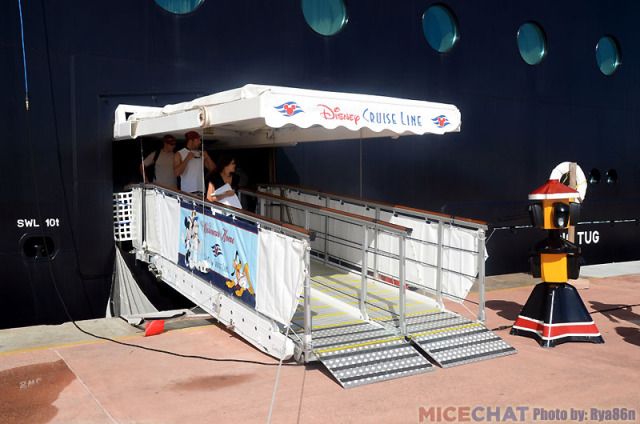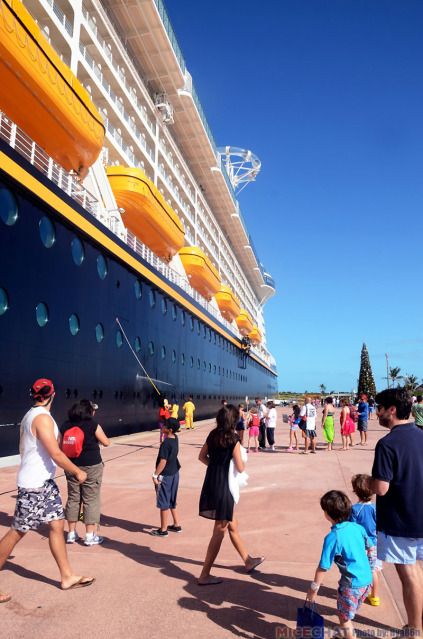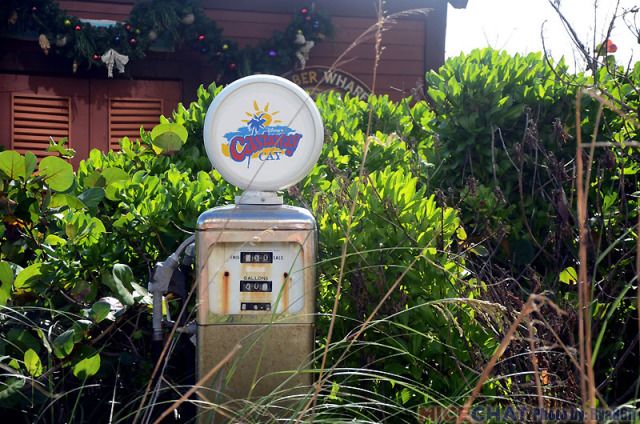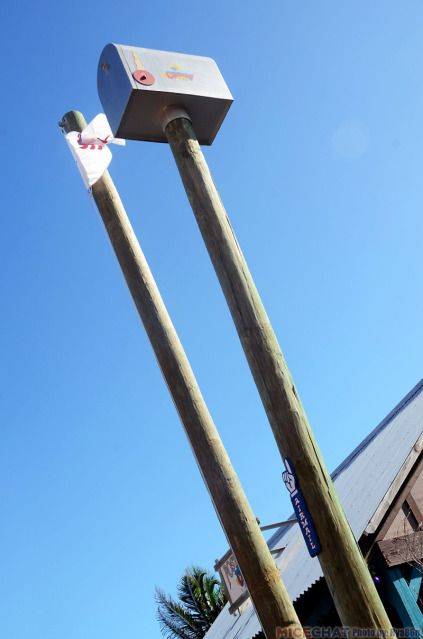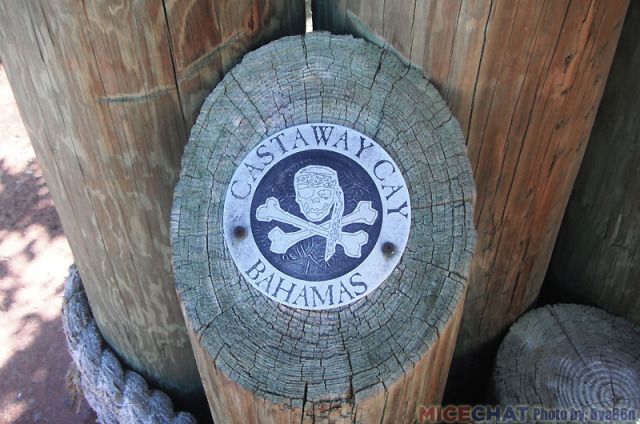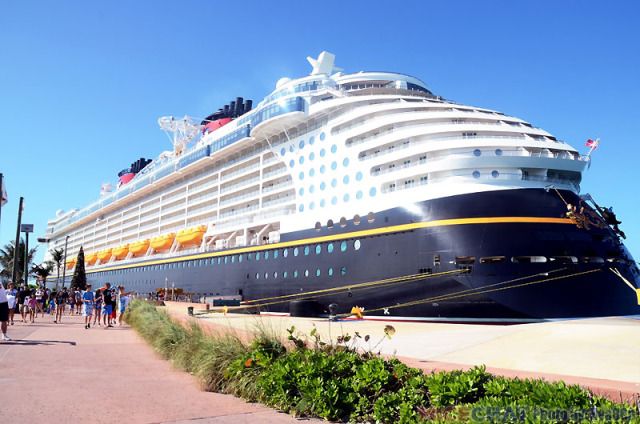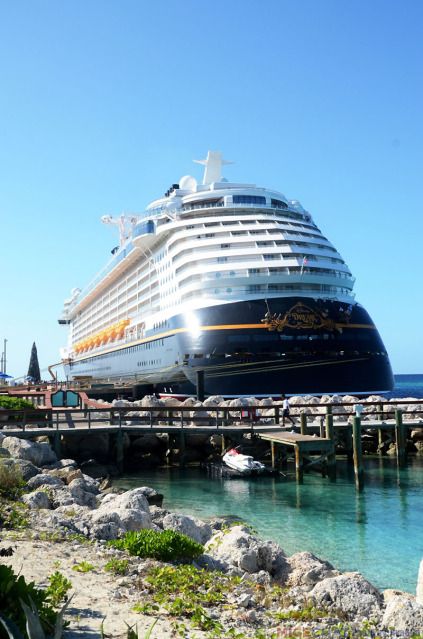 Castaway Cay = Paradise!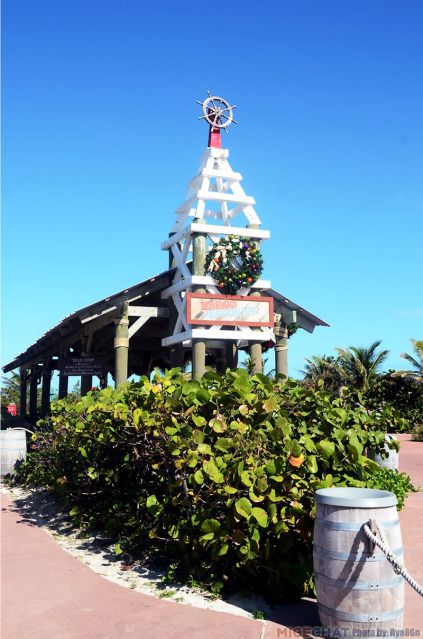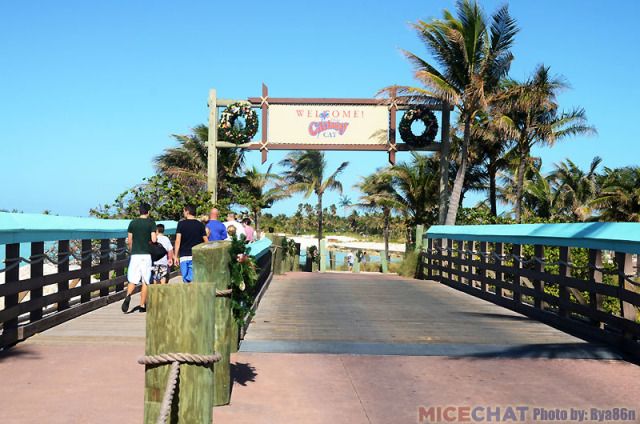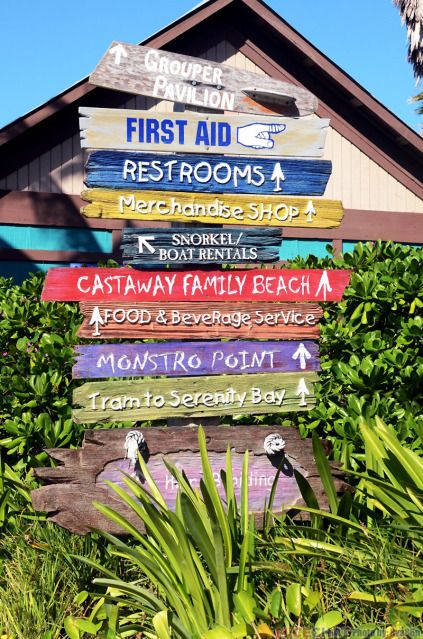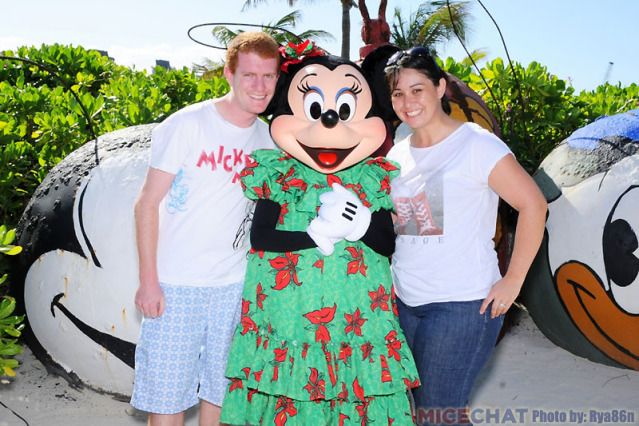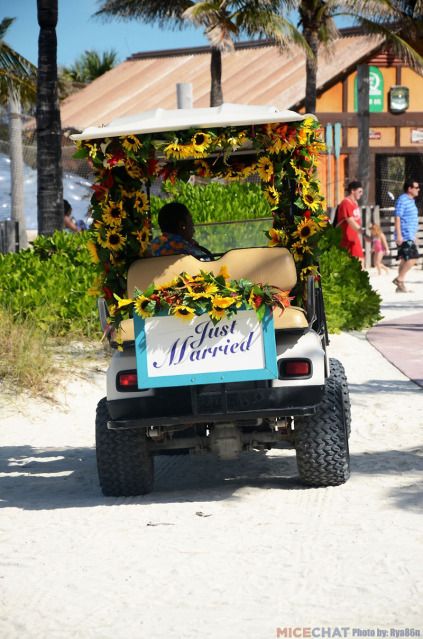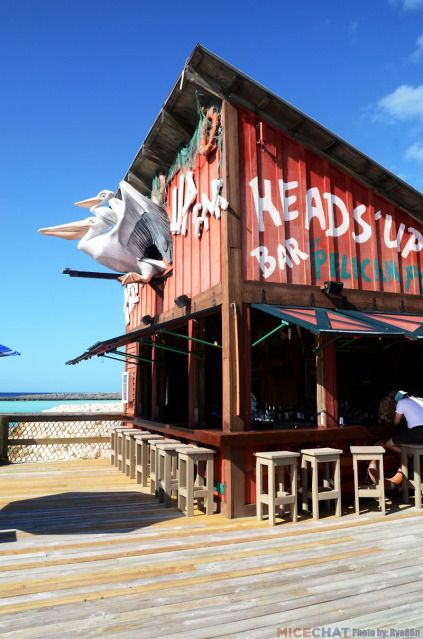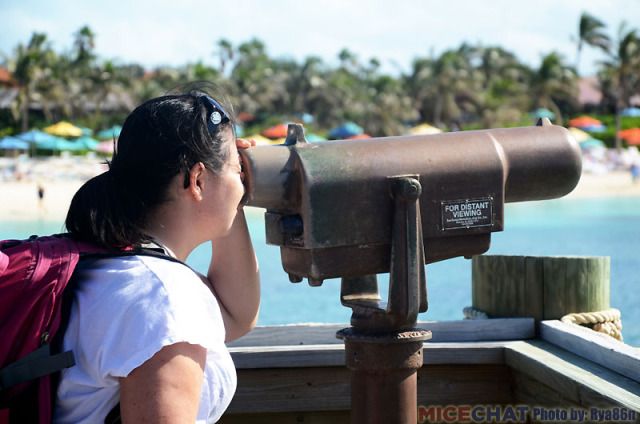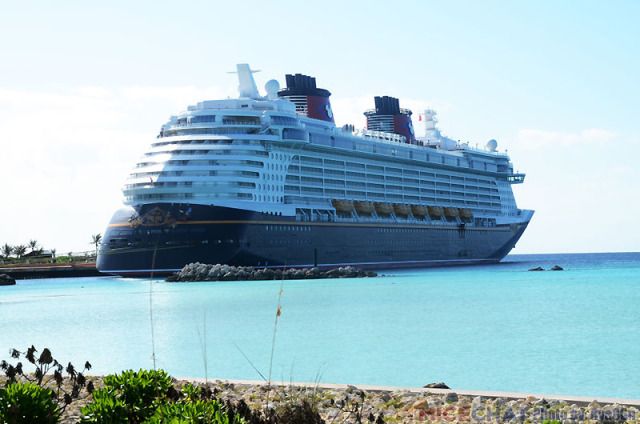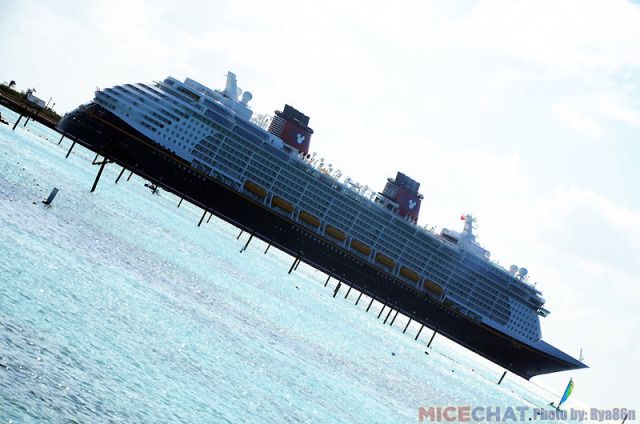 After a morning on the beach -- we took a swim.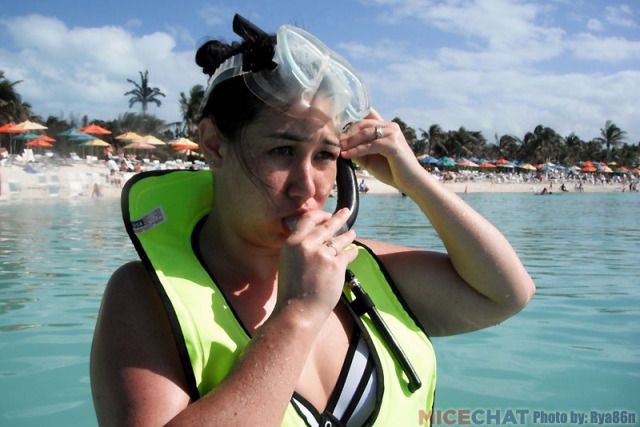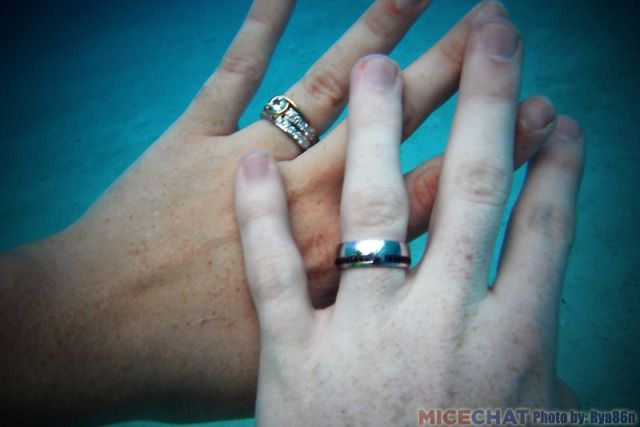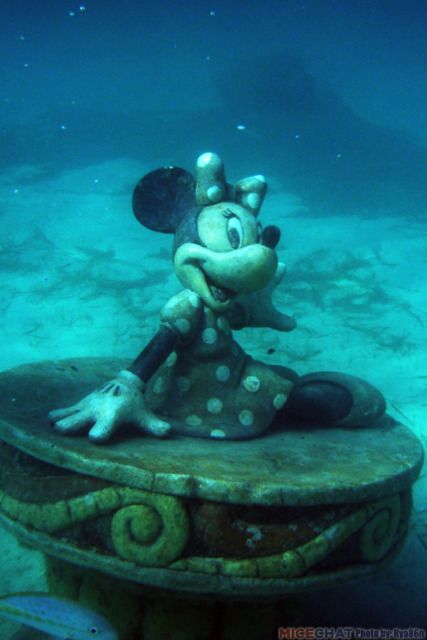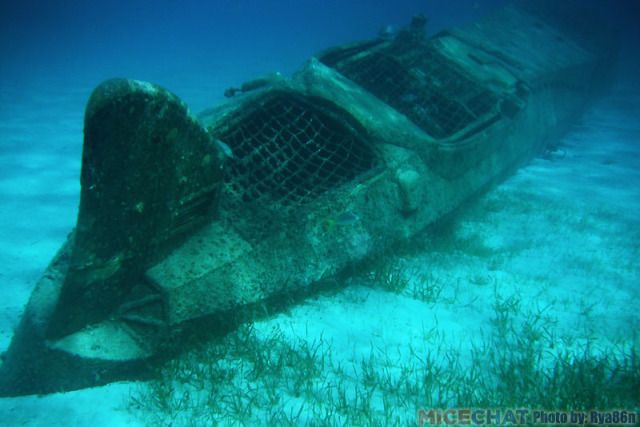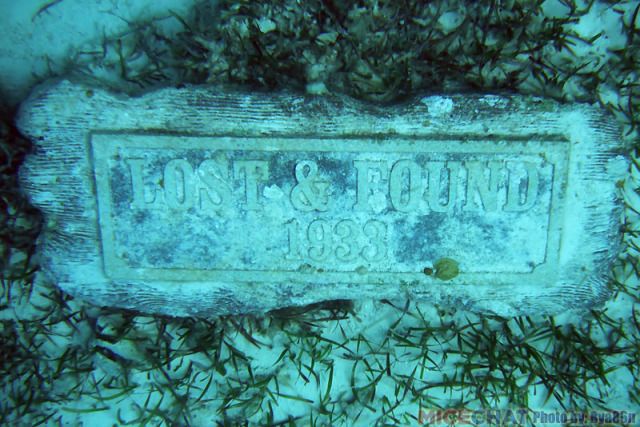 If I had a choice I would of stayed put at Castaway Cay. Unfortunately all good things come to an end.
I couldn't think of a better place in the world to watch the day end!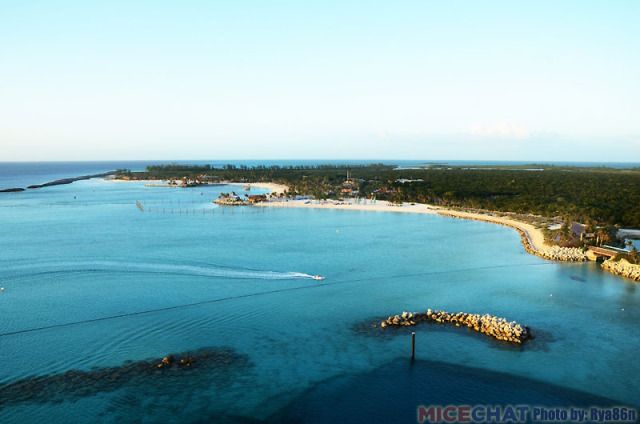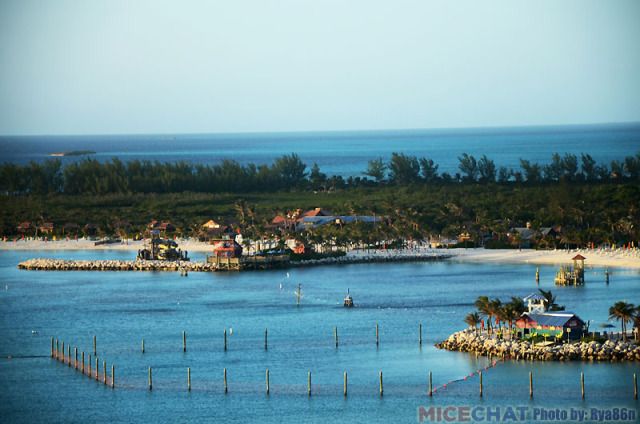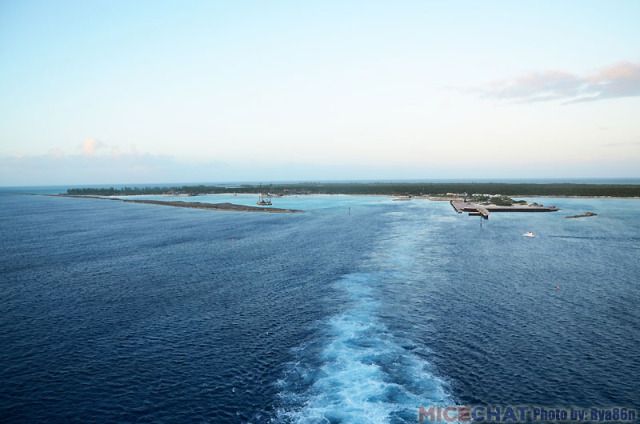 Whislt watching Castaway Cay disappear across the horizon, we played a round of mini golf before watching the sun set.
We checked out the Disney Gallery onboard -- the artwork here is simply amazing!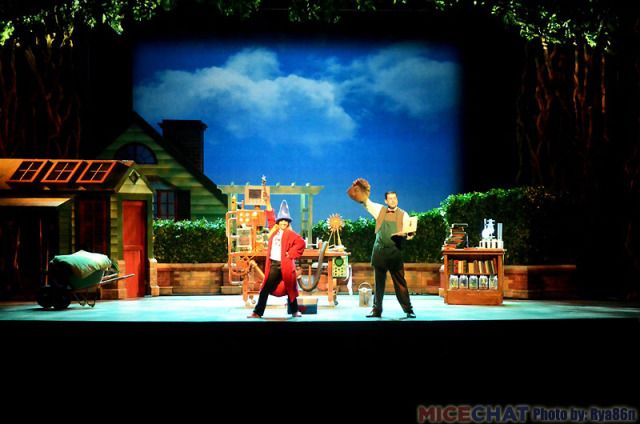 After window shopping (in hindsight, I wish we'd purchased some), it was back to the Walt Disney Theatre for Disney's Believe -- possibly my favourite Disney stage show ever!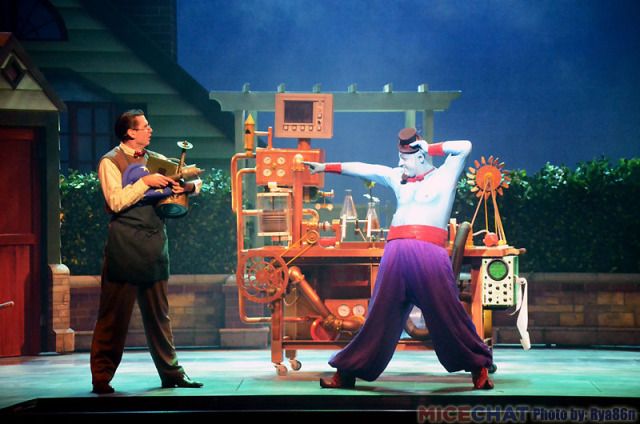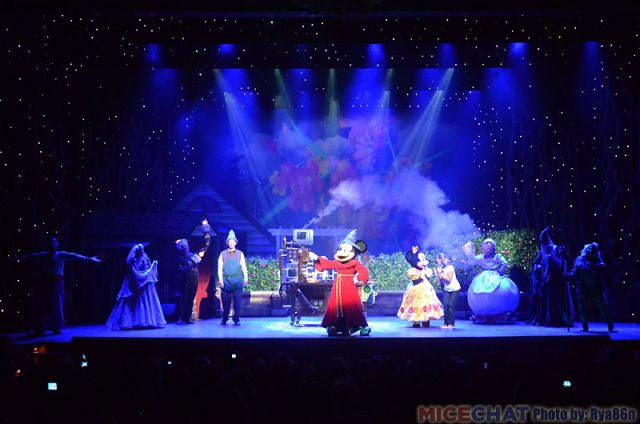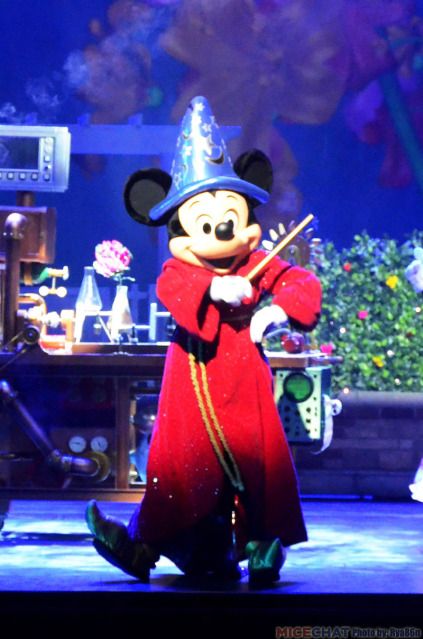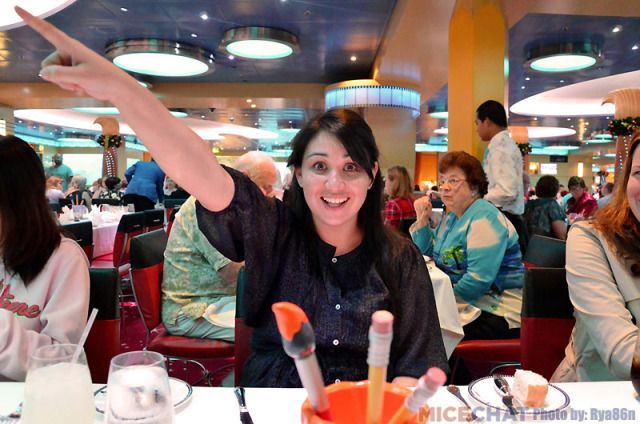 Last stop on the restaurant rotation is Animators Palate -- and we'd been looking forward to this one the whole time.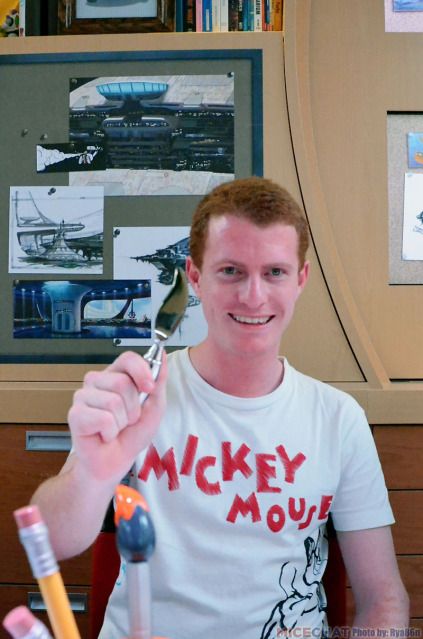 Ready to go all Epic Mickey on my dinner roll!
Where's Crush?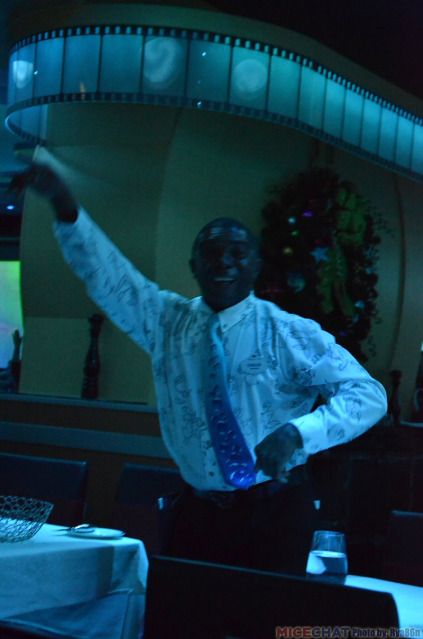 Our incredible servers...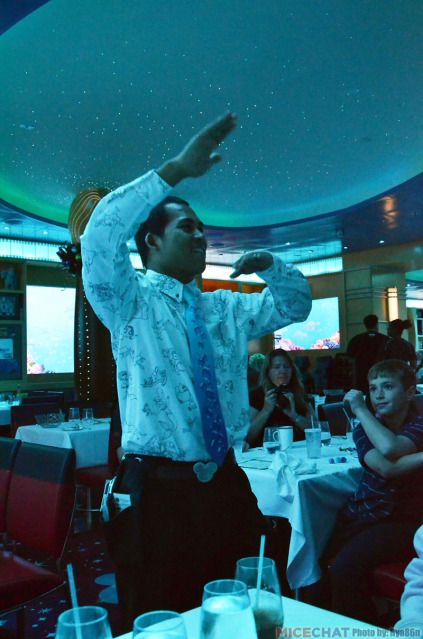 And a group photo! We'll be back to catch up with these guys and tackle another Disney Cruise later this year!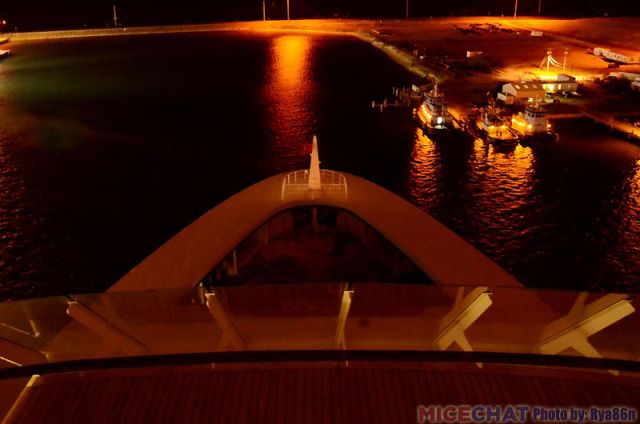 A pre dawn wake up call on our final morning aboard, just to see the Dream pull back into dock at Port Canaveral.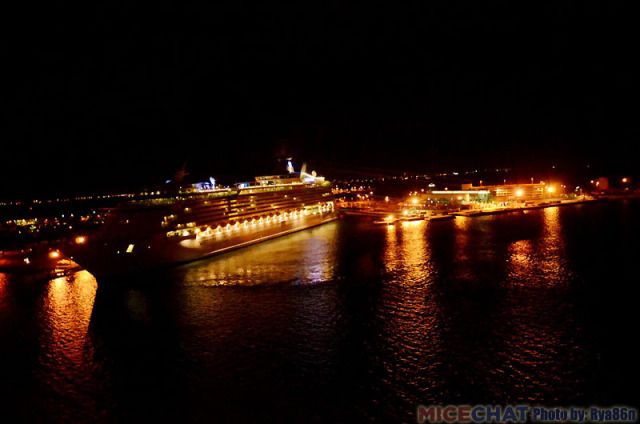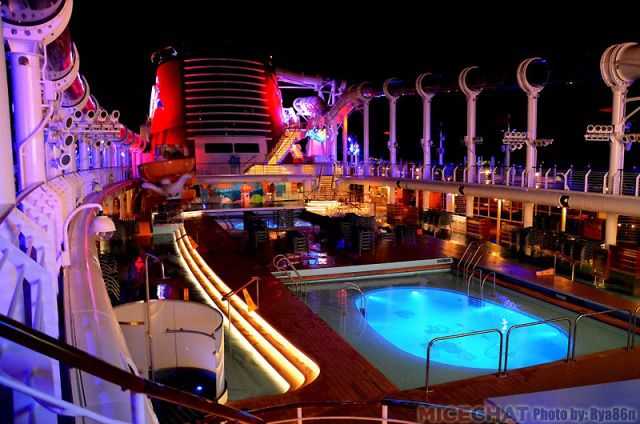 Kudos to the Captain who just managed to three-point-turn, reverse park a 1115ft, 128000 tonne ship!
Unfortunately this incredible display of skill, also ends our Disney Cruise -- but not the honeymoon!
Might we also suggest that you visit these fine MiceAge/MiceChat attractions for even more Disney and theme park fun:
And that brings us to the end of another week. Our photographers have just enough time to reload their cameras before we see you all again next weekend. Thank you to all of our wonderful readers, and as always, a huge thank you to our amazing team of global photographers, spies, and gossips:

Denise Preskitt Mousesteps.com
Alain Littaye Disney and more blog
Hawaii Disney Fan
Scarlett Stahl
Rya86n

Your Editor - Rixter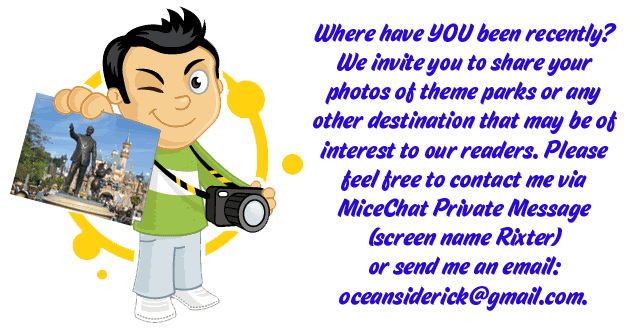 It is readers like you who make MiceChat such a special place.
Don't miss a single one of MiceChat's Featured Blogs (including the Weekend Update). Add our feed to your favorite feed software or site:
Follow us on Twitter