We're off to
SeaWorld San Diego
on Saturday morning to experience
Manta
again. In order to beat the crowds, we'll be hitting the park early to take advantage of the annual passholder exclusive
Manta Mornings
. All summer long they will be opening the park one hour early for passholders.
Everyone knows about the Disney mountains that are rising in
Disney California Adventure
, but did you know that Disney mountains are also rising in
Hong Kong Disneyland
?
Alain Littaye
of the
Disney and more blog
gives us a comprehensive look at the new
Grizzly Trail
area at Mickey's home in Hong Kong.
Scarlett Stahl
spent a luxurious evening rubbing shoulders with the royalty of the animation business at the
Academy of Motion Picture Arts and Science's 18th Marc Davis Celebration of Animation
. Such Disney luminaries as
Alice Davis
,
John Lasseter
and
Richard Sherman
were in attendance. Scarlett's wonderful story and photos makes it almost like being there!
Enjoy your weekend!
The Making of Hong Kong Disneyland's Grizzly Trail
Photos, Video, and more!

We have news about Hong Kong Disneyland's Grizzly Trail, with a series of interesting "making-of" photos and the first video from HKDL! You will find the video below, but first, there is an interesting development concerning the July 13 opening date. Last Monday, something happened which may be a game changer! Hong Kong Ocean Park, HKDL's biggest theme park competitor, has announced that they will open their new area called Polar Adventure on July 13, the same date that HKDL had planned on opening Grizzly Trail! Disney's opening date has not been officially announced yet, so this news of Ocean Park's plans may well alter the actual opening date.
It also will be interesting to learn more about Ocean Park's Polar Adventure. You may remember that HKDL had a similar project called Glacier Bay, a theme that the Hong Kong Government turned down in 2009 when the themes for potential new lands for HKDL were being discussed! As I had written in my July, 2009 article about the Glacier Bay project when we learned it was canceled and was replaced by Toy Story Land, "So, what happened to Glacier Bay and what theming and attractions might have been included?" According to one of my HK correspondents, the Glacier Bay theme involved something like a scientist base. Guests would have taken a train to go the laboratory, which transitions from an outdoor area to an indoor air-controlled area to simulate the North Pole. There were even to be real snow flakes in some scenes when the train passed by. The U-shape TSP half-pipe coaster would still be there, but would be themed with a snow skiing theme. The base of the mountain was huge and it would have been the very first indoor land that Disney has ever built in a Disney theme park. It seems that one reason why the Hong Kong government vetoed this theme was that Ocean Park, Hong Kong's first theme park, planned to use a similar theme with a roller coaster.
Here is the HKDL video, followed by the photos of the creation of Grizzly Trail.
First, are two interesting renderings with one showing the town of Grizzly Gulch and the other, the Grizzly Trail map which probably will be inside HKDL guide maps when the land opens.
Imagineers at work on the new land.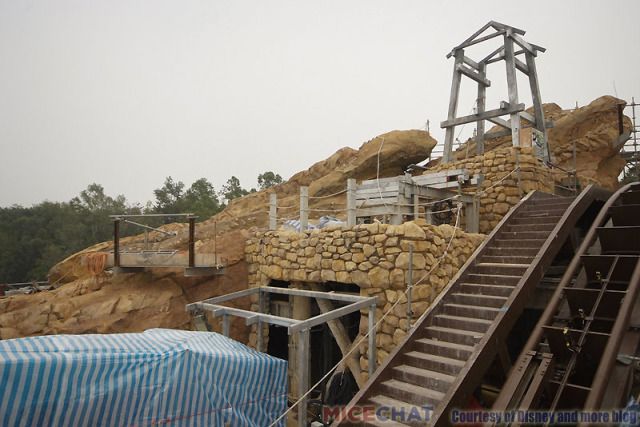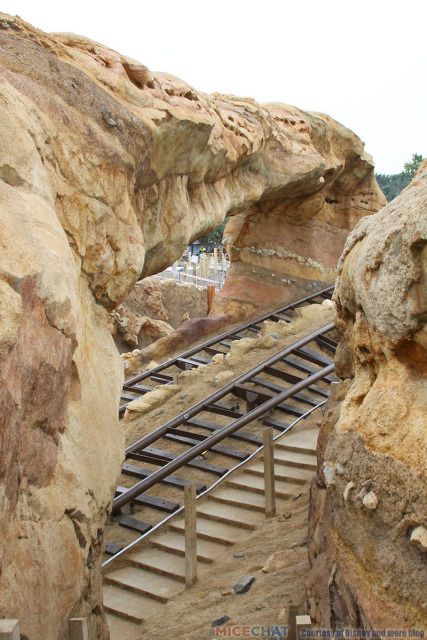 Another series of pictures which were recently shot by different HK media during the site visit event.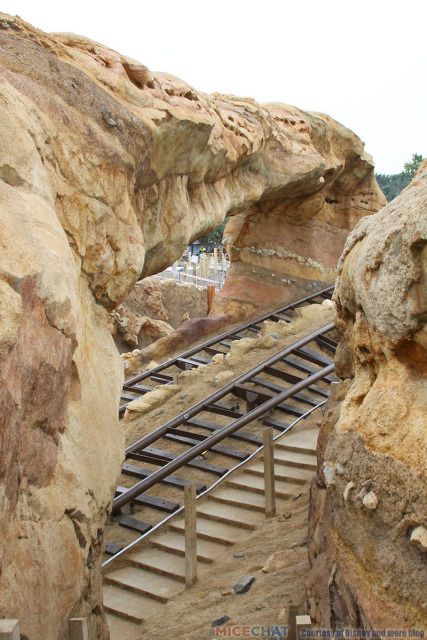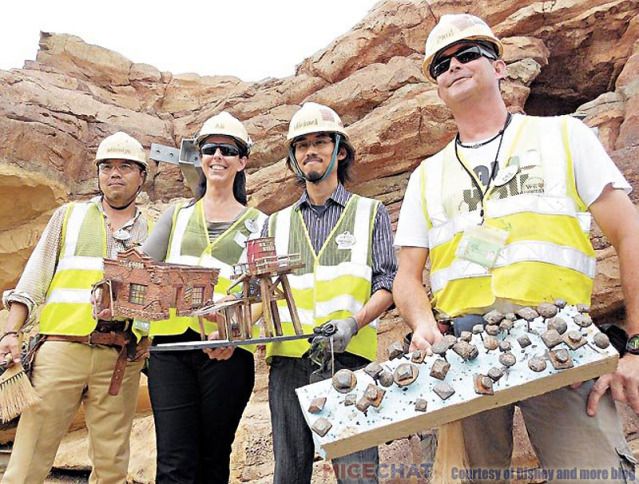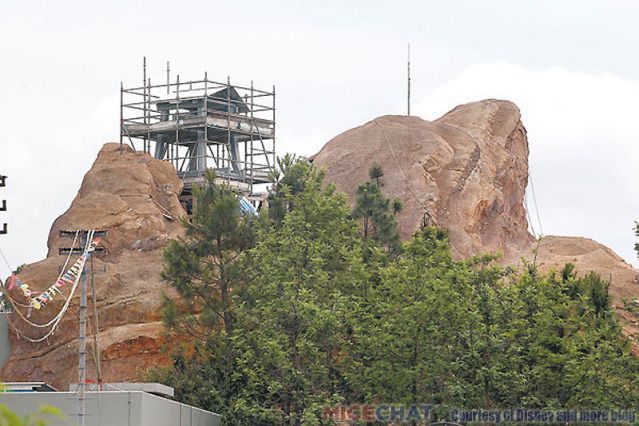 Grizzly Trail will also have geysers and the Imagineers have made sure that the water at the bottom of the geyser will look just as it does in nature. Looking at the pics below, you can see that they have painted the rock with different colors so when the water is inside the holes it will look like it does in old geological geyser sites.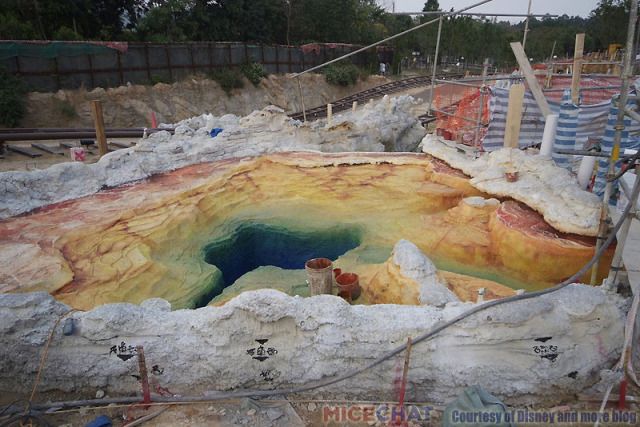 Grizzly Peak Storyline:
For HKDL fans, and all Disney fans, it's good news, as not only will Grizzly Trail add a brand new land, a kind of Frontierland, which was missing until now at the Hong Kong park, but also a very different one and with a new and unique coaster attraction. I can't wait to discover the town of Grizzly Gulch!
So, how will it look? Well, these last few months, you've seen plenty of pictures and videos of the work at Grizzly Trail but i thought that it might be a good time to have a second look at the artwork which was unveiled at the D23 Expo in 2009. WDI renderings are generally are a good indication of what the final result will be. Below is my article from 2009, with wonderful pictures shot by Andy Castro, to whom I again extend my thanks!
One more thing . . . who plans on being at HKDL for Grizzly Trail's Grand Opening?
Grizzly Trail will be one of the three new lands of HKDL and with the Grizzly Peak attraction and the addition of the town of Grizzly Gulch, it will be an interesting new version of a "Frontierland" theme. Before I go further, i want to warn you that there will be major spoilers throughout the article. If you don't want to be exposed to the storyline, you might not want to read this article! Also, if you click on the pictures, you can view them in a larger format and explore the details more easily.
So, let's get started with the artwork and photos of the Grizzly Trail models. I have the storyline of the Grizzly Peak ride and I believe also the artwork below in the correct order of the different ride scenes.
This first image shows the Grizzly Peak entrance. Note that the whole area has pine trees all around. As you enter, you'll go into the mine company office and the next room will convince you that the mine company is still in operation.
Once you get aboard the mine vehicles, you will first turn underground to explore the mine. Then you're supposed to climb up the Grizzly Mountain through tunnel 8 (the number means "wealth" in Cantonese), but a bear has moved the track switch lever to scratch his back, switching your mine cars to tunnel 4 ( which means "dead" in Cantonese )!
Tunnel 4 is actually the home of a bear family and it would appear that you are not a welcome visitor. Fortunately, before you get attacked, you escape!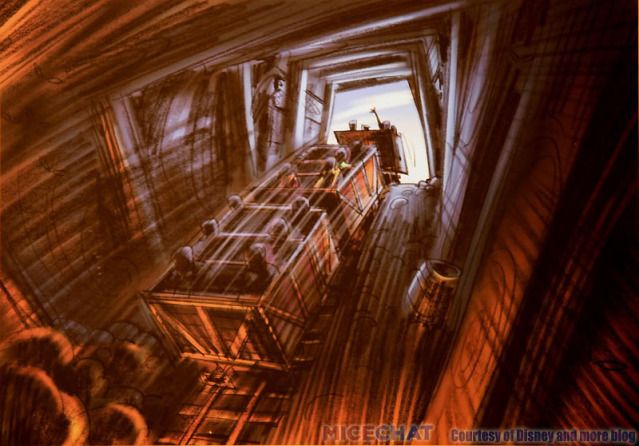 Here are more sketches done for that scene.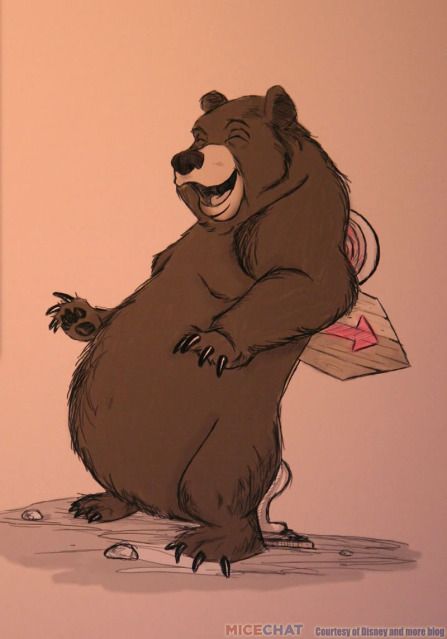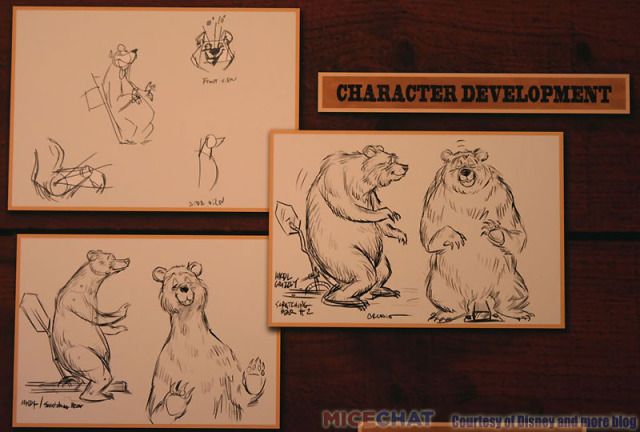 This is a small maquette of that scene.
Also of interest is the small model of the scene. Apparently, when the train turns left in tunnel 4, it goes down at high speed.
Here is a model of one of the mine vehicles.
Getting back to the story line, your journey continues by climbing the to the heights of Grizzly Mountain. In the image below you see a steam machine which pulls the mine cars up to hill via a wire cable.
But the wire breaks before you reach the peak, so all the mine cars fall backward.
Until you enter a new mine tunnel, which is ready to explode! Note all the dynamite at the entrance - it will be important for what will come next.
Also in this tunnel, are a mother bear and her baby bear trying to steal the fish from the mine workers. In that attempt, the baby presses the TNT detonator, accidentally.
The mine cars will then be literally catapulted out of another tunnel thanks to the supposed dynamite blast.
As we will see below there will be lot of little geysers in the Grizzly Trail area, and the cars will go through a geyser area.
Your mine car safely back at the station, you will see the mother bear and the baby enjoying their dinner. They successfully stole all the fish in the mine. Your ride is complete!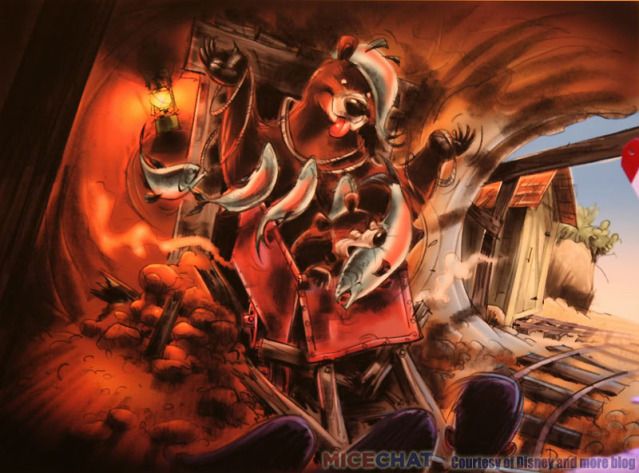 Here are more sketches related to the funny "accidental dynamite" sequence. Talking about bears, these one will be obviously audio-animatronics and I'm curious to know if WDI Imagineers will use the AA skeletons from the former Disneyland Country Bear Jamboree bears.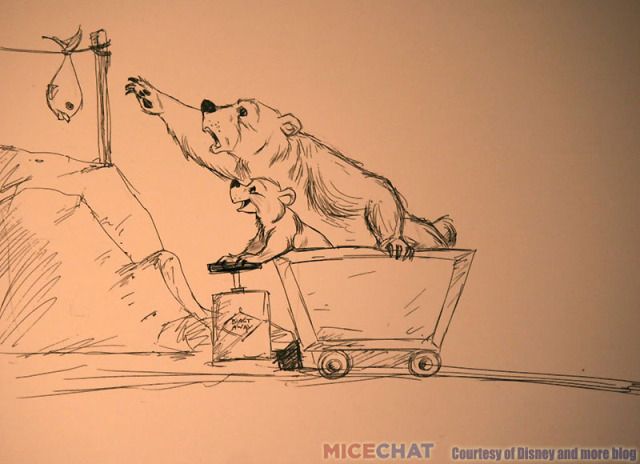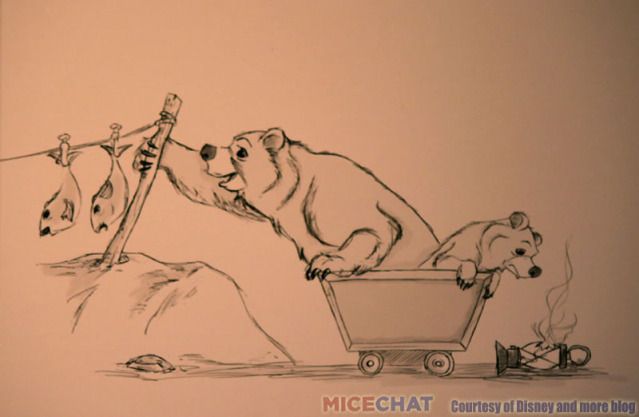 This next rendering includes different elements of the bear's scenes all in one artwork.
Next up, the Grizzly Peak model with the mine cars going up the first lift.
And this one shows, I believe, the part of the ride with the two tunnels and dynamite blast.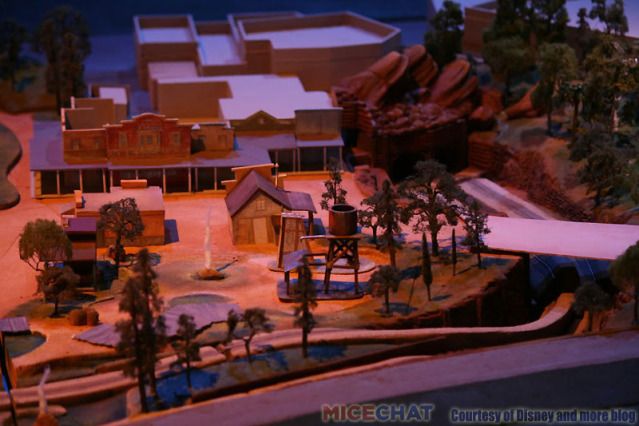 But there will be more to Grizzly Trail than the Grizzly Peak ride, as the small town of Grizzly Gulch is constructed. You'll see details of each building and learn their own stories and place in the mine town's history. All this will have a Frontierland theme, and for the first time in all Frontierland's history, this one will be full of fun water splash elements.
Most of them will be interactive.
There is also a little geyser area.
We'll end with more pictures of the model.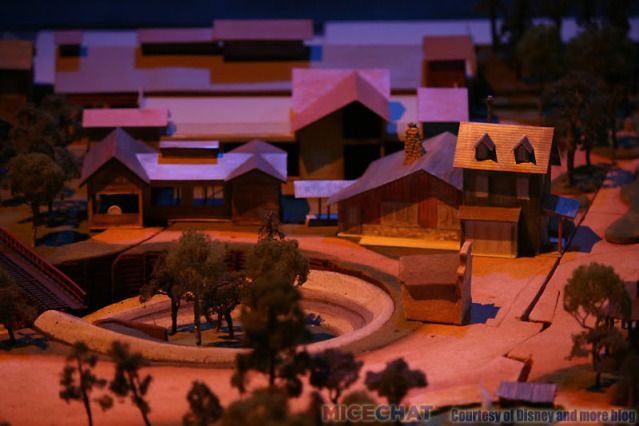 All artwork: copyright Disney - Disney Enterprises.
Now ready for immediate shipping, The Disneyland Paris "From Sketch to Reality book" will tell you all about the creation of the park with 320 pages and 750 beautiful pictures and WDI renderings! Reviews from all those who have already received the book are "over the top" so, place your order now for a gorgeous collector's edition copy while you can! You can pick up one of the last remaining copies in the MiceChat Store today!
Share your vacation photos with the Weekend Update
THE ACADEMY OF MOTION PICTURE ARTS AND SCIENCES
Presents
THE DEVELOPMENT OF THE DIGITAL ANIMATOR
18th in the Marc Davis Celebration of Animation Series
by
Scarlett Stahl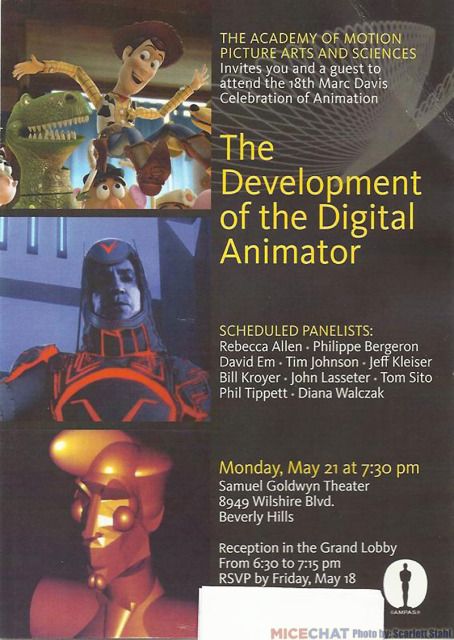 Monday, May 21, 2012 at the Academy of Motion Picture Arts and Sciences in Beverly Hills, Ca., invited guests of the hostess, Alice Davis, began arriving for the private reception at 6:30 p.m. in the main lobby downstairs. The event that evening was the 18th Marc Davis Celebration of Animation, named for the famous animator husband of hostess and widow, Alice Davis, who is famous in her own right. Earlier this month Alice Davis was awarded a window next to her husband's on Main Street at Disneyland as Seamstress to the Stars, having co-created the beautiful costumes for the Small World figures along with Mary Blair, as well as the pirates' costumes in Pirates of the Caribbean, as well as other attractions.

Scarlett Stahl, Alice Davis and June Foray.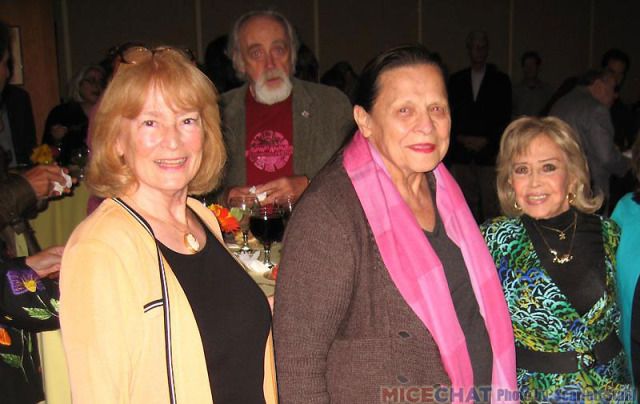 The guests mingled with friends and co-workers, while outside the building crowds lined up for tickets to the Animation panel event later that evening. There was a hosted bar with both alcoholic and non alcoholic beverages as well as different buffet stations loaded with delicacies, such as different salads, miniature hamburgers, and several unidentifiable but flavorful dishes. There was a separate table laden with various desserts. Most important was the sparkling conversations that were overheard from the various groups of brilliant and talented individuals within the animation industry. Hostess Alice Davis enjoyed the compliments and congratulations of guests regarding her recent honor with good friend and First Lady of Animation Voices, June Foray. Spotted amongst the crowd were famous composer Richard Sherman with his beautiful wife, Elizabeth, while Moderator of the Panel, Tom Sito posed for a picture with Disney/Pixar head John Lasseter. Animation Author and Critic Jerry Beck posed with ASIFA-Hollywood Board member David Derks and talented composer Fabrizio Mancinelli, while discussing plans for the ASIFA- Hollywood table at Comi-Con later in the summer.
Fabrizio Mancinelli, Jerry Beck and David Derks.
L-R Philippe Bergeron, David Emms, Rebecca Allen, Tim Johnson, Jeff Kleiser, Diana Walzshack, Alice Davis, Bill Kroyer, John Lasseter, Tom Sito.
At 7:30 p.m. the bell rang, signaling that it was time for the guest to enter the theatre upstairs, which was cordoned off for the invited guests. Others, who had been fortunate enough to be able to purchase tickets for the panel event, filled in the rest of the theatre. Tom Sito was the moderator of the animation panels, which included some of the pioneers in digital animation. Tom is an animator and historian, professor of animation at USC, as well as president emeritus of the Animation Guild. He is also vice president of ASIFA-Hollywood and is a member of the Academy of Motion Pictures Arts and Sciences. In addition to all of the above, Tom is an author, who is completing the first ever history of computer animation: The CG Story: From MIT to Andy's Room for MIT Press. Needless to say Tom more than lived up to his credentials as he skillfully moderated the panel. The event began with a film showing highlights of fifty years of film, starting with Vertigo, which had moving graphics in the title and ending with the completely animated films of Toy Story III and How to Train Your Dragon. This was followed by the first panel discussion.
June Foray and Linda Swisher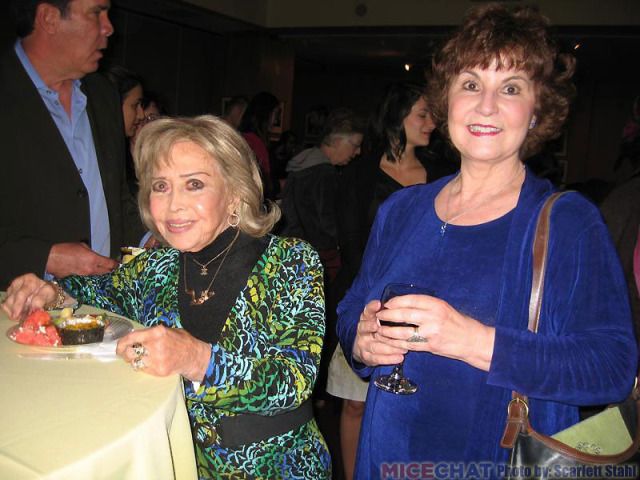 His first panel included the talented artists following:
Rebecca Allen
is a media artist, designer and director whose work is featured in the permanent collections of museums in New York and Paris. She is currently professor of Design|Media Arts at UCLA.
Philippe Bergeron
is a CG animator and president of PaintScaping.com. He co-directed and animated one of the first CG characters in the short "Tony de Peltrie." He also worked at Digital Productions and Whitney/Demos Productions and is also an actor.
David Em
began producing digital art in the 1970s and is a veteran of the Xerox Palo Alto Research Center, NASA's Jet Propulsion Laboratory and Apple Computer's Advanced Technology Group. He is the first digital artist to have his papers collected and preserved by the Smithsonian Institution's Archives of American Art.

The next two panelists are a husband and wife team:
Jeff Kleiser
is the co-founder of Digital Effects, New York's first CG house as well as co-founder of Kleiser-Walczak Construction Company and Synthespian Studios.
Diana Walczak
is a CG animator and director who co-founded Kleiser-Walczak Construction Company and Synthespian Studios.
David Em and Rebecca Allen began in the arts field, while the husband and wife team of Jeff Kleiser and Diana Walczak began in the science field. Ms. Allen paid homage to the hostess of the event (Alice Davis) by reminding the audience that Ms. Davis had wanted to be an animator but the field was restricted to men. Ms. Allen found that was still true when she wanted to become an animator. However the field of computer animation made it possible for her to realize her dream.
The Program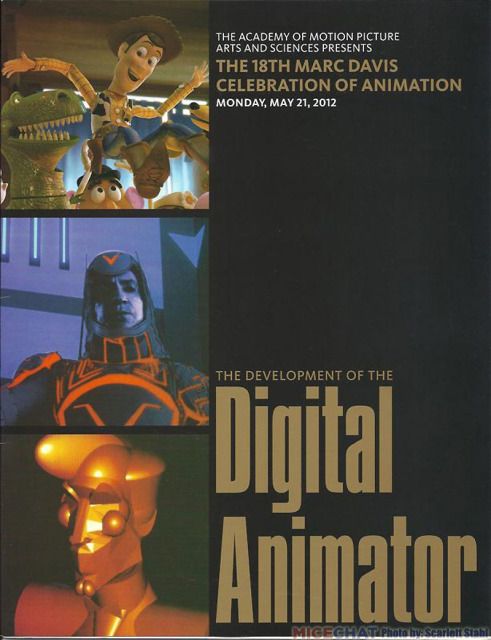 Richard and Elizabeth Sherman
The panel had a lively discussion of the development of computer-generated motion picture animation. In the final analysis they agreed that animators are artists and designers, who combine artistry with engineering or science to bring us computer generated films. It appears the public thinks that Toy Story was a brand new technique in animation but it has taken time and effort to reach the level that it is today. Before the films of the 90's, few considered computer generated film possible but now it seems impossible not to use computers.
The second illustrious panelists are as follows:
Tim Johnson
is a director and animator. At Pacific Data Images in the 1980s, he animated the first digital Pillsbury Doughboy.
Bill Kroyer
is an animator and director whose credits include "Tron," "FernGully: The Last Rainforest" and "Scooby-Doo." He received an Academy Award nomination for his 1988 short film "Technological Threat." He is Director of Digital Arts at the Dodge College of Film and Media Arts at Chapman University.
John Lasseter
is Chief Creative Officer of Walt Disney Feature Animation and Pixar Studios. His directing credits include Pixar's first short, the Academy Award-winning "Luxo Jr.," and the feature films "Toy Story," "A Bug's Life," "Toy Story 2," "Cars" and "Cars 2."
Phil Tippett
is an Academy Award-winning visual effects animation director whose credits include "Star Wars," "Indiana Jones and the Temple of Doom," "Jurassic Park," "The Spiderwick Chronicles" and several of the films in the "Twilight Saga."
John Lasseter and Tom Sito
Tom Sito asked the group to consider the moment of epiphany for them re computer animation. John Lasseter said when he was working on Mickey's Christmas Carol, he was invited by Bill Kroyer and Jerry Rees to see the first dailies from Tron on an ancient movieola, which was used to make Snow White. That was the moment for him. He considers computers to be tools like a pencil and paper, while it is the artist who makes the film and the story is foremost in importance, as it always has been. He commented that realism had been perfected and it was now time to go back to the magical and mystical scenes like in Bambi. He said that the computer films today are more like photographs and now should become like paintings.
Tim Johnson was slow to accept computer animation but liked the instant feedback. Bill Kroyer talked about becoming so intent on the work that 30 hours might pass before they realized they hadn't eaten or slept and then would go out to get some donuts and coffee. Tom Sito (moderator) said "It's now 50 years since the first software was created for a computer to draw a line instead of just numbers. It's amazing to see how far we've come, from a glowing white line on a 4 inch square computer screen, to 3D blockbusters like Avatar. We felt it was time to start celebrating the pioneers of this amazing development. The first artists saw something where no one else could, that a computer could be used to create art."
With so many talented and versatile panelists, it would be impossible to quote or even mention everything that was said during the two and a half hour event. Therefore only parts of it can be shown as an overview of the event. After that discussion, the original panelists were called back to answer questions from the audience. It was an interesting and enlightening evening, with only a small discussion of technical details, which only the people within the industry would be able to understand.
Might we also suggest that you visit these fine MiceAge/MiceChat attractions for even more Disney and theme park fun:
And that brings us to the end of another week. Our photographers have just enough time to reload their cameras before we see you all again next weekend. Thank you to all of our wonderful readers, and as always, a huge thank you to our amazing team of global photographers, spies, and gossips:

Denise Preskitt Mousesteps.com
Alain Littaye Disney and more blog
Scarlett Stahl

Your Editor - Rixter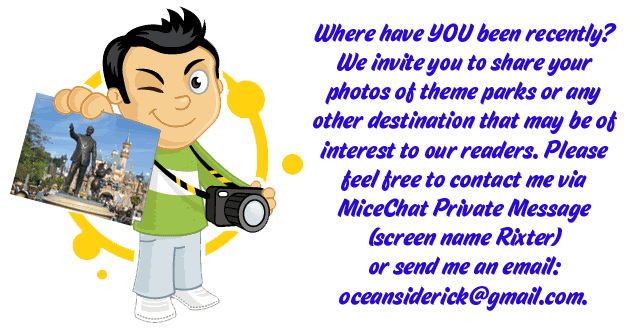 It is readers like you who make MiceChat such a special place.
Don't miss a single one of MiceChat's Featured Blogs (including the Weekend Update). Add our feed to your favorite feed software or site:
Follow us on Twitter