I collect Disneyland souvenirs, mostly ceramic, porcelain and glass. I found these hanging plates; one at a thrift shop and one on ebay. I don't really know anything about them, only that I have rarely seen one up at auction: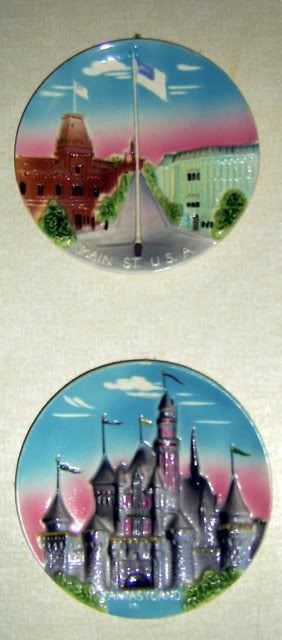 Of course, I'd love to get the other three plates; Adventureland, Frontierland and Tomorrowland but they sure are hard to find. If anyone has one, I'd love to talk about buying it.
Also, these strange pictures:
My Mother-in-Law gave them to me as a gift almost 30 years ago. I once saw the one of Mickey in a collectible shop and it had a $400 price tag on it! I know!!! I can't for the life of me imagine why that would be. Is there something about these that I should know? I also have one of Tinkerbell on the laser background.
Can you help me identify any of these? Thank you very much