Re: Share your Duffy Photos
So I got an unexpected few days off work this week due to plumbing issues in our building. A spur of the moment trip to WDW yesterday was in order! We spent the entire day at the Magic Kingdom.
When we got to the park, the
Move It! Shake It! Celebrate It!
street party/parade was just coming out of the Main Street parade gate, so we followed it up to the hub. I've seen this so many times I know the dance pretty much by heart, so I was doing it along with them as I followed along. People probably thought I was a CM on my day off or something. :lol: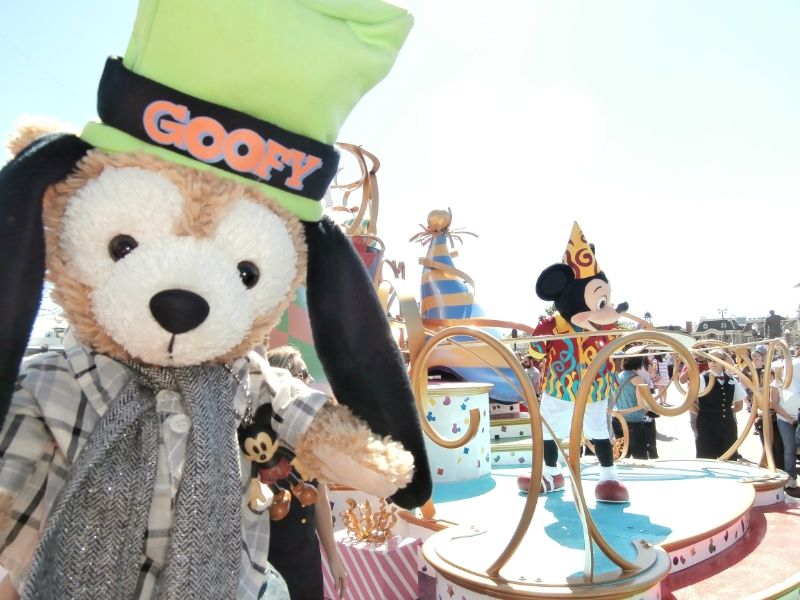 Really... they should just let us move in the castle.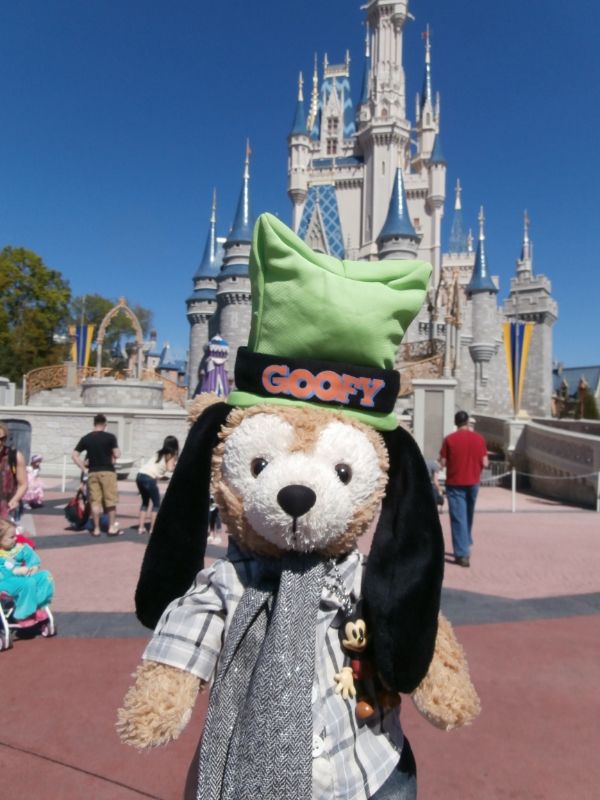 We stopped at Sleepy Hollow in Liberty Square for lunch. Love those waffle sandwiches! Got the sweet & spicy chicken one this time. So good, but spicy!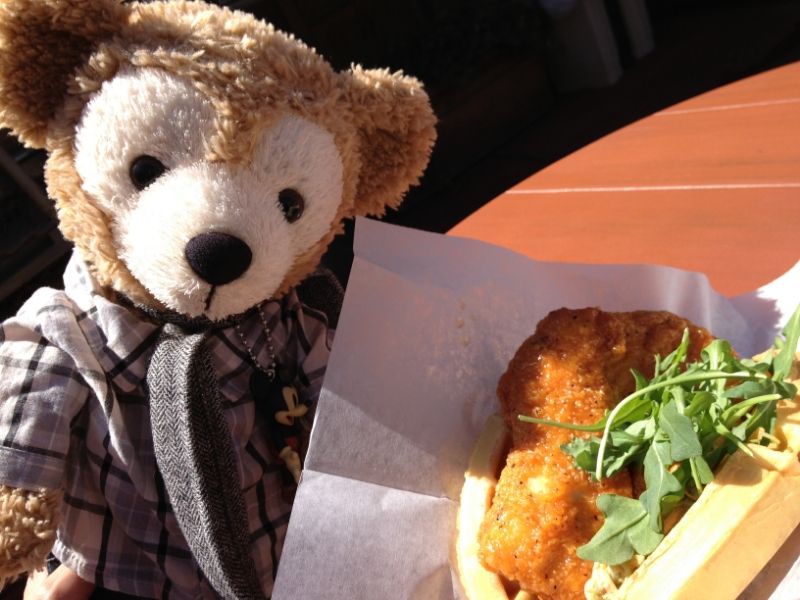 NOMMY!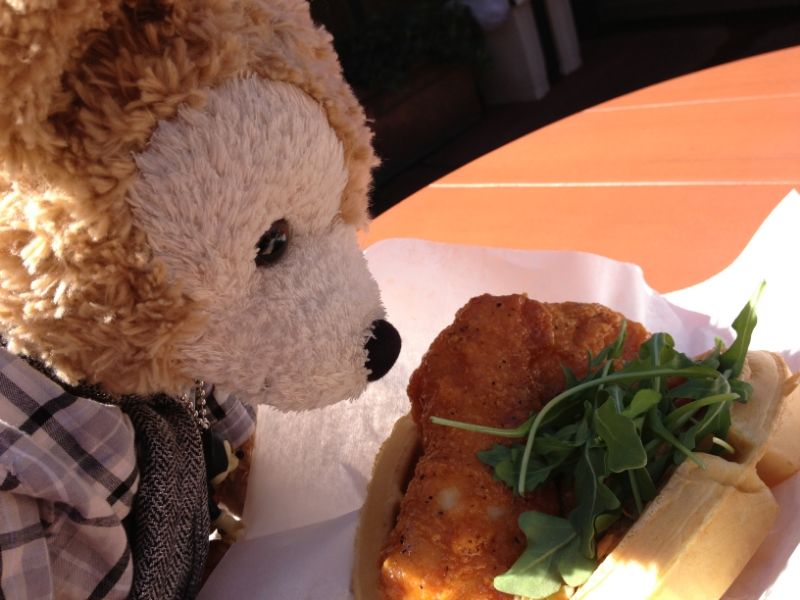 We did a Sorcerer's of the Magic Kingdom quest, then had some fun at the Frontierland Shootin' Arcade.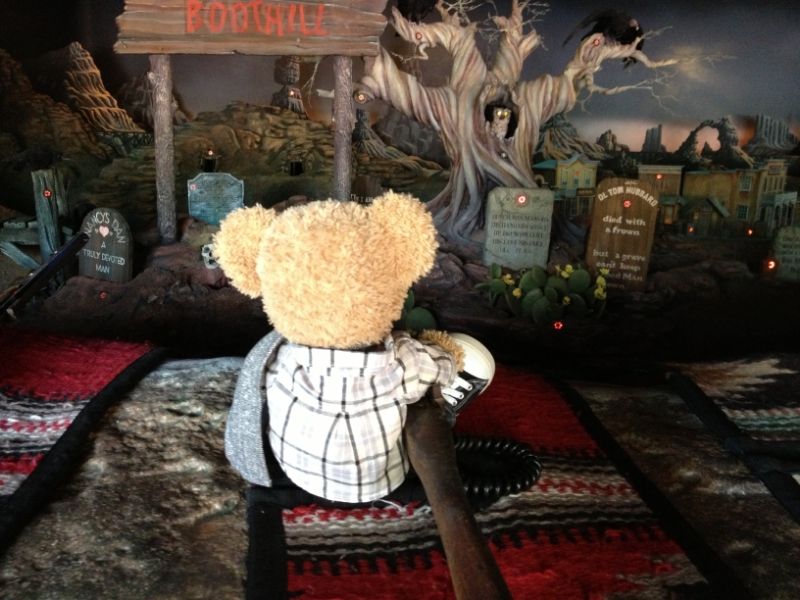 Duffy says "We reserve the right to arm bears!"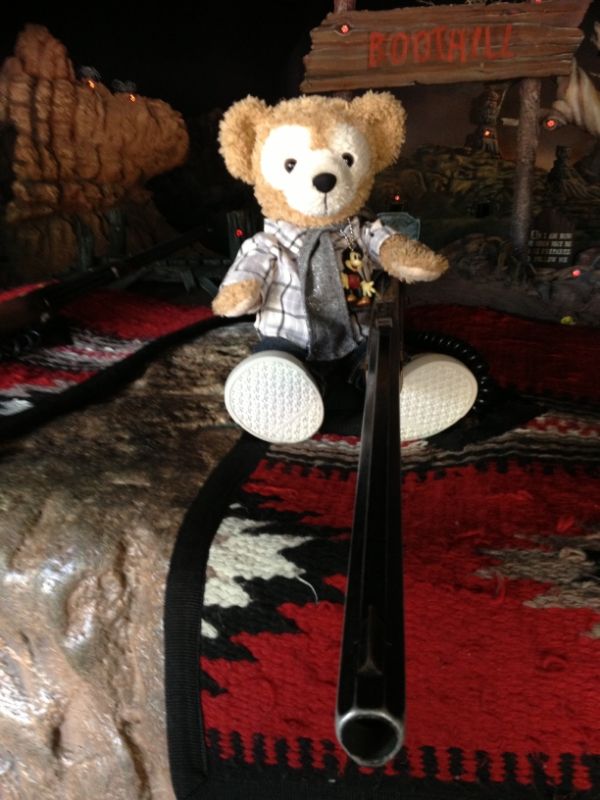 We then took a raft over to Tom Sawyer Island. I hadn't be there in years and it was Duffy's first visit!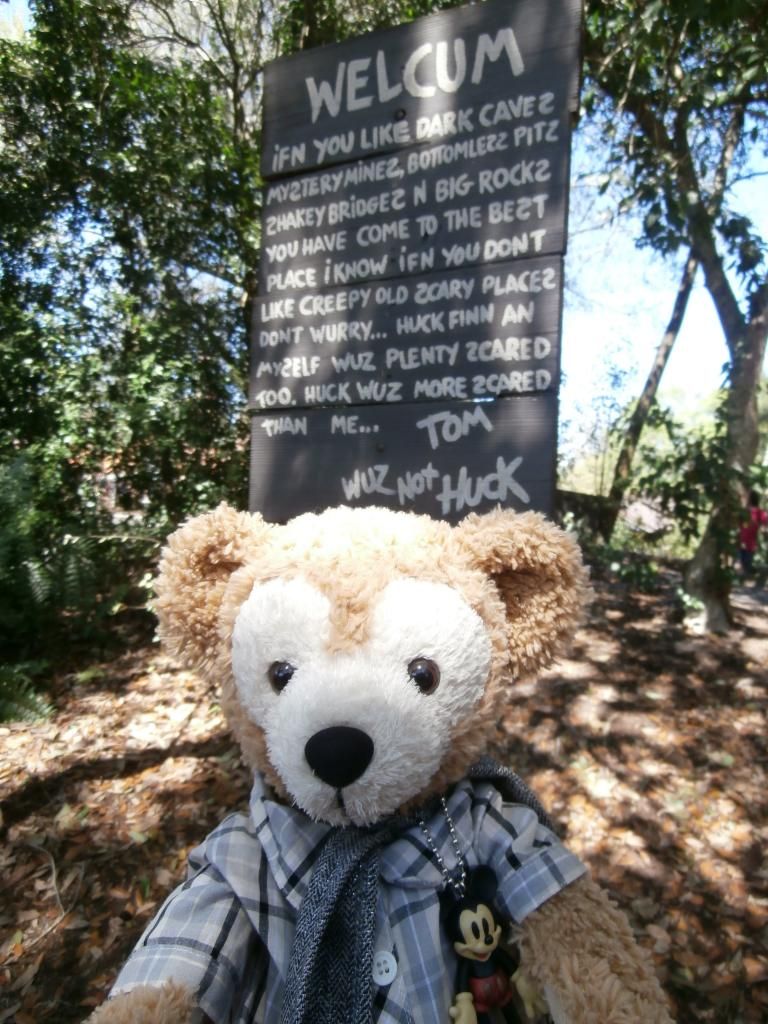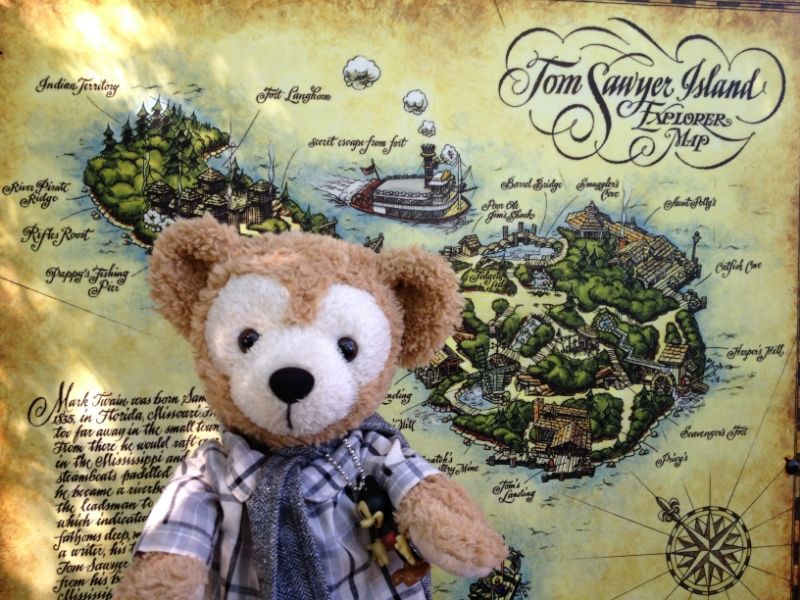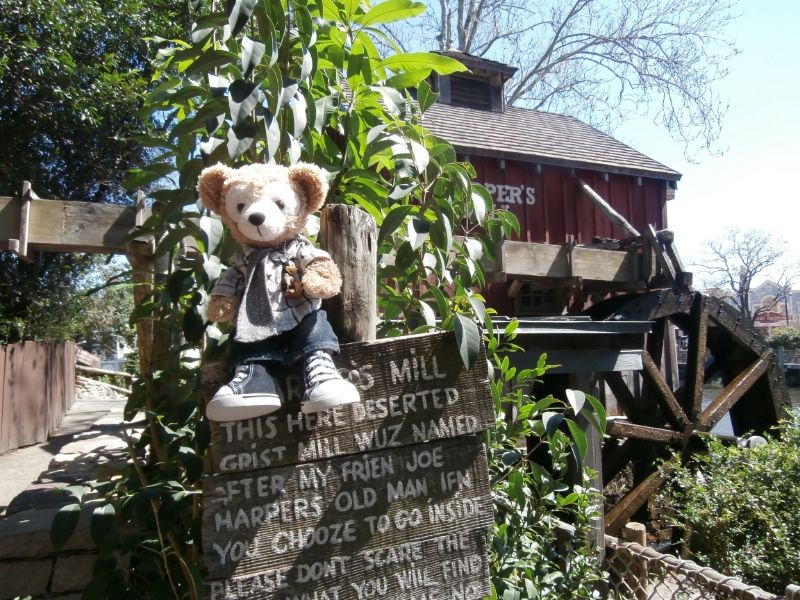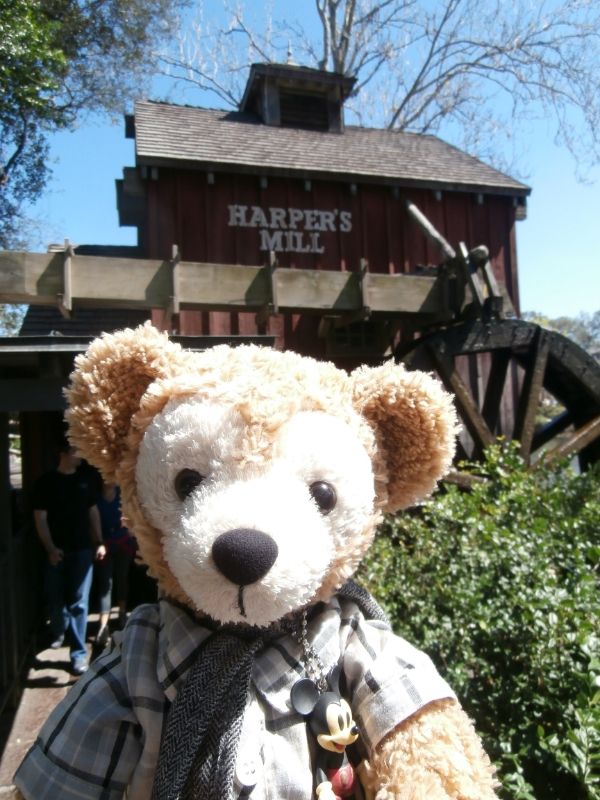 Inside Harper's Mill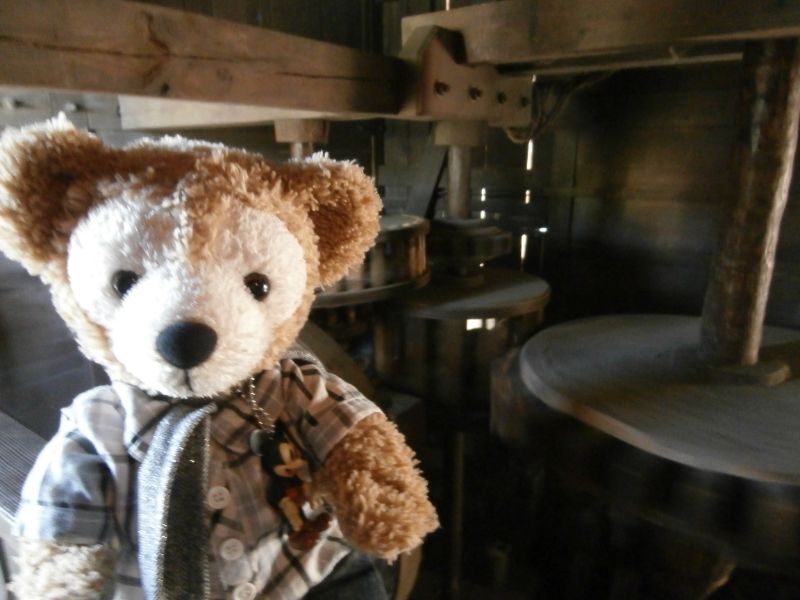 Spooky House!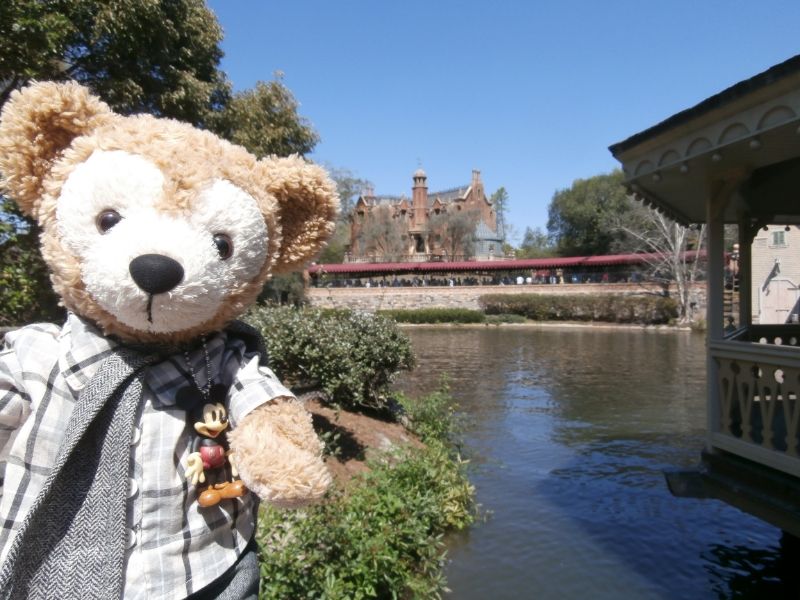 Duffy was hungry again already (bottomless pit bear!), but Aunt Polly's was shut tight (only a couple soda venting machines set up outside). Duffy was persistent though and started banging on the closed service window.
"Hello! I want a ham sandwich please! Open up! Hungry bear here! I demand service!"
Duffy finally gave up and we went to have fun on the barrel bridge.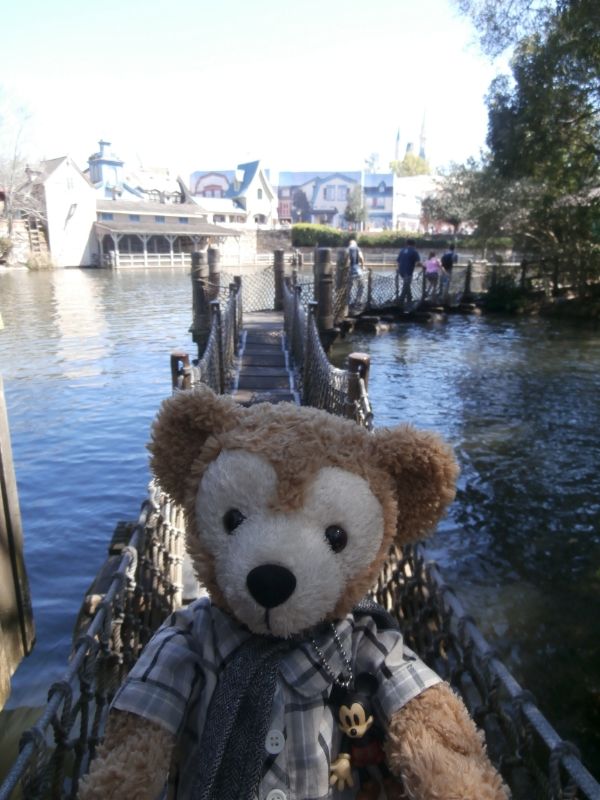 The steam boat is coming! Duffy waved at everyone on the boat. Some guest even started taking photos of Duffy waving!
View of Big Thunder from the Island.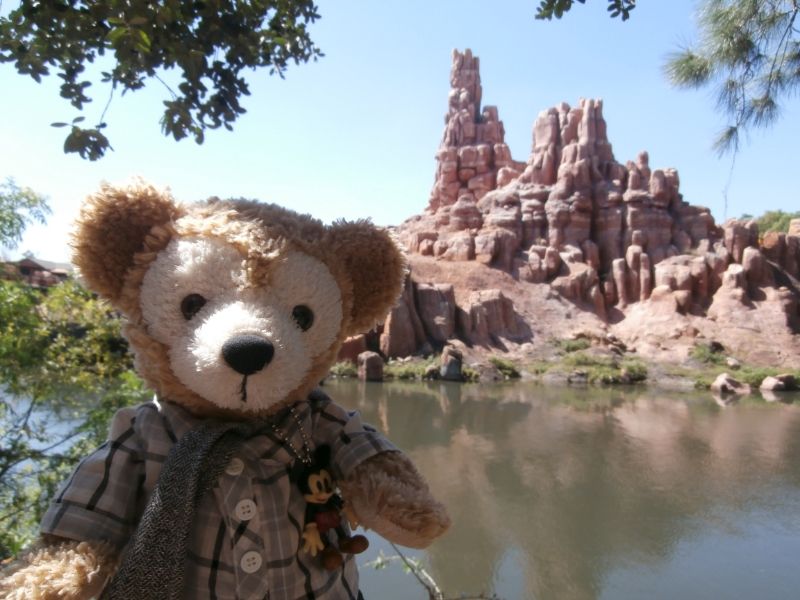 We then went to explore Fort Langhorn at the end of the island.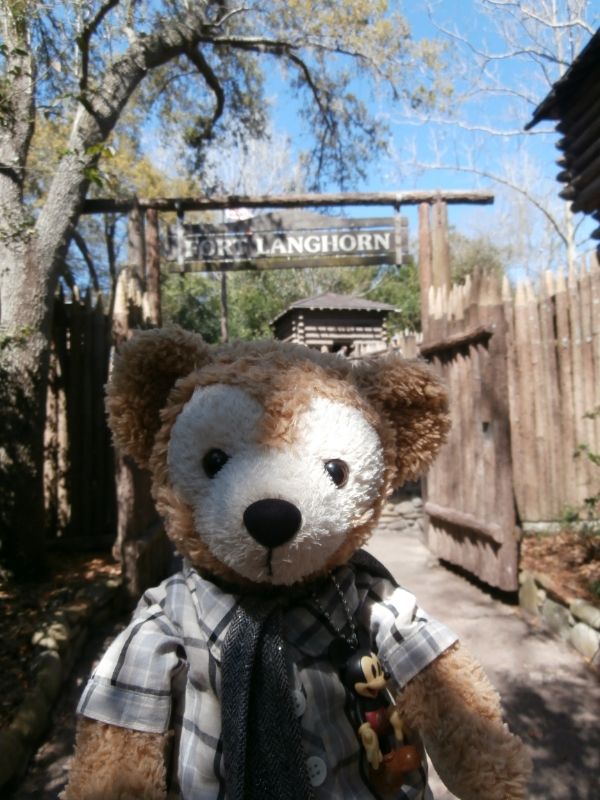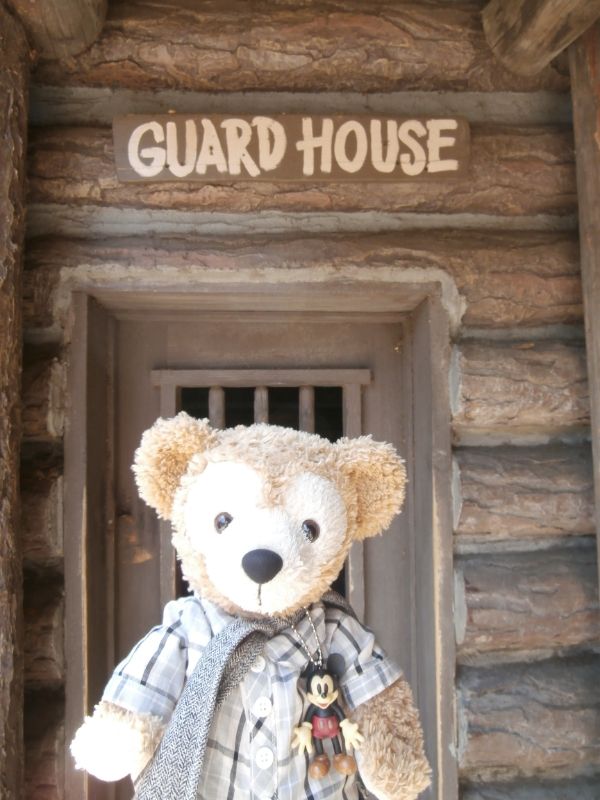 Duffy had a blast playing in the riffle roost!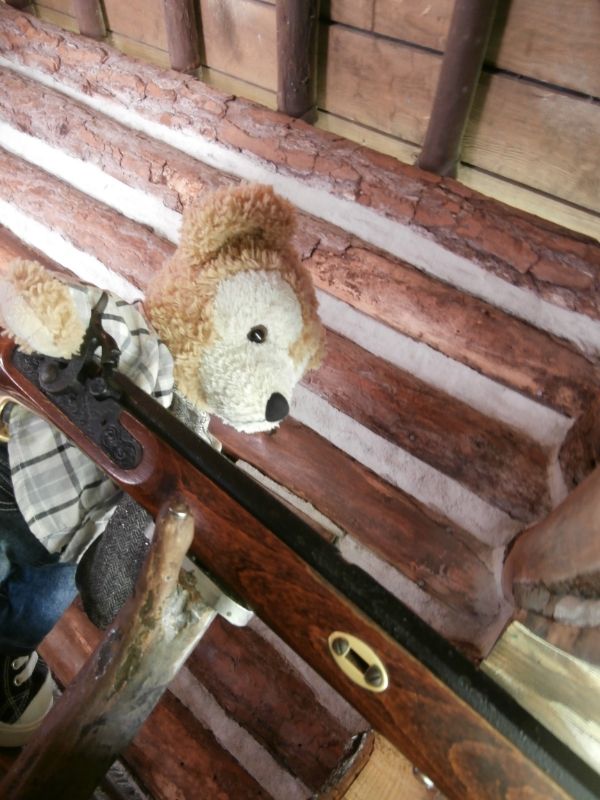 We then explored Injun Joe's cave. It was kind of spooky in there (and we were the only ones in there)... and we almost got lost! We came to the bridge in there and I was all "NO! NO! NO! NO!" It was totally freaked out but made it across. :lol: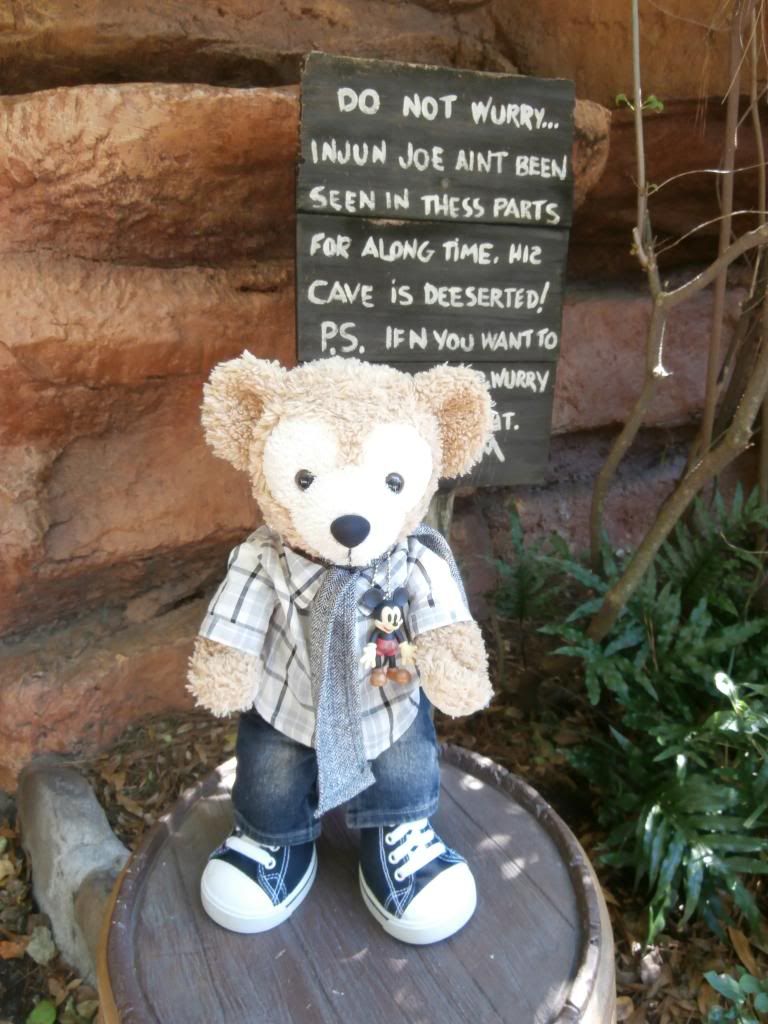 On the raft back, an older couple was asking me about Duffy and I told them the story, how popular he is in Japan and that you can buy him there at the park. They perked up and thanked me... hope they bought a Duffy later!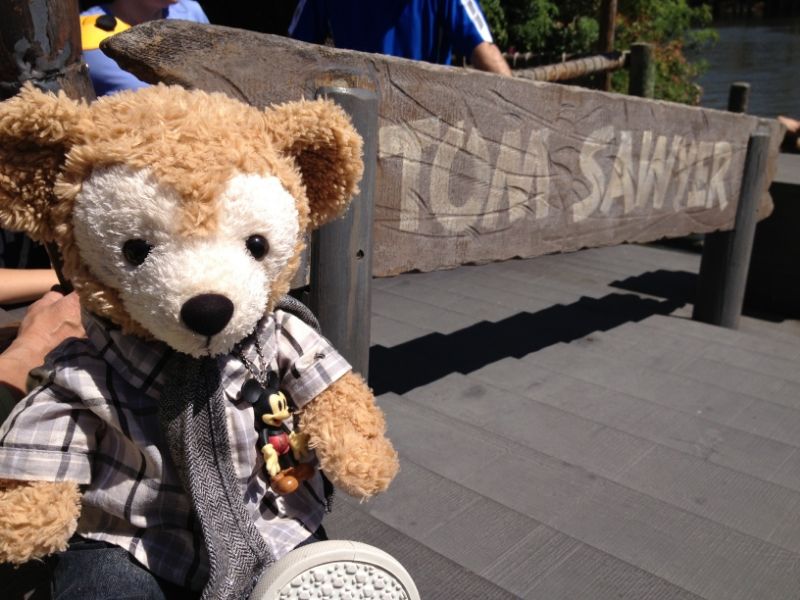 We then went to see Woody and Jessie. I showed them the photo of Duffy in his Woody costume on his horsey and they LOVED it! Their character attendant ran over to look as well and was all, "I think I just died of cute overload!"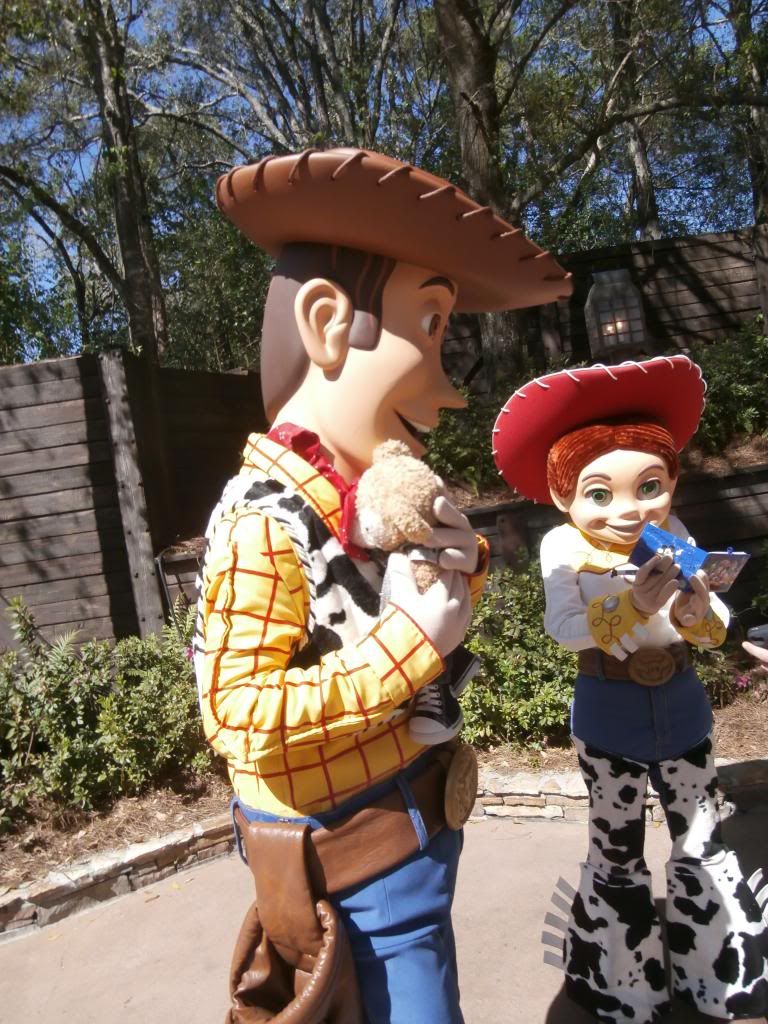 From there, we took the train from Frontierland to Fantasyland.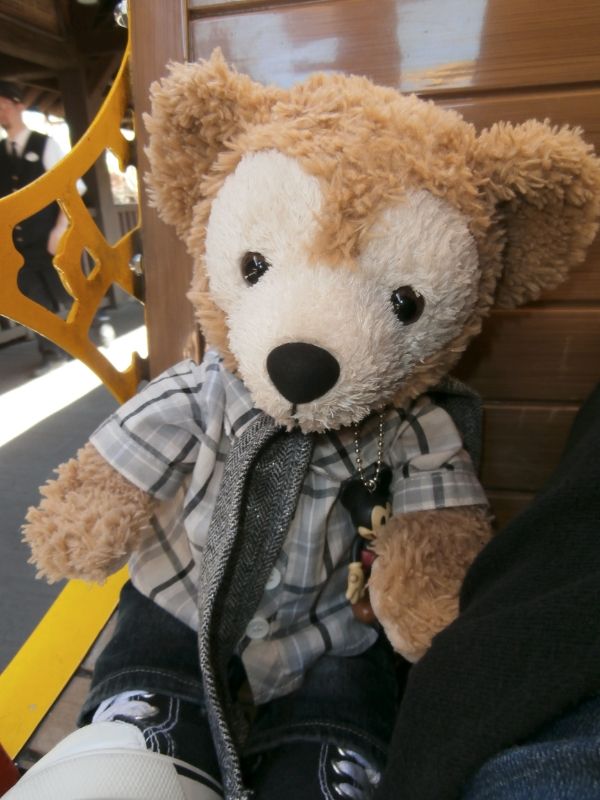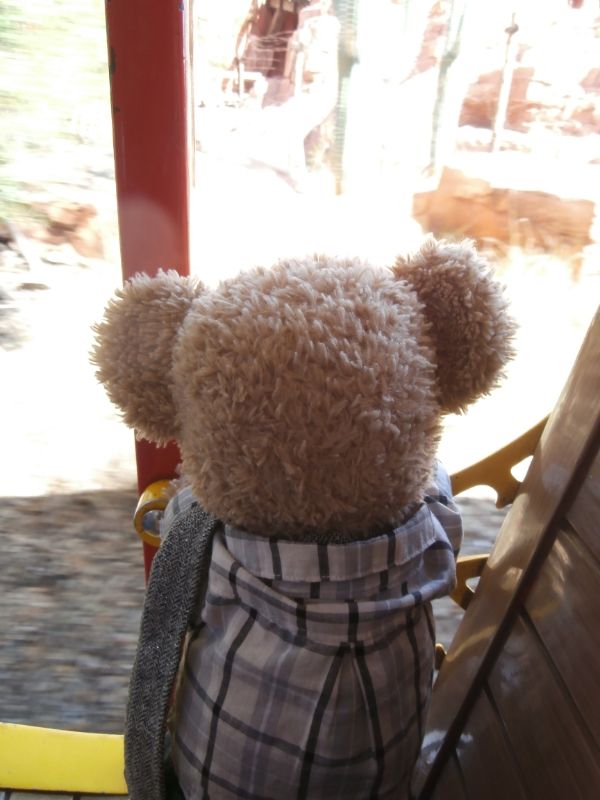 Hanging out at the Fantasyland station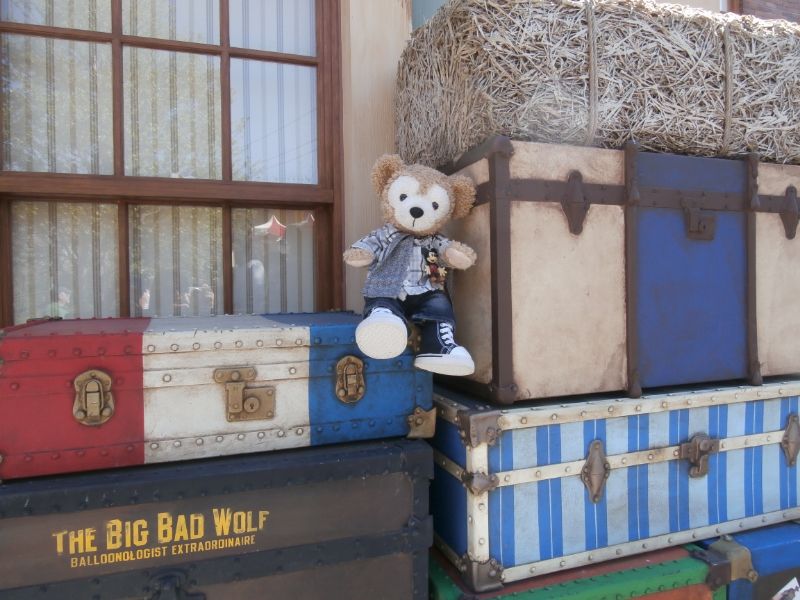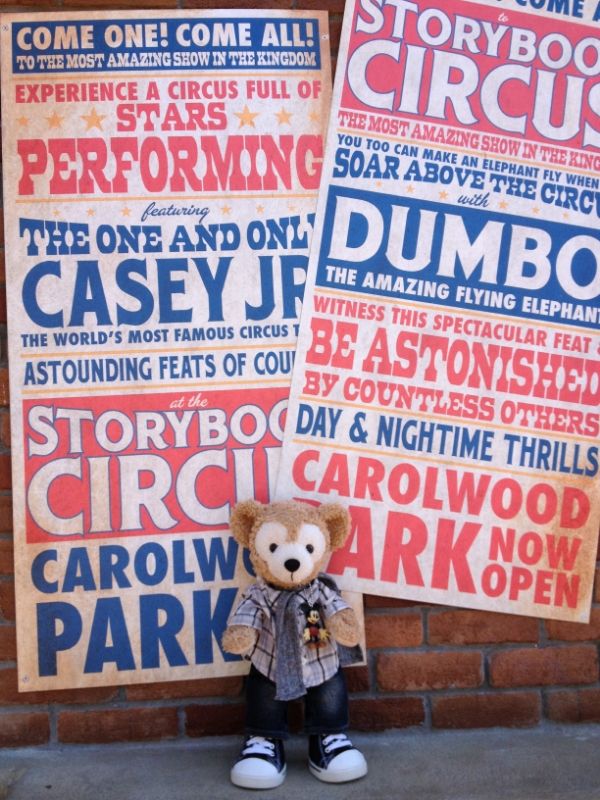 We then went over by the teacups and saw the White Rabbit and got his autograph.
Duffy then wanted to try pulling the sword out of the stone.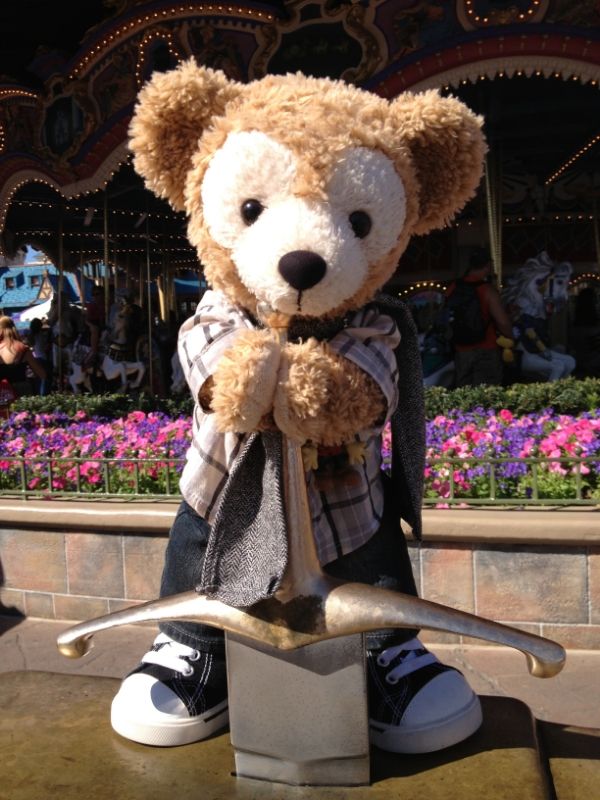 He tried...
And tried...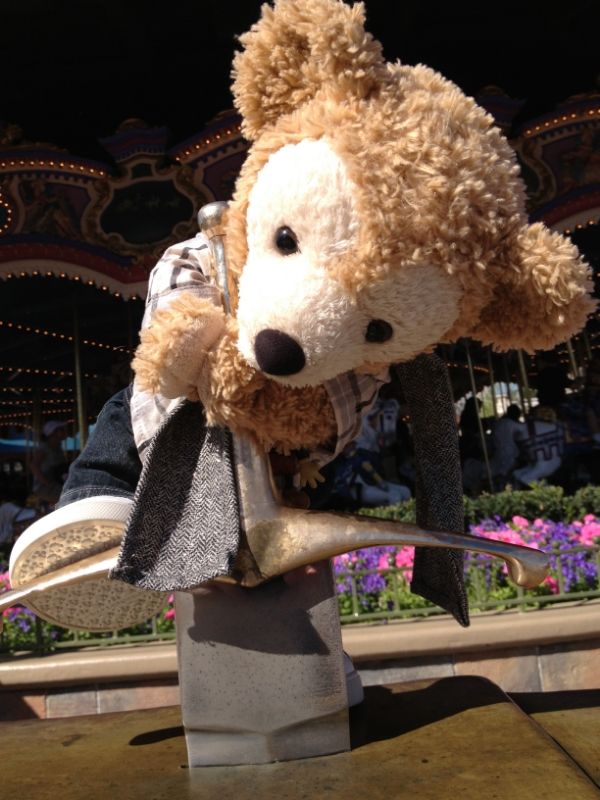 And tried!
Sadly, it wouldn't budge. So we went on the carousel to cheer him up. He got his own horse again! I took video but I still need to upload to YouTube. I'll post a link here once I do that.
We went on Mermaid a couple times (had a posted 20 minute wait but it was maybe 10 minutes at the most). The ride stopped for a couple minutes in the "Under the Sea" scene, so we took this quick photo.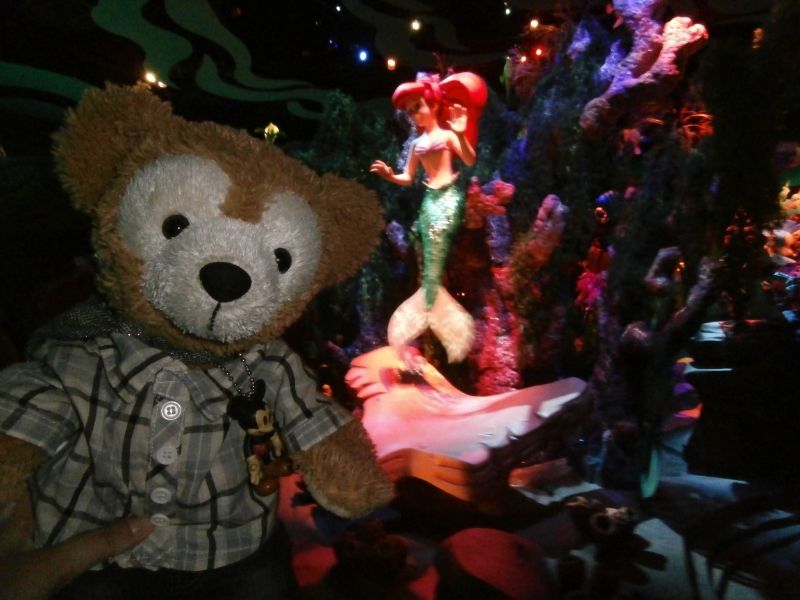 Visited the hidden Oswald in New Fantasyland.
Duffy was hungry (again!) and wanted to eat in the Beast's castle.
I told him one day we'll eventually have lunch there.
Gaston was out doing a meet & greet, so we had to get in line for that. Gaston asked why Duffy wasn't dressed as him. I told him they don't make a Gaston costume for Duffy, to which he replied, "Well that's just a crying shame! He should be as well dressed as I am!" :lol: Typical Gaston response.
Duffy wanted to visit his little door.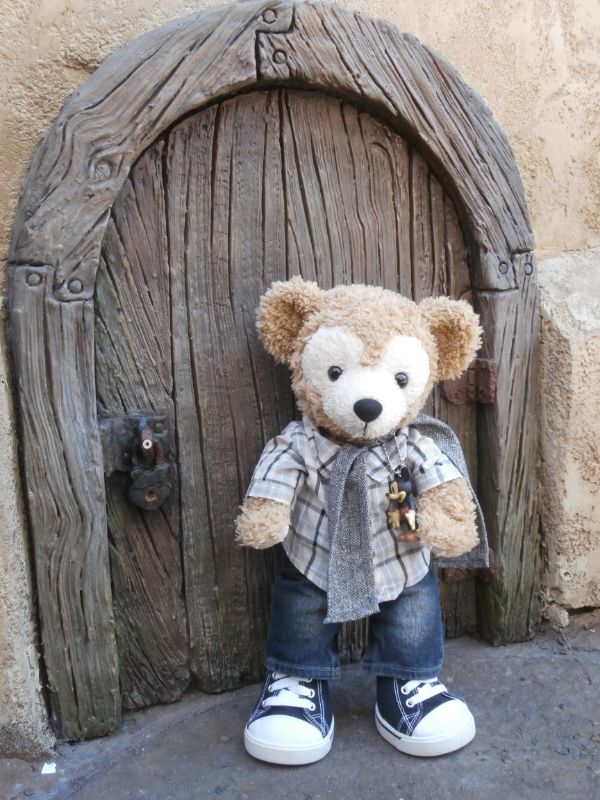 Over at Bonjour! Village Gifts, Duffy saw these antlers and pretty much begged me to buy them for him. They were $13! No! So we took a photo instead so he should show his Twitter friend Buckster Bear (a bear with antlers). Buckster was impressed!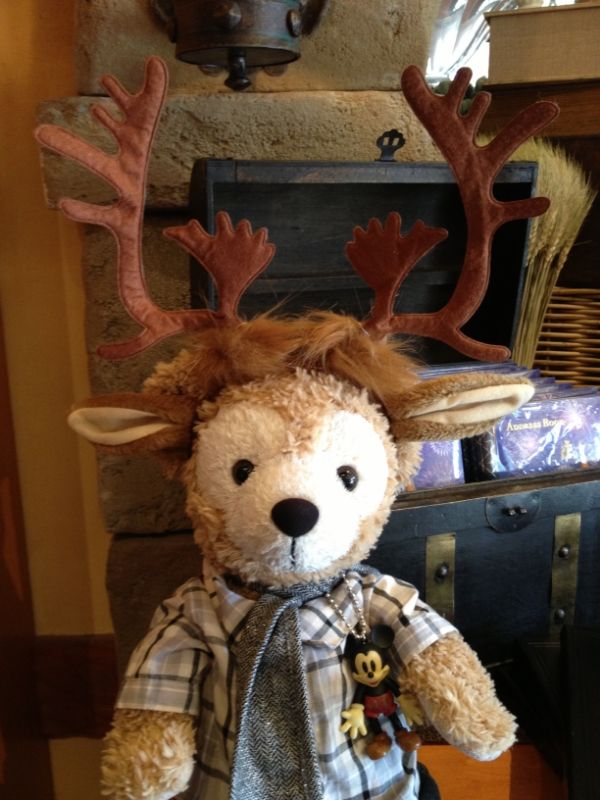 Evil Song! Evil Song! Run away!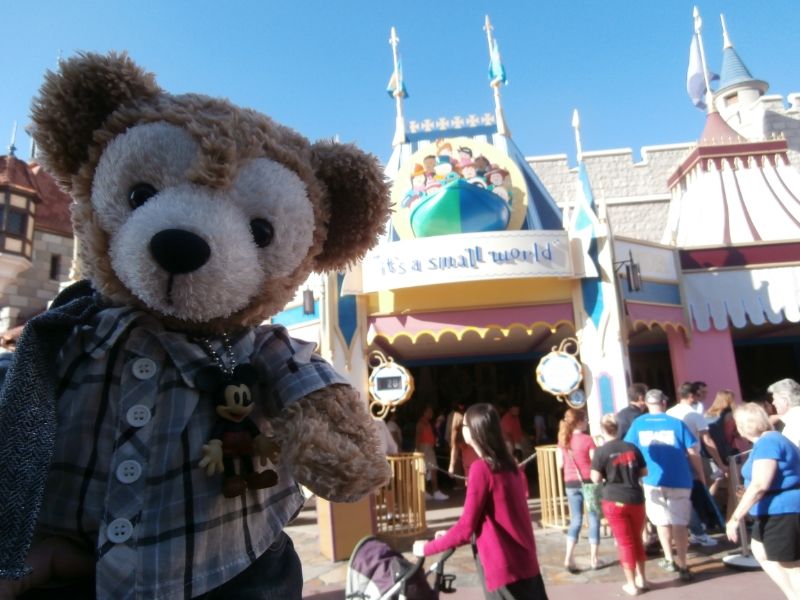 We then went to Tomorrowland for a bit. Finally bit the bullet and checked out Monsters Inc. Laugh Floor.
Duffy wanted some BLORT.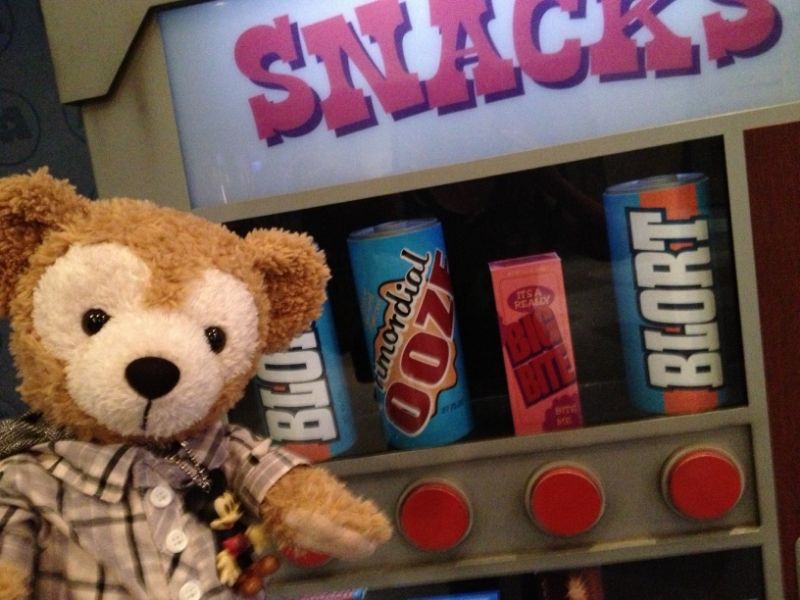 Laugh Floor was... Ugh. It was bad. The jokes were dumb. Well, the "That Guy" joke was funny, but that was about it. I wish that space was still Time Keeper. Was such a better attraction!
Duffy Quality Check! This little guy didn't look half bad. His fur wasn't as waffley and if you brushed it a certain way, it didn't look waffley at all! Cute face too.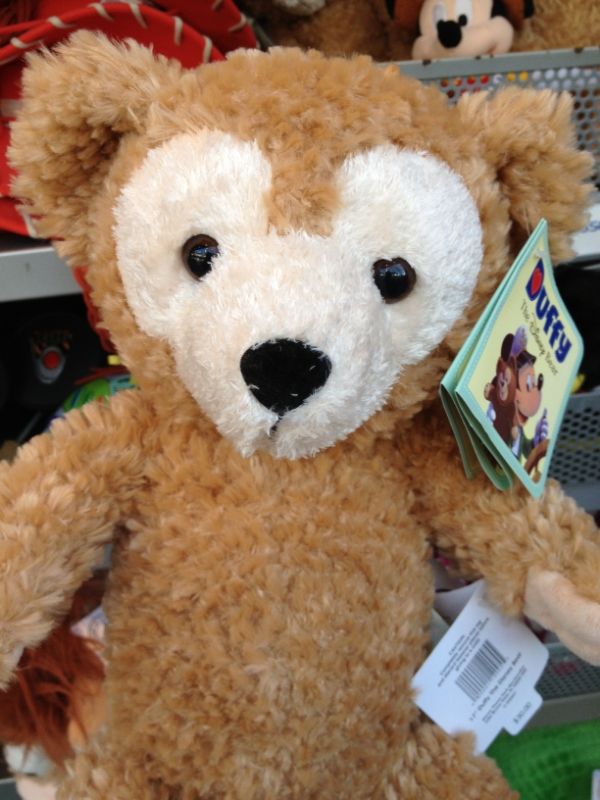 Visited the dance party in Tomorrowland for a bit. Did the Cha-Cha Slide & YMCA. We left as soon as they started played Justin Bieber though. Duffy was all, "Get me out of here!"
Took a spin on the Peoplemover...
Then we went to Casey's Corner for dinner. We don't like hot dogs, so we got the Ballpark Nachos. There were no available tables at Casey's, so we were going to cross the street and go eat at Tomorrowland Terrace (which isn't open much these days, but a good place to get some shade and rest). The street party/parade was coming back down Main Street so we had to wait for that before we could cross. All the characters kept pointing at my tray of nachos and rubbing their stomachs as they went by. Everyone was cracking up laughing.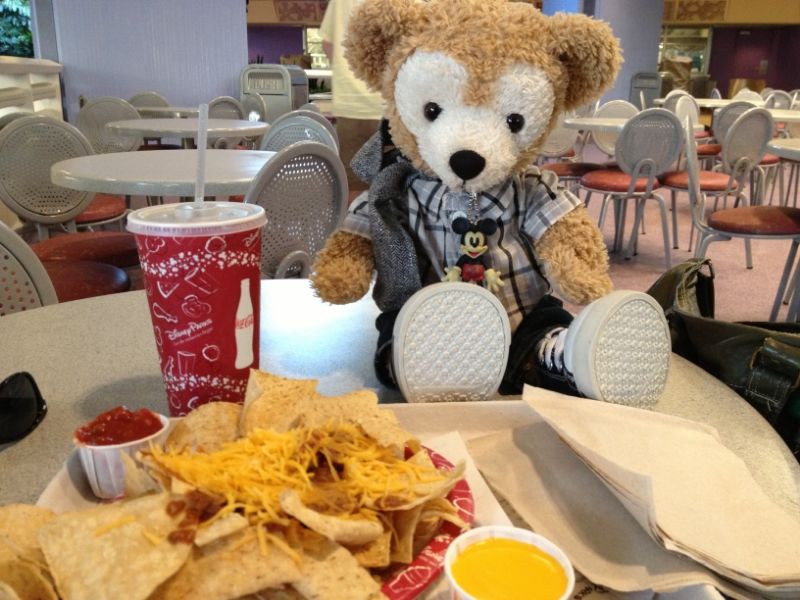 The best part about eating at Tomorrowland Terrace is because it's almost always empty and you can hear the Tomorrowland music piped in with no distraction. Plus I found a plug where I can charge up my phone when needed and there's a bathroom up there too!
We went back to Fantasyland for a spin on the Teacups.
Went back to Mermaid for a couple more rides. It still had a posted 20 minute wait but it was a walkon. We also visited Ariel in her grotto. She totally fawned over Duffy and loved that my hair was red like hers (well, mine is a little darker). She asked if I run a dinglehopper though my hair and I told her I had one with me right then. I dug my hair pick out of my bag and she was impressed! It was pretty funny. Ariel and Belle are the only princesses I can tolerate and actually have a conversation with (usually meeting face characters is awkward for me for some reason).
After a quick spin on Big Thunder (posted 10 minute wait but it was a walkon), we grabbed a spot in Liberty Square for the 2nd Electrical Parade. The funny part was there was like NOBODY waiting for it in Liberty Square or Frontierland until the announcement came over the PA the parade was coming in a few minutes. I think 70% of the guests that day left after the 8pm fireworks (the park was open until 10pm). Anyhow... Duffy got lots of attention from the characters as they went by. Minnie made a heart gesture to Duffy and Alice said hello to Duffy from her float and he got so excited. Cinderella blew him a kiss and Fairy Godmother pointed her wand at him.
Duffy wanted a couple more photos in front of the castle before we called it a night.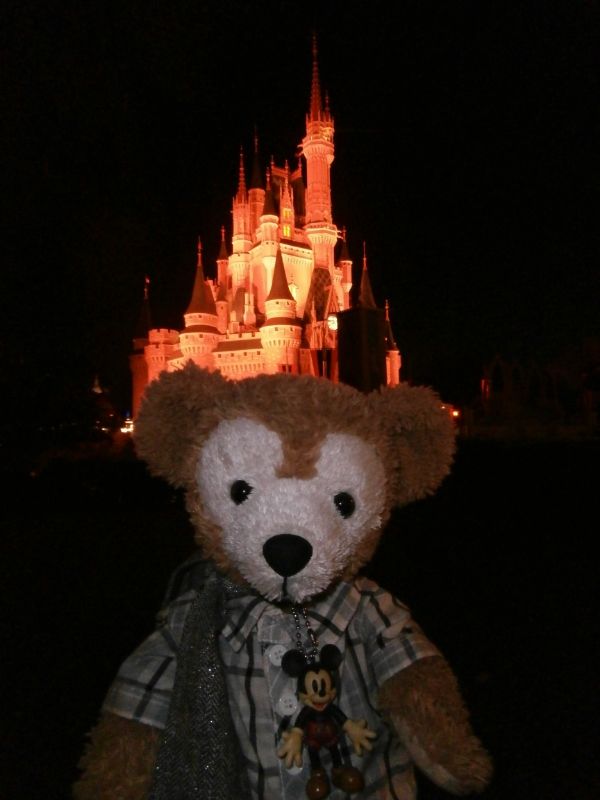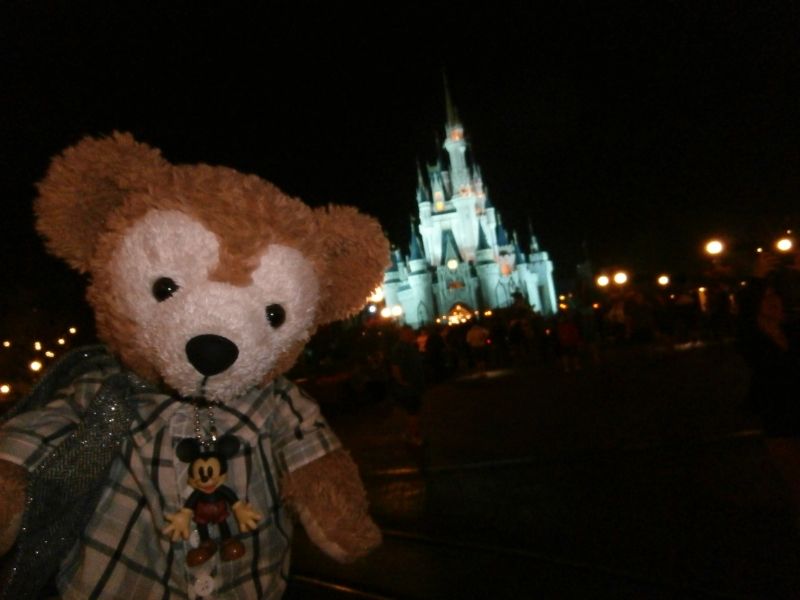 We then stopped at the Emporium and they still had that deal going with the little earhats ($12.95 each or 2 for $15). We picked up a lime green one and a magenta one. Duffy also saw a little Mouseketeer badge he wanted, so we got that too. After my passholder discount and using what was left on a gift card I got for Christmas, I paid a total $7 out of pocket for those 3 items. SCORE! :yea:
By the time we left the park, it was after 10pm. We did our traditional walk to the Contemporary to take the Monorail to the TTC (we like to avoid the crowds for the Express Monorail and the ferry boats), then walked from the TTC back to the car since we got a great parking space in the Aladdin lot that morning.
And that was our day! Hope you enjoyed the photos!