Re: Share your Duffy Photos
We went to Epcot yesterday with a friend and her Duffy.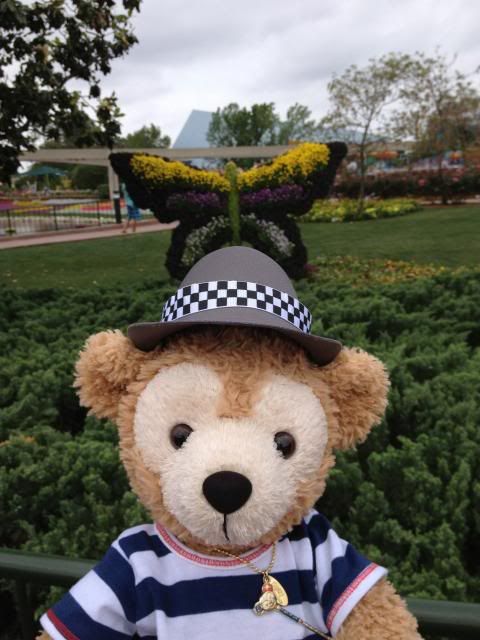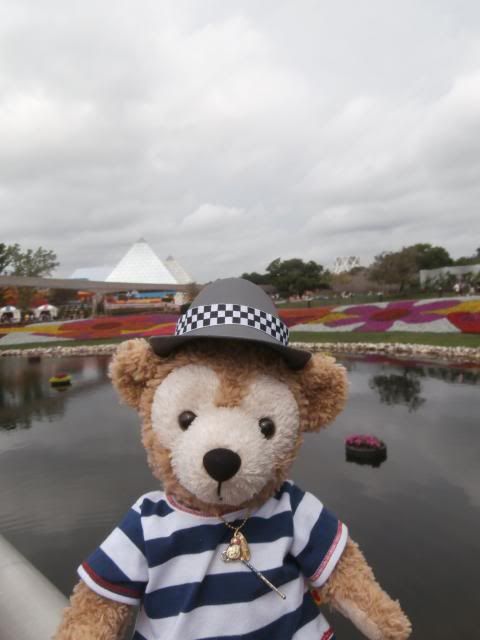 As you can see the Flower & Garden Festival is still going strong.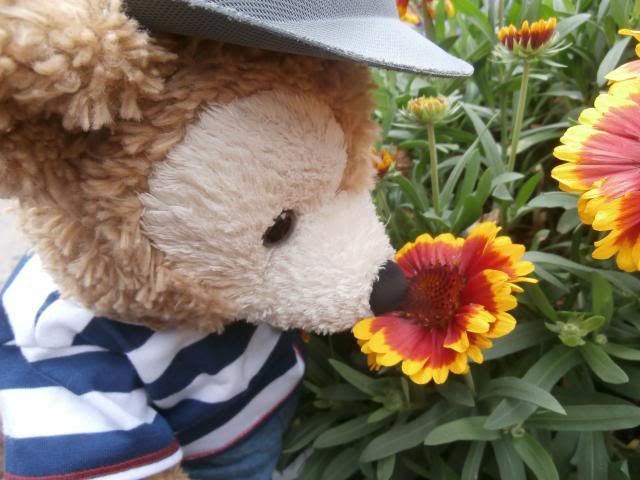 We went to see big Duffy. We were the 2nd ones in like for his 1st greeting of the day. Duffy pretty much always has a line at Epcot. Not HUGE like at TDS, but there's always at least a few people waiting to see him, which to me is encouraging.
Went over to the UK to see Tigger & Pooh, but it wasn't noon yet and they don't start greeting until 1pm. So we wandered around the shops there. I got a little John Lennon badge for my backpack.
Having fun on one of the playgrounds.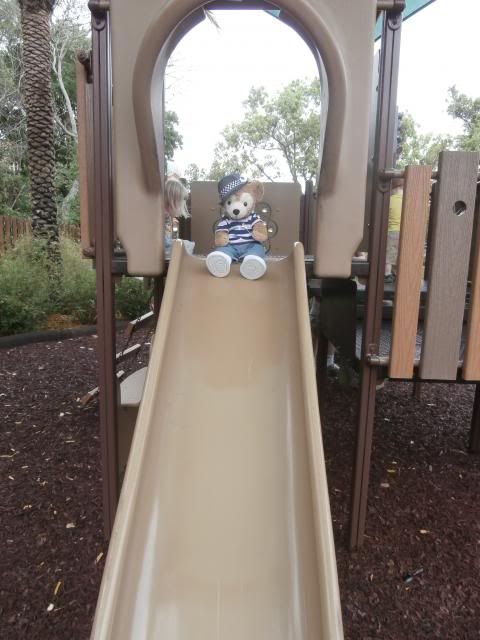 Found this awesome tiger Domo at Mitsukoshi in Japan. Duffy wanted him, but I had to say no. Can get him cheaper elsewhere. My friend's Duffy is photobombing! :lol:
The bears found this telescope by American Adventure.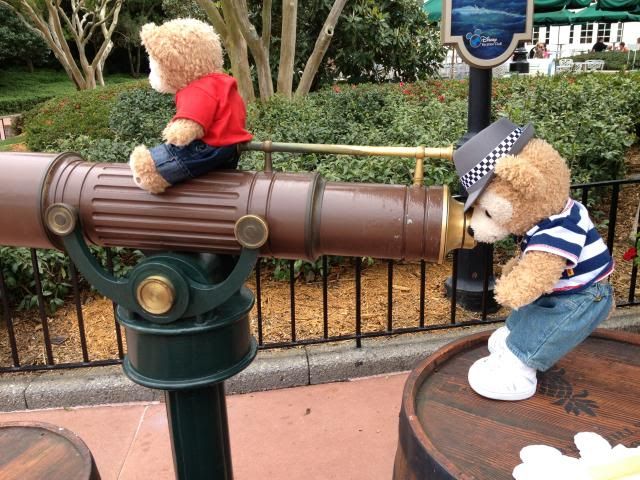 Hallooooo!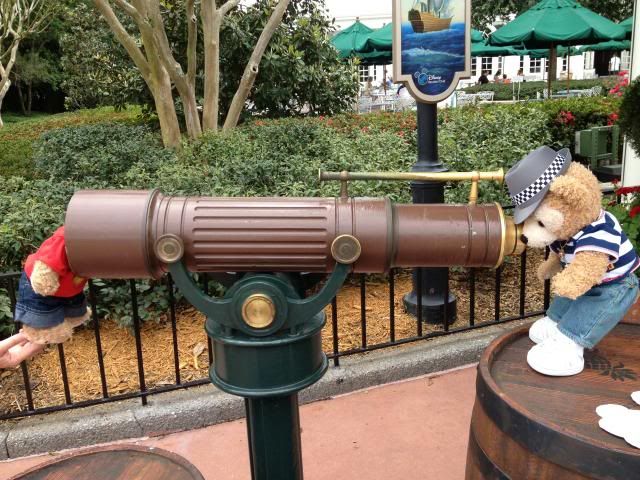 What ARE you doing?
Der Teddybar!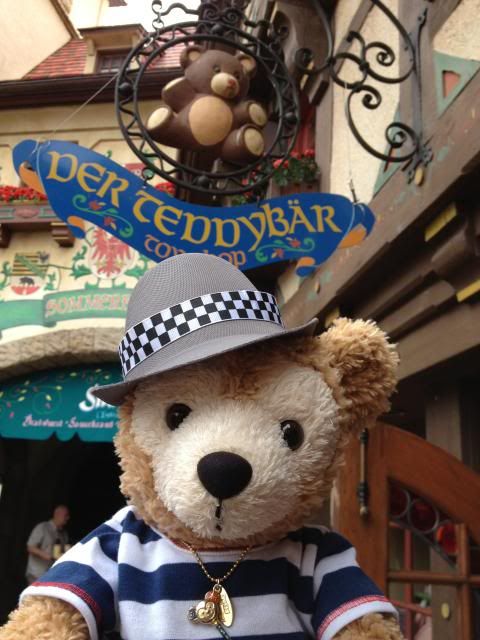 Having some fun at Snow White's Wishing Well....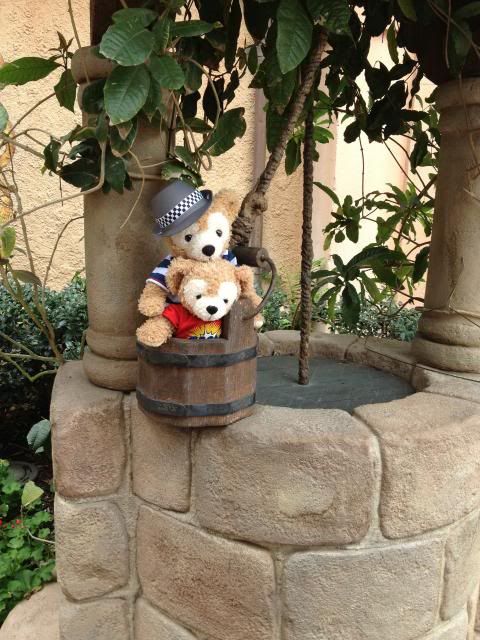 Goofing off at the Outpost
Back in Future World, we of course had to see Captain EO.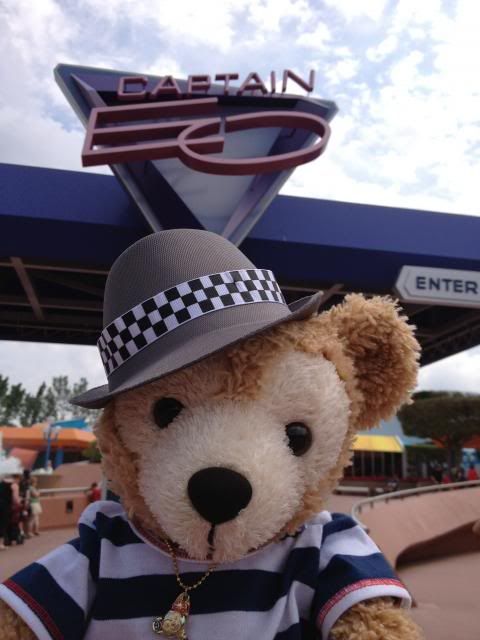 As we were walking by Imagination, Aladdin came out for a surprise meet & greet! You usually only see him in Morocco (with Jasmine), so this was pretty cool. He loved Duffy's fedora!
We then went to The Land for the boat ride.
After a cookie break at Sunshine Seasons, my friend & I parted ways. She headed to MK and I was sticking around at Epcot because I wanted to see British Revolution and Paul Revere & the Raiders.
The 2013 Graduation Duffys are out.
Now here's what confuses me... The 12" pre-dressed Duffys in the parks do NOT have waffle fur. They have the original kind of fur. But the naked 12" Duffys sold at Disney Stores do have waffle fur. Why do these 12" pre-dressed bears have the nicer looking fur than the 17" bears? On another front, I did see some 17" bears with less-waffley fur (hybrid fur?) and some really cute faces. They were understuffed, but that can always be fixed.
Ok moving on...
A quick stop to see Off Kilter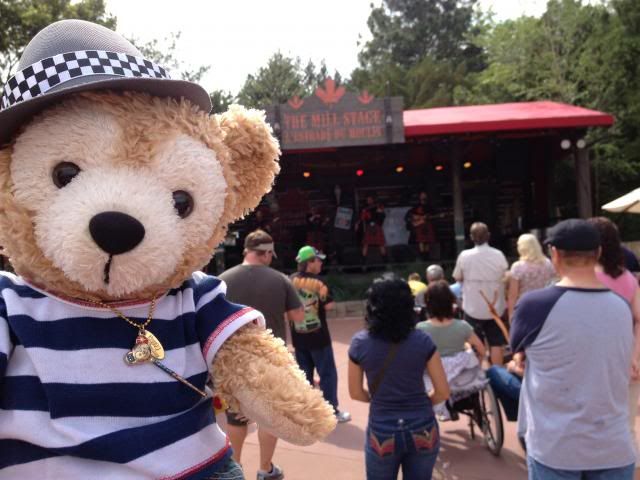 British Revolution!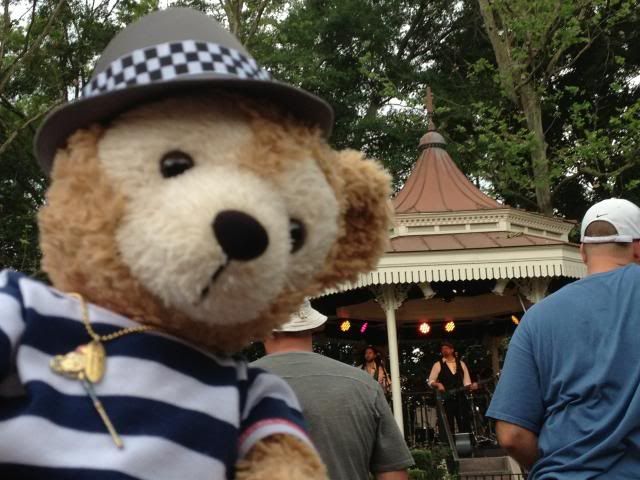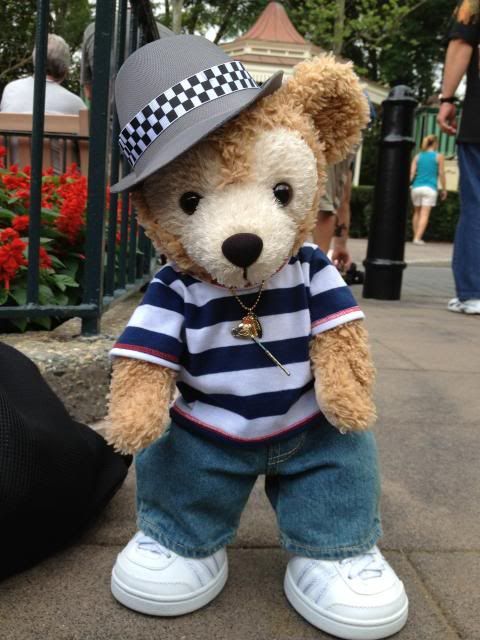 Hello again Japan!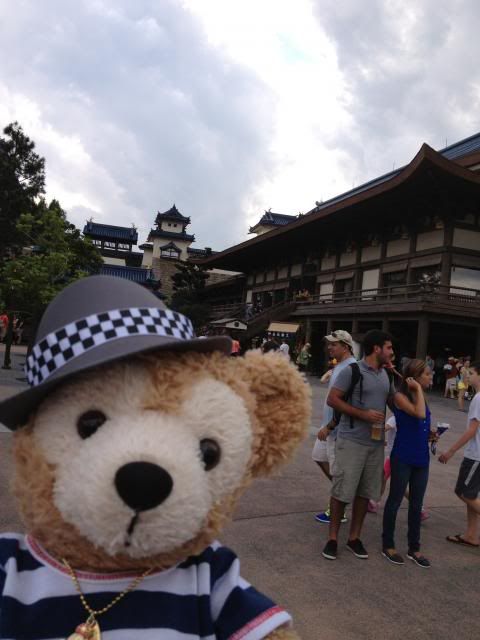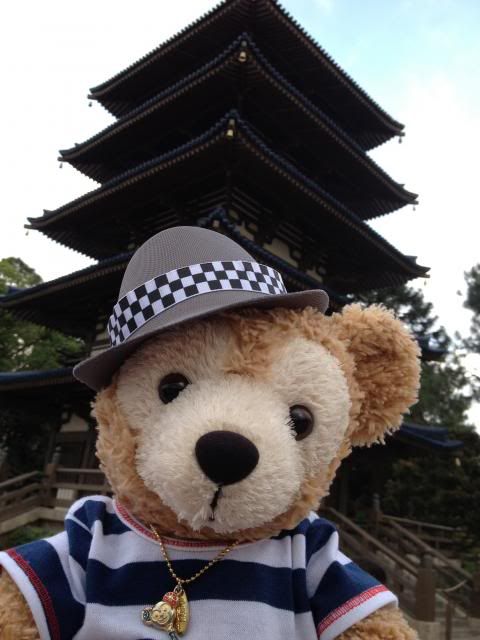 Made it to the 1st show for Paul Revere & the Raiders.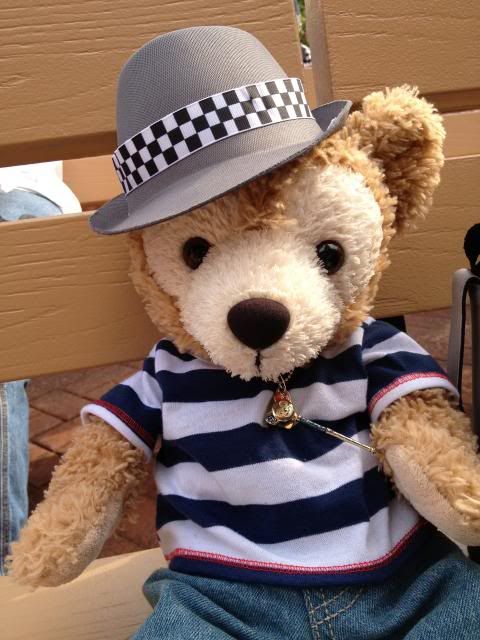 It rained a little while waiting. Luckily Duffy had his rain coat with him!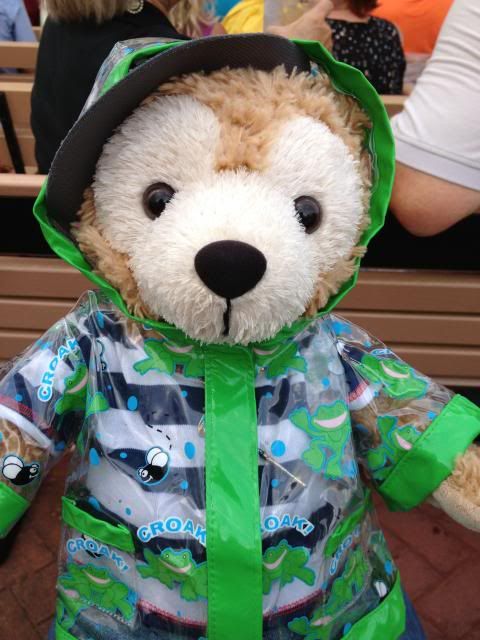 Hey there Paul Revere!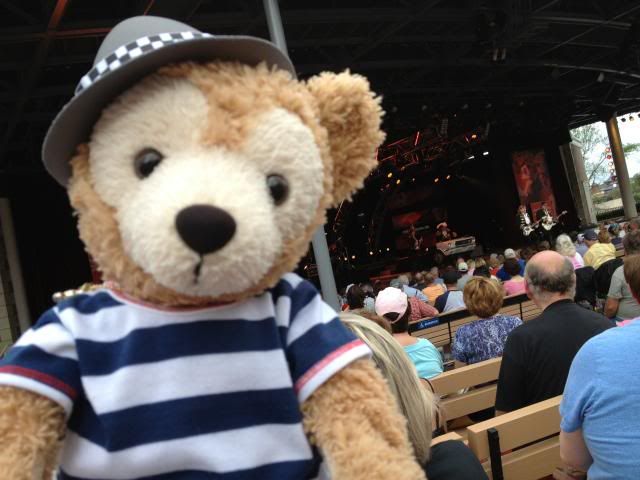 Unfortunately, they cancelled the show about 15 minutes into it because there were reports of lightning in the area. It started raining pretty good while the theatre cleared out. It NEVER lightninged though! Got soaked from the knees down.
By this time I was kind of done with the park and ready to go. Had to stop at package pickup to retrieve something I bought earlier in the day that was too big to carry around all day.
Bye Epcot!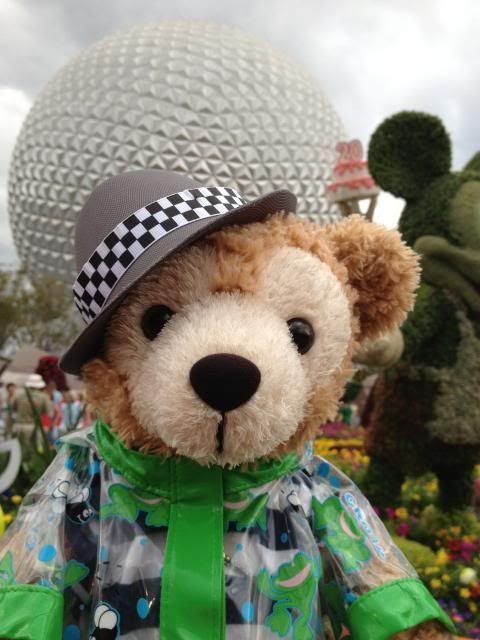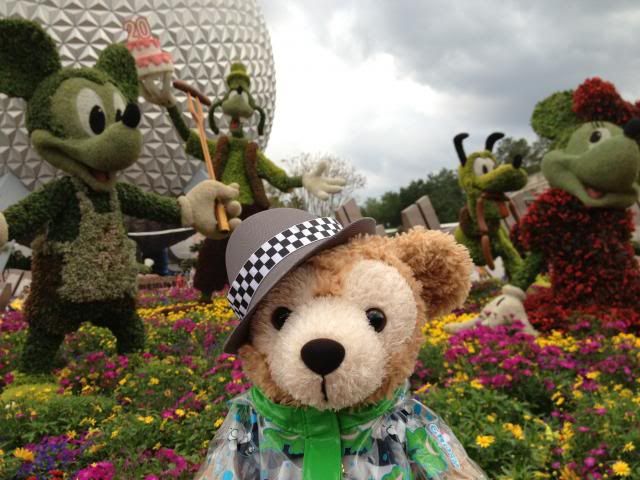 Was going to meet up with my friend at MK, but got a text from her that she left to head home. So we went to DTD instead for dinner, which was at Earl of Sandwich. Decided to try the BBQ chicken salad, which was quite tasty!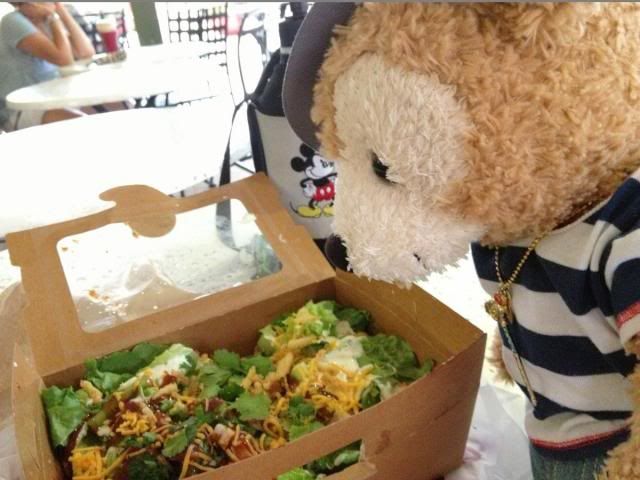 Stopped at Once Upon a Toy. This is where I adopted both of my 17" bears.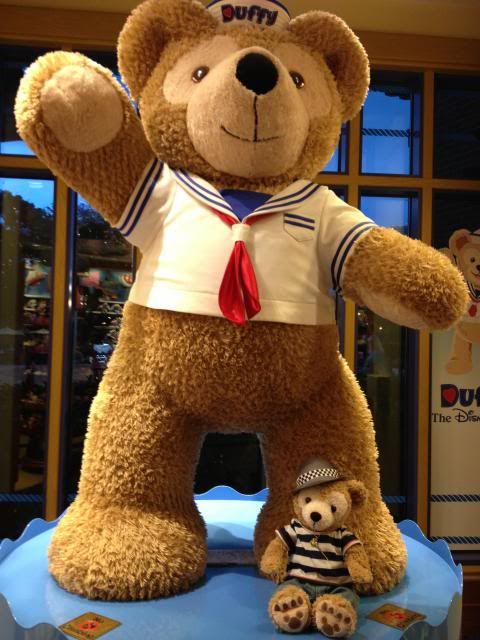 They recently opened a Star Wars Droid Factory in there (make your own little custom droid). We made one at DHS last year, so we decided to make another one.
Duffy had been whining for weeks about wanting a churro. Would you believe Epcot does NOT sell churros? I was shocked! Well, I knew there was a churro stand at DTD, so we got one. They had 3 different kinds too! Regular cinnamon, dulce de leche and Bavarian creme! We got the cinnamon one.
Made a quick stop at Fuddruckers to get some treats to bring home.
And that was our day!