Re: Share your Duffy Photos
Duffy and Shellie May were not motivated to go to suburban Chicago for Christmas considering it was 64F in Nashville and 26F up there. "We were there in March, and it was COLD!" Duffy reminded me.
"It was fun playing in the snow…well, until we froze our BUTTS off," said Shellie May.
I told them that I had it on good authority that Santa would be picking up their gifts from a Denmark Build-A-Bear and would not have time to deliver them all the way to Nashville so they had to meet him partway. "Look, I even got you new Christmas outfits to wear."
"These mittens make me feel like I'm wearing socks on my paws," said Duffy.
"Mine aren't so bad. At least they have bows," chimed in Shellie May.
When we got to Chicago it was so cold they did not want to take their mittens off. Then they swaddled themselves in my sister's afghan. "We'll come out when Santa gets here," they informed me. Some days were so cold that the HIGH was still negative Fahrenheit.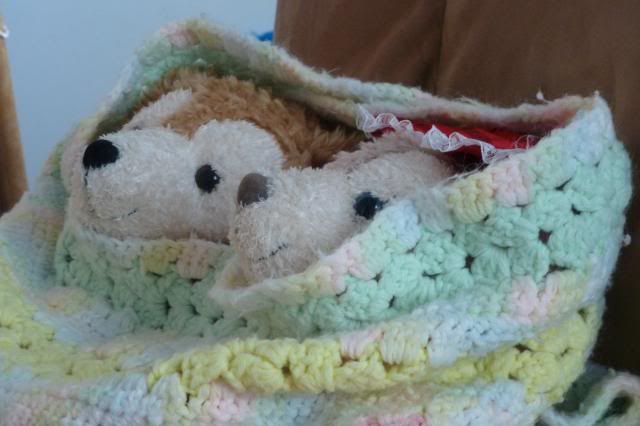 Da bears were up early on Christmas morning. "ooo, there goes Santa!" they said in unison.
"Um, no, that's a snow plow," I informed them.
They found their gifts under the tree. "This wrapping paper looks like US!" said Shellie May excitedly. She spent a lot of time admiring it.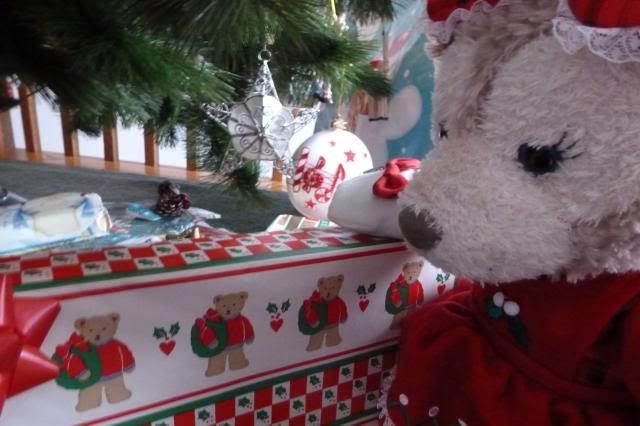 "Bears, you are going to have to take your mittens off to open them. It's not THAT cold in here. We turned the heat up already."
Duffy tore his open right away. "Way cool!" he exclaimed at his outfit, immediately putting on the warm hat (they also sell this outfit in the USA Build-A-Bear).
"I'll help you open yours, Shellie May," he then said. Shellie May was still admiring hers. She got a St. Lucy (Lucia) outfit and a 9 page printout of the tradition.
Saint Lucy's Day - Wikipedia, the free encyclopedia
"I love it," she exclaimed! "Okay, so you can wear that next December 13," I told her.