Update: Everything shown below is still available! If you are interested in an item, please email me at
[email protected]
Thanks!
First off, I want to thank Dustysage for allowing me to repeat this sale. The last sale was very successful and it generated a nice chunk of change for MiceChat. The reason for this sale is because I am making plans to purchase a major piece of Disneyana and I need to sell some of my other stuff to get it. My wife calls it "trading marbles". I call it reinvesting in what I love!
I also want to thank everybody that participated in my first "Strictly Disneyana Yardsale". It was so successful, that I've decided to have a second one... with a twist!
The Twist:
Because I can't rememeber what I paid for some of these items, and since I'm not really sure what some of them are worth, I'm going to be listing some of these items on an ebay auction, which you are welcome to bid on. The auction items will have an auction link under the item title, unless I haven't had time to start an auction yet.
If an item isn't moving, I'm going to be listing it in an ebay auction. I will remove the "for sale" price and insert an ebay auction link in it's place. So, if there is something that you really, really want, you can buy it now, or take your chances by bidding on it later.
Please be patient as it will take me a little time to get the ebay auctions started. Please email me if you see something posted that doesn't have an auction link yet. I will try to expedite the auctions that are most heavily requested.
Thanks in advance for looking!
Please read this, especially if you intend to buy.
PLEASE MAKE ALL OFFERS TO PURCHASE, OR REQUESTS FOR MERCHANDISE INFO

BY E-MAIL ONLY.
MY E-MAIL ADDRESS IS

[email protected]
PLEASE INCLUDE THE
ITEMS YOU WANT IN THE SUBJECT LINE, AND YOUR MAILING ZIP CODE SO I CAN FIGURE OUT THE SHIPPING COSTS.
This is a fixed price sale, except of course, the items that are listed on ebay.
All
reasonable
offers will be considered.
Some items may be shipped in a fixed price envelope or box from the United States Postal Service (USPS).
Items that won't ship in a fixed price box or envelope will be shipped based on weight x distance via USPS Priority Mail from zip code 93729.
ITEMS MARKED OVERSIZE WILL BE SHIPPED VIA FED-EX. IF YOU'RE INTERESTED IN AN OVERSIZED ITEM, PLEASE CONTACT ME FOR SHIPPING CHARGES VIA FED-EX.
Shipping insurance is optional and is based on purchase price.
I accept PayPal, postal money orders, and cashiers checks.
Paying for an item is the only sure way to protect it from being sold to another buyer, and
Paypal is the fastest way to protect the item you want from being sold.
If you have made a commitment to buy (i.e., you have contacted me after being quoted on the total price, and told me you want the item) and you intend to pay with postal money order or cashiers check, your item will be held for 7 days before being made available to other buyers... so if you want it, get them heels to clickin'!
If I receive multiple payments on the same item, the first buyer wins the item and the others will have their payment returned.
Items ship within a couple of days of receiving payment.
If you have questions, the time to ask them is BEFORE you buy... not after. I want anybody who buys something from me to be happy with their purchase.
Assume that anything listed here has been displayed/worn unless it is specifically stated that it is brand new/unworn.
All emails will be opened chronologically, so that in the event 2 potential buyers for the same item send emails with offers to buy, the earlier offer will be the winner.
Purchased items will be removed from the thread
after
payment is received. If it's no longer up there, it's no longer available!
I will continue to add items to this thread. I have quite a bit of Disneyana that I intend to liquidate, so stay tuned.
Condition Grading:
C-10 :
New. Unused. Sometimes still in the original packaging.
C-9:
Just about perfect, with very minimal wear.
C-8 :
Above average and desirable; some minor wear, but well cared for.
C-7:
Some overall wear; has obviously been used, but not badly damaged.
C-6:
Much overall wear; has several problems like marks, creases or rips.
C-5:
Heavily used and worn; has many different problems.
C-4:
Very bad shape.
C-3:
Barely recognizable
C-2:
Couldn't give it away.
C-1:
Time to recycle... if the garbage man will even take it.
THANKS FOR LOOKING AND HAVE FUN!!
ALRIGHT EVERYBODY... HERE WE GOOOOOOOOOOO!!
Genuine Disneyland Submarine Voyage Prop - "Shark Fighting Octopus"
Well, I've decided to sell one of my Disneyland Submarine Voyage props so I can buy an even bigger and better piece of Disneyana. It's been stored in my garage since July 21, 2005... less than a week after I got it home from Disneylands 50th anniversary.
SOLD!! $3716.00 :thumbup: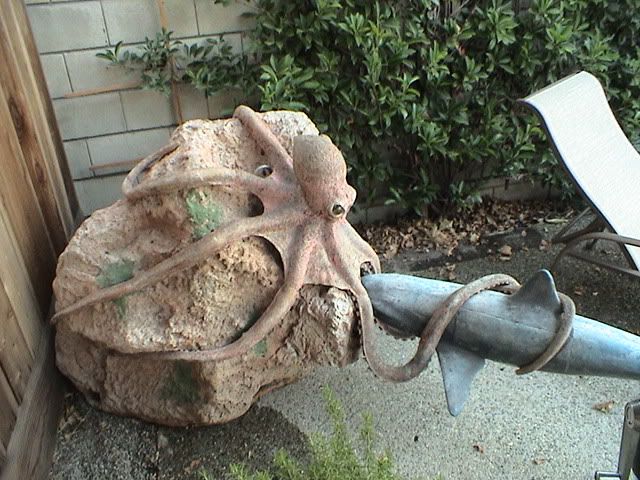 "20,000 Leagues Under The Sea" Movie Poster
$175
Main Street USA Gift Tags
Bag of 10 with two of each design. Classy artwork.
$10
1964 "Guide To Disneyland
$50
Vintage Mark Twain Pilots Certificate
$40
Space Mountain M.I.T. Certificate
This certificate was given to children that weren't tall enough to go on Space Mountain. Measures 8.5"x11" C-9+
$25
Mark Twain River Pilot Certificate
Given to guests who were lucky enough to pilot the Mark Twain around the Rivers of America. Measures 7"x8.25" C-9+
$10
TWA Rocket To The Moon Lunar Flight Certificate
$75
WDW Monorail Co-Pilot License
$5
Vintage Disneyland Window Sticker
$10
Mickey Mouse/Disneyland Publicity Photo
$10
Pluto/Disneyland Publicity Photo
$5
Toy Story/Disneyland Publicity Photo
$5
Peter Pan/Disneyland Publicity Photo
$5
Belle and Beast/Disneyland Publicity Photo
$5
Alice in Wonderland/Disneyland Publicity Photo
$5
Cinderella/Disneyland Publicity Photo
$5
Mary Poppins/Disneyland Publicity Photo
$5
Disney's California Adventure Opening Day Map
This map measure 26"x34" and is in mint condition. It shows many opening-day attractions that are no longer in operation.
$35
Disneyland 2002 "Haunted Mansion Holiday" XL T-Shirt
$20
Disneyland 50th Anniversary Stickers
$5
Disneyland 50th Anniversary Commemorative Guide Book in Wooden Box
Full-size reproduction of first Disneyland Guide book originally produced in 1955. Comes in high-gloss hinged wooden box with the "50 Years of Magical Memories" event logo on top.
$100
Disneyland 50th Anniversary Photo Album/Scrapbook.
This book was an AP exclusive. It has black pages inside for scrapbooking or for photos.
$5
Disneyland Autograph Book and Pen
Mint-Unsused Condition - $10 each
Framed Disneyland Hotel Artwork - Amazon Belle
This was purchased from Disney Auctions around 6 years ago when they were remodeling the Disneyland Hotel. It measures 30" x 29.5" and comes with a Disney Certificate of Authenticity.
CHECK BACK FOR EBAY AUCTION LINK
Country Bear Jamboree "Big Al" Ceramic Bank
Measures approximately 8" inches (tall) and 6" inches (wide: shoulder to shoulder). Bank is brown in color, has coin slot on the top of "Big Al's" hat, and rubber coin stopper on the bottom of bank. ALL IN EXCELLENT CONDITION. No cracks, chips or touch-up paint, etc. Embossed "Walt Disney Productions" on bottom rim.
$60
Disneyland Donald Duck Souvenir Cap
Cute little cap with the name "Raymond" embroidered on the back. Squeeze the bill and it squeaks. Child-size. Condition C-8
$50
Set of 5 Disneyland 50th Anniversary Coasters featuring artwork by Shag.
3.75" diameter. Cork bottom
$20
Mickey Mouse Club 40th Anniversary Watch
Gently worn limited edition (5000) wristwatch purchased in 1995. Has M-I-C-K-E-Y M-O-U-S-E embossed in the leather strap along with custom mouse ears buckle. Comes in nifty box with original paperwork. Unisex. 1.25" diameter. Needs battery.
$40
"Mary Poppins Original Cast Soundtrack"
This 33-1/3 rpm LP record is in good condition with some scratches. It features all the great songs written for Mary Poppins by Richard and Robert Sherman. 1964. Condition C-6
$15
"10 Songs From Mary Poppins" LP Record
This record was produced by Disney in 1964, just like the original soundtrack. But I guess Walt wanted to make some extra dough so he allowed 10 of the songs to be re-recorded by Marni Nixon, Richard Sherman and Bill Lee. Condition C-7+
$20
Disneyland "Disney On Parade" Pennant
Cute pennent from the late 60's - early 70's. 25" x 9" Walt Disney Productions. Wrinkled.Condition C-7
$10
Pinocchio Bank
Large soft plastic bank. 9.5" x 7" Condition C-8
$35
Disneyland Tomorrowland Leather Jacket - Size L/XL
Disneyland Tomorrowland Jacket patterned after Disneyland's "Rocket to the Moon" attraction poster .
This jacket is in great condition. It is a size large, but fits more like an extra-large. It measures 25.5" from armpit to armpit. It has one interior breast pocket, and two exterior slash pockets, has an elastic gather at the waist, and closes with snap buttons.
The real beauty in this jacket is the multiple layers of different colored leather sewn on top of one another to recreate the classic art of the attraction poster displayed in Disneyland in the 1950's and 1960's.
CHECK BACK FOR EBAY AUCTION LINK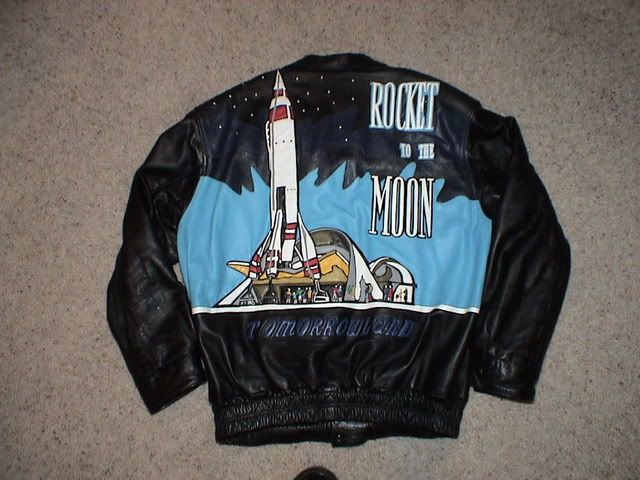 Disneyland Nightmare Before Christmas HUGE Promo Poster
This poster promoting the Nightmare Before Christmas at Disneyland's Haunted Mansion was originally intended to be installed at bus stops in the Anaheim area that had backlit cases. This is a 2-sided poster. It measures a whopping 4' x 6', that's 48" x 72" folks. So I hope you have a large wall. I have 2 available. One is in C-9 condition, very good condition. The other one has a small tear at the lower side of the poster and a few wrinkles as well. Condition C-8.
$50
WDW "Expedition Everest - Legend of The Forbidden Mountain" Book
This book was sold at WDW's Animal Kingdom when Expedition Everest opened last year. It is limited to 10,000 copies, and I don't know if there are any copies still available or not (none found on ebay). Basically a mixture of Yeti Lore, Disney Magic and Joe Rohde self-engrandizement. 24 pages.
5 Available
$15
Disneyland "50 years of Magical Memories" Nightlight
This nightlight was given to event participants that registered for the "Walt's Dream" package. It has a porcelain frame. New, unused condition.
$40
THE FOLLOWING ITEMS ARE CONSIDERED OVERSIZED AND WILL SHIP VIA FEDEX
Mounted Original Silkscreened "Disneyland Hotel" Attraction Poster.
This poster is mounted on cardboard. It has been displayed in the Park and is in fair condition. Damage has been noted in the pictures. It measures 36" x 54"
(OVERSIZED - FedEx Available)
CHECK BACK FOR EBAY AUCTION LINK
"Peter Pan's Flight" Reproduction Disneyland Attraction Poster Mounted on 1/4" plastic backer board.
I'm pretty sure this is a full-size 36 x 54 reproduction that is mounted and laminated onto a THICK and HEAVY backer board.
(OVERSIZED - FedEx Available)
$80
"Fantasyland" Disneyland Attraction Poster Mounted on 1/4" plastic backer board.
I'm pretty sure this is a full-size 36 x 54 reproduction that is mounted and laminated onto a THICK and HEAVY backer board.
(OVERSIZED - FedEx Available)
$80
"Disneyland Hotel" Attraction Poster Mounted on 1/4" plastic backer board.
I'm pretty sure this is a full-size 36 x 54 reproduction that is mounted and laminated onto a THICK and HEAVY backer board.
(OVERSIZED - FedEx Available)
$80
THIS CONCLUDES OUR TOUR OF OVERSIZED ITEMS.
Disneyland Honorary Citizen Certificate.
Copper embossed lettering and border. Measures 11" x 14.75".
$50
Pirates of the Caribbean 33rd anniversary lenticular cards.
Each card comes with it's own easel for displaying. Pictures change when card is tilted. Excellant unused condition.
$45
Tower of Terror ashtray.
New, unused condition.
$7
Walt Disney World 25th Anniversary watch from Kodak.
New unused condition from 1996. Quartz movement. Watch runs.
$15
1993 Disneyana Convention Commemorative Disneyland Passport.
This passport can still be used for 1-day admission into Disneyland, and has a removable ticket stub on the right side so you can still keep and display the passport after it is used as a passport. There is no expiration date. It measures 8" x 11"
$70
Twilight Zone Tower of Terror Commemorative Passport.
This passport was sold during the Tower of Terror's grand opening at DCA. It is good for 1-day use in either Disneyland
or
DCA. There is a removable stub on the bottom slide-out of the passport. It has no expiration date. It measures 6.5 x 11" when closed.
$70
Disneyland 45th Anniversary Commemorative Passport.
This passport opens to reveal all of the Disney characters coming out of the Castle. It has a removable stub which allows entry into Disneyland Park. It has no expiration date.
$70
"50 Years of Magical Memories" Commemorative Spinner Pin.
This HUGE pin was sold to participants of the 50th event that took place in 2005. Including the base it measures 6" x 4". Comes in special event box.
$50
WDW Animal Kingdom Souvineer Hat.
Searchlight on hat works when batteries are installed.New, unused condition.
$15
Disneyland on Parade Poster.
Circa 1975. Measures 20" X 27". Condition C-9.
$15
1978 Disneyland "Big Thunder Mountain Is Coming" Map.
Circa 1978. Measures 30" x 45". No tears. Condition C-8.
$25
#3 1958 Disneyland Map.
This is a folded # 3 1958 Disneyland map. It is the 3rd of 3 "1958" maps drawn for Disneyland by Disney Legend Sam McKim.
The 1st Disneyland map was done in 1958 and shows Disneyland before the 1959 Tomorrowland remodel. It is easily identified by the green water in the Jungle Cruise.
The 2nd Disneyland map was produced in 1959 and reflects the changes made in the east side of Disneyland such as the addition of the Monorail, the Matterhorn, the Submarine Voyage, and the Fantastland Autopia.
The 3rd 1958 Disneyland map (the one shown here) was actually produced in 1960 and shows changes made in Frontierland, specifically the addition of Natures Wonderland and Cascade Peak.
Measures 30" x 45". Wear on folds, tape marks on front of map, pinholes. 1-1/4" tear on right center of map. Condition C-6
$30
Disneyland New Orleans Squre Concept Artwork
Created by Herb Ryman as concept art for New Orleans Square this poster was purchased from the Disney Gallery on heavy poster paper. Measures 21" x 28.5"
2 Available
$25
Disneyland Columbia Sailing Ship Concept Art.
Created as concept art for Disneyland this poster was purchased at the Disney Gallery. It measures 26" x 40" and is printed on heavy poster paper. Artist unknown, possibly Sam McKim. Condition C-9+.
$30
Disneyland "Magic Nite" Poster
Not sure what Magic Nite was, but here's the poster for it. Printed on heavy poster stock, it measures 17" x 22". Condition C-9.
$10
Disneyland "Light Magic" Cast Premiere Poster
Poster given to CastMembers who suffered thru the doomed Light Magic premiere in 1997. Measures 20"x24". Condition C-9.
$15